"ANANDTECH" content on TweakTown - Page 1
We found 3 items for the tag: ANANDTECH

NEWS
AnandTech has been purchased by the same firm who owns Tom's Hardware
Purch announces it has purchased AnandTech, with the company now owning both AnandTech and Tom's Hardware.

NEWS
Anand Lal Shimpi from AnandTech leaves his site, now works for Apple
Apple acquires an interesting talent, in the form of Anand Lal Shimpi of AnandTech fame.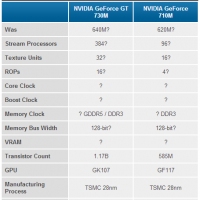 NEWS
NVIDIA plays catch up on GPU rebadging, wave hello to the GeForce GT 730M and GeForce 710M parts
NVIDIA outs new 700-Series mobile parts, rebadged 600-Series parts are now here.