Tagan TG1100-U95 1100-watt PSU Tested
If you're on the market for a new power supply with extreme amounts of power, the Tagan 1100-watt PSU might be for you!
Published Sat, Dec 2 2006 11:00 PM CST
|
Updated Tue, Nov 3 2020 7:04 PM CST
Rating:

90%
Manufacturer: Tagan
Introduction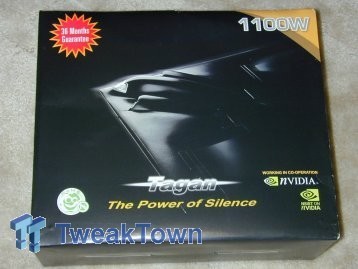 Back in 2001, a group of folks from across the world met at a Computex show and began discussing problems with power supplies. Before long Tagan was born with one simple mission: "To carry out state-of-art technologies for the best quality power supplies and to offer them to all users". Given the growing amount of power needed by modern computer systems, this can become quite a goal, but these folks have been making quite a name for themselves.
With this goal in mind, Tagan has come up with a power supply that they claim gives not only a huge amount of power across all rails, but does so with very little noise. If they can pull this off, they will have come up with a product that satisfies a variety of niche users with large power demands.
So relax for a bit as we delve a bit deeper into the latest high-end offering from Tagan. 1100 watts is certainly nothing to scoff at, but we will want to take a closer look at the levels across the different rails and see if it can handle the rigors of an enthusiast rig. After all, this will be the primary market segment interested in this item.
In The Box
In The Box - Literally!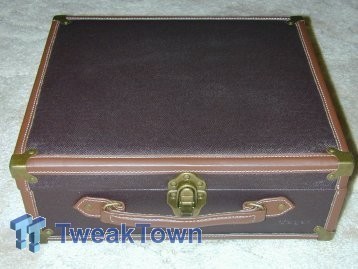 It isn't often that I am surprised when it comes to product reviews, but the small suitcase used to house this product is an exception. Allow me to open it up for you to see what we will see within...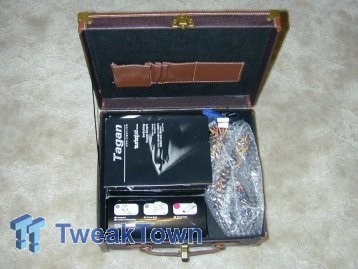 Everything is neatly packed and there are even leather pouches built into the inside of the lid. This will allow you to easily convert the case to an easy to use storage device for coolers, tools, or whatever for your next LAN Party. Lets get everything out and see what we have to deal with.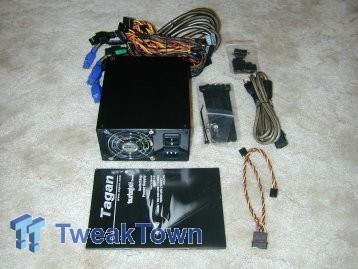 After opening up the box, we are greeted with the power supply, a new power cord complete with the magnetic clamps to control electromagnetic interference, some Velcro tie-downs for cable management, mounting screws, four Molex adapters (we'll talk about those in a bit), a splitter giving you a pair of FDD connectors, and a small manual.
A quick note regarding the FDD splitter concerns the length of the wiring leading to the connector. I have noted other models in the past that have shorted this pair of leads, which bodes ill for those with a performance motherboard requiring one of these connectors (many of the DFI boards come rapidly to mind) and still wanting to use a floppy drive. This splitter has a shorter and longer wiring harness leading to the connectors, so this won't be an issue. It is good to see that concerns like this have been addressed.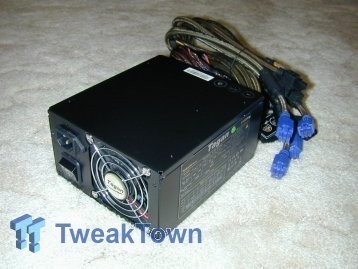 A quick look at the exterior shows nothing out of the ordinary. It is a very simple design and falls squarely into the "industry standard" category. As far as the hard numbers are concerned, take a look at the data plate with me.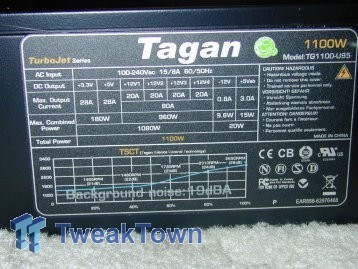 This Tagan product puts out 1100 watts of total power for use with pretty much any modern system on the market. It is compatible with EPS12V v2.9, ATX12V v2.2, and is fully backward compatible to handle all of your power needs. It can handle a power draw 28A on both the 5v and 3.3v rails and has four 12v rails that can each handle 20A each. Pure numbers indicate this thing is going to be a beast, but we'll stress it out a bit later.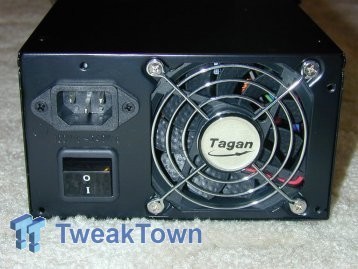 The rear portion of the unit consists of an 80mm fan, a power outlet, and a simple toggle switch that allows you to kill the power to the power supply. The lack of a voltage switch tells us that this model will automatically detect the voltage level and adjust accordingly, so you are set regardless if you are in a country using 120v power or 240v power.
The opposite end consists of a large hole to accommodate the wiring harness and another fan to aid in keeping this beast cool. You'll note the plastic grommet that surrounds the entire hole in the housing to keep the wires from accidentally grounding out against the chassis. It is small details like this that can make the difference in a product.
Connectability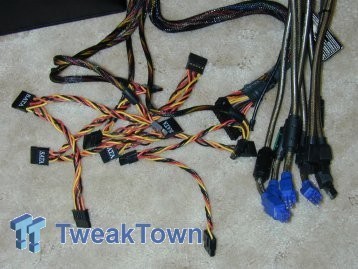 Spreading out the wiring harness gives us a sure indicator that this particular model does not make use of a modular design. There are both positive and negative points to this layout, but this is the more reliable method of doing business. On the other hand, a modular design makes case cooling a whole lot easier. Of course, just because it
looks
ordinary does not make it so.
In its standard configuration, this power supply includes a 20+4-pin primary power coupling, both a 4-pin and 8-pin auxiliary power couplers, four PCI-E connectors to handle a Quad-GPU setup, four Molex connectors and ten SATA connectors. There is also a grounding wire for those with a desire for the best in safety. This isn't exactly your run of the mill arrangement of power connectors, but there is still a bit of flexibility up the sleeve. After all, four Molex isn't that great a setup for most.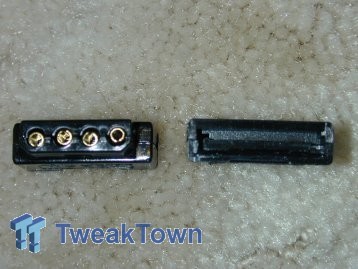 Earlier you heard me list one of the contents as four Molex adapters. Above is what I was referring to. There use is very simple; just attach it to the end of a SATA connector and it converts that connection into a standard 4-pin Molex. In the event you are not using ten SATA hard drives or optical devices, this raises the total number of Molex connections to eight, which is very acceptable.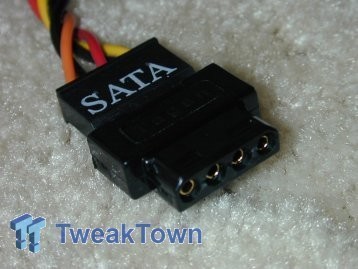 Above is one of the adapters attached to the SATA connector and ready for use. I had no problems with this adapter and all devices attached worked as they should.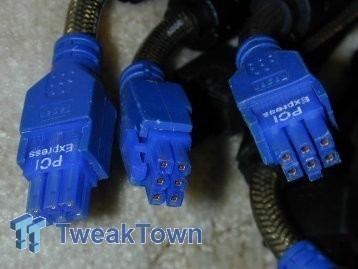 Another difference from the ordinary power supply are the PCI-E couplers. They are made of a less brittle plastic that you generally see on this type of connection and also are easier to handle. I have heard of issues where they are difficult to use with the nVidia 8800 series graphics boards due to their larger size and the close proximity of the power attachments on this board, but since I tested this device on a dual ATI setup I cannot confirm this.
Testing
When it comes to testing a power supply, there are two courses to travel. One takes you down a path using a device to stress out the PSU and provide data regarding the power levels across all three rails. The second, and the one I make use of, utilizes an actual test system to give a more real-world account of what the power supply is capable of. While both methods have their merits, I prefer to use an actual computer to more closely resemble the manner of use that you, the potential customer, will put the product through.
That said, let's take a quick look at the test system. At the request of readers, I have beefed up the system to put a more realistic strain on the power supply.
Gigabyte 965P-DS4 motherboard (Supplied by
Gigabyte
)
Intel Core 2 Duo E6600 processor
2x 1024MB Corsair XMS2-8500-C5 memory (Supplied by
Corsair
)
GeCube X1900XTX graphics (Supplied by
GeCube
)
Sapphire X1900XT graphics (Supplied by
Sapphire
)
Western Digital 250GB SATA hard drive
2x Western Digital 160GB SATA hard drives
Western Digital 80GB hard drive
Sony 52x CD-ROM optical drive
Samsung 16x DVD-R optical drive
2x 120mm fans
4x 80mm fans
While this isn't a Quad-GPU setup, we are certainly in the realm of having a system that is going to put a significant power drain on any power supply. Testing will consist of checking the power levels across all three rails at idle and again while the system is under stress. This should give us a good look at the capabilities of the power supply being tested.
Results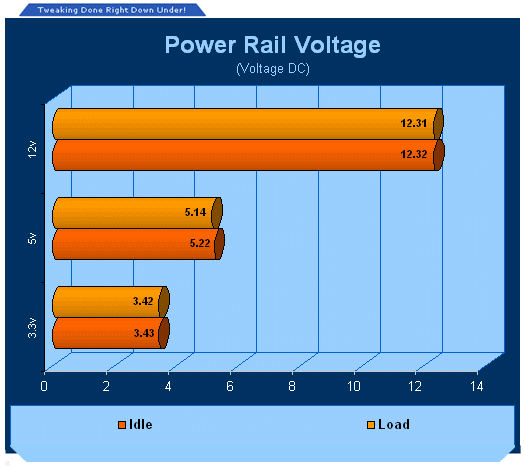 After testing had been completed, I noted very little difference between idle and load power levels. This bodes extremely well for those running powerful systems and who are looking at the ability to promote to multi-graphics boards within a single box. No matter the load placed on the test system, power levels maintained a very solid reading across all rails.
Final Thoughts
When it comes right down to it, the power supply has been proven to be a very critical component in the modern PC. Days of running out and buying whatever was cheapest are long gone, and those with enthusiast level systems are even more apt to put out good money for a
quality
power supply. Let me say right now that the Tagan TG1100-U95 falls well into the
quality
category.
With more power available than a pair of common units on the market, this product not only gives a very solid power level across the rails, but also gives you a good deal of room to grow. Add in the numerous SATA connectors as well as the ability to handle a Quad-GPU setup and you find yourself with a very worthy item on your hands.
Of course, this kind of power comes at a price, and a rather high one at that. At the time of this writing, you can expect to shell out in the realm of US$350 for this product. While the price seems high, you should take into consideration that upgrades will be a long time coming.
Bottom line... If you've been looking for a top of the line power supply and only the best will do, make sure to add the Tagan TG1100 to your short list of worthy contenders. With more power than most systems will even dream of ever needing and the flexibility to handle even an enthusiast box, you won't be disappointed!
- Pros
1100 watts of total power
80A available from the 12v rail
Flexible connector availability
Near unlimited system upgradability options
- Cons
Expensive
No modular wiring harness
Rating - 9 out of 10 and TweakTown's "MUST HAVE" Best Performance Award!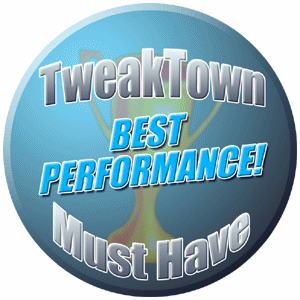 PRICING: You can find products similar to this one for sale below.

United States: Find other tech and computer products like this over at Amazon.com

United Kingdom: Find other tech and computer products like this over at Amazon.co.uk

Australia: Find other tech and computer products like this over at Amazon.com.au

Canada: Find other tech and computer products like this over at Amazon.ca

Deutschland: Finde andere Technik- und Computerprodukte wie dieses auf Amazon.de
We openly invite the companies who provide us with review samples / who are mentioned or discussed to express their opinion. If any company representative wishes to respond, we will publish the response here. Please contact us if you wish to respond.