TweakTown's Rating: 100%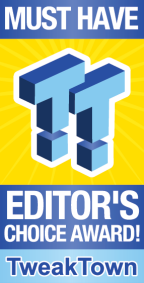 The Bottom Line
Performance where it matters most, density sweet spot and value pricing make Intel's 2TB 670p one of the most desirable PC components ever made, PERIOD.
Introduction & Drive Details
Intel was first on the scene with a 4-bit (QLC) based NVMe SSD. Intel's 660p was the first real value-oriented NVMe SSD when launched, and DIY consumers gobbled it up like crazy. At the time, the 660p was attractive to many because it was typically half the cost of competing NVMe SSDs. However, it was not without some drawbacks that kept it out of enthusiast circles. In terms of performance, the 660p was lacking, and its warranted endurance steered many away from it.
Intel followed up the 660p with the 665p, which was quite the improvement over the 660p on both the performance and endurance front. Additionally, the 665p did something far better than its predecessor, and that was gaming. The 665p proved that QLC could be quite potent even to the point of rivaling TLC in terms of performance where it actually matters, like consumer workloads and game level loading.
Today, we have on our bench the successor to Intel's 665p, the 670p. Like its QLC based predecessors, the 670p marks a new generation of Intel 4-bit (QLC) flash, featuring a higher layer count entering the arena. The 670p has at its foundation Intel's fourth-generation 144-layer QLC NAND. This stuff is enduring and fast to the point where you will see that the 670p can outperform many 8-channel TLC-based Gen4 SSDs, even though the 670p is a 4-channel controlled Gen3 QLC based SSD. It's quite a remarkable accomplishment that defies conventional expectations.
Intel has tuned the 670p to deliver "performance where it matters most". And where is that, you may ask? It's a place where highly sensationalized, mind-blowing, sequential speeds hardly matter and where low queue depth performance reigns supreme. This is where consumers spend 99% of all their activities, which is why it's where performance matters most. It's the same basic reason why 3D Xpoint memory media performs so much better than flash. Superior performance at queue depths of 1-3 is where performance matters most.
Consumers and even some "reviewers" have been trained through advertising to believe that sequential and/or random performance at unattainable queue depths is what makes an SSD fast. Nothing could be further from current reality. 7,000 MB/s and 1 million IOPS sound fast and deliver synthetic eye candy for the masses, but in reality, are not what makes a consumer SSD fast. The best-known indicator of true consumer performance is random read at QD1. The SSDs that have the best performance in this metric also deliver the best user experience.
At TweakTown, we rank SSDs by how well they deliver performance that matters, or as we call it, "User Experience Ranking". Intel also knows where storage performance matters because they have studied it extensively. Intel designed and tuned the 670p for this all-important parameter, and as such, it can deliver a user experience that is superior to many SSDs with seemingly insurmountable performance advantages such as Gen4 interfaces and MLC/TLC flash arrays. And the cherry on top? Do so for less of your hard-earned cash.
Okay, let's dive into the review and dissect what Intel's latest consumer offering can do for you, as we keep in mind where exactly performance matters most.
Drive Details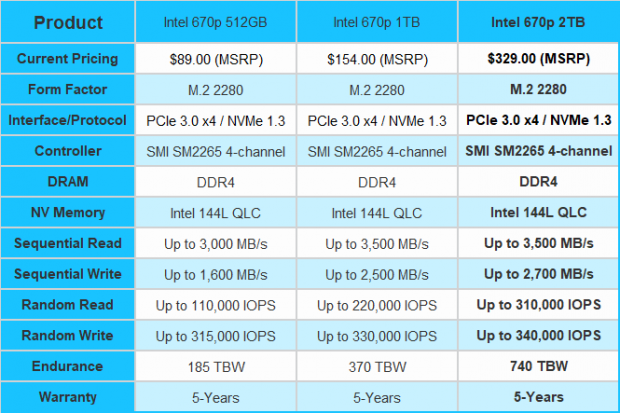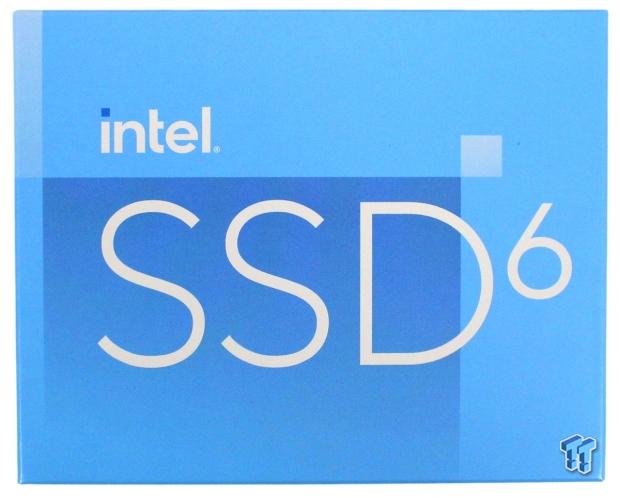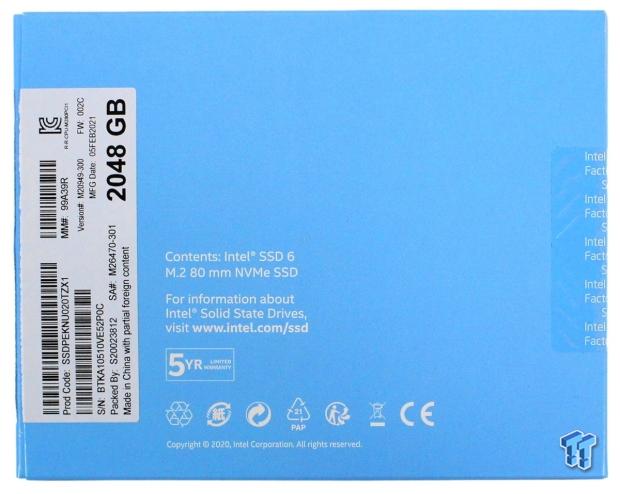 The 670P is a preferred single-sided design powered by a controller we've not seen before, a Silicon Motion SM2265. The SM2265 is a 28nm-based Gen3 x4 NVMe 1.3 controller with dual ARM Cortex R5 CPUs supporting 4-flash channels with 8CE (Chip Enables) at frequencies up to 1200MT/s. A 4-channel controller inherently uses far less power than an 8-channel controller, which in turn generates much less heat, making it ideal for mobile applications.
The drive features full hardware-level encryption, and endurance is plentiful, checking in at over 100GB per day written for 5-years at the 2TB capacity point.
Jon's Test System Specifications
Free SSD Software
Intel MAS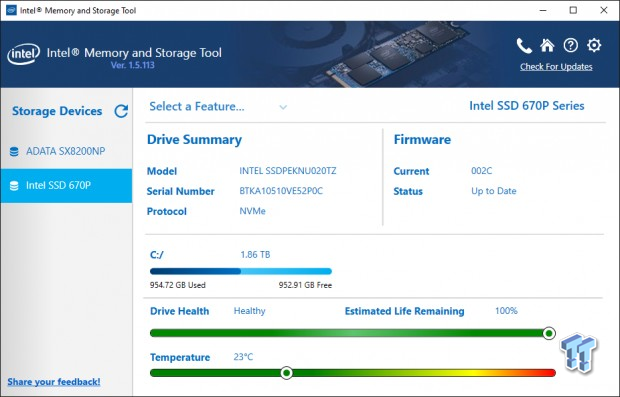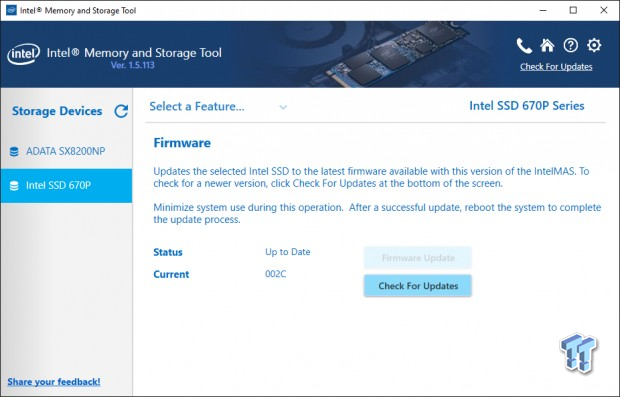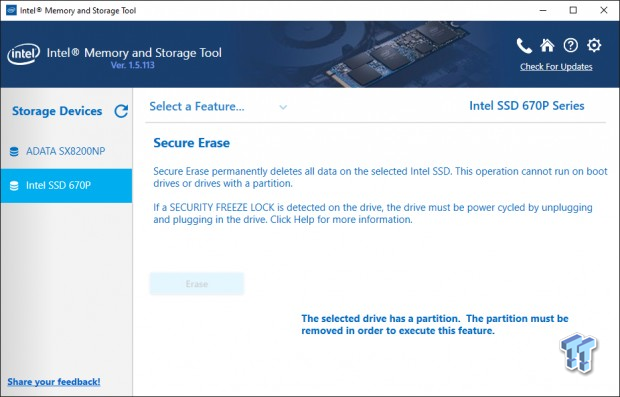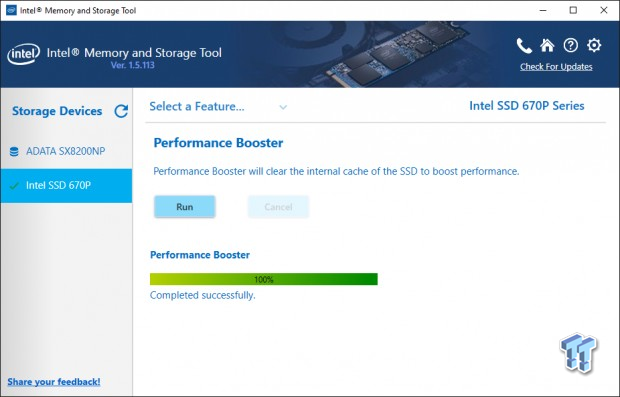 Intel has a newly designed Memory and Storage Tool (Intel MAS) that handles every aspect of SSD maintenance and monitoring you may need.
Unfortunately, Intel no longer offers its data migration software. However, if you need to clone, there is freeware for that you can download here.
Synthetic Benchmarks: CDM & Anvils
CrystalDiskMark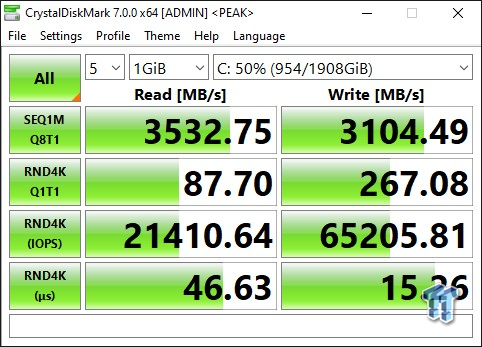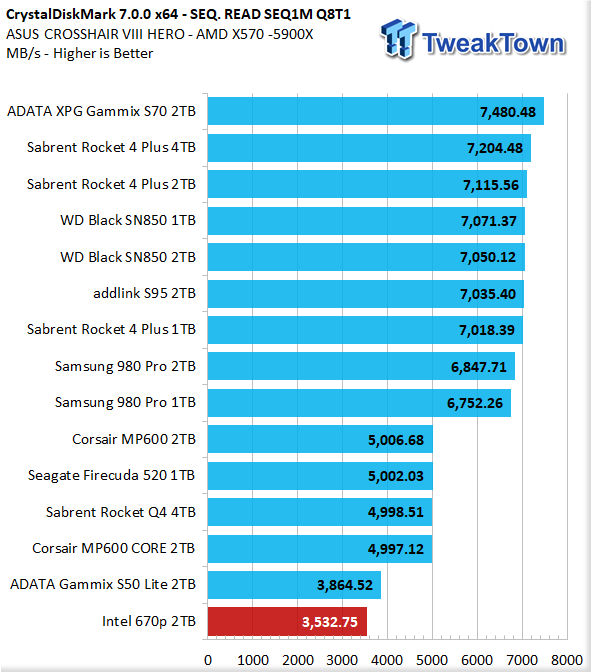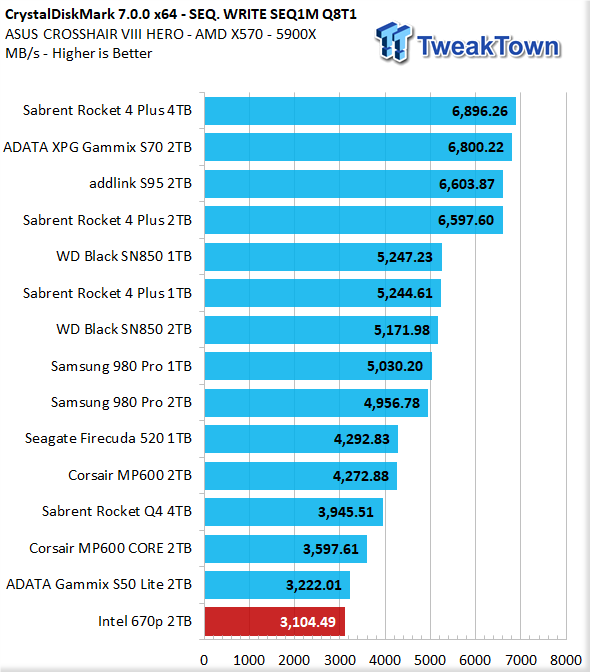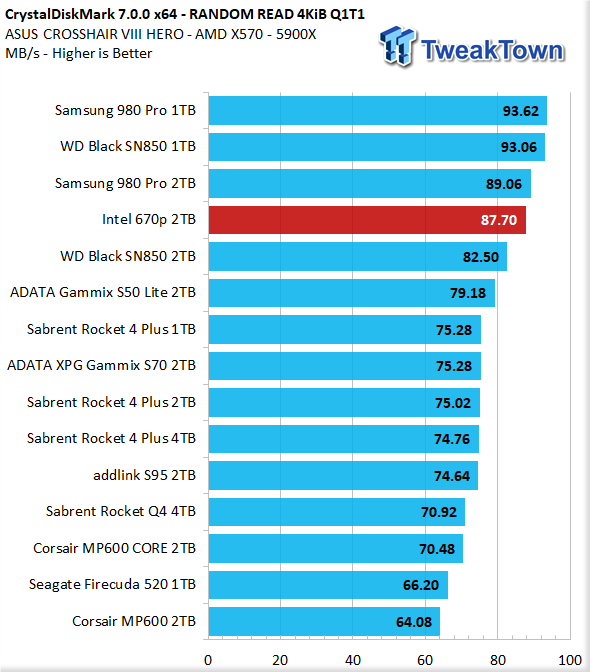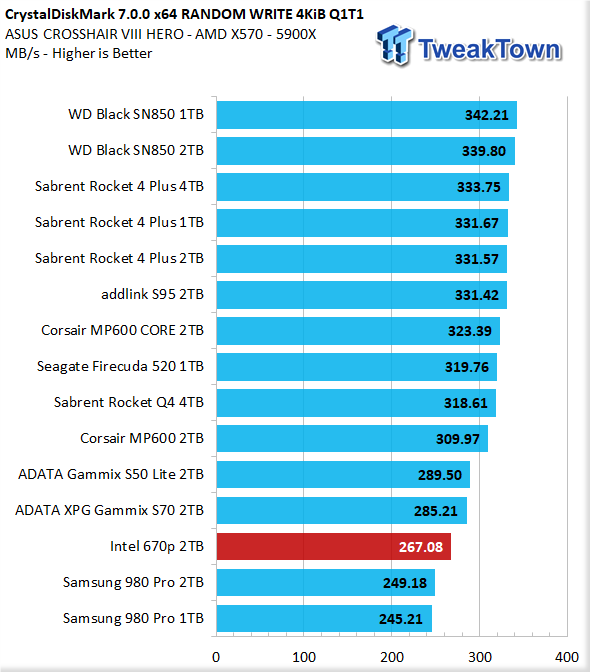 The Intel 670p is the lone Gen3 SSD on our formerly Gen4 exclusive chart, so naturally, the 670p is bringing up the rear when sequential speeds are involved. However, as we've explained countless times, sequential speeds have little to do with what makes an SSD fast. Now take a look at the 4K Q1T1 random read chart, this is a performance metric that does matter, and we find the 670p near the top of our chart. Impressive.
Anvil's Storage Utilities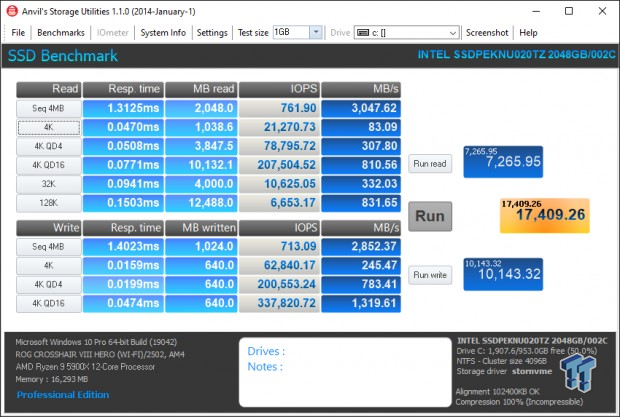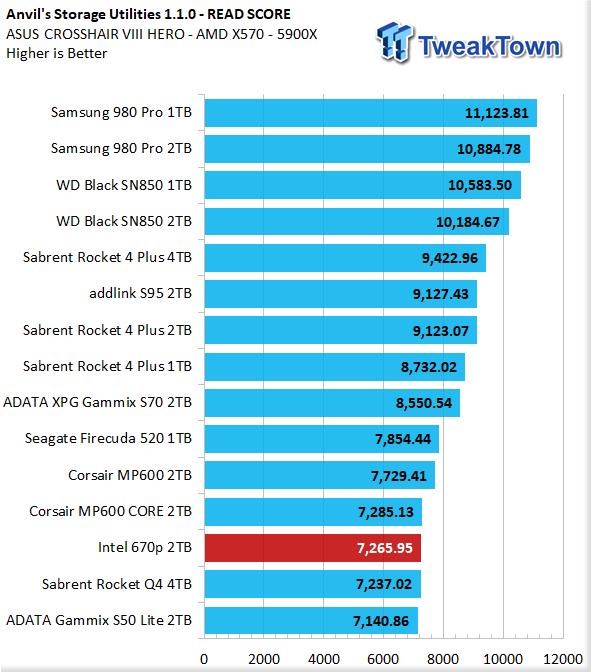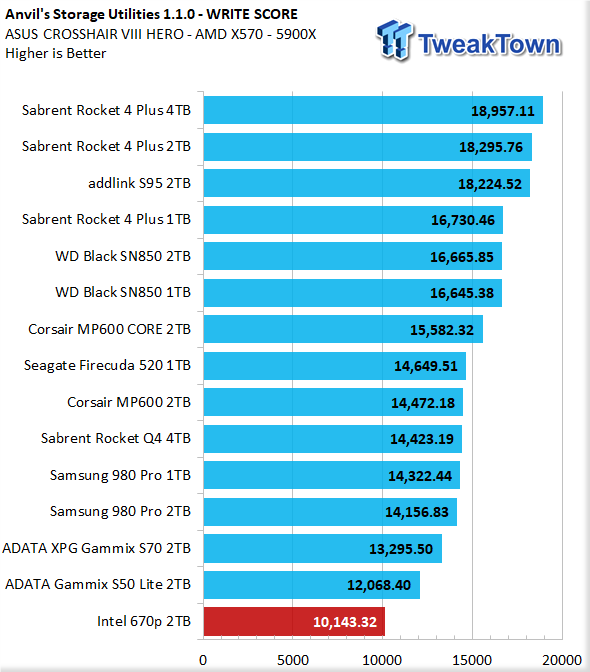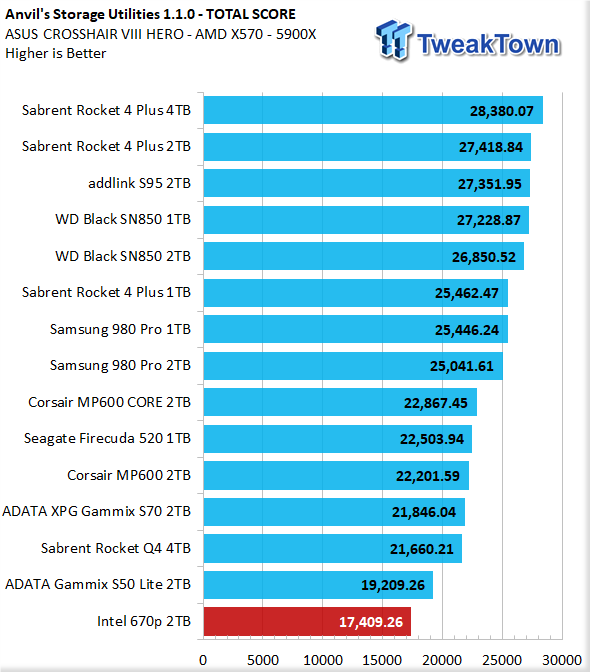 When evaluating Anvil's, or any other benchmark for that matter, we place the greatest importance on read performance, and the 670p, sequential aside, delivers what we are looking for in a big way. We are looking for 15K IOPS at 4K read, and the 670p generates an amazing 21K. Performance where it matters.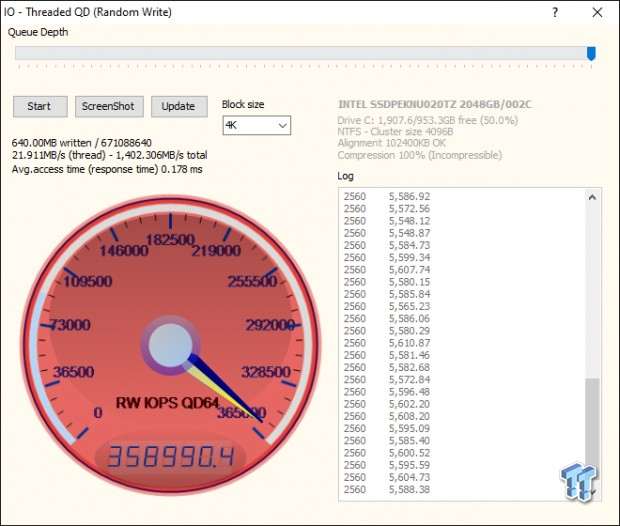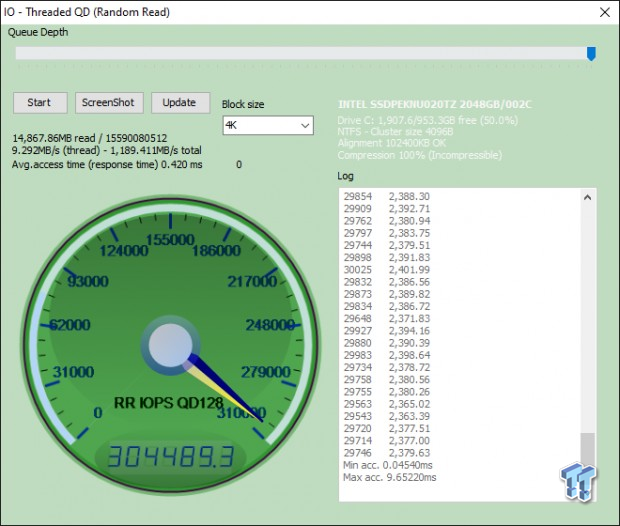 Our user state of 50% filled makes it much harder to attain factory max random performance specs (which are established using empty secondary devices). Nevertheless, we almost get there when serving (reading) data and exceed factory specs when programming (writing) it.
Synthetic Benchmarks: AS SSD & ATTO
AS SSD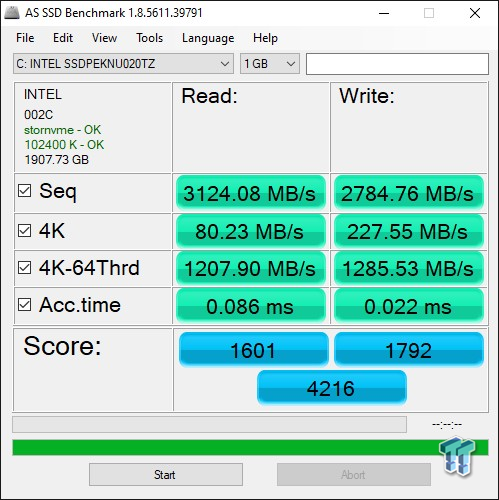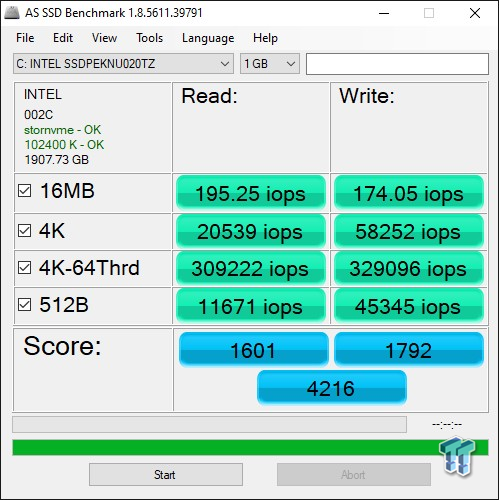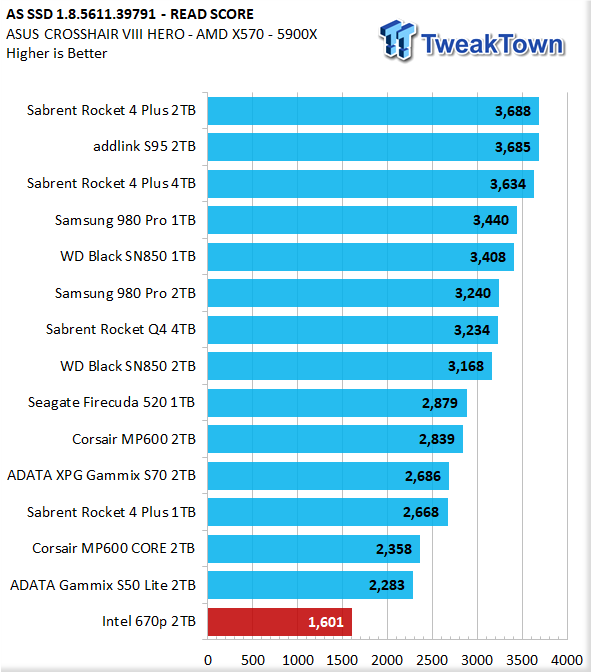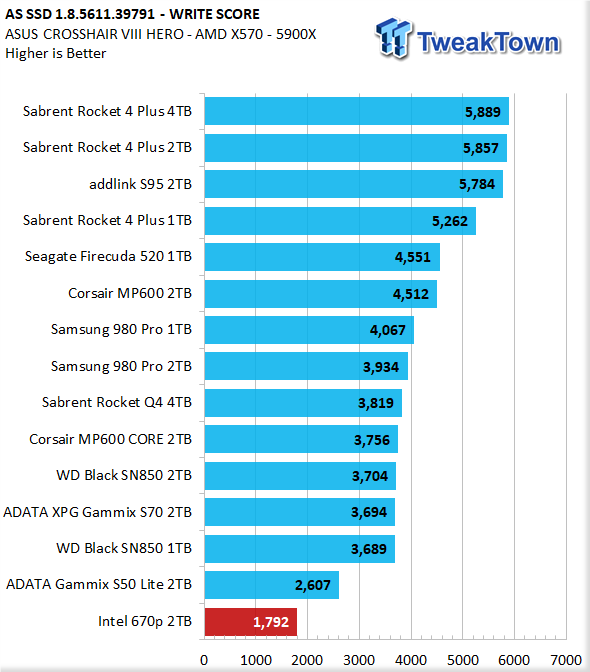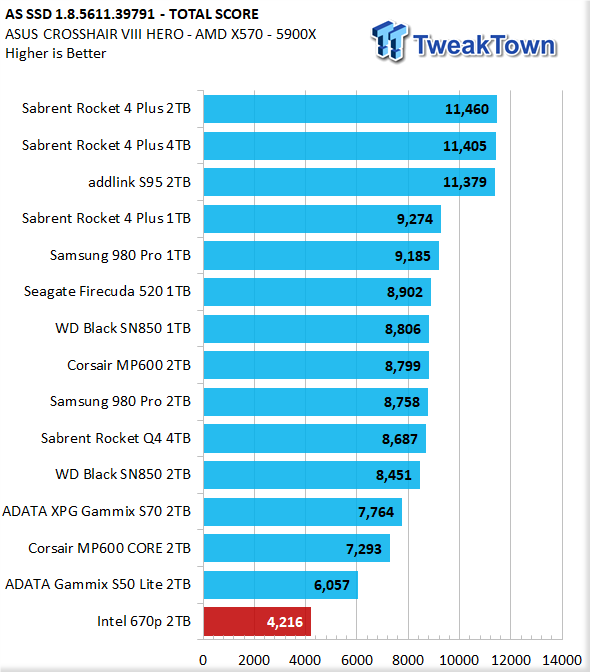 More proof that the 670p is tuned for performance where it matters. 80 MB/s 4K read translates to 20.5K IOPS, which is impressive for any SSD ever made. Again, because the 670p is specifically tuned for low queue depth performance, it doesn't score well overall when performance that doesn't matter is influential on the total score.
ATTO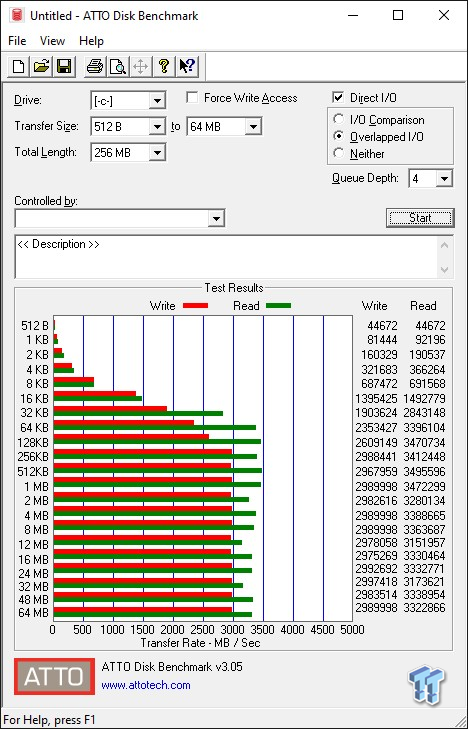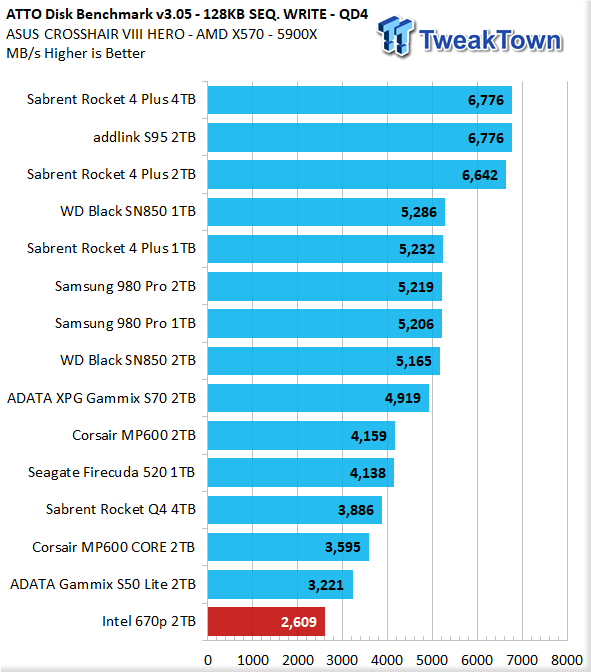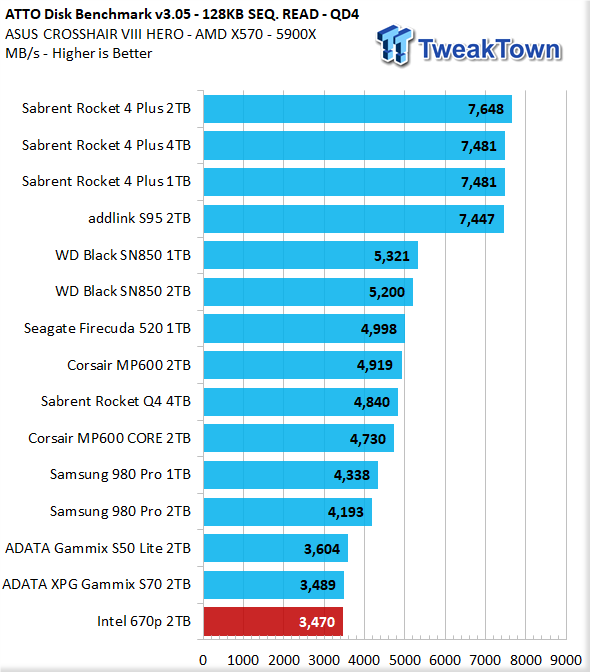 We are looking for two things primarily when evaluating ATTO results. First, we are looking for 40 MB/s read/write at 512 B transfers, and the 670p gives us that and then some. Second, we are looking for full read speed at 128K transfers, and the 670p again delivers the goods. Impressive.
Real-World Testing: Transfer Rates & Gaming
Transfer Rates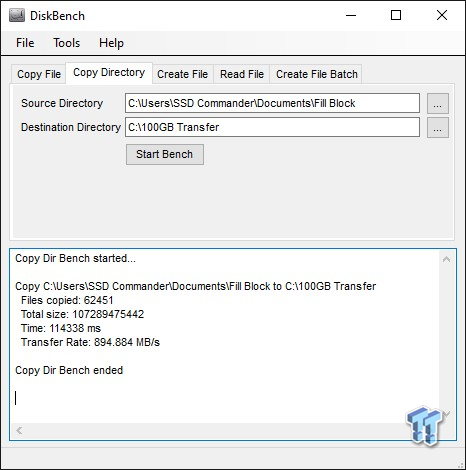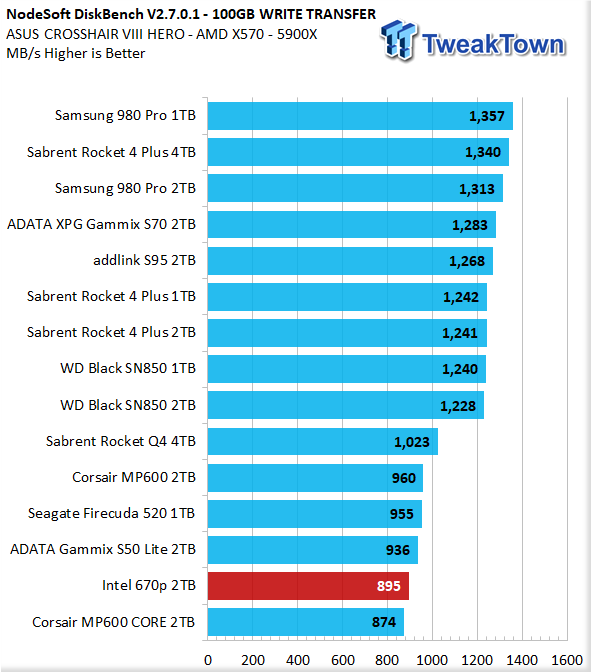 Despite the limitations of a Gen3 interface, the 670p manages to do better than the Gen4 based MP600 CORE. In fact, the 670p lays down the fastest speed we've obtained from any flash-based Gen3 SSD we've ever tested. This is impressive even though it's not exactly reflected that way by our chart.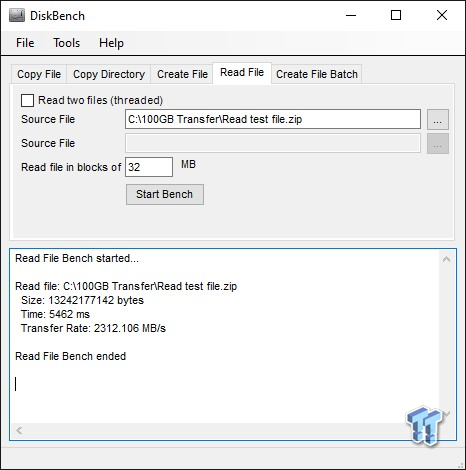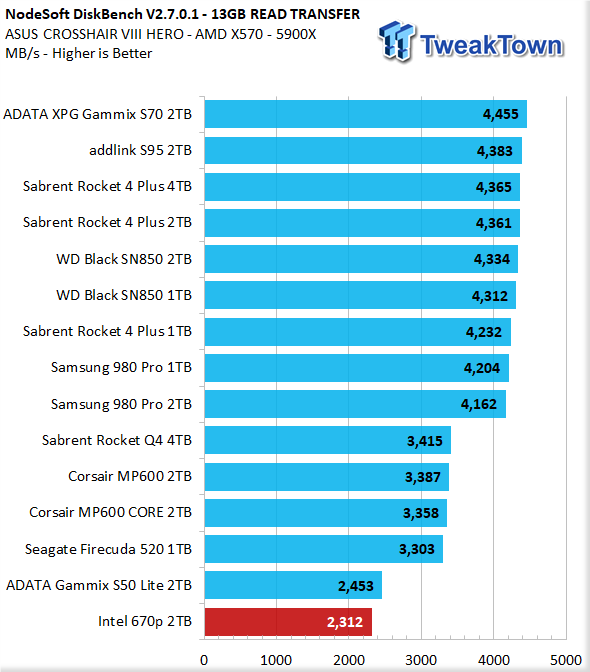 More of the same here. The 670p delivers amazingly for a Gen3 based SSD, but that's not reflected on our chart because it is swimming alone in a sea of Gen4 competition.
Okay, now on to the important stuff. Performance where it matters:
Game Level Loading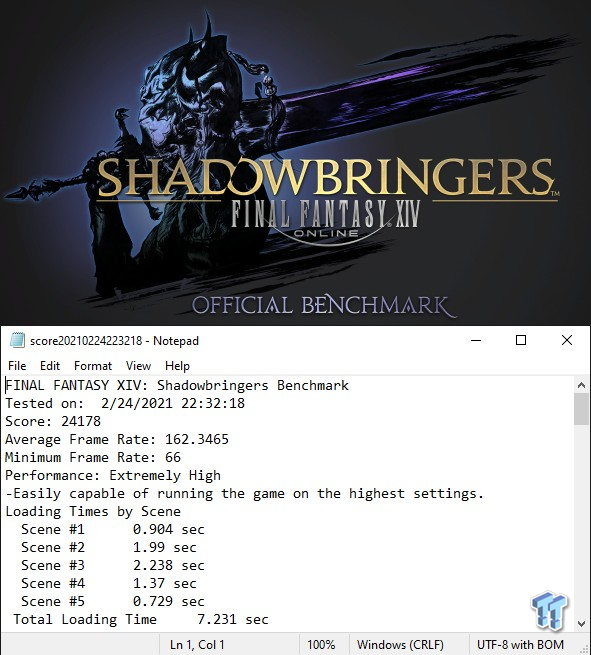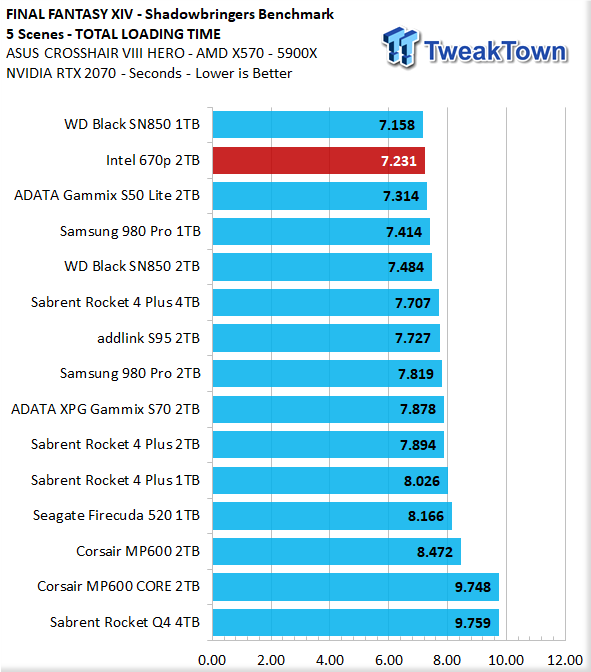 We believe gaming is performance matters to the majority of consumers, especially to the enthusiast crowd that TweakTown caters to. Take a look at the 670p now. Wow, amazing, it destroys all of its Gen4 competition except for the current performance champion WD Black SN850 1TB. Performance where it matters. This is an even more incredible feat when you consider that the 670p is a 4-channel QLC based Gen3 SSD. This is among the all-time best performances for any SSD in the history of SSDs.
Real-World Testing: PCMark 10 Storage Tests
PCMark 10 Storage Test is the most advanced and most accurate real-world consumer storage test ever made. There are four different tests you can choose from; we run two of them.
The Full System Drive Benchmark and the Quick System Drive Benchmark. The Full System Drive Benchmark writes 204 GB of data over the duration of the test. The Quick System Drive Benchmark writes 23 GB of data over the duration of the test. These tests directly correlate with user experience. Of the two tests, we feel that the Quick System Drive Test most accurately replicates a typical user experience.
PCMark 10 Full System Drive Benchmark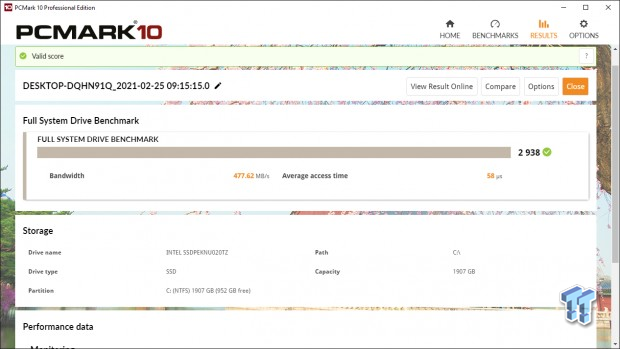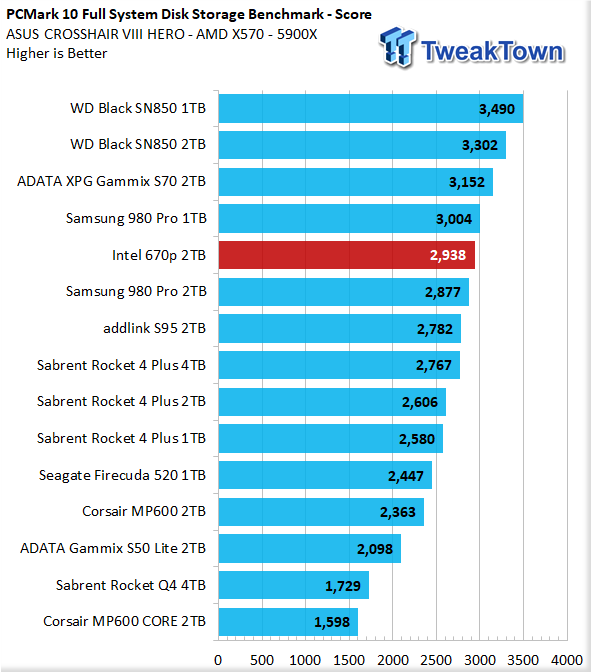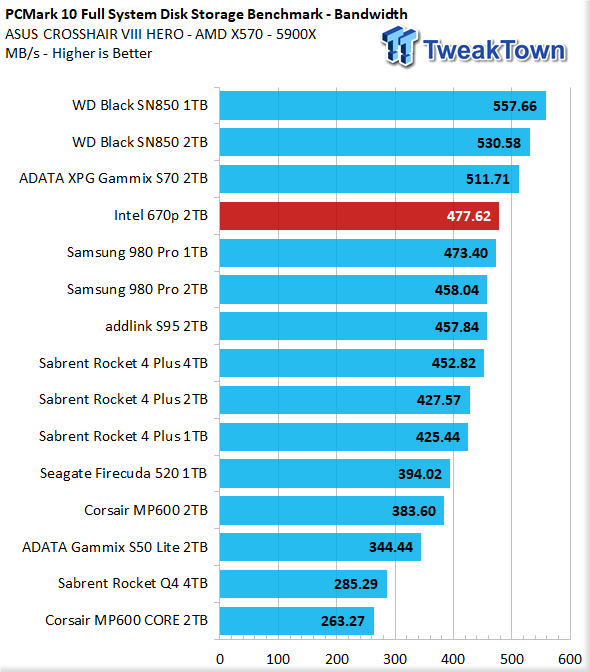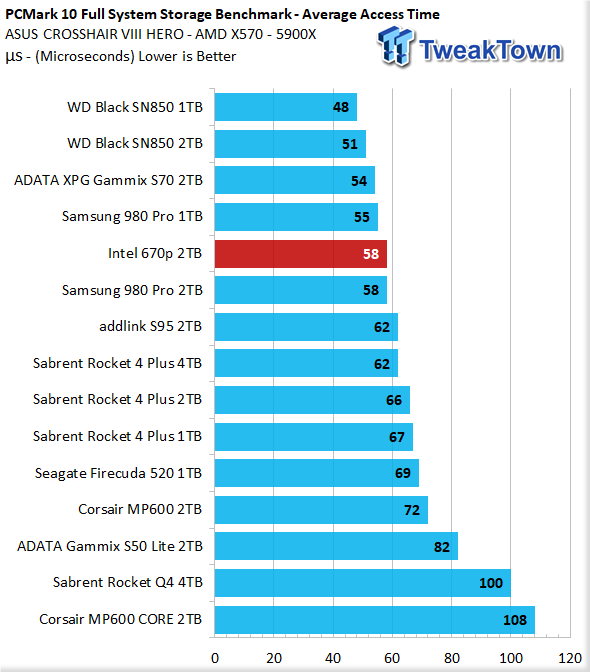 This test result serves to definitively affirm our assertion that sequential speeds as served up by Gen4 SSDs with fire breathing 8-channel controllers have little to do with useful performance or performance that actually matters to the end-user. This result also confirms that Intel has indeed designed the 670p with the aforementioned relevant performance metrics guiding their actions.
Intel's laser-like focus on "Performance that Matters Most" has accomplished what even we didn't think possible. The 670p marks the first time that we've seen a QLC based SSD capable of delivering a user experience that rival's ANYTHING ever made, and doing so in the last place we would expect to see it done; moderate to heavy consumer workloads.
PCMark 10 Quick System Drive Benchmark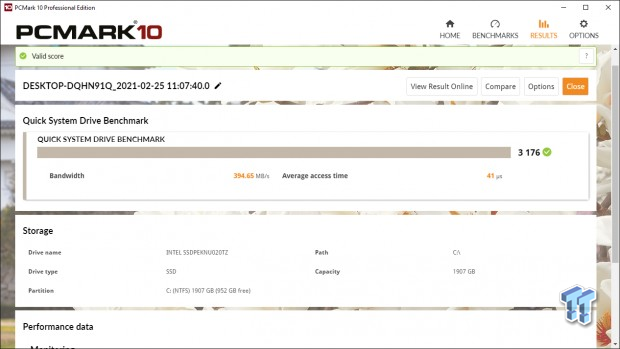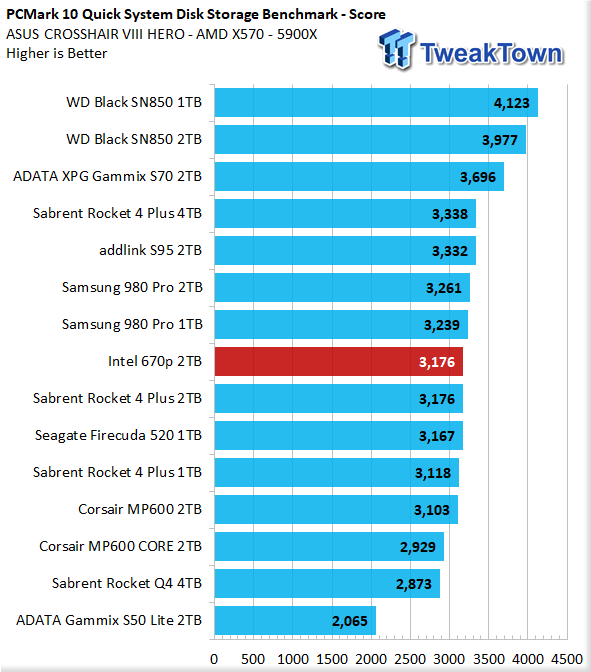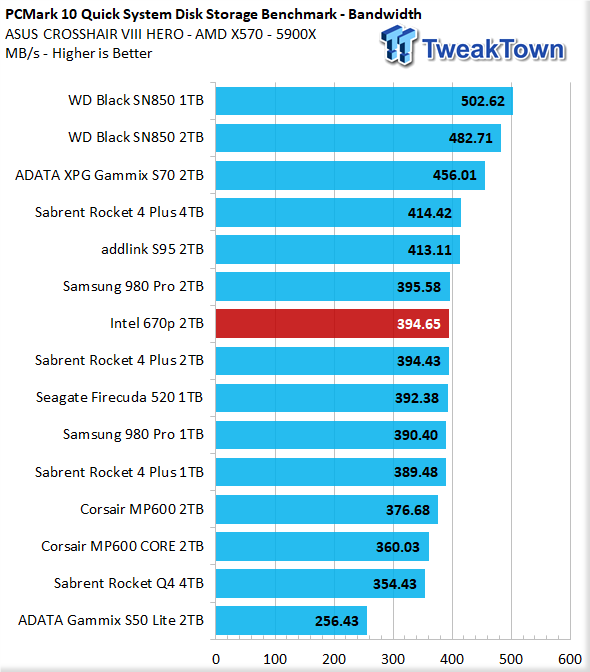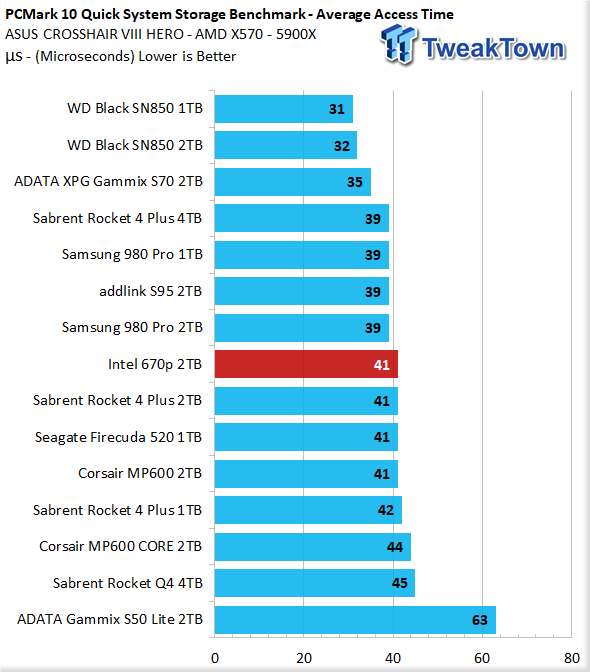 More exceptional performance where it matters most. For almost all intents and purposes that matter, the 2TB QLC based Gen3 Intel 670p is proving to be every bit as fast as the 980 Pro. Amazing.
Final Thoughts
In all honesty, we were a bit skeptical that Intel's 2TB 670p would be anything special when we found out that it was just another Gen3 based QLC SSD. We figured it would do pretty good in gaming because Intel's QLC based SSDs have been trending that way since its 665p series. We knew that Intel's fourth-generation QLC flash featuring 144 layers would bring with it a significant performance boost, but never in our wildest dreams did we imagine the 670p would run with the big dogs. QLC-based SSDs, even with Gen4 interfaces, have never been capable of delivering performance where it matters like this before. This is truly groundbreaking territory.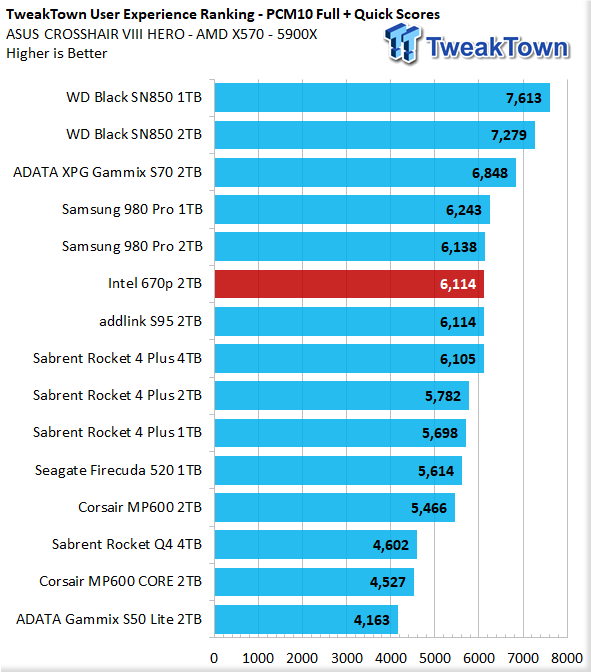 We rank SSDs in terms of overall user experience (performance where it matters most) as expressed by PCMark 10 storage tests. These traces cover a broad spectrum of consumer applications, tasks, booting, copying, and even gaming. Incredibly, Intel's 4-channel controlled, Gen3, QLC based 2TB 670p is dishing out user experience on the same level as fire breathing 8-channel controlled, TLC based, Gen4 SSDs capable of 7,000 MB/s sequential and 1-million random IOPS.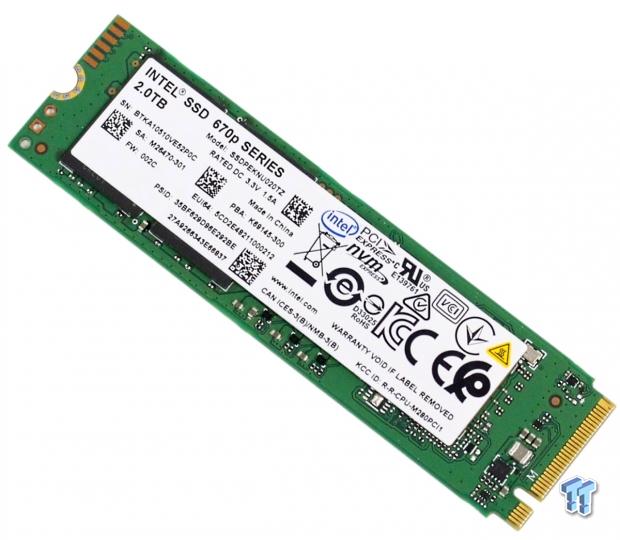 Intel's 2TB 670p is indeed "performance where it matters most" manifested in solid-state storage, and as such, relatively meaningless synthetic numbers are not its gig, with the exception of the one category where synthetic numbers are proven to correlate directly to user experience. Low queue depth random reads. The 670p is proof that our long-time assertion that the best synthetic indicator of actual real-world performance is in fact random read performance at QD1.
As we look back at our results, we find exactly what the 2TB 670p is all about. Synthetic numbers, with the exception of low queue depth read results, are certainly nothing to write home about. With 300K random IOPS as a ceiling, you will not get much in the way of synthetic eye candy. But what you do get with the 2TB 670p is gaming performance and overall consumer workload performance that is as good as it gets. This is what matters, and this is what makes Intel's 670p worthy of TweakTown's highest award.
Pros
Low Queue Depth Read Performance

Single Sided

Free Software

User Experience
Cons
No Migration Software Directly from Intel
| | |
| --- | --- |
| Performance | 100% |
| Quality | 100% |
| Features | 98% |
| Value | 100% |
| Overall | 100% |
The Bottom Line
Performance where it matters most, density sweet spot and value pricing make Intel's 2TB 670p one of the most desirable PC components ever made, PERIOD.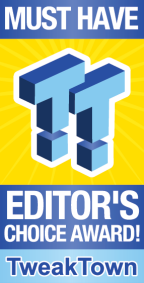 We openly invite the companies who provide us with review samples / who are mentioned or discussed to express their opinion. If any company representative wishes to respond, we will publish the response here. Please contact us if you wish to respond.