Antazone AS-C1000 HSF
Today we look at a CPU heatsink fan from a new company called Antazone. Are jet engine looks for you? If so, read on!
Published Sun, Oct 1 2006 11:00 PM CDT
|
Updated Tue, Nov 3 2020 7:04 PM CST
Introduction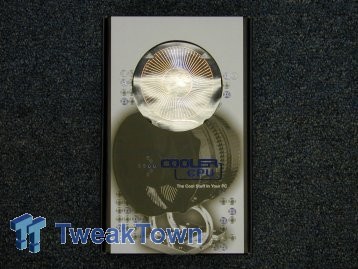 Until recently, I had never heard of the company calling themselves "Antazone". A quick look at their website shows a newly formed group of folks who are looking to take on the enthusiast crowd with a product line of coolers, power supplies and enclosures. With so many products out there aiming at this niche market segment, it will be interesting to see how this new kid on the block handles the load.
Oh...what are we looking at today, you ask?
Today's contestant is their AS-C1000 HSF. We'll take a closer look in just a moment, but the depiction on the box above gives an idea that this company is putting a lot of stock in aesthetics. While this isn't a bad thing, we will also be taking a look at the performance of this product as well. One of our more popular questions while I was in the military went something like "They look good, but can they fight?", and I think this same concept applies here.
So relax for a bit as we take this new toy out of the box and see if it has more working for it besides a new look. After all, we're thinking of buying a
cooler
here, so we want to make sure it does a good job.
The Cooler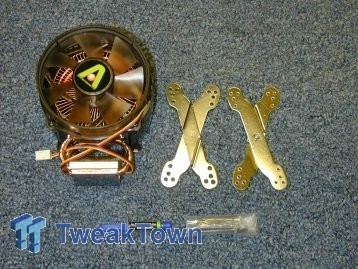 After we strip the box from the contents, we see the cooler, the mounting system, a small tube of thermal interface material, and the mounting screws. There is also a small installation manual included, which was a good thing since the mounting style is not like most others on the market. As for the TIM, I will continue to use Arctic Silver 5 for testing so that results remain consistent with previous tests and can be used in a comparison.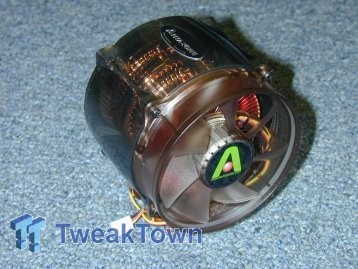 Taking a closer look at the cooler itself, we see some similarities to a turbine engine. For some reason, I don't think this is a coincidence. The cooler uses a heatpipe technology that is popular today, and then uses a large copper fin array surrounded by a plastic cover to give it the uncanny resemblance to the turbine.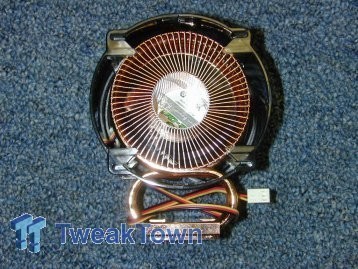 Above is a closer look at the copper fin system used on this model. Many products using the heatpipe technology have gone back to aluminum due to its light weight and the fact that the heatpipes do such a good job dissipating heat. The Antazone uses fewer heatpipes, so it appears that they have gone with the copper due to its better heat dissipation capabilities.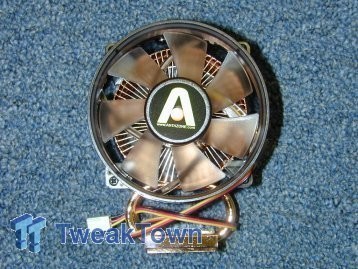 Rolling the unit over shows us the fan used to keep everything cool. While it is a 92mm type fan, its round shape will keep you from using a different fan without losing the aesthetics of the sink. The fan spins at 2200RPM and puts out roughly 50 CFM of airflow. Sound output is listed as 25 dBA on the box and 32.6 dBA on the company website. Regardless, this isn't going to be a real quiet solution, but if the results turn out good then I can live with that.
A small issue with the fan is in regards to its 3-pin motherboard header limitation. Most manufacturers have gone with a standard Molex connector for their fans, and for good reason; the motherboard headers (especially of some budget motherboards) are notorious for not supplying a sufficient amount of power. I prefer not to rely on this method of power for one of the most important components in the system.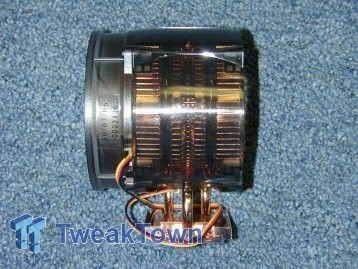 The photo above gives you a better look at the heatpipes used on this product. As I mentioned earlier, this model uses fewer pipes than many others, but it also isn't as cluttered around the base area either.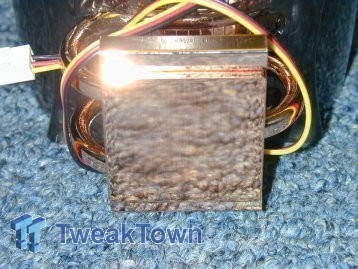 Speaking of the base, it doesn't take a rocket scientist to figure out that this one is a gem. I was unable to feel any distortions with the finger, and a quick look above shows the type of finish that you can expect to see. For those who dislike lapping a heatsink before using, you will truly enjoy this one since the work has been done for you. This should make for an excellent contact patch between the processor and the sink.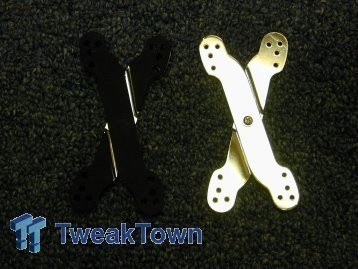 The last item to look at before we move on is the mounting system. These two brackets are used to install the heatsink onto the processor. Those familiar with replacing heatsinks will quickly realize that this installation will require the removal of the motherboard. Given the large size and weight of this unit, extra support is really necessary to ensure no damage is done to the system components.
Installation
Installation Notes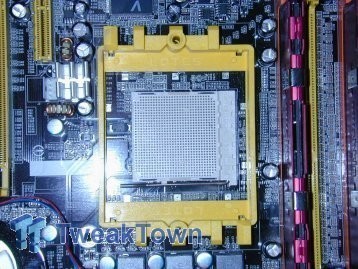 The Antazone AS-C1000 is compatible with most motherboard types, including AMD K7 and K8 systems, as well as Intel P4 and LGA775 based systems. Our testing will consist of an AMD K8 based system so your installation process may differ a bit from mine.
Note to K7 users: Make sure your motherboard has mounting hole surrounding the socket or you will not be able to mount this product. Many older designs did not include these mounting holes, so check before you buy!
Above you will see our starting point. The test board is a DFI LanParty board for the Socket 939 processors. The stock mounting screws have already been removed and the yellow support bracket is ready to be removed. Also remember to remove the support block on the bottom of the motherboard for those that include it (like mine).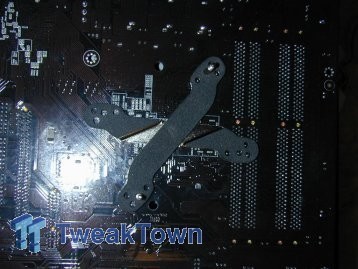 After removing the bracket, I am ready to begin installing the Antazone cooler. Above is one of the mounts that came with this product. The one to use on the base of the motherboard
MUST be the one with the foam
. This keeps the mounting system from shorting out the solder points located under the processor socket. Since you now know that there is a difference, let's insert the base mount through the motherboard.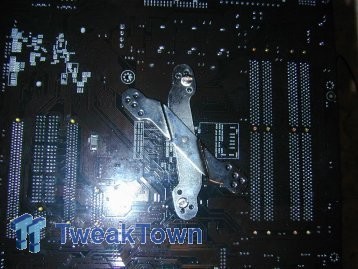 There we go...so far, so good. At this point the base bracket and the screws are simply resting in the holes of the motherboard. For those with motherboard that have four holes surrounding the socket, the other arm will move and you can align the bracket to make use of all four holes. K8 boards only have two holes, so the other arm is just positioned to be out of the way.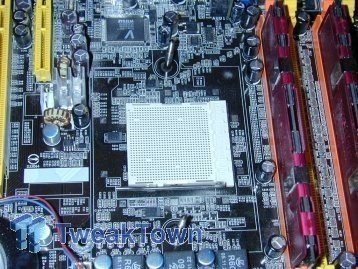 Turning the board over shows the two posts coming through the board. Again, if your motherboard has four holes, then you should have four posts coming through the mainboard. Now to install the processor and some AS5.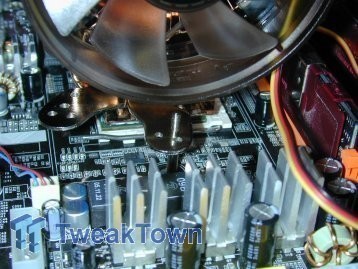 Whew! That was a good deal more difficult than I had imagined. When installing the sink itself, make sure to take note of the small hole in the top of the heatsink base and the small teat that protrudes from the bottom of the upper bracket. This teat must lock into the hole atop the base to make sure the cooler is properly aligned on the processor. This is also used as a means of locking the sink into place so it does not move around during operation. While the concept is simple, the execution is a bit more challenging. Between keeping the mainboard at an angle as to prevent the mounting bracket from falling out, and the proper aligning of the cooler,
and
making sure the teat gets in the hole on the top of the heatsink base,
and
getting a free hand to actually turn the mounting screws... well, I think you can see where this is leading. If you were gifted with a third hand or have a buddy standing by to help install the cooler, it will be pretty simple. If you are on your own, be prepared for a challenge. It is possible (I did it alone just to make sure it could be done), but it will be a little tough.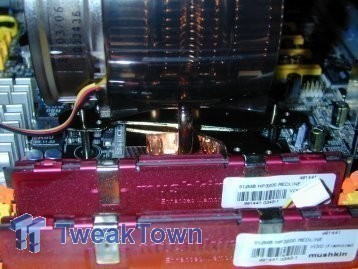 The photo above is from the side and shows that there is ample clearance for the memory modules and capacitors. There should be no issues with motherboard layout interference since the height of this cooler is well above the level these items normally reside.
One final note for installation deals with proper case airflow. Since we always want cool air coming in from the lower front and exhaust to leave the case from the upper rear, you should orient this cooler so that the fan direction is blowing toward your rear exhaust fan. This will help keep a proper airflow moving through your case.
Testing
When it comes to testing a heatsink, I generally try to thrash the system while monitoring temperatures. Since we're talking about a cooling solution that has the processor as its primary concern, I find it easiest to simply run it at 100% load and monitor in the background. This simple method lets me see just what a cooling solution can do and also lets us know where we should consider spending our hard-earned upgrade dollars.
Before getting into the meat of the matter, though, let's take a quick look at the test system:
AMD Athlon FX-53 Processor @ 2.4GHz (Supplied by
Newegg.com
)
DFI LANParty UT nF4 Ultra-D Motherboard
2x512MB Mushkin "Redline" PC3200 Memory (Supplied by
Mushkin
)
GeCube X1900XTX Graphics Board (Supplied by
GeCube
)
Thermaltake PurePower 600w PSU (Supplied by
Thermaltake
)
Testing will be monitoring temperatures at both idle and at load. The processor is running at default speeds but still manages to put out 94 watts of heat. Voltage of the CPU is 1.55v and testing temperatures were a consistent 22C. Arctic Silver 5 is the TIM being used (after a 3-day burn-in) and the test system will be a closed case setup to more accurately reflect the conditions that you would use yourself.
Results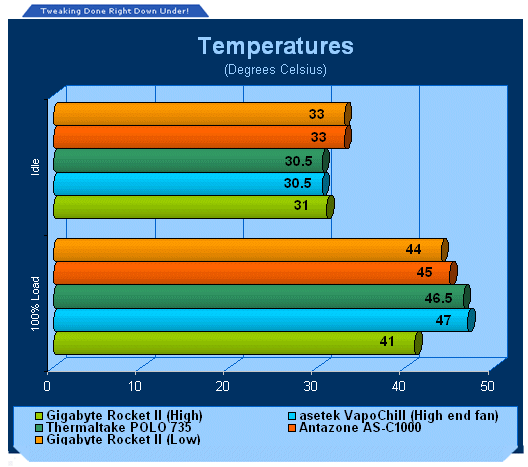 When I first looked at this product and noted fewer heatpipes, I was concerned that the performance would not be up to par. After testing, however, my concerns were put to rest. While not the best performing model on the market, the results are in line with what I have come to expect from this cooling technology. I still enjoy the smaller difference between idle and load that heatpipes provide. The results of the Antazone model show a 12C differential between the two states.
Final Thoughts
With the exception of the installation, the Antazone AS-C1000 is a very workable cooling solution. Utilizing heatpipe cooling technology and having a very unique jet turbine appearance, the folks at Antazone have done a good job mixing looks and performance. The plastic shroud makes sure that the air being forced through by the fan is directed to where it is needed and also sets the aesthetics a notch up from many other similar products on the market.
As noted, however, installation was a bear. If you have a buddy who can lend a spare hand, this should alleviate the problem, but if you are running solo prepare yourself for a challenge. While certainly not impossible, it will likely take you a bit of time to get it properly installed.
As far as price is concerned, the jury is still out on this aspect of the Antazone cooler. Being a newer design, it is not currently on the market in quantity and local searches of US based suppliers do not show this product yet.
Bottom line... If you have been looking for a new cooling solution and have decided on using a heatpipe technology product, there are several choices in nearly all price categories. If, however, you want this same cooling solution but with a look that is more than a little unique, then your choices narrow down a good deal. The Antazone AS-C1000 HSF falls squarely into the "unique" category but still offers reliable cooling for your precious processor.
- Pros
Heatpipe cooling technology
Copper fins to maximize cooling
Unique appearance
- Cons
Installation is difficult
Round fan (hard to find aftermarket)
No 4-pin Molex power connection
Rating - 7.5 out of 10
PRICING: You can find products similar to this one for sale below.

United States: Find other tech and computer products like this over at Amazon.com

United Kingdom: Find other tech and computer products like this over at Amazon.co.uk

Australia: Find other tech and computer products like this over at Amazon.com.au

Canada: Find other tech and computer products like this over at Amazon.ca

Deutschland: Finde andere Technik- und Computerprodukte wie dieses auf Amazon.de
We openly invite the companies who provide us with review samples / who are mentioned or discussed to express their opinion. If any company representative wishes to respond, we will publish the response here. Please contact us if you wish to respond.