Introduction
Recently at TweakTown we wrote about nVidia's nForce 500 series chipsets explaining the new features that the latest nVidia offering has for the AMD Socket AM2 platform. This included boards form MSI and the current DFI NF590 SLI motherboard which we are reviewing today in more detail since we think it deserves some more action.
Despite recent rumours floating around the Internet on some other websites, DFI will not be quitting the retail motherboard market. In fact, our friends at the Taiwanese company tell us that if anything things will be moving ahead and they wish to ramp up production, not cease to exist in the market. This should come as good news to consumers as DFI's past tells us they make good overclocking motherboard and more product choice is always better for consumers as it creates competition which helps reduces prices and force companies to make even better products than they already do.
While we did use the DFI LANParty UT NF590 SLI-M2R/G motherboard in our last article discussing the NF5 chipset, some might be asking, why we are doing another review? The answer is simple - we only used the DFI board for its 590SLI chipset. The focus of that article was the chipset and not so much the motherboard itself - this time we'll be focusing more on the board and its features to work out if it is actually worth buying.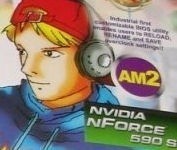 Specifications
Specifications of the DFI LANParty NF590SLI-M2R/GCPU
Supports AMD Athlon 64 FX AM2 Series
Supports AMD Athlon 64 X2 AM2 Series
Supports AMD Athlon 64 AM2 Series
Supports AMD Sempron AM2 Series
Chipset
nVidia nForce 590SLI
nVidia C51XE SSP
nVidia MCP55PXE
Hyper Transport @ 2000MHz
System Memory
4 DDR2 SDRAM 240pin DIMM Sockets
Supports DDR2-400/533/667/800MHz
64/128Bit Dual Channel
Supports up to 4GB Total Memory (4x 1GB)
Bus Frequency
100MHz Internal
800/1600/2000MHz External
Hyper Transport Interconnect
Expansion Slots
2 PCI Express x16
1 PCI Express x8
1 PCI Express x1
3 PCI
Connectivity
1 Parallel ATA port supporting 2 IDE Drives
8 Serial ATA ports
2 Gigabit Ethernet Port
Expansion Ports
1 PS2 Keyboard Port
1 PS2 Mouse Port
10 USB 2.0 Ports (4 rear accessible, 6 via expansion bracket)
2 SPDIF Ports (1 RCA, 1 Toslink)
6 Stereo Audio Ports on Riser board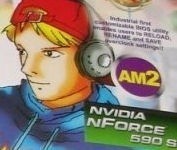 Package and Contents
Inside the Box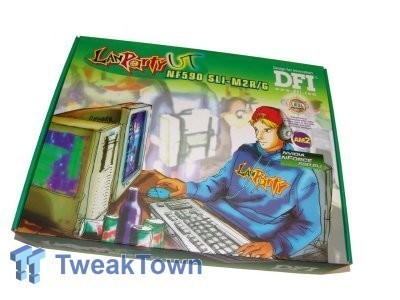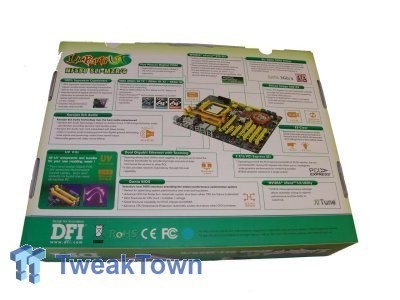 First off we look at DFI's package and what you get for your dollars. DFI's LANParty boxes are extremely colourful to identify them on the retail shelfs, you aren't going to miss this one of the shelf. There is very little info on the front of the box apart from the name and model number.
On the back, DFI puts quite a bit of info on the board. Features such as the board specs, the UV features and basic marketing info are placed on the back along with a picture of the board itself, so there is no mystery as to what you're getting.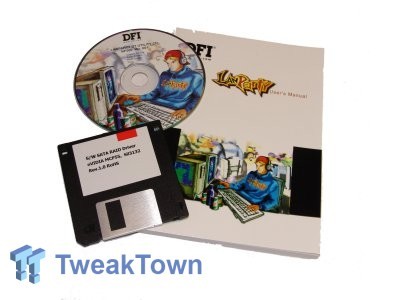 Onto documentation and installation. DFI provides a single user manual with all the setup features including guides to Windows driver and software installation in both English and Chinese. A single CD is provided with all the drivers for the nVidia chipset, onboard features and Windows software is included. There is also a single floppy disk that contains the nVidia RAID drivers for Windows XP install as well as the Silicon Image 3132 drivers for XP setup. This is great inclusion as some boards we've tested recently don't come with the "F6 RAID" Windows drivers which can be annoying.
DFI provides enough cables for you to setup a full on system. 4 UV Reactive SATA cables and 2 SATA power splitters with 2 drivers per splitters provide the basic SATA setup. If you want to go SLI, DFI is on your side. A SLI bridge connector is provided for running SLI. For some time, on the top of the range DFI boards, an Audio riser module is included that can be installed or removed from the board if you plan to use the onboard audio. DFI states this is use to prevent any noise from the board interfering with the onboard Audio helping to provide maximum audio quality. While we haven't personally tested this, other have and found there is very little difference but you be the judge as audio always comes down to personal preference.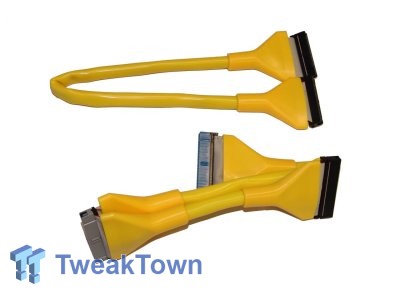 1 rounded IDE and 1 rounded FDD cable is provided and is also UV reactive, under a UV black light these will light up and do look quite effective.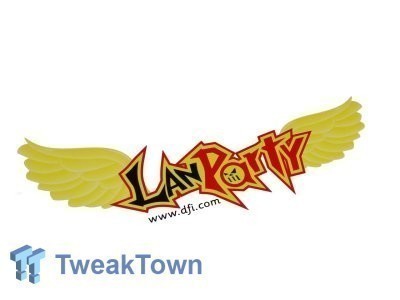 DFI goes for the bling factor on the high-end LANParty boards, a large LANParty decal is included to stick onto your case, so people know just what is powering your l33t gaming system.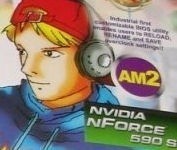 The Motherboard
Features of the DFI LANParty NF590 SLI-M2R/G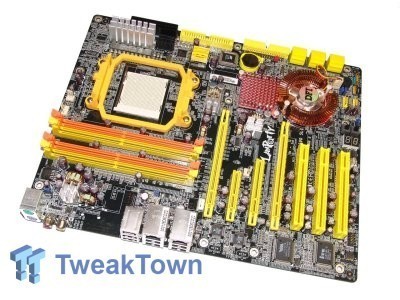 The size is nothing new - it is the full ATX layout which all enthusiast boards now use. DFI has done a magnificent job on working out where the best placement for the connectors should be placed.
The 24-pin power and 8-pin CPU power connectors are located at the top right of the board behind a large heatsink that cools the input voltage regulators. Below this is a single IDE and 2 SATA ports. The IDE is controlled by the nVidia Southbridge and the top 2 SATA ports are powered by a Silicon Image 3132 controller chip just below the SATA ports. Just below this is the FDD connector and the 6 SATA ports controlled by the nVidia Southbridge. These ports are angled 90 degrees to the board to reduce cable clutter as much as physically possible - all in the aid of improving air flow. All of these ports are UV reactive also, when placed under a black light they will glow.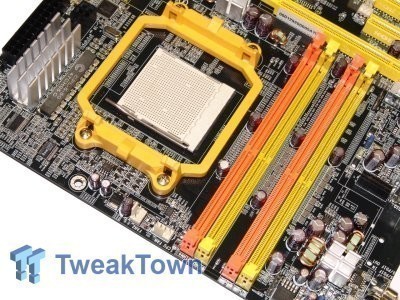 The CPU layout is also extremely clean. The CPU is given power from 5 phases to keep the unit nice and stable under overclocked conditions. The retention mechanism also is UV reactive. DFI places the DDR-2 DIMM sockets between the I/O ports and the CPU, which is the opposite side to most boards, being that the CPU itself controls the memory interface; it doesn't matter if it's to the left, right or above - it's all the same.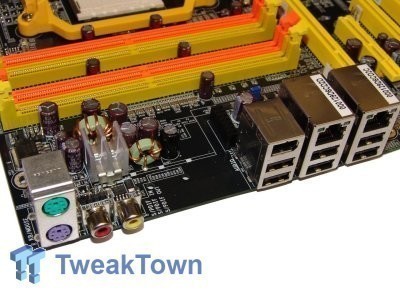 The rear I/O is setup quite like a lot of the LANParty boards that DFI produces. The biggest note is the large gap between the SPDIF ports and the USB towers. This is there the audio module plugs into if you intend to use it. If you want to use a discrete sound card, it is better to leave it out.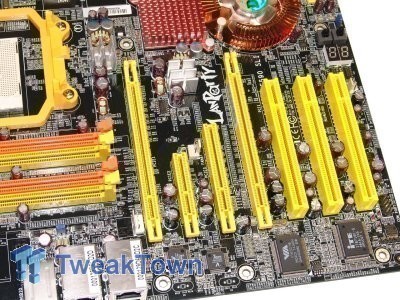 Now we get to the last part of the board before we get into the BIOS and testing. This is the expansion slots as well as the additional features that DFI packs in. There are 2 PCI Express x16 slots on the board for full-speed SLI as well as support for Dual 7950GX2 cards for Quad SLI. The top slot is routed through the Northbridge, the lower is controlled through the Southbridge. Below the first PCI Express 16 slot is a single PCI Express x1 slot. Below that is a PCI Express x8 slot that can accommodate any PCI Express cards on the market apart from a graphics card.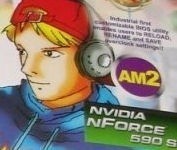 BIOS and Overclocking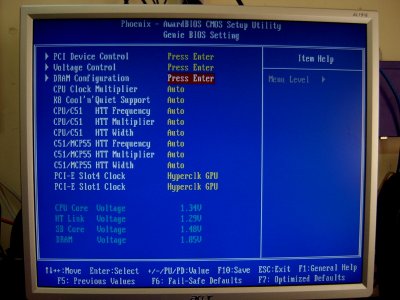 We have already covered the BIOS in our nForce 500 series review which this board participated in - therefore, rather than having you go to this page, here is a snip from that review:
Located under the Main BIOS menu is Genie BIOS Menu. This has all the clock options. FID can be changed under the main menu; you can adjust from 4x up to the maximum your CPU supports (in our case 10x).
CPU voltage ranges from 1.0v up to 1.60v in 0.025v increments. DRAM voltage goes from 1.8v up to 3.0v in 0.05v increments, the best we have seen for DDR-2 voltages. Chipset voltage ranges from 1.2v to 1.5v in 0.1v increments for the Northbridge, 1.5v to 1.8v for the Southbridge and 1.3v to 1.5v for the Hyper Transport voltages. FSB ranges from 200MHz up to 500MHz in 1MHz increments.
With these settings we managed to get 375MHz FSB with DRAM 2.2v and all other voltages set at stock. We did try a few extra voltage tweaks and we did get more speed but that resulted in a few too many random reboots. We use a 6x multiplier to give us 2.25GHz for overclock tests - quite an impressive FSB!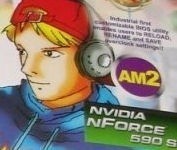 Benchmarks - Test System Setup and Sandra
Test System SetupProcessor
: AMD Athlon 64 X2 3800+ (Stock and Maximum FSB)
Memory
: 2x 1GB DDR2-1066 Corsair (Supplied by
Corsair
)
Hard Disk
: 500GB Seagate 7200.9 SATA (Supplied by
Seagate
)
Graphics Card
: nVidia GeForce 7800GT
Cooling
: Gigabyte Neon775 (Supplied by
Gigabyte
)
Operating System
: Microsoft Windows XP Professional SP2
Drivers
: nForce Platform Driver 9.16, nVidia ForceWare 91.31 and DX9c
Today we will be pitting the DFI motherboard against ASUS's Crosshair and MSI's K9N SLI Platinum motherboards to see just how things went.
DFI board was running overclocked at 2.25GHz (375MHz FSB x 6), ASUS at 2.16GHz (361MHz FSB x 6) and MSI at 2.11GHz (352MHz FSB x 6) which was the maximum FSB obtainable on each board during our testing. We used DDR2-800 for stock clock speeds and ran the memory at 1:1 when we overclocked.
Let's get this show on the road and see how the new DFI motherboard stacks up against the competition.
SiSoft SandraVersion and / or Patch Used:
2007
Developer Homepage:
http://www.sisoftware.co.uk
Product Homepage:
http://sisoftware.jaggedonline.com/index.php?location=home&a=TTA&lang=en
Buy It Here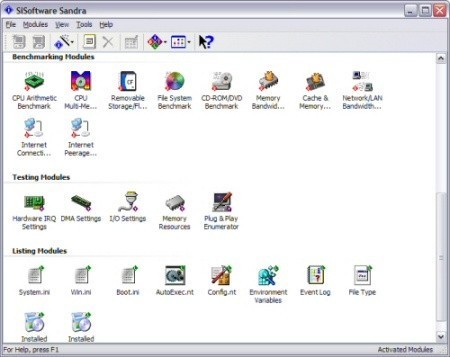 SiSoft Sandra (
S
ystem
AN
alyser,
D
iagnostic and
R
eporting
A
ssistant) is a synthetic Windows benchmark that features different tests used to evaluate different PC subsystems.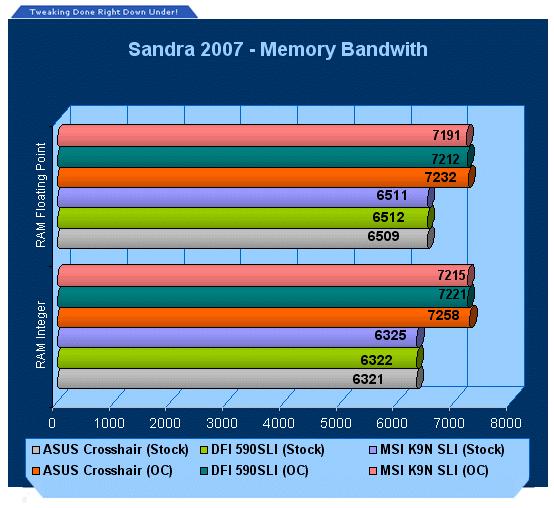 Here we can see that at stock speeds all boards are just about dead equal. When overclocked the DFI falls back behind the ASUS board.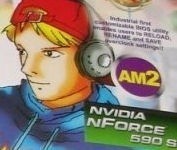 Benchmarks - PCMark05
PCMarkVersion and / or Patch Used:
1.1.0
Developer Homepage:
http://www.futuremark.com
Product Homepage:
http://www.futuremark.com/products/pcmark04/
Buy It Here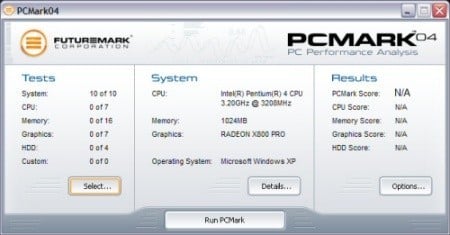 PCMark is a multipurpose benchmark, suited for benchmarking all kinds of PCs, from laptops to workstations, as well as across multiple Windows operating systems. This easy-to-use benchmark makes professional strength benchmarking software available even to novice users. PCMark consists of a series of tests that represent common tasks in home and office programs. PCMark also covers many additional areas outside the scope of other MadOnion.com benchmarks.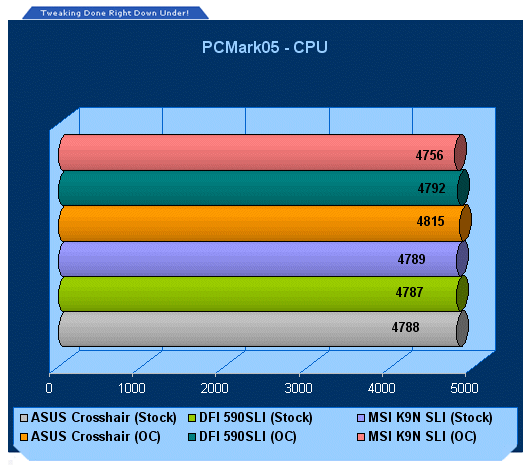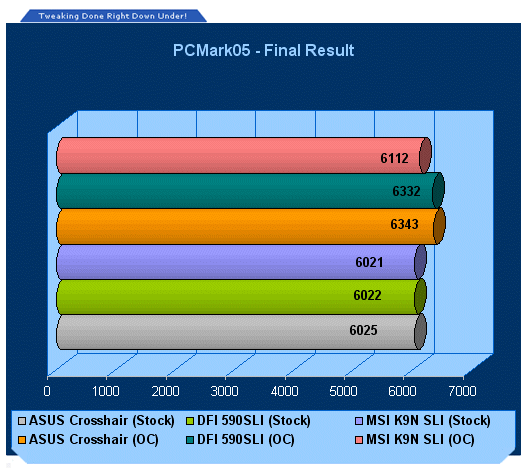 Here we can see stock all boards are just about dead equal and when overclocking comes into play, ASUS manages to still lead the pack.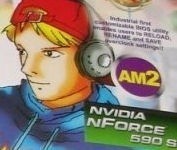 Benchmarks - 3DMark05
3DMark05Version and / or Patch Used:
Build 120
Developer Homepage:
http://www.futuremark.com
Product Homepage:
http://www.futuremark.com/products/3dmark05/
Buy It Here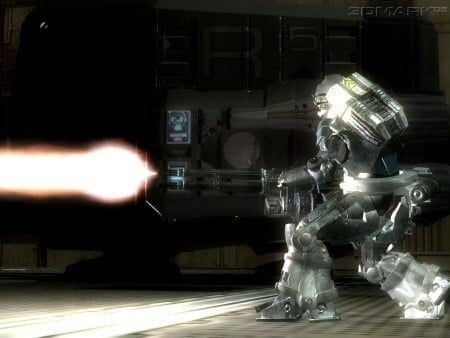 3DMark05 is now the second latest version in the popular 3DMark "Gamers Benchmark" series. It includes a complete set of DX9 benchmarks which tests Shader Model 2.0 and above.
For more information on the 3DMark05 benchmark, we recommend you read our preview
here
.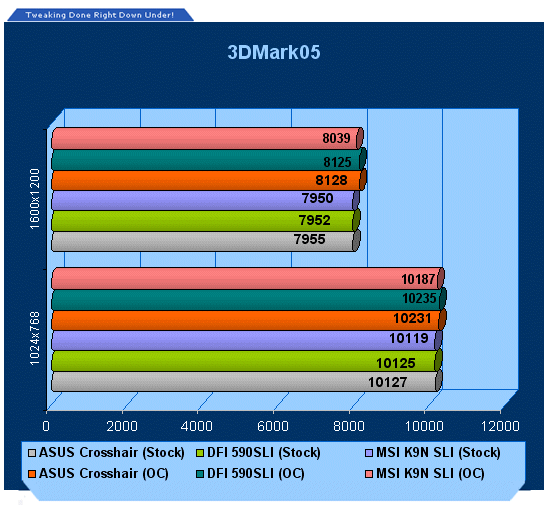 Here again at stock we see ASUS and DFI in front, the MSI is slightly behind, at overclocked speeds DFI is not far behind the ASUS board at all.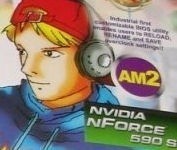 Benchmarks - 3DMark06
3DMark06Version and / or Patch Used:
Build 102
Developer Homepage:
http://www.futuremark.com
Product Homepage:
http://www.futuremark.com/products/3dmark06/
Buy It Here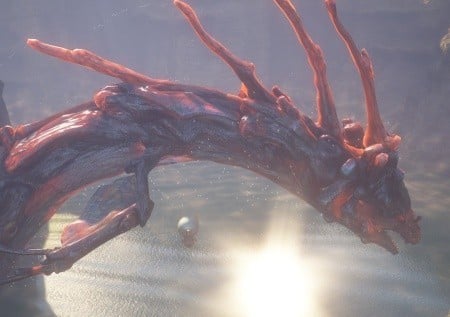 3DMark06 is the very latest version of the "Gamers Benchmark" from FutureMark. The newest version of 3DMark expands on the tests in 3DMark05 by adding graphical effects using Shader Model 3.0 and HDR (High Dynamic Range lighting) which will push even the best DX9 graphics cards to the extremes.
3DMark06 also focuses on not just the GPU but the CPU using the AGEIA PhysX software physics library to effectively test single and Dual Core processors.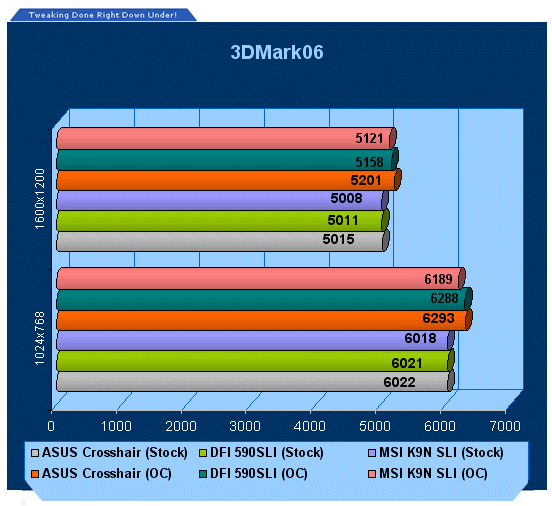 3DMark06 puts a bigger gap between the ASUS and DFI boards.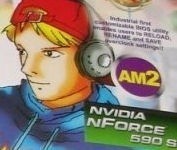 Benchmarks - Doom 3
Doom 3Version and / or Patch Used:
1.1
Timedemo or Level Used:
Custom Timedemo
Developer Homepage:
http://www.idsoftware.com
Product Homepage:
http://www.doom3.com
Buy It Here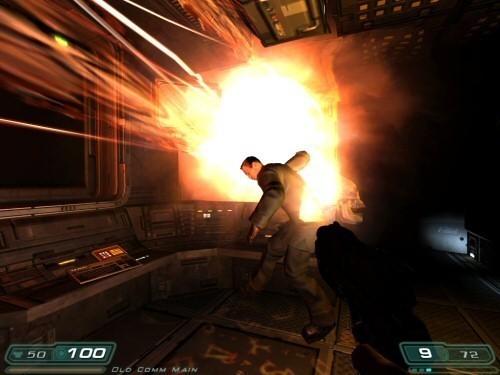 Doom 3 is still one of the most popular games at the moment and is quite intensive in the 3D department, even though it is starting to age. With our own custom time demo we are able to give a realistic rating on what kind of FPS you will be achieving.
For more information on benchmarking Doom 3 we recommend you check out our extensive article regarding it
here
.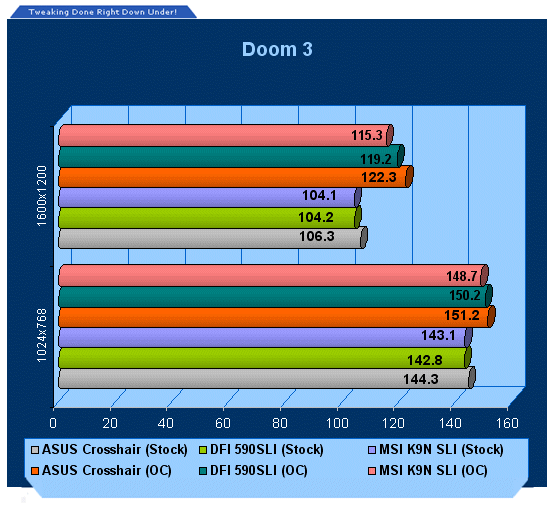 In our real world tests we see that the DFI boards sits in second place when it comes down to overclocked speeds.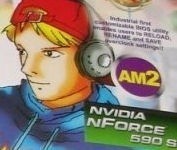 Benchmarks - Quake 4
Quake 4Version and / or Patch Used:
Unpatched
Timedemo or Level Used:
Custom Timedemo
Developer Homepage:
http://www.idsoftware.com
Product Homepage:
http://www.quake4game.com
Buy It Here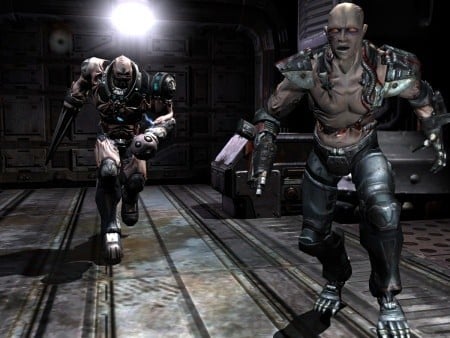 Quake 4 is one of the latest new games to be added to our benchmark suite. It is based off the popular Doom 3 engine and as a result uses many of the features seen in Doom. However, Quake 4 graphics are more intensive than Doom 3 and should put more strain on different parts of the system.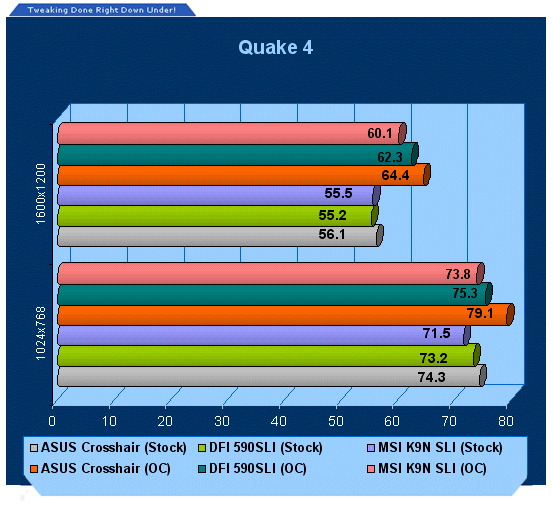 Quake 4 also puts the ASUS just in front.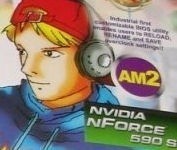 Benchmarks - F.E.A.R.
F.E.A.R.Version and / or Patch Used:
Unpatched
Timedemo or Level Used:
Custom Timedemo
Developer Homepage:
http://www.vugames.com
Product Homepage:
http://www.whatisfear.com/us/
Buy It Here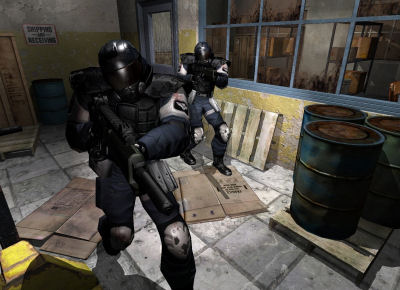 F.E.A.R. (First Encounter Assault Recon) is an intense combat experience with rich atmosphere and a deeply intense paranormal storyline presented entirely in first person. Be the hero in your own spine-tingling epic of action, tension, and terror...and discover the true meaning of F.E.A.R.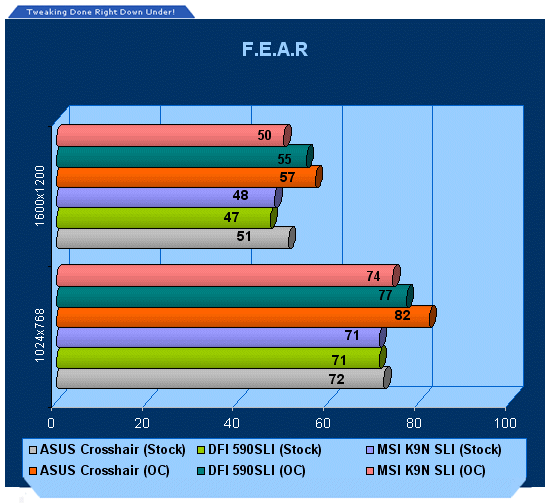 Our last test puts the ASUS in head again.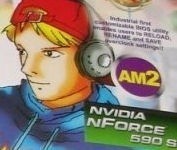 Final Thoughts
DFI has had a major success with their LANParty motherboards being adopted for the extreme gamers and there is a reason for that - DFI has made a huge commitment to producing a board that not only performs but some of the best overclocking workmanship on the market.
The combination of overclocking, additional onboard features and the bling factor of a glowing board, its no wonder DFI is making a killing. Now they've started to introduce 5 phase digital PWM's (apparently DFI is the first company to start using these on desktop motherboards) which are normally reserved for high-end server motherboards and are more susceptible to overclocking than regular capacitors. DFI are also using copper heatsinks on this board rather than cheaper aluminium heatsinks which don't dissipate heat as effective as copper.
As we said earlier, there have been some rumours floating around of DFI leaving the enthusiast market and concentrating on industrial boards but this is not the case. If DFI continue to produce high overclocking boards like this one, we think they'll survive in the market much longer.
For some reason the LANParty UT NF590 SLI-M2R/G at overclocked speeds is slower than the ASUS Crosshair but that might mean ASUS had tweaked their BIOS a little more or switched on some different settings which helped put it ahead. When it comes down to raw maximum FSB though, DFI takes home the gold only just failing to receive our Editors Choice - we're giving it our "Best Performance" because of the impressive overclocking results.
Despite being on the expensive side of motherboard pricing, much like the ASUS Crosshair AM2 board, you get what you pay for - ASUS packs in a lot of very good features but DFI comes pretty damn close offering plenty of features to make enthusiasts smile and it is a little cheaper than the ASUS Crosshair.
- Pros
Fast
Impressive overclocking
Cheaper than ASUS Crosshair
5 phase PWM (increased stability when overclocked)
Copper heatsinks
Great layout
Dual PCI Express x16 slots (supports Quad SLI)
2 Extra SATA Ports through Silicon Image chip
UV reactive
- Cons
Slower than the ASUS despite higher clock speeds
Rating - 9 out of 10 and TweakTown's "MUST HAVE" Best Performance Award