TweakTown's Rating: 95%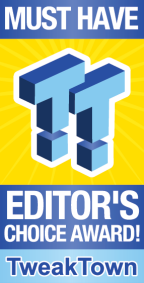 The Bottom Line
As fast as it gets, and priced right, Silicon Power's US70 2TB will put a smile on your face.
Introduction & Drive Details
PCIe Gen4 is one of the big reasons that AMD has stripped Intel of their performance crown. With double the bandwidth of PCIe Gen3, PCIe Gen4 is blazing the way forward for enthusiasts everywhere. Silicon Power is the latest SSD vendor to jump on the Gen4 bandwagon.
Like all consumer Gen4 SSDs released to this point, Silicon Power's US70 Gen4 x4 2TB SSD is a collaborative effort with Phison Electronics. The US70 is powered by Phison's game-changing 8-channel E16 Gen4 SSD controller and BiCS4 96-layer TLC flash.
Silicon Power's US70 SSD comes in the configuration we tend to prefer, without a heat sink. We prefer our E16 powered SSDs without a heat sink because they do not need one except in extreme usage scenarios that most consumers do not encounter. Heatsinks can get in the way of other hardware, and most Gen4 motherboards have built-in heat sinks for the M.2 ports.
Having tested many E16 powered SSDs, we know that the US70 will serve up some mind-blowing performance, so let's get into this review and get some exact numbers for Silicon Power's latest and greatest.
Drive Details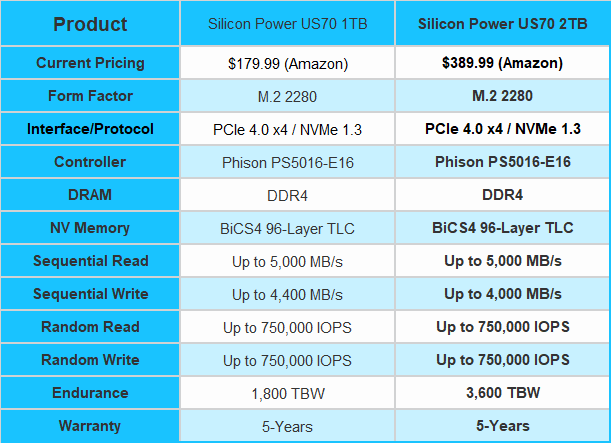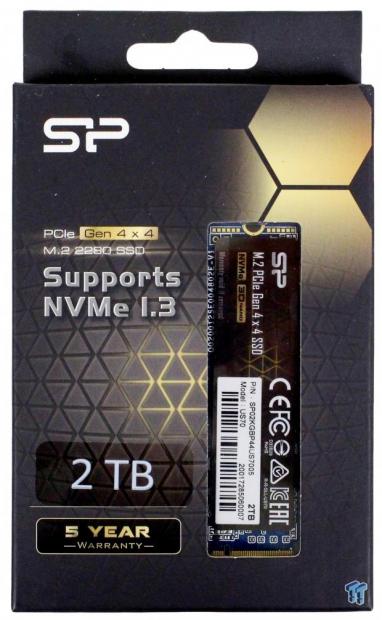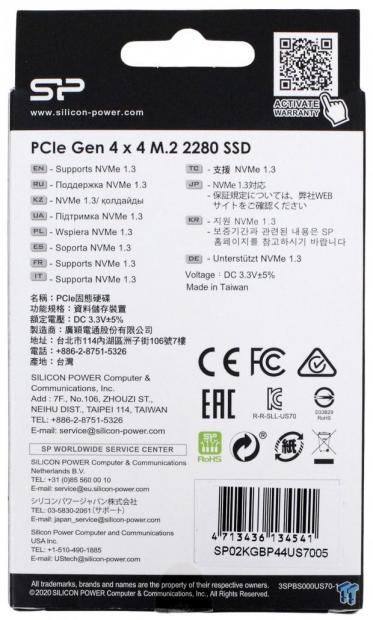 The US70 comes as a drive-only package. There are complementary software packages that are available via download to help with data migration and health monitoring. Silicon Motion provides everything you need to make your upgrade easy.
Jon's Test System Specifications
SSD Toolbox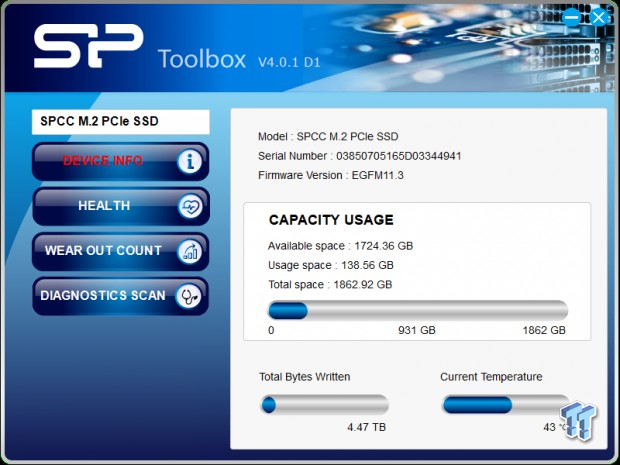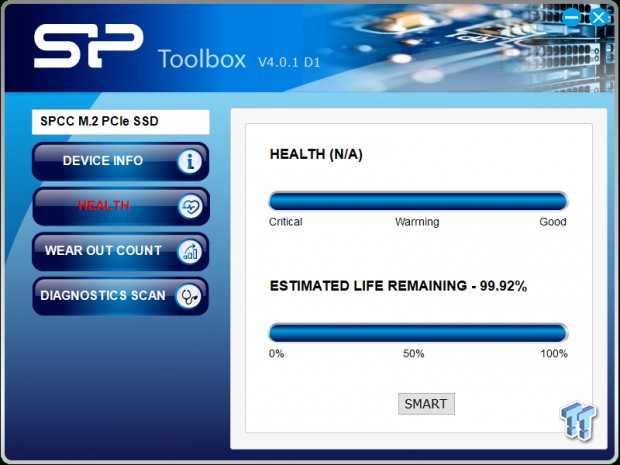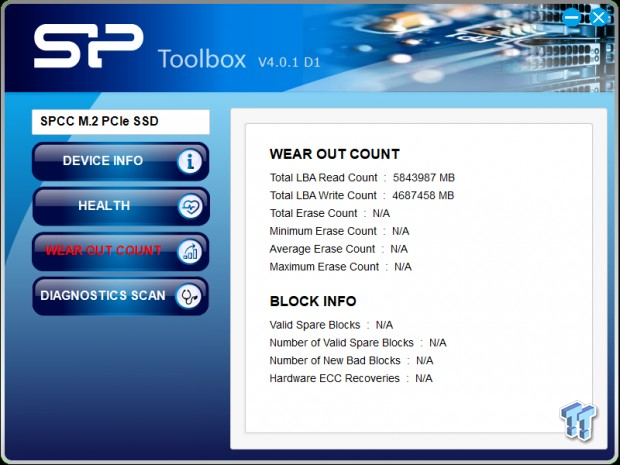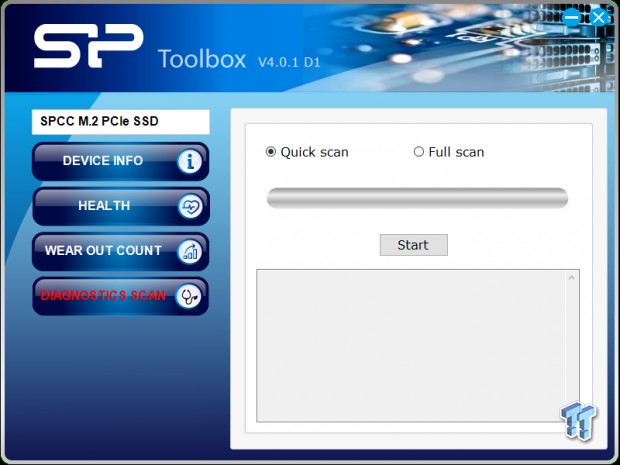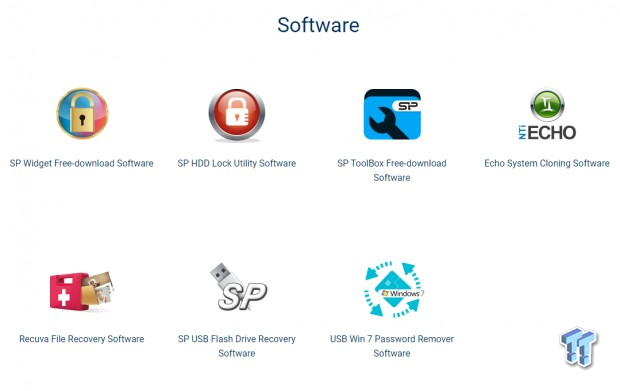 The SP Toolbox functions mainly as a health monitoring station, a nice compliment to the US70. If you need cloning software, Silicon Power offers free NTi ECHO cloning software, which is a nice value add.
Click here to download.
Synthetic Benchmarks: CDM & Anvils
CrystalDiskMark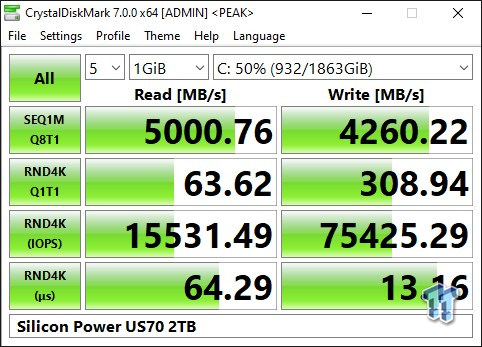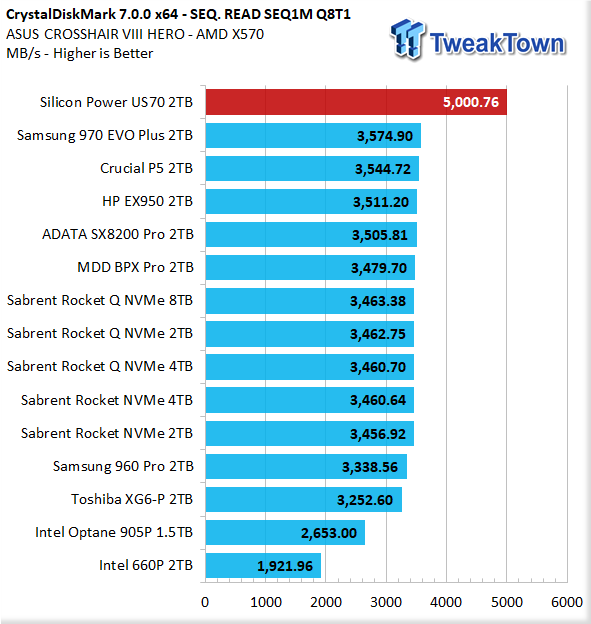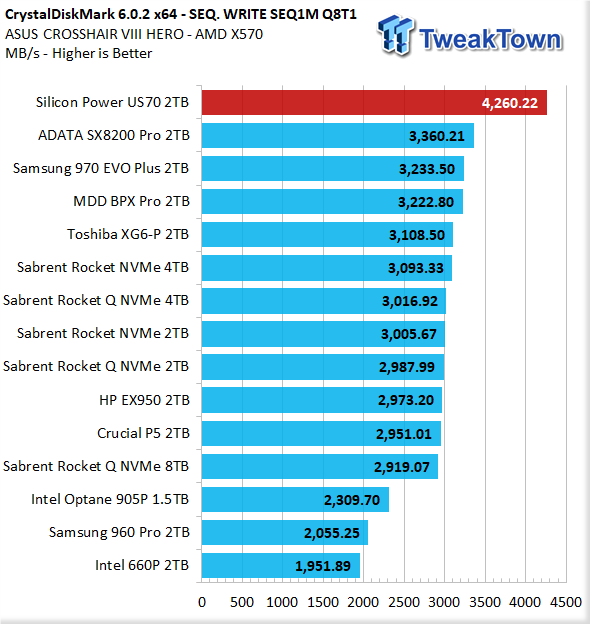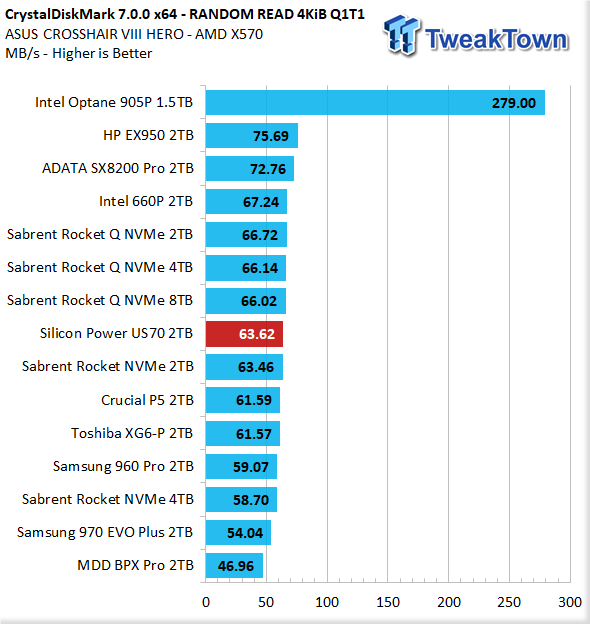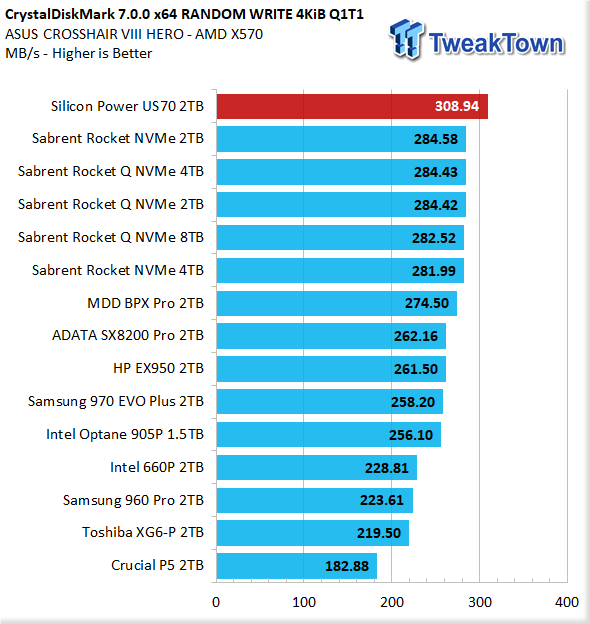 Okay, here we go 5,000 MB/s sequential read and close to 4,300 MB/s sequential writes. Factory specs list sequential writes at up to 4,400 MB/s, but as we've seen all along from E16 powered SSDs 4,400 MB/s is when the drive is tested empty. We don't believe in testing empty secondary devices.
QD1 randoms are looking good, especially writes where we are hitting a whopping 308 MB/s.
Anvil's Storage Utilities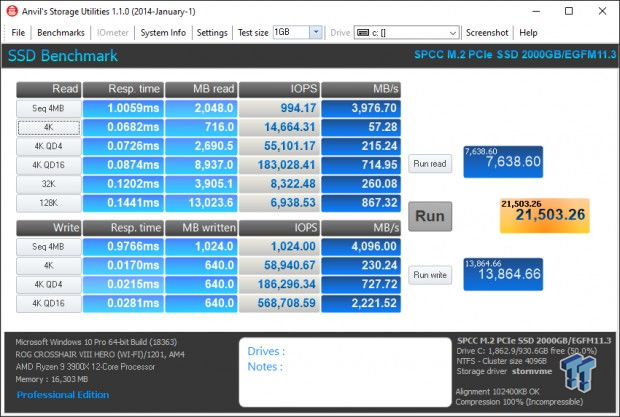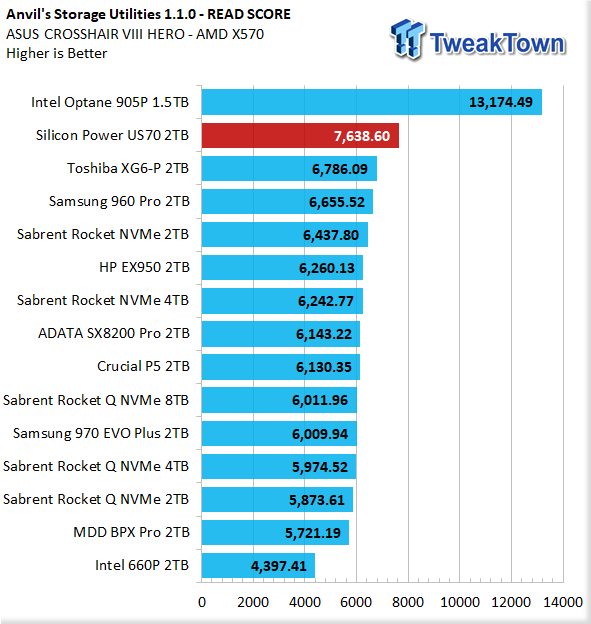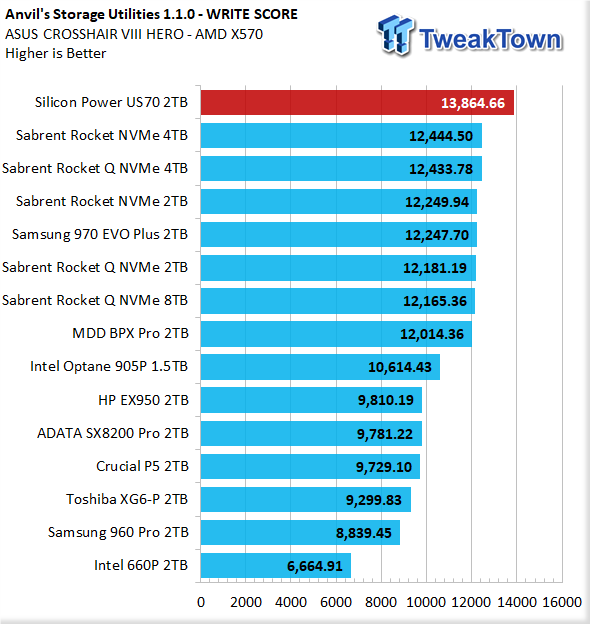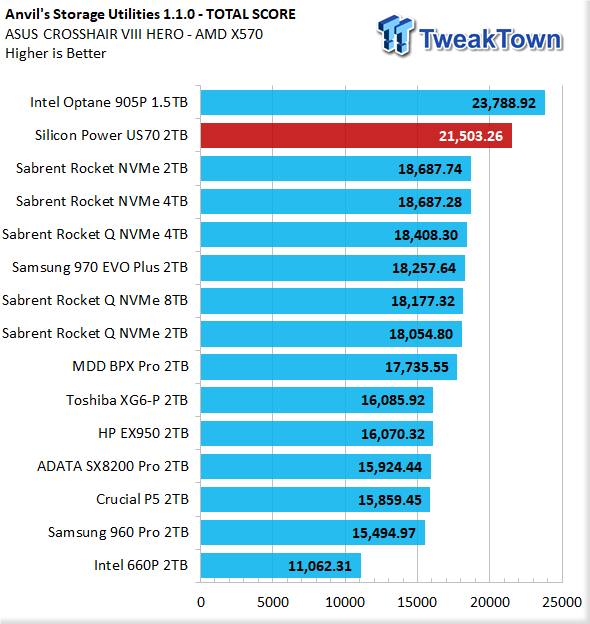 Other than Optane, Phison E16 powered SSDs are the only consumer SSDs that can hit 21K total score. We are most interested in read scoring and QD1 random read IOPS. With Gen4 SSDs, we want to see a minimum total read score of 7,600 and the US70 delivers. With any SSD, we want to see QD1 random read IOPs of 15K. The US70 almost does it...close enough.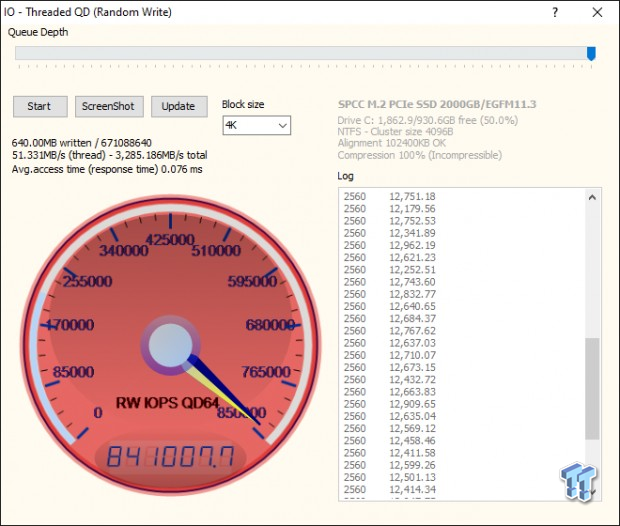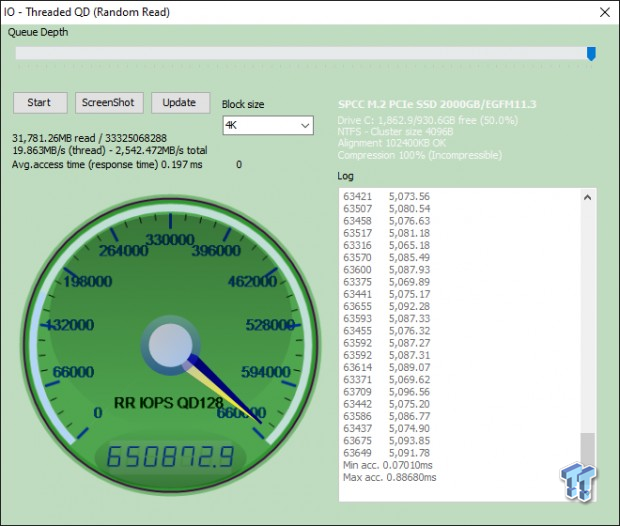 We easily exceed factory specs for max random write IOPS, can't quite get there with max random reads. This is what all E16 powered SSDs deliver when filled 50% with data.
Synthetic Benchmarks: AS SSD & ATTO
AS SSD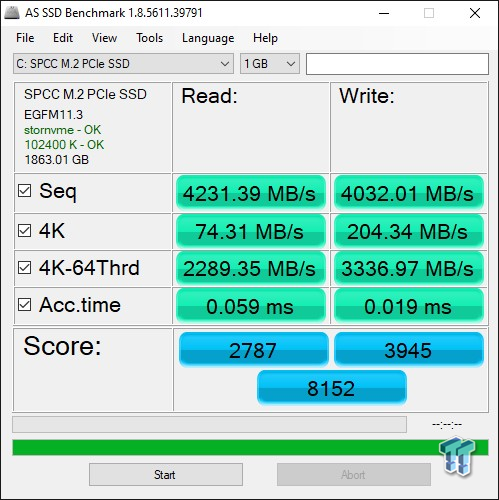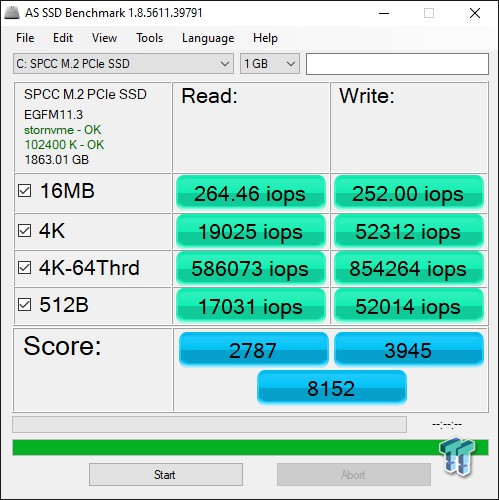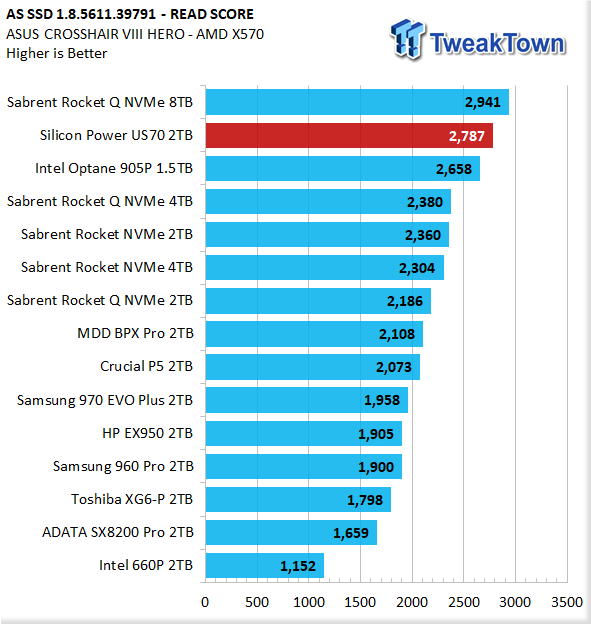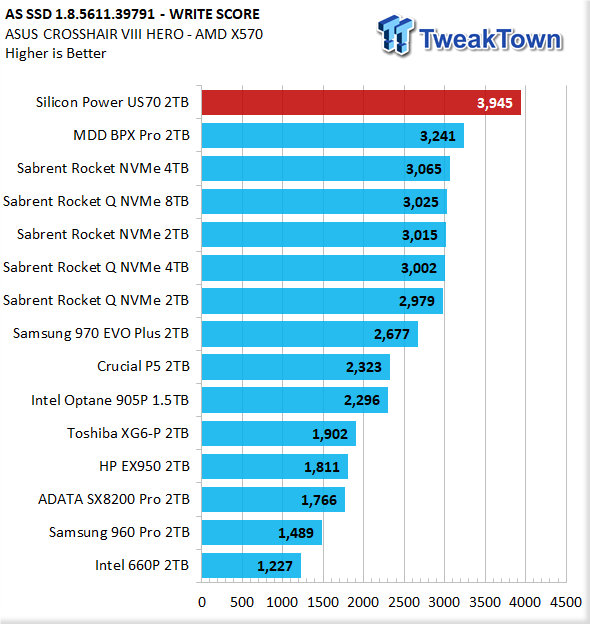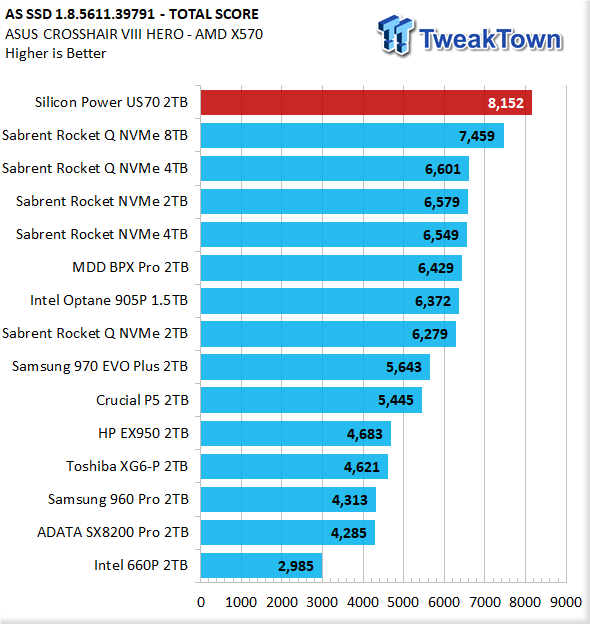 The US70 delivers exactly as expected. Overall, it is right there with the fastest consumer NVMe SSDs ever made. Like we saw from our Anvil testing, only E16 powered SSDs can hit 8K. Excellent.
ATTO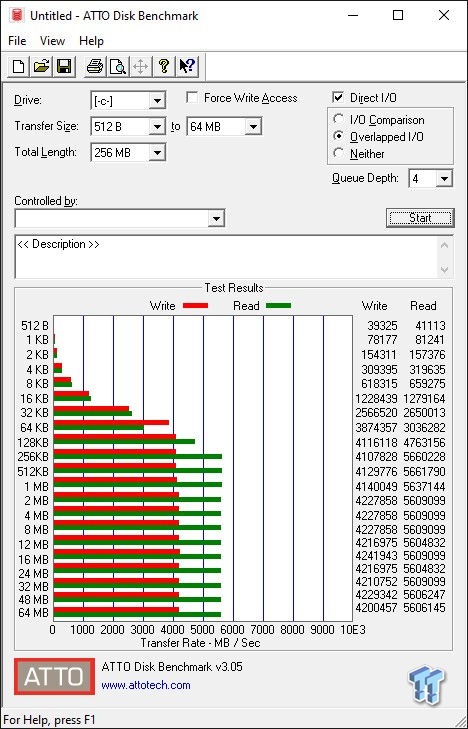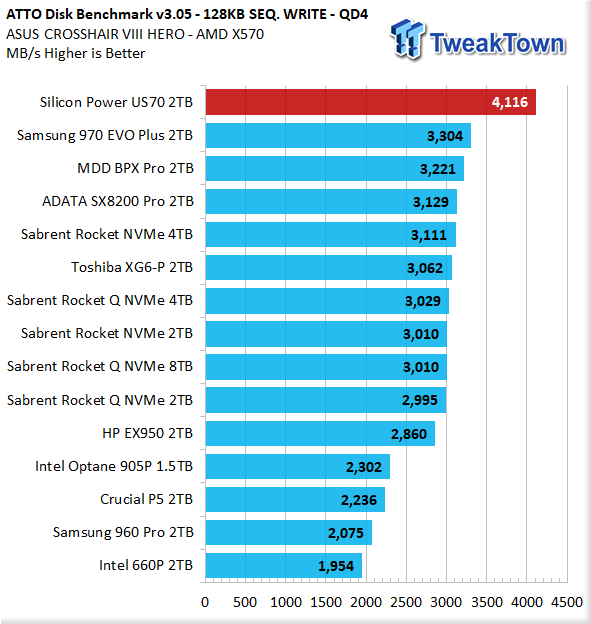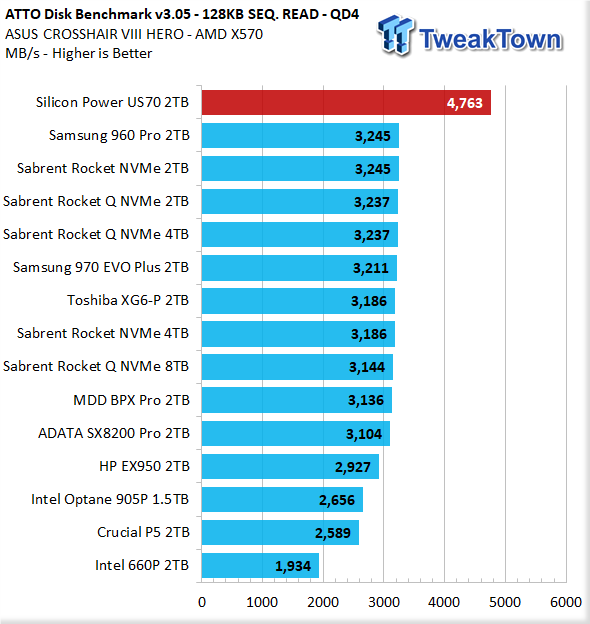 We want to see 40 MB/s or higher performance at 512B transfers, and that's what we are seeing. Next, we are looking for full speed at 128K transfers. We get it when writing sequential data but fall short when serving it up. This is exactly what we expect from an E16 powered SSD.
At 256KB transfers, the US70 serves up a mind-blowing read transfer speed of 5.6 GB/s. Wow.
Real-World Testing: Transfer Rates & Gaming
Transfer Rates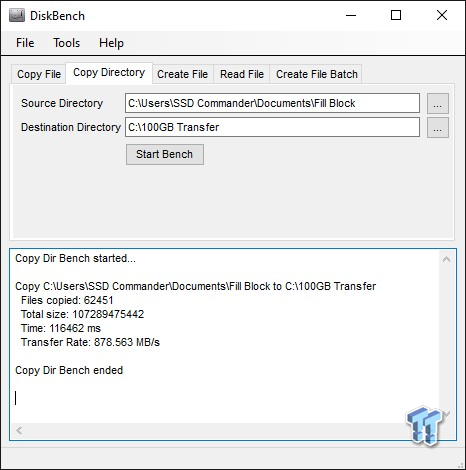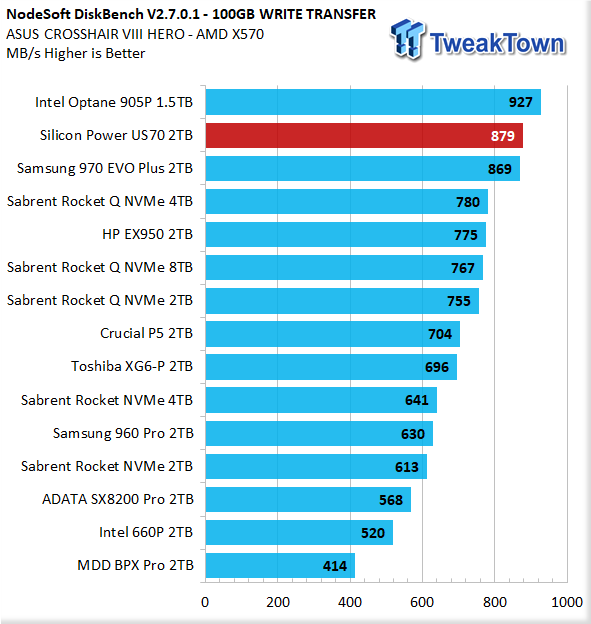 879 MB/s write transfer rate is second only to Optane.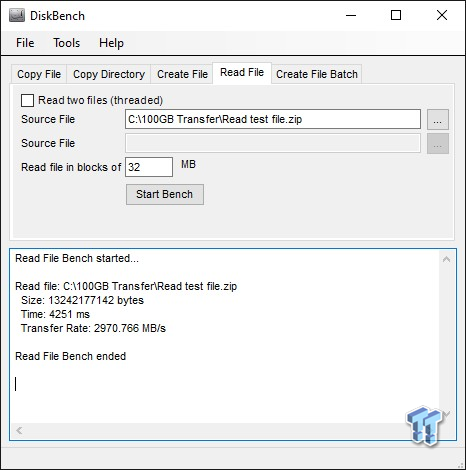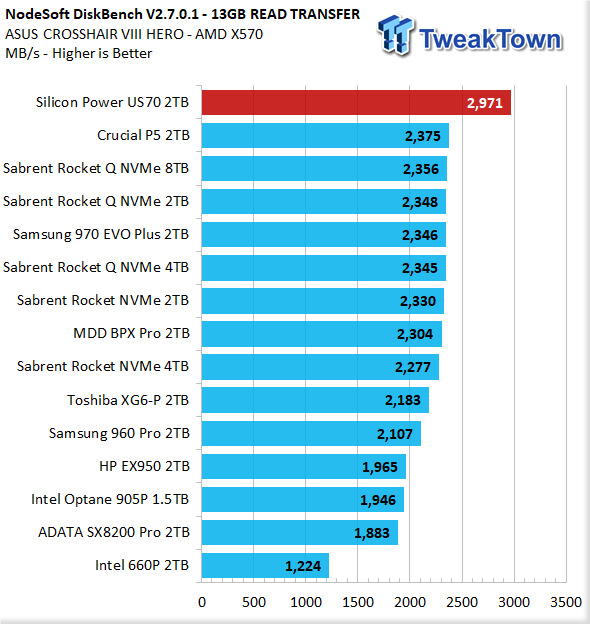 Here's where we want to see performance most, and this is where Gen4 SSDs like the US70 have no equal. Impressive.
Game Level Loading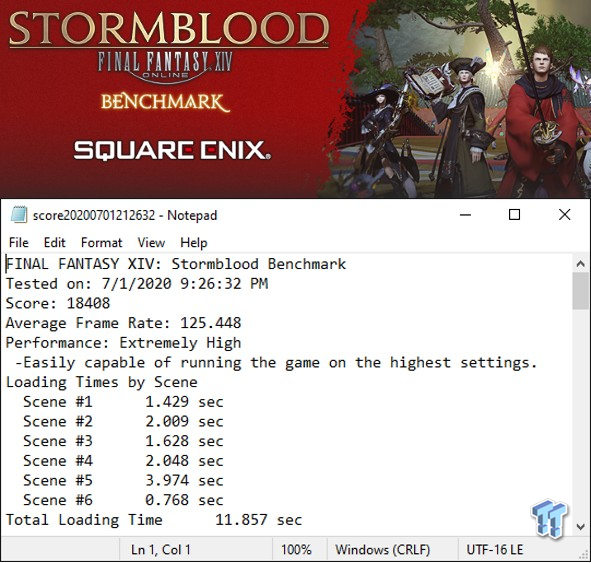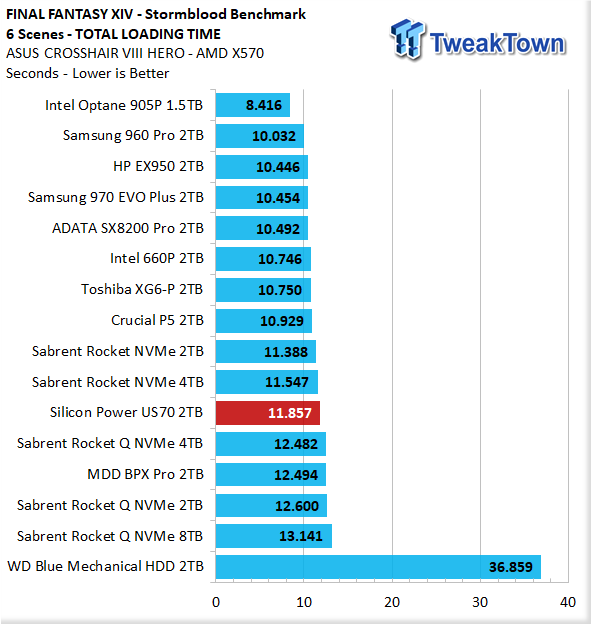 As with all E16 powered SSDs, the US70 delivers average performance when loading game levels. It is still plenty fast, and only a fraction of a second slower per level load than the best performing flash-based gaming SSDs. We doubt it would even be a perceptible difference to the end-user.
Real-World Testing: PCMark 10 Storage Tests
PCMark 10 Storage Test is the most advanced and most accurate real-world consumer storage test ever made. There are four different tests you can choose from; we run two of them.
The Full System Drive Benchmark and the Quick System Drive Benchmark. The Full System Drive Benchmark writes 204GB of data over the duration of the test. The Quick System Drive Benchmark writes 23GB of data over the duration of the test. These tests directly correlate with user experience. Of the two tests, we feel that the Quick System Drive Test most accurately replicates a typical user experience.
PCMark 10 Full System Drive Benchmark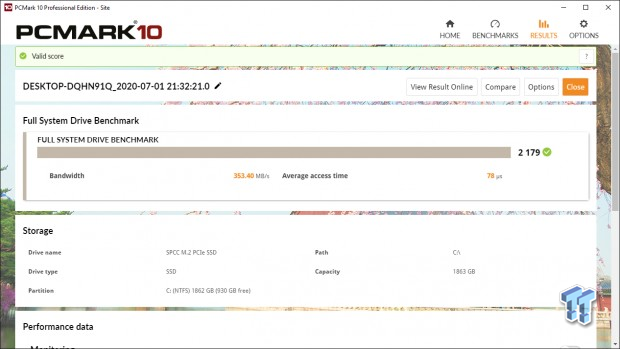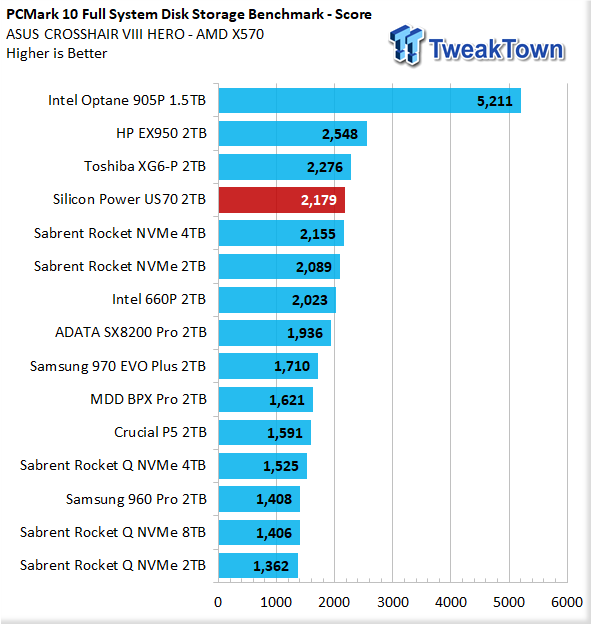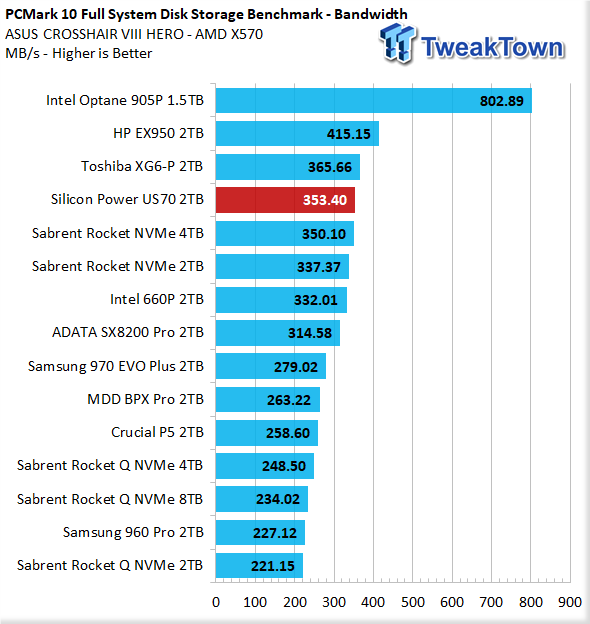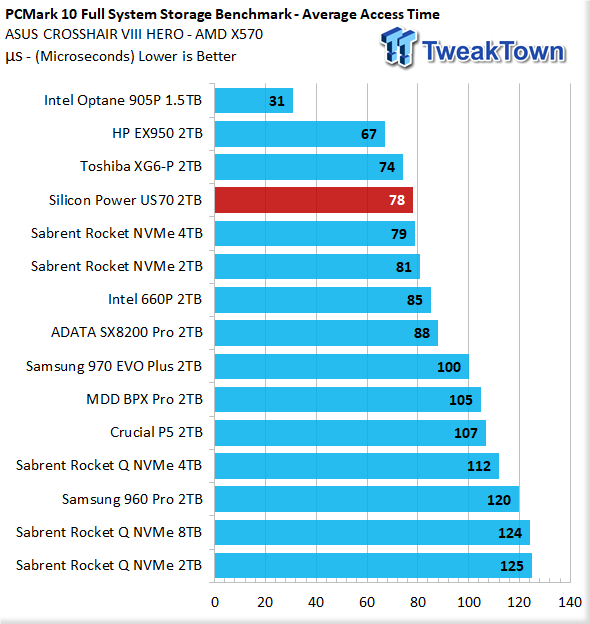 The US70 handles heavy workloads with ease, showing that the US70 is well suited for workstation roles and heavy-duty consumer usage.
PCMark 10 Quick System Drive Benchmark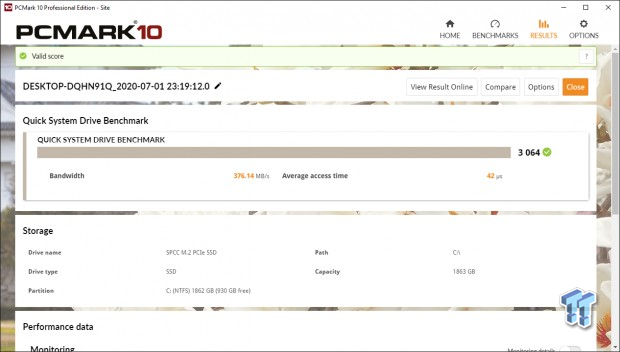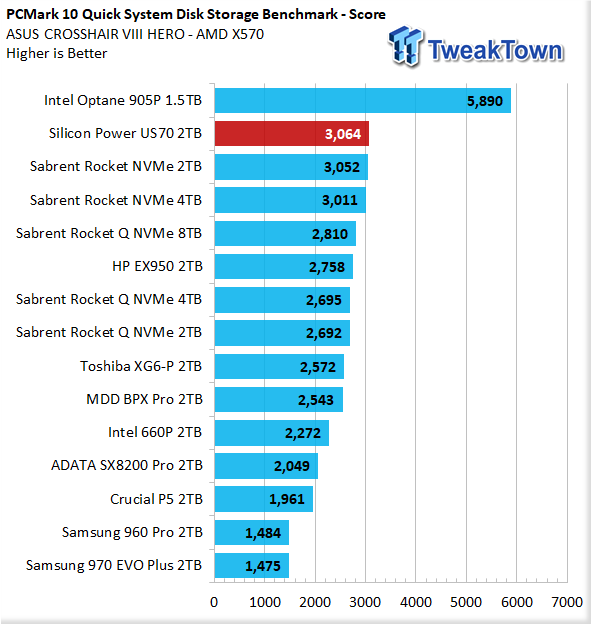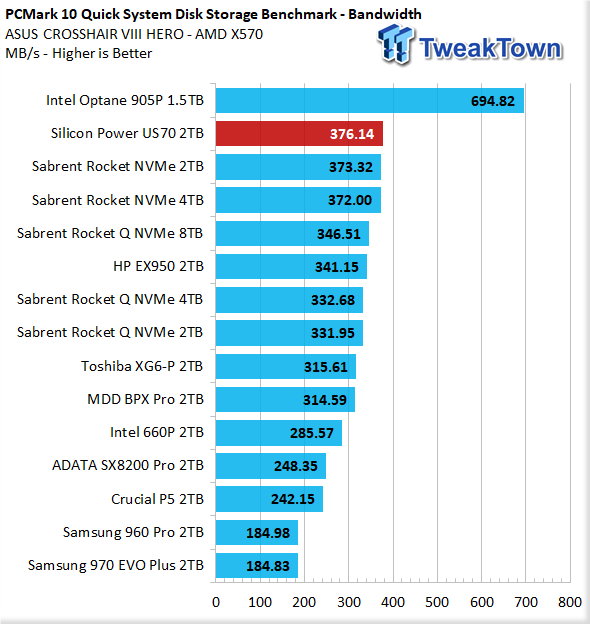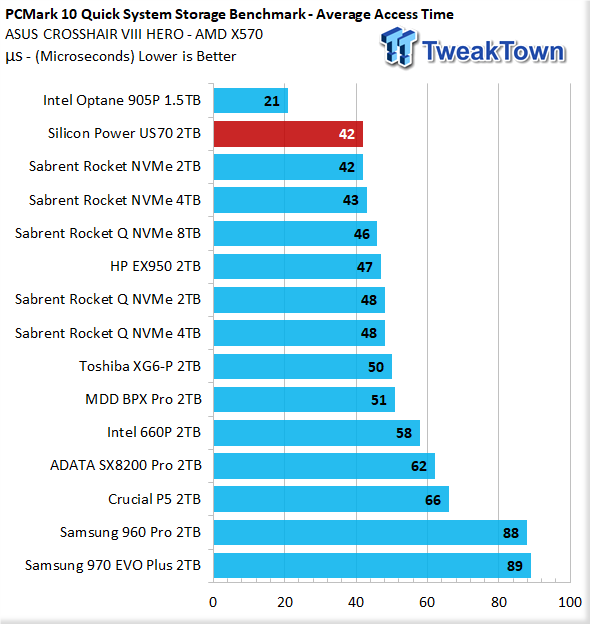 Of all the benchmarks we run, we consider this to be the best indicator of how an SSD will perform for the typical consumer. As you can see, the US70 delivers a bit more than the rest of the flash-based SSDs in our test pool. Exactly what we want to see.
Final Thoughts
If you are fortunate enough to be the owner of a Gen4 enabled platform, then as we see it, a Gen4 SSD like Silicon Power's US70 is a must, if you want to get the most from it. Additionally, the US70 is priced very well for an E16 powered drive. The drive itself is pure quality, evidenced by its performance, five-year warranty, and class-leading endurance of 3.6 petabytes.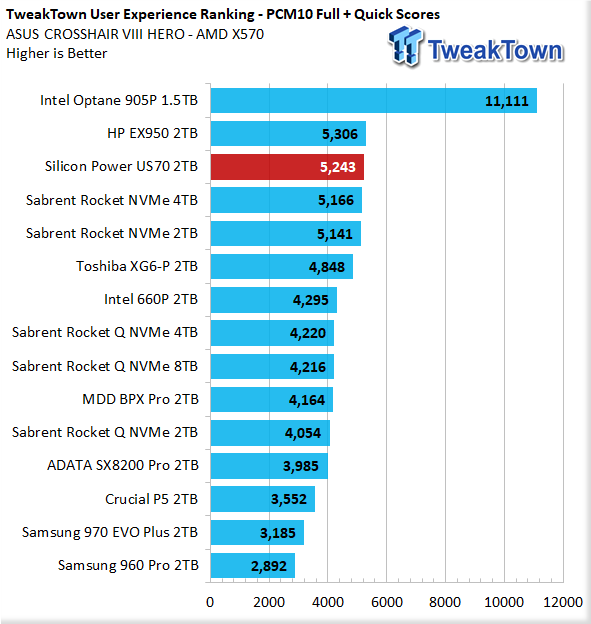 User experience is where the rubber meets the road, and this is exactly where Silicon Power's 2TB US70 SSD delivers the goods as good as, or better than, any flash-based SSD ever made.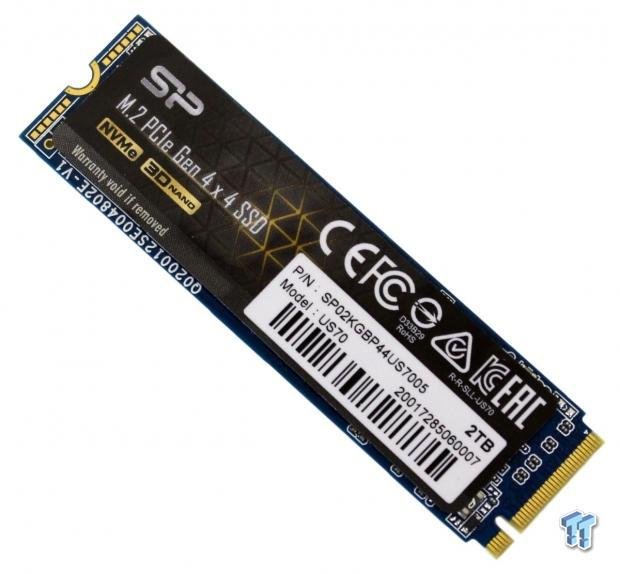 Let's do a quick rundown of what the Silicon Power US70 served up as we tested. Out of the gate, we saw what everyone wants to see from an E16 powered SSD, 5,000 MB/s sequential performance. Next up, we were treated to a 21.5K Anvil's performance. Following that, another class-leading 8K performance from AS SSD.
With ATTO, more domination where we hit 5.6 GB/s reads. Data transfers proved to be among the best we've ever seen. Lastly and most importantly, the US70 demonstrated that it can deliver some of the best user experience of any SSD ever made.
With all the US70 has to offer, it has earned a hearty TweakTown recommendation and our highest award. Nice work, Silicon Power.
Pros
Capacity

Endurance

Consumer Workloads

5-Year Warranty
Cons
| | |
| --- | --- |
| Performance | 98% |
| Quality | 98% |
| Features | 99% |
| Value | 85% |
| Overall | 95% |
The Bottom Line
As fast as it gets, and priced right, Silicon Power's US70 2TB will put a smile on your face.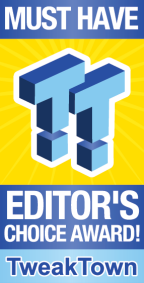 We openly invite the companies who provide us with review samples / who are mentioned or discussed to express their opinion. If any company representative wishes to respond, we will publish the response here. Please contact us if you wish to respond.