Sabrent Rocket NVMe 4.0 2TB SSD Review
Gen4 speeds and 2TB of capacity. Sabrent's Rocket NVMe 4.0 2TB has what enthusiasts are looking for. Here's our full review.

Published Jun 5, 2020 10:22 AM CDT
|
Updated Tue, Nov 3 2020 6:57 PM CST
Manufacturer: Sabrent (SB-ROCKET-NVMe4-2TB)
Introduction & Drive Details
Sabrent has one of the most complete SSD portfolios in the business, and we find ourselves, yet again, with another blazing fast Sabrent SSD on the test bench. Today we are going to take a close look at Sabrent's 2TB Gen4 SSD, the Rocket 4.0 2TB. This SSD is aimed directly at enthusiasts that want Gen4 goodness with more capacity than the 1TB model has to offer.
Like its smaller 1TB sibling, the 2TB model is offering all the goodness of Gen4 as brought to you by Phison's one of a kind E16 Gen4 SSD controller, and at an affordable price point. As always, when you purchase any of Sabrent's NVMe M.2 offerings, you get more than just the drive, you get the complete package.
Included with the Rocket 4.0 is a free copy of Acronis cloning software valued at $30. This makes it a breeze to swap out your current OS disk while keeping everything intact. Additionally, you can make system images to back up your install. That just leaves SSD monitoring tools, and Sabrent has got you covered there as well.
Sabrent has a well-developed SSD management suite that will allow you to monitor all aspects of your Sabrent SSD. Finally, Sabrent offers free customer support. With bargain pricing and every bell and whistle you can imagine, it is no wonder that Sabrent one of the fastest-growing SSD retailers on the planet.
Now, let's take a closer look at Sabrent's high capacity Gen4 SSD.
Drive Details
Class-leading endurance, warranty, and speeds.
It may be hard to tell from the photos, but the package was crushed in shipping. Lesser packaging would have resulted in the SSD sustaining physical damage. Sabrent's aluminum clamshell container proved its worth and kept our SSD from being destroyed.
Jon's Test System Specifications
SSD Toolbox
Sabrent SSD Toolbox
Sabrent's SSD management software is among the best in the business. The software facilitates health monitoring, temperature, and SMART details. With Sabrent's SSD management software, you can update firmware, register your SSD and download Sabrent's custom-tailored version of Acronis imaging software. Register your SSD with Sabrent within 90 days to activate a full 5-years factory warranty.
Synthetic Benchmarks: CDM & Anvils
CrystalDiskMark
Right off the bat, we get those sequential speeds that owners of AMD Gen4 platforms want to see. 5 GB/s sequential read and almost 4.3 GB/s sequential write. Factory specs list sequential write speeds of 4.4 GB/s, but when the drive is filled with data 4.2 GB/s is the best an E16 powered SSD can do. Random write is exceptional, and in fact, the best for any SSD running on an AMD platform.
Anvil's Storage Utilities
A total score of 21K is always impressive. More impressive is a read score of 7.6K, which is what we are looking for from an E16 powered Gen4 SSD. We like to see QD1 random IOPS in the 15K range, and the Rocket 4.0 is very close to that. Impressive.
Max random IOPS results are outstanding as expected. Well over 800K random write IOPS. Wow.
Synthetic Benchmarks: AS SSD & ATTO
AS SSD
Phison powered SSDs have no equal when tested with AS SSD, as evidenced by all of the Sabrent SSDs that populate the top of our charts.
ATTO
Exceptional small-file performance is always a hallmark of an exceptional SSD, and that's exactly what Sabrent's 2TB Rocket 4.0 is delivering. The drive is also delivering an eye-popping 5.6 GB/s sequential read when the data is compressible.
Real-World Testing: Transfer Rates & Gaming
Transfer Rates
Write transfer speeds are about as good as they get for a flash-based SSD. A 100GB transfer of mixed data is not easy for most SSDs, but the Rocket 4.0 2TB handles it with ease.
The Rocket 4.0 2TB serves up data to the host at an incredible rate. Just what we want to see.
Game Level Loading
Here is really the only weakness for an E16 powered SSD. Loading game levels. However, we are dealing in fractions of a second at each level, and it is debatable whether or not fractions of a second are even perceptible to the end-user.
Real-World Testing: PCMark 10 Storage Tests
PCMark 10 Storage Test is the most advanced and most accurate real-world consumer storage test ever made. There are four different tests you can choose from; we run two of them. The Full System Drive Benchmark and the Quick System Drive Benchmark. The Full System Drive Benchmark writes 204GB of data over the duration of the test. The Quick System Drive Benchmark writes 23GB of data over the duration of the test. These tests directly correlate with user experience. Of the two tests, we feel that the Quick System Drive Test most accurately replicates a typical user experience.
PCMark 10 Full System Drive Benchmark
The Rocket 4.0 2TB chews through heavy consumer workloads with ease. Although not the absolute fastest, it is one of the few flash-based SSDs that will deliver the goods for both heavy and moderate workloads as our next test will demonstrate.
PCMark 10 Quick System Drive Benchmark
We consider this test to be the best indicator of user experience and the Rocket 4.0 tops all the flash-based SSDs in our test pool. This is what we are looking for most of all, and this is where the Rocket 4.0, like all Sabrent SSDs, comes through with flying colors.
Final Thoughts
Sabrent impresses yet again. The Rocket 4.0 2TB is another in a long list of Sabrent SSDs that deliver more for less than most of the competition. Blazing fast Gen4 speeds, check. Industry-leading warranty, check. Included Acronis imaging software, check. SSD management software, check. Even the packaging is industry-leading and, as we mentioned, in our case, protected our SSD from being destroyed in shipping.
With all of these things going for Sabrent SSDs, we would expect to see a price tag that is higher than most, but not so. Sabrent SSDs continue to be bargain priced. Impressive, and no wonder Sabrent is one of the fastest-growing SSD brands out there.
In terms of user experience, Sabrent's Rocket 4.0 delivers as good as it gets for a 2TB flash-based SSD. If you are the owner of a Gen4 platform, then you need a Gen4 SSD to get the most from it, and the Rocket 4.0 will deliver the speed and reliability you crave.
A quick recap of our testing gives us some highlights that make Sabrent's Rocket 4.0 stand out from the competition. CDM testing produced 5 GB/s sequential speeds and some of the best low queue depth random writes we've ever seen. An Anvil's score of over 21K is always impressive, as is a max random write performance of 840K IOPS. The same goes for AS SSD, where the Rocket 4.0 even dominated Optane.
ATTO provided more highlights with sequential speeds, reaching a staggering 5.6 GB/s. All impressive feats for any SSD, but most impressive is the overall user experience the Rocket 4.0 2TB will deliver, as evidenced by our PCMark 10 storage tests.
You want 2TB of Gen 4 goodness? Sabrent is serving it up and checking all the boxes, which is why Sabrent's Rocket NVMe 4.0 2TB is deserving of TweakTown's highest award.
Pros
Gen4

User Experience

5-Year Warranty
Cons
| | |
| --- | --- |
| Performance | 98% |
| Quality | 98% |
| Features | 99% |
| Value | 90% |
| Overall | 96% |
The Bottom Line
Gen4 speeds, 2TB capacity, and bargain pricing - what more could you want?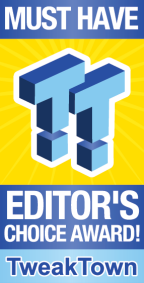 We openly invite the companies who provide us with review samples / who are mentioned or discussed to express their opinion. If any company representative wishes to respond, we will publish the response here. Please contact us if you wish to respond.