ADATA XPG SX8200 Pro 2TB M.2 SSD Review
ADATA's hugely popular XPG SX8200 Pro series gets a capacity increase, now up to 2TB. Here is our full review.

Published May 15, 2020 10:55 AM CDT
|
Updated Tue, Nov 3 2020 6:57 PM CST
Manufacturer: ADATA (ASX8200PNP-2TT-C)
Introduction & Drive Details
ADATA's XGP SX8200 Series is something we always want more of. In this case, by more we mean more capacity. ADATA recently updated the XPG SX8200 Pro Series with a 2TB capacity option. As we've shown since its inception, the SX8200 Pro series is indeed one of the best performing SSD series ever made.
The SX8200 Pro has at its heart a Silicon Motion SM2262EN 8-channel controller. The SM2262EN is one of our favorite controllers for several reasons. It serves up 4K QD1 random read performance that is a cut above most of its competitors. It delivers massive sequential performance. Additionally, Silicon Motion's SM2262EN controller is well known for delivering almost unrivaled game level loading performance.
Unlike the 1TB XPG SX8200 Pro model where the primary focus was all-out performance, the 2TB model we have on the bench today is all about capacity and, more importantly, value. The 2TB model is employing a 512Gb Die based flash array, which is by the numbers slower than the 256Gb Die flash array employed by the performance-oriented 1TB model. 512Gb flash is more cost-effective, and that is where the value comes from.
The value makes its way to the consumer via pricing. At $259.99, the TLC powered 2TB SX8200 Pro is priced similarly to QLC SSDs, and that's where we find the value. TLC (3-bit) flash is gradually being supplanted by QLC (4-bit) flash, and someday TLC will become a niche product because QLC is so much cheaper. However, as it stands today, TLC flash, for the most part, delivers significantly better performance and much better endurance. So, if you can get TLC for around or close the same price as QLC, TLC is the better value.
With value and capacity defined as what the 2TB SX8200 Pro is all about, let's get into this review and see what its performance looks like.
Drive Details
XPG M.2 SSDs typically come with a stick-on metallic thermal label to improve thermal performance, and this is the case with the 2TB XPG SX8200 Pro. It is up to the end-user if they choose to use it. It is not necessary for throttle free performance, and in fact, we didn't use it for our testing. If you do decide to employ the included thermal label, be careful how it is placed on the controller side of the drive. If you must remove it, it's not going to be reusable.
Jon's Test System Specifications
SSD Toolbox
ADATA SSD Toolbox
ADATA has one of the best SSD utilities in the business. With it, you can monitor temperatures, SSD health, optimize your system for SSD use, update firmware, and secure erase. This just leaves data migration (cloning) to complete the package. Not to worry, when you register your product, ADATA makes available their OEM version of Acronis disk migration utility, which can be found here at the bottom of the page.
Synthetic Benchmarks: CDM & Anvils
CrystalDiskMark
One thing for sure, sequential performance is not lacking. The 2TB SX8200 Pro is serving up some of the best sequential speeds we've seen to date for a Gen3 SSD. QD1 random read performance is outstanding as expected from any SM2262EN powered SSD. This will undoubtedly translate to excellent gaming performance, as we will see later in the review.
Anvil's Storage Utilities
Even though the overall score is relatively low, the 2TB SX8200 Pro does deliver what we are looking for most. We want to see 4K random read performance over 15K. The SX8200 Pro 2TB serves up nearly 17K. Outstanding. Additionally, we are looking for a minimum total read score of 6,000, and the SX8200 Pro 2TB can deliver that as well.
Max random IOPS results are decent, but nothing to write home about.
Synthetic Benchmarks: AS SSD & ATTO
AS SSD
In terms of the overall score, the SX8200 Pro series has never done very well when digesting AS SSD test data. This is because so much of the score is derived from 64-thread random performance, and SM2262EN controlled SSDs are tuned for lower queue depths, which are far more important.
ATTO
Excellent. Exceptional small-file performance and nearly full speed at 128K transfers. Exactly what we are looking for.
Real-World Testing: Transfer Rates & Gaming
Transfer Rates
Exceeds our minimum of 500 MB/s, but even so, it is still in the disappointment range. 512Gb flash is the culprit here.
Here we find the SX8200 Pro 2TB near the bottom of our chart.
Game Level Loading
Right here is a big part of the value we see in the XPG SX8200 Pro 2TB. Gaming. We feel it is an ideal gaming SSD. It can hold a ton of games and look at how fast it loads levels. Impressive.
Real-World Testing: PCMark 10 Storage Tests
PCMark 10 Storage Test is the most advanced and most accurate real-world consumer storage test ever made. There are four different tests you can choose from; we run two of them. The Full System Drive Benchmark and the Quick System Drive Benchmark. The Full System Drive Benchmark writes 204 GB of data over the duration of the test. The Quick System Drive Benchmark writes 23 GB of data over the duration of the test. These tests directly correlate with user experience. Of the two tests, we feel that the Quick System Drive Test most accurately replicates a typical user experience.
PCMark 10 Full System Drive Benchmark
Decent heavy consumer workload performance. 512Gb flash keeps the cost low, but there is a price to be paid in terms of user experience, as demonstrated by our chart.
PCMark 10 Quick System Drive Benchmark
Ditto for normal consumer type workloads. Although not bad, the SX8200 Pro 2TB delivers below-average performance where we want most to see it if it is to be utilized as a system disk.
Final Thoughts
So exactly what does ADATA's SX8200 Pro 2TB have to offer? First is capacity. You get a full 2048 GB of unformatted capacity, which is rare to see these days. More importantly, it is a full 2TB of TLC flash, which is still superior to QLC in most cases. Additionally, it is a real bargain at $259.99. To top it off, the SX8200 Pro 2TB is a true gaming SSD. We really see the SX8200 Pro as one of the best dedicated gaming drives on the market at any price.
We would like to see a better user experience ranking to be sure, but it is still capable of delivering better than Samsung's current 2TB NVMe flagship.
Looking back at our test results, we can identify a few areas where ADATA's XPG SX8200 Pro delivers the goods. Right out of the gate, it delivered some of the best sequential and 4K QD1T1 random read performance we've seen to date. Following that, it delivered almost 17K IOPS 4K random read performance with Anvil's. Not easy to do. Finally, and most importantly, it served up some of the best game level loading times we've seen to date.
Gaming performance and value pricing have earned ADATA's SX8200 Pro 2TB a well-deserved TweakTown award.
Pros
Value

Gaming Performance

5-Year Warranty
Cons
| | |
| --- | --- |
| Performance | 80% |
| Quality | 95% |
| Features | 95% |
| Value | 98% |
| Overall | 92% |
The Bottom Line
Superior gaming SSD at a great price.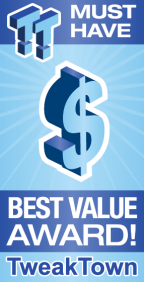 We openly invite the companies who provide us with review samples / who are mentioned or discussed to express their opinion. If any company representative wishes to respond, we will publish the response here. Please contact us if you wish to respond.