TweakTown's Rating: 92%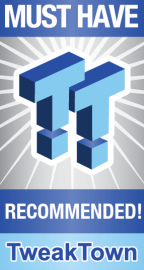 The Bottom Line
Loaded with features like Wi-Fi 6, a solid 12 phase VRM, and some stellar looks, ASRock's X570 Taichi is a very nice motherboard and a great successor to the X470 Taichi.
Introduction, Specifications, and Pricing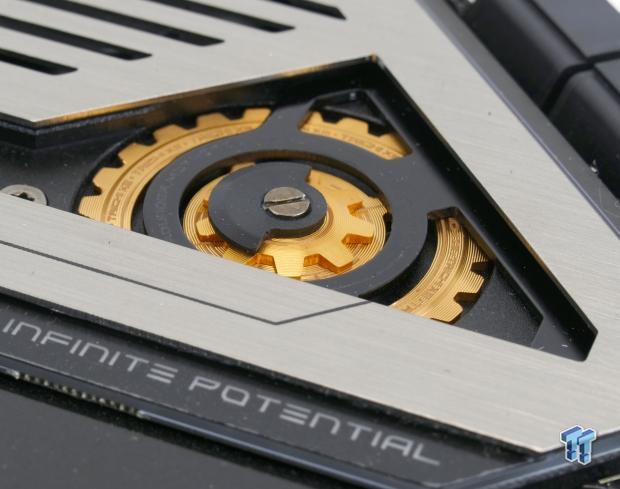 Today we take a look at ASRock's X570 Taichi motherboard, a line of motherboards we have traditionally been very impressed with. The new Taichi seems to be more loaded than the traditional Taichi models, which makes sense since the new chipset offers higher-end features and requires higher-end hardware to fully support those features. Let's take a look at what ASRock has to offer with their X570 Taichi.
Specifications

The X570 Taichi features three PCI-E 4.0 M.2 slots, 2.4Gbps WIFI controller, an Intel Gbit NIC, tons of 10Gb/s USB, and high-end audio.
Pricing
The X570 Taichi costs around $299.
Packaging and X570 Taichi Overview
Packaging and Overview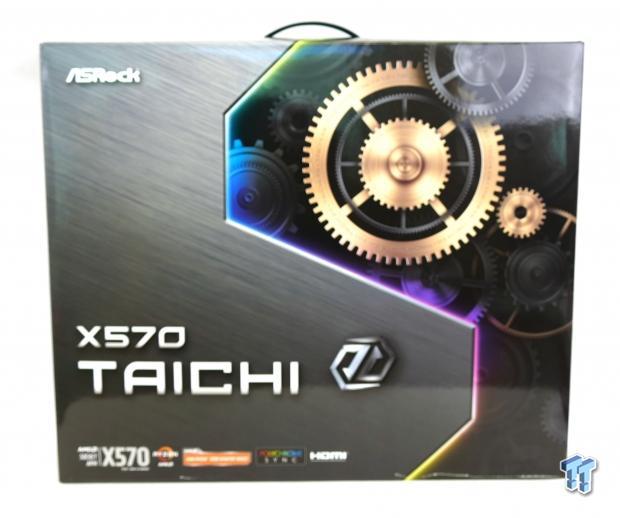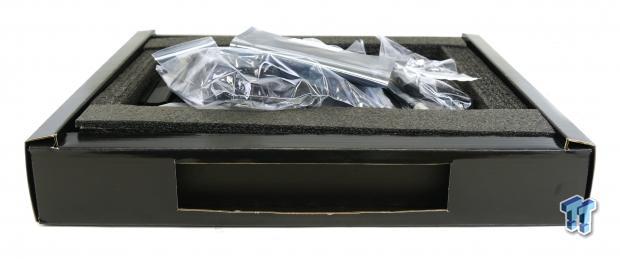 The box is of a new design, it's larger and quite nice. Packaging is excellent and should do a great job of protecting the motherboard.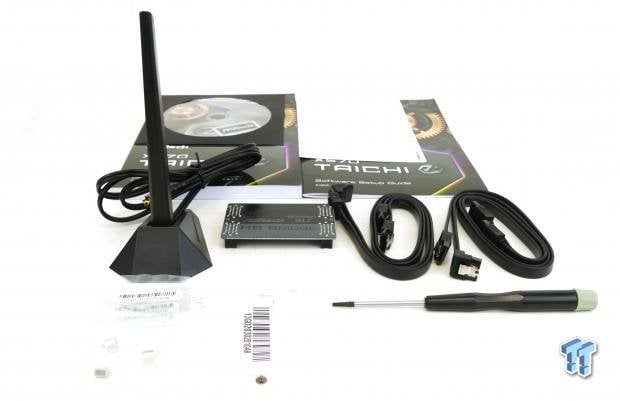 The accessory package includes four SATA6Gb/s, WIFI antenna, Hex screw driver, SLI-HB bridge, case badge, and M.2 screws.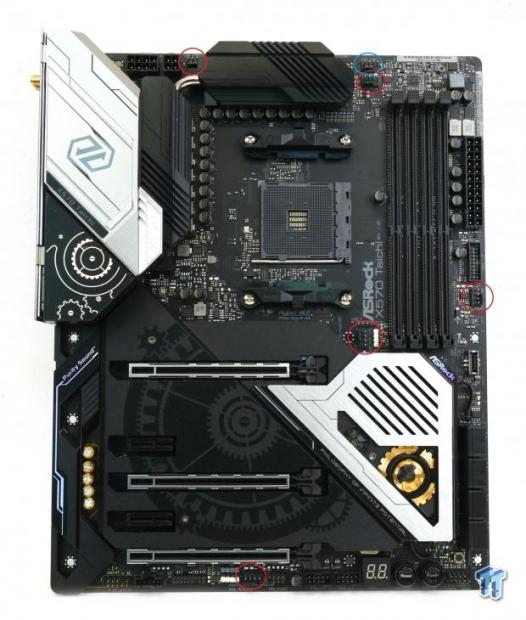 ASRock put six fan headers on the motherboard, and the one circled in blue is 1A PWM header for the CPU fan. The other five headers circled in red are rated for up to 2A and are hybrid PWM/DC mode header. The aesthetics of the motherboard have also been re-worked, and the Taichi chipset logo has some welcomed gold. The back of the motherboard has a metal backplate, and there is some diffusion material for the right edge of the underside of the motherboard.

The rear IO panel features six USB 3.0 ports, two USB 3.1 (10Gbps) ports one type-A ports and one type-C, clear CMOS button, Flashback button, WIFI antenna, 1G LAN, HDMI, PS/2 keyboard and mouse, and 7.1 gold plated audio outputs with S/PDIF out.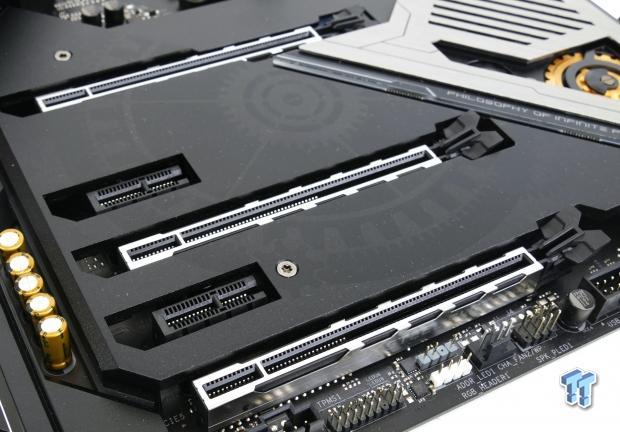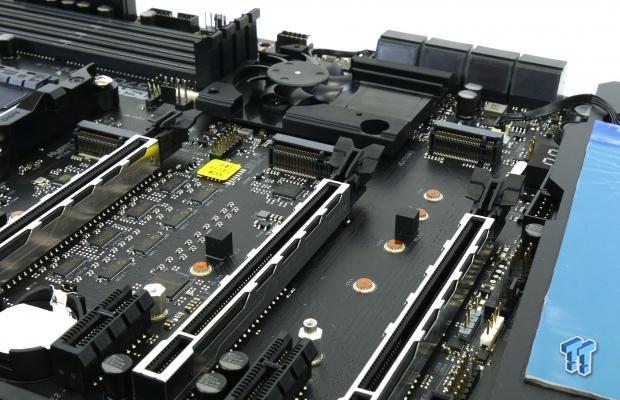 Here we find the PCI-E slot arrangement, the first two slots are wired to the CPU at x16 PCI-E 4.0 and operate at x16/x0 or x8/x8. The bottom x16 slot is electrically x4 PCI-E 4.0 routed to the chipset, and we also have two x1 PCI-E 4.0 slots. There are three PCI-E x4 M.2 slots, the top one is routed to the CPU and should be used with any PCI-E 4.0 drives, the middle and bottom slot area routed x4 PCI-E 4.0 to the chipset, but if you use a PCI-E M.2 drive in the bottommost slot it will disable the bottom x16 slot.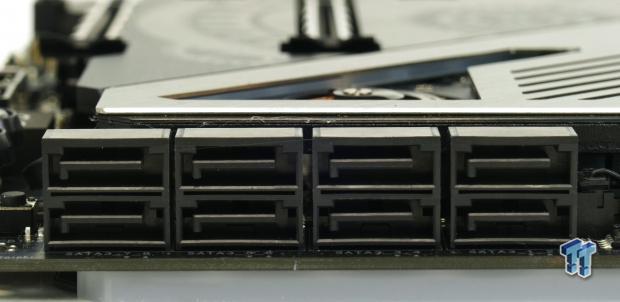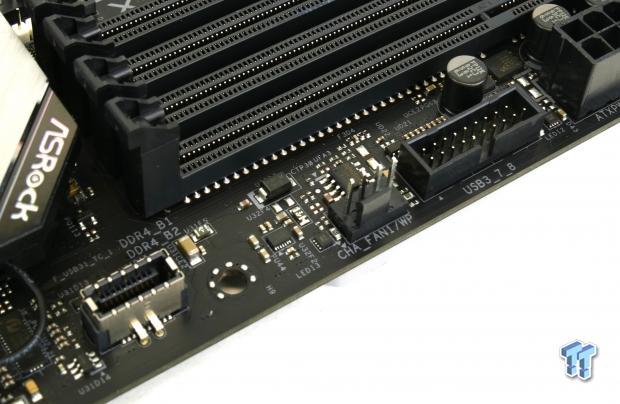 All of the eight SATA6Gb/s ports are routed to the chipset. The USB 3.1 (10Gbps) type-C header and USb 3.0 internal header are located mid board.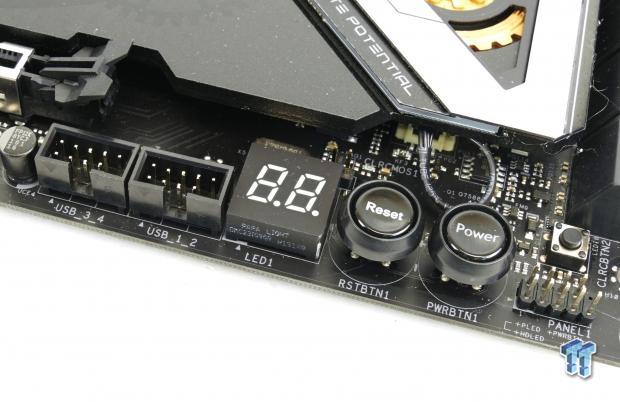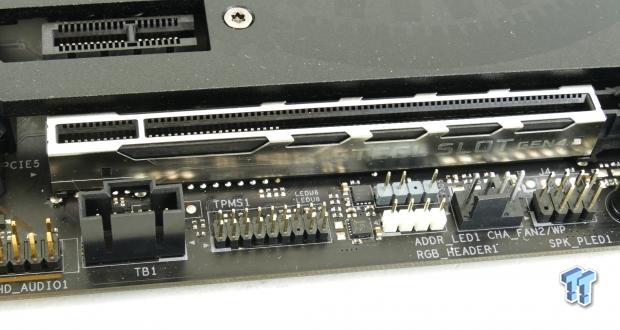 At the bottom of the motherboard we find a power button, reset button, POST code display, and two USB 2.0 internal headers. We also find an addressable RGB LED header and a normal RGB LED header.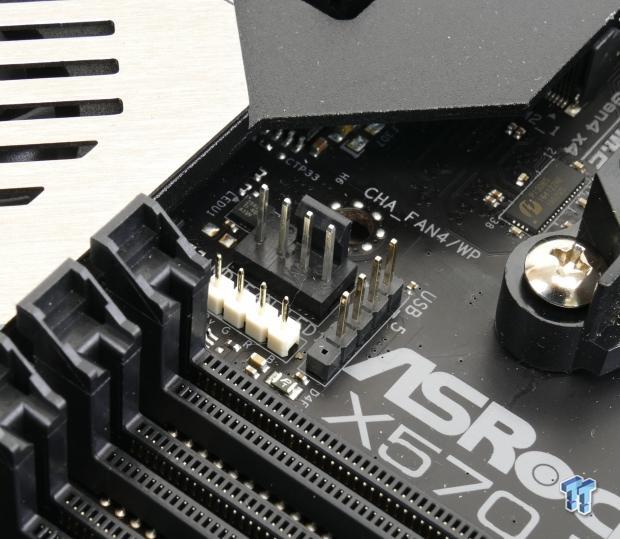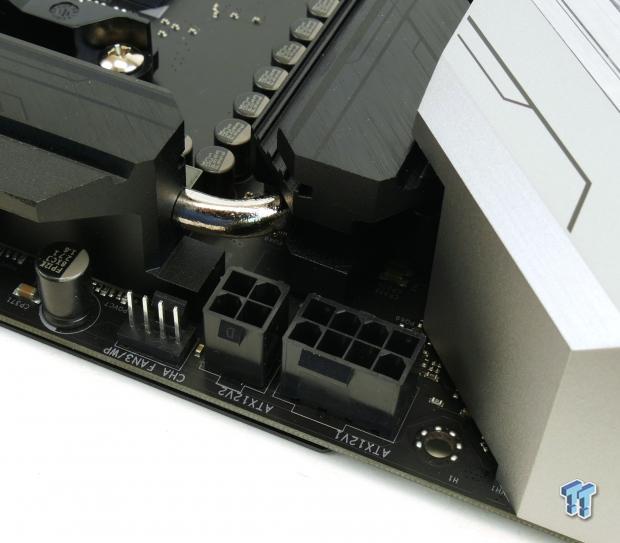 At the center of the motherboard near the CPU socket we find an RGB LED header and a single USB header for AMD's Prism cooler. The motherboard features one 8-pin CPU power header and another optional 4-pin header.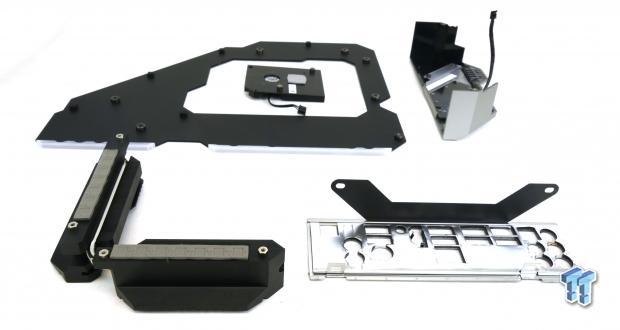 The heat sinks are all screwed into the motherboard, and the VRM heat sink also cools the inductors.
ASRock X570 Taichi Circuit Analysis
Circuit Analysis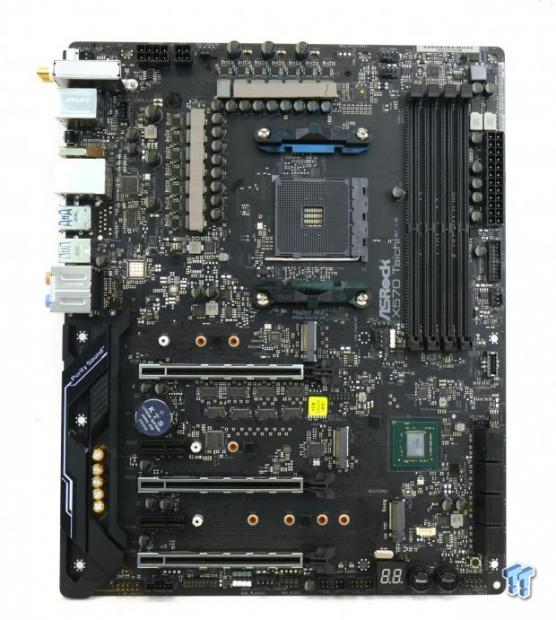 The X570 Taichi shows us the goods with the heat sinks removed!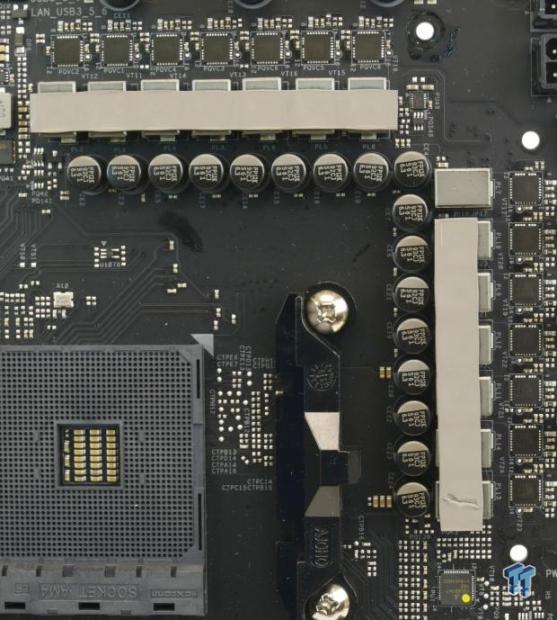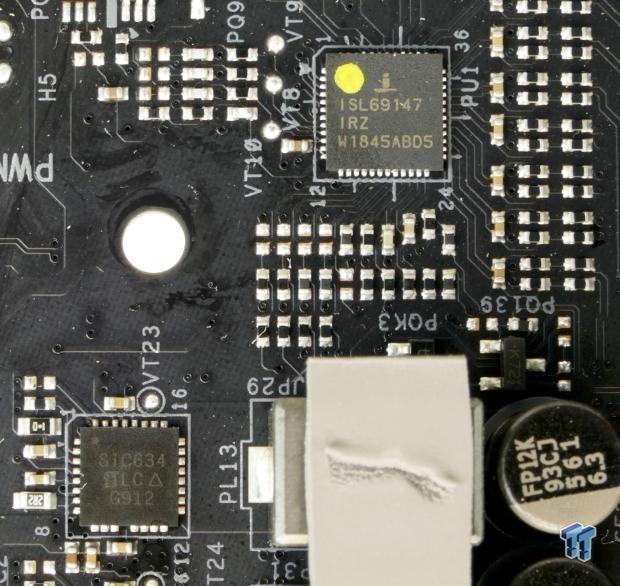 The VRM is in a 12+2 phase configuration, and it uses doublers to get the phase count up to 12 phases. The PWM controller is the new controller from Intersil and it's a 7-phase PWM controller in a 6+1 phase mode that outputs to seven ISL6617 doublers. The power stages are Vishay DrMOS SiC634 that are rated for 50A. The inductors are rated 60A.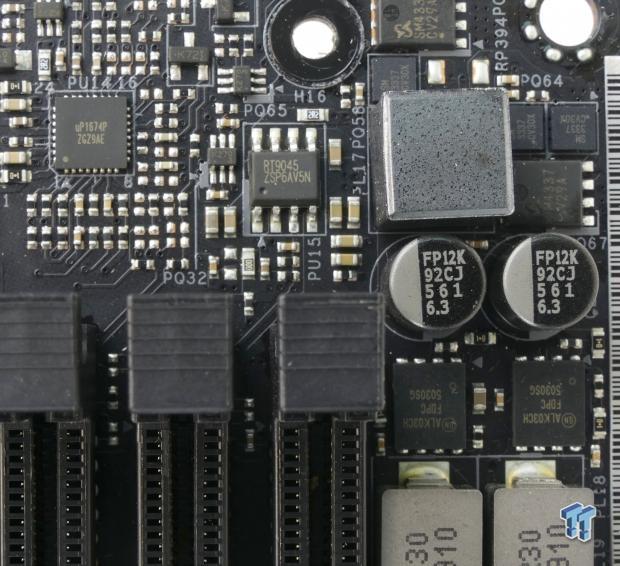 The memory VRM is a two phase VRM controlled by a UPI uP1674 PWM controller and two ON Semiconductor FDPC5030SG dual N-channel MOSFETs are used for power.
ASRock X570 Taichi Circuit Analysis Continued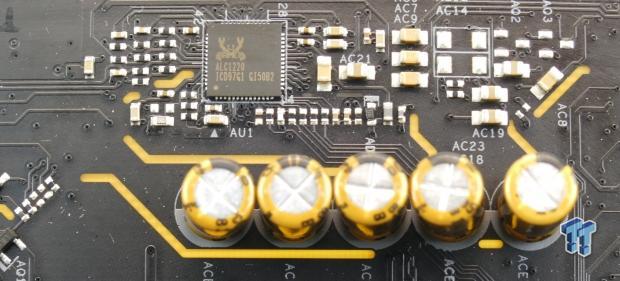 Audio hardware includes a Realtek ALC1220, and NE5532 amplifier is on the rear, there is also a PCB divide, and there are also gold series audio capacitors on the motherboard.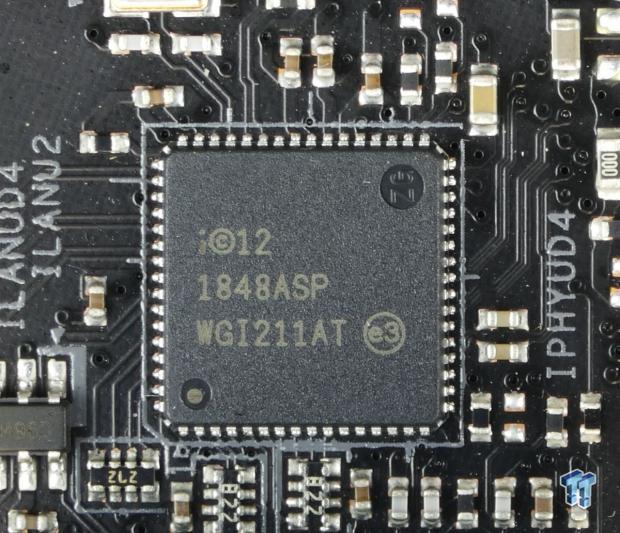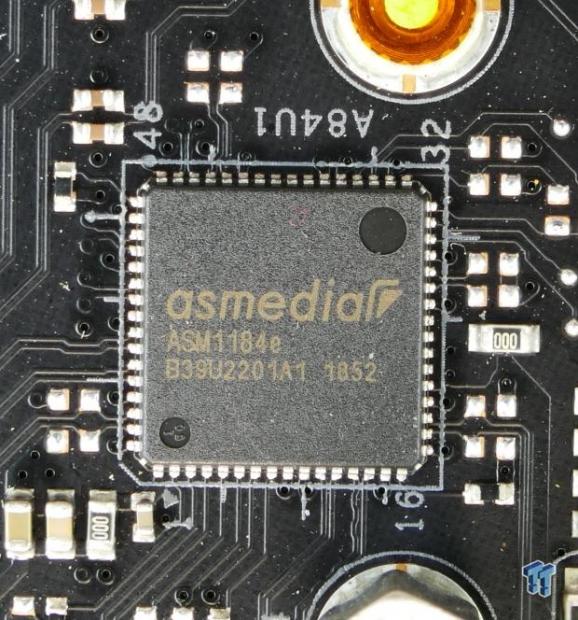 Normal Gbit LAN comes from an i211AT Intel NIC and an ASMedia ASM1184e is used as a PCI-E hub to expand PCI-E lanes.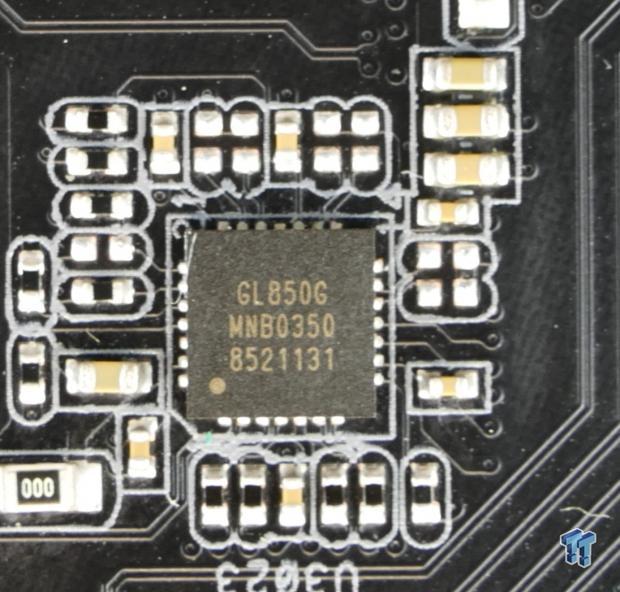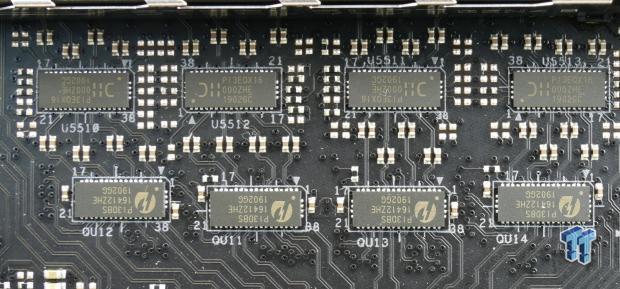 A GL850G USB 2.0 hub is used to provide two internal USB 2.0 headers. Here we find the Pericom PI3EQX16 PCI-E 4.0 re-drivers and PI3DBS PCI-E 4.0 quick switches used to move around the PCI-E 4.0 lanes.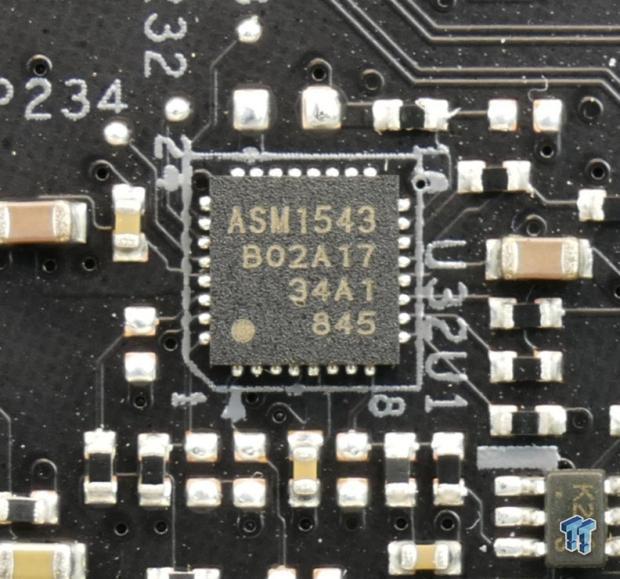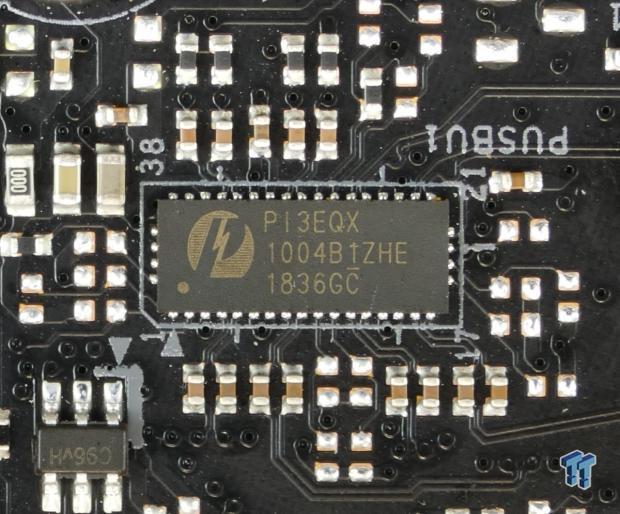 The ASMedia ASM1543 type-C switch is used for the type-C header. We also find USB 3.1 (10Gbps) re-drivers on the back of the motherboard.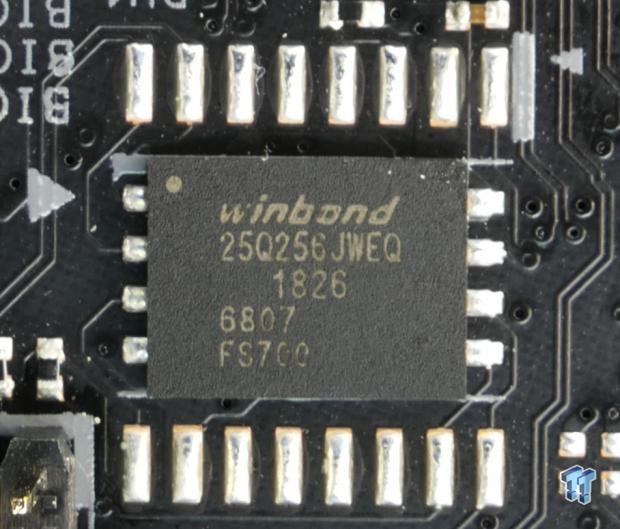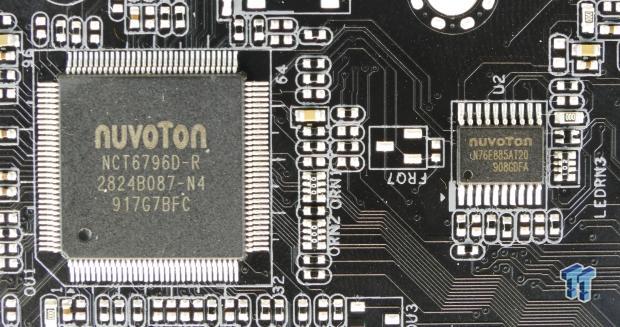 We also find a pricey 256Mbit BIOS ROM, which will allow larger BIOS sizes, which means more CPUs will be supported down the line. The Nuvoton NCT6796D is used as the SIO, while a nuvoton N76E885AT is used for RGB LED control.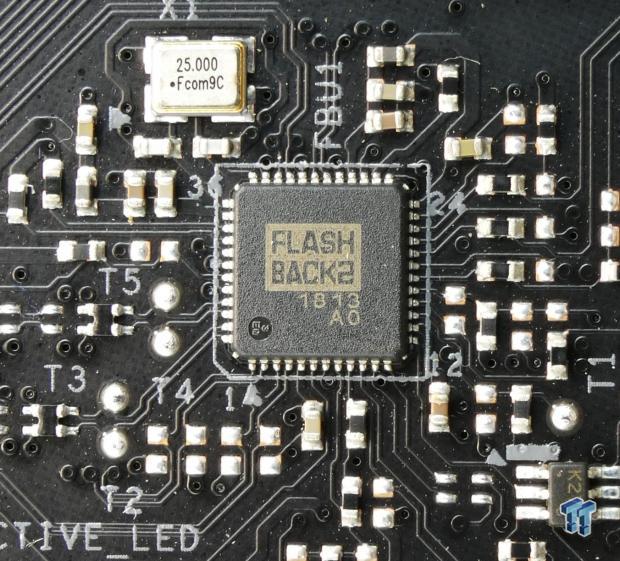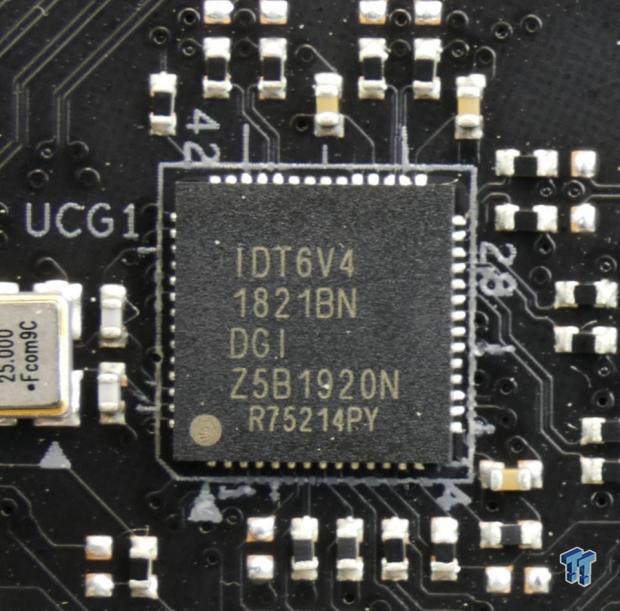 A Flashback IC is used to provide flashback capabilities. A PCI-E clock generators, the IDT6V4 is used for PCI-E 4.0 clocking.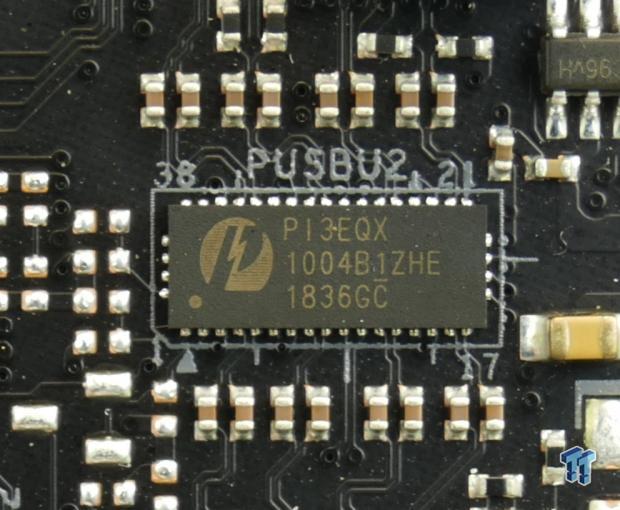 Here we find another USB 3.1 re-driver.
BIOS and Software
BIOS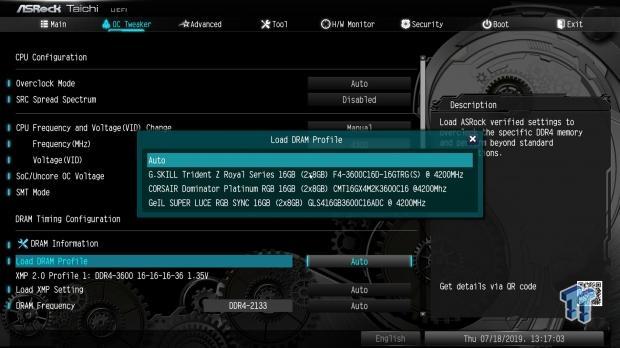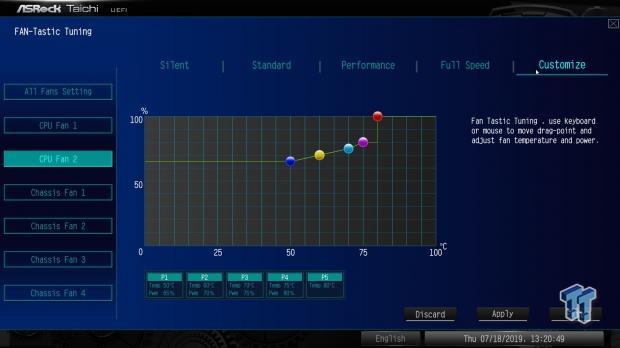 The UEFI BIOS is very similar to that of most of ASRock's motherboards. The UEFI isn't the most glamorous, but it gets the job done. We found some memory OC profiles for certain memory kits, and these profiles look to be quite fancy and offer owners the ability to easily tweak their RAM well beyond XMP levels. We had no trouble overclocking the CPU or the memory, and it seems that the fan curve is set okay for the chipset fan.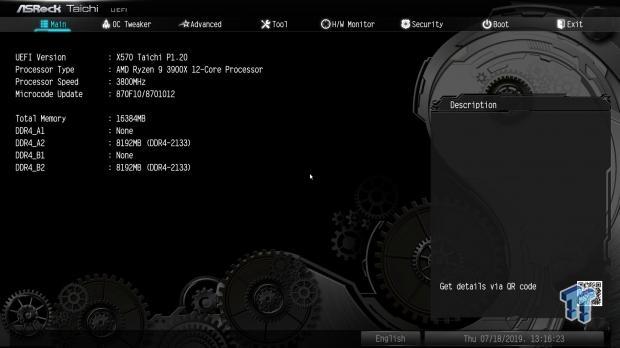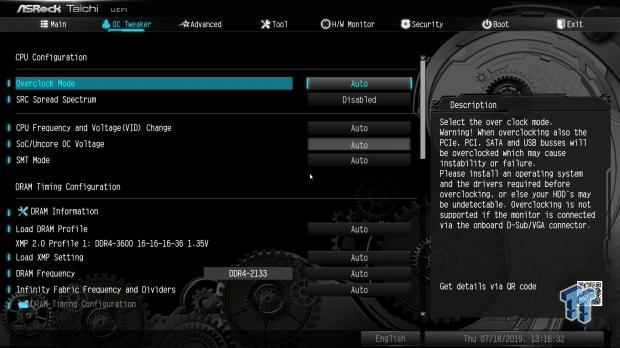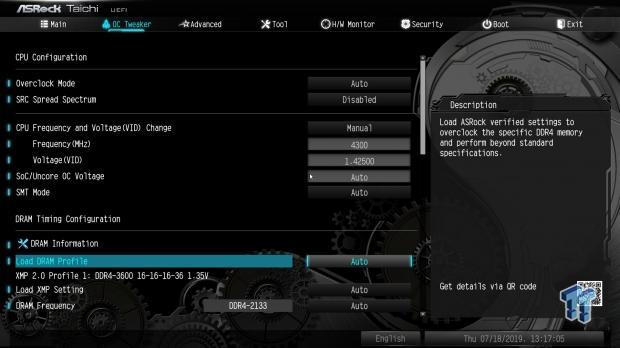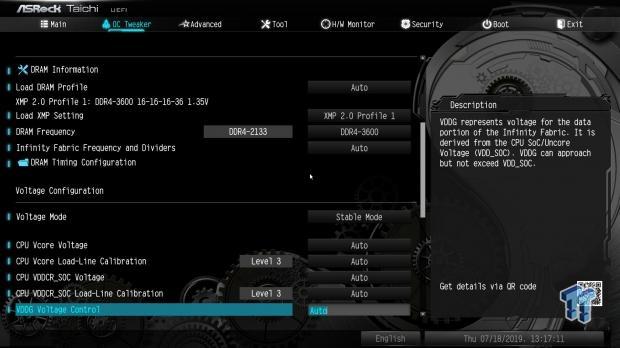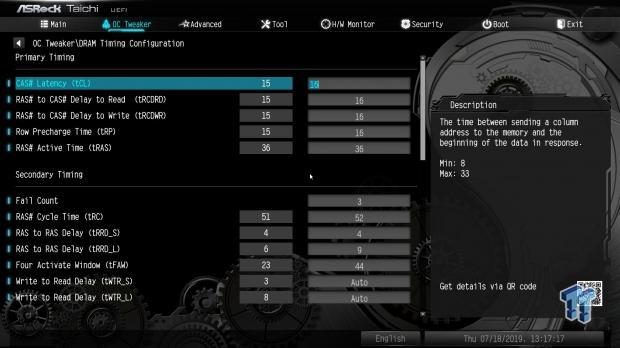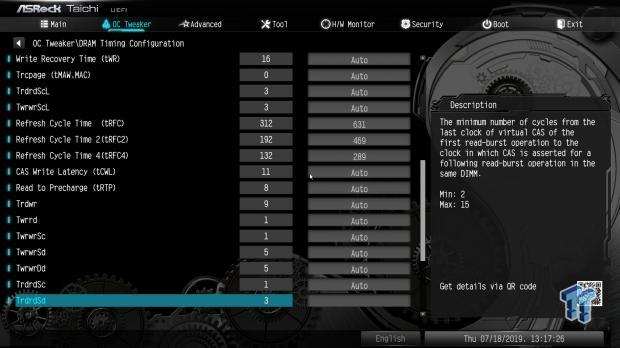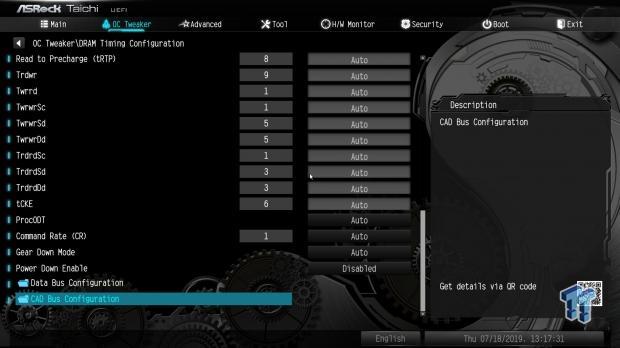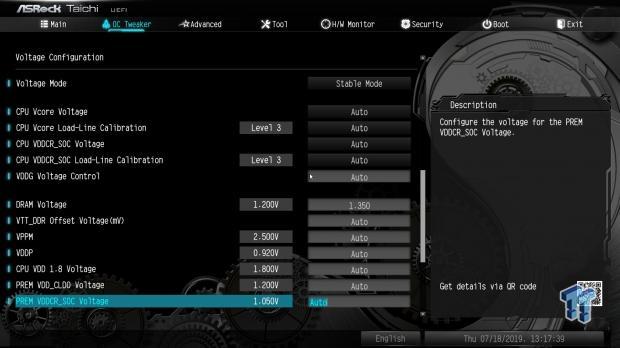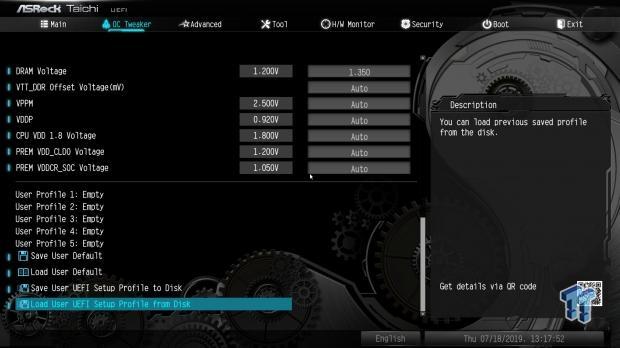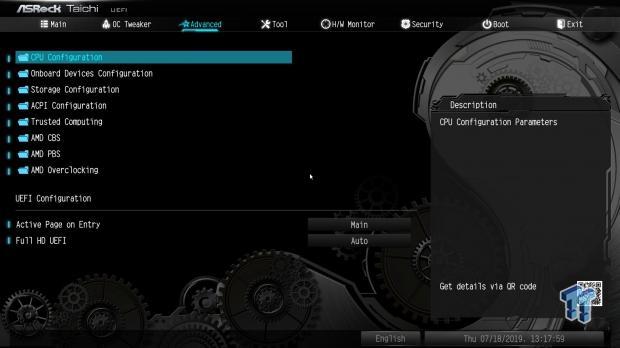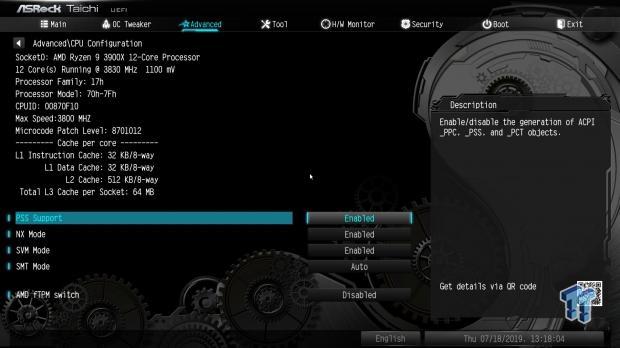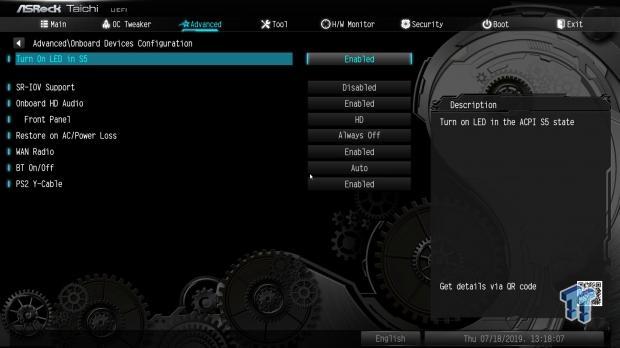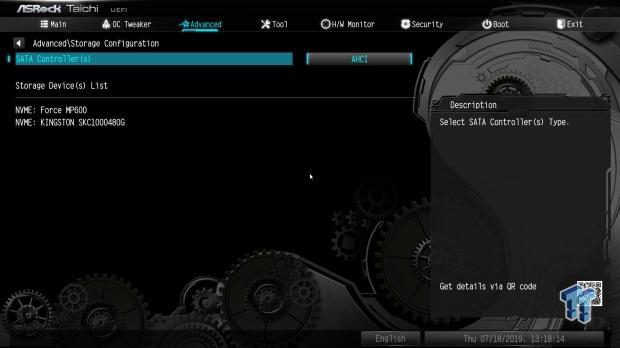 Software
Software includes Polychrome SYNC, XFast LAN, APP Shop, Restart to UEFI, and motherboard utility.
Test System Setup
Steven's Motherboard Test System Specifications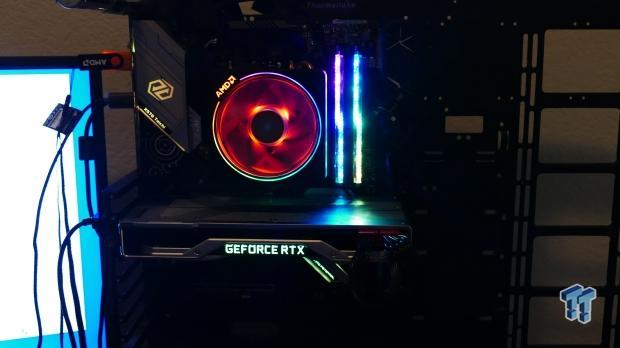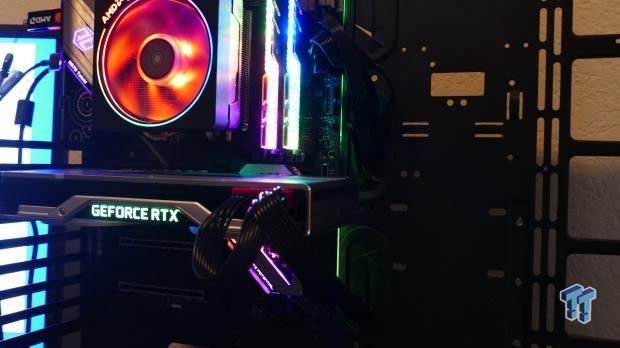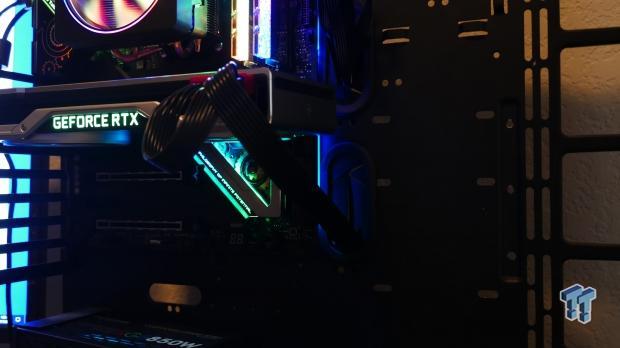 The rear right side of the motherboard lights up with addressable RGBs, and we like how ASRock has implemented it. They have done a great job with the RGBs in the chipset and IO area as well.
Overclocking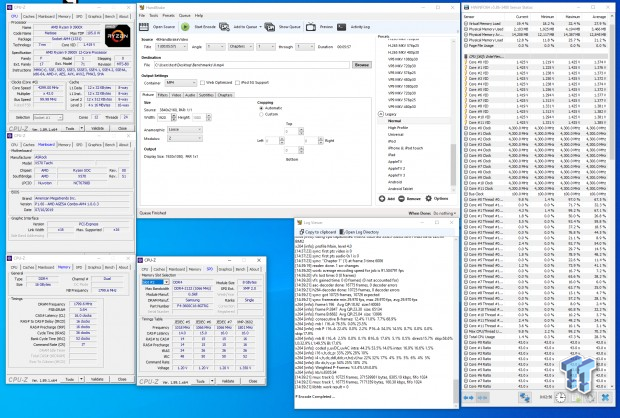 The new CPUs don't overclock like crazy on air, in fact PBOC might be just as effective for mixed use cases. However, memory and FCLK clocks can be changed, and so we are using a 3600MHz kit and seeing how high we can take all cores. We are aiming for 4.3Ghz with a 3600MHz memory clock, and in this case it worked fine at 1.425v since that's where we hit a thermal limit.
However, CPU-Z and HWinfo were reporting the VCore dropping to 1.36-1.38v under load even with the highest level of LLC, but CPUz is probably a bit off considering the system was stable and temperatures were where they were on other motherboards.
CPU, Memory, and System Benchmarks
CINEBENCH R15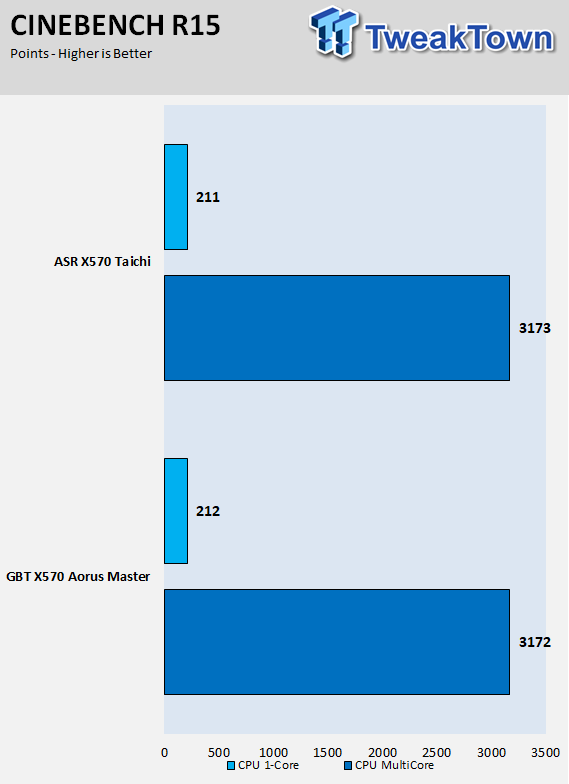 wPrime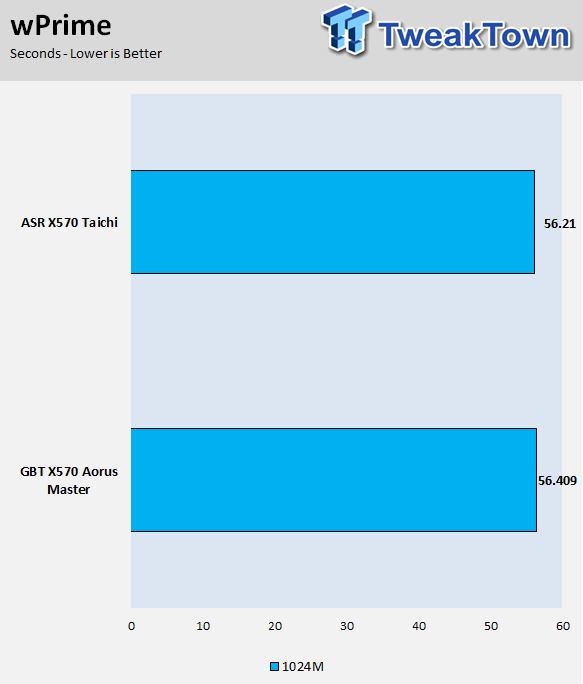 AIDA64 FPU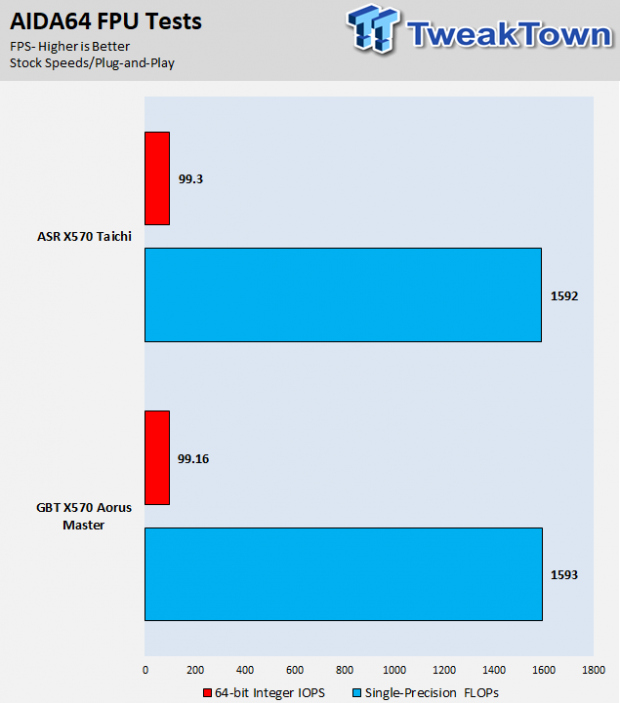 AIDA64 Memory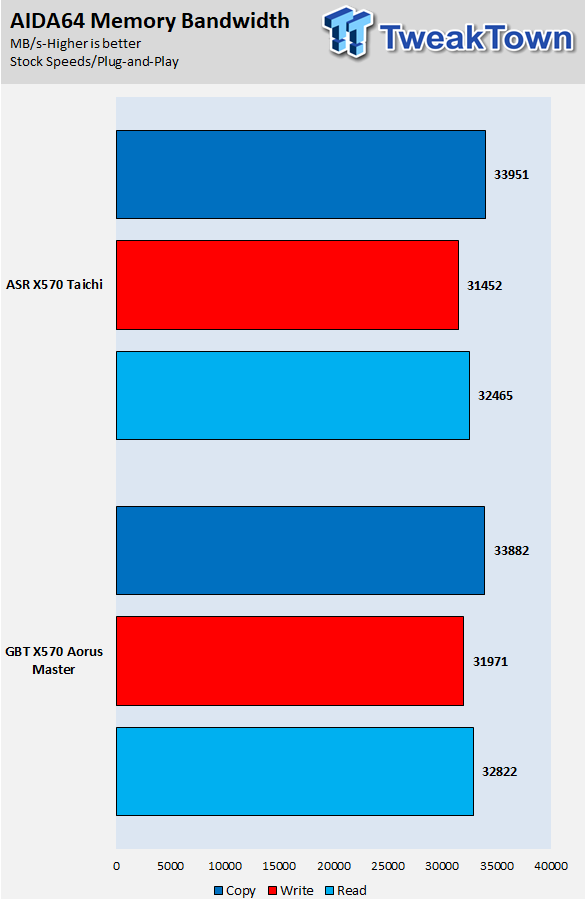 ScienceMark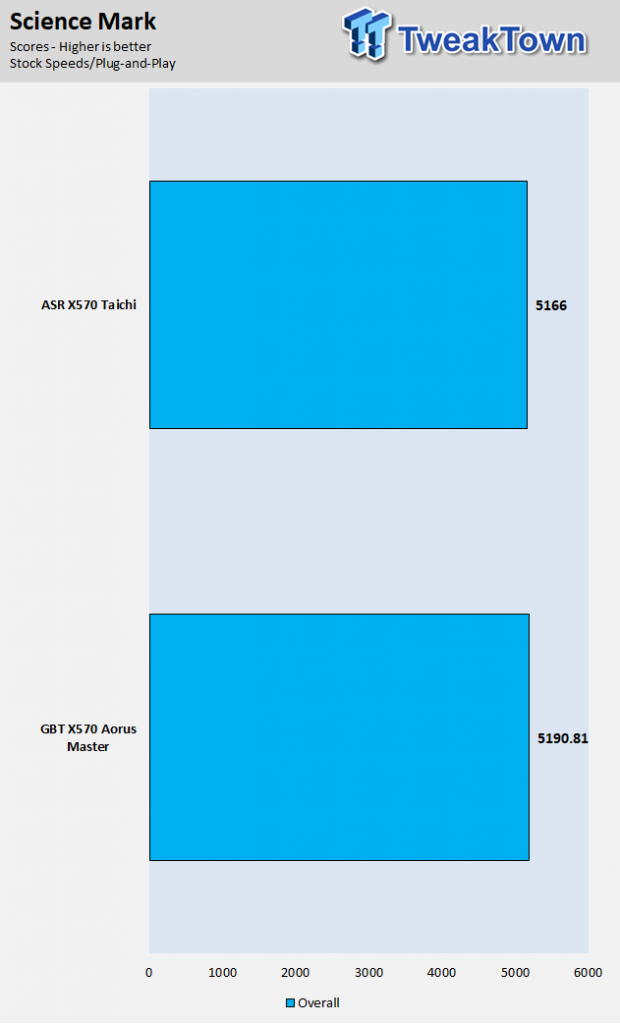 HandBrake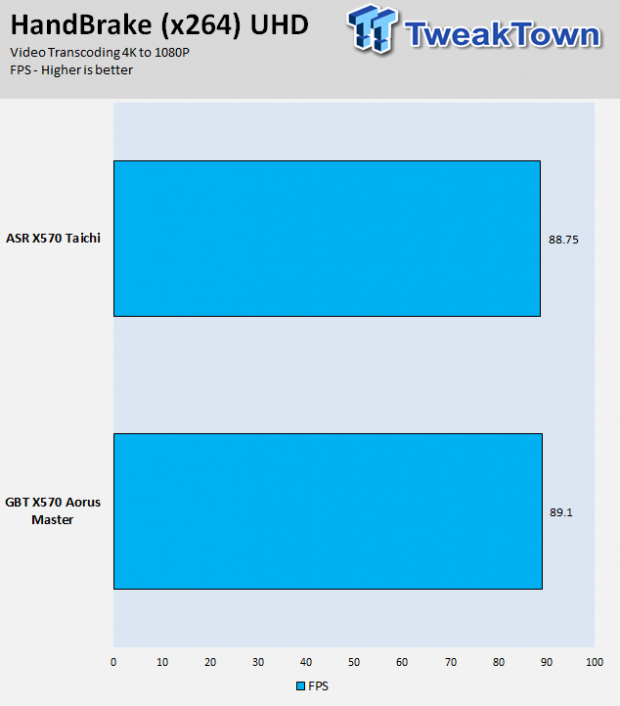 3DMark: Fire Strike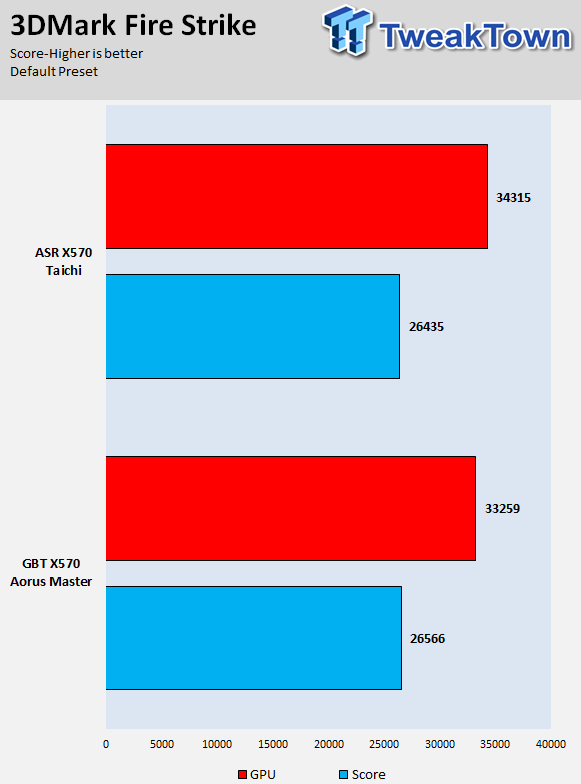 3DMark: Cloud Gate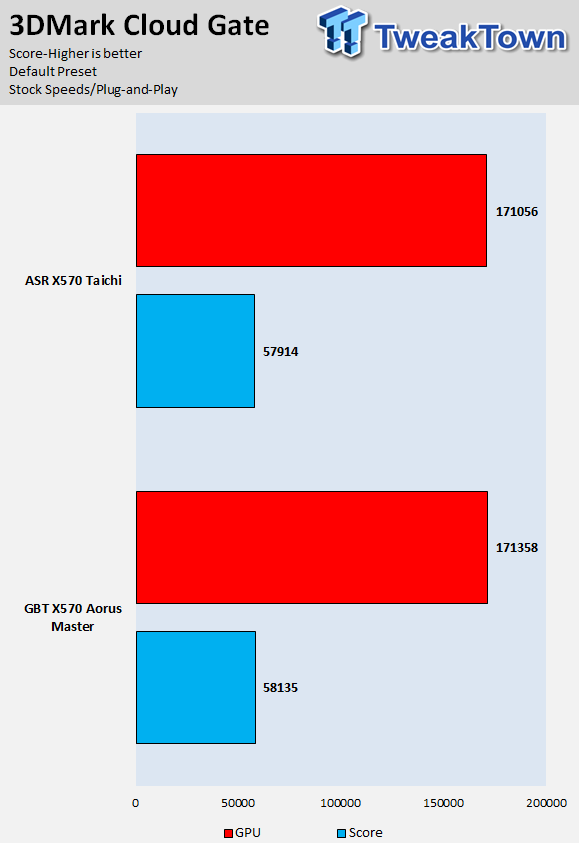 ResidentEvil 6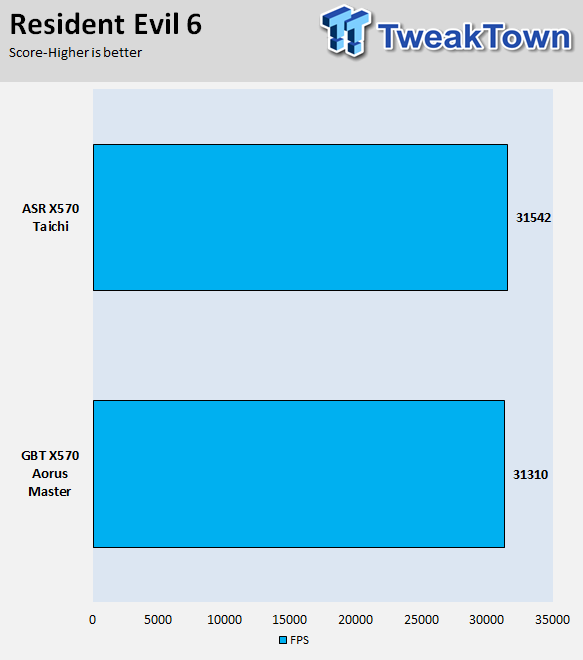 Performance is equal on both of these motherboards, we can't really find a clear winner, but we expect this since AMD's core for the UEFI is a closed off enclave. We will see if this changes as we test more motherboards.
System IO Benchmarks
CrystalDiskMark SATA6G: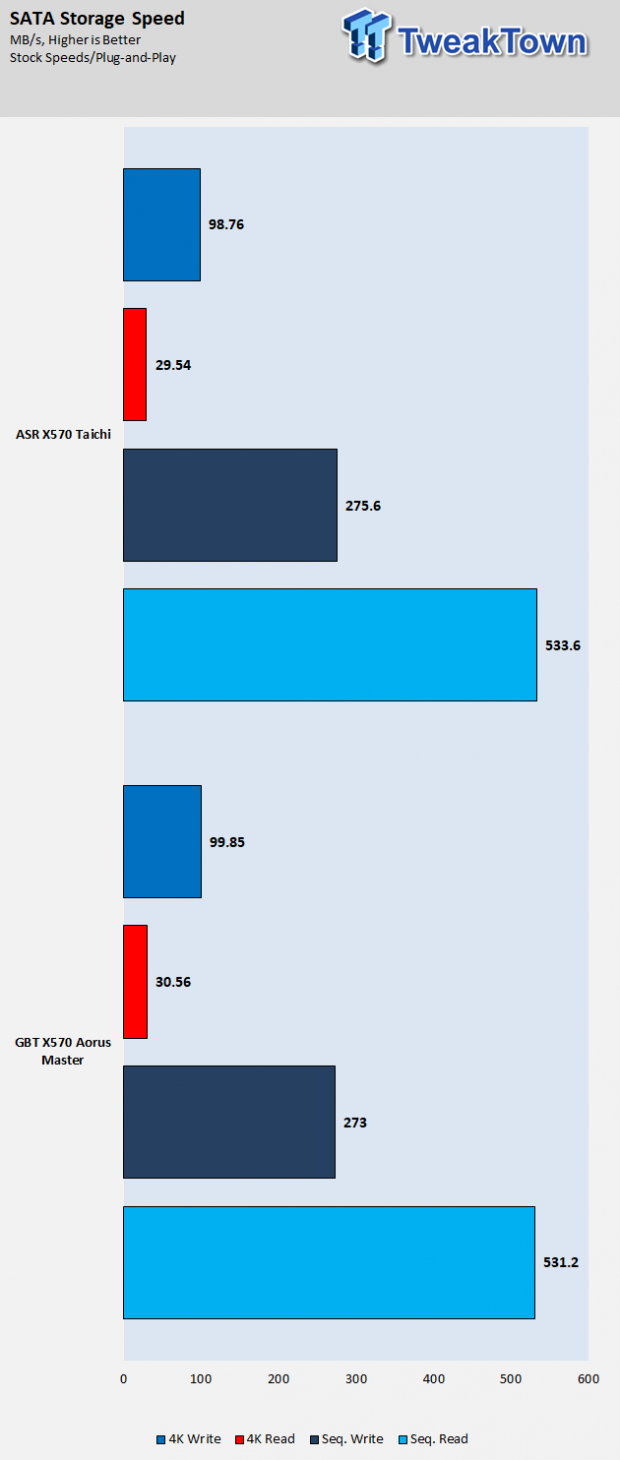 CrystalDiskMark M.2: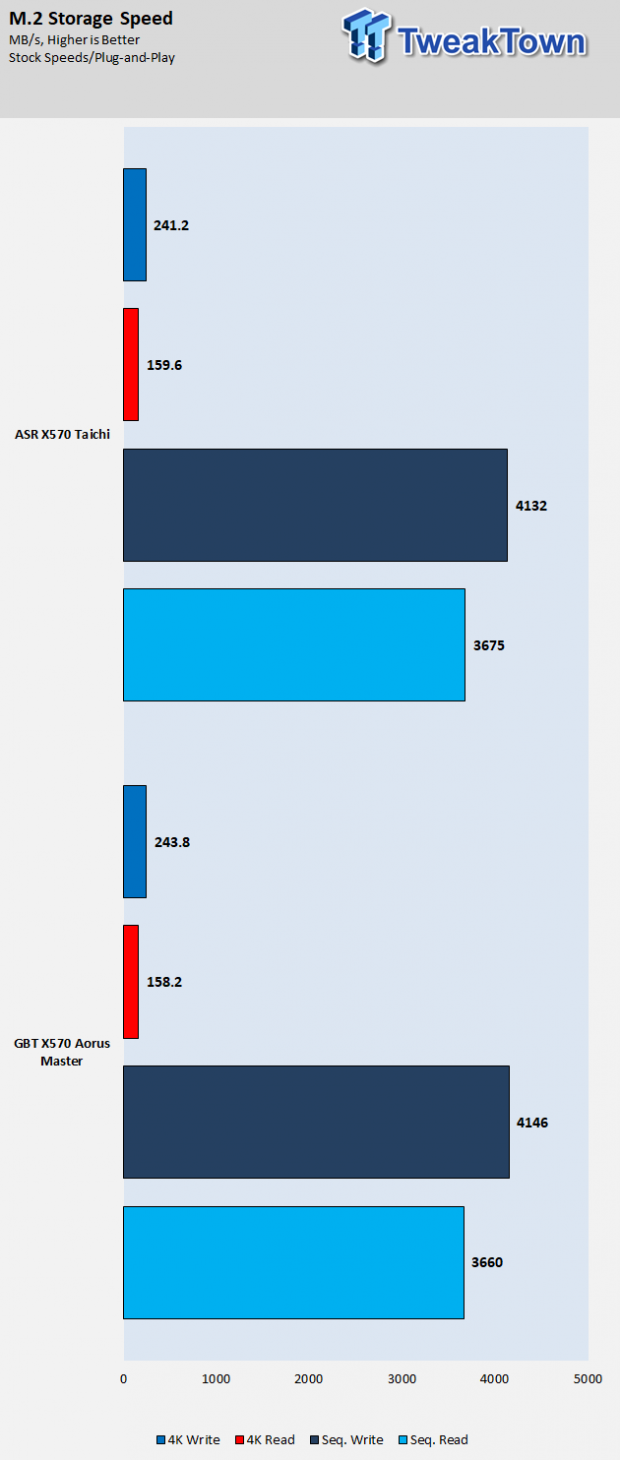 ixChariot Network Throughput: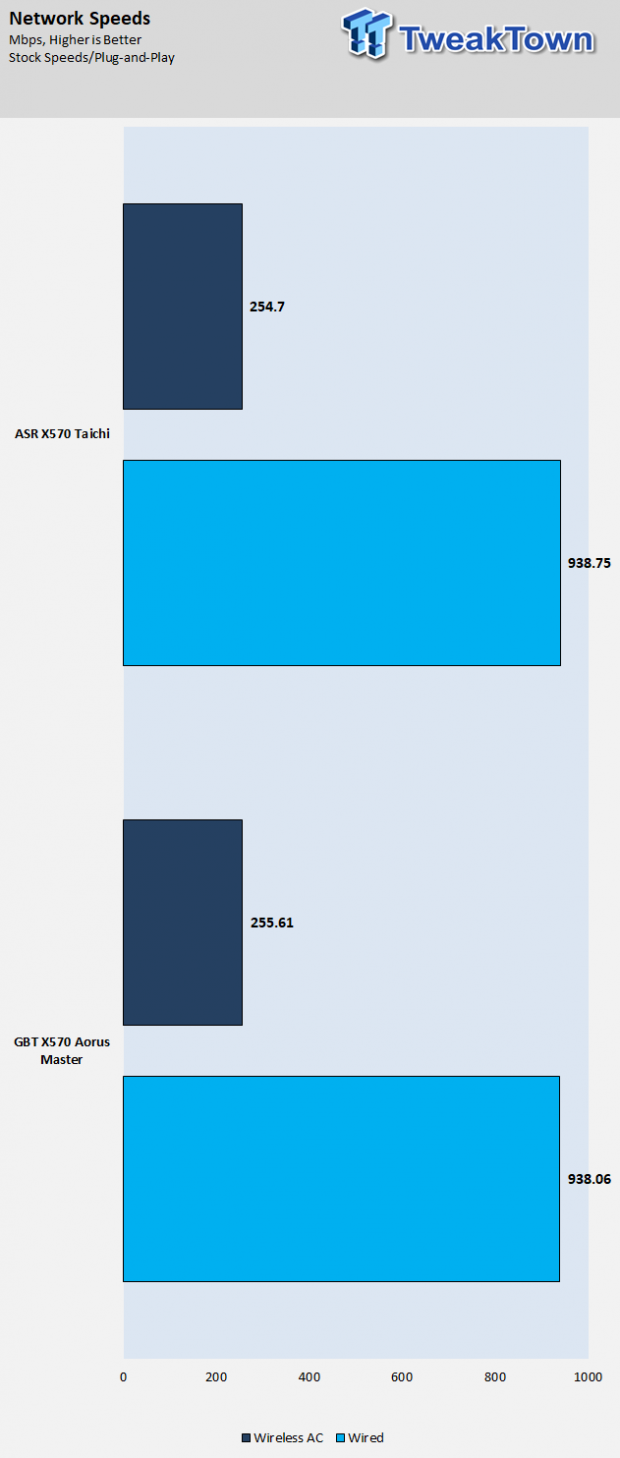 Storage and network performance are relatively good.
Audio RMAA 5.5:
Sound Judgment by Ear: Excellent, the ALC1220 is doing a fine job. There are five ratings for audio: 1. Problems, 2. Okay, 3. Acceptable, 4. Very good, 5. Excellent 
Power Consumption: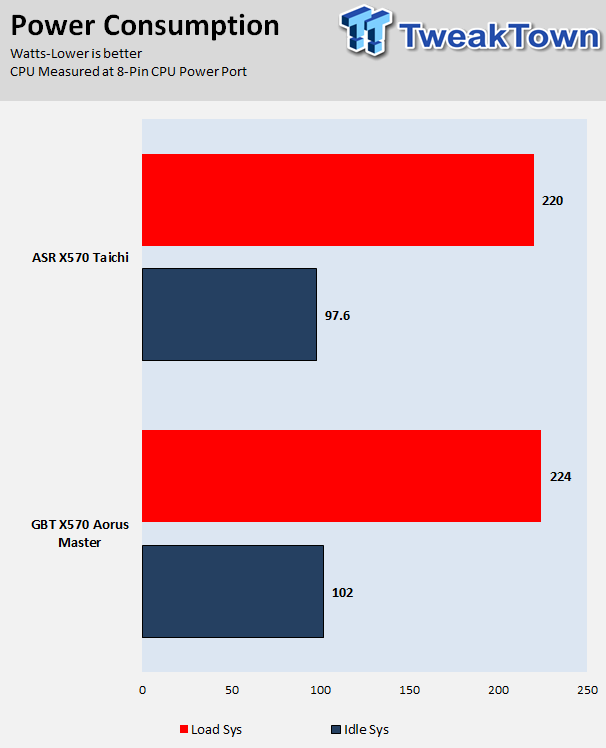 Power consumption is pretty similar, and we need more samples to make any definitive statements.
What's Hot, What's Not & Final Thoughts
Here are key points about the ASRock X570 Taichi.
What's Hot
Solid VRM: With 50A DrMOS and twelve phases, the X570 Taichi has enough oomph to get your 3900X and unreleased 3950X to their maximums. A good VRM is very important for Performance Boost Over Drive, as the motherboard's electrical design in the VRM is taken into account, and the Taichi has a solid VRM with enough current capability.
Three PCI-E 4.0 M.2 slots: ASRock was able to implement three PCI-E 4.0 M.2 slots with x4 of bandwidth each. The top slot is the best to use with a PCI-E 4.0 M.2 drive as it's directly wired to the CPU and doesn't need to go through the chipset.
WIFI 6: WIFI 6 is the future, and it's backwards compatible with Wireless AC 1.73Mbps while also offering Wireless AX, which should boost network speeds upwards of 2.4Gbps. We are happy to see this feature on the motherboard, as in a few years we will see more and more Wireless AX routers.
What's Not
Internal Type-C Header Placement: The internal USB 3.0 header is placed just fine, but the same cannot be said for the internal type-C USB 3.1 header. If you are using a long GPU, as most span the entire length of the motherboard, it will block a small part of the header, making it quite difficult to plug into the header.
Final Thoughts
The X570 Taichi does cost $300, and while that's not as pricey as some other X570 motherboard, it's still a decent amount of money. The reason is because of the high component cost of most X570 motherboards, so vendors, knowing they would already have to charge a premium, boosted the amount of flair and features to help justify this increase in price. We really like the new aesthetics of the X570 Taichi, but we also like RGB LEDs, and ASRock has done a fine job with that. The firmware is solid, and we see a lot of updates, which is a good thing for a new platform.
The performance is very similar to other X570 motherboards, and overclocking was easy to accomplish. We even spotted some special memory overclocking profiles, which is great for this platform because memory is what is going to be overclocked the most since the CPU doesn't have much headroom. If you are looking for a loaded X570 motherboard with a healthy amount of features at a relatively reasonable price, give the X570 Taichi a look.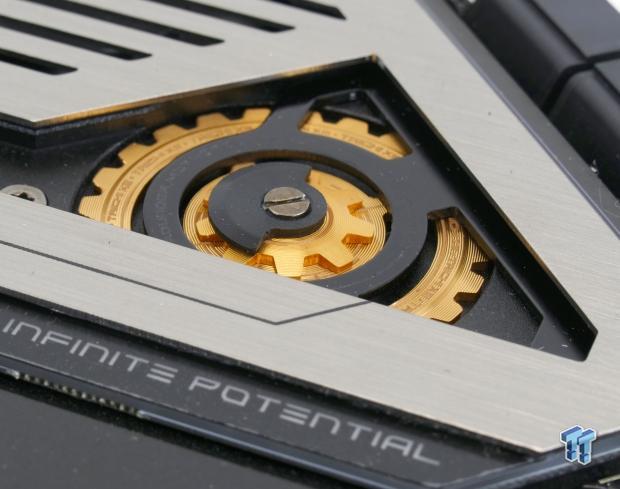 Loaded with features like WIFI 6, a solid 12 phase VRM, and some stellar looks, the X570 Taichi is a very nice motherboard and a great successor to the X470 Taichi.
| | |
| --- | --- |
| Performance | 92% |
| Quality | 92% |
| Features | 92% |
| Value | 90% |
| Overall | 92% |
The Bottom Line
Loaded with features like Wi-Fi 6, a solid 12 phase VRM, and some stellar looks, ASRock's X570 Taichi is a very nice motherboard and a great successor to the X470 Taichi.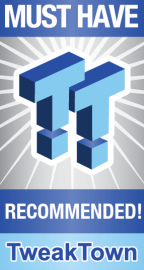 We openly invite the companies who provide us with review samples / who are mentioned or discussed to express their opinion. If any company representative wishes to respond, we will publish the response here. Please contact us if you wish to respond.