Bloodstained: Ritual of the Night Review
Bloodstained: Ritual of the Night is one of the best indie Metroidvania platformer titles on the market, it's oozing with development passion and fun.

Published
6 minute read time
TweakTown's Rating: 94%
The Bottom Line
Ritual of the Night is a must-have for any Castlevania fan, and is almost better than Symphony of the Night.
Introduction
Bloodstained: Ritual of the Night is the best platformer I've played in 2019. In fact, it might be the best indie of the year too. It's a must-have for any Castlevania fan and resurrects the old wellspring of magic only really found in lower-budget indie games today, the kind of intimate, slow-burn exploration across sprawling levels punctuated by challenging boss fights. Bloodstained is an ode to every Castlevania game in existence and hearkens back to a simpler time before MMOs, live games, and microtransactions.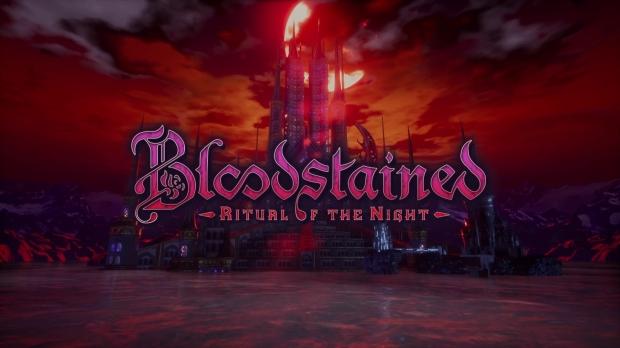 It's the kind of game that takes you back to the past, and rightly so. The main selling point of Bloodstained is that it promises an opportunity to relive those old PlayStation days of yore when it was only you, a CRT TV casting the only light in the room, and a controller (and maybe a printed GameFAQs guide). It perfectly encapsulates those old days in the 1990s where you had to use grit, ingenuity, and tact to survive, progress, and conquer, all set in your own self-contained slice of an interactive world.
Sadly experiences like Bloodstained have become an outlier in today's online-dominated industry, but the spirit of age-old classics is far from dead. Koji's latest magnum opus stands with other indie greats as Axiom Verge, Dead Cells, and Hollow Knight in carrying the torch.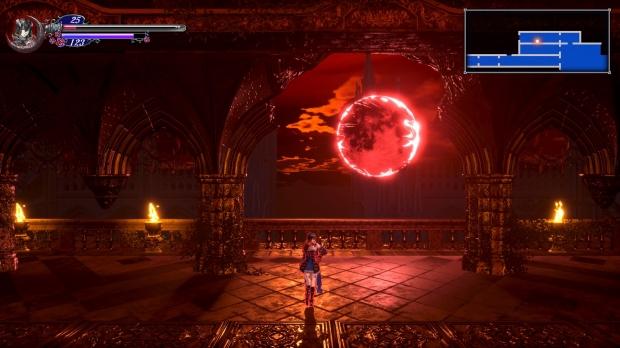 Bloodstained is one of the most confident games I've seen in a long time and doesn't try to lie to you. It says what it means right away and delivers what it promises without any kind of shortcuts or sidelines. There's no live service hooks here, no roadmaps, no unfolding events or carved out DLC; just straight singleplayer Metroidvania mastery.
One thing we should get out of the way is that yes, Bloodstained is pretty much Symphony of the Night 2.0. This iteration shares so many similarities with the PS1 classic, but it also shines with its own innovative mechanics and features. Koji's team is ingenious and creative with new systems, characters, enemies, and a surprisingly in-depth story framed in that distinct gothic world.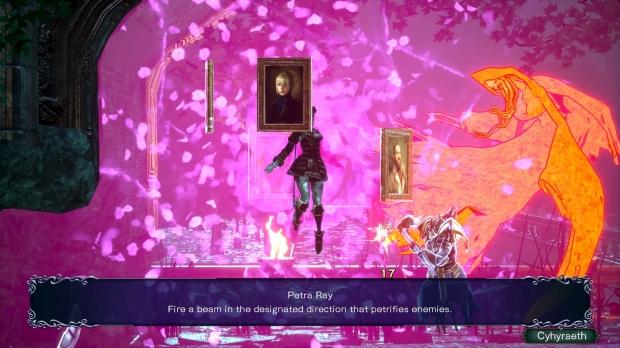 But rather than making you want to play Symphony of the Night again, Bloodstained stands on its own two legs as a competent side-scroller. It's actually quite refreshing in its presentation and execution. It stays true to the old-school Metroidvania style that Koji helped create and genuinely feels like a direct continuation of the gametype--Bloodstained is definitely coursing through the same vein as its Castlevania forebear--but it's also quite different and unique.
It's a spiritual successor that breaks new exciting grounds while paying ultimate respects to Alucard's adventures.
Game Mechanics - Combat, RPG, and Metroidvania Mastery
At its core, Bloodstained is a game built around freedom. It takes players across a labyrinthine castle of dark magics, demons, and danger, forcing them to think outside the box to solve areas. And in true Metroidvania fashion, you're always finding roadblocks and having to retrace your steps after unlocking new abilities like double jumps or zapping teleports.
The real freedom aspect comes in how you assemble your character and tackle the hordes of demon spawn and hulking bosses in your wake. Bloodstained is an RPG at every turn, offering lots of different weapons, armor, and accessories all with their own unique stats, effects, and proficiencies. You level up, boost your MP and HP, and genuinely get stronger the more you play. There's a very tangible sense of progress that you can directly gauge at any time that adds depth and meaning to everything--even monotonous material grinding.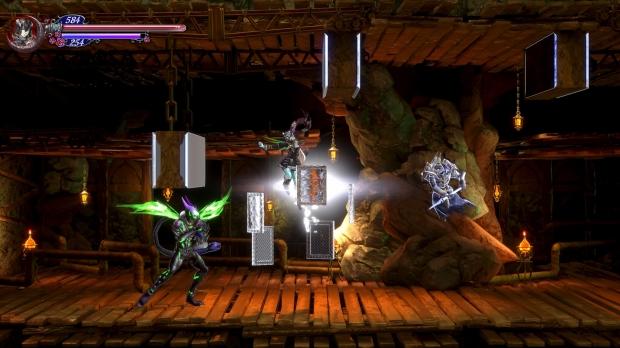 The weapons themselves have been carefully tuned and balanced to dramatically change how you play; hulking 2-handers do more damage but are slow as Moses, but the quick battle shoes (yes, you can equip shoes to mercilessly kick enemies!) dish out rapid-fire Bruce Lee sidekicks.
Things get really interesting when you pair your loadouts with the new shard powers.
Miriam, the protagonist Shardbinder, has a nifty ability to absorb enemy abilities. Kill a demon, and there's a chance you steal its soul to gain a new power, but some shards are harder to get than others. It's always randomized so players will have to sometimes grind to grab them. This new system opens the game up in a myriad of new ways simply because of the sheer variety of shard powers.
There's five different types of shard abilities, all with their own functions. Some help with clearing obstacles in your path, but most of them aid you in battle. Miriam can Conjure a boss ability (killing bosses often unlocks their special attacks), zap enemies with a Directional attack, get a nice boost with a Passive shard, and summon a helpful ally as a Familiar.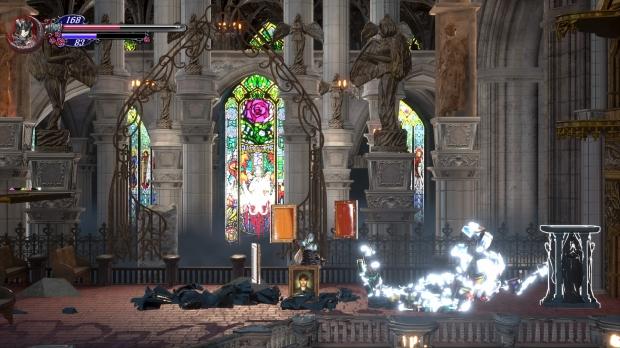 The real explosive fun happens when you find the right combination of shards and weapons.
For example, pair up Sword Expertise to boost your mace and 1H sword speed with the Welcome Company ability (basically like the holy book from Symphony of the Night) for fast attacks and a whirling protective barrier, and top it off with the Silver Knight familiar to dish out extra damage. This setup carried me through the entire game and really never let me down.
Fun fact: familiars level up the more you use them, so be sure to swap them out from time to time.
This kind of freedom to mix-and-match abilities, weapons, combos, and even accessories on-the-fly makes for an engaging and constantly-shifting experience. How you play is entirely up to you, and there's a very distinct level of strategy, and the game constantly encourages experimentation. Every enemy has their own strengths, weaknesses, and affinities like a true RPG, making this kind of instant adaptation a necessity on harder levels.
Another facet of freedom is how much time you choose to invest.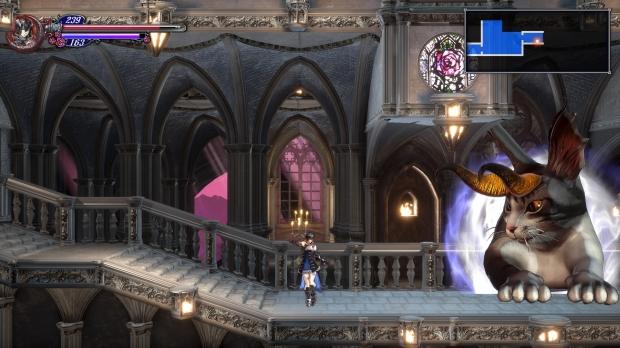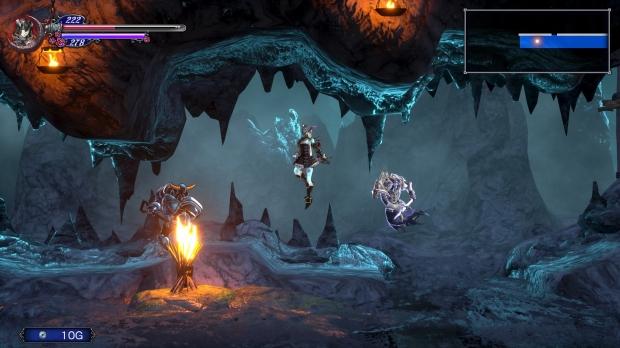 You can beat the game without dabbling too much in the crafting or upgrade systems, but 100% completing the game opens up lots of replayability. Bloodstained is set up so that die-hard completionists will get their money's worth; you can level up your shards, collect materials for item crafting and upgrading, and even cook food for passive bonuses. There's even quests from NPCs peppered throughout the castle that give you special items.
Combat is fluid, challenging, and rewarding. There's just the right amount of leeway to try new things, but the game will punish you for mistakes--not ruthlessly, just small smacks here and there to remind you that you're indeed playing a Metroidvania.
The boss fights are epic affairs that are punctuated with exciting unlockables. Every big battle is engaging and tests your mettle, forcing you to react and use environments to evade attacks, learn the rhythm, and strike when you can. The battles always seem to give you something new, something useful to use in your quest to rid the strange medieval world of darkness.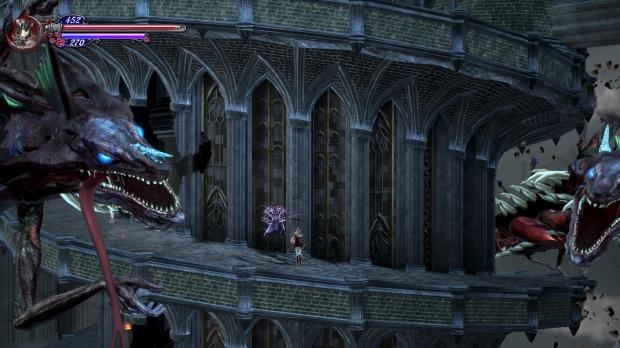 Exploration is likewise rewarding.
Bloodstained has a series of beautiful, sprawling environments with some surprising plane shifts here and there. Most of the game you're playing a typical side-scroller with multiple levels, double-jumping to higher ledges and uncovering the map in a roundabout way.
Other times the game pulls a complete 180, and suddenly you're running across a 3D corkscrew path up an old demon-infested clock tower (which has some maddening jumps, mind you). There are lots of little nods thrown in that keep things fresh.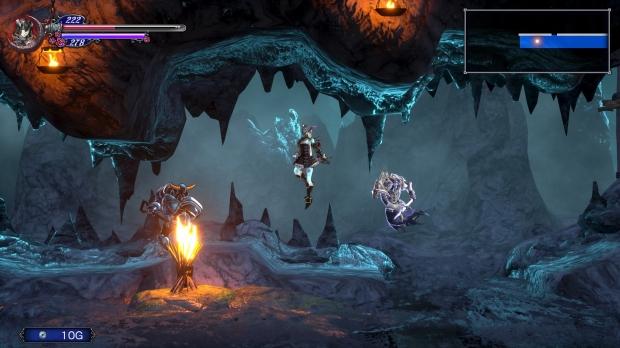 Like any Metroidvania, Bloodstained has oodles of secret doors, breakable walls, hidden boosts, and there's even bookshelves that sometimes unlock weapon combos. The world can be frustrating and confusing at times--you're not always sure where to go, or what you need to do to get to that far ledge, or how to traverse watery depths--but it still has that old-school charm that promises goodies around every turn.
All of these elements combine to create a robust, competent, and player-driven experience that blends skill, freedom, and sheer enjoyment together in one neat package.
Conclusion - Bloody Good
Final Thoughts
Bloodstained: Ritual of the Night is a pure passion project that's positively oozing with talent, dedication, and attention to detail. Iga's team are the masters at these types of unique slices of retro gaming, and everyone on board clearly knows what they're doing. Everything in Bloodstained has been meticulously crafted to empower players and resurrect the beloved old-school flame of classic explore-and-slash experiences of yore.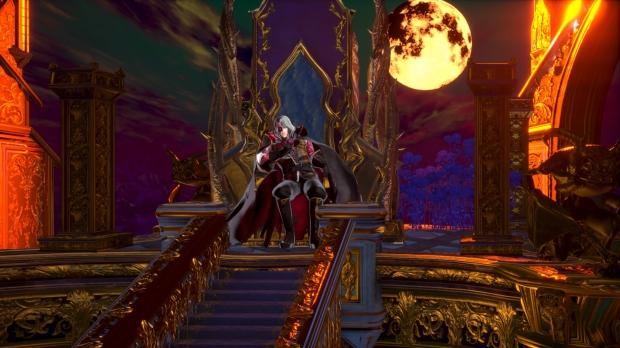 It has the pedigree and scope of a AAA game squeezed into an affordable indie package, and proves that after all these decades, gamers do indeed still want these kinds of titles. Bloodstained adds fuel to the Metroidvania flame to make it a roaring inferno, reminding billion-dollar publishers what games could and should be.
If you've ever had a passing interest in Castlevania, or have fond memories of the series, definitely buy Bloodstained. Trust me. It's not Symphony of the Night. It's something more, something different and new and greater all at once. But at its heart, Bloodstained: Ritual of the Night is bloody good.
What's Hot
+ New innovative shard system
+ Deep RPG mechanics
+ Combat is fluid, intuitive, and fun
+ Exploration is rewarding
+ Chaotic boss battles
+ NewGame+ and tons of upgrades offers massive replayability for completionists
+ Isn't devilishly hard like NES Castlevania games
What's Not
- Jumps can be a bit clunky
- Load times aren't great
- Easy to get lost and stuck
| | |
| --- | --- |
| Performance | 90% |
| Quality | 95% |
| Features | 95% |
| Value | 95% |
| Overall | 94% |
The Bottom Line
Ritual of the Night is a must-have for any Castlevania fan, and is almost better than Symphony of the Night.
We openly invite the companies who provide us with review samples / who are mentioned or discussed to express their opinion. If any company representative wishes to respond, we will publish the response here. Please contact us if you wish to respond.