GIGABYTE X570 Aorus Master (AMD X570) Motherboard Review
The GIGABYTE X570 Aorus Master has great fan control, excellent VRMs, and is a well equipped product.
Published Jul 15, 2019 10:53 PM CDT
|
Updated Tue, Nov 3 2020 6:57 PM CST
7 minute read time
TweakTown's Rating: 94%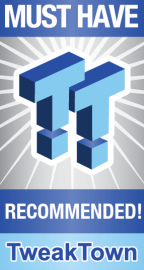 The Bottom Line
Loaded with the latest in features, an excellent VRM, some really awesome fan control, and a revamped UEFI the GIGABYTE X570 Aorus Master is one very well equipped product.
Introduction, Specifications, and Pricing
Today we venture into the world of AMD's newest chipset, the X570 chipset, on GIGABYTE's X570 Aorus Master. The Master is typically the second rung from the top of the stack when it comes to GIGABYTE motherboards, and what we have here today is a very loaded motherboard.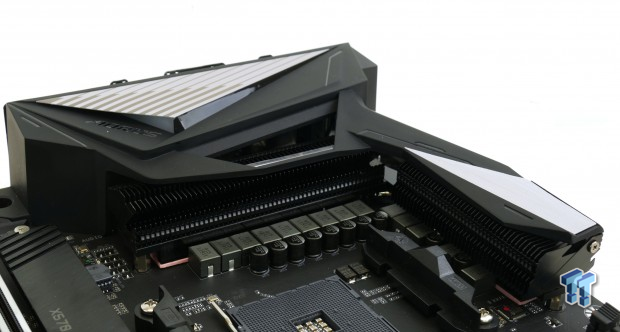 AMD's new X570 chipset and platform offer all PCI-E 4.0, which is double the speed of PCI-E 3.0, and it's the first platform with the new standard. AMD did top Intel's Z300 series platform by bringing integrated 10 Gbps USB to the chipset, and now they have done it again with PCI-E 4.0. For now, the differences are going to mainly be seen with PCI-E 4.0 M.2 SSDs, but as time goes on we will see more devices take advantage. Let's see what this motherboard has to offer.
Specifications

The X570 Aorus Master features three PCI-E 4.0 M.2 slots, a 2.5G NIC, a 2.4G WIFI controller, an Intel Gbit NIC, tons of 10Gb/s USB, and high-end audio.
Pricing
The X570 Aorus Master costs around $360
Packaging and X570 Aorus Master Overview
Packaging and Overview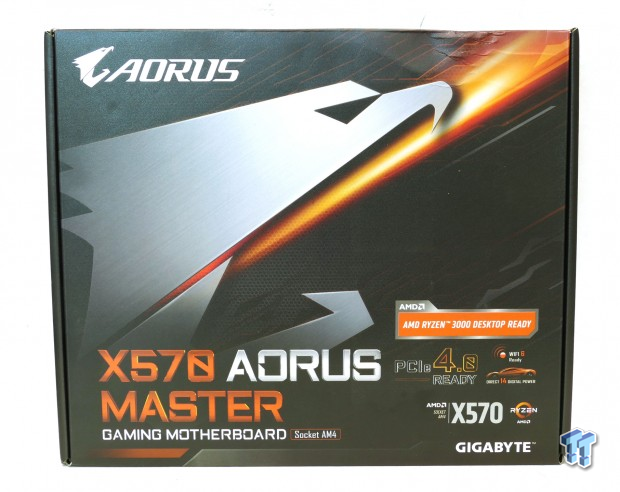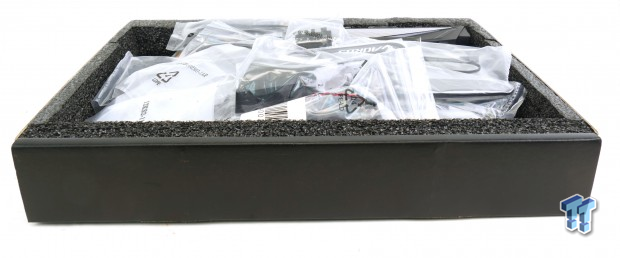 The box and packaging are very similar to those of other GIGABYTE Aorus motherboards. The packaging is very well done on this model.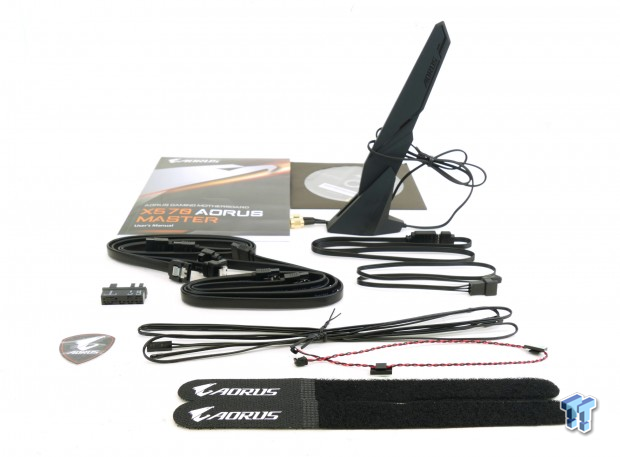 The accessory package includes four SATA6Gb/s, WIFI antenna, RGB LED extension cable, addressable RGB extension cable, dB detection cable, two thermal probes, case badge, G-connector, two Aorus Velcro cable straps.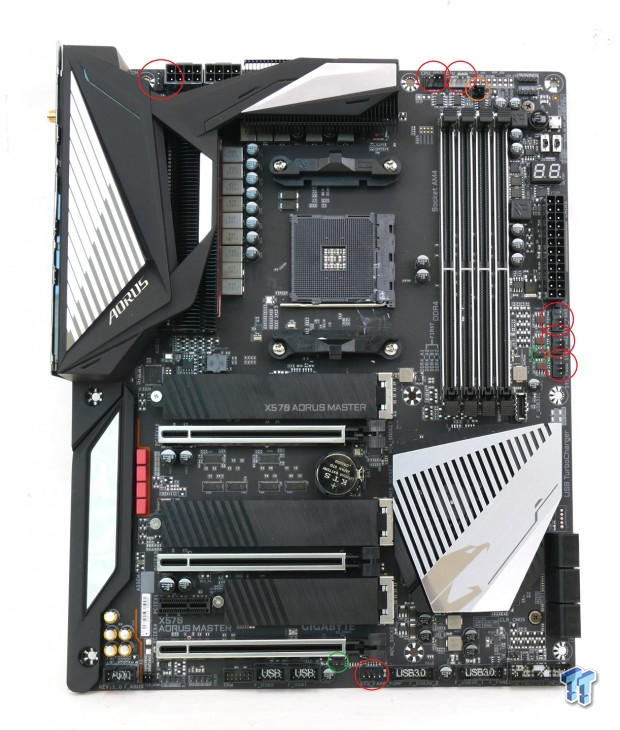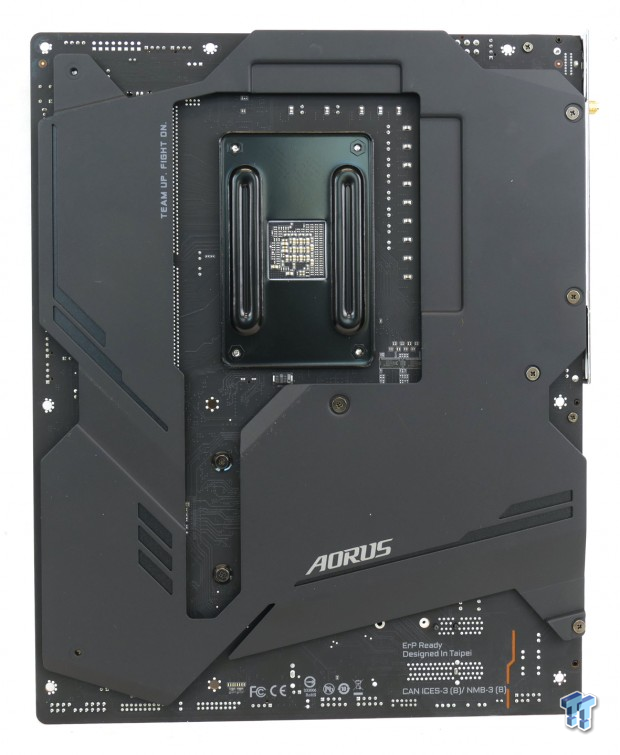 GIGABYTE put in seven fan headers circled in red, and they can all work in either DC or PWM mode. All the headers offer up to 2A of current. There are two headers circled in green, and you can plug in the temperature sensors that are included and use them for reference.
There is also a new feature circled in orange, and you can plug in what is essentially a microphone used as a dB meter and use it to control your system's noise level. The motherboard has a backplate as well that stiffens the motherboard but also provides cooling for the back of the CPU VRM.

The rear IO panel features two USB 3.0 ports, three USB 3.1 (10Gbps) type-A ports and one type-C, clear CMOS button, Q-Flash Plus button, WIFI antenna, 2.5G LAN, 1G LAN, and 7.1 gold plated audio outputs with S/PDIF out.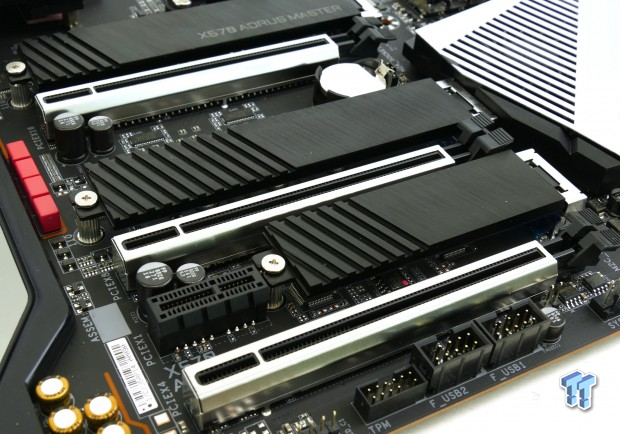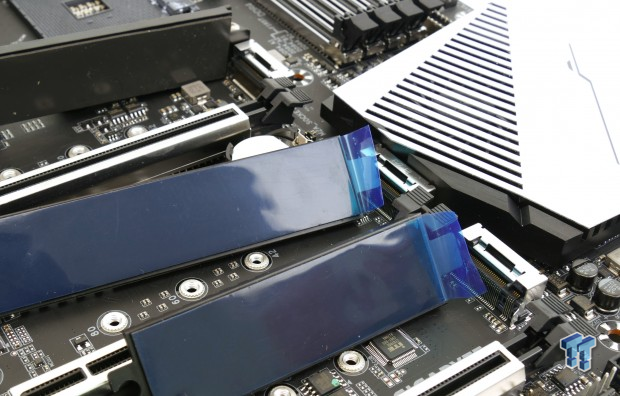 Here we find the PCI-E slot arrangement, the first two slots are wired to the CPU at x16 PCI-E 4.0 and operate at x16/x0 or x8/x8. The bottom x16 slot is electrically x4 PCI-E 4.0 routed to the chipset, and we also have an x1 PCI-E 4.0 slot. There are three PCI-E x4 M.2 slots, the top one is routed to the CPU and should be used with any PCI-E 4.0 drives, the middle and bottom slot area routed x4 PCI-E 4.0 to the chipset, but if you use a PCI-E M.2 drive in the bottommost slot will disable two SATA ports.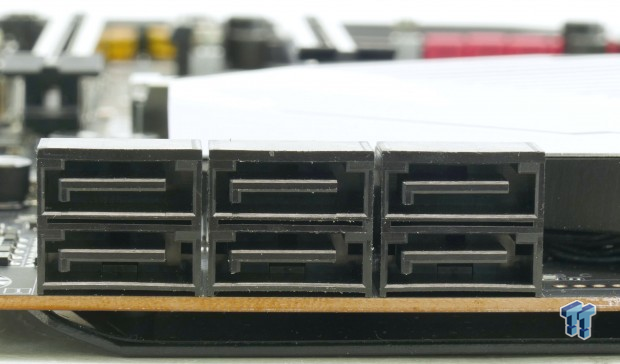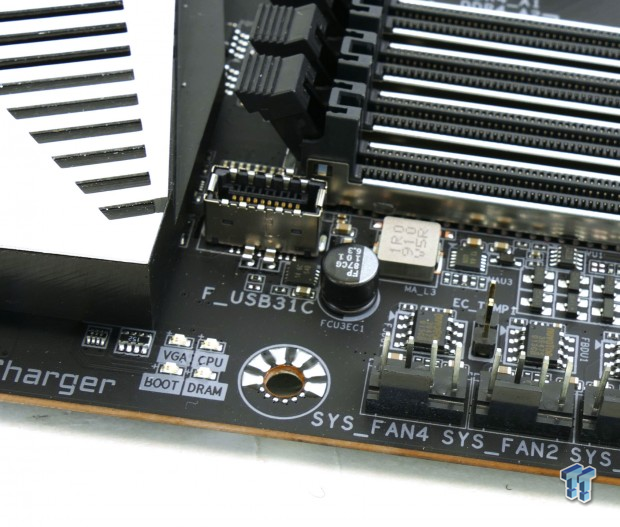 All of the six SATA6Gb/s ports are routed to the chipset. The USB 3.1 (10Gbps) Type-C header here is routed to the chipset. We also find some boot LEDs here.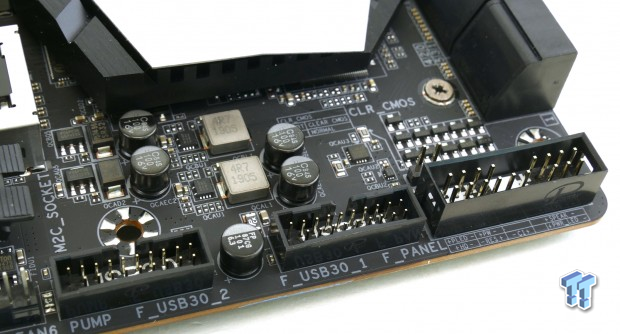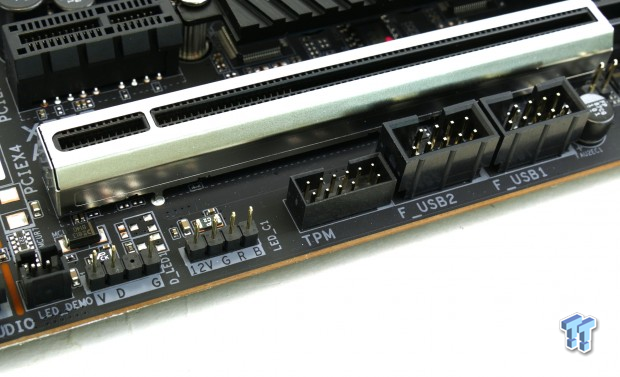 Both USB 3.0 internal headers are routed to the chipset. We also find two USB 2.0 headers, an addressable RGB LED header, and an RGB header at the bottom of the motherboard.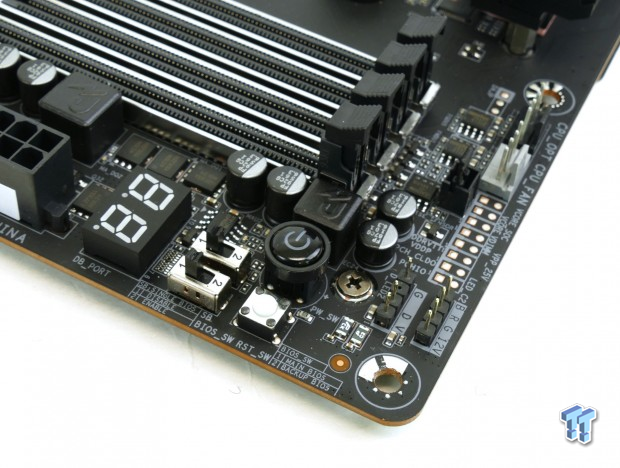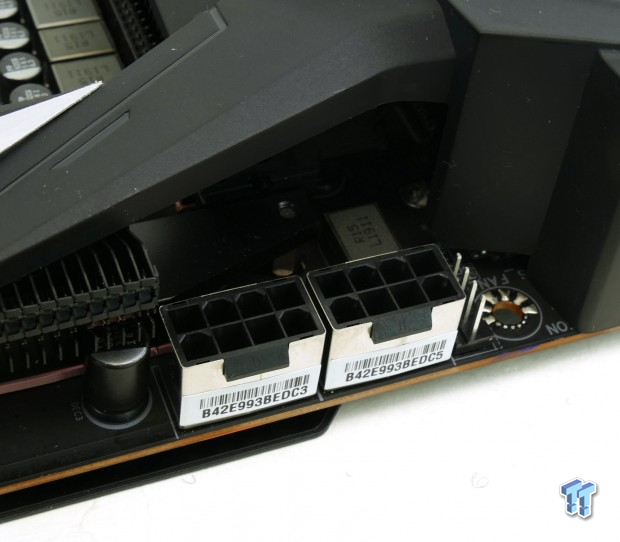 The motherboard features a POST code display, a BIOS selection switch, a dual BIOS disable switch, a reset button, a power button, an addressable RGB LED header, voltage read points, and an RGB LED header at the top right corner of the motherboard. The motherboard also features two 8-pin CPU power headers.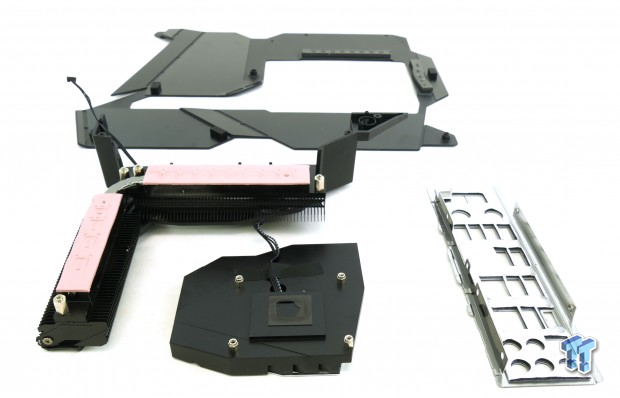 The heat sinks are very optimized for the CPU VRM on this motherboard, everything from the copper fins to the thermal pads have been specially selected.
GIGABYTE X570 Aorus Master Circuit Analysis
Circuit Analysis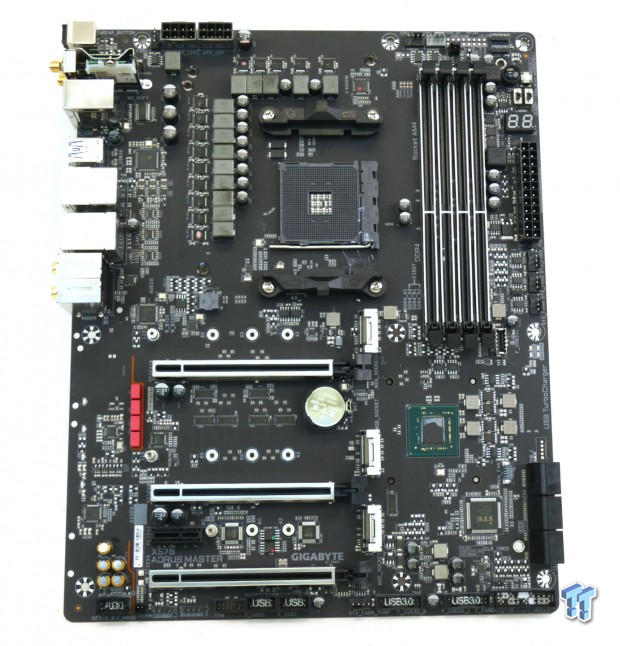 The X570 Aorus Master shows us the goods with the heat sinks removed!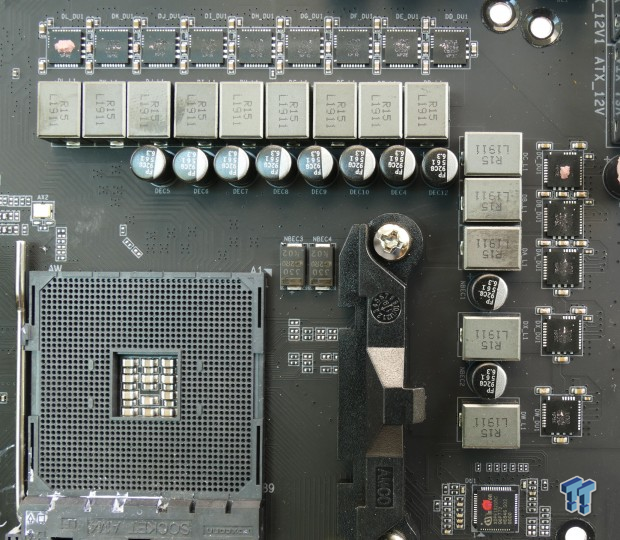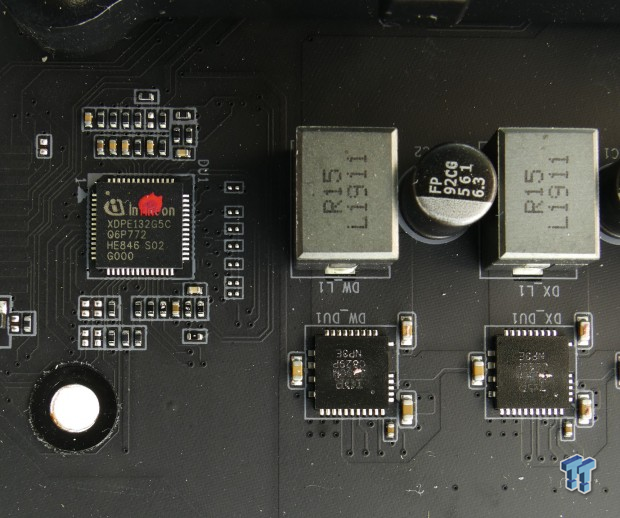 The VRM is in a 12+2 phase configuration, and it's a true 12 phase that doesn't utilize doublers, the new Infineon digital PWM controller supports up to 16 true phases. GIGABYTE states that by using a true 12 phase VRM compared to other that don't use true phases, they gain 4% efficiency.
While that might not sound impressive, it's the same difference between 80 Plus Silver and 80 Plus Platinum power supplies, so it's a bigger deal than you might think. Both the CPU VCC and SoC VRMs use International Rectifier 50A IR3556 PowIRstages, and are controlled by the Infineon XDPE132G5C digital PWM controller.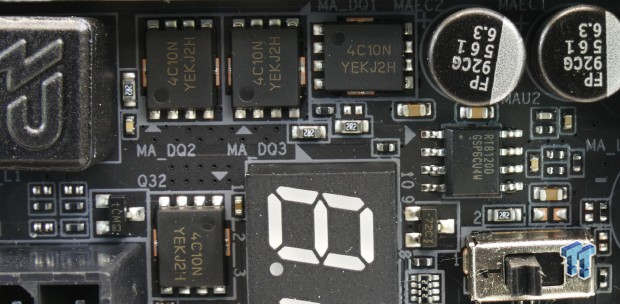 The memory VRM is a single-phase controlled by an RT8120D PWM controller and PowerPAK MOSFETs in a two low-side one high-side MOSFET.
GIGABYTE X570 Aorus Master Circuit Analysis Continued
X570 Aorus Master Circuit Analysis Continued

Audio hardware includes a Realtek ALC1220 with enhanced front panel dB support. GIGABYTE added an ESS SABRE ES9118 DAC, with up to 125dB SNR. GIGABYTE also added gold series audio capacitor and some WIMA film capacitors.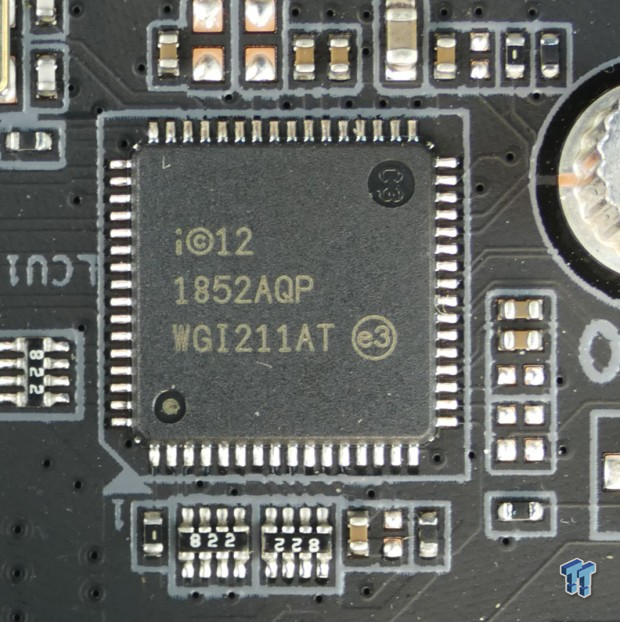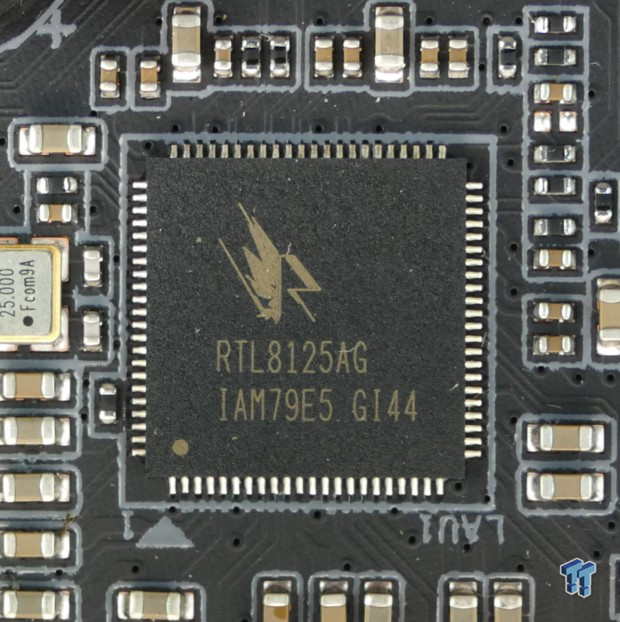 Normal Gbit LAN comes from an i211AT Intel NIC, while a Realtek RTL8125AG provides up to 2.5Gbit LAN.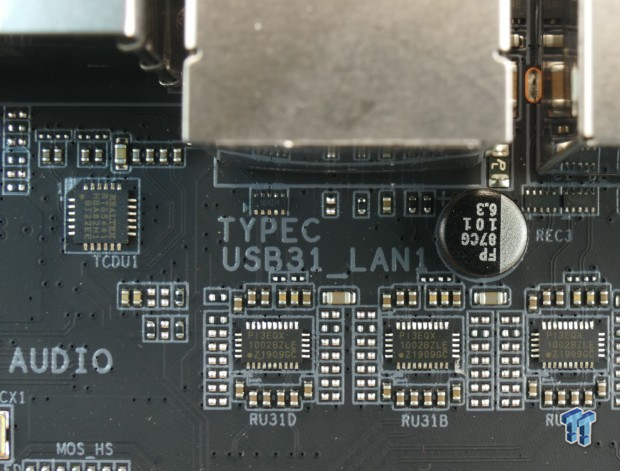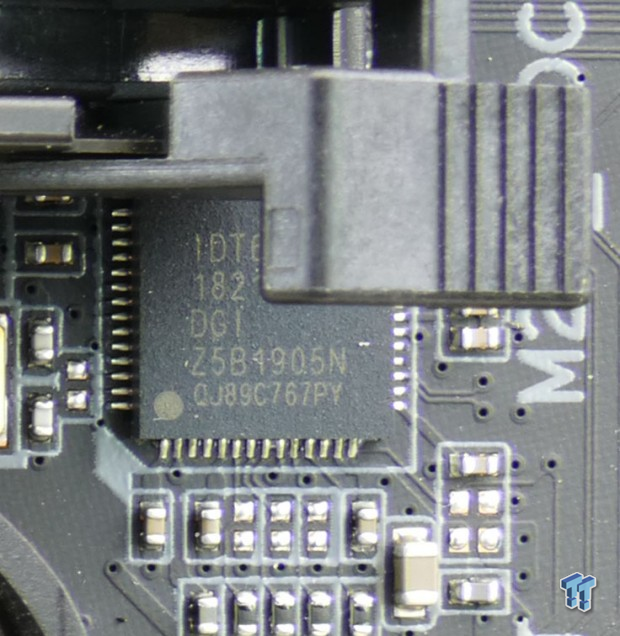 There are four Pericom PI3EQX USB 3.1 (10Gbps), three are on the top of the motherboard, and one is on the backside. There is also a Realtek type-C controller, the RTS5441. There is also an IDT PCI-E 4.0 clock generator used to manage PCI-E 4.0 bus speed.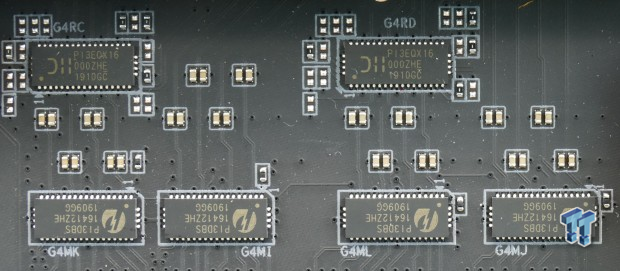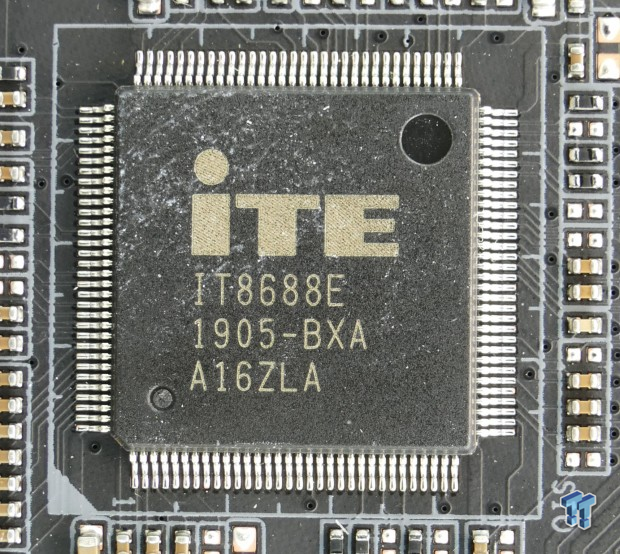 There are four PI3EQX16 PCI-E 4.0 re-drives that re-drive x8 PCI-E 4.0 before they get to the PI3DBS16 PCI-E 4.0 quick switches so that signal integrity can be maintained after x8 PCI-E 4.0 goes through the quick switches. The main SuperIO is the IT8688E is the main SuperIO on the motherboard.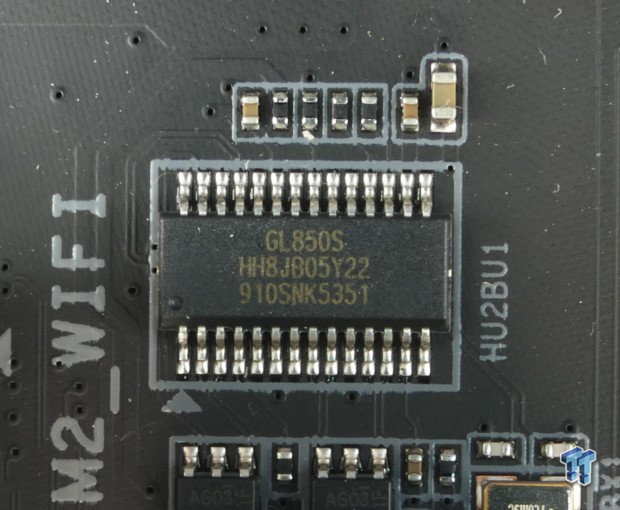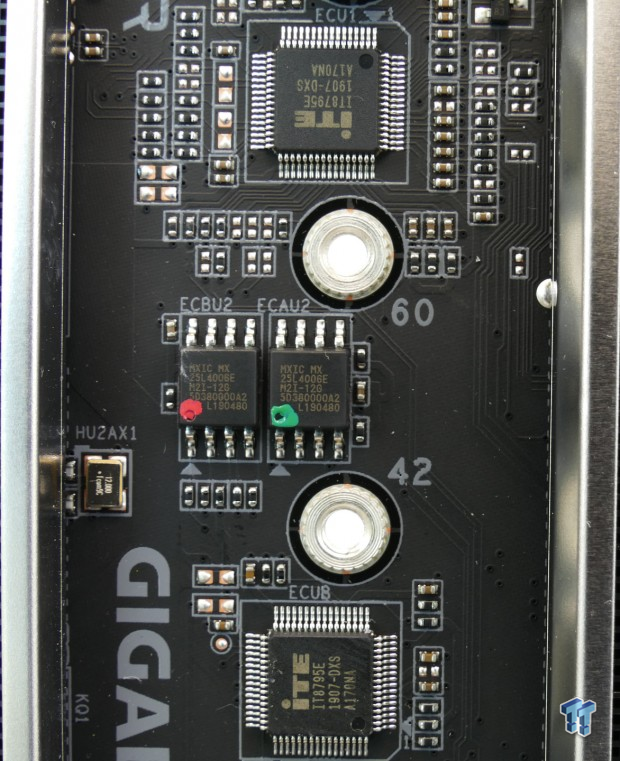 The GL850S USB 2.0 hub provides the four USB 2.0 ports on the rear IO. Here we have two embedded controllers, they provide the extra fan control and features like the dB monitor.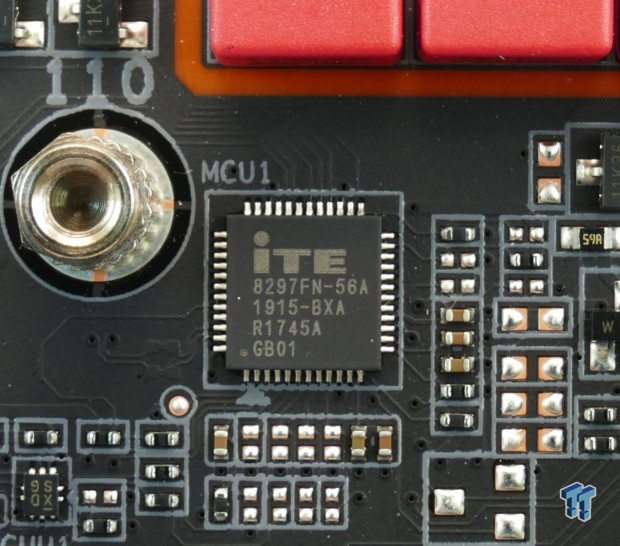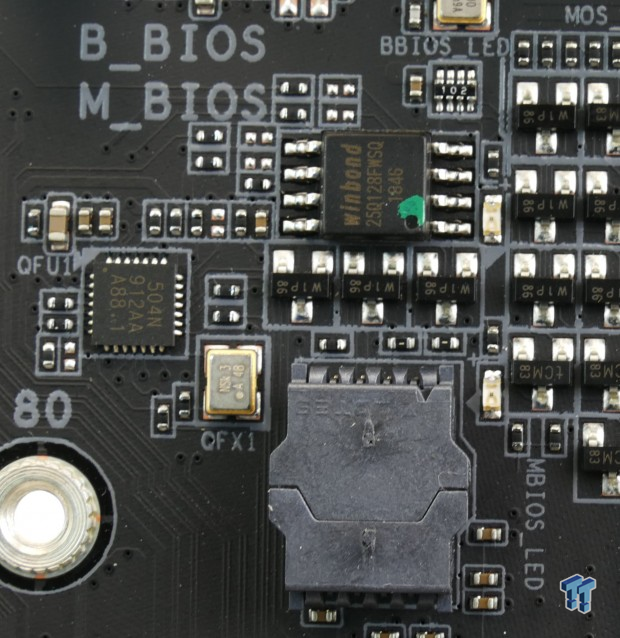 A =n ITE IT8297 is used to provide RGB LED control and support. GIGABYTE offer redundant 128Mbit BIOS ROMs, one of which can be replaced. The BIOS USB recovery chip is the 504N, the same chip we find on MSI motherboard, and this is the first time GIGABYTE has used it.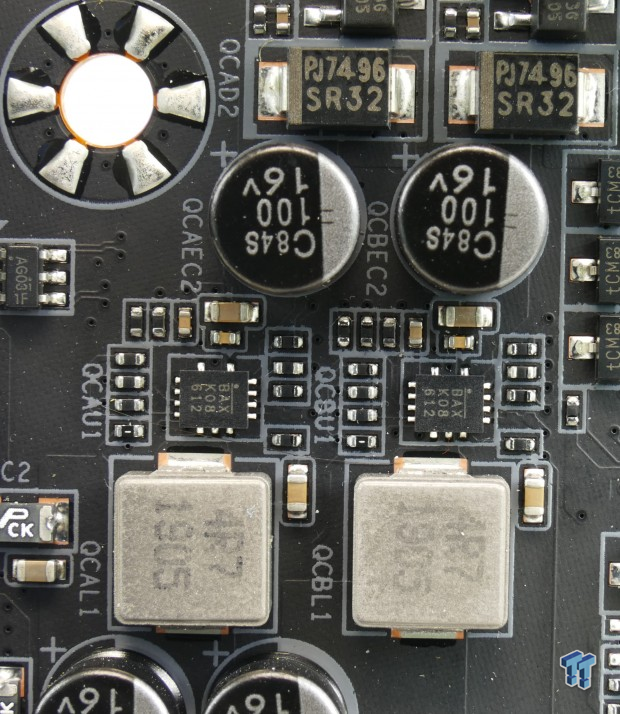 These two VRMs provide voltage regulation for the front panel USB 3.0 internal header that offers Quick Charge 3.0 support.
BIOS and Software
BIOS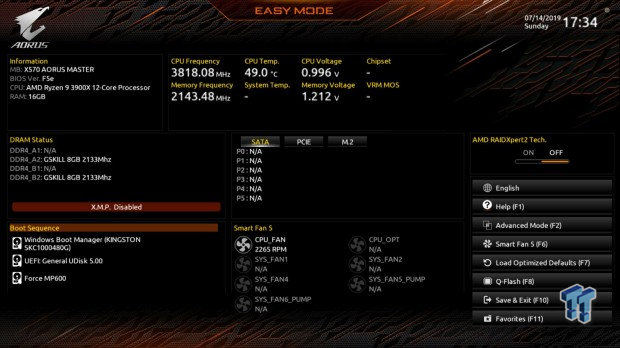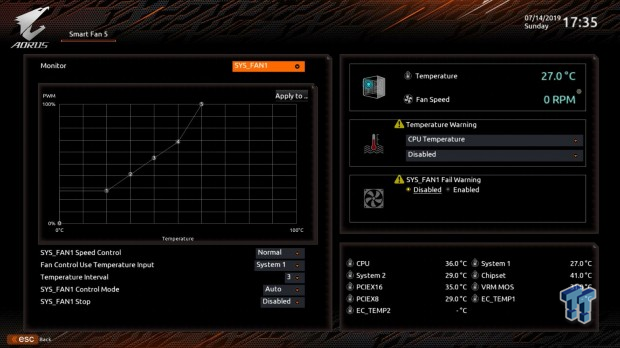 The UEFI BIOS has been revamped for GIGABYTE's X570 motherboards. The new UEFI not only has improved mouse control and layout, but now will now be displayed in 1080P. The new UEFI has a restructured layout to make it more compact and to reduce the number of menu layers you need to go through to find settings. We like the re-design, and we still have the GUI based fan control and the AMD CBS menus.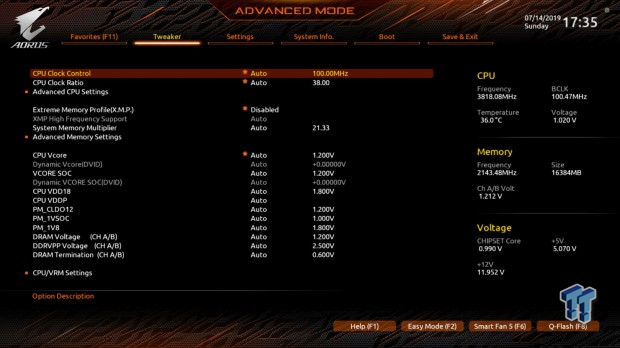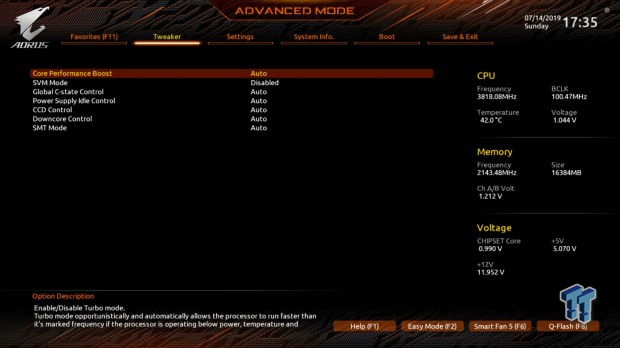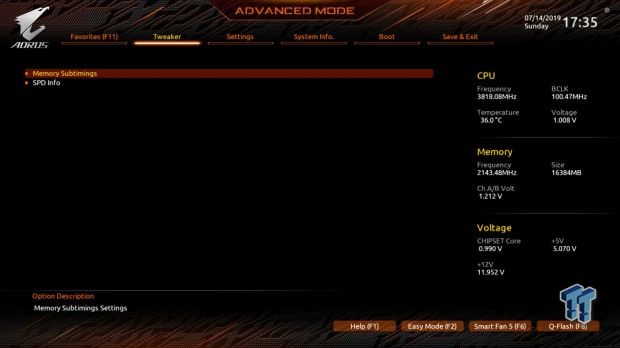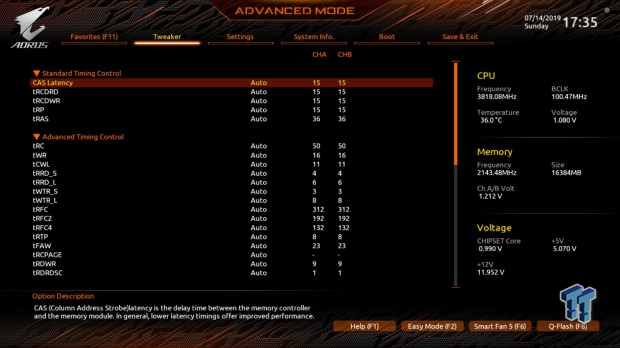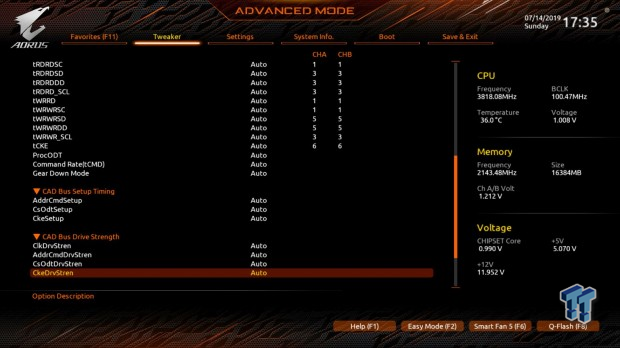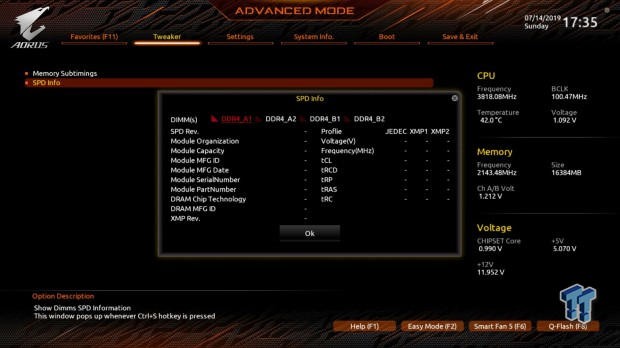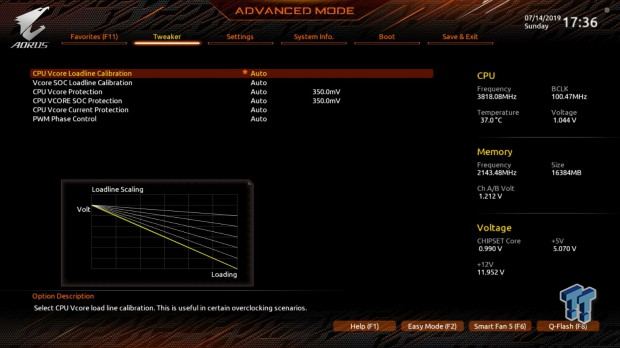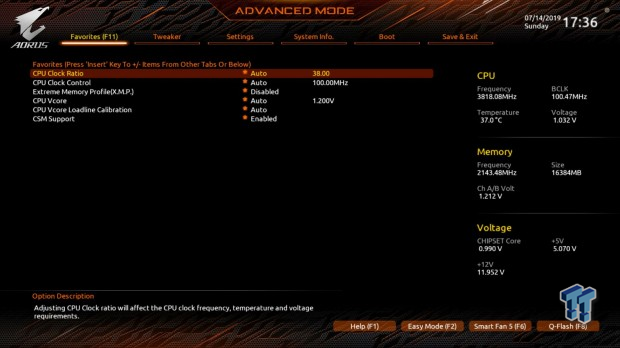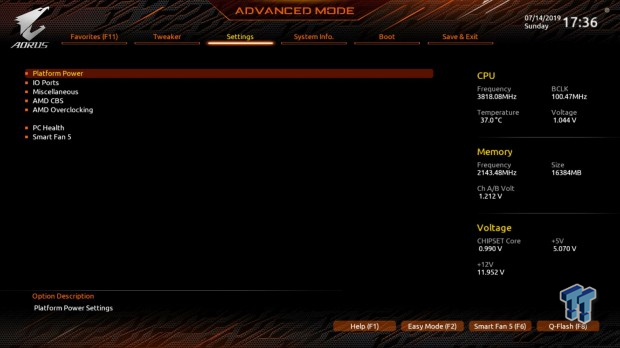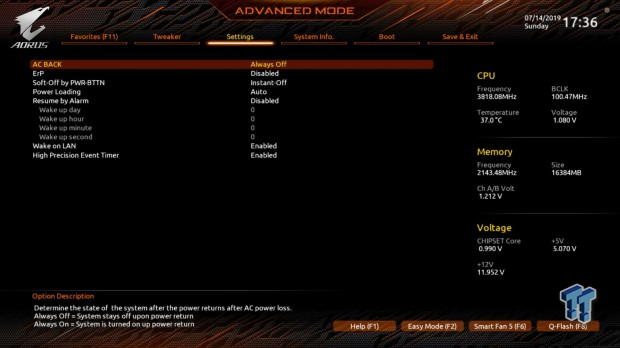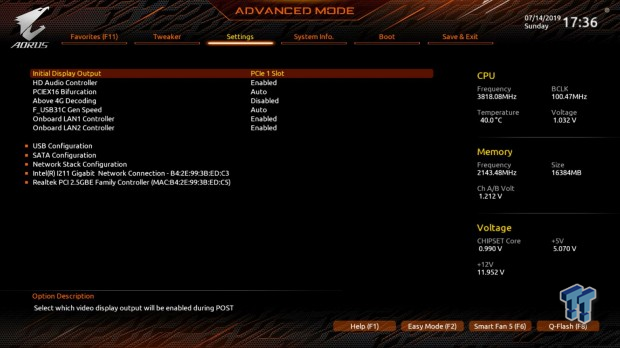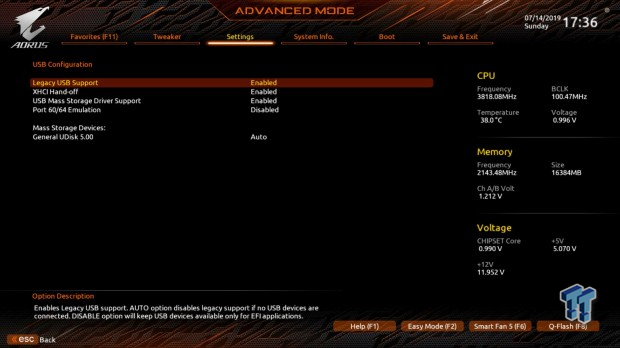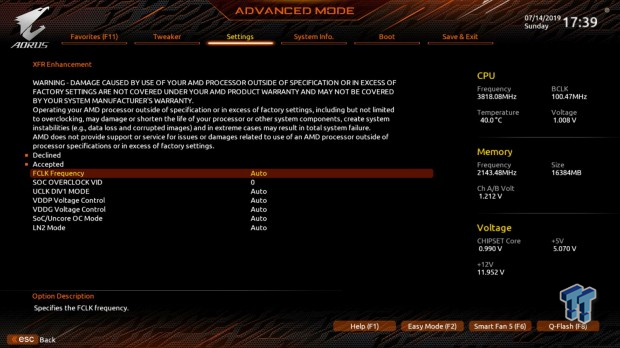 Software
Software includes APP Center, @BIOS, AutoGreen, Cloud Station, EasyTune, Fast Boot, Game Boost, RGB Fusion, Smart Backup, Smart keyboard, Smart Survey, System Information Viewer, USB Blocker, and USB TurboCharger.
Test System Setup
Steven's Motherboard Test System Specifications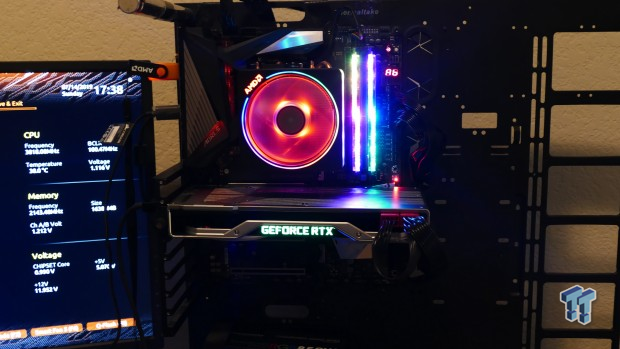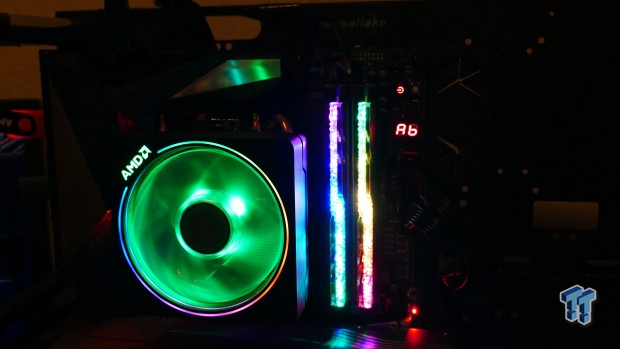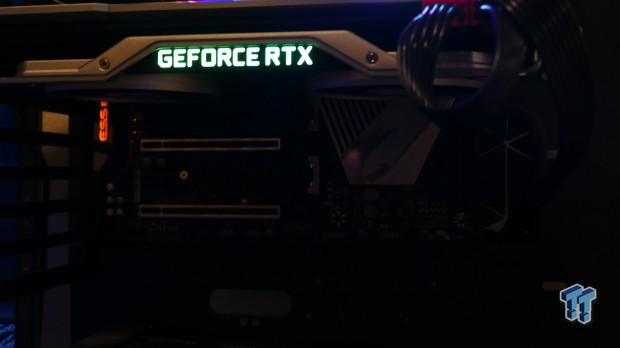 The back of the motherboard lights up, but not like previous Aorus Masters; the RGB LEDs are less pronounced.
Overclocking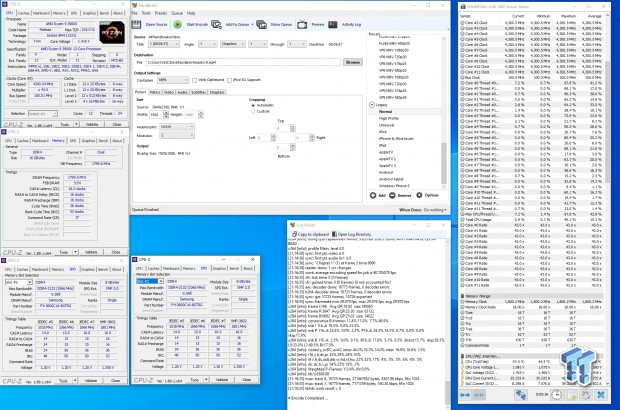 The new CPUs don't overclock like crazy on-air; in fact, PBOC might be just as effective for mixed-use cases. However, memory and FCLK clocks can be changed, and so we are using a 3600MHz kit and seeing how high we can take all cores. We are aiming for 4.3Ghz with a 3600MHz memory clock, and in this case, it worked fine at 1.42v since that's where we hit a thermal limit.
CPU, Memory, and System Benchmarks
CINEBENCH R15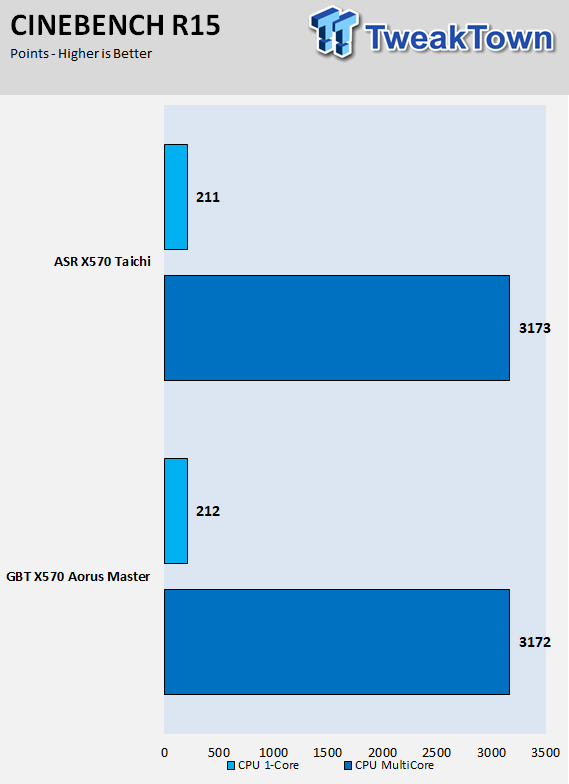 wPrime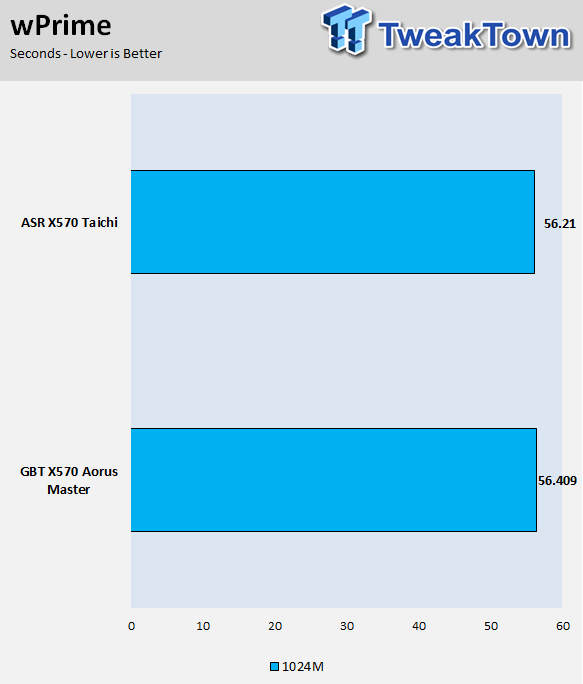 AIDA64 FPU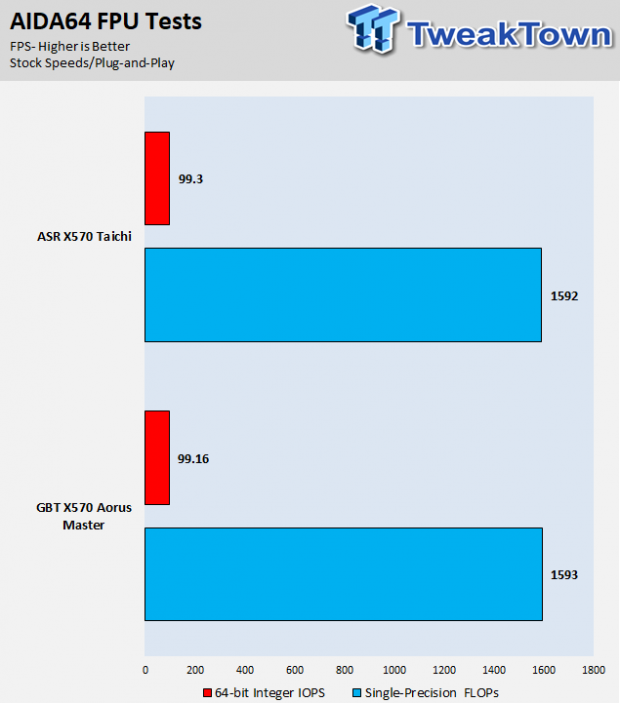 AIDA64 Memory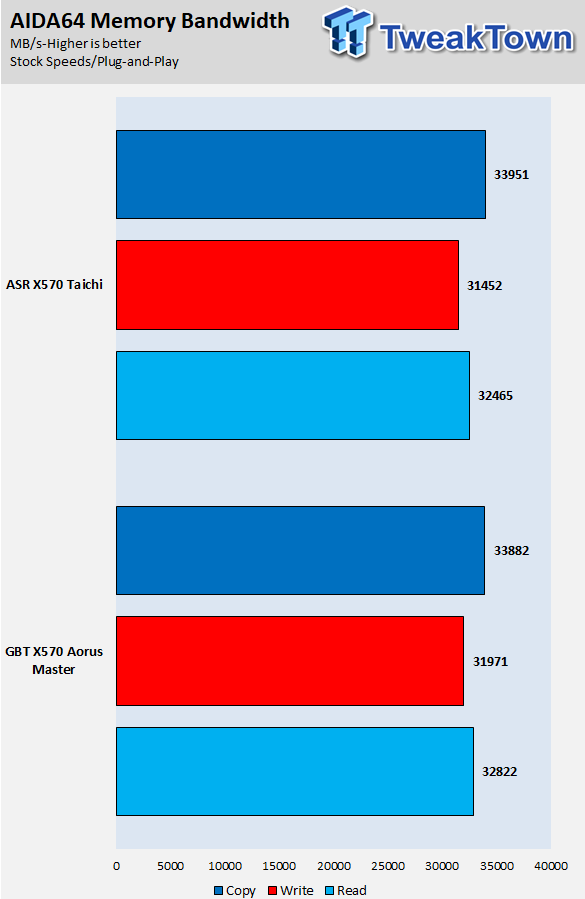 ScienceMark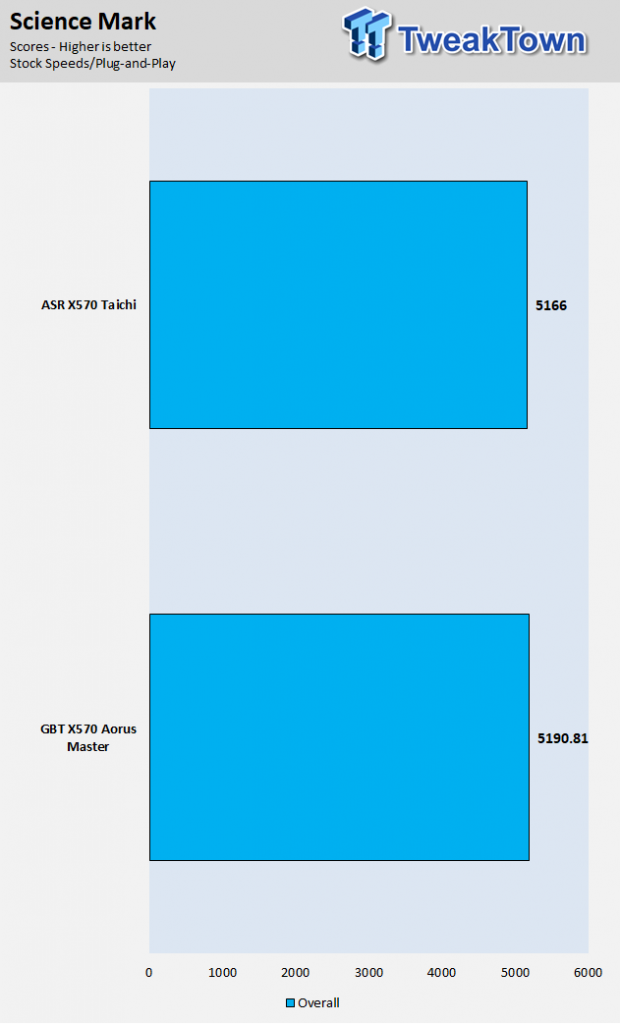 HandBrake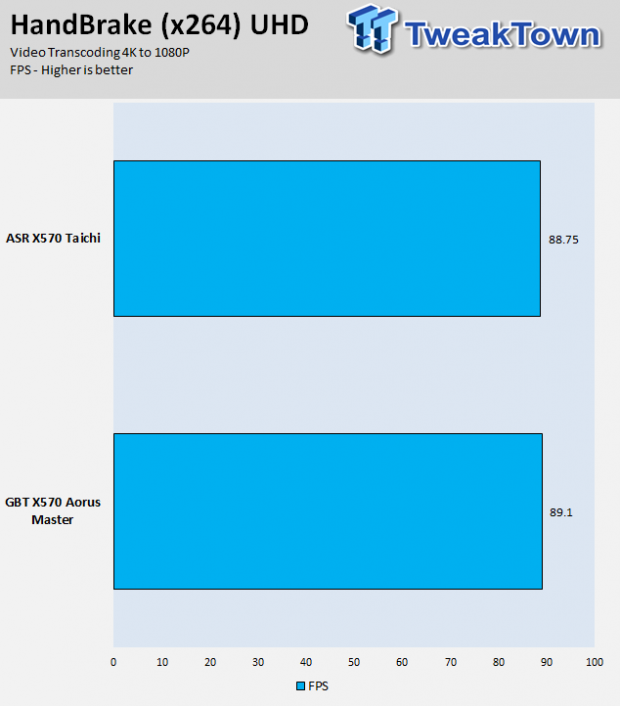 3DMark: Fire Strike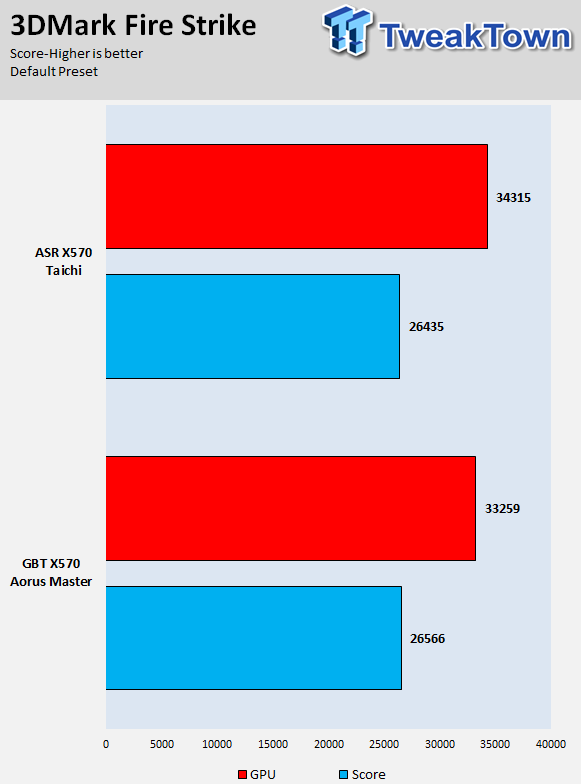 3DMark: Cloud Gate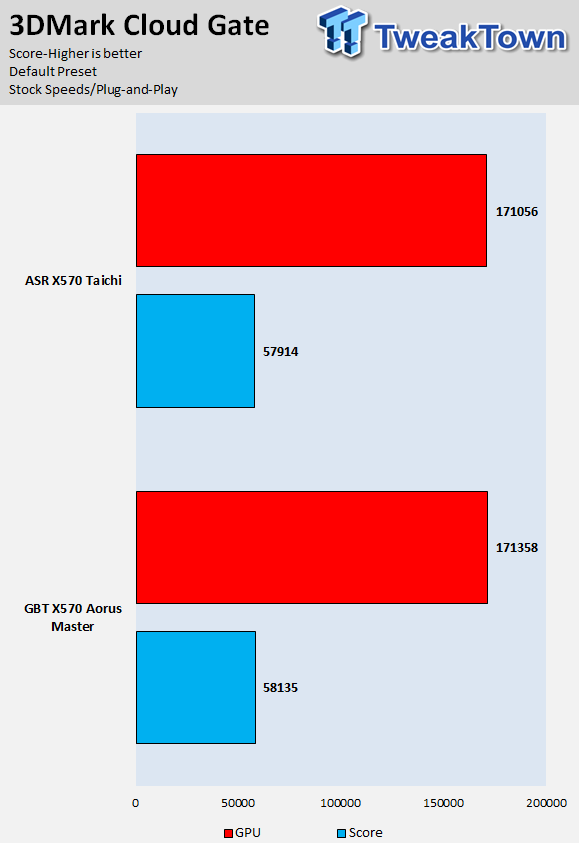 ResidentEvil 6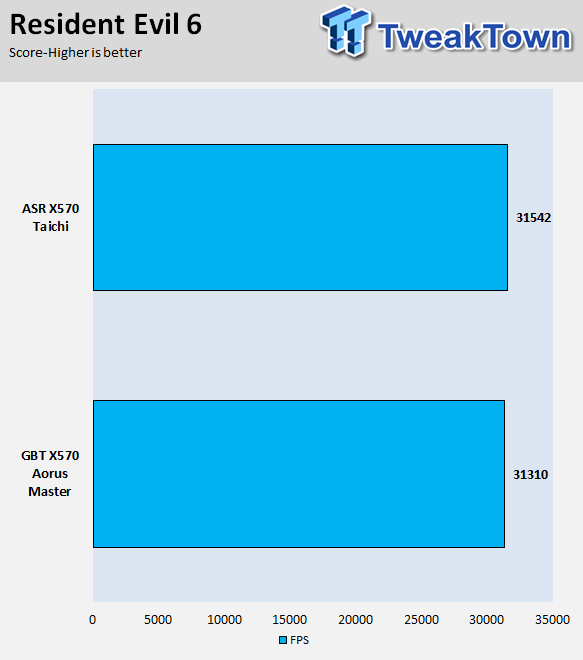 Performance is equal on both of these motherboards, we can't really find a clear winner, but we expect this since AMD's core for the UEFI is a closed-off enclave. We will see if this changes as we test more motherboards.
System IO Benchmarks
CrystalDiskMark SATA6G: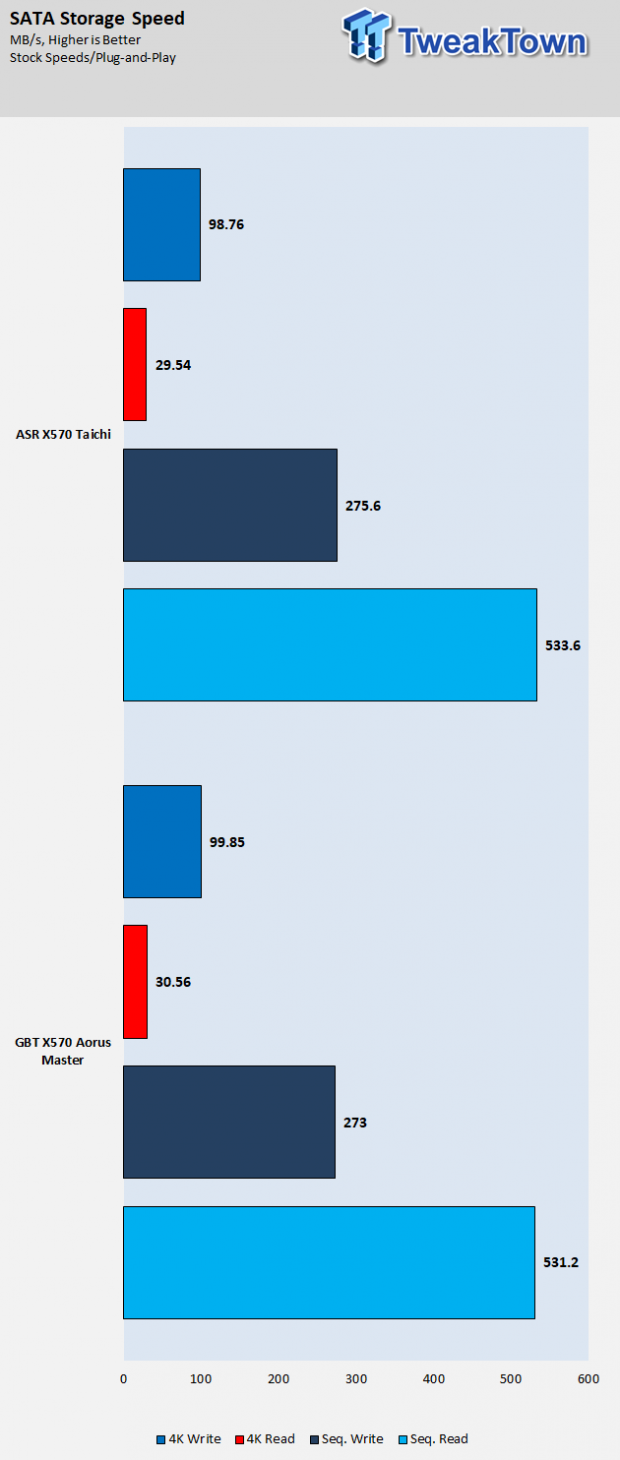 CrystalDiskMark M.2: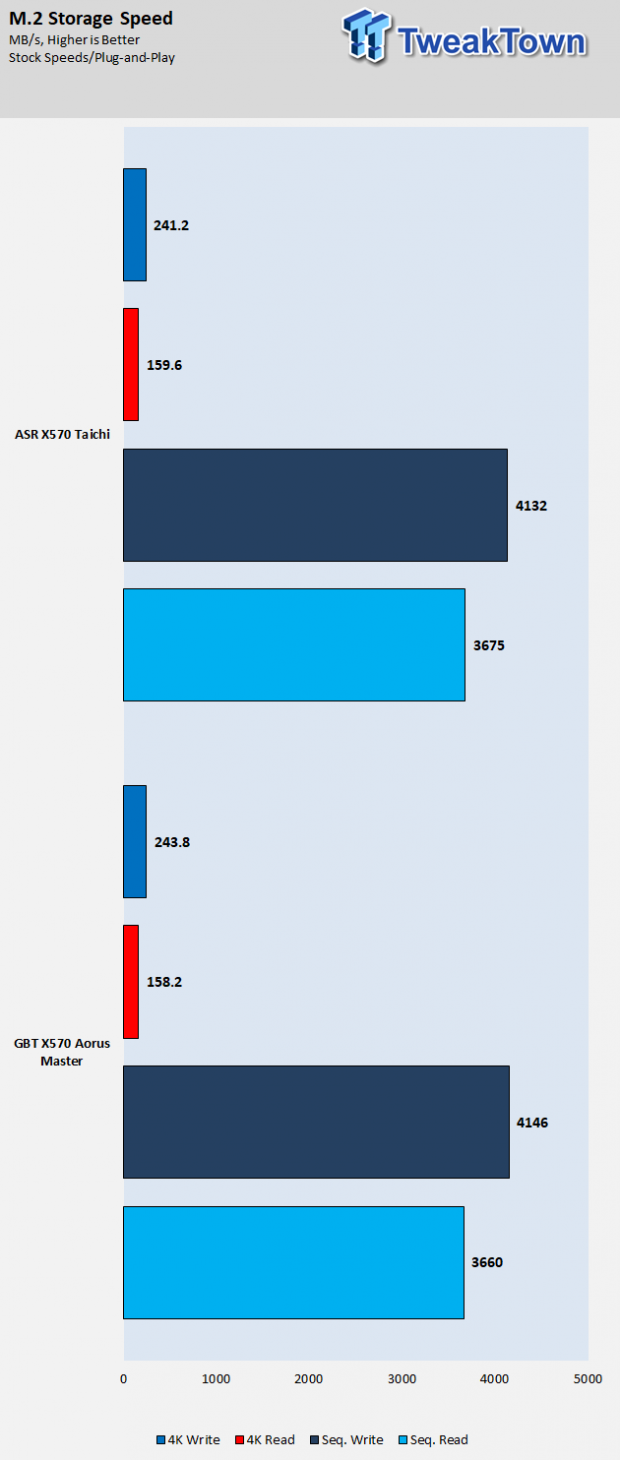 ixChariot Network Throughput: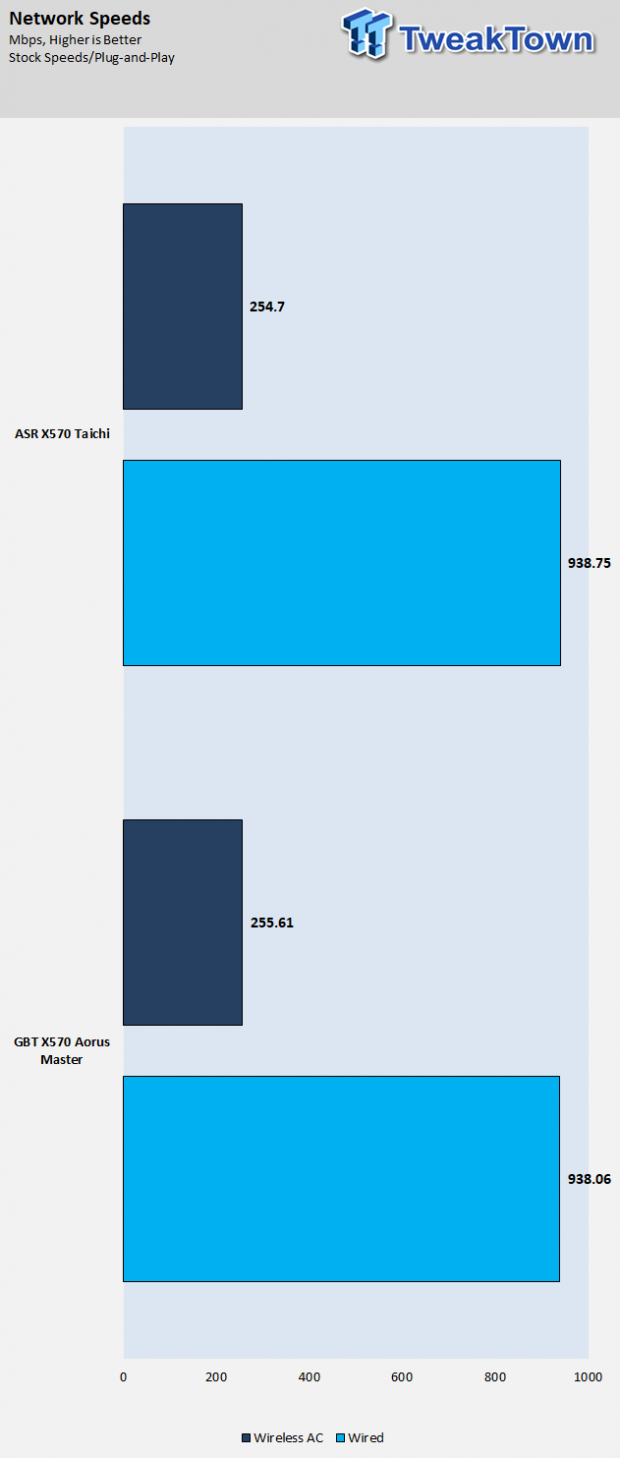 Storage and network performance are good. We did expect more from the drive in regards to sequential read, and we will look into our results since cooling is a big issue with these new drives.
Audio RMAA 5.5:
Sound Judgment by Ear: Excellent, the DAC and the ALC1220 are doing their job. There are five ratings for audio: 1. Problems, 2. Okay, 3. Acceptable, 4. Very good, 5. Excellent
 
Power Consumption: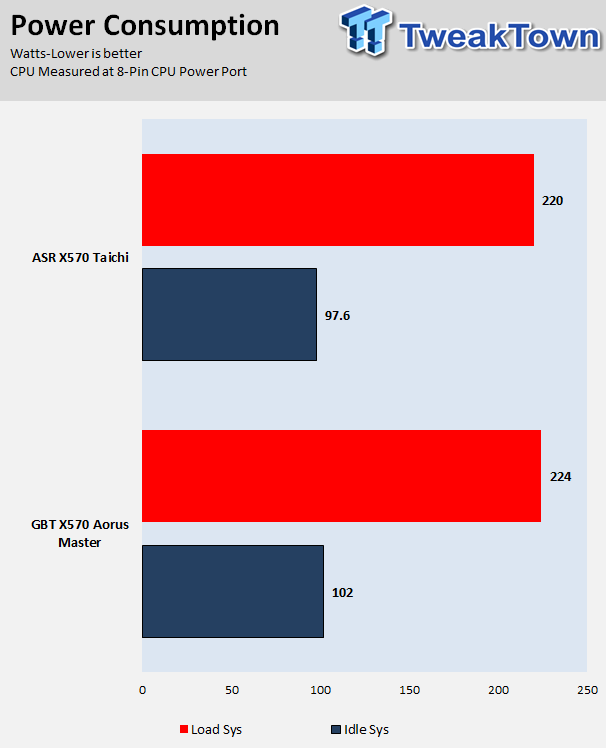 Power consumption is pretty similar, and we need more samples to make any definitive statements.
What's Hot, What's Not & Final Thoughts
What's Hot
Excellent VRM: The VRM we have on this high-end X570 motherboard is a direct 12+2 phase VRM using 50A PowIRstages and the latest in PWM technology from Infineon. It's one of the best VRMs we have seen thus far and shouldn't pose a problem taking your CPU to its maximum.
Three PCI-E 4.0 M.2 slots: The top M.2 slot is wired directly to the CPU at PCI-E 4.0 x4, and it's the best one to use with a PCI-E 4.0 M.2 drive. The other two are also PCI-E 4.0 x4 and they are wired to the chipset.
Great networking and audio: The included WIFI 6 Wireless AX supports not only the older wireless AC standard up to 1.733Gbps, but also the new Wireless AX 2.4Gbps standard. The Realtek 2.5G LAN is a nice touch to get wired networking up to par with Wireless AX, and the inclusion of the Intel i211AT will make many happy. The extra audio enhancements such as the ESS ES9118 DAC and high-end capacitors are a great addition.
What's Not
Price: All the high-end components cost a lot of money, but like a lot of X570 motherboards, the cost of the motherboard is high. At $360, it's almost as expensive as some of AMD's very high-end CPUs for the platform, and while there is competition in that price range, most other X570 motherboards are cheaper.
Final Thoughts
The X570 Aorus Master is pricey, but that is mostly due to the nature of the X570 platform. To implement PCI-E 4.0 and all the USB 3.1 (10Gbps), vendors have to incorporate a lot of extra hardware.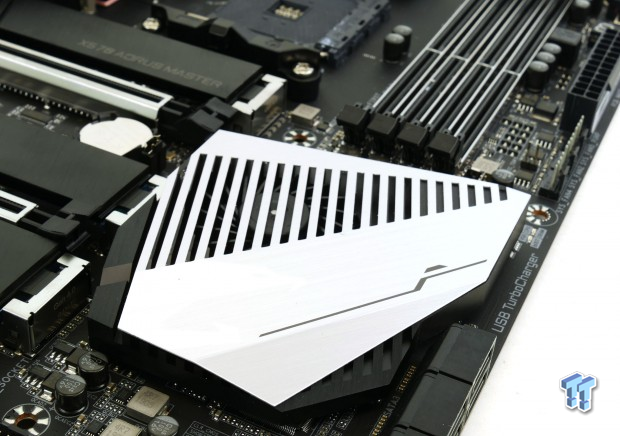 The PCI-E 4.0 requires re-drivers for anything more than a direct connection, new PCI-E 4.0 switch chips have to be sourced in smaller amounts than vendors currently source PCI-E 3.0 switches, and extra clock hardware needs to be implemented. With all the USB 3.1 (10Gbps) implemented, vendors have to add in re-drivers almost everytime they use one of those ports.
GIGABYTE also added in more expensive WIFI and LAN controllers, a very nice and expensive VRM, and did a solid job with aesthetics. Overclocking features are a nice addition as are all of the fan headers and the new dB level control feature. Overall, we are super impressed with this motherboard, and even the new BIOS structure, and we really like this motherboard.
| | |
| --- | --- |
| Performance | 92% |
| Quality | 98% |
| Features | 97% |
| Value | 87% |
| Overall | 94% |
The Bottom Line
Loaded with the latest in features, an excellent VRM, some really awesome fan control, and a revamped UEFI the GIGABYTE X570 Aorus Master is one very well equipped product.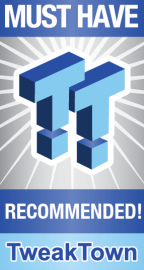 We openly invite the companies who provide us with review samples / who are mentioned or discussed to express their opinion. If any company representative wishes to respond, we will publish the response here. Please contact us if you wish to respond.