ViiV a-la ASUS, Core Duo N4L-VM DH Motherboard
Our first look at Mobile on Desktop is from the ASUS N4L-VM DH with Intel ViiV certification and Core Duo CPU support.
Published Thu, May 18 2006 11:00 PM CDT
|
Updated Tue, Nov 3 2020 7:04 PM CST
Rating:

85%
Manufacturer: ASUS
Introduction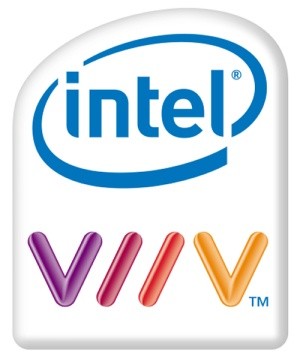 Intel has finally started its move away form Netburst, and we must say it's about time. While reasonable when it was up against the Athlon XP range of processors, AMD64 has changed the performance figures, and Intel's vain attempts to squeeze every last drop of performance out of an architecture that shows more when clocked higher than additional feature sets has begun to show its weaknesses.
Its now the dawn of the "Core" era for Intel with Core Duo and Core Solo for notebook and Core2 Duo and Core2 Extreme (formerly known as Conroe) for the desktops due to launch very soon - Netburst has been gives its final marching orders.
With the Core series of processors from Intel, we are now beginning to witness the full on flood for Digital Home or what Intel calls its "ViiV" package. ViiV is actually a collection of technologies, just like Centrino was. For ViiV certification, a motherboard manufacturer must use a certain combination of CPU support and chipset and network features. These include the following requirements:
1 - Dual Core support: Either a Pentium-D, Pentium Extreme Edition or Core Duo CPU

2 - Intel Chipset with DH Technology: Either an Intel I945, I955X, I975X Northbridge Chipset and either the ICH7-DH or the ICH7-MDH

3 - Networking Support: Either a Intel Pro100 or Intel Pro1000 Series Network controller
These three features make up the ViiV requirements.
Today we are taking a look at our first ViiV based motherboard from ASUS, the N4L-VM DH, and we will take a look at its features and then compare it to an Intel Netburst based system just to see how well these new technologies can handle the burden of the digital home era.
We like the idea of Intel using lower power consumption mobile parts on a desktop motherboard. It's our first
Mobile on Desktop
motherboard to hit our labs, so let's get started!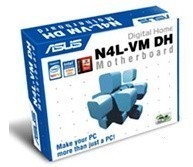 Specifications
Specifications of the ASUS N4L-VM DHCPU
Supports Intel Core Duo Series CPU
Supports Intel Core Solo Series CPU
Chipset
Intel i945GM Express
i945GM Northbridge
i82801GHM Southbridge
DMI @ 2GB/s
System Memory
2 DDR-2 SDRAM 240pin DIMM Sockets
Supports DDR2-400/533/667/800
64/128Bit Dual Channel
Supports up to 2GB Total Memory (2x 1GB)
Bus Frequency
133/166MHz Internal
533/667MHz External
Expansion Slots
1 PCI Express x16
1 PCI Express x1
2 PCI
Connectivity
1 Parallel ATA port supporting 2 IDE Drives
3 Serial ATA ports
1 Gigabit Ethernet Port
Expansion Ports
1 PS2 Keyboard Port
1 PS2 Mouse Port
2 SPDIF ports
8 USB 2.0 Ports (4 rear accessible, 4 via expansion bracket)
1 VGA Port
2 Firewire Ports (1 Rear accessible, 1 via expansion bracket)
6 Stereo Audio Ports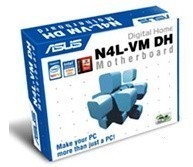 Inside the Box
Package and Contents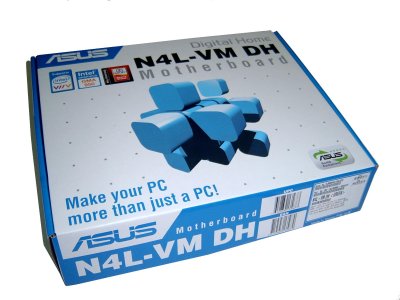 ASUS has packaged the N4L-VM in a new white and blue box, which are the colours of the ViiV platform from Intel from all the advertisement that we have seen. On the front there are only a few bits of info such as the model number.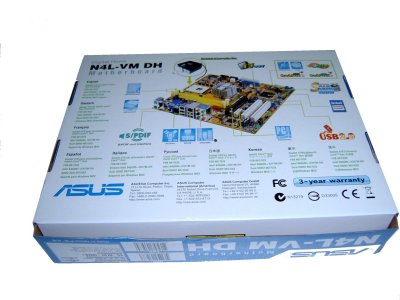 On the back of the box, there is all the info you will need. ASUS gives a plethora of information on the boards features, layouts, specifications and even shows you their proprietary heatsink that is included in the box.
Manuals and drivers are pretty simple. ASUS gives you a single large user manual with all the info on setting up the board for beginners to advanced users as well as the BIOS settings for the board. Drivers are on a single CD with a boot option that allows you to create FDD's for Windows XP install when using the onboard RAID controllers.
Finally ASUS now has a deal with Intervideo to bundle copies of WinDVD, WinProducer and a few other goodies in their motherboards - these will come in handy for the Digital Home.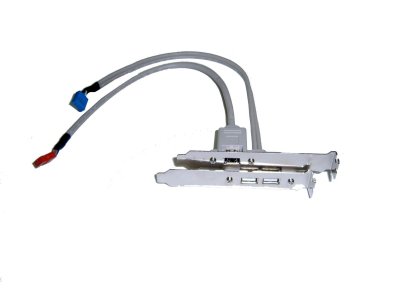 ASUS also includes in the board 2 PCI expansion slot covers with ports. One has 2 USB 2.0 ports in it and the other has a single Firewire port. While handy, it is best to get a case with front ports for these extra headers which eliminate having to reach around the back of the PC to plug in your USB or Firewire peripherals, though it is nice to have these extras included if you don't manage to get such a case.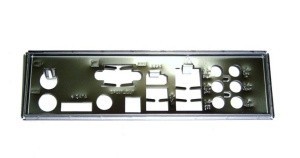 ASUS uses a proprietary I/O shield layout, so you will need to use the included I/O shield. In fact no boards these days use the old ATX spec port layout as they are simply out of date these days, and each manufacturer has their own preferred port layouts.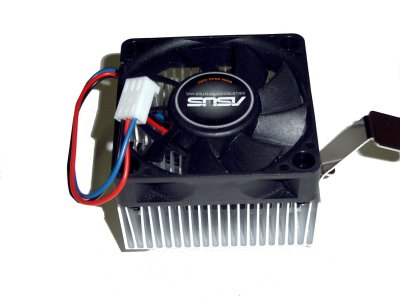 As mentioned earlier, when you take a look at the back of the box, ASUS shows you a heatsink. The heatsink while somewhat large it is still small enough to fit into the most constrictive HTPC cases out there. Since the Core Duo and Core Solo CPU's generate far less heat than Pentium based CPU's, it's easier to reduce the heatsink size. The fan included is a 70mm fan that revs out at 3200 RPM, when at full speed you can just hear the fan over the HDD but not a loud whine like most fans for Intel CPU's these days.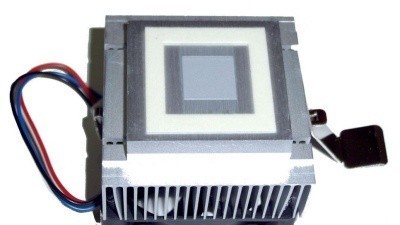 The bottom of the heatsink looks almost like one of the Northbridge heatsinks that sit on the FP-BGA chipsets Intel produce. This isn't far from the truth as the Core Duo and Core Solo don't have a heatspreader, just like the Pentium-M CPU's.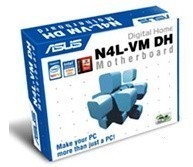 The Motherboard
The Motherboard - Layout and Impressions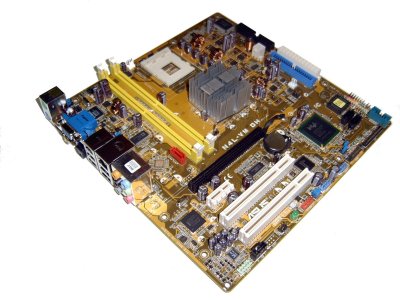 Being based on ViiV technology, which is pretty much for the home theatre, its no surprise to us that the board is based on the Micro ATX format measuring just 24x24cm. While small it does pack a good punch in terms of layout and features. First off we have a look at the placement of connectors and cleanliness of the board.
ASUS has done a very clean job of the placement of what we like to call the bulky cables. First off the 24-pin ATX power cable, 4-pin Aux power cable, IDE and FDD connectors are located on the right hand side of the board all in one group. Small form factor requires good layouts as space is at a premium, keeping the bulk of the cables in one spot allows for a better air flow profile over the hotter parts of the board such as the chipsets and the CPU.
ASUS has put the DIMM sockets on the opposite side of the board for this one. We are used to seeing them between the CPU and the cables for the power, this time they are located between the I/O ports and the CPU. There are a couple yellow coloured DDR-2 sockets supporting Dual Channel memory of up to 2GB in size, more than enough for the digital media centre, but if you want to use this for gaming, Windows Vista will be hungry for memory and even 2GB might not be enough at a later date.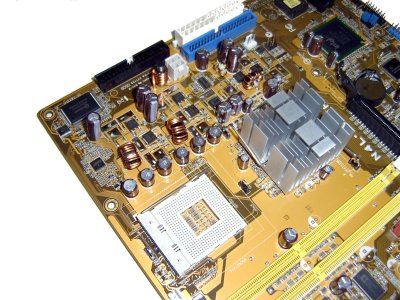 One thing you will note is that on the top and bottom of the board are loop hooks. These are the same hooks used to secure the Chipset heatsinks to most boards. These are what the ASUS heatsink clamp onto. Personally we would have liked to see a Socket 478 style heatsink mount, allowing you to use which ever heatsink or water cooling system that is compatible with Socket 478 mountings.
ASUS uses 3 phase voltage regulation system on the board to give a stable CPU voltage, even when overclocking. Core series CPU's, like the Pentium-M, really only need a 2 phase voltage system for optimal performance, though it's nice to see a bit more juice on tap if you need it. There are no passive heatsinks installed on the board for the power system, as they barely get warm even under the stresses of benchmarking.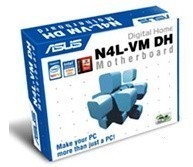 The Motherboard Continued
The heart and soul of the board is an Intel I945GM with ICH7-MDH 2 chip solution. The I945GM chipset is used mostly in Notebooks as it gives the ability to use the integrated GMA950 based controller for cheaper laptops. This chipset is used here to give the board Speedstep power savings available when the Core Duo CPU is used.
While being a mobile based chipset, Intel has given it quite a bit of grunt. Not only does it have a built-in graphics card, but it also supports a full speed PCI Express x16 graphics interface for adding in your own graphics card should you wish to go down this path. Added to this is a Dual Channel DDR-2 memory controller. Intel has gone all out now on its products to support DDR-2 over DDR, in fact none of the new chipsets (including Intel Mobile Chipsets) use DDR anymore. The Northbridge is cooled by a large passive heatsink - ASUS's goal is to have all of their boards passively cooled from now on (not including the CPU, of course).
The ICH7-M DH is a variation of the ICH7-M chipset. It supports all the same features but with Dolby Digital Certification for the Sound System, which is needed for the ViiV validation. Unfortunately, being a mobile version Southbridge it does have a few limitations such as only supporting two SATA ports. That said all the major features such as HD Audio, 6 PCI Express x1 channels and 6 PCI master addresses are all there to give expansion possibilities.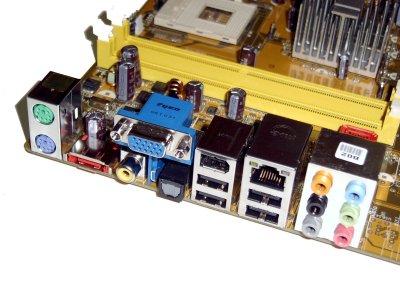 Now we take a look at what ASUS gives for connectivity at the back of the unit. Here is a rather different layout. You have 2 PS/2 ports stacked on top of each other, next is an e.SATA port. This port will come in handy for future use as it will allow you to connect next generation e.SATA enclosures to the system. Beside this we have a Toslink and a RCA SPDIF ports for connecting digital audio equipment to the system. Above the 2 SPDIF ports is a single VGA port that runs off the Intel GMA950 graphics controller, if you don't have a video card in the PCI Express x16 port you will need to use this for graphics. Next is a 2 USB stack with a single Firewire port above, beside that another USB 2.0 stack and the Gigabit LAN connector and lastly is the 6 Analogue audio ports for up to 7.1 audio output.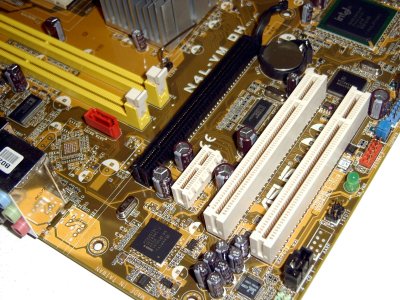 Being Micro ATX based, you can't expect a huge amount of expansion slots although you do get a few. First is a PCI Express x16 slot that acts as either a discrete graphics slot or a bridge slot. In discrete mode, you plug a PCI Express graphics card into the slot and the onboard graphics disables itself. In bridge mode, you place a DVI riser card into the slot. This DVI port then runs off the Intel GMA950 to give you a DVI port for dual monitor support. You don't have to make any selection between Discrete and Bridged modes - when the card is inserted into the slot, the mode is automatically selected.
Apart from the single PCI Express x16 slot there is a single PCI Express x1 slot and 2 PCI legacy slots, which is good for adding in TV tuners for Windows XP Media Center Edition.
Next on the list of features is a JMicron JMB363 Controller chip. We have seen JMicron chips before; this is the latest one out. This chip has a built in 2 port SATA-II controller and a single Parallel ATA controller. Only the 2 SATA ports are used, one is located just behind the DIMM sockets and the other channel is routed to the e.SATA port. The chipset itself is tied into on of the 6 PCI Express x1 lanes that the Southbridge supports.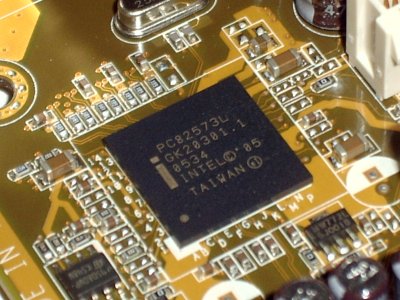 Lastly to get ViiV certification, you need to have an Intel Pro100 or Pro1000 Ethernet controller. ASUS has put an Intel Pro1000MT chip that connects into the PCI Express x1 bus of the Southbridge. This then gives you Gigabit Ethernet compliance, a great bonus.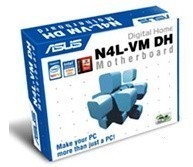 Overclocking
Overclocking Features and Results
ASUS and Overclocking - this is something that when said together just sounds right. ASUS has put so much of its R&D time into getting the most out of their boards as possible. This time though, ASUS has a rather bleak looking overclocking setup. However, since the ASUS N4L-VM DH motherboard is designed for HTPC users, we aren't too surprised or shocked.
To find what overclocking features are available you need to first visit the Jumperfree sub-menu under the Advanced Tab. While it does say A.I Overclocking in the menu, there are only 2 options, Auto and Manual. ASUS has not included any of its automatic overclocking profiles like it has done in the past. When you choose manual, you get 3 additional options.
First is FSB Frequency. Set at a default of 166MHz (667QDR) you can adjust this from 100MHz up to 500MHz in 1MHz increments. This is a bold amount of selection; however, without any vCore, PCI-E clock locks or other tweaks, you aren't going to get very far.
Next is the CPU Spread Spectrum. While this is supposed to lower EMI interference, changing this did nothing to increase or decrease overclocking results.
Lastly is the DDR2 Reference voltage. This can be changed from default of 1.8v up to 2.0v in 0.1v increments. In all, it is a very sad sight when it comes to overclocking. Hopefully ASUS will update its BIOS to include vCore adjustments and all the other little bits we come to love from ASUS motherboards.
With these limiting settings we only managed a maximum speed of 2.21GHz out of our 2GHz Core Duo processor.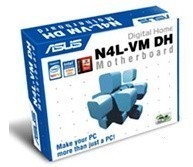 Benchmarks - Test Systems and Sandra
Test SystemsCore Duo SystemProcessor
: Intel Core Duo T2500 2.0GHz (Supplied by
Intel
)
Memory
: 2x 512MB DDR2-800 Corsair
Hard Disk
: 2x Seagate 7200.9 RAID 0 (Supplied by
Seagate
)
Graphics Card(s)
: ASUS GeForce 7800GT (Supplied by
ASUS Australia
)
Operating System
: Microsoft Windows XP SP2
Drivers
: nVidia ForceWare 84.21 and DX9c
Netburst SystemProcessor
: Intel Pentium D 940 3.2GHz (Supplied by
Intel
)
Motherboard
: ASUS P5WD2-E Premium (Intel 975x chipset)
Memory
: 2x 512MB DDR2-800 Corsair
Hard Disk
: 2x Seagate 7200.9 RAID 0 (Supplied by
Seagate
)
Graphics Card
: ASUS GeForce 7800GT (Supplied by
ASUS Australia
)
Operating System
: Microsoft Windows XP SP2
Drivers
: nVidia ForceWare 84.21 and DX9c
For our benchmarking we are comparing two different platforms with different parts. The Cure Duo system uses the T2500 mobile CPU running at 2.0GHz with the ASUS N4L-VM DH motherboard and the Netburst system uses the higher clocked Pentium D 940 at 3.2GHz with the powerful ASUS P5WD2-E Premium motherboard based on the Intel 975x chipset.
Since Intel has only just started selling Core Duo mobile processors in the retail market, prices are quite expensive and not every retailer sells them. In Australia at the time of writing, the Core Duo T2500 CPU is almost twice the price of the Pentium D 940 3.2GHz however in the USA prices are more affordable. This is something to keep in mind when deciding whether or not to buy the ASUS N4L-VM DH motherboard.
SiSoft SandraVersion and / or Patch Used:
2005 SR3
Developer Homepage:
http://www.sisoftware.co.uk
Product Homepage:
http://sisoftware.jaggedonline.com/index.php?location=home&a=TTA&lang=en
Buy It Here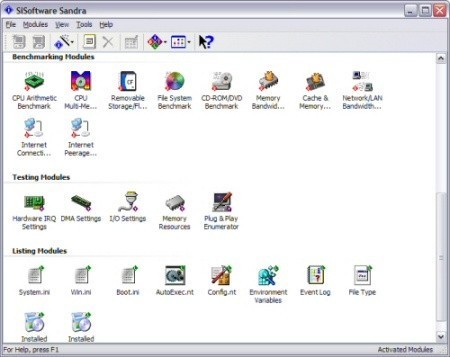 SiSoft Sandra (
S
ystem
AN
alyser,
D
iagnostic and
R
eporting
A
ssistant) is a synthetic Windows benchmark that features different tests used to evaluate different PC subsystems.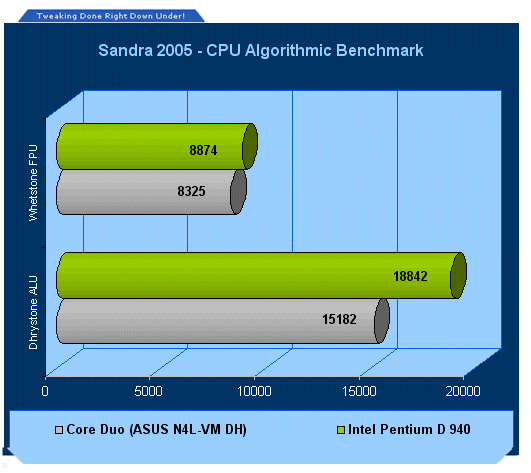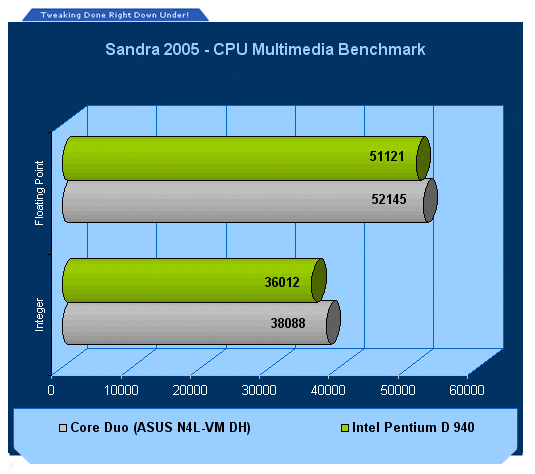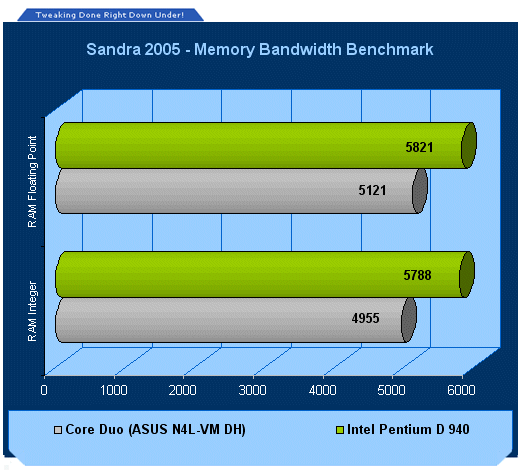 Here we can see that the Core Duo setup is able to outperform the Pentium D 940 in raw performance figures. Even with its 1GHz clock difference, CPU performance is well above what a Netburst based system could do at similar clocks. Memory wise, Core Duo doesn't crave as much memory bandwidth, only using a small portion of the 10.5GB/s that is offered to it.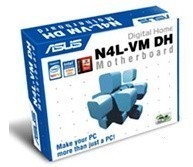 Benchmarks - PCMark
PCMarkVersion and / or Patch Used:
1.1.0
Developer Homepage:
http://www.futuremark.com
Product Homepage:
http://www.futuremark.com/products/pcmark04/
Buy It Here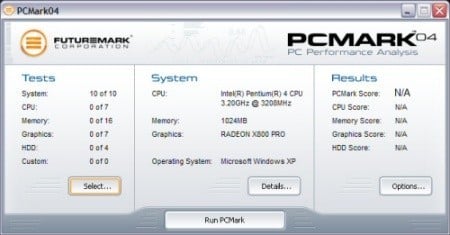 PCMark is a multipurpose benchmark, suited for benchmarking all kinds of PCs, from laptops to workstations, as well as across multiple Windows operating systems. This easy-to-use benchmark makes professional strength benchmarking software available even to novice users. PCMark consists of a series of tests that represent common tasks in home and office programs. PCMark also covers many additional areas outside the scope of other MadOnion.com benchmarks.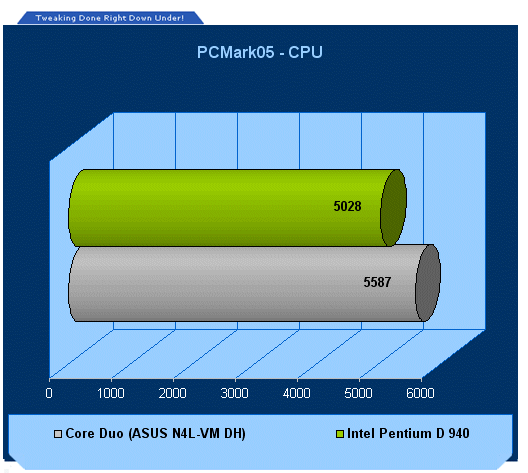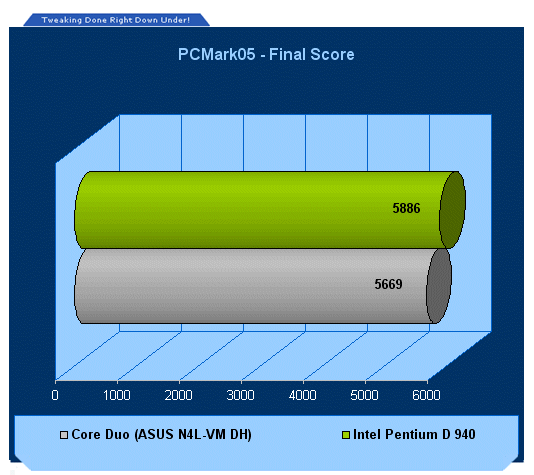 Here we can see the CPU performance of Core Duo over Netburst, however, at the end of the benchmark we see little in the way of difference between the two platforms.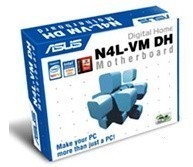 Benchmarks - Video Encoding
MPEG-4 Encoding
For this test we used Cyberlink Power Producer in conjunction with DIVX 6.0Pro to encode "The Matrix" MPEG2 down to a MPEG-4 high resolution video file.
The Cyberlink software comes with its own time clock to indicate the time taken to encode the movie as well as average CPU usage and average FPS during the encode. We used DIVX 6.0 due to its support for Dual Core CPUs as well as Intel SSE3 and Hyper Threading.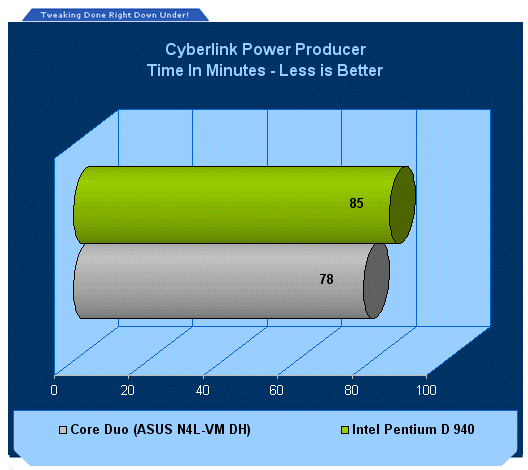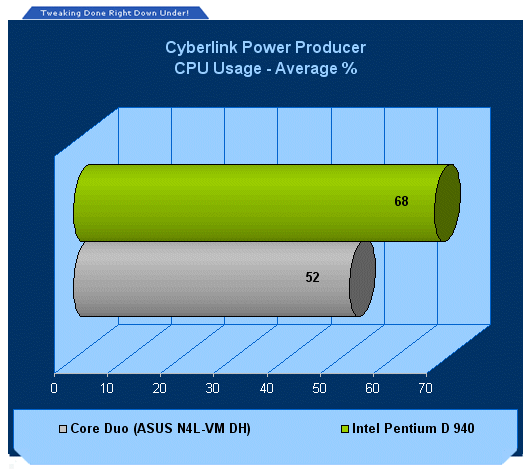 Core Duo has managed to outperform the most impressive Multimedia Encoding CPU we have ever seen by quite a bit. It's good to see that the performance has lived up to expectation for the Core Duo and Multimedia tasks.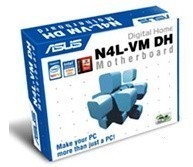 Benchmarks - 3DMark03
3DMark03Version and / or Patch Used:
Build 360
Developer Homepage:
http://www.futuremark.com
Product Homepage:
http://www.futuremark.com/products/3dmark03/
Buy It Here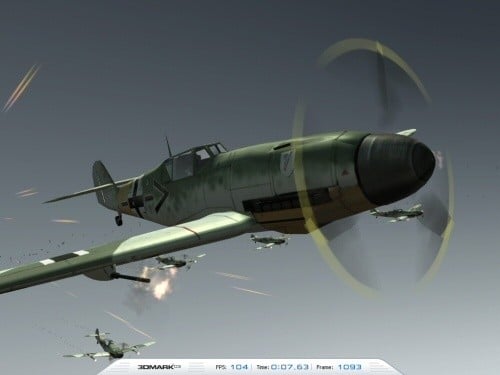 By combining full DX8 and partial DX9 support with completely new tests and graphics over the previous version, 3DMark03 continues the legacy of being the industry standard 3D benchmark.
Please Note: Due to recent events with the 3DMark03 series, we are adding results purely for those who are still in favour of 3DMark03. These results should not be taken too seriously and are only added for interest sakes.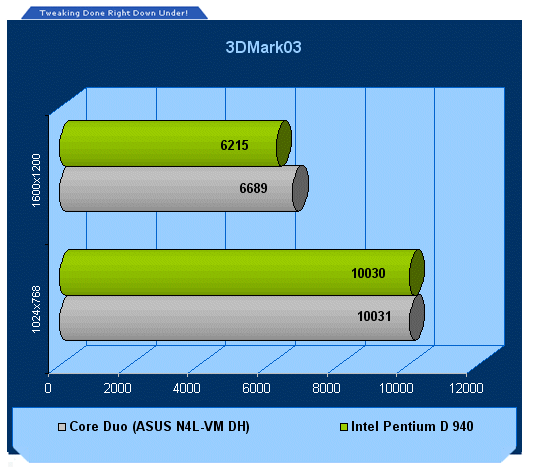 3DMark03 at 1600x1200 starts to show the Core Duo with its more instructions per clock is able to take out Netburst's super long pipeline with fewer instructions per clock.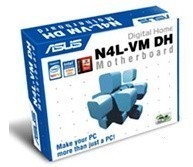 Benchmarks - 3DMark05
3DMark05Version and / or Patch Used:
Build 120
Developer Homepage:
http://www.futuremark.com
Product Homepage:
http://www.futuremark.com/products/3dmark05/
Buy It Here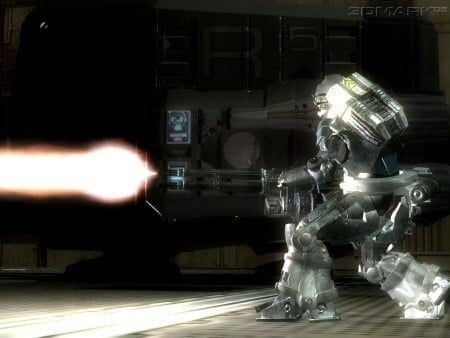 3DMark05 is now the second latest version in the popular 3DMark "Gamers Benchmark" series. It includes a complete set of DX9 benchmarks which tests Shader Model 2.0 and higher.
For more information on the 3DMark05 benchmark, we recommend you read our preview
here
.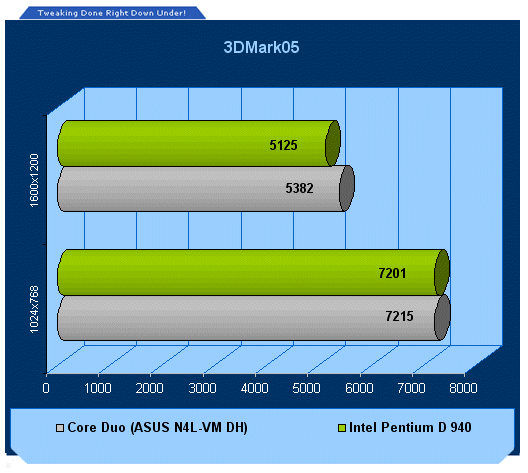 Again we see Core Duo take out the winners position.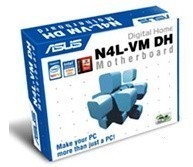 Benchmarks - 3DMark06
3DMark06Version and / or Patch Used:
Build 102
Developer Homepage:
http://www.futuremark.com
Product Homepage:
http://www.futuremark.com/products/3dmark06/
Buy It Here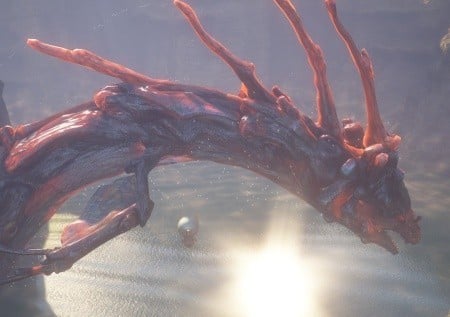 3DMark06 is the very latest version of the "Gamers Benchmark" from FutureMark. The newest version of 3DMark expands on the tests in 3DMark05 by adding graphical effects using Shader Model 3.0 and HDR (High Dynamic Range lighting) which will push even the best DX9 graphics cards to the extremes.
3DMark06 also focuses on not just the GPU but the CPU using the AGEIA PhysX software physics library to effectively test single and Dual Core processors.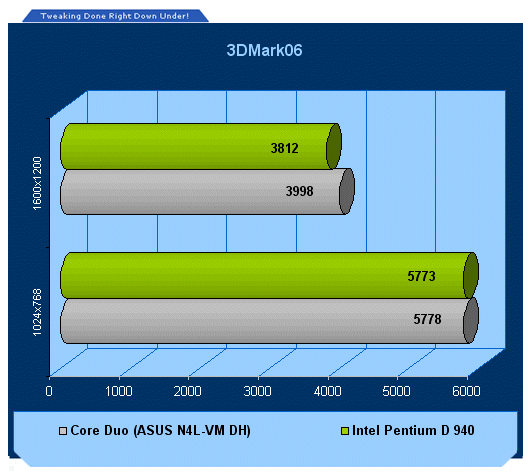 Again we see that the Pentium D's architecture despite its higher clock can't help against the right combination of clock speed and instructions per clock count.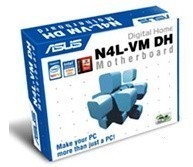 Benchmarks - Doom 3
Doom 3Version and / or Patch Used:
Unpatched
Timedemo or Level Used:
Custom Timedemo
Developer Homepage:
http://www.idsoftware.com
Product Homepage:
http://www.doom3.com
Buy It Here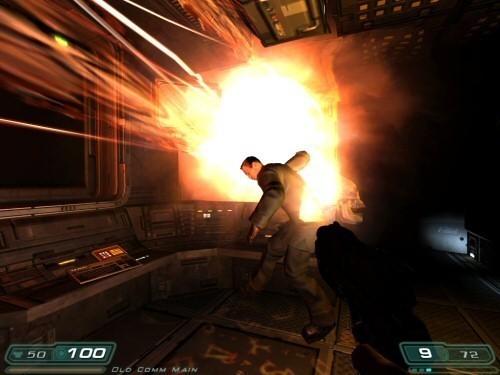 Doom 3 is the latest game to hit our test lab and is one of the most intensive games to dates. With our own custom time demo we are able to give a realistic rating on what kind of FPS you will be achieving.
For more information on benchmarking Doom 3 we recommend you check out our extensive article regarding it
here
.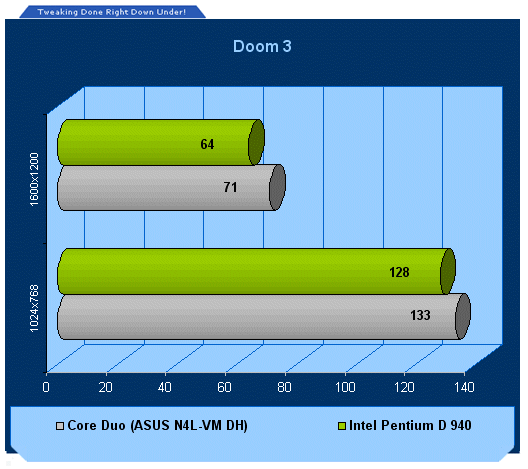 Doom 3 shows Core Duo at the front in real world benchmarks.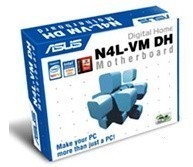 Benchmarks - Quake 4
Quake 4Version and / or Patch Used:
Unpatched
Timedemo or Level Used:
Custom Timedemo
Developer Homepage:
http://www.idsoftware.com
Product Homepage:
http://www.quake4game.com
Buy It Here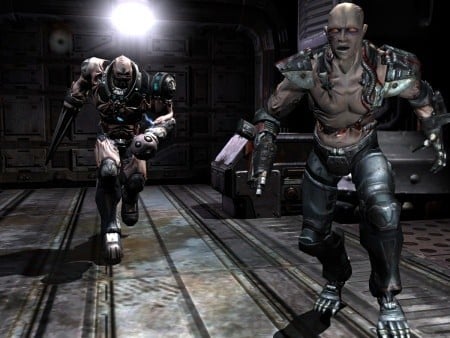 Quake 4 is one of the latest new games to be added to our benchmark suite. It is based off the popular Doom 3 engine and as a result uses many of the features seen in Doom. However, Quake 4 graphics are more intensive than Doom 3 and should put more strain on different parts of the system.
Quake 4 puts more stress onto the system and gives the Core Duo more to work with to take out the Pentium D.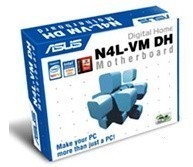 Benchmarks - F.E.A.R.
F.E.A.R.Version and / or Patch Used:
Unpatched
Timedemo or Level Used:
Custom Timedemo
Developer Homepage:
http://www.vugames.com
Product Homepage:
http://www.whatisfear.com/us/
Buy It Here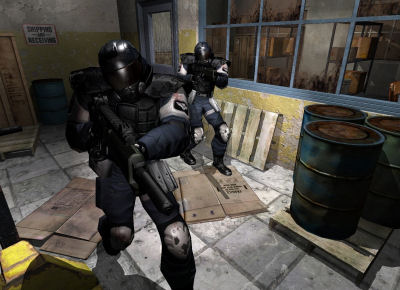 F.E.A.R. (First Encounter Assault Recon) is an intense combat experience with rich atmosphere and a deeply intense paranormal storyline presented entirely in first person. Be the hero in your own spine-tingling epic of action, tension, and terror...and discover the true meaning of F.E.A.R.
F.E.A.R is the most intense benchmark we have here and it shows just how much stronger the Core Duo is in terms of CPU power.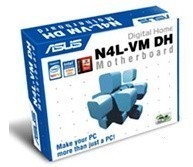 Benchmarks - Far Cry
Far CryVersion and / or Patch Used:
1.3
Timedemo or Level Used:
Benchemall Default
Developer Homepage:
http://www.crytek.com
Product Homepage:
http://www.farcrygame.com
Buy It Here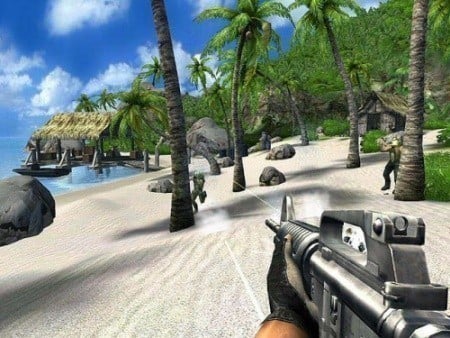 There is no denying that Far Cry is currently one of the most graphic intensive games on the market, utilizing PS2.0 technology (the latest versions support Shader Model 3.0 with DX9c) and offering an exceptional visual experience there is no denying that even some of the faster graphics cards struggle.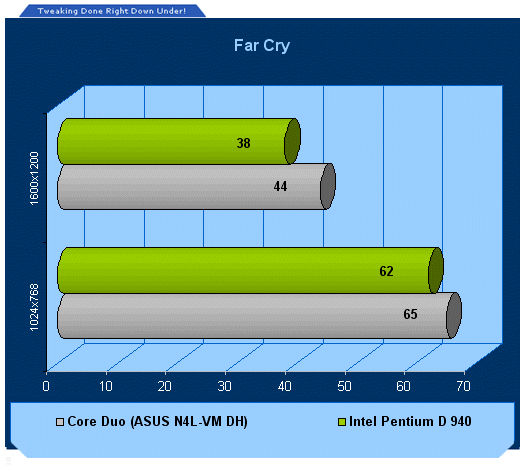 Despite its age, Far Cry does put the system to its test and we can see that Core Duo still manages a win on a game that was written for AMD's 64-bit CPU at the beginning of the 64-bit era.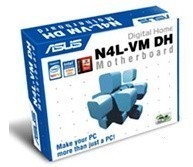 Final Thoughts
It's now happening. Pentium name is set to die, and the Core architecture is now the way to go and Intel are marching ahead with a lot of momentum behind them. We have seen just how powerful it is compared to Intel's most recent introduction, the Pentium D 900 series.
Even with less cache that is shared across two CPU cores and running over 1GHz less in clock speed, there is no doubt that Core Duo has the good to be the best in multimedia entertainment, and with Core2 on its way out, we are expecting even more from this series of CPU with more cache, Hyper Threading and Virtualisation technologies, things can only look up for ViiV and Intel as a whole.
ASUS's implementation of ViiV is just that, for Home Theatre or performance PC. For the overclockers out there, you should look for something else unless ASUS releases a new BIOS, you aren't going to get much extra speed out of this board.
Despite its lack of overclocking, we were very impressed with the feature set, stock performance and overall feeling of an Intel ViiV based system - the ASUS N4L-VM DH motherboard has plenty going for it and would make an ideal Home Theatre computer. Intel are starting to get everything right now but it took them long enough to do this, something companies like Shuttle with their XPC have realised for years.
- Pros
Supports Core Duo and Core Solo
Kick Ass performance from new Core Duo CPU
Perfect for HTPC system
PCI Express 16x Graphics Port
Expansion possibilities for TV tuners etc
Gigabit LAN
Additional SATA controller
Onboard Video (great for HTPC usage but not gaming)
Onboard 7.1 HD Audio finally with digital output options
e.SATA port for future external hard drives
- Cons
Only a max of 3 SATA drivers
Very poor overclocking options and results
Core Duo processors aren't cheap at the moment
- Latest Pricing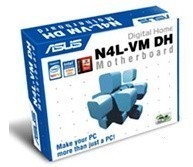 Rating - 8.5 out of 10
PRICING: You can find products similar to this one for sale below.

United States: Find other tech and computer products like this over at Amazon.com

United Kingdom: Find other tech and computer products like this over at Amazon.co.uk

Australia: Find other tech and computer products like this over at Amazon.com.au

Canada: Find other tech and computer products like this over at Amazon.ca

Deutschland: Finde andere Technik- und Computerprodukte wie dieses auf Amazon.de
We openly invite the companies who provide us with review samples / who are mentioned or discussed to express their opinion. If any company representative wishes to respond, we will publish the response here. Please contact us if you wish to respond.