Arlo Ultra 4K Single Camera Kit Review
Arlo adds 4K support to its popular line of security cameras, but does that offset the increased costs?

Published
4 minute read time
TweakTown's Rating: 83%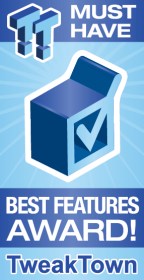 The Bottom Line
Ultra is packed with features and offers one of the best ecosystems for a security camera, if you can afford it.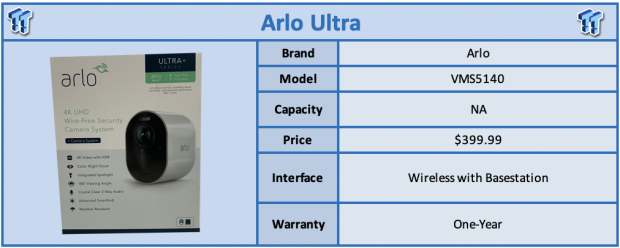 I've been a fan of Arlo since day one, and with that, we have reviewed every release since the beginning. With the IPO in August of 2018, Arlo as a brand has broken away from Netgear going out on its own in a very competitive market it in itself created nearly five years ago.
Arlo Ultra is the natural evolution of the product portfolio, and while we have seen a few small product launches over the last few months with doorbell and security light, Ultra is the big one for Arlo Technologies. Specifications shake down like this;
4K resolution thanks to its 8-megapixel image sensor, 100% wire free as expected with an integrated spotlight and siren. The integrated spotlight has added the ability for color night vision, and of course, we still have the wide angle 180-degree lens,2-way audio with a dual microphone array, base station with 802.11ac connectivity and Bluetooth LE. Rechargeable batteries power the Arlo Ultra with battery life sticking to 3-6 months depending on usage. Arlo says charge time is 3.5 hours and last we have a very welcomed addition, microSD storage supporting Class 10 and UHS I V10 cards.
Arlo Ultra comes in several SKUs. The single-camera kit in house today offers a $399.99 MSRP while the 2,3 and 4 camera kits come in at $599.99, $799.99 and $999.99 respectively. Each of these solutions has a one-year warranty.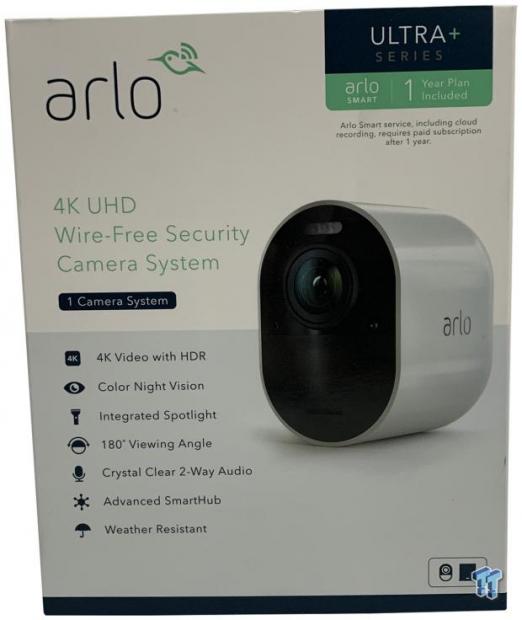 Packaging has been updated with plenty of features listed to the left, an image of the camera to the right along with model identification at the top.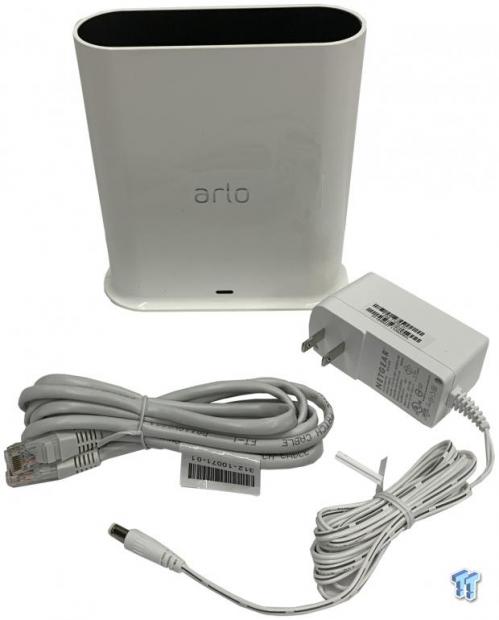 The kit includes the new Ultra base station, ethernet cable, and power adapter.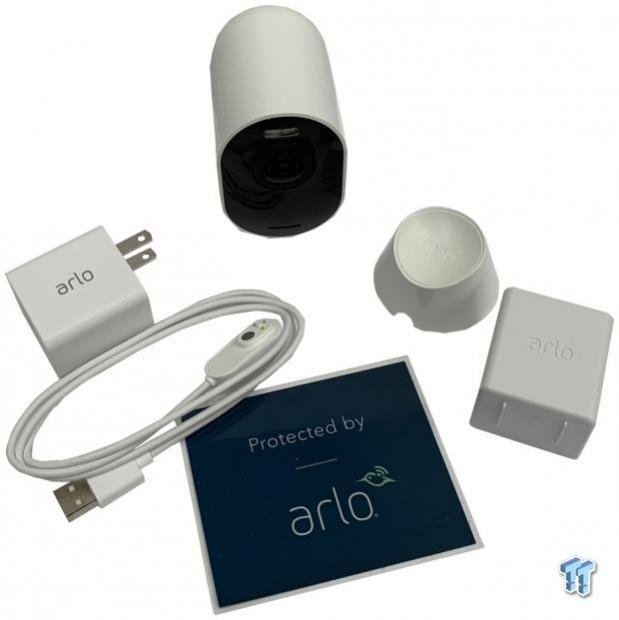 On the camera side, we have the charging cable and adapter, battery and magnetic mount.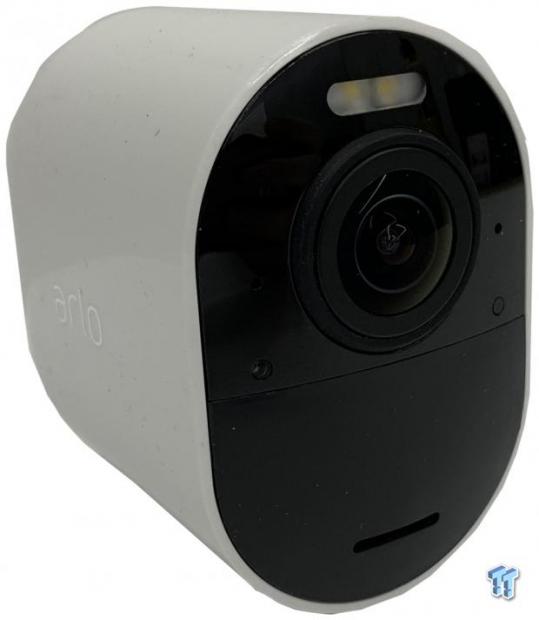 The overall design of the camera has changed drastically offering up a smoother more modern look. At the top, we have an integrated spotlight followed by the 8MP sensor and motion sensor.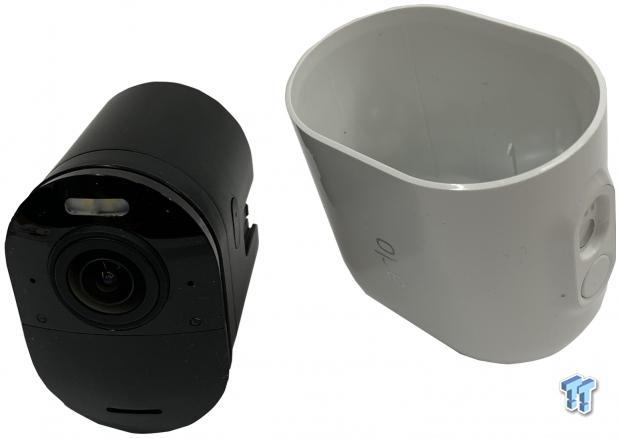 Instead of the camera popping open from the back, we now have a shell that the camera module "pops" out of. This allows you to install the battery on the backside as seen below.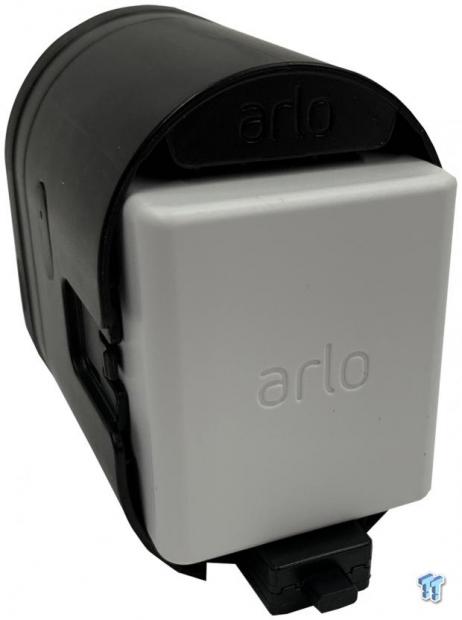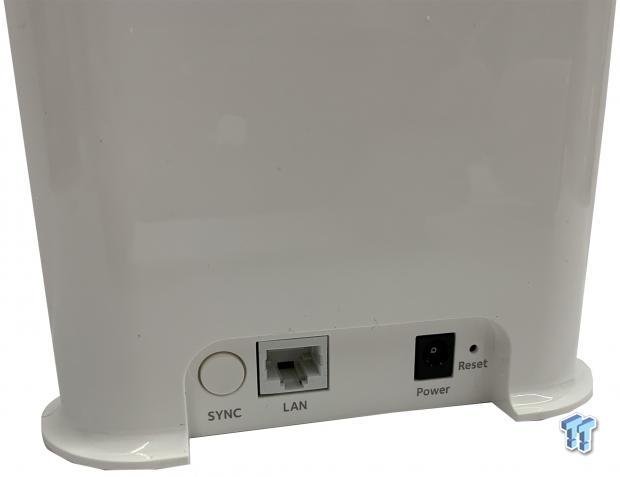 The updated base station offers wired connectivity and power input on the backside and on the bottom a microSD slot for storage.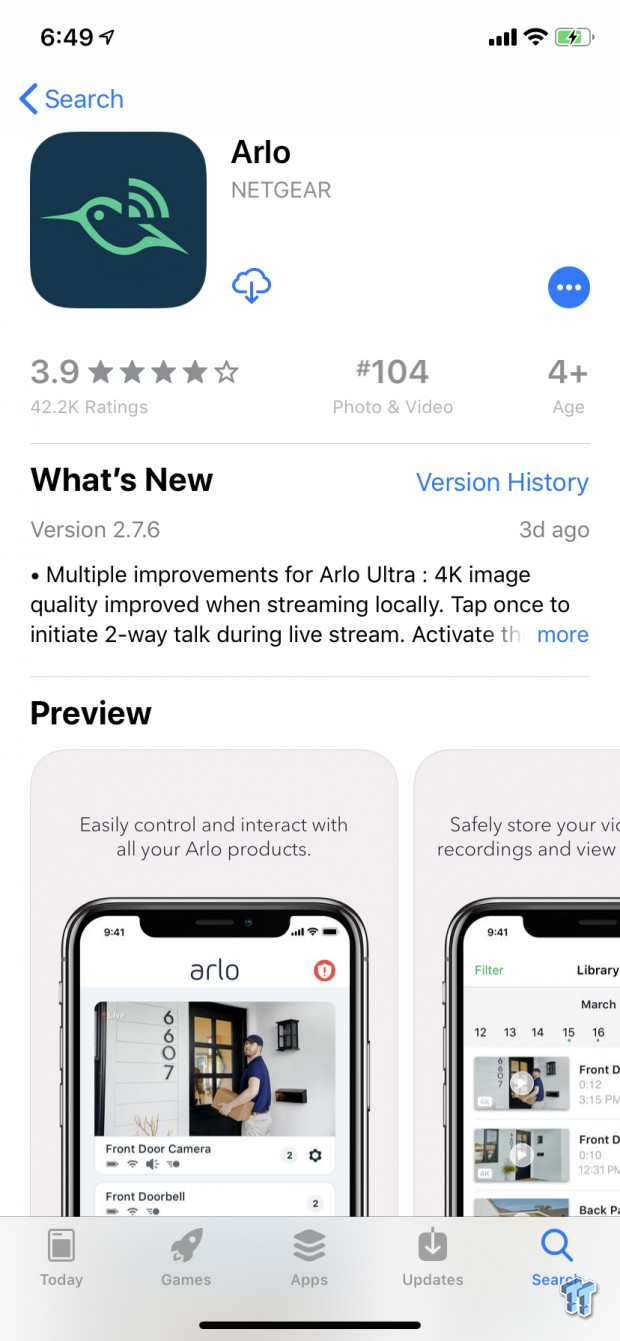 The app hasn't changed with the Ultra, seen above we are using it with iOS.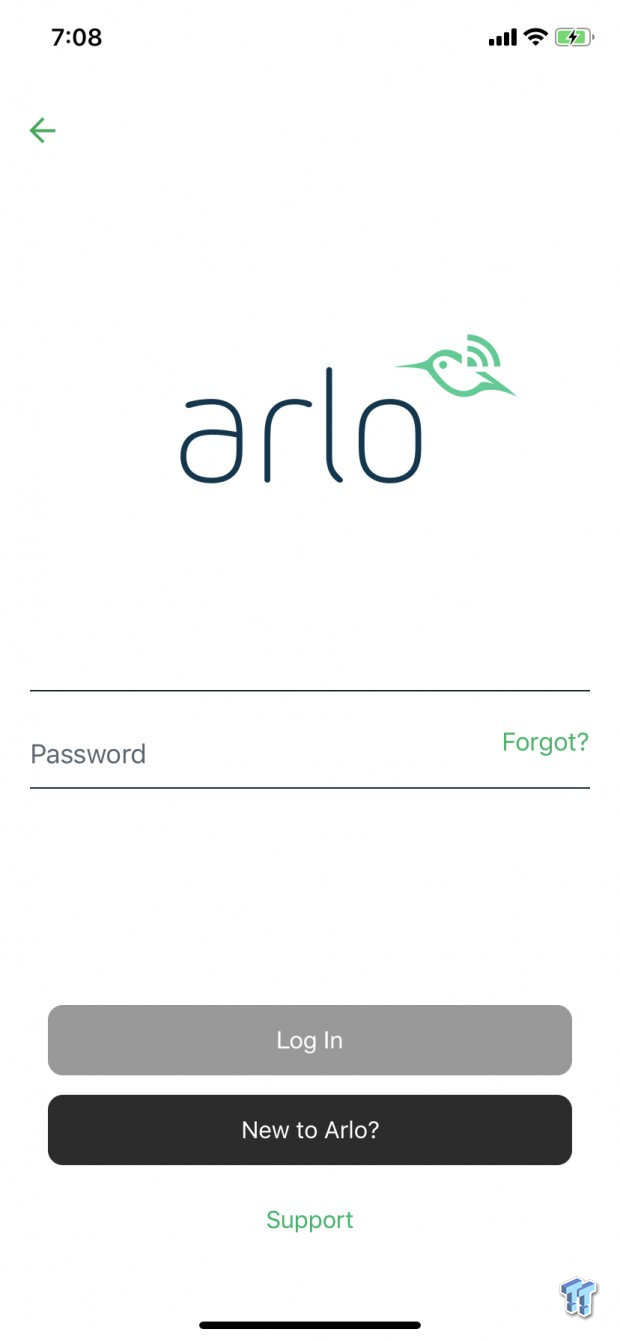 As per usual, you will need to create an account to setup Arlo.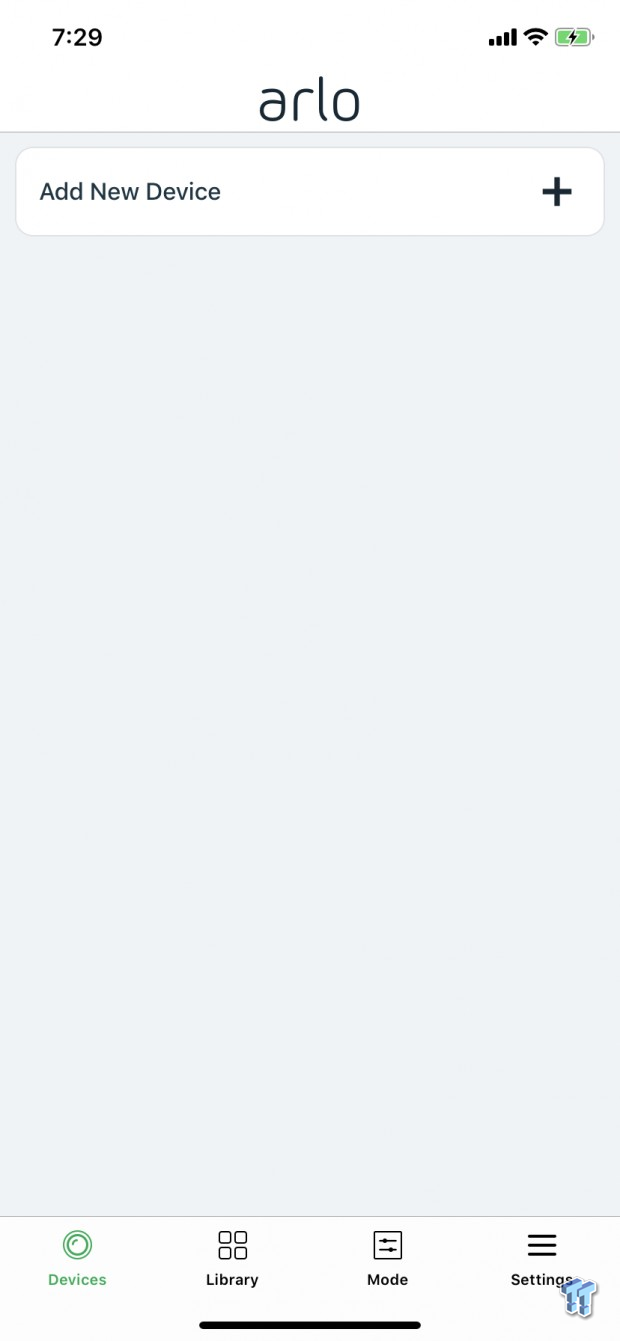 Once we are in, you will have the option to start setup above.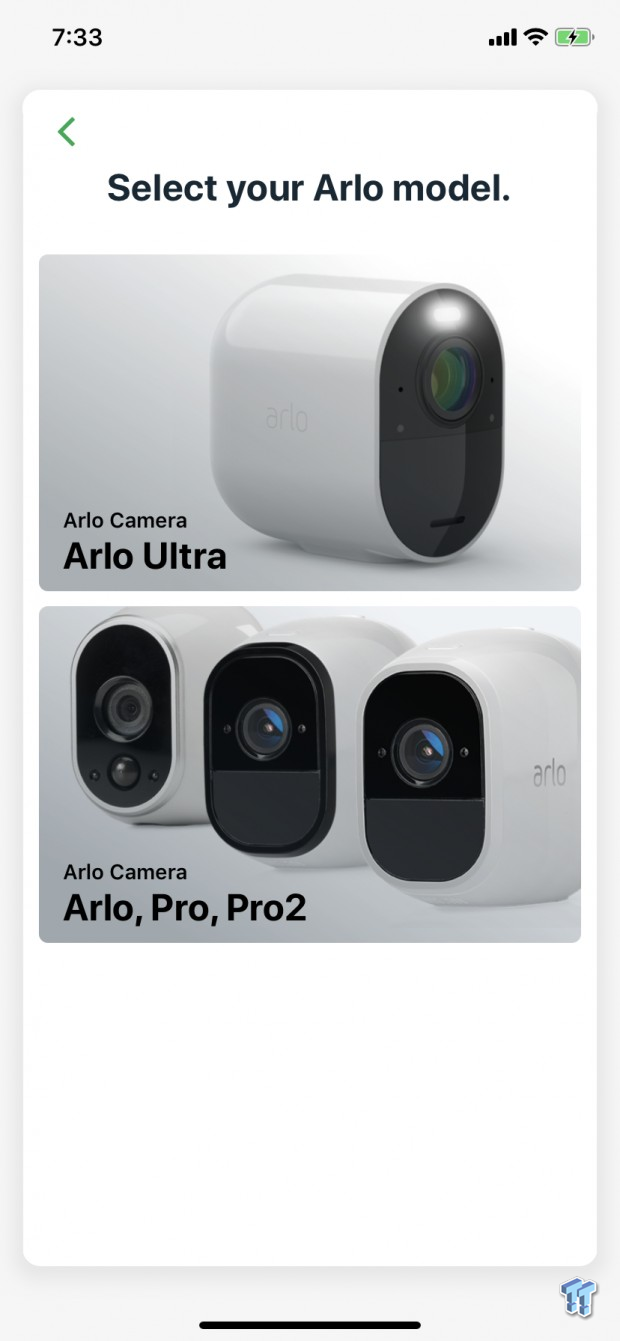 Starting with Arlo Ultra, a new base station has been deployed meaning the original Arlo, Pro and Pro 2 aren't compatible with the new setup. Seen above they have split setup into two categories.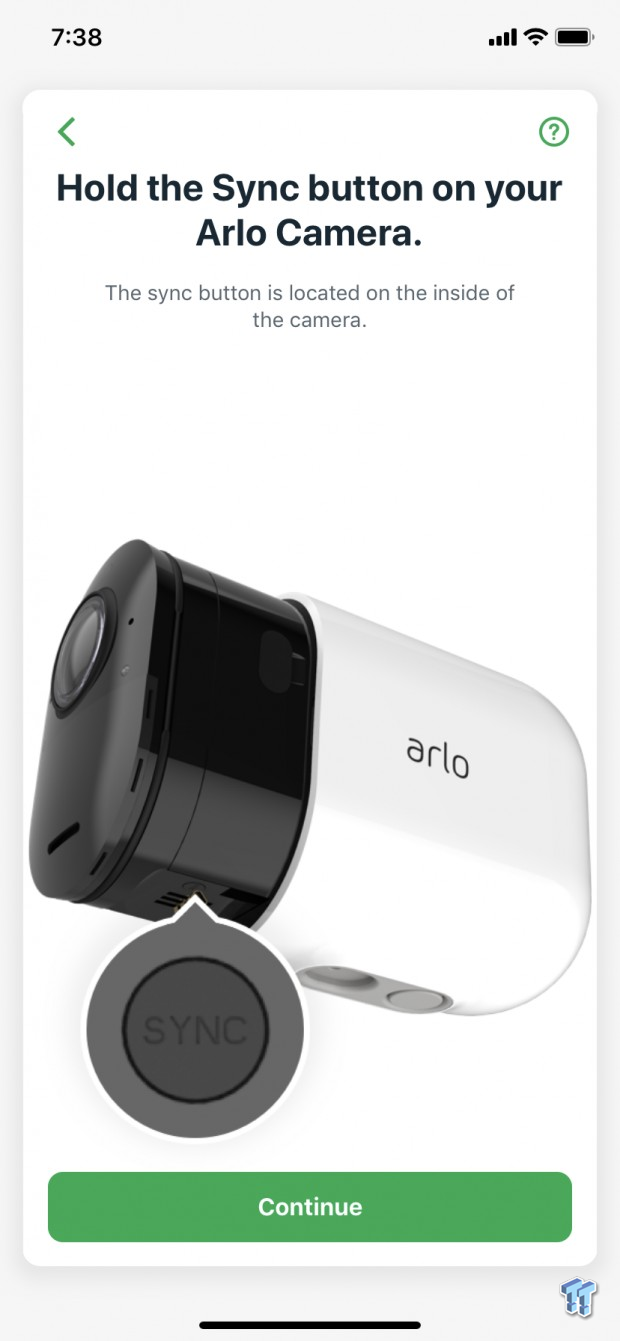 Setup has changed slightly from the past units. Starting with the step above we hold the sync button to start pairing over Bluetooth.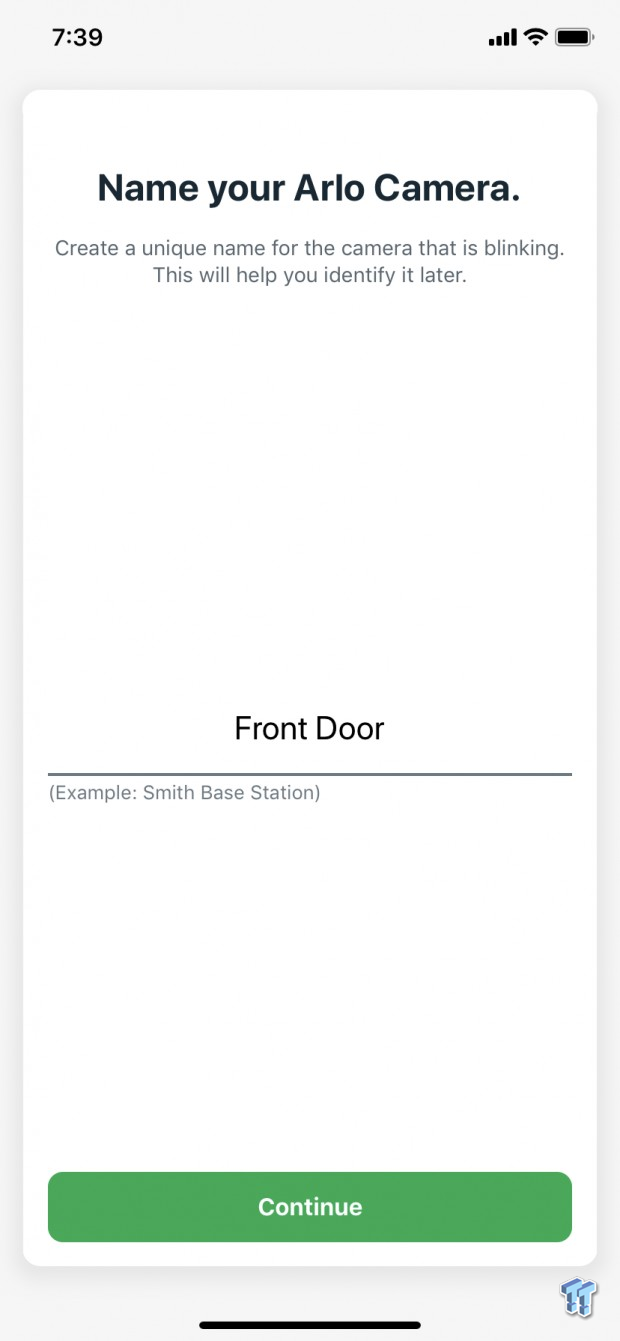 Once the step above is complete, we go through several more naming the camera etc.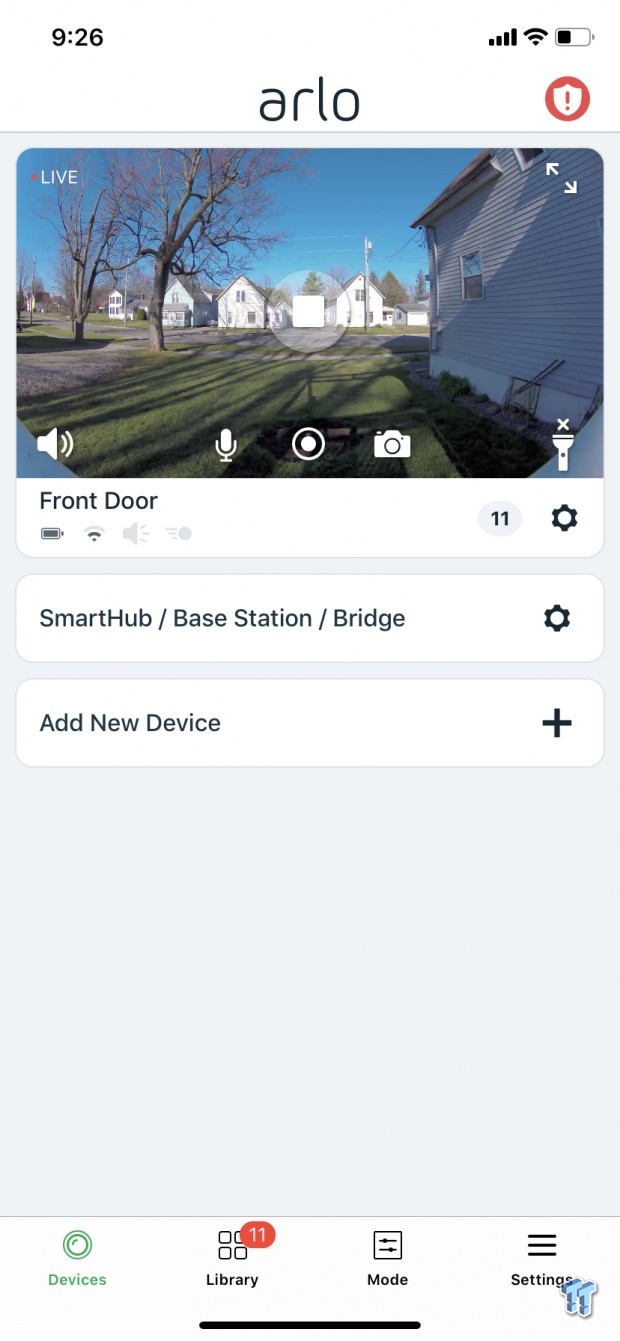 Once we are in the app, you can see just how stunning the image quality is up top. Camera control includes audio in and out, record and snapshot. You can also manually turn on the spotlight.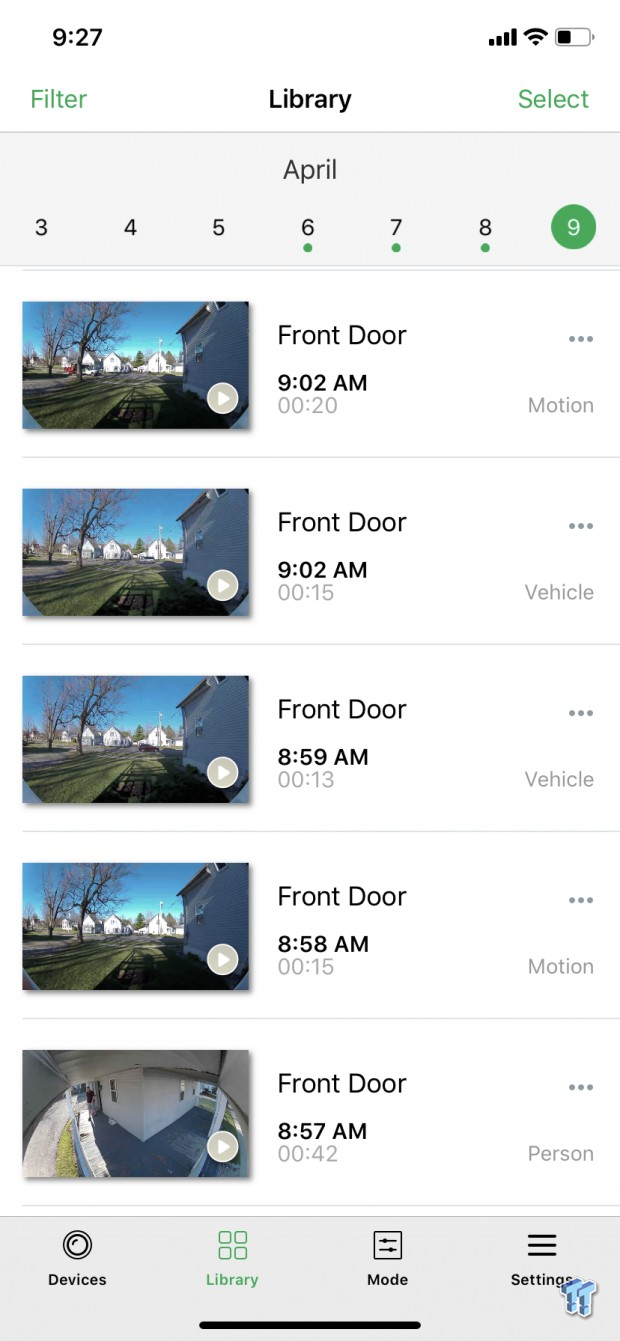 The library tab along the bottom saves short recording when motion is detected. You will also notice Arlo has become intelligent by detecting what has caused the sensor to be tripped, motion, vehicle, and person are shown in my history, but I have also seen animals, and package detection set it off.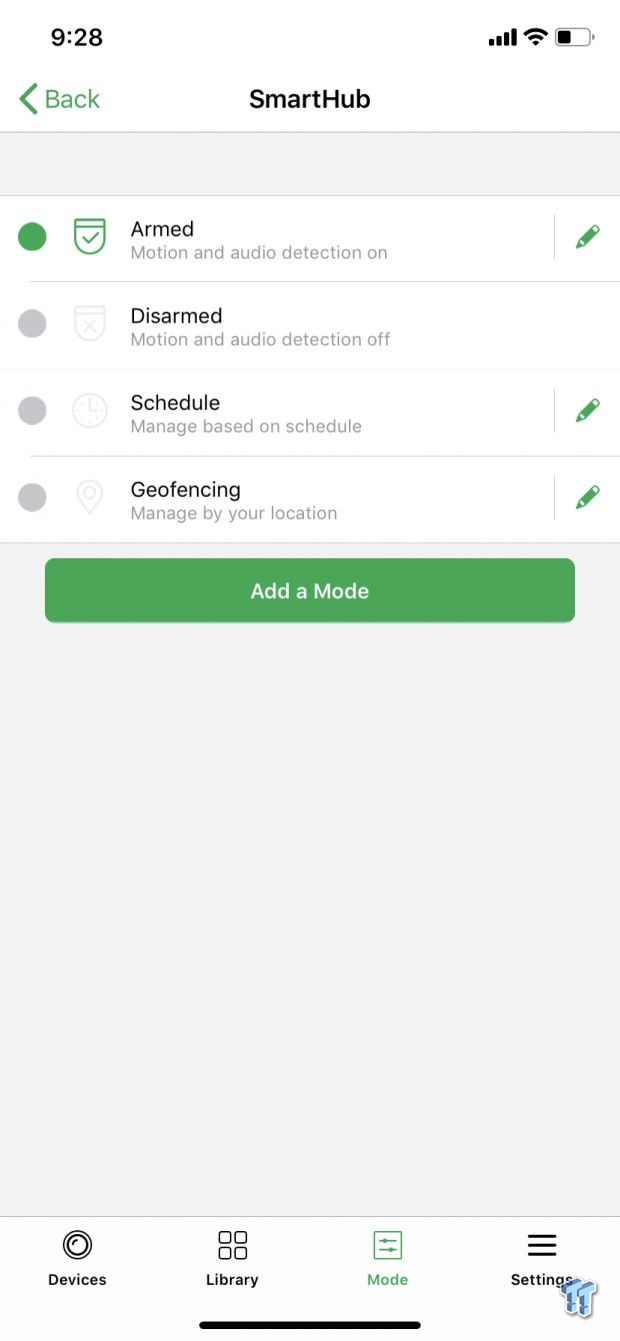 On the smart hub side, we have several methods of setting up Arlo. Armed for 24/7 motion and audio recording, disarmed to disable it and scheduled. There is also the option of geofencing if you enable location services on your smartphone that will arm the camera once you leave a certain zone.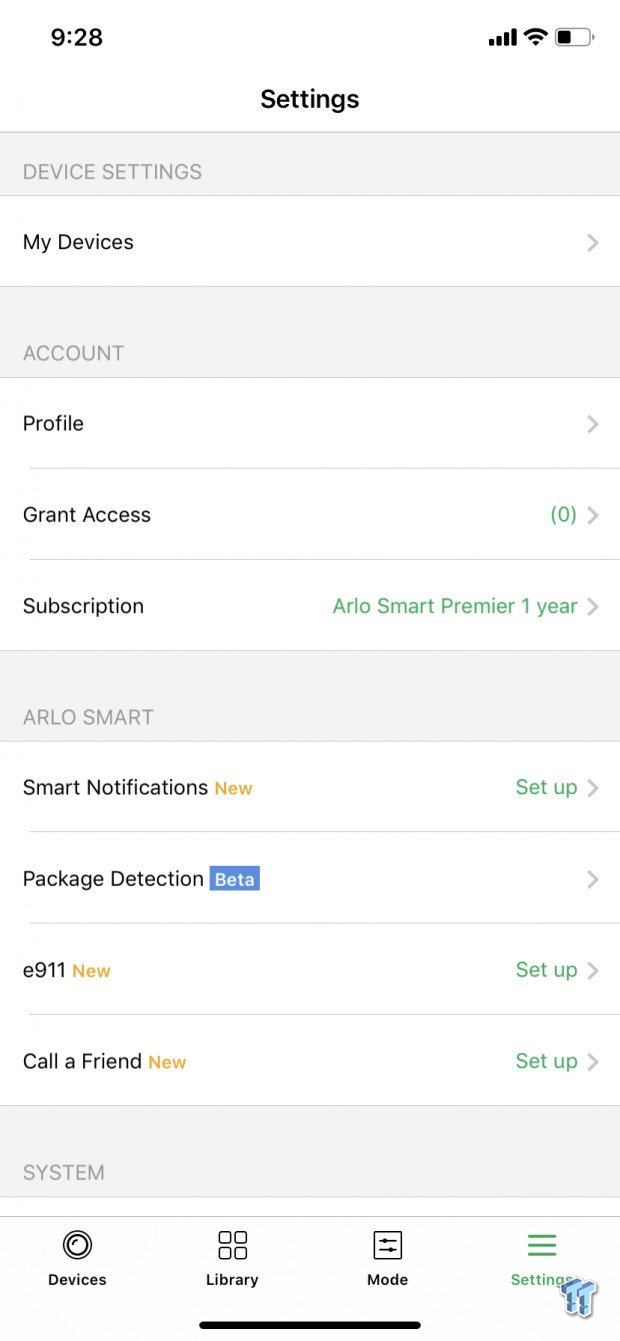 Settings include the ability to grant access to others for live viewing of your cameras, subscription service, and devices at the top. Further down we have notifications including package detection.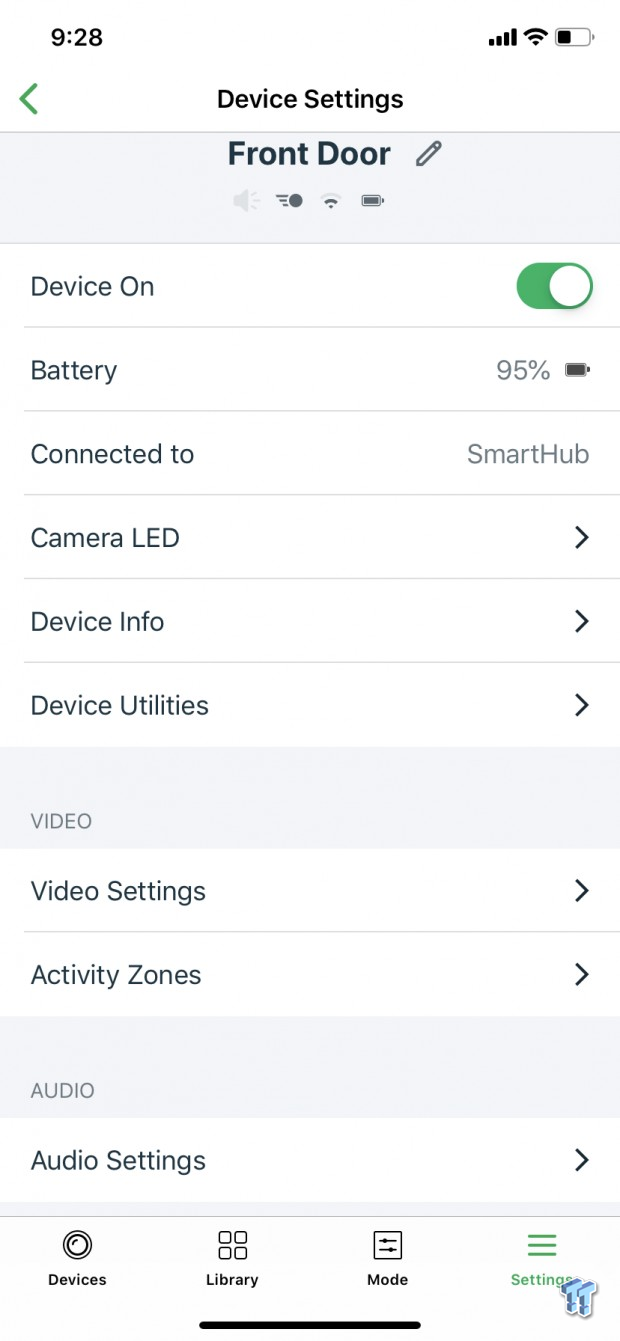 Within the device menu, you will have a list of cameras connected. Each camera will have the menu above showing battery life and the hub it's connected to. Further, we have AV settings, activity zones, and utilities for further fine-tuning.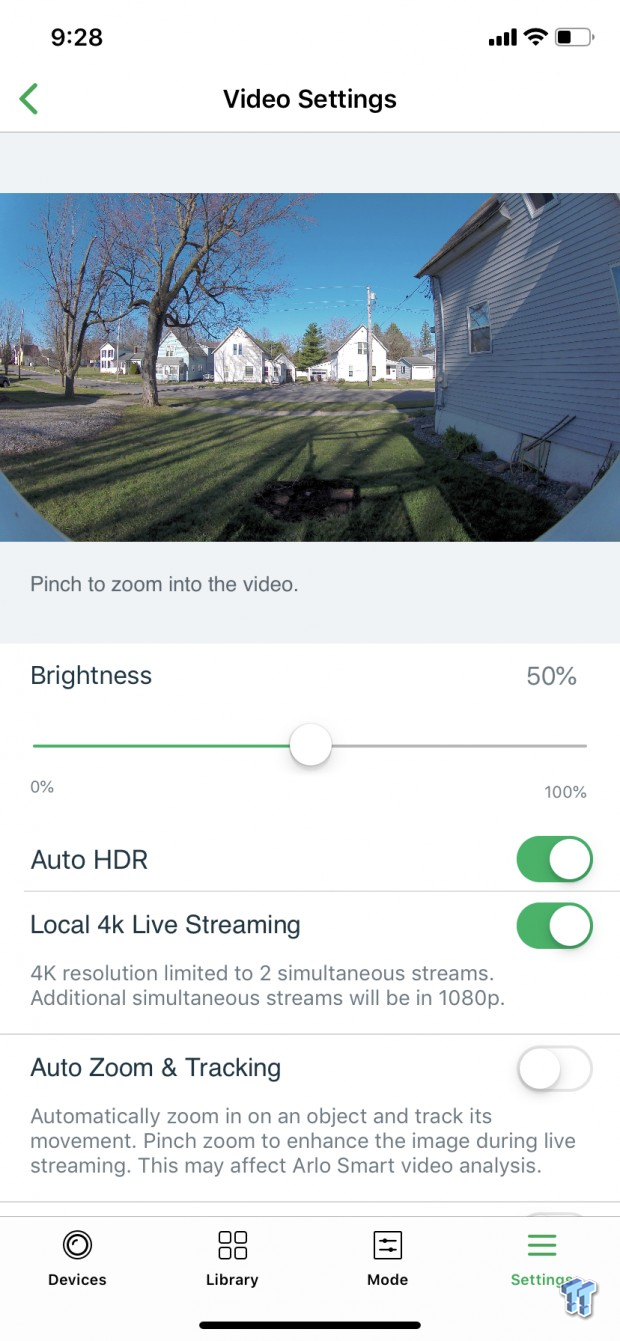 AV settings give you the ability to change brightness levels, enable HDR and local 4K streaming. You can also turn on auto-tracking to have the camera track objects that trigger the motion sensor.
Starting with Arlo in 2015, I have had a pair of these cameras watching over my home and with each new solution that has come to market I have upgraded my setup to the latest. For me, this has been a once a year upgrade; Arlo in 2015, Arlo Pro in late 2016 and Arlo Pro 2 in late 2017. Since then I have had a number of cameras come and go alongside the Arlo units including Logitech Circle, Reolink Argus, Argus 2 along with a number of CCTV options. I've always held fast with my Arlo units as the ecosystem was always friendly and while cost has increased over the years, I was able to manage it. Until now.
Build quality on the Ultra is amazing, the plastics are so smooth you know there was a second level of QC in the factory that punched the enclosures out. The camera module has a few upgrades including its 8MP sensor for 4K visuals and a spotlight for color night vision.
Arlo has done a lot of work revamping the feature list adding a more refined motion detection that includes packages and the ability to distinguish people and animals from cars and general motion. They have added the e911 feature allowing you to call for help from your smartphone and of course we still have all the wire-free fun of the past with rechargeable batteries and magnetic mounts. Adding to this Arlo has introduced microSD storage into the new base station giving users the ability to save video locally, a feature that has been on the list since the initial Arlo was launched.
In closing, I will always have love for Arlo after living with it for the last five years, but pricing has gone out of control as a two-camera kit now fetches $599.99, and a four-camera kit will cost you $999.99. Add to this subscription cost of 10 per month and to me it seems Arlo, while being a fantastic solution has grown a bit of an ego in a market it created and a market that has become very competitive.
Tyler's Test System Specifications
| | |
| --- | --- |
| Performance | 87% |
| Quality | 90% |
| Features | 84% |
| Value | 70% |
| Overall | 83% |
The Bottom Line
Ultra is packed with features and offers one of the best ecosystems for a security camera, if you can afford it.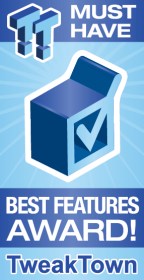 We openly invite the companies who provide us with review samples / who are mentioned or discussed to express their opinion. If any company representative wishes to respond, we will publish the response here. Please contact us if you wish to respond.