Introduction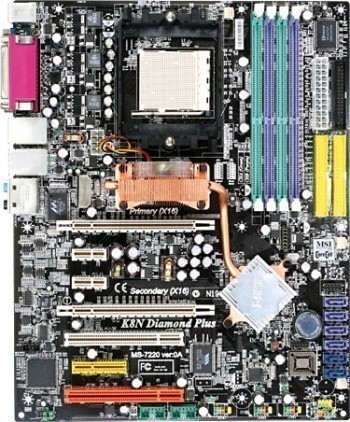 AMD Athlon platform since its introduction has been a major thorn in the side for Intel, but a great cash crop for companies like VIA, SiS, ULi, ATI and nVidia, who all have chipsets out to support AMD Athlon. While nVidia only started to support AMD in the Socket A days, this is because they simply didn't have the capacity to make motherboard chipsets when Slot A was around. When we look back now, we see just how far the platforms have evolved, and what chipsets now come with as standard features were only drooling thoughts back in the Slot A days.
nVidia's nForce 4 SLI x16 chipset is now the hit product for the 3D giant, and with SLI now a huge part of the gamers life, we are starting to see every motherboard company who wants to stay in business starting to use this chipset.
Just recently we took a look at the
ABIT AN8 32X motherboard
, comparing it to the older nForce 4 SLI chipset that used to split a single PCI-E x16 lane down to twin x8 lanes - and we saw just how much of a difference this can make.
Today we are taking a look at another of the Dual x16 based nForce 4 boards, this time from MSI and will be comparing it against the ABIT AN8 32X and the Albatron K8SLI nForce 4 SLI original chipset to see how well this motherboard stacks up against the competition.
Specifications
Specifications of the MSI K8N Diamond PlusCPU
Supports AMD Athlon 64 3000+ ~ 4000+ mPGA939
Supports AMD Athlon 64 3800+ ~ 4800+ mPGA939
Supports AMD Athlon 64 FX 53 ~ FX60 mPGA939
Supports AMD Opteron 100 Series mPGA939
Chipset
nVidia nForce 4 SLI x16
nVidia nForce 4 SLI Northbridge
nVidia nForce MCP804 Southbridge
Hyper Transport @ 1600 MHz.
System Memory
4 DDR SDRAM 186pin DIMM Sockets
Supports DDR-266/333/400Mhz
64/128Bit Dual Channel
Supports up to 4GB Total Memory (4x 1GB)
Bus Frequency
200Mhz Internal
800/1800/2000Mhz External
Hyper Transport Interconnect to nForce Northbridge
Expansion Slots
2 PCI Express x16
2 PCI Express x1
1 PCI Express x4 Universal
2 PCI
Connectivity
2 Parallel ATA port supporting 4 IDE Drives
6 Serial ATA ports
2 Gigabit Ethernet Port
Expansion Ports
1 PS2 Keyboard Port
1 PS2 Mouse Port
10 USB 2.0 Ports (4 rear accessible, 6 via expansion bracket)
1 Serial Ports
1 Parallel Port
5 Stereo Audio Ports
1 Firewire Port
2 SPDIF ports
Package and Contents
The Box and the Goodies within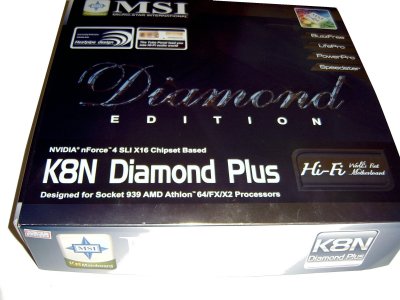 MSI has always had a thing for flair in its packaging, even at the beginning of its life. The K8N Diamond Plus is no different. The font of the box doesn't give much information to the potential buyer, but its silver reflective surface does tend to catch the eye.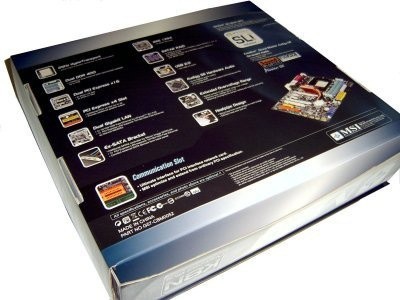 The back of the box however, gives a lot of info on many of the features the board supports along with a list of the basic specifications.
While there is your usual drivers and CD bundle, we decided to skip looking into these, as they are pretty much all the same. MSI provides a single user manual, driver and software CD, 6 SATA data/power converters, 2 IDE and 1 FDD cable, along with an I/O shield.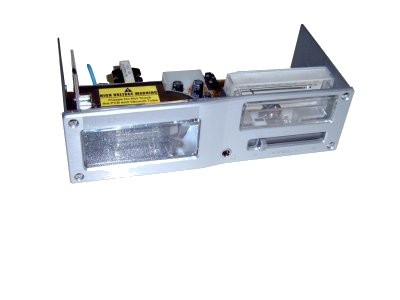 We didn't decide to skip this little baby, shown above, which is only available in the K8N Diamond Plus Special Edition package. This is MSI's Tube Audio front panel and is made for MSI by Cooler Master and its true name is the Musketeer III front panel. The big claim to fame of this is the Vacuum Tube for the audio to pass through and is supposed to have some affect on the audio, however, when tested, audio quality sounded identical with or without the vacuum tube system. Also on the front is the volume indicator and slider to control the volume level when the audio panel is in use. If you want to use above two channel audio, you can't use the vacuum system.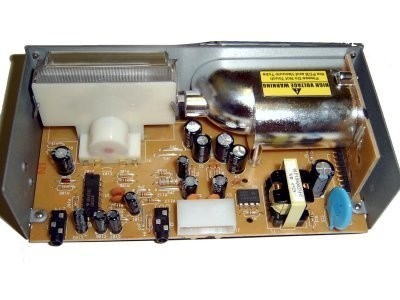 From the back we can see the circuitry. There is a loop back cable connection for the audio to plug into the external green audio jack, a 4 pin Molex power connector to give the unit power as well as various circuits to make the whole show work. Also take note of the high voltage warning, it won't kill you, but man does it give you one hell of an electric shock. (
Editor Note: Yes, one hell of a shock for sure - been there, done that!
)
The Motherboard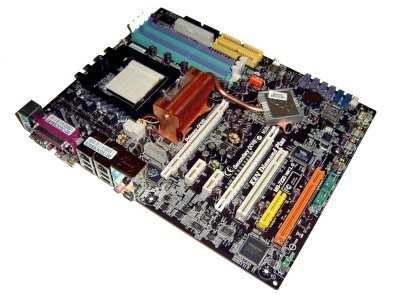 MSI uses a black PCB measuring 30x30cm, black boards from MSI are the signature of the Diamond line and in the past, the Premium lines. As for the layout, MSI has done quite a good job.
MSI has located the 24-pin ATX power connector, FDD and the 2 IDE connectors to the right hand side of the board behind the 4 DIMM sockets. This is the ideal placement to keep all the bulky cables in the once place. MSI also changes over from using a 4-pin 12v AUX connector to the new 8-pin EPS12v connector, however, you still can use the 4-pin PSU's on this board as the 8 pin connector is backwards compatible. The 8-pin connector is located between the bottom left of the CPU heatsink mount and the I/O ports. We would prefer to have this at the top of the heatsink mount; however, this location is good enough.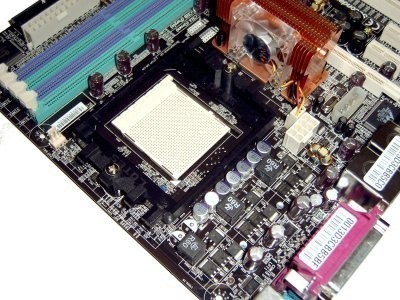 MSI uses a three phase voltage regulation system with switching type regulators to allow the BIOS full control over the voltage range. MSI doesn't use any cooling on the Mosfet's, which is a shame as these babies do tend to warm up quite a bit when under a lot of load.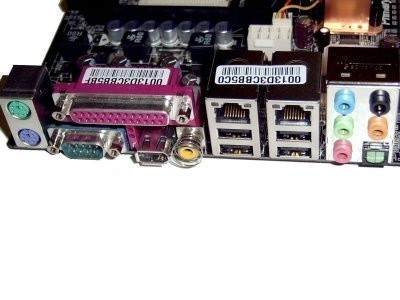 The rear I/O panel is pretty standard for the MSI layout; in fact, most of the MSI premium lines of boards use this exact I/O panel. If you have a previous MSI Platinum board you won't need the new I/O shield.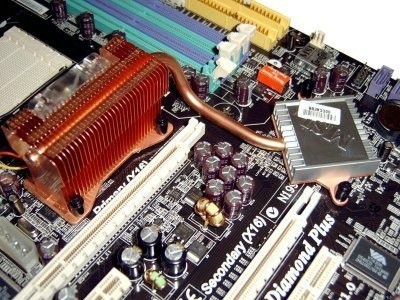 The K8N Diamond Plus motherboard uses the nForce 4 SLI x16 chipset, the newest beast from nVidia. This chipset gives you a total of 32 PCI Express lanes for graphics cards alone; this means you get full speed PCI Express x16 slots. MSI uses a small interconnected heatpipe and fan design to keep the two chipsets as cool as possible - and this is especially great news for end-users who like to build quiet computers. That's right - nForce 4 SLI x16 is a two chip solutions. nVidia worked this by placing the extra 16 lanes on the Southbridge chipset and uses a 1600Mhz Hyper Transport link to connect the Northbridge to the Southbridge.
The expansion slots on the MSI K8N Diamond Plus uses 2 PCI Express x16 slots for the graphics cards running at full x16 speed, 2 PCI Express x1 slots, a Universal PCI Express x4 slot and 2 PCI slots. The PCI Express x4 slot supports an additional graphics card, however, the x4 slot only has two PCI Express lanes routed to it, so you won't get the full x4 speeds from this slot.
While the nForce 4 chipset gives you 4 SATA-II ports, MSI has added an extra two ports thanks to the Silicon Image 3132 PCI Express controller chip. These are colour coded dark blue SATA ports below the 4 purple Southbridge controlled ports.
Rather than using an AC'97 audio solution, MSI has gone the whole hog here and added in a Creative SoundBlaster Audigy SE controller chip. This gives you true hardware 7.1 Audio functions, Creative's EAX systema and all the goodies you expect from a Creative soundcard.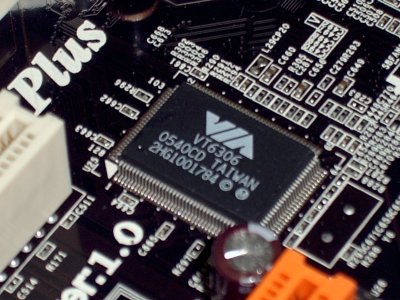 Last but not least is the VIA VT6306 PCI based Firewire controller chip. This baby gives 3 IEE1394a ports, one is located on the Rear I/O panel and the other two come from an included PCI riser bracket that plugs into green headers on the board.
Overclocking
MSI is one for the overclockers, they have been in the past and the K8N Diamond Plus is once again. MSI uses the AMI BIOS for its boards. While good, we have found Award BIOS to be a more tweakable BIOS setup, but each to their own - MSI has used AMI for a while and it seems to work for them.
Once you enter the BIOS, you need to visit the Cell Menu section in order to gain access to all of the overclocking features. First on the list is AMD Cool'N'Quiet. When this is enabled, Windows is able to lower the CPU multiplier and voltages when the CPU is at idle, this allows AMD Athlon 64 CPU's to run much cooler and consume less energy in their idle state.
Next is Adjust CPU FSB Frequency option. MSI gives you settings from Default of 200MHz up to a max of 450MHz in 1MHz increments. While 450MHz isn't obtainable these days, it's still nice to see this option available.
Next is a sub menu called AMD Overclocking Configuration. In this menu you have access to the Hammer FID and VID options. FID gives you the ability to lower the CPU multiplier manually, or raise it if you have an Athlon 64 FX series CPU. The VID function allows you to override the CPU default voltage to give the CPU some extra juice.
You can adjust the CPU voltage from 0.08v up to a max of 2.15v in 0.05v increments. To get this high you need to run the extra overvoltage option. DRAM voltage range extends from 2.5v to 3.2v in 0.1v increments. Northbridge and Southbridge voltage ranges from, 1.2v to 1.8v in 0.1v increments.
Using all these features we managed an FSB of 358MHz with our CPU at 4x DRAM voltage a 2.9v, CPU at 1.55v, Northbridge and Southbridge at 1.4v. Overall we were impressed with the stability and overclock-ability of the K8N Diamond Plus.
Benchmarks - Test System Setup and Sandra
Test System SetupProcessor
: AMD Athlon 64 x2 4200
Memory
: 2x 512MB Corsair DDR-533
Hard Disk
: 2x Seagate 7200.9 RAID 0 (Supplied by
Seagate
)
Graphics Card
: 2x GeForce 7800GT in SLI (Supplied by
ASUS
)
Operating System
: Microsoft Windows XP Processional SP2
Drivers
: nVidia ForceWare 84.21, nForce4 AMD/Intel X16 6.85 and DX9c
Today we are pitting the K8N Diamond Plus against the ABIT AN8 32X motherboard to see how it compares to another SLI x16 based board as well as the Albatron K8SLI based on the original nForce 4 SLI chipset.
SiSoft SandraVersion and / or Patch Used:
2005 SR3
Developer Homepage:
http://www.sisoftware.co.uk
Product Homepage:
http://sisoftware.jaggedonline.com/index.php?location=home&a=TTA&lang=en
Buy It Here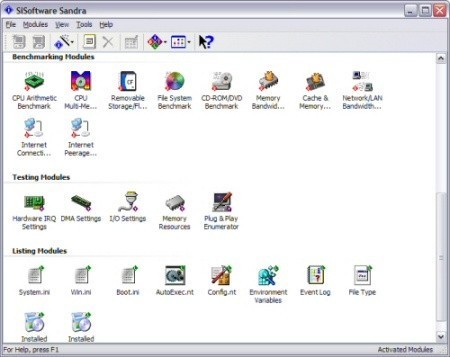 SiSoft Sandra (
S
ystem
AN
alyser,
D
iagnostic and
R
eporting
A
ssistant) is a synthetic Windows benchmark that features different tests used to evaluate different PC subsystems.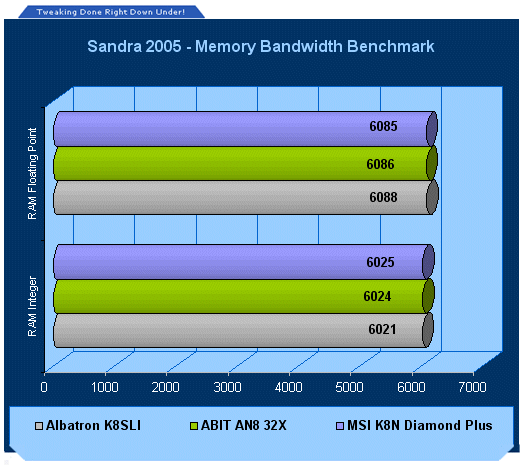 Here all boards perform identical due to the use of the AMD CPU as the memory controller rather than depending on the board (chipset) itself.
Benchmarks - PCMark05
PCMarkVersion and / or Patch Used:
1.1.0
Developer Homepage:
http://www.futuremark.com
Product Homepage:
http://www.futuremark.com/products/pcmark04/
Buy It Here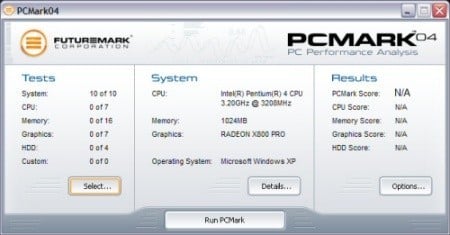 PCMark is a multipurpose benchmark, suited for benchmarking all kinds of PCs, from laptops to workstations, as well as across multiple Windows operating systems. This easy-to-use benchmark makes professional strength benchmarking software available even to novice users. PCMark consists of a series of tests that represent common tasks in home and office programs. PCMark also covers many additional areas outside the scope of other MadOnion.com benchmarks.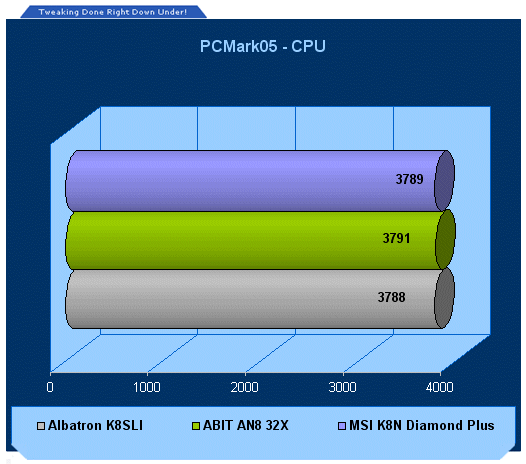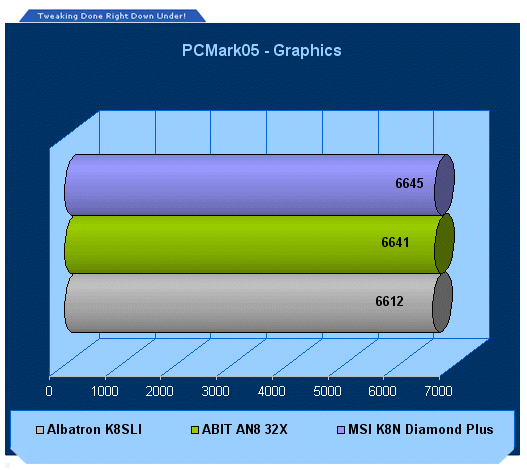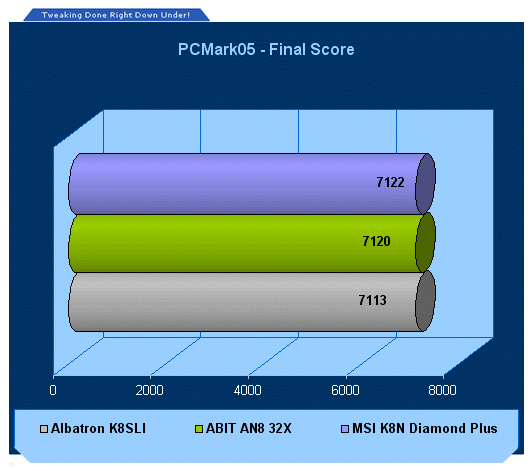 We can see that the K8N Diamond Plus and ABIT AN8 32X perform identically, as we would expect from almost identical boards.
Benchmarks - 3DMark03
3DMark03Version and / or Patch Used:
Build 360
Developer Homepage:
http://www.futuremark.com
Product Homepage:
http://www.futuremark.com/products/3dmark03/
Buy It Here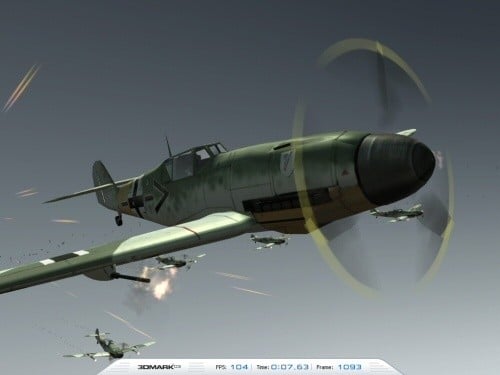 By combining full DX8 and partial DX9 support with completely new tests and graphics over the previous version, 3DMark03 continues the legacy of being the industry standard 3D benchmark.
Please Note: Due to recent events with the 3DMark03 series, we are adding results purely for those who are still in favor of 3DMark03. These results should not be taken too seriously and are only added for interest sakes.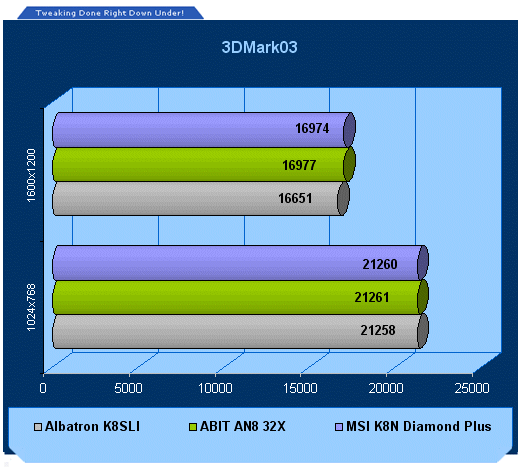 3DMark03 also shows very little variation between the ABIT, MSI and Albatron boards.
Benchmarks - 3DMark05
3DMark05Version and / or Patch Used:
Build 120
Developer Homepage:
http://www.futuremark.com
Product Homepage:
http://www.futuremark.com/products/3dmark05/
Buy It Here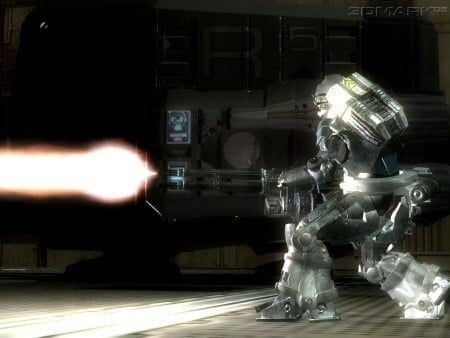 3DMark05 is now the second latest version in the popular 3DMark "Gamers Benchmark" series. It includes a complete set of DX9 benchmarks which tests Shader Model 2.0 and higher.
For more information on the 3DMark05 benchmark, we recommend you read our preview
here
.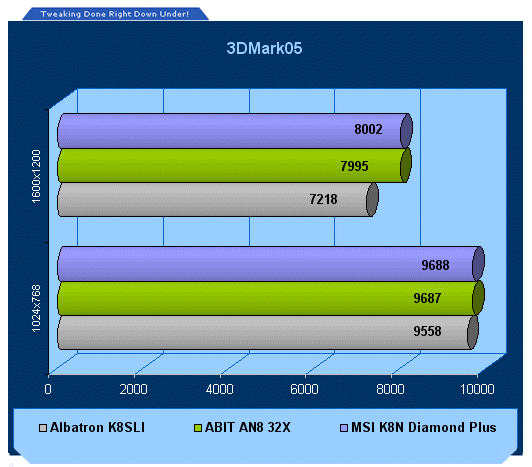 Here the MSI board slightly pulls ahead of the ABIT board.
Benchmarks - 3DMark06
3DMark06Version and / or Patch Used:
Build 102
Developer Homepage:
http://www.futuremark.com
Product Homepage:
http://www.futuremark.com/products/3dmark06/
Buy It Here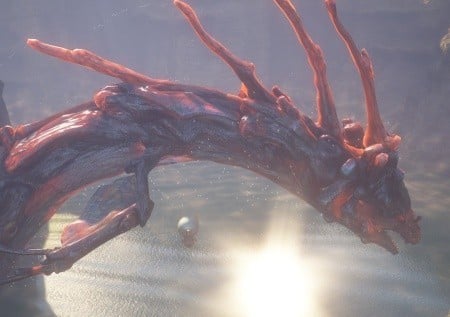 3DMark06 is the very latest version of the "Gamers Benchmark" from FutureMark. The newest version of 3DMark expands on the tests in 3DMark05 by adding graphical effects using Shader Model 3.0 and HDR (High Dynamic Range lighting) which will push even the best DX9 graphics cards to the extremes.
3DMark06 also focuses on not just the GPU but the CPU using the AGEIA PhysX software physics library to effectively test single and Dual Core processors.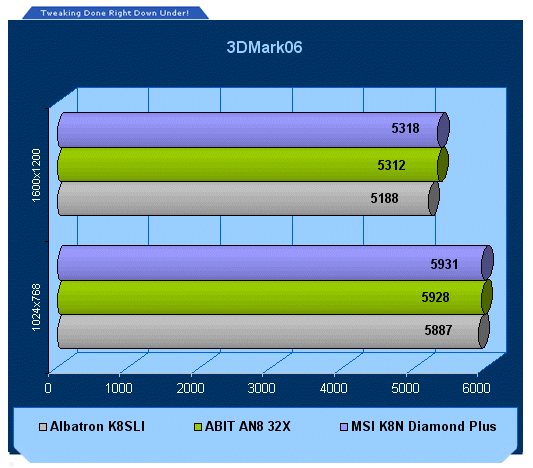 Here we see the MSI board and the ABIT board on equal grounds.
Benchmarks - Doom 3
Doom 3Version and / or Patch Used:
Unpatched
Timedemo or Level Used:
Custom Timedemo
Developer Homepage:
http://www.idsoftware.com
Product Homepage:
http://www.doom3.com
Buy It Here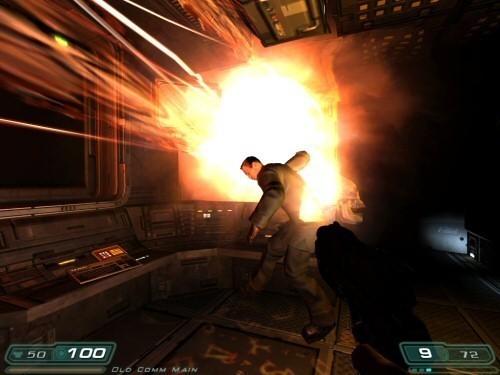 Doom 3 is the latest game to hit our test lab and is one of the most intensive games to dates. With our own custom time demo we are able to give a realistic rating on what kind of FPS you will be achieving.
For more information on benchmarking Doom 3 we recommend you check out our extensive article regarding it
here
.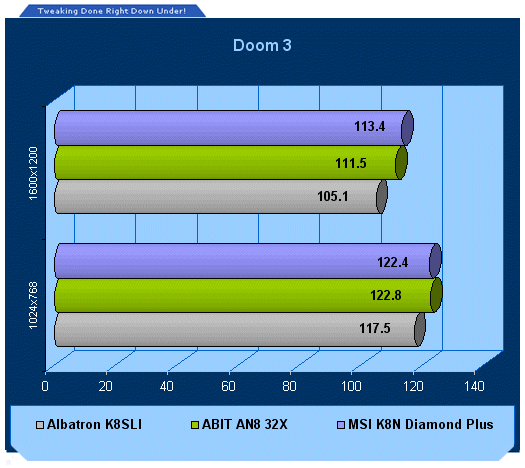 Doom 3 shows ABIT just lightly ahead, but not by much.
Benchmarks - Quake 4
Quake 4Version and / or Patch Used:
Unpatched
Timedemo or Level Used:
Custom Timedemo
Developer Homepage:
http://www.idsoftware.com
Product Homepage:
http://www.quake4game.com
Buy It Here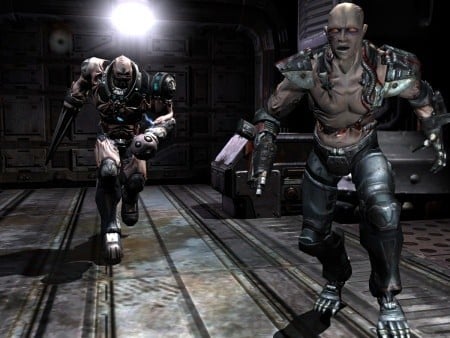 Quake 4 is one of the latest new games to be added to our benchmark suite. It is based off the popular Doom 3 engine and as a result uses many of the features seen in Doom. However, Quake 4 graphics are more intensive than Doom 3 and should put more strain on different parts of the system.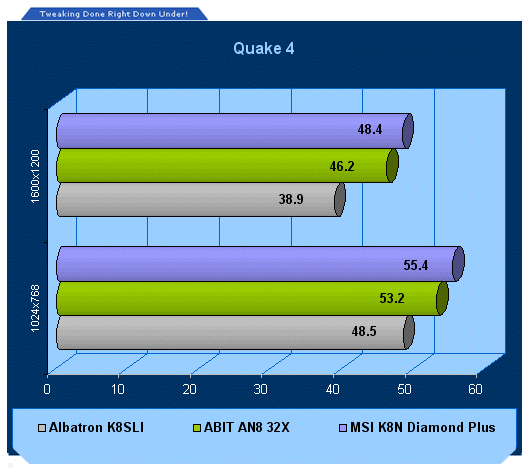 Here in Quake 4 though, MSI gains the lead back.
Benchmarks - F.E.A.R.
F.E.A.R.Version and / or Patch Used:
Unpatched
Timedemo or Level Used:
Custom Timedemo
Developer Homepage:
http://www.vugames.com
Product Homepage:
http://www.whatisfear.com/us/
Buy It Here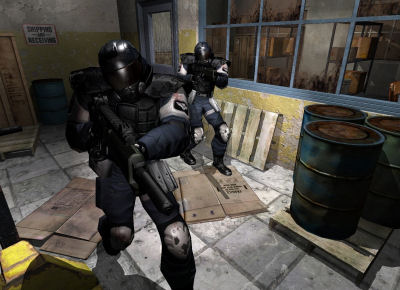 F.E.A.R. (First Encounter Assault Recon) is an intense combat experience with rich atmosphere and a deeply intense paranormal storyline presented entirely in first person. Be the hero in your own spine-tingling epic of action, tension, and terror...and discover the true meaning of F.E.A.R.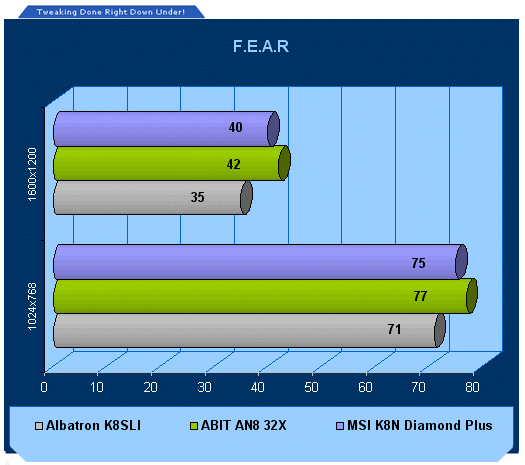 Again MSI has the lead, but not by a super high margin to declare an ultimate winner.
Benchmarks - Far Cry
Far CryVersion and / or Patch Used:
1.3
Timedemo or Level Used:
Benchemall Default
Developer Homepage:
http://www.crytek.com
Product Homepage:
http://www.farcrygame.com
Buy It Here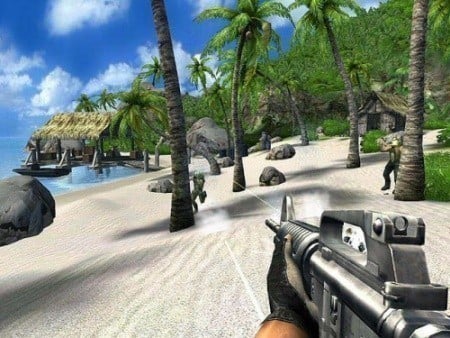 There is no denying that Far Cry is currently one of the most graphic intensive games on the market, utilizing PS2.0 technology (the latest versions support Shader Model 3.0 with DX9c) and offering an exceptional visual experience there is no denying that even some of the faster graphics cards struggle.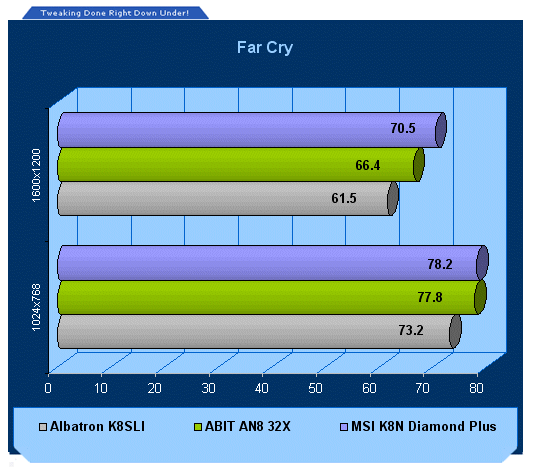 In our final test we see again MSI ahead of the ABIT board.
Final Thoughts
It has been a while since an MSI motherboard has shown its face in our labs. While we have missed their great products, we are happy as always when anyone sends us something good to test, and MSI has done that again with their K8N Diamond Plus motherboard.
MSI's commitment to high quality, feature packed overclocking motherboards continue here again with the nForce 4 SLI x16 chipset. As we have seen, the speeds available to the avid overclockers in our overclocking section are great, with a new BIOS and further voltage tweaks, this board could be one of the best boards out there.
The additions MSI has put onto their board are fantastic, including the Audigy SE sound system - it is much nicer always to have a hardware based sound solution than a software one.
Overall the MSI K8N Diamond left a pleasant taste in our mouths with very little to complain about.
- Pros
Full Speed x16 on both graphics slots
Fast
Quiet - heat pipe cooling design for the chipsets
Universal PCI-E x4 slot
Hardware SB Audigy SE sound chip
Great overclocking, almost as good as ABIT AN8-32X
Additional SATA controller
Good pricing for the amount of features included
- Cons
Placement of the 8-pin power connector
- Latest Pricing
Rating - 9 out of 10 and TweakTown's "MUST HAVE" Editors Choice Award