BIOSTAR B360GT5S (Intel B360) Motherboard Review
The BIOSTAR B360GT5S is an affordable B360 motherboard with unexpected features, check out why we think so!
Published Mon, Jul 9 2018 10:00 AM CDT
|
Updated Tue, Nov 3 2020 6:57 PM CST
Introduction, Specifications, and Pricing
While many people like to build high-end gaming machines, many of those machines might never be overclocked, and in that case, Intel is offering up new chipsets. At the low-end is the H310 chipset, but the B360 chipset bridges the gap between the H310 and H370 chipset and aims to provide support for 8th Generation Core processors at much more reasonable prices while retaining high-end features such as USB 3.1 Gen 2. Today we take a look at an affordable model from Biostar.
Specifications
The B360GT5S features dual M.2 slots, Gbit LAN port, USB 3.0, USB 3.1, and SATA6Gb/s.
Pricing
The B360GT5S costs only $98
Packaging and B360GT5S Overview
Packaging and Overview
Packaging is basic, and to the point, as this is a value-centric motherboard, we will treat it as such.
The accessory package includes four SATA6Gb/s, IO shield, manual, and driver DVD.
BIOSTAR put five fan headers on the motherboard, and they all seem to be PWM mode fans, meaning they will work best with 4-pin fans. The headers do offer SMART fan control through the UEFI or Biostar's Windows program. The motherboard utilizes a matte black PCB, which is surprising as most of the time we find brownish PCBs in this price region. The black on black aesthetics are what most people want in a motherboard in this price range, and that is what Biostar is delivering. The back of the motherboard is bare, which is good, we find some solder strips on the back of where the VRM MOSFETs are, they should help lower VRM temperatures a few degrees.
The rear IO panel features a PS/2 keyboard port, two USB 2.0 ports, VGA, DVI, HDMI, USB 3.1 type-A, USB 3.1 type-C, two USB 3.0 ports, Gbit LAN, and 7.1 audio outputs.
The top PCI-E slot operates at PCI-E 3.0 x16, and it's directly connected to the PCH. The second x16 PCI-E slot is routed to the PCH and runs at x4 PCI-E 3.0. If you use either the 2nd or 3rd PCI-E x1 slot, the second x16 slot will shift down to x2 PCI-E 3.0. The last x16 slot is x4 and shares all of its bandwidth with the M.2 slot above it. The bottom M.2 slot with the heat sink is the one rated for x4 PCI-E 3.0.
The top M.2 slot is rated PCI-E x2 instead of x4, and it supports SATA based M.2 drives. It shares its bandwidth with SATA3_1. The motherboard also offers up six SATA6Gb/s ports from the PCH.
We find an 8-pin CPU power plug on the motherboard. At the top right corner of the motherboard, we find two RGB LED headers.
Front panel headers are found in the lower right corner of the PCB. We also find our BIOS ROM selector, and a clear CMOS header near the headers. The motherboard also offers up two USB 2.0 internal headers and one USB 3.0 internal header.
The motherboard uses push-pins to secure the VRM heat sink to the motherboard, it seems contact pressure is pretty good.
BIOSTAR B360GT5S Circuit Analysis
B360GT5S Circuit Analysis
The B360GT5S shows some secrets when we remove the heat sinks.
The VRM is in an 8+2 phase configuration. It uses an Intersil ISL95866 4+3 phase PWM in 4+2 phase mode. It offers two integrated drivers on the first rail and one on the second, which means Biostar had to add two ISL6608 drivers for the VCore's 4 PWM rails and one for the iGPU's 2 PWM rails. The CPU rails are doubled through doubling the component count on each driver. Sinopower SM4354 and SM4377 MOSFETs are used as the low-side and high-side MOSFETs respectively. Considering you cannot overclock a B360 chipset motherboard, this VRM should suffice.
An Anpec APW8828 PWM controller with integrated driver drives a single phase made up of Sinopower SM4377 MOSFETs for the memory VRM.
BIOSTAR B360GT5S Circuit Analysis Continued
B360GT5S Circuit Analysis Continued
The ALC1150 codec is found under the metal shield, and while it's not up to the levels of the ALC1220, it's still not typically found on motherboards at this price point. It's a modern controller, and Biostar offers up some audio grade electrolytic capacitors and a physical PCB divide to improve sound quality.
An Intel i219v PHY provides the GBit LAN port from Intel; it also offers SUPER LAN ESD protection. The USB 3.1 Gen 2 (I always call this USB 3.1, but I wanted to clarify) comes from the PCH on this motherboard. However, that signal needs to be improved once it's far from the PCH and two ASMedia ASM1562 re-drive the USB 3.1 signals. An ASMedia ASM1543 is used as a type-C switch and CC logic controller.
Biostar typically uses ELAN chips for RGB control, and here we see the eKTF5832 used to drive the two headers and built-in audio RGB LEDs. The VGA on the rear IO is not a typical type of output the iGPU provides, and that means a chip needs to be used to output VGA signals and that chip is the Realtek RTD2168.
The main SuperIO is the ITE8625E, and it handles most functions such as PS/2 on the rear IO, hardware monitoring, and fan control. The motherboard features dual 128Mbit BIOS ROMs.
ASMedia ASM1480 quick switches are on the motherboard to switch around PCI-E bandwidth.
BIOS and Software
BIOS
The UEFI is a newer UEFI from Biostar, it looks a bit more modern and has a decent look and feel to it. Overall, all settings are present, and since you can't overclock there aren't any OC issues with the product. Fan control and RGB LED control are both present, but I couldn't take screenshots of those screens. You press F5 and F6 respectively to access those menus.
Software
Software includes a few applications such as BIOS Update and eHot-Line.
Test System Setup
Steven's Motherboard Test System Specifications
The motherboard has RGB LEDs built into a strip on the left side of the PCB. The strip is kind of a pain on the eyes, but some people might like them, especially if you have a lot of GPUs.
CPU, Memory, and System Benchmarks
CINEBENCH R15
wPrime
AIDA64 FPU
AIDA64 Memory
ScienceMark
HandBrake
3DMark: Fire Strike
3DMark: Cloud Gate
ResidentEvil 6
After testing many H370 and B360 motherboards, we can see that their performance is all pretty much the same across the board, as long as you have the latest BIOS ROM. It's really how these charts should look with Z370 boards if vendors didn't try to increase speeds by small amounts by increasing BCLK a tiny bit or enabling MCE by default.
System IO Benchmarks
CrystalDiskMark SATA6G:
CrystalDiskMark M.2:
ixChariot Network Throughput:
BIOSTAR's storage and network performance are reliable, but the M.2 sequential speed was a bit lower than expected, we are sure a BIOS update could take care of this.
Audio RMAA 5.5:
I disable all audio features, set the correct bitrates, and then test the audio with a loopback test.
Sound Judgment by Ear: Good, the motherboard has basic audio performance. There are five ratings for audio: 1. Problems, 2. Okay, 3. Acceptable, 4. Very good, 5. Excellent
Thermal Imaging and Power Consumption
System power is measured at the wall with an AC power meter.
Note on Thermal Images: In the temperature section, we use our Seek thermal imaging camera to capture the surface temperatures of major components on the board. I look at the VRM and then all other things that light up the screen. If there is something to worry about, then I will state it. Otherwise, I will just show the hotter running parts of the board for fun. Unless some component is over 80-90C, then there isn't anything to worry about.
All systems will act differently, so I will look for commonalities, such as how far from the VRM the heat spreads through the PCB and the difference in temperature between the front side and backside of the PCB. Keep in mind, the majority of the heat from the VRM goes into the PCB as it is a giant soldered on copper heat sink. A lower temperature on the front of the PCB points towards a more effective heat sink.
Thermal Testing at Stock Speeds:
The image on the left is always at idle, and the image on the right is at load. During ALL TESTS, fans above the VRM that cool the CPU cooler's (Corsair H110i) radiator are turned on to high (12v).
Full frontal.
Up-close of the front of the VRM.
Up-close of the back of the VRM.
While it might not look like the best VRM, the VRM here is actually doing a pretty decent job of keeping things cool. Since you can't overclock you can't really pull too much power from the VRM, so the bottom line is to keep things under control, and that is happening here. Light load performance is decent as well. Anything under 60C is excellent, 60-80C is acceptable, and anything above 80C is a bit worrisome (if at stock).
What's Hot, What's Not & Final Thoughts
What's Hot
Lots of phases: Intel B360 motherboards typically offer up only the bare minimum, but in this case, Biostar has gone above and beyond to double up phase components and offer a 6+4 phase VRM to support all types of Intel LGA1151 new generation CPUs.
Intel LAN: At this price point we don't expect to find high-end controllers like Intel's Gbit LAN controller, but here we see that controller. Many people area die-hard Intel LAN fans and this motherboard doesn't let them down. They even provide ESD surge protection they call SUPER LAN.
Lots of Upgrade Room: The motherboard features all six of Intel's SATA ports and dual M.2 slots. However, it also offers up six PCI-e slots of varying bandwidths, but all of them can work at the same time.
Dual BIOS ROMs: The motherboard features dual-BIOS ROMs for physical redundancy, so you should be all good when flashing the UEFI.
What's Not
Some USB Stuff: We are nitpicking here, but we think the rear IO panel gives up too much space to iGPU outputs and little room to USB. We find five type-A headers and one type-C, and while two of those are USB 3.1, two are USB 3.0, while the remaining two are USB 2.0. The internal USB 3.0 internal header is positioned a bit further from the right edge of the motherboard, so for some case front USB 3.0 cables, it might be hard to reach.
Final Thoughts
The BIOSTAR B360GT5S is a solid and affordable B360 motherboard with features we didn't expect to find. For starters, we didn't expect to find an ALC 115dB SNR audio controller nor Intel's Gbit LAN controller. We are also happy to see that Biostar implemented two USB 3.1 ports. We like that one of the M.2 slots (the x4 PCI-E capable one) has a heat sink, but we aren't too impressed with the second x2 M.2 slot. We like that Biostar included all the provided SATA ports and most of the USB 3.0 ports. If you are in the market for a high-end B360 ATX motherboard, then give the Biostar B360GT5S.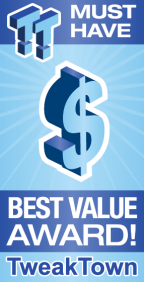 | | |
| --- | --- |
| Performance | 88% |
| Quality | 87% |
| Features | 92% |
| Value | 93% |
The Bottom Line: The Biostar B360GT5S motherboard surprised us with high-end controllers, a solid VRM, and a high amount of modern features we didn't expect at this price point.
PRICING: You can find products similar to this one for sale below.

United States: Find other tech and computer products like this over at Amazon.com

United Kingdom: Find other tech and computer products like this over at Amazon.co.uk

Australia: Find other tech and computer products like this over at Amazon.com.au

Canada: Find other tech and computer products like this over at Amazon.ca

Deutschland: Finde andere Technik- und Computerprodukte wie dieses auf Amazon.de