noblechairs HERO: the gaming chair we deserve, and need
noblechairs HERO is the biggest noblechair ever built, designed specifically for competitive gamers.

Published Thu, Aug 16 2018 8:39 PM CDT
|
Updated Tue, Nov 3 2020 6:57 PM CST
Introduction
We're half way through the year and we've already seen a few new flagship gaming chairs released into the premium side of the market, you know, gaming chairs that are in the $500-$1000 category. One of the dominant players is noblechairs, a Ferrari-like company that has an arsenal of some of the best gaming chairs on the market.
At the peak of noblechairs offerings they have the EPIC Nappa Edition and ICON Nappa Edition which are both priced just as epic at a huge $999. In between there's the normal ICON for $369 and the Real Leather versions for $579. The noblechairs EPIC range is priced similarly between $339 and $549.
The new HERO series ranges between $399 for the normal HERO while the Real Leather version costs $759. So we're talking a difference of around $100 between the higher-end EPIC and ICON series chairs at its top end, leaving room for a HERO Nappa Edition at $999 in the near future.
Is the $200 additional cost of the HERO Real Leather gaming chair worth it over the current flock of great gaming chairs? This is what we're going to go into over the review, but spoiler alert: yes it is. It's beautifully comfy and I have enjoyed my many hours ranking up in Overwatch on it, especially with a sore back over the last couple of weeks.
Shout out to noblechairs for providing me with a comfortable gaming chair to get myself back to platinum (2500 points) in Overwatch. Ha.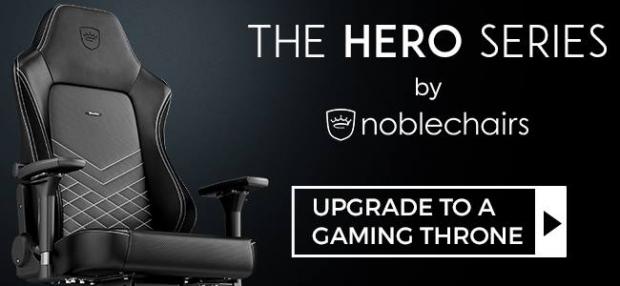 (Giveaway runs till October 6, 2018 - two to win! Click the link above for details on Facebook.)
HERO: Real Leather Makes A Difference
As with all of noblechairs' offerings the new HERO gaming chair is made from some of the best materials on the market, with the company constantly iterating upon their gaming chairs. The noblechairs HERO is no different, with the same small changes and tweaks made to it over the previous gaming chairs from the company, and it is very welcomed.
The company has aimed the new HERO gaming chair directly at eSports and hardcore gamers, with noblechairs building the HERO "from the ground up with eSports players in mind".
The new HERO gaming chair is in noblechairs' words "the ideal tool for everybody who spends prolonged hours in front of the computer", which is right down my alley. I'm sitting here for the better part of 12 hours a day (I do walk around a fair bit, but I do sit a lot both working and gaming) so the HERO is my hero. #dadjokeFTW
One of the major upgrades that noblechairs has put into the HERO is the integrated lumbar support, something that is normally reserved for high-end cars and their leather chairs. The company
Detailed Look
noblechairs HERO Real Leather Black/Red Detailed
The Red/Black styling of the HERO chair is my favorite by far, it just looks mean.
Little touches like this give noblechairs the name they've got, it looks great.
Built-in lumbar support! For anyone with a bad back or a gamer wanting a racing seat infused feel, the built-in lumbar support is awesome.
How could you not feel like a boss sitting on this chair?!
All in all the noblechairs HERO Real Leather Red/Black looks MEAN.
noblechairs HERO Black/Platinum White
In saying the above, I still dig the Black/Platinum White version of the HERO gaming chair.
The white stitching stands out more than the red stitching, but I really love the style.
It still has built-in lumbar support, too.
Butt, What Is It Like To Sit On?
I've been sitting on the noblechairs HERO Real Leather for a few weeks now as my daily driver and I can't fault it. It's comfortable to sit up straight in and do your day of work or gaming, but then just as comfortable when you pull the lever and lay down a little in it when watching something on Netflix or YouTube.
The armrests have the great ability of swiveling around so that you can adjust your chair perfectly under your desk, or when you're sitting around talking to friends or family while in the HERO gaming chair. It might not sound like much, but all of these little details really do help the entire experience and notch up noblechairs' new HERO gaming chair to the level it is playing on.
The company informed me near the end of my review that they're sending me a memory foam cushion for the HERO gaming chair, something I'm looking forward to. It's about the only piece missing from a near-perfect gaming chair.
The base of the chair feels nice and firm when you're sitting on it but not too firm to the point where you feel like you're sitting on something hard, and not 'real leather'. The same firmness is in the back rest as well, which helps a lot. I don't have a bad back but as I'm getting older (35 now) the comfort level of my chairs is incredibly important. I double down on this because I sit for a living... so I need to be comfortable which is where noblechairs comes in with the HERO Real Leather gaming chair.
What's Hot, What's Not & Final Thoughts
What's Hot
Comfortable Hero: I don't know how noblechairs continues to do it, but the HERO Real Leather gaming chair is one of the comfiest chairs I've sat on. Whether it be working or gaming, you know your butt will be in safe hands... wait, why did I just say that?
Super Long Gaming Sessions: This is what noblechairs built the HERO range for: serious gamers, the ones who stay up all night or stream all day. If you're sitting there for hours and hours everyday, noblechairs helps your posture with the design of the HERO gaming chair. This is a great thing, as you can feel better knowing your posture is being looked after from the design stage through to the leather used on the HERO gaming chair.
Best noblechairs Gaming Chair Yet: I have to say, this is noblechairs' best gaming chair yet. An awesome gaming chair that will put a smile on your dial, and not hurt your back in the process.
Built-In Lumbar Support: Another part that noblechairs nailed: built-in lumbar support. Some people don't like it, but there are plenty of people who love lumbar support in their car chairs... so why not your gaming chair? The company is really keeping your back and posture in the best possible position with the HERO gaming chair.
What's Not
Reviewing a gaming chair like the noblechairs HERO is hard when it comes to these points, where the negatives have to be looked at. It's hard because there aren't many... there's built-in lumbar support, super-adjustable armrests and a super-comfy feel to the entire chair. Negatives? I'd be nit-picking, but the memory foam pillow at this cost would've been nice to have out of the box... but that's about it.
Other than that, we have a near-perfect gaming chair with the noblechairs HERO range.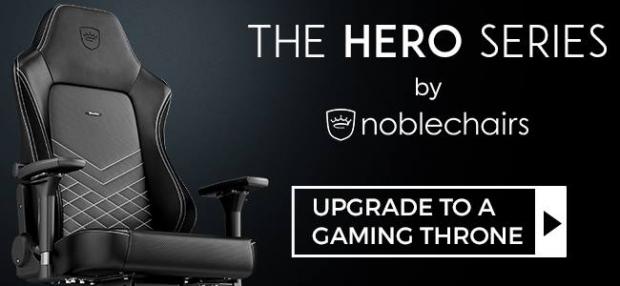 (Giveaway runs till October 6, 2018 - two to win! Click the link above for details on Facebook.)
Final Thoughts
The new noblechairs HERO gaming chair is pure bliss for your gaming hearts and bodies, providing you with a truly comfortable chair for your money.
The real leather version costs a rather hefty $759 in the US but what price do you put on something you sit at every time you use your PC? Gamers will spend so much on a feature-laden motherboard, yet will buy a cheaper chair.
Don't.
If you can afford it, you won't regret an investment into a chair like the noblechairs HERO Real Leather gaming chair. It helps with your posture, it is super-comfortable, has plenty of adjustment, built-in lumbar support, and a memory foam pillow on the way.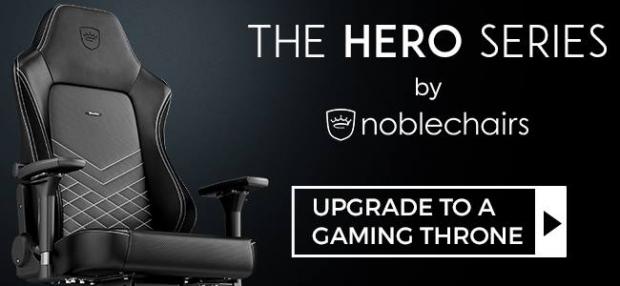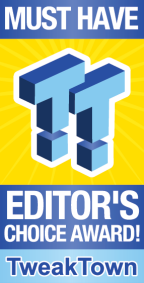 | | |
| --- | --- |
| Comfort | 100% |
| Quality (design, build quality, etc) | 95% |
| General Features (armrests, adjustments, etc) | 95% |
| Ease of Setup | 95% |
The Bottom Line: noblechairs hits the nail on the head with the HERO Real Leather gaming chair, with slick styling and upgrades over its previous chairs. It's super luxurious and comfortable to sit on, aimed squarely at not just eSports gamers, but any gamer who spends considerable time at their PC.
PRICING: You can find products similar to this one for sale below.

United States: Find other tech and computer products like this over at Amazon.com

United Kingdom: Find other tech and computer products like this over at Amazon.co.uk

Australia: Find other tech and computer products like this over at Amazon.com.au

Canada: Find other tech and computer products like this over at Amazon.ca

Deutschland: Finde andere Technik- und Computerprodukte wie dieses auf Amazon.de
We openly invite the companies who provide us with review samples / who are mentioned or discussed to express their opinion. If any company representative wishes to respond, we will publish the response here. Please contact us if you wish to respond.