TweakTown's Rating: 93%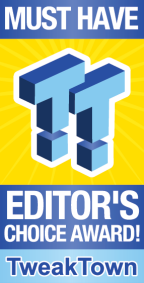 The Bottom Line
For workstation PCs and content creators, the ASUS ProArt PA27AC should be at the top of your list. Thunderbolt 3 connectivity is an AMAZING tool for high-end displays. GET IT NOW!
Introduction, Quick Specs, and Availability & Price
The monitor market is filled with gaming displays, but workstation and professional monitors are still making big waves in the market, something that ASUS is driving home with their ProArt PA27AC HDR professional monitor.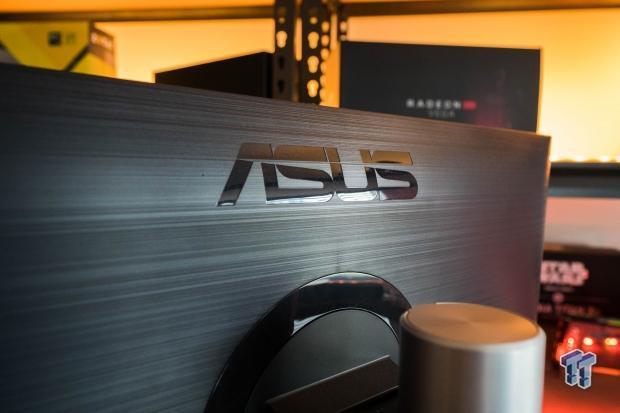 ASUS uses a 27-inch WQHD IPS panel with a beautiful frameless design on the ProArt PA27AC, with 100% of sRGB color gamut, and HDR functionality. There's super-fast Thunderbolt 3 connectivity that drives up to 40Gbps with USB-C and power delivery that pumps up to 45W of power to external devices.
The big selling point here is that ASUS uses their in-house ProArt Calibration Technology that offers "advanced adjustment including a 14-bit lookup table for color accuracy and 5x5 grid uniformity testing". Out of the box color and sharpness is truly out of this world, a big deal for the ASUS ProArt PA27AC.
Quick Specs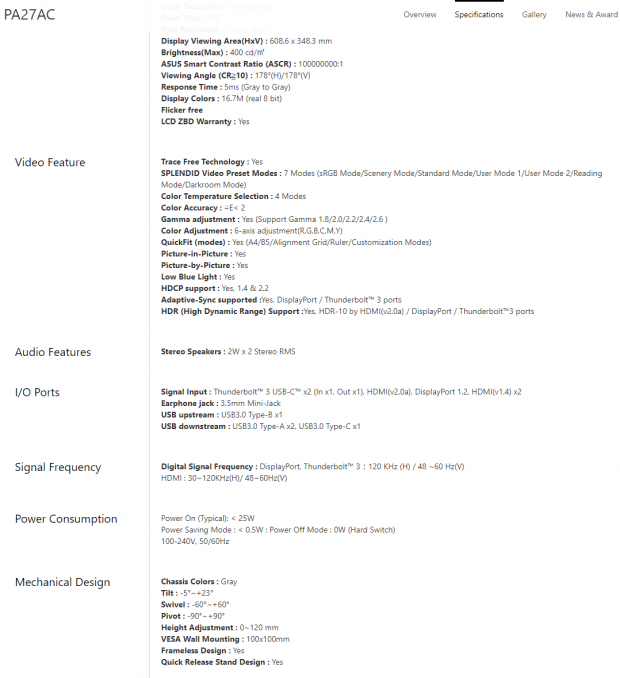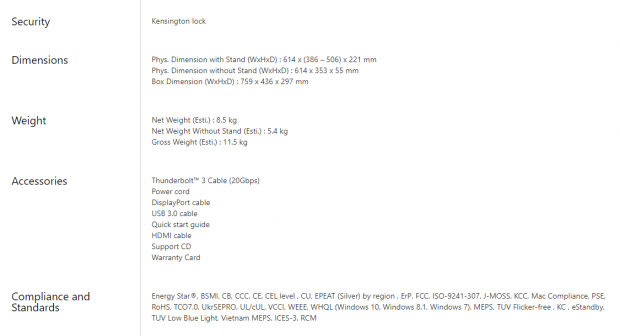 Availability & Price
The ASUS ProArt PA27AC is on Amazon right now for $699.
Packaging & Detailed Look
ASUS includes two USB-C ports that support Thunderbolt 3, which means you can drive up to 40Gbps through the ProArt PA27AC. There's also DisplayPort for connectivity, while USB 3.1 with Power Delivery handles up to 45W for external devices that need to draw more power.
This means you can drive more displays and daisy-chain monitors through a single port thanks to Thunderbolt 3, without needing a hub or a switch that really adds too many headaches (and more damn cables) to your setup. You don't need to do that here with the ProArt PA27AC.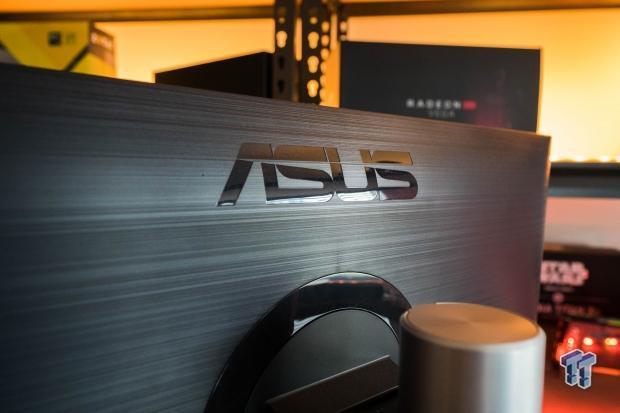 ASUS drives it home with the style of the ProArt PA27AC.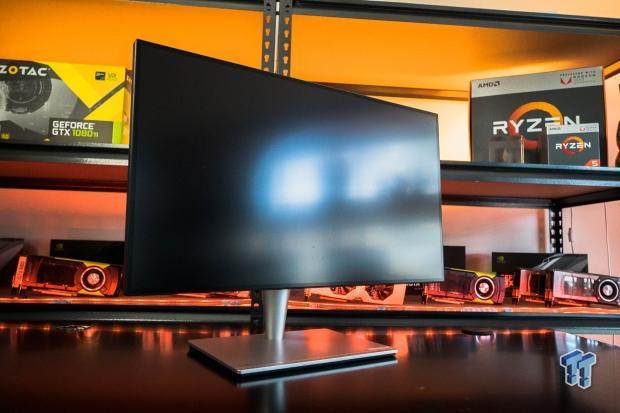 The frameless design looks great in person, with barely-there borders on a beautiful panel.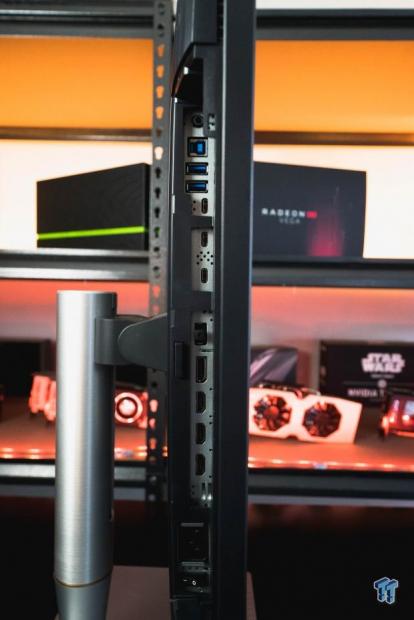 DisplayPort, HDMI, USB-C, UDB 3.0 are all on-board.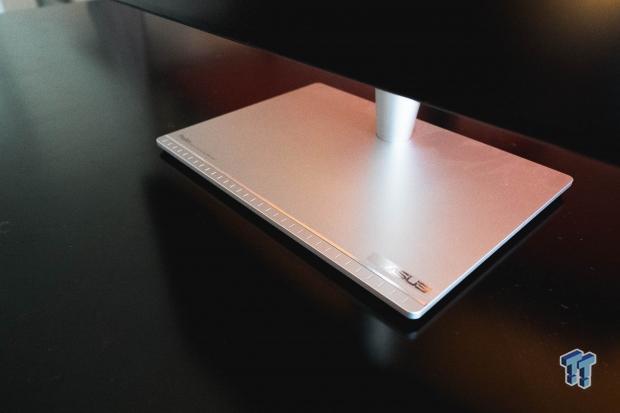 The same style goes into the stand of the ASUS ProArt PA27AC monitor.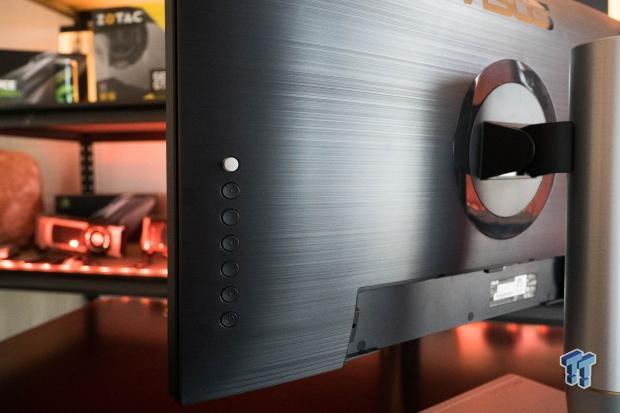 Even on the back, ASUS put time into the buttons used to make tweaks to the display.
Test System Configuration
Test System
I've recently edited my GPU test bed, which was powered by the Intel Core i7-5960X processor, and shifted into the arms of Kaby Lake and the Intel Core i7-7700K. GIGABYTE hooked us up with their awesome AORUS Z270X-Gaming 9 motherboard, which is the heart and soul of my new GPU test platform.
This system will be changed in the coming weeks, with a Core i7-8700K.
Detailed Tech Specs
CPU: Intel Core i7-7700K
Cooler: Nocua U12S
MB: AORUS Z270X-Gaming 9
RAM: 16GB (2x8GB) G.SKILL Trident Z 4000MHz DDR4
SSD: 1TB OCZ RD400 NVMe M.2
PSU: Corsair AX1500i
Chassis: In Win X-Frame
Detailed Look
A larger article on our 7700K system is available right here.
Here are some shots I've taken of the new system in action: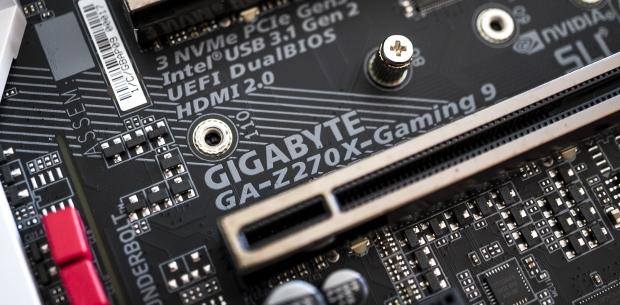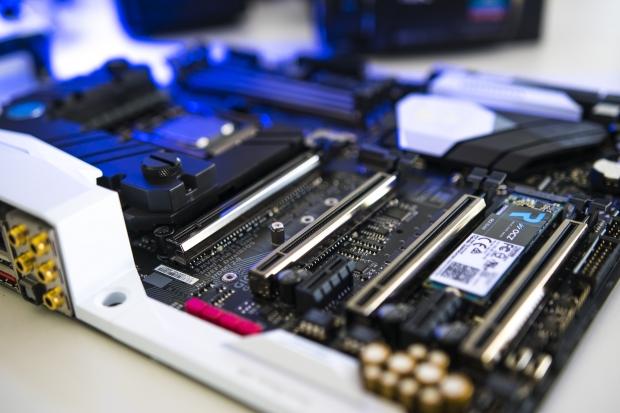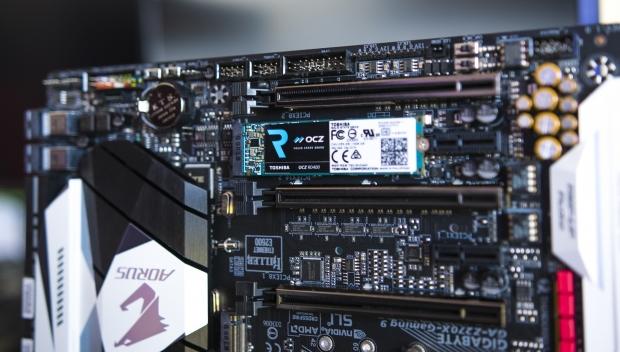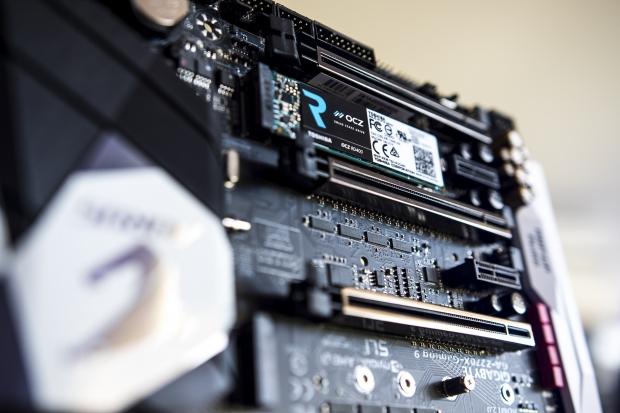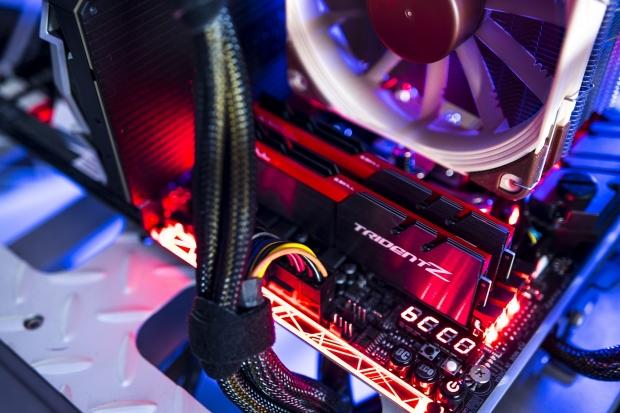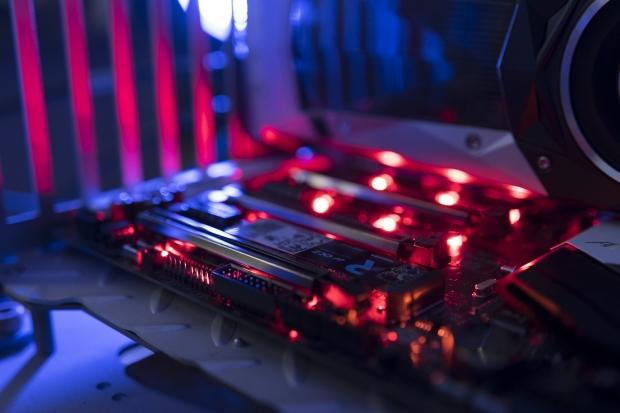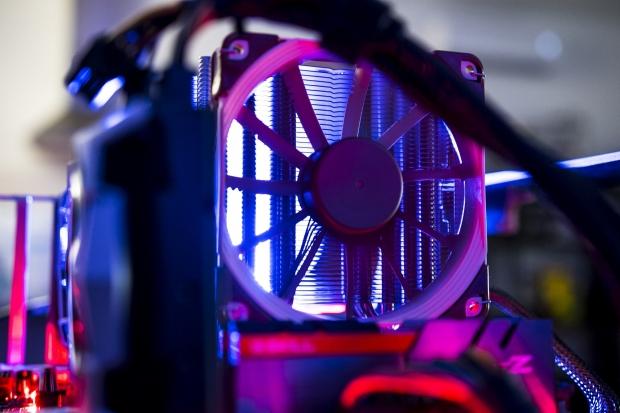 Everyday Use & Gaming
I used the ASUS ProArt PA27AC for around a week for the purposes of this review, with over 50 hours of looking at the screen in its stock form without any adjustments made to the screen.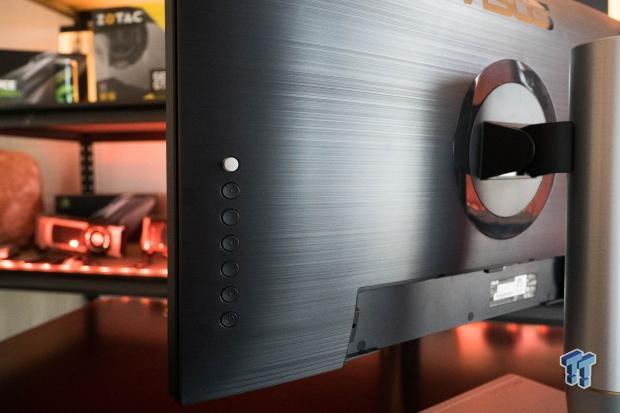 Next to it, I had a AOC's gaming-focused AGON AG322QCX, a 31.5-inch 2560x1440 144Hz that uses a lesser-quality MVA panel. It's nice to have these monitors side-by-side as I can use the professional/workstation monitor for everything that I'm reading and doing, while gaming on a separate monitor at 144Hz.
After using the ASUS ProArt PA27AC for a week, I came to really respect the quality of the image compared to the MVA panel on the right. I had used the MVA panel for around a month as my primary driver to prepare for the upgrade to the IPS-based ASUS ProArt PA27AC, and it was a good way of coming into this review.
I'm not someone who is going to be like "OMG the 100% sRGB coverage is LYF", but the color reproduction, quality, and sharpness of the ASUS ProArt PA27AC was on-point. Clear, vivid colors and videos that made everything look better... not just text.
YouTube videos in 1440p or 4K looked glorious, and so did going through all of my recent photos. Workstation use is going to be hard to come down from, as I have to return this monitor at the end of the review... and I really won't want to let it go, ever.
One of the things you notice on the ASUS ProArt PA27AC is the impossible small bezel, that is so thin it makes other monitors look ridiculous. It makes the smaller 27-inch panel feel bigger, even though it isn't.
What's Hot, What's Not & Final Thoughts
What's Hot
Amazing Panel Quality: ASUS has the world's first 27-inch HDR400 with Thunderbolt 3 professional monitor in its hands with the ProArt PA27AC. It rocks a beautiful WQHD IPS panel with 4-side frameless design, 100% sRGB color gamut, up to 400 nits of brightness, and support for HDR-10.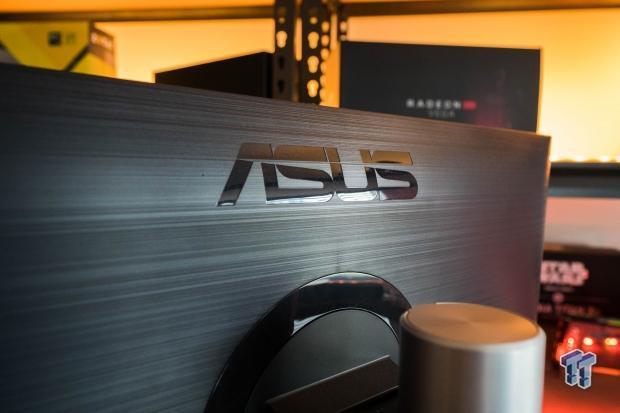 It's a gorgeous display to look at and work with, especially for the sometimes 10+ hour days I put into work. My eyes didn't strain, thanks to its Advanced ProArt calibration technology. The native 2560x1440 resolution is perfect for the 27-inch panel, as 4K is just too small on a 27-inch display.
Advanced ProArt Calibration Tech: ASUS ships its ProArt PA27AC with factory pre-calibration that ensures perfect color accuracy, making it perfect for graphic designers, photographers, and other content creators who need high color accuracy. This also saves time with users not needing to perfectly calibrate the display, as ASUS has it all done for you to provide the best out-of-box experience.
Thunderbolt 3: The inclusion of Thunderbolt 3 allows the ASUS ProArt PA27AC to drive up to 40Gbps of bandwidth through a single cable, with DisplayPort and USB 3.1 with Power Delivery up to 45W for external devices. This is a huge win for anyone buying this monitor, especially content creators who are plugging in cameras, streaming devices, other displays, external HDDs, and more into the ProArt PA27AC.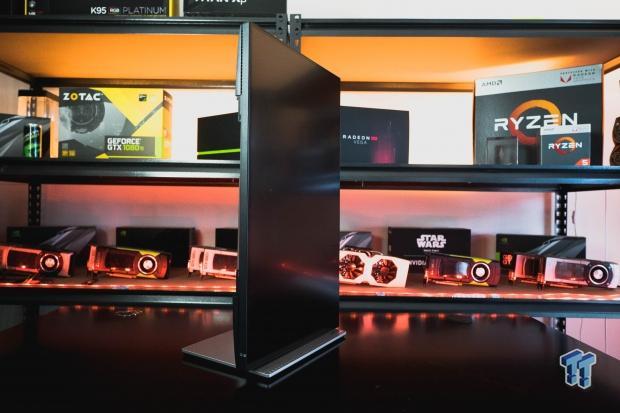 Swivel, Pivot, Tilt & Height Adjustment: Another design win for the ASUS ProArt PA27AC is the ability for a 60-degree swivel, 90-degree pivot, -5 to +23-degree tilt, and 0-120mm of height adjustment. If you don't want the display in landscape mode and wanted more vertical space, then just pivot the display to full vertical if you're working with spreadsheets and Word documents all day long.
What's Not
I couldn't find a thing wrong with the ASUS ProArt PA27AC with my time with it. I might need to be pumping out videos all day long or working with super-huge uncompressed photos to realize if there are any flaws. But from a workstation and all-day, all-month use from the PA27AC, it was a breeze to use and a joy to my eyes.
I'm an avid display fanatic, so the only issue I have is the 60Hz limitation so games don't feel anywhere near as liquid smooth as the 144Hz display beside it. But looking between the two displays for color accuracy and sharpness, there's simply no competition. I can't use the TN-based 144Hz panel for work anymore... so ASUS... you're to blame for that. Hah.
Final Thoughts
After around a month with the ASUS ProArt PA27AC, I can see why ASUS put so much heart and soul into their displays. It's not just the gaming market that needs high-end, great displays but the professional industry needs them even more.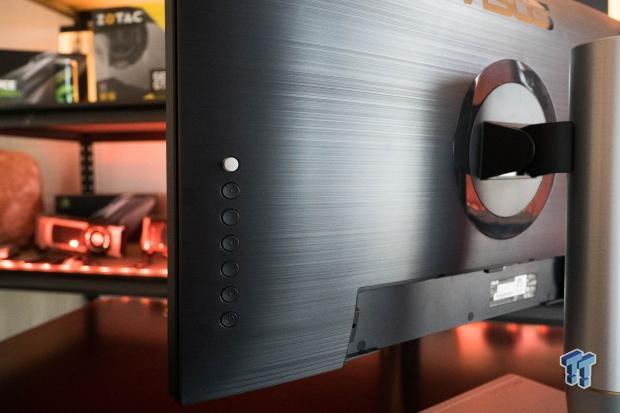 Think about the millions of graphic designers, writers, content creators, photographers, videographers, and other professionals who need a high-end display. ASUS can cater to this market with multiple sizes as it has the ProArt range in 27-inch and 32-inch form, with the 32-inch split into two displays.
First, there's the ProArt PA32UC which is a larger 32-inch display with 4K and HDR support with direct-LED, and 384 zones of local dimming. Then there's the ProArt PA329Q which has the same sized 32-inch panel at 4K but uses an IPS-based Quantum Dot pane with 99.5% of Adobe sRGB support.
There's a size for everyone, with the ProArt PA27AC being one of the best displays I've had the pleasure of using. It won't blow you away in games, but I don't see gamers buying this. For professionals, there should be no regrets with the ASUS ProArt PA27AC. It's packed full of features as well thanks to its pivot/tilt/swivel abilities, with Thunderbolt 3 providing a very inciting cherry on top.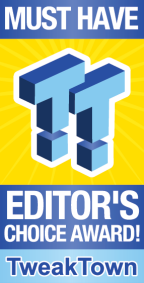 | | |
| --- | --- |
| Performance | 90% |
| Quality | 95% |
| Features | 95% |
| Value | 90% |
The Bottom Line: For workstation PCs and content creators, the ASUS ProArt PA27AC should be at the top of your list. Thunderbolt 3 connectivity is an AMAZING tool for high-end displays. GET IT NOW!
PRICING: You can find products similar to this one for sale below.

United States: Find other tech and computer products like this over at Amazon.com

United Kingdom: Find other tech and computer products like this over at Amazon.co.uk

Australia: Find other tech and computer products like this over at Amazon.com.au

Canada: Find other tech and computer products like this over at Amazon.ca

Deutschland: Finde andere Technik- und Computerprodukte wie dieses auf Amazon.de
We openly invite the companies who provide us with review samples / who are mentioned or discussed to express their opinion. If any company representative wishes to respond, we will publish the response here. Please contact us if you wish to respond.