ASUS P5N32-SLI Motherboard - 955X vs. nForce4 IE x16
Today we're looking at the ASUS P5N32-SLI motherboard based on nVidia's nForce 4 Intel Edition x16 chipset.
Published Tue, Jan 10 2006 11:00 PM CST
|
Updated Tue, Nov 3 2020 7:04 PM CST
Rating:

95%
Manufacturer: ASUS
Introduction
It isn't a mystery to us that nVidia has released a second nForce 4 Intel Edition chipset. nVidia has had a track record of not getting it perfect the first time around, but we have to give it to the 3D giant - they are always willing to fix a flop, and this is one of the times we are happy to see a new revision.
The original nForce 4 Intel Edition was plagued with a few major problems. The first was that it still needed to use two PCI Express x8 slots to get SLI, rather than using two PCI-E x16 slots like it was originally planned to have. The most important flaw was compatibility with Intel's top of the line processors. nForce 4 Intel Edition would not work with the Intel Pentium Extreme Edition Dual Core with Hyper-Threading CPU's, it would simply result in a locked up system after about 20 minutes of use.
The new nForce 4 Intel Edition x16 has come to the party to remedy the problems of the past, and today we have ASUS's offering on the table. So come with us to have a gander at the ASUS P5N32-SLI motherboard.
Specifications
Specifications of the ASUS P5N32-SLICPU
Supports Intel Pentium 4 5xx Series (800FSB)
Supports Intel Pentium 4 6xx Series (800FSB)
Supports Intel Pentium D 8xx Series (800FSB Dual Core)
Supports Intel Pentium Extreme Edition (800FSB Dual Core with HT)
Supports Intel Celeron D Series (533FSB)
Supports Intel Pentium 4 Extreme Edition (800-1066FSB LGA775 Only)
Chipset
nVidia nForce4 SLI x16 Intel Edition
nVidia nForce4 C19 SSP
nVidia nForce MCP804
Hyper Transport at 8GB/s
System Memory
4 DDR2 SDRAM 240pin DIMM Sockets
Supports DDR2-533/667/800Mhz
Supports up to 8GB Total Memory (4x 2GB)
Bus Frequency
133/200/266MHz Internal
533/800/1066MHz External
Netburst Micro Architecture
Expansion Slots
2 PCI Express x16
2 PCI Express x1
1 PCI Express x4
2 PCI
Connectivity
1 Parallel ATA port supporting 2 IDE Drives
5 Serial ATA ports
1 e.SATA Port
2 Gigabit Ethernet Port
Expansion Ports
1 PS2 Keyboard Port
1 PS2 Mouse Port
8 USB 2.0 Ports
1 e.SATA Port
1 Parallel Port
1 SPDIF Ports
6 Stereo Audio Ports
Package and Contents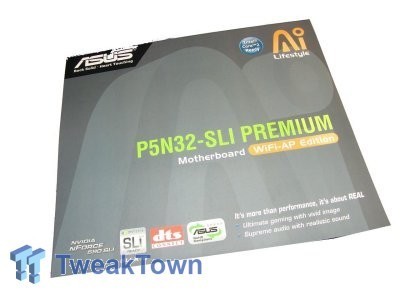 ASUS's latest series of deluxe motherboards are now packaged in a black series box with the AILife, ASUS logos and the name of the board model number. The box is a two stage package with an outer boxing that encases the actual boxing that stores all the parts and accessories. On the back of the box is a list of all the features and specifications of the board itself, so you can see what you're getting before you even open the box.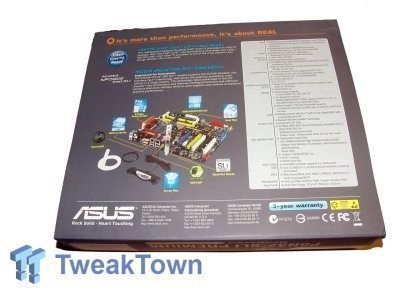 In terms of documentation and install aids, ASUS simply puts in a user manual with a rather large footprint. The manual contains everything you will ever need or want to know about the board. The CD included comes with a digital manual in PDF format, drivers for both Windows XP 32bit and 64bit, depending on what OS you are running. The CD also supports a boot function that if you want to create a Windows Mass Storage Driver Floppy for the nVidia RAID setup you can do it from a menu setup ASUS provides in DOS environment.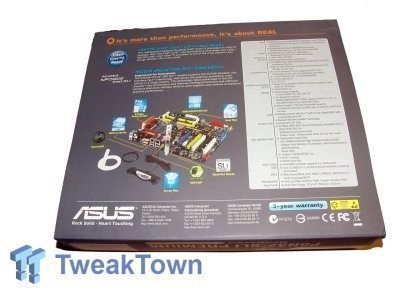 ASUS is one of the best manufacturers for adding in extras for their boards. The first thing we saw when opening the box was two special rotary fans. According to the user manual, these fans attach to the heat pipe sinks in the event of the user running water cooling, this we will explain later on in the article.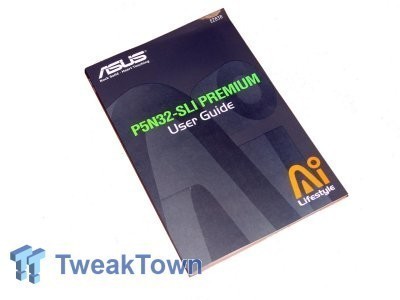 ASUS is one of the few manufacturers who actually places extra space between their two graphics ports allowing you to use Arctic VGA coolers. The standard PCB based SLI bridge doesn't reach. ASUS uses a ribbon cable that resembles what is used in laptop's to connect track pads to the boards.
The Motherboard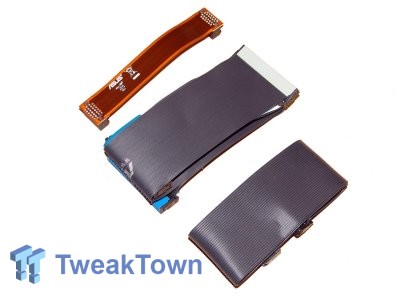 ASUS uses a full sized ATX board measuring 30x30cm and uses 6 layers in order to route all of the trace wires for the nForce 4 SLI x16 Intel chipset, as extra wires are now used.
The first thing we want to mention is this board's power features. ASUS has gone all out to give this board a clean and stable power profile. The P5N32-SLI uses a 6 phase voltage regulation system. With the Pentium Extreme Edition now supported on the P5N32-SLI series, 150 watts of power is going to be needed for just standard speeds but what happens when overclocking - a 4 phase would simple go completely out the window.
ASUS on its last series of enthusiast boards did a perfect job of placing the connectors for cables so that the board manages to achieve the best air flow profile. The P5N32-SLI also inherits this quality. The 24-pin ATX power connector is located at the right hand side of the board along with the two IDE ports and FDD port. An 8-pin EPS power connector is located at the top of the board just behind the PS/2 ports.
You can also see in this photo the extensive heatpipes that ASUS use to cool the board. The pipes go from the Northbridge to the left most Mosfets heatinks, the Southbridge pipe goes to the upper most Mosfet sinks. If you choose to go water cooling, the two fans we showed earlier are for installing onto the top of the Mosfet heatsinks. When using conventional air cooling, the additional fans aren't required.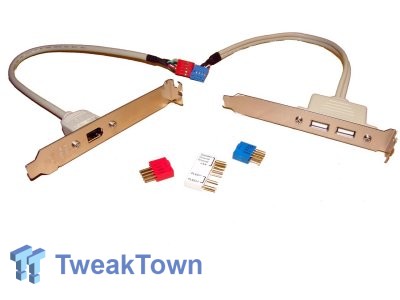 The expansion slots are very extensive. First off you have two PCI-E x16 slots, both running at full x16 speeds. This allows for the use of nVidia SLI video cards to both run at full speed PCI-E. There are also two PCI-E x1 slots for adding in additional devices like TV Tuners, SATA controllers and other devices to show their faces on the market. There is also one PCI-E x4 slot, these are normally only found on server boards for SAS, SCSI and high powered SATA controllers. Lastly there are two PCI slots for legacy support until PCI-E fully takes over PCI's ability to support all devices on the market.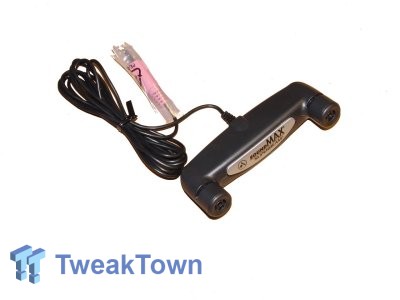 The rear I/O ports are somewhat non-standard, but then again, these days every motherboard manufacturer has their own layout. Most of the normal ports are there, PS/2, Parallel and USB are all present. What is different is the e.SATA port. While at a press conference with Seagate recently, we learnt that with the new SATA 2.5 spec, external Serial ATA will soon make its presence felt, and the e.SATA port that ASUS has put on the back plane is what will be used to connect e.SATA to the main system. The e.SATA port runs off a separate SATA controller chip onboard.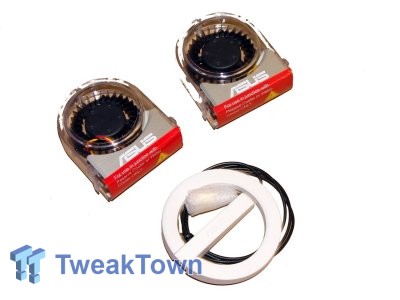 The nForce 4 SLI x16 Intel Edition is a two chip solution, like its younger brother. The new chip supports two full speed PCI Express x16 slots for SLI, which means no more paddle card to set SLI mode and this is achieved very simply. The Northbridge has 16 PCI Express lanes which are routed to the blue PCI-E x16 slot. The Southbridge has 24 PCI Express lanes, 16 of these are set to an additional PCI-E x16 slot on the board (the black one). The rest of the lanes are used for the expansion slots on the board.
Apart from additional PCI-E lanes, the Southbridge's features remain unchanged from the original Intel NF4 chipset. The Northbridge has been re-worked in order to support the Intel Pentium Extreme Edition CPU's, something the original NF4 chipset would not properly do. The Northbridge and Southbridge are connected together using AMD's Hyper Transport Technology at the same speed that AMD uses to connect its Athlon 64 to external chipsets, however, the multiplier is only at 3x giving over 6GB/s of data transfers.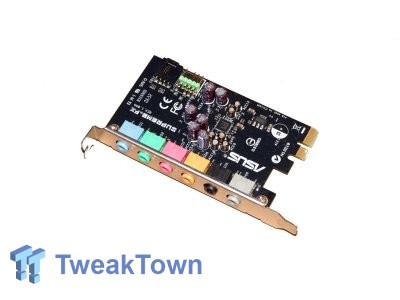 Gigabit Ethernet is now a standard feature of modern motherboards, and dual Gigabit is now becoming an even greater feature. The P5N32-SLI features a Dual Gigabit setup. First you have the onboard nVidia nForce4 Gigabit LAN with the Marvell 88E1111 PHY controller chip with built in Firewall function. The final Gigabit controller is a PCI-E Marvell 88E4035 controller chip.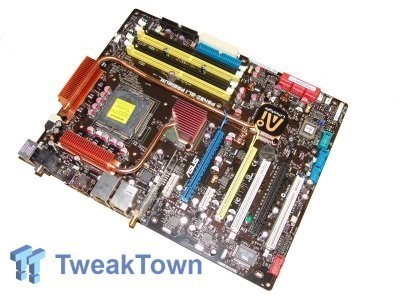 Firewire controllers are now common place. The Texas Instruments PCI based IEEE-1394 controller gives two Firewire-400 ports.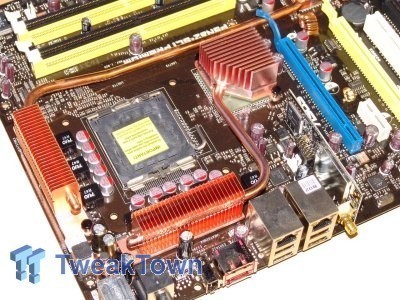 Silicon Image controllers are now showing up on motherboards as the expansion chips of choice. ASUS has put the SIL3132 PCI-E controller chip onboard to give two extra SATA ports. One port is located above the top PCI-E x1 slot and the second port is routed to the e.SATA port.
Overclocking
An Overclocking God!
Now this is where the fun begins. ASUS has for the past three years seen the light of the overclockers market, partly because they wanted to increase their shares, but mostly to nock ABIT out of the top enthusiast motherboard manufacturers spot, and in my honest opinion have managed to do that.
ASUS uses an Award BIOS 6.0, however, the layout is almost unique to ASUS, only Albatron and Intel Desktop boards use the menu system rather than the old blue interface.
To find the overclocking features you need to select the advanced tab from the top menu, from there it's pretty simple to find the functions you want. The Jumperfree section is where all the overclocking settings are available for your selection.
ASUS, like Gigabyte and MSI now incorporates an automatic overclocking system. MSI calls it Core Cell, Gigabytes is CPU Intelligent Overclocking and ASUS calls it AI Overclock. Under the Jumperfree menu is the AI Overclocking feature which has four settings - Auto (Default), Overclock Profile, AI N.O.S and Manual.
Overclock profile sets a determined FSB and memory ratio, which stays at that speed no matter what. AI N.O.S works on system usage. You can adjust from 5% up to 15% overclock ratio. When the system status reaches 100% CPU usage for a certain amount of time, the FSB, Memory and CPU voltages are raised incrementally until they hit the % that is set. Manual setting releases all the overclocking options to the user to adjust at their own free will.
First setting is the System Clock mode. This can be set from Auto, Linked or Manual. On auto you simply overclock the FSB from 100MHz up to 400MHz in 1MHz increments. When set to linked, the memory is overclocked at the same rate as the FSB depending on the divider used. In manual mode, you can raise the FSB without clocking the memory, and overclock the memory without clocking the FSB. DRAM selection in this setting is from 200MHz up to 1600MHz DDR (though the latter is a very unrealistic setting, but how knows in a few more months what memory may arrive).
PCI Express Frequency allows you to select what speed you want your PCI Express clock to run at. Settings are from 100MHz up to 148MHz in 0.025MHz increments. PCI Express is very sensitive to clocks above 100MHz; in fact PCI-E slots begin to show instability at even 105MHz - leaving it at 100MHz is the best option.
The Voltage options that ASUS give you are simply amazing. In all there are 5 separate voltages. The most important are the first two - CPU and memory. CPU voltages can be adjusted from 1.0v up to 1.7v in 0.025v increments. Memory voltage is selectable from 18.v up to 2.4v in 0.1v increments.
FSB termination voltage controls the voltage that is used on the CPU to Northbridge link; this is very helpful for extreme FSB overclocking. Settings are from 1.215v up to a maximum of 1.415v in 0.015v increments.
Northbridge voltage is used to stabilise the Northbridge when overclocking the FSB, Memory and Hyper Transport links. Setting range is from 1.4v to 1.6v in 0.1v increments.
Southbridge voltage is used to stabilise the SATA, PCI and Hyper Transport links when the system is in extreme overclocking setups voltage range is from 1.4v to 1.6v.
ASUS also provides a sub menu called performance options. In here you can control the EMI Spread Spectrum settings for SATA, NB/SB Strap, DRAM and a few other tweaks. The most interesting one is the Hyper Transport link speed; you can adjust the width and the speed of the Northbridge to Southbridge Link. You can set the Uplink to either 8 or 16 bits and set the speed to 600, 800 or 1000MHz. the Downlink options are the same, and can be set independent from the Uplink speed, though why you would want to change them considering that 16 bit at 1000Mhz would be the best option, and they are totally asynchronous from the system clocks, meaning they don't change when the FSB changes, unlike AMD Athlon 64 CPU's.
With all these features you would expect us to get a good amount of overclocking out of this board, you are not wrong here. We raised the CPU voltage to 1.5v, Memory to 2.2v, FSB term voltage to max, NB and SB voltages at 1.5v, PCI Express locked to 100, Hyper Transport links at 1000MHz and 16bit connection we managed to hit a FSB of over 361MHz - a record for any Intel Pentium 4 board we have tested so far. We also kept the memory locked at 800MHz DDR to eliminate any memory limitations which is easy through the asynchronous nature of the nVidia chipset.
Benchmarks - Test System Setup and Sandra
Test System SetupProcessor
: Intel Pentium D 840 (800MHz FSB) (Supplied by
Intel
)
Memory
: 2x 1GB Corsair DDR2-800
Hard Disk
: 2x Seagate 7200.9 (RAID 0) (Supplied by
Seagate
)
Graphics Card
: ATI Radeon X800XT Platinum (Supplied by
ASUS
)
Operating System
: Microsoft Windows XP SP2
Drivers
: ATI Catalyst 5.12 and DX9c
We've compared the new ASUS P5N32-SLI against the ASUS P5WD2 which is based on the Intel 955X chipset. Both boards have a stunning feature-set, but which offers the best performance?
Let's find out!
SiSoft SandraVersion and / or Patch Used:
2005 SR3a
Developer Homepage:
http://www.sisoftware.co.uk
Product Homepage:
http://sisoftware.jaggedonline.com/index.php?location=home&a=TTA&lang=en
Buy It Here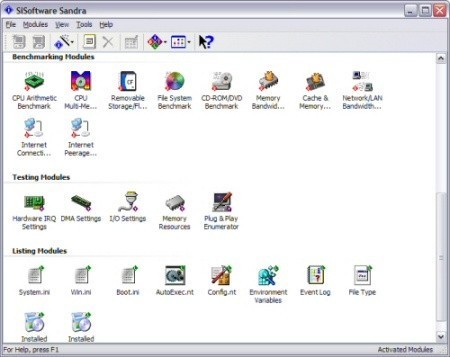 SiSoft Sandra (
S
ystem
AN
alyser,
D
iagnostic and
R
eporting
A
ssistant) is a synthetic Windows benchmark that features different tests used to evaluate different PC subsystems.
It is clear that nVidia's DDR-2 memory controller is far superior to the Intel 955X controller.
Benchmarks - PCMark
PCMarkVersion and / or Patch Used:
1.2.0
Developer Homepage:
http://www.futuremark.com
Product Homepage:
http://www.futuremark.com/products/pcmark04/
Buy It Here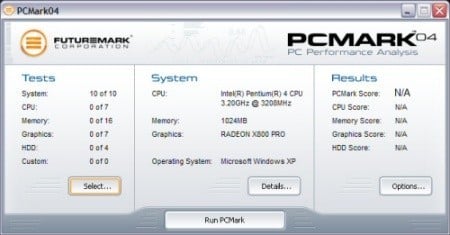 PCMark is a multipurpose benchmark, suited for benchmarking all kinds of PCs, from laptops to workstations, as well as across multiple Windows operating systems. This easy-to-use benchmark makes professional strength benchmarking software available even to novice users. PCMark consists of a series of tests that represent common tasks in home and office programs. PCMark also covers many additional areas outside the scope of other MadOnion.com benchmarks.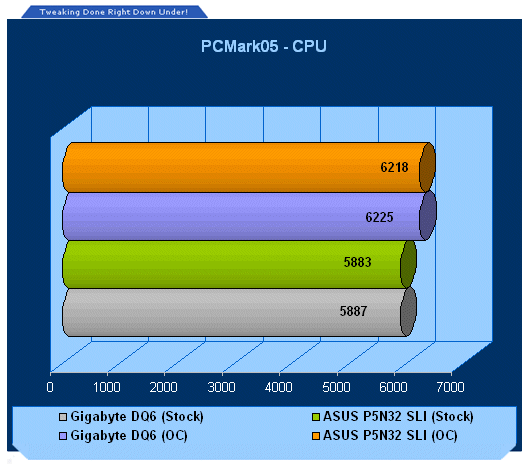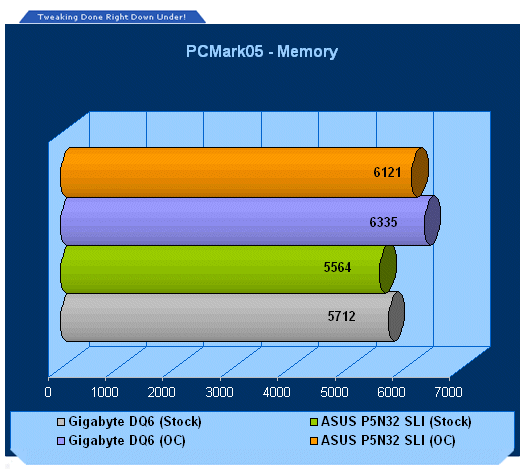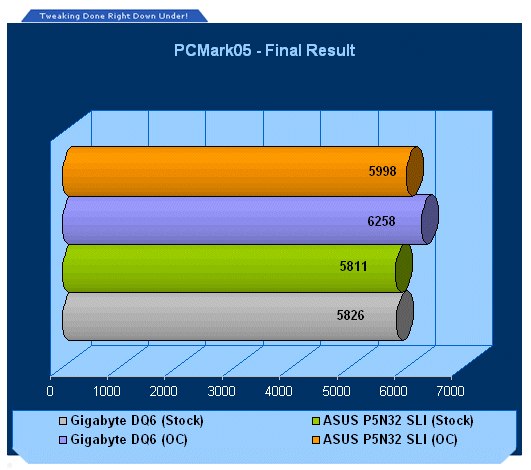 Both Hard Disk and Memory subsystems are of better design second time around.
Benchmarks - 3DMark Series
3DMark03Version and / or Patch Used:
Build 360
Developer Homepage:
http://www.futuremark.com
Product Homepage:
http://www.futuremark.com/products/3dmark03/
Buy It Here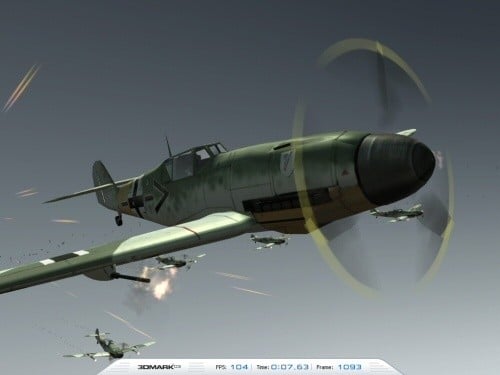 By combining full DX8 and partial DX9 support with completely new tests and graphics over the previous version, 3DMark03 continues the legacy of being the industry standard 3D benchmark.
Please Note: Due to recent events with the 3DMark03 series, we are adding results purely for those who are still in favor of 3DMark03. These results should not be taken too seriously and are only added for interest sakes.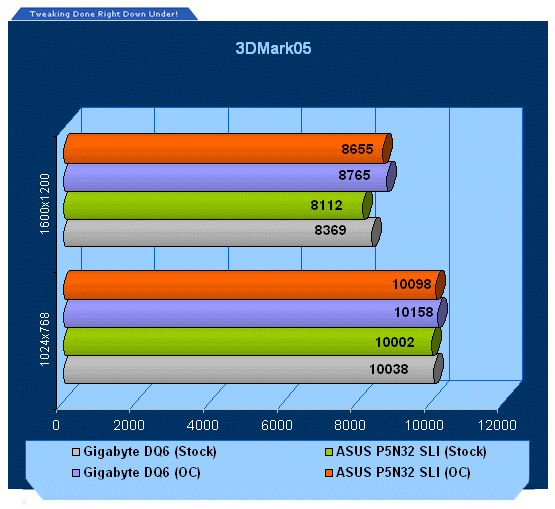 3DMark03 shows that the P5N32-SLI is the more superior motherboard compared to the P5WD2.
3DMark05Version and / or Patch Used:
Build 120
Developer Homepage:
http://www.futuremark.com
Product Homepage:
http://www.futuremark.com/products/3dmark05/
Buy It Here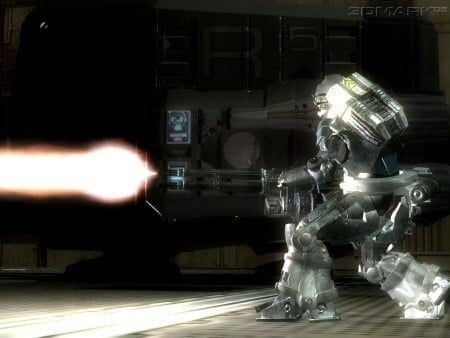 3DMark05 is the latest version in the popular 3DMark "Gamers Benchmark" series. It includes a complete set of DX9 benchmarks which tests Shader Model 2.0 and higher.
For more information on the 3DMark05 benchmark, we recommend you read our preview
here
.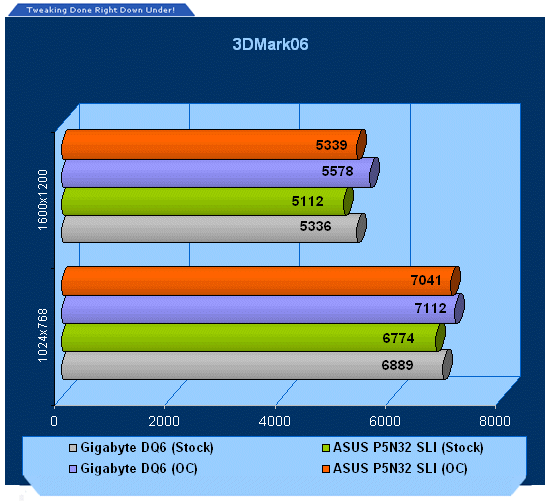 3DMark05 shows the P5N32-SLI even further in front of the P5WD2.
Benchmarks - Doom 3
Doom 3Version and / or Patch Used:
Unpatched
Timedemo or Level Used:
Custom Timedemo
Developer Homepage:
http://www.idsoftware.com
Product Homepage:
http://www.doom3.com
Buy It Here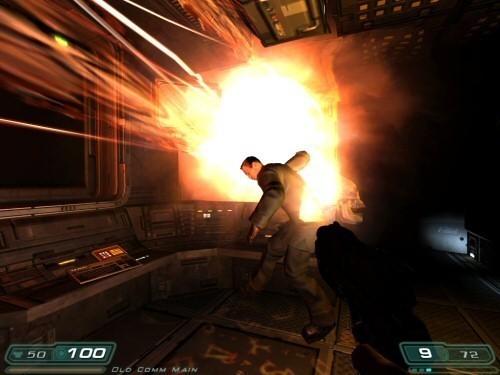 Doom 3 is the latest game to hit our test lab and is one of the most intensive games to dates. With our own custom time demo we are able to give a realistic rating on what kind of FPS you will be achieving.
For more information on benchmarking Doom 3 we recommend you check out our extensive article regarding it
here
.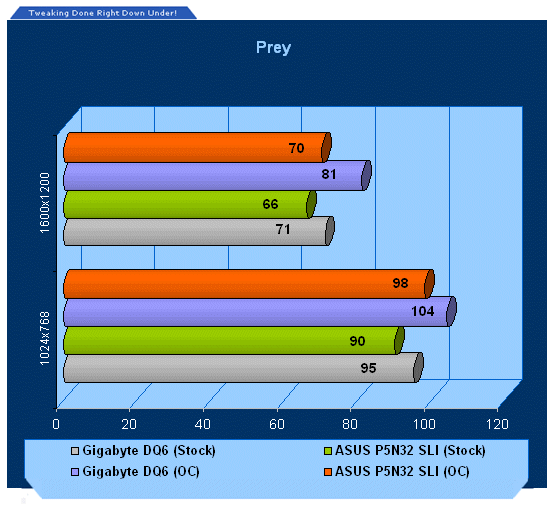 Doom 3 gives the win to the P5N32-SLI.
Benchmarks - Half Life 2
Half Life 2Version and / or Patch Used:
Unpatched
Timedemo or Level Used:
Custom Timedemo
Developer Homepage:
http://www.valvesoftware.com
Product Homepage:
http://www.half-life2.com
Buy It Here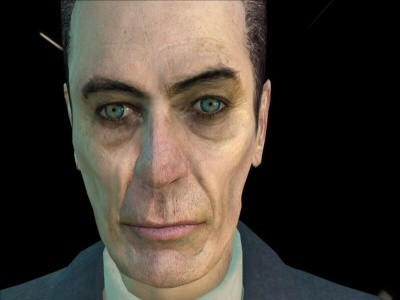 By taking the suspense, challenge and visceral charge of the original, and adding startling new realism and responsiveness, Half-Life 2 opens the door to a world where the player's presence affects everything around him, from the physical environment to the behaviors even the emotions of both friends and enemies.
We benchmark Half Life 2 with our own custom timedemos as to avoid possible driver optimizations using the "record demo_name" command and loading the timedemo with the "timedemo demo_name" command - For a full list of the commands,
click here
.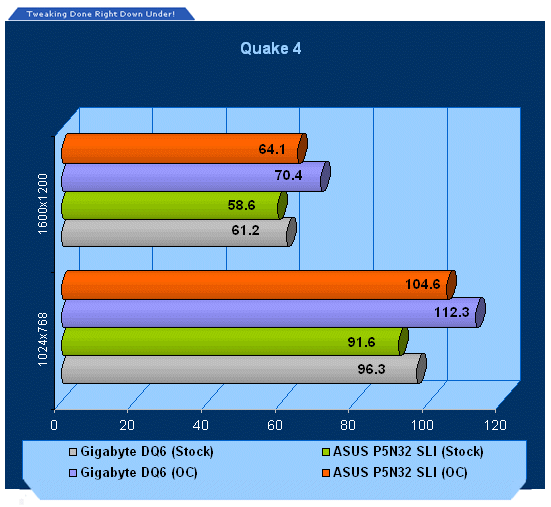 Half Life 2 also gives the P5N32 the lead in scores.
Benchmarks - Battlefield 2
Battlefield 2Version and / or Patch Used:
1.1
Timedemo or Level Used:
Guru3D Demo
Developer Homepage:
http://global.dice.se/
Product Homepage:
http://www.eagames.com/official/battlefield/battlefield2/us/home.jsp
Buy It Here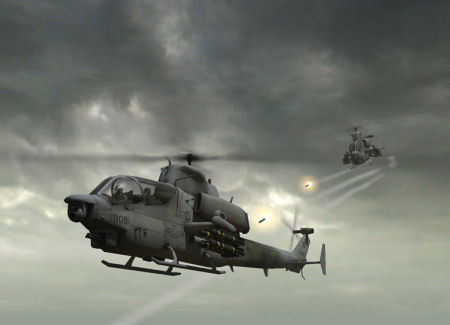 Battlefield 2 is the successor to the original multiplayer online game Battlefield 1942. Battlefield 2 takes advantage of the latest DirectX 9.0c optimizations and is best used with DX9 cards from nVidia, ATI and various upcoming makers like XGI.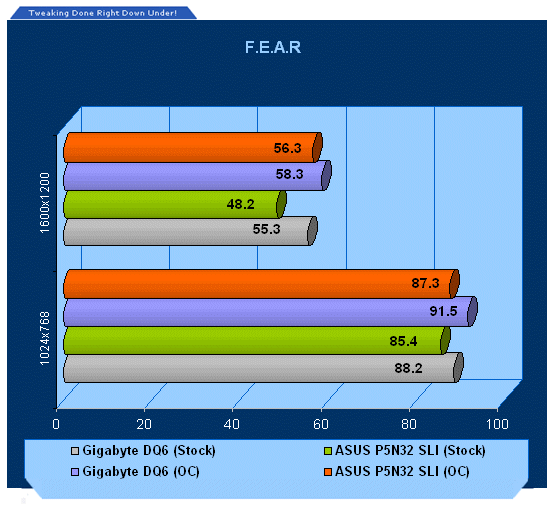 In the last of our tests, the P5N32 holds its lead.
Final Thoughts
It is clear that nVidia has made its presence known, and it is definitely good to see companies like ASUS taking the road that nVidia has laid out for them, and then some.
ASUS's implementation of the nForce 4 SLI x16 Intel Edition has shown us that it is not only 100% stable, but also packed full of features along with a great overclocking - anyway you look at it, you are putting your money into a great motherboard.
With the overclocking results we achieved along with the software and hardware pack included, its hard to consider any other motherboard than the ASUS P5N32-SLI for the Intel Pentium 4 platform and performance users.
- Pros
Fast
Dual PCI Express x16 ports
No SLI selectors needed
Dual SATA controllers
Dual Gigabit LAN
Firewire
Fantastic Overclocking!
- Cons
Rather pricey
- Latest PricingRating - 9.5 out of 10 and TweakTown's "MUST HAVE" Editors Choice Award
PRICING: You can find products similar to this one for sale below.

United States: Find other tech and computer products like this over at Amazon.com

United Kingdom: Find other tech and computer products like this over at Amazon.co.uk

Australia: Find other tech and computer products like this over at Amazon.com.au

Canada: Find other tech and computer products like this over at Amazon.ca

Deutschland: Finde andere Technik- und Computerprodukte wie dieses auf Amazon.de
We openly invite the companies who provide us with review samples / who are mentioned or discussed to express their opinion. If any company representative wishes to respond, we will publish the response here. Please contact us if you wish to respond.