ASUS ROG STRIX Z370-G GAMING (WI-FI AC) (Intel Z370) Review
The Z370-G Gaming, we find a simple motherboard that will fade into the background but still maintain a solid aesthetic appeal.
Published Wed, Feb 28 2018 6:00 AM CST
|
Updated Tue, Nov 3 2020 6:57 PM CST
Rating:

93%
Manufacturer: ASUS
Introduction, Specifications, and Pricing
We have taken a look at many Mini-ITX Z370 motherboards, but today we will take a look at one of the few micro-ATX Z370 motherboards to land in our lab. ASUS send over their ROG STRIX Z370-G GAMING (WIFI AC) motherboard for a review. A few generations ago, ASUS introduced their STRIX line of more affordable ROG-themed motherboards. The motherboards are designed for gamers and maintain some of the more popular and unique ROG features, but without the excessive price tag. Let's take a look at this loaded Z370 micro-ATX motherboard.
Specifications
The ROG STRIX Z370-G GAMING (WI-FI AC) features two 32Gb/s M.2 slots, USB 3.0, USB 3.1, WIFI, Intel LAN, and SATA6Gb/s.
Pricing
The ROG STRIX Z370-G GAMING (WI-FI AC) costs $184.99
Packaging and ROG STRIX Z370-G GAMING (WI-FI AC) Overview
Packaging and Overview
The box shows off the motherboard and its colorful ROG theme. Packaging is well done, and the motherboard and accessories are well protected.
The accessory package includes four SATA6Gb/s cables, CPU Fan bracket, CPU installation took, verticle M.2 slot bracket and screws, temperature sensor, SLI HB bridge, IO panel, WIFI antenna, case badge, cable stickers, Cable Mods coupon, door hanger, manual, and driver DVD.
ASUS offers five fan headers, all of them can operate in PWM or DC mode and reference multiple temperature sensors. The four headers circled in blue offer up to 1A of current, while the header circled in red supports up to 3A (designed for pumps).
The motherboard's straightforward color theme allows the motherboard to fade into the background so that you other enhancements and shine instead of the motherboard. The ROG logo does light up on the PCH. The back of the motherboard features a unique PCB silkscreen, but we were happy not to find too many components on the rear of the PCB.
The rear IO panel features PS/2 Keyboard/Mouse port, WIFI antenna, two USB 3.1 type-A ports, HDMI, DisplayPort, two USB 2.0 ports, four USB 3.0 ports, Gbit LAN, and 7.1 audio output with S/PDIF out.
The motherboard offers two PCI-E x16 slots routed to the CPU, and they operate in x16/x0 or x8/x8 modes. The two CPU connected x16 slots can also split their bandwidth with M.2 CPU attached storage cards so that the second x16 slot can operate as x4/x4 on the second slot with x8 in the first or x8/x4/x4 in the first slot with no card in the second. The motherboard features two M.2 slots, one of them is verticle and only supports PCI-E devices at up to x4 PCI-E 3.0.
The second x4 PCI-E 3.0 M.2 slot can also operate SATA based M.2 drives, although SATA ports 1 and 0 will be disabled. Six SATA6Gb/s ports are located on the right side of the motherboard.
The motherboard also offers an external temperature sensor input port, USB 3.0 internal header, and two USB 2.0 internal headers. Near the 8-pin CPU power connector is a CPU_OV header that will unlock higher voltage ranges for extreme overclocking.
Boot LEDs are built into the motherboard above the 24-pin connector, and the motherboard features heat sinks on all the CPU VRM and the PCH.
ASUS ROG STRIX Z370-G GAMING (WI-FI AC) Circuit Analysis
Circuit Analysis
Things get more interesting when we take the heat sinks off.
The motherboard's VRM is configured in an 8+2 phase configuration for the CPU VCore and iGPU voltage rails. Each phase seems to be doubled by doubling of components as there seems to be one driver per every two phases.
The ASUS Digi+ PWM controller labeled ASP1400 is used as the main PWM controller in a 4+2 phase PWM output mode. It's most likely from Richtek or UPI Semiconductor as the drivers seem to be Richtek drivers. The iGPU phases have two low-side MOSFETs and one high-side MOSFET, while the VCore phases have one low-side and one high-side MOSFET each. The MOSFETs are the Vishay SiRA14 and SiRA12 as the high-side and low-side MOSFETs. The memory VRM is a single phase made up of Vishay SiRA14 MOSFETs and a Richtek RT8125 single-phase PWM controller ("6X=").
The VCCSA and VCCIO rails are provided by a single phase VRM similar to the memory VRM (same PWM and MOSFETs) and a Texas Instruments TPS51362 integrated regulator.
ASUS ROG STRIX Z370-G GAMING (WI-FI AC) Circuit Analysis
ROG STRIX Z370-G GAMING (WI-FI AC) Circuit Analysis Continued
ASUS uses the Realtek ALC1220 for 120dB SNR audio output as well as two amplifiers, the Texas Instruments OPA1688A and RC45801. One of the amplifiers works to amplify voltage and the other works as a buffer according to ASUS. Audio isolation and Gold Nichicon capacitors are used to improve audio quality.
Intel's i219v PHY is used with the integrated MAC to produce 1Gbit Intel LAN, and LAN Guard is used to protect the port from ESD. WIFI is produced by the Realtek RTL8822BE which offers 867Mbps of throughput and is part of the new Wave 2 controllers.
The ASMedia ASM3142 produces the two rear USB 3.1 type-A ports. We also found a clock generator, the 6V4153, which is used to enhance BCLK overclocking margins.
The chip labeled AURA is used to provide RGB LED capabilities. The main SuperIO is the nuvoTon NCT6793D, which provides monitoring, fan control, and PS/2 on the rear IO.
A custom TPU chip is used to enhance overclocking capabilities. The ASMedia, ASM1442K level shifter, is used to provide the HDMI port on the rear IO.
The ASMedia ASM1480 chips switch x8 from the top x16 slot to the second x16 slot.
BIOS and Software
BIOS
ASUS's UEFI is considered one of the best, especially if you have been using ASUS UEFI for a while since they rarely change up menu design. Fan control is present in both GUI and menu form, and there is an EZ Mode and an Advanced Mode you should use if you are going to do any overclocking. Make sure you plug a fan into the CPU Fan header, or else you need to set the CPU fan monitoring to Ignore if you want to boot up. The UEFI also has a built-in 5GHz OC profile, which many should find useful. I heard of UEFI issues with much earlier versions, but I think they have all been ironed out by now since I didn't hit any snags and the experience was pretty good.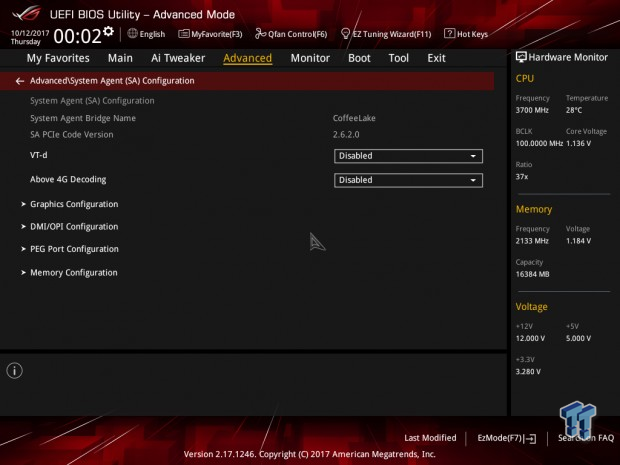 Software
ASUS's software includes DIP5 (TPU, EPU, Digi+, FanXpert4, Turbo App, and more), AURA RGB LED, AI Suite 3, Ai charger, CrashFree BIOS 3, and many other applications.
Test System Setup
Steven's Motherboard Test System Specifications
The ROG STRIX Z370-G GAMING (WI-FI AC) will easily fade into the background of any built, and it only has some RGBs under the ROG logo in the PCH heat sink.
Overclocking
Overclocking Results
CPU Overclocking
We were able to get out 8700K to 4.9GHz as we can on other motherboards, Dominators to 3200MHz with XMP, we set 1.32v with LLC Level 6, and we increased CPU current capability to the maximum it would go. The motherboard handled the overclock well.
The motherboard overclocked my G.Skill TridentZ to 3600MHz with ease.
It also handled our new Patriot Viper LED 3600MHz RAM with ease, all I did was enable XMP.
CPU, Memory, and System Benchmarks
CINEBENCH R15
wPrime
AIDA64 FPU
AIDA64 Memory
ScienceMark
HandBrake
3DMark: Fire Strike
3DMark: Cloud Gate
ResidentEvil 6
The ROG STRIX Z370-G GAMING (WI-FI AC)'s performance is solid, and there doesn't seem to be any issue with its performance. The multi-core performance was enabled in the BIOS it was shipped with (0402), but after we flashed to the new BIOS (0605), MCE wasn't on by default.
System IO Benchmarks
CrystalDiskMark SATA6G:
CrystalDiskMark M.2:
ixChariot Network Throughput:
The ROG STRIX Z370-G GAMING (WI-FI AC)'s storage performance is excellent, speeds are where they should be, we test everything at default for storage, so if some power saving mode is on by default, it will be reflected in our tests. Networking performance was also where it should be.
Audio RMAA 5.5:
I disable all audio features, set the correct bitrates, and then test the audio with a loopback test.
Sound Judgment by Ear: Excellent. ASUS did a great job implementing audio on this motherboard. There are five ratings for audio: 1. Problems, 2. Okay, 3. Acceptable, 4. Very good, 5. Excellent
Thermal Imaging and Power Consumption
System power is measured at the wall with an AC power meter.
Note on Thermal Images: In the temperature section, we use our Seek thermal imaging camera to capture the surface temperatures of major components on the board. I look at the VRM and then all other things that light up the screen. If there is something to worry about, then I will state it. Otherwise, I will just show the hotter running parts of the board for fun. Unless some component is over 80-90C, then there isn't anything to worry about.
All systems will act differently, so I will look for commonalities, such as how far from the VRM the heat spreads through the PCB and the difference in temperature between the front side and backside of the PCB. Keep in mind, the majority of the heat from the VRM goes into the PCB as it is a giant soldered on copper heat sink. A larger difference in temperature between the back and front of the PCB points towards a more effective heat sink.
Thermal Testing at Stock Speeds:
The image on the left is always at idle, and the image on the right is at load. During ALL TESTS, fans above the VRM that cool the CPU cooler's (Corsair H110i) radiator are turned on to high (12v).
Full frontal.
Up-close of the front of the VRM.
Up-close of the back of the VRM.
Thermal Testing at 4.9GHz:
Images were taken during our HandBrake OC test at 80% completion.
The ROG STRIX Z370-G GAMING (WI-FI AC)'s thermal performance was a lot better than we expected. The motherboard might use the same type of 4 phases doubled to 8 phases through doubling of power stage components, but its giant heat sinks are obviously getting the job done when it comes to cooling the VRM. We do recommend airflow over the VRM if you OC your K-SKU close to 5Ghz and are using an AIO watercooler. Anything under 60C is great, 60-80C is acceptable, and anything above 80C is a bit worrisome (if at stock).
What's Hot, What's Not & Final Thoughts
Here are key points about the ASUS ROG STRIX Z370-G GAMING (WI-FI AC).
What's Hot
Designed for Gaming: Many motherboards have the word "Gaming" in their names, but not all of them offer features specifically designed for gaming. The audio on the motherboard has been enhanced more than others in the same price range, which is important for many gamers. The rear IO panel features eight USB ports and even a PS/2 port so it supports all types of gaming mice. The PCI-E layout has also been optimized for two double slotted cards, which is typically what gamers might install.
ROG Features: Many people might not expect to find ROG features on a sub-$200 motherboard, and we didn't either, but we did find a few. The motherboard has one external temperature sensor port and comes with the sensor so you can plug it in and make it work. It also comes with CPU_OV jumper, so you can push very high voltages if you go subzero. It also comes with a VRM fan bracket, so you can install a VRM fan to keep things cool. It also features a clock generator dedicated to BCLK overclocking. You also get the ROG goodies like a door knob hanger and cable stickers.
Solid Aesthetics: Simple is what many want, and the STRIX series typically delivers. With the Z370-G Gaming, we find a simple motherboard that will fade into the background but still maintain a solid aesthetic appeal. The VRM heat sinks spread over a wide area, so they cover up a lot of the PCB. The only integrated RGBs are under the PCH heat sink, so you won't have RGB LEDs glaring at you. The capacitors have also been blacked out.
What's Not
No RGB LED Header: The motherboard supports RGB LEDs built into products that plug into the motherboard, such as Aura Sync DRAM, but it doesn't offer an RGB LED header. That might be a pro for many people though.
Final Thoughts
The ASUS ROG STRIX Z370-G GAMING (WI-FI AC) offers a lot of features, including Intel LAN, Wireless-AC, USB 3.1, 120dB SNR audio, and support for SLI/CrossFireX. We were also happy to find two M.2 slots, plenty of USB on the rear IO, and a lack of bandwidth sharing. Overall, the motherboard offered us a solid experience without headaches, and is a great motherboard for those who want a motherboard that just works and doesn't waste resources on things like RGB LEDs.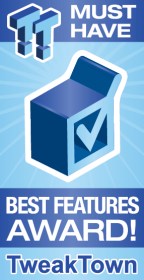 | | |
| --- | --- |
| Performance | 90% |
| Quality | 90% |
| Features | 95% |
| Value | 95% |
The Bottom Line: ASUS decided to get rid of the flashy features while maintaining and upgrading useful features on their ROG STRIX Z370-G Gaming (Wi-Fi AC) motherboard.
PRICING: You can find products similar to this one for sale below.

United States: Find other tech and computer products like this over at Amazon.com

United Kingdom: Find other tech and computer products like this over at Amazon.co.uk

Australia: Find other tech and computer products like this over at Amazon.com.au

Canada: Find other tech and computer products like this over at Amazon.ca

Deutschland: Finde andere Technik- und Computerprodukte wie dieses auf Amazon.de