Seagate IronWolf 12TB HDD Review
Seagate takes the lead with the highest capacity NAS drive on the market.

Published
5 minute read time
TweakTown's Rating: 87%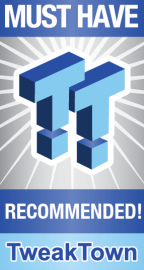 The Bottom Line
The Seagate IronWolf offers class leading performance and capacity while offering a feature rich platform for NAS users wanting reliability.
Introduction

Seagate launched "The Guardian Series" mid-2016 part of which was bringing back the Barracuda name and rebranding the NAS drive, IronWolf. That same day, we had several models for review including the 10TB Barracuda and 10TB IronWolf. A year later, Seagate is ready to unveil an even higher capacity, the 12TB IronWolf and we had a few sent over for review.
Seagate aims for the IronWolf series to be used in 1 to 8 bay appliances like Desktop RAID, NAS and small servers. For larger operations, you can move to the IronWolf Pro, built for up to 16 bay solutions. With each of these solutions built for 24x7 workloads, they come with some impressive technology.
For example, dual-plane balancing and RAID optimization along with advanced power management is tech Seagate is calling Agile-Array in addition to Rotational Vibration sensors to monitor and maintain performance in multi-bay environments. For those using these drives in modern NAS appliances from Synology, Asustor and others the addition of IHM or IronWolf Health Management allows the NAS system to more closely monitor your drives health to better protect and predict failures.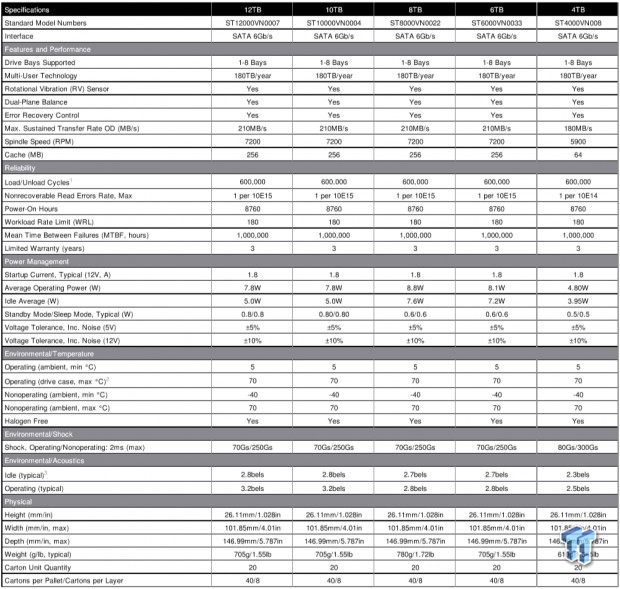 Looking at drive specifications, we start with the standard SATA 6Gb/s connection, 8-bay appliance support and workload rating of 180TB/yr. We again have mention of the RV and Dual-Plane Balancing along with Error Recovery Control present on all IronWolf models. Next, we move on to a 210 MB/s sustained transfer rate and 7200 RPM spindle speed. The drive cache is 256MB for the 6 through 12TB models and 64M for the 4TB.
Diving deeper we have Load/Unload cycles rated at 600K and NRER set at 1 per 10E15. Power on hours is rated at 8760 while the MTBF sits at one million hours. Power management gives us operational ratings of 7.8 watts average and 5 watts idle. With this new capacity, the IronWolf lineup now offers 1-4TB solutions along with 6,8,10 and class-leading 12TB models. The MSRP of the Seagate IronWolf 12TB comes in at $429.99 with a three-year warranty.
The IronWolf 12TBheading
Packaging and a Closer Look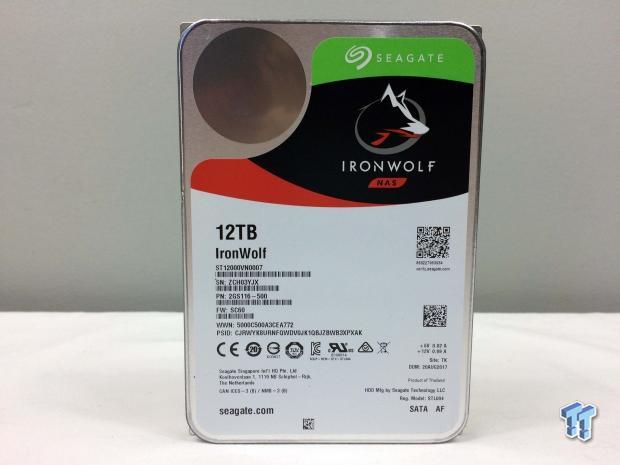 The 12TB capacity shares much of its design with the previous 10 and 8TB helium solutions. The sticker covers model and serial numbers along with firmware and capacity notes.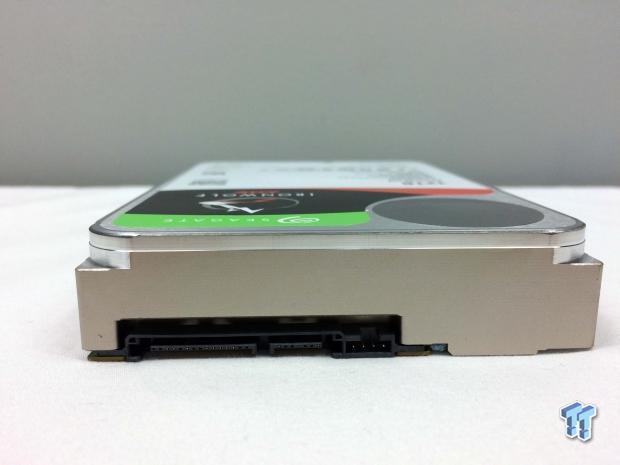 The connection side of the drive has no issues with alignment for trays or caddies as the data and power connections are correctly placed.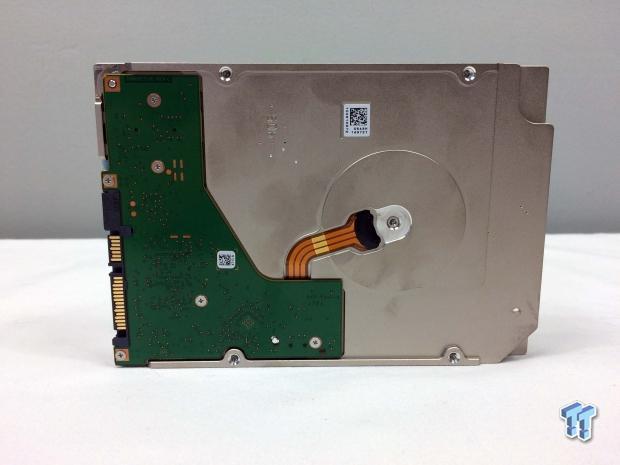 The bottom of the drive is mostly flat with the pcb housed to the left.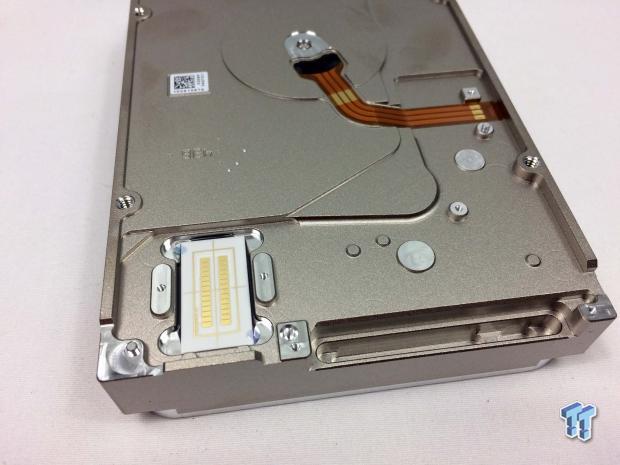 Removing the pcb, we have the sealed connections for the heads and spindle motor.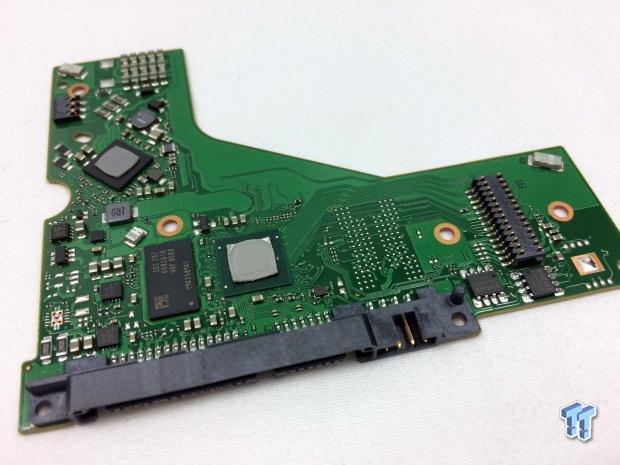 The pcb hasn't changed at all for the 12TB model, we still have the smooth driver and avago controllers along with the 256MB cache between them.
Test System Setup and Baseline Performance
Test System Setup
Tyler's Test System Specifications
Baseline Performance with ATTO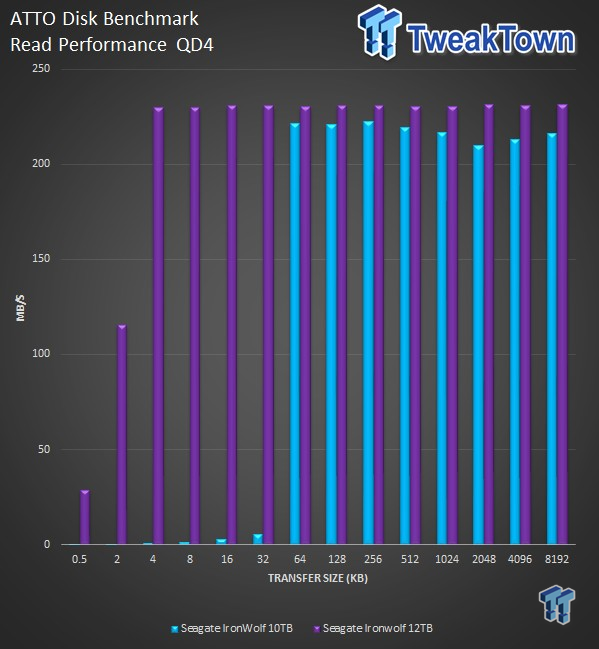 I started testing of the 12Tb IronWolf by running the drive through ATTO Disk Benchmark and recording the results in our charts. For comparison, I have the 10TB IronWolf from last years review in the charts too. Performance has improved on the bottom end quite a bit with the 12TB, especially in read operations taking off at 4K and maintaining a steady 225 MB/s read throughout.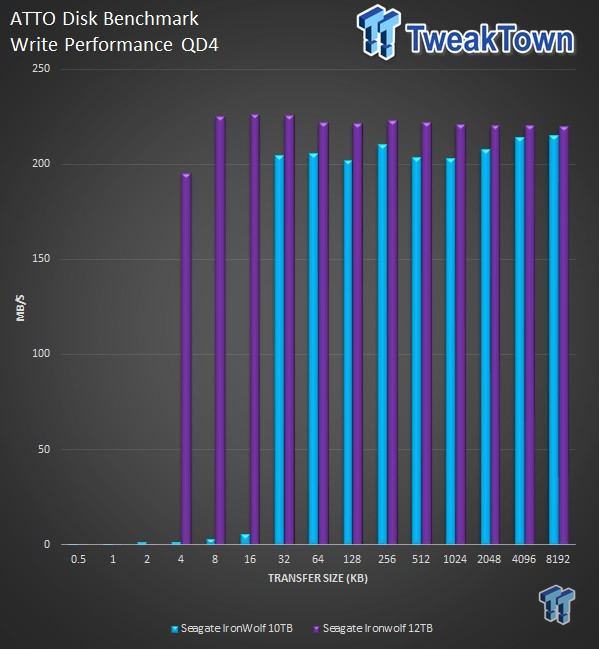 Write performance takes off at 8K and maintains 225 MB/s through 8M.
Benchmarks - IOMeter
IOMeter 4K Random and 128K Sequential
Moving into IOMeter, I added in RAID 0 results for the 12TB IronWolf. RAID was controlled by the Onboard Intel Z370 chipset and RST.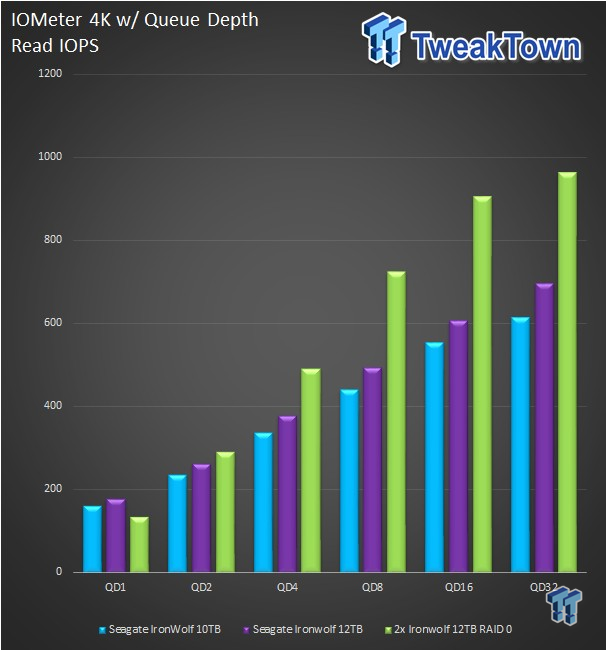 Starting off with random read, we see incremental performance improvements with the new 12TB capacity. This is seen more at higher QD with the 12TB peaking at 700 IOPs, 100 IOPs more than the 10TB. The 12TB RAID array reached a peak of 975 IOPs at QD32.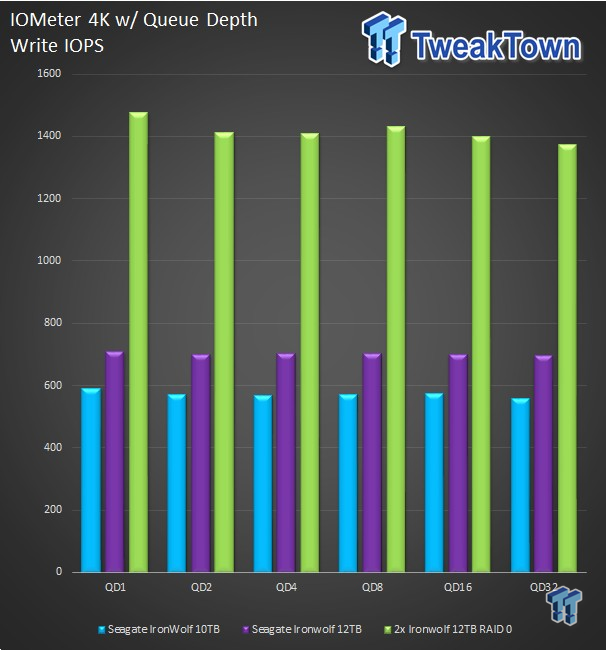 Write results were much more interesting with the 12TB starting and ending at 700 IOPs again 100 IOPs over the 10TB model. The RAID array on the other hand topped 1400 IOPs start to finish.
Sequential read testing peaked out at 250 MB/s for the 12TB model, 50 MB/s quicker than the 10TB. The RAID array reached 500 MB/s QD4 through QD32.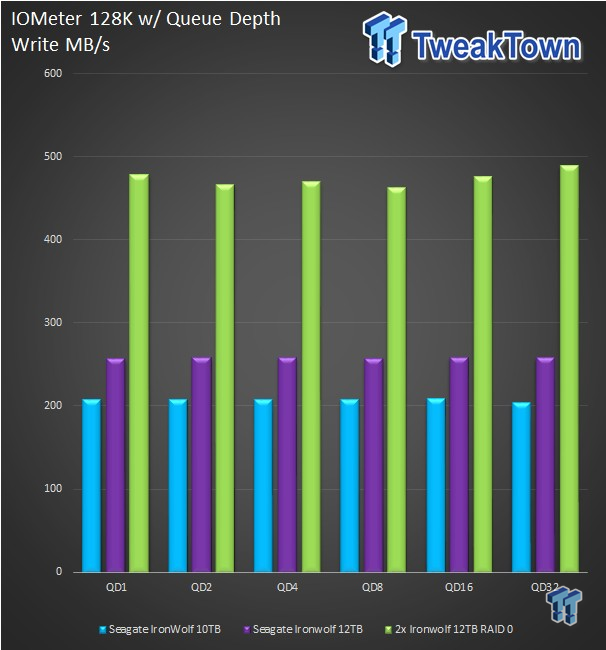 Write performance again was similar with the 12TB maintaining 250 MB/s QD1 through 32 while the RAID array seemed to hover between 475 and 500 MB/s.
Benchmarks - Mixed Workloads
Benchmarks - IOMeter Mixed Workloads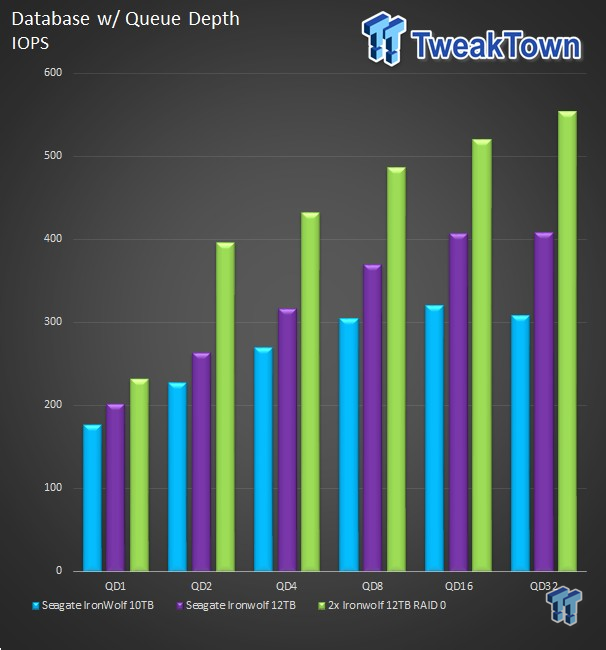 Starting with the 80/20 Database workload, we see solid gains from the 12TB model mainly at the higher queue depths 8 through 32. Peak performance reached 400 IOPs, 100 over the 10TB. The RAID array, as you can see, reached around 550 IOPs.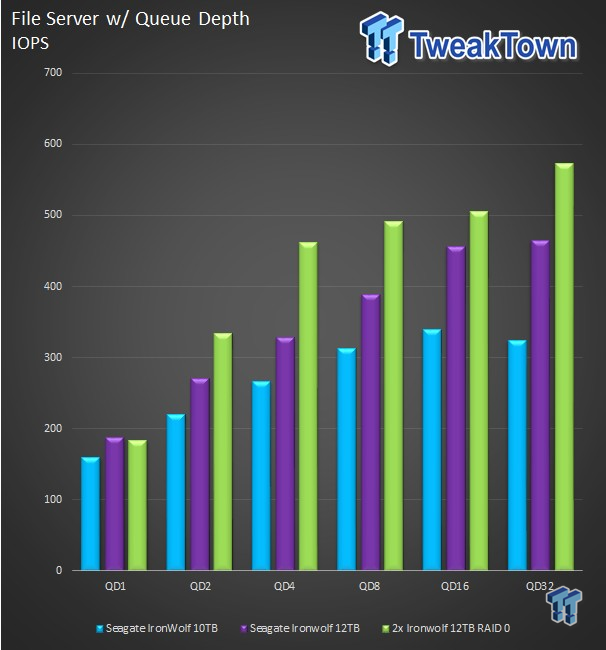 File Server came close to 500 IOPs for the 12TB and the RAID array close to 600 IOPs.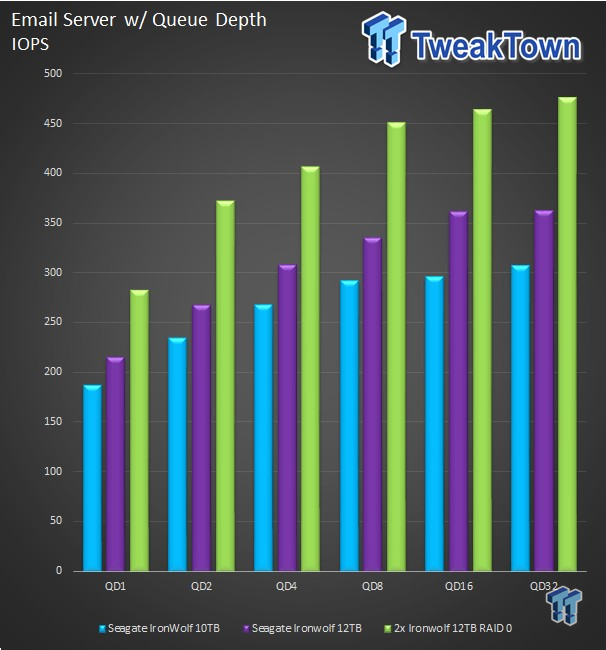 Email Server started a touch above 200 IOPs at QD1 and pushed through 350 IOPs at QD32. The two-drive array started near 275 IOPs at QD1 and pushed 475 IOPs at QD32.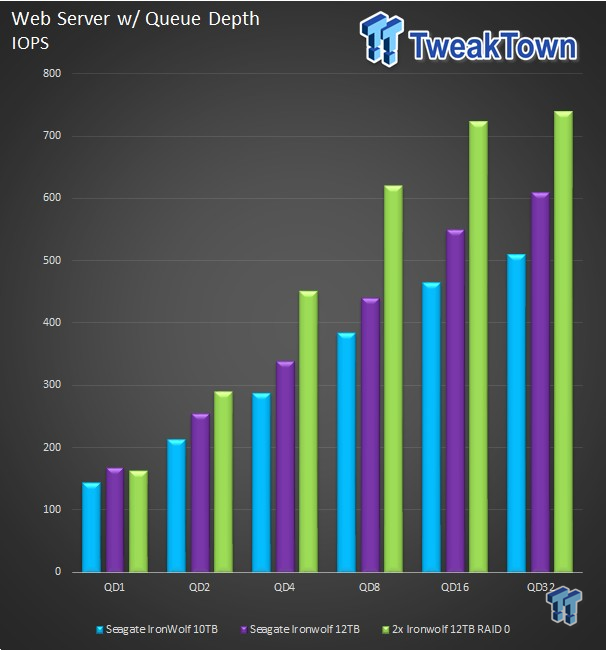 Web Server showed steady improvement for the 12Tb model with a 100 IOPs advantage at QD32. The RAID array touches over 725 IOPs at QD32.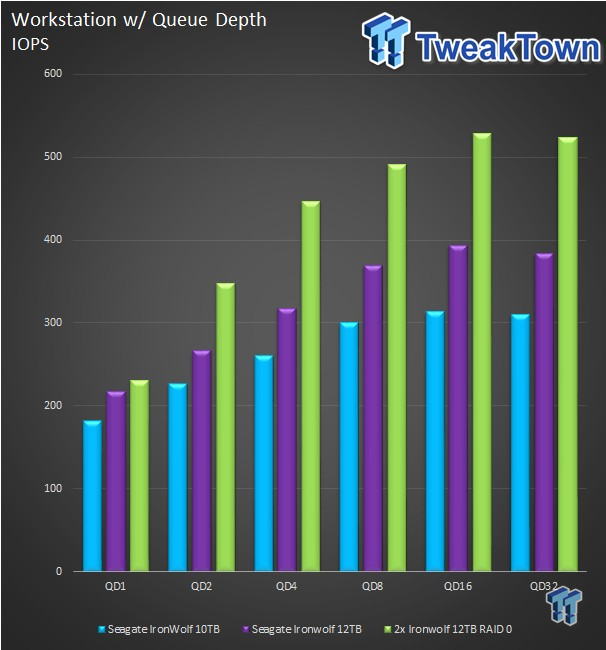 With Workstation, we see similar performance just over 200 IOPs at QD1, 275 IOPS at QD2 and 310 IOPs at QD4. QD8 reached 375 IOPs and QD16 is the peak of the drive at 400 IOPs. The RAID array pushed through 525 IOPs at QD8, its peak.
Final Thoughts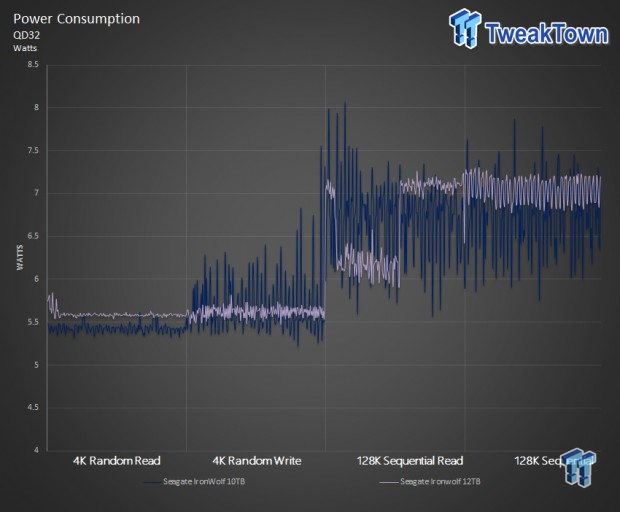 As we mentioned in the beginning of the review, the 12TB model didn't appear to use anymore power than the 10TB, according to the specifications. Looking at the raw data from my own testing I do see a touch more being used in random read and random write is much more stable than the 10TB, which gets a bit erratic from here. Moving through random write we maintain around 5.6 watts and then we see a transition period between random and sequential where the drive is using around 6 watts and then full sequential at 7.1 to 7.3 watts.
So overall, we still have the same reliability as the previous 8 and 10TB models with Agile-Array and RV sensors to watch the drive. Using this solution in a compatible NAS system will get you access to 200 measurements of the drives health with IHM and power requirements haven't changed any if at all. For those upgrading from 10TB drives in a four-bay platform that's an additional 6TB of capacity in a RAID 5 or 4TB in RAID 6 with no additional cost in power requirements.
The 12TB model offered a good amount of performance improvements over the 10TB in most of my testing. ATTO improved substantially at lower file sizes whereas the 10TB was non-existent and at 4K and higher we saw some marginal improvements of 10-15 MB/s. Random read and write showed a solid 100 IOPs advantage to the new 12TB solution and Sequential workloads enjoyed a 25 MB/s advantage over the previous 10TB IronWolf. Mixed workloads averaged a 75-100 IOP advantage moving to the 12TB solution.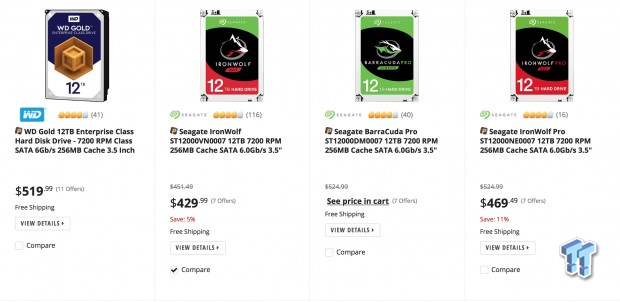 The current market for 12TB drives is quite interesting. Seagate is heavily dominating this space with three models available at the time of this writing. WD does have 12TB solutions in the Gold but realistically it's not comparable to the IronWolf or Barracuda platform at all. With that said, Seagate has a solid drive with the 12TB IronWolf, it offers a performance and power advantage over previous 10TB solutions and even more so if you are still using 4 or 6TB solutions.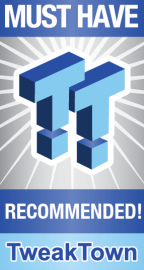 | | |
| --- | --- |
| Performance | 89% |
| Quality | 86% |
| Features | 84% |
| Value | 88% |
The Bottom Line: The Seagate IronWolf offers class leading performance and capacity while offering a feature rich platform for NAS users wanting reliability.
PRICING: You can find products similar to this one for sale below.

United States: Find other tech and computer products like this over at Amazon.com

United Kingdom: Find other tech and computer products like this over at Amazon.co.uk

Australia: Find other tech and computer products like this over at Amazon.com.au

Canada: Find other tech and computer products like this over at Amazon.ca

Deutschland: Finde andere Technik- und Computerprodukte wie dieses auf Amazon.de
We openly invite the companies who provide us with review samples / who are mentioned or discussed to express their opinion. If any company representative wishes to respond, we will publish the response here. Please contact us if you wish to respond.