Fitbit Ionic Smart Fitness Watch Review
After a long wait, Fitbit is finally ready to challenge Apple's dominance of the smartwatch market. But should Cupertino be worried?

Published
5 minute read time
TweakTown's Rating: 78%
The Bottom Line
Fitbit's first true smart watch is a a success and generally lays the ground work for plenty of improvements to come - both in firmware and future models.
Fitbit Ionic Smart Fitness Watch Review
Against a market that's become heavily saturated with dozens of different fitness trackers at a variety of different price points (and to be honest, quality), Fitbit has finally made the leap and released their first true smartwatch, just in time for the lucrative 2017 holiday season. In Ionic, Fitbit now has a bonafide competitor to go up against the Apple Watch, which has basically monopolized the high-end market for the last two years. So how exactly does it stack up? Well, let's take a look.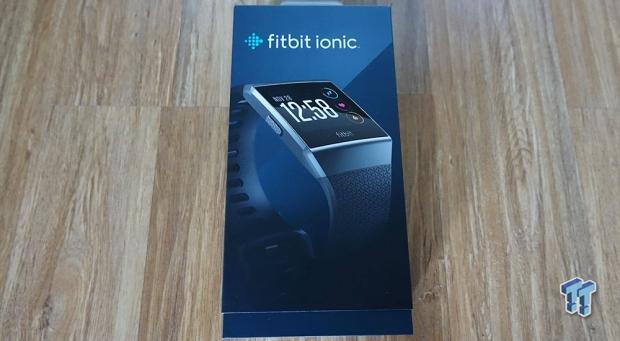 There's little doubt that Fitbit has earned their market-leading fitness tracker position, with annual hardware iterations and a steady stream of software updates, but last year's Charge 2 showed that there are only so many improvements that can be made, suggesting it had reached a critical mass with the form factor. Their other big release for 2016; a colour touchscreen model dubbed 'Blaze', signaled they weren't quite ready to completely embrace the concept of a smartwatch.
An interesting series of leaks have suggested its development hasn't exactly been plain sailing, with the company seems unable to get to this point without the acquisition of the struggling smartwatch startup Pebble. But this is now all history, and Ionic finds Fitbit releasing themselves from the shackles of a closed software environment and ready to embrace third-party applications for the first time.
With a design that has more in common with the 2015 era Surge than last year's Blaze, the company has swapped out the swish-looking quasi-hexagonal design of the latter, for the squarer look of the former. This has the desired impact of reducing the frame as much as possible, but the downside is it loses a little class.
Sporting a 306ppi, 1.42" LCD panel that can pump out around 1,000 nits embedded under a Corning Gorilla Glass 3 screen, Ionic holds its own quite well against the Apple Watch, even without the aid of OLED technology. Like its predecessors, Ionic features both tactile and on-screen buttons, a combination of which users will have to come to grips with and which can take a few frustrating days to fully master.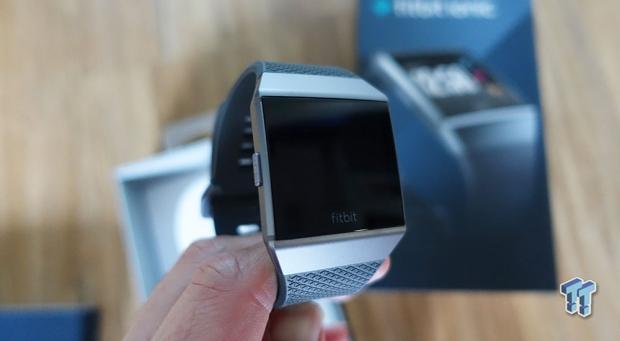 Coming from the much small monochrome display of my day-to-day Fitbit Charge 2, Ionic's display is somewhat of a minor revelation, allowing for a generous range of display options and on-screen data. The display remains active during activities to provide live feedback such as heart rate and calories burned, rather than forcing users to cycle through a series of button presses, which makes concentrating on the workout far simpler.
While Ionic is clearly capable of so much more than its forebears, I'm pleased to report that Fitbit hasn't suddenly forgotten where it came from. As such, the core functionality is still spun outwards around fitness functionality, with all the bells and whistles that you'd rightly expect, including heart rate monitors, onboard GPS, call alerts, sleep tracking, altimeters and swappable bands for the more fashion-conscious.
That Fitbit have come out of the gate with their most technologically advanced tracker in such a slim profile is impressive enough alone; that they've also been able to retain their impressive 4-5 days of battery life is doubly so.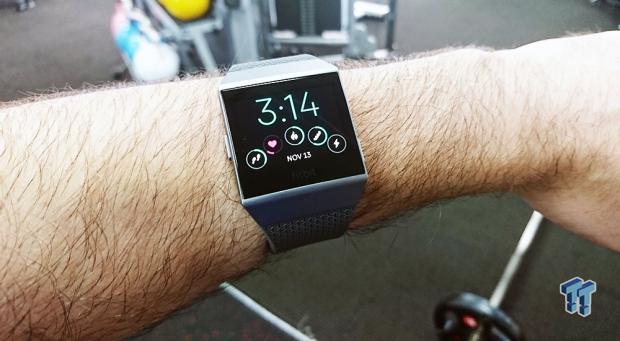 Fitbit have heavily touted the Ionic's ability to stream music off the device to a paired set of Bluetooth headphones (not included) via 2.5GB of onboard flash storage, but the truth is that its current implementation is flawed and requires an awkward combination of an app and Wi-Fi to sync the files off your computer.
I really hope that Fitbit can find a way to make it work a little easier in future (perhaps a simple drag and drop USB transfer?) because at this point it's rather unusable. I understand that streaming via the Pandora app makes for a much better experience, but since the station ceased broadcasting in Australia and New Zealand earlier this year, I can't confirm that for myself.
More impressive however is the implementation of on-board GPS, which has made some improvements over previous models. Ionic is generally very quick to get a satellite fix, and logs it with excellent accuracy. I'm not a huge one for outdoor running (I prefer the safety of an indoor treadmill), but those that are should find this a compelling reason to upgrade in itself.
Despite all the tech, make no mistake - this is a fitness watch first and a smartwatch second. Fitness is at the core of everything that Ionic does. Herein lies the fundamental difference between Apple and Fitbit's approach to a smartwatch. Compared to Apple, Ionics's newfound app abilities serve to support its fitness abilities - not the other way around.
If you want a personal computer on your watch, this isn't the choice for you. But that approach is absolutely the best thing for Fitbit right now, since third-party app development is significantly behind at this point in time. Depending on your location, there's already a range of apps available in the Fitbit App Gallery, including Strava, Pandora and Starbucks. The company promises that it's working feverishly behind the scenes to improve the situation, but the reality is that Apple will have the upper hand for quite some time to come.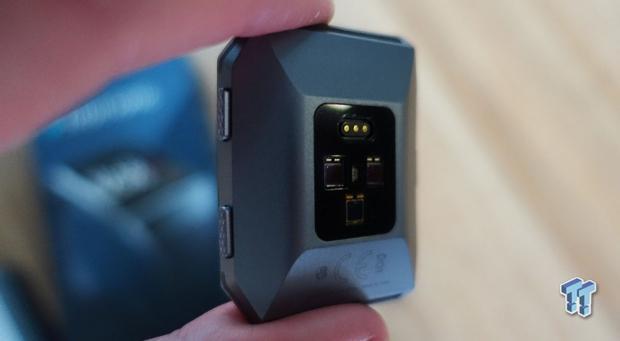 Anyone that's upgrading from a previous Fitbit will be familiar with the suite of mobile apps, which remain the same. As with all models, the sync cannot be faulted and are a joy to navigate. For everyday information, the app does a great job of displaying the most pressing vital stats, whilst the web app gives access to a broader suite of statistics and interactive graphs to illustrate your health progression and to alter a range of band settings. I still don't particularly care for the water and food logging options, but those who are prepared to invest the time to dial down to full-on calorie counting and portion control might have some success.
Rather than release a separate model for large and small wrists as they've done in the past, Fitbit have chosen to include both sizes in the pack, which makes it easier for retailers to stock just one model. Straight up, I have to say I really don't like the newly designed strap which requires users to lock in a notch, as well as a watch-like clasp. It's annoyingly difficult to put on, and taking it off also has a nasty habit of taking some of my arm hairs with it.
Admittedly, I do have arms that would give Chewbacca a run for his money, but if you're similarly endowed, let me just warn it can get old very quickly. Be sure to take note of hygiene suggestions to allay potential skin irritations and rashes - after a workout, wash the tracker in light water and completely dry with a towel. I didn't suffer any skin problems myself, but people with pre-existing skin allergies should be mindful.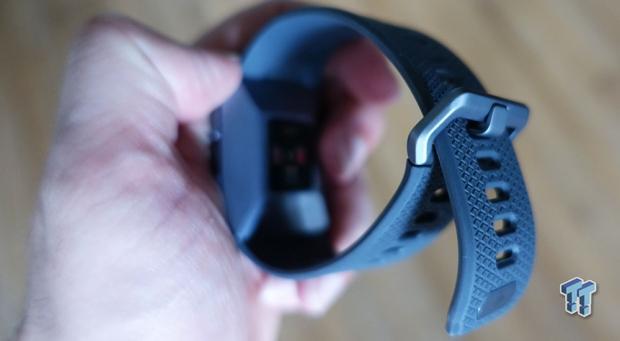 Ionic is undoubtedly a big step for Fitbit, signaling a departure from the closed environment that has seen the company go from strength to strength. But it's also a hugely necessary step (and one that's frankly overdue) for it to remain responsive to ever-changing market demands. For a first attempt, Ionic is a clear hit.
Its display is crisp, clear and very responsive, the UI is clean and uncluttered, and their mobile apps are stronger than ever. While it's fantastic that it's launched with a few solid applications, such as the included Fitbit Wallet, it's obvious that the company has a lot of work to do to encourage third parties to join up and grow the store. Their success in this task will define the future success not just for Ionic, but forthcoming future smartwatch iterations. It can only get better from here.
| | |
| --- | --- |
| Performance | 85% |
| Quality | 70% |
| Features | 77% |
| Value | 81% |
The Bottom Line: Fitbit's first true smart watch is a a success and generally lays the ground work for plenty of improvements to come - both in firmware and future models.
PRICING: You can find products similar to this one for sale below.

United States: Find other tech and computer products like this over at Amazon.com

United Kingdom: Find other tech and computer products like this over at Amazon.co.uk

Australia: Find other tech and computer products like this over at Amazon.com.au

Canada: Find other tech and computer products like this over at Amazon.ca

Deutschland: Finde andere Technik- und Computerprodukte wie dieses auf Amazon.de
We openly invite the companies who provide us with review samples / who are mentioned or discussed to express their opinion. If any company representative wishes to respond, we will publish the response here. Please contact us if you wish to respond.
Related Tags