WD Gold 10TB Datacenter Enterprise-Class Hard Drive Review
We fire up SATA 6Gb/s and put the WD Gold enterprise-class HDD on the bench. And it does mighty well!

Published Wed, Dec 6 2017 10:19 AM CST
|
Updated Tue, Nov 3 2020 6:58 PM CST
Introduction & Specifications, Pricing, and Availability
When I first started writing for TweakTown, hard drives just broke the 4TB barrier and SSDs were just getting started. Now the hard drive market has completely changed into an all-out battle for who has the highest capacity drives. Seagate is now shipping 12TB IronWolf and Barracuda solutions that we will be looking at in an upcoming article, and up to this point we do have 10TB Red, Red Pro and 10TB WD Gold samples in-house with rumblings of 12TB solutions very soon.
The WD Gold was announced and launched mid-2016 with 4TB, 6TB, and 8TB capacity options. It takes over where the RE drive left off, and since then, WD has expanded the lineup to include 10TB and 12TB solutions. All WD Gold drives feature a 7200 RPM spindle speed, the latest generation of electronics part of which includes enhanced RAFF-technology that monitors the drive to correct linear and rotational vibration in real-time along with Dynamic Fly Height technology to monitor and adjust each read/write head to ensure consistent performance and of course, RAID-Specific TLER.
Specifications, Pricing and Availability
Diving right into the specifications, we are looking at the 10TB WD Gold second from the left. We start with a formatted capacity of 10TB while in actual use I saw a touch over 9.3TB for data. We move on to form factor at 3.5" supporting the SATA 6Gb/s interface and NCQ. The performance category includes the buffer to host rate of 6Gb/s while the drive is capable of 249 MB/s sustained. The cache is listed at 256M and 7200 RPM spindle speed while MTBF sits at 2.5 million hours with load unload cycles at 600,000.
Power requirements have the WD Gold at 5 watts idle, 6.8 watts in random workloads and 7.1 watts with sequential data. The MSRP for the 10TB WD Gold comes in at $412.99 with a five-year warranty.
Drive Details
WD Gold 10TB
The WD Gold follows the helium-filled design of the WD Red. Capacity is printed in bold text on the left the model, with the cache and interface to the right.
The backside of the drive houses a green PCB, with several Torx screws holding it in place.
The SATA power and data interface is lined up perfectly for hot-swap backplanes and drive trays.
A closer look at the PCB reveals the Avago controller in the center and Nanya DRAM above, to the right the Smooth branded motor driver.
WD has changed up the connectivity between the PCB and drive itself, moving from a pin system on the drive to an LGA type array.
Benchmarks - Test System Setup and ATTO Benchmarks
Tyler's Consumer HDD Test System Specifications
ATTO - Baseline Performance
Version and / or Patch Used: 2.34
Starting off with our ATTO testing, we have the WD Red 4TB, 6TB, and 8TB for comparison some test do have the WD Red 10TB as well. As you can see, the WD Gold is tuned for top performance right out of the gate, reaching 265 MB/s read at 16k through 8M.
And write performance is very similar with the WD Gold reaching 270 MB/s at 16K through 8M.
Benchmarks – 4K Random Performance & Sequential Performance
IOMeter – 4K Random Performance with QD
As mentioned, we do have the 10TB Red along for some of the testing and as you can see from the chart above the helium drives stick together. At QD1, we have a little under 200 IOPS for the 10TB Gold and moving to QD32 we end at 600 IOPS.
Random write IOPS start at 875 QD1 but then fall off to 600 IOPs QD2, and we finish up just under 600 IOPS QD32.
IOMeter – Sequential Performance with QD
The sequential performance started off at 53 MB/s read at QD1 but quickly jumped up to 220 MB/s at QD2, and we round out testing at QD32 at 260 MB/s.
Sequential write results had the WD Gold at 260 MB/s consistently QD1 through QD32.
Workloads & Power Consumption
Workloads
We start with the database 80/20 workload similar to OLTP testing via the SNIA standards. The WD Gold starts at 200 IOPS QD1 and gets a nice bump in performance to QD16 where we see a touch under 500 IOPS.
File Server peaks at 500 IOPS at QD32 for the WD Gold, slightly behind the WD Red.
Moving to Email Server, the Gold jumps out of the gate a touch under 250 IOPS at QD1 and ends testing at 450 IOPS at QD32.
Web Server shares similar performance to File Server, starting near 150 IOPS at QD1 and ending at 520 IOPS at QD32.
Workstation starts a touch under 200 IOPS for the Gold moving to 250 IOPS at QD2 and 320 IOPS at QD4. QD8 lands at 400 IOPS while QD16 touches 500 IOPS.
Power Consumption
Our custom power testing samples each drive for a period of three minutes, across each workload. In order to offer more granularity, we sample the power in one-second intervals.
Taking a look at power consumption, I was surprised to see my results so close to WD specifications.
Random read and write hovered between 6.3 and 7 watts while sequential workloads stuck close to 7 to 7.2 watts.
Final Thoughts
Going off the image above, I'm not sure where I stand on the WD Red vs. WD Gold argument, if there is one. I'd say the build quality is equal with both solutions although each drive does have a platform it is tuned for. The WD Red is great in 1 to 6 bay NAS platforms and the Gold 16 bays and above datacenter/enterprise-grade storage systems.
With that said, I personally used WD Red drives for years up until the 12TB IronWolf was launched earlier this year. This brings me back to the image above, where, as of today 11.21.17, the WD Gold is the cheaper solution for the consumer to purchase by around $50.
For the consumer buying for an eight-bay or above NAS solution, that's a free drive every six you purchase and for users buying for two bays that's $100 more they can put into a more powerful NAS appliance. Adding to this is performance, where in my testing the Gold did great with an obvious advantage of 50 to 60 MB/s in sequential workloads as shown in ATTO testing. And IOMeter 4K random read and write was able to stay with or best the 10TB Red by a short margin.
Diving into mixed workloads there were a few occasions at higher QD where the WD Red did land above the WD Gold, more specifically File and Web Server where it offered a 20 IOP advantage, outside of those results the WD Gold performed great reaching at minimum 500 IOPS in four of five workloads.
What wraps up the WD Gold for me is workload rating and warranty. We have played around with WD Red and Red Pro drives that offer 180TB/Year and even 300TB/Yr workload ratings, we even crossed the aisle and used Seagate IronWolf and IronWolf Pro that too offer 180TB/year and 300TB/year for the Pro. The WD Gold goes above and beyond offering 550TB/year for those of you that move a lot of data while offering a five-year warranty.
It's truly is the "Gold" standard for hard drives.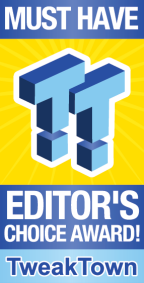 | | |
| --- | --- |
| Performance | 99% |
| Quality | 95% |
| Features | 98% |
| Value | 99% |
The Bottom Line: It's only fitting that our gold award goes to the WD Gold HDD. It truly is the best hard drive I have ever put my hands-on.
PRICING: You can find products similar to this one for sale below.

United States: Find other tech and computer products like this over at Amazon.com

United Kingdom: Find other tech and computer products like this over at Amazon.co.uk

Australia: Find other tech and computer products like this over at Amazon.com.au

Canada: Find other tech and computer products like this over at Amazon.ca

Deutschland: Finde andere Technik- und Computerprodukte wie dieses auf Amazon.de
We openly invite the companies who provide us with review samples / who are mentioned or discussed to express their opinion. If any company representative wishes to respond, we will publish the response here. Please contact us if you wish to respond.