ASUS ROG Maximus X Apex (Intel Z370) Motherboard Review
Need a champion overclocking board? Check out the ASUS ROG Maximus X Apex motherboard.
Published
14 minute read time
TweakTown's Rating: 93%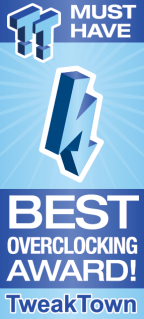 The Bottom Line
ASUS's ROG Maximus X Apex does networking and lighting like a pro, but that's only because it got bored after it mastered overclocking.
Introduction, Specifications, and Pricing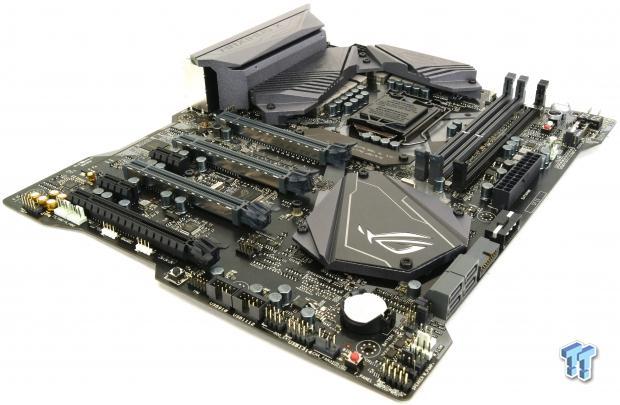 Our first review of an ASUS Z370 motherboard is here, and the motherboard we are looking at is the ROG Maximus X Apex. The APEX line of motherboards is positioned to accomplish two things; to be the overclocking king and to be different, very different. From its X-shaped PCB to the customizable nameplate and plethora of RGB LEDs, the Apex series of motherboards are extremely unique in regards to physical appearance.
However, under the hood, they have the right hardware, design, and features for extreme overclocking. Many professional overclockers live and die by the Apex line of motherboards, which makes the Apex line very popular with those who want the right hardware to stay competitive but are a bit more novice.
Let's take a look at one of the most unique Z370 motherboards on the market.
Specifications

The ROG Maximus X Apex offers two M.2 slots on a DIMM.2 card, 5G LAN, 1G LAN, USB 3.1, SATA6Gb/s, USB 3.0, and many more features.
Pricing
The ROG Maximus X Apex costs $349.99.
Packaging and ROG Maximus X Apex Overview
Packaging and Overview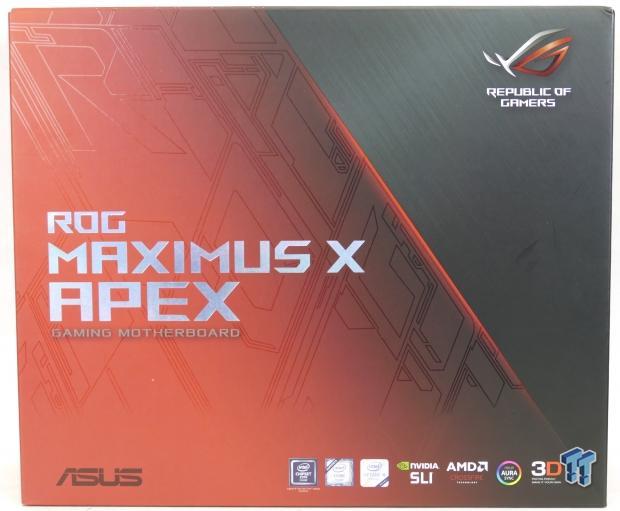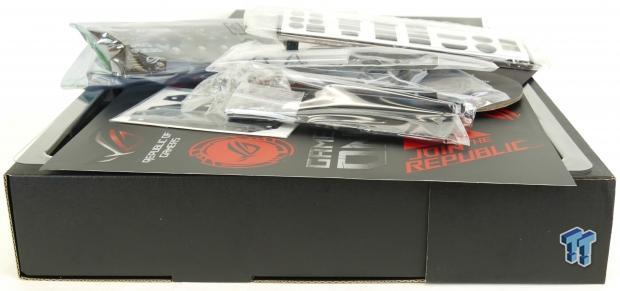 The box for the Maximus X Apex has the same ROG style design as other recent X299, X370, and even X399 ROG motherboards. It's a nice design, and the motherboard is extremely well protected.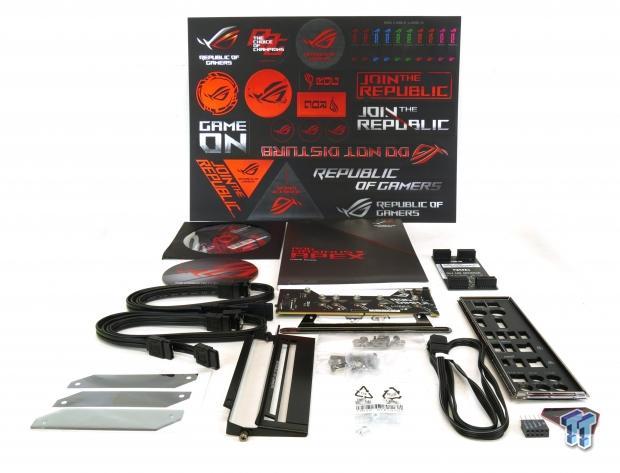 The accessory package includes four SATA6Gb/s cables, IO shield, VRM fan mount, DIMM.2 card, DIMM.2 card mount. SLI HB bridge, nameplate customization kit, Q-connector, ROG case badge, ROG coaster, RGB extension cable, M.2 screws, ROG stickers, manual, driver DVD.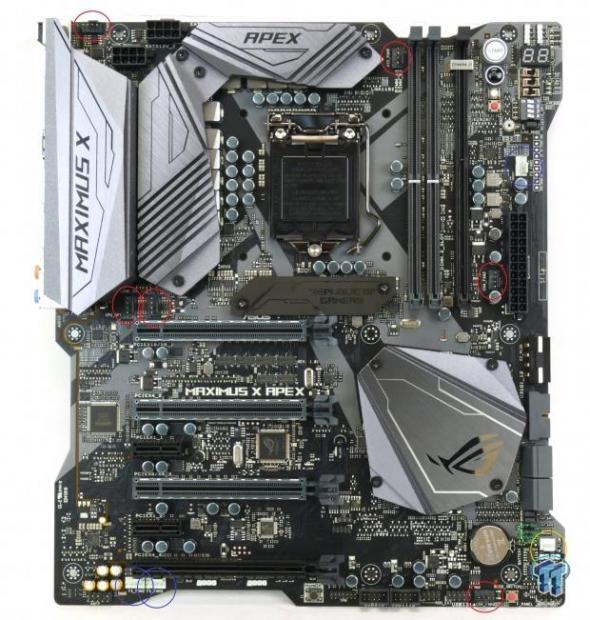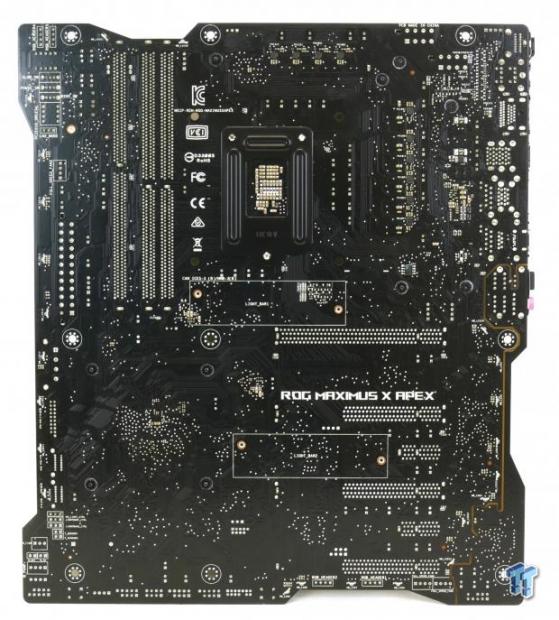 The Maximus X Apex has a hefty ten fan headers. The three circled in dark blue are full speed headers rated for 1A, meaning they are not controllable and run 100% at all times. The seven headers circled in red and light blue are hybrid DC/PWM mode headers, all of them offer up to 1A of power except the header circled in light blue that offers up to 3A. The CPU and CPU_OPT header share control, and an AIO Pump header runs at full speed by default. There are two external temperature sensor inputs circled in green; the sensors are not included.
You can use multiple temperature sources as a reference for fan curves, and control is offered through the UEFI or ASUS's Windows application. There are custom watercooling headers circled in yellow I will cover a bit later. The back of the motherboard is pretty bare of components, except for drivers for the VRM. The back of the PCB has a bunch of silkscreen indicators, presumably to make it easier to insulate different areas of the motherboard.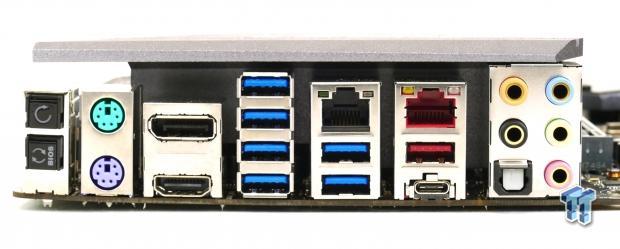 The rear IO panel features separate PS/2 keyboard and mouse ports, Clear CMOS button, BIOS Flashback button, HDMI, DisplayPort, six USB 3.0 ports, 5G LAN, 1G LAN, USB 3.1 type-A, USB 3.1 type-C, and 7.1 channel gold plated audio output with S/PDIF out.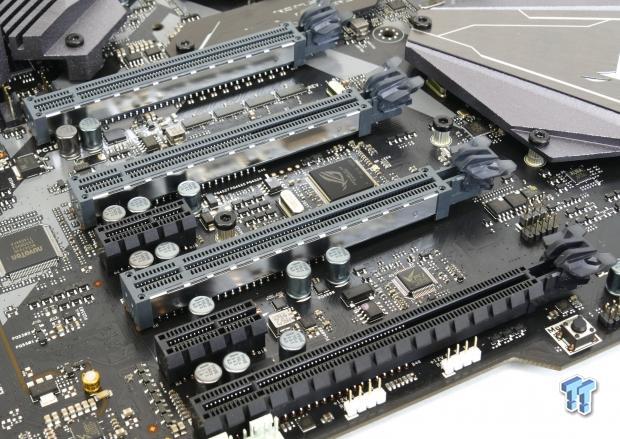 The PCI-E layout is fairly simple. The first, second, and third X16 slots are reinforced in three-axis with metal brackets, and they share x16 PCI-E 3.0 from the CPU. They can operate as x16/x0/x0, x8/x0/x8, or x8/x4/x4. The last x16 slot is routed to the PCH and is always at x4 PCI-E 3.0. The motherboard supports 4-way CrossFireX and up to 2-way SLI.
The two x1 PCI-E 3.0 slots are routed to the CPU. The motherboard does support two x4 PCI-E 3.0/SATA based M.2 slots, and they are located on a DIMM.2 card. We get four SATA6Gb/s ports, one USB 3.0 internal header, and one MOLEX power port for extra PCI-E power.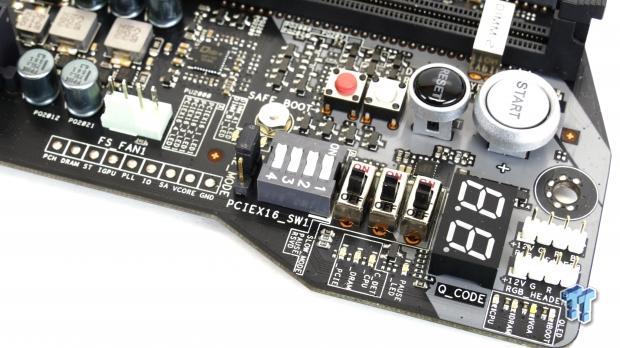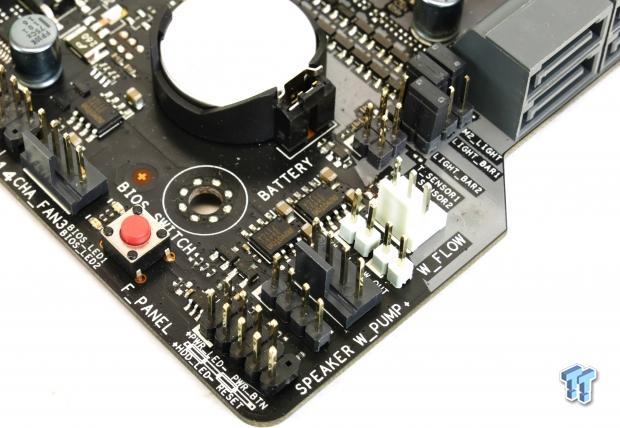 Overclocking is what this motherboard does best, and it's loaded with features to help extreme and novice overclockers take down records. You get the standard power and reset buttons, but right below them is a retry button in white and a safe boot button in red. Sometimes, re-applying the settings works, and that's what the retry button is for. The safe boot button is to enter the UEFI with bootable settings without wiping out your settings. We also get voltage read points, and right above them is an LN2 mode jumper, and right above that are PCI-E x16 slot disable switches.
We also find three switches; the topmost is for slow mode (instant x8 on the CPU), Pause switch (literally pauses the system in place), and an RSVD switch that helps with cold boot bugs. While we still see boot LEDs, we also get the condensation detection LEDs right below the POST code display. The motherboard has two RGB LED headers in this area as well.
There are two physical BIOS ROMs on the motherboard, and the BIOS switch button allows you to switch between them. Jumpers are located above the external temperature sensor headers that control lighting on the motherboard. The motherboard is also equipped with a water flow sensor header, as well as in and out water temperature headers.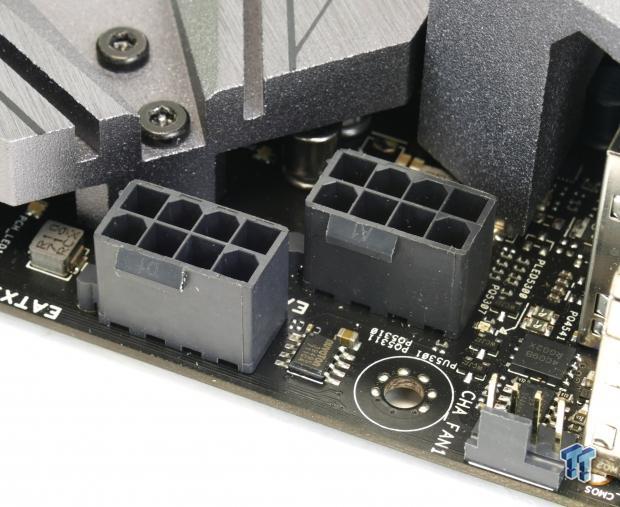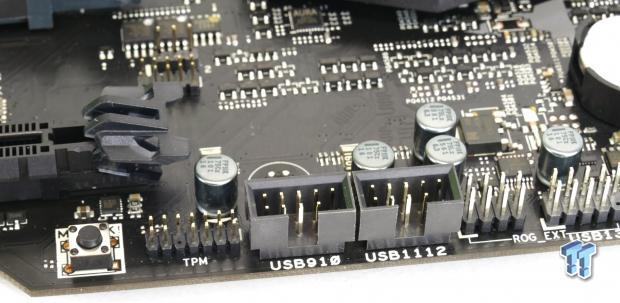 The motherboard has two 8-pin CPU power connectors, which is kind of overkill. The motherboard has three USB 2.0 headers, one of which is part of the ROG extension header. A MemOK! button is located to the left of TPM header.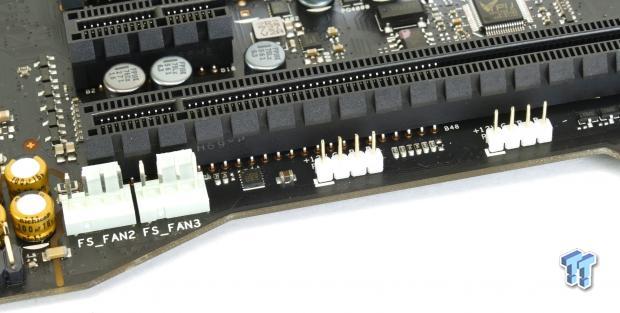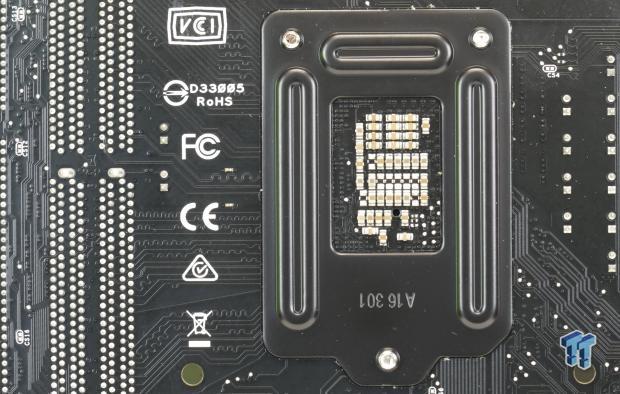 The motherboard has two RGB LED headers at the bottom of the motherboard, bringing the total number of RGB LED headers to four. The socket of the motherboard has a tiny hole in it so you can sneak a thermal probe in there for liquid nitrogen overclocking. There are also multiple condensation sensors on the back of the PCB that are designed to detect condensation.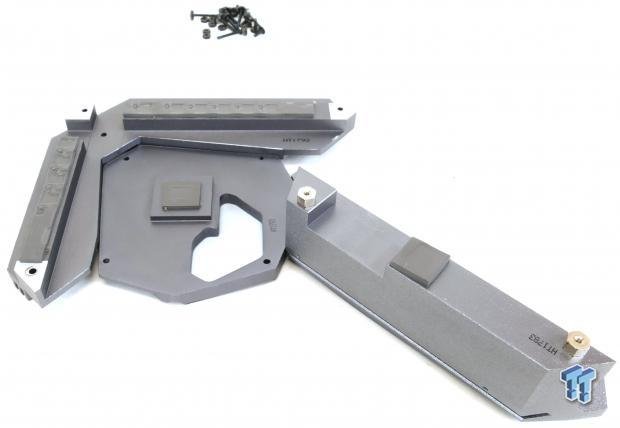 The VRM heat sink is split into two pieces. One heat sink cools the VRM while the other cools the 5G NIC. The reason for two is so you can still cool the 5G NIC during LN2 overclocking without having to give up VRM area insulation. All heat sinks are screwed into the motherboard with nuts and bolts, except the 5G heat sink.
ASUS ROG Maximus X Apex Circuit Analysis
Circuit Analysis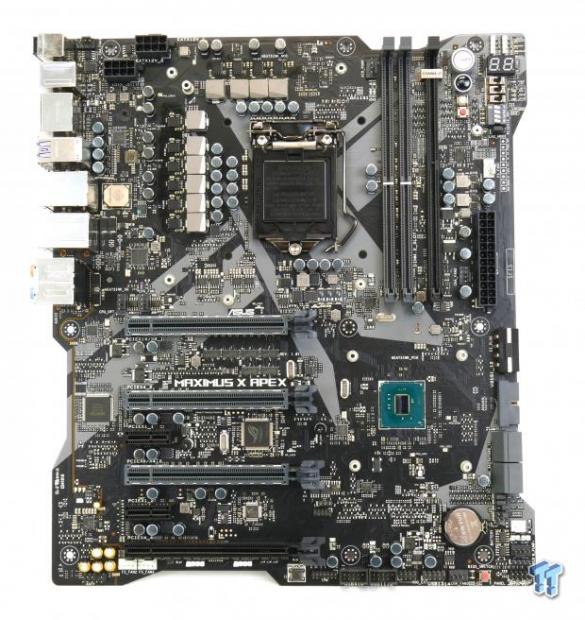 The Maximus X Apex reveals its secrets when the heat sinks and shields come off.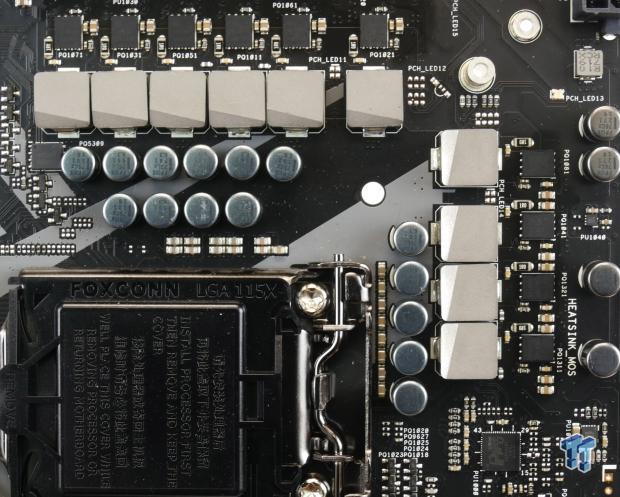 The VRM on the Maximus X Apex is in an 8+2 phase mode. It also uses ASUS's 10K capacitors and microfine alloy chokes.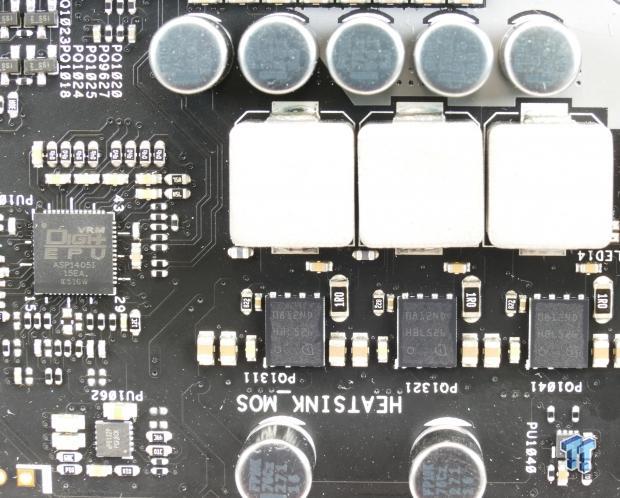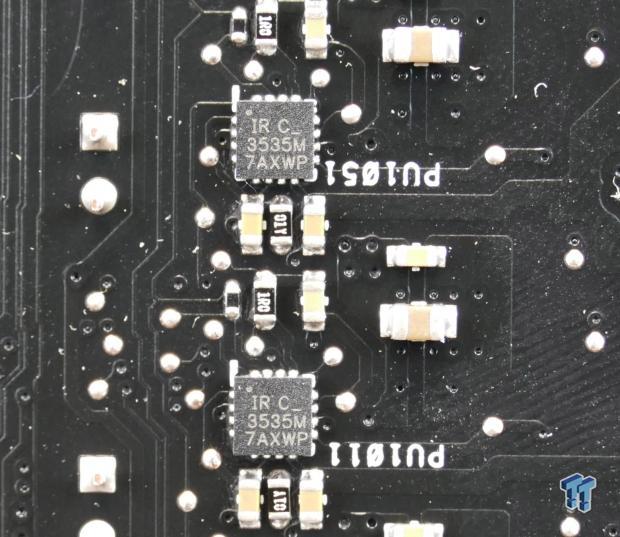 The VRM on this motherboard uses ASUS's ASP1405I, which is probably like an IR35201 fully digital PWM controller that offers up to 8 phases, but here it's outputting 4+2 phases. Each PWM phase (for the VCore) from the digital PWM is doubled by an IR3599, and we find four of these doublers on the topside of the PCB. Each doubler then outputs to an IR3535 driver, and we find ten of them on the backside (8 for CPU, 2 for iGPU). The MOSFETs are Infineon OptiMOS BSG0812ND, which should be rated for 50A. The VRM here is very similar to the Maximus IX Apex, but it uses different power blocks.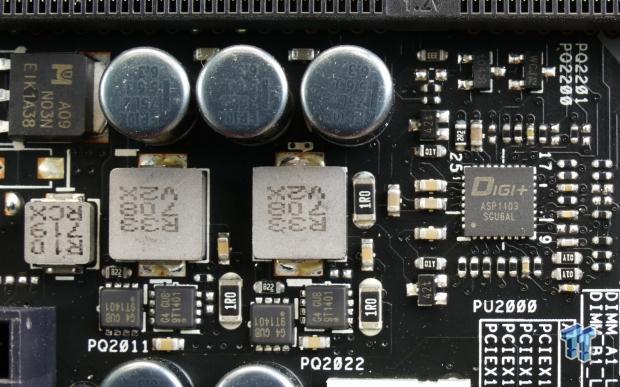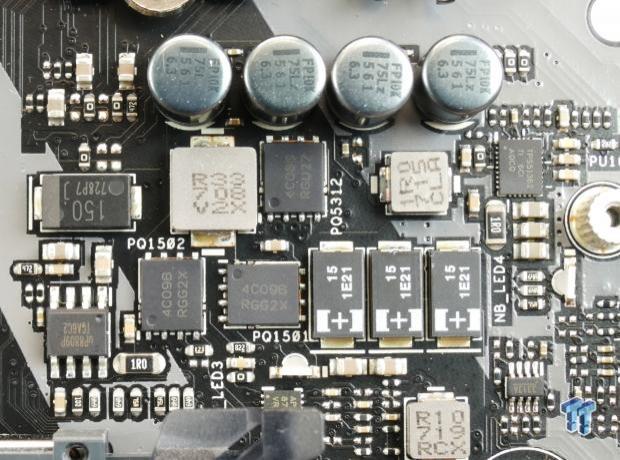 The memory VRM and CPU secondary rail VRs (VCCSA and VCCIO) are exactly identical to that used on the Maximus IX Apex. The memory VRM uses a rebranded two-phase controller for the memory PWM (seems like it has integrated drivers), with two N-channel MOSFETs. The VCCSA and VCCIO get power from a Texas Instruments TPS51362 10A converter and a single phase VRM controlled by an Anpec PWM and PowerPAK MOSFETs.
ASUS ROG Maximus X Apex Circuit Analysis Continued
Maximus X Apex Circuit Analysis Continued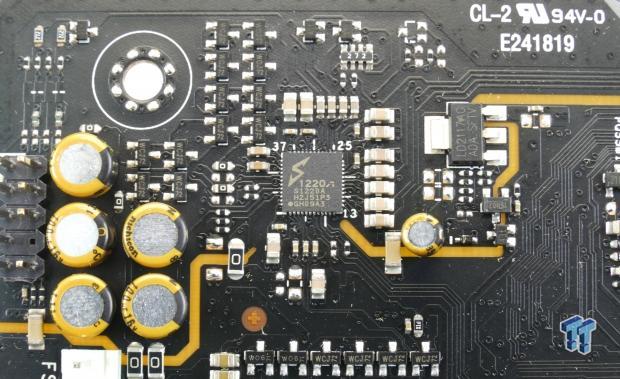 ASUS uses the Realtek ALC1220, and also integrated Nichicon Gold series capacitors and physical PCB division to improve audio quality.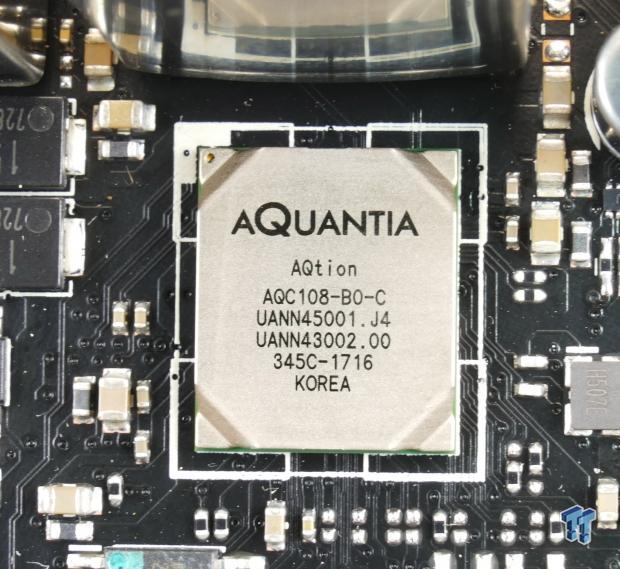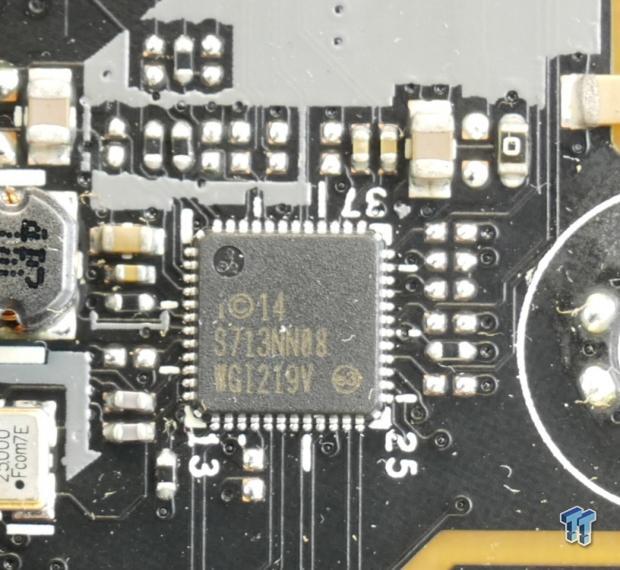 Aquantia's 5Gbit NBase-T NIC, the AQC108 is used to provide 5Gbit/2.5Gbit/1Gbit/100Mbit LAN. There is also an Intel i219v PHYS used to complement the PCH's integrated MAC for a 1Gbit Intel LAN port.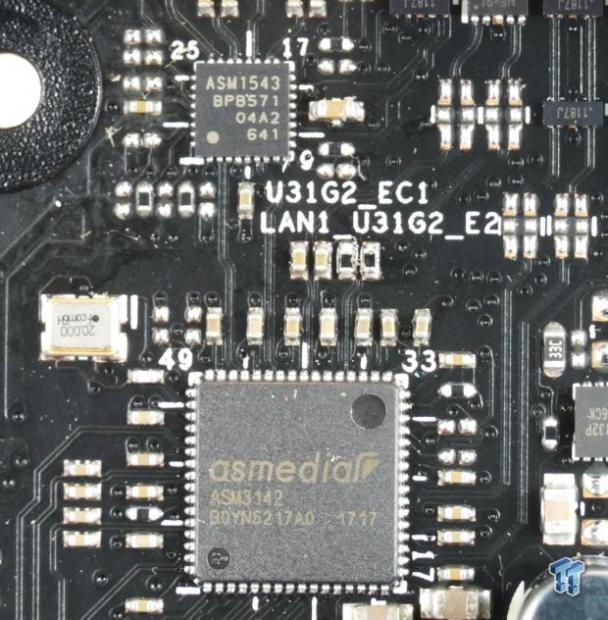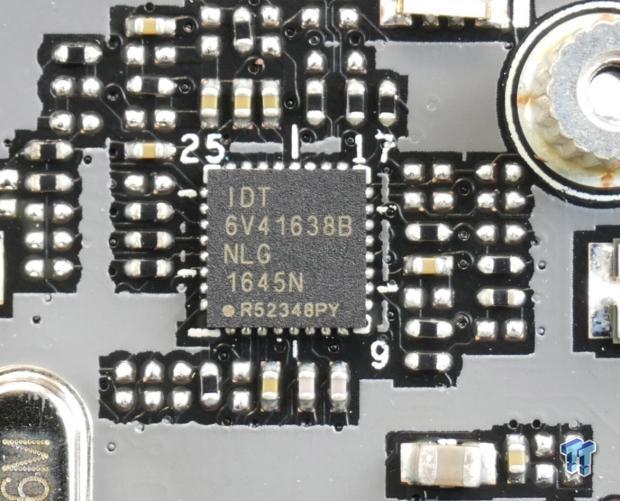 An ASMedia ASM3142 is used to provide USB 3.1 capabilities, and an ASM1543 is used as the type-C switch and CC logic chip. An IDT 6V41638B is used as a clock generator for better BCLK overclocking margins.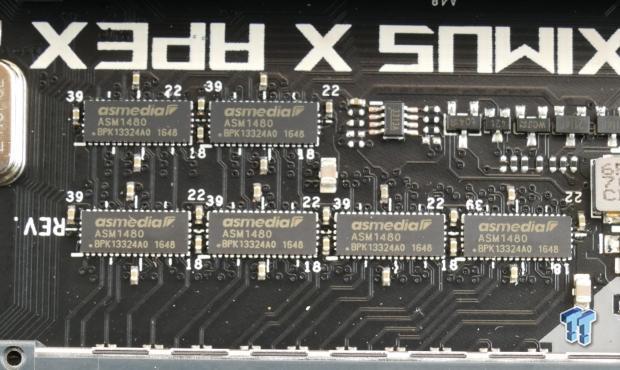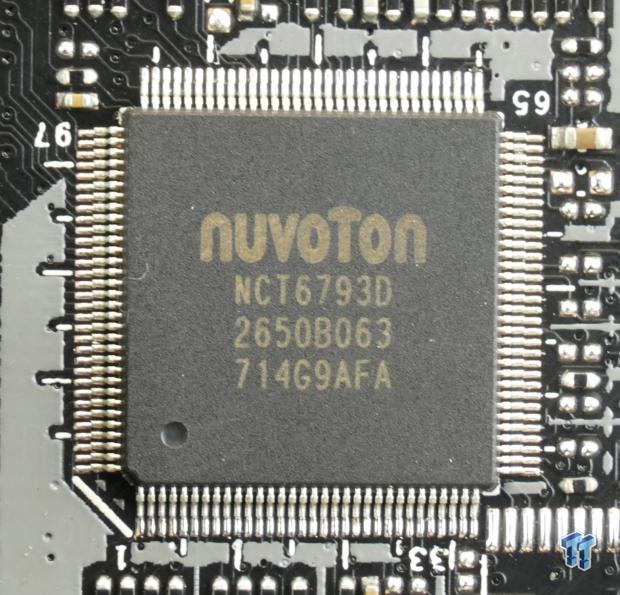 The motherboard features only six ASMedia quick switches, and they are used for the PCI-E lanes from the CPU. There are no other PCI-E quick switches, which is kind of impressive. The nuvoTon NCT6793D is used as the SuperIO and provides the PS/2 on the rear IO, fan control, and system monitoring.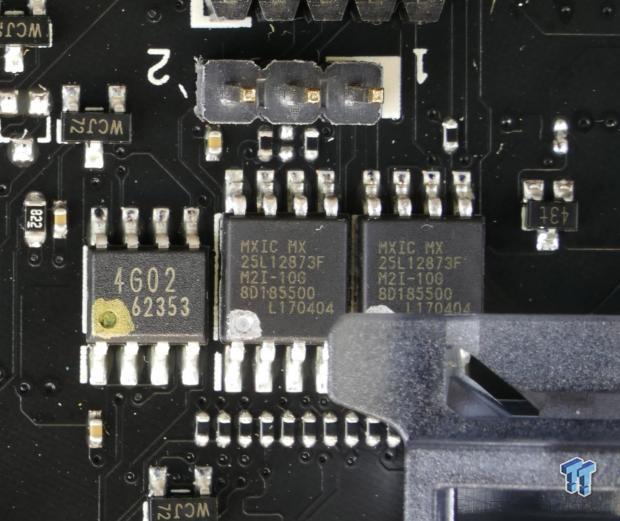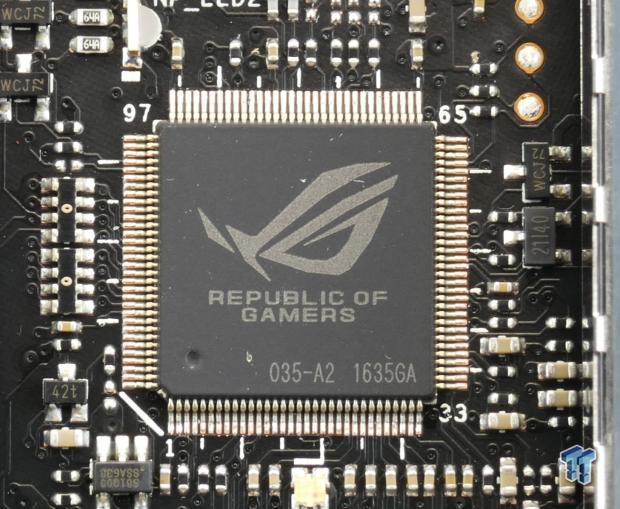 The motherboard has two 128Mbit/16MB BIOS ROMs, but it also has an EEPROM right next to the BIOS ROMs, presumably to store profiles. The motherboard also has the BIOS chip that supports BIOS flashback. We find a few custom chips, such as the ROG chip which is an embedded controller used to provide extra overclocking/ROG features.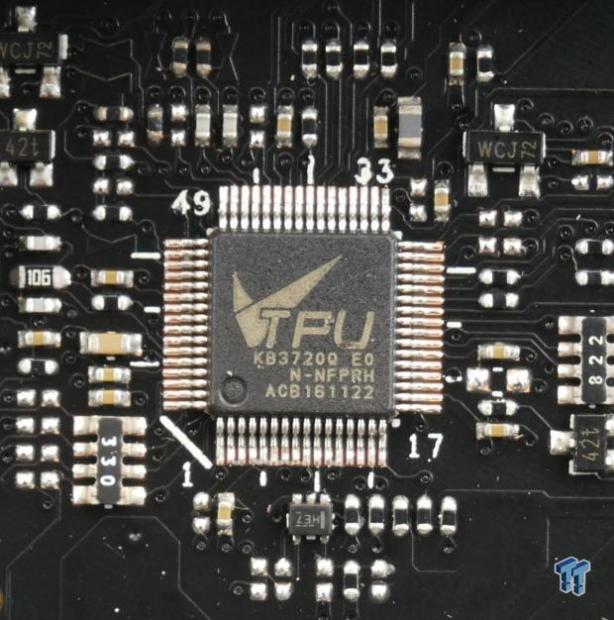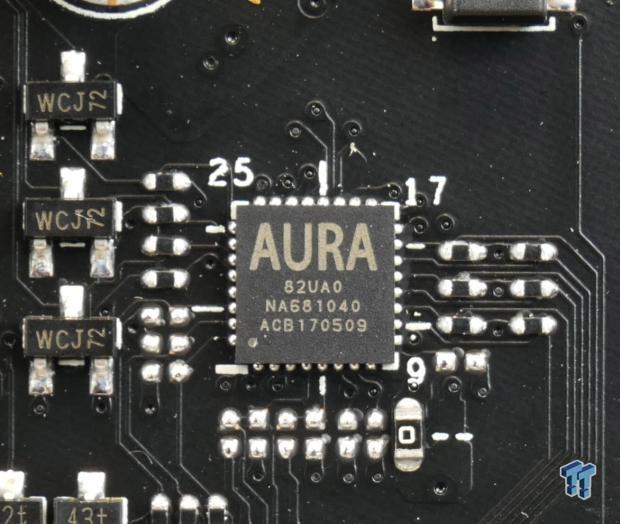 A custom chip labeled TPU is also used to provide extra functionality on the motherboard. An AURA chip provides RGB LED support.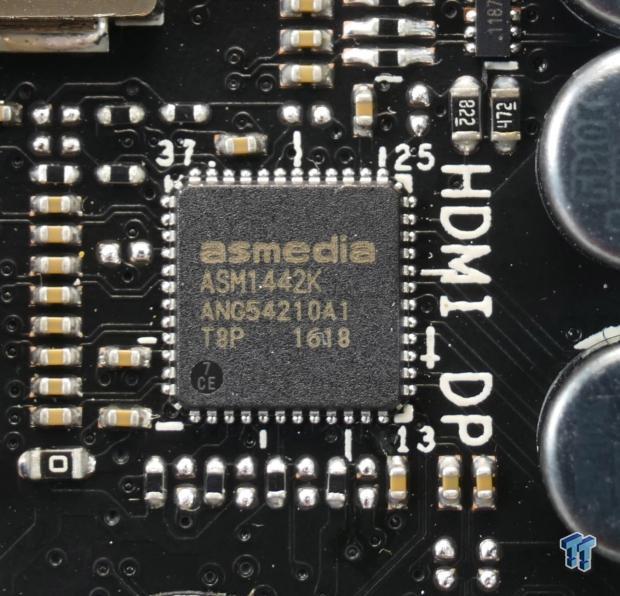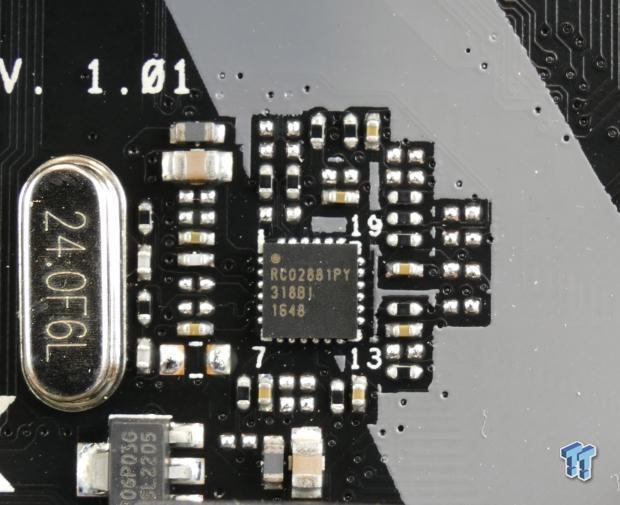 An ASMedia ASM1442K is used as a level shifter and provides the HDMI port on the rear IO. A chip labeled RC02881PY is found on the motherboard (same chip was found on the Maximus IX Apex) and I think it's either a digital RGB controller, an extra clock generator (I mean it does have a crystal), or an extra OC feature controller (like for the condensation detection).
BIOS and Software
BIOS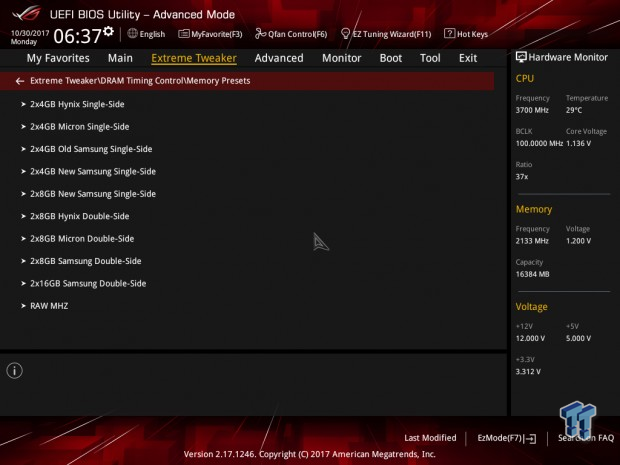 ASUS's Z370 Maximus X Apex UEFI is loaded, and I mean loaded, with crazy overclocking profiles and even overclocking profiles for air/water users. You have multiple 5GHz profiles from ASUS and even professional overclockers. You also get professional memory overclocking profiles, which are a pretty big hit.
One of the hardest things to figure out for a new overclocker is memory timings, as they are a bit hard to wrap your head around since there are just so many of them, and having those built in profiles helps a lot. If you are even more professional, I even found a menu with a bunch of different memory training algorithms.
Fan control is still superb, and now you can reference multiple sensors to each header.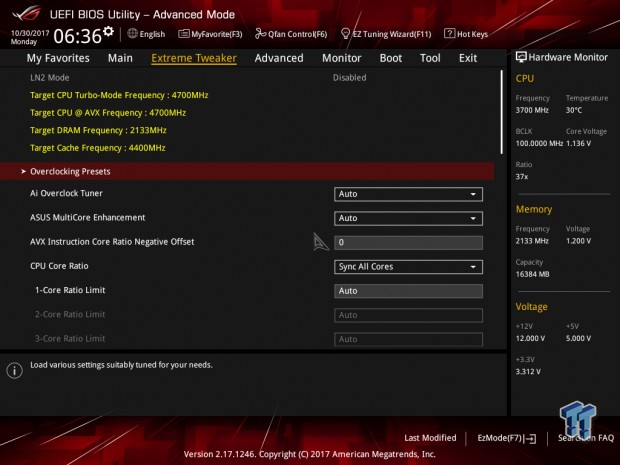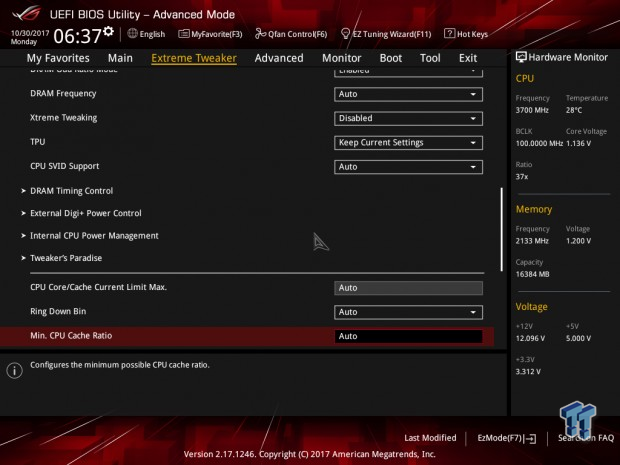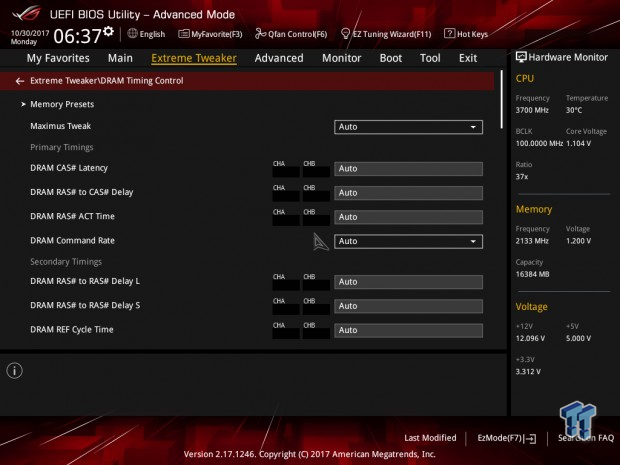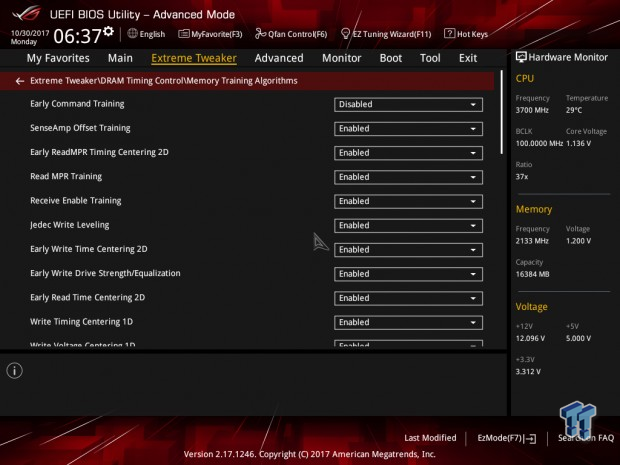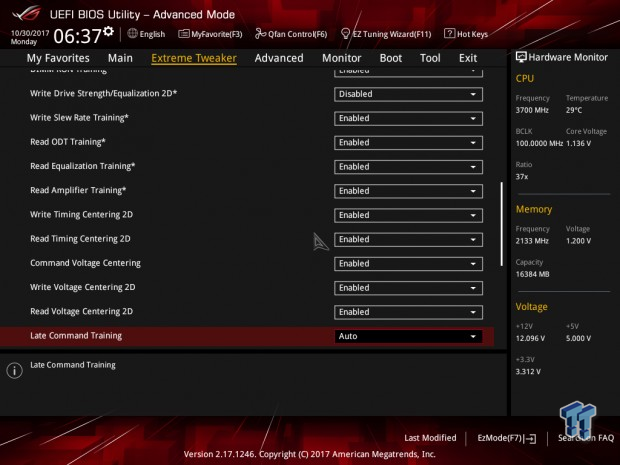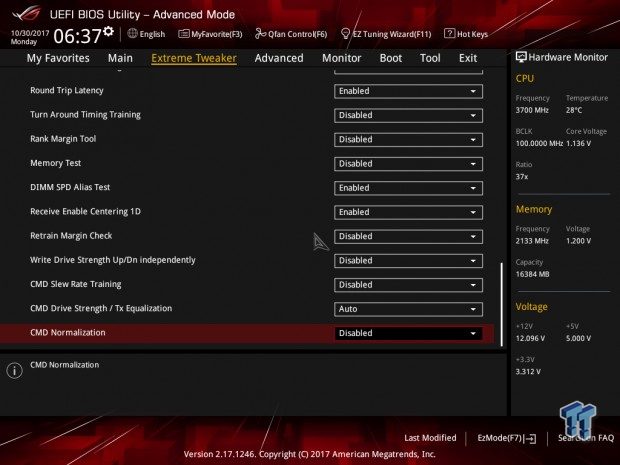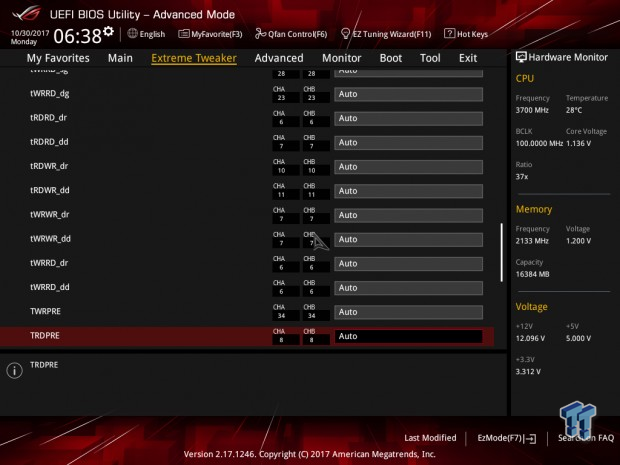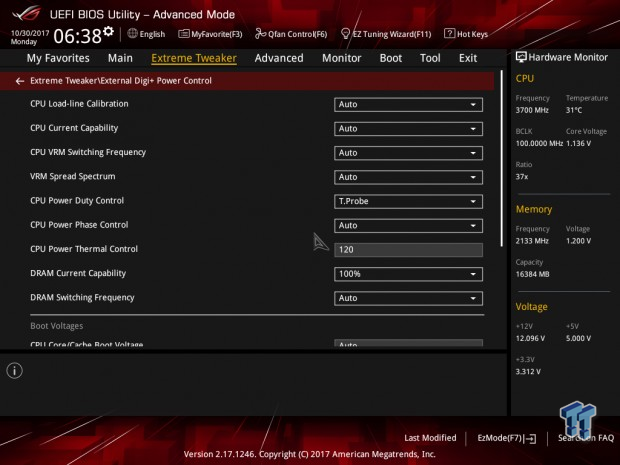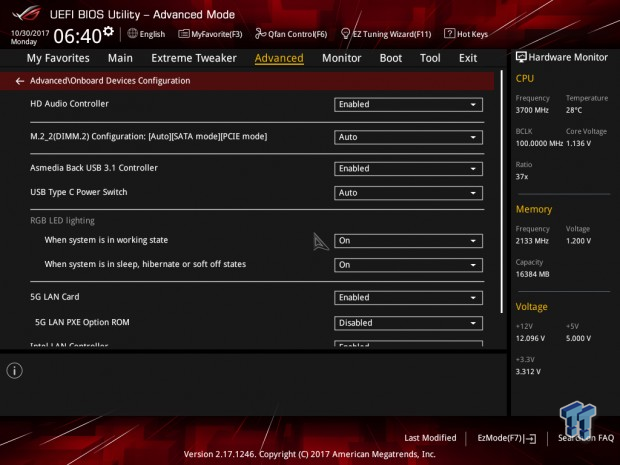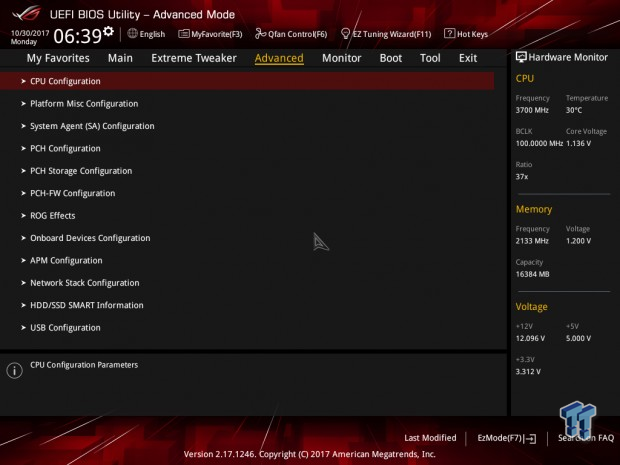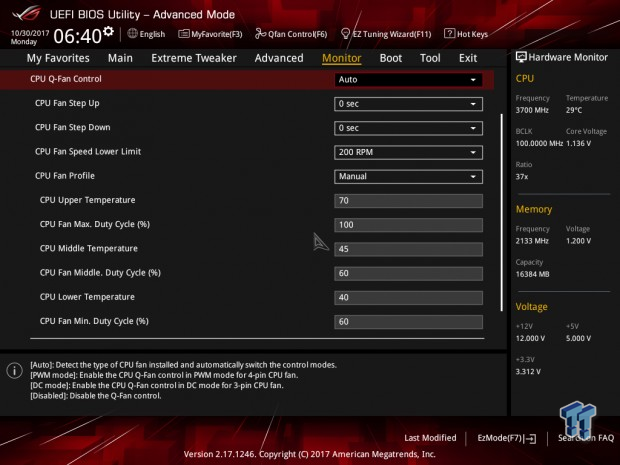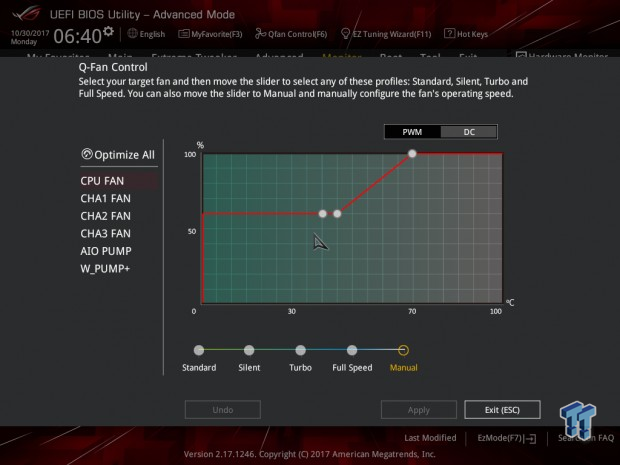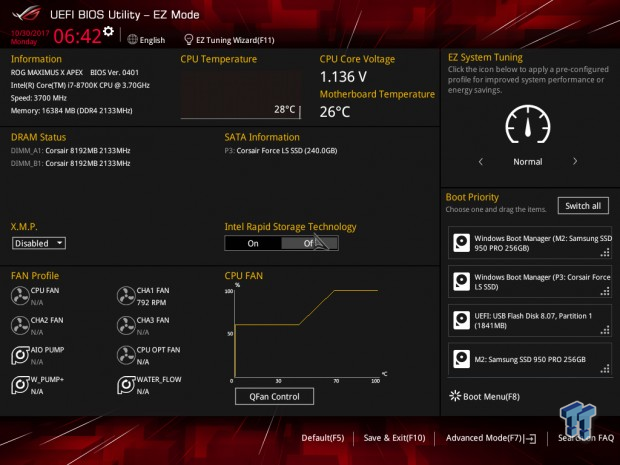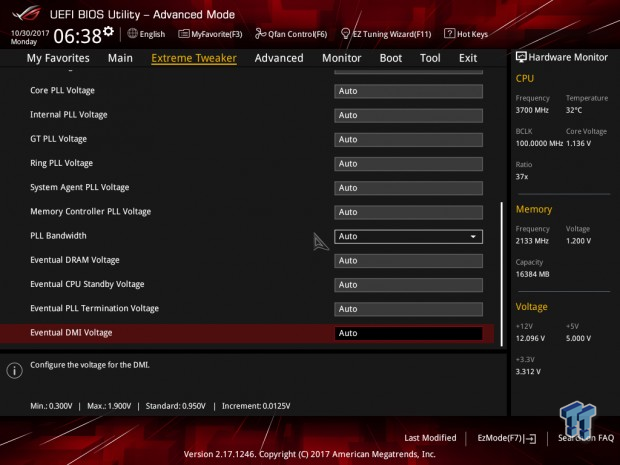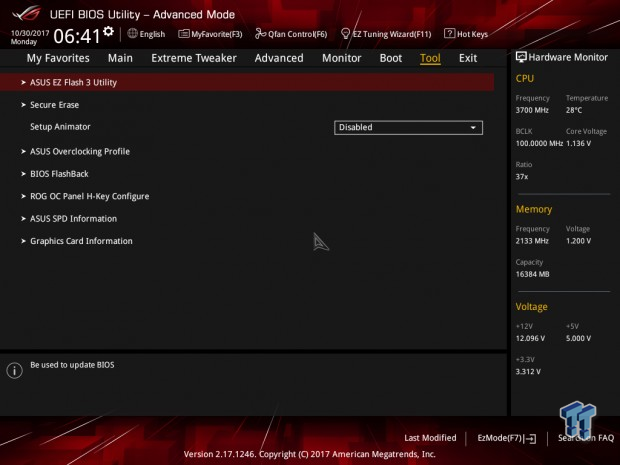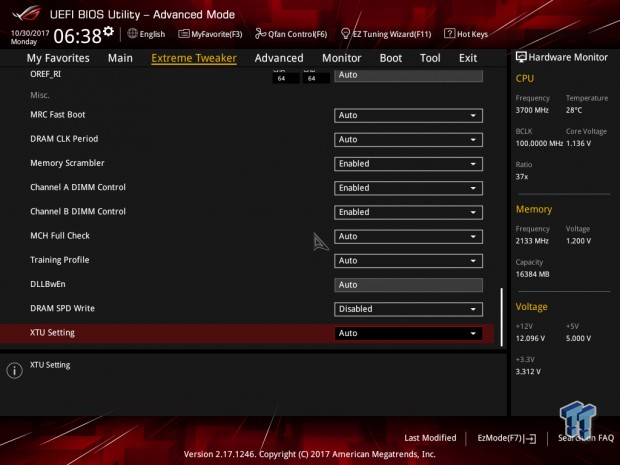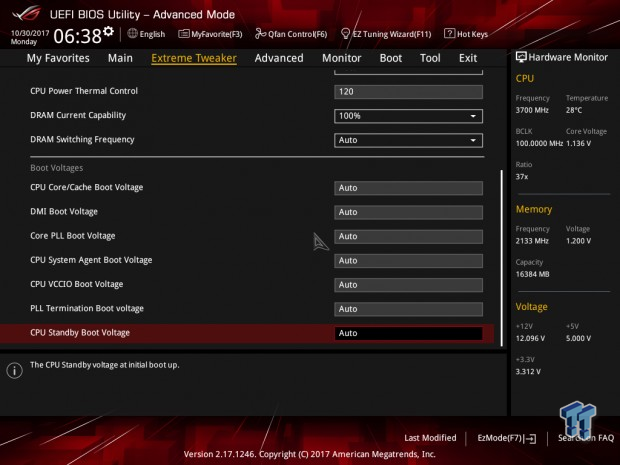 Software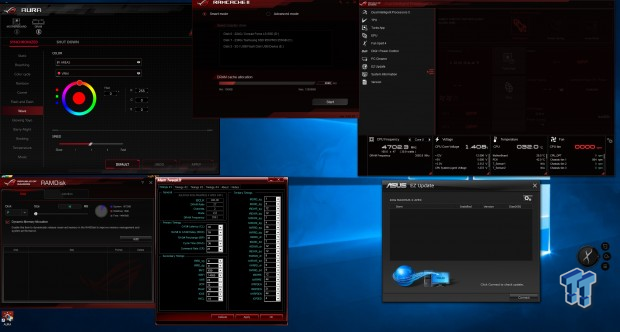 ASUS includes AURA RGB, RAM Disk, MemTweakIt, EZ Update, DIP5, TPU, TurboApp, EPU, Fan Xpert 4, DIGI+ Power Control, PC Cleaner, EZ Update, System Information, and Version. There are probably more applications, but this is just a list of what we could download from the site.
Test System Setup
Steven's Motherboard Test System Specifications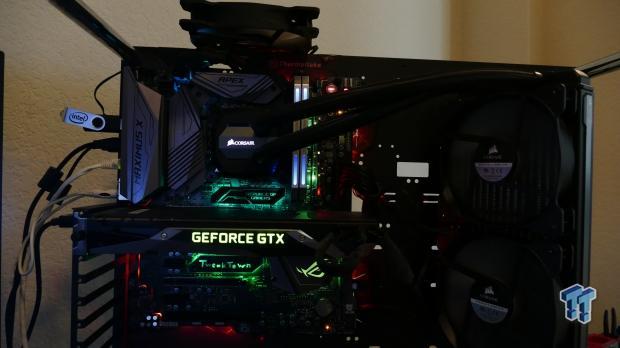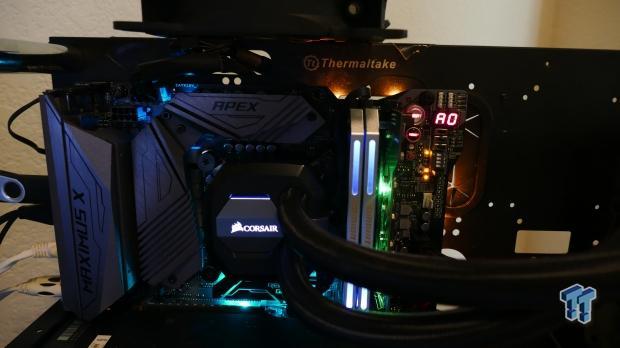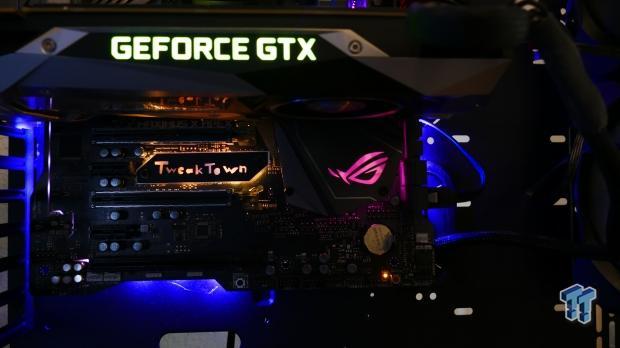 The Maximus X Apex is lit with RGB LEDs, and to be honest with you, I dig them a lot. Forget how awesome that nameplate idea is, I love motherboards that have their entire underside lit up. Although some overclockers might snarl at the LEDs, they cannot deny that LN2 vapors flowing over the lighting looks super cool (pun intended).
The motherboard also has four RGB LED headers, that's a lot.
Overclocking
Overclocking Results
CPU Overclocking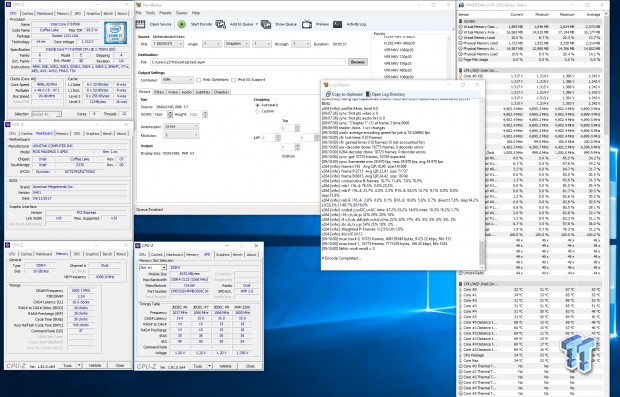 The Maximus X Apex is one of the best Z370 overclocking motherboards; it has the right stuff through and through. It has the right hardware, the right BIOS, and ultimately the right profiles in case you aren't getting where you want to be.
Having worked with a lot of ASUS motherboards, I knew how to get her up and running. I enable XMP, which instantly puts the system into a slight OC setting mode. Then I set all cores to 49x, VCore to 1.3v set with LLC mode 1 (20-40mv increase under load), I then increased CPU current capability, changed the PWM mode to current balance, and I was off.
Compatible Memory Overclocking Kits
In this section, I overclock four memory kits only using XMP, if the kit works then the results are below. I welcome memory vendors to send in their kits to be tested on each motherboard.
G.Skill TridentZ RGB 3600MHz C16 8GBx2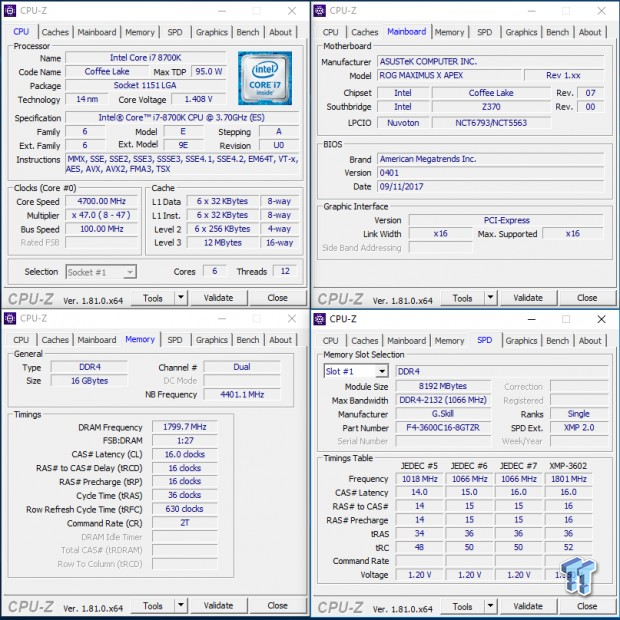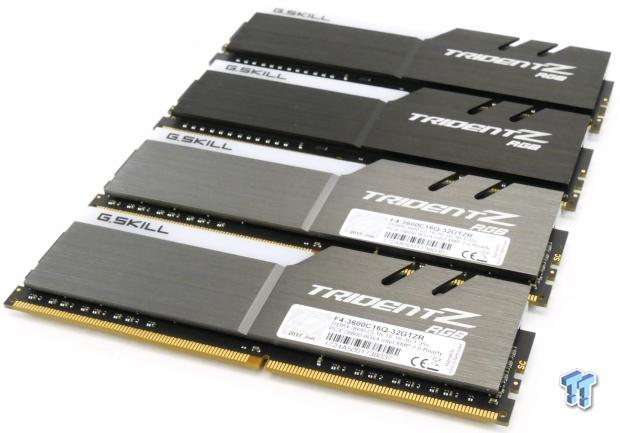 Easy, the board easily overclocked the Dominator Platinum RAM to 3200MHz and these G.Skills to 3600MHz.
CPU, Memory, and System Benchmarks
CINEBENCH 11.5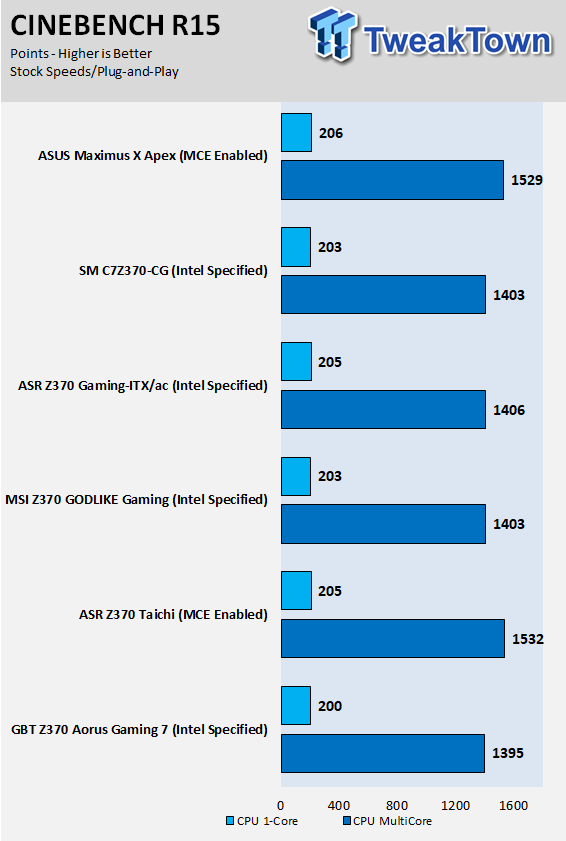 wPrime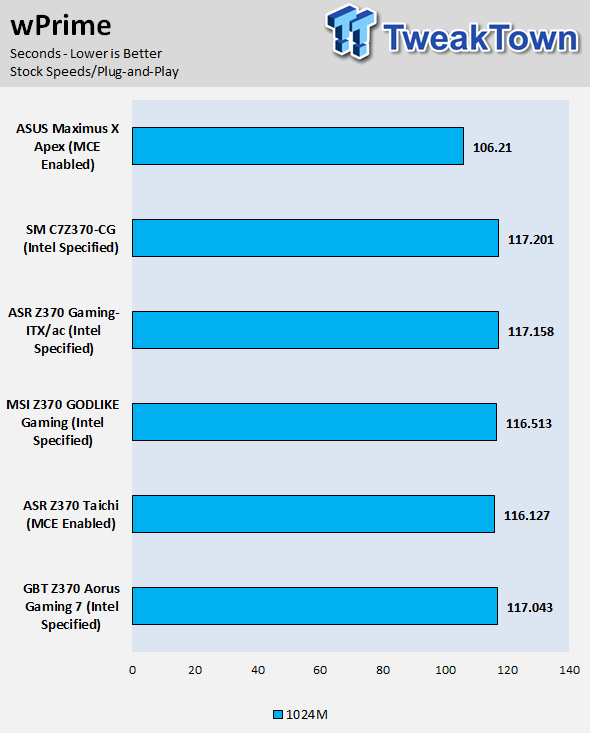 AIDA64 FLOPS and IOPS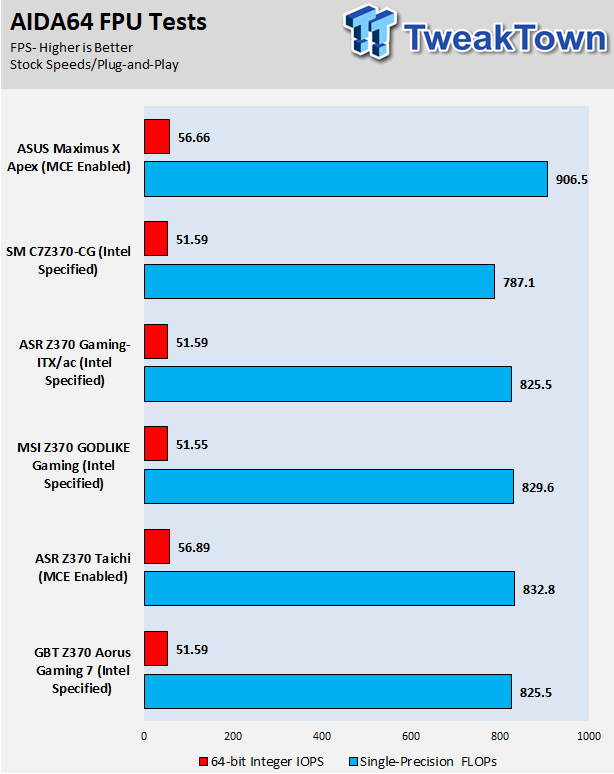 AIDA64 Memory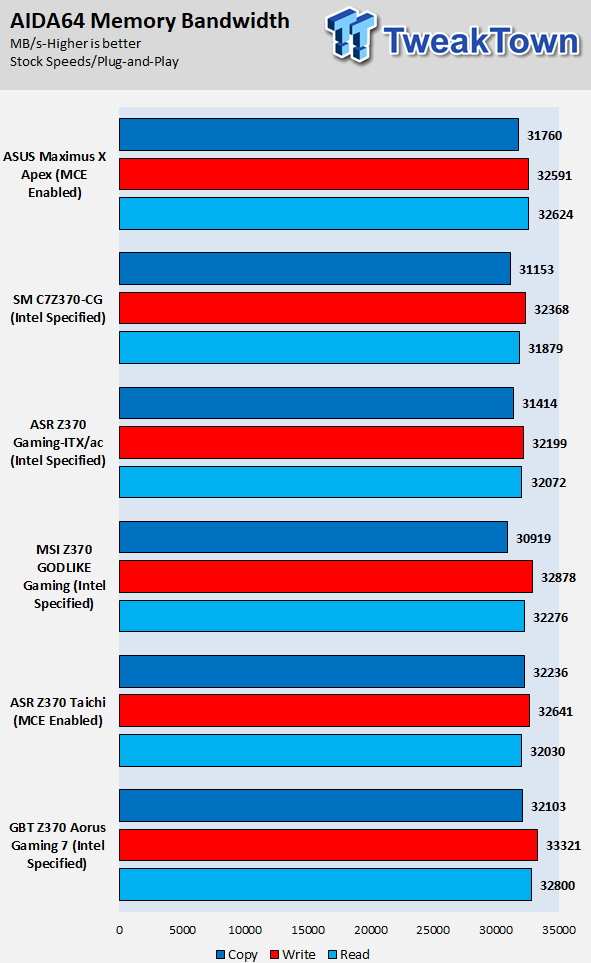 ScienceMark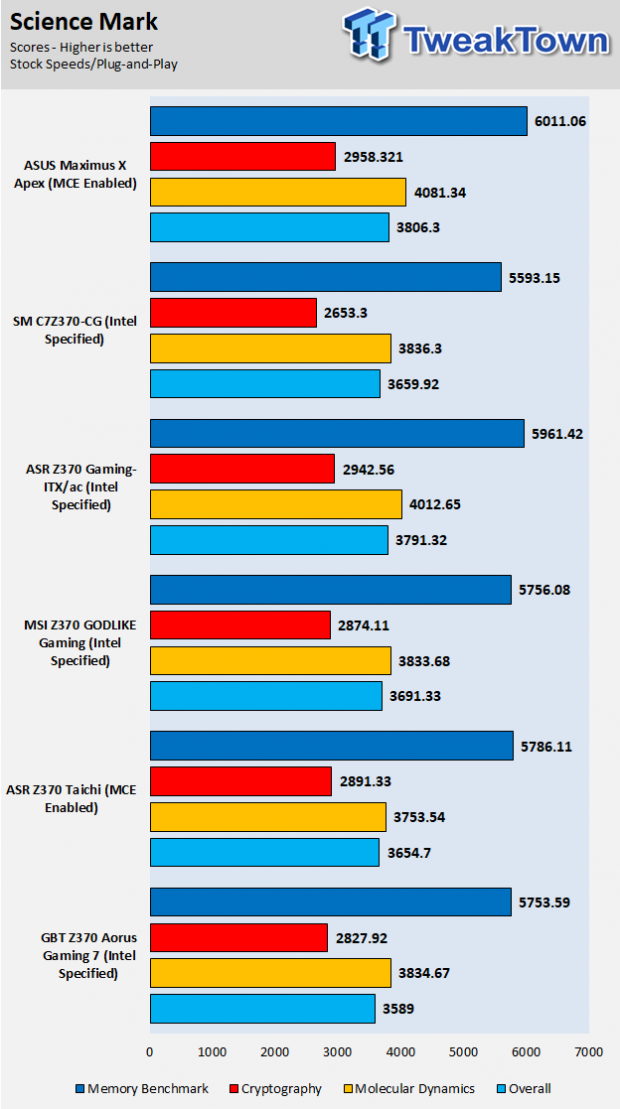 HandBrake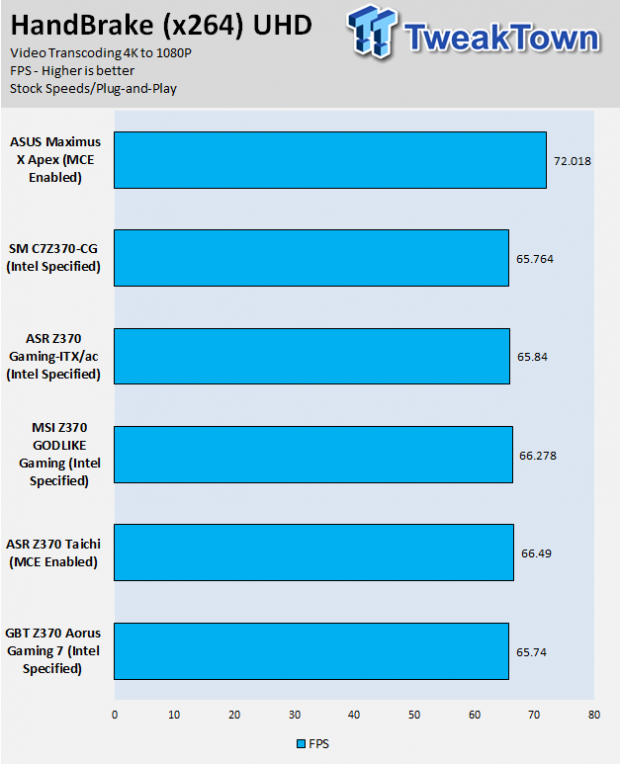 3DMark: Fire Strike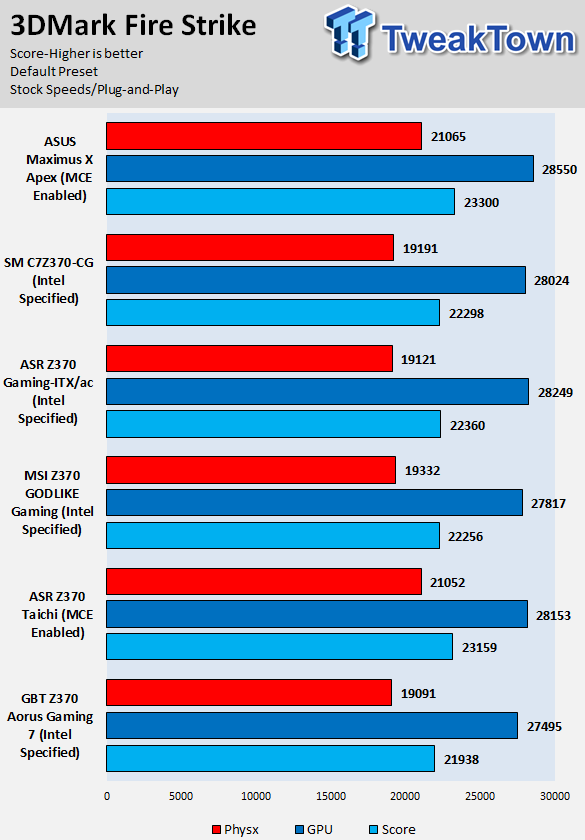 3DMark: Cloud Gate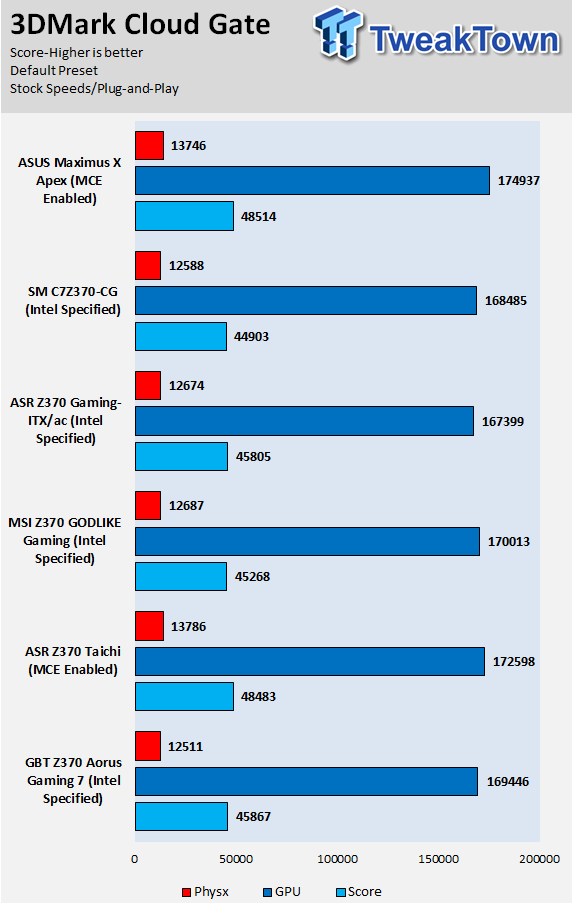 ResidentEvil 6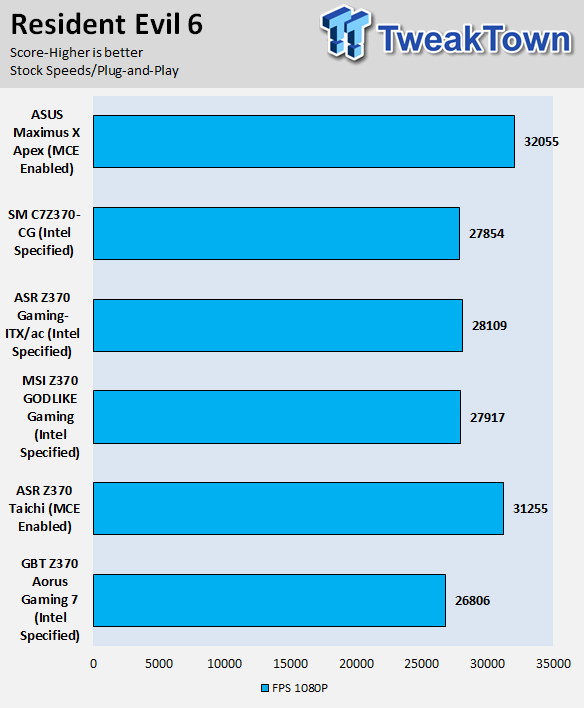 These tests are done out of the box, so I have decided to include whether or not the vendor has implemented some type of default overclocking, such as multi-core enhancement. Multi-core enhancement is when the motherboard vendor pushes all cores to maximum turbo speeds instead of just one or two.
MCE, as I will call it, can cause instability if your CPU isn't great, and we would hope vendors would have it off by default, but it does offer a free performance boost out of the box. Some motherboards also might increase the BCLK a bit over stock to score higher, and some might even mess with the turbo boost table. If we standardize settings, then most motherboards should perform the same, but in this case, we haven't.
Overall, the Maximus X Apex is doing great because it is boosting all cores to 47x, which is multi-core enhancement, and very much out of Intel's specs. It leads in our charts for performance, but it also does so for power consumption. Performance is never free, although if you want the system to auto OC to max multiplier settings, then the Apex will work.
System IO Benchmarks
CrystalDiskMark SATA6G: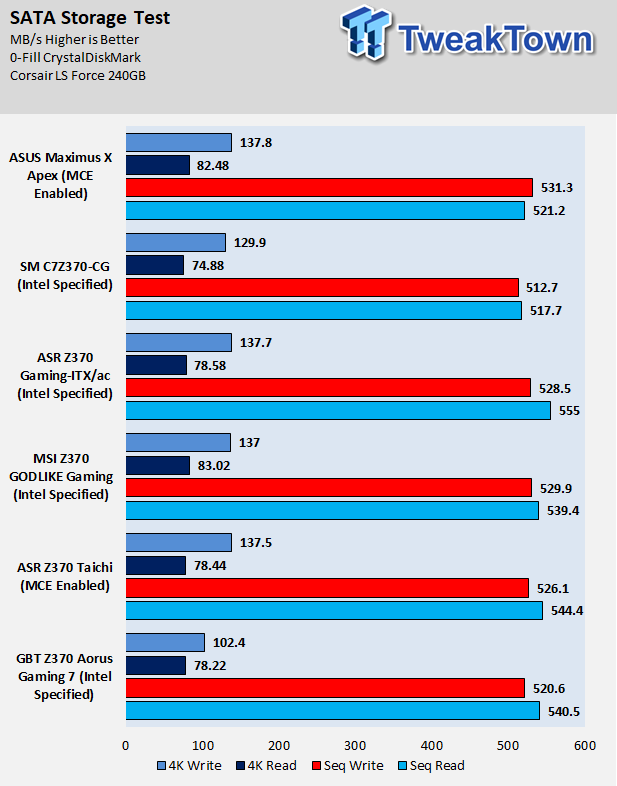 CrystalDiskMark M.2: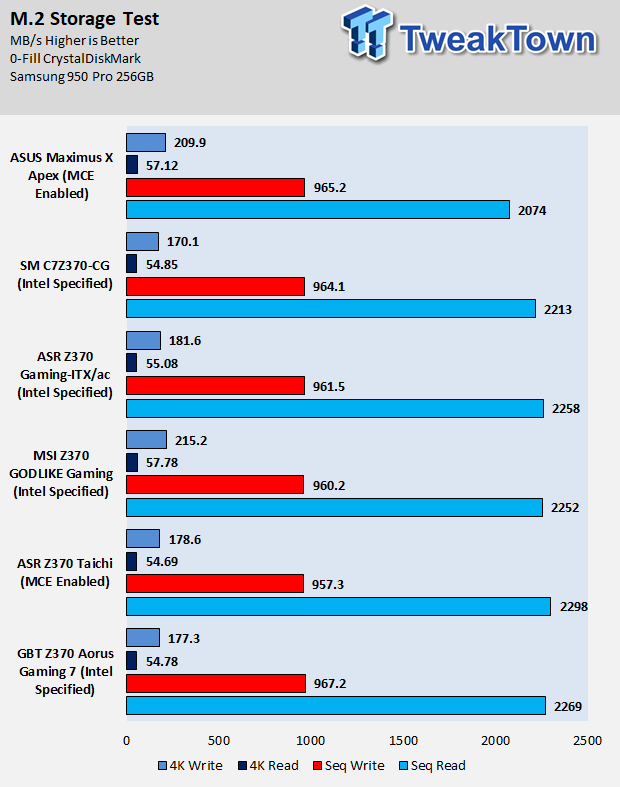 ixChariot Network Throughput: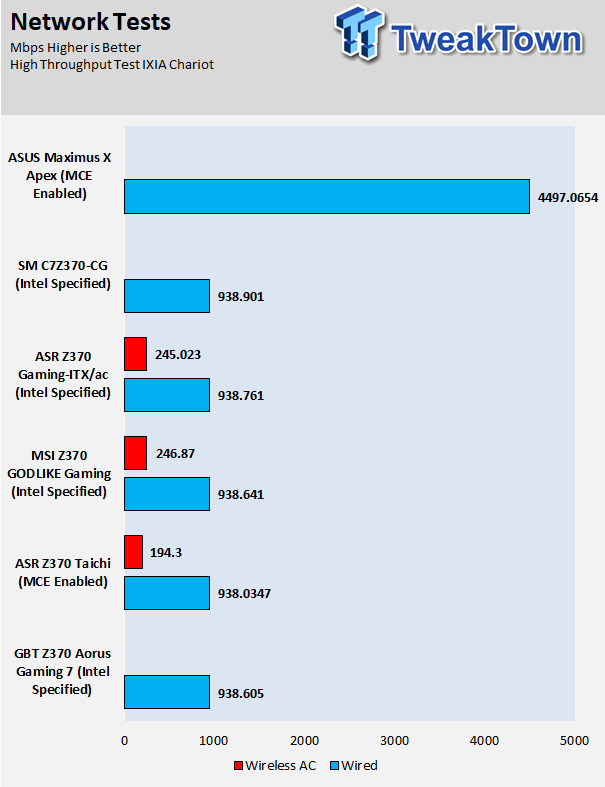 The Maximus X Apex's SATA performance is decent, especially in writes. However, M.2 sequential read performance is a bit off, but still very fast. Did I mention the Apex has a 5Gbit NIC?
Audio RMAA 5.5:
I disable all audio features, set the correct bitrates, and then test the audio with a loopback test.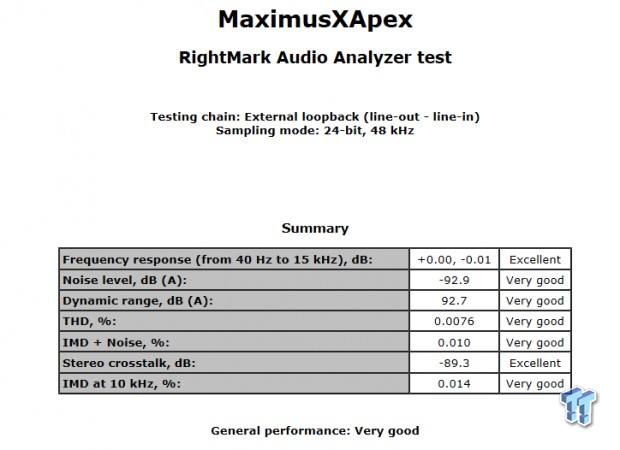 Sound Judgment: Very Good, and I am not sure why I am not scoring excellent for THD or IMD + Noise. All I can think of is that maybe something is wrong on my end, or that ASUS optimized audio so that it causes less interference with the rest of the system. I honestly couldn't tell much difference between the Apex's audio quality and that from other motherboards with just an ALC1220. There are five ratings for audio: 1. Problems, 2. Okay, 3. Acceptable, 4. Very good, 5. Excellent
Thermal Imaging and Power Consumption
System power is measured at the wall with an AC power meter.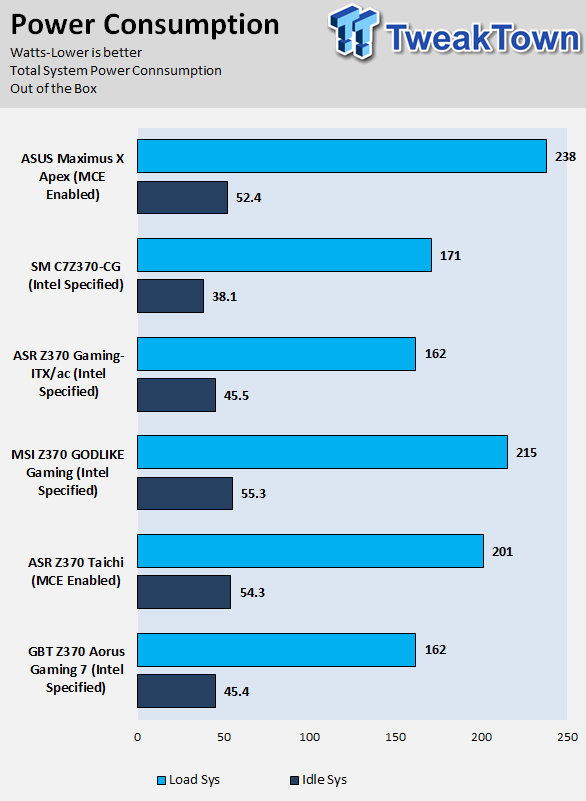 Note on Thermal Images: In the temperature section, we use our Seek thermal imaging camera to capture the surface temperatures of major components on the board. I look at the VRM and then all other things that light up the screen. If there is something to worry about, then I will state it. Otherwise, I will just show the hotter running parts of the board for fun. Unless some component is over 80-90C, then there isn't anything to worry about.
All systems will act differently, so I will look for commonalities, such as how far from the VRM the heat spreads through the PCB and the difference in temperature between the front side and backside of the PCB. Keep in mind, the majority of the heat from the VRM goes into the PCB as it is a giant soldered on copper heat sink. A larger difference in temperature between the back and front of the PCB points towards a more effective heat sink.
Thermal Testing at Stock Speeds:
The image on the left is always at idle, and the image on the right is at load. During ALL TESTS, fans to the right of the motherboard from the (Corsair H110i) radiator are left on automatic mode (ramps with internal block temperature). Additionally, a 120mm fan is situated right above the VRM, and it blows down at a medium rate (very quiet). Thermal Images are taken at loop 15 of Intel Burn Test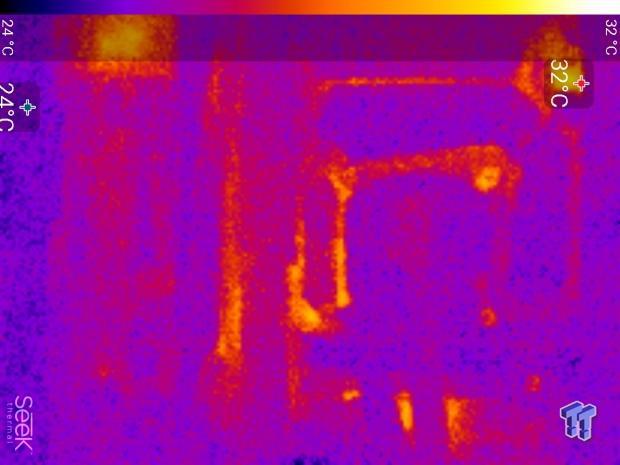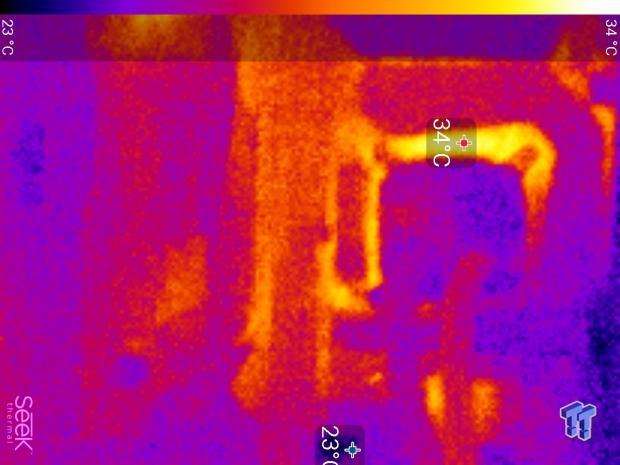 Full frontal.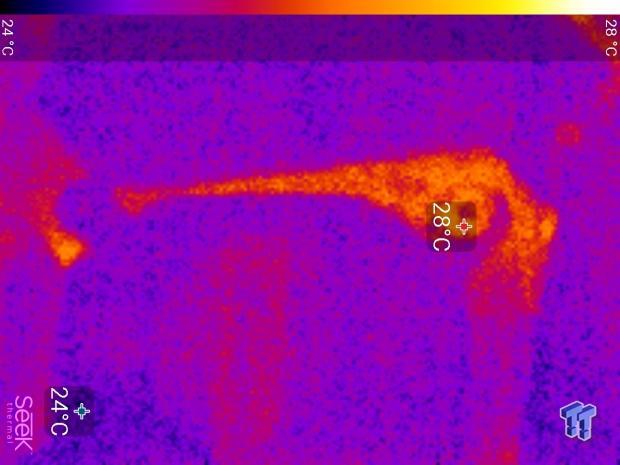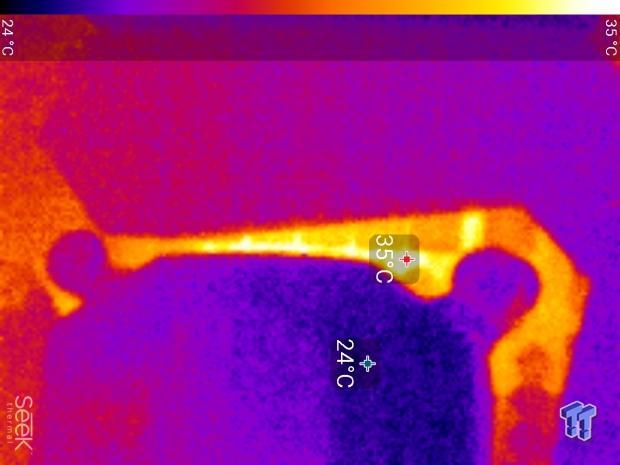 Up-close of the front of the VRM.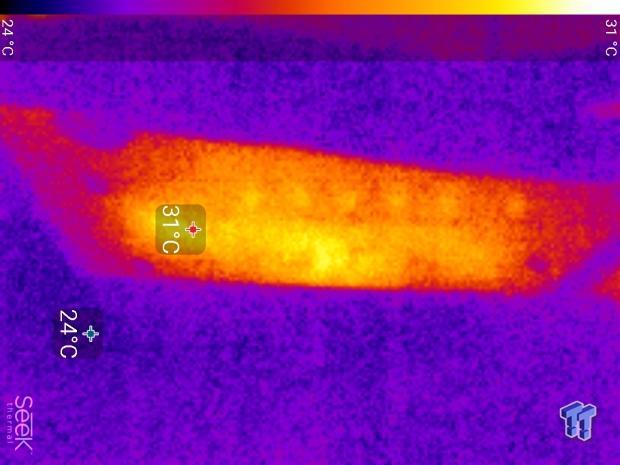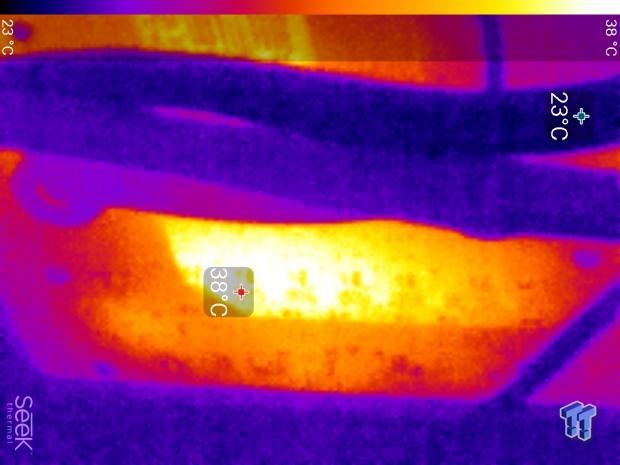 Up-close of the back of the VRM.
Thermal Testing at 4.9GHz/1.3v Overclocked Speeds:
The image on the left is always at idle, and the image on the right is at load. During ALL TESTS, fans to the right of the motherboard from the (Corsair H110i) radiator are left on automatic mode (ramps with internal block temperature). Additionally, a 120mm fan is situated right above the VRM, and it blows down at a medium rate (very quiet). We standardize this test with a 4.9GHz on all cores with 1.3V real under load and take pictures at the 80% mark of HandBrake rendering a 4K video.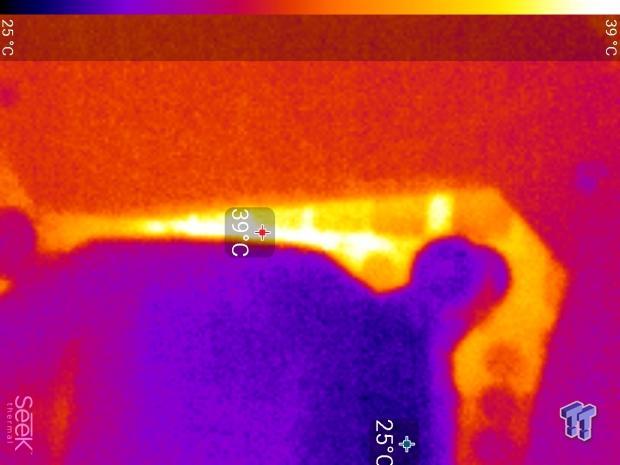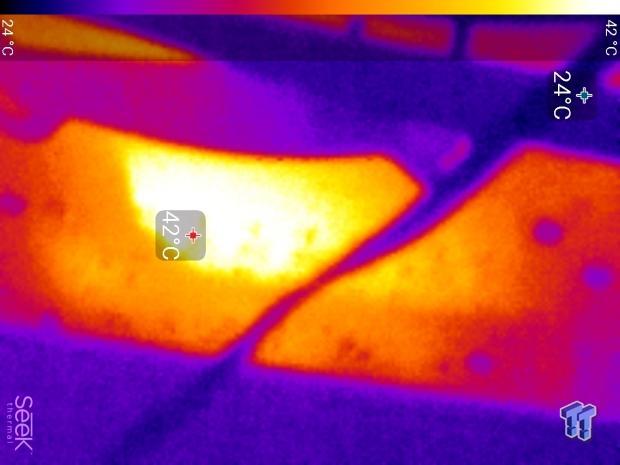 Up-close of the front and back of the VRM.
The Maximus X Apex has a high quality VRM that does a solid job of providing power to the CPU. Thermals, even in our harsh testing scenario are totally acceptable and the heat sink does a decent job, but it could do better since it's just a solid block. The Apex is built for high performance overclocking, so subzero cooling will cool the VRMs as well, but otherwise, I would have a fan pointed at the VRM. Overall VRM testing showed acceptable temperatures, but expect them to build up over time if there is no airflow in the VRM area.
Anything under 60C is great, 60-80C is acceptable, and anything above 80C is a bit worrisome (if at stock).
What's Hot, What's Not & Final Thoughts
Here are key points about the ASUS ROG Maximus X Apex.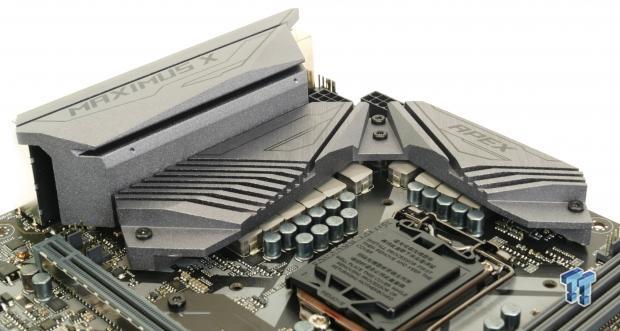 What's Hot
Overclocking is Excellent: VRM quality is proven and strong, the VRM power stages here are identical to those on the Maximus VIII Extreme, and the layout and design for other VRMs is identical to the Maximus IX Apex, both of which are proven motherboards. The motherboard also has an awesome assortment of overclocking features, some of them unique. Take, for example, the condensation detection system and pause switch. When it comes to overclocking profiles, no one does it like ASUS ROG. They have a full page of CPU overclocking presets, all the way from a handful of 5Ghz profiles to 300MHz BCLK profiles, and even LN2 profiles. Memory overclocking profiles are also plentiful, and you also get the ability to choose what training algorithms are used on your memory. It might be very complex or overwhelming for some people, but the profiles try and simplify things for those not as familiar with things.
RGB Lighting and Aesthetics: I really love how RGB LEDs under the motherboard produce a vivid glow. I like the RGBs under the VRM heat sink and under the ROG nameplate and customizable nameplate. The X-shape of the PCB is a nice touch as well. The customizable nameplate might seem like decoration, but it serves a purpose in the professional overclocking world. Sometimes you just have too many of the same motherboard to keep track of, or you are at a competition and your board is mixed up with someone else's, or you have an issue with someone who has sticky fingers.
5G NIC: I am not really sure why the motherboard has a 5Gbit NIC and a 1Gbit NIC. The motherboard is supposed to be targeting mainly overclockers and modders, but I get the feeling ASUS has found another market; those who want the ability to mod or overclock down the road if they choose. That market is one some vendors don't understand exists and having been part of that market when I was younger; it's a bit difficult to describe.
Fans: Ten fan headers is a nice touch, and while three of them run full speed all the time (preferred for subzero overclocking), the rest can be fully controlled. ASUS has also added the ability to reference multiple temperature sensors at once. You also get a 3A header, which is also useful for high current pumps or a daisy chain of fans.
What's Not
Four SATA and no Addressable RGB: I was surprised to find four RGB LED headers, but no addressable RGB header. I was also surprised to find only four SATA ports, but I get it, fewer switches to M.2 means less board noise and trace routing.
Final Thoughts
You want it all because it's cool, and that's what the Apex delivers well. When I was younger and first got into the PC game, I really wanted those nice Abit and DFI motherboards, but I could never afford them. I wanted them because of how they looked, the special unique features they had, and because all the pros were using them. That is exactly what the Maximus X Apex is, it is a total niche product and ASUS has once again upped the game. The true purpose of the Maximus X Apex is to push overclocking boundaries, and it does that with ease.
However, it seems that ASUS got bored of just pushing overclocking boundaries and went and pushed others as well. They went and added four RGB LED headers (most I have ever seen), but left out any addressable RGB LED header. They added a 5Gbit NIC, upped fan headers to 10, and then they moved all M.2 to the DIMM.2 card. I think the merging of niche modding, overclocking, and power user technologies is an interesting move, at least now you can move your validation to your network five times as fast as before.
If you are in the market for one of the coolest and most robust overclocking motherboards on the market, the ASUS ROG Maximus X Apex is definitely worth a look.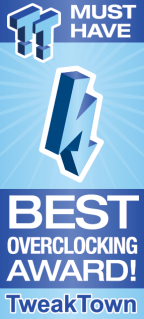 | | |
| --- | --- |
| Performance | 97% |
| Quality | 93% |
| Features | 95% |
| Value | 88% |
The Bottom Line: ASUS's ROG Maximus X Apex does networking and lighting like a pro, but that's only because it got bored after it mastered overclocking.
PRICING: You can find products similar to this one for sale below.

United States: Find other tech and computer products like this over at Amazon.com

United Kingdom: Find other tech and computer products like this over at Amazon.co.uk

Australia: Find other tech and computer products like this over at Amazon.com.au

Canada: Find other tech and computer products like this over at Amazon.ca

Deutschland: Finde andere Technik- und Computerprodukte wie dieses auf Amazon.de
We openly invite the companies who provide us with review samples / who are mentioned or discussed to express their opinion. If any company representative wishes to respond, we will publish the response here. Please contact us if you wish to respond.