ASUS ROG Rampage VI Extreme Motherboard Review
ASUS' topdog Intel X299 motherboard, the ROG Rampage VI Extreme, is firmly in our sights here as we see what it's all about.
Published Oct 11, 2017 4:16 PM CDT
|
Updated Tue, Nov 3 2020 6:58 PM CST
14 minute read time
TweakTown's Rating: 93%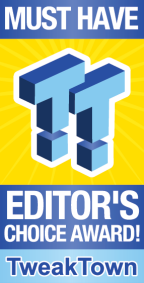 The Bottom Line
The ASUS ROG Rampage VI Extreme is fully loaded with cutting-edge features, excellent hardware, and killer aesthetics, but just like other premium products, it could leave a dent in your wallet.
Introduction, Specifications, and Pricing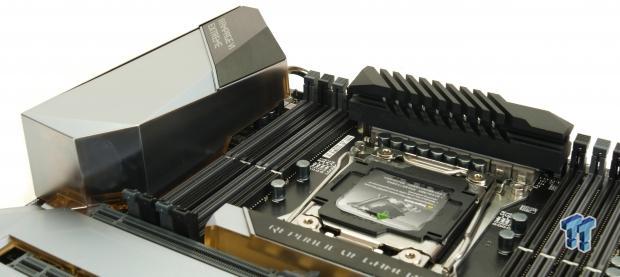 ASUS's ROG Rampage VI Extreme is the default king of ASUS's current X299 lineup, and today we have it in the testing lab where we will torture it. The motherboard is unique in more than one way, but it also boasts some redefined hardware and characteristics compared to ASUS's first wave of X299 motherboards.
While ASUS's original X299 motherboards are still very well equipped to handle Intel's HCC (up to 18C) parts, Intel even used them for reference scores for the 7980XE, the Rampage VI Extreme features some reworked socket circuitry and improved VRM cooling to better handle the new CPUs. The motherboard actually doesn't even support Kaby Lake-X CPUs, and only supports the new Skylake-X CPUs, and as such is focused on supporting the new CPUs to their maximum.
Let's see what ASUS has to offer with the Rampage VI Extreme.
Specifications

The Rampage VI Extreme supports 10G LAN, USB 3.1, U.2, M.2, 4-way GPU support, and Wireless AD/AC.
Pricing
The Rampage VI Extreme costs $649.99.
Packaging and Rampage VI Extreme Overview
Packaging and Overview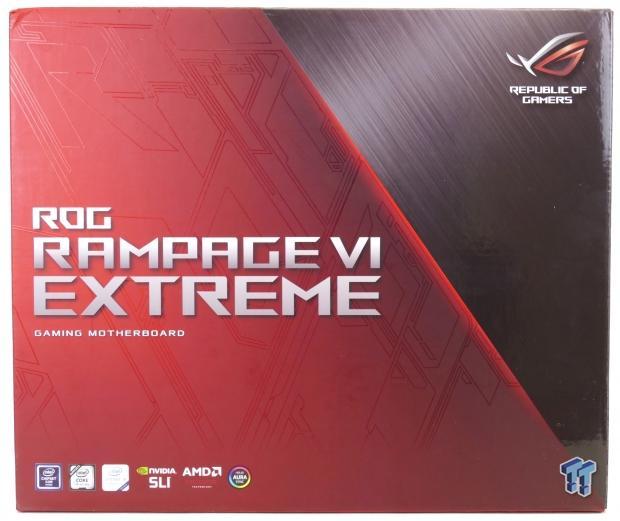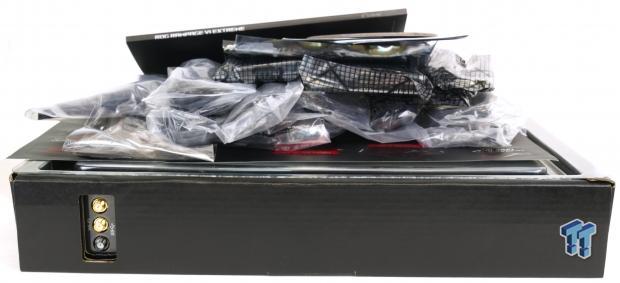 The box and packaging are top notch and protect the motherboard and accessories very well.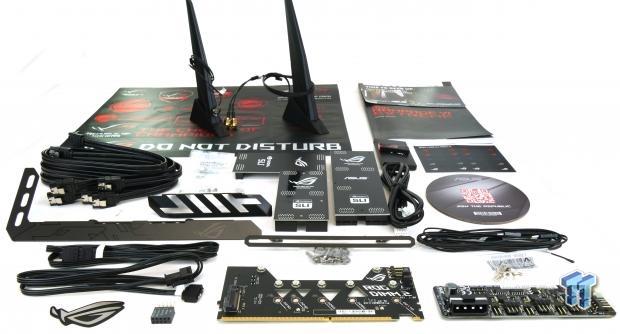 The accessory package includes six SATA6Gb/s cables, 3-in-1 thermistor cable, fan extension card cable, fan extension card, addressable RGB extension cable, RGB extension cable, 2x2 wireless antenna, wireless-AD antenna, bracket for fan extension card, Q-connector, ROG logo sticker, ROG coaster, ROG big sticker, M.2 screw kits, DIMM.2, DIMM.2 fan mount, ROG VGA holder, ROG cable labels, Rampage 6 Extreme MOS fan bracket, 4-way SLI bridge, 3-way SLI bridge, 2-way SLI HB bridge, cable mod coupon, USB drive with drivers and utilities, and user manuals.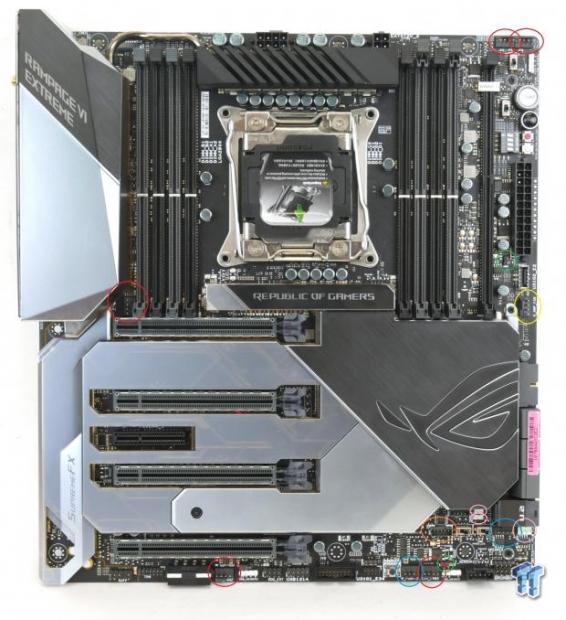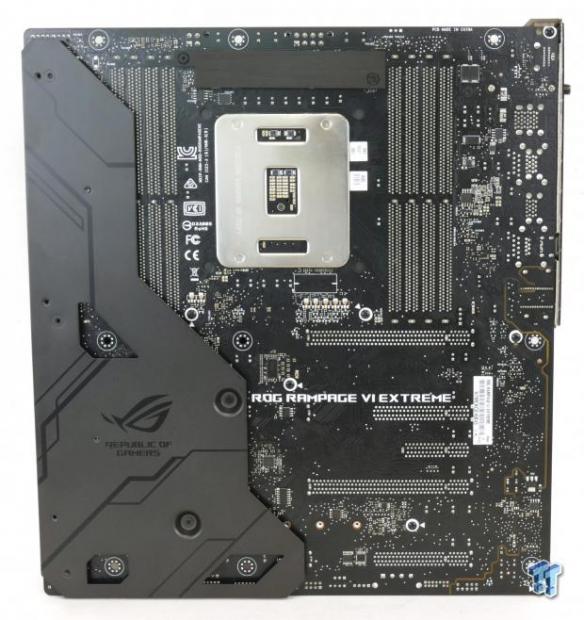 ASUS's Rampage VI Extreme is one of the most unique looking motherboards on the market, and it integrated multiple digital/addressable RGB LEDs into the silver/clear parts of the shield that covers the motherboard. It's so beautiful when lit up, and the circuit trace-like design makes it look like some parts of the board are lighting up. Let's talk about fan headers, we have a total of eight DC/PWM mode headers built into the motherboard, and those circled in red at auto-sensing PWM/DC hybrid headers rated for 1A. Two hybrid PWM/DC mode pump fan headers are circled in blue and are rated for up to 3A, a hybrid PWM/DC high-AMP header is circled in yellow and is also a 3A header.
The motherboard has multiple built-in temperature sensors, and two headers circled in green allow you to hook up external temperature probes to act as a reference for the fans. A fan extension card is included and connects to the motherboard through the header circled in orange; it supports three other fully controllable hybrid fan headers as well as three more temperature sensor headers. Water cooling headers are circled in pink, and they can monitor water flow sensors as well as water temperature sensors. The back of the motherboard has a larger metal shield that helps to stabilize the PCB; there is also a metal bracket under the CPU VRM.

On the integrated rear IO panel we find a BIOS Flashback button, Clear CMOS button, Wireless AC antenna socket, Wireless AD antenna socket, eight USB 3.0 ports (one for Keybot and one for BIOS flashback), 10Gbit LAN, 1Gbit LAN, USB 3.1 type-A, USB 3.1 type-C, and interior illuminated 7.1 gold plated audio output jacks with S/PDIF out.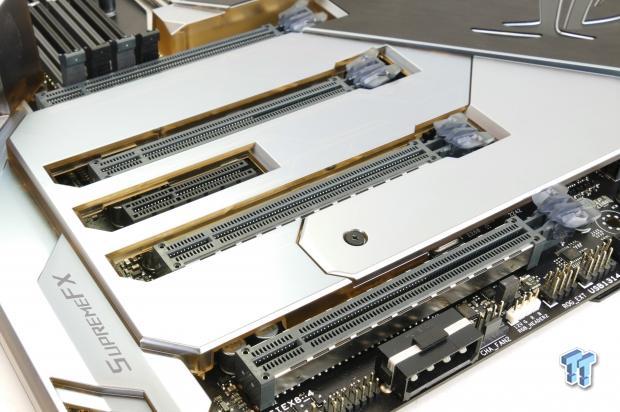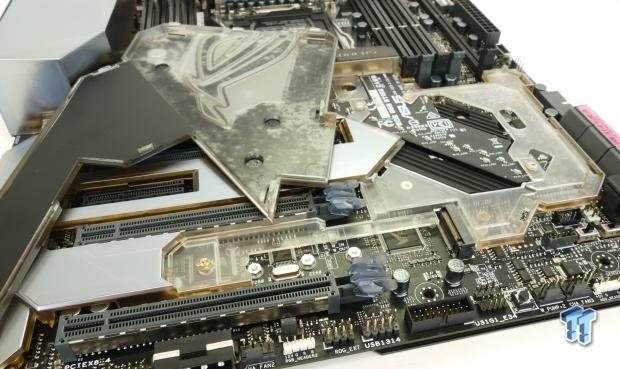 The PCI-E layout is not that simple, it's extremely complex if we dig into it, but let's start at a high level. The motherboard doesn't support 16 lane CPUs, so that helps to simplify things a bit. With a 44-lane CPU, you can run three cards at x16/x0/x16/x8 and four cards at x16/x8/x8/x8. With a 28-lane CPU, you can run two cards at x16, x0, x8,x0 or three cards at x8/x8/x8/x0. So the M.2 slot built into the motherboard that lies under the motherboard cover is routed directly to the CPU.
The DIMM.2 slot supports two extra M.2 cards. M.2_2 shares its bandwidth (x4) with the last x16 slot (operates at x8 or x4 depending on the M.2_2 slot. The CPU provides another x4 PCI-E 3.0 to the U.2 connector, but even that is flexible. The M.2_1 slot that is on the DIMM.2 card can get its bandwidth from the CPU or the PCH. If it gets bandwidth from the CPU, then it will share with the U.2 port. If it gets bandwidth from the PCH, then it will share bandwidth with the PCI-E x4 slot at the center of the motherboard.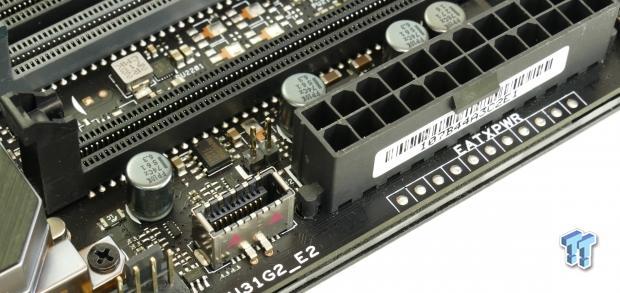 The motherboard offers six SATA6Gb/s ports as well as a U.2 port and right-angled USB 3.0 internal header. A USB 3.1 internal header is located right below the 24-pin power connector. There also seems to be a bunch of voltage read points below the 24-pin connector, but they aren't labeled (the manual labels them).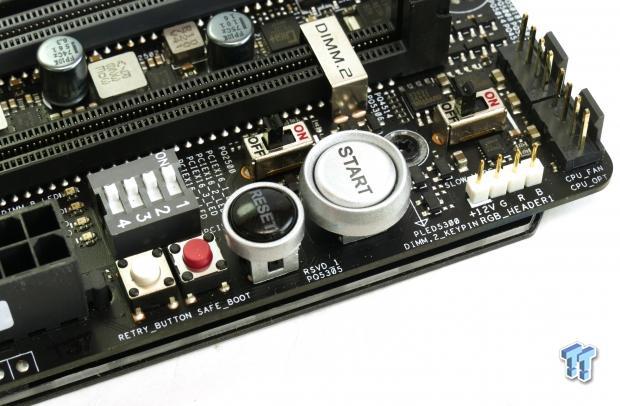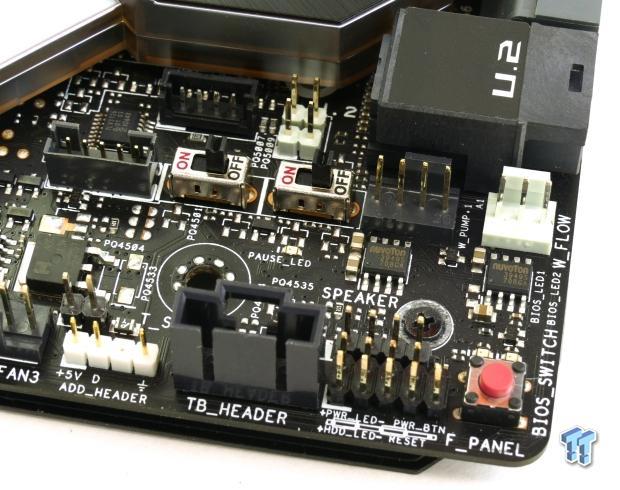 Overclocking features are plentiful! We have a slow mode switch right above an RGB LED header. We also get the common power and reset buttons as well as a safe boot button and retry button. The retry button will reset the system and reapply your overclock settings while the safe boot will load in safe settings, so you don't need to clear your CMOS. PCI-E x16 disable DIP switches can be used to physically turn off PCI-E slots. An RSVD switch is used for extreme overclockers to help and reduce cold bugs and should only really be used if you are doing LN2 overclocking.
Another RSVD switch is located at the bottom of the motherboard to the left of a pause switch that can literally pause your system. To switch between BIOS ROM you just need to hit the BIOS switch button when the system is off, and you will see the LED switch. A Thunderbolt 3.0 GPIO header can be found to the right of an addressable RGB LED (sometimes called digital RGB) header. A VROC header and fan extension card header are also located in this area near the watercooling temperature input headers.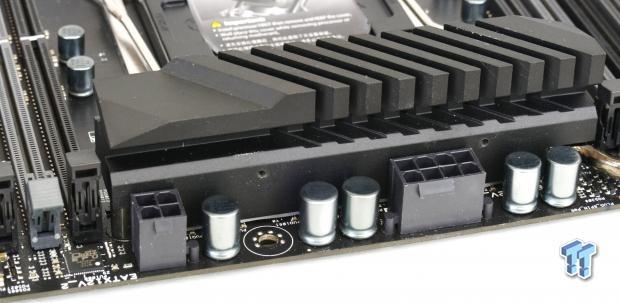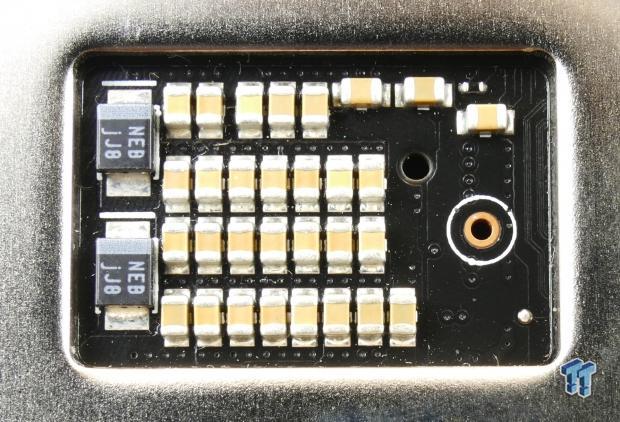 We have an 8-pin power plug and a 4-pin power plug for the CPU. You might notice two tiny screw holes in the VRM heat sink, that is for a ROG fan mount, although I am not sure how it works in regards to hooking up to a fan (probably supports smaller fans). The rear of the CPU socket reveals a pinhole for the DMI mod and another hole for a temperature probe.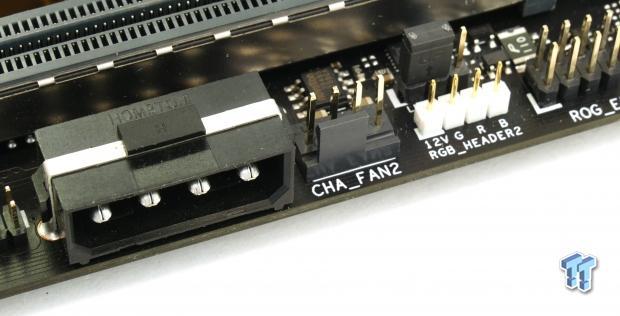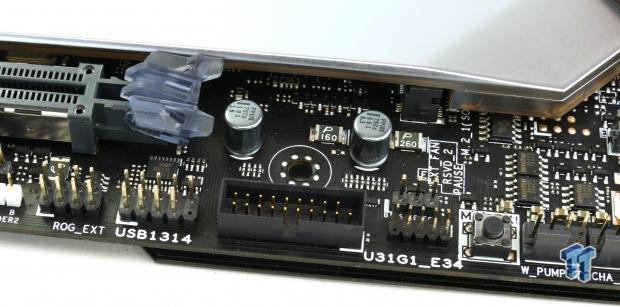 The motherboard has a second RGB LED header at the bottom of the motherboard, and it's located near the MOLEX power connector that supplies the PCI-E slots with more power. We do find a USB 2.0 internal header to the left of a USB 3.1 internal header to the left of a MemOK! Button.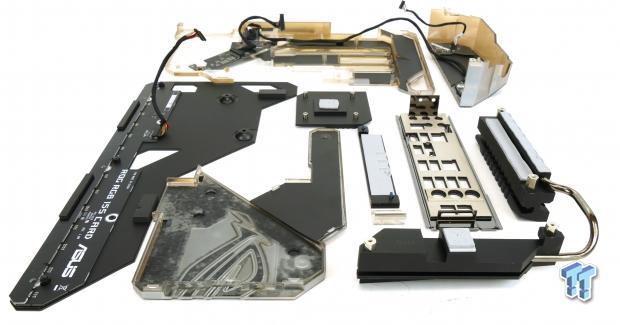 Taking the shields and heat sinks off takes a long time, but luckily, we are here to prevent you from doing that. There are many custom headers on the motherboard, such as one for a custom mono-block with RGB LEDs. We find AURA RGB LED controllers on the PCBs of many of the daughterboards.
ASUS Rampage VI Extreme Circuit Analysis
Circuit Analysis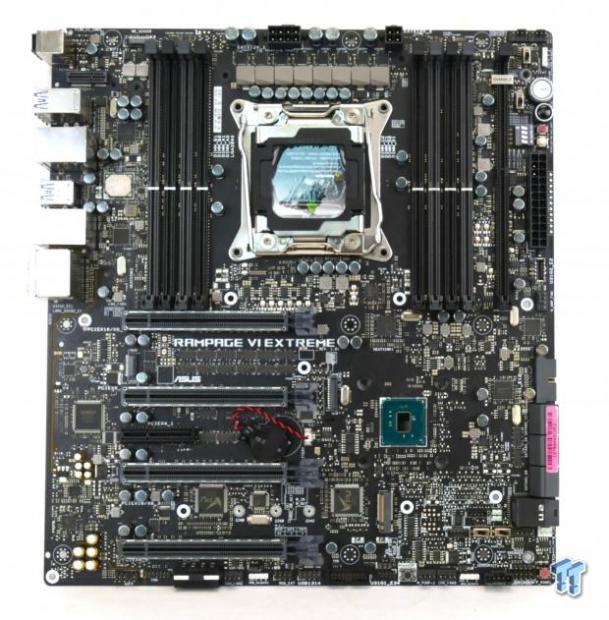 The Rampage VI Extreme hides a lot under the shields.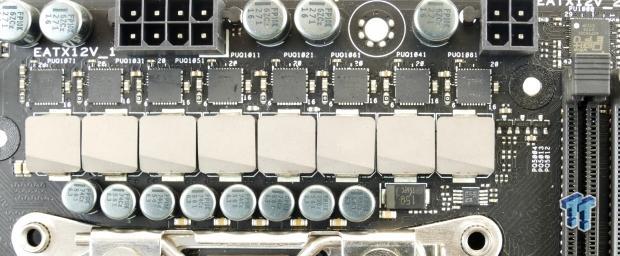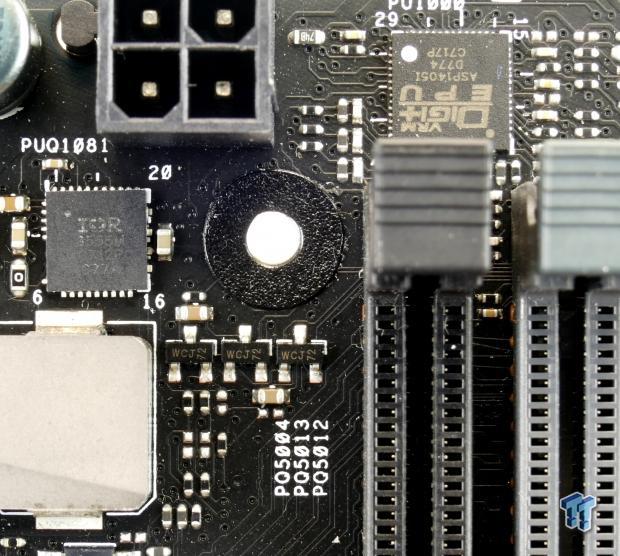 The CPU VRM gets a true eight phase setup, and it utilizes micro-fine alloy chokes and 10K gunmetal solid polymer capacitors. Each phase gets a PWM channel from an ASP1405, which is ASUS's custom stamped IR controller similar to an IR35201 fully digital PWM. Each phase uses an IR3555 fully integrated 60A power stage. The VRm here is excellent, even for 18 core CPUs.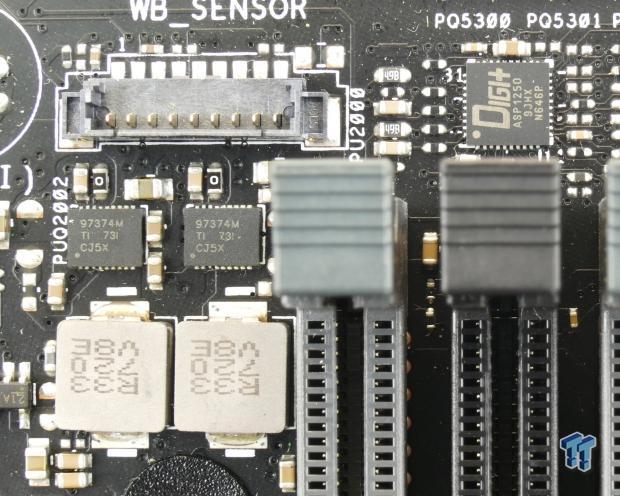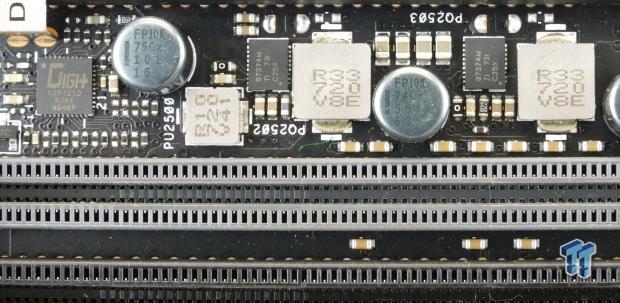 Two Digi+ ASP1250 PWM controllers are used instead of the ASP1103 PWM controllers we saw on the X299 Deluxe. It might be possible that these are digital PWMs. Each of the PWMs outputs to two Texas Instruments CSD97374 NexFET power stages rated peak of 60A but continuous at 25A.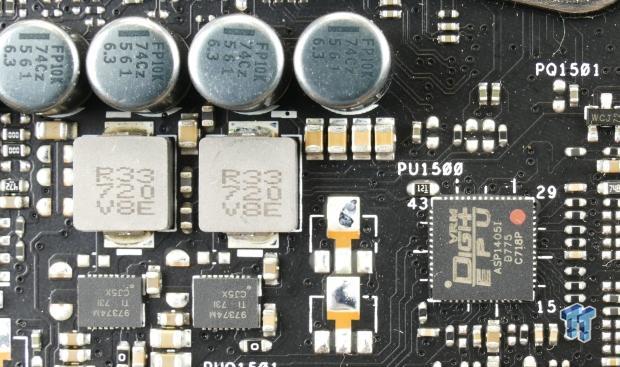 The VCCSA and VCCIO get their power from a Digi+ ASP1405 (which seems like overkill), and they use the same 25/60A NexFETs we saw used for the memory. There are also other minor VRMs located around the CPU socket, and we find extra voltages in the BIOS such as an "Uncore" voltage even though there is already a cache voltage, perhaps that is from external circuitry and not the FIVR.
ASUS Rampage VI Extreme Circuit Analysis Continued
Rampage VI Extreme Circuit Analysis Continued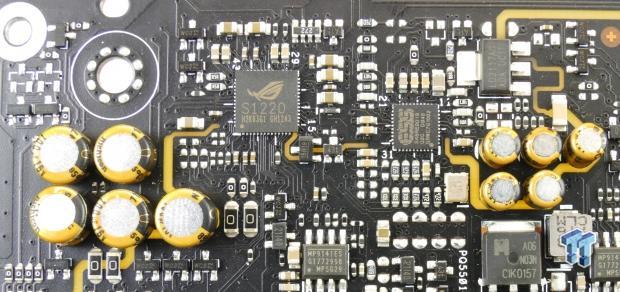 ASUS's Realtek ALC/S1220 implementation is top notch as it comes upgraded with an ESS Sabre 9018Q2C DAC/AMP with -112dB THD capabilities. We also see switching MOSFETs for impedance sensing, Nichicon Audio capacitors, PCB isolation, as well as dedicated power amplification (found on the back of the PCB), and the audio jacks are illuminated.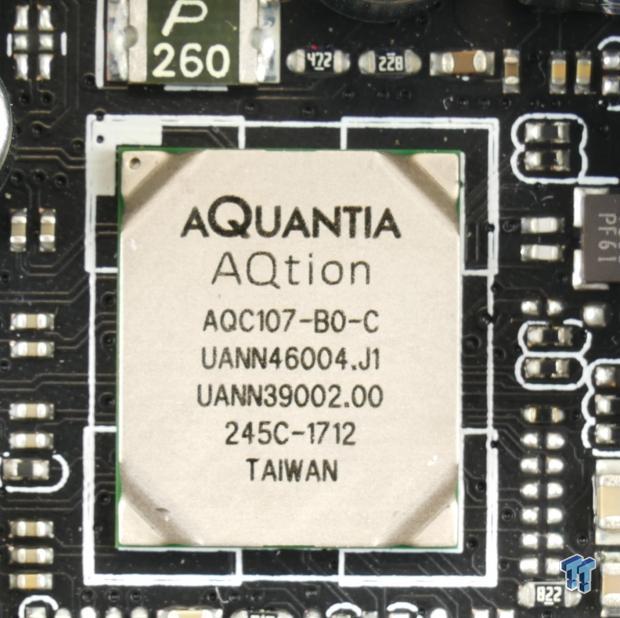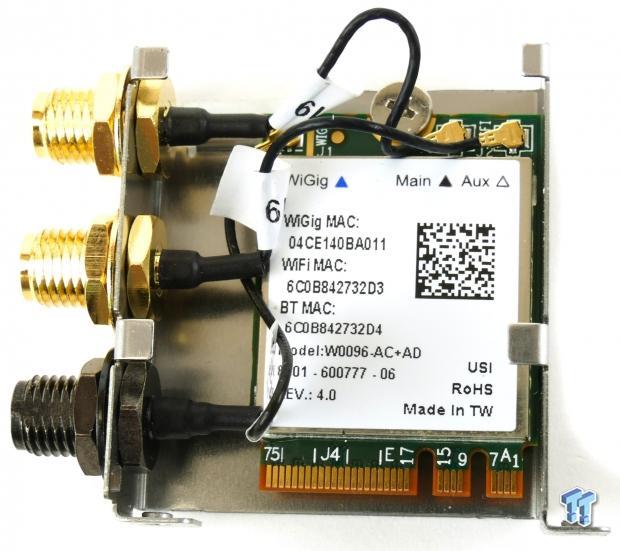 An Aquantia AQC107 10Gbit NBase-T NIC is capable of 10G, 5G, 2.5G, 1G, and 100M speeds. The Wireless AD (4.6Gbps)/Wireless AC (1.3Gbps) card is the QCA6174-W0096 from Qualcomm.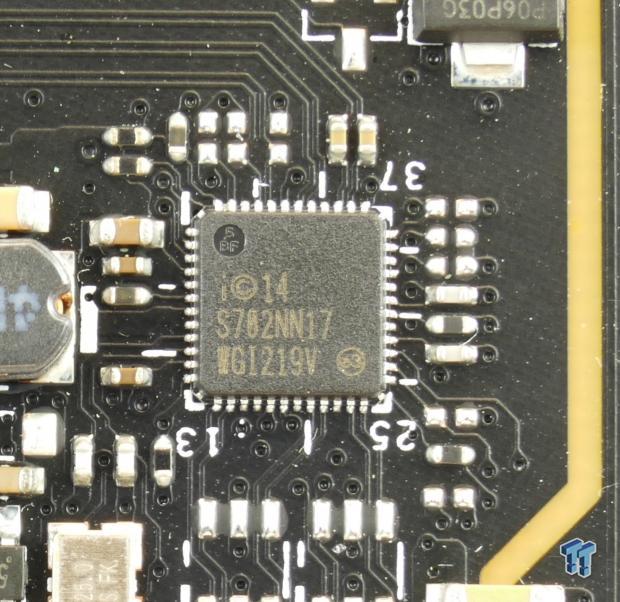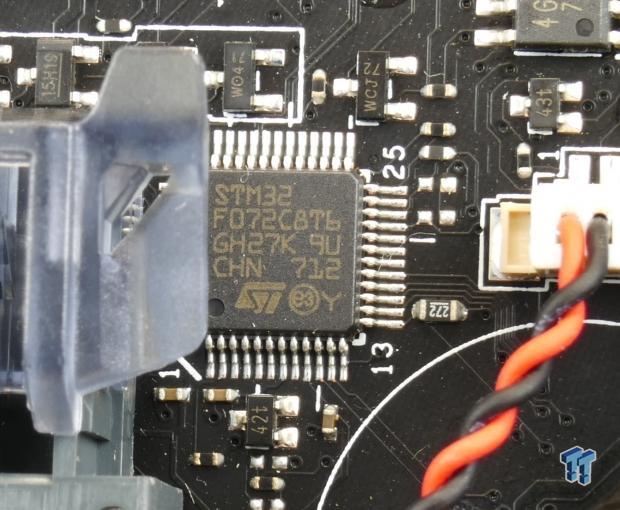 An Intel NIC is also present; the i219V is the PHY that compliments the integrated MAC in the PCH and provides a 1Gbit connection. An STM32 microcontroller is found on the motherboard; I believe it's used for the OLED or the addressable RGB LED header.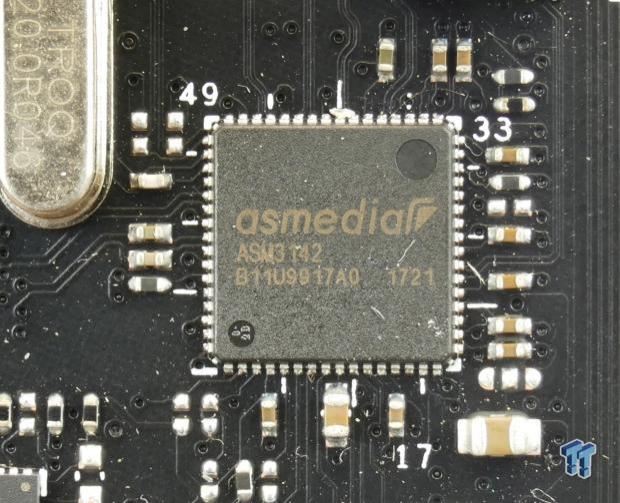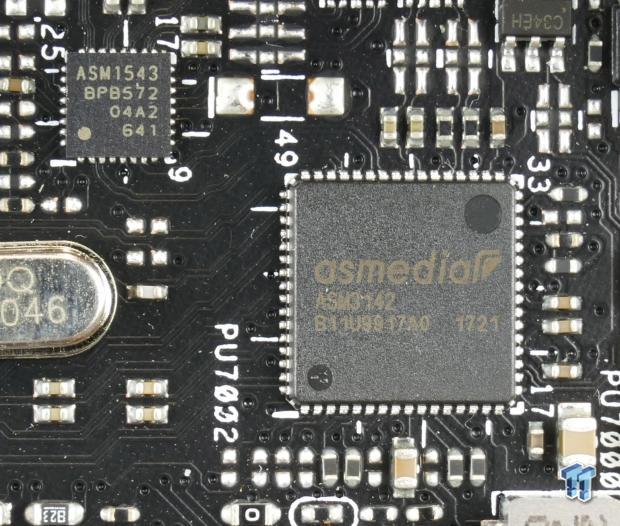 We find two ASMedia ASM3142 USB 3.1 controllers, and each gets x2 PCI-E 3.0. The type-C port on the rear IO gets an ASMedia ASM1543 type-C switch and CC logic chip.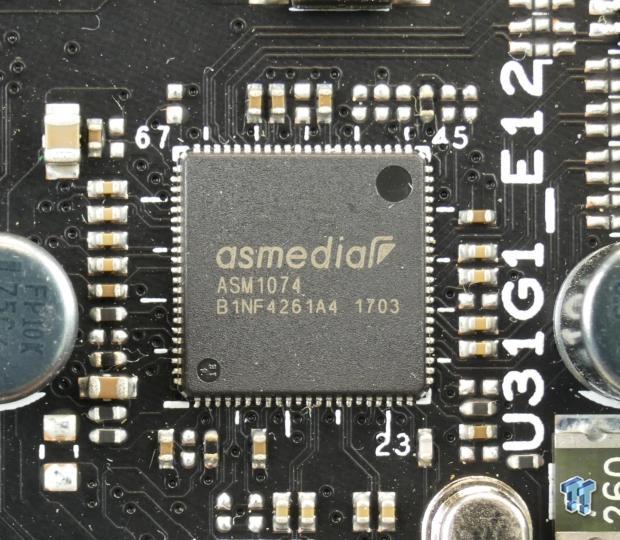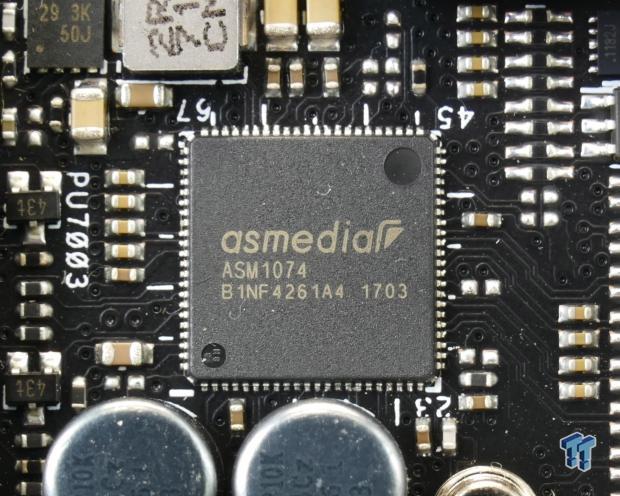 We also find two ASMedia ASM1074 USB 3.0 hubs. One at the rear provides four USB 3.0 ports and one found near the SATA ports provides bandwidth for the two internal USB 3.0 headers.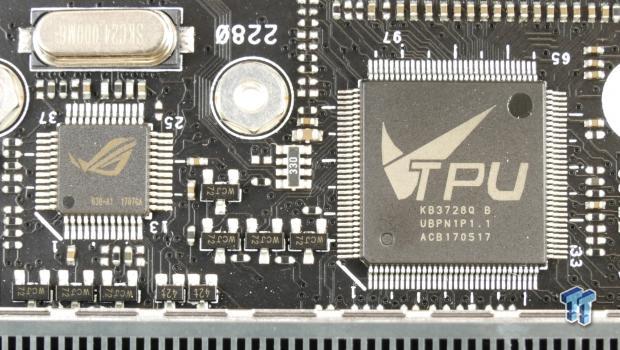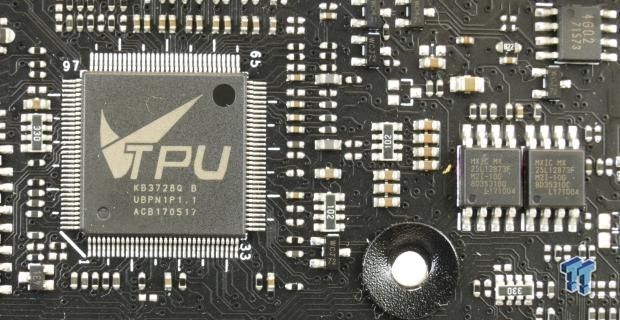 We find two identical TPU chips labeled KB3728Q and they provide extra ROG capabilities and even overclocking features. We also find other ROG labeled chips that provide unique features such as Keybot. The motherboard has two physical 16MB/128Mbit BIOS ROMs.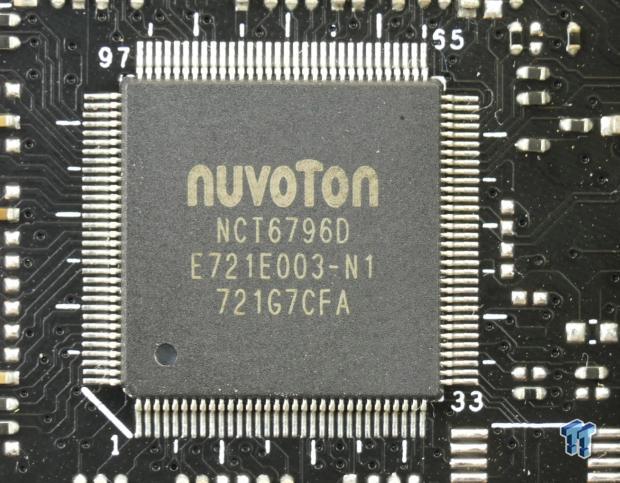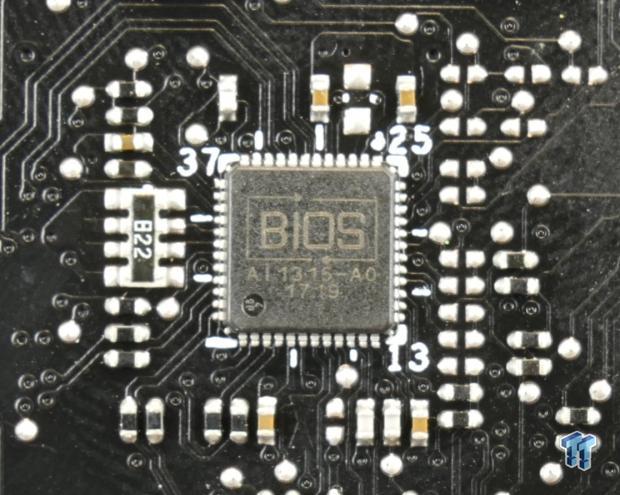 A nuvoton NCT6796D is the SuperIO controller that provides system monitoring and other capabilities such as fan control. The BIOS chip found on the back of the motherboard provides USB BIOS Flashback capabilities.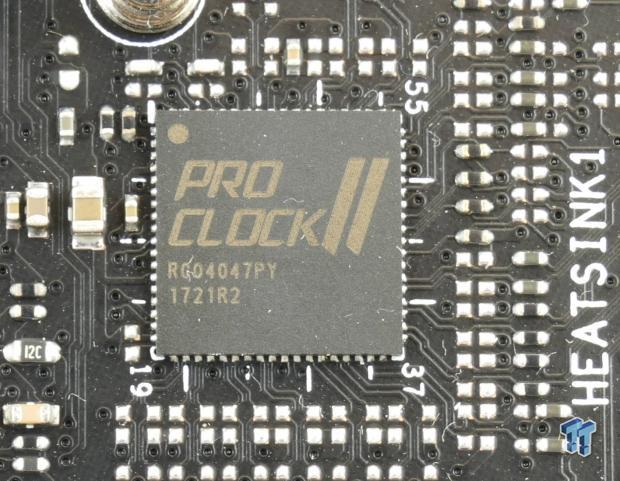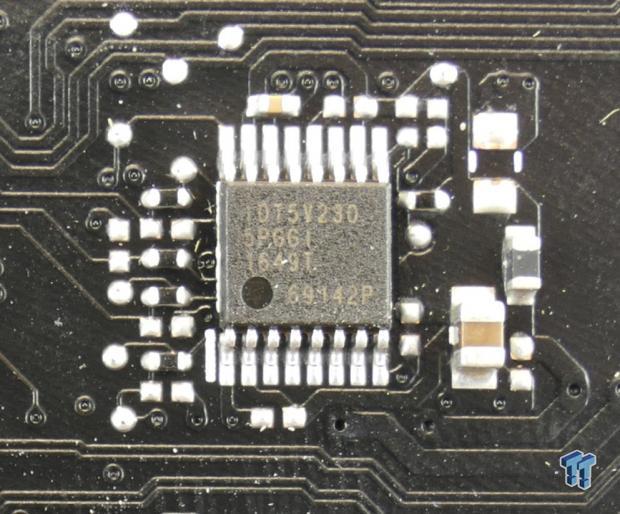 The Pro Clock II IC is a clock generator used for increasing BCLK overclocking margins. An IDT5V230 is used to enhance PCI-E device support.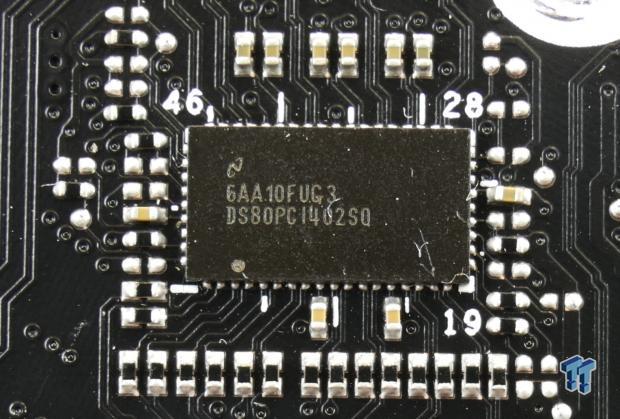 A Texas Instruments DS80PCI402 is an 8Gbps per lane 4-lane PCI-E 3.0 repeater, and it's used to improve PCI-E signaling for the U.2 port which switches with the M.2 slot. We find a ton of ASMedia ASm1480 quick switches, almost as many as I found on another 2nd wave X299 motherboard, and they are used to switch all motherboard bandwidth. If we look closely, we can see that the chips above directly move x12 PCI-E 3.0 to the second set of switches, meaning they switch bandwidth two levels down in an orderly fashion (one at x8 and the other at x4).
BIOS and Software
BIOS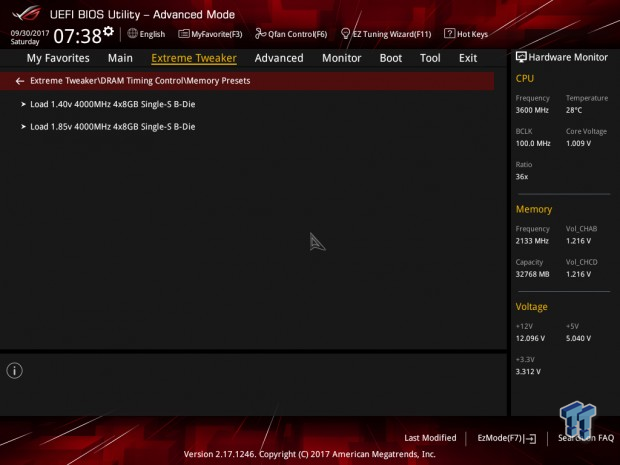 ASUS's UEFI for the Rampage VI Extreme has an EZ mode for novice users and an advanced mode for more experienced and expert users. The UEFI also features built-in overclocking profiles for both memory and CPU overclocking. The memory settings page is extremely long and features ASUS specific settings that are typically explained in deep extreme overclocking circles.
ASUS also offers excellent control over the VRM and the CPU, and it is very easy to overclock your system components. Fan control is present in a GUI and through manual input. Physical feature control is also present, and you can manually control the source of PCI-E lanes for certain ports that share bandwidth.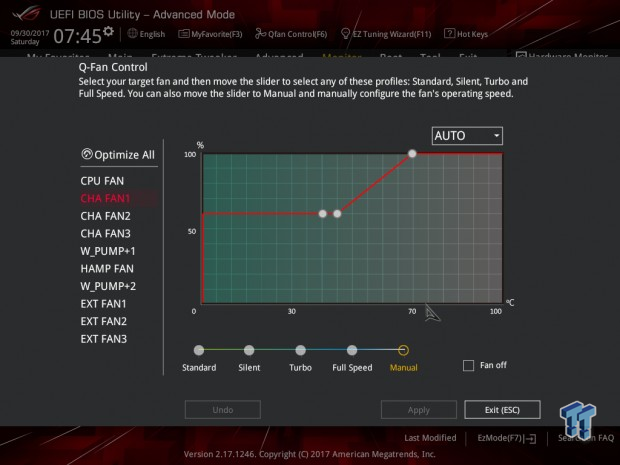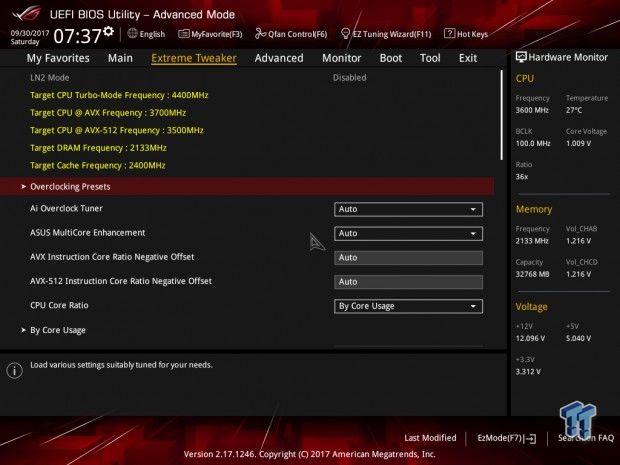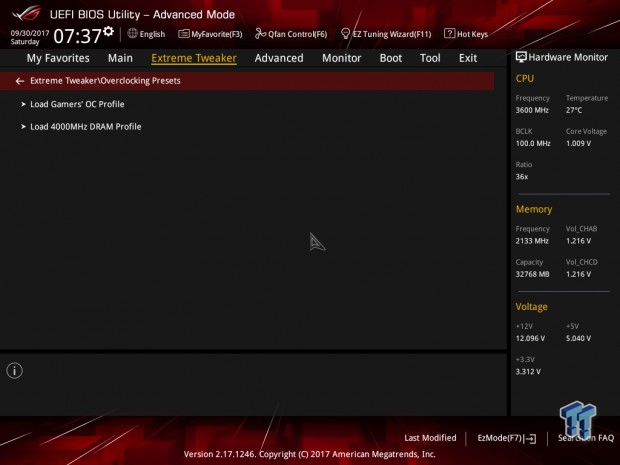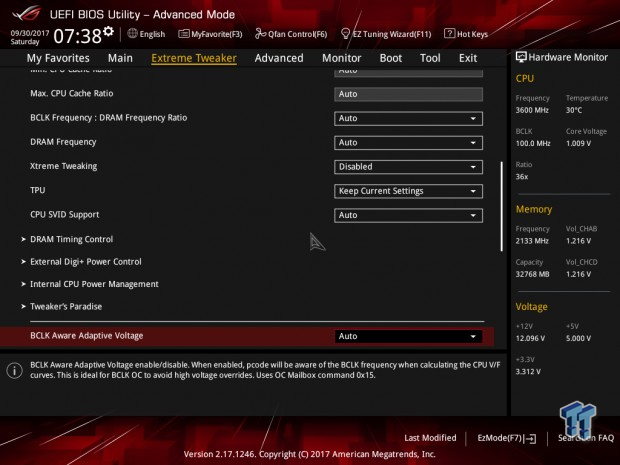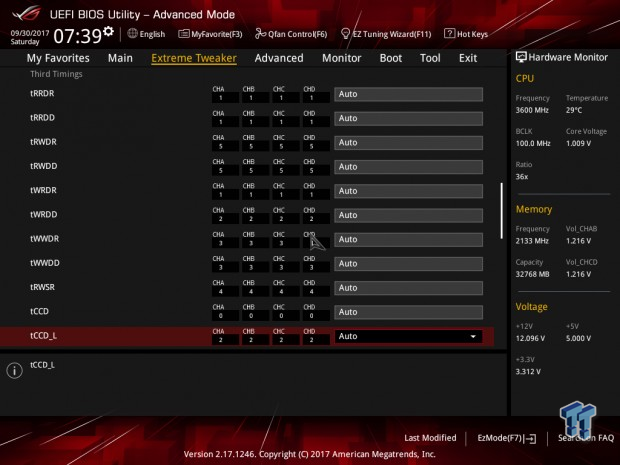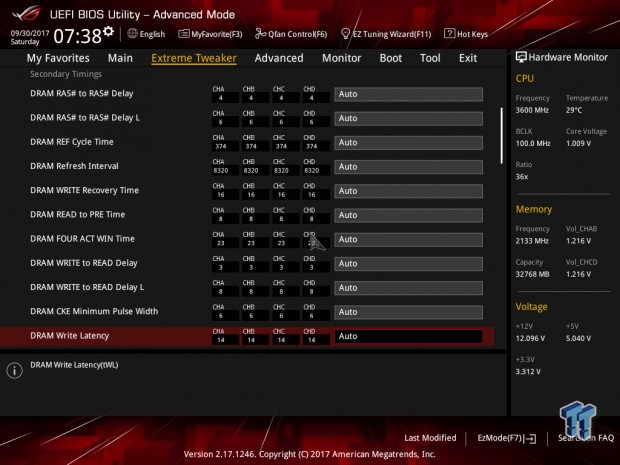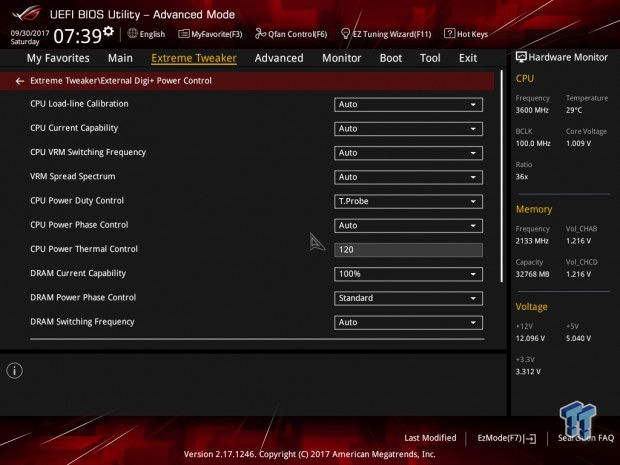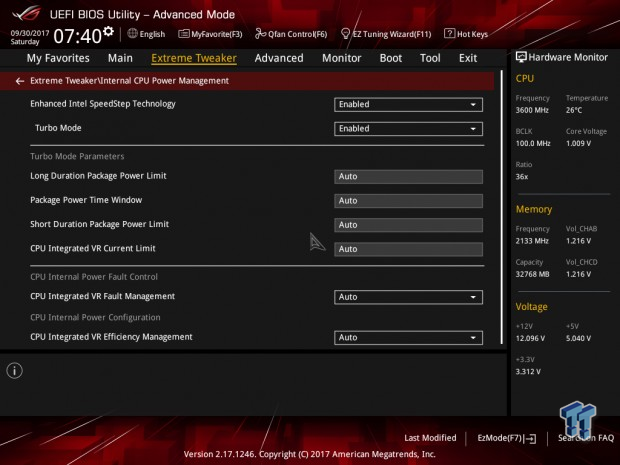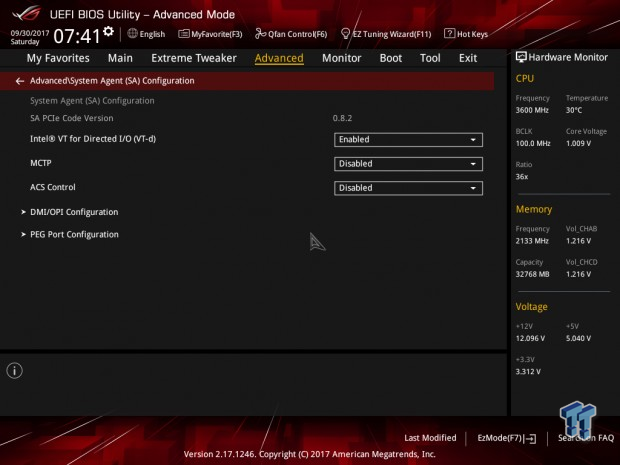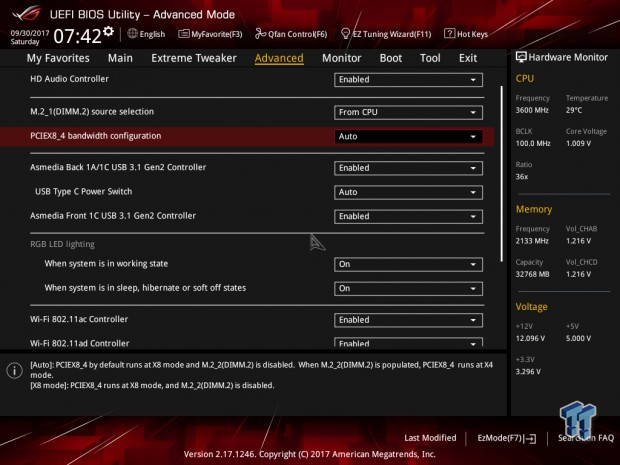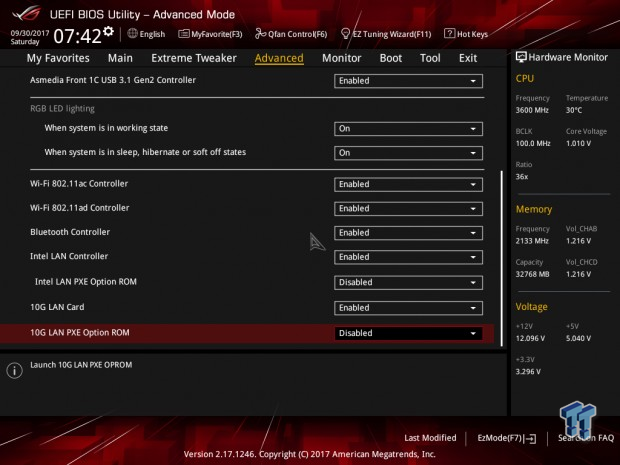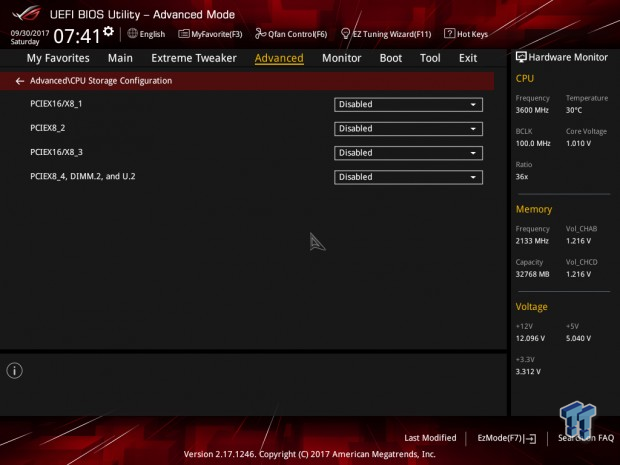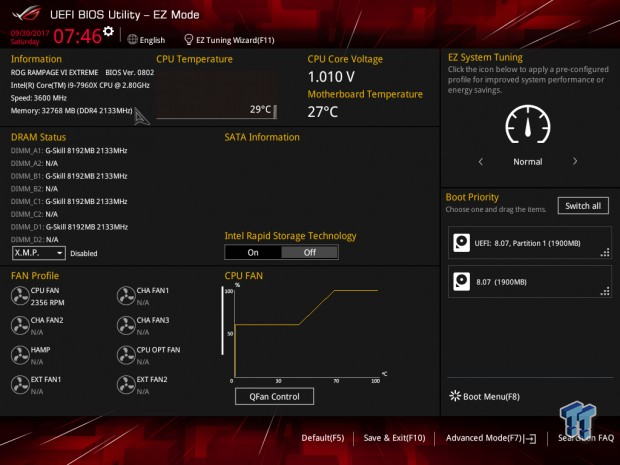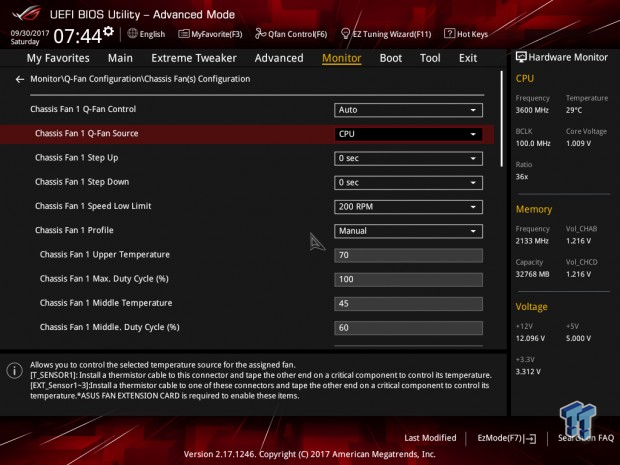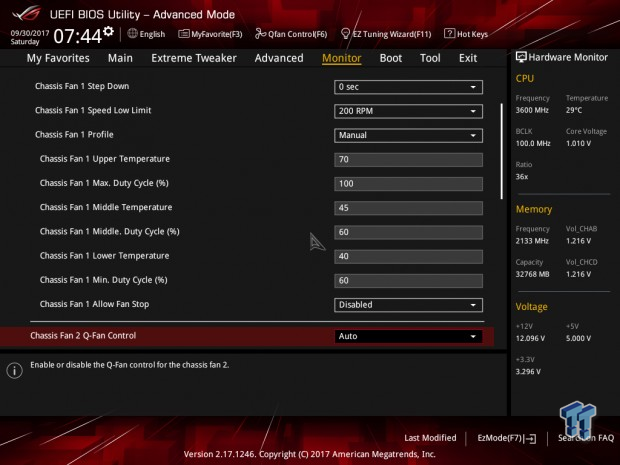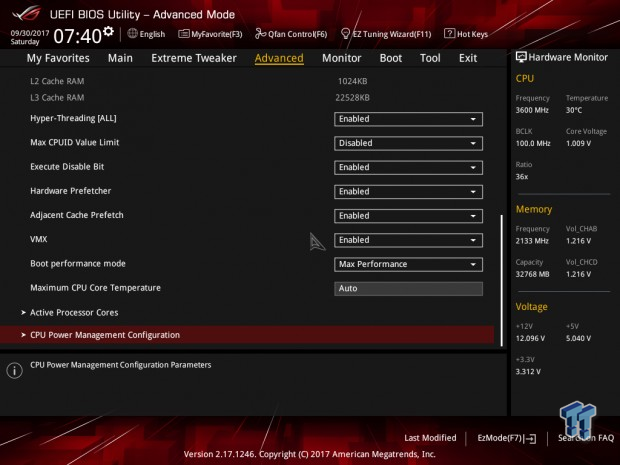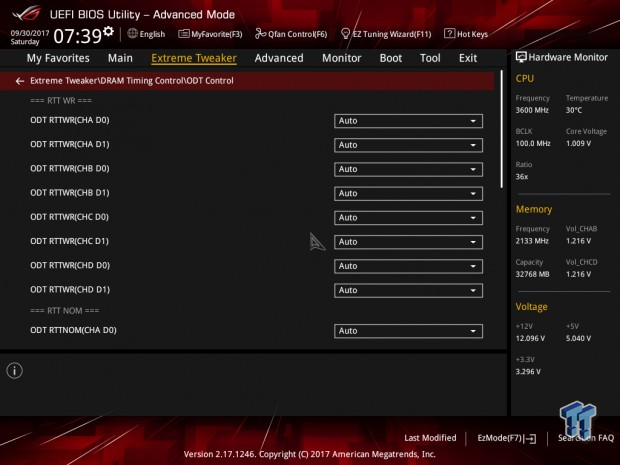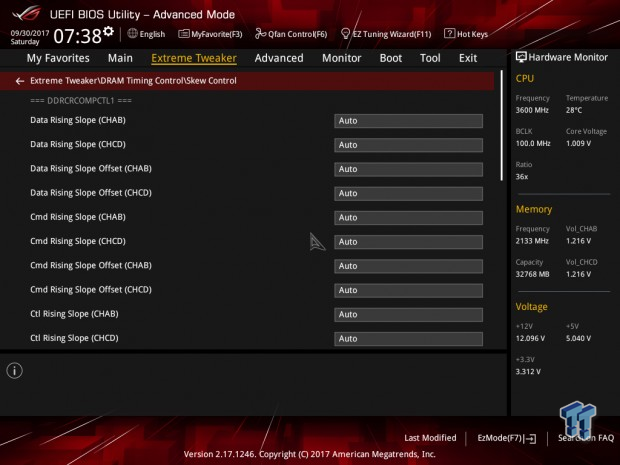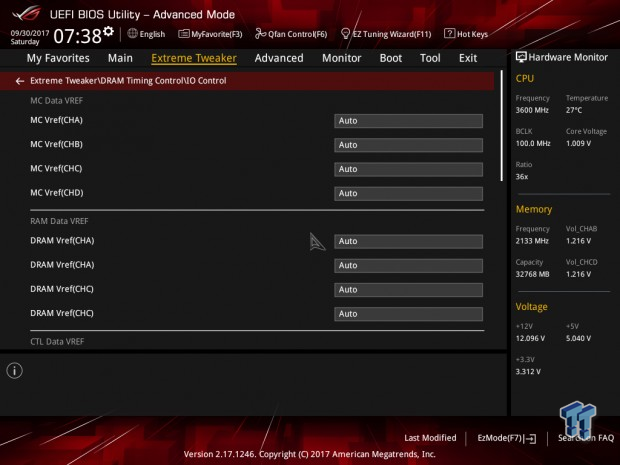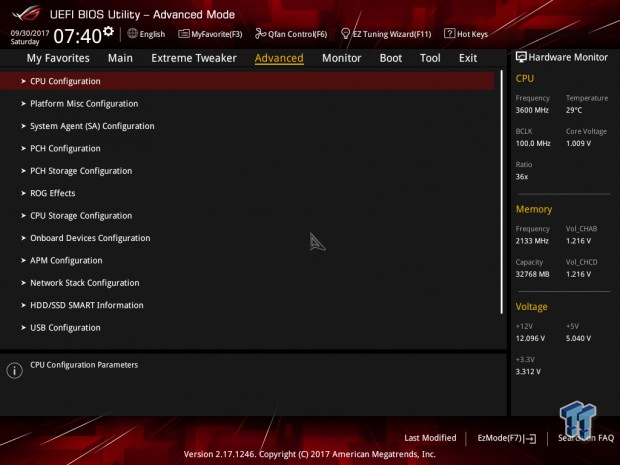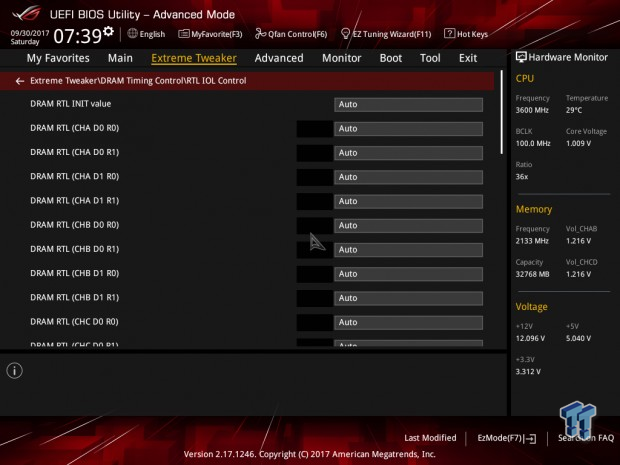 Software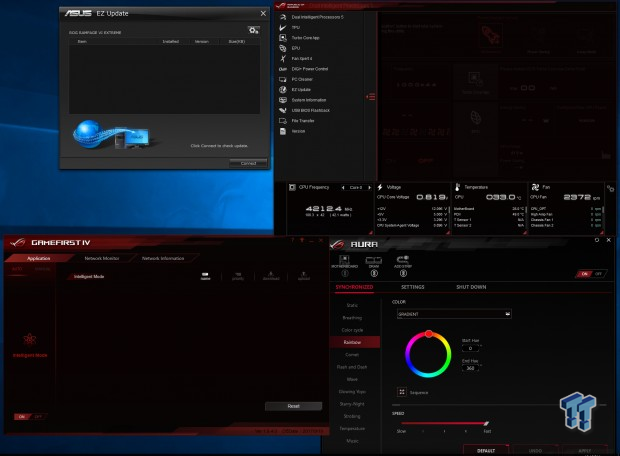 Software included with the motherboard includes DIP5 (TPU, EPU, DIGI+, FanXpert4, Turbo APP), AI Suite 3, Ai Charger, USB 3.1 Boost, OLED software, PC Cleaner, Version, System Information, Turbo LAN, EZ Update, DTS Audio, and more (such as RAM Cache apps).
Test System Setup
Steven's Motherboard Test System Specifications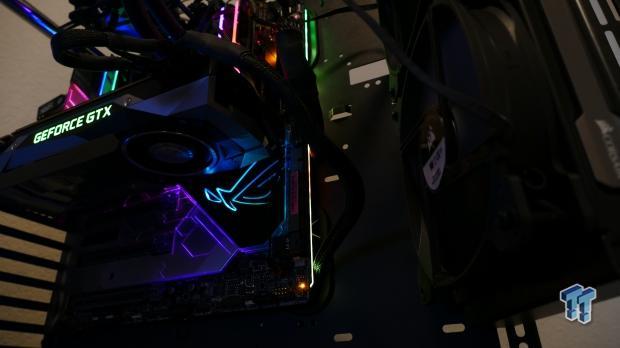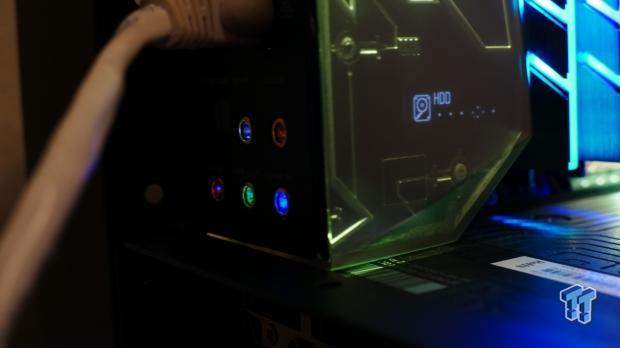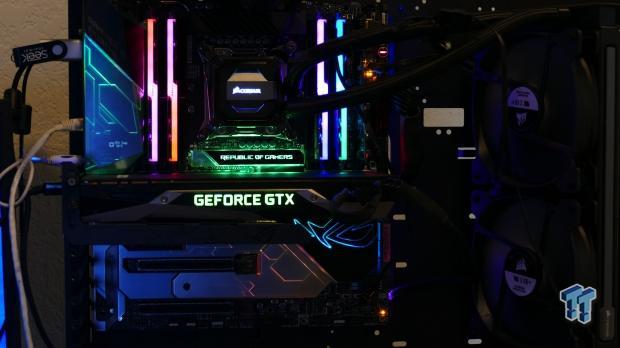 ASUS's Rampage VI Extreme uses a new metallic deposit technology to produce the glowing effect on the shield, and the lines matched with addressable RGB LEDs produces a unique, and honestly beautiful, lighting effect.
The OLED is a neat tool that replaces and enhances the POST code display, and the audio jacks light up the colors that most people are used to seeing in a ring around the center of the audio jack.
Overclocking
Overclocking Results
CPU Overclocking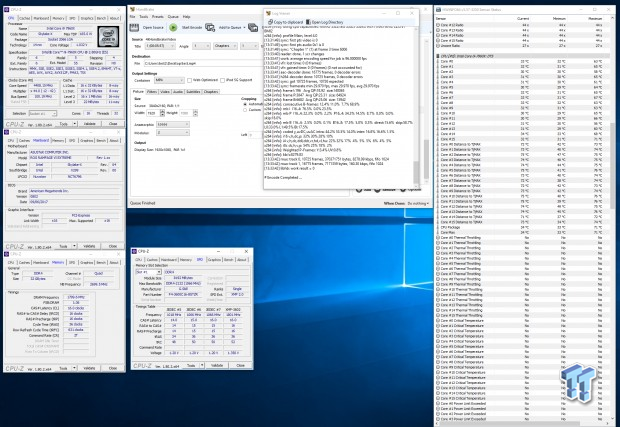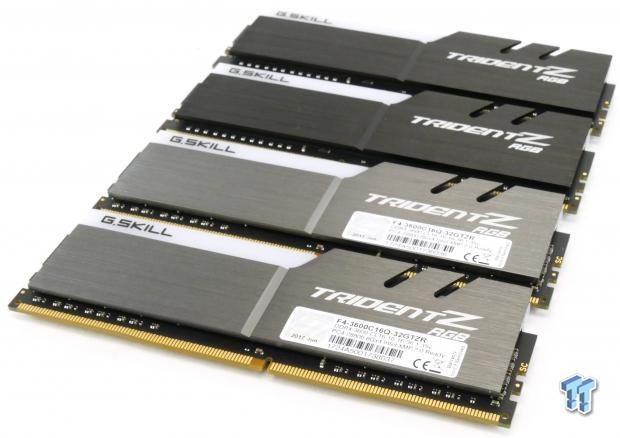 So, we are switching from using the 7900X to using the 7960X 16-core 32-thread HCC Intel Skylake-X CPU. We can get it up to 4.4Ghz without major throttling, as our water setting can't handle much more than that (roughly 500W). We set a 2.05v VCCIN, a 1.185VCore, after changing overclocking mode to XMP.
We then increased CPU current to 1023 amps, disable internal VR efficiency, and we used mode 7 LLC in the external VRM control menu. Overall, overclocking was easy, but you need to open up some of the throttling features (such as current capability).
CPU, Memory, and System Benchmarks
CINEBENCH R15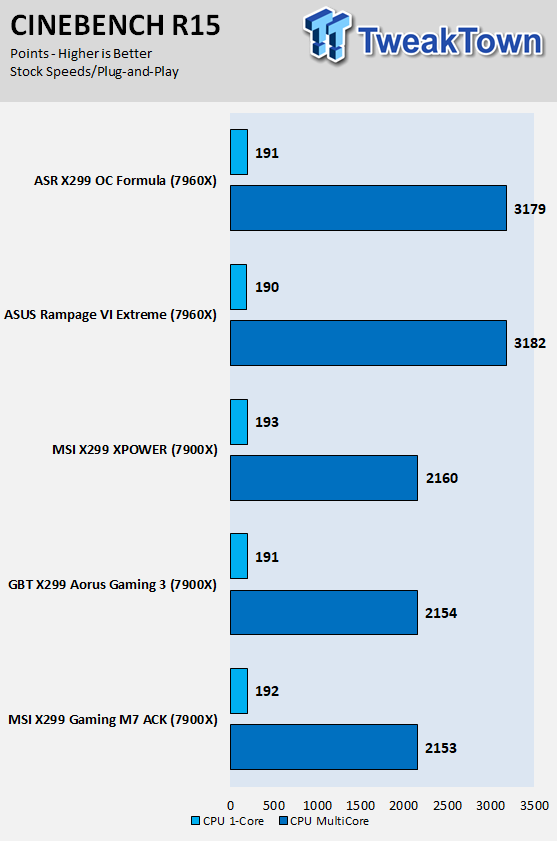 wPrime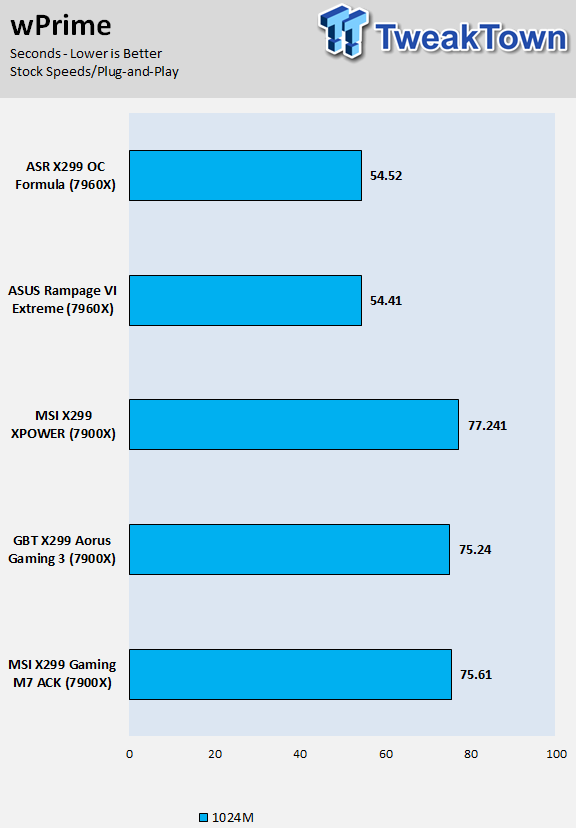 AIDA64 FPU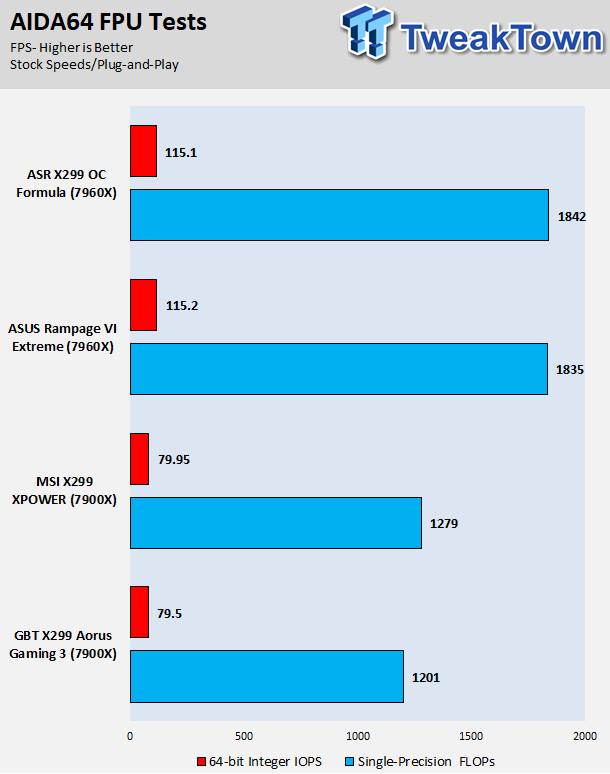 AIDA64 Memory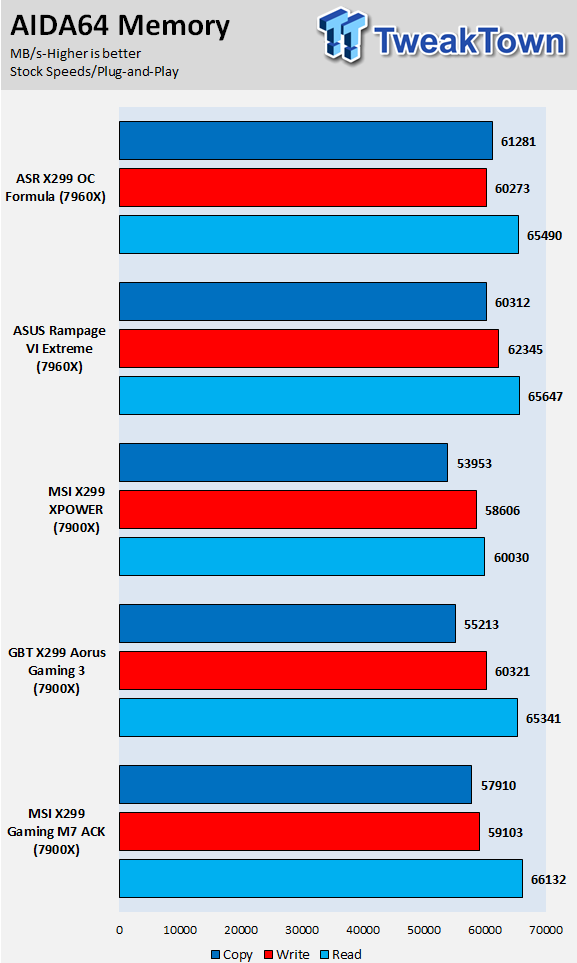 ScienceMark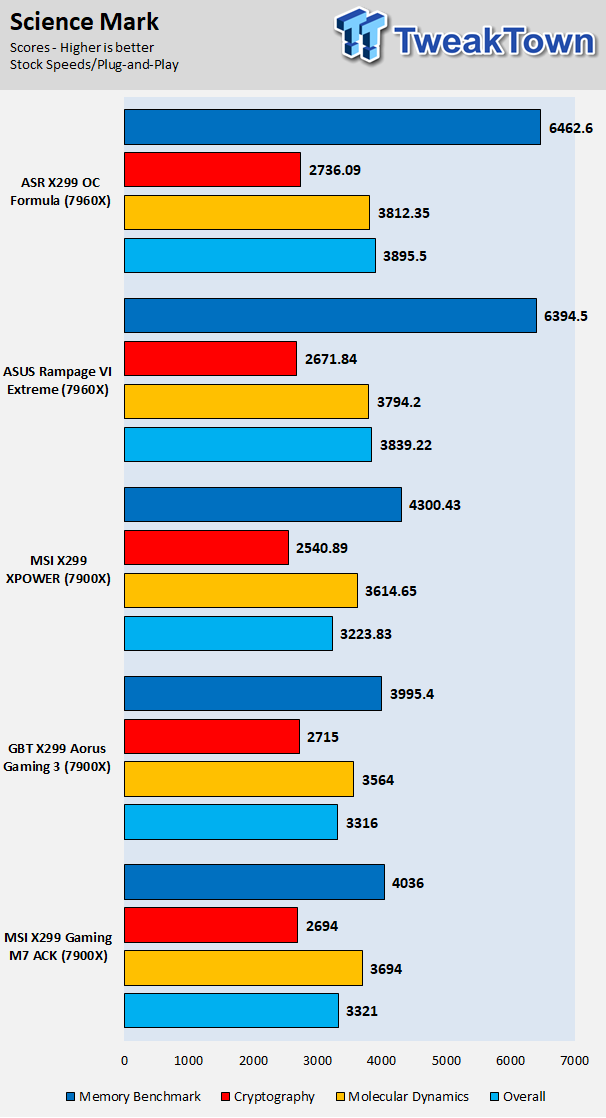 HandBrake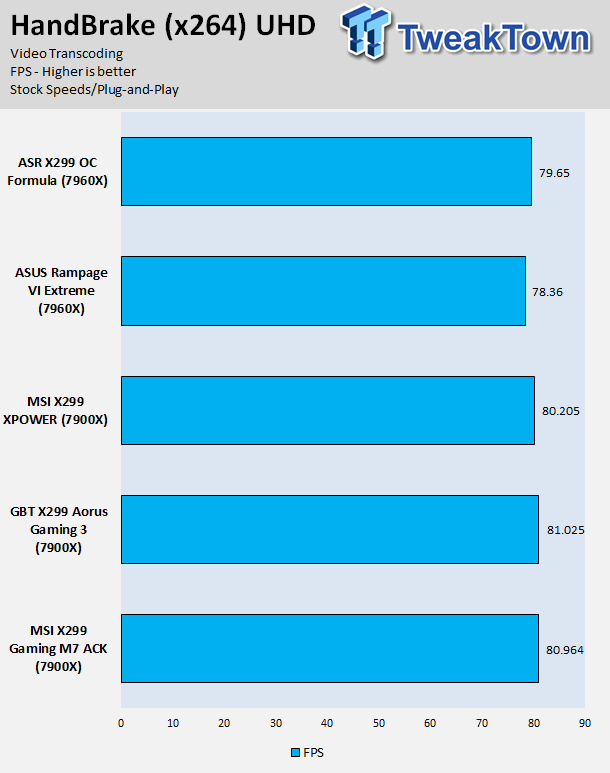 SuperPi 32M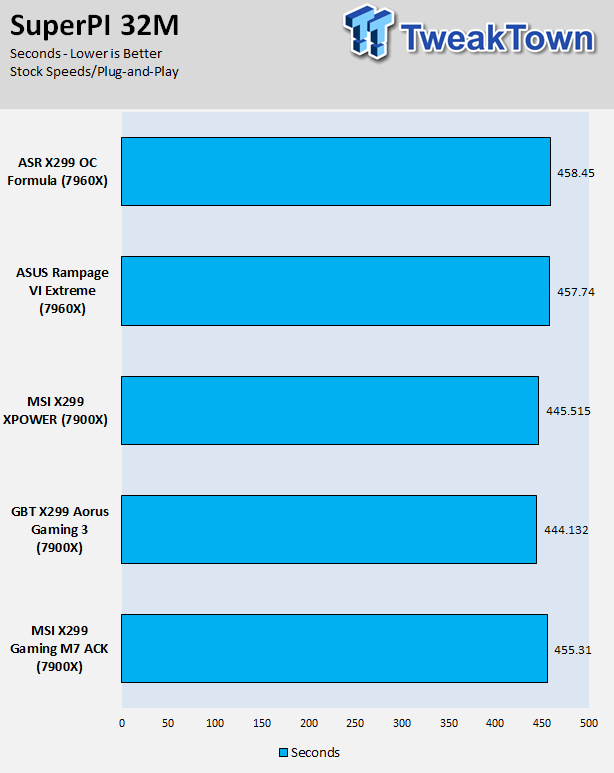 3DMark: Fire Strike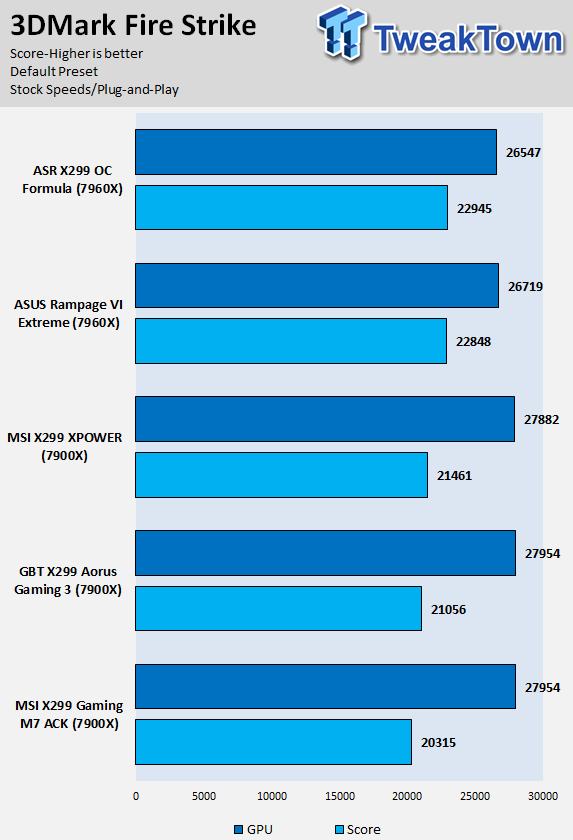 3DMark: Cloud Gate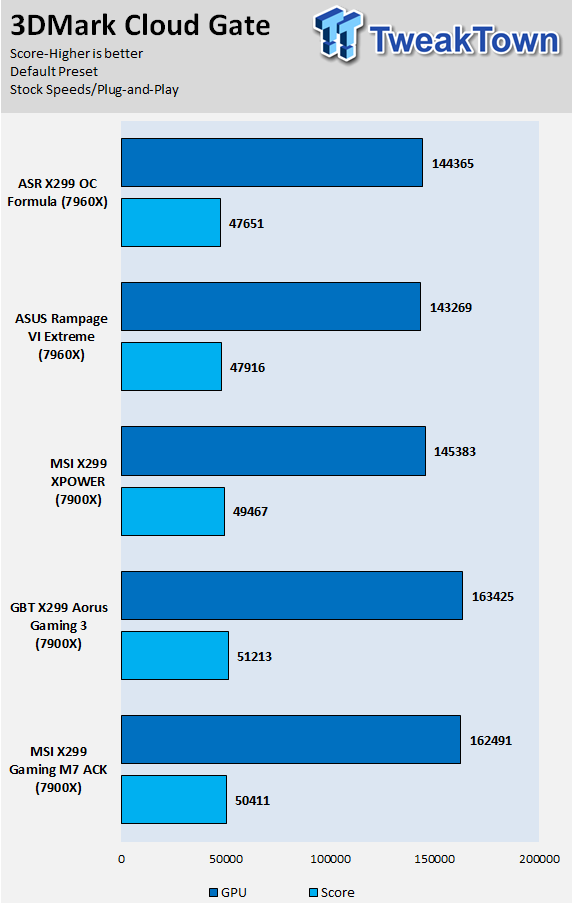 ResidentEvil 6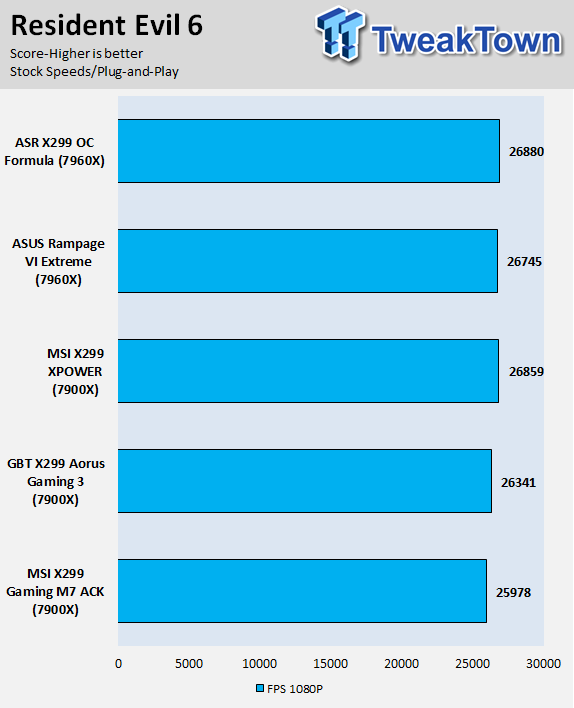 Switching over from the 7900X to the 7960X means that the only two boards that are comparable in our charts are the Rampage VI Extreme and the X299 OC Formula. Both motherboard, at Intel's stock settings, produce solid results, and I can't say one is performing better than the other, at least not with Intel's stock settings. However, I will say there are no pitfalls in performance in either motherboard.
I don't too much too much credence into benchmarking the CPU or GPU to see how well the motherboard does, as the difference is almost always within the margin of error. These tests are to make sure performance isn't below that margin, or to see what's going on if it's above.
System IO Benchmarks
CrystalDiskMark SATA6G: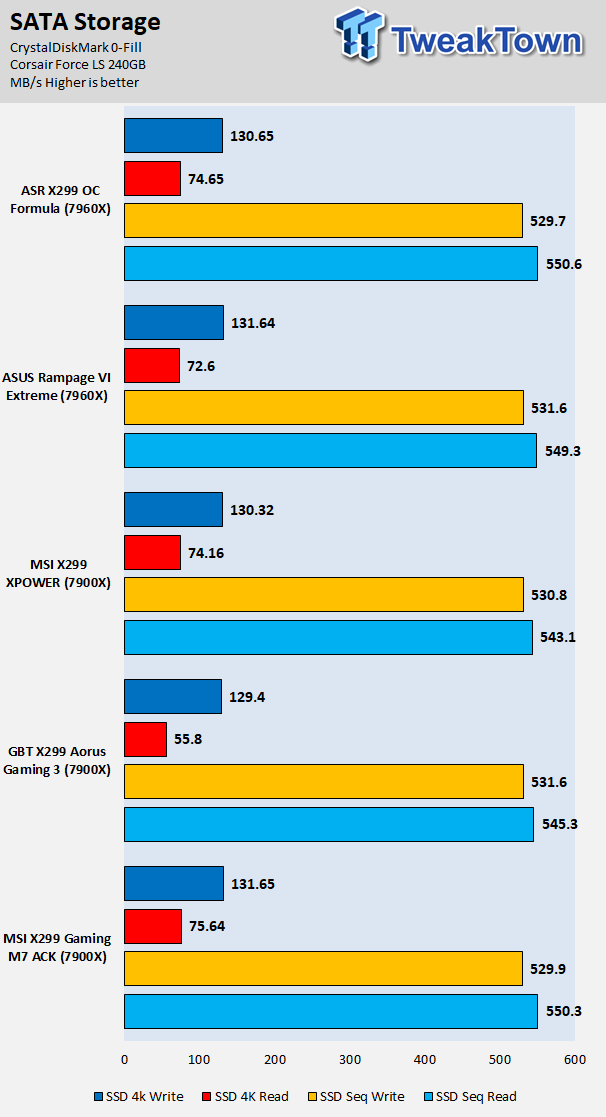 CrystalDiskMark M.2: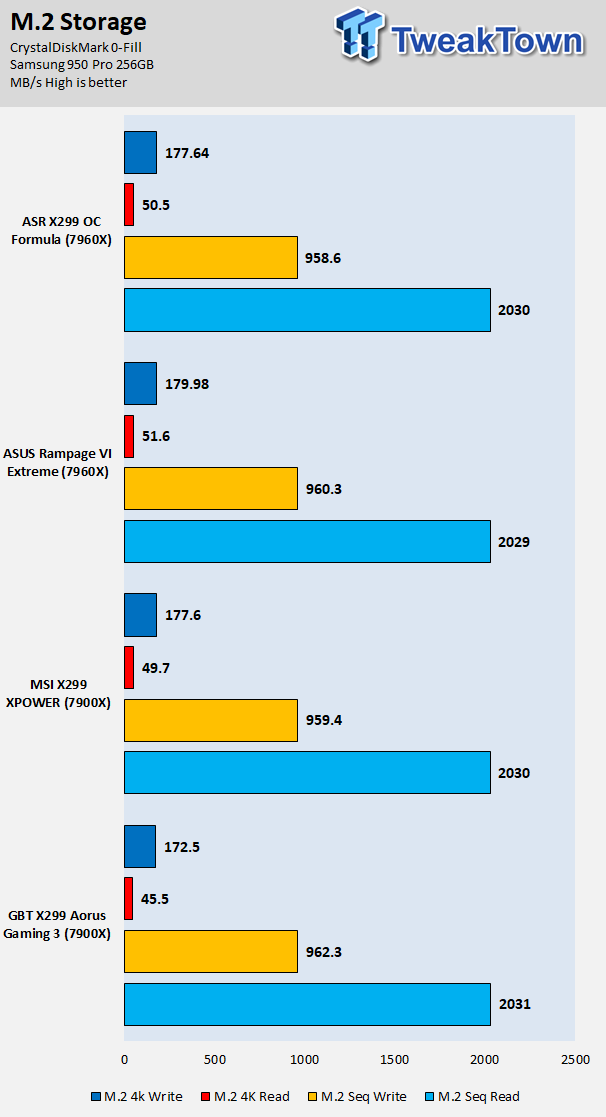 ixChariot Network Throughput: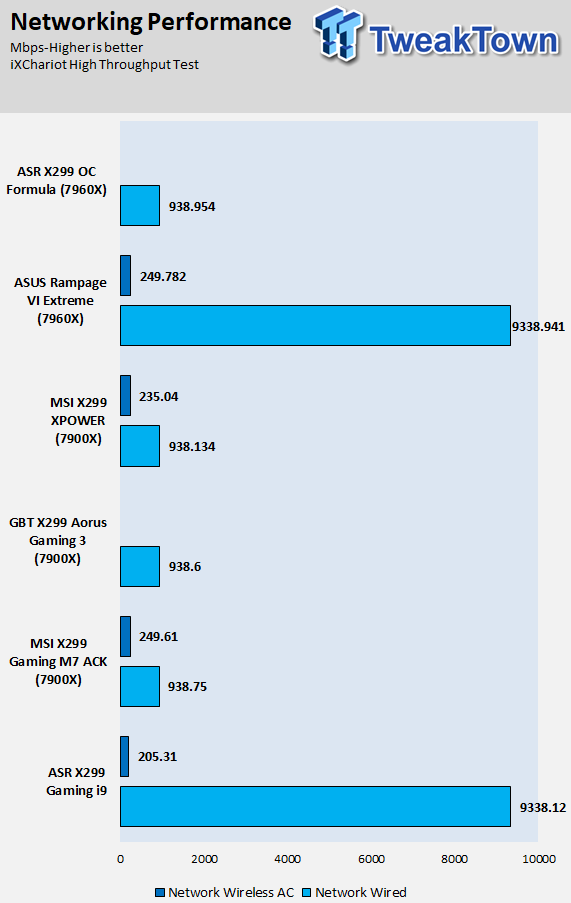 ASUS's Rampage VI Extreme has excellent storage (both SATA and M.2) performance, but it also has very excellent wired and wireless LAN performance. The 10G NIC is performing as it should, and the wireless AC performance is solid (can't test Wireless AD yet).
Audio RMAA 5.5:
I disable all audio features, set the correct bitrates, and then test the audio with a loopback test.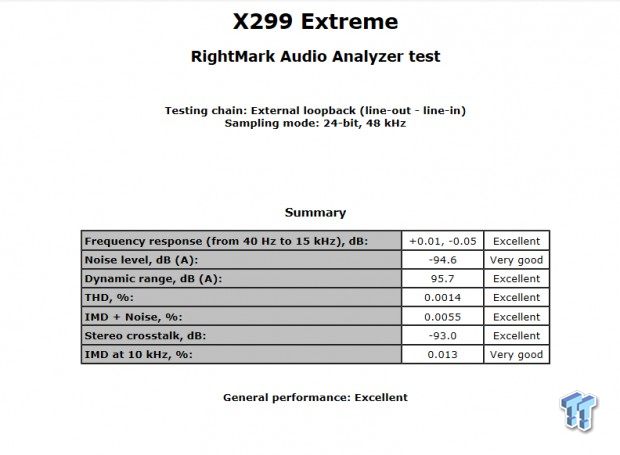 Sound Judgment by Ear: Excellent, but it seems that some of the software Windows 10 auto installed for the Intel NIC and the ESS DAC created a bit of a mix up within the RMAA testing suite. Overall, audio was excellent, and the noise level must be higher than what RMAA is reporting. There are five ratings for audio: 1. Problems, 2. Okay, 3. Acceptable, 4. Very good, 5. Excellent
VRM and System Thermal Imaging and Power Consumption
Thermal Imaging and Power Consumption
System power is measured at the wall with an AC power meter.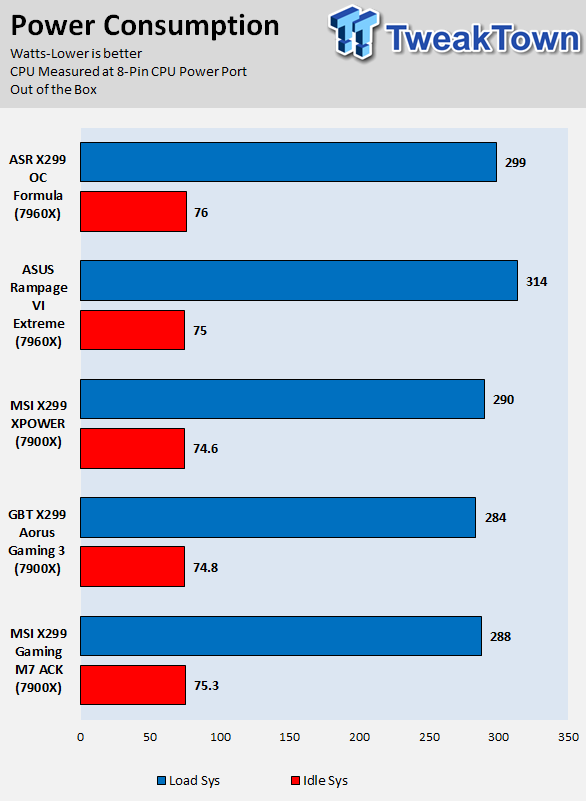 Note on Thermal Images: In the temperature section, we use our Seek thermal imaging camera to capture the surface temperatures of major components on the board. I look at the VRM and then all other things that light up the screen. If there is something to worry about, then I will state it. Otherwise, I will just show the hotter running parts of the board for fun. Unless some component is over 80-90C, then there isn't anything to worry about.
All systems will act differently, so I will look for commonalities, such as how far from the VRM the heat spreads through the PCB and the difference in temperature between the front side and backside of the PCB. Keep in mind, the majority of the heat from the VRM goes into the PCB as it is a giant soldered on copper heat sink. A larger difference in temperature between the back and front of the PCB points towards a more effective heat sink.
Thermal Testing at Stock Speeds:
The image on the left is always at idle, and the image on the right is at load. During ALL TESTS, fans above the VRM that cool the CPU cooler's (Corsair H110i) radiator are turned on to high (12v).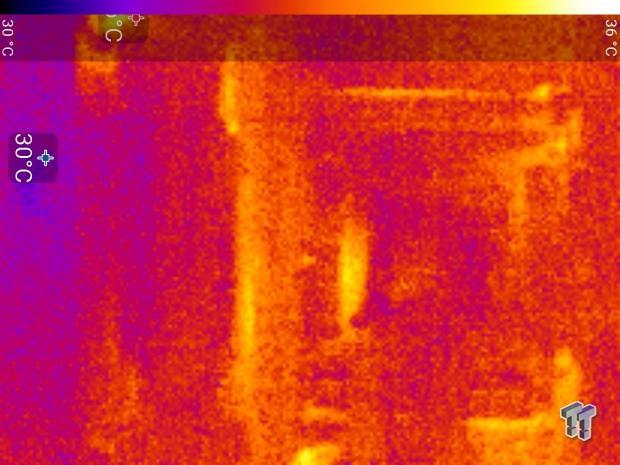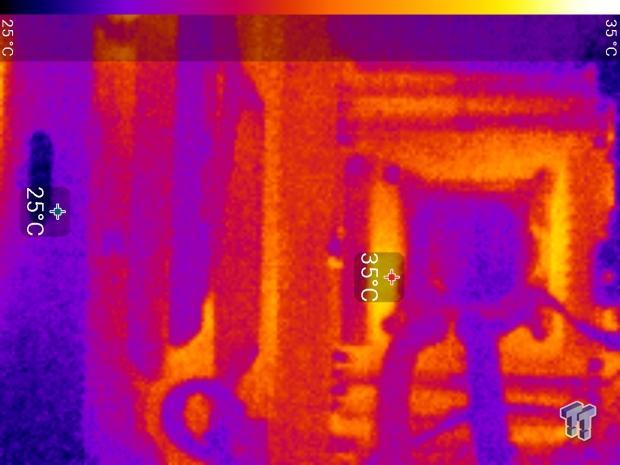 Full frontal.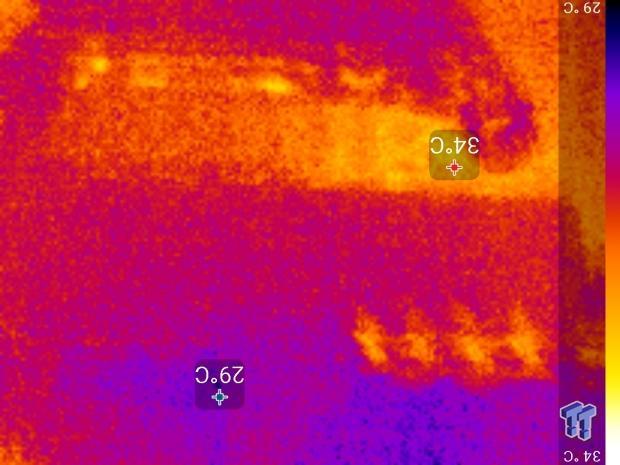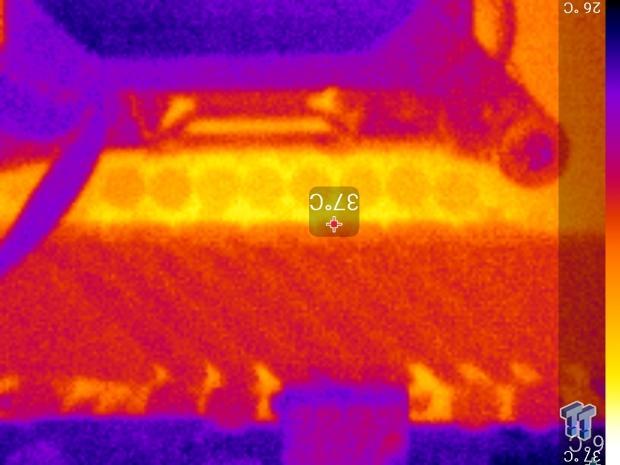 Up-close of the front of the VRM.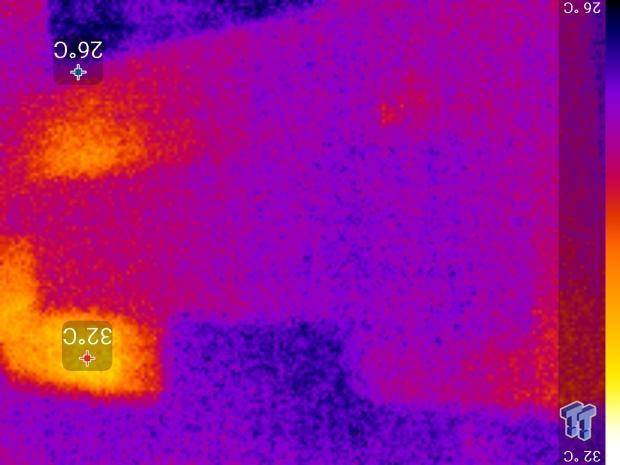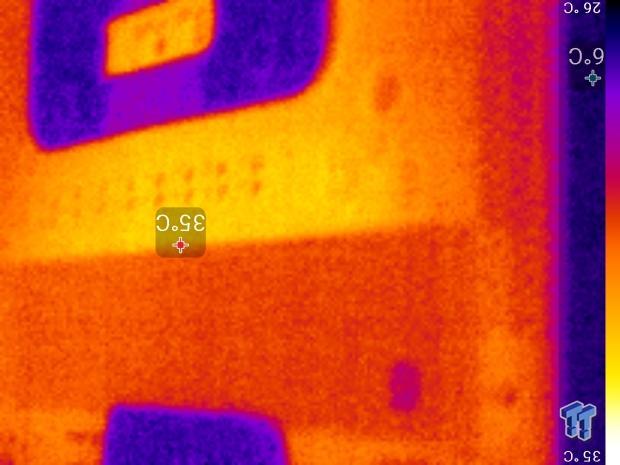 The VRM temperature raised one a few degrees from idle to load, and the temperature on the rear was lower on the top of the motherboard, and airflow here is at a minimum, so the VRM is relying on the heat sink a lot to cool. Overall VRM temperatures are excellent here.
Up-close of the back of the VRM.
4.4GHz 2.1v VCCIN OCed VRM Thermal Imaging: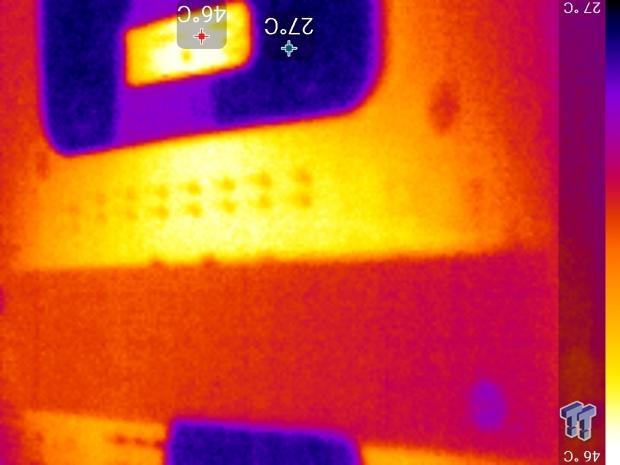 We have changed our X299 VRM testing under OCed conditions, with a fan directly mounted above the VRM blowing full speed at the VRM. However, are also pulling 500W+ from the PSU, so it is incredibly important to do this. Then Intel Burn Test is run for 30 loops, and infrared pictures are taken at loop 25. As we can see, the motherboard's VRM is doing very well, at only 46C at the top.
The rear of the motherboard shows the hottest spot is under the CPU socket, meaning that the heat from around the VRM has been pulled upwards and dissipated by the heat sinks, indicating excellent performance.
What's Hot, What's Not & Final Thoughts
Here are key points about the ASUS ROG Rampage VI Extreme.
What's Hot
Super Strong Networking Capabilities: Networking on the Rampage VI Extreme is unlike any other X299 motherboard and that is because the motherboard merges the latest NBase-T technology with the latest in Wireless AD technology. The motherboard features the Aquantia NIC that supports speeds of 10GBit, 5Gbit, 2.5Gb, 1Gbit, and 100Mbit, making it extremely versatile. You also get a single 1Gbit Intel NIC. Adding to wired networking is a Wireless AD (up to 4.6Gb/s) and Wireless AC wave 2 networking card that supports the latest in typical wireless and use specific wireless (VR headsets) technologies.
Beautifully Unique: One of the most stunning parts of the Rampage VI Extreme is the topside shield that produces a very unique lighting effect. ASUS used a technology known as Non-Conductive Vacuum Metallization, which allows ASUS to deposit a thin layer of metal in the plastic to produce a reflective effect when off and a glowing effect when the lights are turned on. The lines ASUS has implemented make it look like the traces and data pathways are lit up. Combine that with the use of addressable RGB LEDs throughout the motherboard, and you get some crazy effects. The shield is not the only thing worth mentioning; the audio jacks light up different colors, and there is a built-in OLED display that gives you real-time statistics. You also get two RGB headers and an addressable RGB header to add your own lights.
Built for HCC CPUs: The Rampage VI Extreme is part of ASUS's second wave of X299 motherboards, and as such has improvements made that better support Intel's high core count (HCC) CPUs such as the 7980XE that can pull upwards of 550W, even on a water cooling setup. The motherboard has improved power circuitry to support overclocking, and a new heat sink designed to cool the VRMs better.
Excellent Quality: VRM quality is excellent on the X299 Rampage VI Extreme, as is the usage of different chips on the motherboard to support features. Special circuitry such as an enhanced DAC is used in the audio section, the higher quality controllers are used for USB 3.1, and we even find a PCI-E re-driver to make sure the U.2 port receives a solid signal. The shield on the back of the motherboard also reinforces the PCB's structure.
4-Way SLI: Not many X299 motherboards support 4-way SLI, but the Rampage VI Extreme is an exception and fully supports up to 4-way SLI.
What's Not
No Kaby Lake-X Support: ASUS decided to skip the supporting hardware for Kaby Lake-X CPUs, so the motherboard only supports Skylake-X CPUs.
Very Expensive: ASUS's Rampage VI Extreme is one of the most expensive X299 motherboards, at $649, there isn't a more expensive X299 motherboard.
Final Thoughts
ASUS's Rampage VI Extreme follows in the footsteps of its predecessors and delivers the highest quality construction ASUS has to offer matched with a wide array of cutting-edge features. The aesthetics of the motherboard are one of my favorite things about the product; I love the way ASUS has used the shield to produce a really neat lighting effect. The motherboard is also designed for extreme overclocking; we get the RSVD switches used for avoiding cold boot issues, we get some of the extreme overclocking features we see on ASUS's Apex boards, and the VRM is designed to easily handle the 18-core Intel Skylake-X processors.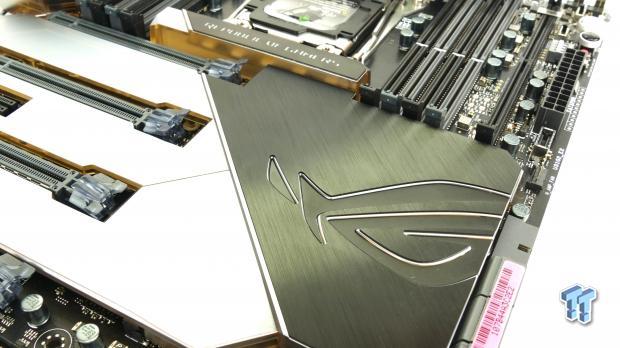 The motherboard's feature set is extremely high-end, featuring a built-in 10Git NIC, Wireless AD, USB 3.1, U.2, triple M.2 slots, and 4-way SLI technology. The BIOS is well designed and implements profiles for overclockers, and fan control is excellent both physically and in the UEFI.
If you are looking for an extremely well built, feature packed, ultra-high-end X299 motherboard, the ROG Rampage VI Extreme could be just what you are looking for.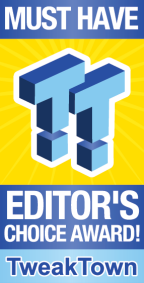 | | |
| --- | --- |
| Performance | 96% |
| Quality | 94% |
| Features | 97% |
| Value | 85% |
The Bottom Line: The ASUS ROG Rampage VI Extreme is fully loaded with cutting-edge features, excellent hardware, and killer aesthetics, but just like other premium products, it could leave a dent in your wallet.
PRICING: You can find products similar to this one for sale below.

United States: Find other tech and computer products like this over at Amazon.com

United Kingdom: Find other tech and computer products like this over at Amazon.co.uk

Australia: Find other tech and computer products like this over at Amazon.com.au

Canada: Find other tech and computer products like this over at Amazon.ca

Deutschland: Finde andere Technik- und Computerprodukte wie dieses auf Amazon.de
We openly invite the companies who provide us with review samples / who are mentioned or discussed to express their opinion. If any company representative wishes to respond, we will publish the response here. Please contact us if you wish to respond.