ASUS ROG ZENITH EXTREME (AMD X399) Motherboard Review
ASUS' ROG ZENITH EXTREME AMD X399 TR4 motherboard for Ryzen Threadripper processors is the best model we have checked out so far.
Published
14 minute read time
TweakTown's Rating: 94%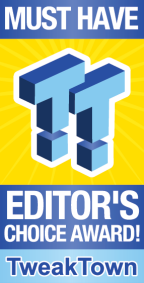 The Bottom Line
Loaded with the latest features, high-quality components, and unique features, the Zenith Extreme is ASUS's ultimate answer to the AMD X399 TR4 Ryzen Threadripper chipset.
Introduction, Specifications, and Pricing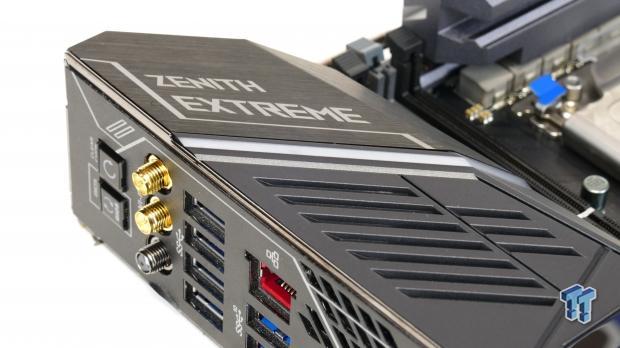 When we talk about the high-end desktop (HEDT) segment, we are talking about products at the tip of the pyramid when it comes to the price of the CPU and motherboard. If you can afford a $1000 CPU, then you might also be enticed to buy an expensive, fully loaded, motherboard to match. For some, it's that feeling of knowing while you might not understand what's under the hood, you can trust a certain product based on the amount you paid. That is true until it isn't, and ASUS's ROG products haven't shown us anything to the contrary.
ASUS has always been one of the leaders in high-end AMD motherboards, even making high-end ROG boards when no other vendors were offering anything close. While X399 is different, in that other vendors are bringing out their A-Game, ASUS has continued with its line of AMD motherboards that dominate with the X399 Zenith Extreme. In fact, ASUS was so prepared for X399 launch, every reviewer with the TR review kit had the Zenith motherboard.
Let's see what ASUS has brought to the table with the X399 Zenith Extreme.
Specifications

The ROG ZENITH EXTREME features Wireless AD, 10Gbit LAN card inside, USB 3.1, triple M.2 slots, 4-way Multi-GPU support, some SATA6Gb/s, and of course their pumped-up audio solution.
Pricing
The ROG ZENITH EXTREME costs $549.99.
Packaging and ROG ZENITH EXTREME Overview
Packaging and Overview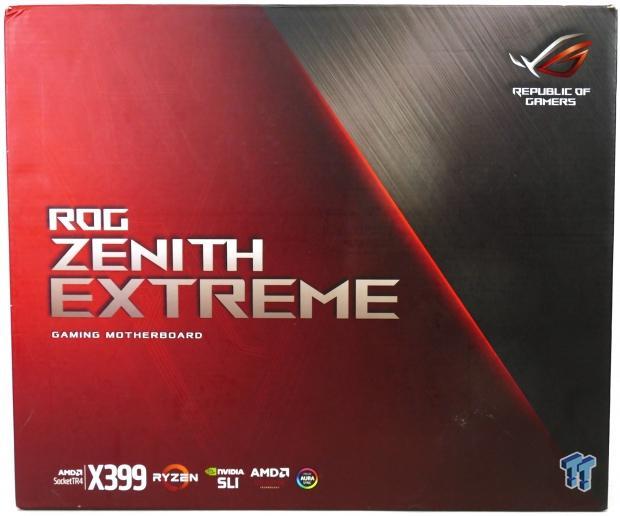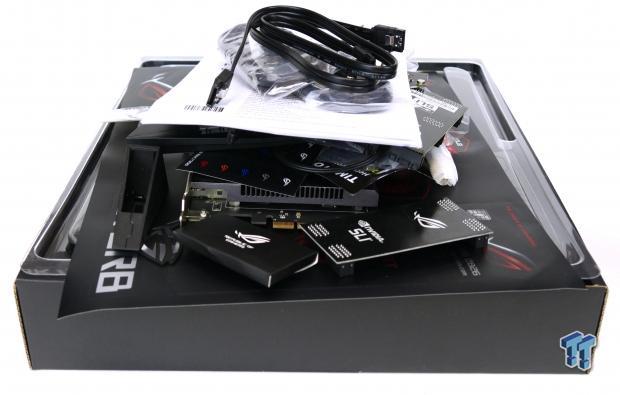 Simple and sleek, the ROG Zenith Extreme's motherboard box is similar to that of ASUS's recent ROG motherboards. Packaging is very well done, and the motherboard is well protected from the elements.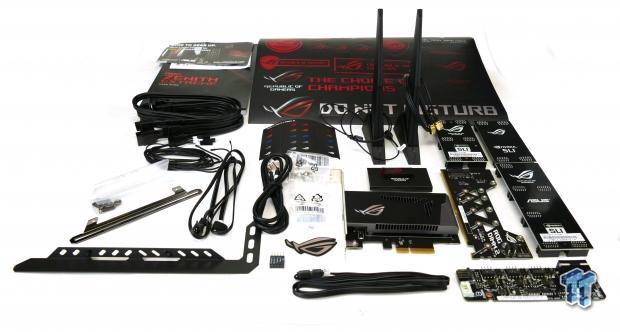 The accessory package includes three SATA6Gb/s cables, WiGig Wireless AD antenna, 2T2R Wireless AC antenna, VGA Holder, DIMM.2 fan stand, AREION 10G card, fan extension card, fan extension card screw pack and extension cable, SLI HB bridge, ROG stickers, Q-Connector, ROG cable labels, M.2 screw kit, DIMM.2 card, RGB LED extension cable, digital RGB extension cable, three external temperature sensor cables, USB drive with drivers and utilities, and finally a coaster.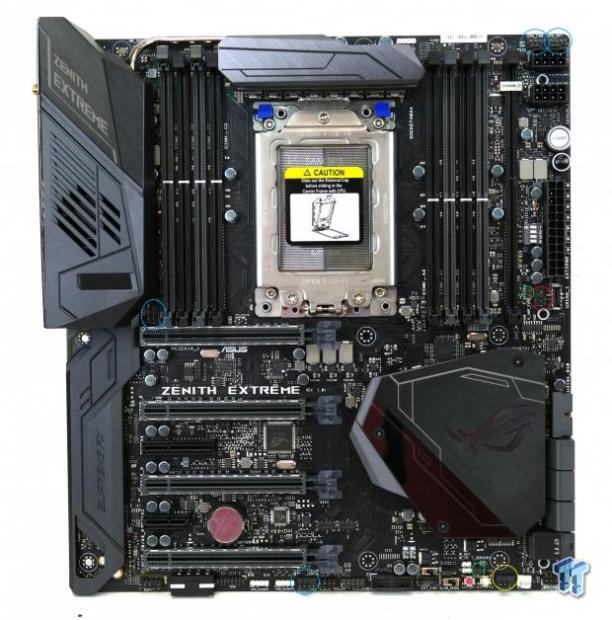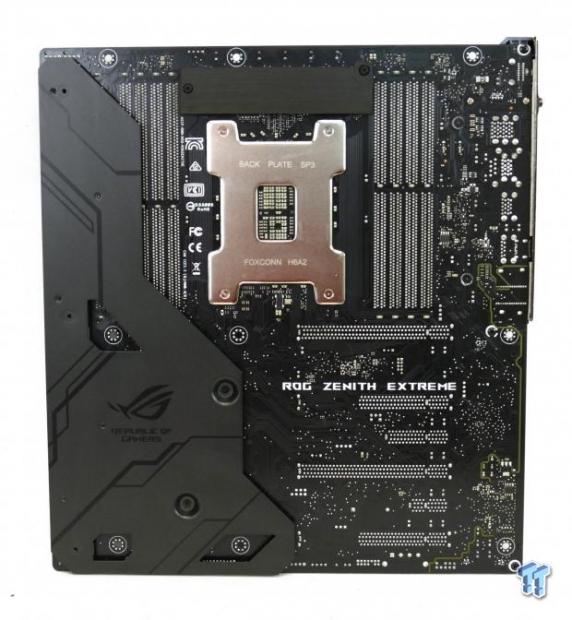 The motherboard has a total of six fan headers, all of which are PWM/DC (auto-sensing) hybrid headers. Those headers circled in blue are rated at 1A, while that circled in red is rated up to 3A as is the header circled in yellow, but the header circled in yellow is full speed by default. The CPU and CPU OPT fan headers share control. The headers can reference multiple temperature sensors built into the motherboard and two extra through headers on the motherboard circled in green.
The fan extension card offers the ability to hook up three more fan headers, each with extra optional external temperature sensor header. The DIMM.2 card also has two headers for temperature probes.
ASUS has done a great job with fan control in the UEFI and the OS, and you can even reference more than one temperature sensor to monitor for the fan curve, and that includes GPU temperature. The back of the motherboard has a large backside shield, and some RGB LEDs illuminate its side, just like on the Rampage V Edition 10. The back of the VRM also gets a cold plate to help cool things down.

The rear IO panel features a BIOS Flashback button, clear CMOS button, two Wireless AC antenna, one Wireless AD (WiGig) antenna, eight USB 3.0 ports, USB 3.1 type-A, USB 3.1 type-C, 1Gbit LAN, and gold plated internally illuminated 7.1 audio output jacks with S/PDIF out. The IO shield is integrated, so you shouldn't have issues with installing it into a case.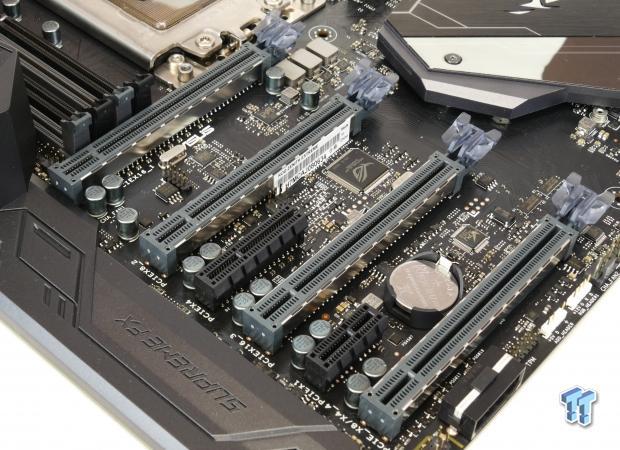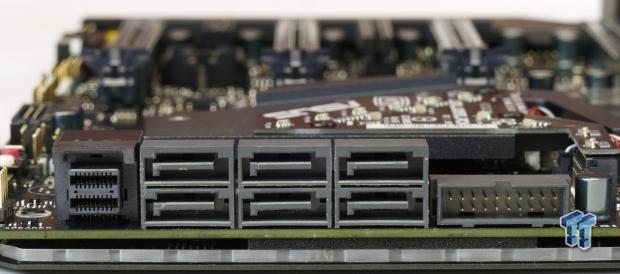 The PCI-E layout is simple; you get x16/x8/x16/x8 SafeSlots that always operate at maximum bandwidth, except the last x8 slot. The bottom x8 slot shares x4 PCI-E 3.0 with the U.2 port. The center x4 PCI-E 2.0 slot and the lower x1 PCI-E 2.0 slots are connected to the chipset. The motherboard has six SATA6Gb/s ports, a U.2 port, and one of the USB 3.0 internal headers is right angled near the SATA6Gb/s ports.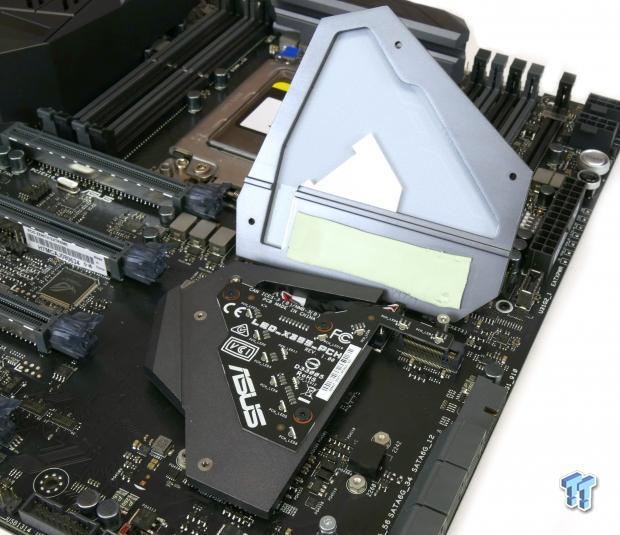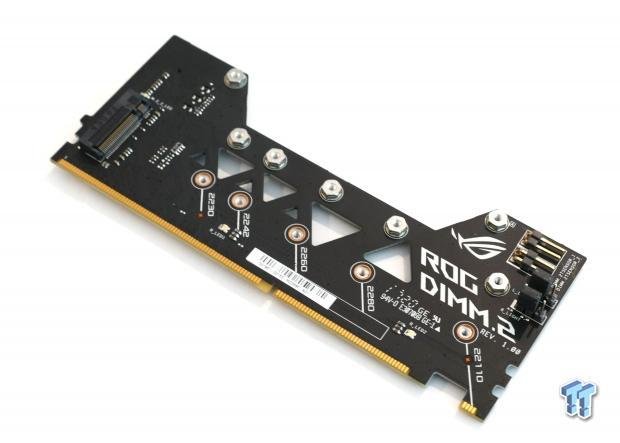 The DIMM.2 card houses two of the M.2 slots and offers two external temperature sensor headers. There is also one M.2 slot under the Southbridge heat sink, which actually works to cool down the M.2 drive.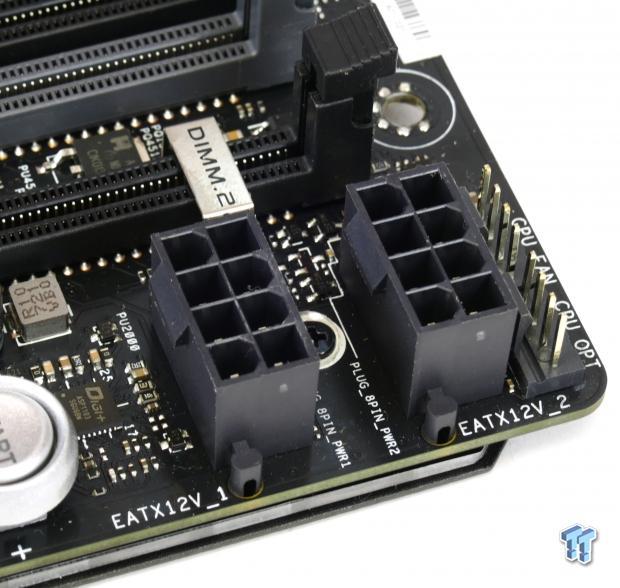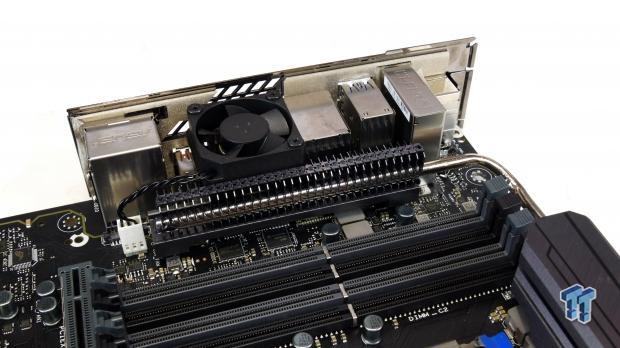 Two 8-pin ESP power headers sit at the top of the motherboard. ASUS's heat sink design is great because the heat is transferred from the main CPU heat sink to a secondary heat sink with a small fan. The fan looks to be the same one that ASUS uses on their TUF motherboards.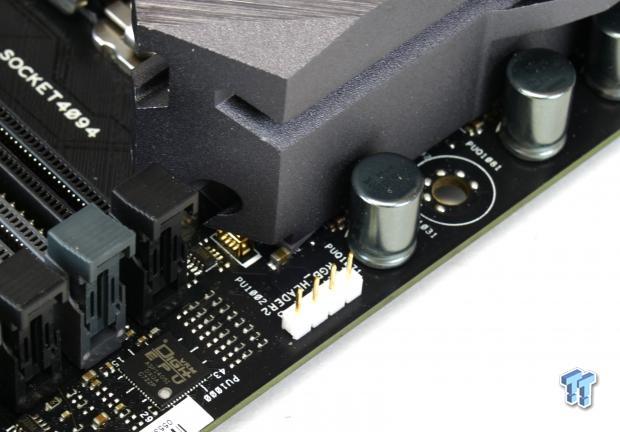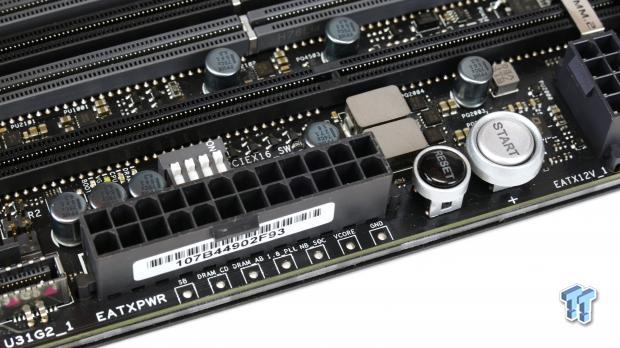 One RGB LED header is located at the top of the motherboard. The motherboard offers power and restart buttons. Voltage read points are located below the 24-pin connector. There are also four DIP switches that are used to disable or enable the PCI-E slots. You will also find four boot LEDs right below the DIP switches.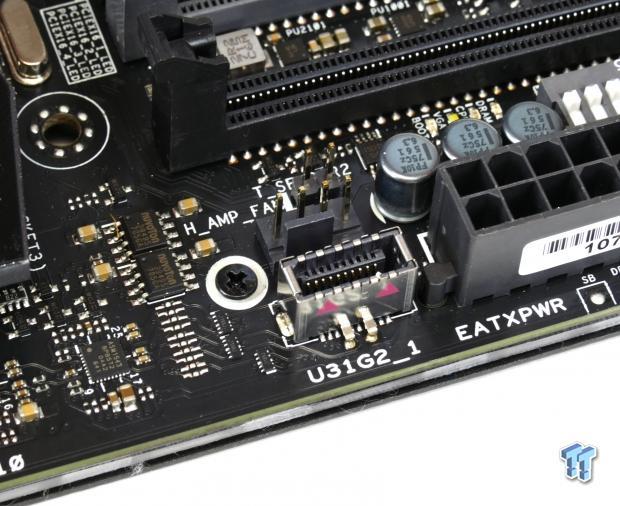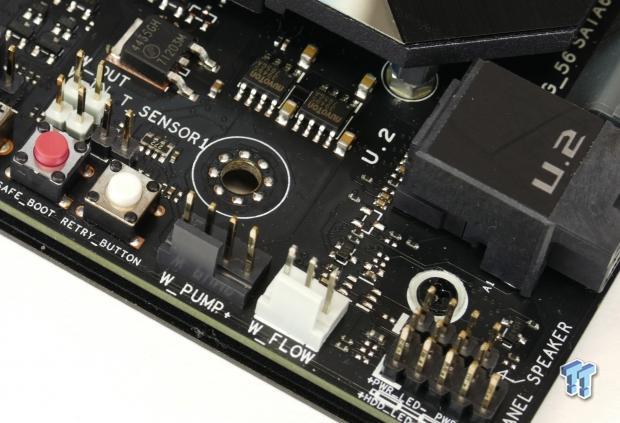 A USB 3.1 type-C header is located right below the 24-pin power connector. The motherboard has special water cooling headers, one for a flow sensor and two temperature sensors (one for water flow into the radiator and the other for the outflow). ReTry and Safe Boot headers are located in the lower right-hand corner of the motherboard.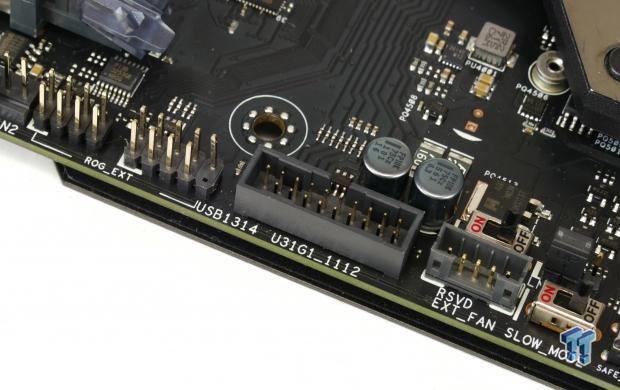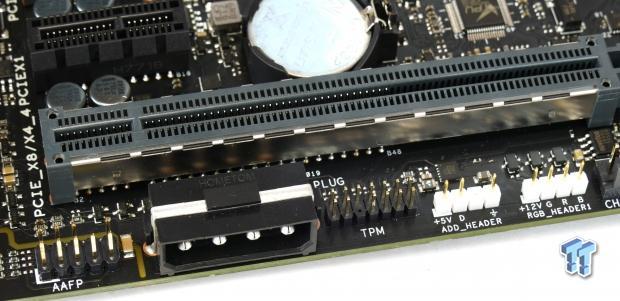 There are two switches, one is a slow mode switch, and the other is RSVD. The RSVD switch is probably used to avoid a cold boot bug, as that is what ASUS's previous RSVD switches did. The fan extension header is located right below the RSVD switch. The motherboard offers a USB 3.0 internal header as well as a ROG extension header that doubles as a USB 2.0 header. The motherboard also offers a second RGB LED header as well as an addressable RGB LED header. A MOLEX socket is located at the bottom of the motherboard and provides extra PCI-E slot power.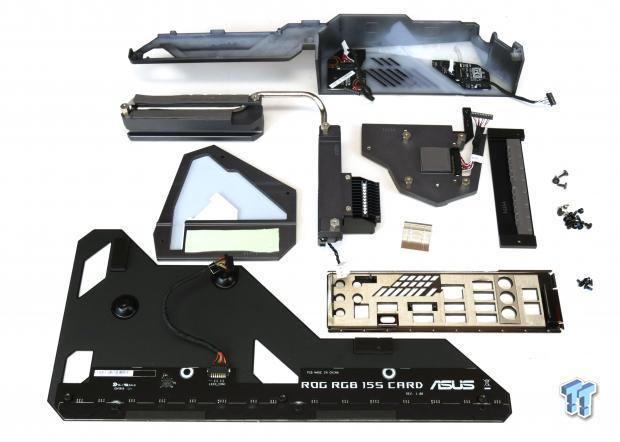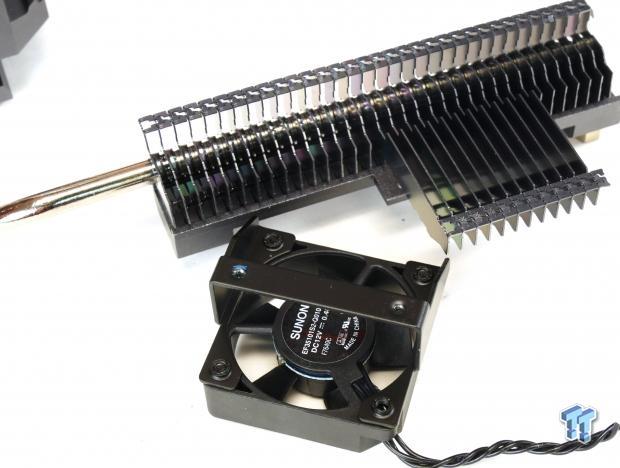 The heat sinks and whole system do not come apart easily, so I decided to do it for you. The RGB panel on the back of the motherboard has its own AURA RGB chip. The fan for the VRM heat sink is the same as used in TUF products and doesn't run loud during normal operation; you can control it through the UEFI and change its temperature source if you want.
ASUS ROG ZENITH EXTREME Circuit Analysis
Circuit Analysis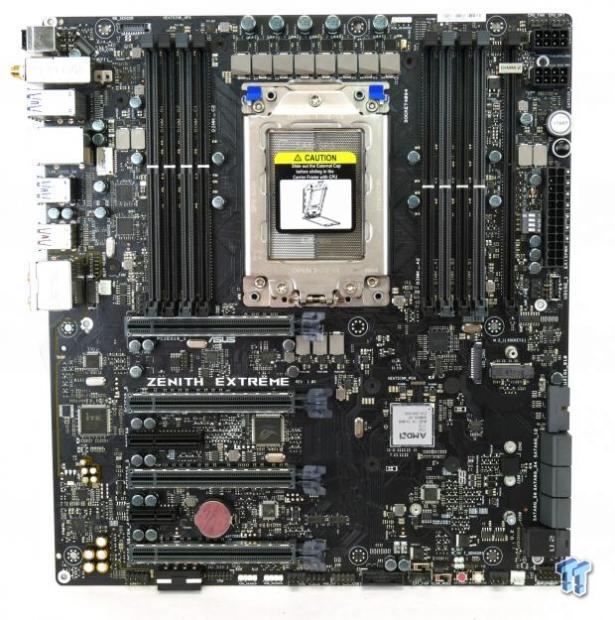 The ROG ZENITH EXTREME is one of the most loaded X399 motherboards, circuit wise.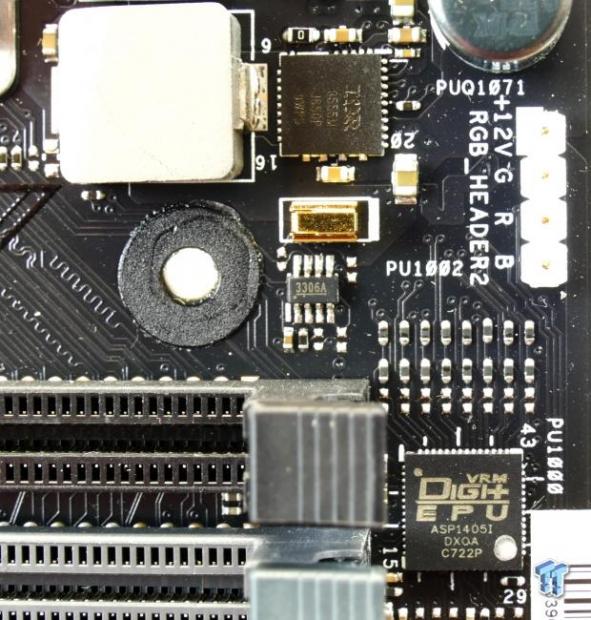 We get a true 8-phase VRM that uses 8 PWM channels directly from an ASP1405 PWM, which is similar to an IR35201. The same digital PWM was used on ASUS's high-end Z270 and X299 motherboards. There is also a gold contact switch that will let the system know you have installed the custom water block (which has its own header) or have removed the VRM heat sink (it does one of the two). Each phase uses a 60A IR 3555M PowIRstage, MicroFine Alloy chokes, tantalum POSCAPs, and 10K capacitors.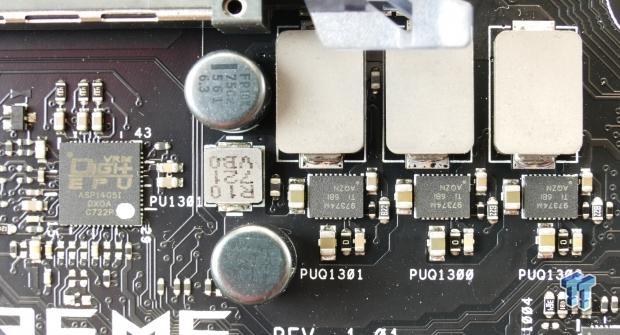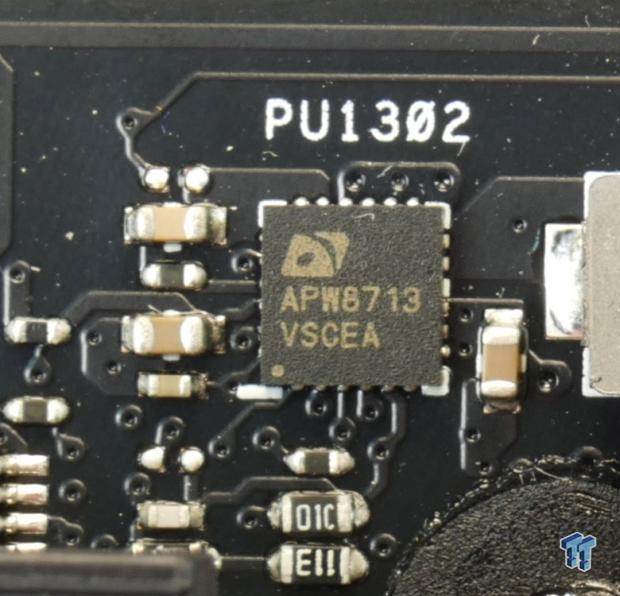 The SoC rail uses another ASP1405 as the digital PWM controller along with three phases that use Texas Instruments CSD97374Q4M NexFETs rated for 25A. An Anpec APW8713 is a fully integrated 8A buck converter used for some minor CPU rail.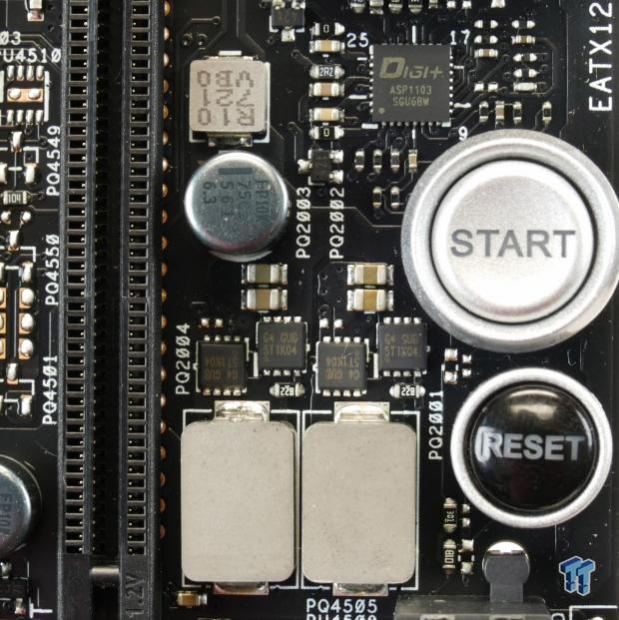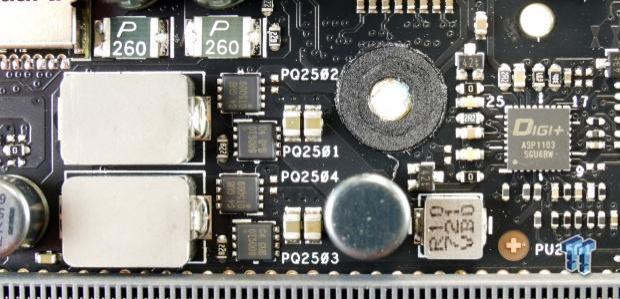 Both memory VRMs use ASP1103 PWMs along with two power phases. Each power phase gets a single high-side and low-side FET. I am not sure on the exact model of the MOSFETs, but they should get the job done as I have seen them on other very high-end ROG motherboards targeted at overclockers.
ASUS ROG ZENITH EXTREME Circuit Analysis Continued
ROG ZENITH EXTREME Circuit Analysis Continued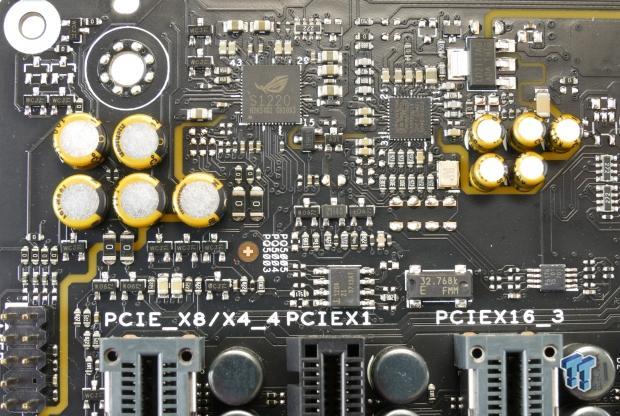 ASUS is using an ALC1220 rebranded to S1220 as the audio codec, but they are also using an ESS Sabre 9018Q2C DAC. You can also re-task the front panel headers. The motherboard also uses high-quality Nichicon Gold Series capacitors and PCB division and left/right channel separation to improve audio quality. It also uses a low voltage OP-AMP I will show further down.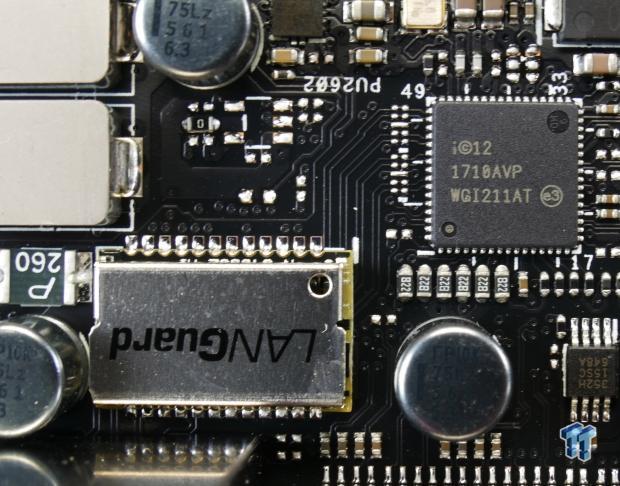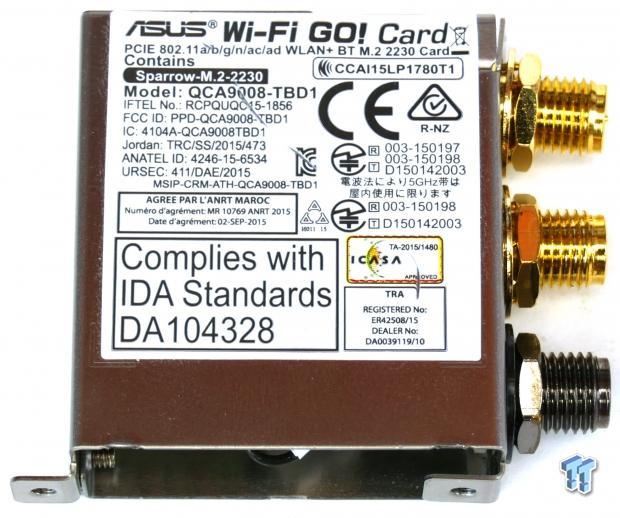 The Intel i211AT is used for the 1Gbit NIC along with a LAN Guard protection SMD for ESD spikes. We also get the Wireless AC/AD (WiGig) card that is way ahead of its time; it's labeled QCA9008-TBD1.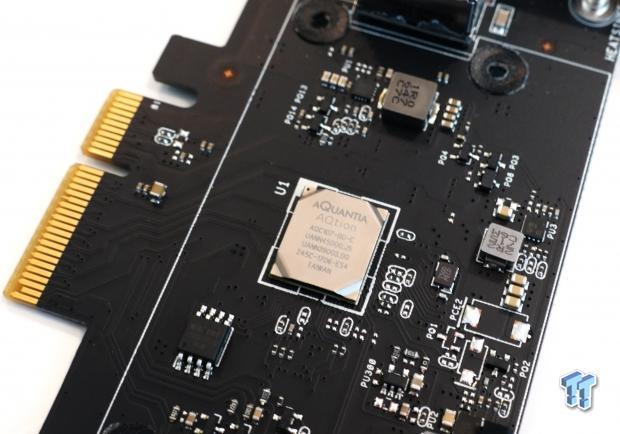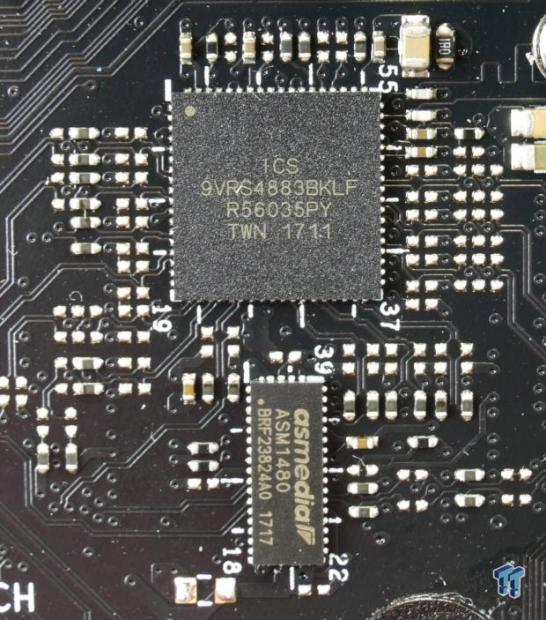 The motherboard also comes loaded with an Aquantia AQtion AQC107 NBase-T network card, which offers the ability to hook up to x4 PCI-E 2.0 lanes to offer 10Gbit, 5Gbit, 2.5Gbit, 1Gbit, and 100Mbit networking. A special ICS 9VRS4883BKLF is used for the clock generator, and it seems to use an ASMedia ASM1480 MUX (quick switch) to switch some of its IO, I am not sure how it works, but there is a second clock generator on the motherboard. The clock generator here is the same as used on ASUS's X370 motherboard.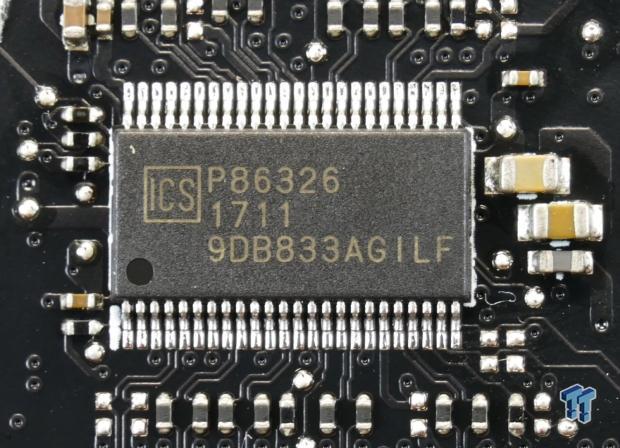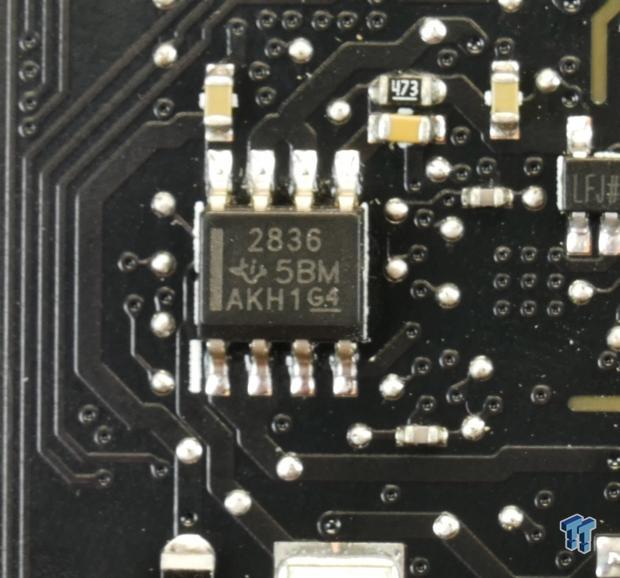 The second clock generator seems to be used to provide clock source so that more than 7 PCI-E devices connected to the CPU can be used together. It is the ICS 9DB833AGILF. The Texas Instruments OPA2836 very-low-power operational amplifier is used to improve audio performance.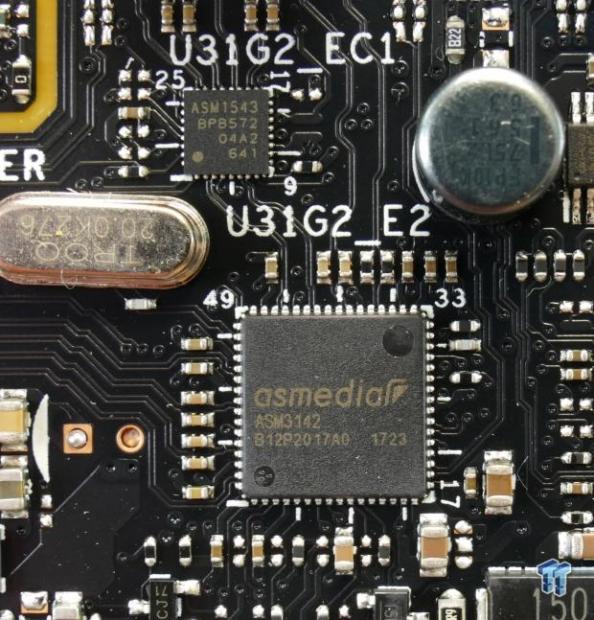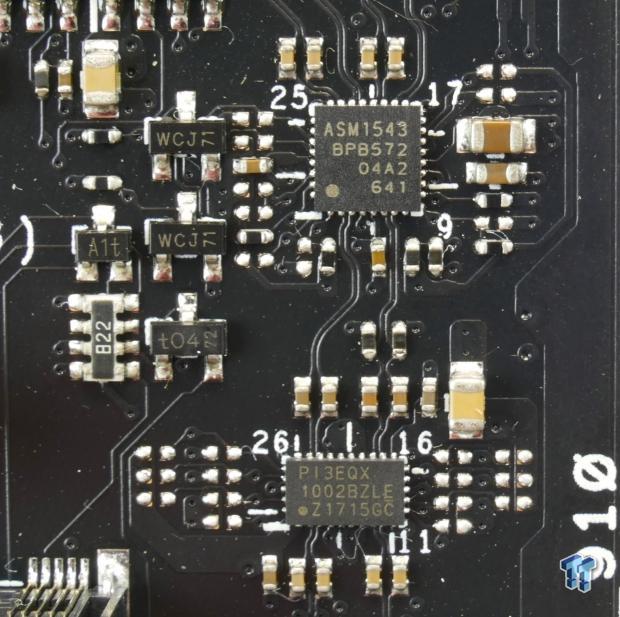 The ASMedia ASM3142 USB 3.1 controller and ASM1543 type-C switch and CC logic provide the two USB 3.1 ports on the rear IO panel. The internal USB 3.1 header is routed to the Southbridge's USB 3.1 controller and uses a Pericom PI3EQX as the re-driver and the ASMedia ASM1543 as the type-C switch and CC logic chip.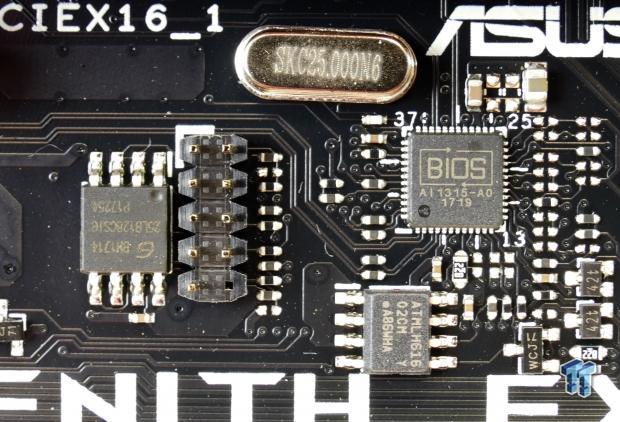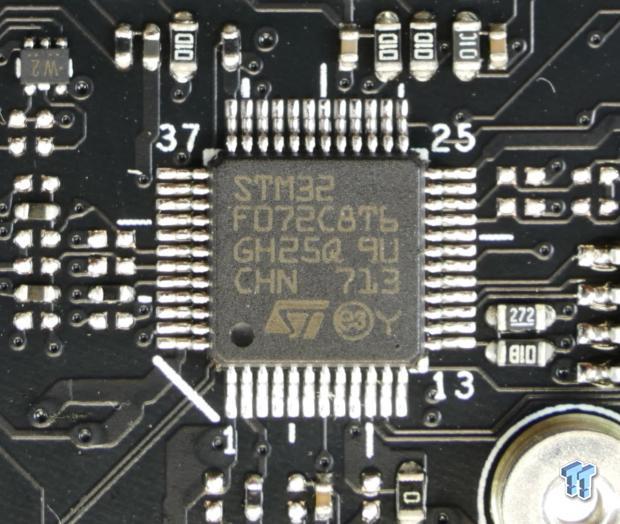 The BIOS chip provides the BIOS Flashback functionality, and the motherboard has a 128Mbit/16MB ROM (but ASUS changed the brand of the ROM compared to previous generations). The STM32 is a microcontroller that is used to provide functionality such as the OLED display; I found the same chip on the X299 Deluxe, which also has the OLED display.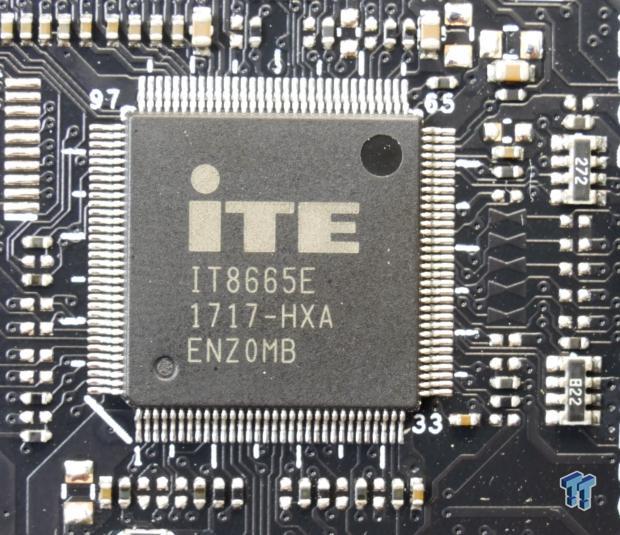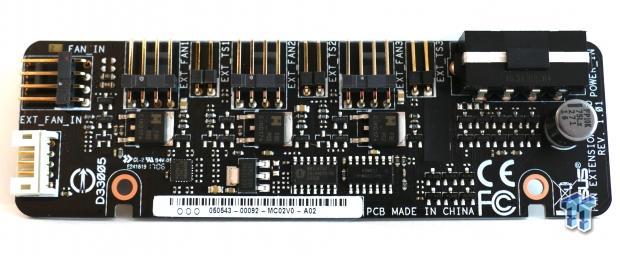 The ITE IT8665E is used as the SuperIO on the motherboard and provides many monitoring and system management functions. The fan extension card uses a Winbond chip and nuvoTon chip to help extend fan control and temperature sensor input for three extra headers and temperature inputs.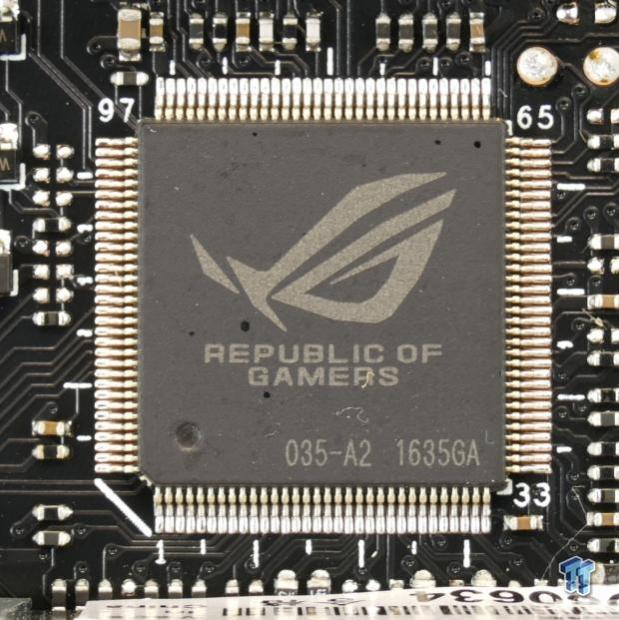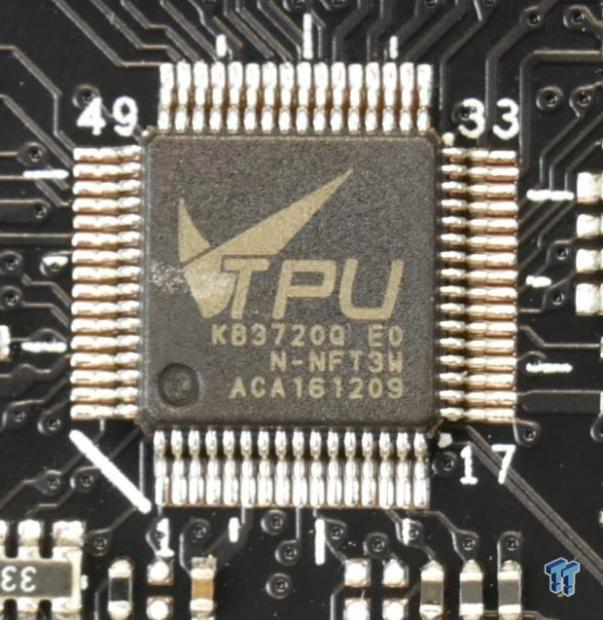 Many ROG chipsets like the one above perform functions ranging from Keybot to other ROG unique features. The TPU chip provides TPU features for overclocking.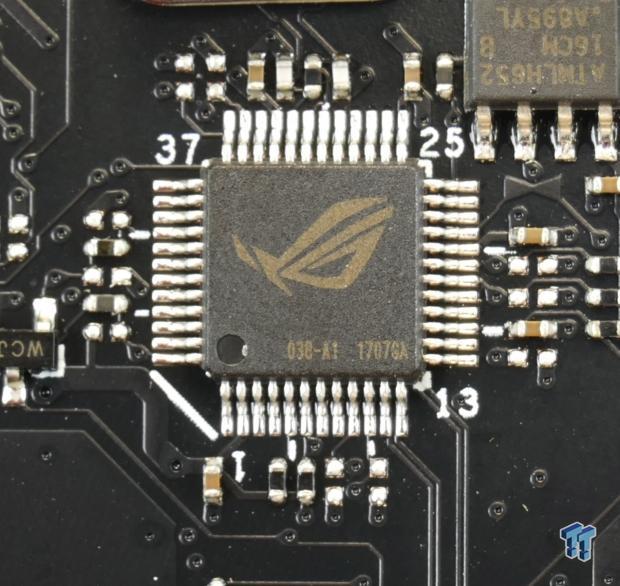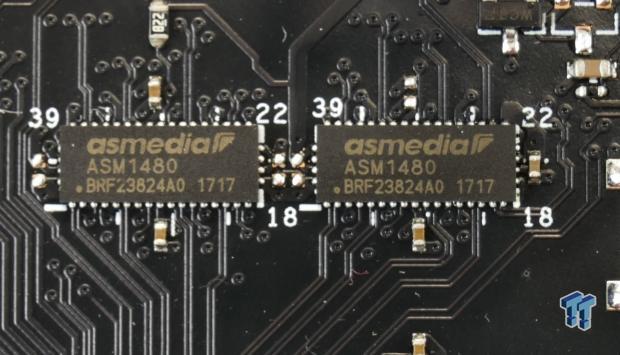 We find another ROG chip and two ASMedia ASM1480 quick switches that move x4 PCI-E 3.0 between the last x8 slot and the U.2 connector.
BIOS and Software
BIOS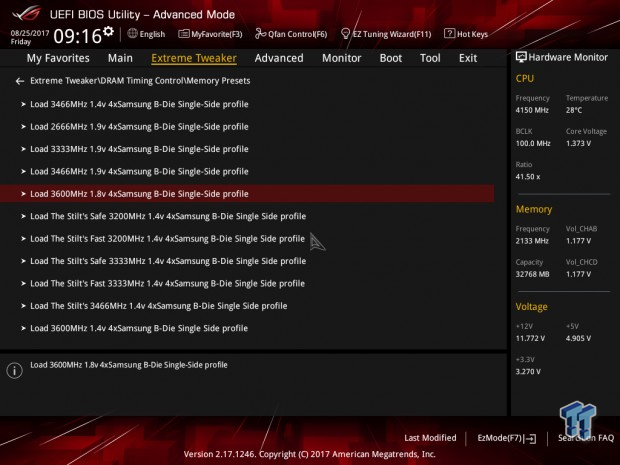 ASUS's UEFI for the ROG ZENITH EXTREME is loaded to the brim with features, but for those who are not that familiar with a UEFI ASUS does have an Easy Mode. In typical high-end ROG fashion, the motherboard offers built in overclocking profiles, including those for memory kits that can go up to 3600MHz.
CPU overclocking is straight forward as well, and you can just as easily enable XMP on many 3200MHz memory kits and overclock with ease. Fan control in the UEFI is present through both a GUI and manual input menu.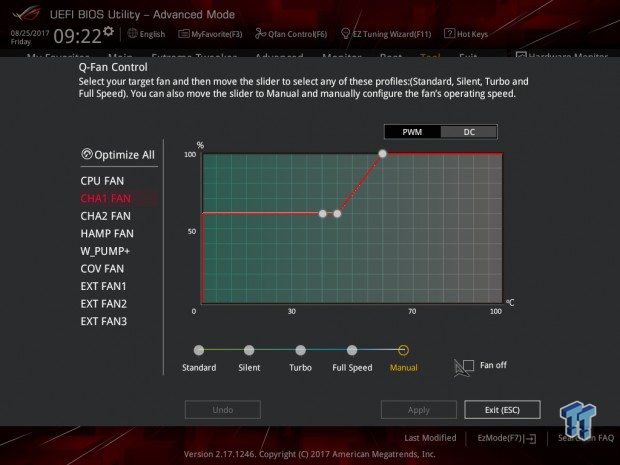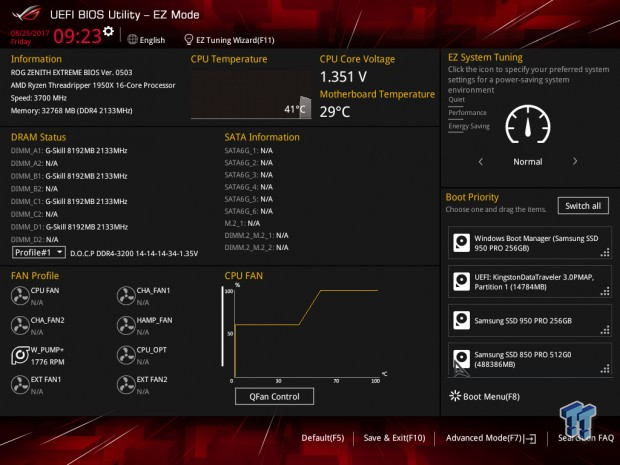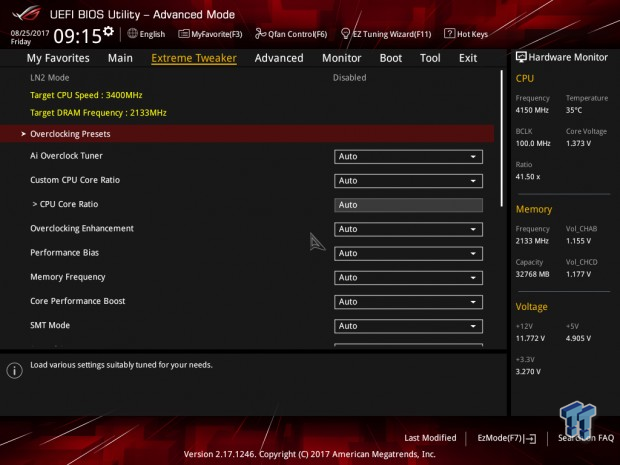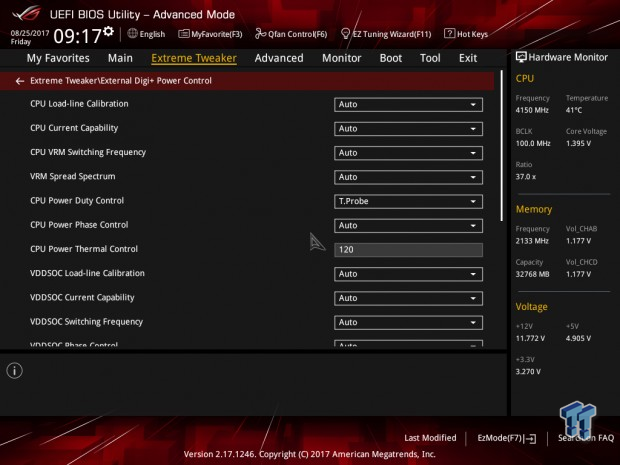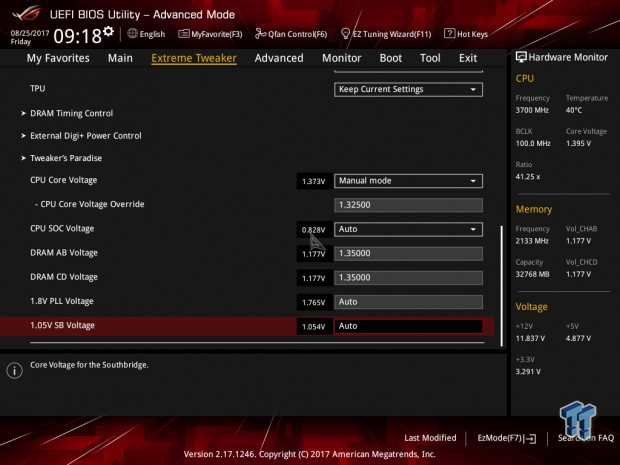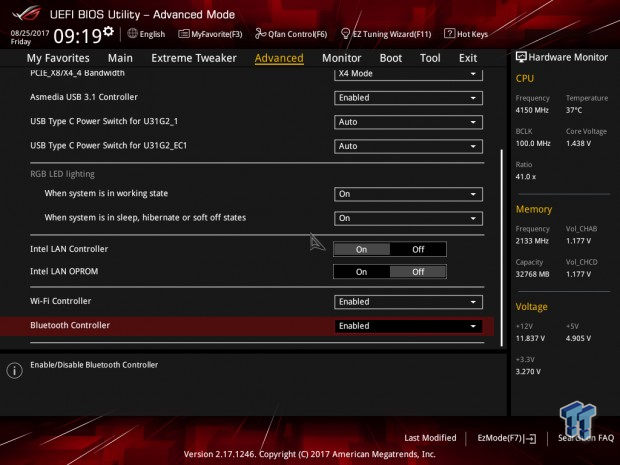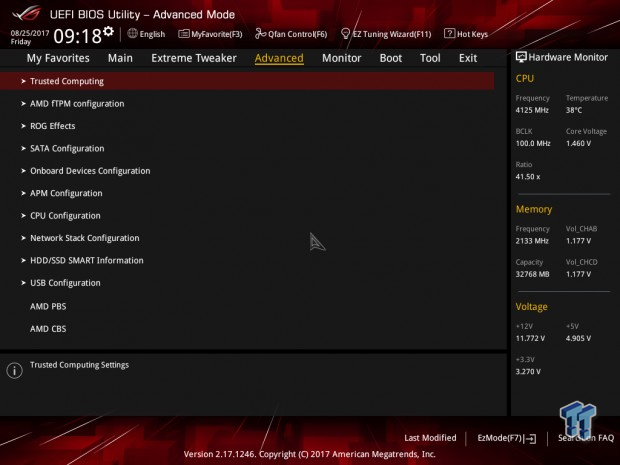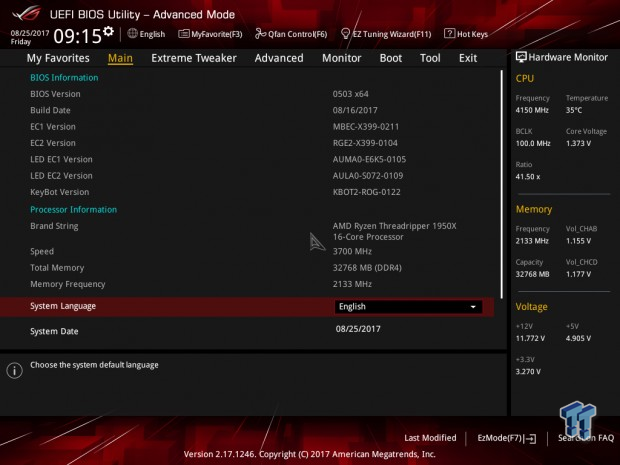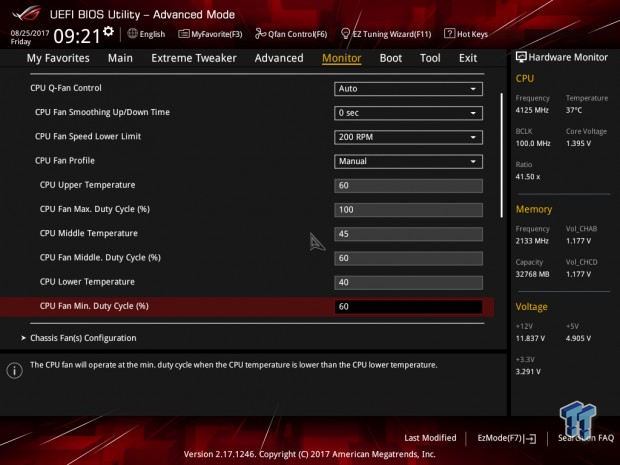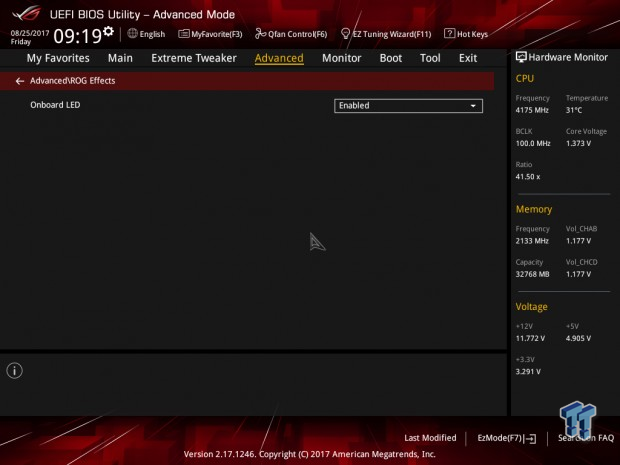 Software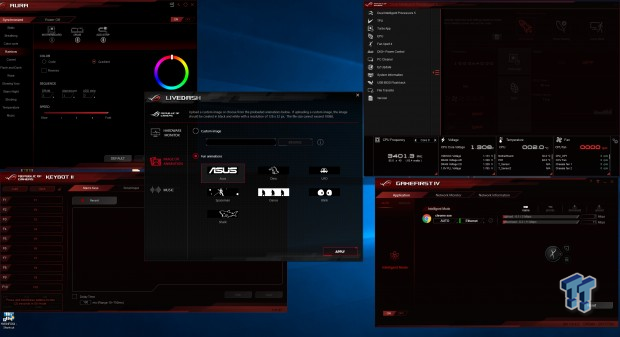 ASUS's software suite includes AURA, Keybot II, LiveDash, GameFirst IV, RAMDisk, DIP 5, TPU, Turbo App, EPU, Fan Xpert 4, DIGI+ Power Control, PC Cleaner, EZ Update, System Information, USB BIOS flashback, File Transfer, Version, and more.
Test System Setup
Steven's Motherboard Test System Specifications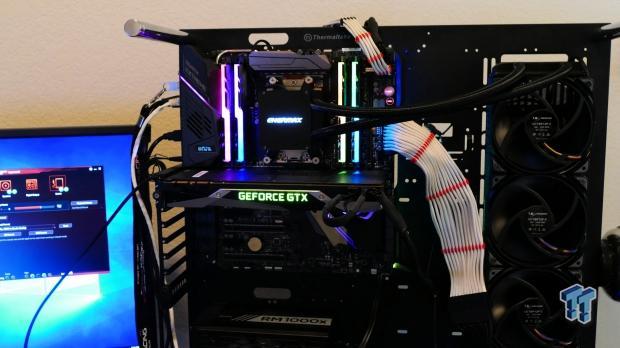 The ROG ZENITH EXTREME does have a few built in RGB LEDs, but its lighting is executed tastefully. We also have upgraded from the Thermaltake AIO to the new Enermax 360mm AIO specifically built for TR4, with full IHS coverage.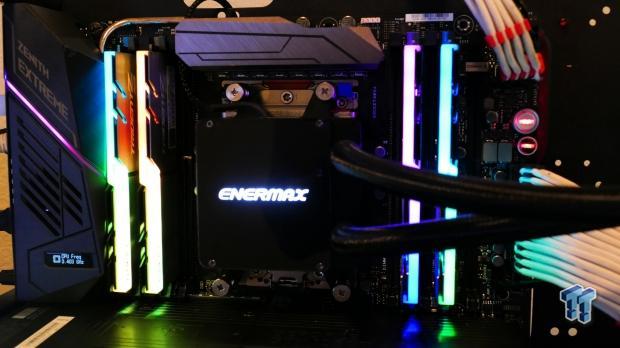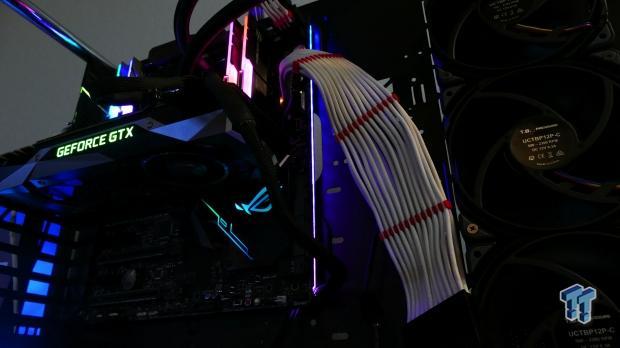 I should mention that the rear IO's audio jacks light up different colors depending on their function, the side light bar on the rear of the PCB is brilliant and hard to photograph, and the OLED display is quite useful as a POST code replacement.
Overclocking
Overclocking Results
CPU Overclocking
AMD's Threadripper platform is quite interesting, as AMD stated the top 5% of Zen dies become Threadripper CPUs. That is a big deal, as that would also mean the CPU should overclock quite high, or at least consistently high.
My best overclock on the X370 platform was 4GHz with 3200Mhz memory speeds after months of BIOS updates, so I will aim for the same here. Most people get limited around 4.1GHz, and I know my 1950X can't do 4.1Ghz stable on all cores without tons of voltage or better cooling.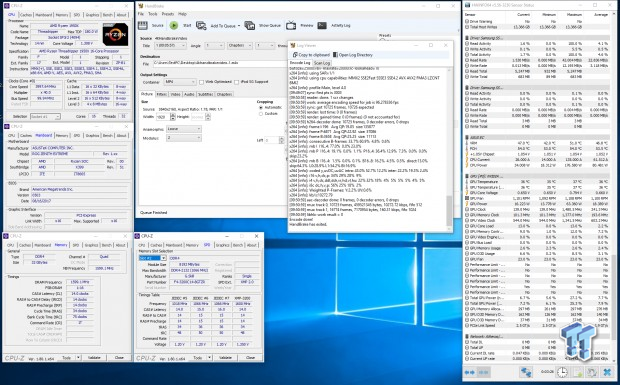 ASUS makes overclocking simple and easy. All I had to do was enable D.O.C.P (like XMP) to auto overclock my memory, then set the multiplier to 40x, and then manually input my VCore to 1.325. I let LLC sit at auto, but I could have manually set it to level 7 out of 8. I did increase the current capabilities and VRM maximum temperature ranges.
The VRM's built-in fan helps keep temperatures low, but it is not a huge fan so it can't make a huge difference.
CPU, Memory, and System Benchmarks
CINEBENCH R15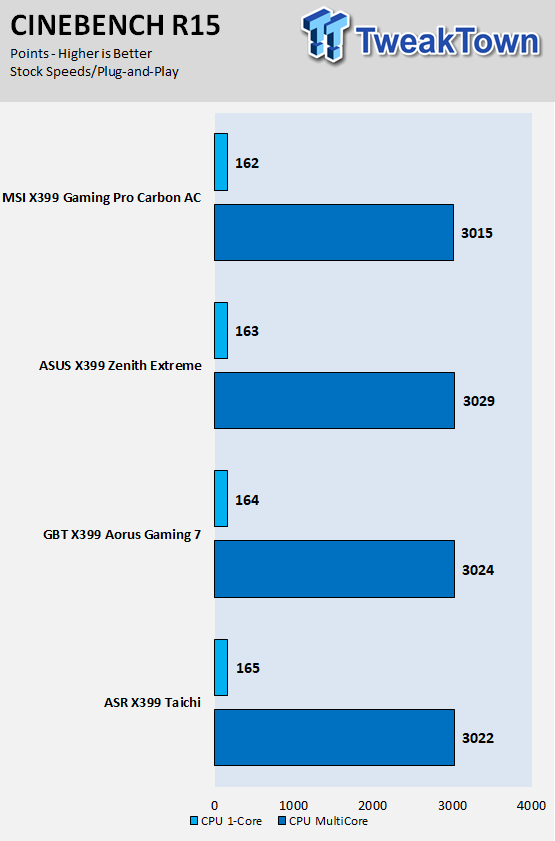 wPrime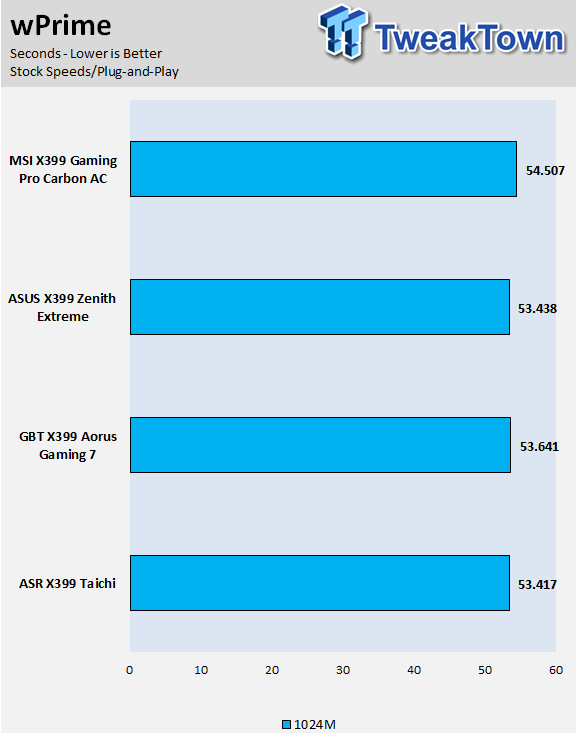 AIDA64 FPU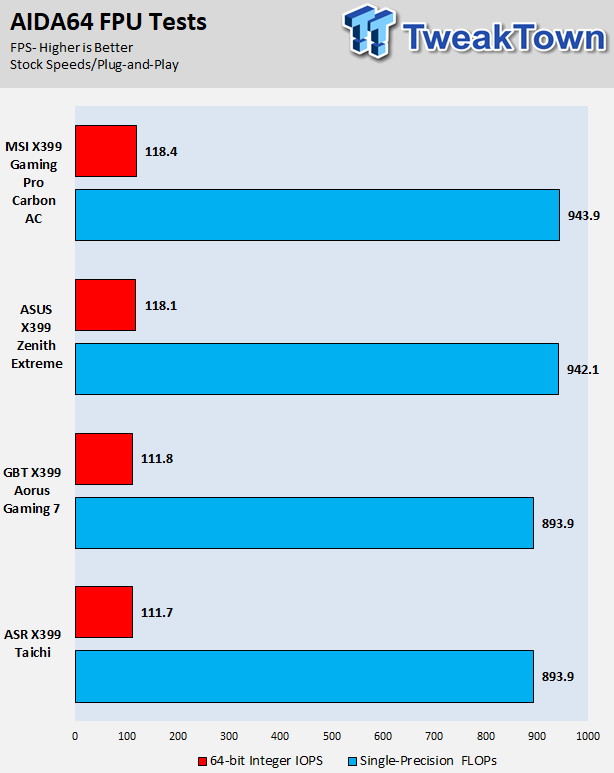 AIDA64 Memory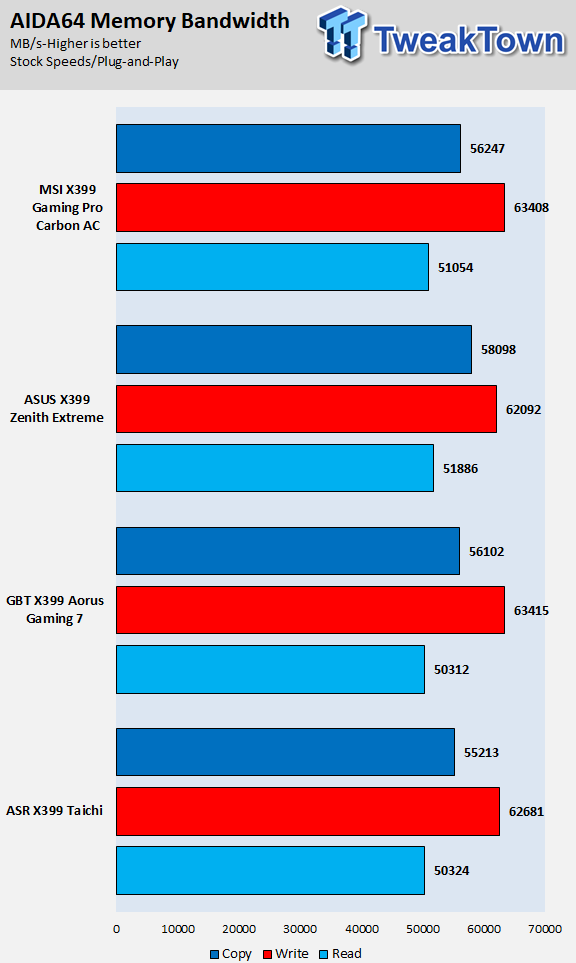 ScienceMark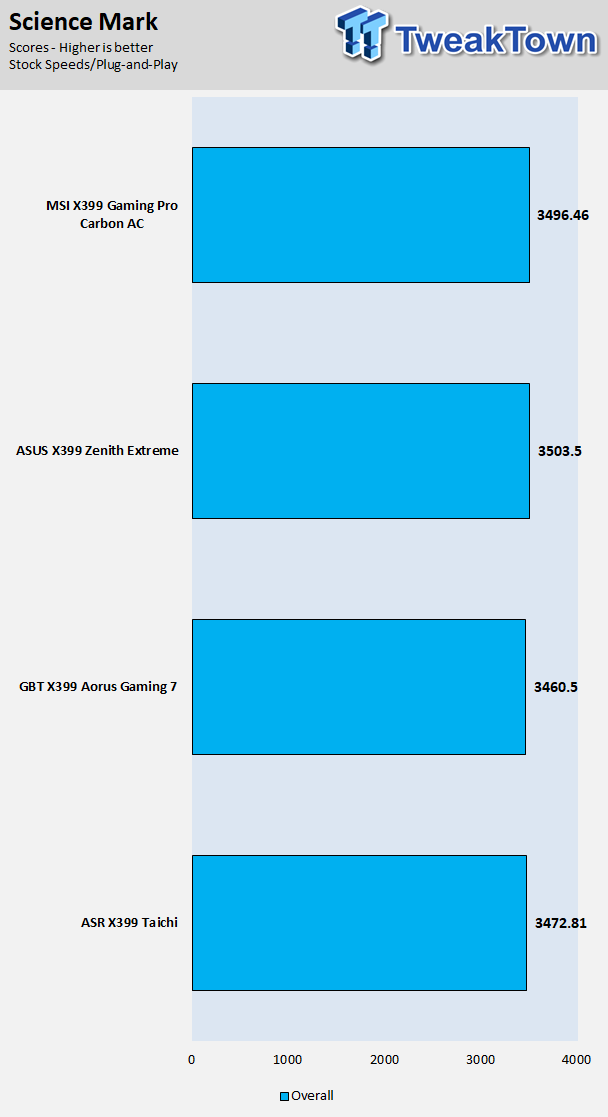 HandBrake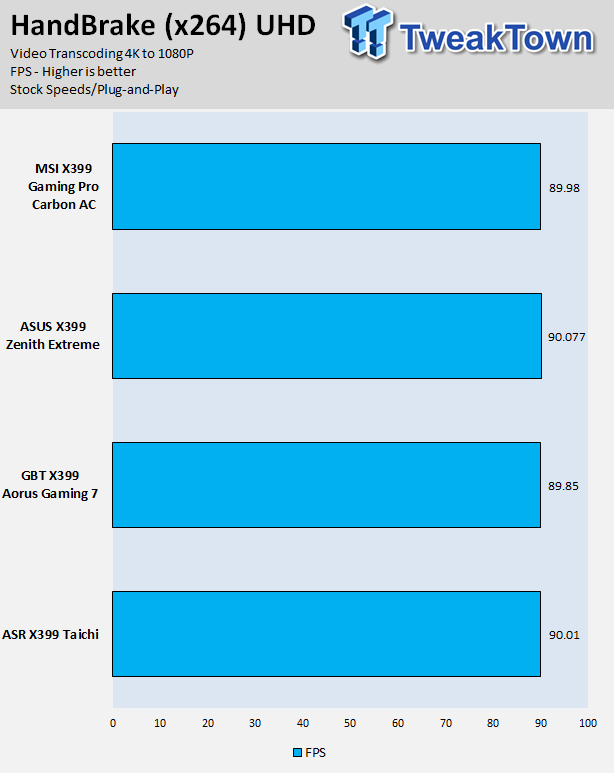 SuperPi 32M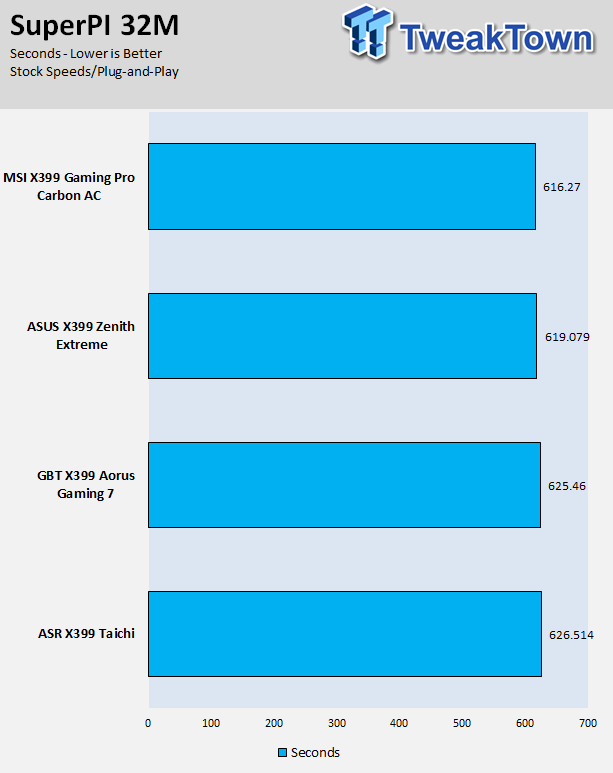 3DMark: Fire Strike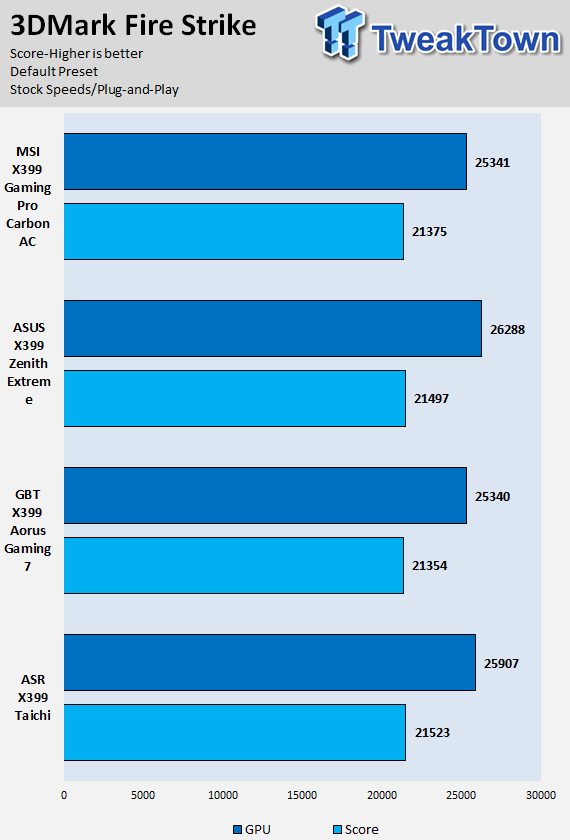 3DMark: Cloud Gate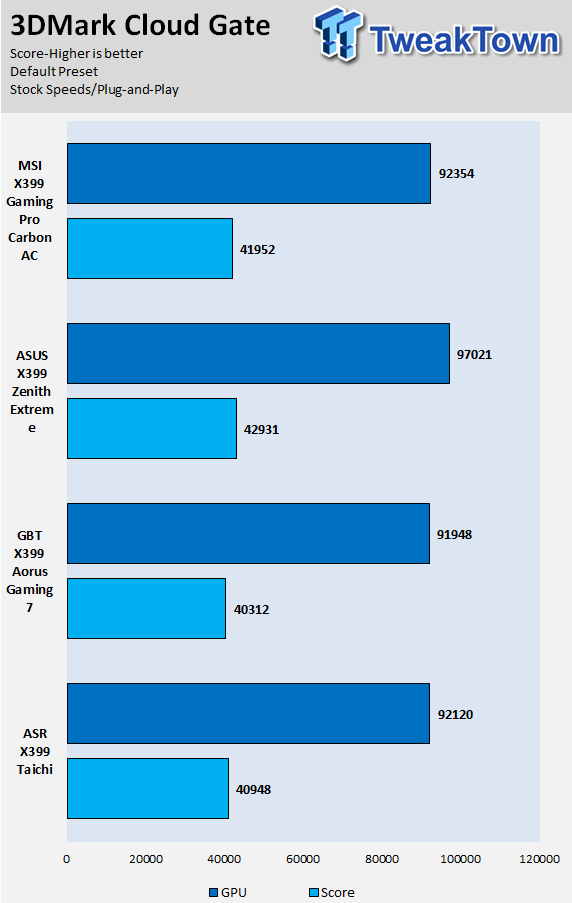 ResidentEvil 6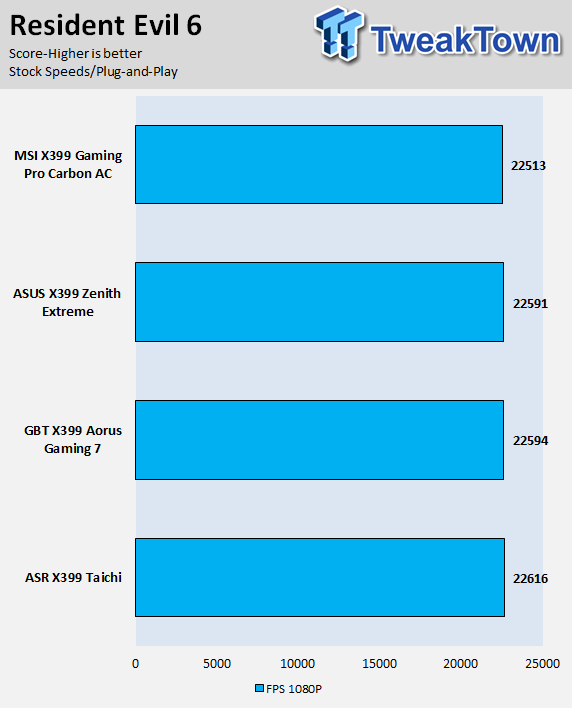 The ROG ZENITH EXTREME's numbers were retested, as the motherboard was in our previous charts since it was used to test out one of the CPUs for our Threadripper launch review. Its performance is still top notch, and there does not seem to be an issue with CPU, memory, or graphics performance.
The new BIOS on the ASUS and MSI board as well as changes in benchmarks such as AIDA64 show how much benchmark version and BIOS updates can affect performance, look at the AIDA64 FPU results as proof of that.
System IO Benchmarks
CrystalDiskMark SATA6G: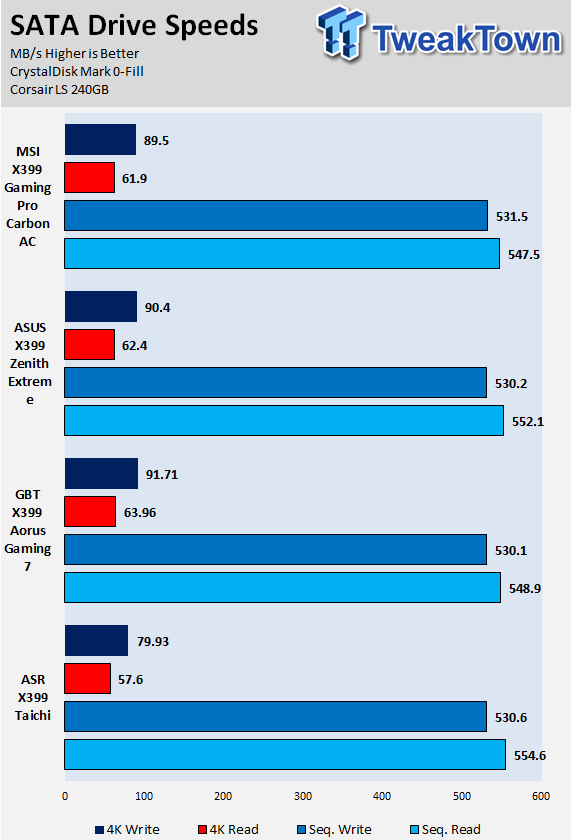 CrystalDiskMark M.2: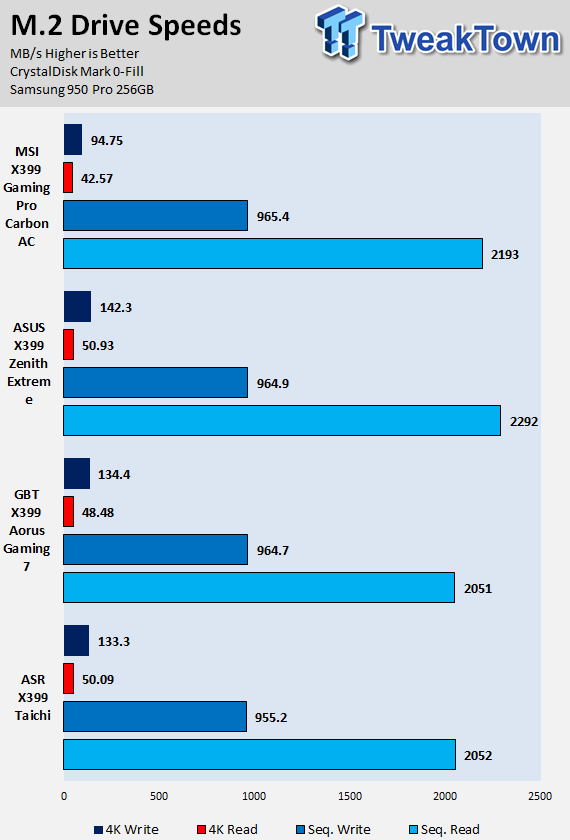 ixChariot Network Throughput: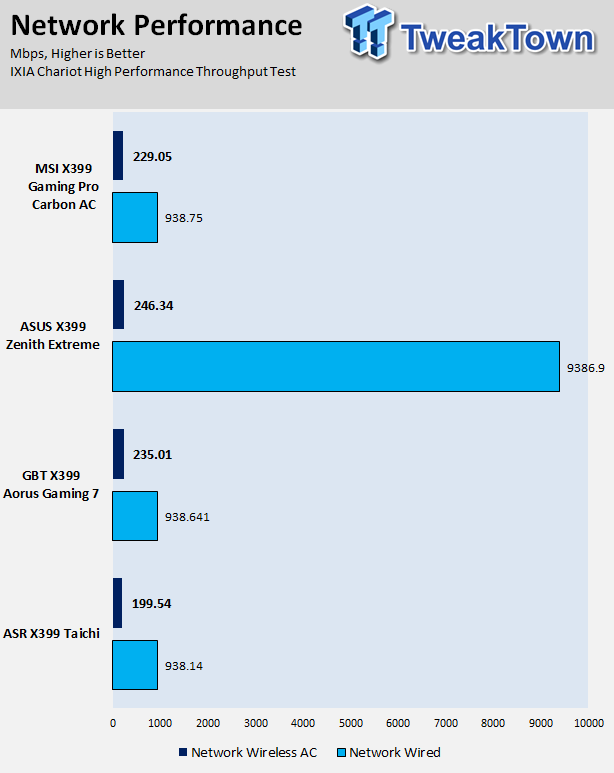 The ROG ZENITH EXTREME's IO performance is excellent, truly. SATA is average, but M.2 is very good (I think AMD's updated BIOS increased seq. read for M.2 as look at MSI as well), and networking is awesome.
ASUS's 10G card operates as it should, and wireless-AC is just where it should be as we have tested this card before on the X299 Deluxe.
Audio RMAA 5.5:
I disable all audio features, set the correct bitrates, and then test the audio with a loopback test.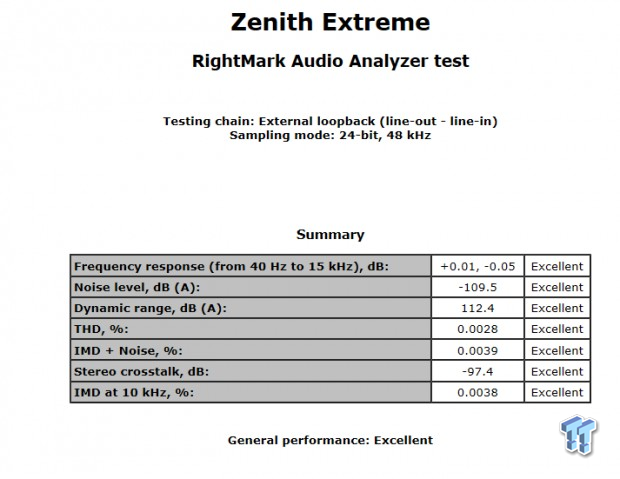 Sound Judgment by Ear: Excellent, ASUS's ALC1220 implementation and audio solution of X399 is more involved than other motherboards I have seen and their efforts have paid off. There are five ratings for audio: 1. Problems, 2. Okay, 3. Acceptable, 4. Very good, 5. Excellent
Thermal Imaging and Power Consumption
System power is measured at the wall with an AC power meter.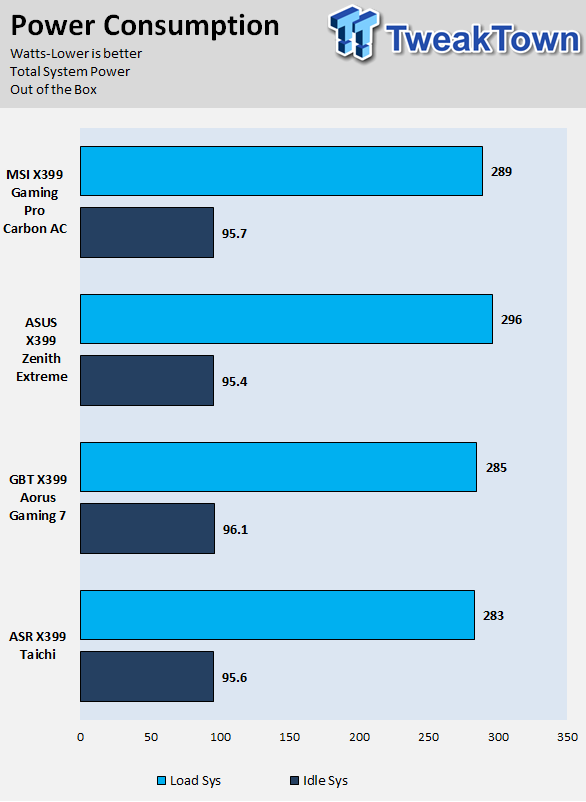 Note on Thermal Images: In the temperature section, we use our Seek thermal imaging camera to capture the surface temperatures of major components on the board. I look at the VRM and then all other things that light up the screen. If there is something to worry about, then I will state it. Otherwise, I will just show the hotter running parts of the board for fun. Unless some component is over 80-90C, then there isn't anything to worry about.
All systems will act differently, so I will look for commonalities, such as how far from the VRM the heat spreads through the PCB and the difference in temperature between the front side and backside of the PCB. Keep in mind, the majority of the heat from the VRM goes into the PCB as it is a giant soldered on copper heat sink. A larger difference in temperature between the back and front of the PCB points towards a more effective heat sink.
Thermal Testing at Stock Speeds:
The image on the left is always at idle, and the image on the right is at load. During ALL TESTS, There is no airflow direct at the VRM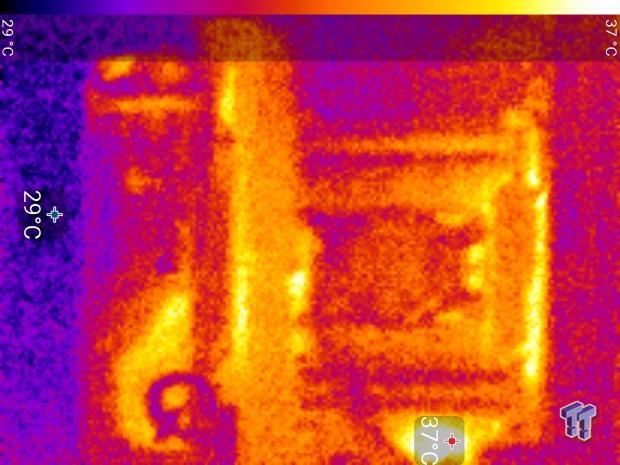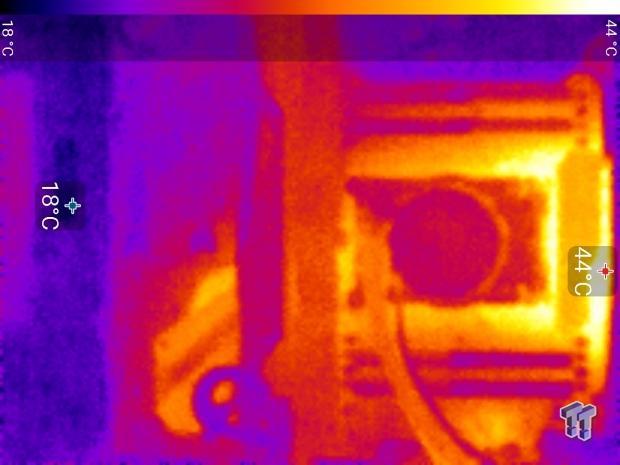 Full frontal.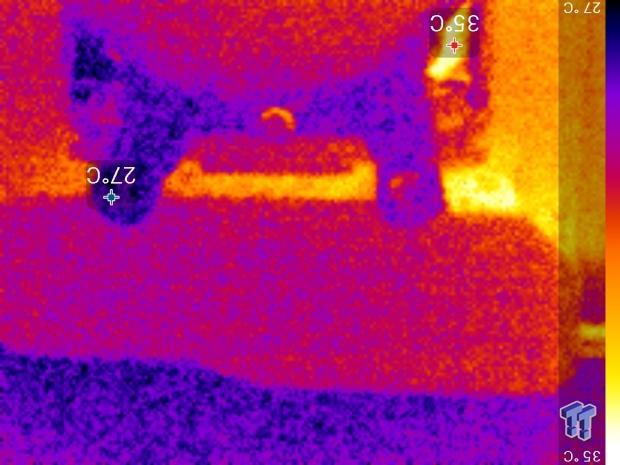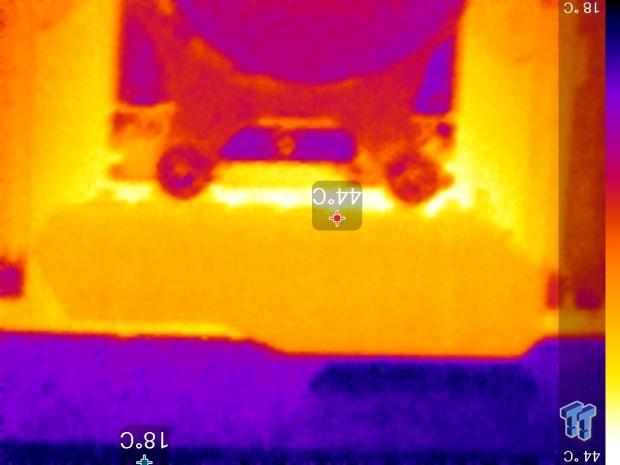 Up-close of the front of the VRM.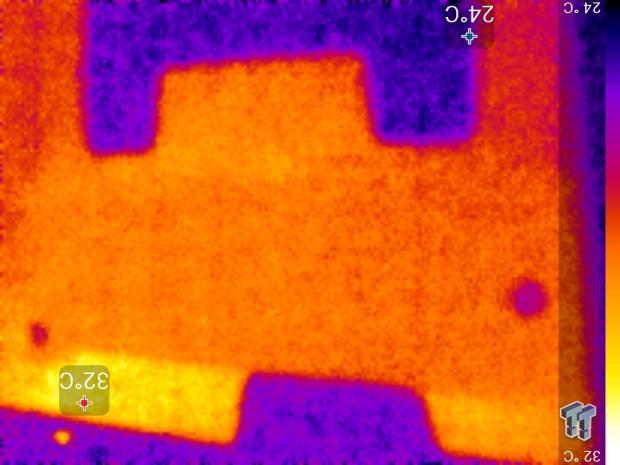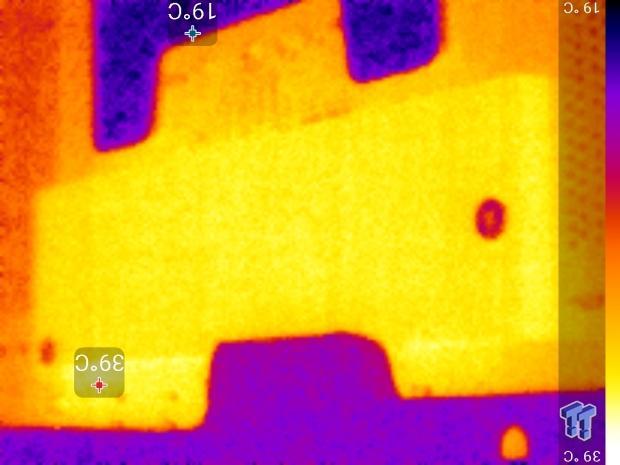 Up-close of the back of the VRM.
The ROG ZENITH EXTREME stock almost-worst-case thermal testing scenario reveals that the heat sink with integrated heat pipe and fan mechanism is doing its job and keeping things quite cool. In this scenario where there is also no air flow from outside sources, the fan makes a bigger difference. So far, this motherboard is one of the best we have tested.
The results might differ with active airflow, and of course will be better. The fan with early BIOS versions would spin up really loud, later BIOS versions fixed this, and now sync it to VRM temperature rather than CPU temperature (you can manually set it as well).
What's Hot, What's Not & Final Thoughts
Here are key points about the ASUS ROG ZENITH EXTREME.
What's Hot
Truly High-End: The ROG X399 Zenith Extreme is truly a very high-end motherboard, and ASUS has put a lot of effort into making it best in class. From the rear PCB shield with integrated RGBs to the integrated IO shield, everything we have come to expect from ASUS on a high-end X299 motherboard can be found on this X399 motherboard. Even tiny details, like the addition of a header for a custom water block or the fact that the audio jacks light up internally, make this a very premium motherboard.
WiGig and 10G: The Zenith Extreme might have the best combination of wired and wireless networking currently available. That 10G card is almost a $100 value, and isn't just 10G and then 1 G, it's based on a NBase-T controller, meaning it will also do 2.5G and 5G, both of which will become more popular next year in routers. Wireless AD is also supported on this motherboard, and this is the only X399 motherboard with this feature, also known as WiGig. It offers up to 4.6Gb/s of bandwidth, and although not many routers support WiGig, in the future, they should.
VRM Quality and Heatsink: ASUS made sure that their VRM not only used best in class components but was also cooled well enough to avoid the issues that plagued X299 motherboards. Threadripper doesn't sip power, so just like Skylake-X, motherboards need to use best in class components and provide solid VRM cooling. The Zenith Extreme has a more radiator-like heat sink that is hidden under the IO shield and a fan that actively cools the heat sink down.
Chic Lighting and OLED: ASUS's IO shield, PCH heat sink, and rear of PCB shield use digital LEDs to produce some really cool effects. The lighting is also very humble and does not show off as I have seen on some other motherboards, so it can offer less of a "gamer" look to it and more of an artistic one. The motherboard also supports RGB and digital RGB lighting strips. The OLED also has some cool features, and while I wasn't able to get my custom GIF to work, there are pre-loaded GIFs to customize that tiny screen with.
What's Not
Six SATA6Gb/s Ports: Where did those missing two SATA6Gb/s ports go? That is honestly the one question people seem to have, and while it doesn't bother me, I have a lot of friends who need the extra SATA ports.
It's a big board: The Zenith Extreme comes in the Extended ATX (E-ATX) form factor, at 12" x 10.9", so you will need a case that will support it. Make sure to consider that, as even with my Core P5, I had to reroute my 24-pin cable and one of my 8-pin power cables.
Final Thoughts
The ASUS ROG ZENITH EXTREME is the most loaded X399 motherboard I have put my hands-on. It's also the motherboard that AMD seeded all reviewers, as they wanted us to use the Zenith Extreme for our 1950X and 1920X reviews, and that should say something about the motherboard. The motherboard uses the best third-party controllers and hardware I have seen for non-native features, it has the most custom ICs I have seen on any X399 motherboard, and so it's no surprise that the motherboard offers more features than many other X399 motherboards.
I like ASUS's OLED display, at least when I updated its firmware and it started to show me POST code on boot up. You can also customize the tiny display, and hopefully next time ASUS might make it a bit bigger, or move it to a front panel (like the OC panel).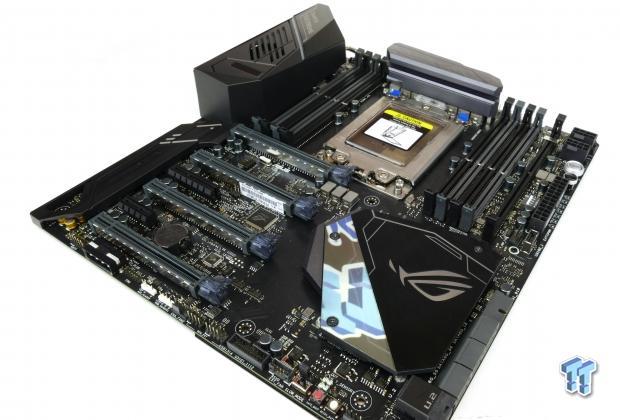 While the Zenith Extreme is a ROG product, and gaming is in the ROG acronym, I felt that the motherboard would also make for a solid workstation stand in. From the VRM cooling to the networking, the motherboard is ready for the future and the present.
It's also the most expensive X399 motherboard, but if you want the features and performance this ROG motherboard has to offer, there isn't an alternative on the market.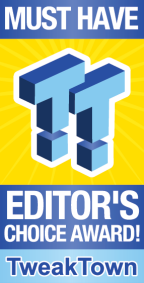 | | |
| --- | --- |
| Performance | 95% |
| Quality | 96% |
| Features | 96% |
| Value | 88% |
The Bottom Line: Loaded with the latest features, high-quality components, and unique features, the Zenith Extreme is ASUS's ultimate answer to the AMD X399 TR4 Ryzen Threadripper chipset.
PRICING: You can find products similar to this one for sale below.

United States: Find other tech and computer products like this over at Amazon.com

United Kingdom: Find other tech and computer products like this over at Amazon.co.uk

Australia: Find other tech and computer products like this over at Amazon.com.au

Canada: Find other tech and computer products like this over at Amazon.ca

Deutschland: Finde andere Technik- und Computerprodukte wie dieses auf Amazon.de
We openly invite the companies who provide us with review samples / who are mentioned or discussed to express their opinion. If any company representative wishes to respond, we will publish the response here. Please contact us if you wish to respond.
Related Tags