MSI X299 Gaming M7 ACK Motherboard Review
MSI's new X299 Gaming M7 ACK motherboard ticks many of the boxes we look for, especially in the quality department. Should you buy it? Let's see.
Published
12 minute read time
TweakTown's Rating: 90%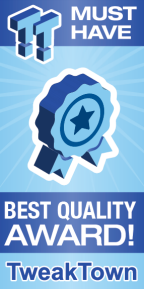 The Bottom Line
With a really crazy custom M.2 shield mechanism, solid components in power delivery, and components to improve signaling, MSI's X299 Gaming M7 ACK is a quality product with fantastic looks to match.
Introduction, Specifications, and Pricing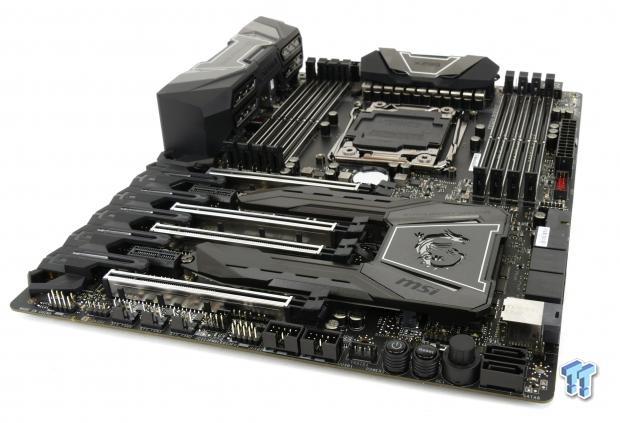 MSI's X299 Gaming M7 ACK is a bigger and badder X299 motherboard than the previous X299 Gaming Pro Carbon AC we reviewed. The M7 ACK is actually one of MSI's top of the line X299 motherboards, with a reinvented M.2 shield and a plethora of other premium features.
The motherboard is mainly targeting gamers, but it's also targeted towards modders and power users. It offers the latest features such as RGB LEDs, M.2, and USB 3.1, but it also offers a lot regarding aesthetics and even some overclocking features.
Let's take a look at one of MSI's top of the line X299 motherboards.
Specifications

The X299 Gaming M7 ACK features two M.2 slots, U.2, Killer wireless AC, Killer LAN, USB 3.1, USB 3.0, and SATA6Gb/s.
Pricing
The X299 Gaming M7 ACK costs $399.99.
Packaging and X299 Gaming M7 ACK Overview
Packaging and Overview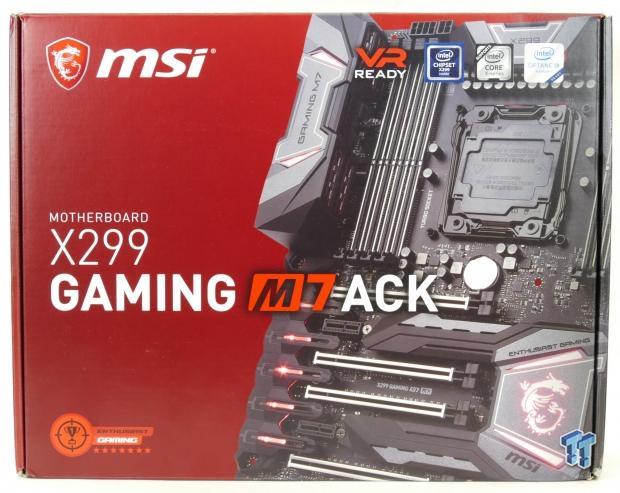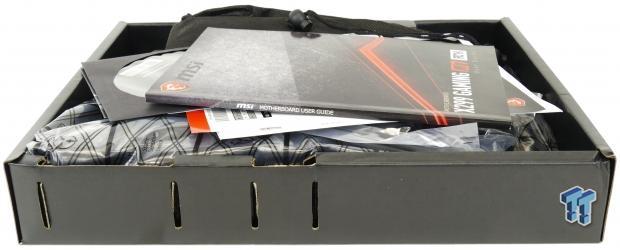 It's really quite amazing how vendors are sticking to their traditional box and motherboard design styles. On the shelf, you might not notice the difference between the Z270 and X299 Gaming M7 ACK. Packaging is high quality, and what you would expect from a motherboard that costs almost $400.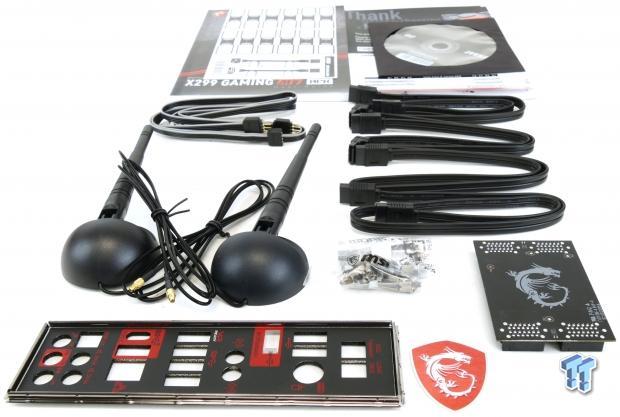 The accessory package includes four SATA6Gb/s cables, two WIFI Antenna, RGB LED extension cable, IO shield, 3D Mounting screws, SLI HB bridge, base badge, manuals, cable sticker, and driver DVD.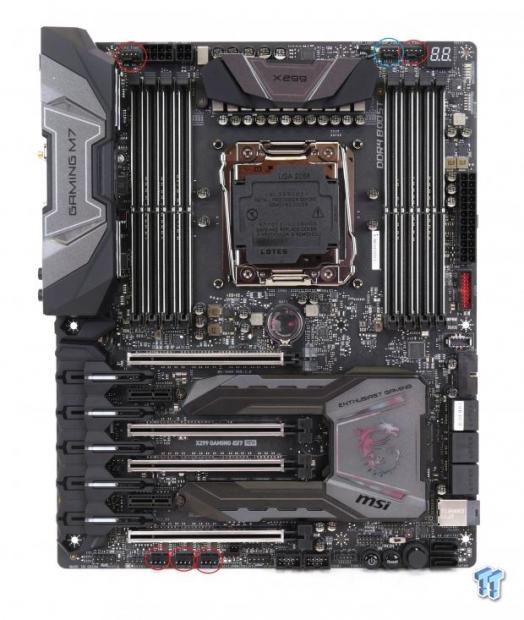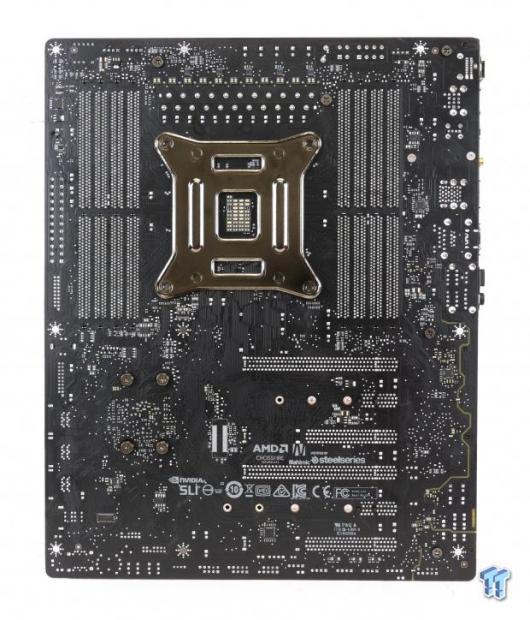 The motherboard features a total of six hybrid PWM/DC mode fan headers. The ones circled in red provide up to 1A of output while the one circled in blue offers 2A for water pumps and high-powered fans. Overall, the placement of the fan headers is optimized for top and bottom fan placement, although I find it odd that MSI didn't locate any headers to the far right of the board. Fan control is provided through the UEFI and Windows, and MSI has improved it over their Z270 fan control. The back of the motherboard is bare of most components, which is a good thing. The motherboard's aesthetics are quite well done, with the integrated RGB LEDs diffusing and glowing beneath many of the heat sinks.

The IO panel offers a Clear CMOS button, BIOS flash recovery button, PS/2, three USB 2.0 ports (vertical doubles for flash recovery), WIFI antenna, four USB 3.0, USB 3.1 type-A, USB 3.1 type-C, 1Gbit LAN, and 7.1 audio outputs with S/PDIF out.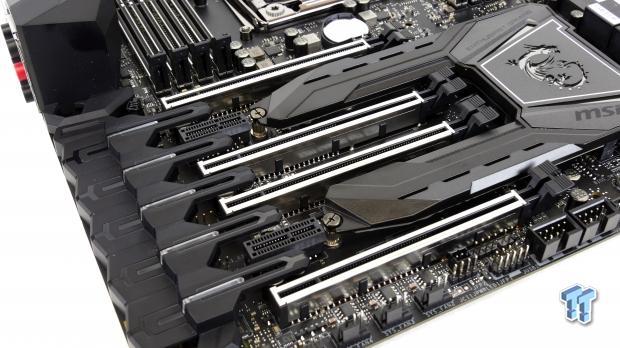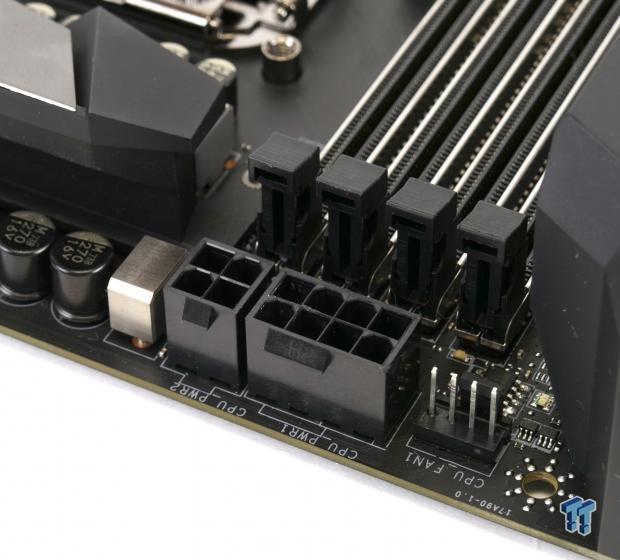 The PCI-E layout isn't simple, so I will explain it now, and you should look at the manual for more specifics. All x16 slots are routed to the CPU while the two x1 are routed to the PCH. With a 44-lane CPU, the second x16 slot operates at x4 all the time, while at maximum you get x16/x4/x16/x8. With a 28-lane CPU the second x16 slot also operates at x4 always, and at a maximum you get x8/x4/x8/x8. With a 16-lane CPU, you lose the bottom most slot and can operate at x8/x4/x4 or x8/x0/x8 at a maximum. The motherboard offers 8+4 pin power headers, you don't need to use the extra 4, but it's recommended.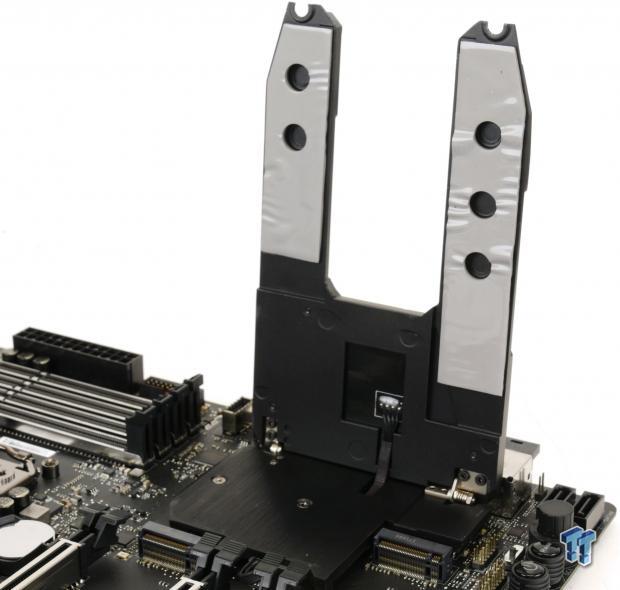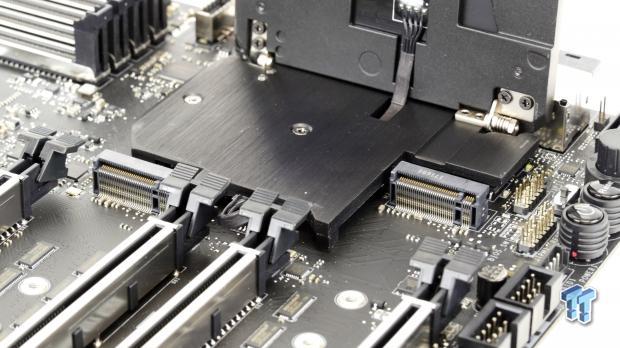 MSI got a lot of grief for their original M.2 shield, as people said it was way too skinny. MSI went back to the drawing board and has brought out one of my favorite M.2 shields. It actually uses a hinge and connects to the PCH heat sink, it's also quite dense and does seem to offer decent cooling. The motherboard offers two 32Gb/s M.2 slots, and they do share some bandwidth with the SATA ports.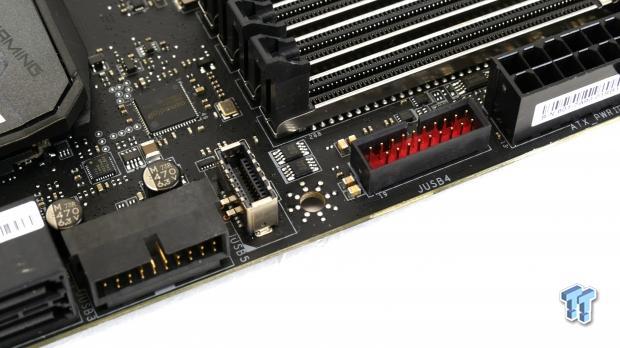 The motherboard has eight SATA6Gb/s ports; six are right angled. The motherboard also offers a U.2 port, and a right angled USB 3.0 internal header. You also get one straight USB 3.0 internal header as well as the new USB 3.1 internal header.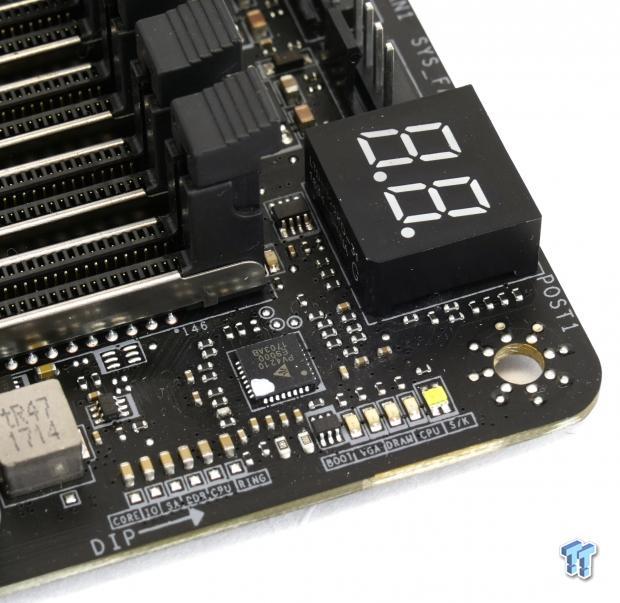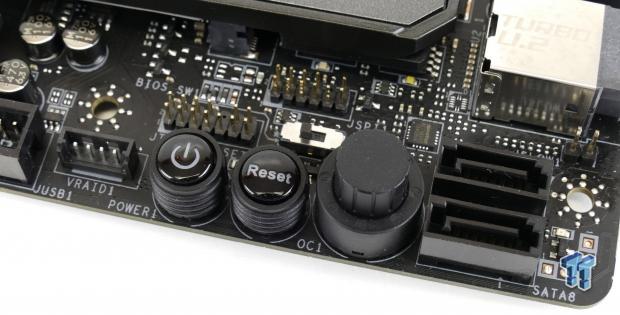 A POST Code display changes into a temperature display after POST has finished. The motherboard also offers boot LEDs and voltage read points in the top right corner of the motherboard. The other two SATA6Gb/s ports are angled straight up near the OC Knob. Power and reset buttons can be found below a BIOS selection switch. The VROC header is located to the left of the power button.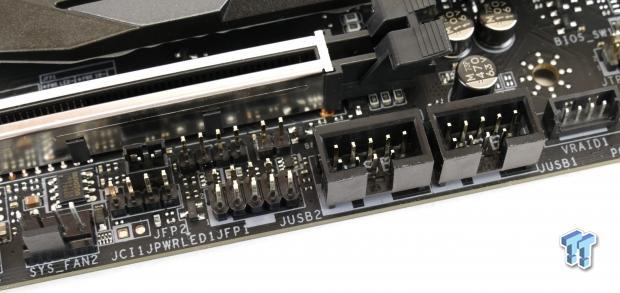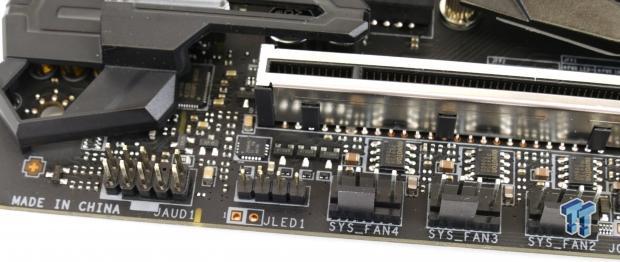 The motherboard offers two USB 2.0 headers as well as a bunch of other headers to do things like engage slow-mode on the CPU. An RGB LED header is located to the left of three system fan headers at the bottom of the motherboard.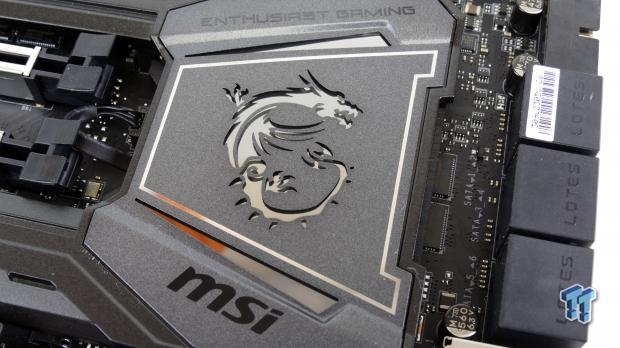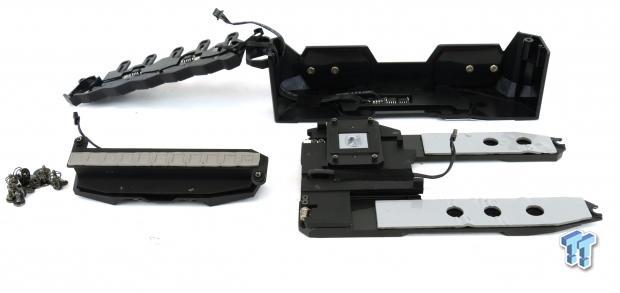 The PCH heat sink's dragon lights up beautifully and is one of my favorite parts of the motherboard. All heat sinks use thermal pads and make great contact with the different components they cool.
MSI X299 Gaming M7 ACK Circuit Analysis
Circuit Analysis
The X299 Gaming M7 ACK in the nude!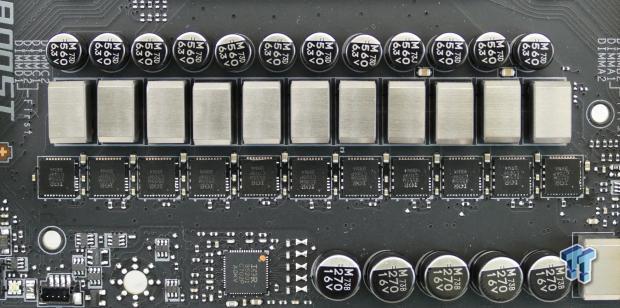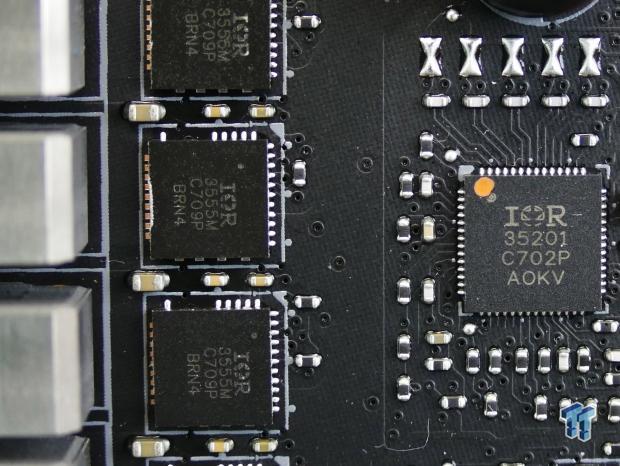 The VRM on the motherboard for the CPU main voltage is 10 phases (5 doubled), and one more phase is for the VCCSA. All the main and VCCSA phases use IR's 60A IR3555 Fully integrated power stages and an IR35201 6+2 phase PWM is used in 5+1 phase mode.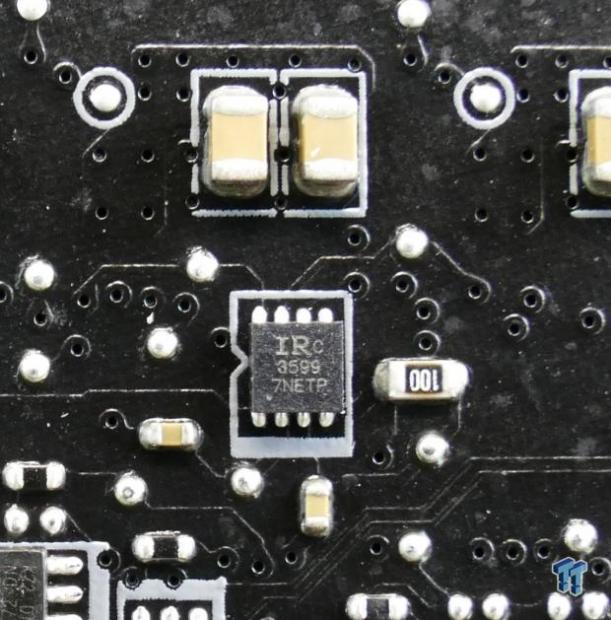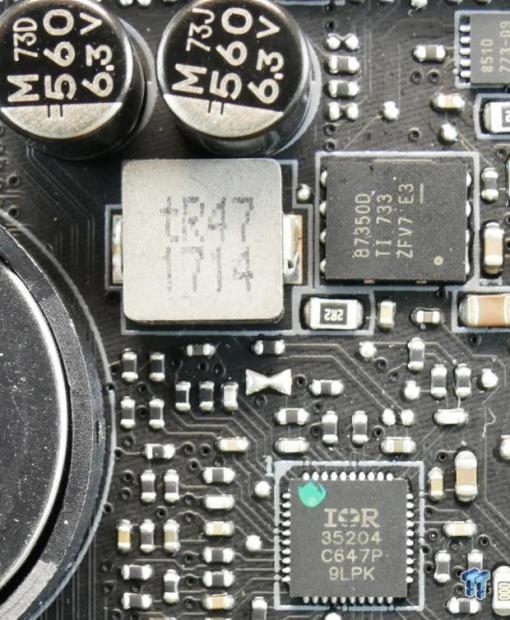 Five IR3599 doublers/quadrouplers are used to double the 5 PWM rails to 10 for the main VCore/input voltage. The VRM here is identical to that on the X299 Gaming Pro Carbon AC. A single IR352014 (3+1 phase) PWM controls a single phase made up of a CSD87350Q NexFET (25/40A) and uses a Chil CHL8510 driver to drive the dual N-channel MOSFET.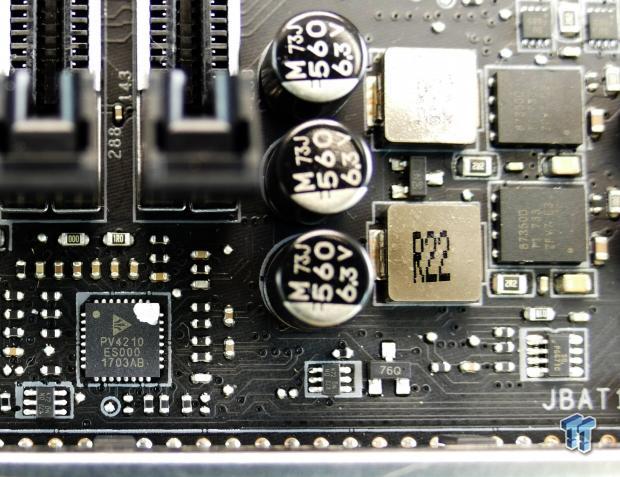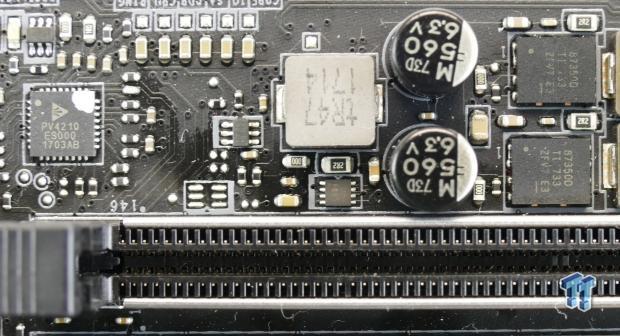 Each memory VRM uses a Primarion PV4210 digital PWM, Primarion and IR are both owned by Infineon, and both PWMs are top of the line digital PWMs. Each memory phase uses two 25A/40A NexFETs, the CSD87350Q.
MSI X299 Gaming M7 ACK Circuit Analysis Continued
X299 Gaming M7 ACK Circuit Analysis Continued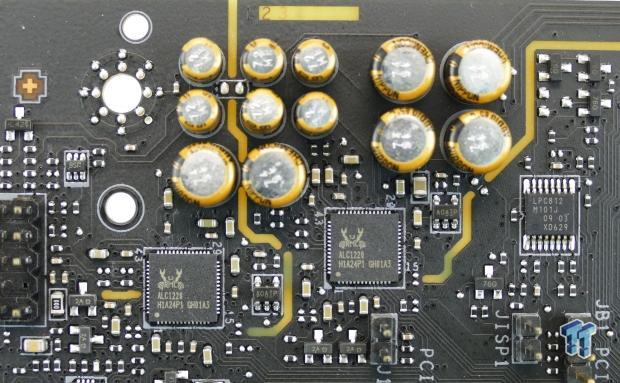 MSI is using a novel method of using two Realtek Codecs instead of one and a second amplifier. The method used here ensures that both the rear and front outputs offer 120dB with the integrated headphone amplifier in the ALC1220. Nichicon Gold Series audio capacitors and a fancy PCB divide offer enhancements to the motherboard's audio hardware.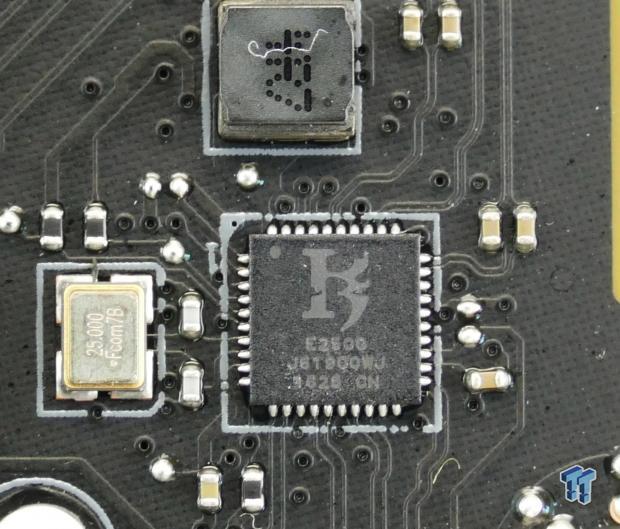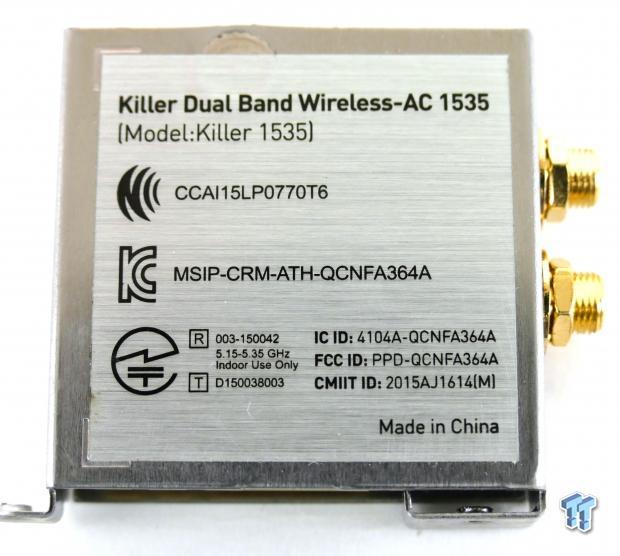 We find a Killer e2500 Gbit NIC for the wired LAN and a Killer Wireless AC 1535 controller for WIFI/BT.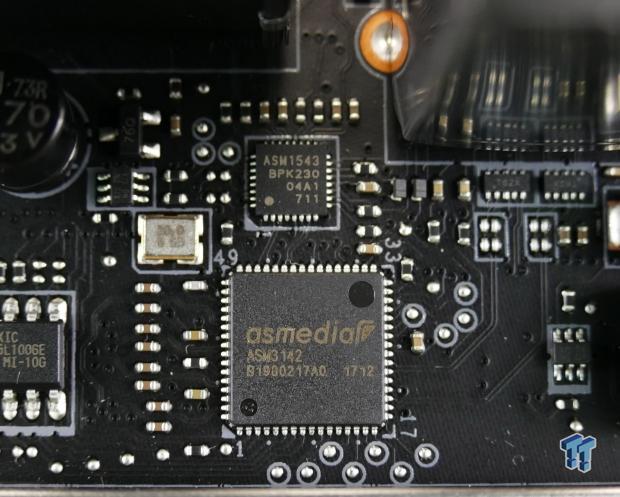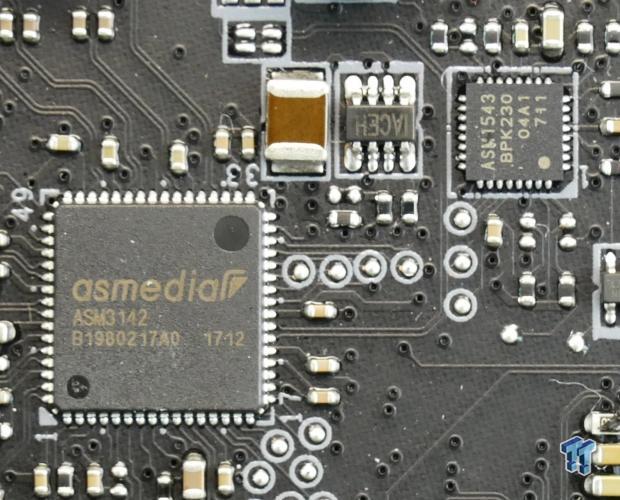 The rear IO panel uses an ASMedia ASM3142 controller and ASM1543 USB 3.1 type-C switch chip. The USB 3.1 internal header also uses an identical ASM3142 and ASM1543 to control the internal type-C header.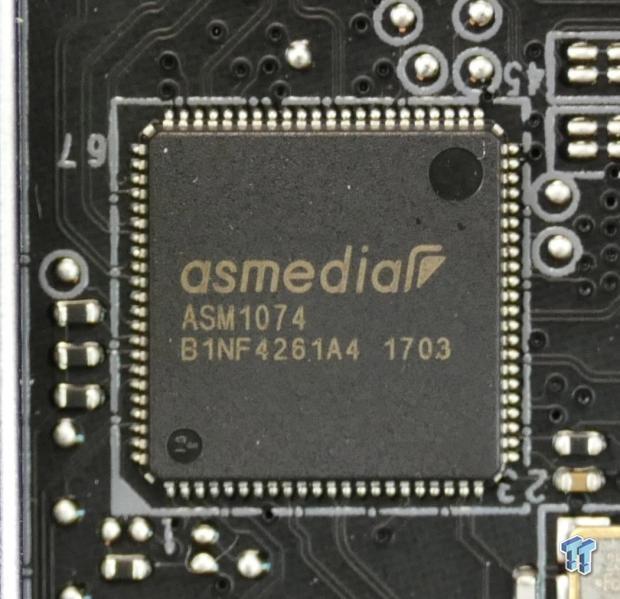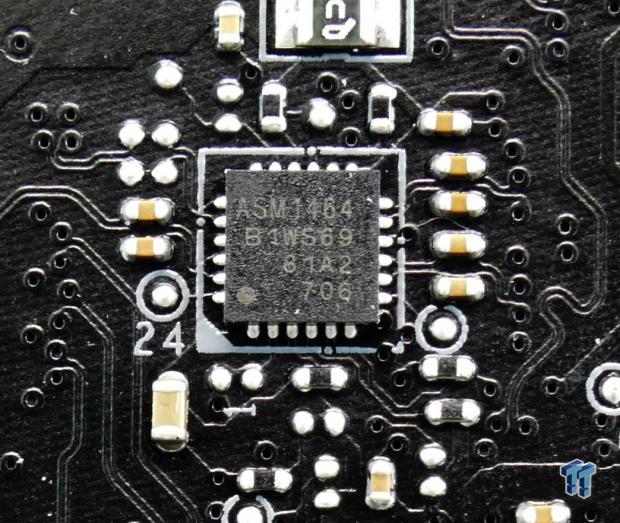 ASMedia's ASM1074 takes one USB 3.0 port from the PCH and produces three USB 3.0 ports. One of the USB 3.0 ports uses an ASM1464 USB 3.0 re-driver to ensure USB 3.0 signal strength is strong at the rear of the motherboard.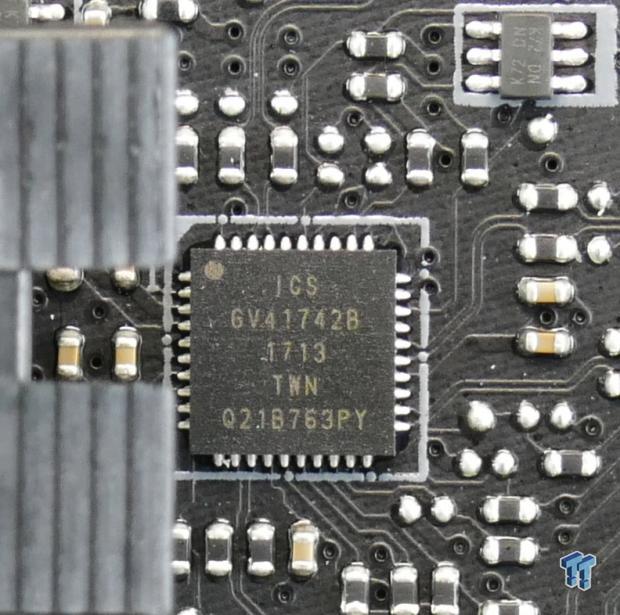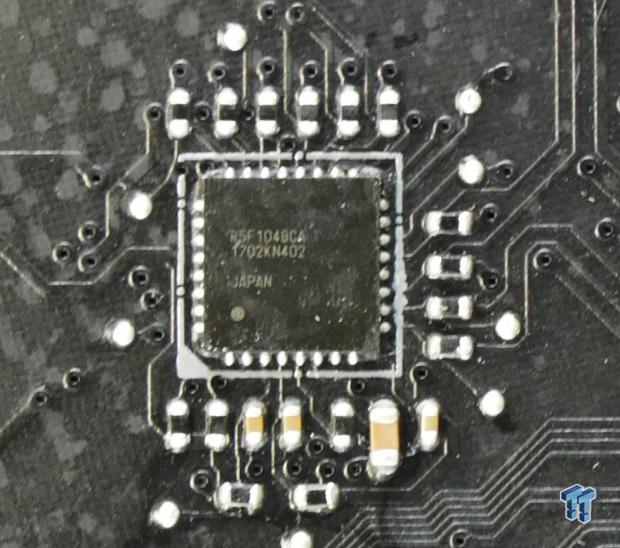 An ICS6V41742B is used to improve BCLK overclocking margins. The Renesas R5F104 microcontroller provides RGB LED control of the header and built in RGB LEDs on the motherboard.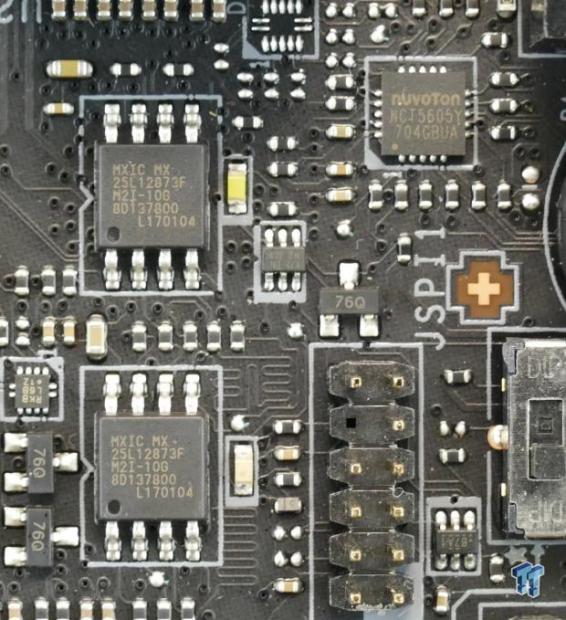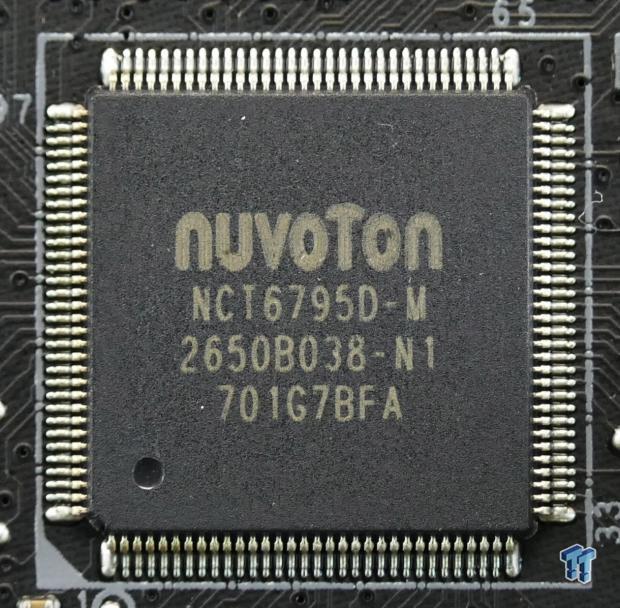 We get two 128Mbit/16MB BIOS ROMs for the BIOS, and a nuvoTon NCT5605Y GPIO extender enhances fan control. A nuvoTon NCT6795D provides SuperIO functions and offers the PS/2 on the rear IO.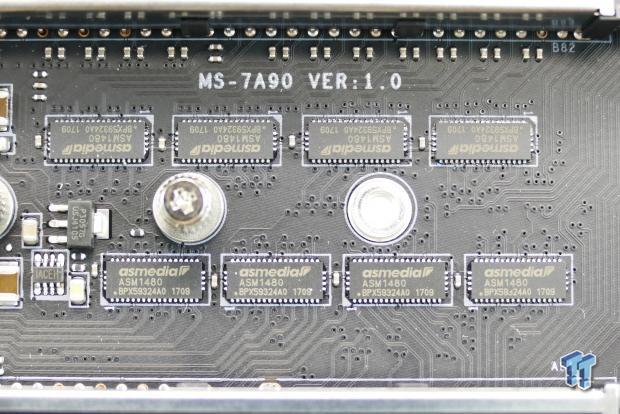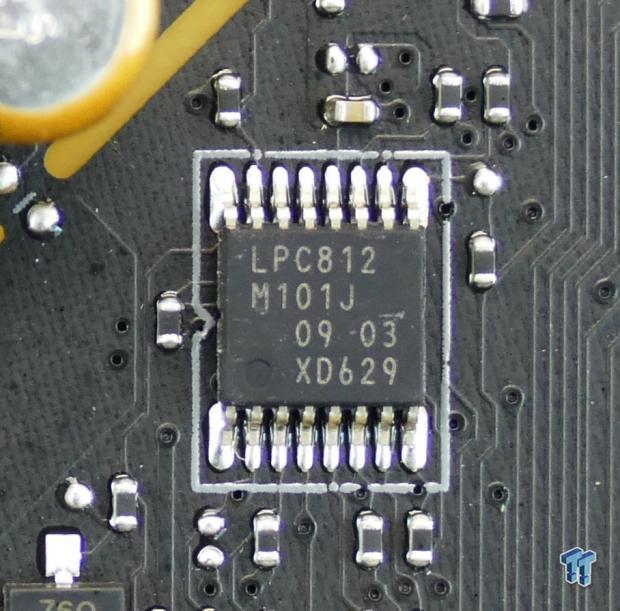 All of those ASMedia ASM1480s switch around PCI-E bandwidth. The LPC812 is an ARM microcontroller, it might be used for the BIOS flash recovery functionality.
BIOS and Software
BIOS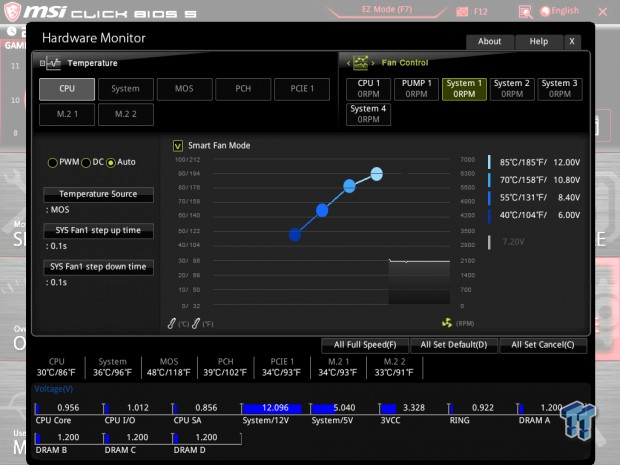 MSI's X299 Gaming M7 ACK's UEFI is almost identical to that of their other X299 motherboards such as the Gaming Pro Carbon AC. It's very similar to MSI's other motherboards with both and Easy mode and a more advanced mode for experienced overclockers. I found that MSI has auto overlocking up to 5GHz on the 7900X (crazy), but I doubt you can do that without some sort of chiller.
Fan control has been improved over Z270, and now you have the ability to add more temperature sources for reference. MSI's overclocking settings are solid and plentiful, and you still have the ability to work in fixed or dynamic frequency mode.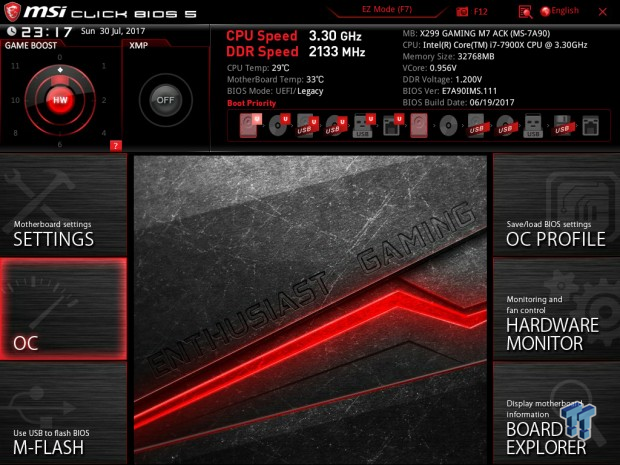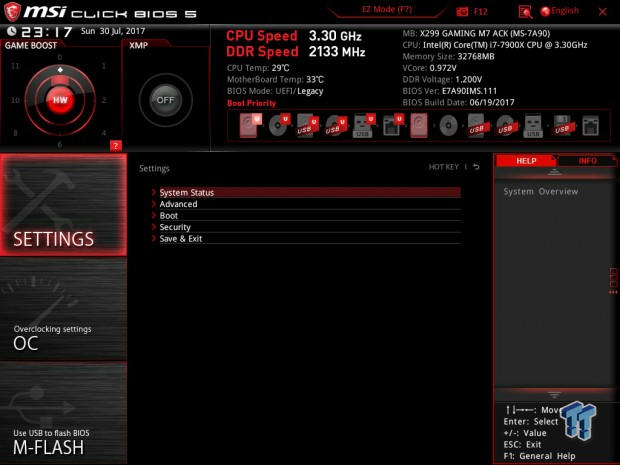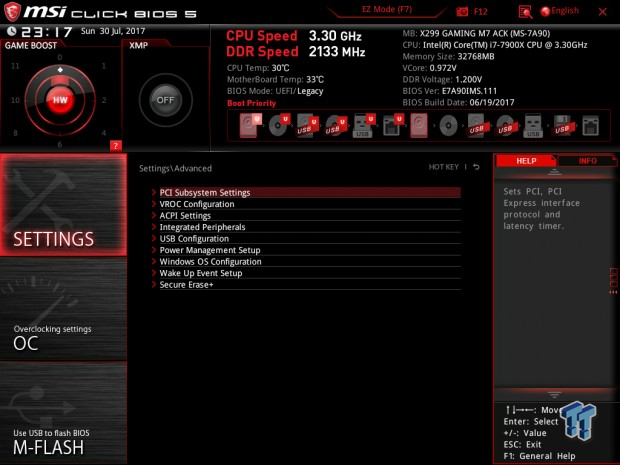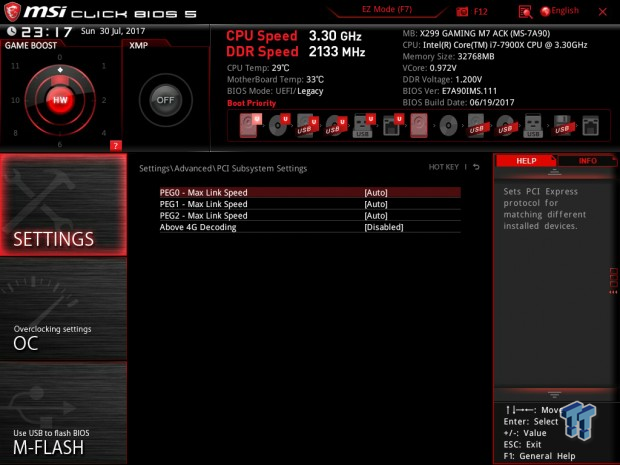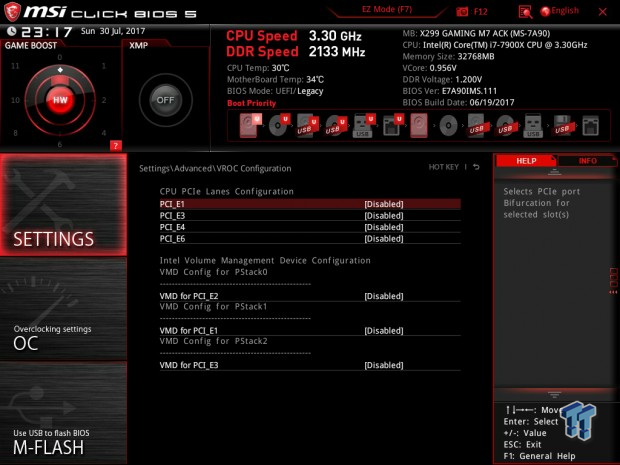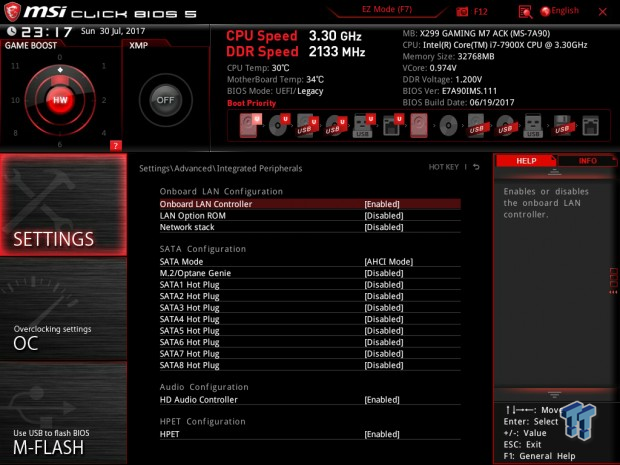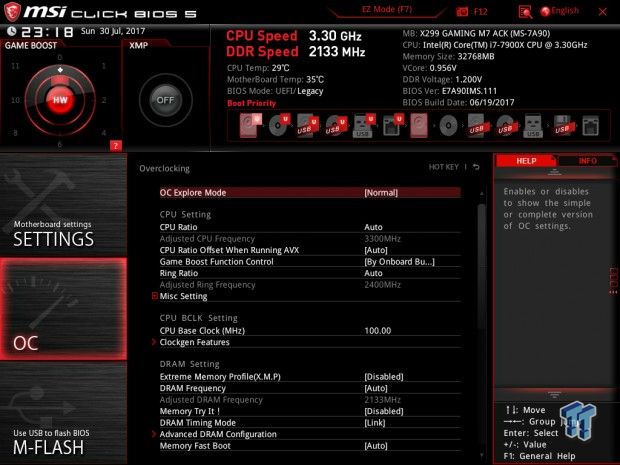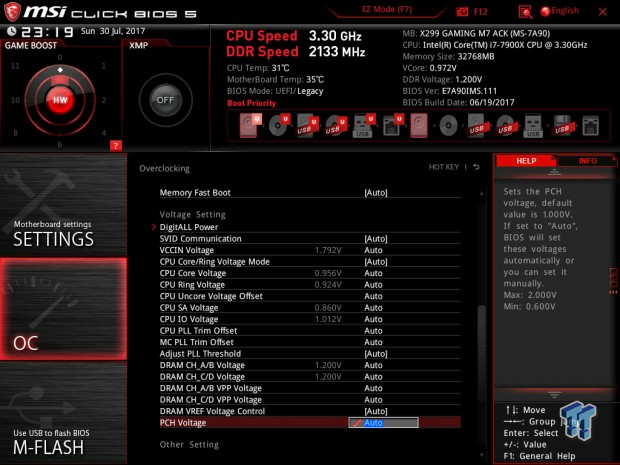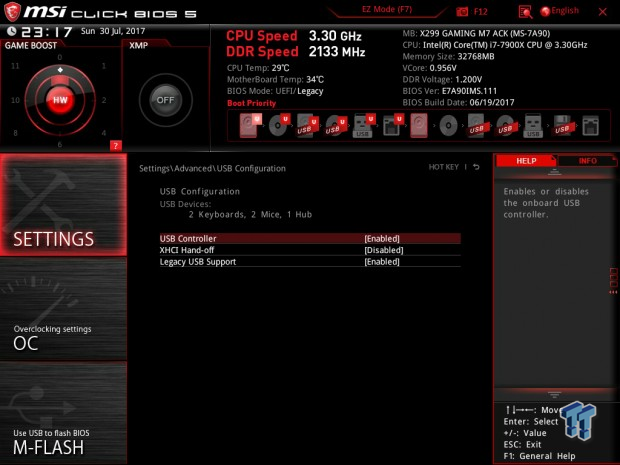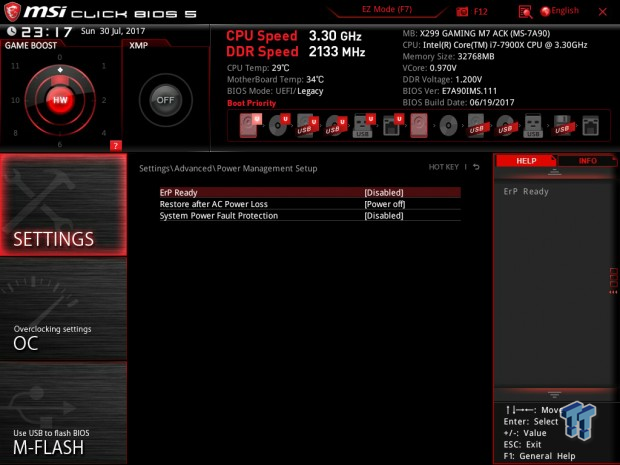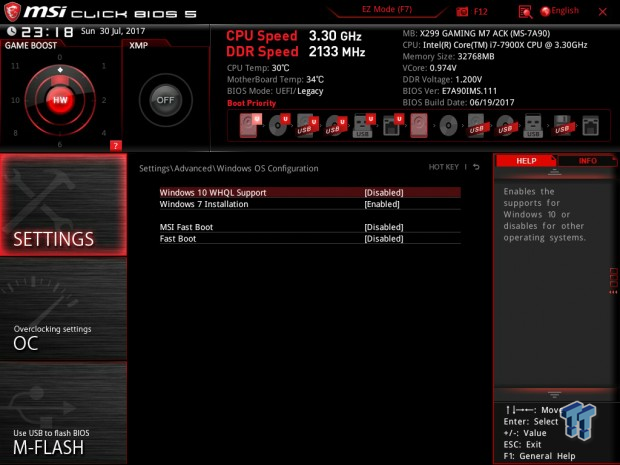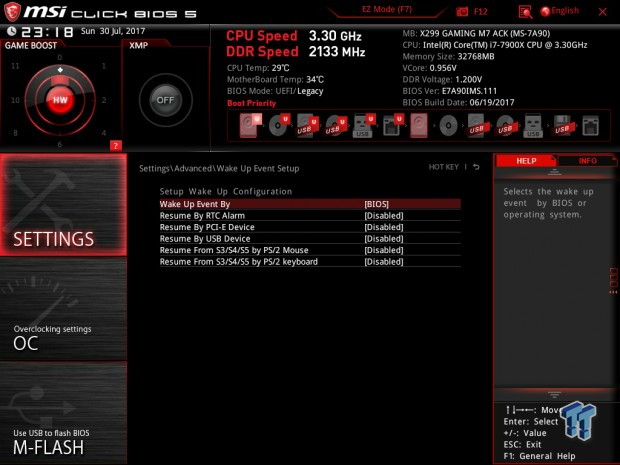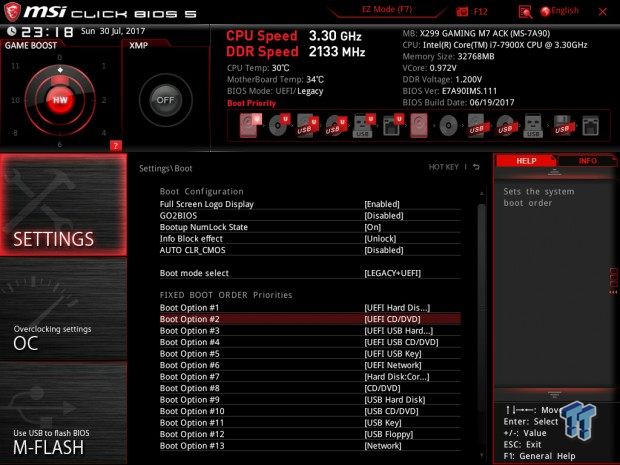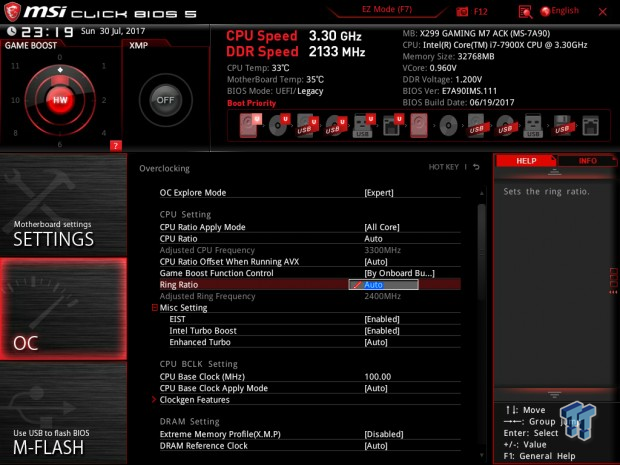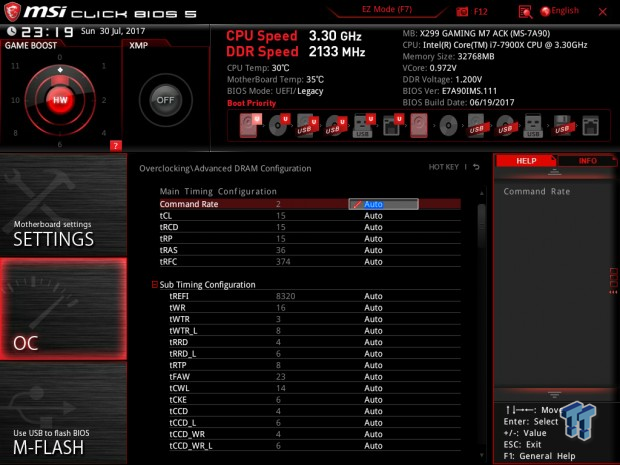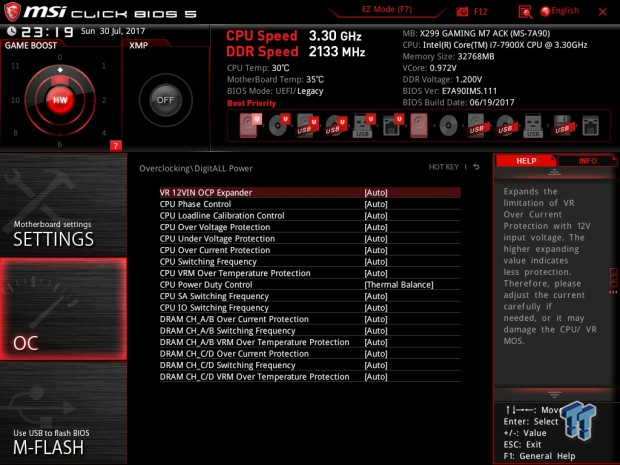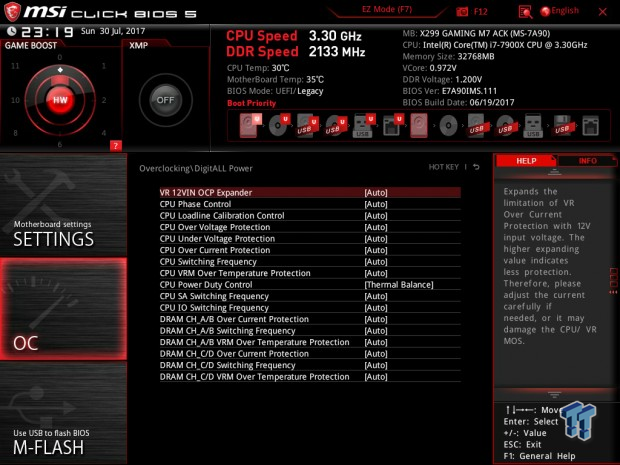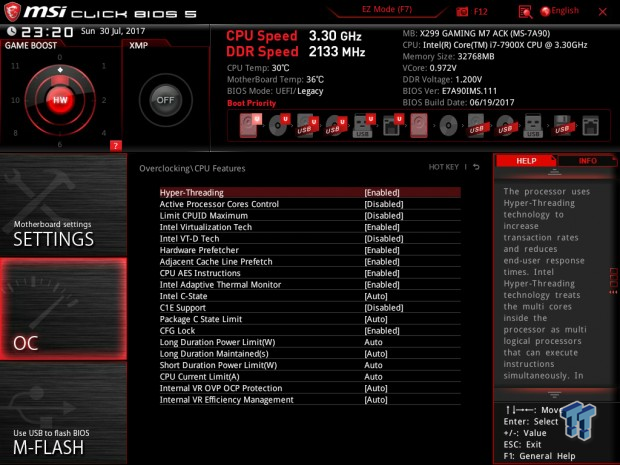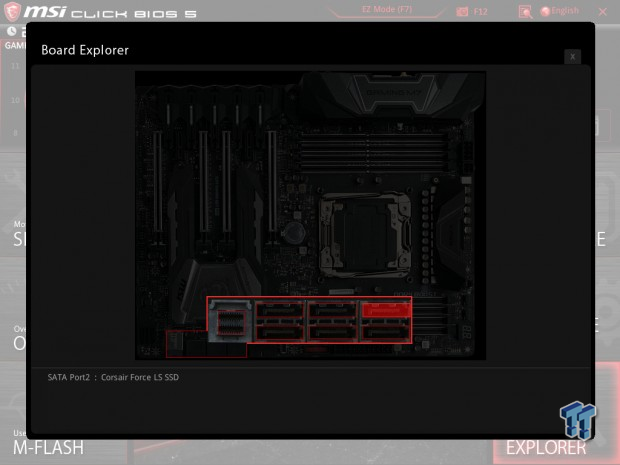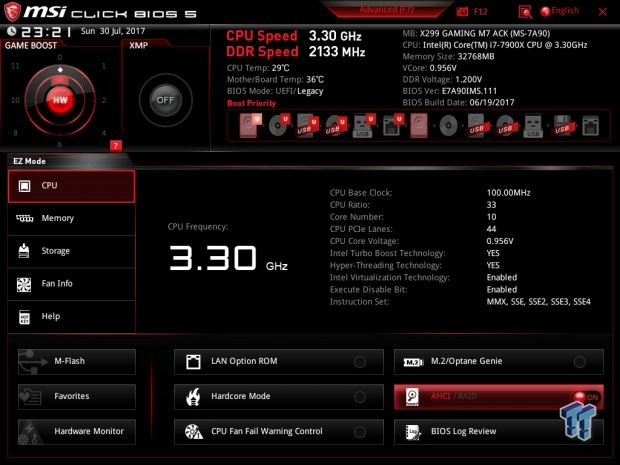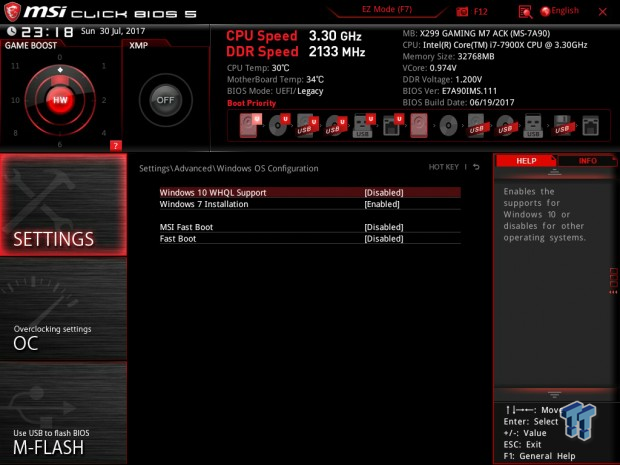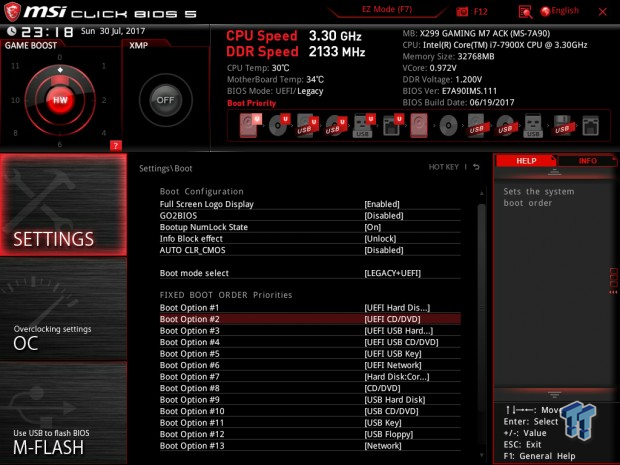 Software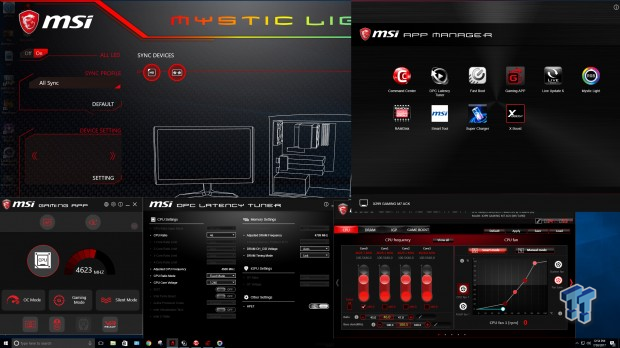 Software includes MSI's APP Manager (which seems to replace Live Update in some sense), Mystic Light, Gaming APP, DPC Latency Tuner, Command Center, Fast Boot, Live Update 6, RAM Disk, Smart Rool, Super Charger, and X-Boost.
Test System Setup
Steven's Motherboard Test System Specifications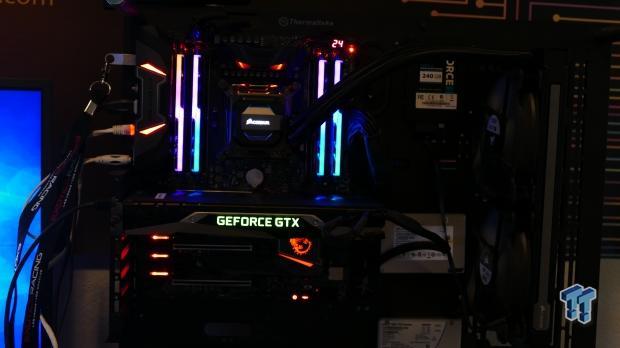 I really like how aggressive and cool the RGB LEDs make the motherboard look. You can, of course, change the light color, but default is the color red.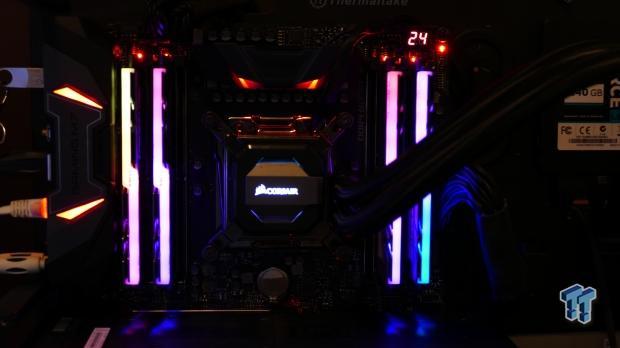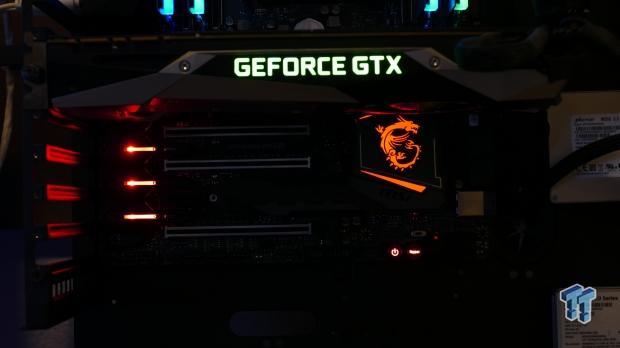 The heat sinks have built in RGB LEDs, and they diffuse light through the use of spacing and over-hanging plastic and metal. I really love the dragon, it lights up beautifully, and you will probably not want to put in a second GPU that blocks the PCH heat sink's dragon.
Overclocking
Overclocking Results
CPU Overclocking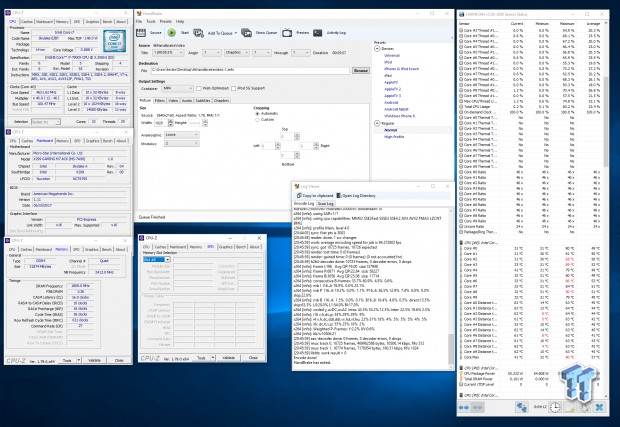 For the time being, I was testing how each motherboard can overclock the CPU and examining what settings to change to get a 4.6GHz overclock using AVX with XMP enabled. I enabled XMP, set OC mode to expert, increased frequency to x46, set input voltage at 1.75v, LLC to level 2, increased OCP, set VCore to 1.225v, and then rebooted without problem. The system was very stable.
Memory Overclocking
G.Skill TridentZ RGB 32GB (4x8GB) 3600MHz Kit: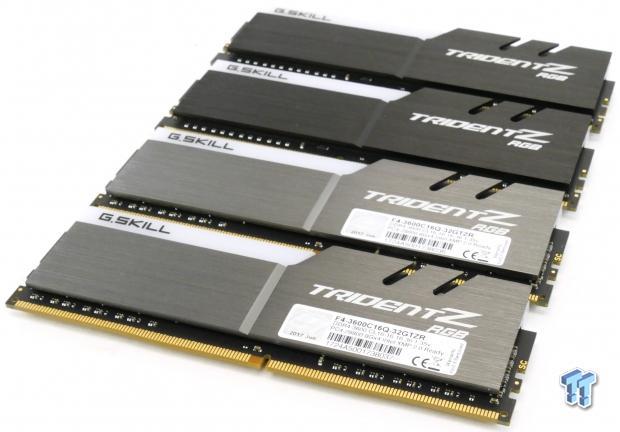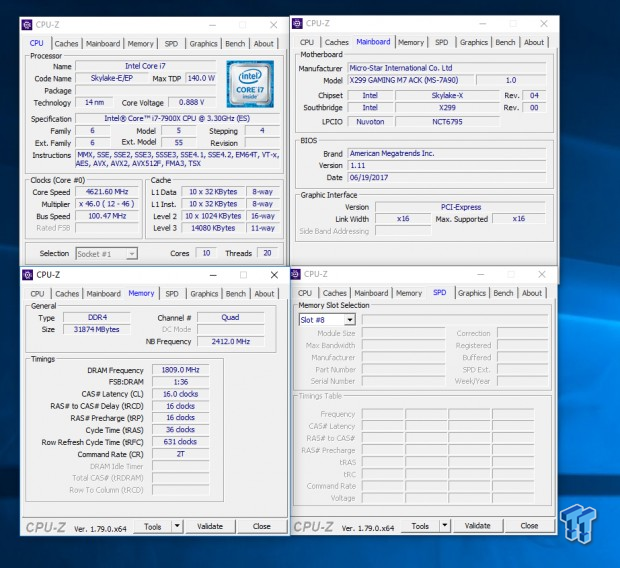 The board ran 3600Mhz on 32GB like a charm.
GEIL EVO SPEAR (4x8GB) 3200MHz Kit: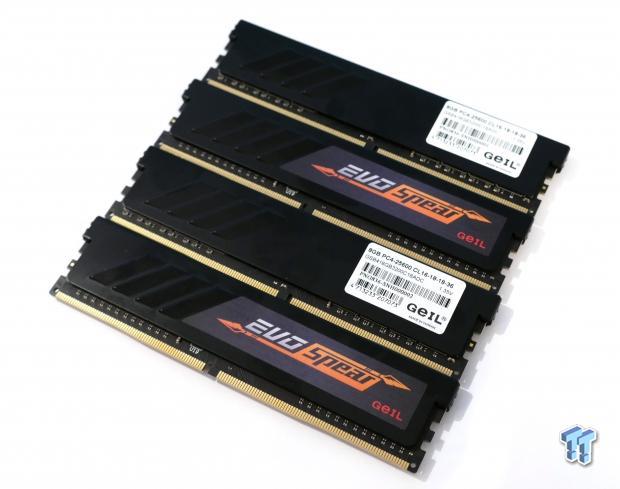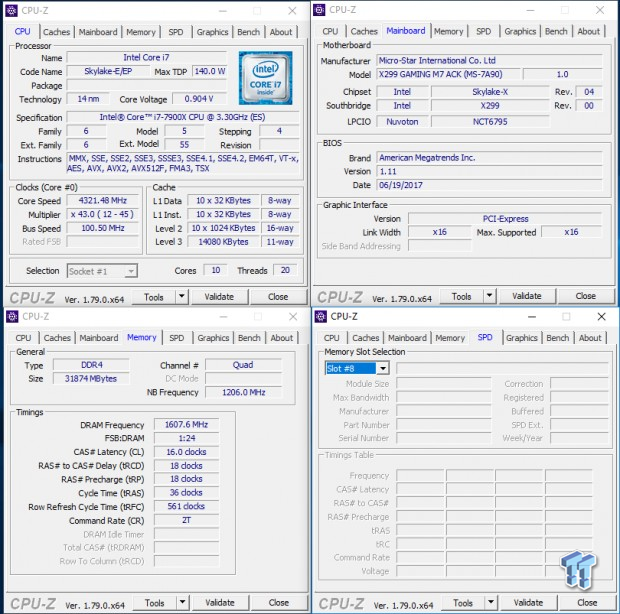 GEIL's kit ran at 3200Mhz at 32GB with ease.
CPU, Memory, and System Benchmarks
CINEBENCH R15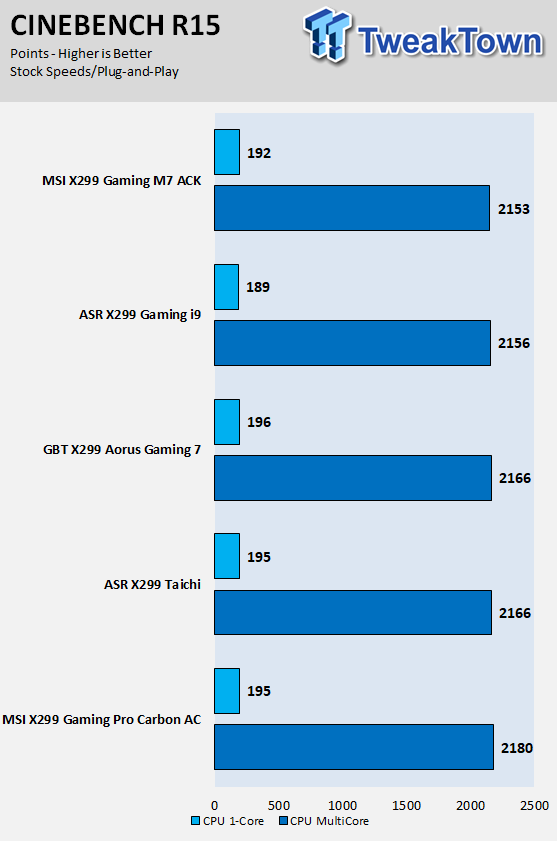 wPrime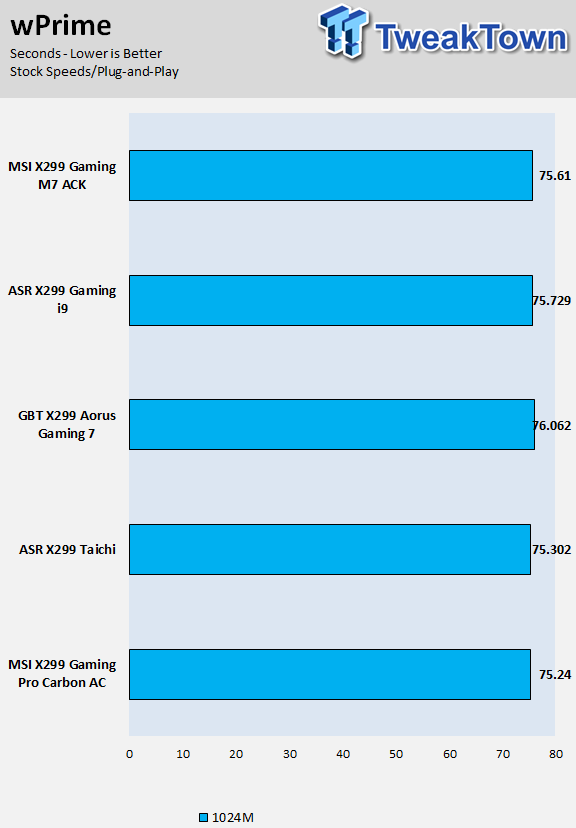 AIDA64 FPU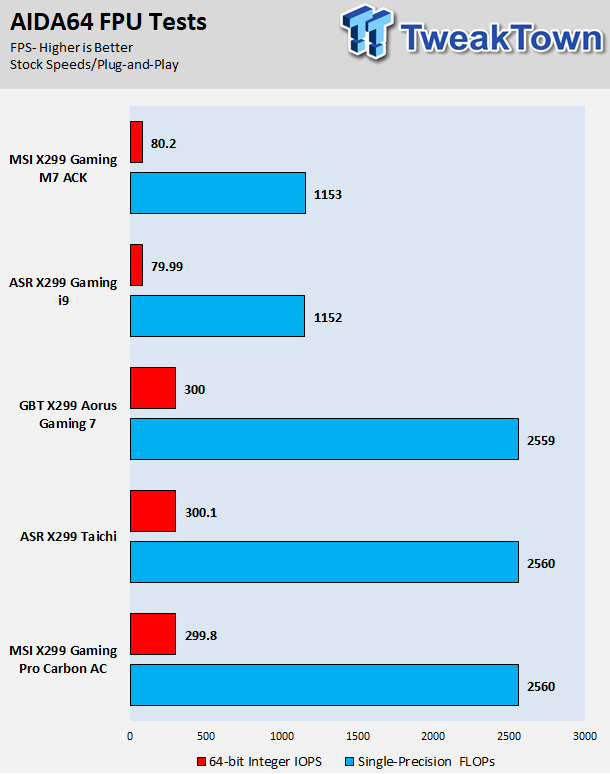 AIDA64 Memory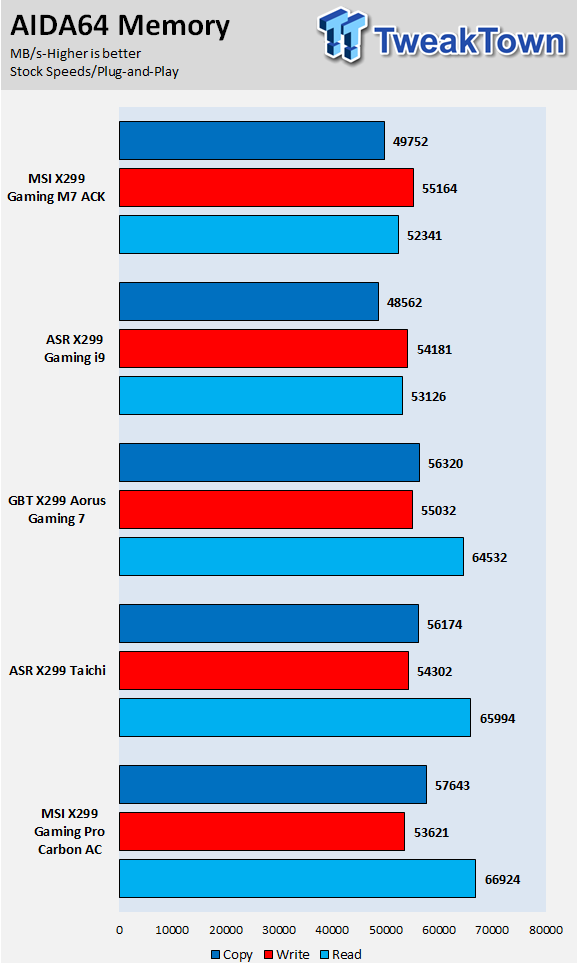 ScienceMark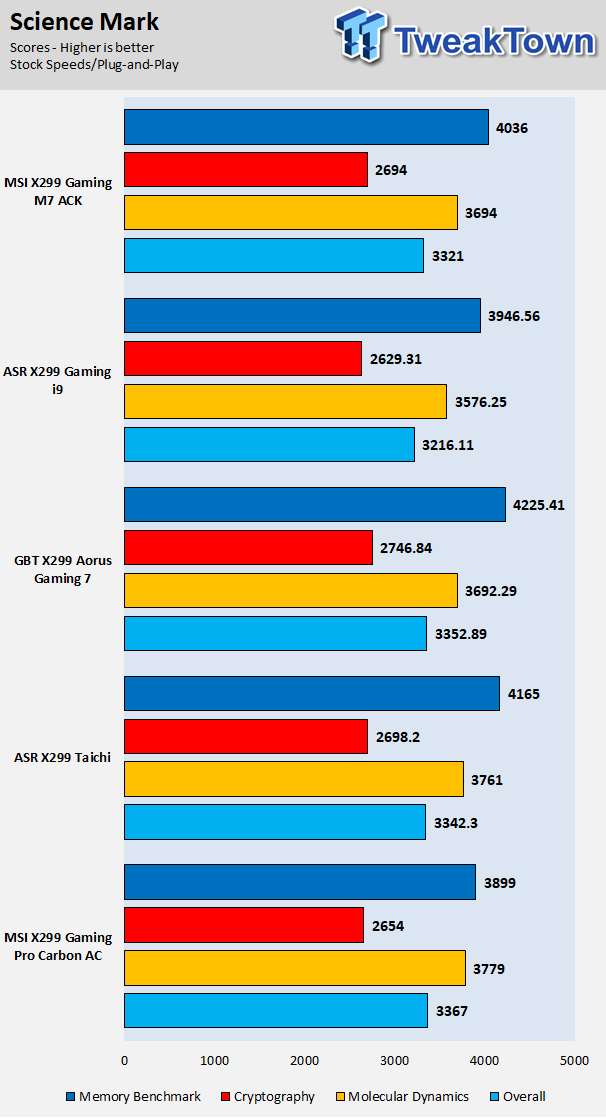 HandBrake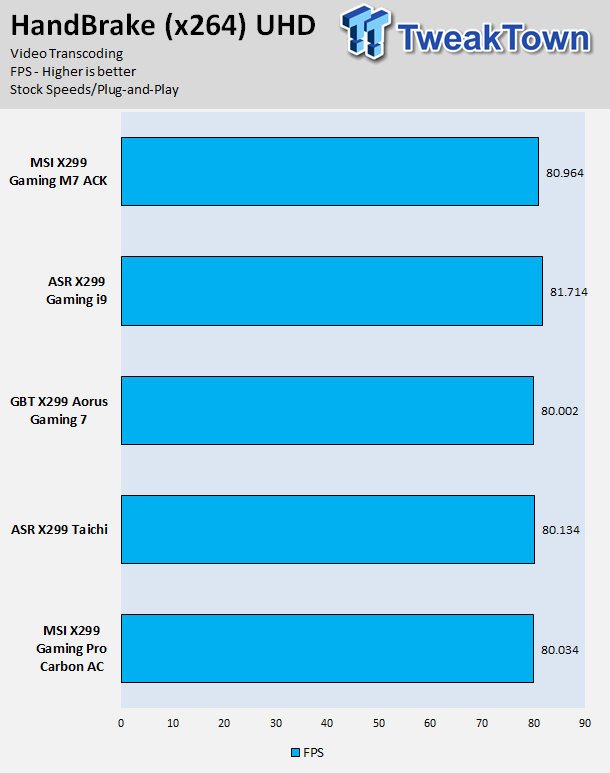 SuperPi 32M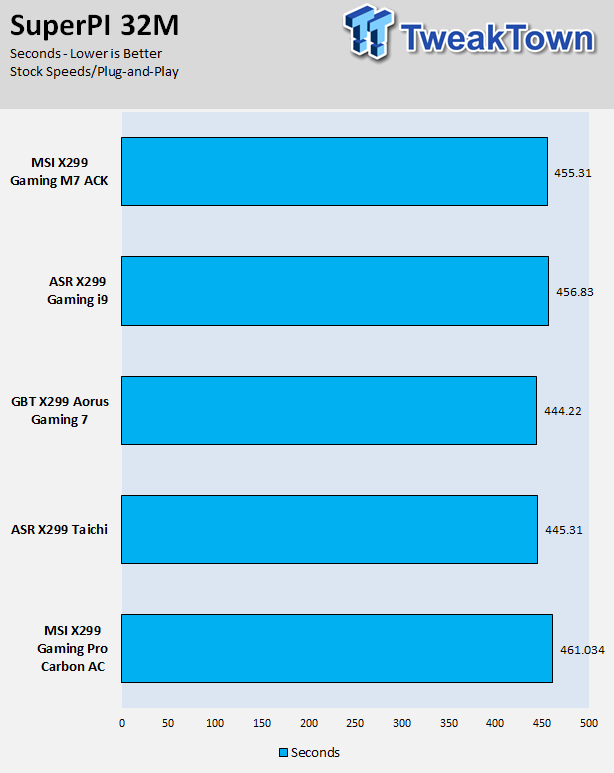 3DMark: Fire Strike
3DMark: Cloud Gate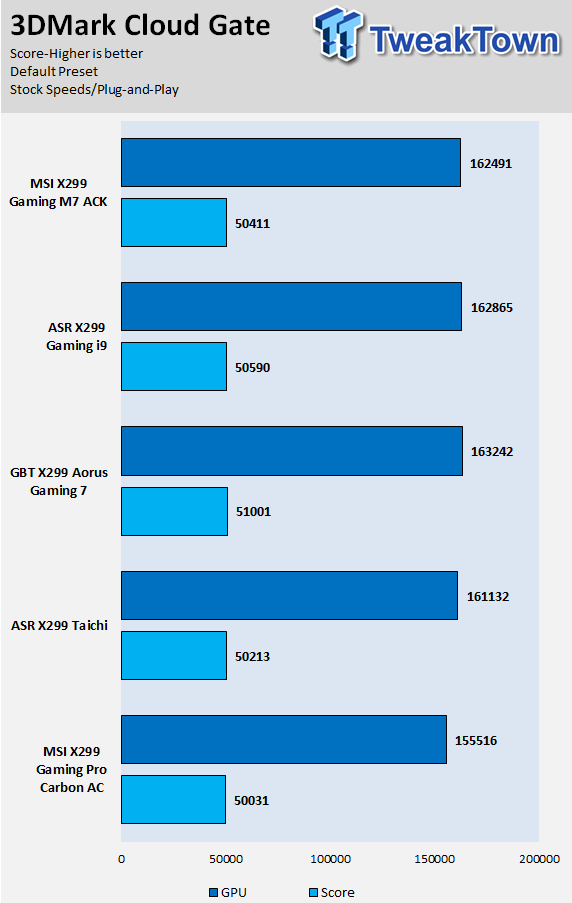 ResidentEvil 6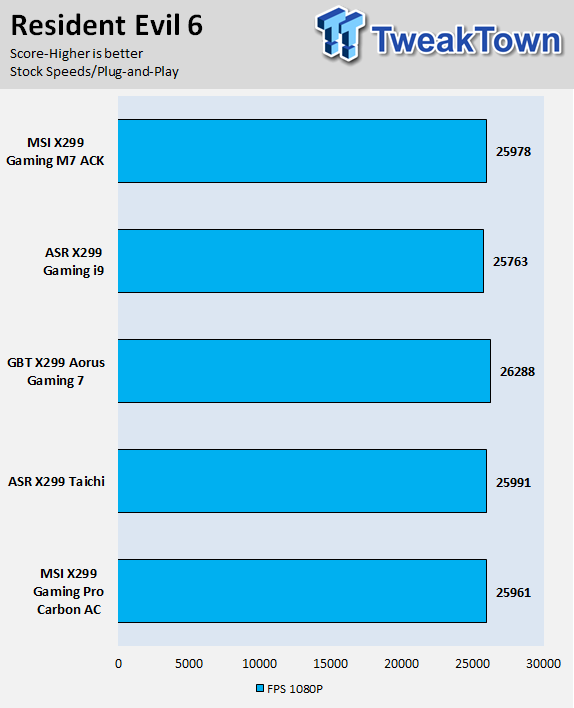 The MSI X299 Gaming M7 is a solid performer without issues. The reason some of the numbers are lower in CINEBENCH and AIDA64 is because of microcode changes and a huge change in the performance numbers of Intel CPUs in the latest AIDA64 update. You can see the X299 Gaming i9 has the same thing going on, so there isn't an issue.
I don't too much too much credence into benchmarking the CPU or GPU to see how well the motherboard does, as the difference is almost always within the margin of error. These tests are to make sure performance isn't below that margin, or to see what's going on if it's above.
System IO Benchmarks
CrystalDiskMark SATA6G: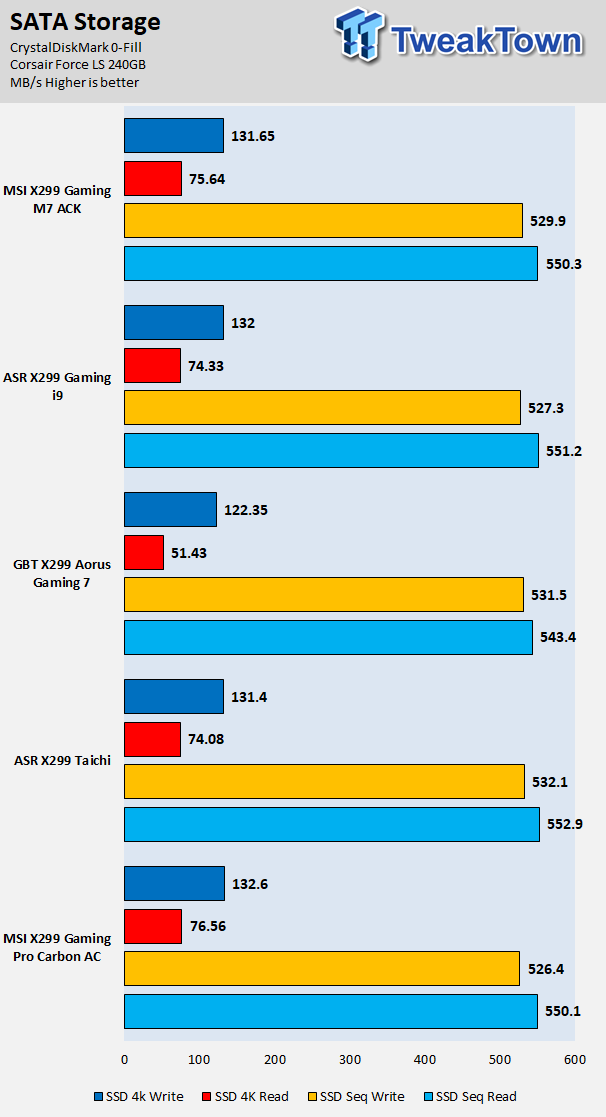 CrystalDiskMark M.2: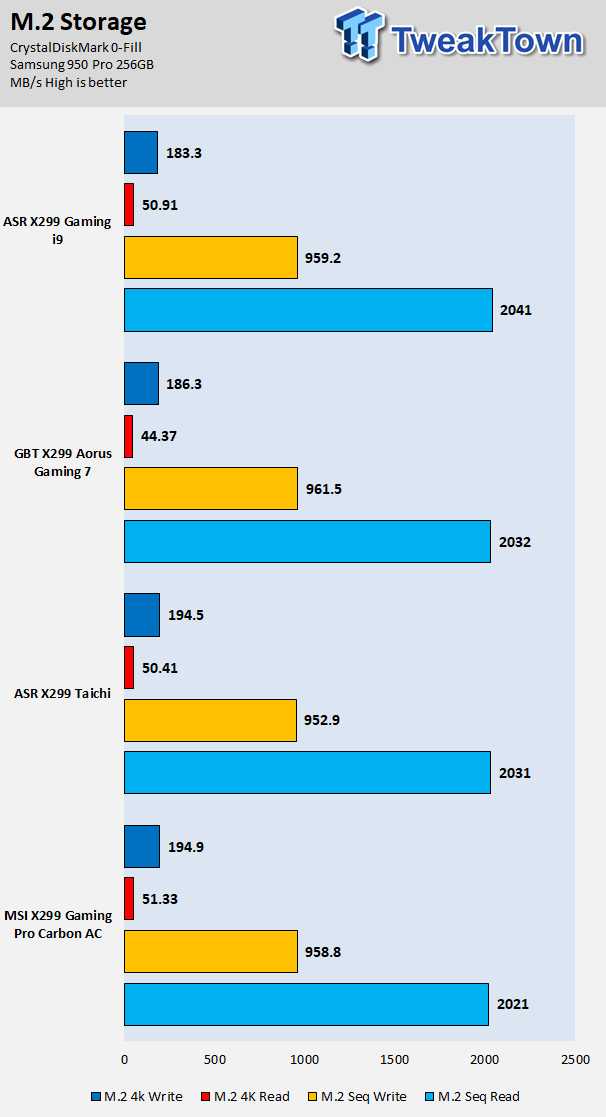 ixChariot Network Throughput: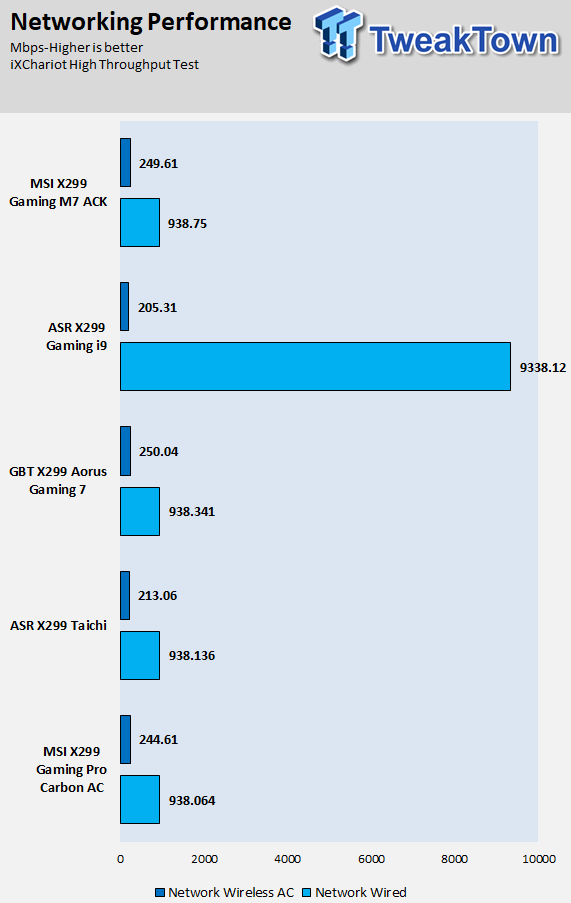 The X299 Gaming i9 has excellent SATA performance, but you might notice it's not included in the M.2 picture and that is because there seems to be an issue with my 950 Pro and the board. MSI is looking into it, but the board detects the drive in Windows, gives me very high sequential write and random 4K read and write numbers (the best I have seen so far), but odd sequential read numbers so I will test that later and update the chart. Networking performance is excellent, the wireless NIC rocks.
Audio RMAA 5.5:
I disable all audio features, set the correct bitrates, and then test the audio with a loopback test.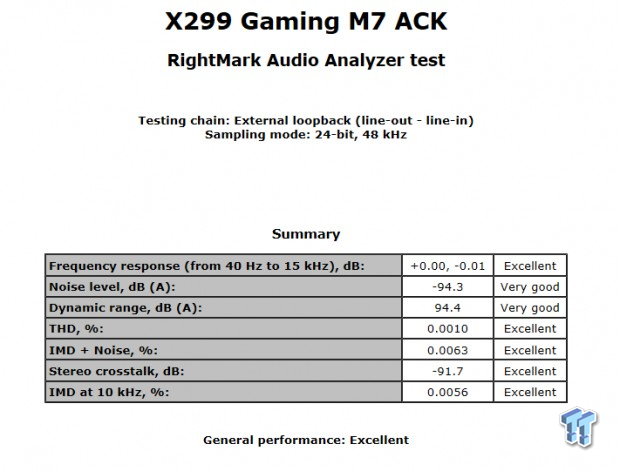 Sound Judgment by Ear: Excellent, MSI has done an excellent job here. There are five ratings for audio: 1. Problems, 2. Okay, 3. Acceptable, 4. Very good, 5. Excellent
VRM and System Thermal Imaging and Power Consumption
Thermal Imaging and Power Consumption
System power is measured at the wall with an AC power meter.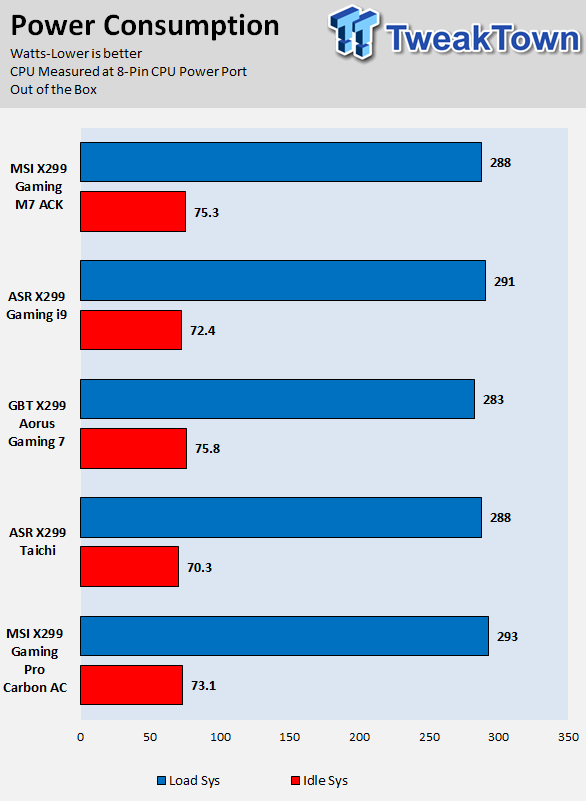 Note on Thermal Images: In the temperature section, we use our Seek thermal imaging camera to capture the surface temperatures of major components on the board. I look at the VRM and then all other things that light up the screen. If there is something to worry about, then I will state it. Otherwise, I will just show the hotter running parts of the board for fun. Unless some component is over 80-90C, then there isn't anything to worry about.
All systems will act differently, so I will look for commonalities, such as how far from the VRM the heat spreads through the PCB and the difference in temperature between the front side and backside of the PCB. Keep in mind, the majority of the heat from the VRM goes into the PCB as it is a giant soldered on copper heat sink. A larger difference in temperature between the back and front of the PCB points towards a more effective heat sink.
Thermal Testing at Stock Speeds:
The image on the left is always at idle, and the image on the right is at load. During ALL TESTS, fans above the VRM that cool the CPU cooler's (Corsair H110i) radiator are turned on to high (12v).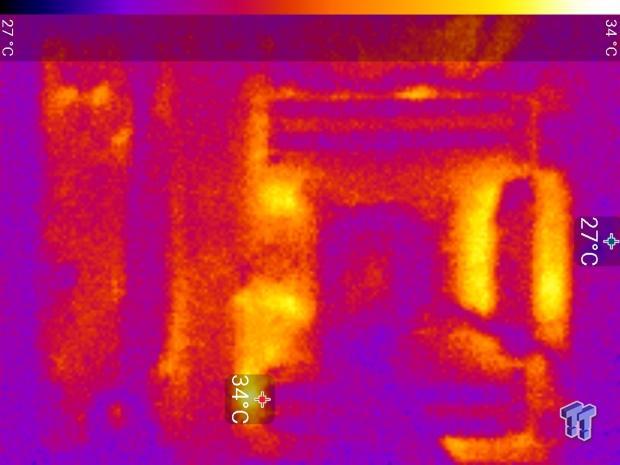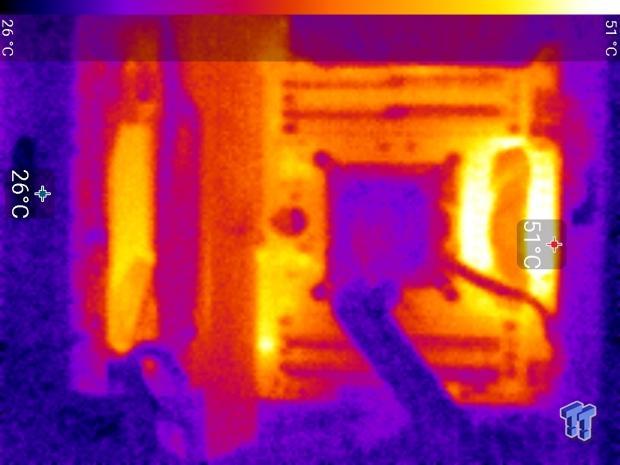 Full frontal.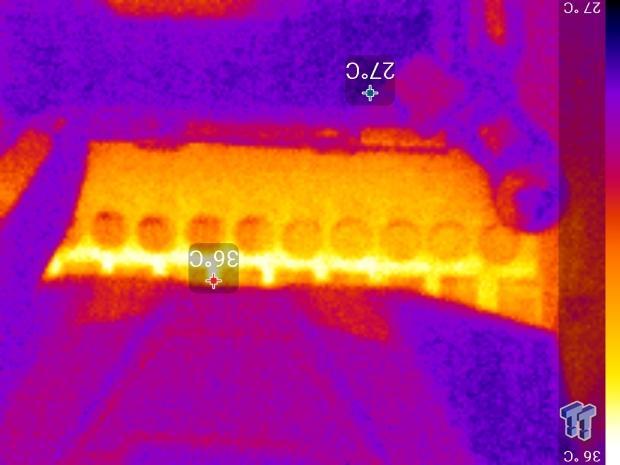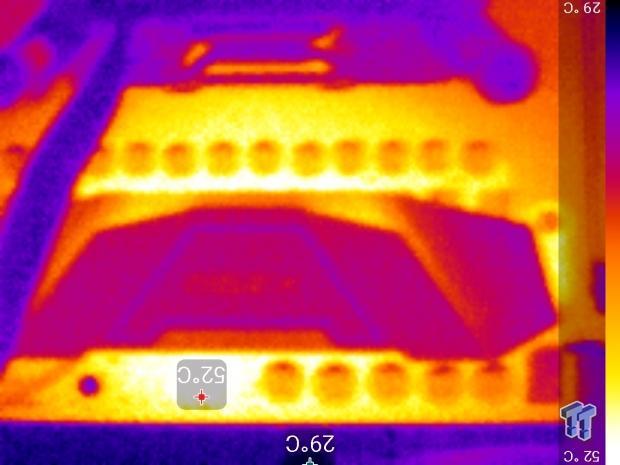 Up-close of the front of the VRM.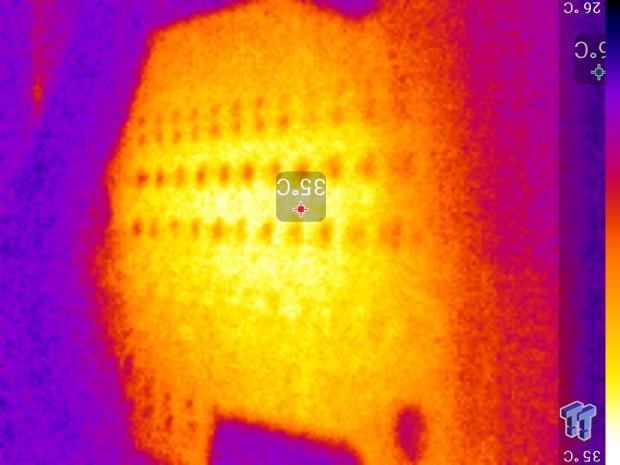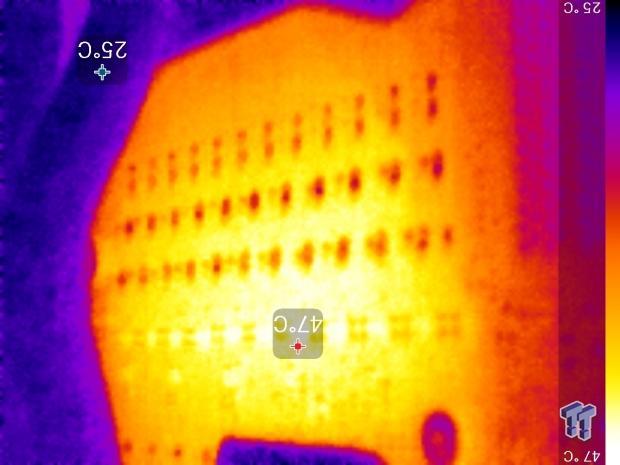 Up-close of the back of the VRM.
Performance is solid, not the craziest I have seen, but very good at stock. MSI is using very high-quality components, so this is expected.
Low to moderate airflow 4.6GHz 1.75V VCCIN OCed VRM Thermal Imaging: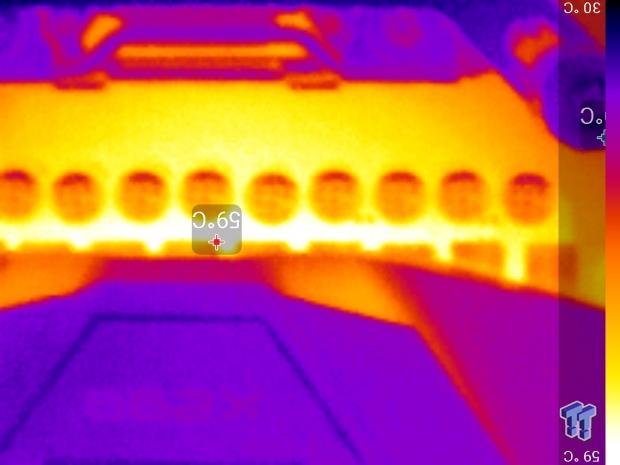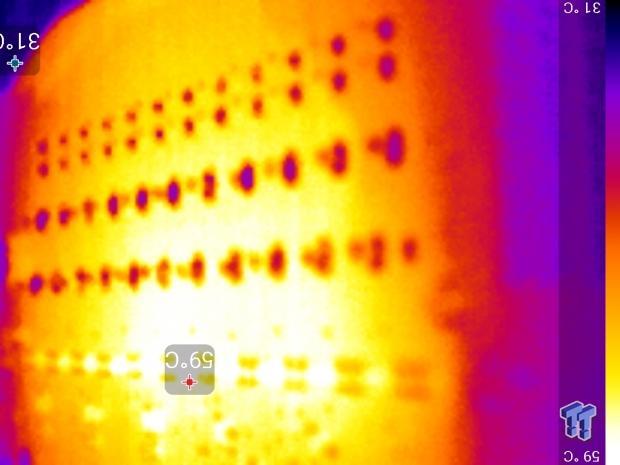 Temperature readings are taken after 40 loops of Intel Burn Test have been run (with AVX). Pictures of the setup are on the Test Setup Page. The two radiator fans (120mm Corsair) of the H110i blow in the general direction of the motherboard and VRM from the side (that is why the right side is slightly cooler in the first pic), so there is airflow (less than a case but more than a test bench with no airflow).
While the VRM on this motherboard is the same as that on the X299 Gaming Pro Carbon AC, the VRM temperature here are slightly better, and that could be a difference in ambient temperature, but it could also because of the copper content in the motherboard's PCB. From what I can tell, the motherboard's delta between back and front is also slightly better than on the X299 Gaming Pro Carbon.
What's Hot, What's Not & Final Thoughts
Here are key points about the MSI X299 Gaming M7 ACK.
What's Hot
Beautifully Bright: I really like how MSI has implemented their built-in RGB LEDs, but I also really respect how MSI has designed the motherboard to offer a totally black approach when it comes to allowing the motherboard to fade into a case. The was the RGB LEDs are diffused under the heat sinks and shields allows for a subtle yet recognizable design, and the dragon on the PCH heat sink is one of the most beautiful things I have seen on a motherboard.
M.2 Shield System: MSI has done a fine job with the M.2 shields. Both of them are attached by a strong hinge to the PCH heat sink, and a large thermal pad sits under each section of the shield to make great contact with the M.2 drive. The hinge mechanism is a nice touch; the only downside is that you have to remove your GPU to change or install M.2 drives.
The Latest USB Technologies: MSI offers both USB 3.1 on the rear and through an internal header on the inside of the motherboard, but they also offer both a right angled USB 3.0 internal header and a normal straight header. The rear of the motherboard also has a special USB 2.0 port that doubles as the port you can use for USB BIOS flash recovery.
OC Features: The OC Knob is a nice touch, but the POST code display, power button, reset button, and BIOS selection switch are also nice. The clear CMOS button on the back is nice. One thing that sticks out is the voltage read points, which isn't a common sight on X299 motherboards. MSI's BIOS settings also make overclocking very easy; I really like their fixed and dynamic frequency settings.
What's Not
Expensive: At almost $400 the X299 Gaming M7 ACK is one of the most expensive motherboards, and compared to many other X299 motherboards, it offers extra features to increase its price point. Whether you need those features is up to you.
Final Thoughts
MSI's X299 Gaming M7 ACK is not only sexy, but it's also loaded with features. I really like how the motherboard looks, and while MSI didn't go overboard with the RGB LEDs, they do offer some really nice LED effects, such as the dragon on the PCH. I am a huge fan of their new M.2 shield, and only one other brand has a solution I like to the same extent, and that solution is $100 more than this one.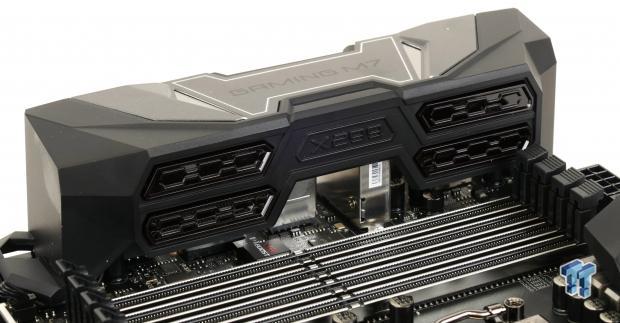 The quality on this motherboard is top notch, everywhere from the CPU and memory VRMs to the re-driver used on the USB 3.0 ports on the rear. I was also impressed with the Killer Wireless AC module and the dual audio codecs. The amount of metal in the PCH/M.2 heat sink is surprising, especially taking into account the amount of metal in the VRM heat sink.
MSI didn't cheap out when it comes to how the motherboard looks or how it performs, and it's a quality product with some stellar looks.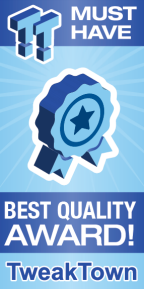 | | |
| --- | --- |
| Performance | 90% |
| Quality | 95% |
| Features | 91% |
| Value | 85% |
The Bottom Line: With a really crazy custom M.2 shield mechanism, solid components in power delivery, and components to improve signaling, MSI's X299 Gaming M7 ACK is a quality product with fantastic looks to match.
PRICING: You can find products similar to this one for sale below.

United States: Find other tech and computer products like this over at Amazon.com

United Kingdom: Find other tech and computer products like this over at Amazon.co.uk

Australia: Find other tech and computer products like this over at Amazon.com.au

Canada: Find other tech and computer products like this over at Amazon.ca

Deutschland: Finde andere Technik- und Computerprodukte wie dieses auf Amazon.de
We openly invite the companies who provide us with review samples / who are mentioned or discussed to express their opinion. If any company representative wishes to respond, we will publish the response here. Please contact us if you wish to respond.