WD Red 10TB NAS HDD Review
WD surprises with the 10TB WD Red NAS hard drive, is this Helium at its best? Let's see.

Published
5 minute read time
TweakTown's Rating: 94%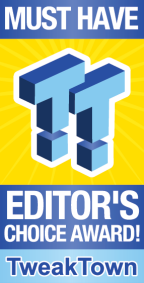 The Bottom Line
WD has the right formula with its Red lineup - high performance, high capacity, and low power consumption. The Red 10TB NAS HDD gets a tick from us.
Introduction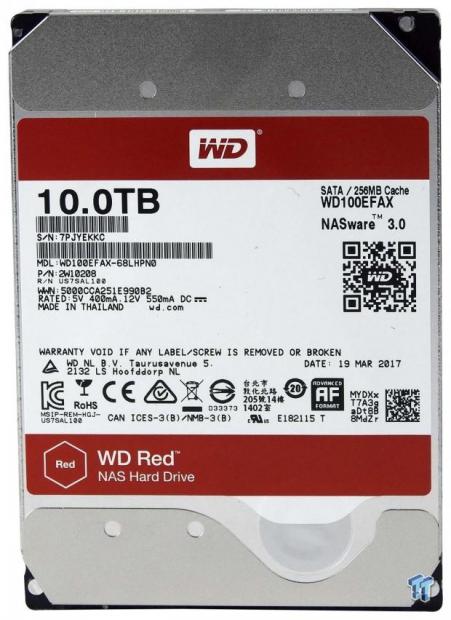 Over the last five years, hard drive capacity has bloomed. In 2013, WD launched the 4TB Red series, and after a year they pushed that to 6TB. It took the industry two more years to get the 8TB, and now a single year later we have 10TB drives and the promise of 12TB very soon.
Like the previous model, the latest addition to the Red family of drives offers NASware 3.0, an updated version of the technology that aims to increase reliability and improve performance. WD has also brought in new technology with the expansion to 8 and 10TB solutions, HelioSeal makes helium filled drives possible eliminating turbulence allowing more disks and heads to operate in the same 3.5" package.
In addition, drives spin easier in a helium filled environment, lowering overall power consumption. 3DActive balance has been a staple of the Red family among others, and the 10TB takes advantage of this technology to increase longevity and drive performance.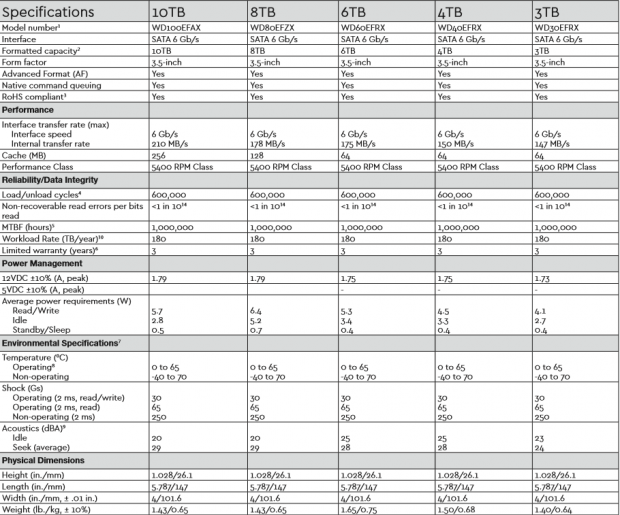 The WD Red family is split into performance classes. The WD Red offers capacities from 750GB to 10TB designed and tested for one to eight bay NAS systems while the WD Red Pro offers 2TB through 10TB options fit for NAS systems up to 16 bays. Looking at the specs above, the 10TB solution carries a SATA 6Gb/s interface with an internal transfer rate of 210 MB/s. 256MB of cache compliments this drive while it sits in the 5400 RPM performance class. Reliability is outlined with a one million hour MTBF and 600,000 load/unload cycle rating. The workload rate of the standard WD Red sits at 180 TB/year.
Power consumption starts with a 1.79A rating with average consumption sitting at 5.7 watts, idle at 2.8 watts and sleep using just 0.5 watts. Drive noise for those concerned reads at 29dBA on average with a 20dBA idle reading.
The WD Red 10TB carries a three-year warranty and an MSRP of $399.99.
WD Red 10TB
Packaging and a Closer Look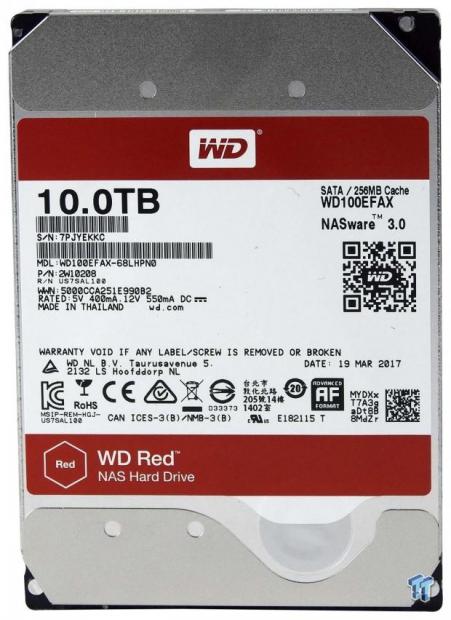 Our drives arrived in bare form. The design follows that of the 8TB model reviewed a year ago. On the front, we have the Red branding and capacity listed at the top in bold print. To the right are the connectivity and cache listings and below the NASware 3.0 and QR code.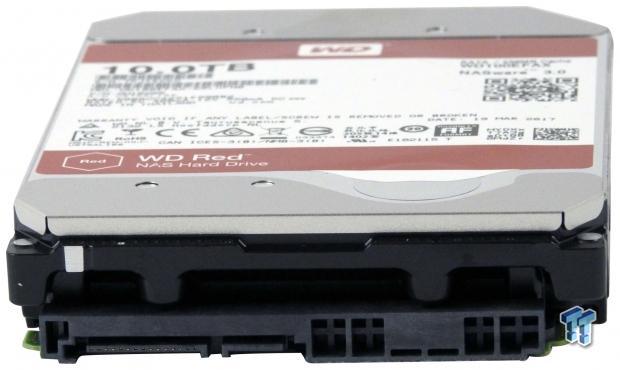 The SATA interface includes the power to the left and data to the right with placement pins on the far right for some backplanes.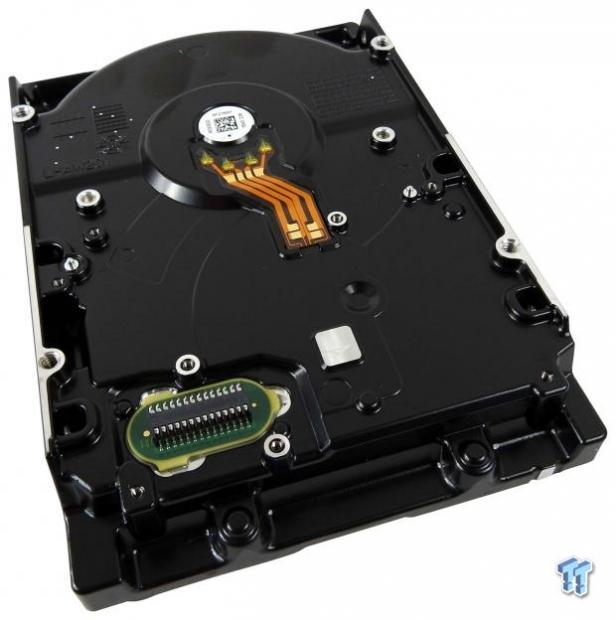 Removing the PCB, you can see a completely sealed drive. The drive head connects via an amber ribbon cable and the bottom left shows HelioSeal in action.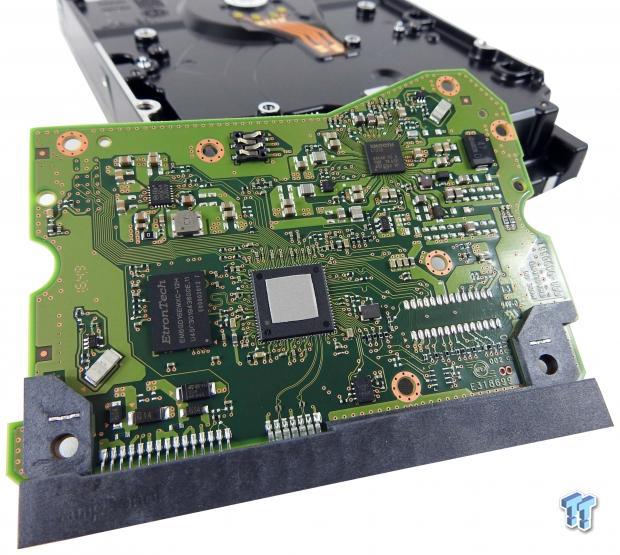 The PCB includes EtronTech DRAM cache, with a smooth motor driver and Avago drive controller in the center.
Test System Setup and ATTO Baseline
Test System Setup
Tyler's Test System Specifications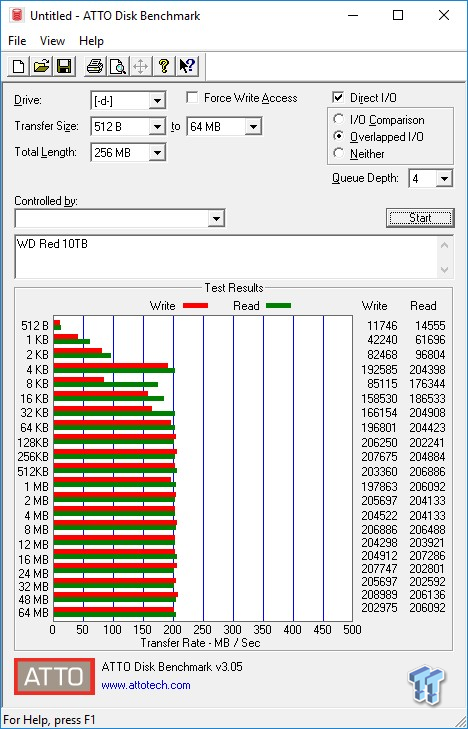 ATTO Disk Benchmark has long been a staple in testing all types of storage. For me, it's a quick test to get an idea where the drive will perform before diving into the longer testing scenarios.
As you can see above, the WD Red 10TB hit 200 MB/s read and write at 64K and held that through 64M.
Benchmarks – IOMeter 4K Throughput and Latency
IOMeter 4K Throughput and Latency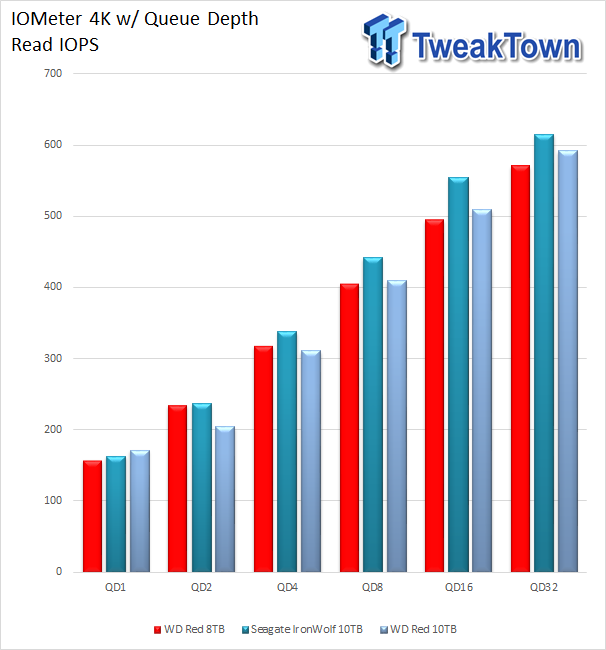 Starting off, we see around 150 IOPS at QD1 moving up to 220 at QD2. QD4 expands further to 310 IOPS, and at QD8, we reach 400 IOPS. In the end, we see near 600 IOPS for the 10TB Red just behind the IronWolf 10TB.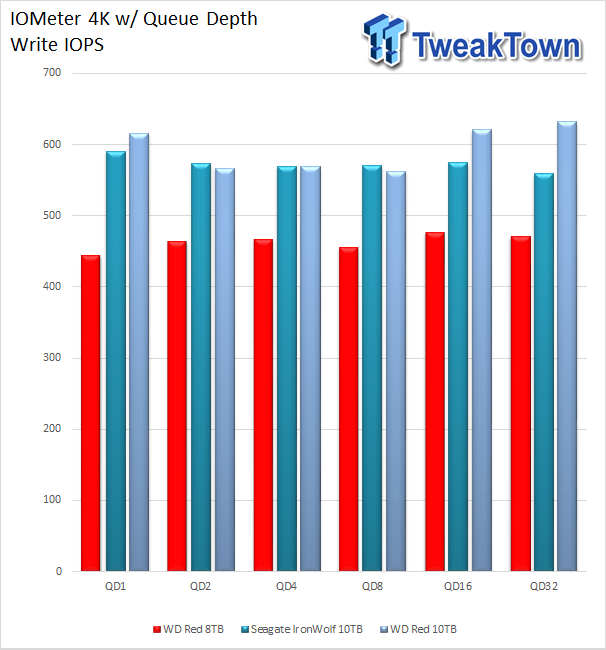 Write IOPS is a little different, performance is quite steady instead of starting out low and ending high. For this test, we see 610 IOPS QD1 then a slight drop to 570 IOPS from QD2 through QD8. The performance then jumps back up to 610-620 IOPS and finishes strong a good 50 IOPS above the IronWolf 10TB.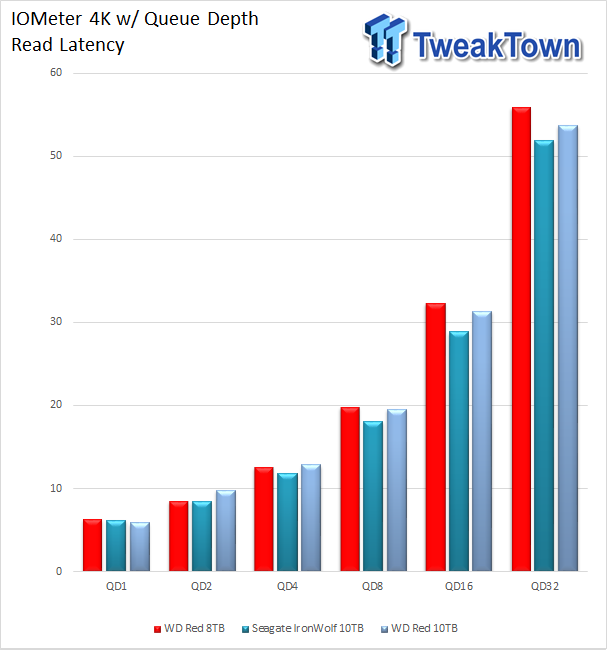 Latency tells a similar story. The 10TB Red starts out around 8ms at QD1, somewhere in the middle at QD8 we see 20ms and finishing at QD32 53ms.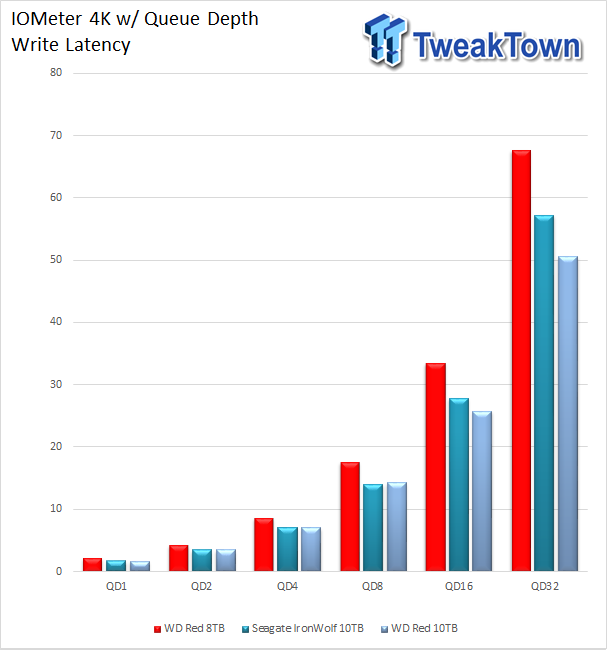 While write IOPS are very consistent, we see latency in a different light. At QD1, the 10TB Red sits at 4ms, moving up to QD8 that changes to 15ms and QD32 peaks at 50ms, 20ms quicker than the 8TB WD Red and 8ms over the IronWolf.
Benchmarks – Sequential Workloads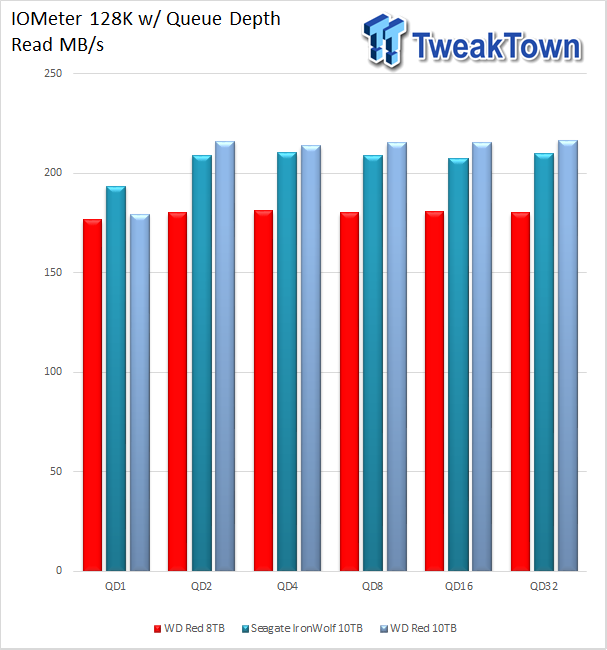 Sequential read put the WD Red 10TB right up with the IronWolf producing 210 MB/s read from QD1 through QD32.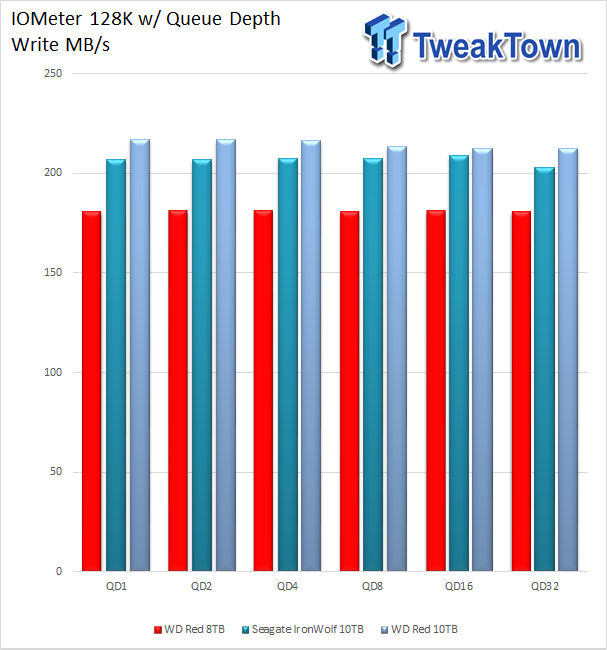 Write performance to hit close to 220 MB/s from QD1 to QD8. After that, we see 210 MB/s through QD32.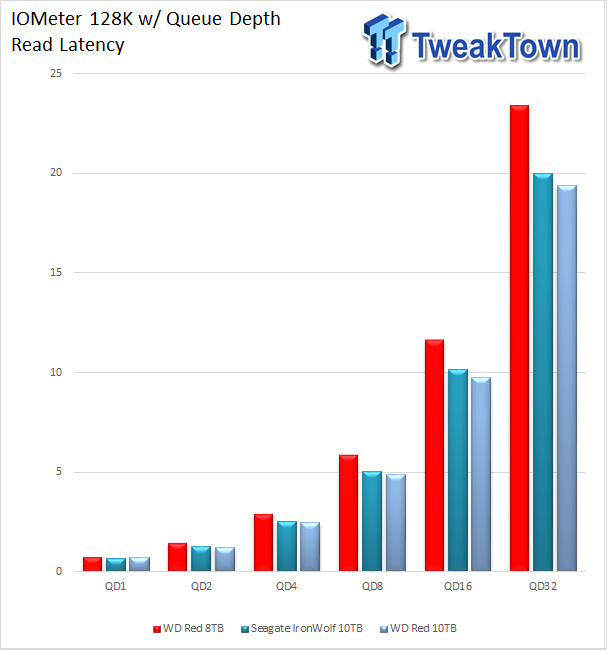 Latency shows the WD Red 10TB start near 1ms and moves up to 5ms at QD8. QD32 finishes out at 19ms.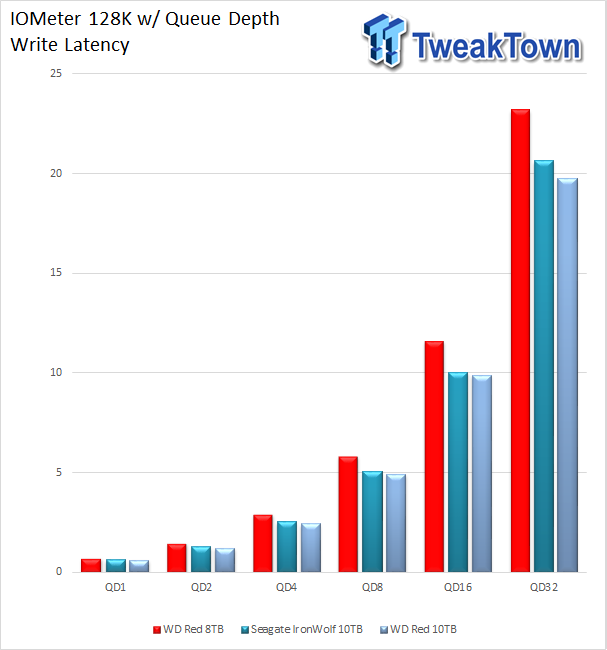 Write latency again starts at 1ms, hits 5ms at QD8, and QD32 sits at 19ms.
Benchmarks – Datacenter Workloads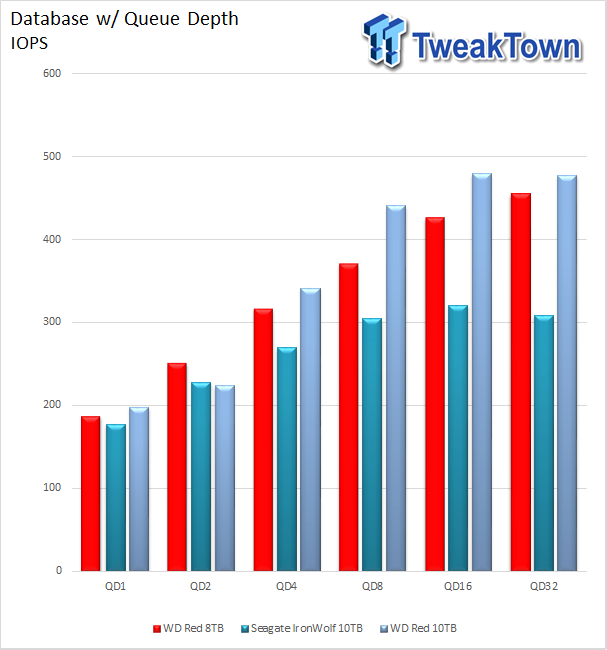 Starting the workload testing, the 10TB Red starts just under 200 IOPS. At QD8 we see that performance double to 430 IOPS, and at QD32 we finish at 490 IOPS.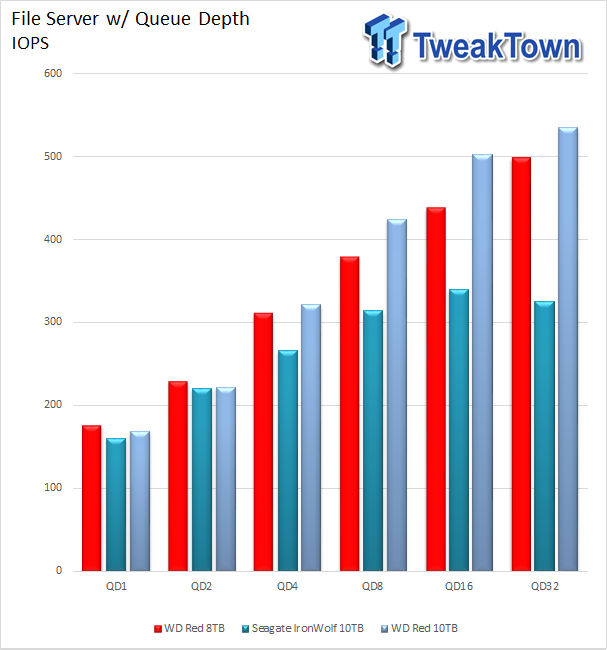 File Server started just under 200 IOPS and finished near 520 IOPS.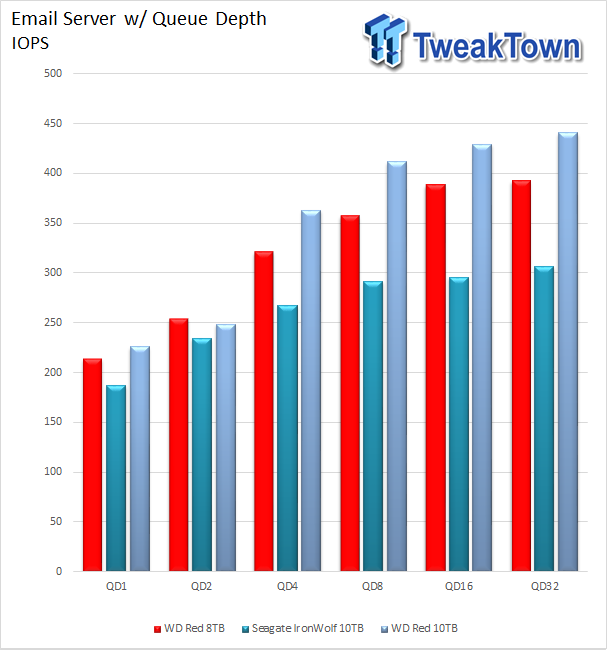 Email Server again starts around 225 IOPS at QD1 and finished at 440 IOPS QD32.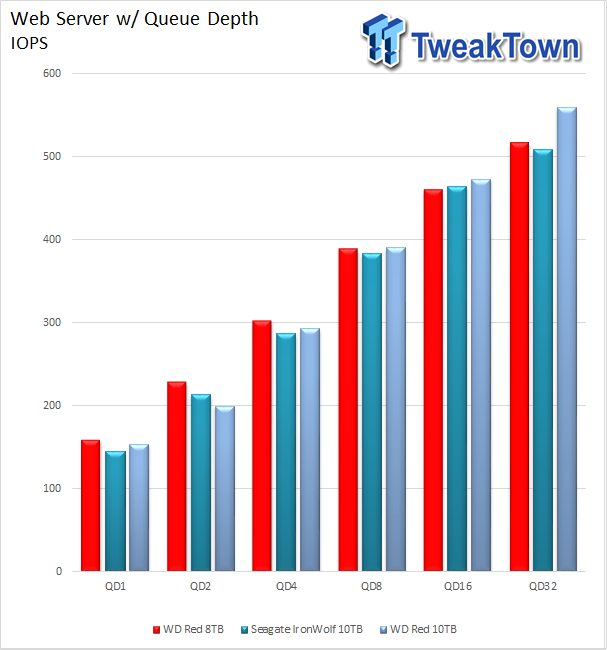 Web Server was near the 400 IOPS mark at QD8 and finished at 550 IOPS QD32.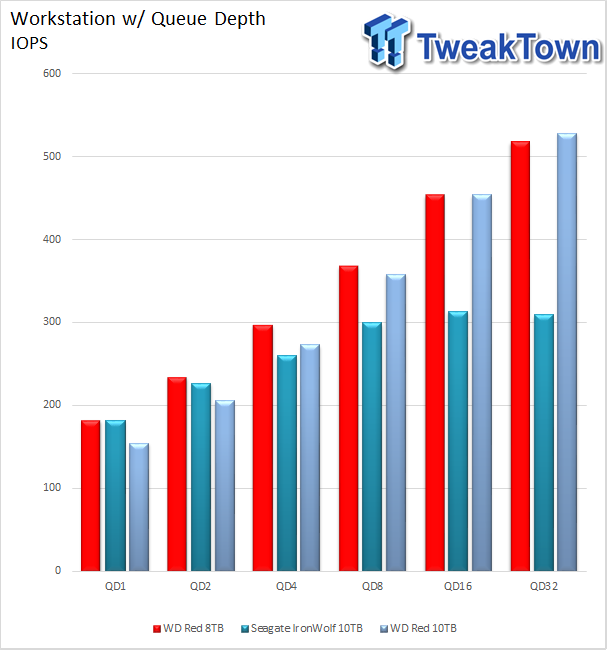 Workstation started at 175 IOPS for the 10TB Red and finished near 520 IOPS similar to the database workload.
Benchmarks – RAID 0 Performance
Western Digital sent over two drives so we could test RAID performance. Obviously with two drives we are limited to RAID 0 and RAID 1. RAID 1 numbers will often be just under single drive performance due to overhead while RAID 0 is what most will use for that extra bit of performance. Let's see how the 10TB Red performs.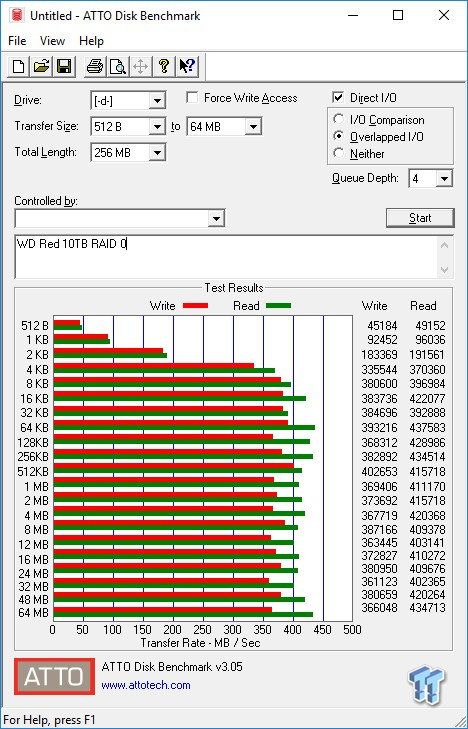 Starting off with ATTO, we get our baseline performance. Single drive performance was 200 MB/s read and write and as you can see above, RAID 0 produced around 410 MB/s read and 375 MB/s write.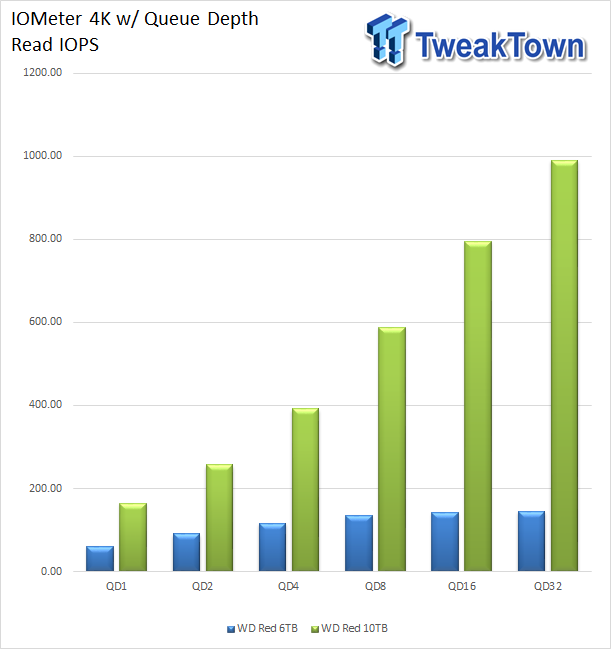 The last drive we tested in RAID 0 was the WD Red 6TB a few years back. As you can see, there is quite a jump in performance from the 6 to 10TB models. 1000 IOPS is the peak for the 10TB Red at QD32.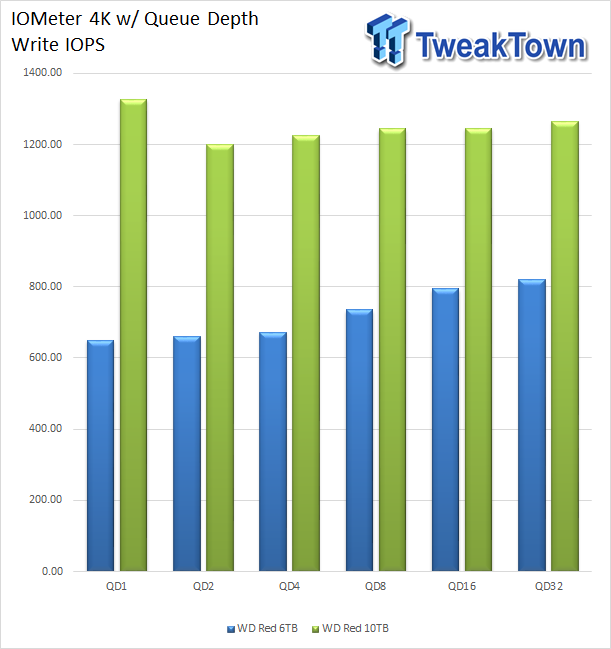 4K write was solid across the board reaching 1350 IOPS at QD1 and averaging out to 1200 IOPS through QD32.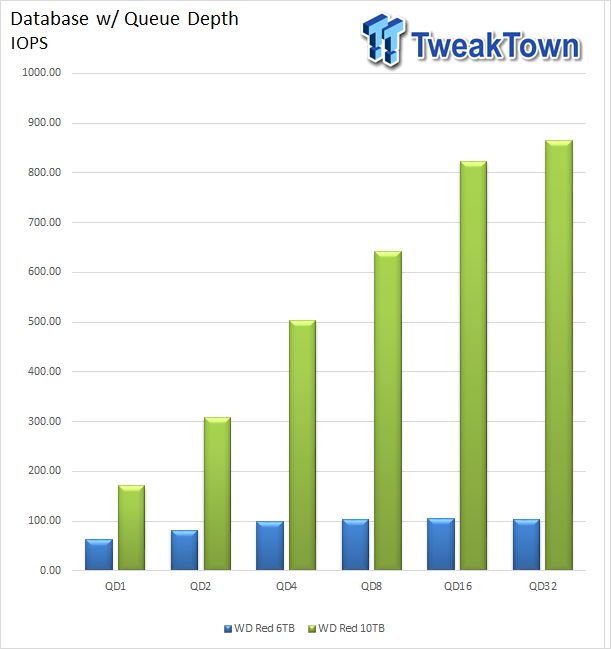 Database showed strong gains starting at 175 IOPs and ending near 900 IOPS QD32.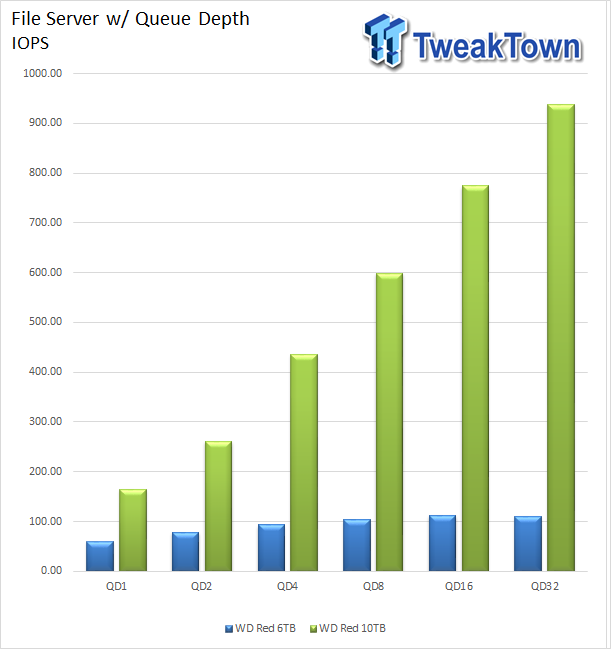 File Server offered up 600 IOPS QD8 and finished at 925 IOPS.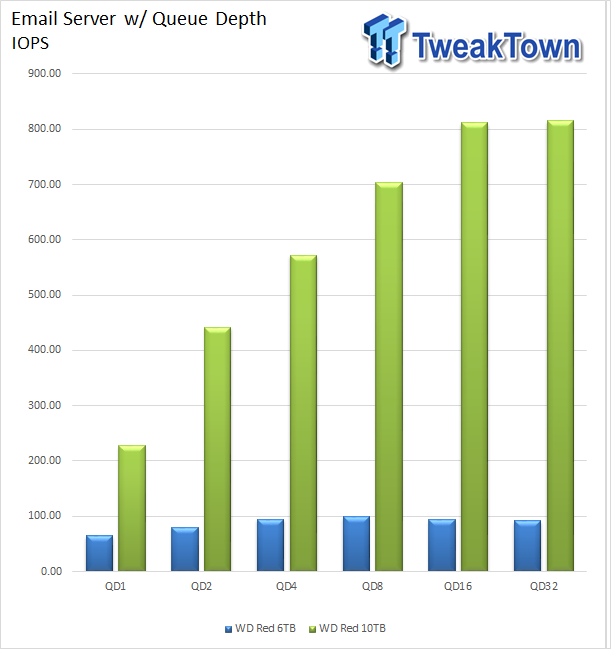 Email Server peaked at 810 IOPS QD32.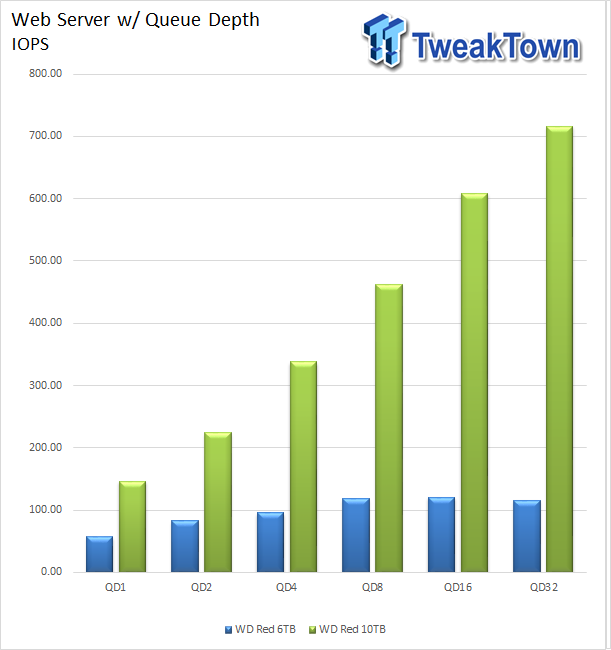 700 IOPS was the top number for Web Server.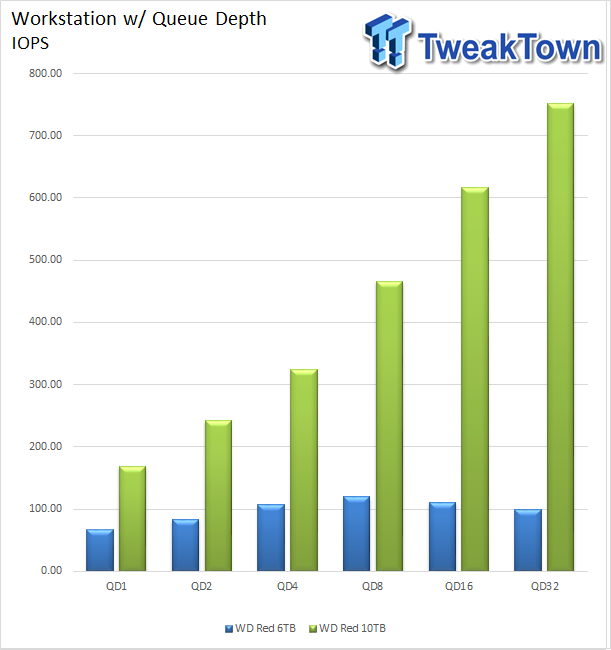 Finally, we have Workstation that started at 175 IOPs and finished at 775 IOPs.
Power Consumption and Final Thoughts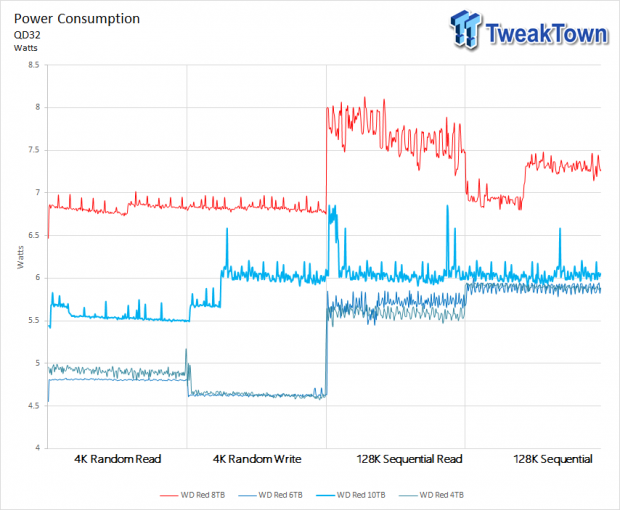 Power consumption is one of the most important metrics when it comes to data storage. The WD Red 10TB has made significant gains in this category, as noted in this review. Using a 10TB WD Red drive, you can save up to 1.5 watts over the previous 8TB solution in random workloads and up to 1.75 Watts per drive in sequential workloads. In an eight-bay device, that's 14 watts or at a 0.12 per KW/h rate, $15 a year savings by increasing the capacity of your NAS.
For those coming from 4 or 6TB solutions, power consumption will change only slightly. That means you can enjoy your increase in capacity without adding much cost regarding yearly power usage. Build quality feels the same with no issues experienced in testing or since we have been using them in our DS1515.
Performance, surprisingly, rivals that of competing 7200 RPM solutions in most scenarios. 4K read showed us nearly 600 IOPS while write went just over 600 IOPs making it the quickest of the three in our chart. With sequential performance, I found the 10TB Red reaching 220 MB/s peak, 10 MB/s quicker than the 7200RPM IronWolf from Seagate. Looking at workloads, File and Web Server are two points where this drive excelled, reaching over 500 IOPS at QD32.
For most, the capacity increase over a 4 or 6TB solution would be plenty to justify the upgrade to these new 10TB Red solutions. What you gain is much more, including higher performance, more capacity, and less power consumption. With all of that said, it's hard to deny WD the honor it deserves as the best NAS drive, dollar for dollar, on the market.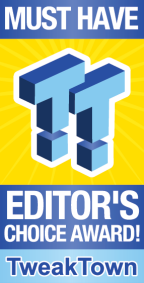 | | |
| --- | --- |
| Performance | 95% |
| Quality | 90% |
| Features | 95% |
| Value | 96% |
The Bottom Line: WD has the right formula with its Red lineup - high performance, high capacity, and low power consumption. The Red 10TB NAS HDD gets a tick from us.
PRICING: You can find products similar to this one for sale below.

United States: Find other tech and computer products like this over at Amazon.com

United Kingdom: Find other tech and computer products like this over at Amazon.co.uk

Australia: Find other tech and computer products like this over at Amazon.com.au

Canada: Find other tech and computer products like this over at Amazon.ca

Deutschland: Finde andere Technik- und Computerprodukte wie dieses auf Amazon.de
We openly invite the companies who provide us with review samples / who are mentioned or discussed to express their opinion. If any company representative wishes to respond, we will publish the response here. Please contact us if you wish to respond.