Team T-Force Dark ROG DDR4-3000 16GB Memory Kit Review
Team Group's impressive T-Force Dark ROG-certified DDR4-3000 16GB dual-channel memory kit gets fully tested.

Published Fri, Jun 23 2017 8:25 AM CDT
|
Updated Tue, Nov 3 2020 6:58 PM CST

We at TweakTown are no strangers to Team memory, or their T-Force or Dark series kits. However, Team is looking to try new things all the time, and have come up with yet another stunning looking set of DDR4. We are about to be discussing the Team T-Force Dark ROG set that showed up on our doorstep. Many things about this memory are made to make it stand out, not just visually, but with low operational temperatures, and most importantly, in the category of performance.
In this instance, we will be covering the TDRRD416G3000HC16CD01 kit, which comes with red accents, but there is another look with Team opting to offer them with gray accents as well. In any Intel motherboard, this set of sticks will run at 3000MHz, but with the ROG certification, ASUS ROG users can opt for the second XMP 2.0 profile which increases speed to 3200MHz, still using the 16-18-18-38 2T timings. Team chooses to select only the finest Samsun ICs for these kits and is the first to offer up DDR4 with a four-piece aluminum heat spreader. For added flair, Team uses Mayan style art with what they feel is a dark knight riding a dark horse to appeal to the eyes when installed.
What you are about to see is memory which not only appeals to those who like a bit of style with their PC builds but also appeals to those who want to get the most out of DDR4 without having to pay for the increased speed or lowered timings. That being said, we feel it is time to dive right in. You can see for yourself the attractiveness to the T-Force Dark ROG 16GB kit, as well as see what we were able to do easily, just with changing a few settings.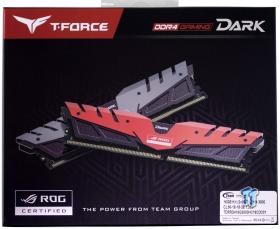 The packaging of the T-Force Dark ROG kits mimics what you will find on the sticks. Red accents at the top, Mayan designs on the black background, as well as seeing that this is ROG certified. We also like that the product sticker is plainly visible on the front, so that you will not have to guess as to what is inside, or what it is capable of.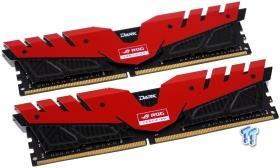 What we find inside of the box is some of the most stylish RAM we have seen to date. The PCBs are black, which matches the inner part of the heat spreaders, which are stylized in shape and with designs painted on them. The outer part of the heat spreader, in this instance, is red, and unlike where the DARK name is presented, the red section sports the ROG certified notification.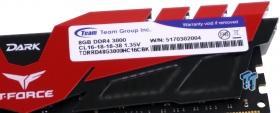 On the reverse of each stick, there is a product sticker which identically matches what we saw on the box. Each stick is 8GB in density, and using the standard XMP 2.0 profile, will run at 3000MHz. It is designed to use 16-18-18-38 2T timings with 1.35V, and we also see the part number, where the end has been slightly changed to 16CBK.
Sadly, much of the artwork on the sides of the T-Force Dark ROG sticks will not likely be seen much, but the top edges are also appealing. A bit of the black lined accent can still be seen in the middle, and the red sections meet at the top, and have the TEAMGROUP and Team names visible.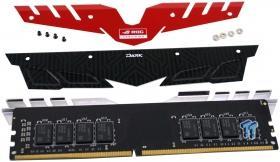 Of course, this is only one side of the stick we have disassembled, but we can see the two parts of the heat spreaders as well as the screws and nuts that hold them together. The black section of the heat spreader uses tape to attach to the ICs, and for us, came off clean.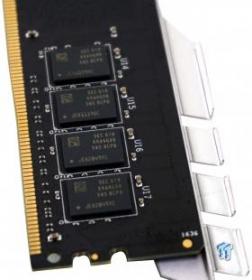 Samsung ICs are used in all of the T-Force Dark ROG kits, and here we see 5WS versions utilized in this kit. We do know from previous experience that some Samsung ICs perform better than others, yet at the same time, there is usually headroom for overclocking or lowering timings, if you don't mind applying a little more voltage.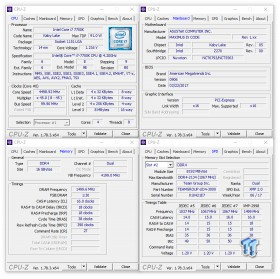 If you do not own a ROG motherboard, or if you chose to use the standard XMP 2.0 profile, this is how the T-Force Dark ROG will run for you. The speed is set to 3000MHz, and the timings are 16-18-18-38 2T, and both 8GB sticks should register as 16GB in size, and be in dual channel.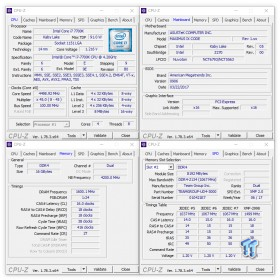 ROG motherboard users will have the option to choose a second XMP 2.0 profile in this kit, which will boost the speed 200MHz. The timings are kept the same, and if we have it ready to be used, why not opt for the speed if it is there ready to be used.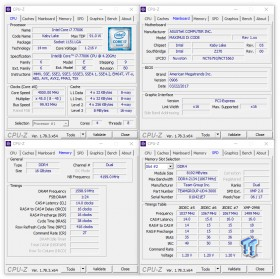 Dropping back to the first XMP profile, we used 3000MHz as our base clock in which to lower the timings. By raising the VDIMM to 1.45V and using 1.152V on the IO and 1.1625V for the System Agent, we were able to lower the timings down to 14-16-16-38 2T with complete stability for daily use and testing.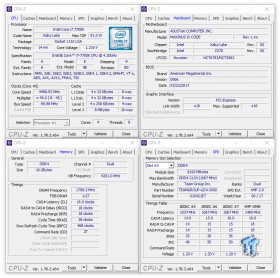 We also look to see how much room is left on the ICs as far as speed is concerned. With the T-Force Dark ROG kit we have, we were able to increase the speed 400MHz. Again, the VDIMM was increased, but to achieve this, we did require 1.216V for the IO and 1.30V to the System Agent.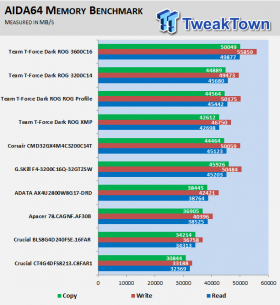 AIDA64 shows us that at 3000MHz, the results fall between our 2800MHz and 3200MHz kits, as it should. Using the ROG profile, it competes with both Corsair and G.Skill at this speed, regardless of timings used. Lowering the timings on the T-Force Dark ROG does not appear to do much justice, but increasing the speed has a benefit.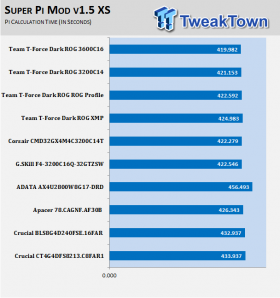 When it comes to Super Pi testing, the lower the time seen in the chart, the better for the test subject. With the XMP profile used, the time is better than expected, and on the ROG profile, the TridentZ RAM beats it by the slightest of margins. Lowering the timings helps some for this test, but not like the speed increase, which has this kit running in the six-minute range.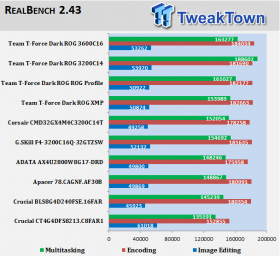 Using RealBench to test the T-Force Dark ROG memory, at 3000MHz encoding is better than others in its range, but image editing and multitasking are similar. The ROG profile adds help to multitasking, but loses a bit in the other two compared to a lower speed. Lowering the timings seems to be best for the most gains here, but raising speed has its advantages as well.
This set of T-Force Dark ROG DDR4 is striking to look at, and does this without a single LED to be had. Team has upped their game in the style department, and when it comes to headroom left on the ICs, Team does not let us down. Not only could we reduce timings with little effort, but there was also another 400MHz in speed to be had as well. Whether using the kit with the XMP 2.0 profile for 3000MHz or the ROG Certified profile at 3200MHz, Team can stay in the mix with other kits which have similar specifications, and that is all we want is a fair shake when it comes to buying DDR4 of any stated speed.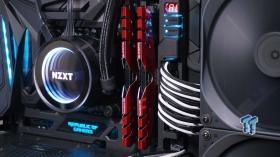 With our testing in mind, we were able to induce some inconsistencies in performance by lowering the timings, but otherwise, the 3000MHz and 3200MHz profiles performed where we expected them to, and both profiles ran without issue with just the selection of it in the BIOS. In all honesty, this is what most users want, and Team can provide just that. The T-Force Dark ROG DDR4 is not just available in gray or red, it delivers in performance as well as looks, yet at the same time has more to offer. Not everyone has the inclination to tinker with the memory in their systems, but for those that do, Team and their use of Samsung ICs allow for that possibility too.
While many DDR4 solutions tend to want to break the bank when it comes to buying them from retailers or online shops, this is not the case with the T-Force Dark ROG. Even adding in the ROG certification does not seem to affect the price point we saw at Newegg.com. It was there in which we found this memory to list for only $134.99, which is not only reasonable when all things are considered, it is downright a deal.
Chad's DDR4 Dual-Channel Test System Specifications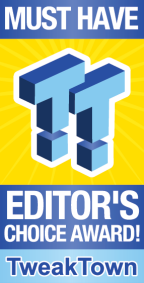 | | |
| --- | --- |
| Performance | 96% |
| Quality | 98% |
| Features | 93% |
| Value | 95% |
The Bottom Line: Reasonably priced, the Team T-Force Dark ROG DDR4 is stunning to look at and has the performance to back it all up! Most beneficial for ROG motherboard owners, but if you like to tinker, you can even surpass the ROG profile due to the quality of ICs used in this kit.
PRICING: You can find products similar to this one for sale below.

United States: Find other tech and computer products like this over at Amazon.com

United Kingdom: Find other tech and computer products like this over at Amazon.co.uk

Australia: Find other tech and computer products like this over at Amazon.com.au

Canada: Find other tech and computer products like this over at Amazon.ca

Deutschland: Finde andere Technik- und Computerprodukte wie dieses auf Amazon.de
We openly invite the companies who provide us with review samples / who are mentioned or discussed to express their opinion. If any company representative wishes to respond, we will publish the response here. Please contact us if you wish to respond.