MSI X370 SLI PLUS Gaming Motherboard Review
MSI's X370 SLI PLUS Gaming motherboard is the next Socket AM4 board to get tested. If you're keen on an affordable Ryzen AM4 SLI rig, take a look.
Published
9 minute read time
TweakTown's Rating: 90%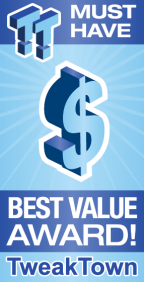 The Bottom Line
MSI's X370 SLI PLUS delivers SLI support and the latest AMD features at a very attractive price.
Introduction, Specifications, and Pricing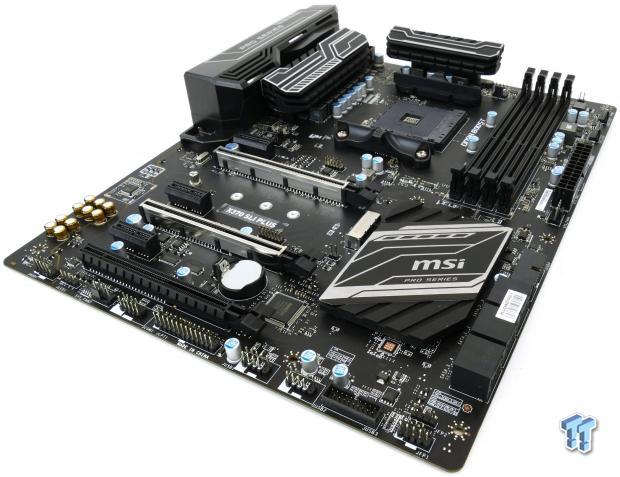 We are back with more X370 motherboard reviews, and today I will do a deep dive into one of MSI's most popular X370 motherboards, the X370 SLI PLUS. One of the benefits the X370 chipset provides over its lower-tiered offspring is SLI and CrossFireX support, and MSI decided to highlight the feature in the name of this motherboard. The motherboard also offers a slew of other features, such as USB 3.1, a 32Gb/s M.2 slot, and RGB LED support to name a few.
MSI's X370 SLI PLUS is not a very pricey motherboard, and that is what makes it attractive for those looking for high-end AMD features at a much more affordable price bracket. MSI is known for their powerful gaming GPUs and motherboards, and while the X370 SLI PLUS isn't the best they have to offer for your Ryzen CPU, it should stand tall in comparison to other X370 motherboards.
So, let's take a look!
Specifications

The X370 SLI PLUS Gaming features 32Gb/s M.2, USB 3.1, USB 3.0, SATA6Gb/s, SLI support, and even some legacy features such as an LPT header.
Pricing
The X370 SLI PLUS Gaming costs $139.99.
Packaging and X370 SLI PLUS Overview
Packaging and Overview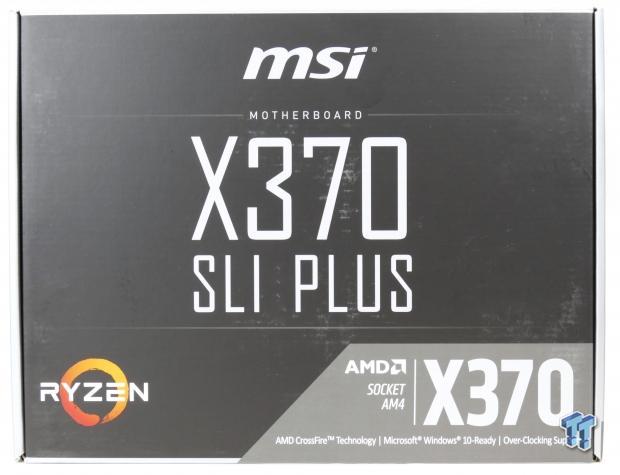 The motherboard's box is quite simple, just like the motherboard itself. Packaging is decent and should ensure your motherboard arrives unharmed.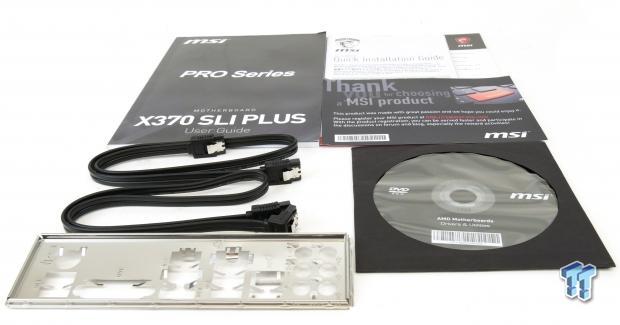 The accessory package includes two SATA6Gb/s cables, IO shield, manuals, and driver DVD.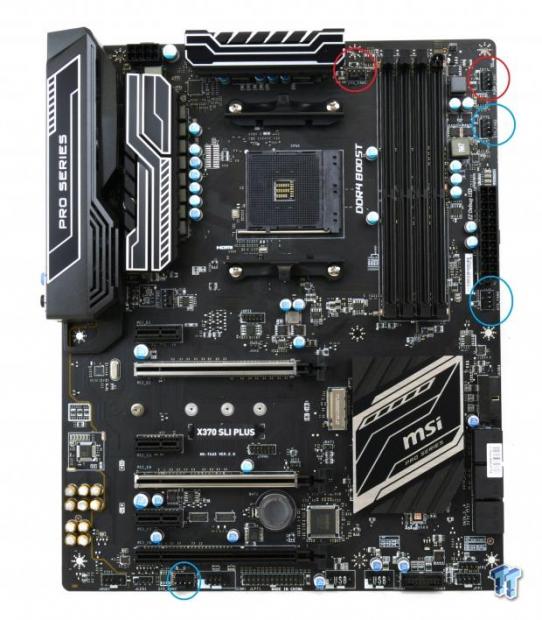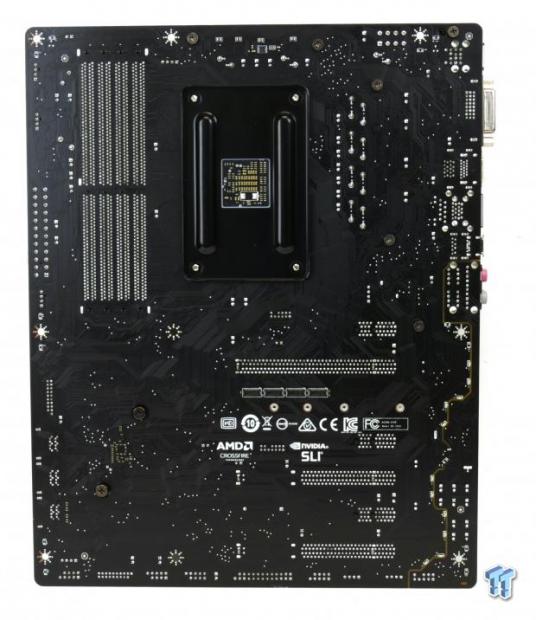 MSI offers five fan headers, all of which can work in either DC or PWM mode. However, the two headers circled in red are in PWM mode by default, while the three circled in blue are in DC mode by default. If you plug in a DC mode fan into a PWM mode header, it will run 100%, so you will need to go into the UEFI and correctly tune it.
The X370 SLI PLUS is part of MSI's Pro Series of motherboards, and as such takes a no-nonsense approach to aesthetic design. There are very limited onboard LEDs, just some that illuminate the audio sections physical isolation. There is a single RGB LED header on the board and no OC features. The black and white color theme is a very popular one and is one reason this motherboard is so popular. The back of the PCB is bare of components, except for four quick switches and a driver for the SOC voltage plane for the CPU.

The rear IO panel features PS/2 Keyboard/Mouse, two USB 2.0 ports, four USB 3.0 ports, HDMI, DVI, Gbit LAN, USB 3.1 type-A, USB 3.1 type-C, and 7.1 audio outputs.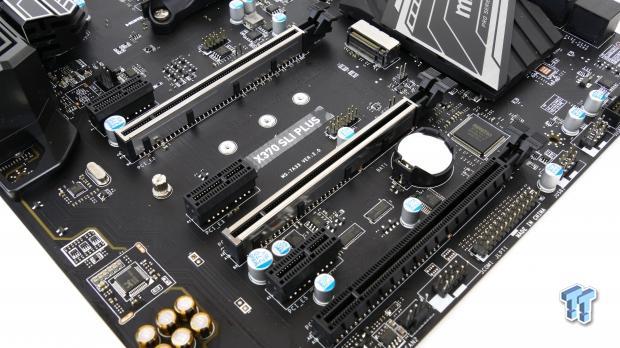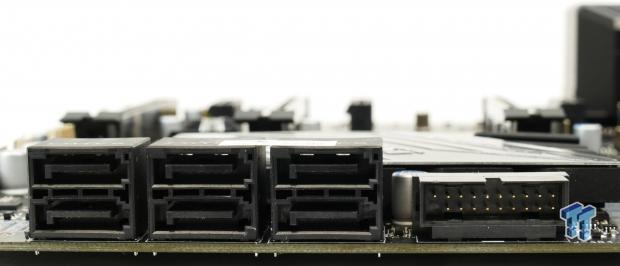 The PCI-E layout is straightforward; the first and second PCI-E x16 slots operate at x16/x0 or x8/x8. The last slot is wired to the X370 chipset but shares x4 PCI-E 2.0 bandwidth with the three PCI-E 2.0 x1 slots. Six SATA6Gb/s ports are right angled and to their right is a right angled USB 3.0 internal header.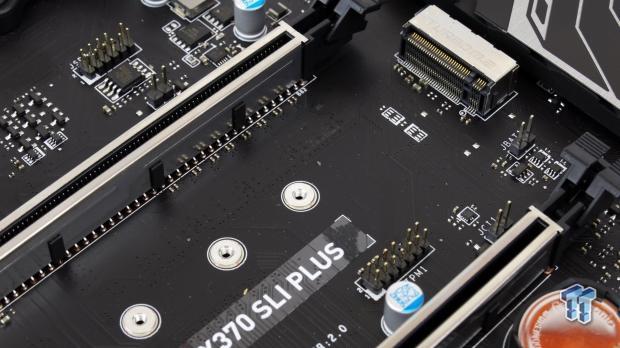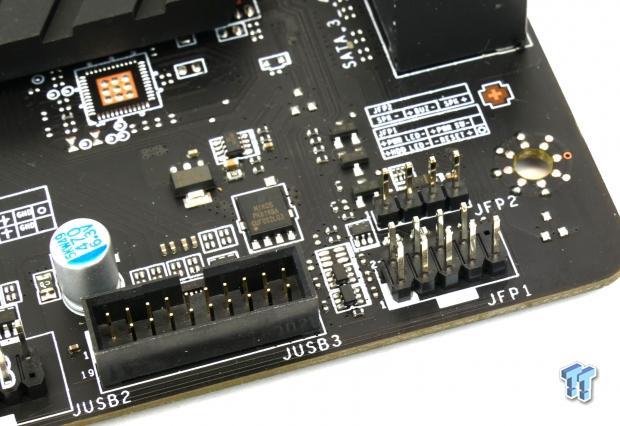 A single 32Gb/s M.2 slot is located between the first and second PCI-E x16 slots. In the lower right corner of the motherboard is a second USB 3.0 internal header, and to its right are your front panel case headers.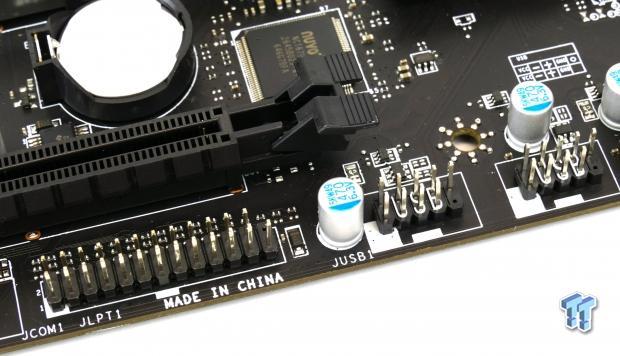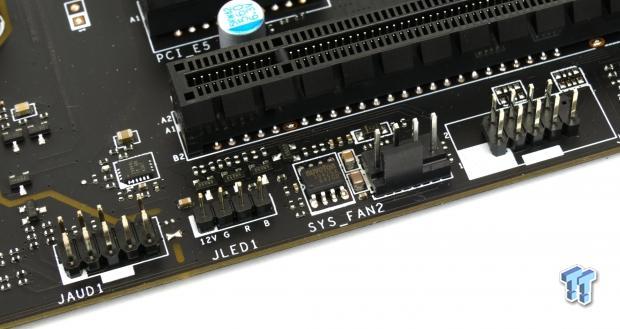 The motherboard offers two USB 2.0 internal headers to the left of an LPT port header. The motherboard features a single RGB LED strip header next to a COM port header and your HD audio header.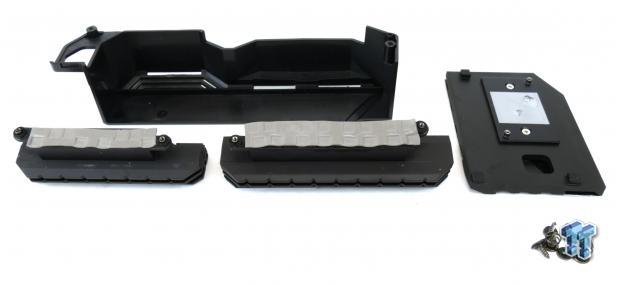 Surprisingly, the heat sinks and shields are screwed onto the motherboard.
MSI X370 SLI PLUS Circuit Analysis
Circuit Analysis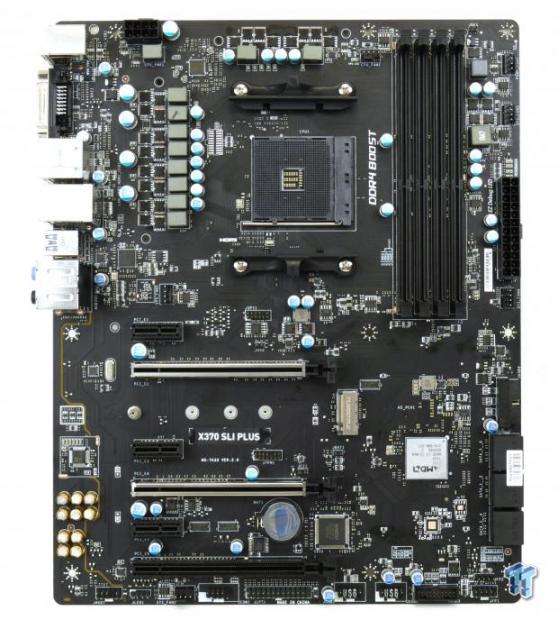 The X370 SLI PLUS reveals its secrets when the heat sinks and shield come off.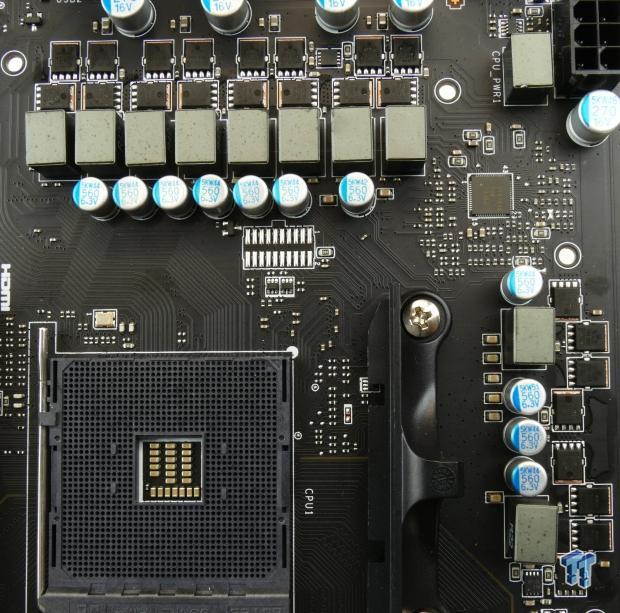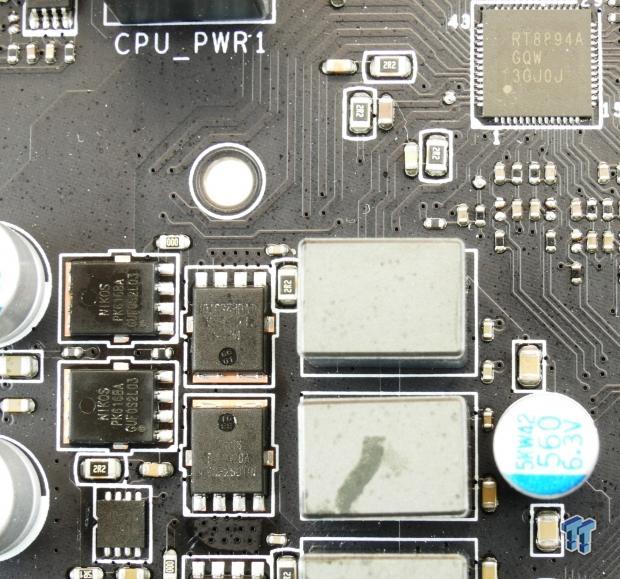 The VRM is in an 8+2 phase configuration for the core and SOC power rails. The PWM controller is a 4+2 phase one from Richtek, the RT8894A. It offers three integrated drivers on the four phase channel, but none on the SOC channel. A Richtek RT9624F complements the three integrated one from the PWM, and two more RT9624F drivers are found driving the SOC rail.
To get eight phases from the four the PWM outputs, MSI just doubled the number of power stages components on each driver. Nikos PK616BA and PK632BA PowerPAK MOSFETs are used as the high-side and low-side MOSFETs. The capacitors are rated for 5K hours at 105C.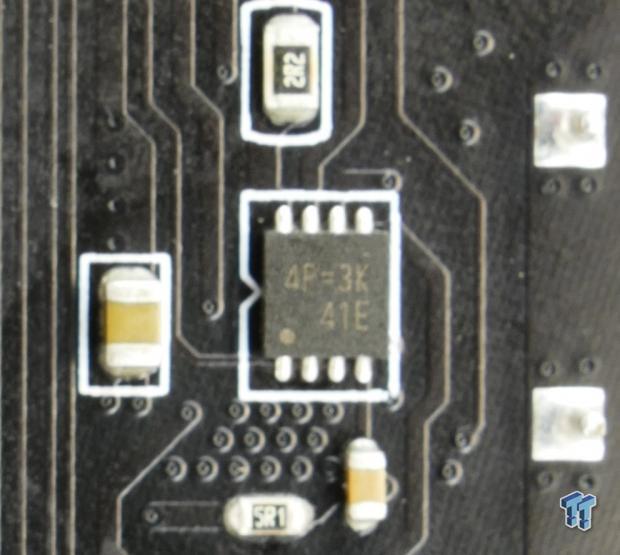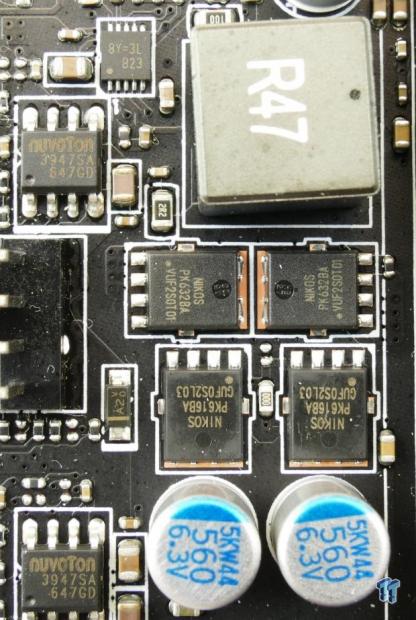 One of the Richtek RT9624F is on the back of the PCB behind the SOC rail power stages. A Richtek RT8125E single-phase PWM/driver IC controls the memory VRM. The memory VRM is a single phase with double the number of NIKOS MOSFETs.
MSI X370 SLI PLUS Gaming Circuit Analysis Continued
X370 SLI PLUS Gaming Circuit Analysis Continued

The audio codec is a Realtek ALC892. It's complemented by eight Nichicon Gold series capacitors, and the PCB section of the audio is physically isolated from the rest of the motherboard.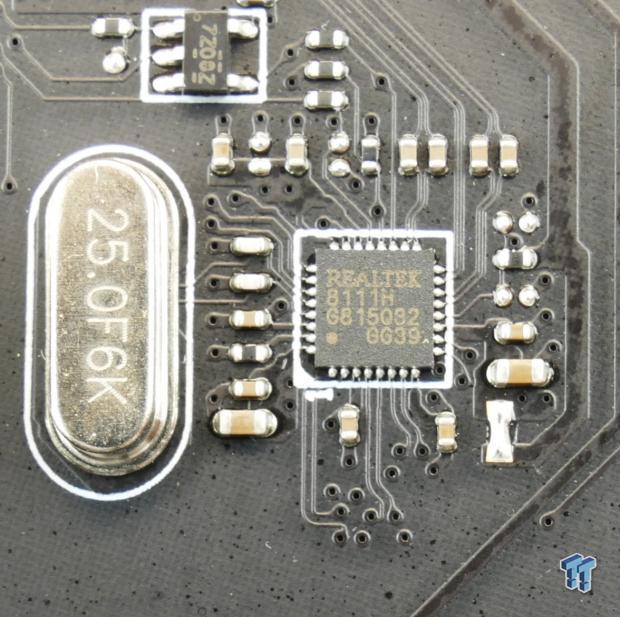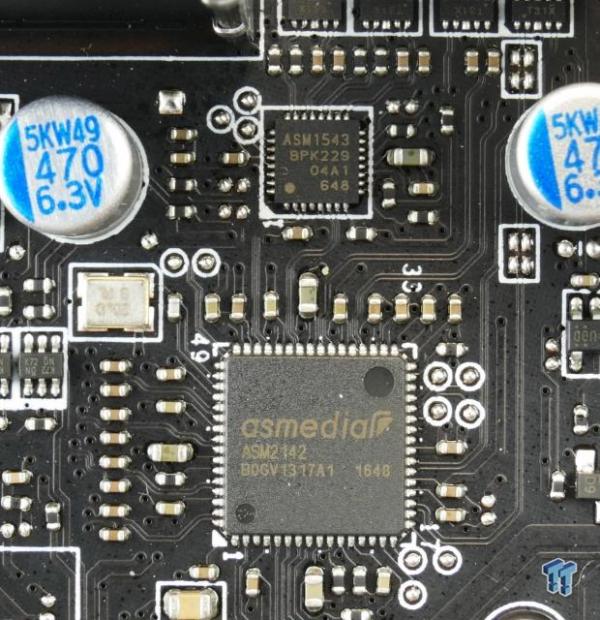 A Realtek RTL88111H is the NIC that provides Gbit LAN on the motherboard. Surprisingly MSI didn't use AMD's integrated USB 3.1 for the rear USB 3.1 ports but instead used an ASMedia ASM2142 USB 3.1 controller along with an ASM1543 type-C controller. MSI routed the provided USB 3.1 in the chipset to a USB 3.0 internal header.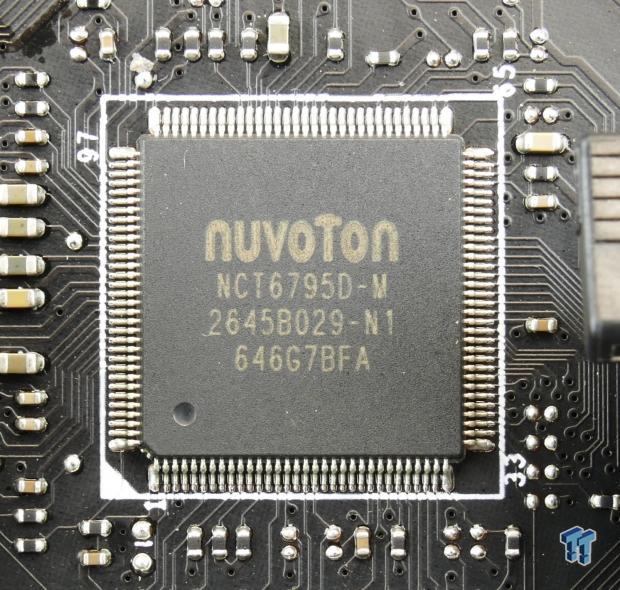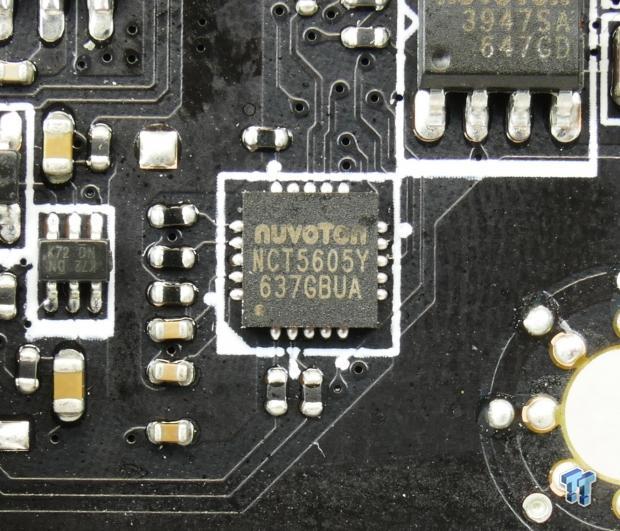 The nuvoTon NCT6795D is the main SuperIO on the motherboard, it controls some of the fans and offers the PS/2 port on the rear IO. A nuvoTon NCT5605 is a secondary EC, and I believe it helps expand fan control and provides some other features.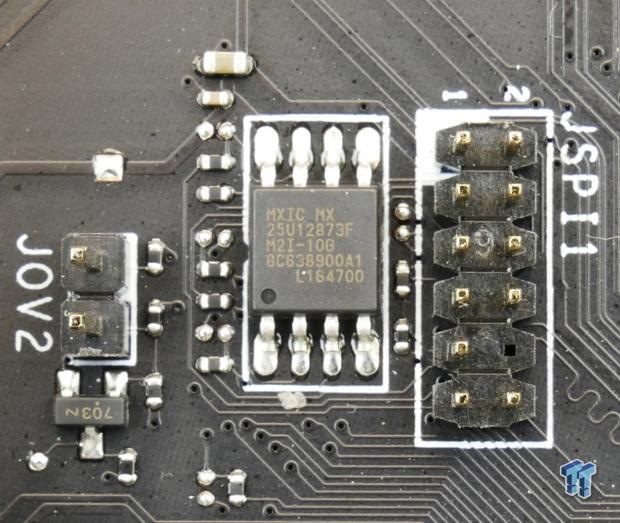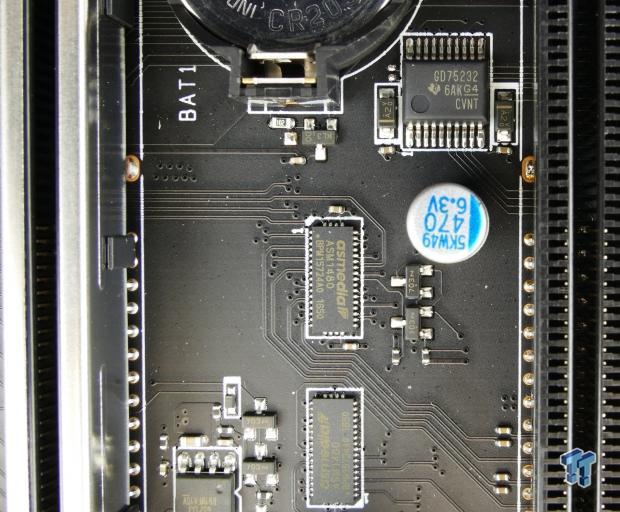 A single 128Mbit/16MB BIOS ROM is used. A Texas Instruments GD75232 driver and receiver chip is used to provide the COM port functionality. Multiple ASMedia ASM1480s are used to switch around PCI-E bandwidth.
BIOS and Software
BIOS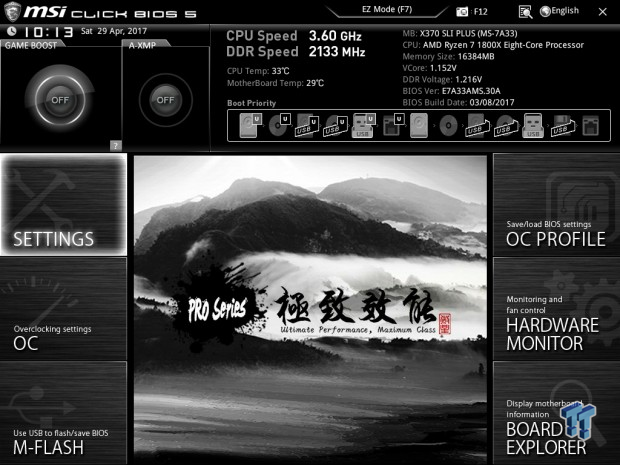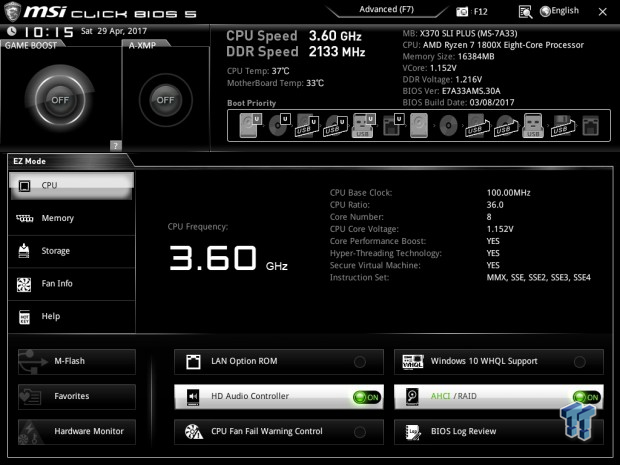 MSI's UEFI for the X370 SLI PLUS Gaming features a white and black color theme and a layout similar to that of their other X370 motherboards. The UEFI has two operation modes; Advanced and EZ Mode. The EZ Mode is quite basic, but it is also less intimidating for those who have never used a UEFI. Overclocking is straight forward as is configuring boot options and the like. I like MSI's simple and straightforward fan control GUI; it offers a large full-screen graph with settings to the side.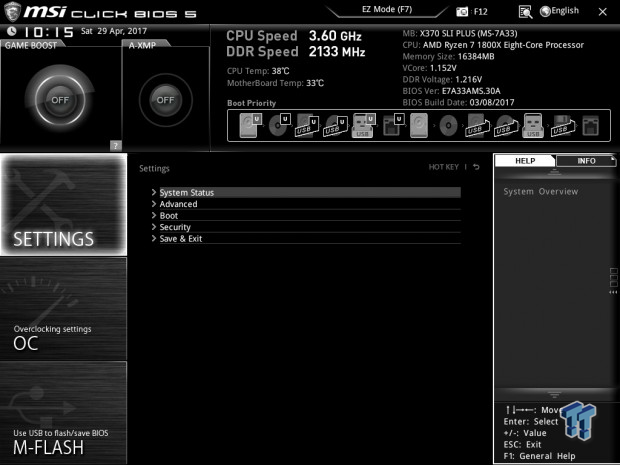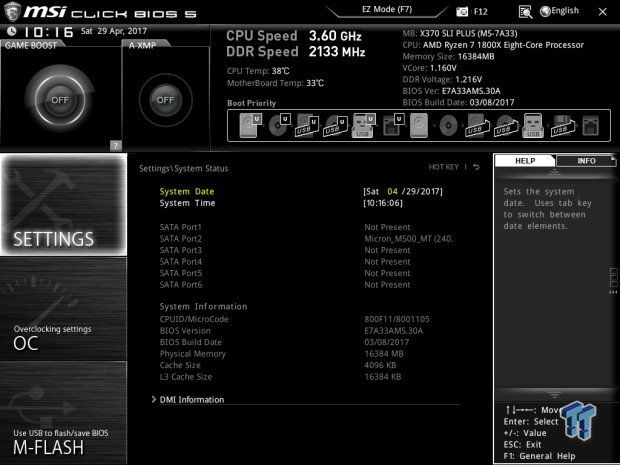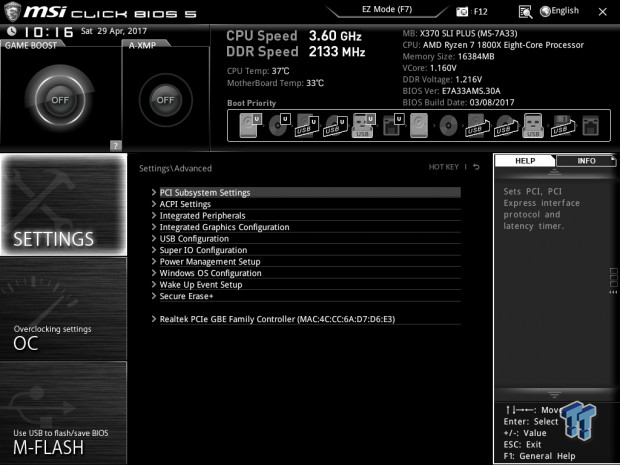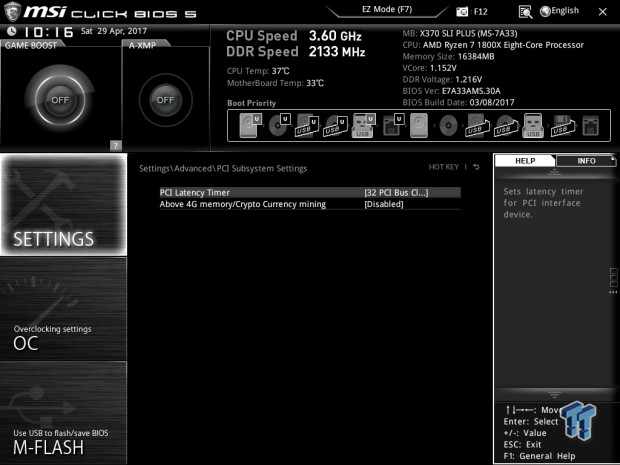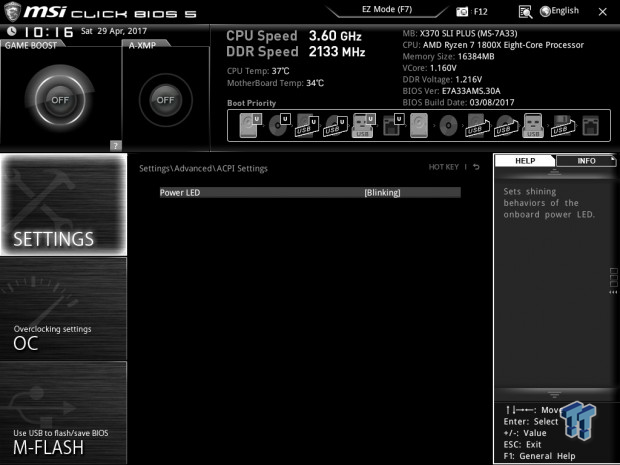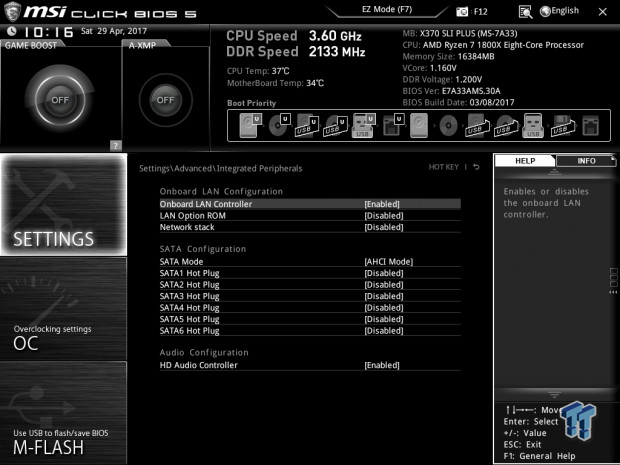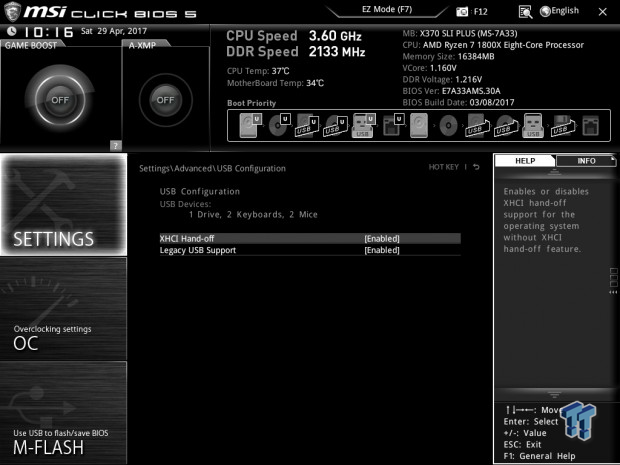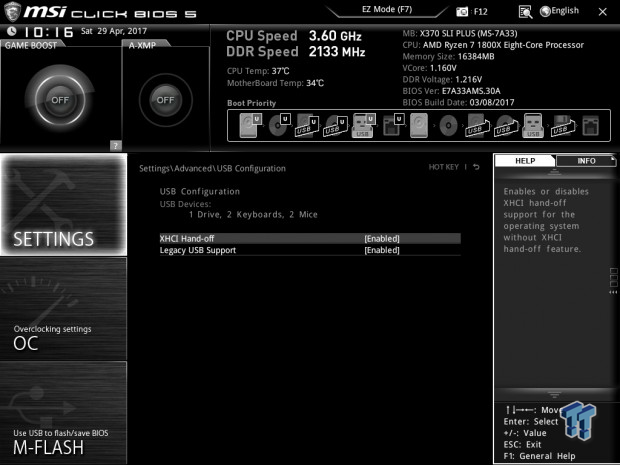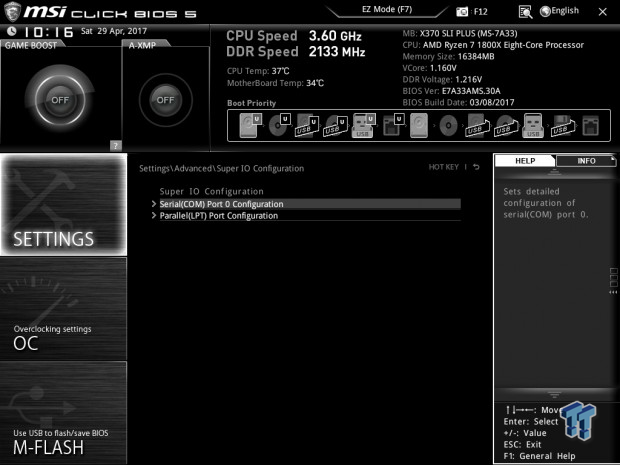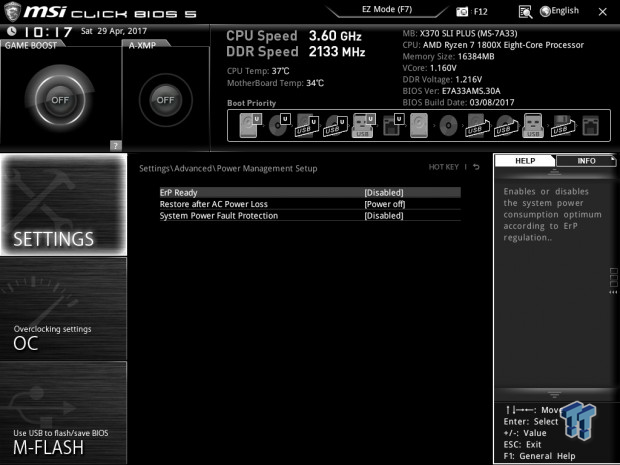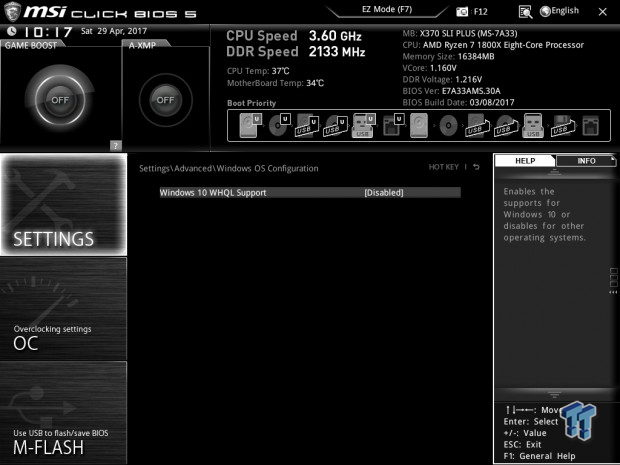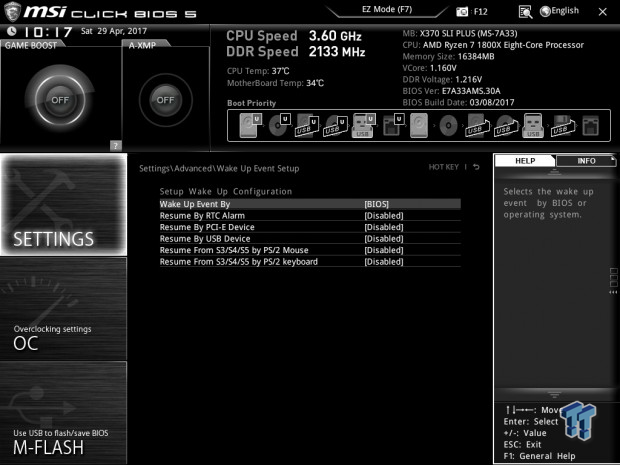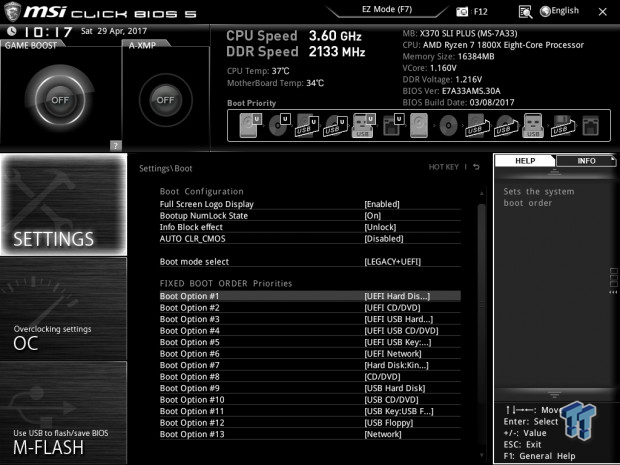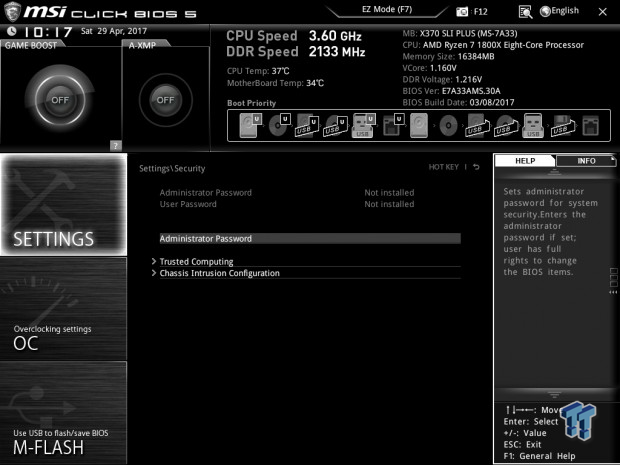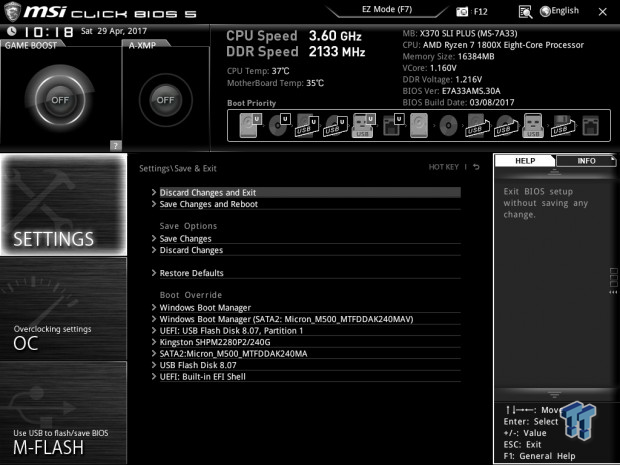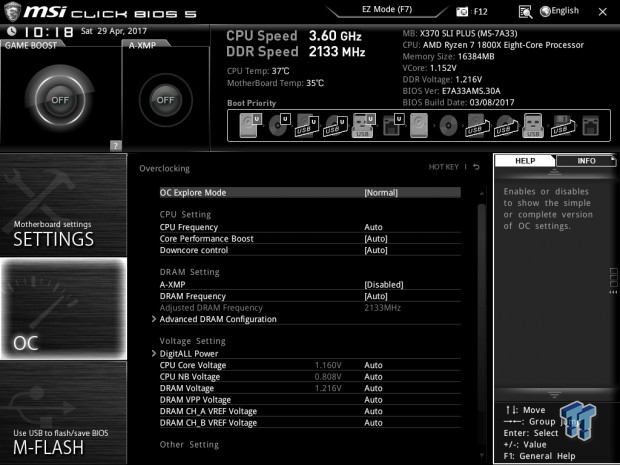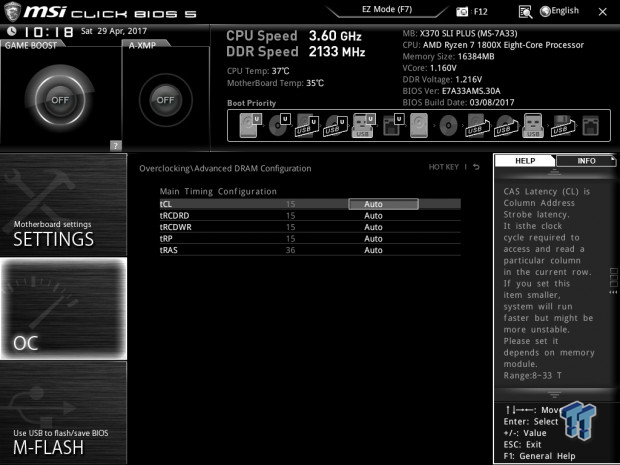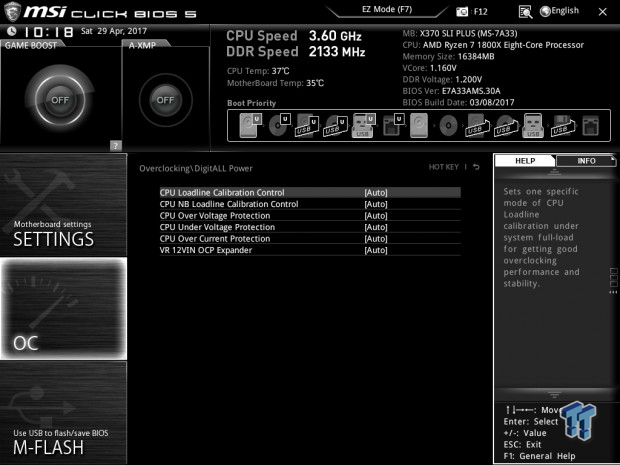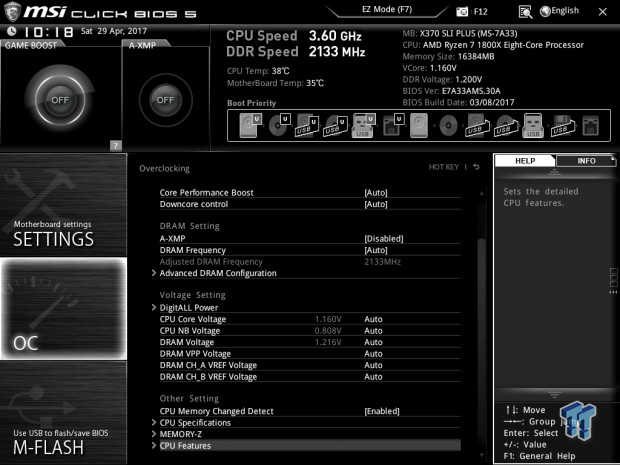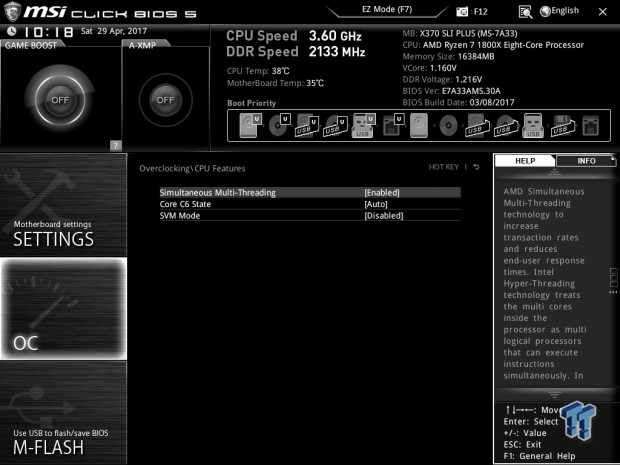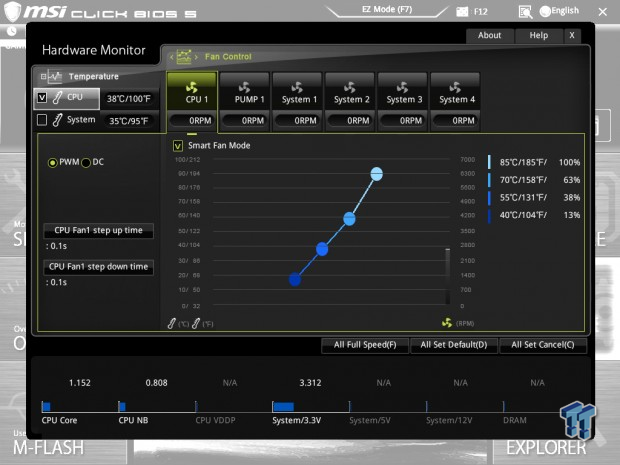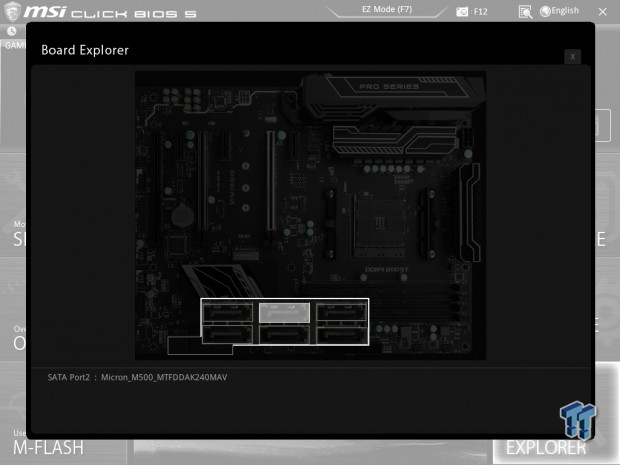 Software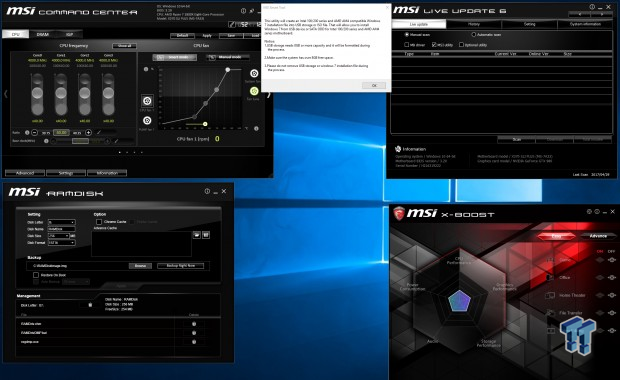 MSI's software suite includes MSI Command Center, X-Boost, Smart Tool (for making Win 7 work), Live Update 6, and RAMDISK.
Test System Setup
Steven's Motherboard Test System Specifications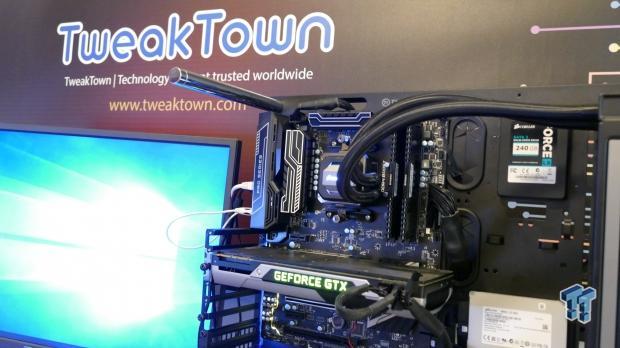 The X370 SLI PLUS's aesthetics are very basic, and it doesn't light up like most other motherboards.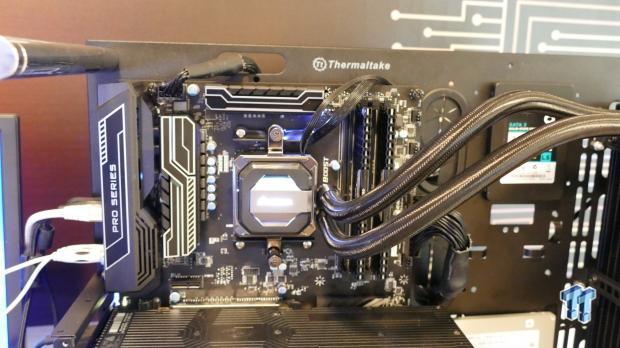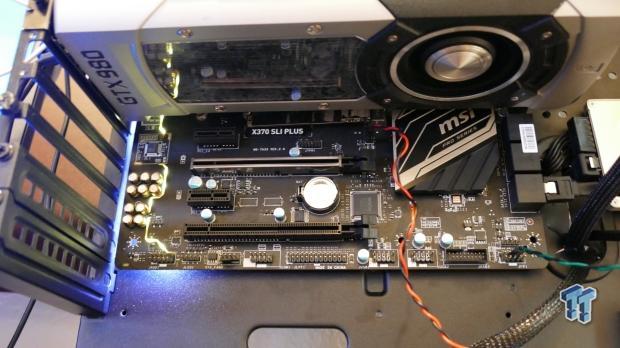 There are white LEDs on the back of the motherboard near the audio divide, so the line of division lights up when the motherboard is turned on. Inside a case, the motherboard will fade into the dark.
Overclocking
Overclocking Results
CPU Overclocking
AMD's Ryzen platform is quite new; AMD and its partners are working very hard on fixing issues and getting things to work across the board. The CPU also doesn't validate that much higher than its maximum stable frequency. Memory overclocking is topped at 3200MHz on most motherboards, and bus adjustment is also very tricky. Don't get me wrong, the CPU can overclock, mine does 4.0GHz, and the best I can get a kit is to 3000MHz. I will go through and tell you exactly what I did to achieve my maximum stable overclock, and as AMD's ecosystem of compatible memory kits becomes larger, I will add in a memory compatibility section.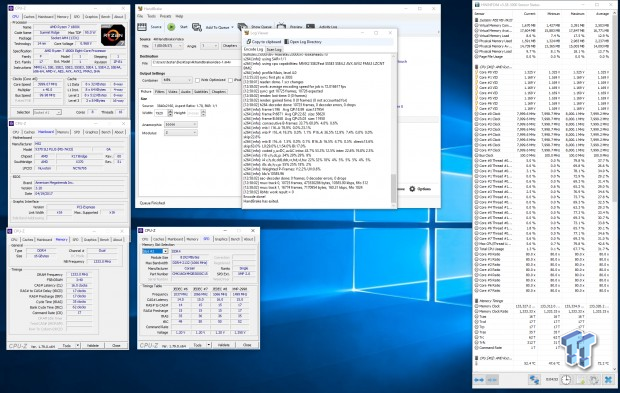 The X370 SLI PLUS overclocks the CPU fairly easily; it almost seems like AMD has taken total control over overclocking implementation. On every single motherboard I have reviewed I can get to my maximum overclock, the same auto voltage is applied (1.35v), and depending on the VRM and LLC the system is stable, but maximum temperatures vary. The X370 SLI PLUS took my CPU to 4GHz easily, but memory overclocking was not so straightforward. I think that might not be MSI's problem but rather changes made in AEGIS code update, I wasn't able to get my kit to 2933MHz; instead, I was limited to 2666MHz.
CPU, Memory, and System Benchmarks
CINEBENCH R15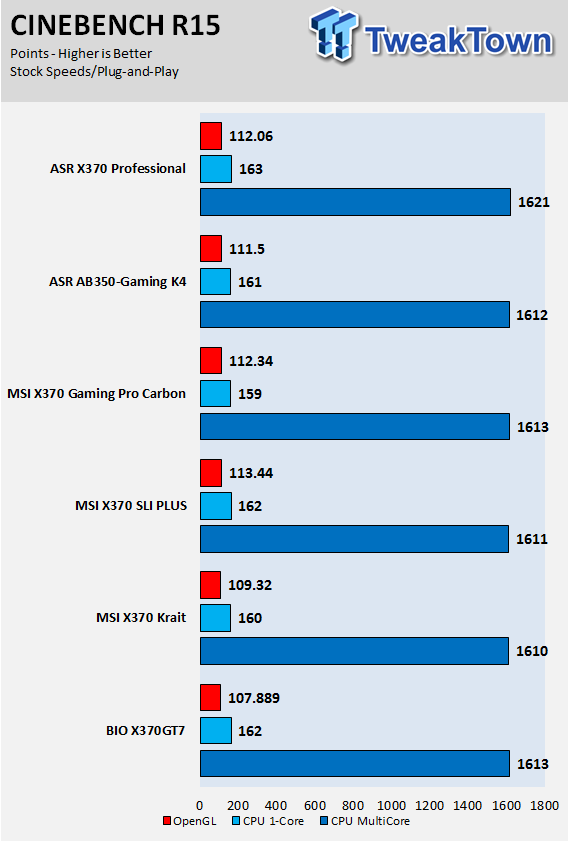 wPrime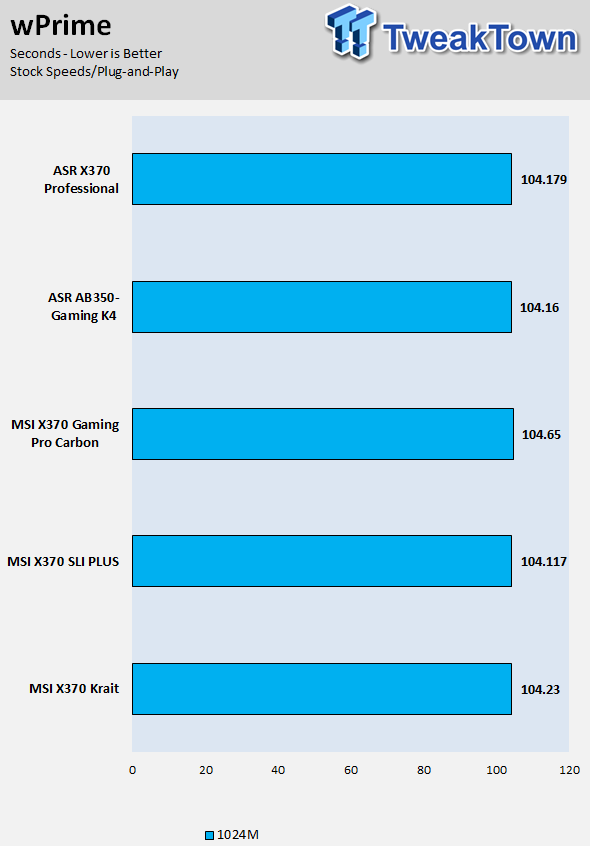 AIDA64 FPU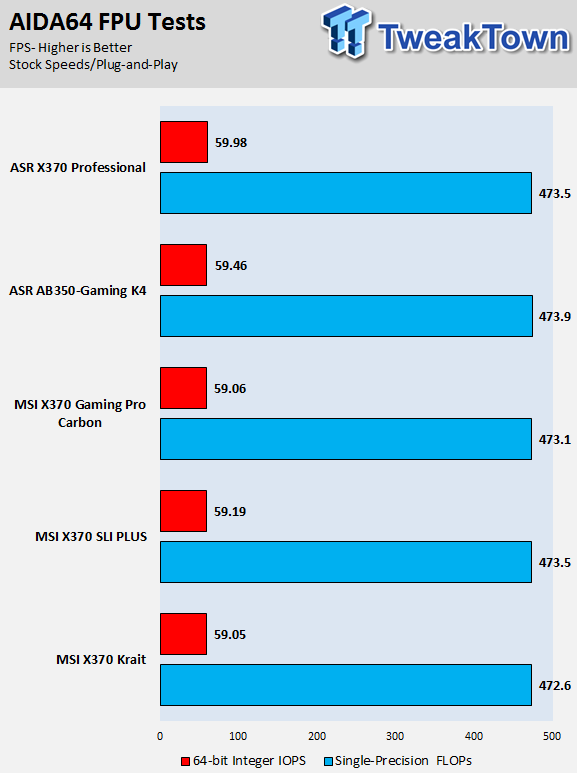 AIDA64 Memory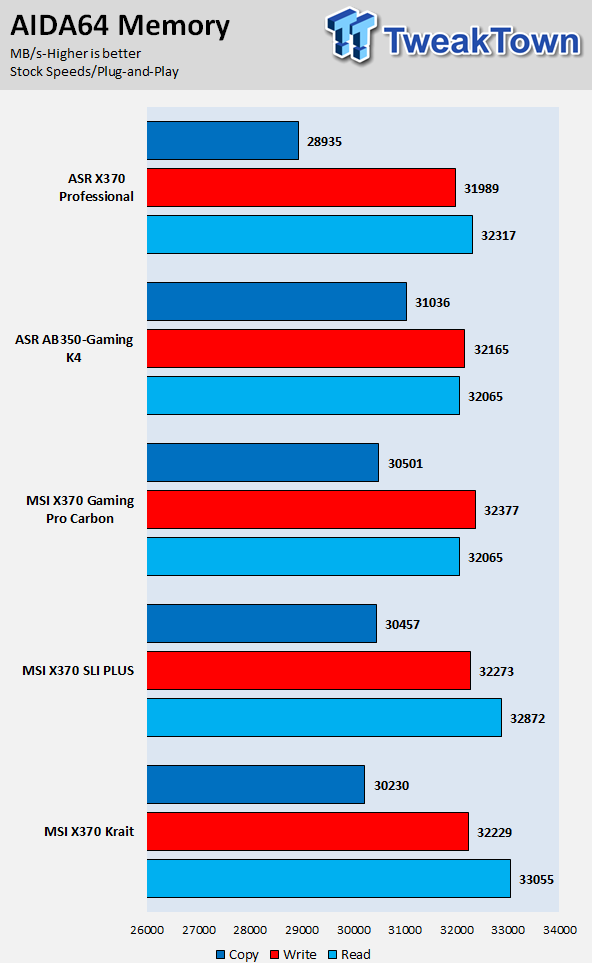 ScienceMark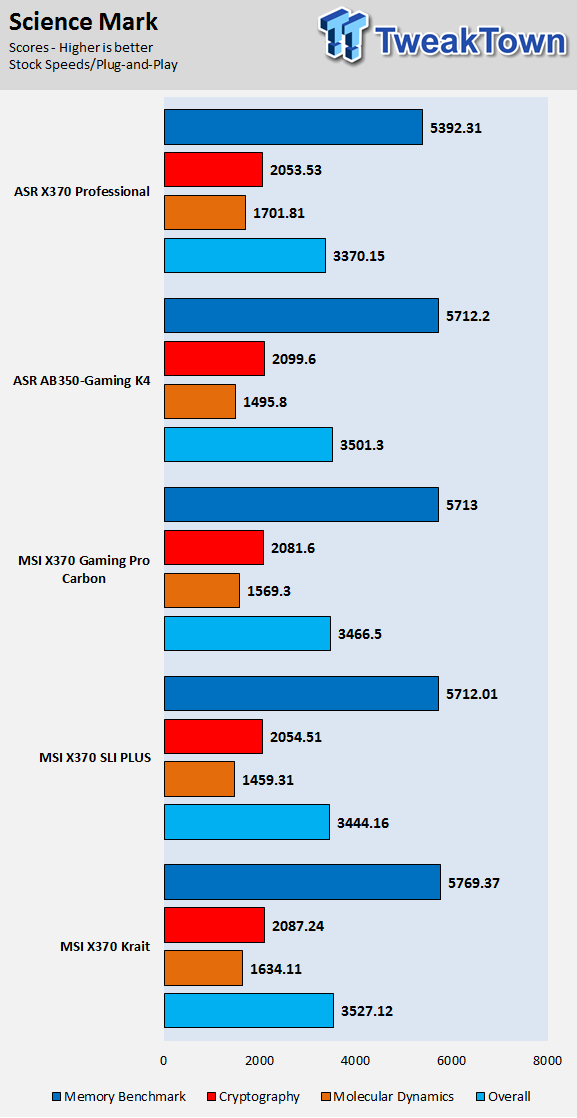 HandBrake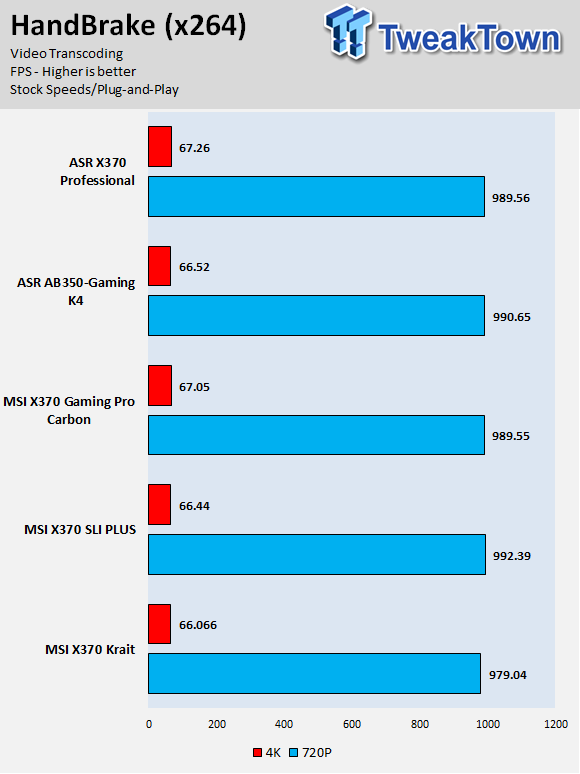 SuperPi 32M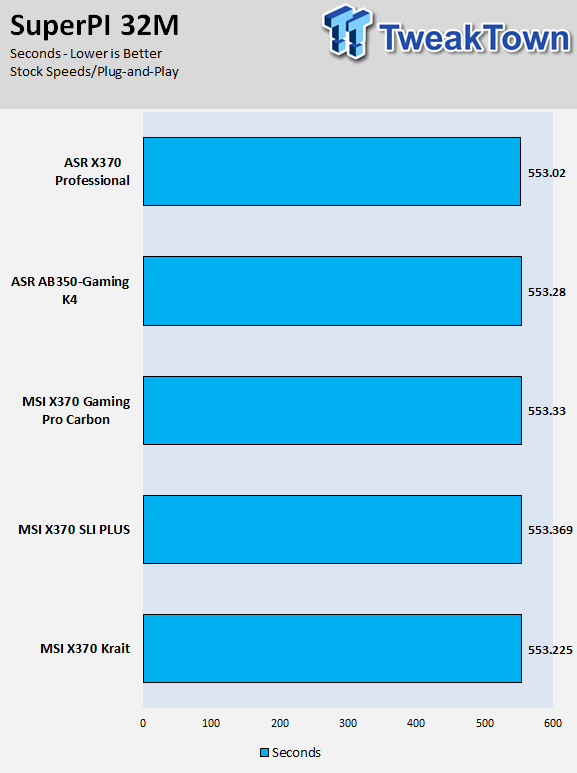 3DMark: Fire Strike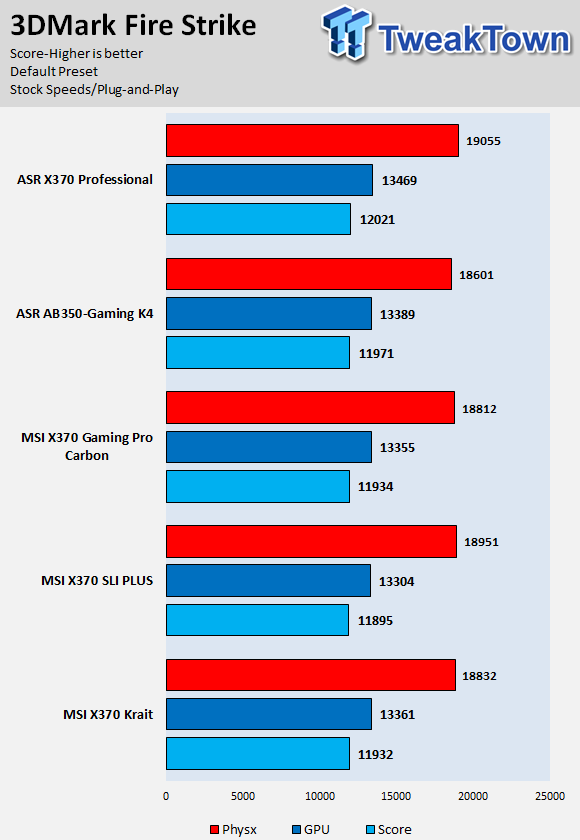 3DMark: Cloud Gate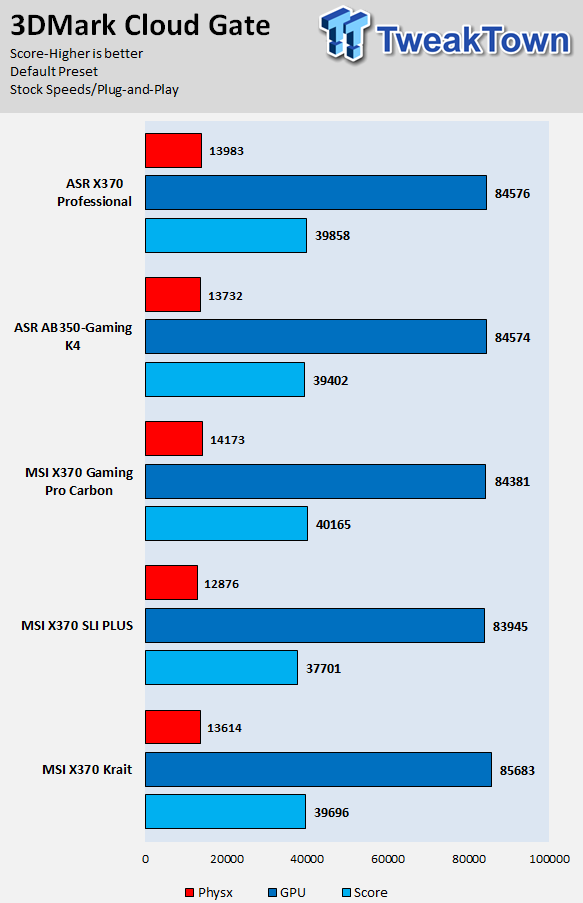 ResidentEvil 6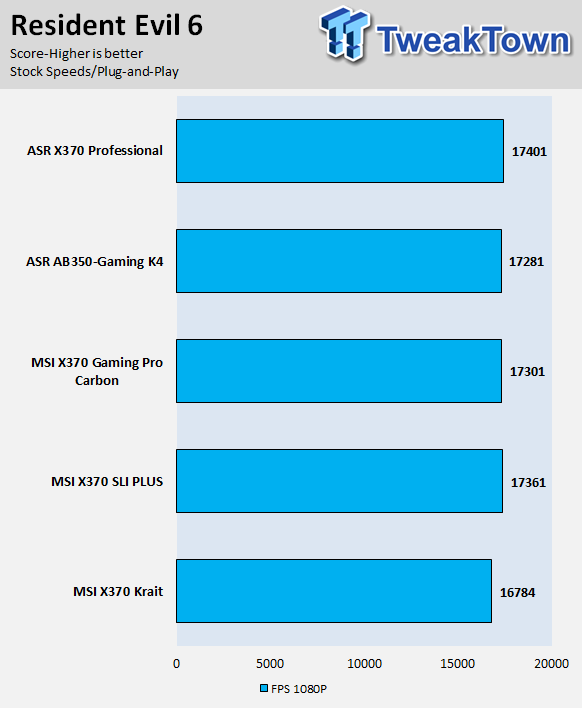 The X370 SLI PLUS and the three boards above it in the charts are using the latest AEGIS code, and we can see the performance increases in different areas compared to the motherboards below the X370 SLI PLUS. The motherboard's overall performance is where it should be, and since system performance is ultimately derived from the BIOS updates, we can deduce that it will only get better as AMD and MSI work together to tune it.
System IO Benchmarks
CrystalDiskMark SATA6G: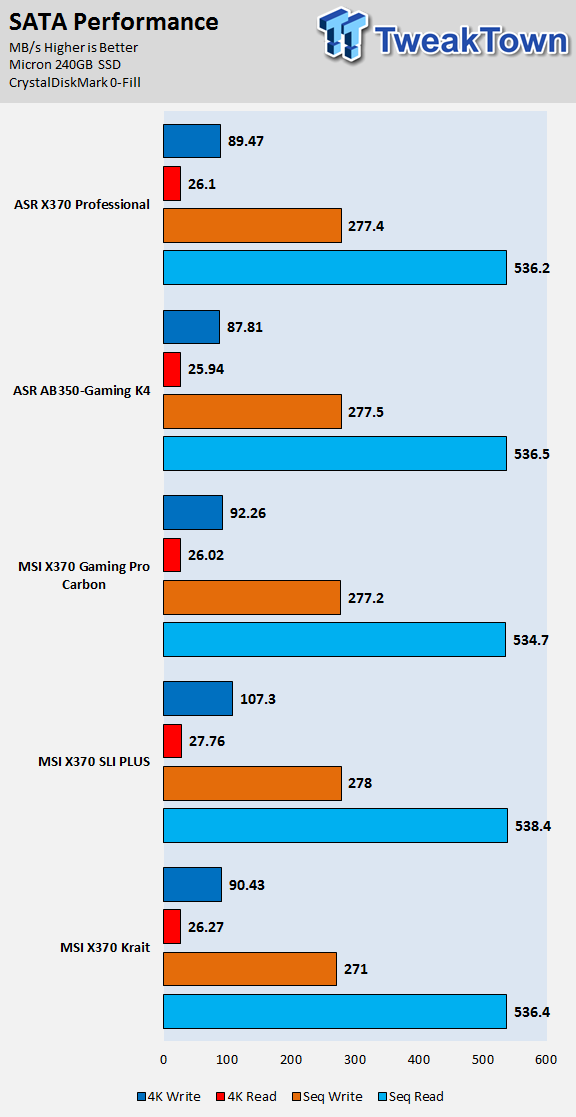 CrystalDiskMark M.2: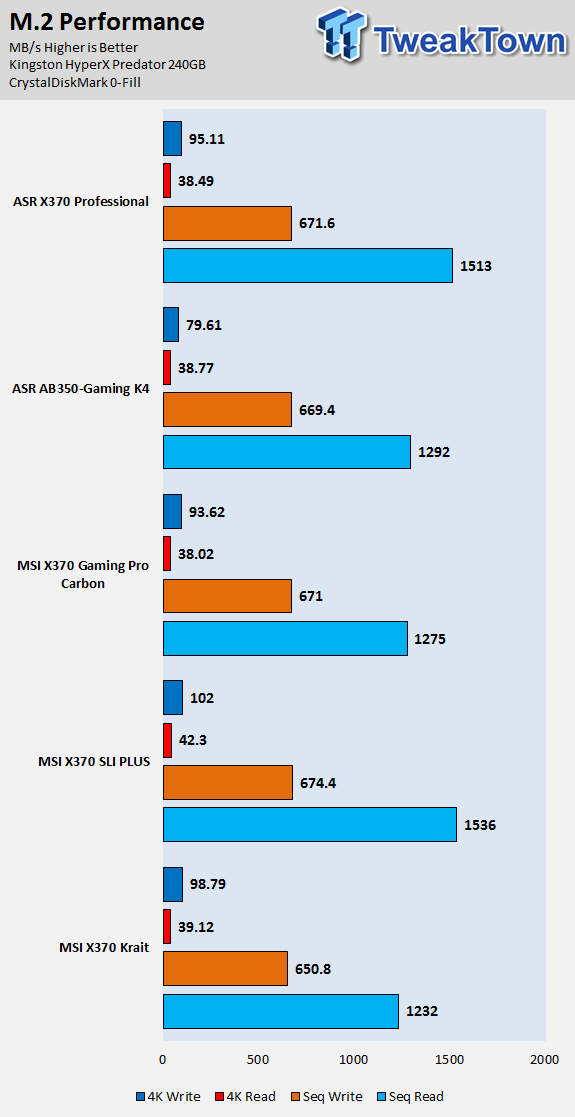 ixChariot Network Throughput: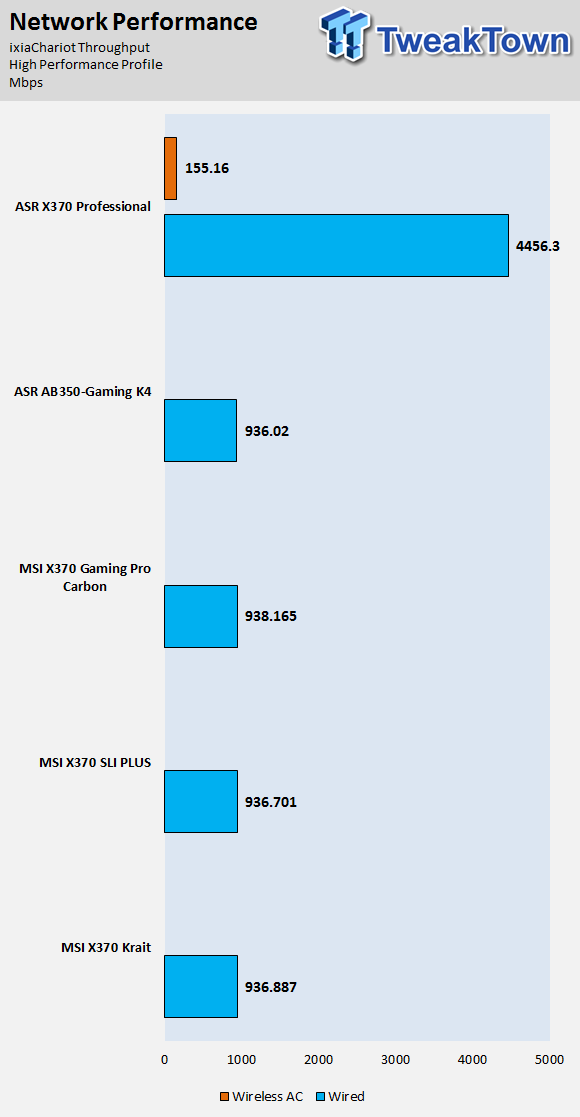 The X370 SLI PLUS has excellent M.2 and SATA performance, but network performance isn't as good as some of the other systems. For some reason with this new platform I see one of two NICs; the Intel i211AT or the Realtek RTL8111E, and oddly enough I haven't seen a motherboard with a Killer NIC. Realtek's solution, who cost effective, isn't as good as Intel's, but the difference will only really be seen in benchmarks.
Audio RMAA 5.5:
I disable all audio features, set the correct bitrates, and then test the audio with a loopback test.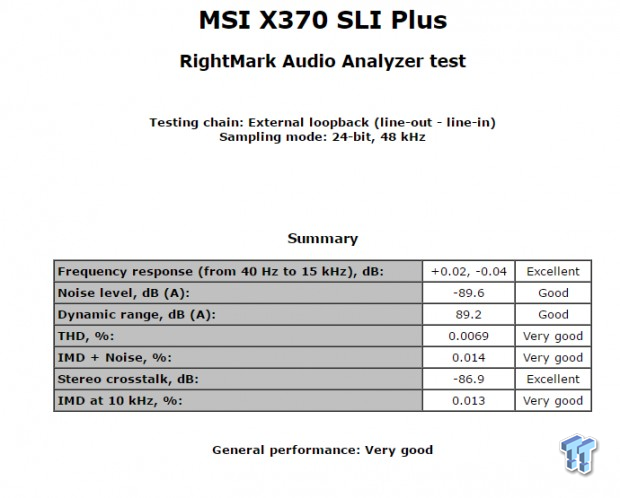 Sound Judgment by Ear: Acceptable. MSI's audio solution is designed to bring motherboard cost down a bit; it's what you would expect from onboard audio in the traditional sense. There are five ratings for audio: 1. Problems, 2. Okay, 3. Acceptable, 4. Very good, 5. Excellent
Thermal Imaging and Power Consumption
System power is measured at the wall with an AC power meter.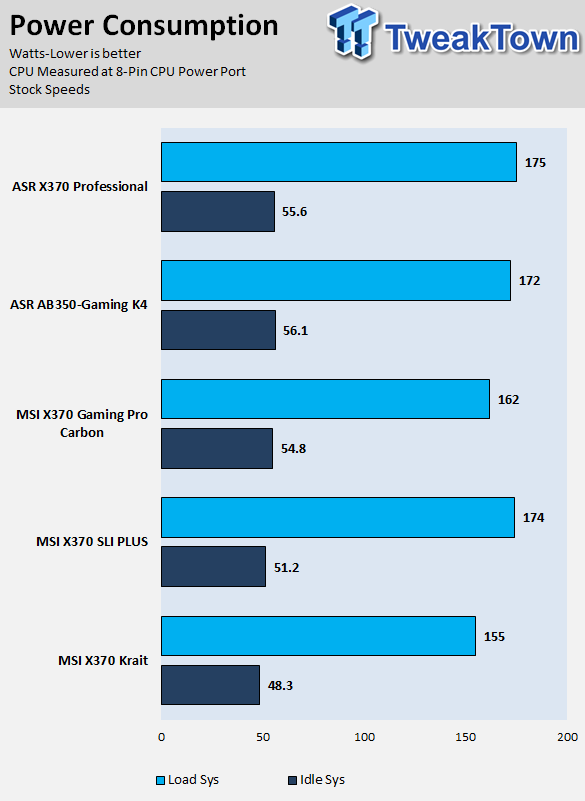 Note on Thermal Images: In the temperature section, we use our Seek thermal imaging camera to capture the surface temperatures of major components on the board. I look at the VRM and then all other things that light up the screen. If there is something to worry about, then I will state it. Otherwise, I will just show the hotter running parts of the board for fun. Unless some component is over 80-90C, then there isn't anything to worry about.
All systems will act differently, so I will look for commonalities, such as how far from the VRM the heat spreads through the PCB and the difference in temperature between the front side and backside of the PCB. Keep in mind, the majority of the heat from the VRM goes into the PCB as it is a giant soldered on copper heat sink. A larger difference in temperature between the back and front of the PCB points towards a more effective heat sink.
Thermal Testing at Stock Speeds:
The image on the left is always at idle, and the image on the right is at load. During ALL TESTS, fans above the VRM that cool the CPU cooler's (Corsair H110i) radiator are turned on to high (12v).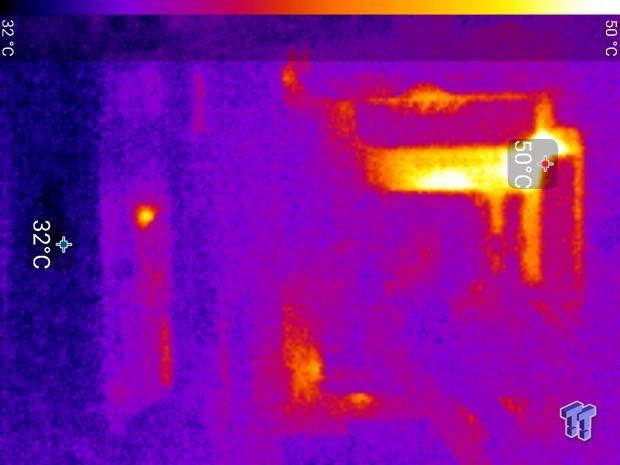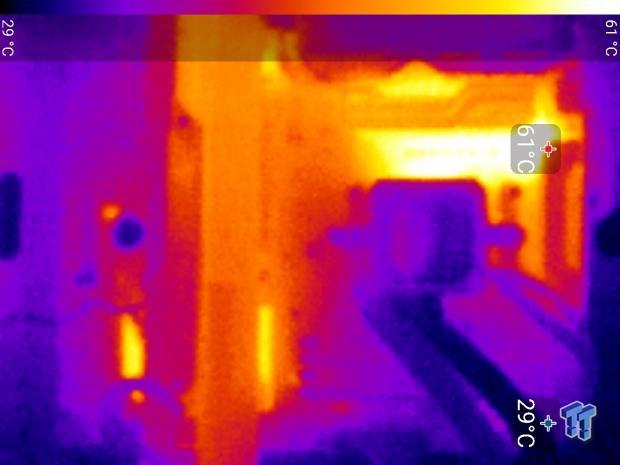 Full frontal.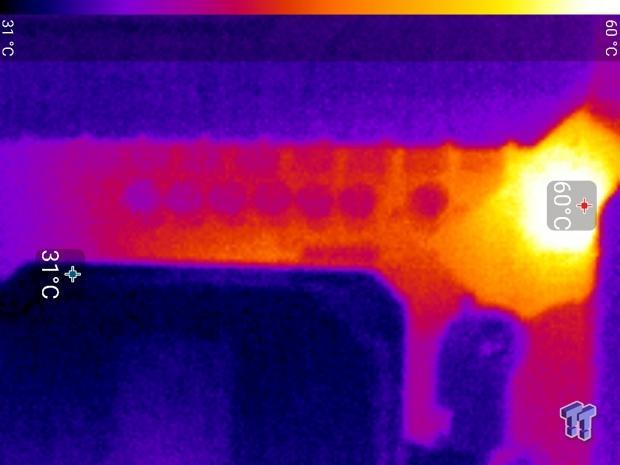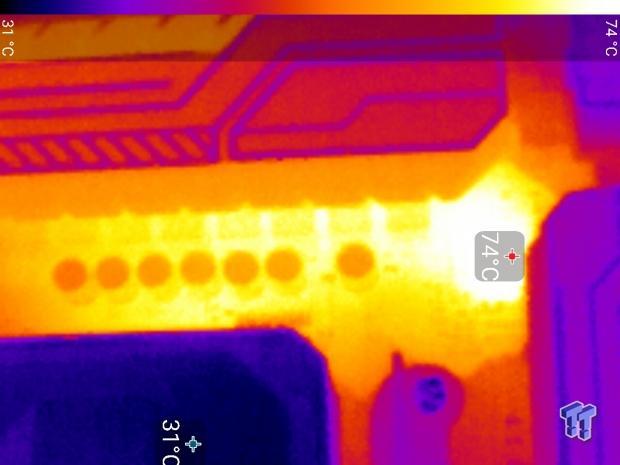 Up-close of the front of the VRM.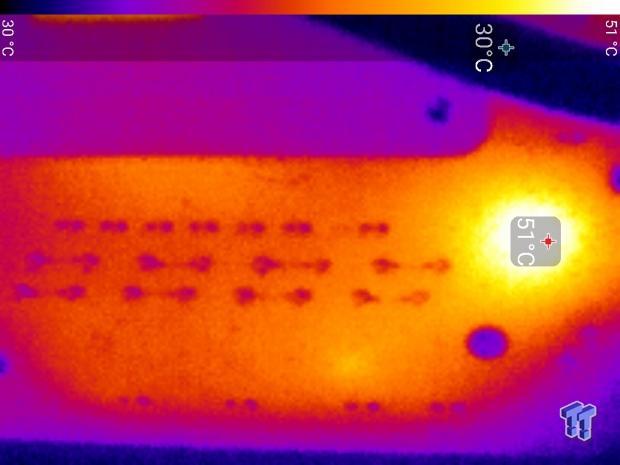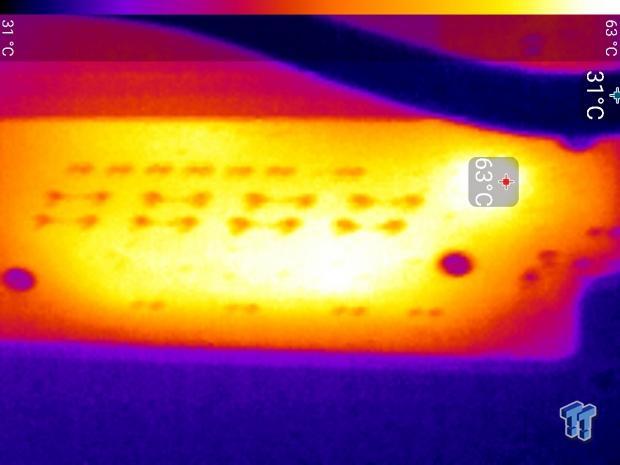 Up-close of the back of the VRM.
The X370 SLI PLUS doesn't have the strongest VRM, it is basic compared to other motherboards, but average compared to other motherboards in this price range. At this sub $150 price bracket, we cannot expect anything too fancy. The PWM controller heats up even at stock, and at load, it does get hotter. I was surprised the VRM held up, and at 4GHz it was okay and didn't throttle the CPU.
Anything under 60C is great, 60-80C is acceptable, and anything above 80C is a bit worrisome (if at stock).
What's Hot, What's Not & Final Thoughts
Here are key points about the MSI X370 SLI PLUS Gaming.
What's Hot
Extreme Affordability: At $139.99 the X370 SLI PLUS is the least expensive X370 motherboard I have reviewed, and priced aggressively for an X370 motherboard. Most people assume that AMD costs less than Intel, but with the X370 chipset, chipset cost is in line with Intel, and not much less expensive for vendors. The motherboard offers a slew of the latest features, and even RGB LED support that you might not get on the Intel side at this price point.
All Black Color Theme: Many people have asked for and demanded all black motherboards that would just sink into the background of their build and not clash with the rest of their components regarding color. The X370 SLI PLUS is one of MSI's answers to these demands.
USB 3.1 and Dual Internal USB 3.0: We don't always find two internal USB 3.0 headers on X370 motherboards, but the X370 SLI PLUS is one exception. MSI also decided to use ASMedia's more expensive USB 3.1 implementation rather than AMD's built-in feature, whether it be for performance or to free up more USB for an extra internal header.
What's Not
Average Components: You don't usually find an Intel NIC, the latest VRM components, and high-end audio hardware on sub $150 motherboards, and the X370 SLI PLUS is no exception.
Final Thoughts
The MSI X370 SLI PLUS is one of MSI's most popular X370 motherboards, and that might be because of its price and simple aesthetics. For what it's worth, the motherboard does perform adequately, even when overclocked. It does get a bit warm in the VRM area, but we did not have any problems with throttling.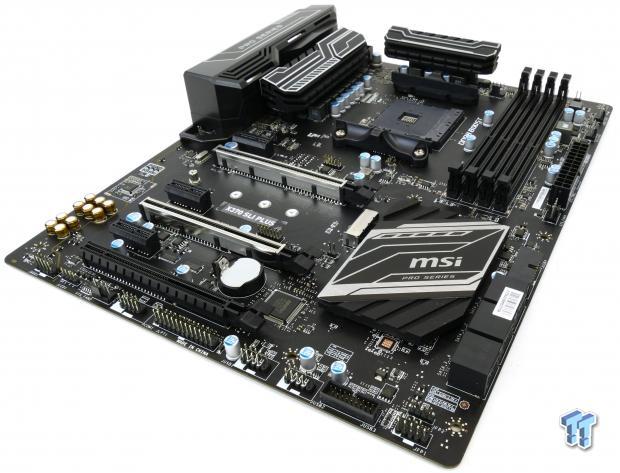 The UEFI is quite good and offers an impressive amount of control over the system; you get the same UEFI no matter which MSI X370 motherboard you purchase. The X370 SLI PLUS is a perfect example of getting what you pay for; there are no tricks or ambiguous downsides to the product. The product performs well in benchmarks, can handle a 4GHz overclock, and is an excellent value.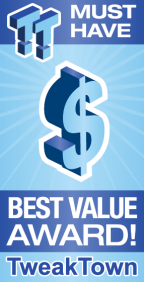 | | |
| --- | --- |
| Performance | 90% |
| Quality | 83% |
| Features | 90% |
| Value | 95% |
The Bottom Line: MSI's X370 SLI PLUS delivers SLI support and the latest AMD features at a very attractive price.
PRICING: You can find products similar to this one for sale below.

United States: Find other tech and computer products like this over at Amazon.com

United Kingdom: Find other tech and computer products like this over at Amazon.co.uk

Australia: Find other tech and computer products like this over at Amazon.com.au

Canada: Find other tech and computer products like this over at Amazon.ca

Deutschland: Finde andere Technik- und Computerprodukte wie dieses auf Amazon.de
We openly invite the companies who provide us with review samples / who are mentioned or discussed to express their opinion. If any company representative wishes to respond, we will publish the response here. Please contact us if you wish to respond.