Kong: Skull Island Movie Review
A surprisingly awesome theatrical thrill ride, 'Kong: Skull Island' is a monster (s)mash.

Published
2 minutes & 48 seconds read time

Kong: Skull Island Movie Review
It's been over a decade since the last King Kong feature, which was helmed by a post-Lord of the Rings Peter Jackson, so by Hollywood's logic, it's high time to go around again. Of course, Jackson's 2005 contribution to the mythos was in itself a reboot of the numerous past Kong features, (most notably the first which traumatized audiences back in 1933) so the latest is hardly without precedent.
However, Kong: Skull Island is a pretty big diversion from what's come before, and in truth has more in common with the Japanese 1962 feature King Kong V.S. Godzilla - because that's what this universe is all leading up to (stay for the end credits). But first we need to re-introduce the big guy to today's audience, and I gotta say this trip to Skull Island is a hell of a lot better than it has any right to be.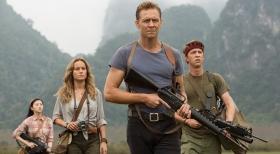 When a secretive Government agent (John Goodman) launches a campaign to map an uncharted island in the South Pacific, the crew led by U.S. Army veteran Preston Packard (Samuel L. Jackson) and former British air captain, turned-mercenary James Conrad (Tom Hiddleston) are literally blown out of the sky when an otherworldly beast turns up to defend his land from the foreign incursion. But Kong is far from the most fearsome, or deadly creature to call the island home.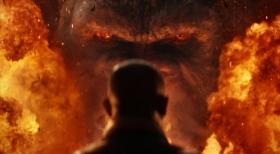 To be sure, Kong Skull Island isn't a slavish remake of either of the 1933, 1977 and 2005 Kong features, instead choosing to carve out its own unique narrative and visual style. Those hankering for a Fay Wray-style damsel in distress, and a Depression-era New York City backdrop should look elsewhere, and this time the big guy definitely doesn't leave the island (which is good because I have no idea how they got that multi-ton beast onto the S.S. Venture without the aid of a crane in the first place). Kong: Skull Island dances to the beat of its own drum, and that beat is pretty good.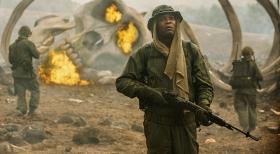 An unusually buff Tom Hiddleston leads an excellent ensemble cast which also includes Brie Larson, Samuel L. Jackson, and John Goodman, as well as the genius inclusion of John C. Reilly who serves to add a wonderful touch of humor (and humanity) to the proceedings. While this would be an enviable cast for any picture, the real star is, of course, Kong himself, who's obviously spent the last decade at the gym, bulking up to impossibly immense proportions.
Similar to Peter Jackson's outing, Skull Island's Kong has been brought to life via a motion capture performance from actor Terry Notary which not only helps to remove a lot of manual CG keyframe animation but aids in a more organic portrayal. However excellent the previous version was for its time, Kong circa 2017 is a huge generational leap from almost any CG creature that's come before it, with hugely complex layers of detail, but a believable mass and movement. At a time where it's possible to do basically anything given enough time and resources, Skull Island has in my mind raised the bar yet again for computer graphics.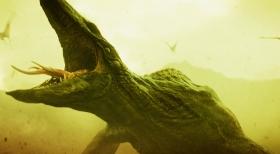 With only the indie favorite Kings of Summer to his name, director Jordan Vogt-Roberts has catapulted himself to the top of Hollywood's go-to blockbuster list overnight. Imbuing Skull Island with a unique spin on admittedly familiar genre fare such as Apocalypse Now and The Matrix, Skull Island morphs from what could have been a cheap trip back to the well of classic Hollywood tropes, to a wonderful journey into the unknown. Sure, there's perhaps a few too many Avengers slow-mo action beauty shots, but their superb execution helps the film get away with it (as well as some minor shortcomings).
As I mentioned in the outset, Kong: Skull Island has been crafted to merge with the recent Godzilla reboot into what has been dubbed the 'Legendary MonsterVerse', which in future will a showdown with deliciously tongue-in-cheek Japanese beasts such as Rodan, Mothra, and King Ghidorah. I'll be honest; I wasn't interested before. Now I'm a convert. Bring on the monster mash, because I want more.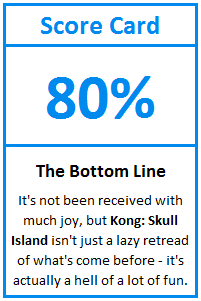 PRICING: You can find products similar to this one for sale below.

United States: Find other tech and computer products like this over at Amazon.com

United Kingdom: Find other tech and computer products like this over at Amazon.co.uk

Australia: Find other tech and computer products like this over at Amazon.com.au

Canada: Find other tech and computer products like this over at Amazon.ca

Deutschland: Finde andere Technik- und Computerprodukte wie dieses auf Amazon.de
We openly invite the companies who provide us with review samples / who are mentioned or discussed to express their opinion. If any company representative wishes to respond, we will publish the response here. Please contact us if you wish to respond.