AMD Ryzen 7 1700 and 1700X CPU Review
We've already examined AMD's top dog Ryzen 7 1800X CPU, but now we spend some time checking out the cheaper 1700 and 1700X processors.
Published Mon, Mar 6 2017 5:33 PM CST
|
Updated Tue, Nov 3 2020 6:58 PM CST
Rating:

95%
Manufacturer: AMD
Introduction, Specifications, and Pricing
I recently took a look at AMD's top dog Ryzen 7 1800X 8-core/16-thread CPU, and while it's multi-core performance was dangerously fast, it also costs upwards of $500. AMD also launched two more affordable models, with identical core counts and even the same amount of cache. These two processors do have lower clock speeds. Now, I already went over the microarchitecture, chipset, and 1800X in my review located here. Today, I will exclusively cover the Ryzen 7 1700 and 1700X CPUs.
Last week AMD launched three high-end SKUs. The 1700X and 1700 are designed to bring eight real cores (16-threads) to the masses, and they compete directly with Intel's i7-6800K (6-Cores/12-threads) and i7-7700K (4-cores/8-threads). Their price points are very attractive, with the 1700X at $399 and the 1700 at $329. The only difference between the Ryzen 7 1800X and 1700X is their clock speeds, which makes the 1700X worth it for those who want to save $100 and overclock to get to 1800X speeds.
Specifications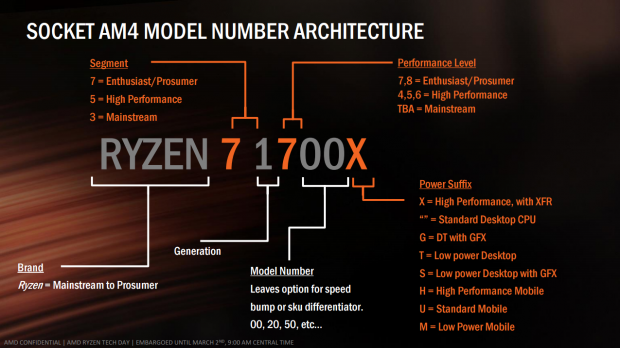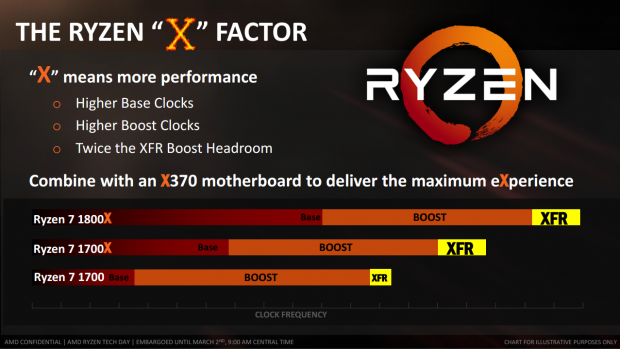 We can see how AMD is naming their new processors, and through this naming scheme, we find that the 1700X and 1700 only have one thing other than clock speeds that set them apart; XFR. AMD's eXtended Frequency Range (XFR) technology is similar to what Intel has done with Turbo Boost 3.0, it increases the clock of one core above boost speeds, but you don't need to install software to get it to work.
XFR uses AMD's SenseMI technology's monitoring capabilities to gauge if the processor is capable of sustaining high clock speeds. If you use great cooling, the CPU will increase its clock speeds an extra 100MHz (give or take a fewMHz). XFR requires an X370 chipset motherboard and a Ryzen 7 1000X CPU, and the Windows power profile set to High Performance.
While the 1800X has a base clock of 3.6GHz, a boost of 4GHz, and a 4.1GHz XFR boost, the 1700X has a base of 3.4GHz with a boost of 3.8GHz, and a 3.9GHz XFR boost. The 200MHz difference isn't much considering you save $100. The base clock of the 1700 is 3.0GHz with a 3.7GHz boost, and it doesn't offer XFR (even though the chart above says it has some XFR capabilities.
All three CPUs have the same amount of cache and are otherwise identical except for clock speeds and TDP. The Ryzen 7 1800X and 1700X have 95W TDPs, while the 1700 has a TDP of 65W. The 30W savings in power is really quite impressive.
Pricing
The Ryzen 7 1700X costs $399 while the Ryzen 7 1700 costs $329.99.
The CPUs and Test Setup
The CPUs
Inside the large box are a smaller box and an AMD Wraith Spire cooler for the 1700, the 1700X doesn't come with a cooler. Inside the smaller box are the CPU and a Ryzen case badge sticker.
The tops of the CPUs are identical to each other and the 1800X. The gold arrow in the corner helps you position the CPU correctly for socket insertion. The integrated heat spreader (IHS) is soldered to the CPU.
The bottoms of the two CPUs are also identical, with multiple golden pins. You will need to be careful not to place the CPU on any surface that might bend the pins because straightening out the pins can be very difficult. Pro Tip: if you do bend the pins, you can use a credit card to help straighten them out.
Test Setup
At the Ryzen Tech Day event in San Francisco, I picked up our Ryzen test kit, those components are what I have used for testing.
Out of the Box Performance: CINEBENCH, wPrime, and AIDA64
The three Ryzen CPUs scale almost perfectly in CINEBENCH R11.5 and R15 in MP, SP, and OpenGL tests, CPU frequency is the main differentiator. It's surprising to see the 1700X beat out the 6900K in MP. The wPrime benchmark shows the same frequency scaling, in this case only the 1800X keeps up with the 6900K.
AIDA64 tests are still a bit buggy; hopefully they release an update soon. AIDA64 memory tests show that the DDR4 bandwidth performance is in line with the dual-channel Intel based system. Of course, quad-channel offers much more bandwidth than dual-channel, so that is one advantage the X99 CPUs have over Ryzen and Intel's Z270 processors.
Out of the Box Performance: Handbrake Video Transcoding, ScienceMark, and SuperPI
The 4K handbrake show that Ryzen is a beast when it comes to transcoding video, at least in 4K, in 720p Intel seems to do better.
ScienceMark mixes workloads, and most of the Ryzen CPUs score roughly the same, scaling with frequency. The extra frequency of the 1800X helps it a lot in SuperPI, but that is to be expected.
Out of the Box Synthetic Gaming Performance: UNIGINE and 3DMark
The synthetic gaming benchmarks show a mixture of results, with the final score scaling. PhysX and GPU scores differ, it might have to do with API optimization, just like in games.
UNIGINE shows consistent scaling results at both HD (720p) and FHD (1080p).
Out of the Box Gaming Performance: Resident Evil, Tomb Raider, GTA:V, Ashes of Singularity
Resident Evil 6 shows us that frequency plays a big role in the score. GTA:V, Ashes of the Singularity, and Rise of the Tomb Raider show us that at higher resolutions (QHD and UHD), the GPU becomes a bottleneck (unless of course, you have very nice GPUs), and it doesn't matter how fast or powerful the CPU is.
However, if you upgrade your GPU often and your CPU rarely, then it might make sense to stick with a gaming CPU. Gaming is Ryzen's Achilles heel if every last FPS counts, but most people won't notice a 5-FPS difference in real life (unless you are under 60FPS).
Clock for Clock Performance: CINEBENCH, wPrime, and AIDA64
The results in our clock for clock section show us that Kaby Lake is king of the single thread, while Ryzen is excellent at multi-core. I should mention that the Broadwell-E CPU is the 6900K.
Clock for Clock Performance: Handbrake Video Transcoding, ScienceMark, and SuperPI
HandBrake HD transcoding reveals that Ryzen is excellent at rendering a 4K video to 1080p, better even than the 6900K. However, rendering a 720p video to reduce quality (make it a smaller file), is still faster on the Intel side of things.
SuperPI shows us how fast Kaby Lake's IPC is.
Clock for Clock Synthetic Gaming Performance: UNIGINE and 3DMark
In synthetic gaming benchmarks, we get mixed results, with Ryzen holding its ground. It does beat out Kaby Lake in benchmarks that take advantage of the cores, but then Broadwell-E comes into play and takes the 7700K's place.
Clock for Clock Gaming Performance: Resident Evil, Tomb Raider, GTA:V, Ashes of Singularity
In games, the Kaby Lake CPU holds very strong at the same clock speeds as Ryzen and Broadwell-E. GTA:V seems to like the 6900K's core count and IPC over that of Ryzen, but AMD has told us that games will slowly be optimized for Ryzen as they are for Intel's CPUs.
Ashes of the Singularity will become more optimized for Ryzen soon enough, the game maker has contacted us and told us this, so expect Ryzen's scores to increase soon.
Overclocking and Power Consumption
CPU Overclocking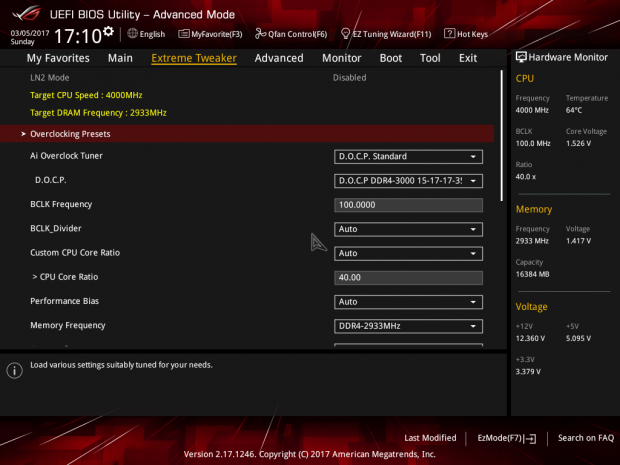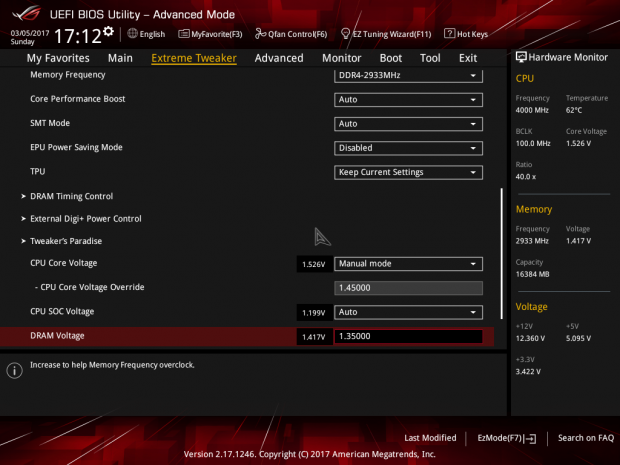 ASUS's Crosshair VI Hero's UEFI is easy to use for overclocking. Their UEFI automatically sets 1.45v and LLC when you set a multiplier of 40x, and that is the top level of VDD that AMD recommends for short term overclocks. Setting AI OC Tuner to DOCP (AMD's version of XMP) makes it very easy to overclock your memory and will automatically set memory frequency, timings, and voltage.
I measured the voltage that ASUS's motherboard provides, and I have to say that CPU-Z's reading is too high, when I see 1.52v I am actually at 1.45v. ASUS is also increasing the SOC voltage to 1.18v.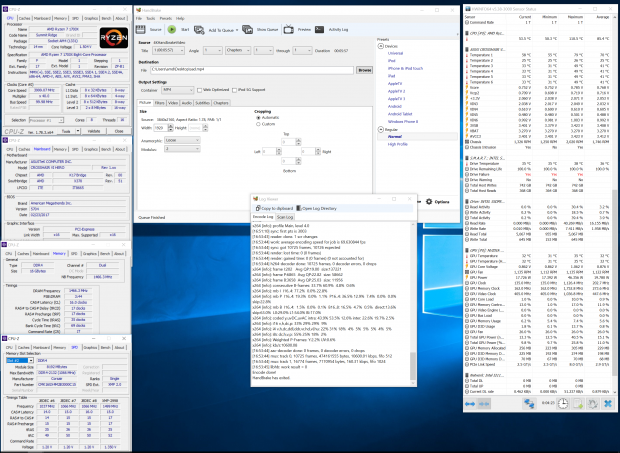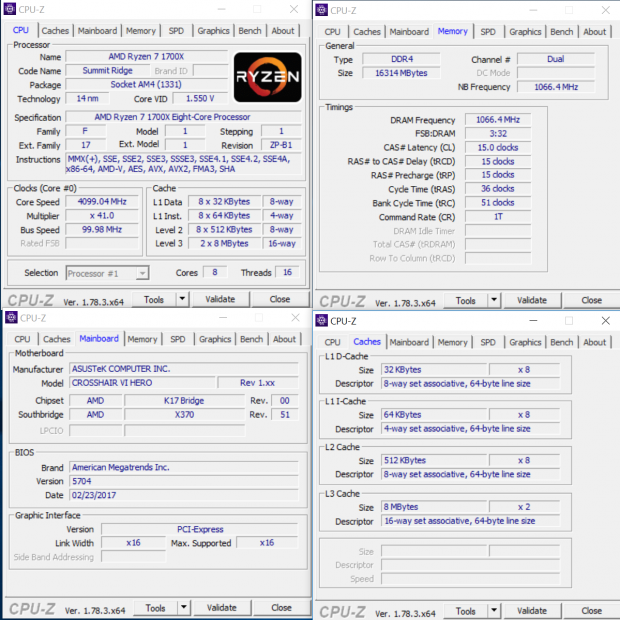 The Ryzen 7 1700X overclocks to the same levels as the 1800X, 4GHz on all cores stable is possible. However, I was also able to boot into Windows at 4.1GHz on all cores, but it was only stable enough to take a screenshot. I couldn't boot 4.1GHz on all cores with the 1800X. The 1700X overclocks like the 1800X, and that is a big deal since frequency is the only difference between the two CPUs.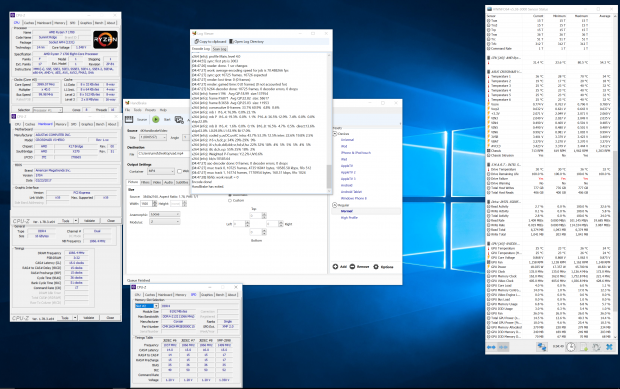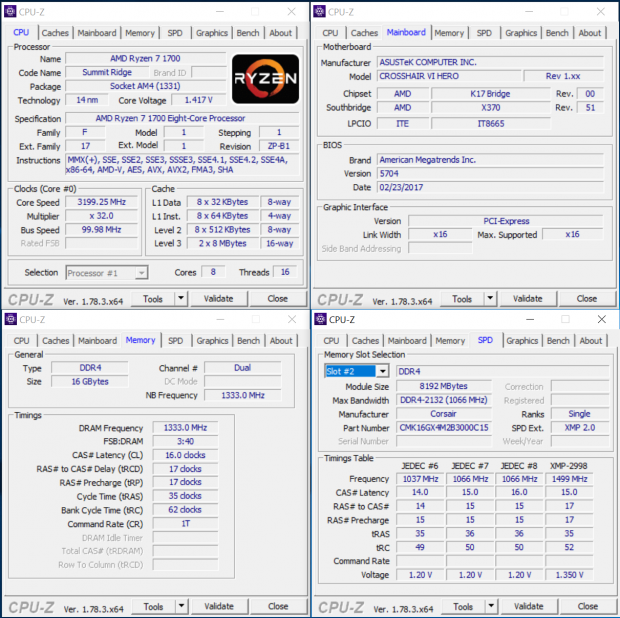 The 1700 does overclock, but it's not as good at overclock both the CPU and memory as the 1700X and 1800X. The 1800X could handle the 2933MHz memory, and 4GHz CPU overclock with ease, while the 1700X needed a bit more tuning, but the 1700 couldn't produce the same overclocking results on the memory side. It actually couldn't even overclock the memory to 2933MHz, the best I could do was 2667MHz, but my sample could be to blame.
Regardless, the 1700 overclocks all the way to 4GHz on the core, and that is very fast, considering you will get 1800X 4GHz performance at a much lower price.
Ryzen Master is AMD's CPU overclocking tool similar to their WattMan CPU overclocking tool, for overclocking the CPU in Windows. Its GUI is beautiful, and options are decent. It does offer the ability to disable cores to overclock higher, which could be very beneficial in games.
Power Consumption
The 1700 has a TDP of 65W while the 1700X and 1800X have a TDP of 95W, that difference can be measured quite easily, and the 1700 shows much lower CPU power draw which also affects total system power draw.
The power draw of the 1700X is much closer to that of the 7700K than the 6900K.
What's Hot, What's Not & Final Thoughts
This is where you can fast forward to the final section of the review, and get a quick recap and points on the Ryzen 7 1700X and 1700 processors.
What's Hot
Excellent Multi-Threaded Performance: Ryzen's microarchitecture is designed to dominate any multi-threaded scenario, and the benchmark results prove it. Since many workloads are heavily multi-threaded, Ryzen is an excellent CPU for productivity and CPU intensive workloads.
1800X Performance at $100-$170 Less: The 1700X costs $100 less than the 1800X, but can easily be pushed to the same overclocks as the 1800X. Even at stock, the difference is minimal. The two reasons you might go for the 1800X over the 1700X is if you never plan on overclocking and if you want to get the best-binned CPU. I was surprised that the Ryzen 7 1700 was able to also overclock to 4GHz on all cores, but I wouldn't expect all 1700s to do that easily, since AMD bins the CPUs to determine what model they will become, and 1700s are at the bottom end of the spectrum.
Lower Power of the 1700: By removing XFR and reducing the clock speed of the CPU down from the 1700X's clock speed, AMD was able to cut power consumption by roughly 30W. AMD lists the TDP as 30W lower, and our tests found CPU power draw to be 33W lower. If we factor in the efficiency loss of the motherboard VRM, we are still around that 30W mark, so AMD is true to their word.
Broadwell-like IPC: Broadwell-E is Intel's microarchitecture for their X99 high-end desktop platform, and while it's two generations behind Intel's latest microarchitecture, it's what you get from Intel's top processors. AMD was able to basically match it, with better multi-threaded performance and slightly lower single core performance. That is a big deal.
SoC To the Next Level: Ryzen is the first desktop level processor to offer IO in the CPU. The CPU not only carries x4 PCI-E 3.0/SATA for an M.2 slot, but it also offers the HD audio bus and four USB 3.0 ports. That means you could technically have a mini-ITX motherboard with AMD's X300 chipset that has no IO, which greatly reduces the chipset's footprint, and allows vendors to implement more features (like a beefier VRM) or build much smaller products (like Pico-ITX).
What's Not
Gaming at 1080p and Lower: Ryzen does well in games when the CPU isn't the bottleneck, and that is usually the case with the latest games and 1440p (QHD) and 2160p (4K/UHD). Intel recently dropped the price of their 7700K, and it still does better in a lot of games at 1080p and lower resolutions. However, AMD has told us that game makers will be implementing updates that optimize their games for the Ryzen CPU, as Intel has done. That promise is not an empty one, and since final Ryzen silicon has only been around for a couple of months, it makes sense for AMD to be a bit behind when it comes to getting games optimized. Hopefully, they will get most of the latest titles updated. If the primary use of your computer is gaming, Ryzen might not be the perfect fit for you, at least not now.
Ease of Overclocking: Ryzen does require a bit more tinkering to overclock compared to its competitors. The top frequencies are also not as high as their competitor, which makes overclocking a little less fun. My Clear CMOS button probably hates me a little. Ryzen's memory ecosystem is also not as big, and their AMP (XMP equivalent) isn't as widespread, and each motherboard vendor seems to take it on a bit differently (ASUS calls it DOCP for instance). Ryzen overclocking through Ryzen Master is about disabling cores and pushing up the frequency (you can do normal overclocking too), something most aren't very familiar with. Ryzen memory overclocking also requires an FSB increase at frequencies above 3200MHz, and that adds another level of complexity because you are also overclocking other buses. That being said, Ryzen overclocking can be simple, if CPU bin quality, motherboard capabilities, and memory compatibility are well matched.
Final Thoughts
I thought that the Ryzen 7 1800X was a great CPU, that is why I gave it the second highest award we offer at TweakTown. It's a great CPU that does very well against Intel's HEDT's 8-core CPUs and does so at a remarkably lower price. However, that price, $500, is only fixed for a while and it's not that inexpensive. In this day and age, $500 is on the high-side when we talk about CPU prices for the average consumer. The Ryzen 7 1700X is priced $100 cheaper and offers all the same features, only at a slightly lower frequency. The 1700X is definitely the better buy if you want to take that $100 and put it into your motherboard, memory, or GPU.
The 1700 is almost the same as the 1700X except it has no XFR and operates at lower frequencies, but its ability to overclock up to 1800X levels, just like the 1700X, makes it an excellent choice if you want an affordable 8-core system. Intel's high-end mainstream CPUs used to cost about the same, and people buy them, so it's safe to say that the 1700 will be the go-to CPU for most people. At this time, XFR only offers a 100MHz boost on a single core, something that isn't that impressive. The technology would be awesome if it were unlocked up to 5GHz or user selectable, but that time hasn't yet approached us, so, for now, I would say it's not a must.
Part of the story on launch day was that Ryzen isn't a gamer's CPU, but to be honest, gaming isn't the only thing people do with their computers. Ryzen is designed for multi-threaded workloads, and almost everything productivity wise can take advantage. That includes almost everything from editing videos to using Excel (you can enable multi-core in Excel).
Overall, I feel that the 1700X and 1700 are excellent processors for their price; basically 1800Xs that need a bit of overclocking. The 1700X and 1700 are the 8-core CPUs for the masses.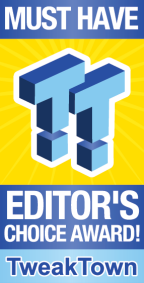 | | |
| --- | --- |
| Performance | 95% |
| Quality | 93% |
| Features | 92% |
| Value | 99% |
The Bottom Line: AMD's Ryzen 7 1700X and 1700 are excellent 8-core/16-thread CPUs offering core counts and performance we never expected to see at price points that the masses can afford.
PRICING: You can find products similar to this one for sale below.

United States: Find other tech and computer products like this over at Amazon.com

United Kingdom: Find other tech and computer products like this over at Amazon.co.uk

Australia: Find other tech and computer products like this over at Amazon.com.au

Canada: Find other tech and computer products like this over at Amazon.ca

Deutschland: Finde andere Technik- und Computerprodukte wie dieses auf Amazon.de