ASRock Fatal1ty Z270 Gaming i7 Motherboard Review
ASRock packs 5Gbit LAN and much more into its Fatal1ty Z270 Gaming i7 motherboard. Join us for our full review.
Published Wed, Feb 22 2017 8:24 AM CST
|
Updated Tue, Nov 3 2020 6:58 PM CST
Rating:

93%
Manufacturer: ASRock
Introduction, Specifications, and Pricing
ASRock's Fatal1ty Z270 Gaming i7 is part of ASRock's Professional series of motherboards. In fact, it's full name is the Fatal1ty Z270 Professional Gaming i7, but when you search for it on sites like Newegg, it's just called the Fatal1ty Z270 Gaming i7. The Fatal1ty Z270 Gaming i7 is one of ASRock's high-end Z270 motherboards, and it is completely loaded with features. One of those features is very new, and I haven't seen it on any other brand's motherboards; a 5Gbit NIC.
The Fatal1ty Z270 Gaming i7 features one 5Gbit NIC and two 1Gbit NICs. The IEEE 802.3bz-2016 standard was finalized in late 2016 by IEEE and outlined the specification for 2.5Gbit and 5Gbit. One of the benefits of the 5Gbit standard is the ability to use CAT5e cables, making it much cheaper to implement than 10Gbit LAN. As the market starts to adopt the new technology, we should see many routers and switches use the new protocol, and then motherboards like the Z270 Gaming i7 will become even more useful.
Without further delay, let's begin the review.
Specifications
The Fatal1ty Z270 Gaming i7 features AQUANTIA 5Gbit LAN, two Intel 1Gbit ports, Wireless-AC, 10 SATA ports, three M.2 ports, USB 3.1, and RGB LEDs of course.
Pricing
The Fatal1ty Z270 Gaming i7 costs $289.99.
Packaging and Fatal1ty Z270 Gaming i7 Overview
Packaging and Overview
ASRock's box design is pretty much identical to that of the rest of their Z270 Fata1lty lineup; the glossy red and black box conveys a stylistic approach to motherboard packaging. The packaging itself is well done; the motherboard is strapped into a foam tray and protected by an anti-static bag.
The accessory package includes manuals, a postcard, driver DVD, four SATA6Gb/s cables, SLI HB bridge, SLI bridge, IO shield, two WIFI antennas, M.2 screws, and an ASRock case badge.
The Fatal1ty Z270 Gaming i7 offers five fan headers. ASRock offers auto-sensing to determine if the fan is DC or PWM on the four headers circled in orange or blue. The single header circled in green is the CPU fan header and is designed for PWM fans. The headers circled in blue can provide up to 1.5A output, while the rest support up to 1A.
The red and black color theme of the motherboard is well executed. Hints of red on the shields, the PCH heat sink, and the PCB match the red VRM heat sink. The red is much closer to a crimson red color than the picture might lead you to believe. The back of the motherboard isn't bare of components, the SuperIO, USB 3.1 controller, one of the SATA6Gb/s controllers, and a nuvoton IC are all located on the rear of the PCB.
The rear IO panel features a clear CMOS button, four USB 3.0 ports, PS/2 Keyboard/Mouse, WIFI connectors, HDMI, DisplayPort, two Intel 1Gbit LAN ports, one 5Gbit LAN port (red), USB 3.1 type-A, USB 3.1 type-C, gold plated audio outputs, and S/PDIF optical.
The PCI-E layout is as follows; the three x16 slots that have metal shielding are connected to the CPU's x16 PCI-E 3.0 lanes. They operate at x16/x0/x0, x8/x8/x0, or x8/x4/x4. The single x16 slot that is not shielded is wired PCI-E 3.0 x4 to the PCH and supports NVMe boot devices. There is also a single PCI-E 3.0 x1 slot. The motherboard supports a total of 10 SATA6Gb/s ports; two ASMedia controllers provide the four extra ports since the PCH only offers one.
The motherboard has three PCI-E 3.0 x4 M.2 slots (they also support SATA type drives), and they do share bandwidth with the SATA ports. Connector M2_1 shares with SATA3_0 and SATA3_1, M2_2 shares with SATA3_4 and SATA3_5, and M3_3 shares with SATA3-3.
The motherboard has one vertical USB 3.0 connector located below the 24-pin power connector and two USB 3.0 internal headers. The motherboard does have some overclocking features, such as the XMP switch that will enable XMP memory profiles without requiring BIOS entry.
Overclocking features including power, reset, clear CMOS, dual BIOS ROMs, and a POST code display are all present. An RGB LED header is present right under the POST Code display. Three USB 2.0 internal headers sit near a ThunderBolt GPIO header.
All of the motherboard's heat sinks and shields use screws, except for the heat sinks for the 5Gbit NIC, which just uses an adhesive pad.
ASRock Fatal1ty Z270 Gaming i7 Circuit Analysis
Circuit Analysis
The Fatal1ty Z270 Gaming i7 has so much hardware you can only see with the heat sinks removed.
The VRM on this motherboard is in an 8+4 phase configuration for the CPU VCore and iGPU. Starting from the phases at the bottom in the image and moving up and then to the left, the first four are for the iGPU, the next eight are for the VCore, then you have a phase for the VCCSA, and then one more for the VCCIO. The eight CPU phases and four iGPU phases are doubled from the 4+2 phase output of the IR35201. The IR35201 is a 6+2 or 8+0 phase PWM, and it's being using in a 4+2 phase mode.
All the CPU phases, including iGPU, VCore, VCCSA, and VCCIO use Texas Instruments NexFET CSD87350 dual N-Channel MOSFETs. Both the PWM and the NexFETs are well known in overclocking circles for quality and high output. The inductors are 60A inductors, and the capacitors are 12K solid polymers.
For the drivers and doublers, the IR3598 doubler/dual-driver chips are used. Six of these reside on the backside of the PCB, four for the VCore and two for the iGPU. The memory VRM uses a uP1674P PWM to control two CSD87350 NexFETs, which is the same configuration as the Z170 OC Formula.
ASRock Fatal1ty Z270 Gaming i7 Circuit Analysis Continued
Fatal1ty Z270 Gaming i7 Circuit Analysis Continued
The Realtek ALC1220 is the new audio codec we see on Z270 motherboards; it offers 120dB SNR with an integrated headphone amplifier. ASRock uses the integrate amplifier for the rear IO headphone jack and has added a Texas Instruments NE5532 for the front panel headphone output. Nichicon Gold series audio capacitors are used to improve audio quality as is a very intricate PCB division scheme to isolate the audio PCB from the rest of the motherboard.
The AQUANTIA AQtion AQC108 is the 5Gbit NIC with integrated PHY. It is backward compatible with 2.5G, 1G, and 100M Ethernet, and has a 3W TDP, so ASRock has a heat sink on it. Wireless AC is provided by a 2x2 unit, the Intel Wireless-AC 3160NGW.
ASRock also is providing two Intel NICs. An i219v is the PHY for the integrated MAC in the PCH, and an i211AT standalone NIC is used for the second.
ASMedia's ASM2142 USB 3.1 controller is found on the rear of the PCB and provide the USB 3.1 type-A and type-C ports. The type-C port requires a type-C switch and CC logic controller. The ASMedia ASM1543 is used for this purpose.
An ASMedia ASM1184e PCI-E hub is used to expand PCI-E lanes for different devices like the SATA controllers. An ASMedia ASM1074 USB 3.0 hub is used to expand one USB 3.0 port into four for the two USB 3.0 headers.
Two ASMedia ASM1061 controllers provide four extra SATA6Gb/s ports.
The main SuperIO is the NCT6791D, and it provides monitoring and control over voltage, temperature, and fans. To provide extra features such as RGB LEDs, a nuvoTon N76E885 is used.
To improve BCLK overclocking, an IDT6V41642B clock buffer is present. Multiple ASMedia ASM1480s are used to switch PCI-E bandwidth across the motherboard.
BIOS and Software
BIOS
ASRock's UEFI on the Z270 Gaming i7 is very similar to that of their other Z270 motherboards. One thing that isn't very common is good UEFI based RGB LED control, and ASRock has done a nice job of implementing of RGB LED control right into the UEFI.
ASRock's fan control is also very well executed in the UEFI. You can control all fans through a GUI or through text-based options in case you don't want to use a mouse. ASRock's motherboard also comes with UEFI overclocking profiles, some of which are above 5GHz.
Software
ASRock's software suite includes Live Update & APP Shop, AURA RGB LED, SoundBlaster Cinema 3, Mouse Polling, F-Stream, and Restart to UEFI.
Test System Setup
Steven's Motherboard Test System Specifications
The Fatal1ty Z270 Gaming i7's heat sinks can stand out if you need them too, or you can put the motherboard in a dark case, and they will sink into the background.
ASRock's RGB LEDs are tastefully integrated and not overbearing. All the RGB LEDs are diffused, there are some under the PCH heat sink, and the rest are under the IO and audio shields.
Overclocking
Overclocking Results
CPU Overclocking
The motherboard had no problem taking the 7700K to 5GHz with 1.3v and XMP enabled, I did set LLC to level 1. The motherboard handled all other settings.
Compatible Memory Overclocking Kits
In this section, I overclock four memory kits only using XMP, if the kit works then the results are below. I welcome memory vendors to send in their kits to be tested on each motherboard.
Corsair Dominator Platinum 3200MHz C16 8GBx2
G.Skill TridentZ 3866MHz C18 8GBx2
GEIL EVO X RGB 3200MHz C16 8GBx2
GEIL EVO FORZA 3200MHz C16 8GBx2
The Fatal1ty Z270 Gaming i7 overclocked all of our kits with ease by just enabling XMP. The motherboard also has an XMP switch you can use in case you don't want to enter the UEFI.
CPU, Memory, and System Benchmarks
CINEBENCH 11.5
wPrime
AIDA64 AES and HASH
AIDA64 FPU
AIDA64 Memory
ScienceMark
HandBrake
3DMark: Fire Strike
3DMark: Cloud Gate
ResidentEvil 6
ASRock's Fatal1ty Z270 Gaming i7 uses multi-core enhancement, and performance, when we standardize things, is quite good. There seem to be no performance pitfalls, and the motherboard did well in gaming benchmarks.
Some motherboard reviews put a lot of weight into motherboard CPU, memory, and GPU benchmarks, but for me, CPU, memory, and GPU benchmarks on motherboards should be more about finding anomalies, and I do that at standard settings (4.8G in graphs).
System IO Benchmarks
CrystalDiskMark SATA6G:
CrystalDiskMark M.2:
ixChariot Network Throughput:
The Fatal1ty Z270 Gaming i7's storage performance is solid. The network performance is blazing fast, as it should be because ASRock gave the Z270 Gaming i7 a 5Gbit NIC.
To test the 5Gbit NIC, I connected the 5G NIC to another computer with a 5G NIC, then assigned static IPs, and then ran the test.
Audio RMAA 5.5:
I disable all audio features, set the correct bitrates, and then test the audio with a loopback test.
Sound Judgment by Ear: Excellent. The Realtek ALC1220 does make sub-$100 sound cards a waste of money. There are five ratings for audio: 1. Problems, 2. Okay, 3. Acceptable, 4. Very good, 5. Excellent
Thermal Imaging and Power Consumption
System power is measured at the wall with an AC power meter.
Note on Thermal Images: In the temperature section, we use our Seek thermal imaging camera to capture the surface temperatures of major components on the board. I look at the VRM and then all other things that light up the screen. If there is something to worry about, then I will state it. Otherwise, I will just show the hotter running parts of the board for fun. Unless some component is over 80-90C, then there isn't anything to worry about.
All systems will act differently, so I will look for commonalities, such as how far from the VRM the heat spreads through the PCB and the difference in temperature between the front side and backside of the PCB. Keep in mind, the majority of the heat from the VRM goes into the PCB as it is a giant soldered on copper heat sink. A larger difference in temperature between the back and front of the PCB points towards a more effective heat sink.
Thermal Testing at Stock Speeds:
The image on the left is always at idle, and the image on the right is at load. During ALL TESTS, fans above the VRM that cool the CPU cooler's (Corsair H110i GT) radiator are turned on to high (12v).
Full frontal.
Up-close of the front of the VRM.
Up-close of the back of the VRM.
Thermal Testing at 4.8GHz Overclocked Speeds:
The image on the left is always at idle, and the image on the right is at load. During ALL TESTS, fans above the VRM that cool the CPU cooler's (Corsair H110i GT) radiator are turned on to high (12v).
Full frontal.
Up-close of the front of the VRM.
Up-close of the back of the VRM.
The Fatal1ty Z270 Gaming i7's VRM is top notch, it is a high-performance VRM, and thermal performance is excellent. I also saw that phase shedding was working correctly.
Anything under 60C is great, 60-80C is acceptable, and anything above 80C is a bit worrisome (if at stock).
What's Hot, What's Not & Final Thoughts
Here are key points about the ASRock Fatal1ty Z270 Gaming i7.
What's Hot
Networking Delight: Not only does ASRock take the crown for the first motherboard with 5Gbit LAN, but they also added two 1Gbit NICs and 2x2 Wireless-AC. While the 5Gbit NIC is from AQUANTIA, a well-known supplier of multi-Gbit NICs, all of the other NICs are from Intel. You get four network interfaces and almost 8Gbits of pooled networking bandwidth (you cannot add them all up). The motherboard would be perfect for a build where you need to connect to a multi-Gbit network (maybe office) while also connecting to a separate 1Gbit network (personal), and you need WIFI (for personal).
Excellent VRM Quality: The CPU VRM uses very high-quality components, all the way from the IR digital PWM to the Texas Instruments NexFETs, 60A chokes, and 12K capacitors. These are top-shelf components, and ASRock's use of 12K capacitors goes above and beyond the current premium industry standard.
Triple M.2: ASRock has hedged their bet on M.2 instead of U.2, their argument is that you can convert an M.2 slot into a U.2 port, but you can't do the reverse. Since most of the fastest storage devices come in the M.2 form factor, this approach makes a lot of sense. With Optane around the corner and rumors that it will come in both U.2 and M.2 form factors, three M.2 slots is a handy thing to have, especially with the faster networking capabilities of the motherboard.
Loads of SATA: The motherboard is a storage monster, and ASRock doesn't limit storage to only Intel's native SATA6Gb/s ports since they share bandwidth with the M.2 slots. ASRock went ahead and added four extra SATA6Gb/s ports from two ASMedia controllers so that you can load up on HDDs and SATA drives even with all M.2 slots filled up.
What's Not
Low On Rear-IO USB: There are five USB type-A ports on the rear IO and one type-C port, and with most high-end gaming keyboards requiring two USB connectors, you might need to add in a USB bracket to expand the number of type-A ports.
Final Thoughts
ASRock's Fatal1ty Z270 Gaming i7 is one of the first motherboards with the newer 5Gbit NIC. Now, many people have pointed to the fact you can pick up 10Gbit cards cheap on eBay, the overall cost of 5Gbit should be significantly lower than 10Gbit. Everything from cabling (Cat5 vs. Cat6) to switches, routers, and devices like a NAS should come in at cheaper price points than their 10Gbit counterparts.
The cost of motherboards with integrated 10Gbit NICs is also traditionally high, with most of those motherboards costing over $500 at the high-end of the consumer spectrum. If you want to be equipped with something fast that doesn't come close to that $500 mark, 5G integrated LAN is a great option.
All that being said, the Fatal1ty Z270 Gaming i7 is anything but cheap, it comes in at right below the $300 mark. For that $300, you do get a lot of high-quality features and components. VRM quality is where it should be for a motherboard of this price, and quality features you expect from a premium motherboard are also present. You don't sacrifice a lot for the 5Gbit NIC, and that makes this motherboard impressive.
Overall, if you want a motherboard with the latest in network, storage, and overclocking features, the Fatal1ty Z270 Gaming i7 is one of a few great options.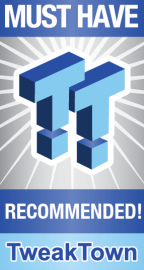 | | |
| --- | --- |
| Performance | 92% |
| Quality | 95% |
| Features | 95% |
| Value | 90% |
The Bottom Line: If you want the latest 5Gbit NIC and an overabundant serving of the latest storage technologies all in a quality package, ASRock's Fatal1ty Z270 Gaming i7 is your answer.
PRICING: You can find products similar to this one for sale below.

United States: Find other tech and computer products like this over at Amazon.com

United Kingdom: Find other tech and computer products like this over at Amazon.co.uk

Australia: Find other tech and computer products like this over at Amazon.com.au

Canada: Find other tech and computer products like this over at Amazon.ca

Deutschland: Finde andere Technik- und Computerprodukte wie dieses auf Amazon.de