MSI Z270 XPower Gaming Titanium Motherboard Review
MSI's Z270 XPower Gaming Titanium motherboard is the next Intel Z270 board up on the chopping blocks, and it doesn't disappoint.
Published Tue, Feb 7 2017 9:44 PM CST
|
Updated Tue, Nov 3 2020 6:58 PM CST
Rating:

92%
Manufacturer: MSI
Introduction, Specifications, and Pricing
The Z270 XPower Gaming Titanium is MSI's top dog overclocking centric motherboard, aimed at both hardcore overclockers and casual ones who want to take their hardware to the limits. I did have a chance to look at MSI's Z170 overclocking motherboard, and their features are expansive and very cool. The Z270 XPower (I am not typing Gaming Titanium fifty times), offers the same caliber of overclocking features such as external overclocking panel, switches, and buttons as its predecessor with a few extra features.
On top of the hardware features, MSI has paid close attention to BIOS tuning, and at launch, they even had a guide ready to go with instructions on how to tune the motherboard. Many users will also consider the Z270 XPower for its white/silver color theme, and I have to say it is as beautiful in person as it is in pictures.
Let's see what the Z270 XPower Gaming Titanium has to offer.
Specifications
The Z270 XPower Gaming Titanium offers dual Intel NICs, USB 3.1 type-A and type-C, three M.2 slots, a U.2 port, and eight SATA6Gb/s ports.
Pricing
The Z270 XPower Gaming Titanium costs $329.99.
Packaging and Z270 XPower Gaming Titanium Overview
Packaging and Overview
MSI's box is just as silver as the motherboard itself; the color is very close to that of the PCB and heat sinks. Packaging is top notch, as it should be with such an expensive motherboard.
If you love accessories, you will love the Z270 XPower Gaming Titanium. The package includes six SATA 6Gb/s cables, six v-check cables, SLI connector, IO shield, driver DVD, manuals, 1-to-2 RGB LED Y cable, OC Dashboard, OC dashboard cable, modular screw package, USB Xpander, USB Xpander cable, and SATA cable labels.
The USB Xpander daughterboard takes in a single USB 2.0 header and a MOLEX power connector and outputs four USB 2.0 internal headers. It uses two GL850G USB 2.0 hubs. MSI's OC Dashboard has buttons and switches of all types to change the BCLK and multipler on-the-fly, enable slow-mode, enable fast boot, discharge CMOS power, as well as turn the system on and off and reset. You can mount the OC Dashboard on the motherboard directly, or use the included cable to move it away from the motherboard.
The motherboard has six DC/PWM fan headers circled in blue. All headers are auto-sensing, so they will detect the type of fan and mode to use. You can manually change the mode in the UEFI as well as set fan curves and profiles.
The motherboard's heat sinks, shields, and PCB match quite well. An issue with matching silver/white is that there are many different shades of silver/white. MSI has done a nice job of ensuring they have the right shades. The aesthetic appeal of this motherboard might be enough to justify its price, of course, you can match any color to white, so you don't have to go with an all-white themed build.
The PCI-E x16 slots, the memory DIMMs, and even the U.2 and M.2 ports all have some metal shielding. There is also an M.2 shield, which is supposed to help cool down M.2 SSDs. Many people will only see the back of their motherboard once when they install their heat sink mounting hardware. However, if you have a thing for the back of motherboards, like I do, then you will really like the tattooed PCB silkscreen that resembles electrical trace routing.
The rear IO panel features PS/2, three USB 2.0 ports (the single port angled 90 degrees is for BIOS recovery), four USB 3.0 ports (MSI uses USB-IF's vernacular, aka. USB 3.1 Gen 1), USB 3.1 type-C (USB 3.1 Gen 2), USB 3.1 type-A, two Gbit LAN ports, Clear CMOS button, DisplayPort, HDMI, gold plated audio ports, and S/PDIF digital.
The motherboard features four PCI-E x16 slots, all of them are reinforced with metal shrouds. The first three slots are wired to the CPU and can operate at x16/x0/x0, x8/x0/x8, or x8/x4/x4. The last x16 slot operates at x4 and is wired to the PCH. All PCI-E bandwidth is PCI-E gen 3. The motherboard features six SATA6Gb/s ports angled 90 degrees, a USB 3.0 internal header angled 90 degrees, and a U.2 port.
The motherboard has three M.2 slots, and yes, you can use them all at the same time. The center M.2 slot has MSI's M.2 shield, which looks quite nice since most M.2 vendors put their stickers on upside down and it can ruin the aesthetics of the build. There is a lot of bandwidth sharing between the M.2 and SATA ports, and you will need to look at page 39 in the manual to figure out what ports to use. MSI has a nifty case by case picture based diagram for the different possible combinations. At the top right corner of the motherboard is the header for the OC Dashboard, as well as voltage read points, and a USB BIOS Flashback button.
Two SATA6Gb/s ports are angled straight up and reside below the 24-pin power connector. The motherboard does offer a second USB 3.0 internal header at the bottom row of headers near two USB 2.0 headers.
MSI has a Game Boost knob/switch that allows you to select a pre-determined OC level for the system. There are multiple levels, and you can use the switch, or identical BIOS presets for automatic overclocking. Power and reset buttons are also included. Near the two USB 2.0 internal headers are the POST Code display, PCI-E slot disable switches, and an RGB LED header.
MSI has put a little hole into the underside of the CPU socket so extreme overclockers can insert a thermocouple to read the CPU temperature in extreme environments. All the heat sinks and shield are held down by screws. The VRM and PCH heat sink are designed more for function over fashion.
MSI Z270 XPower Gaming Titanium Circuit Analysis
Circuit Analysis
The Z270 XPower Gaming Titanium hides a lot of interesting hardware under those heat sinks and shield.
The motherboard's VRM is in a 10+4 phase configuration for the CPU+iGPU. An International Rectifier IR35201 digital PWM is being used in 6+2 phase mode, and outputting 5+2 phases to doublers and then to IR3555A integrated power stages. The IR3555A are International Rectifier's second generation PowIRstages, and they are the top-dog rated at 60A. MSI is using the "Ti" branded high-current inductors, and many tantalum capacitors for the output filter. The VRM on the Z270 XPower is one of the most powerful I have seen on any Z270 motherboard.
The International Rectifier IR3599 is a phase doubler or quadroupler, and it's used as a phase doubler on this motherboard. The memory VRM uses a Primarion PV3205 digital PWM and some Nikos MOSFETs for a two-phase VRM, which is more than enough to power DDR4 DIMMs.
MSI Z270 XPower Gaming Titanium Circuit Analysis Continued
Z270 XPower Gaming Titanium Circuit Analysis Continued
Like other major motherboard vendors, MSI is using the new Realtek ALC1220 codec. They have added a Texas Instruments OP1652 amplifier and some Nichicon audio capacitors as well as a PCB divide.
The Intel NICs in use are the i211AT and i219 PHY that works with the MAC integrated into the PCH. An ASMedia ASM2142 USB 3.1 controller and ASMedia 1543 type-C switch and CC logic controller are used to provide USB 3.1 ports on the rear IO.
To add two extra USB 3.0 ports through an internal header, MSI added in an ASMedia ASM1042AE. To add two more SATA6Gb/s ports, MSI added an ASMedia ASM1061.
I am a big fan of MSI's use of re-drivers and repeaters to improve signaling of USB and PCI-E busses throughout the motherboard. I found multiple ASM1464s scattered around the motherboard to improve signal quality. MSI also has two BIOS ROMs onboard, at 128Mbit each (16MB), they each hold a 16MB UEFI.
A nuvoTon NCT6795D is the main SuperIO, but there are other nuvoTon ICs around the motherboard to help expand embedded controller performance. The RGB header also uses a Texas Instruments eFuse.
A nuvoTon NCT5605 is one of a few secondary EC's that control everything from fans to overclocking features. An IDT 6V41606 clock buffer improved BCLK overclocking margins.
An NXP level shifters provide HDMI from the digital video output of the iGPU. Multiple ASMedia ASM1480 quick switches move around PCI-E 3.0 bandwidth between slots.
BIOS and Software
BIOS
MSI's UEFI for the Z270 XPower Gaming Titanium is polished and well equipped just like the rest of MSI's motherboards. MSI actually has one of my favorite UEFIs because of their layout, and how they make things very simple.
When it comes to overclocking, you can even choose if you want the motherboard to allow the CPU frequency to go up and down with load or stay fixed, and all the right voltage modes and settings are readily available. Fan control is also top notch, and MSI's GUI is easy to use.
Software
MSI's motherboard comes with Live Update 6, Gaming LAN Manager, X-Boost, Super Charger, Nahimic, Gaming APP, Command Center, and SteelSeries Engine 3 to name a few.
Test System Setup
Steven's Motherboard Test System Specifications
The Z270 XPower Gaming Titanium has a really nice white/silver PCB, and MSI has done an excellent job of matching the PCB and the heat sinks/shields.
The motherboard matches perfectly with Corsair's Dominator Platinums. The M.2 Shield actually looks quite good; I wish they had included three of them (one per slot) instead of just one.
Overclocking
Overclocking Results
CPU Overclocking
The CPU could reach a 5GHz overclock with 1.3v with XMP enabled. I used the highest level of LLC and set the frequency mode to fixed. The motherboard was very easy to overclock, and it's meant to overclock. If you want to do extreme overclocking and need a place to start, MSI has an extreme overclocking guide just for this motherboard.
Compatible Memory Overclocking Kits
In this section, I overclock four memory kits only using XMP, if the kit works then the results are below. I welcome memory vendors to send in their kits to be tested on each motherboard.
Corsair Dominator Platinum 3200MHz C16 8GBx2
G.Skill TridentZ 3866MHz C18 8GBx2
GEIL EVO X RGB 3200MHz C16 8GBx2
GEIL EVO FORZA 3200MHz C16 8GBx2
The Z270 XPower Gaming Titanium overclocked all of my memory kits with ease, something not all motherboards can do.
CPU, Memory, and System Benchmarks
CINEBENCH 11.5
wPrime
AIDA64 AES and HASH
AIDA64 FPU
AIDA64 Memory
ScienceMark
HandBrake
3DMark: Fire Strike
3DMark: Cloud Gate
ResidentEvil 6
MSI's multi-core enhancement was disabled by default in the BIOS version I used, so at stock, performance results are a bit lower since MSI is abiding by Intel specifications. When I even out the settings and load my standardized overclocked profile we see the scores even out. Since the motherboard doesn't use much switching at all, performance numbers are quite strong all around.
Some motherboard reviews put a lot of weight into motherboard CPU, memory, and GPU benchmarks, but for me, CPU, memory, and GPU benchmarks on motherboards should be more about finding anomalies, and I do that at standard settings (4.8G in graphs).
System IO Benchmarks
CrystalDiskMark SATA6G:
CrystalDiskMark M.2:
CrystalDiskMark M.2:
ixChariot Network Throughput:
The Z270 Gaming-ITX/ac's storage performance is top notch as is network performance. While it's Intel Wireless-AC solution isn't the fastest around, it's fast enough.
Audio RMAA 5.5:
I disable all audio features, set the correct bitrates, and then test the audio with a loopback test.
Sound Judgment by Ear: Excellent. MSI's ALC1220 is better than expected. I thought that the small area and low PCB division might result in more noise, but I was pleasantly surprised by its performance. There are five ratings for audio: 1. Problems, 2. Okay, 3. Acceptable, 4. Very good, 5. Excellent
Thermal Imaging and Power Consumption
System power is measured at the wall with an AC power meter.
Note on Thermal Images: In the temperature section, we use our Seek thermal imaging camera to capture the surface temperatures of major components on the board. I look at the VRM and then all other things that light up the screen. If there is something to worry about, then I will state it. Otherwise, I will just show the hotter running parts of the board for fun. Unless some component is over 80-90C, then there isn't anything to worry about.
All systems will act differently, so I will look for commonalities, such as how far from the VRM the heat spreads through the PCB and the difference in temperature between the front side and backside of the PCB. Keep in mind, the majority of the heat from the VRM goes into the PCB as it is a giant soldered on copper heat sink. A larger difference in temperature between the back and front of the PCB points towards a more effective heat sink.
Thermal Testing at Stock Speeds:
The image on the left is always at idle, and the image on the right is at load. During ALL TESTS, fans above the VRM that cool the CPU cooler's (Corsair H110i GT) radiator are turned on to high (12v).
Full frontal.
Up-close of the front of the VRM.
Up-close of the back of the VRM.
Thermal Testing at 4.5GHz Overclocked Speeds:
The image on the left is always at idle, and the image on the right is at load. During ALL TESTS, fans above the VRM that cool the CPU cooler's (Corsair H110i GT) radiator are turned on to high (12v).
Full frontal.
Up-close of the front of the VRM.
Up-close of the back of the VRM.
The Z270 XPower Gaming Titanium has a very powerful VRM, one of the strongest on any motherboard I have reviewed thus far, and it uses a lot of phases. It also doubles these phases correctly. The phase doubling helps increase output, but since the VRM is high performance we can't expect low idle temperatures. Overall, VRM performance is excellent.
Anything under 60C is great, 60-80C is acceptable, and anything above 80C is a bit worrisome (if at stock).
What's Hot, What's Not & Final Thoughts
Here are key points about the MSI Z270 Gaming-ITX/ac.
What's Hot
Filled with Overclocking Features: Even though many people will never use a lot of the overclocking features in their daily activities, they have them for when they might need them. The OC Dashboard is really awesome, and its ability to be used as an off-board remote is quite handy. The Z270 XPower is loaded with overclocking features we would have died for years ago.
Excellent VRM Quality: The motherboard uses some of the best digital PWM components and matches it with some of the highest rated integrated power stages to produce a VRM you will never be able to overpower.
Plenty of Non-OC Features: Three M.2 slots, U.2, two USB 3.0 internal headers (one right angled), dual Intel NICs, and USB 3.1 are just some of the many non-overclocking premium features you get with the Z270 XPower.
Unique Aesthetics: The silver/white PCB looks better in person than in pictures, and MSI has done a great job with matching the heat sink/shield white areas with that of the PCB. I also am a huge fan of the silk screen on the back of the PCB, which is designed to look like trace routing.
Re-Drivers: I always like to see manufacturers improve on their signaling quality. MSI has done that on the Z270 XPower with multiple re-drivers that will ensure solid signal quality.
What's Not
Pricey: The Z270 XPower Gaming Titanium is very pricey for a motherboard with a PLX chip. At over $300, it is a very premium motherboard, and you need to weigh if you need both the premium non-overclocking features and premium overclocking features.
Final Thoughts
The Z270 XPower Gaming Titanium is MSI's top dog overclocking motherboard, poised to be the pinnacle of high-end with features ranging from the consumer to the professional overclocker. The aesthetics, storage connectivity, and even the upgraded audio don't offer much to overclockers, but if you want to use the motherboard as a daily driver capable of sustaining your overclock for years, then a motherboard like this is warranted.
That being said, the price of the motherboard might be prohibitive to some buyers, especially if you aren't ever going to use many of the motherboard's overclocking features. However, many want to first dabble in overclocking and then move forward as they become more comfortable with it, and they might not want to buy another motherboard.
The Z270 XPower Titanium Gaming is perfect for those people and is definitely an excellent overclocking motherboard for professionals.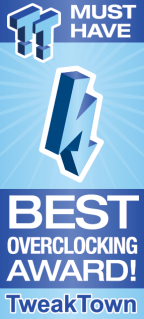 | | |
| --- | --- |
| Performance (including Overclocking) | 96% |
| Quality including Design and Build | 93% |
| General Features | 93% |
| Bundle and Packaging | 90% |
| Value for Money | 88% |
The Bottom Line: Loaded with more overclocking features than you can imagine and premium features and stunning aesthetics, MSI's Z270 XPower Gaming Titanium is the perfect motherboard for any level of overclocker.
PRICING: You can find products similar to this one for sale below.

United States: Find other tech and computer products like this over at Amazon.com

United Kingdom: Find other tech and computer products like this over at Amazon.co.uk

Australia: Find other tech and computer products like this over at Amazon.com.au

Canada: Find other tech and computer products like this over at Amazon.ca

Deutschland: Finde andere Technik- und Computerprodukte wie dieses auf Amazon.de