ASRock Fatal1ty Z270 Gaming K6 Motherboard Review
ASRock's Fatal1ty Z270 Gaming K6 motherboard doesn't pack in all the bells and whistles, but it does include a very solid amount for the price.
Published Mon, Feb 6 2017 5:23 PM CST
|
Updated Tue, Nov 3 2020 6:58 PM CST
Rating:

91%
Manufacturer: ASRock
Introduction, Specifications, and Pricing
ASRock has many Intel Z270-based motherboards spanning across almost every price bracket. Today, I will look at one of ASRock's mainstream gaming motherboards, under their Fatal1ty brand, the Fatal1ty Z270 Gaming K6.
While I already looked at a mainstream ASRock motherboard with similar specifications, the Z270 Extreme4, the Z270 Gaming K6 is better equipped not only for gaming but also overclocking. The motherboard aims to give users a bit more than a basic, albeit loaded, Z270 motherboard with more unique ASRock features and a bit more style.
Many users asked for simple white and black color themes, and many vendors, including ASRock, have delivered. However, some users still want the motherboard to have a color theme, red is one of the most popular choices, and ASRock's Fatal1ty line seems to stick with the tried and true red and black theme. Don't worry; they didn't forget the RGB LEDs.
Without further delay, let's begin our Fatal1ty Z270 Gaming K6 journey!
Specifications
The Fatal1ty Z270 Gaming K6 offers dual Intel NICs, USB 3.1 type-A and type-C, two M.2 slots, eight SATA6Gb/s ports, and it even has a VGA output for the processor's integrated graphics.
Pricing
The Z270 Gaming K6 costs $169.99.
Packaging and Fatal1ty Z270 Gaming K6 Overview
Packaging and Overview
ASRock's box design for its Z270 Gaming K6 is very similar to that of its other Z270 Fatal1ty motherboards. Packaging is also very similar; the motherboard sits in an anti-static foam tray inside an anti-static bag and accessories are individually wrapped.
The accessory package includes four SATA6Gb/s cables, SLI HB bridge, IO shield, M.2 screws, manuals, driver DVD, and ASRock case badge.
ASRock offers five fan headers, all of them can work in either PWM or DC mode. The two headers circled in blue can auto-detect whether they should be in PWM or DC mode. All headers but the one circled in yellow provide 1A output, but the header circled in yellow can provide 1.5A.
The motherboard has a little touch of red on the PCB silk screen, shields, and heat sinks to create a decent looking red and black aesthetic. There are RGB LEDs (default color is red) under the IO shield, audio shield, and under the PCH heat sink that you can configure with ASRock's AURA software. The rear of the motherboard is bare of major components except for a USB type-C switch and ASMedia quick switches for PCI-E lane switching.
The rear IO panel features a WIFI antenna bracket (if you want you can add in a WIFI card later), PS/2 keyboard/mouse, four USB 3.0 ports, VGA (D-SUB), DVI, HDMI, two 1Gbit Intel NICs, USB 3.1 type-A, USB 3.1 type-C, gold plated audio ports, and S/PDIF digital.
The PCI-E layout is designed so that the first and second full sized slots are connected to the CPU and can run x16/x0 or x8/x8. The last x16 slot is electrically x4 and is connected to the PCH. The x1 slots are also connected to the PCH. All PCI-E slots are PCI-E Gen 3. Two USB 3.0 internal headers are situated below the 24-pin power connector.
The motherboard features two M.2 slots. Both of the M.2 slots are x4 PCI-E 3.0 and support SATA mode. M.2 slot M2_1 shares bandwidth with SATA3_0 and SATA3_1 while M2_2 shares bandwidth with SATA3_4 and SATA3_5.
There are six SATA6Gb/s ports from the PCH, and ASRock added two more through an ASMedia SATA controller. The motherboard also features power and reset buttons.
Front panel connectors are located in the lower right-hand corner of the motherboard. A POST code display is located right above the COM header. Three USB 2.0 internal headers sit at the bottom edge of the motherboard adjacent to TB1 and TB2 headers.
An RGB LED header sits to the right of an XMP switch. A clear CMOS header is also provided, but there is no clear CMOS button. The CPU VRM heat sinks are connected by a heat pipe, and all heat sinks and shields use screws to attach to the motherboard.
ASRock Fatal1ty Z270 Gaming K6 Circuit Analysis
Circuit Analysis
The Z270 Gaming K6 has a lot of interesting hardware we will now examine.
The motherboard's VRM is in a 6+4 phase configuration. The four phases on the right are for the iGPU, then six phases are for the CPU, and the remaining two chokes are for the VCCSA and VCCIO phases. The Intersil ISL95856 4+3 phase PWM is used for the CPU+iGPU (3+2). The PWM has two integrated drivers for the CPU and one for the iGPU outputs, ASRock adds two ISL6625A drivers, one for the CPU and one for the iGPU.
To get 6+4 phases from the 3+2, ASRock doubles the number of power stage components (choke, high-side FET, and low-side FET). The MOSFETs are from Sinopower, the SM4336 and SM4337 for the low-side and high-side. ASRock is using their 12K FP caps, which is a quite high rating for a motherboard of this caliber.
A Richtek RT8120 single-phase PWM controller with integrated driver outputs its driver signal to two sets of phases. The MOSFETs are AP4034GYT N-channel power MOSFETs from Advanced Power Electronics.
ASRock Fatal1ty Z270 Gaming K6 Circuit Analysis Continued
Fatal1ty Z270 Gaming K6 Circuit Analysis Continued
Like other major motherboard vendors, ASRock has switched to the Realtek ALC1220 from the ALC1150 since it offers 120dB SNR and an integrated amplifier. To supplement the built-in amplifier, ASRock has added a Texas Instruments NE5532 to amplify the front panel output. Nichicon Gold series electrolytic audio capacitors, as well as a PCB divide, help improve audio playback quality.
ASRock is using two Intel NICs that support teaming. The i211AT is a standalone NIC from Intel, while the i219v is the PHY for the integrated MAC in the PCH. In the end, you have two Intel Gbit NICs on a sub $200 motherboard.
USB 3.1 is provided by an ASMedia ASM2142 which utilizes two PCI-E 3.0 lanes for bandwidth. The type-C port requires a type-C switch and CC logic chip, and for that ASRock is using the ASMedia ASM1543.
An ASMedia ASM1074 USB 3.0 hub is used to provide the two USB 3.0 internal headers from a single USB 3.0 port. An ASMedia ASM1061 provides two SATA6Gb/s ports.
A Realtek RTD2168 provides the VGA/D-SUB video output on the rear IO panel because the iGPU does not output analog video natively. An IDT6V41642B clock buffer is used to enhance BCLK margins for overclocking.
An ASMedia ASM1442K level shifter provides DVI/HDMI from the digital video output of the iGPU. The main SuperIO is a nuvoTon NCT6791D.
Multiple ASMedia ASM1480 quick switches are scattered around the motherboard and switch x2 PCI-E 3.0 each. A nuvoTon N76E88 is in charge of the RGB LED functionality, and a Texas Instruments TPS259261 eFuse ensures you don't short the motherboard if you mess up RGB LED strip wire polarity.
BIOS and Software
BIOS
ASRock's UEFI for the Fatal1ty Z270 Gaming K6 is very similar to that of ASRock's other Z270 motherboards I have reviewed thus far. It's loaded with options to tune everything from SATA controller mode to preset overclocking profiles to overclock the CPU.
If you want to manually tune the CPU and memory overclock, you can easily do that. Fan tuning comes in two varieties; a GUI with a graph and manual input so you don't need to use a mouse to tune the fan speed.
Software
ASRock's APP SHOP and LIVE UPDATE will allow you to download the rest of ASRock's programs including F-Stream, AURA RGB LED, and even Sound Blaster Cinema 3 just to name a few.
Test System Setup
Steven's Motherboard Test System Specifications
The Fatal1ty Z270 Gaming K6's red heat sinks can stand out if you want them too, or you can hide them if you don't care for a red themed build.
The motherboard has RGB LEDs built into a strip in the IO shield, under the audio shield, and under the PCH heat sink. All the lighting is well diffused.
Overclocking
Overclocking Results
CPU Overclocking
The CPU could reach a 5GHz overclock with 1.3v with XMP enabled. I used Level 2 LLC with 1.32v VCore. The motherboard's overclocking settings are ones I have used on all other ASRock Z270 motherboards, with different amounts of VCore since they sometimes use different VRMs.
Compatible Memory Overclocking Kits
In this section, I overclock four memory kits only using XMP, if the kit works then the results are below. I welcome memory vendors to send in their kits to be tested on each motherboard.
Corsair Dominator Platinum 3200MHz C16 8GBx2
GEIL EVO X RGB 3200MHz C16 8GBx2
GEIL EVO FORZA 3200MHz C16 8GBx2
The Fatal1ty Z270 Gaming K6 could overclock all my kits except the TridentZ 3866MHz kit.
CPU, Memory, and System Benchmarks
CINEBENCH 11.5
wPrime
AIDA64 AES and HASH
AIDA64 FPU
AIDA64 Memory
ScienceMark
HandBrake
3DMark: Fire Strike
3DMark: Cloud Gate
ResidentEvil 6
ASRock's performance at stock and when standardized is a bit surprising. In some benchmarks, it totally outguns the rest of the competition. ASRock asked that I update the UEFI on the motherboard to their latest, and it seems that they have brought some performance enhancements to the table. For that reason, I am starting to cycle out some of the original motherboard numbers, since it is impractical to retest all motherboards in the charts for each review because of microcode enhancements.
Some motherboard reviews put a lot of weight into motherboard CPU, memory, and GPU benchmarks, but for me, CPU, memory, and GPU benchmarks on motherboards should be more about finding anomalies, and I do that at standard settings (4.8G in graphs).
System IO Benchmarks
CrystalDiskMark SATA6G:
CrystalDiskMark M.2:
ixChariot Network Throughput:
The Z270 Gaming K6 offers solid storage and networking performance, which means it is in line with similar products that use comparable controllers.
Audio RMAA 5.5:
I disable all audio features, set the correct bitrates, and then test the audio with a loopback test.
Sound Judgment by Ear: Excellent. ASRock's ALC1220 implementation is well executed. There are five ratings for audio: 1. Problems, 2. Okay, 3. Acceptable, 4. Very good, 5. Excellent
Thermal Imaging and Power Consumption
System power is measured at the wall with an AC power meter.
Note on Thermal Images: In the temperature section, we use our Seek thermal imaging camera to capture the surface temperatures of major components on the board. I look at the VRM and then all other things that light up the screen. If there is something to worry about, then I will state it. Otherwise, I will just show the hotter running parts of the board for fun. Unless some component is over 80-90C, then there isn't anything to worry about.
All systems will act differently, so I will look for commonalities, such as how far from the VRM the heat spreads through the PCB and the difference in temperature between the front side and backside of the PCB. Keep in mind, the majority of the heat from the VRM goes into the PCB as it is a giant soldered on copper heat sink. A larger difference in temperature between the back and front of the PCB points towards a more effective heat sink.
Thermal Testing at Stock Speeds:
The image on the left is always at idle, and the image on the right is at load. During ALL TESTS, fans above the VRM that cool the CPU cooler's (Corsair H110i GT) radiator are turned on to high (12v).
Full frontal.
Up-close of the front of the VRM.
Up-close of the back of the VRM.
Thermal Testing at 4.5GHz Overclocked Speeds:
The image on the left is always at idle, and the image on the right is at load. During ALL TESTS, fans above the VRM that cool the CPU cooler's (Corsair H110i GT) radiator are turned on to high (12v).
Full frontal.
Up-close of the front of the VRM.
Up-close of the back of the VRM.
The Fatal1ty Z270 Gaming K6 has a basic VRM, and it proves that three phases doubled to six are enough to overclock a 7700K to 5GHz with stable results. It can probably push a bit further since temperatures were not that high.
Anything under 60C is great, 60-80C is acceptable, and anything above 80C is a bit worrisome (if at stock).
What's Hot, What's Not & Final Thoughts
Here are key points about the ASRock Z270 Gaming-ITX/ac.
What's Hot
Double The Pleasure, Double The Fun!: What isn't there to like about double Intel NICs, double M.2 slots, double BIOS ROMs, and double USB 3.0 internal headers? The motherboard is equipped with a hefty serving of features at a reasonable price. You even get two extra SATA6Gb/s ports in case you don't want to mess with the SATA/M.2 port switching that affects the native ports.
Aesthetic Appeal: A lot of people have been complaining about RGB LEDs, so ASRock has taken a much different approach than some other vendors. While they have included RGB LEDs, they have also made sure that they are discrete and aren't in your face. The strip under the shields and the PCH heat sinks might even entice an anti-RGB crusader because of their low-key nature. The red and black color combination on the heat sinks and shields is nice too.
You Can Upgrade to WIFI: ASRock includes the small M.2 slot for a WIFI/BT controller and the antenna brackets, making it very easy to add WIFI/BT to the motherboard down the road.
Good Audio: At under $200, most people don't expect very good audio, but ASRock has done a nice job with their ALC1220 implementation. I would assume that this implementation would beat out most low-end sound cards, and you probably wouldn't notice the difference between onboard audio and a sub-$100 audio card.
Overclocking Features: ASRock included the standard power and reset buttons, along with a POST code display and dual BIOS. They have also included an XMP switch, so you do not need to enter the UEFI to enable XMP. Finding these overclocking features on a sub-$200 motherboard isn't all that easy, and the Z270 Gaming K6 has them.
What's Not
Low On IO Panel USB: There is a total of only five USB type-A ports on the rear panel. With many gaming keyboards requiring two ports, another for the mouse, and that leaves you only two left over for other devices. The issue is partially remedied through the use of the front panel headers, and you can add more USB through brackets.
Final Thoughts
The Fatal1ty Z270 Gaming K6 is a solid motherboard with a healthy feature to price ratio. In fact, it might have one of the best ratios for features to price. While it does not have the best VRM, it does not overclock crazy fast memory kits with ease, and it could have used a few more rear USB ports, it makes up for it in other areas. It has a good number of M.2 slots, USB 3.0 and USB 2.0 internal headers, SATA6Gb/s ports, and overclocking features just to name a few.
The motherboard's aesthetics are also at the level of a motherboard closer to the $200 mark, and it includes an AURA RGB LED header and onboard LEDs in case you want some lighting. I was also surprised by ASRock's performance enhancements that resulted from updating the UEFI, the performance of the motherboard is top notch. The Fatal1ty Z270 Gaming K6 is an excellent value for the price, with a hefty serving of quality features and solid performance matched with a reasonable price tag.
If you are in the market for a motherboard in the sub-$200 price zone and want a lot of value, ASRock's Fatal1ty Z270 Gaming K6 is worth a look.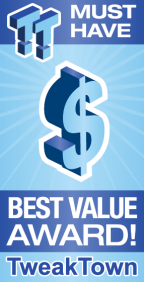 | | |
| --- | --- |
| Performance (including Overclocking) | 90% |
| Quality including Design and Build | 89% |
| General Features | 93% |
| Bundle and Packaging | 89% |
| Value for Money | 95% |
The Bottom Line: ASRock's Fatal1ty Z270 Gaming K6 motherboard is loaded with premium features, great performance, and fun aesthetics - importantly, all at a very reasonable price.
PRICING: You can find products similar to this one for sale below.

United States: Find other tech and computer products like this over at Amazon.com

United Kingdom: Find other tech and computer products like this over at Amazon.co.uk

Australia: Find other tech and computer products like this over at Amazon.com.au

Canada: Find other tech and computer products like this over at Amazon.ca

Deutschland: Finde andere Technik- und Computerprodukte wie dieses auf Amazon.de