AORUS X3 Plus v6 (Skylake) Gaming Laptop Review
AORUS' X3 Plus v6 Skylake gaming laptop packs loads of great performance and features into a small package.
Published Jan 31, 2017 6:40 PM CST
|
Updated Tue, Nov 3 2020 6:58 PM CST
10 minute read time
TweakTown's Rating: 92%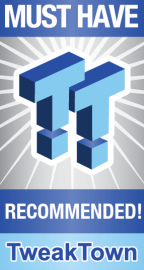 The Bottom Line
I never expected to find an overclocked Intel Core i7 matched with an NVIDIA Pascal GPU and two M.2 drives in a shell this thin and lightweight until I met the AORUS X3 Plus v6.
Introduction, Specifications, and Pricing

For those who have paid close attention to the gaming notebook market for the past few years, AORUS is not a new name. Since its introduction as a premium gaming notebook vendor a few years ago, AORUS has become an established gaming notebook vendor.
AORUS is actually part of GIGABYTE Technology, a vendor who specializes in everything from notebooks to motherboard to gaming accessories. GIGABYTE has its own factories and assembly plants, as well as their own design teams. Their vision for AORUS was to put together their top resources to take on the crowded gaming notebook market where competition is fierce.
The AORUS X3 Plus v6 is a small 13-inch gaming notebook, but it packs one heck of a punch. Not only does it have an overclocked Skylake mobile processor, an IGZO QHD+ display, a GTX 1060, and two M.2 x4 PCI-E 3.0 ports, it also has a ton of the latest features such as USB 3.1 and HDMI 2.0 to ensure maximum connectivity.
Without further hesitation, let us begin the review and see what this notebook can do.
Specifications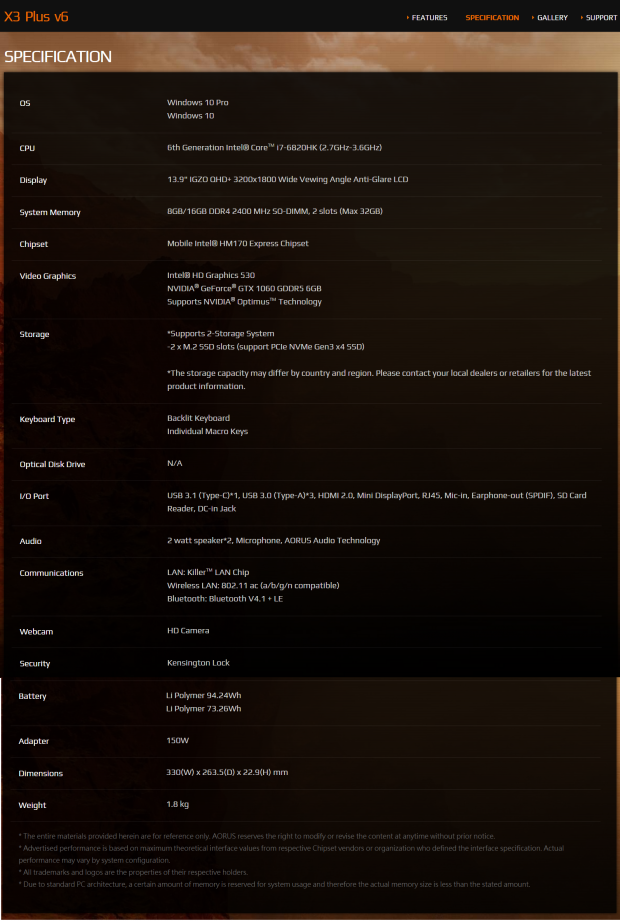 Our configuration is the X3 Plus v6 came with two 512GB Samsung NVMe M.2 drives, but they weren't RAIDed. I am not sure if this is the intended design, or if this review sample had its RAID configuration screwed up and no one set it up before I got it, but in the UEFI you can setup RAID of the two NVMe drives.
AORUS is using the Intel i7-6820HK overclock-able Skylake mobile processor, a GTX 1060, as well as Killer wired LAN and Intel Wireless. The notebook weighs 1.8KG and has dimensions of 330x263.5x22.9mm (WxDxH).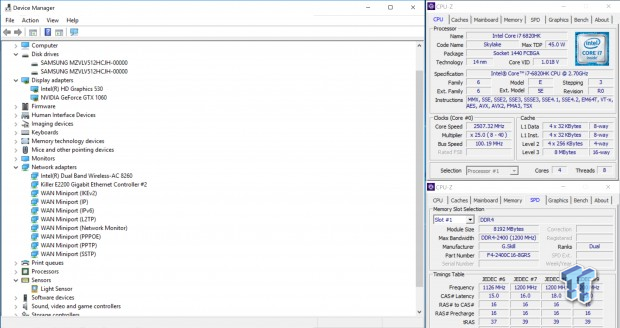 Our configuration uses 16GB of G.Skill DDR4 overclocked to 2400MHz using XMP. The notebook also has a light sensor right near the HD camera.
Pricing
The X3 Plus v6 in our configuration costs a little over $2000, there is a configuration on Newegg which costs $1999, but only has a single M.2 drive.
Physical Overview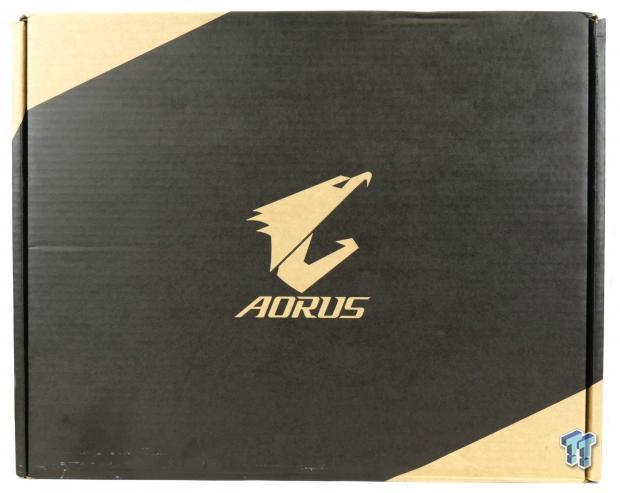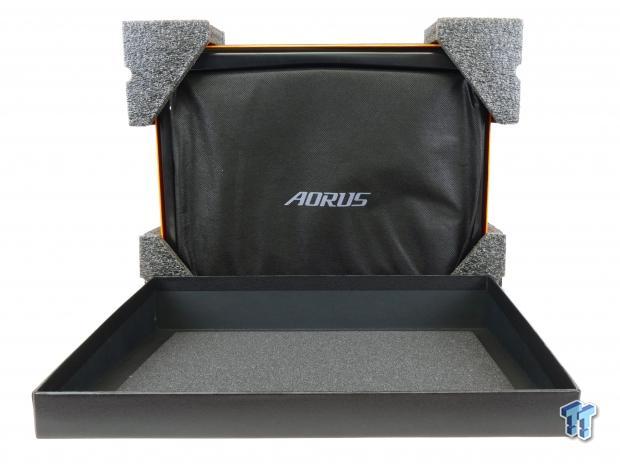 The AORUS box and packaging is a bit different than what you get from GIGABYTE. It has a down to earth, yet premium feel to it. The notebook is packaged securely and should arrive unharmed.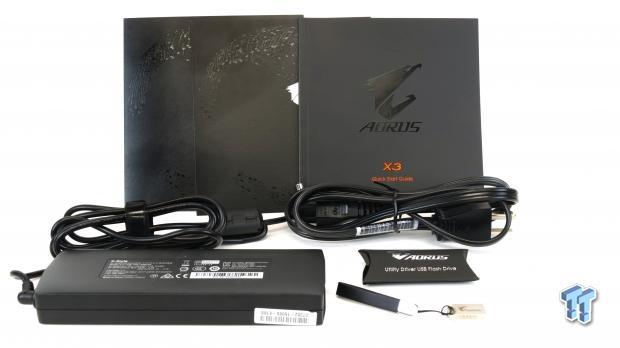 Accessories include AC/DC power adapter, USB stick with driver files, and of course the manuals.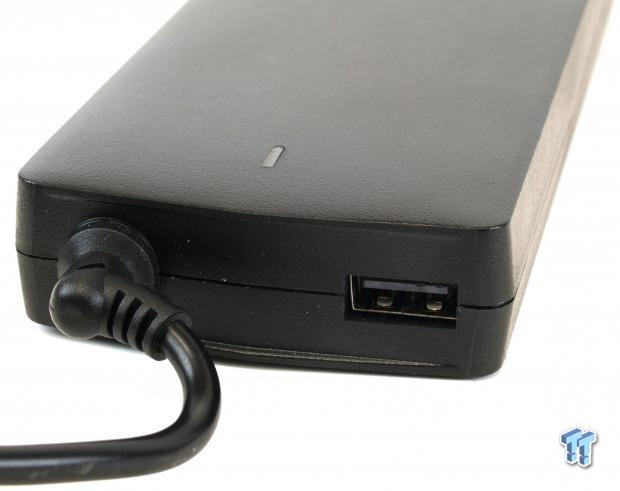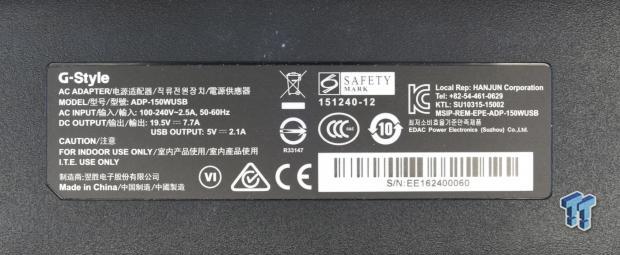 I really like that the AC/DC power adapter has its own USB charging port, so you don't have to plug into the notebook to charge up your phone. I found this very useful when I traveled to CES with the notebook. The adapter is rated 150W (19.5V @ 7.7A). The USB port outputs 2.1A, which is around the amperage used for normal quick charge.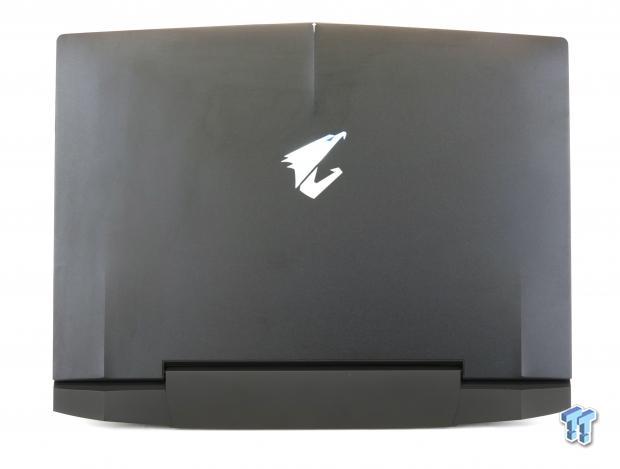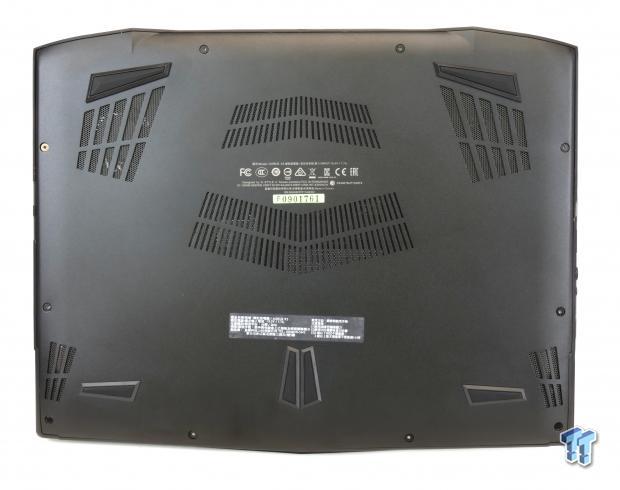 AORUS seems to have used one or two different build materials. It is difficult to keep things light while appearing to be high quality since plastics are very lightweight and metals are heavy. I believe that AORUS is using a very thin aluminum material for the top of the display's lid as well as some plastics for non-critical parts such as the rear vents and keyboard area. Either way, the material feels nice to the touch, looks good, but is very thin. I wouldn't throw it on the street outside.
The AORUS logo, which is the top of an eagle's beak and a flexed arm, adds to the uniqueness of the product. On the bottom, we find many vents for airflow, but also two for the speakers at the right and left bottom corners.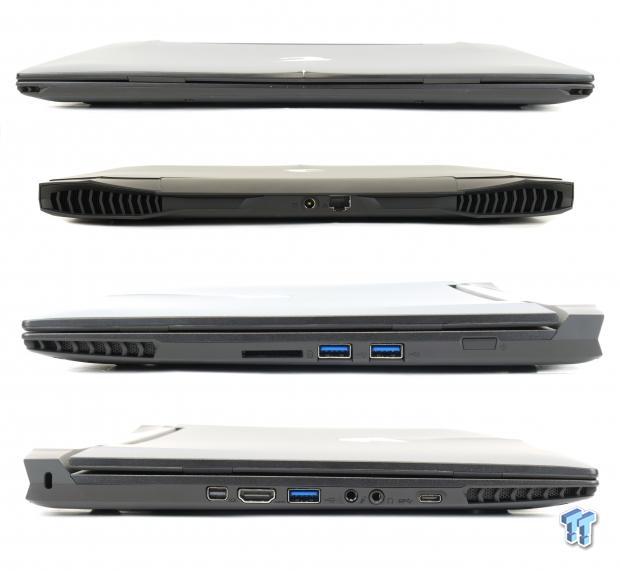 The front of the unit has no ports, just two vents for two speakers. The rear of the unit is where you will find the DC power jack and RJ-45 Gbit Ethernet port. The right side of the device features the power button, two USB 3.0 ports, and an SD card slot.
The left side of the device has a miniDisplayPort, HDMI 2.0, USB 3.0, microphone and headphone 3.5mm jacks, as well as a USB 3.1 type-C port. The notebook has almost every slot you need.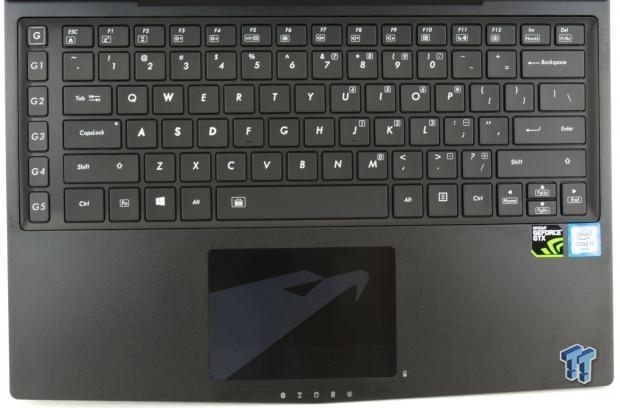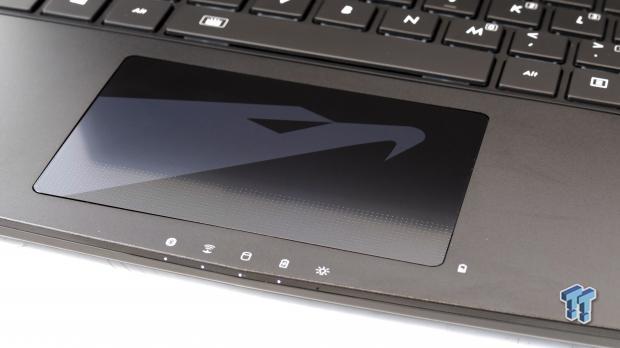 The full QWERTY keyboard isn't anything special but is large enough, so you don't feel cramped. There are also Macro keys you can program on the left-hand side, after all; this is a gaming notebook. The AORUS touchpad is unique, with an almost glass-like texture and dimples in the mouse click area. There is a battery indicator feature, where you touch the lower-right corner of the touchpad when the notebook is off, and then the indicator LEDs will light up in proportion to the battery charge.
Physical Overview Continued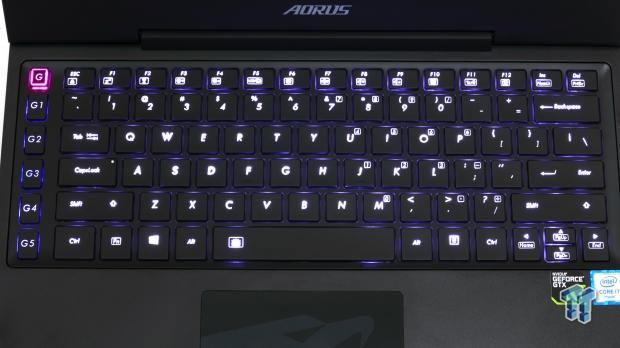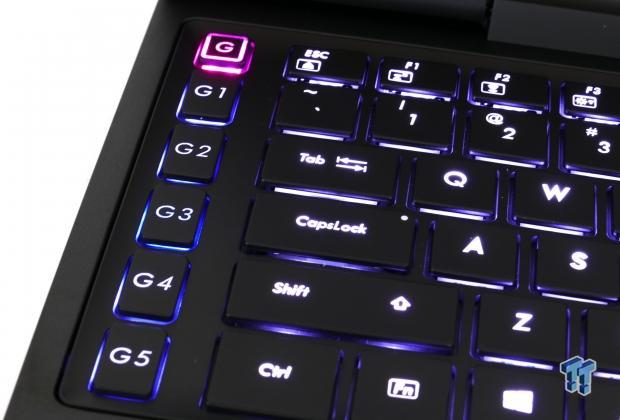 The keyboard offers only white-LED backlighting, but it's bright enough to be effective in low light situation. The Macro keys also light up; different Macro profiles will light up the "G" key in the upper left-hand corner different colors.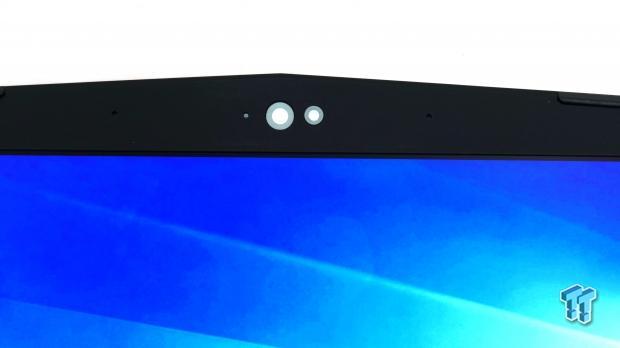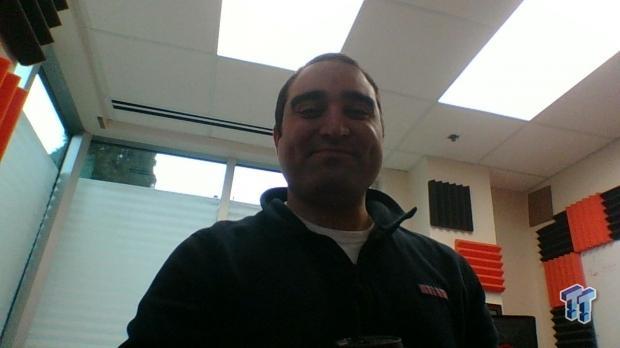 The 1280x720 HD camera does a decent job; it's not the worst nor the best I have seen in a notebook of this caliber. Near the camera is a light sensor to determine how bright to set the display.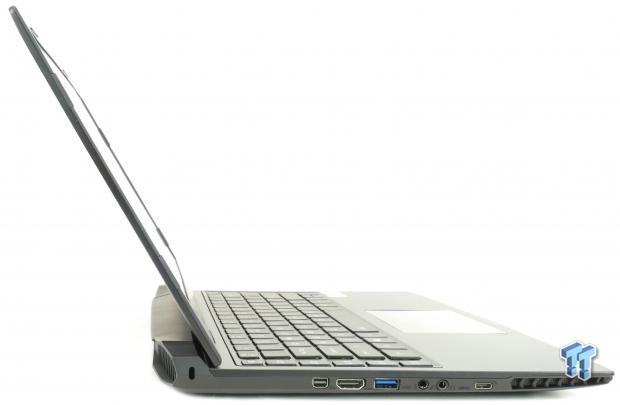 The display's maximum tilt is roughly 110-115 degrees; the rear exhaust vent region will prevent it from leaning back further.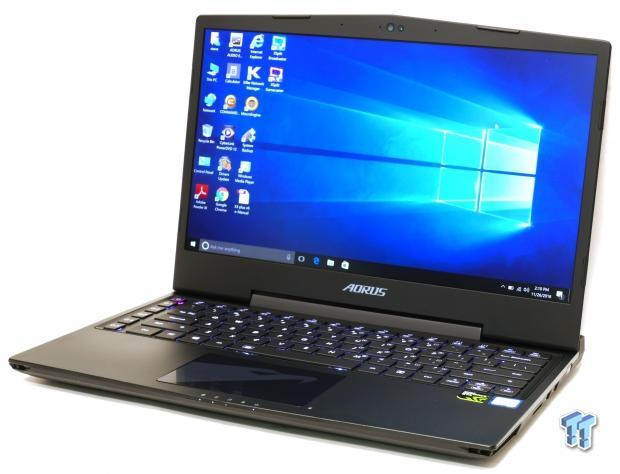 The QHD+ 3200x1800 resolution 13.9-inch display is very nice and doesn't allow much glare. The notebook uses an Indium Gallium Zinc Oxide (IGZO) TFT panel with 5.76 million pixels. It also has a 400 cd/m2 luminance rating, and you can view it just fine in bright lit areas. AORUS claims a 170-degree viewing angle.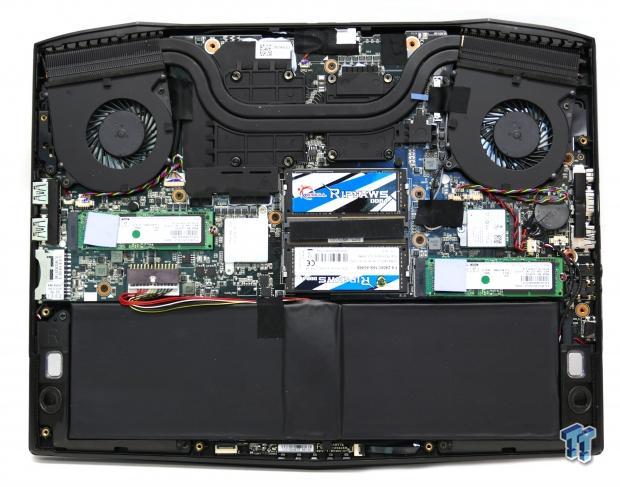 I opened the unit up, but beware that this voids your warranty. Both of the Samsung M.2 drives were cooled by heat pads that conduct heat to the backpanel. Our unit has a huge 94Wh battery, AORUS claims 7.5 hours of HD playback. Both the CPU and GPU share two heat pipes and two blower fans. As you can see, the notebook is easy to upgrade, but you will void the warranty by removing this rear panel.
Software and BIOS
Software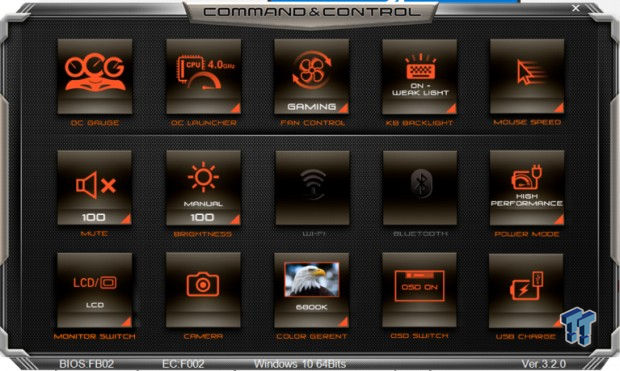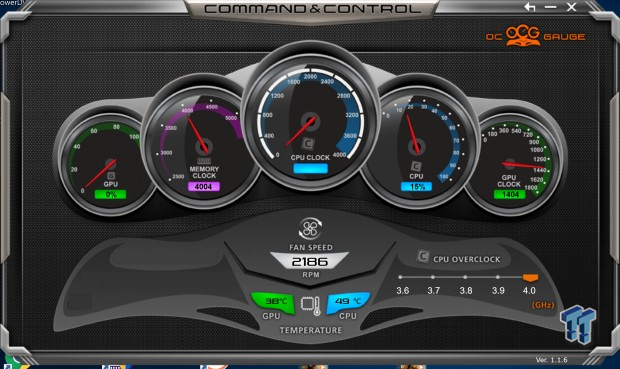 AORUS's Command Center is where you find other AORUS custom programs such as OC Guage, OC Launcher, Fan Control, KB Backlight, Mouse Speed, Mute, Brightness, Power Mode, Monitor Switch, Camera, Color Gerent, OSD Switch, and USB Charge. Some of these are just glorified Control Panel options, but many are not. OC Gauge is nice, and OC Launcher is easy to use. My unit came set with a 4GHz overclock.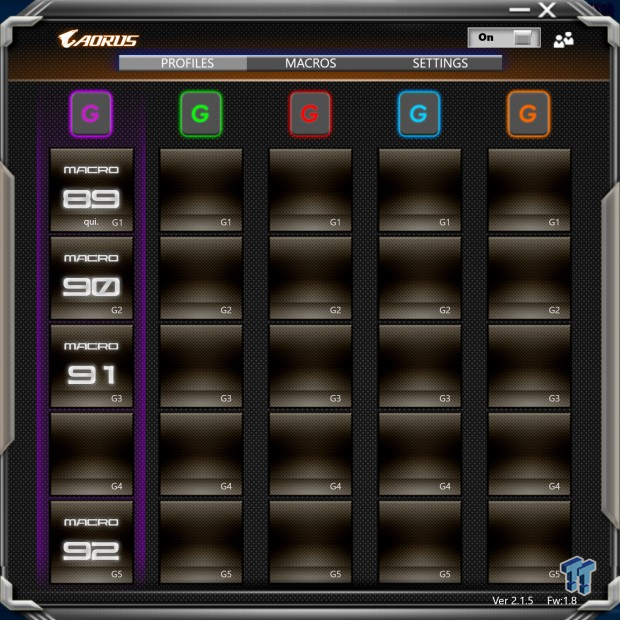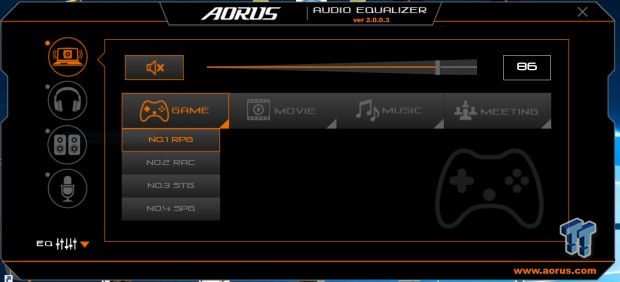 The Macro Key program allows you to set 20 different Macro keys in five different profiles. AORUS's Audio Equalizer gives you a lot of control over audio effects.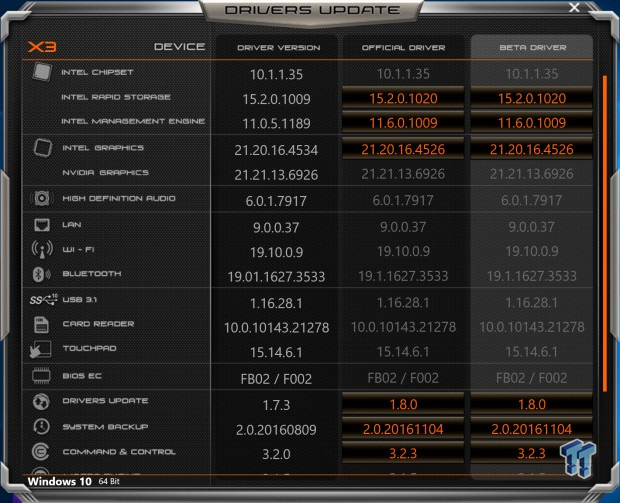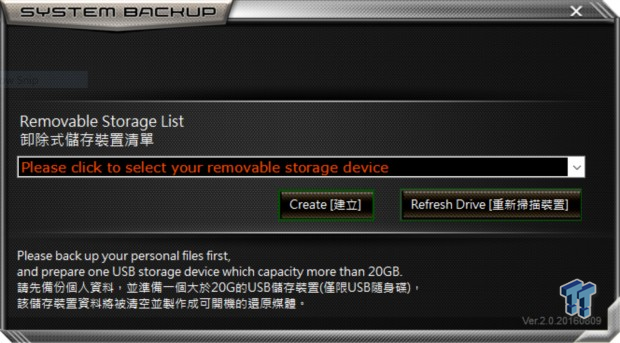 AORUS Driver Update will compare current driver versions to those available on their website and will update them for you; BETA drivers are also available. Since the notebook doesn't come with a USB flash drive with a backup OS, you can make on using the System Backup program.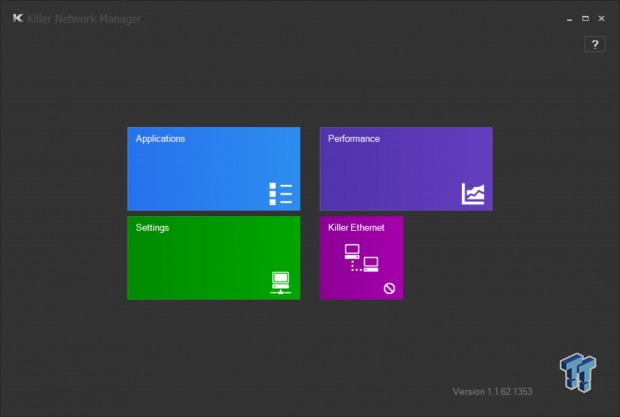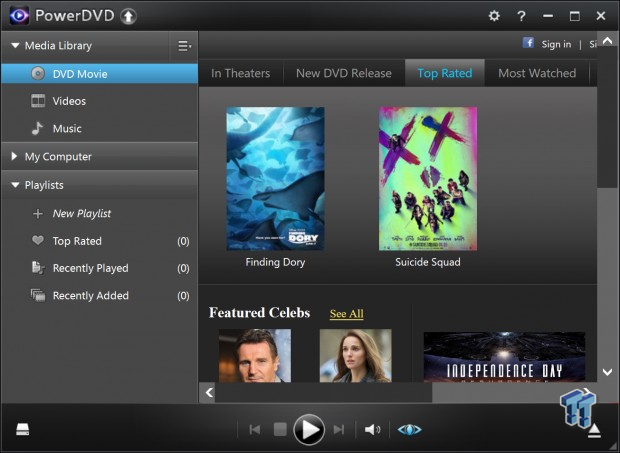 Since the unit has a Killer wired network adapter, you get their network manager. A program which is just as useful, PowerDVD is also included, but since the notebook doesn't have a built-in optical disk drive, I don't see how much it can offer.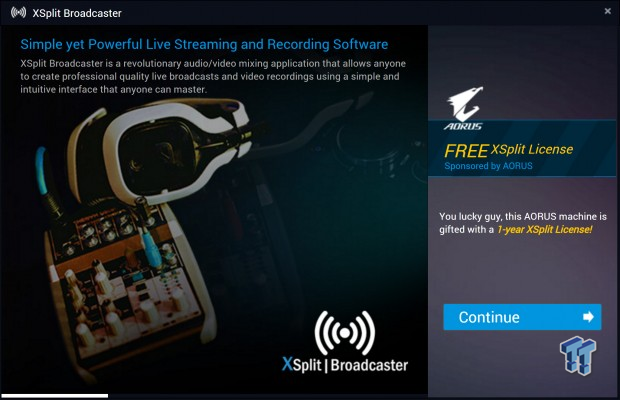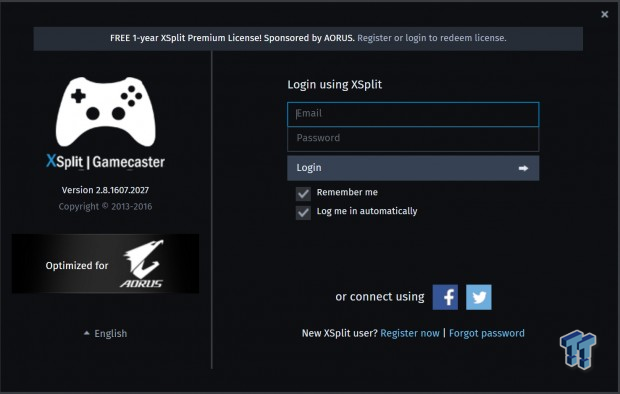 X-Split Broadcaster and Gamecaster are both pre-installed, you get a free one-year license.
BIOS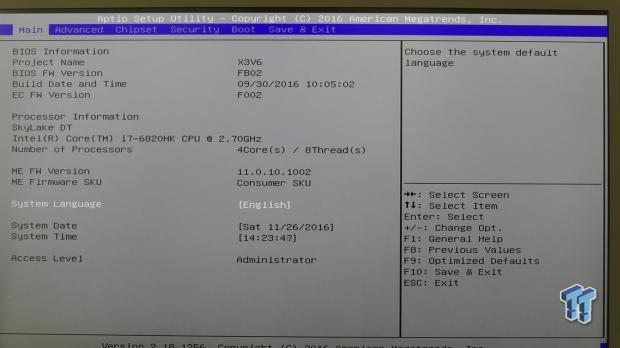 AORUS's UEFI is very basic and doesn't offer much regarding customization. I did find that if you set SAT mode to RAID, save and reset, then you can go into Intel's Rapid Storage Technology menu and setup RAID of the two M.2 drives, however, your unit might ship with an array already created and an OS already installed.
You cannot overclock from the UEFI either, that has to be done through Windows. I don't think you will need to use the UEFI that often, if at all, only if you want to change your storage configuration.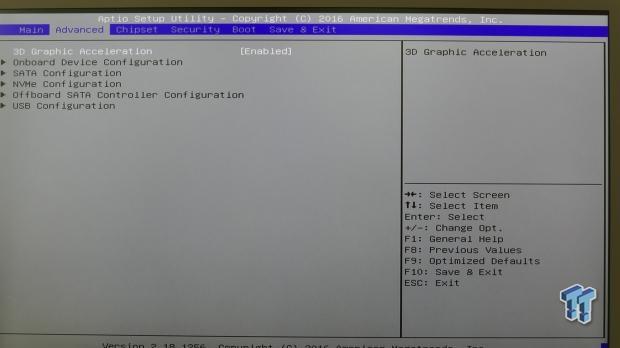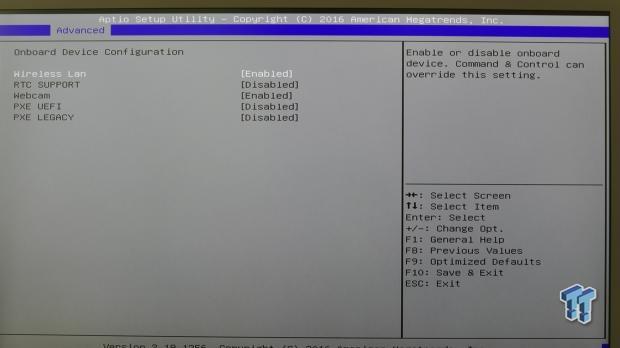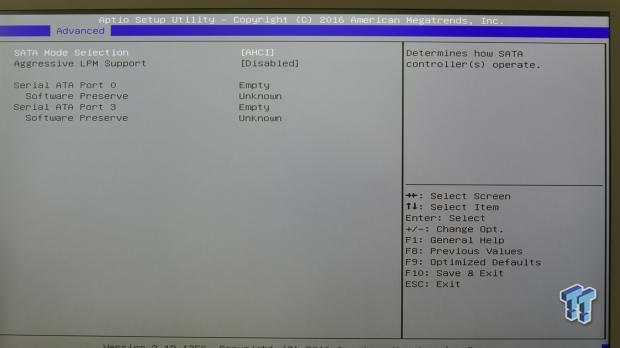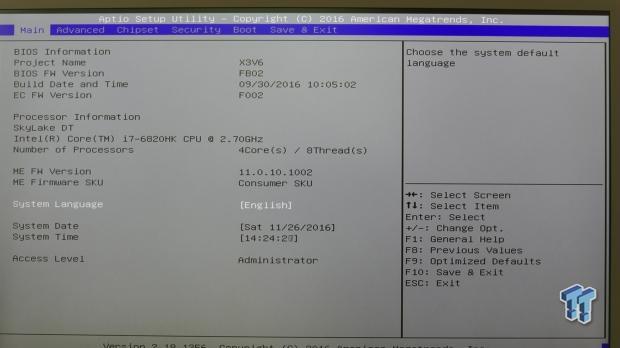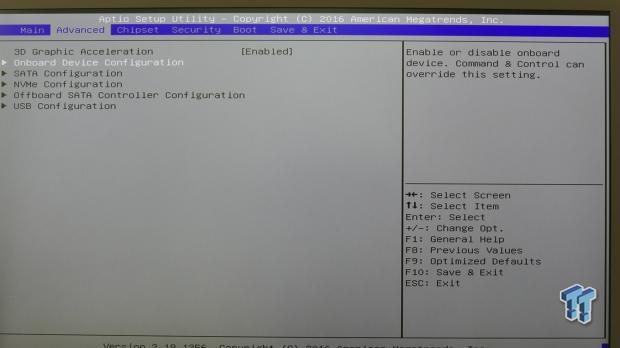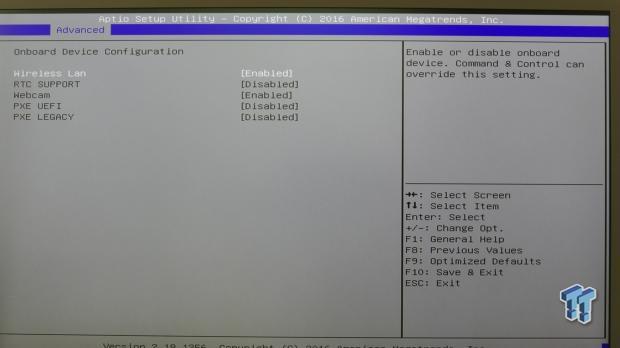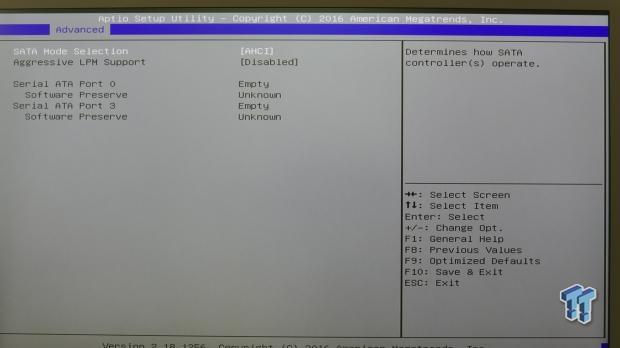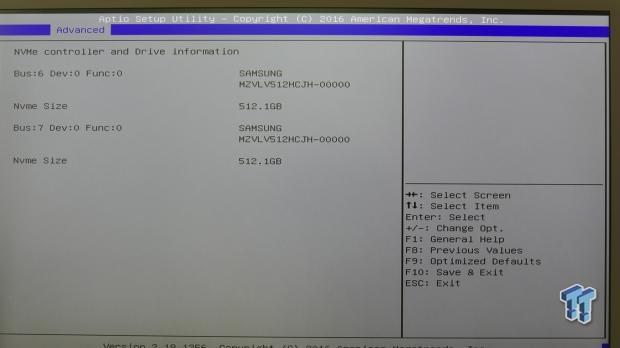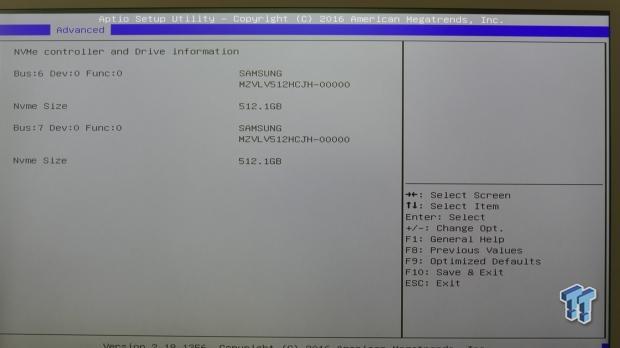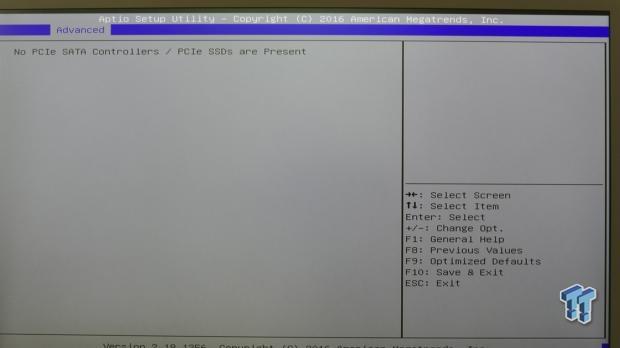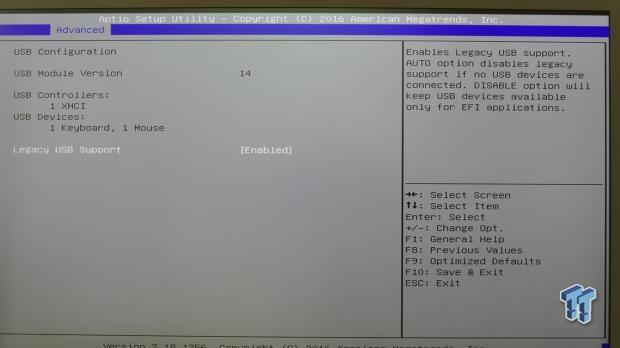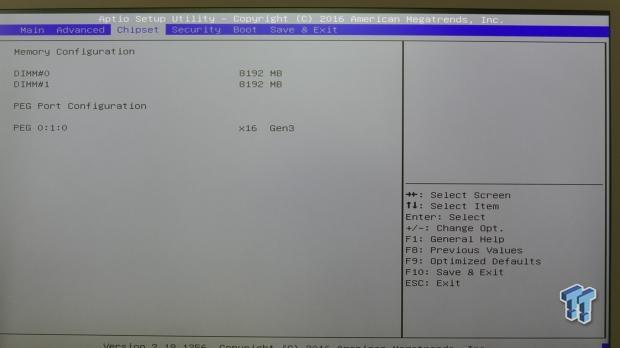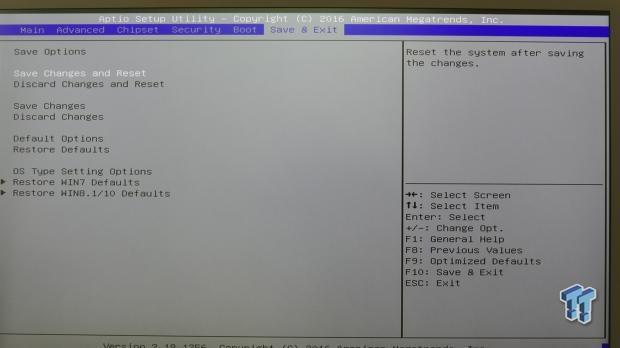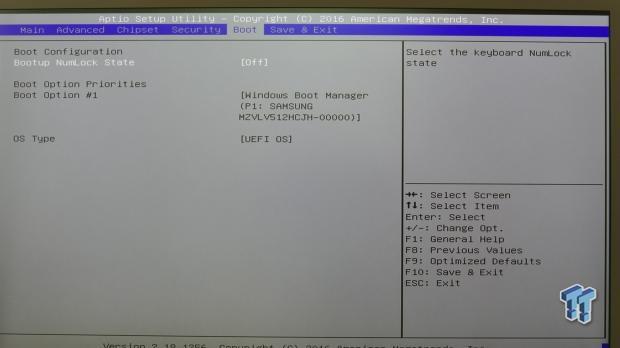 System Performance Benchmarks
CPU, Memory, and System Benchmarks
These benchmarks are run using default settings and configuration.
CINEBENCH 11.5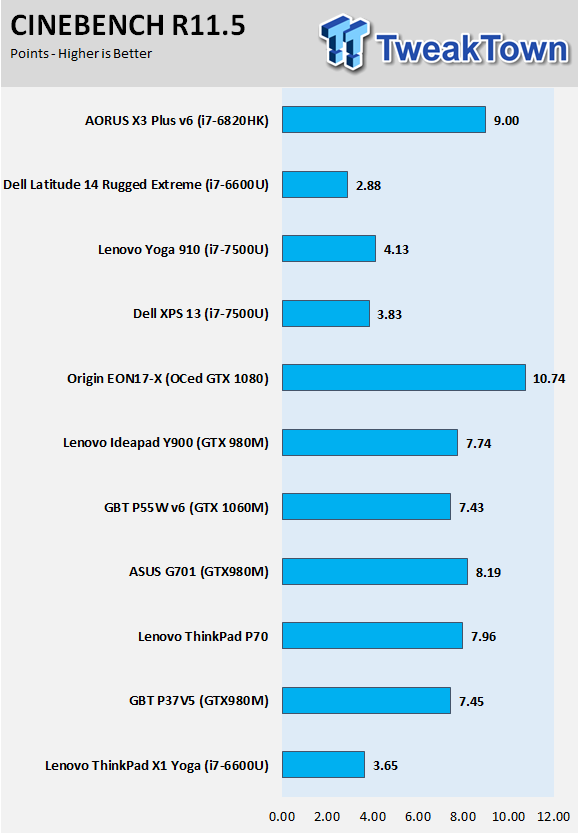 wPrime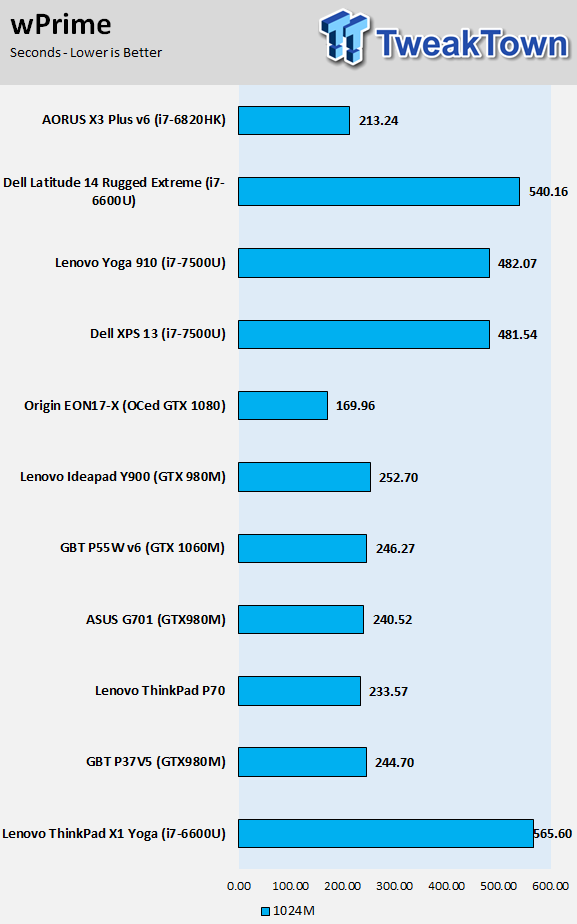 AIDA64 AES and HASH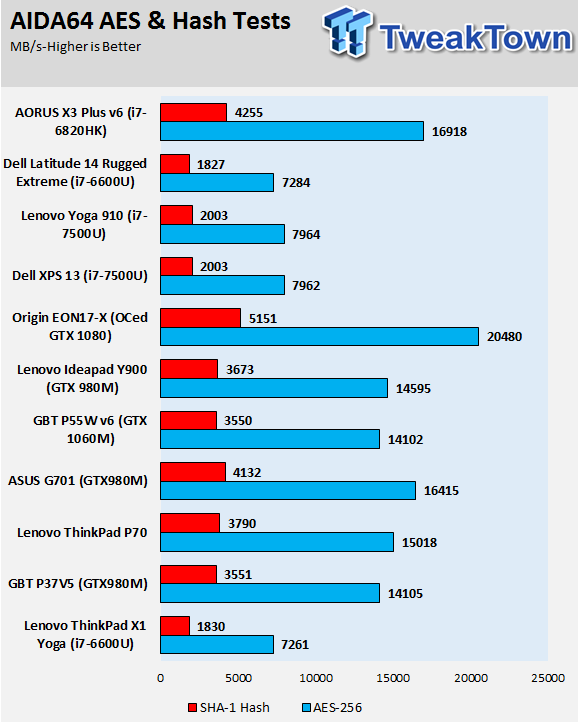 AIDA64 Memory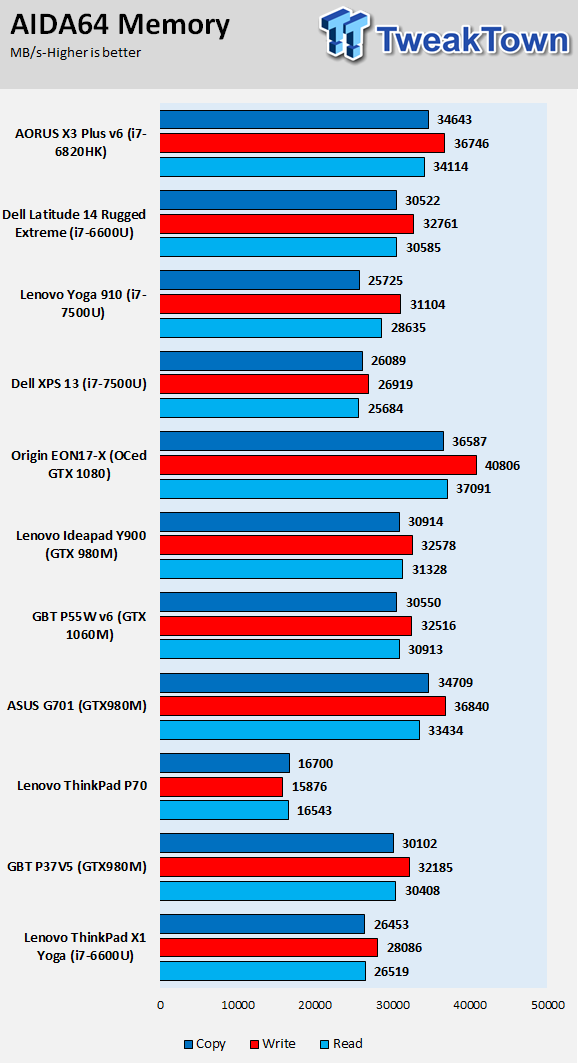 PCMark8 Home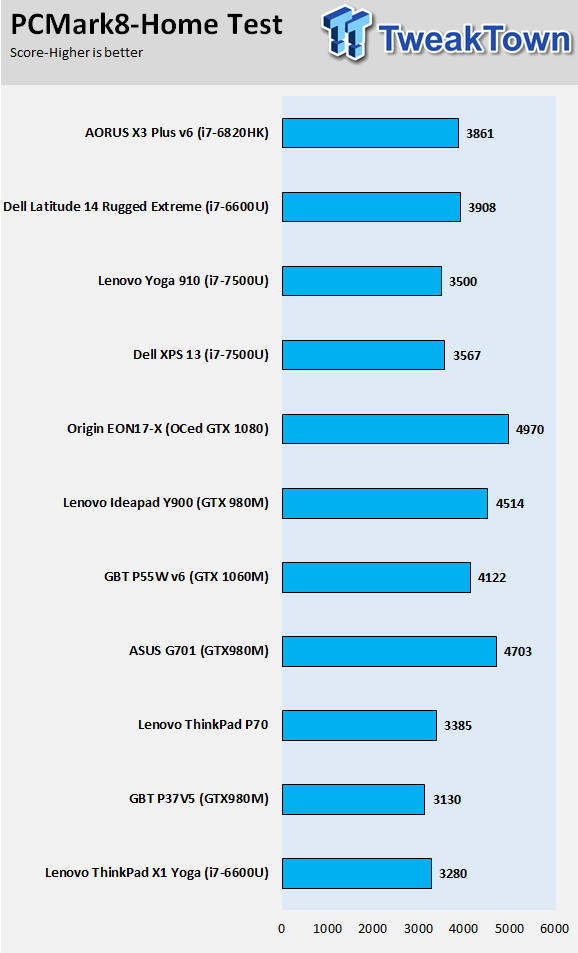 Handbrake 4K and 720P Transcoding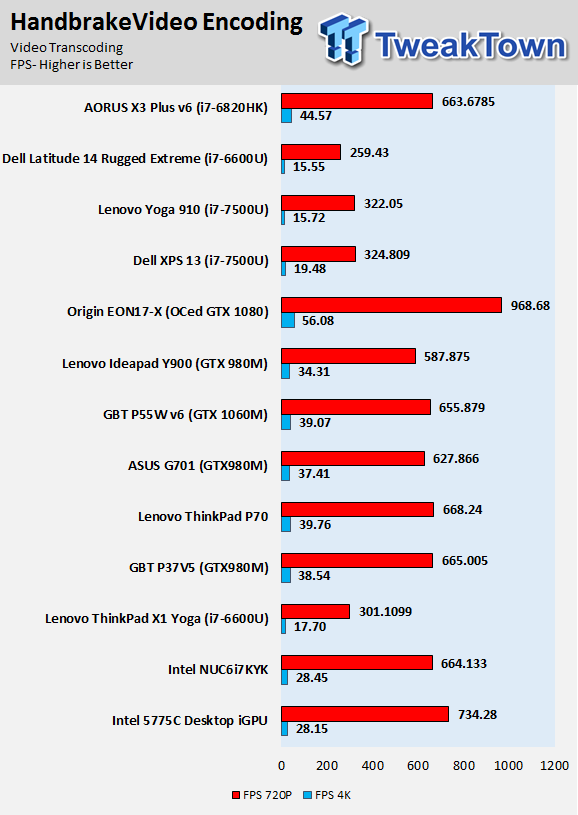 WebXPRT 2015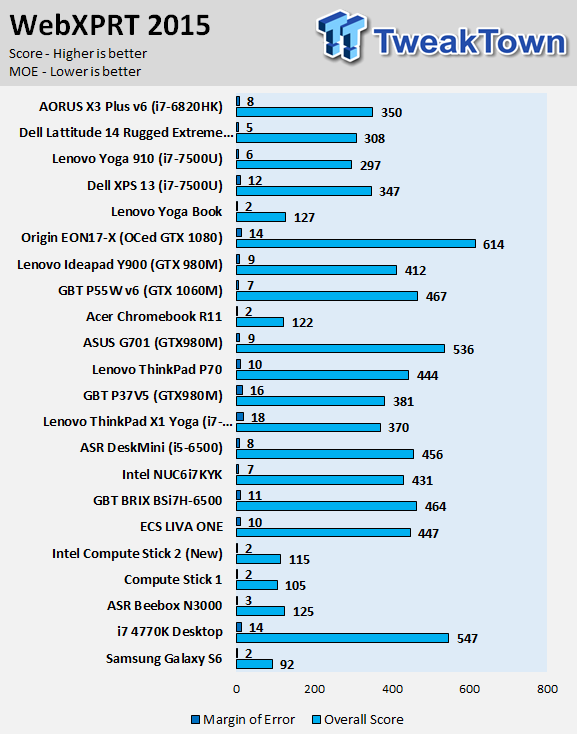 The i7-6820HK is Intel's first overclock-able mobile CPU, and AORUS has taken full advantage of its ability to Turbo overclock to 4GHz.
My system came overclocked, and its performance pushes the little X3 Plus v6 to levels that other systems with the GTX 1060 cannot currently match.
Gaming Performance Benchmarks
3DMark11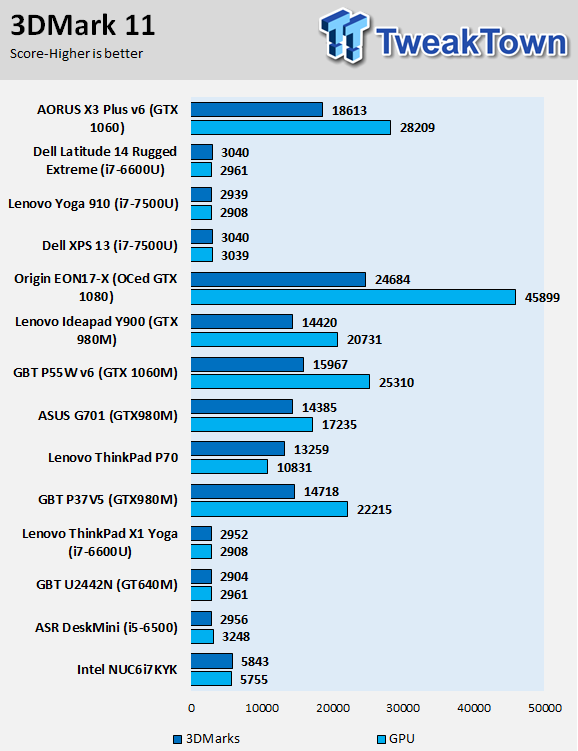 UNIGINE Heaven 4.0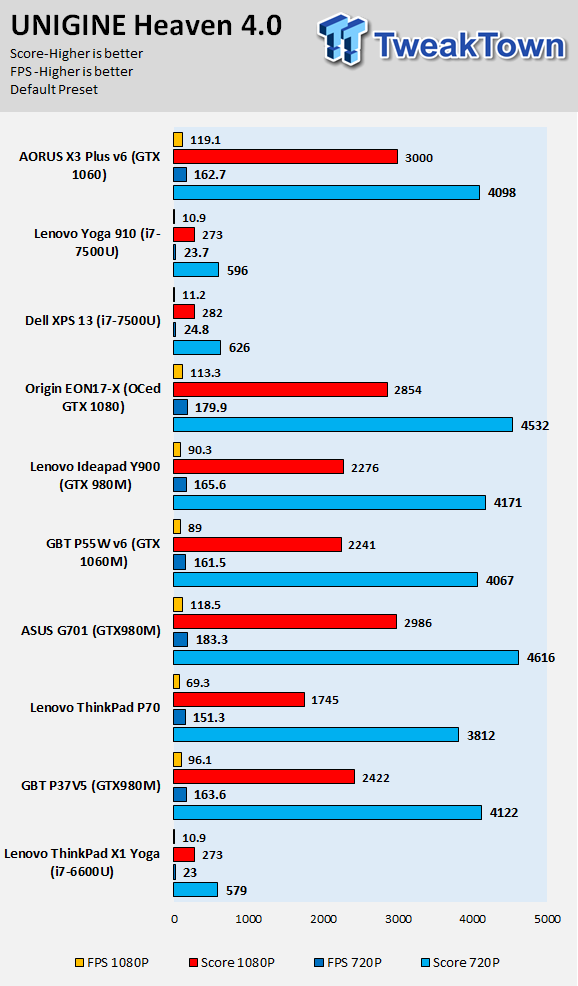 ResidentEvil 6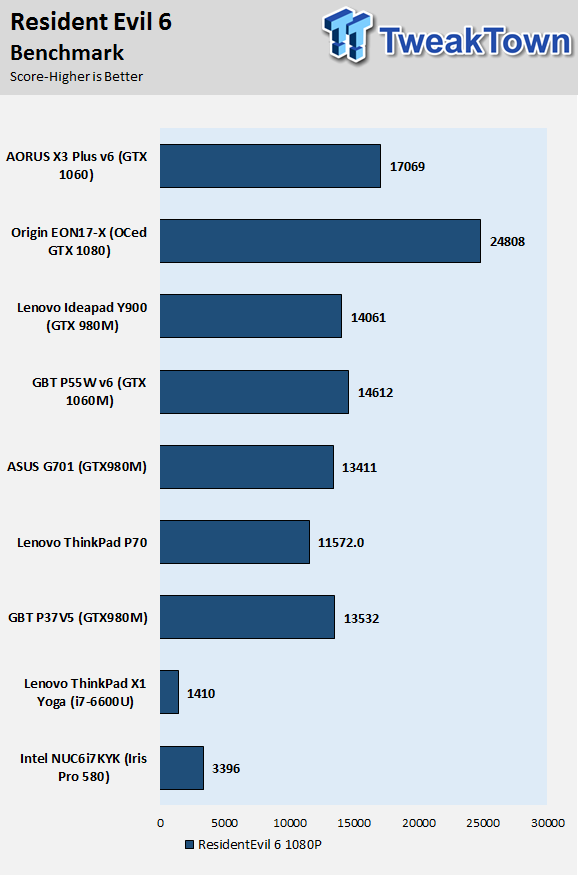 3DMark FireStrike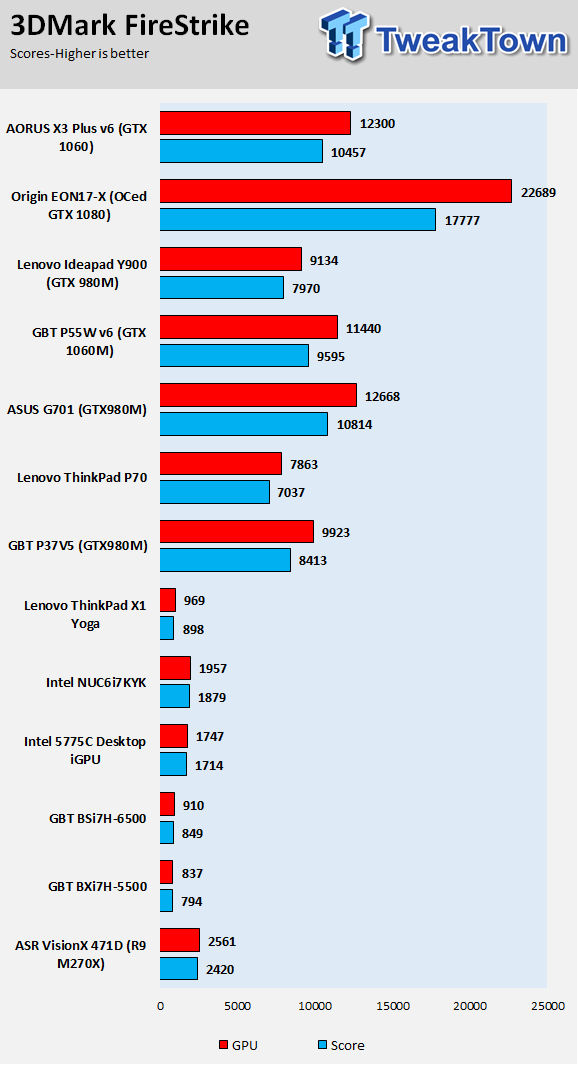 3DMark Cloudgate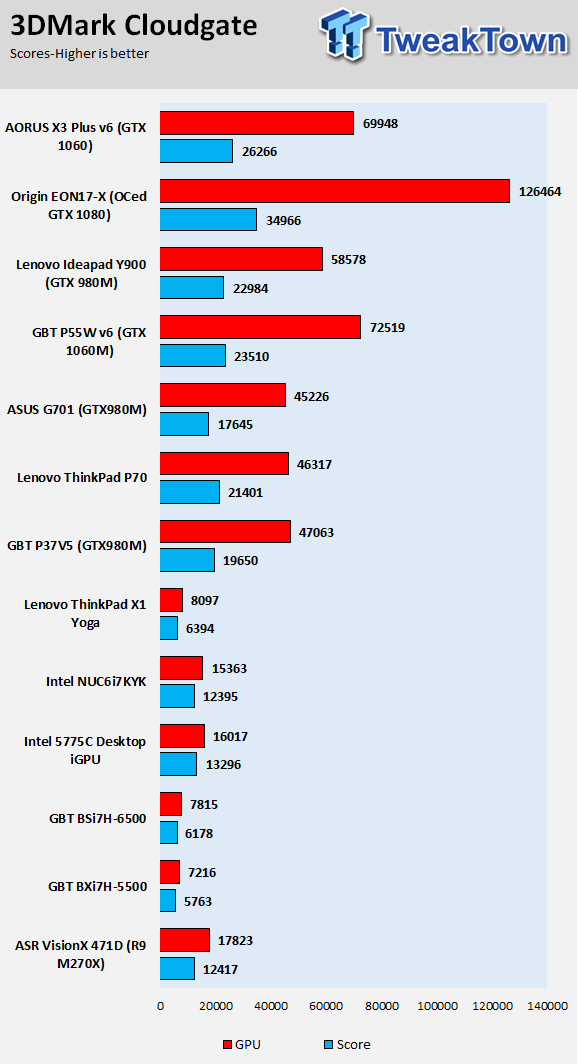 Ashes of Singularity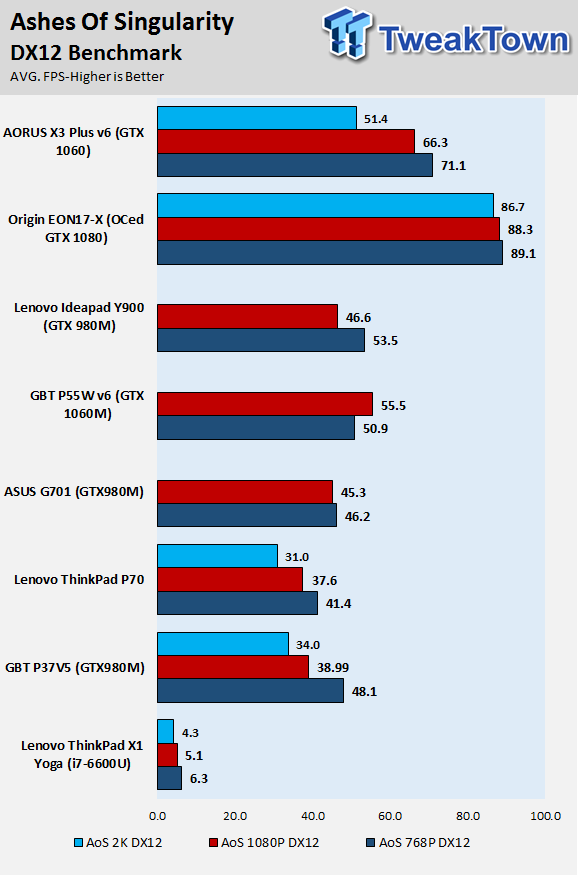 GTA:V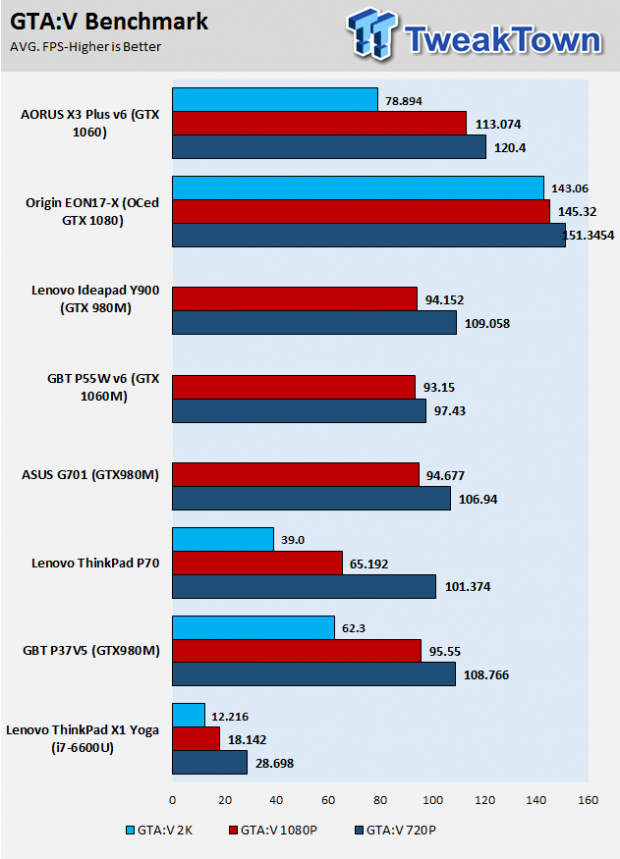 Final Fantasy XIV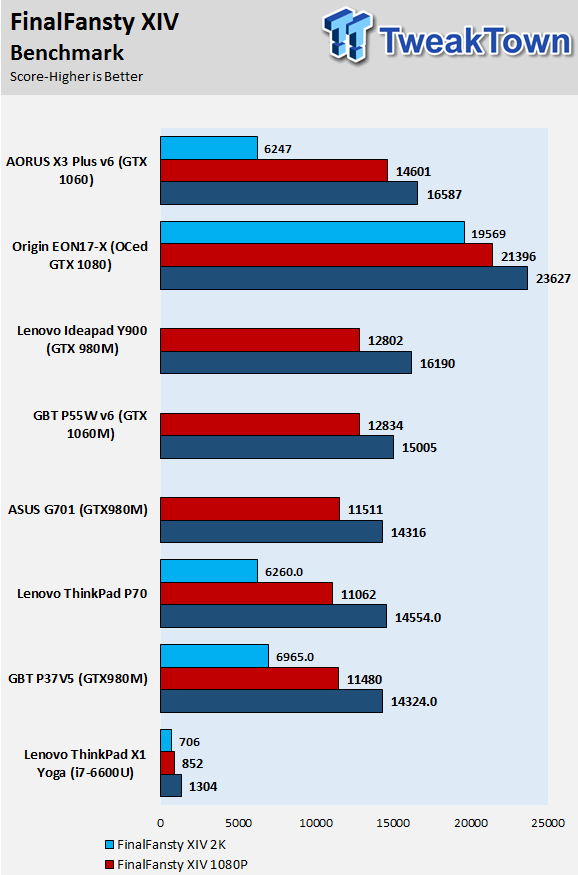 The overclocked i7-6820HK, GTX 1060, 16GB of DRR4 at 2400MHz, and fast NVMe storage produce very nice gaming results. There is another system in the benchmarks that also uses a mobile GTX 1060, and the AORUS X3 Plus v6 beats it out because of the other system enhancements.
The only notebook that can consistently beat the little AORUS is the Origin EON17-X with its desktop class overclocked 6700K and overclocked GTX 1080. The only thing I wish I could have tested was 4K performance, but since 4K is higher resolution than QHD+, I wasn't able to do a comparison at resolutions higher than QHD (1440p).
System IO and Battery Performance
System IO Benchmarks
Internal Storage Read Test: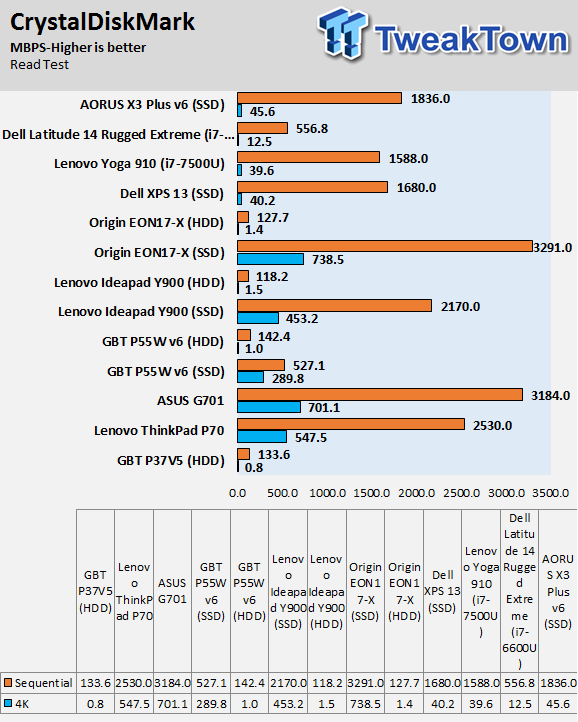 Internal Storage Write Test: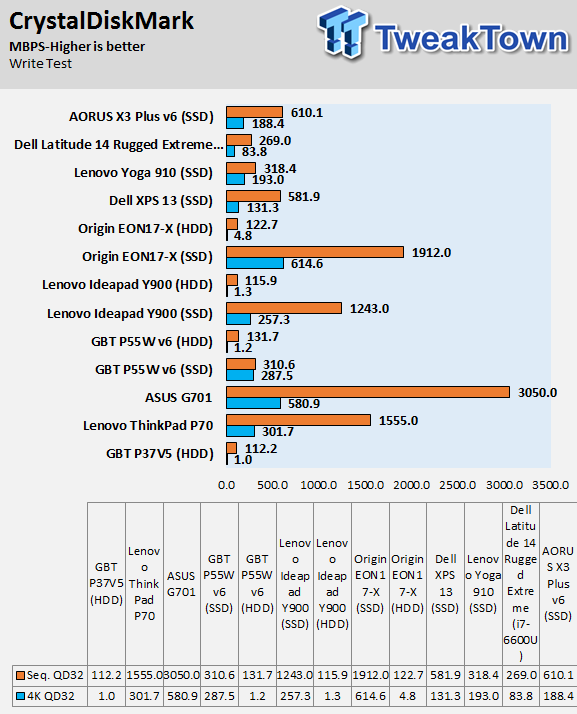 ixChariot Network Throughput: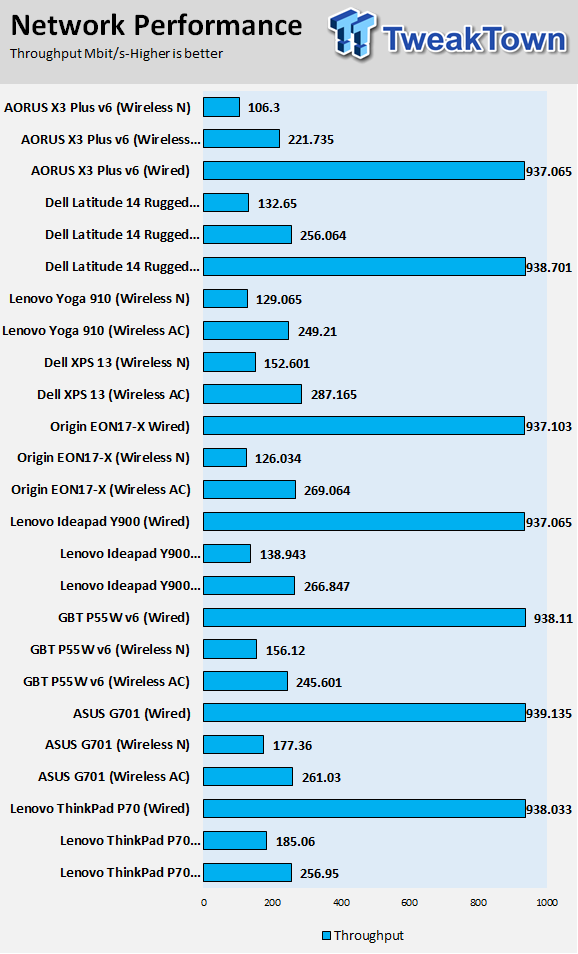 You can RAID the two M.2 slots, and if I did RAID them, I would have hit the bottleneck between the CPU and the PCH at around 3.5GB/s for sequential read speed, the limit for DMI 3.0. The two Samsung drives are fast enough individually, and this notebook can team them together.
Network performance was solid, I would have preferred Killer wireless and Intel LAN (reverse of what they used), but the real-world differences are minimal.
Battery Tests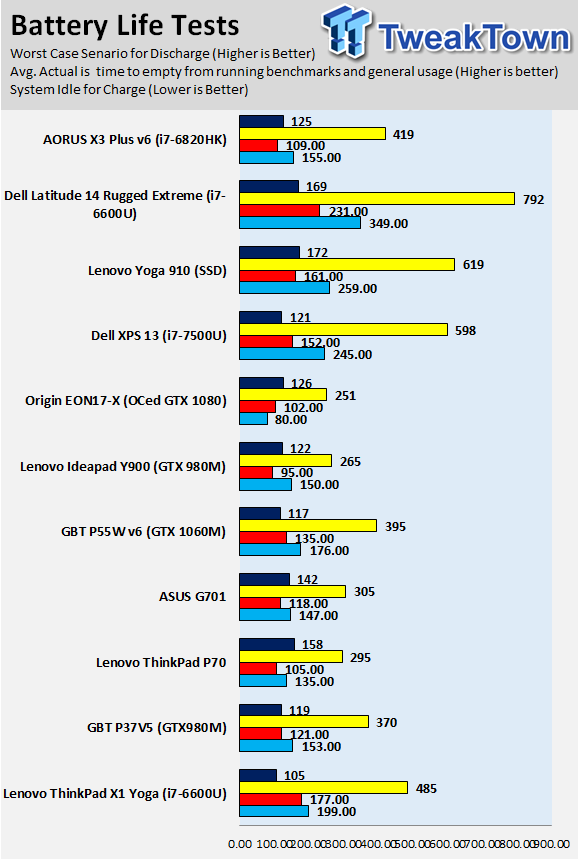 The battery tests reveal that even though the battery is huge at 94Wh, run time is in line with other gaming notebooks because of the power consumption toll and overclocked CPU and gaming GPU take on a notebook.
Thermal Performance
Thermal Imaging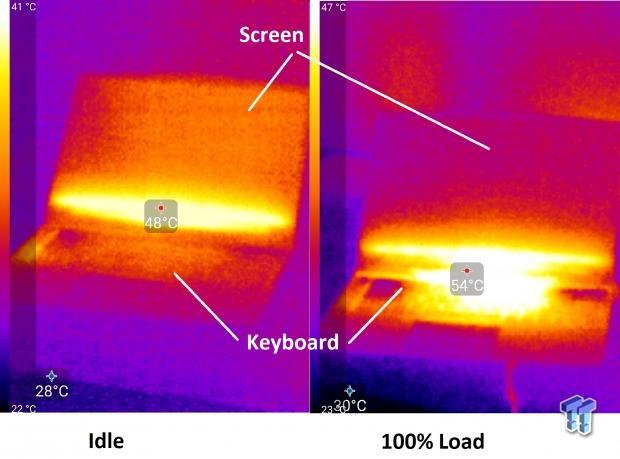 The brightness of the screen was at 100% at all times, even at idle. The heat from the screen doesn't cause any discomfort, and at full load, the "WASD" area is indirectly kept cool from the blower fan located right beneath it which cools the CPU down.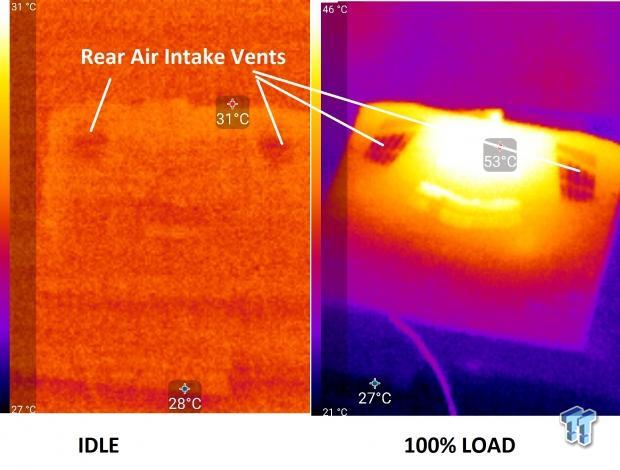 At idle there is almost no temperature gradient on the rear of the notebook, but at full load, we can start to see where the air intake vents are and where the heat is concentrated. The notebook gets warm, but not too hot.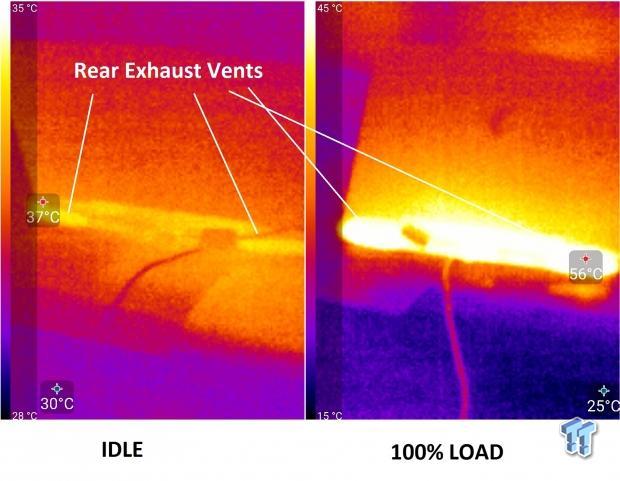 The rear of the notebook is where we expect to see the largest temperature increase because both exhaust vents blow out the back.
Obviously, 60C is hot, but that heat is being removed from the device which is a good thing. All in all, the unit runs as one would expect from a performance gaming notebook, and yes, the unit will get loud when at full load like this.
What's Hot, What's Not & Final Thoughts
Here are key points about the AORUS X3 Plus v6.
What's Hot
Overclocked: I was happy to find that AORUS allows you to overclock the 6820HK up to 4GHz. Of course, it is Intel's first overclock-able mobile CPU, and there is no Kaby Lake CPU like it yet. The performance difference between an overclocked mobile CPU and a stock one is noticeable in games. That is because NVIDIA'a Pascal GPUs, such as the GTX 1060 used here are quite powerful, a mobile CPU could potentially bottleneck the CPU, and overclocking helps alleviate this bottleneck. I was also happy to see that AORUS has the memory running at XMP, so instead of 2133MHz, you get 2400MHz RAM.
Small and Light: One thing I didn't like about the Maxwell-based mobile GPUs was that they ran hot and required a lot of cooling. That meant that gaming notebooks were heavy and bulky. The same cannot be said for NVIDIA's Pascal GPU such as the GTX 1060 used here. I would have never expected that a notebook this size could play games at QHD+ resolution with ease, but it is now possible. The notebook is also not that heavy considering a 94Wh battery takes up half the internal storage space.
Dual M.2: M.2 is the best consumer storage interface currently on the market. It allows the use of NVMe drives and very fast ones at that. All the fastest consumer storage devices are coming out for M.2 and in decent capacities. The AORUS X3 Plus v6 I have here today has 1TB of Samsung NVMe-based storage, and it is blazing fast. The good news is that you can also RAID M.2 drives, so I could significantly increase storage performance if I wanted to.
QHD+ IGZO: At 13.9", the Indium Gallium Zinc Oxide (IGZO) TFT panel offers a maximum resolution of 3200x1800, and the best part is that the display is very good at reducing glare. The 400cd/M2 luminance is also a nice touch as is the 170-degree viewing angle.
USB 3.1 type-C: Some notebooks are going all type-C, and that's just sad because there aren't that many type-C devices other than phones and expensive dongles. However, having at least one type-C port is a good idea, and AORUS made sure to include a USB 3.1 type-C port among the many USB 3.0 ports the notebook offers.
AC/DC Charger's USB Port: The 2.1A USB charging port built into the AC/DC power adapter is a small detail, but it's one of my favorite parts of the notebook. It came in handy more times than I can count while I was traveling with the AORUS X3 Plus v6 for work.
What's Not
I Needed to Tweak TP-Rejection: The touchpad looks nice, and I really like the dimpled clicking area, but the default TP-rejection needs to be tweaked. I had the same issue with my first GIGABYTE laptop many years ago, it is just too sensitive, and the cursor will jump when you do not want it too. Luckily, you can tweak this setting.
Overclocking Requires Software: Like most people who like computer hardware, we really don't like software from hardware vendors, especially overclocking software. I would have liked to see some overclock settings, even presets in the UEFI, that way users could uninstall any vendor software and have a totally clean system with an overclocked CPU. I should mention I didn't have any issues with their overclocking software.
Final Thoughts
AORUS products do cost more than GIGABYTE products with similar specification because they are tweaked and tuned specifically for gaming. Better storage devices, overclocking, cooling, and even accessories have been optimized to meet the needs of gamers rather than the normal consumer when it comes to AORUS.
The notebook was relatively light, thin, powerful, and looked sleek. Occasionally, I go to an event for work, this time it was CES. I decided to take the AORUS X3 Plus v6 with me because honestly, it was the only notebook I had small enough to travel with.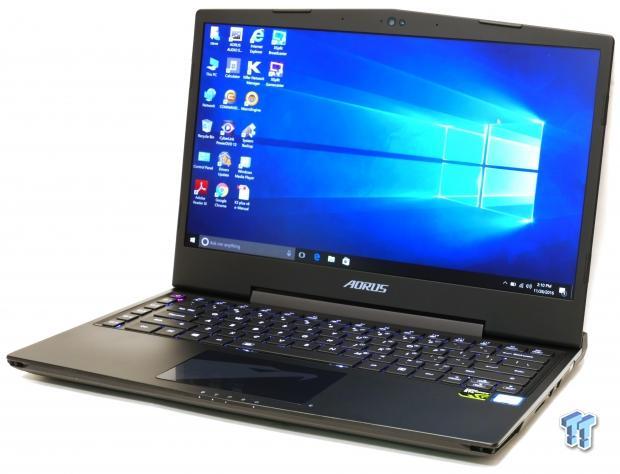 The notebook served me well; its battery lasted the entire plane ride, when I had some downtime I could play Ashes of Singularity, I wrote up three reviews on it (not including this one) and did a lot of photo editing as well. The notebook impressed me a lot, but I had to tweak the touchpad settings, so I didn't get annoyed. The notebook is not cheap, it will cost you close if not over $2000 depending on the configuration, but nothing powerful and small is inexpensive.
If you want a solid gaming notebook that is light enough and small enough to be backpack-portable, the AORUS X3 Plus v6 is worth a close look, and that is why I am awarding it our second highest honor, the Silver Award.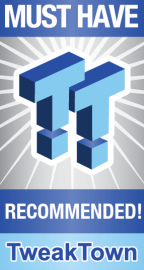 | | |
| --- | --- |
| Performance | 96% |
| Quality including Design and Build | 91% |
| General Features | 93% |
| Bundle and Packaging | 91% |
| Value for Money | 90% |
The Bottom Line: I never expected to find an overclocked Intel Core i7 matched with an NVIDIA Pascal GPU and two M.2 drives in a shell this thin and lightweight until I met the AORUS X3 Plus v6.
PRICING: You can find products similar to this one for sale below.

United States: Find other tech and computer products like this over at Amazon.com

United Kingdom: Find other tech and computer products like this over at Amazon.co.uk

Australia: Find other tech and computer products like this over at Amazon.com.au

Canada: Find other tech and computer products like this over at Amazon.ca

Deutschland: Finde andere Technik- und Computerprodukte wie dieses auf Amazon.de
We openly invite the companies who provide us with review samples / who are mentioned or discussed to express their opinion. If any company representative wishes to respond, we will publish the response here. Please contact us if you wish to respond.