BIOSTAR RACING P1 SFF PC Review
BIOSTAR's RACING P1 SFF PC isn't going to set performance records anytime soon, but it does offer a good amount considering its price.
Published
8 minute read time
TweakTown's Rating: 90%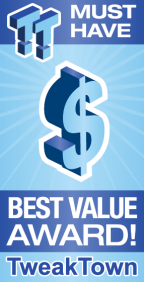 The Bottom Line
Loaded with a healthy amount of USB ports, wired Gbit LAN, Wireless AC, and even RGB LED support, the BIOSTAR RACING P1 is a fairly unique offering at an extremely reasonable price.
Introduction, Specifications, and Pricing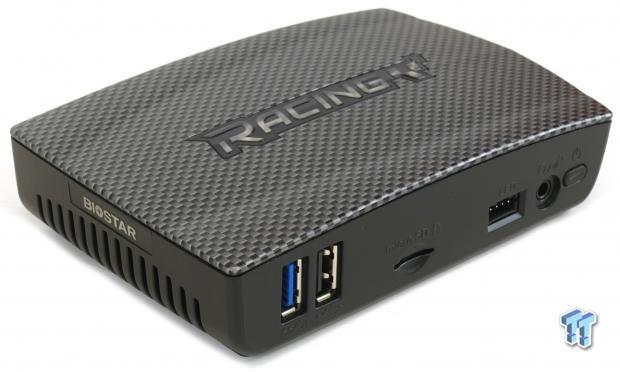 Mini PCs, otherwise known as Small Form Factor PCs (SFF PC), have been increasing steadily in number and range of power. Some of them are capable of replacing your desktop at home, while others are used as media/streaming devices. On that spectrum, BIOSTAR's Racing P1 is positioned on the much more integrated side of things, meaning that it's not a full desktop replacement.
It uses an Intel Atom x5-Z8350 SoC, based on Cherry Trail; it is one of Intel's more recent Atom options. It's not a full-blown Core series product, and as such, it is capable, but not as powerful. Even so, the RACING P1 is a versatile device that can serve many purposes around the home or office, as it can run Windows 10.
To spice up the little computer, BIOSTAR has added RGB LEDs in the lid and even provides a 5050 RGB header for an external RGB cable.
Let's take a look at what this tiny PC has to offer.
Specifications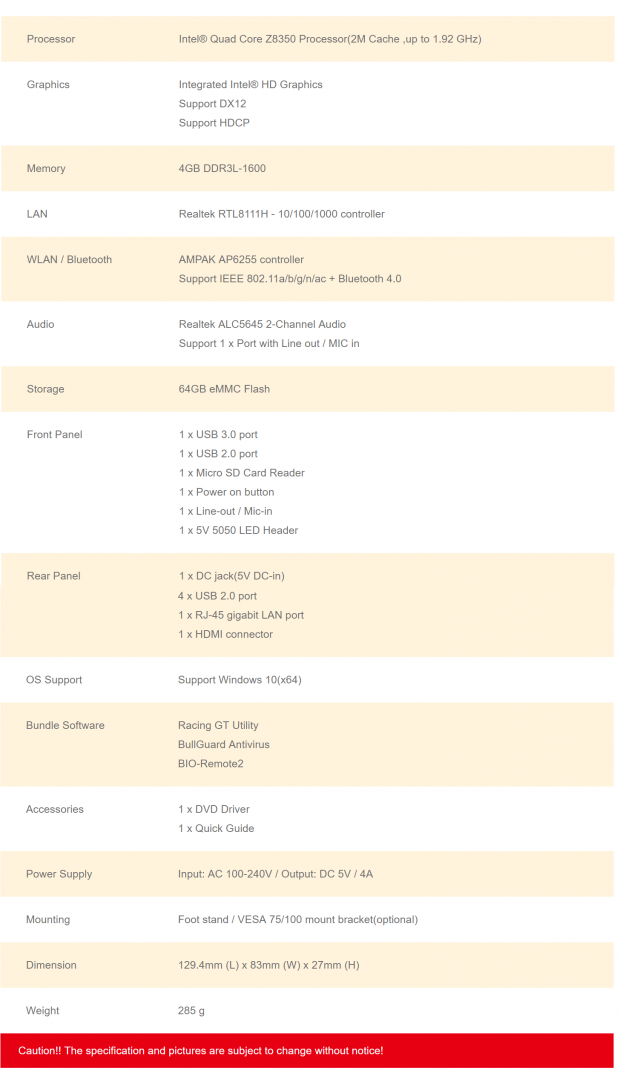 The RACING P1's Atom x5-Z8350 features a 64-bit quad-core CPU, includes Intel's HD graphics (max resolution 1080p), and has a TDP of only 2W with a base frequency of 1.44GHz and burst of 1.92GHz. Oddly enough, Intel lists the SoC as supporting up to 2GB of DDR3L, but BIOSTAR has actually engineered it to support 4GB DDR3L, which is preferable for 64-bit Windows 10 installations.
There is 64GB of built-in eMMC flash storage. BIOSTAR went ahead and added in both wireless AC and a 1Gbit NIC. The device has one USB 3.0 port and five USB 2.0 ports. Its only video output is through HDMI.
Pricing
The price of the Racing P1 is only $159.
Packaging and System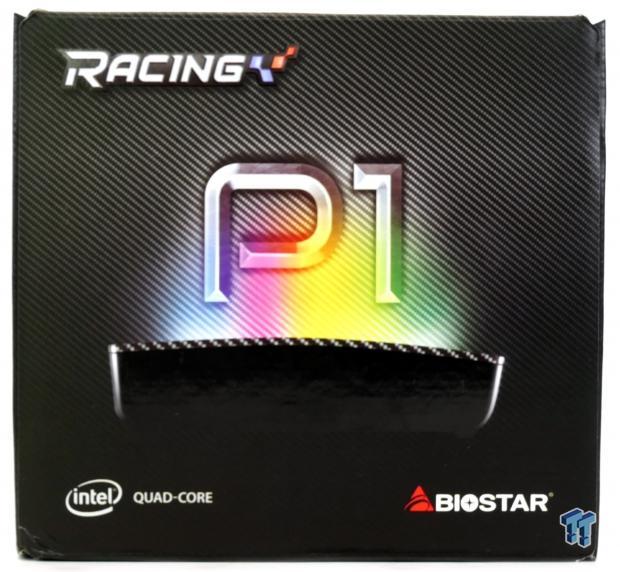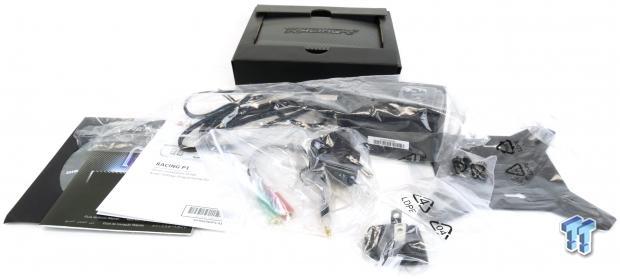 The box features an image of the device with a rainbow of colors above it; this points towards its RGB LED feature. The unit is securely packaged, the PC itself is boxed separately, and the accessories are individually packed in plastic.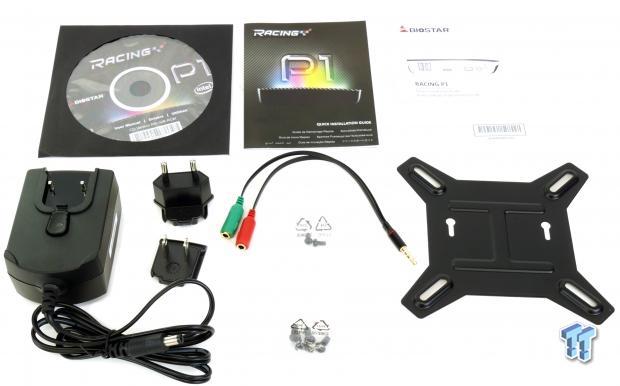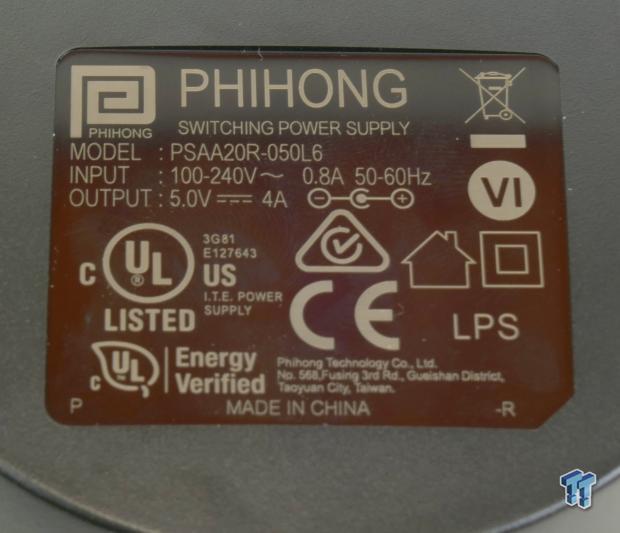 Accessories include an AC/DC power adapter with two types of plug options, VESA bracket and screws, headphone and microphone breakout cable, driver DVD, and manuals. The AC/DC power brick is rated at 5v at 4A for a total of 20 watts.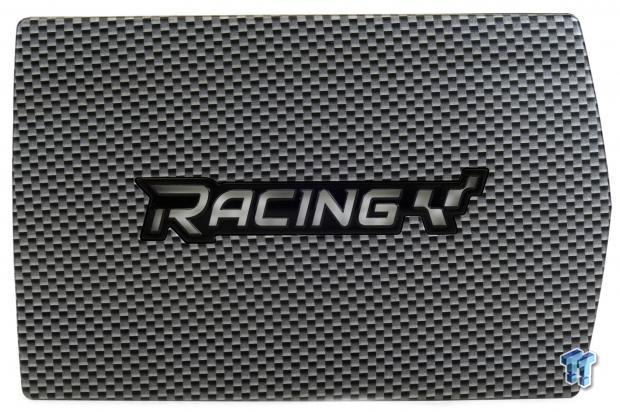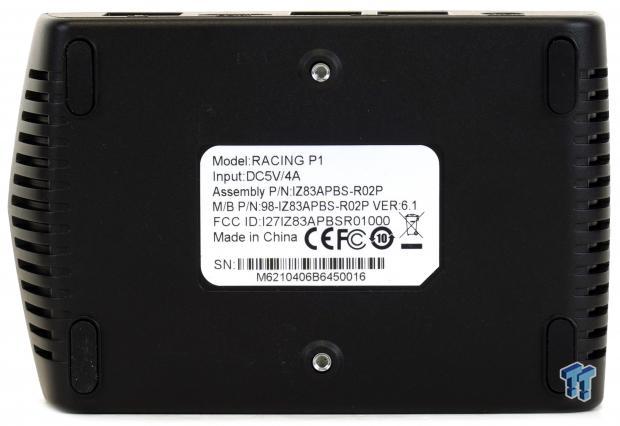 The top of the unit has a carbon fiber finish along with BIOSTAR's racing logo which is lit up by RGB LEDs. The bottom of the unit features four rubber legs, VESA mounting holes, and some regulatory information.


The front of the RACING P1 features a USB 3.0 port, a USB 2.0 port, a microSD card slot, 5050 RGB LED port, headphone/microphone jack, and power button. At the rear, we get a 1Gbit LAN port, HDMI, four USB 2.0 ports, and a DC power jack.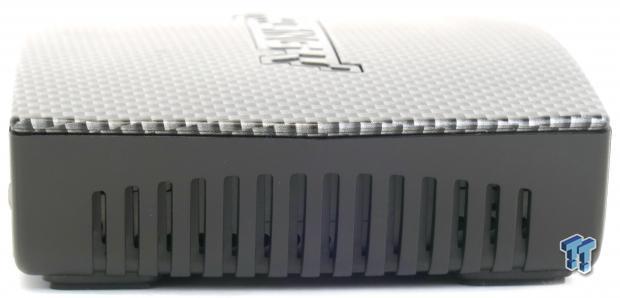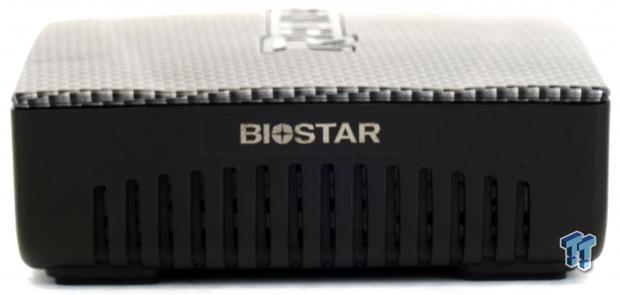 The RACING P1 is fan-less, but it still has vents on both right and left sides.
Teardown of the RACING P1
The Teardown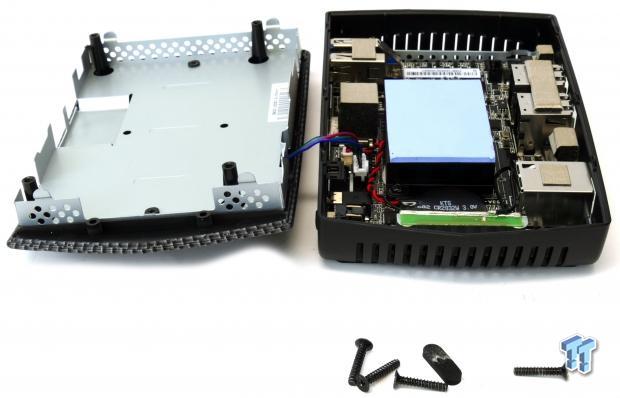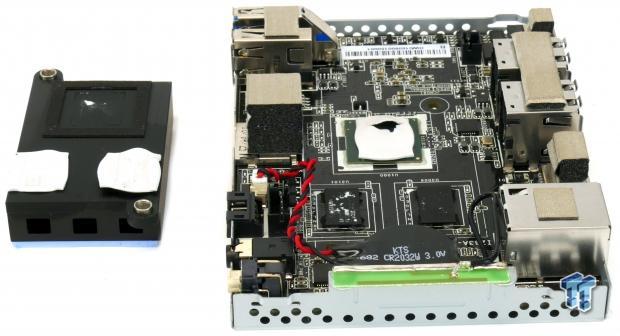 As an end-user, you don't have to open the RACING P1 because the unit comes with built-in storage and memory which you cannot upgrade. You actually have to ruin the adhesive on the rubber legs to reach the screws, so I don't recommend opening the unit. Once you open the unit, you will see a large heat pad that conducts the heat from the SoC's heat sink to the metal body. That heat sink cools down the SoC and two of the four memory chips through more heat pads.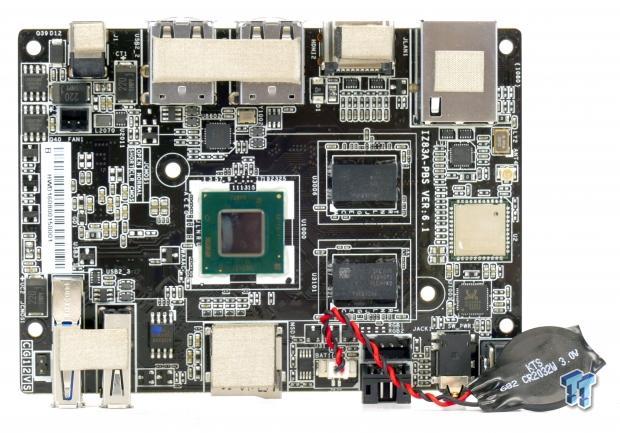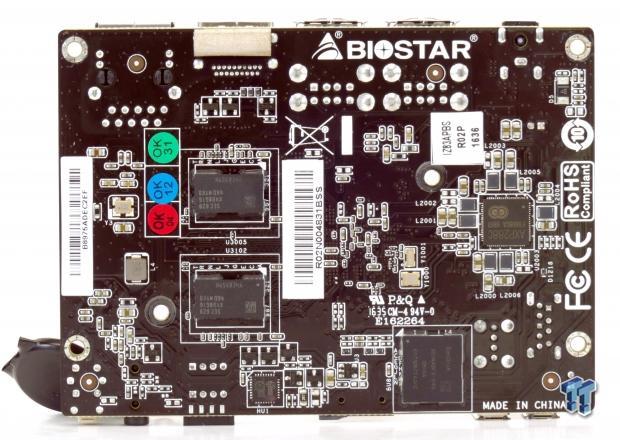 The only reason you might have to open the unit might be to replace the CMOS battery after maybe 3-5 years, and it is replaceable. The motherboard is meticulously laid out to increase board real-estate. It also astounds me how much they can fit into a device the size of your hand.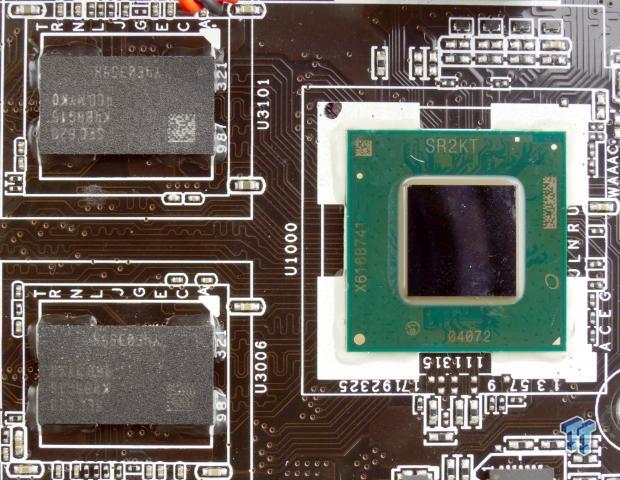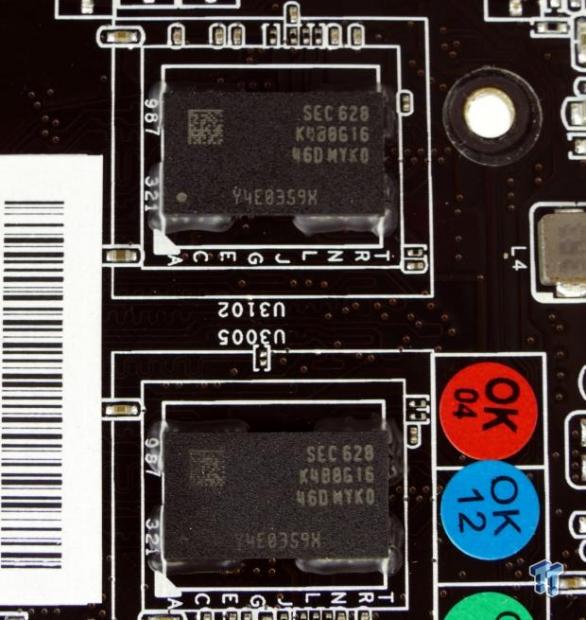 The Atom x5-8350 SoC integrated a lot into a single package; its SSPEC is SR2KT. RAM is from Samsung; it's labeled SEC 628, and each chip should be 1GB. There are two RAM chips on the front of the board and two on the rear.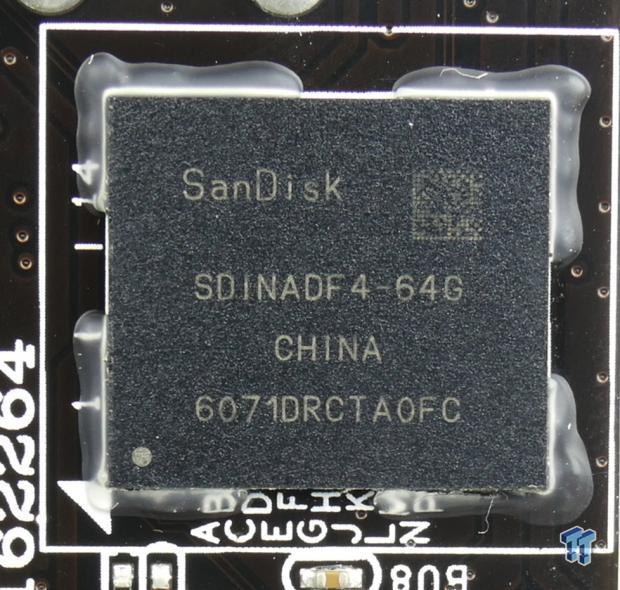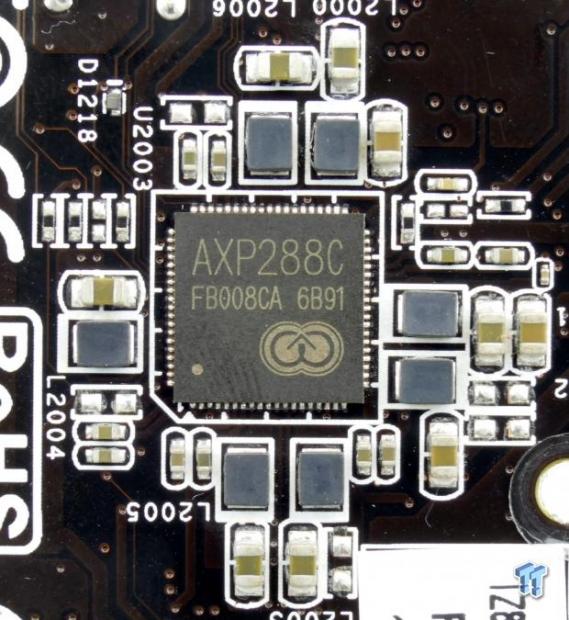 A SanDisk SDINADF-64G 64GB eMMC flash module provides system storage. Power regulation on the motherboard is controlled through an AXP288C, from X-Power. It's a common power management IC I have found in other low power high-quality devices.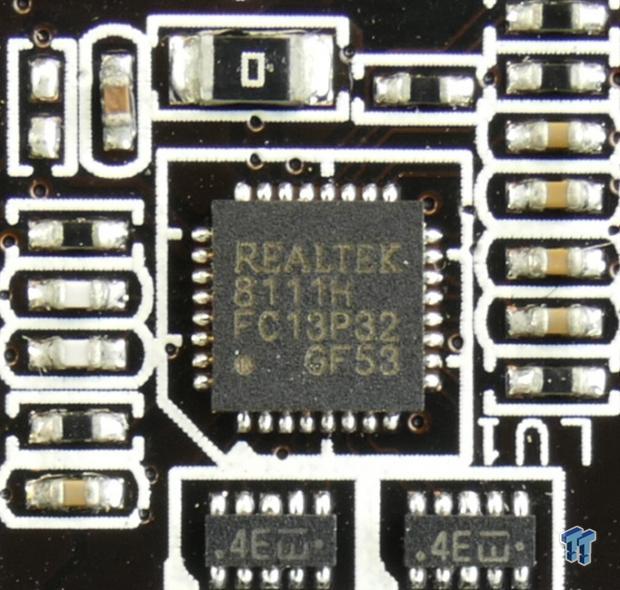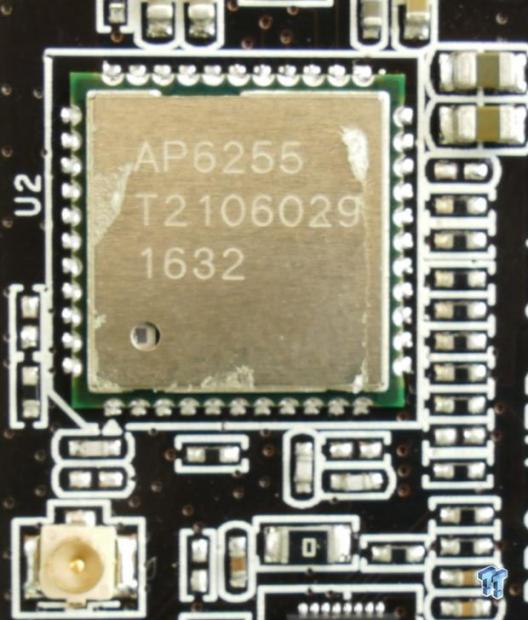 A Realtek RT8111H provides the Gbit LAN port, and an AMPAK AP6255 controller provides Wireless AC and Bluetooth 4.0. I couldn't find much on the chip other than it's based on the Broadcom 43455 which is a 1x1 Wireless AC controller capable of 433 Mbps.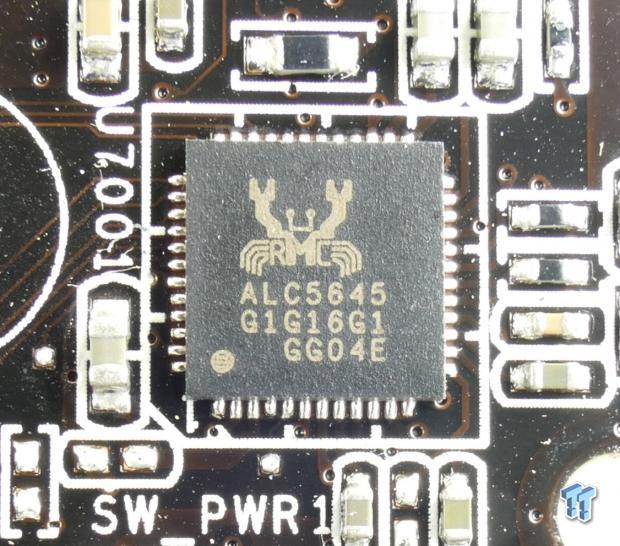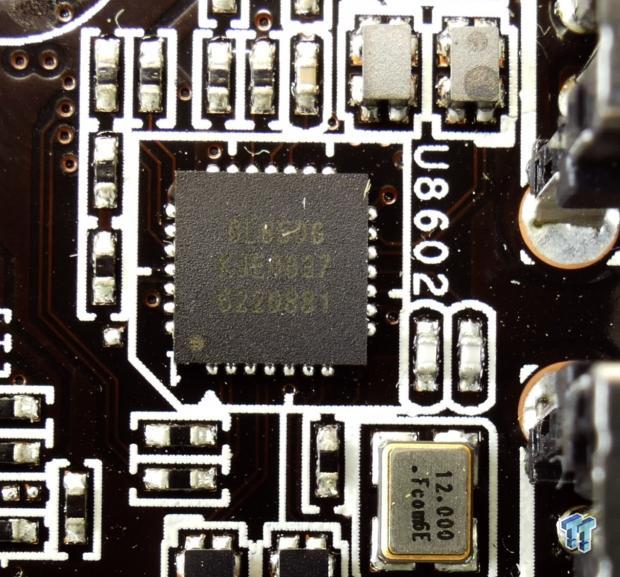 The Realtek ALC5645 provides 2-channel audio. The four USB 2.0 ports on the rear require a hub, and the hub is a Genesys Logic GL850G low power USB 2.0 hub.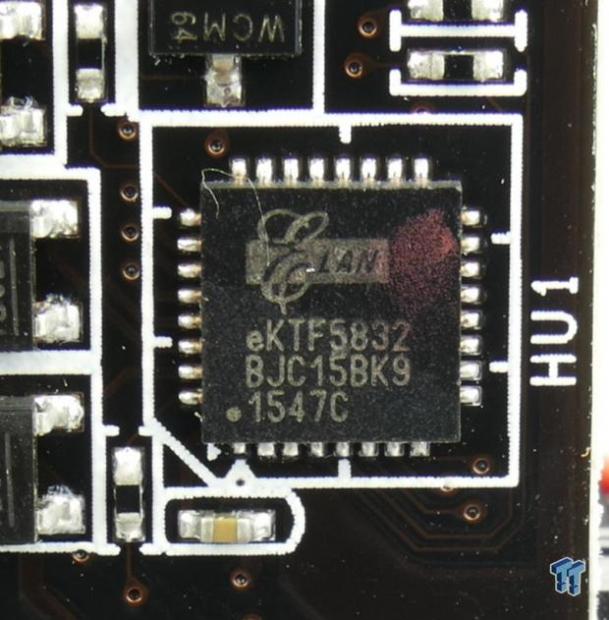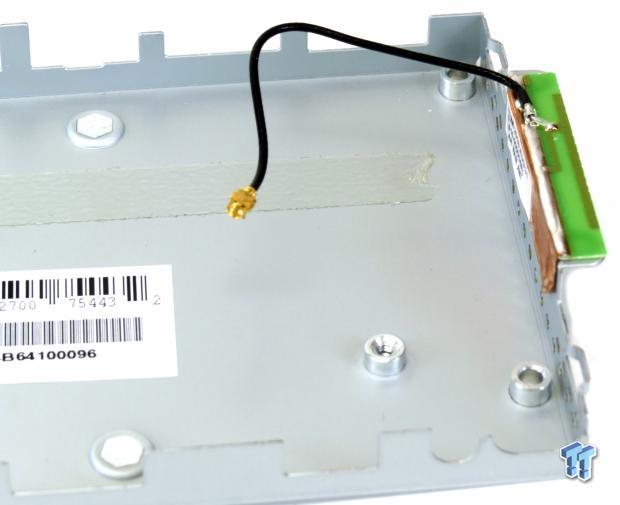 Elan's eKTF5832 microcontroller is used to control the RGB LEDs in the lid and the 5050 port at the front of the device. The wireless AC card uses a detachable antenna which is attached to the metal body of the unit.
BIOS and Software
BIOS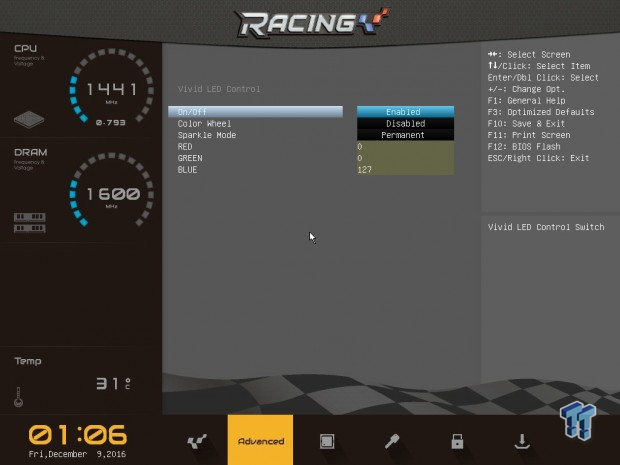 Surprisingly, BIOSTAR has given their RACING P1 a nice UEFI. It's the same UEFI that they have on their gaming motherboards but toned down.
There are no overclocking settings, or really any settings you might need to change since the device is already configured and only needs an OS. The one setting you might want to alter would be for the RGB LEDs, and that is available in the UEFI.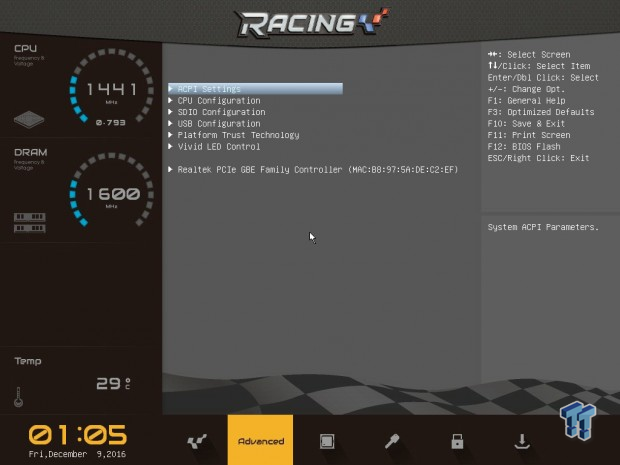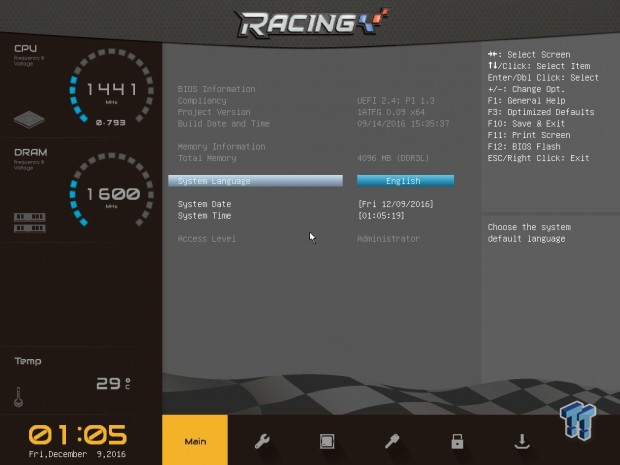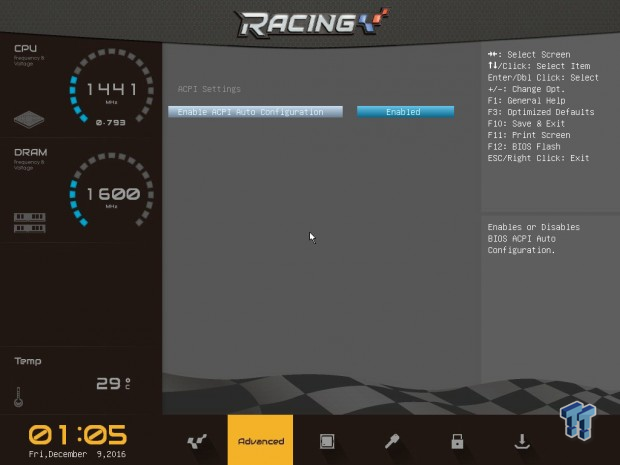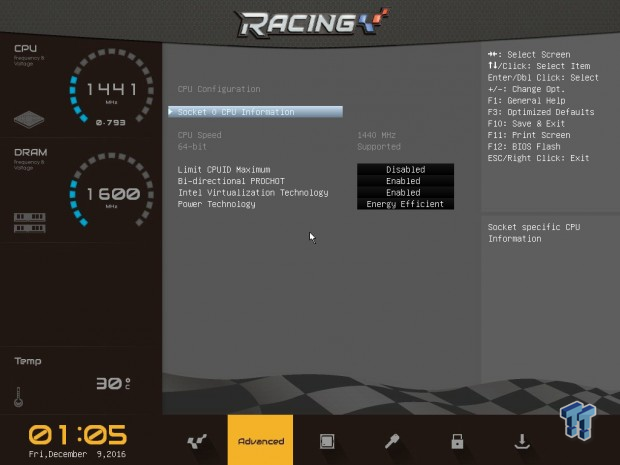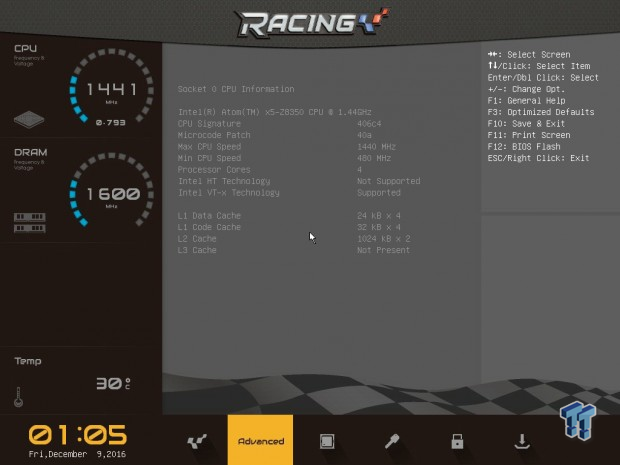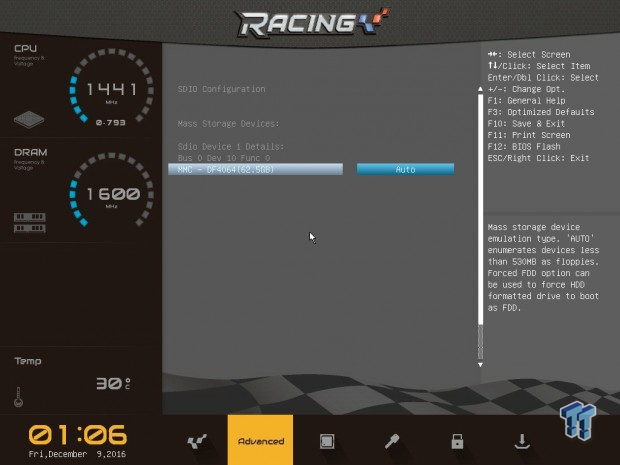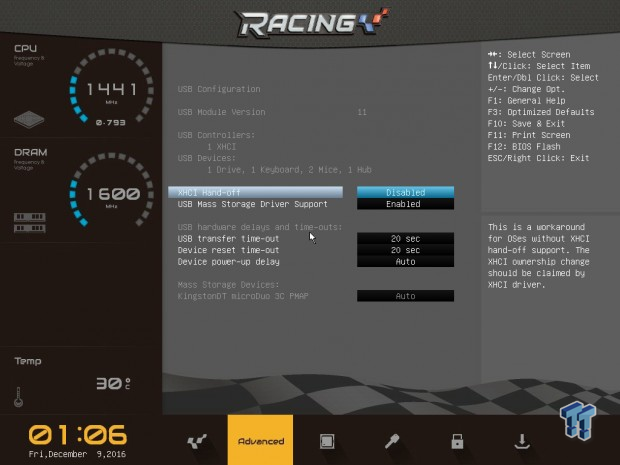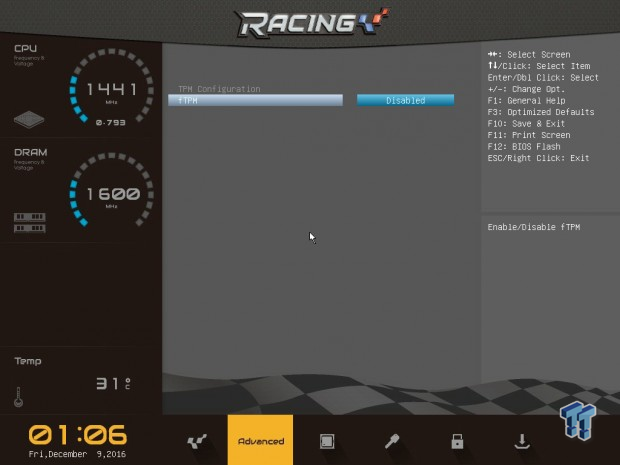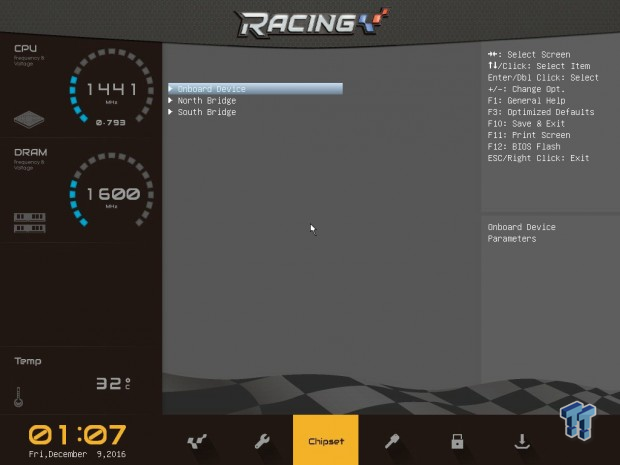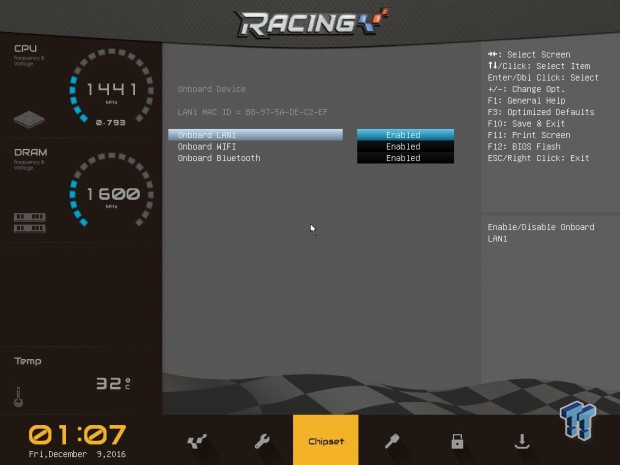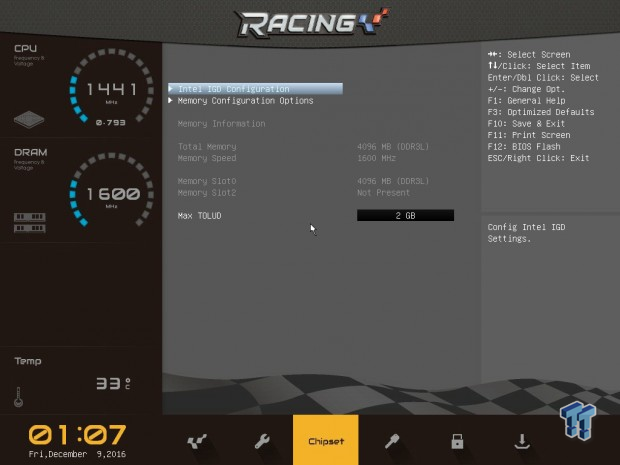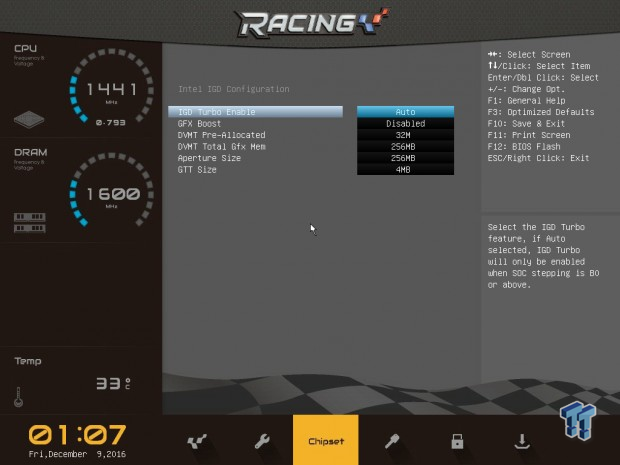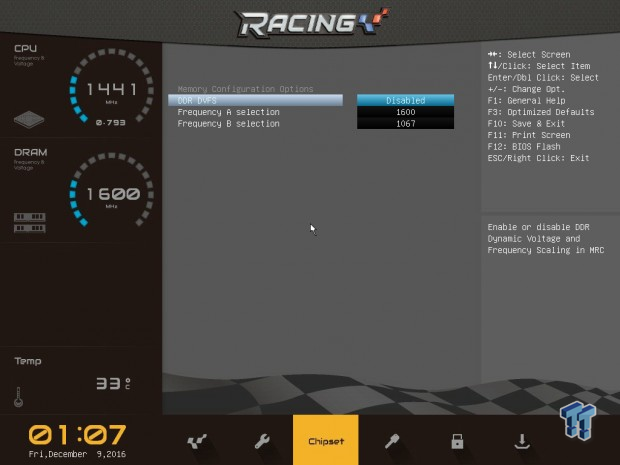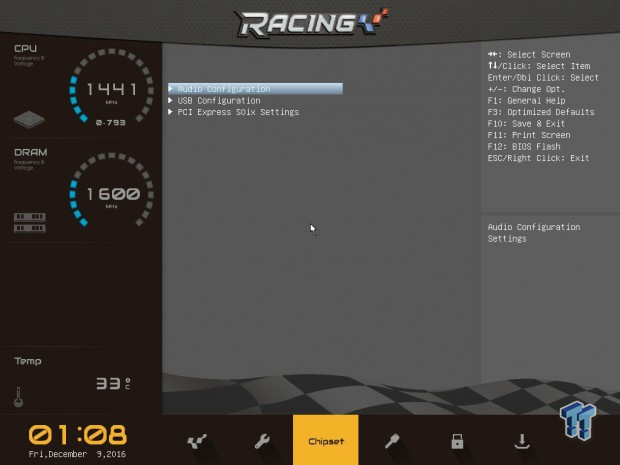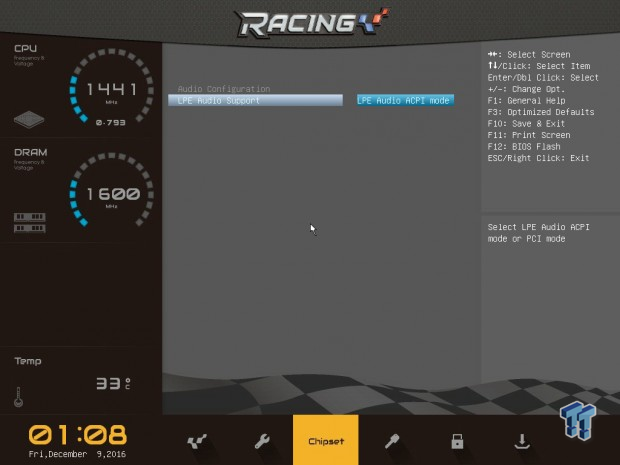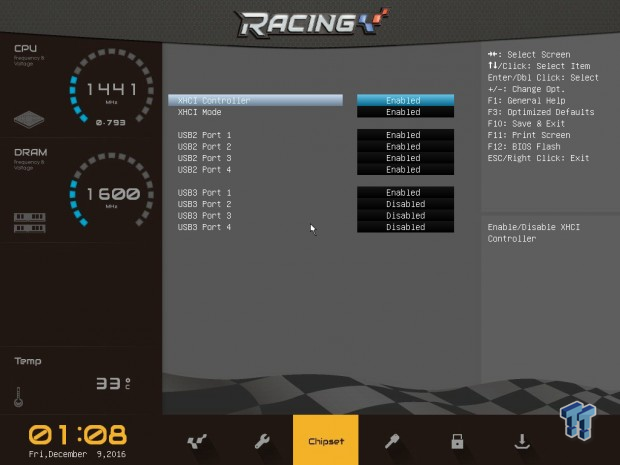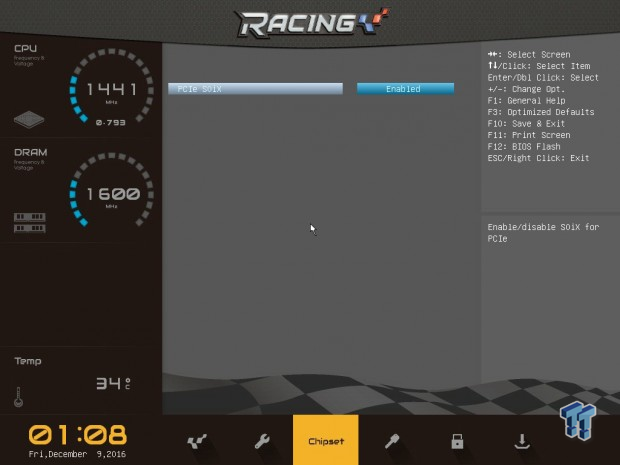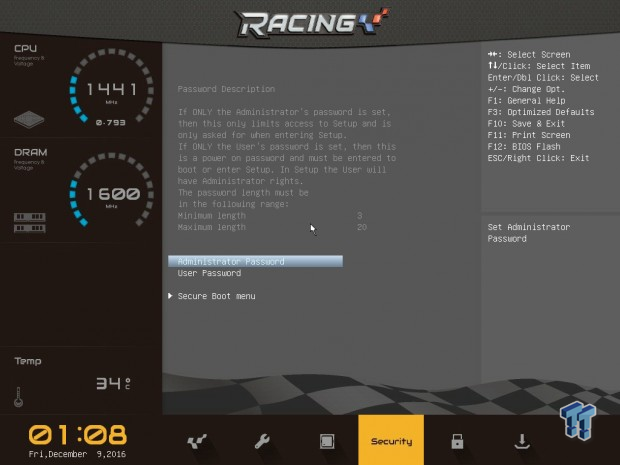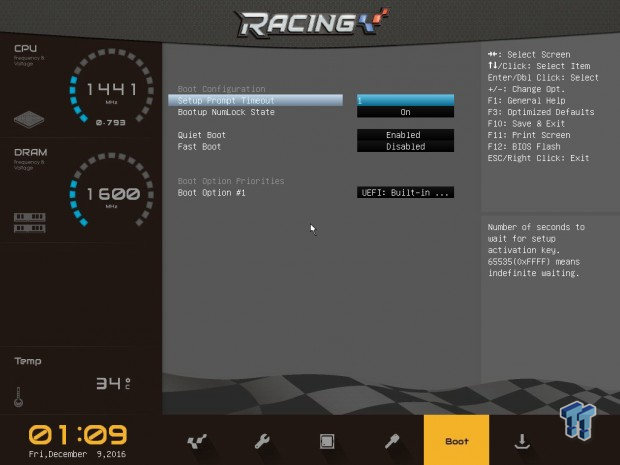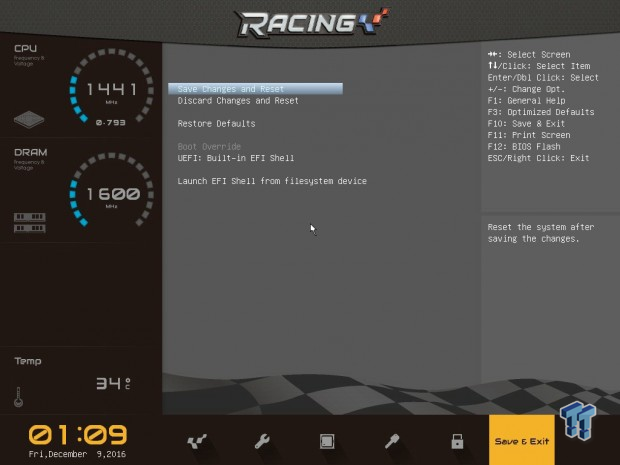 Software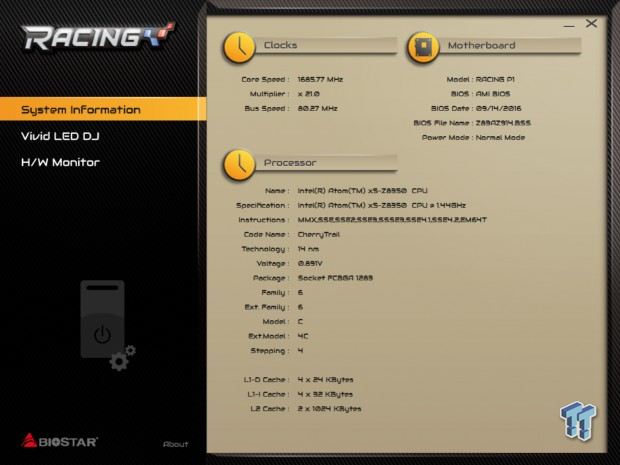 BIOSTAR also provides software in the form of a custom made application.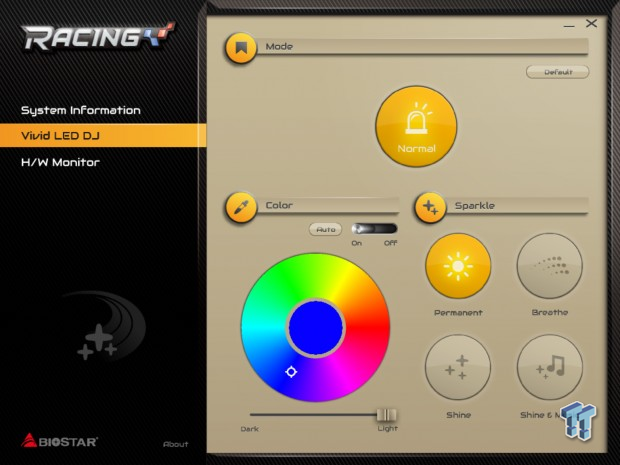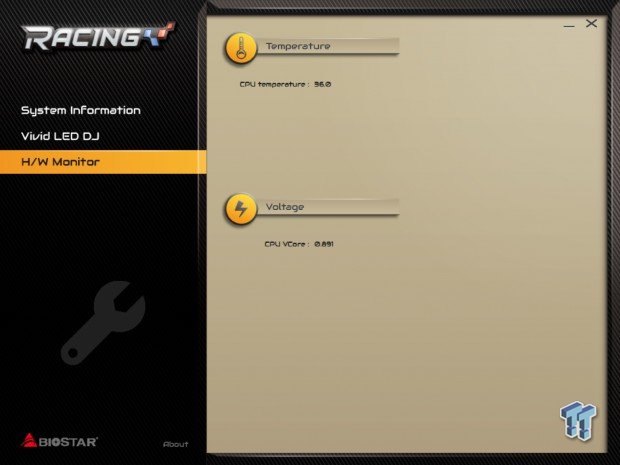 The Vivid LED DJ program allows you to change RGB LED color through a wheel, and the H/W Monitor allows you to view system information.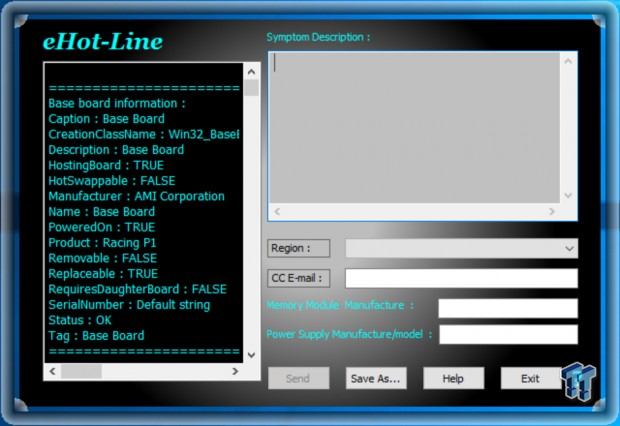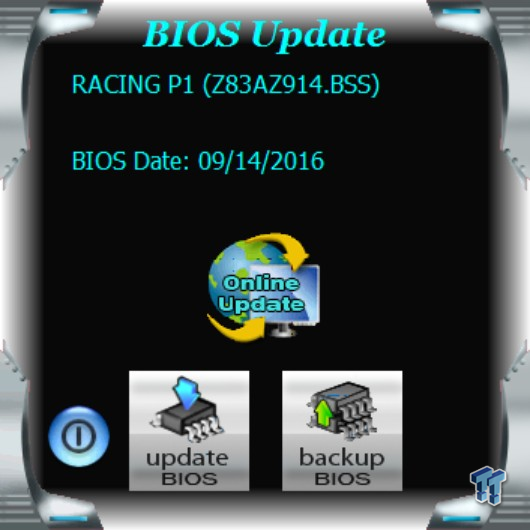 BIOSTAR's eHot-Line application provides support if you need it, and there is also an included BIOS update utility in case you need to update the BIOS.
Test Setup and Benchmarks
Test Setup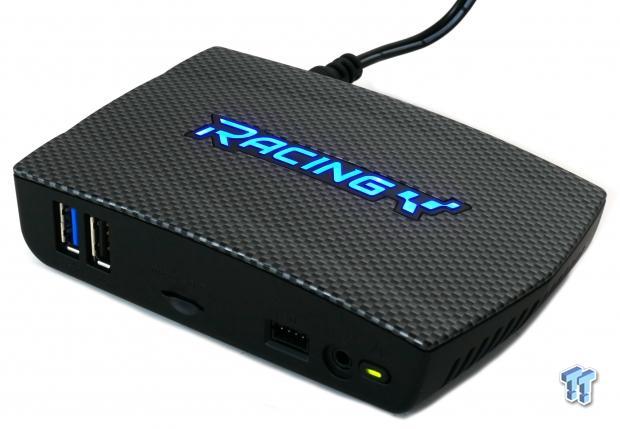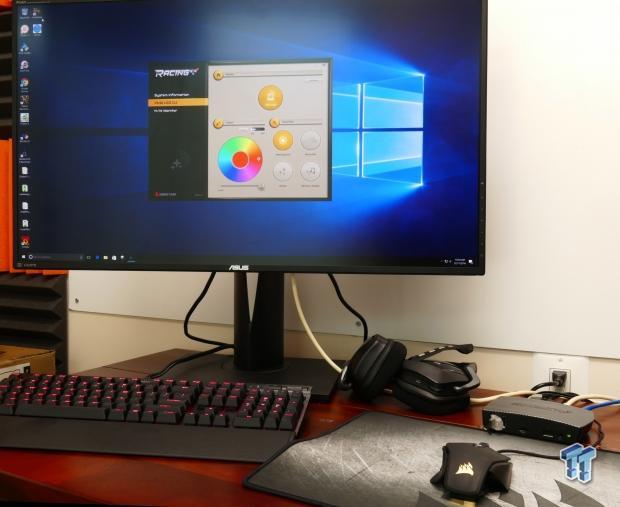 As you can see the RGB LEDs on the unit itself are quite well diffused and the unit looks great. I would think one perfect use for the RGB header on the device would be to power a series of RGB strips on the rear of your TV or monitor so that the light reflects off the wall behind it.
CPU, Memory, System, and Graphics Benchmarks
CINEBENCH 11.5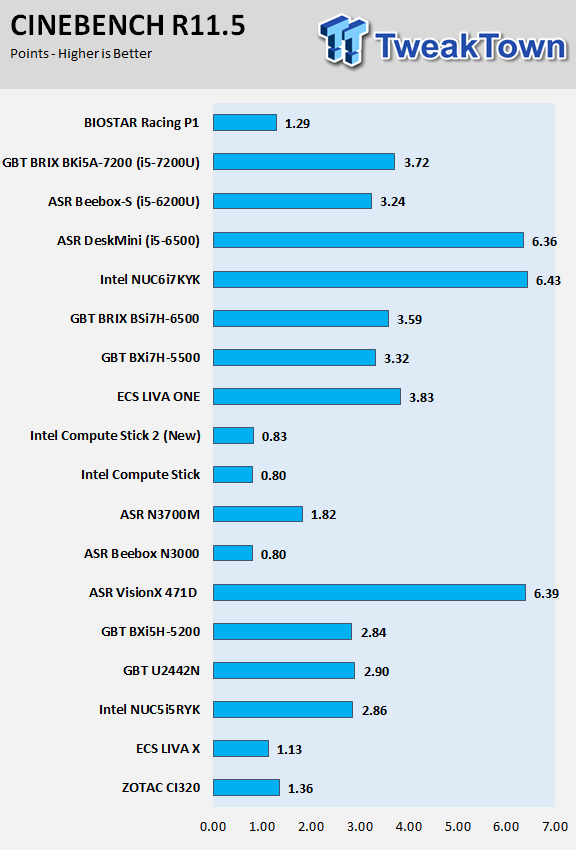 wPrime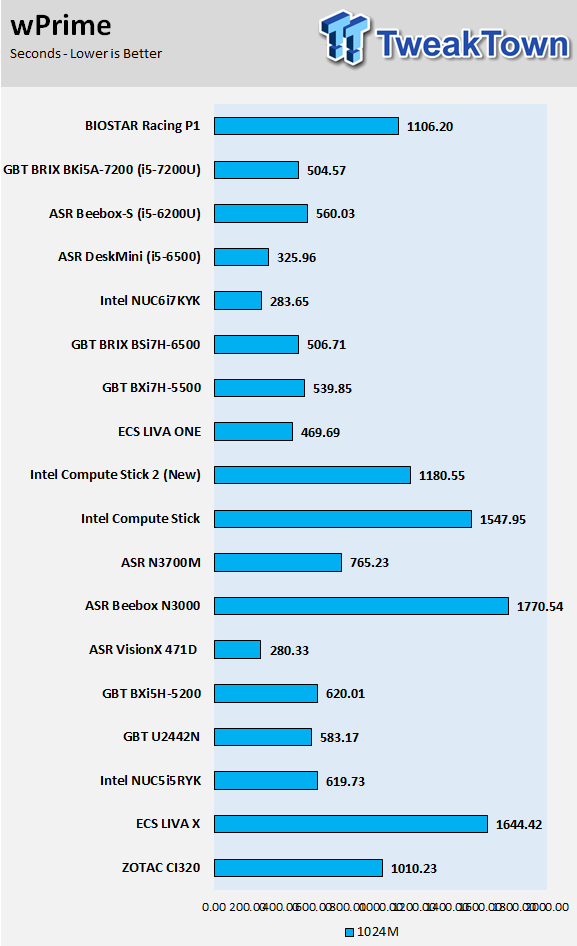 AIDA64 AES and HASH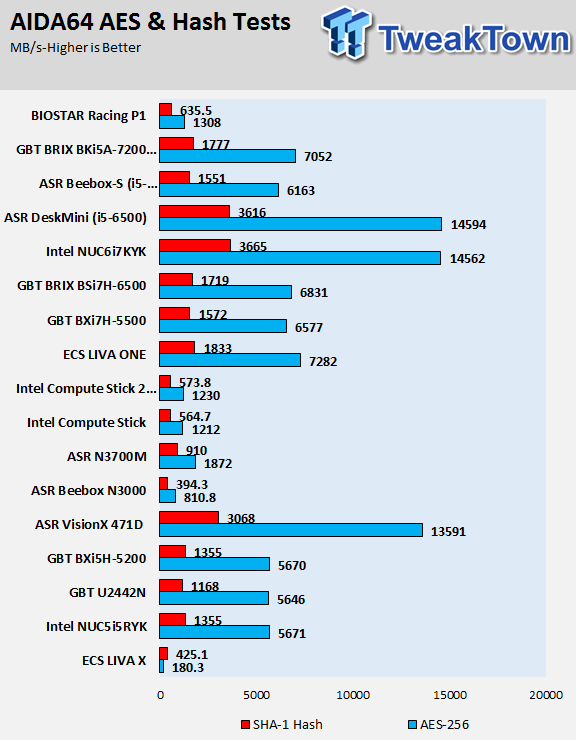 AIDA64 Memory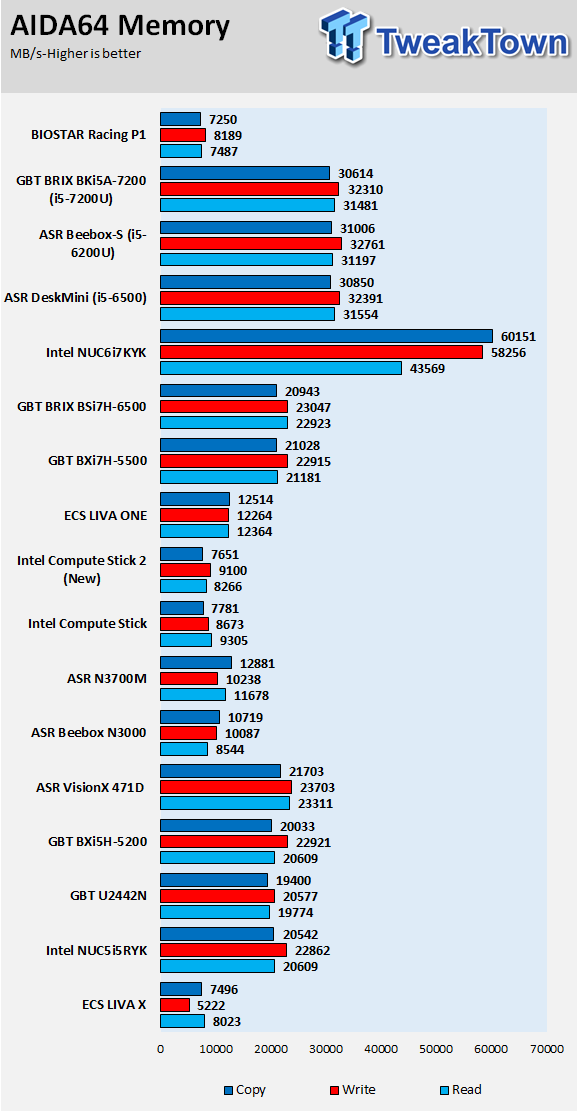 HandBrake Video Encoding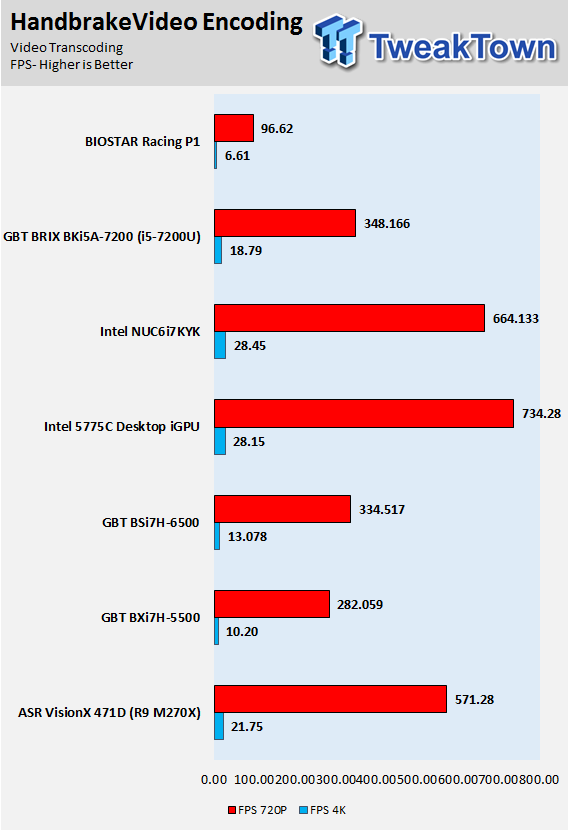 PCMark8 Home Test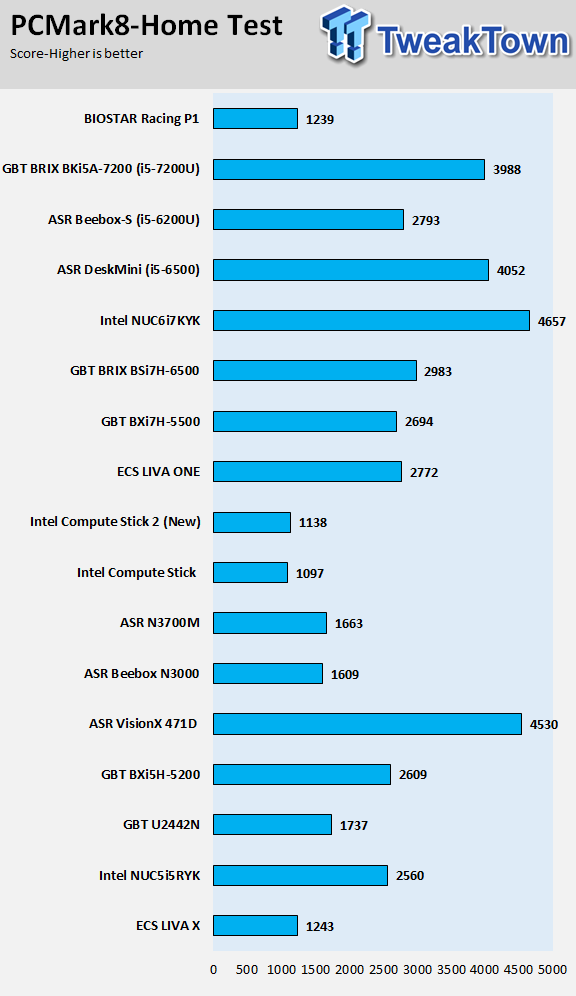 PCMark8 Work Test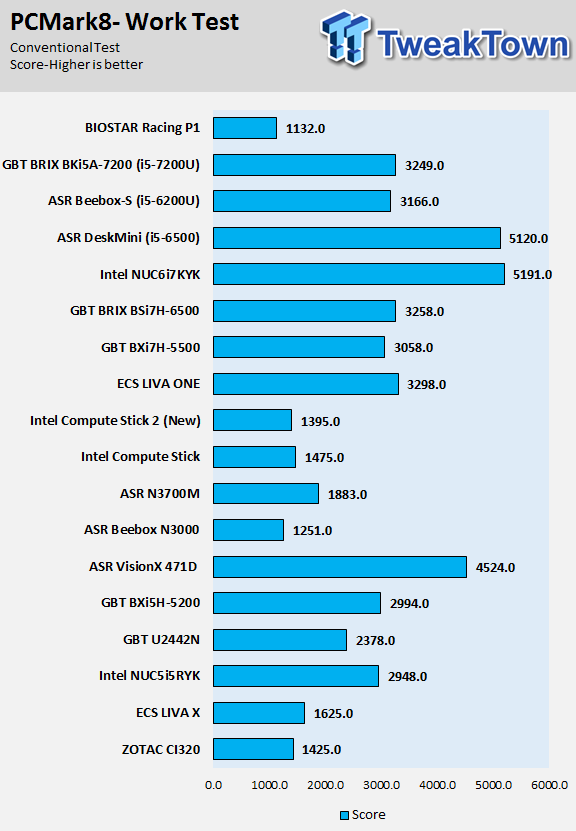 WebXPRT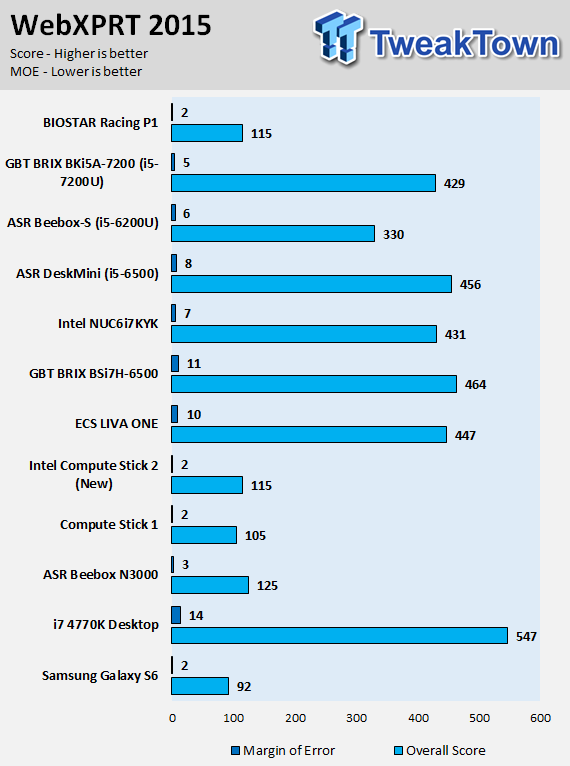 3DMark11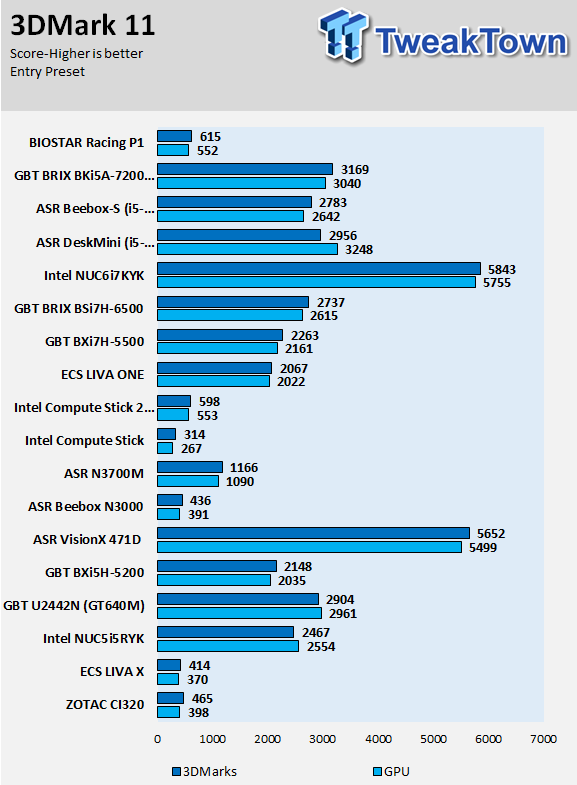 UNIGINE Heaven 4.0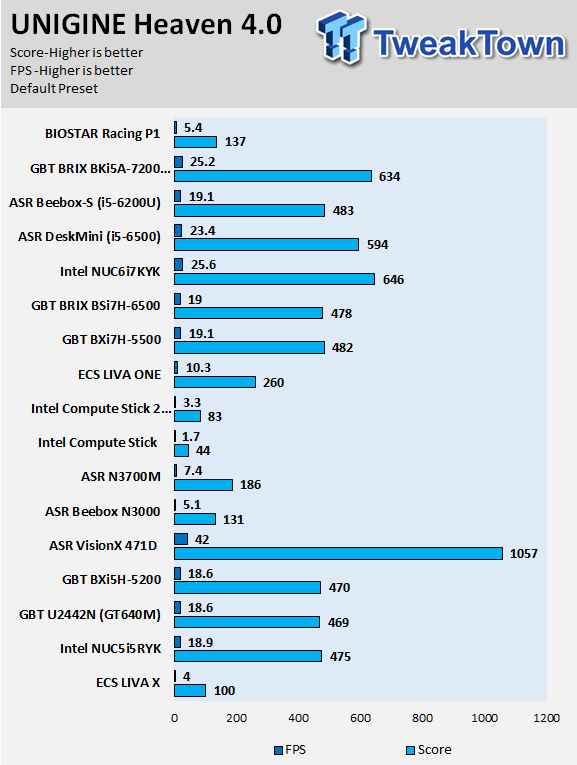 Resident Evil 6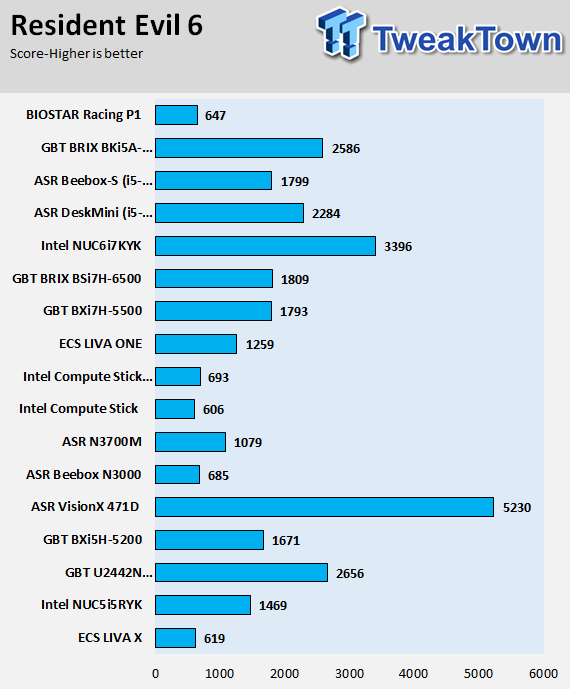 BIOSTAR's Racing P1 is much different than many of the other contenders on the list, but also similar to a few. It uses an Intel Atom X5 processor, which is in the same league as Intel's latest Compute Stick and devices such as ECS's LIVA X and ASRock's BeeBox N3000.
Performance compared to these devices is strong, but it doesn't stand up to competitors such as the NUC. However, it also doesn't have active cooling, so there is zero noise, and thus we get into the whole power versus performance argument, where the BIOSTAR Racing P1 will dominate with its low power usage.
Storage and Network Performance
CrystalDiskBench-Read: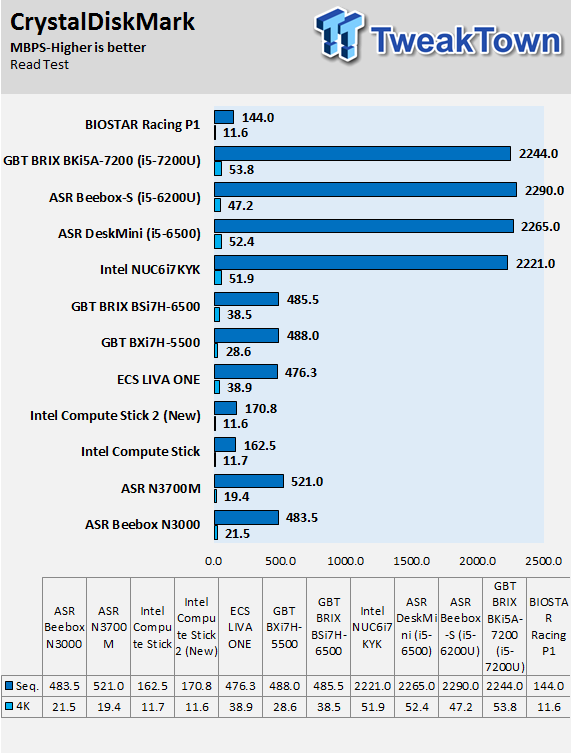 CrystalDiskBench-Write: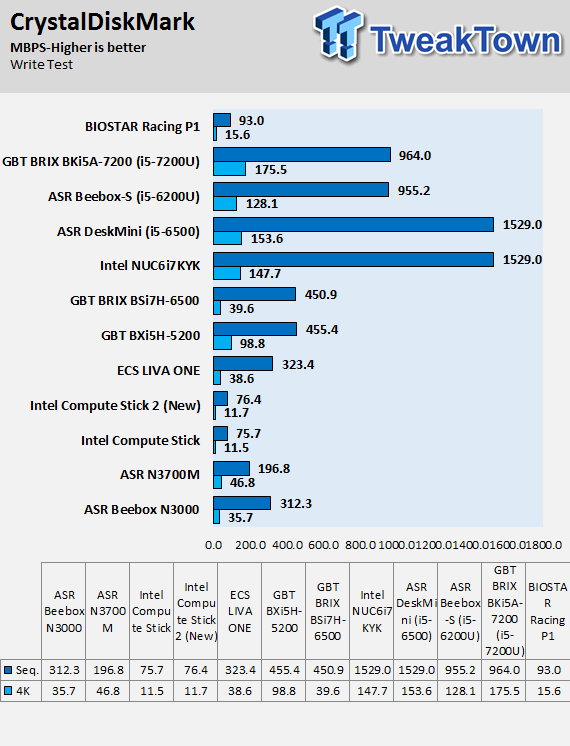 ixChariot Network Throughput: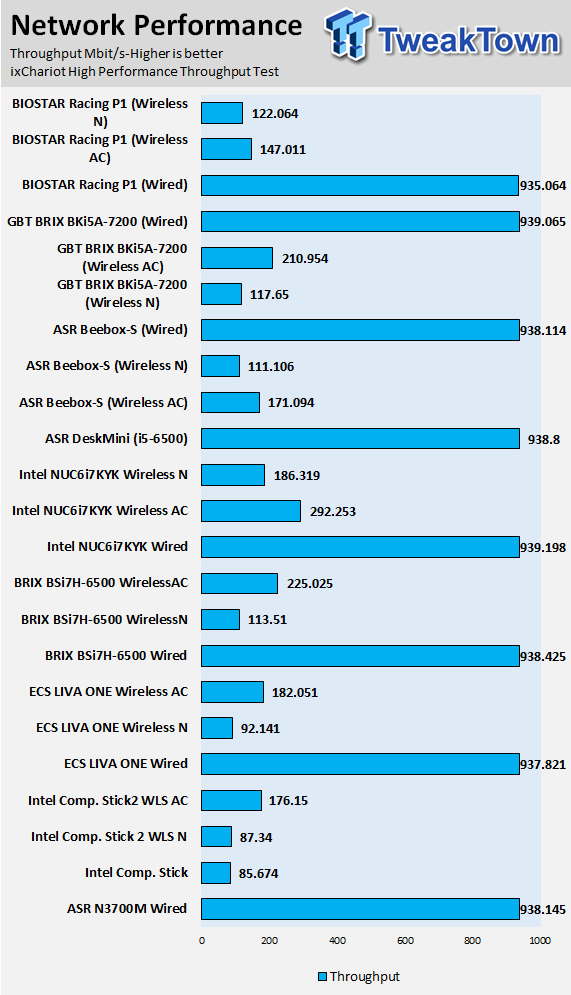 The Wireless AC controller in the RACING P1 isn't spectacular, but you also can't expect too much from a 1T1R antenna configuration. The good news is that it does have enough throughput for streaming, and there is a wired LAN port.
Storage speeds are on the slow side, but the same is true for other devices that use eMMC flash storage, it's small yet a bit on the slow side.
Temperature and Power Consumption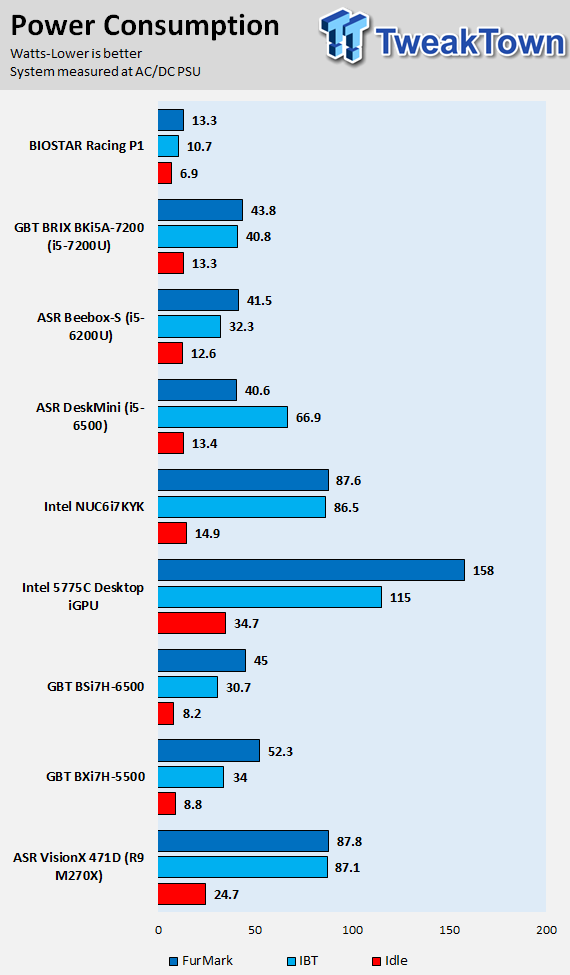 The power consumption of the RACING P1 is excellent - the unit sips power, even with a big load.
Power usage is important if you want to use the RACING P1 as an always-on PC, and it seems to be low power enough to remain on most of the time.
Thermal Testing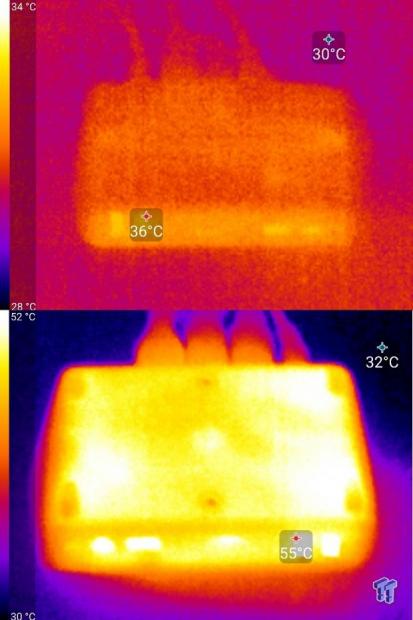 The unit has no fan, so it's completely silent, which is one of the device's main selling points.
However, it does get warm when fully loaded for a long period of time. It doesn't get too hot to touch; it just gets warm like it's supposed too.
What's Hot, What's Not & Final Thoughts
Here are key points about the RACING P1.
What's Hot
Silent: The BIOSTAR RACING P1 is totally silent. The unit has no moving parts; no fans. While the exterior of the RACING P1 is plastic, a metal interior shell dissipates the heat evenly throughout. The Atom's heat sink is directly attached to this shell through a large heatpad. Our thermal test showed that the unit didn't get too hot or throttle, and was able to handle the heat the SoC put out even in grueling synthetic environments.
Good Connectivity Options: I was surprised to find so many USB ports. Although they are almost all USB 2.0 ports (there is one USB 3.0 port), the unit still has many more USB ports than most NUC-type devices that are sometimes twice its size. I also really liked the fact the unit has a built-in wired NIC, microSD card slot, and came with a headphone/microphone splitter.
RGB LEDs: While RGB LEDs aren't everyone's thing, I thought BIOSTAR did a nice job with them, although most people probably don't have RGB LEDs down as a requirement for a mini PC. The header is also a nice touch and offers owners a chance to customize their environment. Many people find hobbies through ordinary necessity. Someone's experience changing their car oil might lead to a passion for tinkering with cars, and being able to do something different with a PC, especially on the level of RGB LEDs might lead to a passion for lighting up computers.
Tiny: The BIOSTAR RACING P1 is not your typical NUC-style device, it's smaller. It does fit in the palm of your hand, and it's very lightweight. Its size makes the PC easy to hide or store behind a display, and it won't take up much room on your desk.
Price: At only $159, the RACING P1 is an extremely affordable Windows 10 PC.
What's Not
No 4K: The Atom processor that BIOSTAR chose for the RACING P1 only supports resolutions up to 1920x1080.
HDMI Only: The only display output on the RACING P1 is an HDMI port, and while this device is targeted at TV users, many desktop users might find the need for a DVI or DisplayPort dongle cumbersome.
Final Thoughts
The BIOSTAR RACING P1 might not be the fastest mini PC around, but it does offer a lot of value as a totally silent Windows PC. It's perfect for the bedroom as a streaming machine, where you might want to watch Netflix while falling asleep, but don't want to wake up to the sound of your tiny PC's fan going nuts because it got too hot.
The RACING P1 is well designed to dissipate the heat it produces into the air and offers enough performance to stream from pretty much any of the latest content platforms or a home server.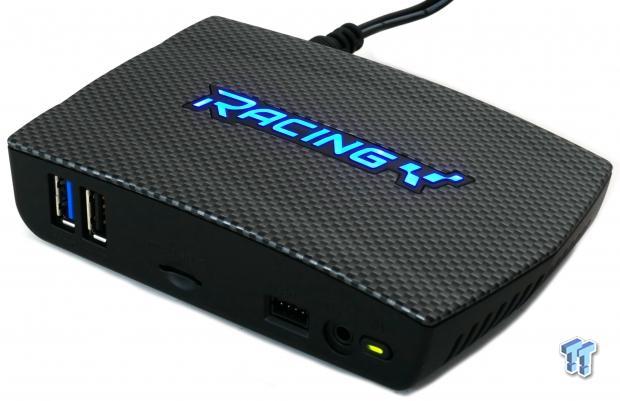 While you won't be replacing your desktop with the RACING P1, it's a solid option for those on smaller budgets that need a machine capable of running Windows 10. Running benchmarks on the machine was, let's say, a long process, but it was able to handle them. You can get away with using the PC for everyday tasks such as web browsing, writing an essay, or watching a movie.
There were two things that impressed me about the RACING P1; the amount of connectivity it offers and its customization options. While some might snub the RGB LEDs in the lid and the 5050 RGB LED connector, I won't, because I think offering something unique that actually gives owners personal customization is of value.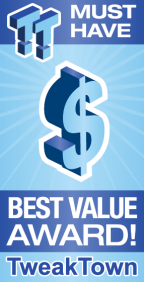 | | |
| --- | --- |
| Performance | 82% |
| Quality including Design and Build | 90% |
| General Features | 93% |
| Bundle and Packaging | 91% |
| Value for Money | 93% |
The Bottom Line: Loaded with a healthy amount of USB ports, wired Gbit LAN, Wireless AC, and even RGB LED support, the BIOSTAR RACING P1 is a fairly unique offering at an extremely reasonable price.
PRICING: You can find products similar to this one for sale below.

United States: Find other tech and computer products like this over at Amazon.com

United Kingdom: Find other tech and computer products like this over at Amazon.co.uk

Australia: Find other tech and computer products like this over at Amazon.com.au

Canada: Find other tech and computer products like this over at Amazon.ca

Deutschland: Finde andere Technik- und Computerprodukte wie dieses auf Amazon.de
We openly invite the companies who provide us with review samples / who are mentioned or discussed to express their opinion. If any company representative wishes to respond, we will publish the response here. Please contact us if you wish to respond.