ASUS ROG Maximus IX Formula Z270 Motherboard Review
ASUS' ROG Maximus IX Formula is our second Intel Z270 motherboard review. Let's see how it does!
Published Tue, Jan 3 2017 11:30 AM CST
|
Updated Tue, Nov 3 2020 6:58 PM CST
Rating:

93%
Manufacturer: ASUS
Introduction, Specifications, and Pricing
ASUS's Maximus Formula series has become almost synonymous with premium gaming when it comes to motherboards. ASUS's latest iteration of the Formula is the Maximus IX Formula, based on the just released Intel Z270 chipset, and loaded with the latest and greatest ROG features. Compared to its Z170 counterpart, the Maximus IX Formula has a few tweaks and additional features such as the brand new USB 3.1 internal header and integrated IO panel.
We first saw the integrated IO panel on ASUS's Rampage V Edition 10, and it was a hit worth repeating on the new Maximus IX Formula. The new motherboard also carries more USB 3.1 with a faster controller, swaps U.2 for a second M.2 slot, features a better audio codec and DAC, more robust fan headers, improved water cooling support, and offers an additional RGB header.
Let's take a look at what ASUS has in store for the Maximus IX Formula.
Specifications
The Maximus IX Formula has two M.2 ports, USB 3.1 at the rear and through an internal header, Intel Gbit LAN, SATA 6Gb/s, Wireless AC, and 120dB SNR audio.
Pricing
The Maximus IX Formula price is currently unknown.
Packaging and Maximus IX Formula Overview
Packaging and Overview
ASUS re-did the box of the Formula, and the new box is sleek. The packaging does a very good job of protecting the motherboard from the elements.
The accessory package includes six SATA6Gb/s cables, vertical M.2 mount, and screws, 2R2T Wireless AC antenna, RGB extension cable, SLI HB Bridge, Q-Connectors, new ROG case badge, stickers, cable stickers, coaster, CPU installation tool, and of course driver DVD and manuals.
ASUS has made some improvements to their already dominating fan control system. The Maximus IX Formula has a total of eight traditional fan headers, all of them support auto-sensing of DC or PWM fans and will change fan mode to match the fan installed. The headers circled in blue support 1A current; the two circled in red (H_AMP and W-PUMP) headers support up to 3A each. You can expand fan control even further through ASUS's external fan card, and the extension port is circled in orange.
The motherboard has a single external temperature sensor input circled in green. ASUS's new feature is close to fan and temperature inputs, I will cover it here; ROG Water Cooling Zone. Circled in purple (I ran out of easy to see colors), are three headers; W_IN, W_OUT, and W_FLOW. The W_IN and W-OUT pins are for external temperature sensors designed to measure water temperature at the input and output of a water block, the difference between the two temperatures is of interest to many users, and ASUS has integrated this into their motherboard. The W_FLOW tachometer header is designed like a DC mode fan header and would be connected to a pump and monitor it's RPMs and perhaps control its power.
Oh, did I mention the motherboard supports 3D printed add-ons? The same metal shield on the backside protects the rear of the PCB and ensures the PCB stays straight, while the topside plastic shield improves aesthetics and keeps away dust.
Everyone's favorite integrated IO panel is back, no longer will you install the motherboard just to find that a metal tab from a cheap IO shield went into the LAN port instead of on top of it requiring you to uninstall the entire system to fix. The integrated IO panel offers four USB 3.0 ports, USB 3.1 type-A, USB 3.1 type-C, four USB 2.0 ports (one is for BIOS FlashBack one for KeyBot), HDMI 1.4a, DisplayPort, WIFI antenna, BIOS FlashBack button, Clear CMOS, Intel Gbit LAN, and gold plated audio ports with S/PDIF optical.
The PCI-E layout is identical to its predecessor, but the first two slots are not reinforced by a metal shroud. The first and second x16 slots operate at x16/x0 or x8/x8. The last slot is wired x4 to the PCH and shares bandwidth with the x1 slot above it. New to the Maximus IX Formula is the new USB 3.1 20-pin internal header, and while there are not many cases that support this (I think a really expensive INWIN case does), many should in the coming year. There is also a right-angled USB 3.0 internal header. Error LEDs are located near the 24-pin connector in case your system fails to boot.
Removing a plastic cover reveals the first M.2 slot. The motherboard carries two fewer SATA6Gb/s ports than its predecessor. It does supply six SATA6Gb/s ports from the PCH.
Start (power) and reset buttons, as well as the POST Code display, are in identical positions compared to the Maximus VIII Formula. The ROG Water Cooling Zone features, the water temperature and pump tachometer headers, are located at the lower right corner of the motherboard and use white plastic to distinguish themselves. An external temperature sensor and LN2 Mode header are located right above them. The second x4 M.2 slot is a vertical one and is located at the bottom of the motherboard.
To the right of the USB 2.0 internal header is a slow mode switch used for extreme overclocking. To the left of the USB 2.0 internal header are ROG extension headers (presumably for the OC Panel), MemOkay, Safe Boot, and Retry buttons. I don't believe the Maximus VIII Formula had so many overclocking features, and it is nice to see them added since this motherboard is a ROG product. One of two RGB LED headers is located at the top of the motherboard above the CPU fan headers.
The second RGB LED header is located at the bottom of the motherboard near the front panel audio header. Removing the shields and even IO panel reveals very similar designs to the Maximus VIII Formula, but with some tweaks.
The water block is different on the Maximus IX Formula than what I found on the Maximus VIII Formula, but you can only really tell if you open them up, which I have done for you. For starters, instead of rubber inserts the screw treading have caps, and while this is still an EK water block, internal modifications were made. Instead of larger channels, the new block uses micro fins much like a heat sink, and ASUS claims 4C reduction compared to its predecessor.
ASUS Maximus IX Formula Circuit Analysis
Circuit Analysis
Removing the shields and heat sinks reveals the front and back of the motherboard in the flesh.
The VRM here utilizes the same 8+2 phase count as its predecessor, but it's not the same VRM. The PWM has changed from what I am sure is an IR PWM to a lower pin count unknown PWM. It is labeled ASP1400 while its predecessor used the ASP1405. The PWM has a different top texture than what I found on the Maximus VIII Formula, but that could be from the restamping of the chip. It's also doubling 4 phases for the CPU into eight like its predecessor, but it's doing it by putting two NexFETs on a single driver, the driver has markings similar to Richtek products.
I am unsure of the PWM brand; it could be a lower phase count IR PWM or a digital/hybrid PWM from Richtek, Intersil, or any other PWM maker. The good news is that ASUS is still using Texas Instruments NexFETs, the same CSD87350 dual N-Channel MOSFETs, the same micro-fine alloy inductors, and 10K gun-metal capacitors.
The VCCSA, VCCIO, and other minor rails get their power from a variety of different voltage regulators powered by an APW integrated PWM, ON-Semiconductor PowerPAKs, and a Texas Instruments TPS51362 converter. The memory VRM is similar but not identical, a two-phase VRM capable of driving pretty much any memory overclock.
ASUS Maximus IX Formula Circuit Analysis Continued
Maximus IX Formula Circuit Analysis Continued
The audio section got an upgrade compared to the previous Formula. A new S1220 codec, what I assume is a re-stamped Realtek ALC1220 is a welcome replacement for the ALC1150. While the ALC1220 has an integrated headphone amplifier, ASUS has made major improvements through the use of an RC4580 buffer, ESS Hi-Fi Sabre ES9023P DAC, Nichicon Gold series electrolytic capacitors, de-pop MOSFET, PCB shielding and separation, and a high precision clock source.
ASUS is using the Intel i219v PHY to compliment the integrated MAC in the PCH but has added LAN Guard which uses magnetics to help protect the LAN port from ESD. ASUS also provides their Wireless AC card (same as on the previous Formula), the QCNFA364A, which offers 2T2R Wireless AC with MU-MIMO technology.
Two ASMedia ASM2142 provide the USB 3.1 on the rear IO and the USB 3.1 internal header. The ASMedia ASM2142 is the next generation USB 3.1 controller that replaces the ASM1142 and links to the PCH through two PCI-E 3.0 lanes instead of a single PCI-E 3.0 port so that you get 16Gb/s of bandwidth instead of just 8Gb/s for the 10Gb/s USB 3.1 ports. An ASMedia ASM1543 is used as the USB 3.1 type-C switch and CC logic chip.
The Maximus IX Formula supports ASUS USB BIOS FlashBack feature to recover a corrupt BIOS ROM (this case a single 128Mbit/16MB Winbond IC) from a USB drive, and the chip labeled BIOS is in charge of this feature. The chip labeled AURA is an RGB LED controller, probably for the built-in RGBs on the motherboard. An IDT clock buffer is used for better BCLK overclocking, an unknown ROG chip, and a TPU chip control and provide all of ASUS's unique ROG features. Four ASMedia ASM1480 switch x8 PCi-E 3.0 from the CPU between the first and second PCI-E x16 slots.
The motherboard's main SuperIO is the nuvoTon NCT6793D. We find another ROG labeled chip, maybe for KeyBot, near the IO panel. An ASMedia ASM1442K level shifter is used to provide HDMI 1.4a from the digital display output of the CPU's iGPU.
Scared of shorting out your RGB header? Don't worry, ASUS has you covered with a Texas Instruments TPS2592AA 12v eFuse with OVP and blocking FET control.
BIOS and Software
BIOS
The Maximus IX Formula's UEFI is loaded with features for overclocking and configuring your system, most of which you will not have to change. There are overclocking profiles for those who do not know what to change or those who just want guidelines.
There are some settings that were just added, just as the ability for a new overclocking scheme where you set a target temperature for the CPU, and the motherboard will overclock the CPU to different ratios depending on the current temperature. While I spend most of my BIOS time in advanced mode, there is an EZ mode for beginners.
Software
The Maximus IX Formula is loaded with software; the good news is that a lot of it is integrated into the Dual Intelligent Processors 5 (DIP5) software suite. The software includes but is not limited to DIP5, TPU, TurboApp, EPU, Fan Xpert 4, DIGI+ Power Control, PC Cleaner, EZ Update, System Information, USB BIOS Flashback, File Transfer, Version, KeyBot II, RAMCache II, RAM Disk, MemTweakIT, and WebStorage.
Test System Setup
Steven's Motherboard Test System Specifications
ASUS's Maximus IX Formula keeps things simple but elegant. It's black shield hides solder and allows the motherboard to blend into the background while the RGB LEDs light up diffused ROG logos and designs.
The red RGB color came through as more of a magenta, but it looks decent anyway. The ROG logo's light is very well diffused.
Overclocking
Overclocking Results
CPU Overclocking
I have decided to reduce the CPU VCore to 1.3v applied with XMP and set 5GHz for the 7700K.
The new 7700K is a master of overclocking, bringing back stability levels at high frequencies unseen since the Sandy Bridge era. The 7700K was very easy to overclock on the Maximus IX Formula even without using the profiles, but if you are unsure of what to set, I highly recommend ASUS's overclocking profiles. ASUS even has a new CPU temperature OC mode, where the multiplier is changed on-the-fly depending on CPU temperature levels.
Compatible Memory Overclocking Kits
In this section, I overclock four memory kits only using XMP, if the kit works then the results are below. I welcome memory vendors to send in their kits to be tested on each motherboard.
Corsair Dominator Platinum 3200MHz C16 8GBx2
G.Skill TridentZ 3866MHz C18 8GBx2
GEIL EVO X RGB 3200MHz C16 8GBx2
GEIL EVO FORZA 3200MHz C16 8GBx2
ASUS's ROG series is known for memory compatibility, and the results show no incompatibility with a wide range of memory kits.
CPU, Memory, and System Benchmarks
CINEBENCH 11.5
wPrime
AIDA64 AES and HASH
AIDA64 FPU
AIDA64 Memory
ScienceMark
HandBrake
3DMark: Fire Strike
3DMark: Cloud Gate
ResidentEvil 6
ASUS's Maximus IX Formula's scores are a tiny bit better than most of the other motherboards at both stock and when I normalize the settings at 4.8GHz.
Some motherboard reviews put a lot of weight into motherboard CPU, memory, and GPU benchmarks, but for me, CPU, memory, and GPU benchmarks on motherboards should be more about finding anomalies, and I do that at standard settings (4.8G in graphs).
System IO Benchmarks
CrystalDiskMark SATA6G:
CrystalDiskMark M.2:
ixChariot Network Throughput:
The Maximus IX Formula is also extremely strong in storage and networking performance benchmark. Wireless AC performance is solid while the Intel NIC performs as expected.
Audio RMAA 5.5:
I disable all audio features, set the correct bitrates, and then test the audio with a loopback test.
Sound Judgment by Ear: Excellent. Using the new Realtek ALC1220 and other audio hardware such as a Sabre DAC, the audio output is better than a standard ALC1220 implementation and sounds great. There are five ratings for audio: 1. Problems, 2. Okay, 3. Acceptable, 4. Very good, 5. Excellent
Thermal Imaging and Power Consumption
CPU power is measured through the 8-pin connector, which is hooked up to a hall effect IC, which measures current and puts out a voltage in proportion to the current. That voltage is logged by a National Instruments ADC, which logs the DC voltage level that I then convert into current.
Note on Thermal Images: In the temperature section, we use our Seek thermal imaging camera to capture the surface temperatures of major components on the board. I look at the VRM and then all other things that light up the screen. If there is something to worry about, then I will state it. Otherwise, I will just show the hotter running parts of the board for fun. Unless some component is over 80-90C, then there isn't anything to worry about.
All systems will act differently, so I will look for commonalities, such as how far from the VRM the heat spreads through the PCB and the difference in temperature between the front side and backside of the PCB. Keep in mind, the majority of the heat from the VRM goes into the PCB as it is a giant soldered on copper heat sink. A larger difference in temperature between the back and front of the PCB points towards a more effective heat sink.
Thermal Testing at Stock Speeds:
The image on the left is always at idle, and the image on the right is at load. During ALL TESTS, fans above the VRM that cool the CPU cooler's (Corsair H110i GT) radiator are turned on to high (12v).
Full frontal.
Up-close of the front of the VRM.
Up-close of the back of the VRM.
Thermal Testing at 4.5GHz Overclocked Speeds:
The image on the left is always at idle, and the image on the right is at load. During ALL TESTS, fans above the VRM that cool the CPU cooler's (Corsair H110i GT) radiator are turned on to high (12v).
Full frontal.
Up-close of the front of the VRM.
Up-close of the back of the VRM.
The VRM on the Maximus IX Formula is built upon excellent power stages from Texas Instruments; they offer great efficiency at decent output levels. The result is a cool running VRM, and even though I didn't use water cooling on the water block, it was still able to handle the heat. Overall VRM thermal performance is excellent.
Anything under 60C is great, 60-80C is acceptable, and anything above 80C is a bit worrisome (if at stock).
What's Hot, What's Not & Final Thoughts
Here are key points about the ASUS Maximus IX Formula.
What's Hot
Solid All Around Performance: The performance numbers in CPU, memory, system, and GPU benchmarks so that ASUS has tweaked the Maximus IX Formula well. The same can be said about IO performance, storage and networking speeds were also excellent. What impressed me was overclocking capabilities and VRM thermal performance, the board runs cool and facilitates fast processors.
Water Cooling Delight: The motherboard comes with an EK water block which has been improved over the EK block its predecessor was equipped with, showing that ASUS is trying to improve their designs even when they are good enough. I also liked the water cooling input and output temperature headers and pump tachometer header, a novel way to add value for water cooling nuts.
Excellent USB Capabilities: USB 3.1 type-C and type-A on the rear IO and the USB 3.1 20-pin internal header provide more than enough of the latest USB technology. What also impressed me was that the rear IO panel is filled with four USB 3.0 port and four USB 2.0 ports, for a total of ten USB ports on the rear IO panel.
Stunning Aesthetics: The shield on the front and back of the Maximus IX Formula allows the motherboard to blend into the background while RGB LEDs add accent lighting to heat sinks and critical areas of the motherboard.
Integrated IO Shield: People went nuts over the Rampage V Edition 10's integrated IO panel, and I can see why. The integrated panel makes installation easier and avoids alignment issues.
Audio: ASUS's implementation of the ALC1220 with an ESS Sabre DAC and other premium audio components produces a solid onboard audio solution.
What's Not
Paying a Premium for the Block: At around $370, the Maximus IX Formula is not cheap, and you are paying a big premium for the custom EK water block for the VRM. Otherwise, you could probably find other boards in this price range with features such as ThunderBolt 3 or 4-way multi-GPU support.
Final Thoughts
One of the biggest questions or complaints I see regarding 200 series motherboards is that they are basically RGB LED versions of their 100 series counterparts, but that just simply isn't true. Many 200-series motherboards offer a lot more than their predecessors, and the Maximus IX Formula is one of those motherboards. While it looks similar, it is loaded with new features such as USB 3.1, better audio, better fan control, better VRM cooling, and new additions such as the integrated IO panel and the ROG water cooling zone.
Another aspect I found interesting was ASUS's prioritization of features. ASUS made a shift to add more USB ports on the rear IO panel, reduce the number of SATA ports, remove U.2, and add another M.2 port. These changes show that ASUS took note of certain shortcomings of the Maximus VIII Formula and addressed them when producing the Maximus IX Formula.
In the end, we have a premium high-end motherboard, built for water cooling enthusiasts and overclockers, but it comes with a premium price tag. If you are looking for a loaded motherboard for a new Intel Kaby Lake build, the Maximus IX Formula is definitely worth a look.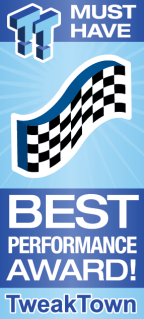 | | |
| --- | --- |
| Performance (including Overclocking) | 96% |
| Quality including Design and Build | 94% |
| General Features | 91% |
| Bundle and Packaging | 95% |
| Value for Money | 89% |
The Bottom Line: Strong performance in benchmarks, overclocking, and thermals reveal that the ASUS ROG Maximus IX Formula is a premium motherboard designed for blazing fast systems.
PRICING: You can find products similar to this one for sale below.

United States: Find other tech and computer products like this over at Amazon.com

United Kingdom: Find other tech and computer products like this over at Amazon.co.uk

Australia: Find other tech and computer products like this over at Amazon.com.au

Canada: Find other tech and computer products like this over at Amazon.ca

Deutschland: Finde andere Technik- und Computerprodukte wie dieses auf Amazon.de