Mushkin Redline Ridgeback DDR4-3200 16GB RAM Kit Review
Mushkin's Redline Ridgeback DDR4-3200 16GB dual-channel memory is the next DDR4 kit to go under the spotlight. Let's see how it does.

Published Thu, Dec 15 2016 5:08 PM CST
|
Updated Tue, Nov 3 2020 6:58 PM CST

We had always known that when it came to selecting Mushkin memory for your system, specifically when it came to overclocking, you had to pay attention to exactly which kits to buy. This is because, as many manufacturers do, the ICs are changed with just about every new release, due to availability. While previous kits would likely have great ICs, shortages from manufacturers' make companies shop around for whatever is out there so that this company can stay relevant and keep offering new products for the market to see.
This is what happened when we looked at the Mushkin Redlines we just saw. Mushkin was left going to a company which takes ICs which have not passed the stringent testing at Micro to be used with their Crucial sticks, or anyone who wants to buy the proven tested and reliable chips. Again, with what we are looking at today, Mushkin chose to use SPEKTEK ICs in this kit, we just hope we do not see a repeat of the sub-par performance that the Redlines delivered.
What has us together today is that Mushkin sent us over a faster-binned kit of Redline Ridgeback memory. Where the first kit we tested was just 2666MHz in speed, the MRB4U320LLLM8GX2 kit we have now is rated for 3200MHz. This is a 16GB kit in density, and with the increased speed of the XMP 2.0 profile, we see that Mushkin went with 20-20-20-40 timings, and a bump in voltage to 1.35V to get this RAM running its XMP specifications. With sort of a dark cloud hanging over Mushkin from our last go with their memory, we hope that the speed of this kit it able to hold its own against our benches and all of the contenders also asking for your support in buying something other than what Mushkin is offering right now.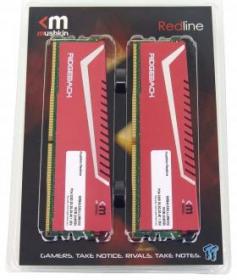 The Redline Ridgebacks are shipped inside of the same blister pack and the Redlines, and they even use the same insert as the backdrop. What has changed is the heat spreader that is offered in this kit, as well as a bump in speed between the two sets of RAM.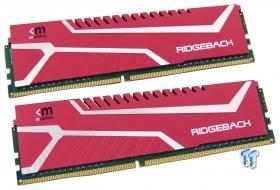 The Ridgebacks have an aesthetically pleasing heat spreader design with the angled top, and the grooves cut into it at an opposing angle. There is more of the spreader used as accents in this design, where they go up the body, rather than running along the bottom. We can also see that these kits are built with green PCBs.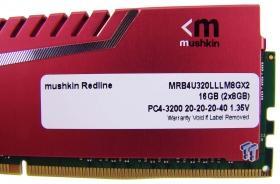 On the other side of the Ridgebacks is where we find the product sticker for this kit, and see Mushkin Redline, but no Ridgeback name on it. This is also where you find the MRB4U320LLLM8GX2 part number, the 16GB of density between the two sticks, and the 3200MHz of speed with 20-20-20-40 timings, and 1.35V required to get that.

Along the top of the spreaders, we can see the line running down the length of them where the two section meet. The rest of the top is flat across the width of these sticks, and is broken up with the grooves we saw on the sides.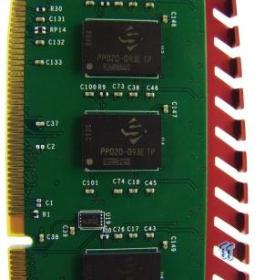 Just like with the Redlines we just saw, Mushkin is using the SPEKTEK ICs in this kit too. They even match in part numbers where the PP020-093E TP is found at the bottom of each chip. We just hope that this time there is not the same hit to performance.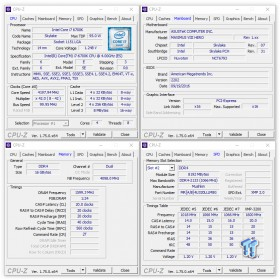 Removing the Redlines, installing the Ridgebacks, setting BIOS defaults, and returning once more to enable the XMP profile, upon booting the system to Windows, this is what we saw. The speed is running at 3200MHz, and the timings are what the kit is supposed to be running at as well.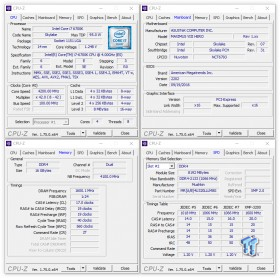 We gave a go at reducing the timings, and this time we found a bit more flexibility in this set of SPEKTEK ICs. We were able to reduce them from 20-20-20 to 17-19-19 stable, but trying for 1T caused issues as soon as we loaded the OS. This did require 1.45V to accomplish, as any less would not allow timings to be moved at all.
We also attempted to change the speed in these Ridgebacks, but everything we tried, memory straps, or changing the BCLK, nothing resulted in us making it into the OS without one of three POST codes greeting us as we attempted to get into Windows. These ICs are binned as far as they would go, even if you do add extra power.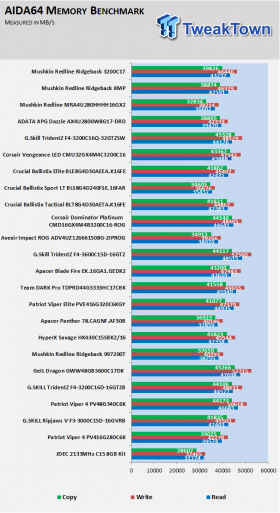 While these 3200MHz sticks do outshine the slower Ridgebacks, they only just squeak by them. Anything on our chart 3000MHz or higher handily performs better than this kit; they are even outdone by Patriot's RAM at 2800MHz. While lowering the timings does increase the performance a bit, it is still not enough to overcome the gap in our other results.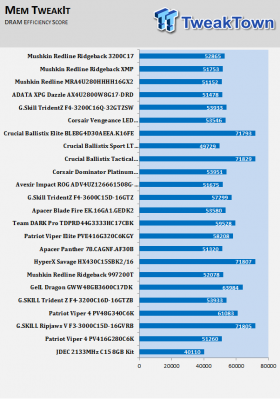 In both the XMP and the lowered timings of the Ridgebacks, we see what we would call average results. The sad thing is, though, that even the slower Ridgebacks deliver better results here due to better timings used, and many kits equal in speed show a margin of 1000 points or better as to their efficiency.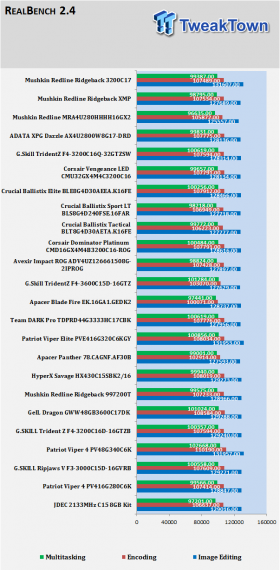 RealBench does seem to enjoy the speed of this Ridgeback RAM, even with the timings at straight twenties. Not a stellar showing for a kit of this nature, but they can hold their ground, and deliver results we can deal with in this metric of testing.
We do wish that Mushkin had access to better ICs for these last couple of kits we have tested. When we looked at the first set of Ridgebacks, we had a bunch of room to play around when it came to speed, but even then, we could not mess with the timings much. At least they were using SK Hynix ICs, something the majority of the RAM community has heard of and utilized in the past. One thing Mushkin has proved to us, though, is that for our money, we would stick with the usual suspects, and avoid sticks full of SPEKTEK ICs. No matter how beautiful these look inside of the rig, and they do look appealing, performance is just not up to snuff from what we would expect from a 3200MHz kit of DDR4.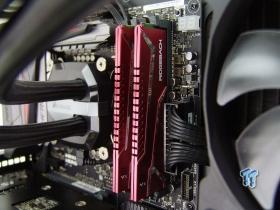 The MRB4U320LLLM8GX2 kit can do averagely well, but with a market as flooded with choices as DDR4 is right now, when spending money on speed, why not make it worth the investment in all aspects? 3200MHz sounds great and all, when you are looking to buy DDR4, and it will give you some bragging rights amongst friends and forum members, but the 20-20-20-40 timings of this kit is just too much. Using the SPEKTEK ICs puts Mushkin into a realm of diminishing returns. The marketing and speed make it seem like this would be a blazingly fast set of RAM, but in reality, we can get similar results from kits with lower speeds and lower timings.
As much as we would love to rave about what Mushkin is doing, as they do have a special place in our heart from past experiences, this is yet another kit that we would say to pass on. The pricing is decent, though, as we found this kit listed more affordable than the slower Redlines we just reviewed. At only $95.99 for this kit, it draws you in like a moth to a bug light. The issue is, though, while other 3200MHz kits will cost you more, there may be a reason that these Ridgebacks are so affordable right now.
Chad's DDR4 Dual-Channel Test System Specifications
| | |
| --- | --- |
| Performance (including Overclocking) | 72% |
| Quality including Design and Build | 91% |
| General Features | 85% |
| Bundle and Packaging | 85% |
| Value for Money | 67% |
The Bottom Line: Mushkin needs to move away from the SPEKTEK IC! The timings needed to run this speed diminish any performance, and while they look good and are affordable, they just do not stack up to other 3200MHz kits on the market.
PRICING: You can find products similar to this one for sale below.

United States: Find other tech and computer products like this over at Amazon.com

United Kingdom: Find other tech and computer products like this over at Amazon.co.uk

Australia: Find other tech and computer products like this over at Amazon.com.au

Canada: Find other tech and computer products like this over at Amazon.ca

Deutschland: Finde andere Technik- und Computerprodukte wie dieses auf Amazon.de
We openly invite the companies who provide us with review samples / who are mentioned or discussed to express their opinion. If any company representative wishes to respond, we will publish the response here. Please contact us if you wish to respond.