Mushkin Redline DDR4-2800 16GB Dual-Channel Kit Review
Mushkin's Redline DDR4-2800 16GB dual-channel memory kit goes under the spotlight. Should you buy this kit? Come and take a look.

Published Wed, Dec 14 2016 5:40 PM CST
|
Updated Tue, Nov 3 2020 6:58 PM CST

When it comes to Mushkin, they hold a special place in our hearts from fond memories of clocking the snot out of their kits ever since our DDR days of buying RAM. We have seen just about everything Mushkin put out along the lines too. From Value sticks to the Silverlines back with DDR, the fact that in the DDR2 days, you could find their kits with colors to match just about any motherboard scheme, and gravitating towards the Ridgebacks in DDR3. So far, though, when it comes to DDR4 memory, we have only seen a single set, which happened to be Redline Ridgebacks with an all-new design.
Recently, Mushkin has also sent us a kit of just plain old Redlines, and it too harkens back to what they once were, but the tops of the heat spreaders get a new look for DDR4. The kit supplied from Mushkin is the MRA4U280HHHH8GX2, or more simply put, Mushkin Redline DDR4 with 2800MHz of speed. The timings of this kit have been relaxed a bit, running at 17-17-17-38 2T, but requiring just 1.25V to run them with their XMP 1.0 profile. As most DDR4 does now, Mushkin is also offering a lifetime warranty for this kit, as long as production of this kit is still going.
Many of the kits we test are indeed 16GB in capacity, as most users have no use for more day to day. Mushkin has its work cut out for them, as many kits we have seen are much faster, and some faster with similar timings too. While Mushkin has a few legs up on a lot of those offerings, things like low voltage requirements, a shorter overall height that causes less conflict with aftermarket CPU coolers, along with the fact that they look great and red is the most popular accent color. All of those are great reasons to choose a kit like this Mushkin Redline 2800MHz 16GB memory, but most important is the performance, making it time to see how this kit stacks up against all the rest.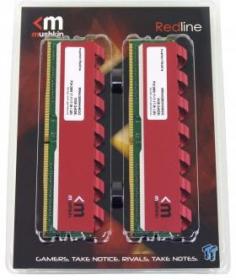 The Mushkin Redline memory ships in a clear plastic blister pack, which we cut a lot of out of this image. Inside of the container, Mushkin uses a black cardboard insert with red, orange, and yellow accents splashed across it. This allows the RAM to stand out on top of it all, and they are also inserted so that the speed and timings are plainly visible.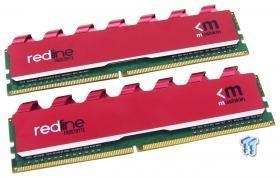 What we do like is the bright red color that is used for the Redline Frostbyte heat spreaders. Keeping in line with all past products, the Redline name is painted onto the spreader at the left, and the Mushkin name and logo is on the right. Along with the continuous rope-like tips on the spreaders, Mushkin has also left the lower section exposed so that the natural metal accents the red. We don't care for the green PCBs, though.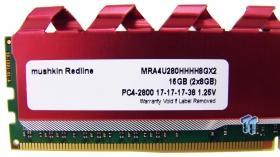 On the other side of both sticks, where the Redline name should be, Mushkin places the product stickers. This tells us that this is the MRA4U280HHHH8GX2 16GB memory kit. It also shows that it runs at 2800MHZ with timings of 17-17-17-38, requiring only 1.25V.

The top pf the spreaders reminds us of G.Skill Ripjaws, but rather than evenly placed fins on them, Mushkin alternates the angles of the tips, to give us the appearance that the tips never stop and continue from one side to the other. The more of these you have next to each other, the better this pattern will look too.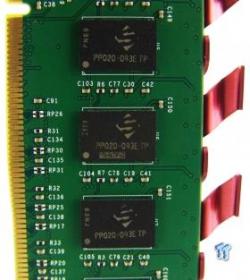 It took us a bit of legwork to recall the brand of ICs used; we recognized the logo; we just could not come up with the SPEKTEK name. SPEKTEK is a division of Micron for those who were unaware, but if we read their page correctly, they re-bin ICs that did not make the original cut at Micron.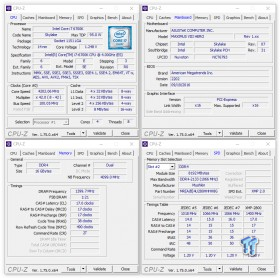 Setting to BIOS defaults, rebooting and changing the overclocking mode to XMP, this is what we saw after booting the rig. Everything is running as it is specified to. We can see the 1400MHz data rate, and the timings shown in CPU-Z match what the sticker says they should be.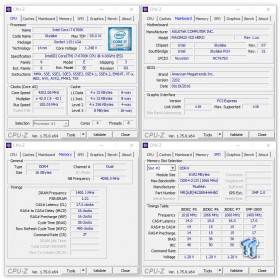 We attempted to make adjustments to the timings of this kit but were not greeted with a bunch of flexibility here. We only managed to lower the tRCD and the tRP to 16, as any adjustments to the CAS level was unstable. We also tried 1T command rate and failed, and this was while using 1.35V to attempt it.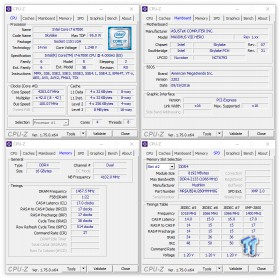 We also tried out hands at getting more speed from this kit but were quickly stopped in that attempt as well. We did manage to get 2933MHz out of these Redlines, and while doing so, we also noticed a decent jump in the tRFC as well. Again, this was with 1.35V used.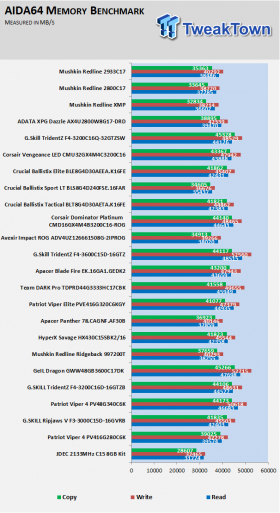 In copy performance, only slower kits did worse, and many of the 2800MHz were substantially better. When it comes to Writes only slower kits showed less, and anything 2666MHz or faster seemed to do better. The same things is seen with Read in this test, just not a stellar showing from Mushkin.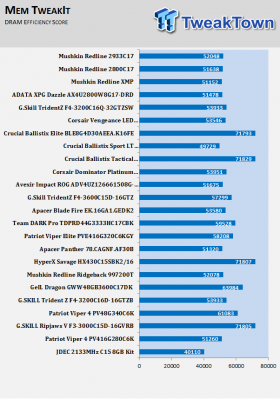 Mem TweakIt is a metric which looks at efficiency based on speed as well as timings, and it did not seem to care much for this kit either. The performance is on average, for its speed, but we do see 2666MHz kits showing better results here again too.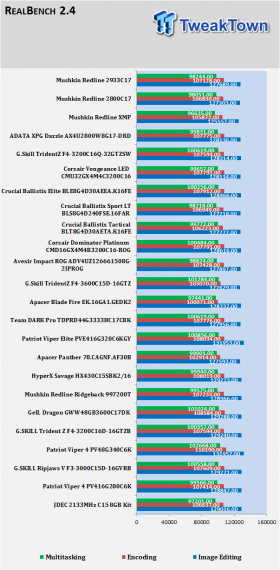 Even running RealBench does not show the Mushkin to be all that impressive. Comparing the Redline XMP run to the set marked JEDEC at the bottom, proves that speed does not matter if timings are not up to the task. With near 700MHz of a speed difference between them, we would have assumed the Redlines could have at least outshined them.
We love the new look of the Frostbyte heat spreaders taped on top of the ICs, but as good as they look, they lack in many aspects. The first part that will kill the deal for many is that you can see quite a bit of green around the spreaders, and is distracting, where a black PCB would look so much nicer. Then, you move into the fact that these ICs are not the best of the bunch to start off with on top of the green PCB, and it seems to lead to the lackluster performance in the end.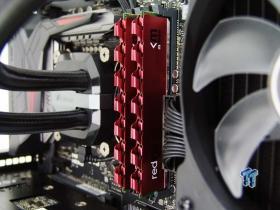 No matter which of the benchmarks we threw at the Redlines, they do not seem to be worth what their speed would imply. They do run at 2800MHz, and the 17-17-17-38 2T timings are not all that bad, and using only 1.25V fits the bill for those worried about power consumption. The sad part of it all, though, is that when it came to testing, having 2400MHz kits close in results, being beaten by 2666MHz kits. Even having the JEDEC kit outperform them with a huge handicap in speed is just something we have a hard time overlooking, no matter how attractive they might be.
While all of the DDR4 seems to have increased in price for the lower speed kits, we see that we can get the Redlines seen here for right around the same price as the Crucial kit we used for JEDEC comparisons. Right now, Amazon has the MRA4U280HHHHGX2 kit at $99.53, which is about right when it comes to the level of performance we were offered. However, with so many other red kits out in the market right now, even if they do cost more to obtain the competition, if we are going to run our RAM at 2800MHz, we should see the gains of doing so.
With this set of Mushkin Redlines, you do need to be in love with the looks to warrant grabbing this kit, as no matter which way we try to spin what we saw here today, there is nothing we can do about the lackluster performance overall.
Chad's DDR4 Dual-Channel Test System Specifications
| | |
| --- | --- |
| Performance (including Overclocking) | 70% |
| Quality including Design and Build | 90% |
| General Features | 85% |
| Bundle and Packaging | 85% |
| Value for Money | 65% |
The Bottom Line: The MRA4U280HHHH8GX2 kit from Mushkin looks good, seems like it will do well on paper, but then we ran some testing... There really is no way to justify purchasing these when they get beat by 2133MHz and 2400MHz kits that cost the same.
PRICING: You can find products similar to this one for sale below.

United States: Find other tech and computer products like this over at Amazon.com

United Kingdom: Find other tech and computer products like this over at Amazon.co.uk

Australia: Find other tech and computer products like this over at Amazon.com.au

Canada: Find other tech and computer products like this over at Amazon.ca

Deutschland: Finde andere Technik- und Computerprodukte wie dieses auf Amazon.de
We openly invite the companies who provide us with review samples / who are mentioned or discussed to express their opinion. If any company representative wishes to respond, we will publish the response here. Please contact us if you wish to respond.