Thecus N4810 Consumer NAS Review
The Thecus N4810 consumer NAS packs some unique features setting itself apart from the market. Should it be on your radar? Let's see.

Published Dec 12, 2016 5:23 PM CST
|
Updated Tue, Nov 3 2020 6:58 PM CST
6 minute read time
TweakTown's Rating: 89%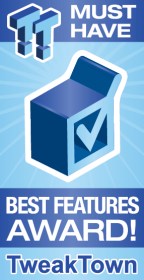 The Bottom Line
Thecus' N4810 NAS is leaking features from every seam including DP, USB-C, and Dual Gbe Ethernet. Adding to this is the price making this a competitive solution and certainly worth looking at if you need those features.
Introduction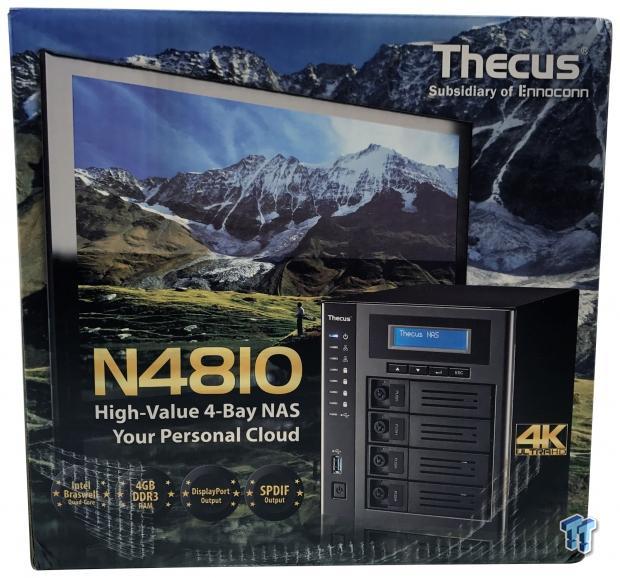 Network storage is growing in popularity as the cost of ownership has come down over the last few years. Back when I first started testing and writing about NAS products, you were spending three or four hundred dollars for a Marvell-based two-bay unit that could barely touch 90 MB/s. In today's market, that same amount can get you a full range of suitable two and four-bay appliances, most boasting a quad-core Intel SoC and 4GB of RAM and sometimes more.
The latest entry into the tower series from Thecus comes in the form of the N4810. This solution first and foremost runs on the latest ThecusOS 7 with an updated user interface that now adds in photo station along with a renovated app center. Moving on, this is the first NAS to my knowledge to take advantage of DisplayPort, offering full 4K media playback directly from the NAS.
Of course, we still have functionality such as VPN, AES Encryption and RAID modes 0, 1, 5, 6, and 10. NAS solutions have also become a hub over the past few years, not only storing your data but connecting your data to the cloud. With that said, Thecus is supporting Amazon, Dropbox, and Elephant Drive out of the box along with the standard local backups via Windows and Time Machine for OS X.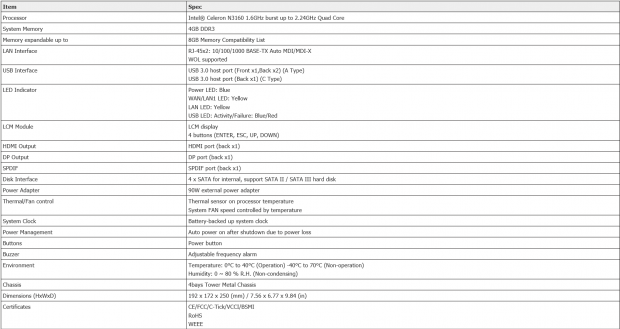 Diving into the hardware specifications of this platform, we start with the very popular Intel Celeron N3160 CPU operating at 1.6GHz with boost capacity at 2.24GHz. Next to this, we have 4GB of DDR3 installed with room for another 4GB should you need it. The LAN interface is populated with dual gigabit connections supporting WOL. Unlike some of the base model appliances, the N4810 includes three USB 3.0 ports along with being the first to support the USB-C interface. You will also find dual display connectivity on the rear of the unit with HDMI and DisplayPort.
The MSRP of the four bay Thecus N4810 comes in at $459.99 with a two-year warranty.
Thecus N4810
Packaging and a Closer Look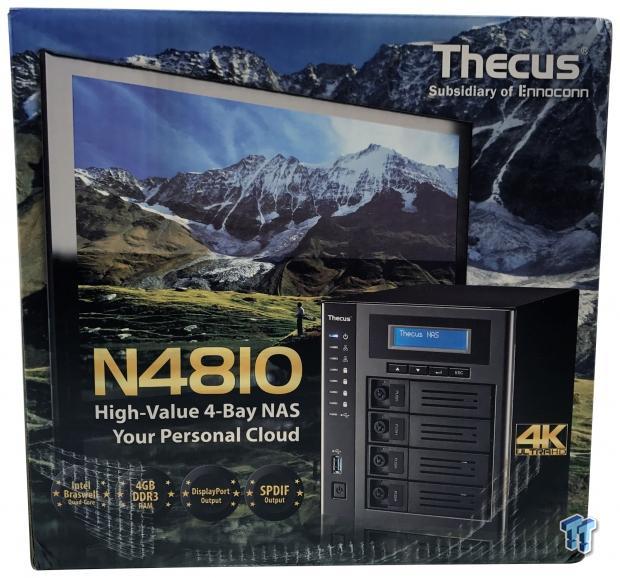 Packaging for the N4810 is quite colorful. Several features are listed on the front including mention of the Intel Braswell quad-core, 4GB of DDR3, and DisplayPort connectivity.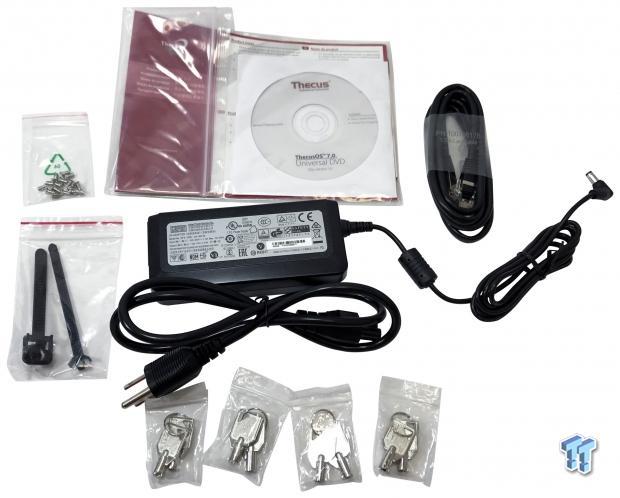 The scope of delivery for this model includes the power adapter, Ethernet cable, and a plethora of keys and drive screws. In the software package, you will find the user manual and Acronis backup.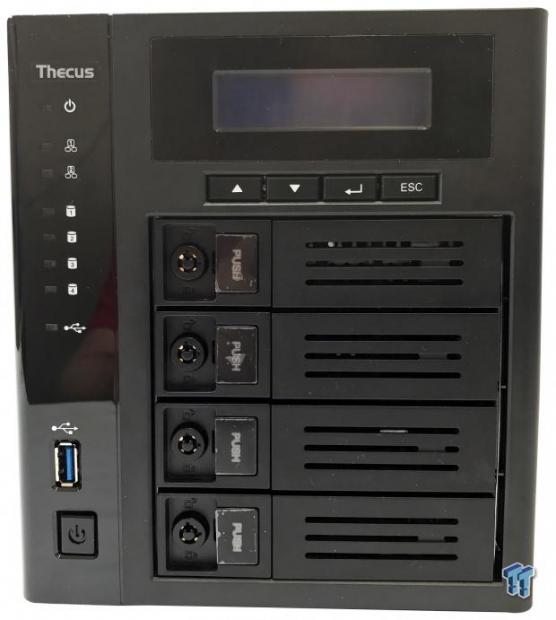 The front of the Thecus N4810 is a mashup of the N4310 and N5810. This time we do have an LCD panel on the front while the drive bays are mounted horizontally rather than typical vertical fashion. To the left, we have USB 3.0 next to the power button while the top has a full array of LEDs.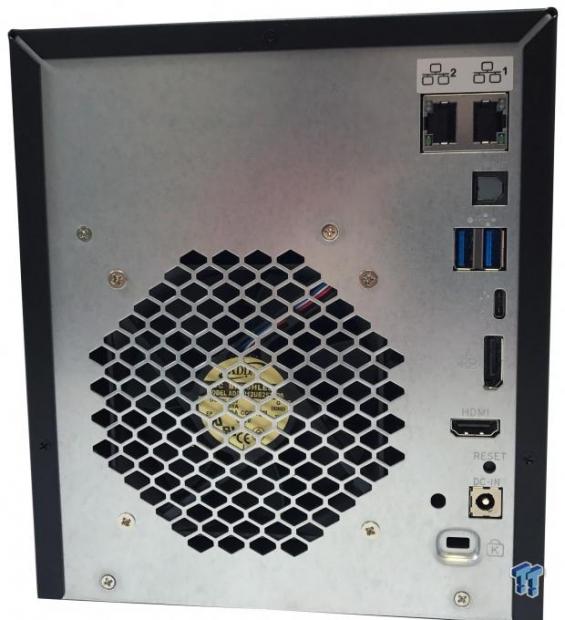 The rear I/O starts off with dual Gigabit Ethernet that's followed up by an optical audio output and dual USB 3.0 ports. Next, we have the USB-C and DisplayPort rounded out with the HDMI and power input.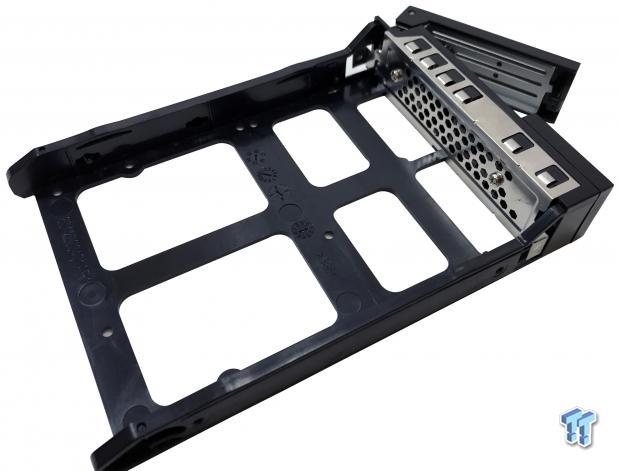 The drive trays are primarily plastic to deaden noise but do have a metal shell reinforcing the locking mechanisms.
Test System Setup and Management
Test System Setup
Tyler's NAS Test System Specifications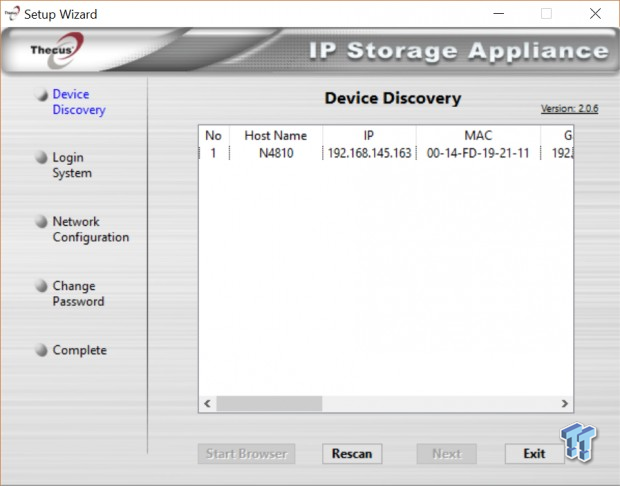 It hard to think a simple application like the "finder" app could come such a long way but Thecus has done a remarkable job with the latest revision. Previously, the app was buggy and difficult to use, and now it has undergone a complete redesign and as you can see above lists out all the information on the appliances found on your home network.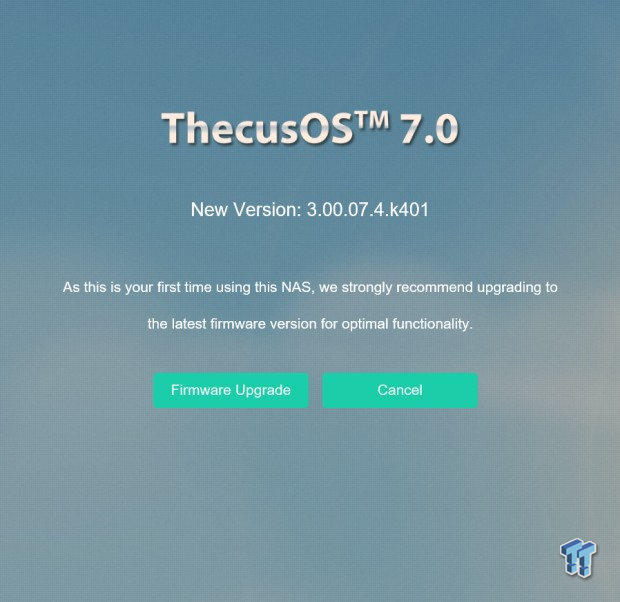 ThecusOS 7 has added some much-needed improvements mainly performance and usability. We are using version 3.00.07.4 for our testing.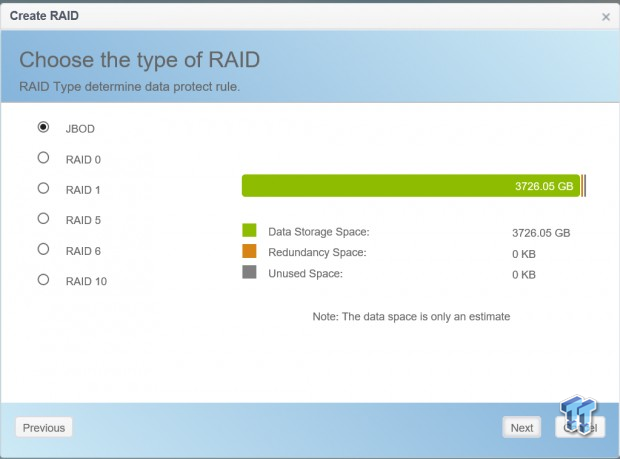 Setting up the NAS starts off with you choosing the RAID mode you wish to use. I tested RAID 0, 5, and 6 as they are the most commonly used.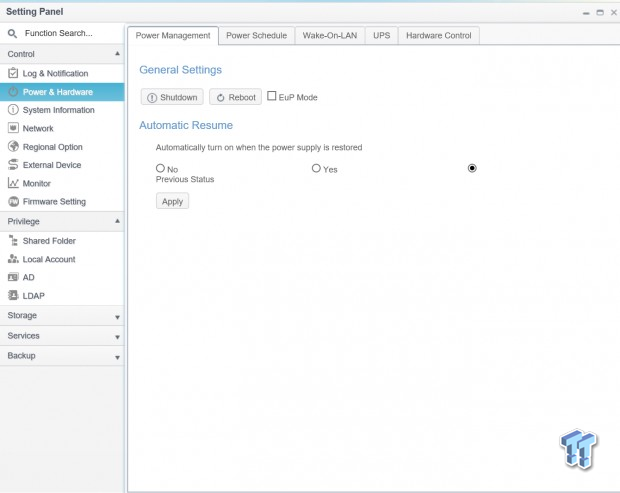 Management for the N4810 starts in the settings panel. The power and hardware section allows you to restart or shutdown the appliance along with scheduling reboots, WOL, and UPS functionality.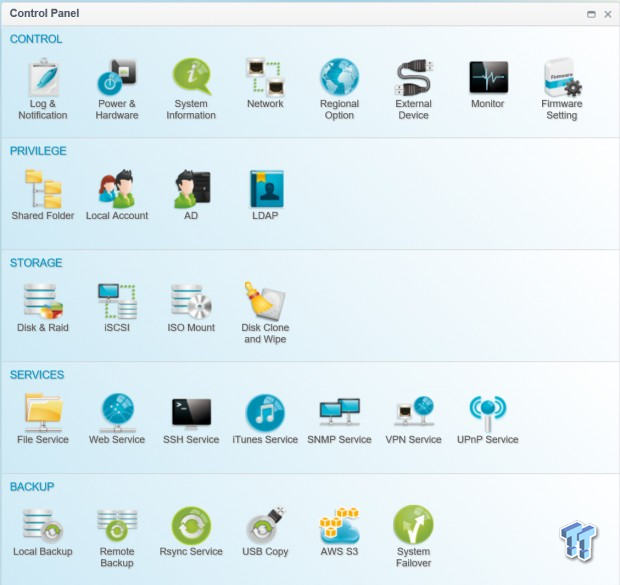 There is also a more colorful version of the control panel available, seen above.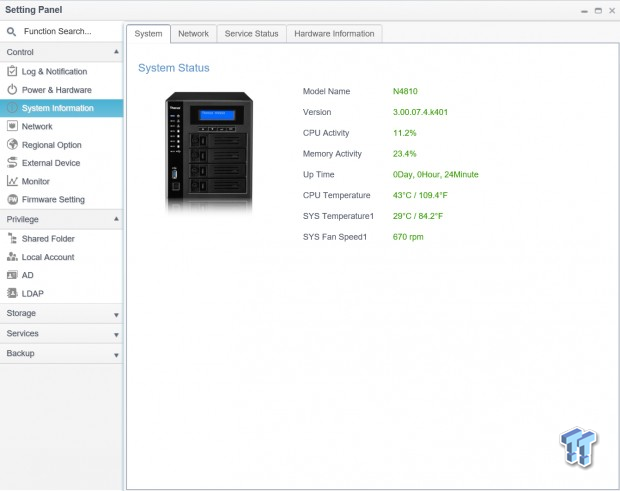 System information includes version information along with activity monitors for CPU and memory.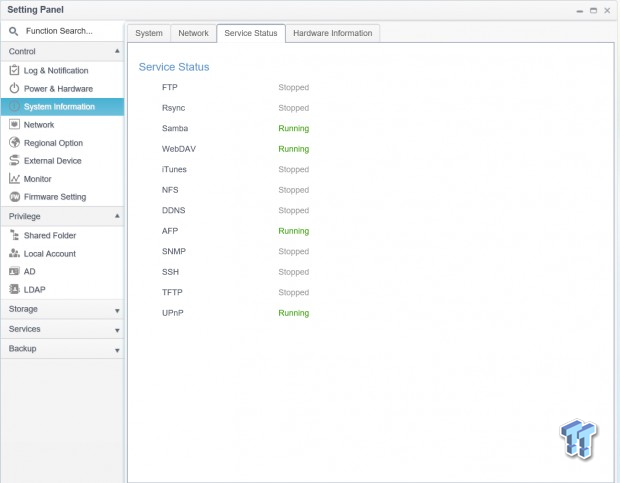 You can stop by the service menu to check what services are currently running. Seen above are the defaults for the N4810.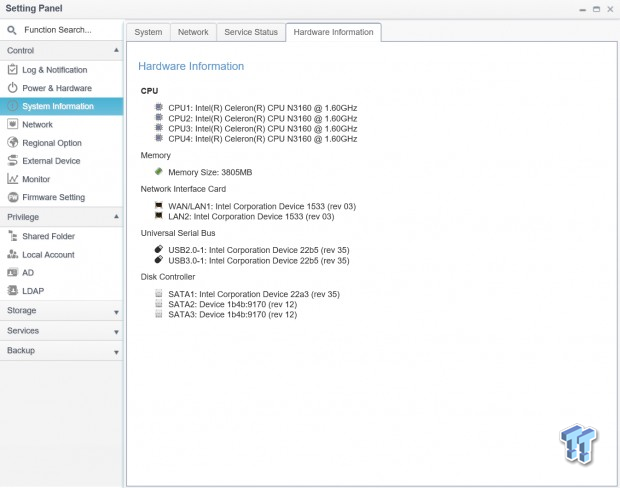 Hardware information includes a basic device manager for the NAS.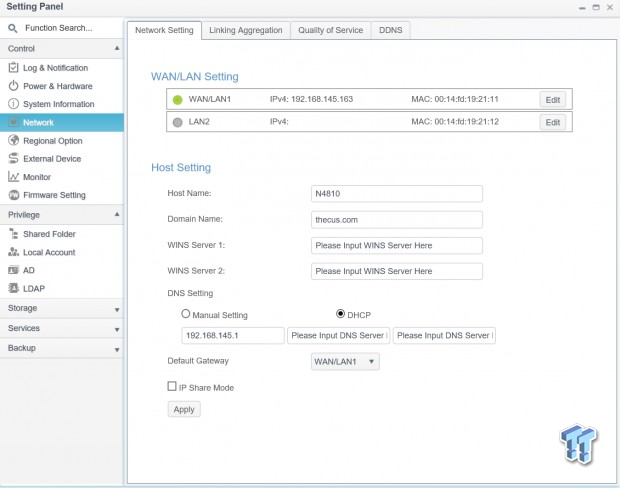 Moving over to network settings, you can control host and domain settings along with link agg and QoS.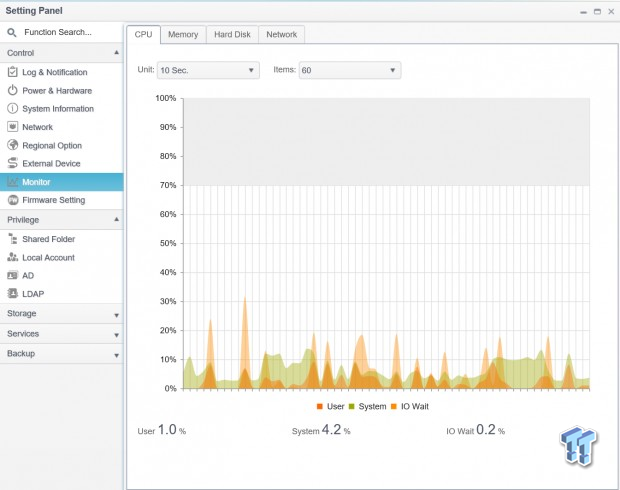 The monitor watches the CPU, memory, disks, and network, with each having their own graph like the above.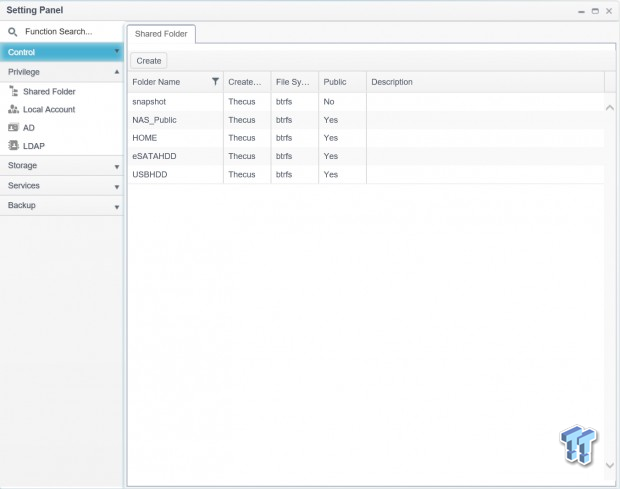 In the privilege menu, you can control users and assign permissions.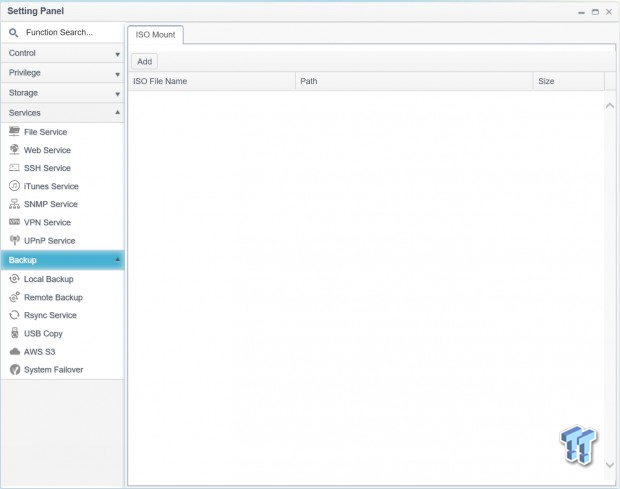 Above, we have both the services and backup menu open. As you can see, you have access to everything from SSH, iTunes, SNMP for monitoring, and VPN.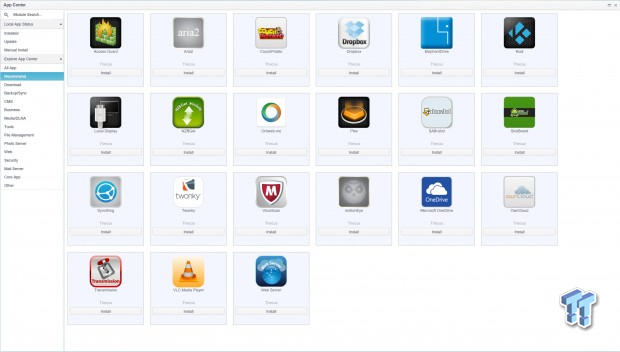 The redesign of the app center saw an influx of new packages for Thecus NAS. Above, we are centered on the recommended solutions.
Benchmarks – Single Client Throughput
Workload
HD Video Play - 720p HD stream from Windows Media Player, 256kB reads
2HD Video Play - 2x playback
4HD Video Play - 4x playback
HD Video Record - 720p HD stream, 256kB writes
File Copy From NAS - 4GB file copy, 64kB reads
File Copy To NAS - 64kB writes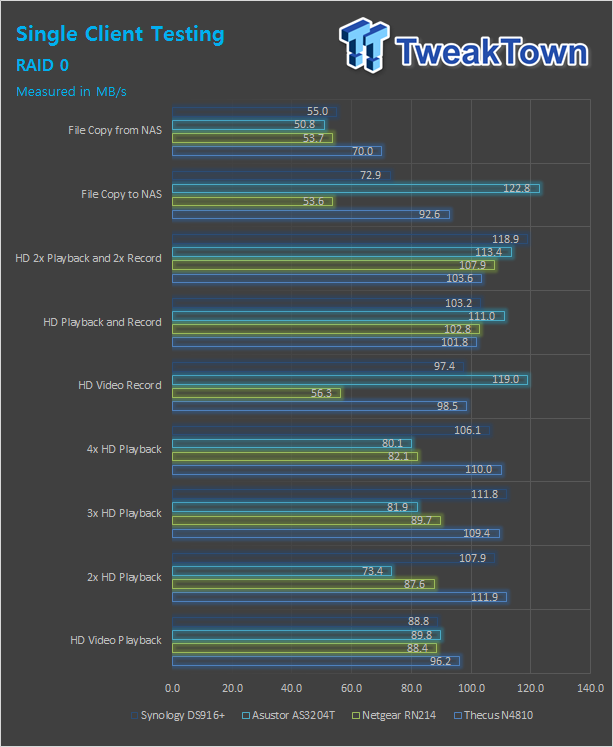 Testing began with our single client testing with NASPT. RAID 0 as seen in the bottom of each row had some good results for the N4810. Playback seemed to be where this solution excelled with 110 MB/s for 2, 3 and 4x.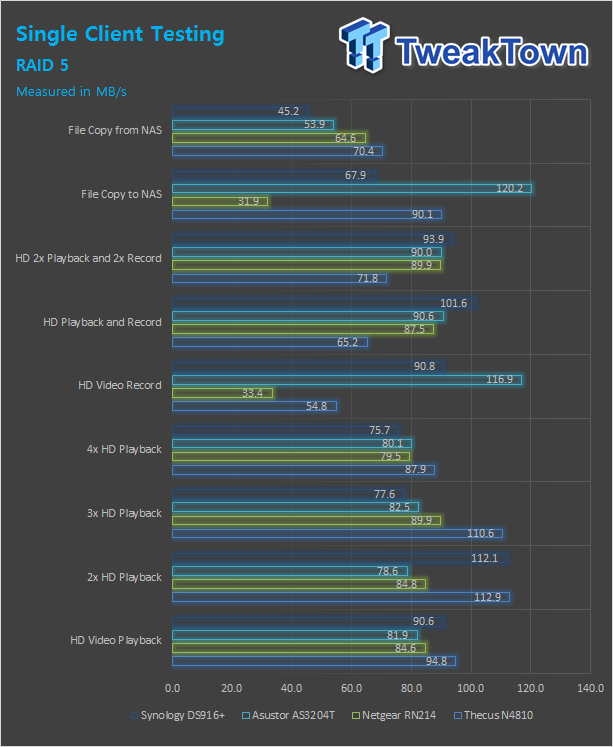 RAID 5 saw a minor performance drop from an average of 110 MB/s in RAID 0 to 106 MB/s for RAID 5 playback. With that said, playback and record took a more severe hit moving from 101 and 103 MB/s to 65 and 71 MB/s.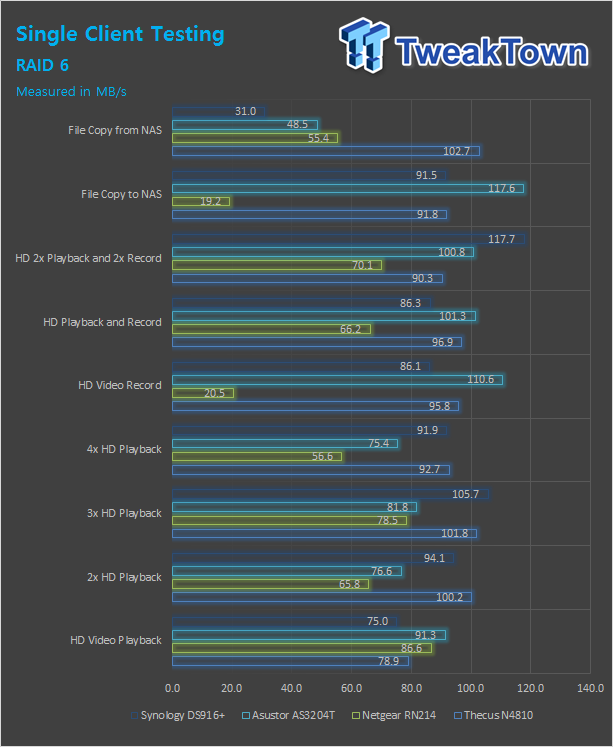 Over to RAID 6, we found similar numbers for playback ranging from 78 MB/s to 101 MB/s while playback and record were slightly higher this time around near 90 MB/s.
Benchmarks – Sequential and Mixed Workloads
Our Sequential read/write workload is centered on 128K transfer sizes with a Queue Depth of 8.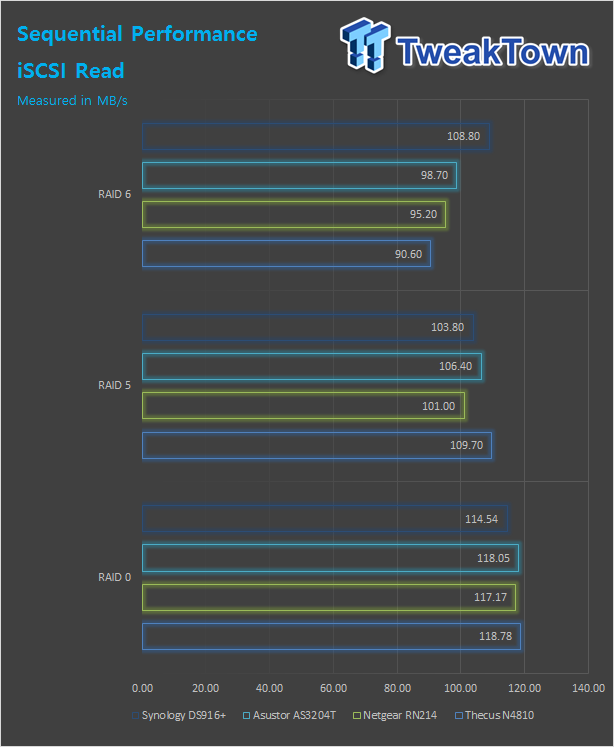 Sequential read performance topped out at 118.7 MB/s in RAID 0. RAID 5 and 6 reached 109 MB/s and 90 MB/s, respectively.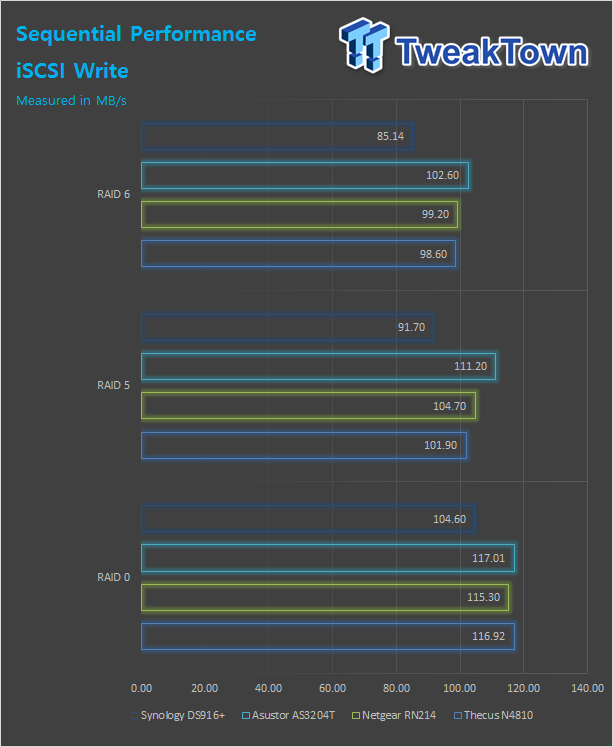 Write performance was at its highest with RAID 0, reaching 116.9 MB/s while RAID 6 touched 98 MB/s and RAID 5 101 MB/s.
Mixed Workloads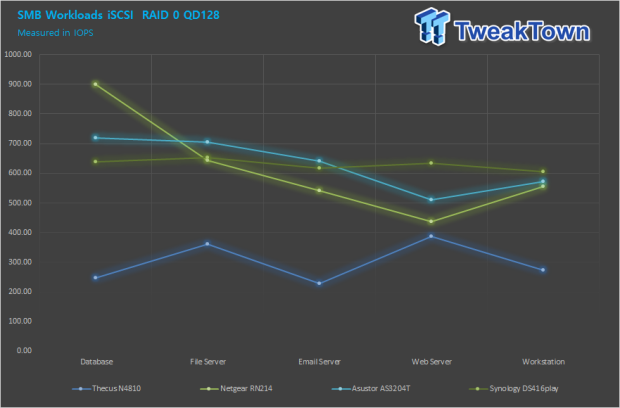 Trying something new above to make charts easier to read with large amounts of data. The N4810 is the darker blue line and as you can see hovering near the bottom of the chart. Throughout all workload testing in RAID 0 we found results to stick between 200 and 400 IOPS.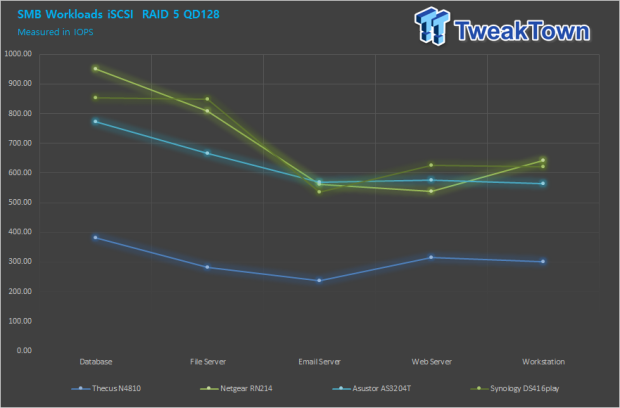 RAID 5 started high at 400 IOPS sloped down to a touch above 200 IOPs in Email Server. We then have 300 IOPs for both Web and Workstation.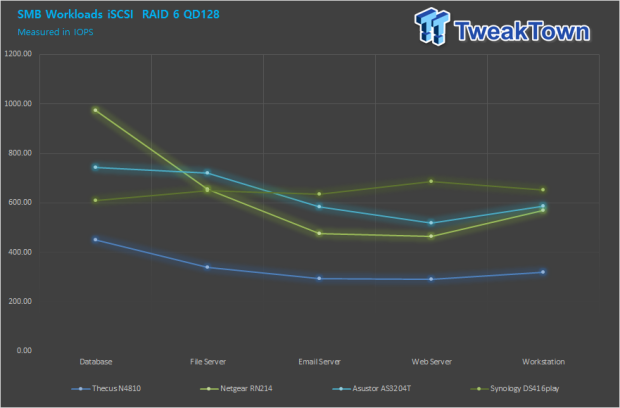 Switching to RAID 6, we have similar performance to RAID 5 with 400 IOPS in Database followed by a slight dip through File and Email Server finishing up with 300 IOPs in Web and Workstation.
Final Thoughts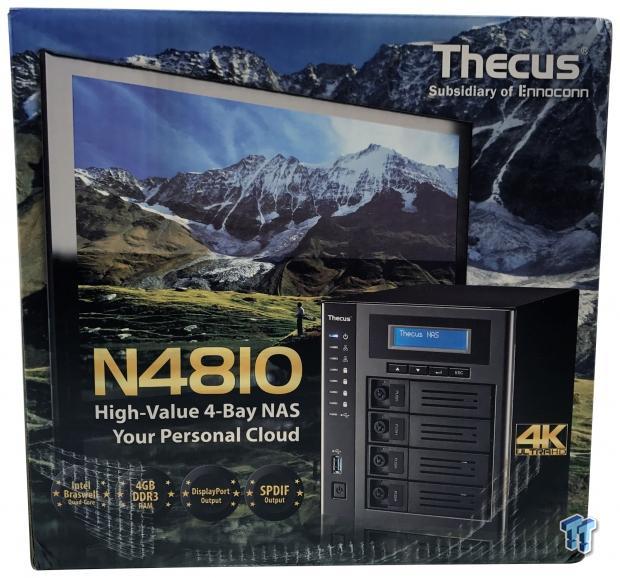 OS 7 has upped the game for Thecus regarding features. The big one for me is the performance, and while this unit itself didn't fare the best in workload testing, it was more than adequate in sequential and single client NASPT testing. Peak results for this solution in NASPT were consistent across all RAID modes. For playback results, we look at 4x playback that came in at 110 MB/s in RAID 0, slipping to 92 MB/s in RAID 5 and 87 MB/s in RAID 6. File copy, on the other hand, started at 92 MB/s shifting to 90 MB/s in RAID 5 and finishing at 91 MB/s. Sequential performance topped everything off with a solid 118 MB/s read and 116 MB/s write in RAID 0 adding to 90 MB/s read in RAID 6 and 109 MB/s in RAID 5.
The build quality of this unit is ample for the market its being introduced to. It's not bargain basement by any means, but it is mostly plastic, shaving some of the costs inquired when building a full tank, like the N5810. With that said, this unit does have a good number of features including the basics with USB 3.0 ports front and back along with HDMI. What sets this unit apart is the inclusion of DisplayPort for 4K support with modern PC displays and USB-C to future proof its existence with modern storage solutions.
Thecus has done remarkably well with this unit with its external connectivity, but they also thought of the internals as well giving this solution the full treatment with the base model having 4GB of memory paired with the rather popular Intel Braswell N3160 SoC. You do have the optional of upgrading to 8GB as well for those running more demanding applications.
Overall, I'm quite happy with the N4810; it's certainly a solid competitor in a rather stacked market. The nearest direct competition to this solution (TS451) comes in about $50 more and doesn't have TypeC or DisplayPort. If those features are something you are looking for, then Thecus is certainly worth looking at. On the other hand, if you just want a four-bay NAS with no frills, the Thecus is expensive, as there are several albeit less powerful solutions on the market that hover around the $300 mark.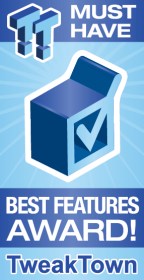 | | |
| --- | --- |
| Performance | 85% |
| Quality including Design and Build | 89% |
| General Features | 95% |
| Bundle and Packaging | 89% |
| Value for Money | 85% |
The Bottom Line: Thecus' N4810 NAS is leaking features from every seam including DP, USB-C, and Dual Gbe Ethernet. Adding to this is the price making this a competitive solution and certainly worth looking at if you need those features.
PRICING: You can find products similar to this one for sale below.

United States: Find other tech and computer products like this over at Amazon.com

United Kingdom: Find other tech and computer products like this over at Amazon.co.uk

Australia: Find other tech and computer products like this over at Amazon.com.au

Canada: Find other tech and computer products like this over at Amazon.ca

Deutschland: Finde andere Technik- und Computerprodukte wie dieses auf Amazon.de
We openly invite the companies who provide us with review samples / who are mentioned or discussed to express their opinion. If any company representative wishes to respond, we will publish the response here. Please contact us if you wish to respond.
Related Tags