GIGABYTE Z170X-UD3 Ultra Motherboard Review
GIGABYTE's Z170X-UD3 Ultra motherboard packs in some great features and storage and connectivity options considering its reasonable price tag.
Published Tue, Oct 25 2016 3:49 PM CDT
|
Updated Tue, Nov 3 2020 6:58 PM CST
Introduction, Specifications, and Pricing
Intel's Z170 platform has matured, and while it's been just a year since its initial launch, many vendors have released refreshed Z170 motherboards to target parts of the market that might have been overlooked. GIGABYTE's Z170X-UD3 Ultra brings back their iconic blue color theme matched with white. The PCI-E slots and memory DIMMs have been reinforced and a U.2 connector has been added. GIGABYTE has also loaded the Z170X-UD3 Ultra with blue LEDs and the ability to RAID three NVMe-based devices.
The many PCI-E 3.0 lanes from the Z170 PCH make it possible for RAID of x4 PCI-E 3.0 devices, something that is very niche but interesting nonetheless. The motherboard carries many of the features we have come to expect from Z170 motherboards and a few extra ones from GIGABYTE. However, this motherboard isn't meant to be the flagship GIGABYTE Z170 motherboard, but instead a lower cost product.
Specifications
The Z170X-UD3 Ultra supports 2-way SLI and CrossFireX, x4 PCI-E 3.0 U.2, x4 PCI-E M.2, two SATA Express connectors, Thunderbolt 3.0 support with 100W power delivery, and even an Intel NIC.
Pricing
The Z170X-UD3 Ultra is available from many large retailers for $169.99.
Packaging and Z170X-UD3 Ultra Overview
Packaging and Overview
The Z170X-UD3 Ultra's box is simple and to the point, highlighting all its main features. Packaging is decent - not the best I have seen but also not the worst.
The accessory package is minimal and includes four SATA6Gb/s cables, SLI bridge, G-Connector, IO shield, manual, driver DVD, and a case badge.
The motherboard has five fan headers; the three circled in red at 4-pin voltage mode fans, and the two circled in red at PWM or voltage mode 4-pin headers. Control for all of these is provided through GIGABYTE's new UEFI design.
The motherboard has a sleek white and blue heat sink and shield design, with some white silk screening on the PCB. Metal shields cover up the Intel NIC, the Realtek audio controller, and support the PCI-E slots and memory DIMMs. LEDs will illuminate the audio PCB divide, as well as the spaces in between the memory DIMMs, and the right side of the PCB's translucent sections. The back of the motherboard is bare except for the blue LEDs that illuminate the translucent trace paths.
The IO panel on the Z170X-UD3 Ultra features two USB 2.0 ports, four USB 3.0 ports, one USB 3.1 type-A port, one Thunderbolt 3/USB 3.1 type-C port, MiniDP out, MiniDP in (for Thunderbolt 3), HDMI, 1Gbit LAN, and 7.1 audio output jacks with S/PDIF optical.
The Z170X-UD3 Ultra has a PCI-E layout that is becoming more popular among GIGABYTE motherboards. The first and second full-sized PCI-E slots work at x16/x0 or x8/x8 for SLI or CrossFireX. The last full sized slot runs at x4 PCI-E 3.0 and has an RST link, so it is the third slot used for x3 NVMe RAID as written on the PCB. The PCI-E x1 slots are connected to the PCH. There is an x4 PCI-E 3.0 M.2 slot located right below the CPU socket.
Four the SATA6Gb/s ports also work as two SATA Express ports. There is a U.2 port as well, and that is part of the x3 PCI-E 3.0 x4 NVMe RAID. Since the Z170 chipset offers six SATA6Gb/s ports, the remaining two not right-angled are straight and located below the U.2 connector. Near the SATA ports are the front panel headers.
There is a USB 3.0 internal header located right below the 24-pin motherboard power connector. Two USB 2.0 headers are located at the bottom of the motherboard as is a TPM header.
There are three translucent rows of plastic between the memory DIMMs, and these will illuminate blue when the system is turned on. The metal shielding around the memory DIMMs is used to re-enforce the PCB. There are three heat sinks screwed to the PCB, and they make great contact.
GIGABYTE Z170X-UD3 Ultra Circuit Analysis
Circuit Analysis
The Z170X-UD3 Ultra has a nice looking PCB.
The VRM on the Z170X-UD3 Ultra is very simple. Four phases are dedicated to the CPU Core and three phases are dedicated to the iGPU. The Intersil ISL95856 4+2 phase PWM controller. It has two separate PWM rails, the rail with four phases has two integrated drivers and the rail with three phases has a single integrated driver.
GIGABYTE has added two ISL6625 drivers for the four phase rail and two for the three phase rail so that all PWM phases on both rails can be utilized. Each phase uses a Vishay SiRA12 and SiRA18 for the low-side and high-side MOSFETs. The VRM on this motherboard should be enough to get things done, but it probably isn't the best for crazy overclocks.
The memory VRM uses a single phase PWM with an integrated driver, the Richtek RT8120D, and three Vishay SiRA12 (two low and one high). Minor rails like VCCIO and VCCSA are powered by linear regulators located south of the CPU socket area.
GIGABYTE Z170X-UD3 Ultra Circuit Analysis Continued
Z170X-UD3 Ultra Circuit Analysis Continued
Audio on the Z170X-UD3 Ultra uses a Realtek ALC892 audio codec with some Nichicon Gold series audio-grade capacitors.
Intel's Alpine Ridge Thunderbolt 3 controller is used and configured to support Thunderbolt 3 operation when a user plugs a mini-display port input signal from their discrete GPU. A Texas Instruments TPS65982 type-C controller and USB Power Delivery 2.0 chip is used to ensure proper Thunderbolt 3 operation. The Z170X-UD3 Ultra supports 100W output on the type-C port, and that is achieved using a boost converter, whose components are located to the right of the Thunderbolt 3 controller.
The Intel i219v is hidden beneath a metal shield. The IT8628E is the central SuperIO controller that provides PS/2 as well as system monitoring. Two 128Mbit (16MB) ROMs hold the UEFI and provide DualBIOS for protection from BIOS corruption.
Four ASMedia ASM1480 PCI-E quick switches move two PCI-E 3.0 lanes each, the four in a straight line switch x8 of PCI-E 3.0 between the first and second PCI-E x16 slots.
The back of the motherboard has tons of blue LEDs.
BIOS and Software
BIOS
The Z170X-UD3 Ultra carries GIGABYTE's latest UEFI design, which includes a full GUI for fan control and many other enhancements that bring it up to date with competitors' products. The UEFI has two modes, an Easy mode, and a Classic (more advanced) mode, you will want to use the Classic mode if you are overclocking.
GIGABYTE's new GUI for fan control in the UEFI is not bad at all, for some headers you even have the option to switch between PWM and voltage mode, but there is no manual input of fan parameters, you will have to move the little dots on the graph. The Z170X-UD3 Ultra doesn't use a fancy fully digital PWM, so you don't get all those extra phase control options, but LLC is present.
There are many overclocking voltages present as well, more than in some of GIGABYTE's early Z170 motherboards, but you only need to mess with VCore, LLC, and maybe cache, VCCIO, and VCCSA if you are overclocking.
Software
GIGABYTE has a myriad of software applications you can install including APP Center, BIOS Setup, @ BIOS, Ambient LED, Color Temperature, AutoGreen, 3D OSD, USB Blocker, Cloud Station, Cloud Station Server, Easy Tune, FastBoot, Platform Power Management, System Information Viewer (SIV), Smart Backup, Smart TimeLock, SmartKeyboard, and VTuner to name a few.
The Realtek HD Audio Manger also gets its own GIGABYTE skin, and cFOS is included to help control the traffic going through the Intel NIC.
Test System Setup
Steven's Motherboard Test System Specifications
GIGABYTE did away with their classic blue colored motherboards a few generations ago, but they have finally brought it back and paired it with white or black depending on the motherboard. I have to say, that the blue and white color theme grows on you, and is easy to match with accessories since blue is a common build theme color.
The new test bench is designed to test every aspect of the motherboard and IO. I have designed it so that the motherboard sits in a case and is cooled by fans always on at a constant rate to keep the conditions similar during all tests. I have cut out part of the case behind the motherboard so I can get thermal images of the back of the PCB where the VRM heat spreads. System and CPU power measurements are now digitally logged.
I am also using a Netgear Nighthawk X4 AC2350 for our network (including wireless AC) tests. The latest M.2, SSD, and USB technologies are also being utilized to test the maximum potential of the motherboards that are tested.
Overclocking
Overclocking Results
CPU Overclocking
I have decided to reduce the CPU VCore to 1.4v applied (I will measure real VCore at the output capacitors), and see how high I can validate. On most boards, it's 5GHz.
Even with the four phase CPU VCore VRM, the Z170X-UD3 Ultra can hit 5GHz.
I was able to pull off a 4.7GHz stable overclock, which is not bad considering the very basic VRM. Anything higher will probably require a stronger voltage regulator.
Compatible Memory Overclocking Kits
Test 1: 2x4GB (8GB) Corsair Vengeance LPX 2666C16
This kit worked fine with only two sticks.
Test 2: 4x4GB (8GB) Corsair Dominator Platinum 3200MHz C16
The Dominator Platinum kit used here worked the best out of the three kits I tested.
Test 3: 2x4GB (8GB) G.Skill TridentZ 3733MHz C17
The TridentZ wasn't easy to get running, I had to make some voltage adjustments to VCCSA and VCCIO and disable fast boot so that the memory could be properly trained.
CPU, Memory, and System Benchmarks
CINEBENCH 11.5
wPrime
AIDA64 AES and HASH
AIDA64 FPU
AIDA64 Memory
PCMark8 Home Test
3DMark: Cloud Gate
3DMark: Fire Strike
GIGABYTE's Z170X-UD3 Ultra's scores pretty much average compared to the other Z170 motherboards in the charts. It's neither at the top nor the bottom of the barrel when it comes to CPU, memory, system, or graphics performance.
Some motherboard reviews put a lot of weight into motherboard CPU, memory, and GPU benchmarks, but for me, CPU, memory, and GPU benchmarks on motherboards should be more about finding anomalies, and I do that at standard settings (4.5G in graphs).
System IO Benchmarks
CrystalDiskMark SATA6G:
CrystalDiskMark M.2:
CrystalDiskMark U.2:
CrystalDiskMark USB 3.0:
ixChariot Network Throughput:
The Z170X-UD3 Ultra performed very well in IO tests. Considering that you can run M.2 and U.2 at the same time without any system conflicts, the Z170X-UD3 Ultra is a capable motherboard.
Network and USB 3.0 performance are where they should be.
Audio RMAA 5.5:
I disable all audio features, set the correct bitrates, and then test the audio with a loopback test.
Sound Judgment by Ear: Acceptable. With its ALC892 and no amplifier, the Z170X-UD3 Ultra doesn't have the best audio hardware you can current get, but it does get the job done.
There are five ratings for audio: 1. Problems, 2. Okay, 3. Acceptable, 4. Very good, 5. Excellent
Thermal Imaging and Power Consumption
CPU power is measured through the 8-pin connector, which is hooked up to a hall effect IC, which measures current and puts out a voltage in proportion to the current. That voltage is logged by a National Instruments ADC, which logs the DC voltage level that I then convert into current.
Note on Thermal Images: In the temperature section, we use our Seek thermal imaging camera to capture the surface temperatures of major components on the board. I look at the VRM and then all other things that light up the screen. If there is something to worry about, then I will state it. Otherwise, I will just show the hotter running parts of the board for fun. Unless some component is over 80-90C, then there isn't anything to worry about.
All systems will act differently, so I will look for commonalities, such as how far from the VRM the heat spreads through the PCB and the difference in temperature between the front side and backside of the PCB. Keep in mind, the majority of the heat from the VRM goes into the PCB as it is a giant soldered on copper heat sink. A larger difference in temperature between the back and front of the PCB points towards a more effective heat sink.
Thermal Testing at Stock Speeds:
The image on the left is always at idle, and the image on the right is at load. During ALL TESTS, fans above the VRM that cool the CPU cooler's (Corsair H110i GT) radiator are turned on to high (12v).
Full frontal.
Up-close of the front of the VRM.
Up-close of the back of the VRM.
Thermal Testing at 4.5GHz Overclocked Speeds:
The image on the left is always at idle, and the image on the right is at load. During ALL TESTS, fans above the VRM that cool the CPU cooler's (Corsair H110i GT) radiator are turned on to high (12v).
Full frontal.
Up-close of the front of the VRM.
Up-close of the back of the VRM.
The VRM on the Z170X-UD3 Ultra is designed to shed phases at idle and use all of them when at full load, and it does so as seen in our testing. The temperature on the top side of the motherboard didn't exceed that of the rear, indicating good heat sink cooling performance. Temperatures did get close to 50C when the system was overclocked to 4.5GHz, but the VRM can handle that.
Anything under 60C is great, 60-80C is acceptable, and anything above 80C is a bit worrisome (if at stock).
What's Hot, What's Not & Final Thoughts
Here are key points about the GIGABYTE Z170X-UD3 Ultra.
What's Hot
Loaded with Storage Options: Support for three NVMe x4 PCI-E 3.0 storage devices in RAID using M.2, AIC (PCI-E), and U.2? Don't mind if I do! The U.2, M.2, and last PCI-E x16 slot all have their own x4 PCI-E 3.0 link, so you don't have to disable one device to use another. However, you will lose SATA ports depending on your configuration (that's how Intel's Flexible IO works). GIGABYTE leveraged the PCH to its maximum to allow for support of all these devices and Thunderbolt 3.
Thunderbolt 3: I never thought I would see Thunderbolt 3 on a motherboard of this price, but alas, the Z170X-UD3 Ultra has Thunderbolt 3 certification on the USB type-C port on the rear. To make things never better, GIGABYTE decided to add in 100W USB Power Delivery support, meaning the Z170X-UD3 Ultra is ready to handle the next generation of type-C devices.
Unique Aesthetics: White and blue isn't a common color theme on motherboards these days, but GIGABYTE has brought it back in style. If you love blue, then the blue LEDs all around will make your day since they are everywhere from in-between memory DIMMs to under the VRM heat sink and beneath the PCI-E slots. The white and blue shield that covers the IO panel does a nice job of sprucing things up.
Intel NIC: I didn't expect to find an Intel NIC at this price point, especially not with the Thunderbolt 3 and other features, but GIGABYTE made a point to use the more expensive Intel NIC over competitors.
What's Not
Audio Isn't the Best: Cuts had to be made somewhere to keep the Z170X-UD3 Ultra under $170, and the audio section is where most of those are. Instead of the common ALC1150, GIGABYTE uses the ALC892. Audio amplifiers are also absent.
VRM Could be Better: You will be able to get away with a stable 4.5GHz overclock on a 6700K, but I wouldn't expect much more above 4.8GHz since you will be pushing the 4+3 phase VRM to its limits. So while this VRM is good for everyday users who might want a mild overclock, you won't be able to go to extremes.
Final Thoughts
The Z170X-UD3 Ultra is pretty much a high-end UD3 motherboard. Loaded with features, you wouldn't think would sit at this price point, but the Z170X-UD3 Ultra is loaded with value. From the Intel NIC to Thunderbolt 3 and U.2, the Z170X-UD3 Ultra is ready for the next generation of connectivity and storage products.
GIGABYTE also did a nice job of adding in its new UEFI, which offers significantly better fan control through the UEFI and other important features such as adaptive voltage control.
No product is perfect, and the Z170X-UD3 Ultra is not without its pitfalls. Audio is pretty much the minimum of what most would consider good audio, and overclocking is pretty much what you might expect from a sub-$200 motherboard. You will be able to overclock to 4.5-4.7GHz and perhaps 3200MHz on the memory without much issue, but above these limits, you should look for an overclocking motherboard.
Overall, I was impressed by the features and usability of the Z170X-UD3 Ultra. If you are in the market for a sub-$200 motherboard with U.2 and Thunderbolt 3, it's worth a look.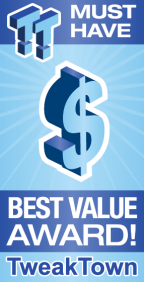 | | |
| --- | --- |
| Performance (including Overclocking) | 88% |
| Quality including Design and Build | 89% |
| General Features | 94% |
| Bundle and Packaging | 83% |
| Value for Money | 95% |
The Bottom Line: GIGABYTE's Z170X-UD3 Ultra motherboard offers a myriad of features you might not think could be had at its relatively low price point, and it looks good too.
PRICING: You can find products similar to this one for sale below.

United States: Find other tech and computer products like this over at Amazon.com

United Kingdom: Find other tech and computer products like this over at Amazon.co.uk

Australia: Find other tech and computer products like this over at Amazon.com.au

Canada: Find other tech and computer products like this over at Amazon.ca

Deutschland: Finde andere Technik- und Computerprodukte wie dieses auf Amazon.de