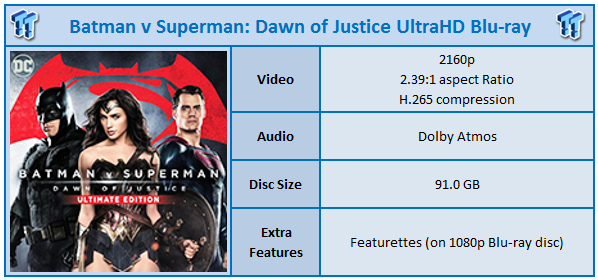 Batman v Superman: Dawn of Justice 4K Ultra HD Blu-ray
Just months after the theatrical release of the much-anticipated superhero bust-up Batman v Superman: Dawn of Justice, which I referred to at the same as "a bloated and at times, confusing film", Warner Bros. has assembled an even longer cut of the film for home video, which adds thirty minutes of additional footage to an already long feature. But can it paper over its own flaws in the process? I take a look at Batman v Superman: Dawn of Justice - Ultimate Cut for TweakTown's first 4K Blu-ray review.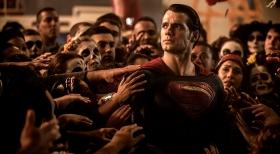 The devastating death toll resulting from Superman's battle with Zod has had a profound personal effect on Bruce Wayne (Ben Affleck), who becomes increasingly suspicious of the immense power held by Superman (Henry Cavill), which left unchecked could wipe out civilization. Intent on avenging lives lost in the battle, Batman enacts a plan to make the son of Krypton accountable for his actions, aided unbeknownst by one Lex Luthor (Jesse Eisenberg) who's manipulating the hostility to his own dastardly ends.
Not only does Batman v Superman have to sate fans who've waited a long time to see the epic battle between Batman and Superman fly off the comic book pages, but it's also charged with laying the groundwork for the introduction of some of the biggest characters in the DC Comics stable, including Wonder Woman, Aquaman, Cyborg, and the Flash. It's definitely a lot to ask, and while Snyder does an admirable job, there's certainly a price to pay to make it all happen in just one feature film, and this one undoubtedly suffers for it.
Forced by their small but crucial role in the narrative, the film opens with yet another flashback of the murder of Bruce Wayne's parents, before quickly brings viewers up to speed with the aftermath of the battle which leveled Metropolis with such reckless abandon. While that proved the flashpoint for much of the criticism of Man of Steel, Snyder has turned the tables and cleverly woven it into the narrative. It's appropriate and serves as an appropriate motive for the Bat to pick up arms against a seemingly unstoppable force from another world. But other plot points aren't so natural, with the sheer amount of exposition, character introductions, and requisite visual effects sequences adding up to make Batman v Superman a bloated and at times, confusing film, albeit one that feels more streamlined here in the extended cut.
Donning the tights for another round as Superman, Henry Cavill brings a physicality and layered approach to the role which gives the thin character a bit more complexity, but it's Ben Affleck who truly steals the screen with a brooding and wearied take on Batman which is separate enough from Christian Bale's to escape much of the inevitable comparisons. Jesse Eisenberg doesn't fare as well as a Lex Luthor for the dot com generation - clearly the smartest man in the room, but his fast-talking tics are amped up so hard that it's simply too much to bare. Gal Gadot definitely has potential as Diana Prince/Wonder Woman, but her glorified cameo is just too fleeting to make a more definitive judgment call. In an ideal world, her introduction would have come in the forthcoming Wonder Woman film, but I guess with that and the two Justice League features in the pipeline, there's plenty of opportunities to better establish her character.
There's no doubt that Batman v Superman is a rocky base for the wider DC Cinematic Universe, but there's still a lot to like. However, I'm not sure that audiences will be forever tolerant towards their "everything but the kitchen sink" mentality, which is painfully pronounced compared to the more organic, patient stylings of their Marvel competition.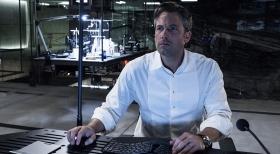 Video
Batman v Superman: Dawn of Justice is presented in its original widescreen aspect ratio of 2.39:1.
Although there's a little conjecture, from the best information I could find, it seems that while this Blu-ray does indeed come from a 4K digital intermediate, however, the only true 4K footage originates from the select few scenes that were shot in the IMAX 70mm format. The rest of the film was shot on 35mm negative, scanned at 2K and then upscaled to 4K. Confused? You'd not alone. Why they didn't just scan the whole lot at 4K? To that, I have no answer.
Regardless, while Batman v Superman: Dawn of Justice looks undeniably impressive on a 4K display, the combination of Zack Snyder's dark and dour shooting methods, the heavily desaturated colors which are slathered in a layer of both natural and artificial grain prevent it from being a truly reference quality experience. Where the UltraHD disc really improves on the standard 1080p Blu-ray is in the spectacular HDR grade. Take a look at Doomsday's blindingly bright laser eyes from the climactic battle or the improved color palette during the Flash's cameo which helps to reinforce a subtle, but important plot point. Further, it also subtly helps to make the footage look even more theatrical.
During a few sequences (notably the dusty Middle-East rescue scene) the transfer appeared to be on the verge of breaking out into compression artifacts, which just goes to show the importance of utilizing the format's 100GB triple layered specification and the advanced H.265 compression for a film of such length and complexity. Just as the encoding software improved over the lifespan of 1080p Blu-ray, I'm sure the same thing will apply for 4K.
Overall, Batman v Superman is a solid early title for the format, albeit one that doesn't really unleash the best of what the format can provide. Still, there's little doubt that this is the best the film will ever look - in any format.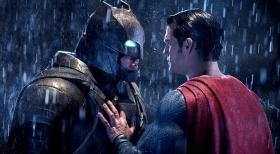 Audio
Batman v Superman: Dawn of Justice is presented in Dolby Atmos, with an embedded Dolby TrueHD 7.1 'core' for standard receivers.
After finishing the three-hour marathon of the film's extended cut, this incredibly aggressive audio track will have you feeling like you've gone three rounds with both Batman and Superman. As you might well imagine, there's absolutely nothing subtle about the audio track here, which provides a suitably powerful accompaniment to the often over the top visuals. Very occasionally the center channel is overloaded by the mix which makes a few lines of quiet dialogue a little hard to hear, but otherwise, there's very little to complain about. The mid and back rear surround channels are constantly active, and the subwoofer rumbles throughout, often with some tightly detailed punch.
If you're suitably equipped for new immersive audio formats via ceiling mounted or upward firing speakers, the included Dolby Atmos track makes for an even more involving experience. Far from the trivial fad I had feared, I'm now a card-carrying convert to the Atmos fan club, which here provides even greater punch to an aggressive sound mix.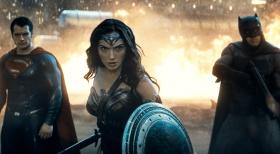 Extras
While there are no extra features to be found on the 4K disc, the included 1080p Blu-ray houses multiple featurettes running at just on two hours. Highlights include the combined 15-minute length of Superman: Complexity and Truth and Batman: Austerity and Rage, while the 22-minute The Warrior, the Myth, the Wonder plays as somewhat of an extended trailer for the forthcoming Wonder Woman film.
Sadly, there's no audio commentary, which is a shame because Zack Synder always speaks eloquently and passionately (even if I don't always agree with him.)