Lenovo ThinkPad P70 Mobile Workstation Notebook Review
Lenovo's ThinkPad P70 mobile workstation notebook goes under the spotlight as we examine just what this beast is capable of achieving.
Published
9 minute read time
TweakTown's Rating: 92%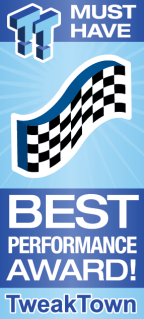 The Bottom Line
When it comes to professional mobile workstation notebooks, the Lenovo ThinkPad P70 can be loaded to the brim with top of the line features and high performance hardware.
Introduction, Specifications, and Pricing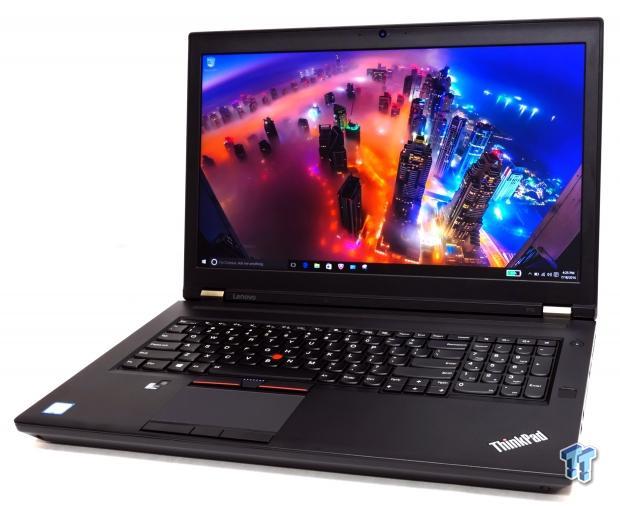 With the launch of Intel's Skylake microarchitecture came two new types of mobile processors. Intel introduced its first mobile Xeon processor and its first overclockable processor. Today we look at one of Lenovo's ThinkPads using Intel's latest 6th generation mobile Xeon workstation processor, the E3-1505M v5. There are a few advantages that Xeon processors have over their Core series counterparts, but the two most important are ECC memory and vPro support.
Mobile workstations are designed for professionals, and in the case of the ThinkPad P70, we are talking about content creation professionals. On the display capabilities of the ThinkPad P70, it has multiple display panel options ranging from a 1080p panel with touch to a 4K along with a Pantone Colorimeter sensor for automatic panel color calibration. The notebook also offers a few of NVIDIA's mobile workstation graphics processors, in our case the Quadro M4000M. Together with smart PCB and case design, Lenovo hopes to provide a very high-end mobile workstation. Let's see how they did.
Specifications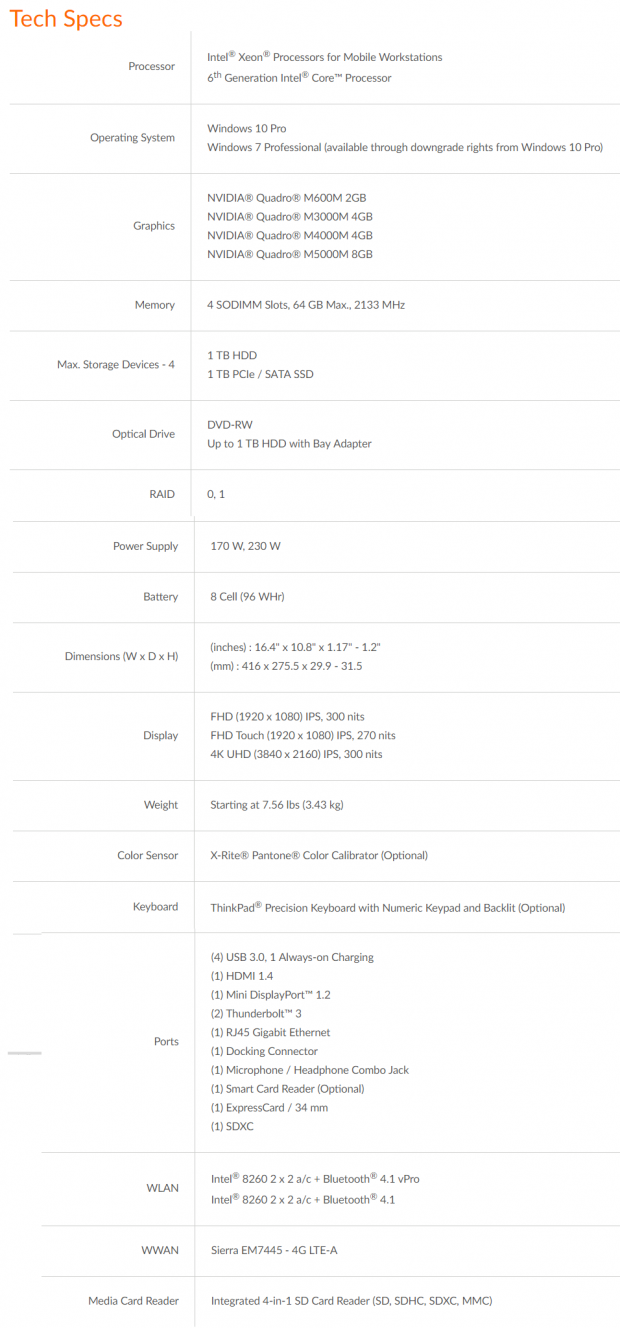 The ThinkPad P70 we have today uses a Xeon E3-1505M v5 mobile processor with 4/8 cores/threads with a 2.8GHz base clock and 3.7GHz Turbo. The CPU has a TDP of 45W, which can be reduced depending on the vendor's implementation. It supports 64GB of RAM, our model came with 16GB of ECC enabled RAM. The CPU fully supports ECC memory and vPro. If a vendor decides to use Intel's latest mobile Xeon processors, they are also required to implement ThunderBolt 3, and Lenovo supplies two type-C USB 3.1/Thunderbolt 3 ports. Our unit also uses a NVIDIA Quadro M4000M to drive a 4K UHD IPS 300 nits monitor and comes with an X-Rite Pantone Color Calibrator. You can also have the unit include a WWAN 4G LTE-A card for on the go internet connectivity.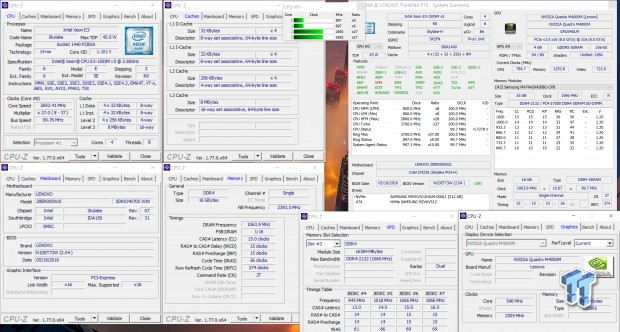 At 16.4"x10.8"x1.17-12" (WxDxH), the ThinkPad P70 isn't the smallest or slimmest notebook, but it is very powerful. It weighs 7.56 lbs (3.43 kg), which makes it quite heavy. The notebook does come with a wired Intel RJ-45 1Gbit NIC, as well as an Intel 8260 2x2 Wireless AC/Bluetooth 4.1 wireless networking card.
Pricing
The ThinkPad P70 comes in a wide variety of configurations ranging from $1550-3000+. Our model costs roughly $3000.
Physical Overview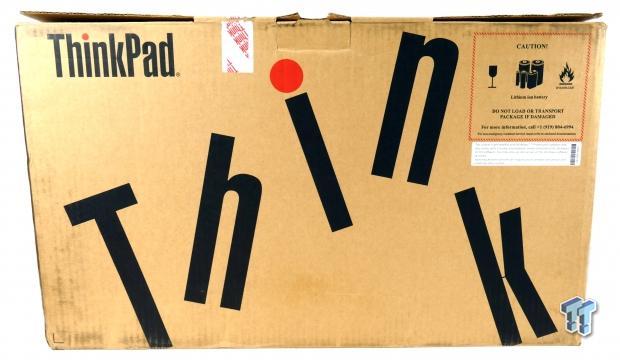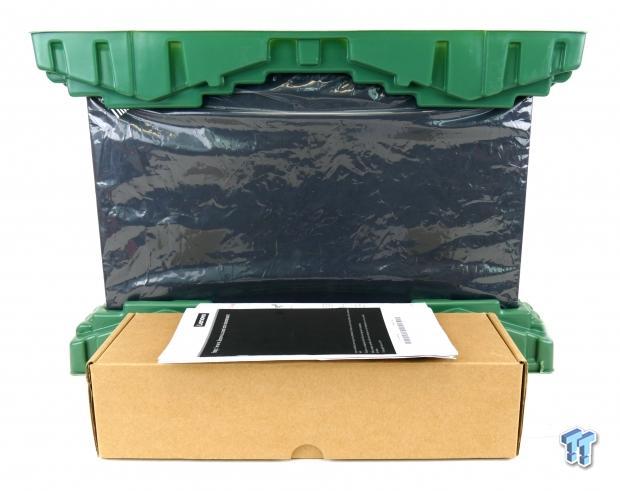 The box is very simple, just like the other Lenovo ThinkPad I reviewed. The notebook is well protected, and there isn't too much flare.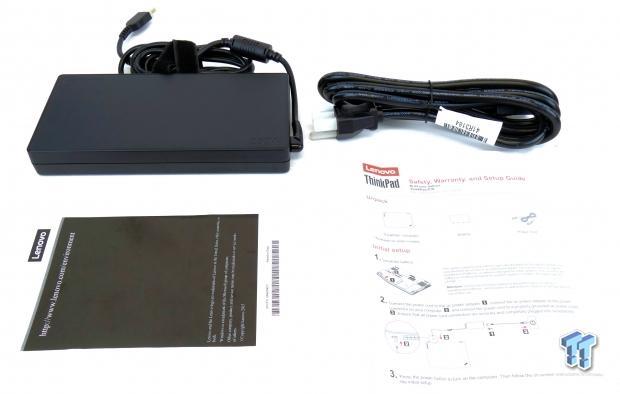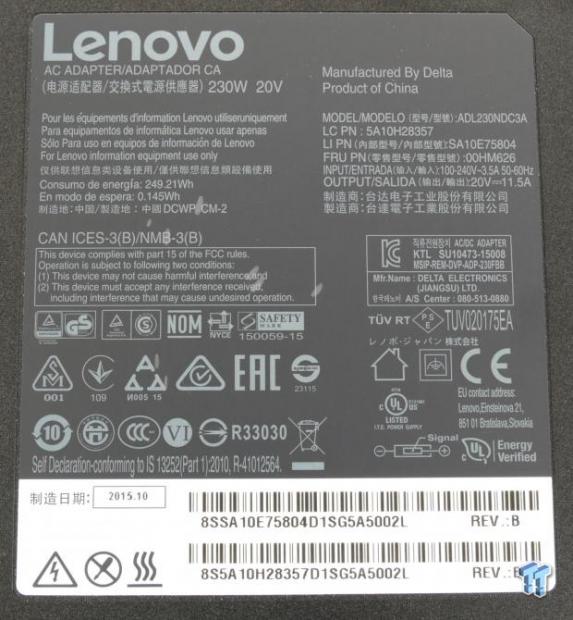 Accessories include AC/DC power supply and cables and a manual. The adapter is rated for 230W, which is a lot for a notebook.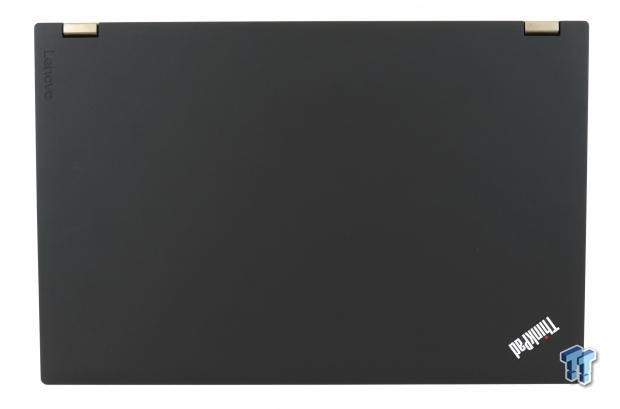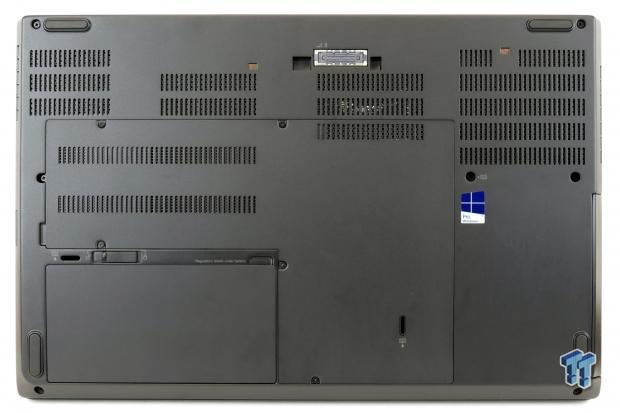 Similar to the ThinkPad X1 Yoga I reviewed last month, the ThinkPad P70 uses the same soft touch coating on the top of the unit and a magnesium alloy on the bottom part of the notebook. The ThinkPad P70 provides the ability to change out many components and even the battery. The ThinkPad P70 is no Ultrabook; it is not that slim and quite heavy, but it does pack a lot of high-performance hardware.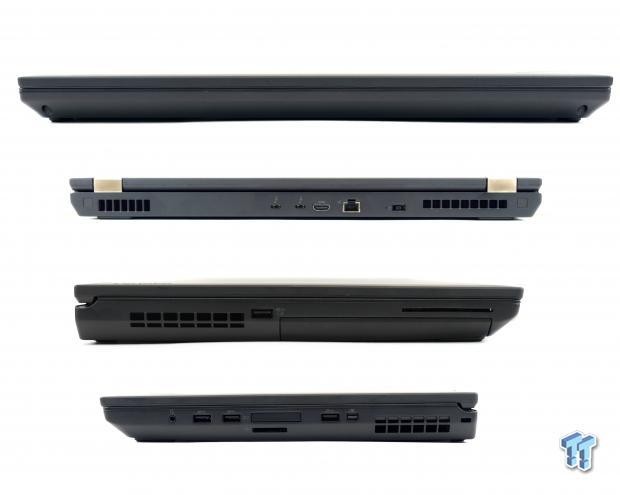 There are no front face ports, but the rear of the ThinkPad P70 has a 1Gbit Ethernet jack, HDMI output, charging port, and two Thunderbolt 3/USB 3.1 type-C ports. The cooling is in the corners of the ThinkPad P70; there are exhausts on either side of the rear of the device. The right side of the ThinkPad P70 has an always-on USB 3.0 port, space for an ODD, and even an optional smart card reader. The left side of the ThinkPad P70 features a headphone/microphone combo jack, three USB 3.0 ports, MiniDisplayPort 1.2, ExpressCard/34mm slot, SDXC card reader, and Kensington lock port.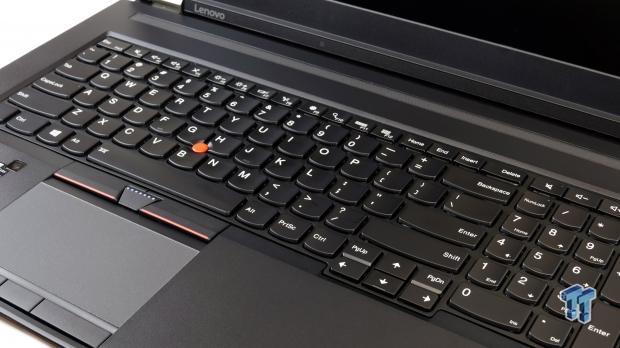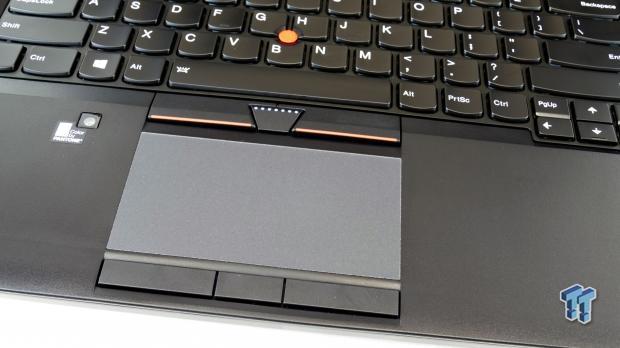 The ThinkPad P70 has a full QWERTY keyboard, similar in size to that of the ThinkPad X1 Yoga, but with an extended number pad for repetitive number entry. You have your pick between a red pointing stick and a touchpad for mouse input. I assume most users will use an external mouse so that their productivity levels stay high when using such a fast machine. While the ThinkPad X1 Yoga I looked at last month had only the top row of left/center/right mouse buttons, the ThinkPad P70 has a bottom row as well, so that users like me who are used to the buttons being on the bottom won't be bothered by having to change our habits.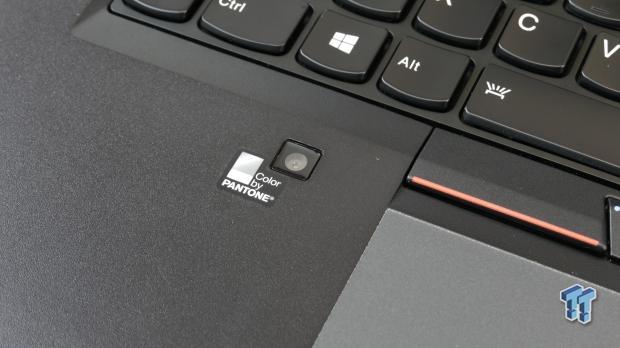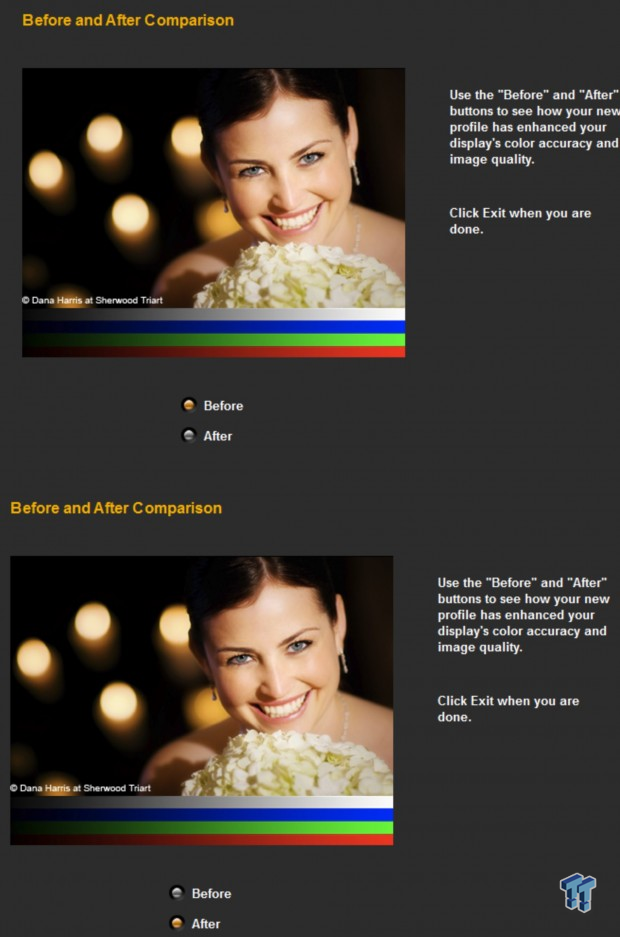 There is a built-in color calibrator that will allow you to adjust the color of the monitor to better suit your current location and lighting conditions. I cannot attest to its color accuracy, but the picture looked very nice on the 4K UHD display. The application lets you choose white point and tone settings and gives recommendations. I will cover it in more detail in the software section.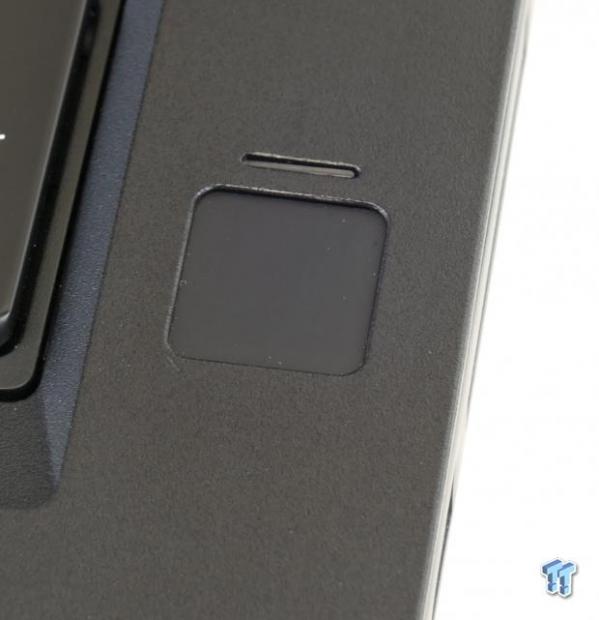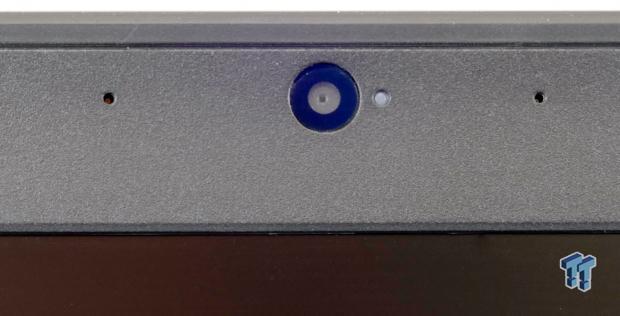 Much like the ThinkPad X1 Yoga, the ThinkPad P70 features a fingerprint sensor. The notebook has a 720p webcam, which is fine for decent quality streams on the web, but not too much more.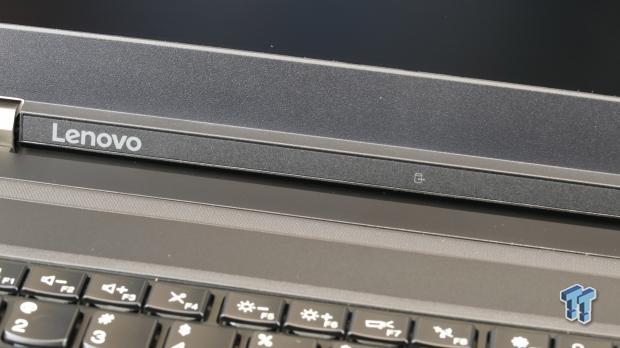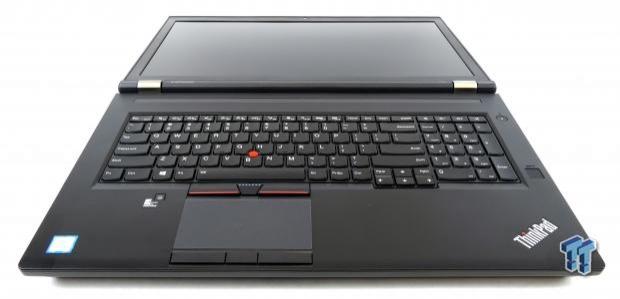 The indicator lights are located on the bottom of the screen and show HDD activity and the like. The screen can open up 180 degrees, but doesn't go further back.
Physical Overview Continued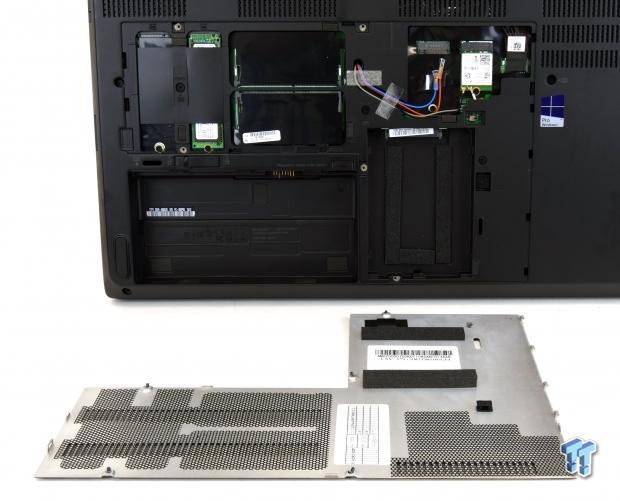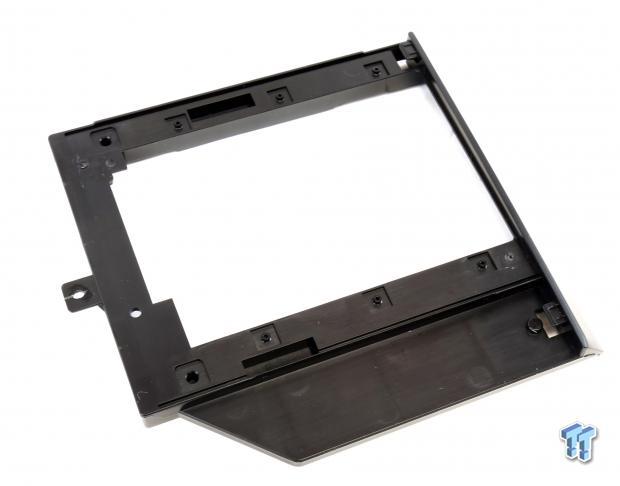 The ventilated back panel piece can be removed to upgrade the unit. You can add in DRAM, another M.2 SSD, a 2.5" SSD, a WIFI card, and even a SIM card. Our device didn't come with an ODD. Instead, a dummy insert fills its spot.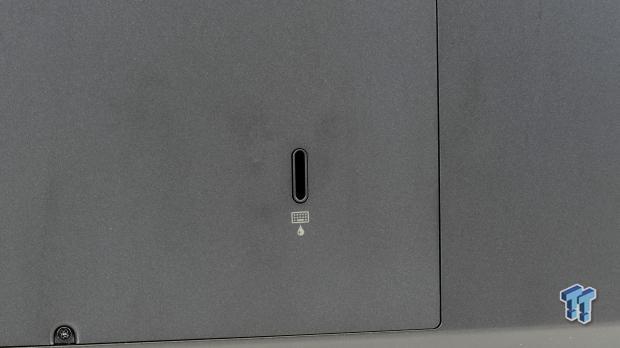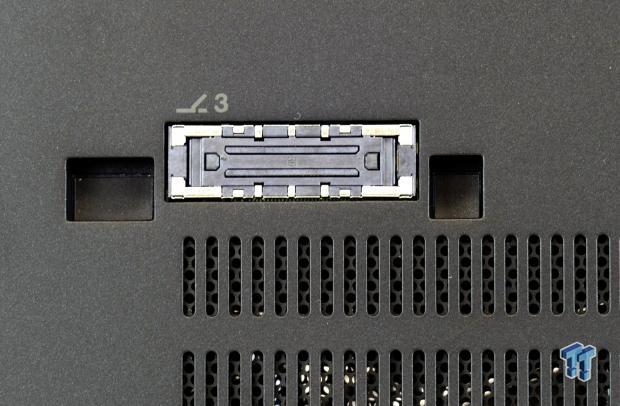 There are two of these keyboard drains that make the keyboard virtually spill proof since the liquid will flow down these holes instead of into the circuits. The notebook is built to withstand certain MIL specs, but it's not as durable as a rugged notebook. There is a docking connector for the Lenovo dock.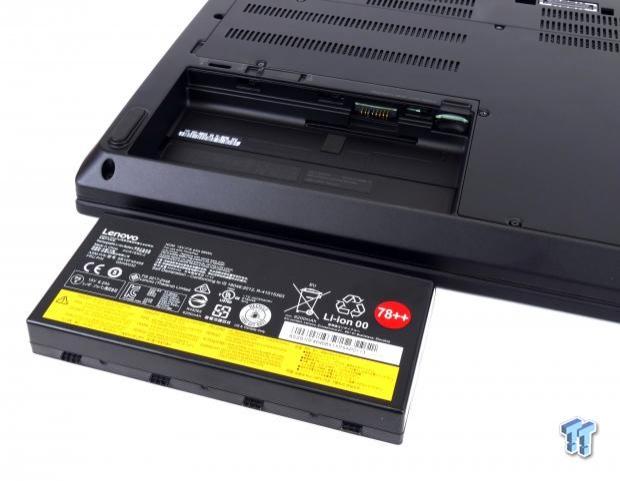 The battery can be removed after unlocking a lock tab. The battery is rated 6.4Ah and 96Wh, so don't expect to go all day on just the battery.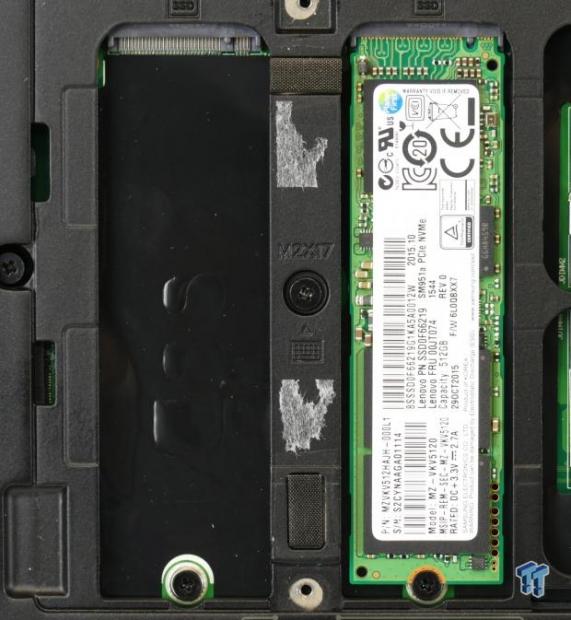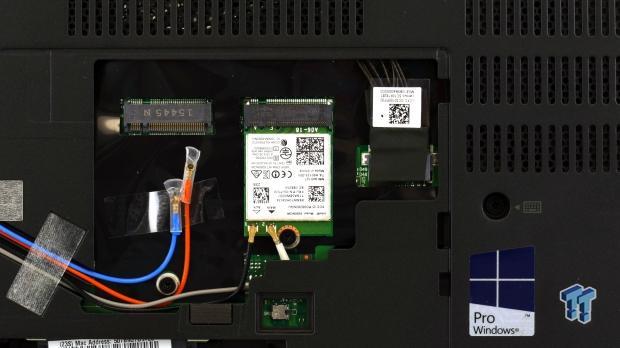 You can add in a second M.2 drive as well as a second WIFI M.2 card. The antennas and SIM card for the WWAN are installed, but as of this time, it doesn't work on our unit.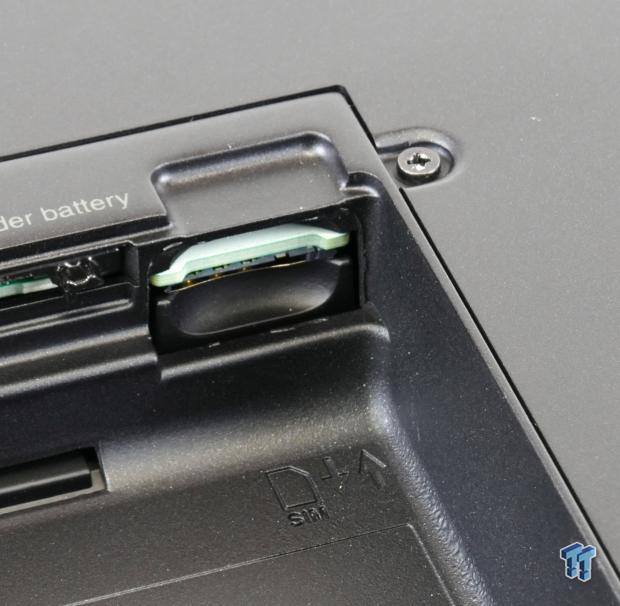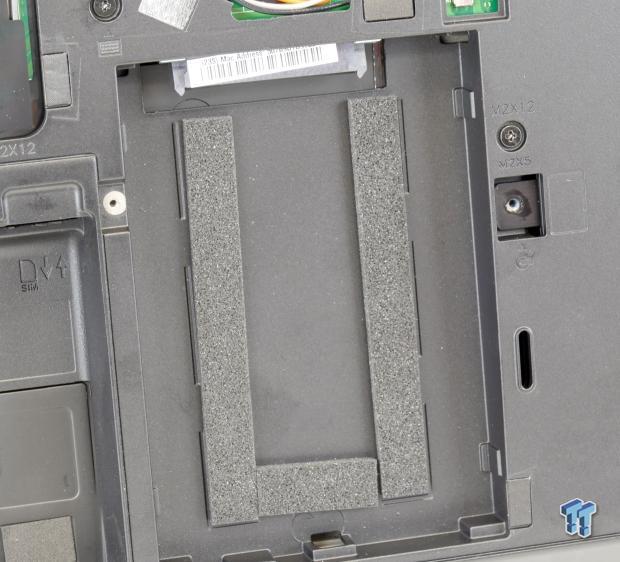 I did double check with Lenovo to make sure that the WWAN hardware was present, but doesn't work, and they confirmed this to be true. At this time, I wouldn't expect WWAN out of this model. There is also a bay for a 2.5" SSD or HDD.
Software and BIOS
Software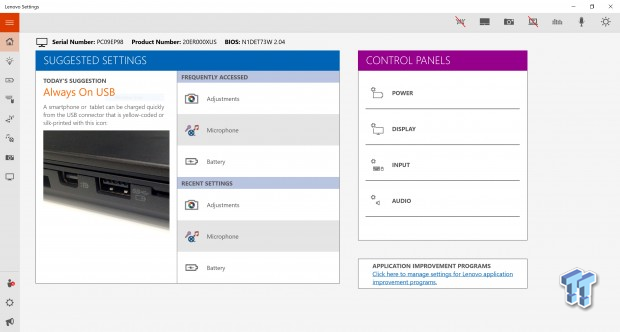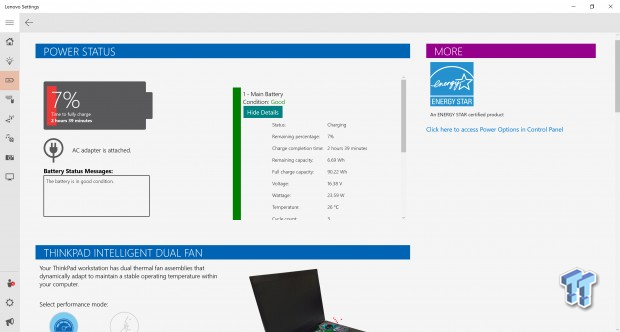 Lenovo's Smart Manager is loaded with settings and is almost like an extension of Window's control panel. Almost all of Lenovo's custom settings are located in the manager, and you can even check up on your battery's health and status and change the way the fans blow to cool down the notebook.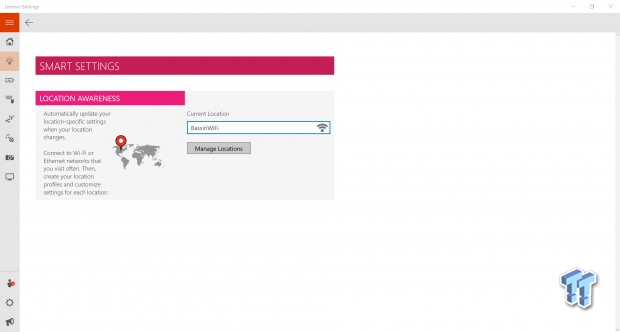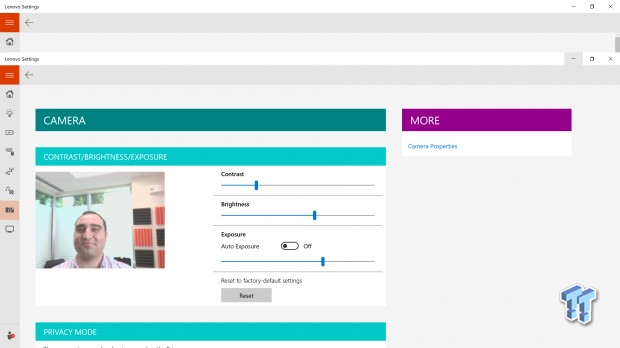 The notebook is location aware through the location of the WIFI connection. The camera's contrast, brightness, and exposure can be changed.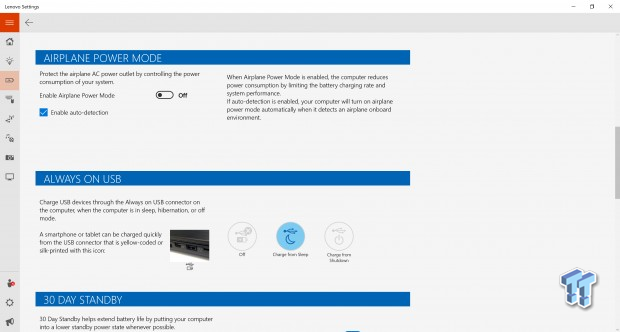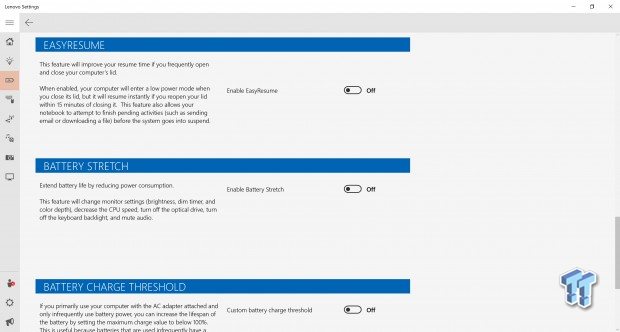 There is an airplane power mode to limit AC power draw so that the 230W adapter won't trip the over current protection on the plane. The always-on USB port can also be altered through the application, and a 30-day standby mode can be turned on in case you need long-term power. Other features such as EasyResume, Battery Stretch, and Battery Charge Threshold can be turned on if you want to use them.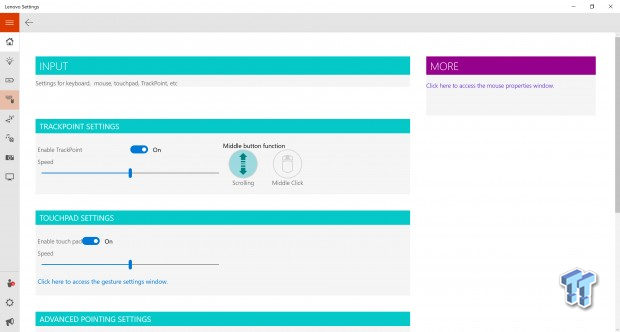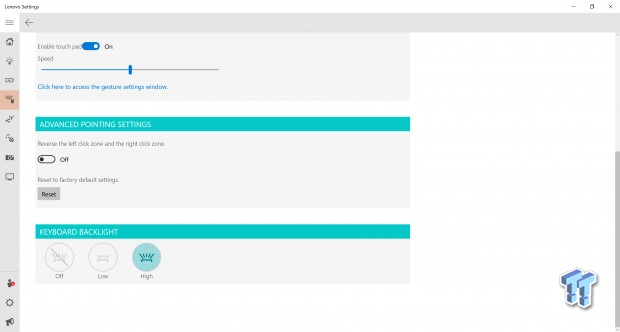 You also have the ability to change major settings controlling the way the track point and touchpad work and the backlight in the keyboard.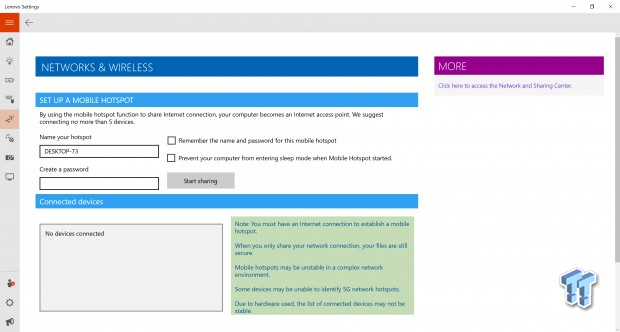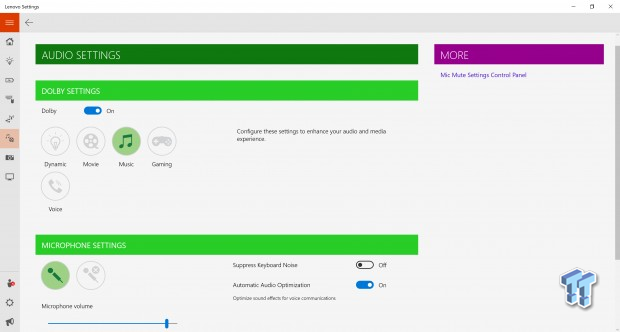 The application even lets you set up a mobile hotspot and control playback device settings.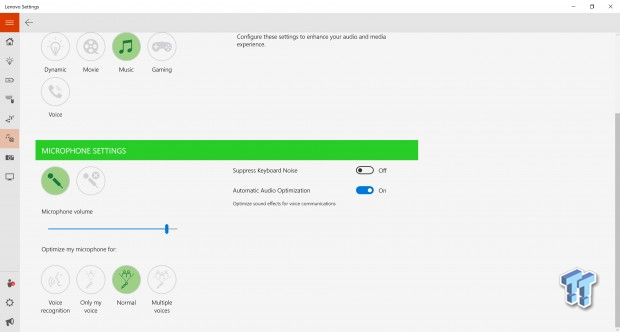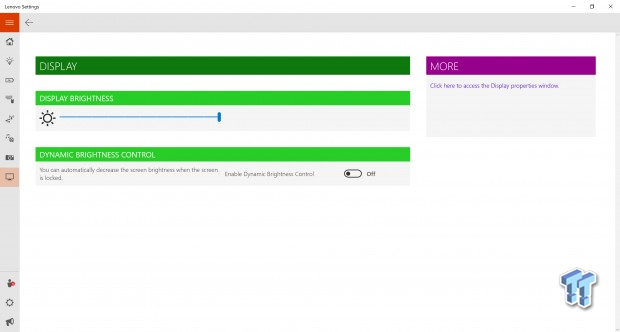 Microphone settings are also available, so is display brightness.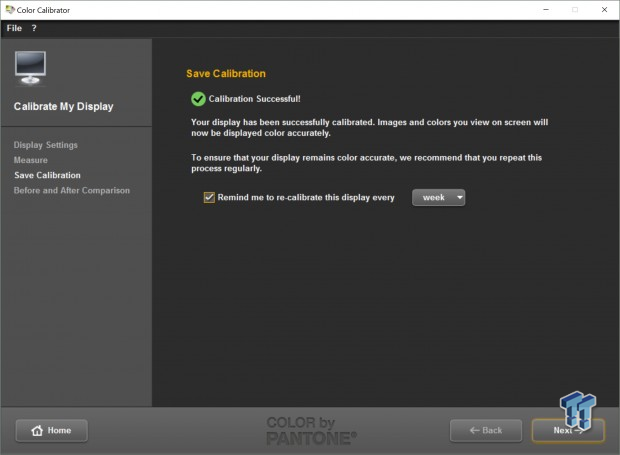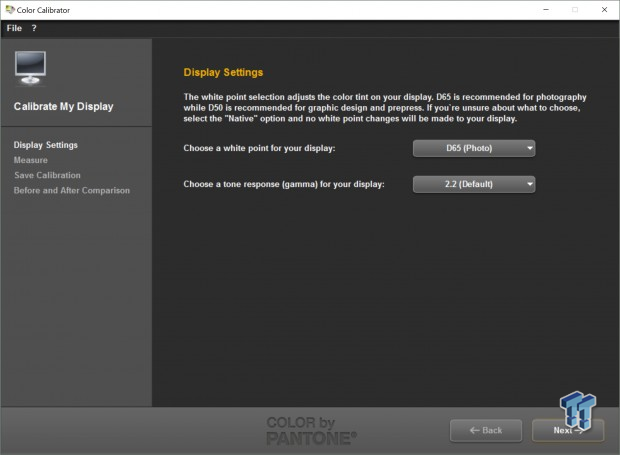 The color calibration software is capable of reminding you to recalibrate and allows you to set a white point and a tone response.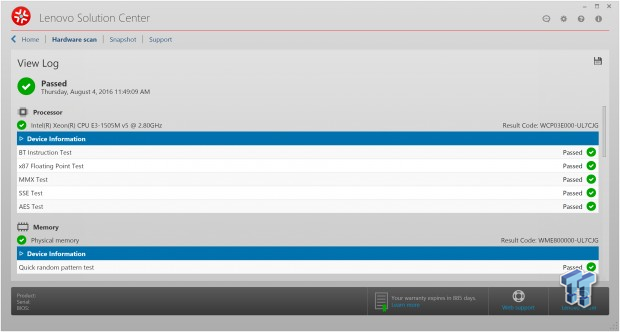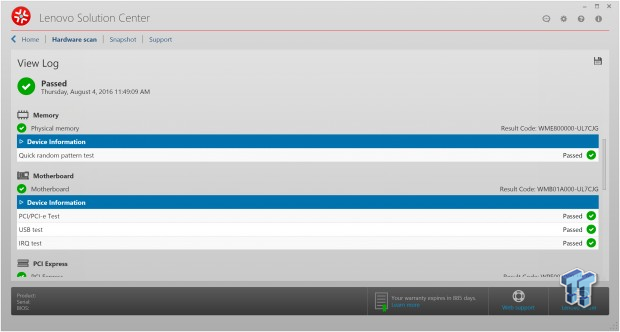 Lenovo also has a solution center that can test and diagnose problems with the hardware in your notebook. It can independently test the CPU, memory, and motherboard.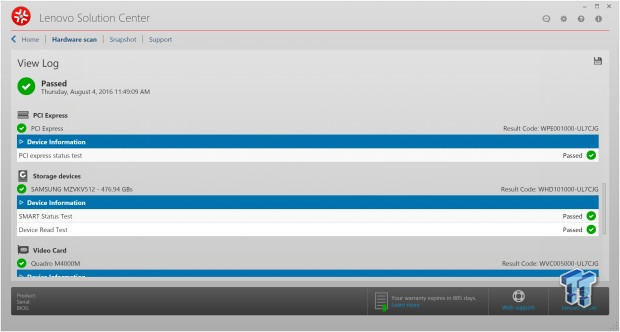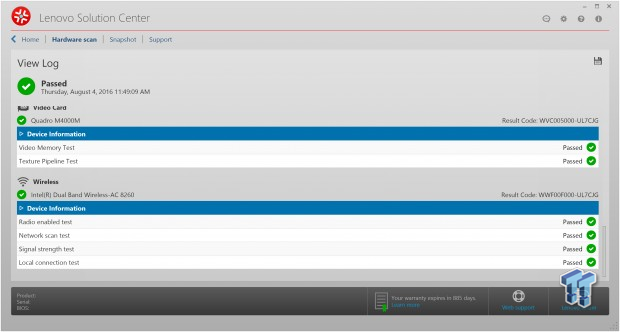 Storage, video, and wireless devices can also be tested.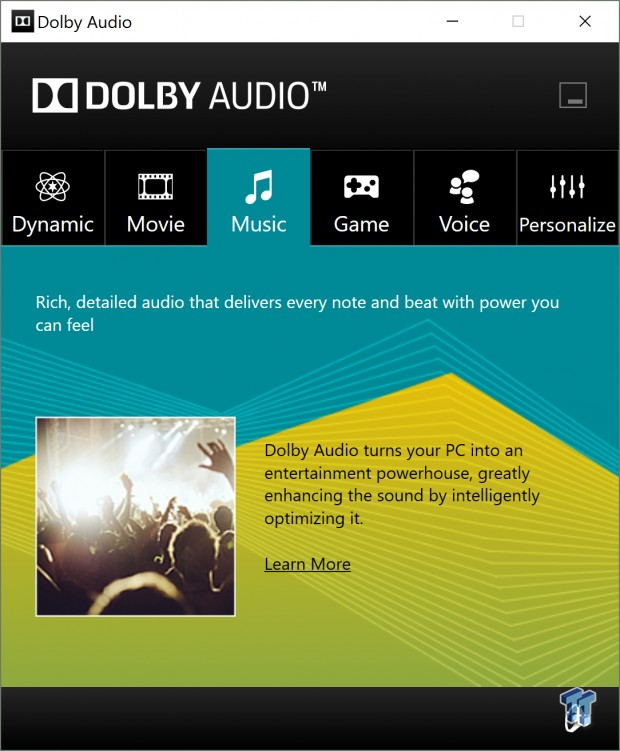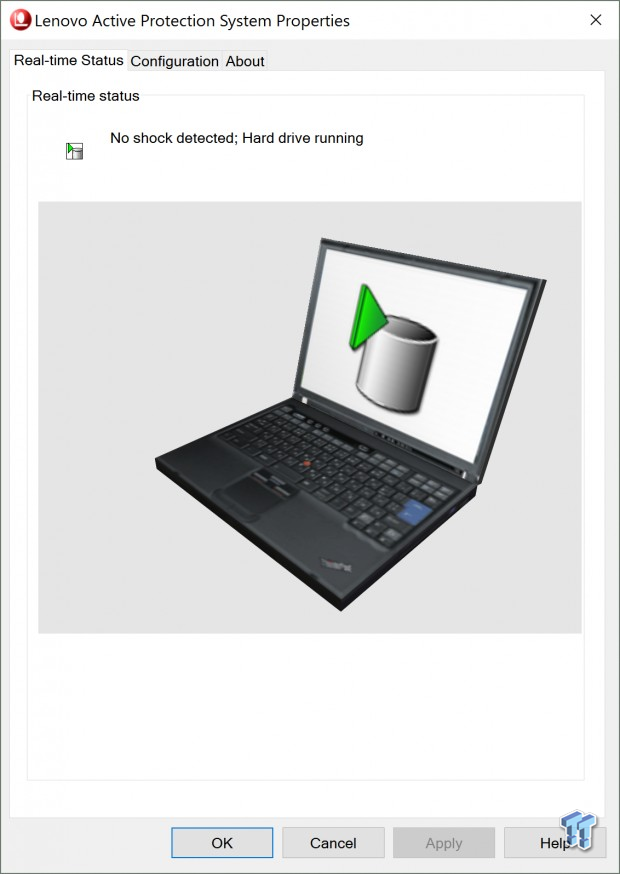 Dolby audio software comes preinstalled as does Lenovo's active protection system.
BIOS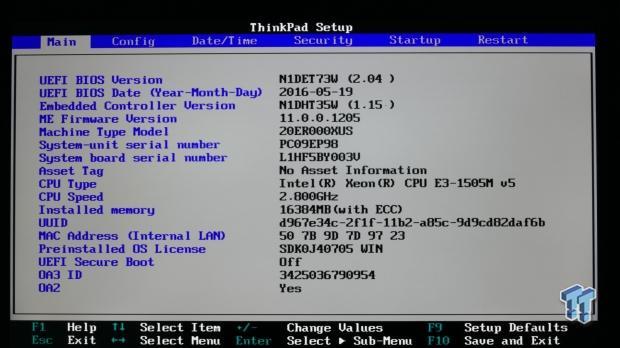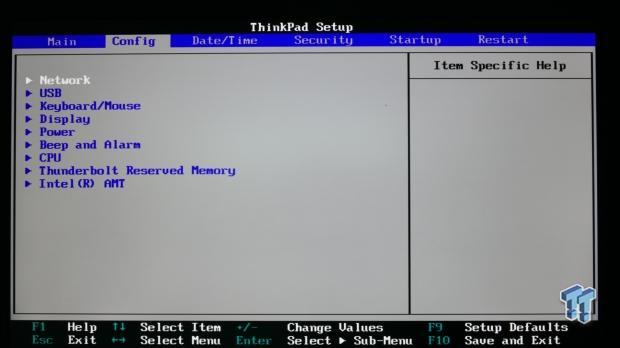 The ThinkPad P70's BIOS is loaded with options to lock down and secure the machine as well as configure different operating modes for the hardware. For those security conscious organizations that want their hardware locked down or remotely controlled, the BIOS is ready to deliver. For normal users, there are also settings for configuring accessibility features, such as switching the CTRL and Windows keys.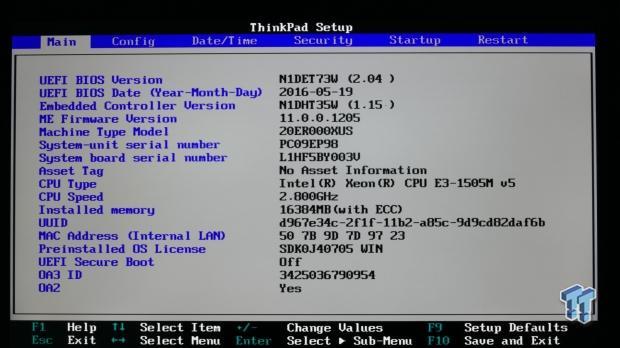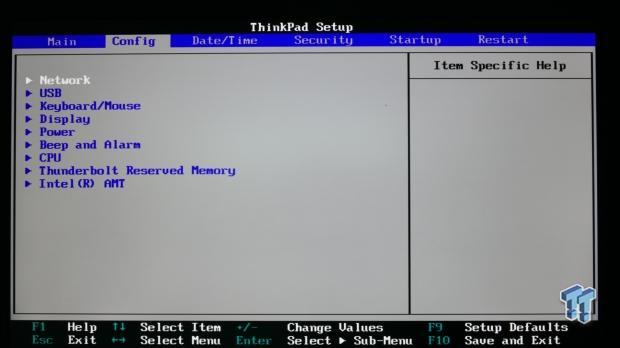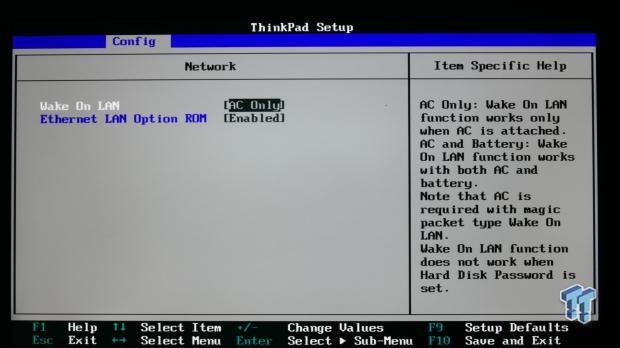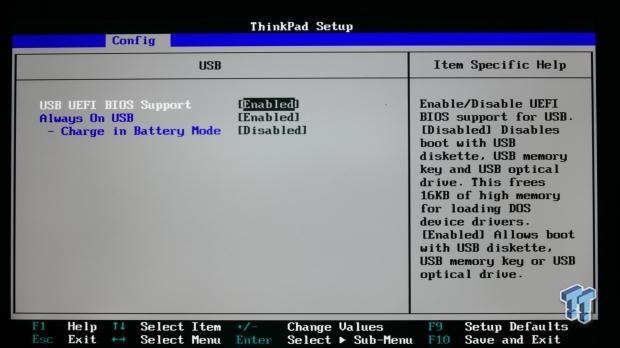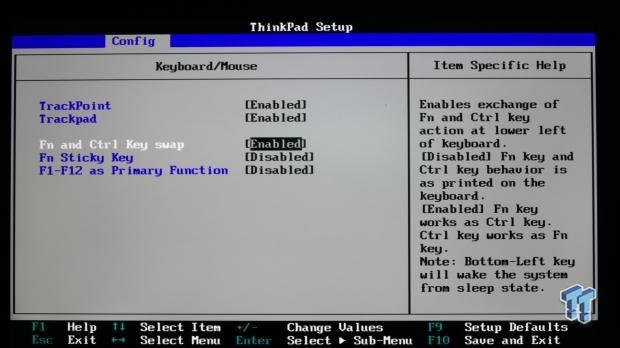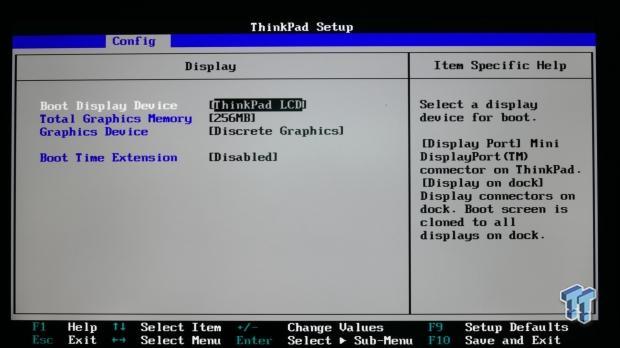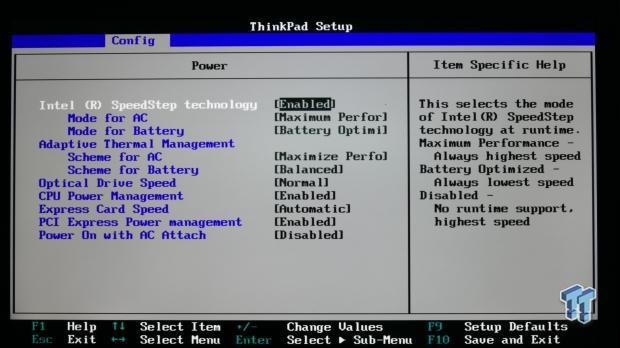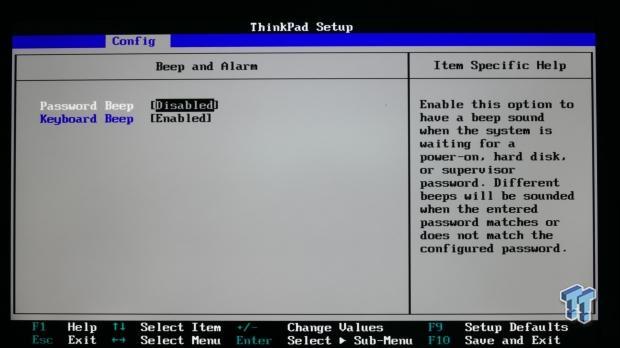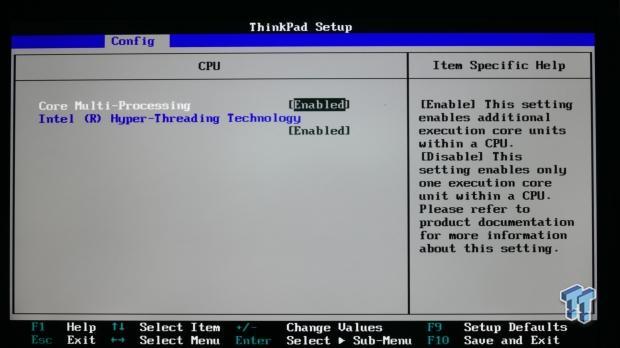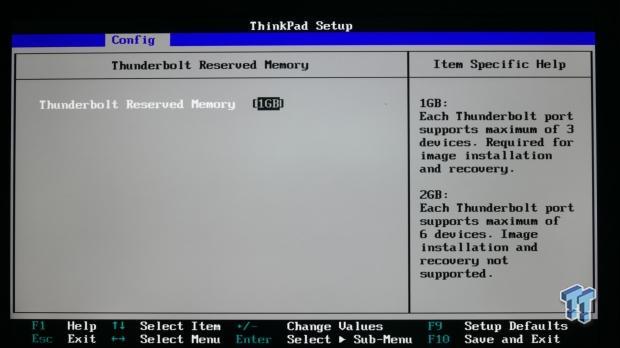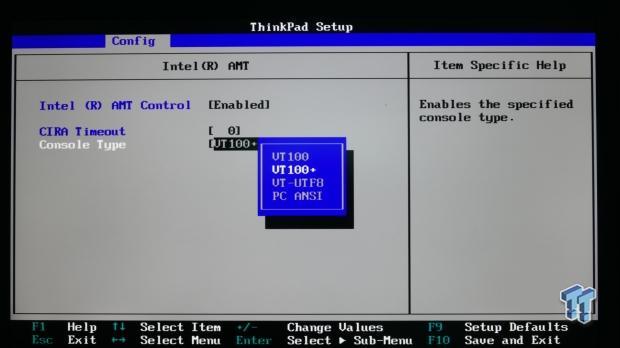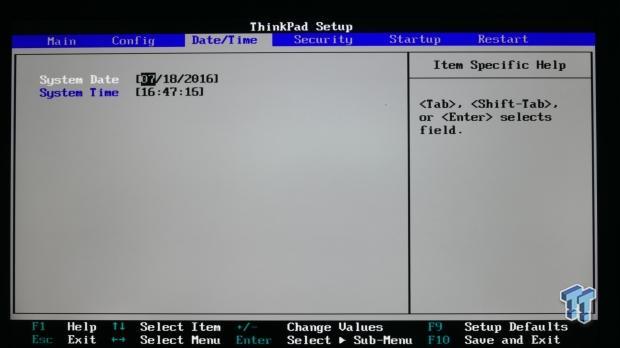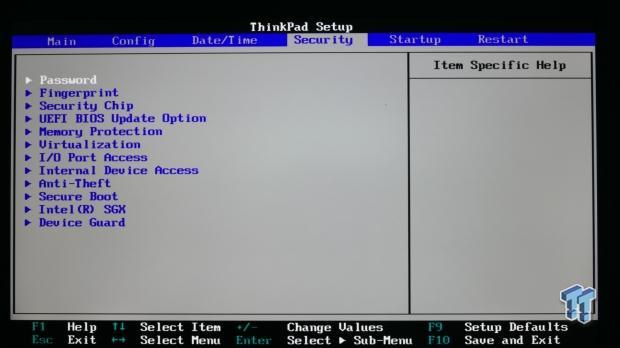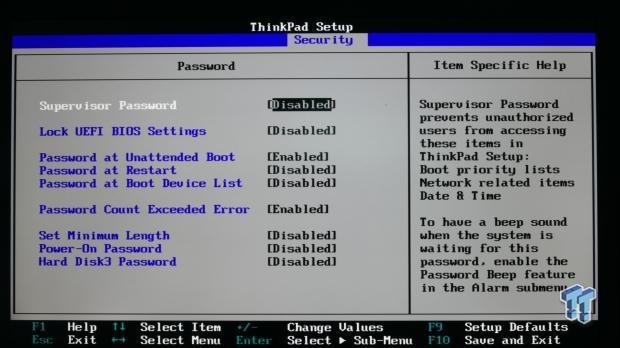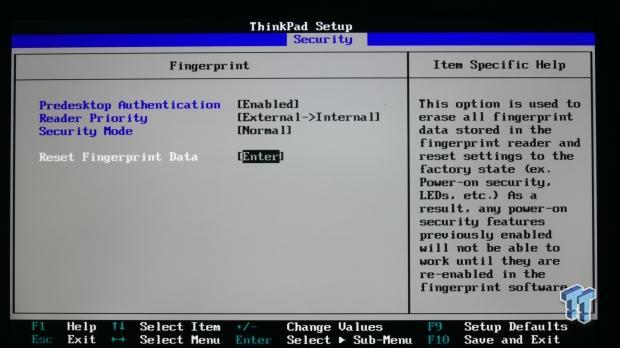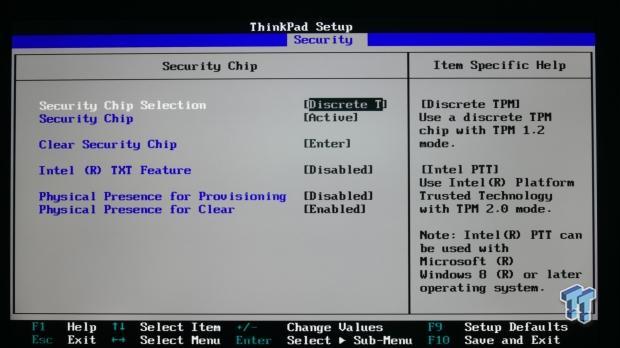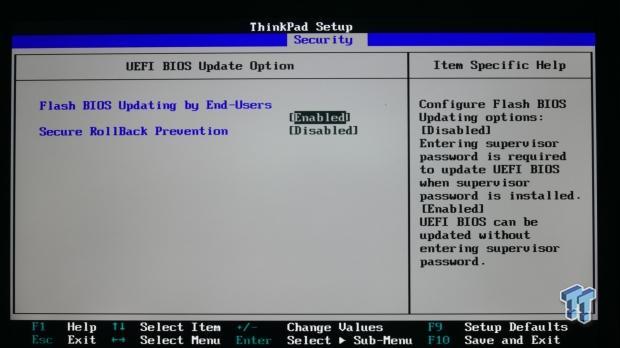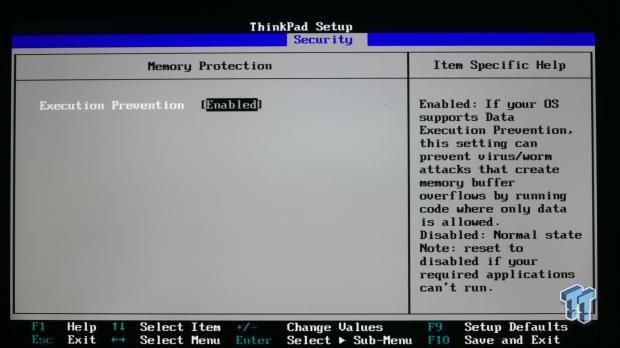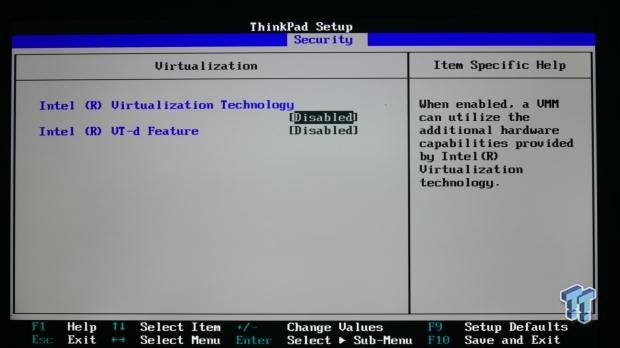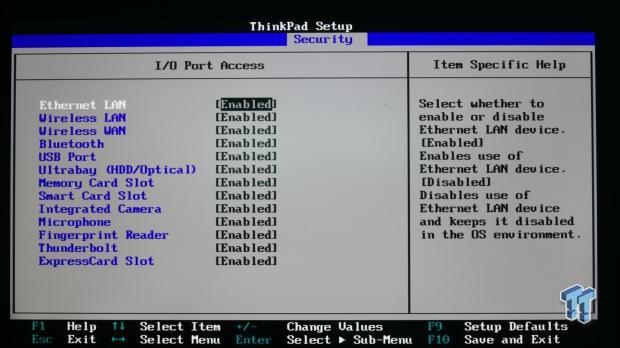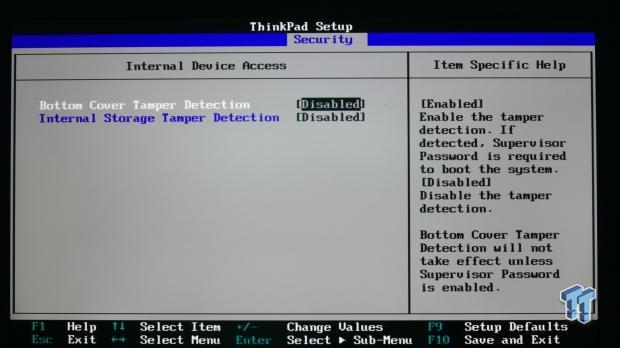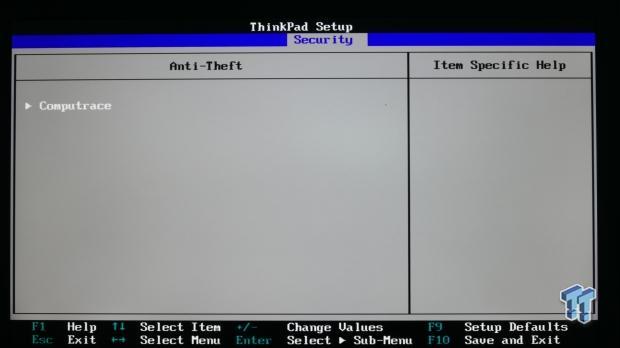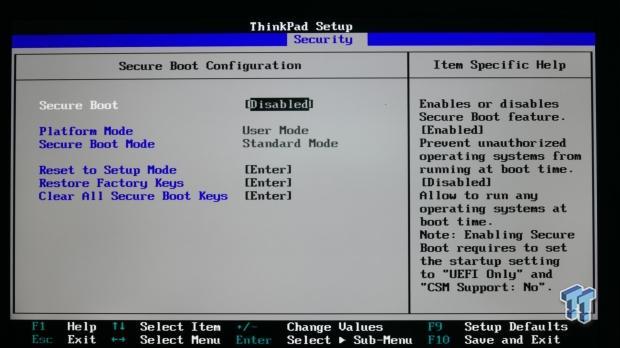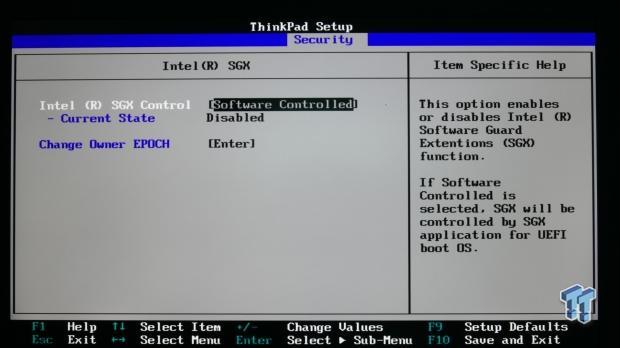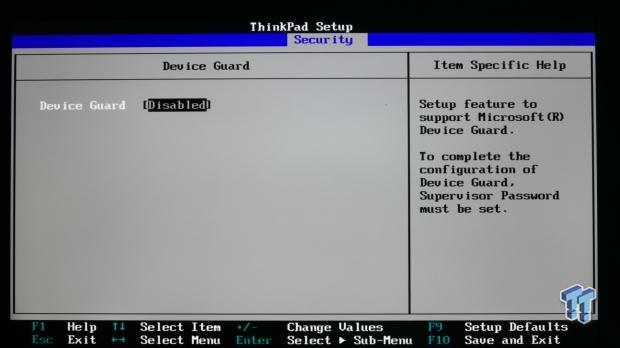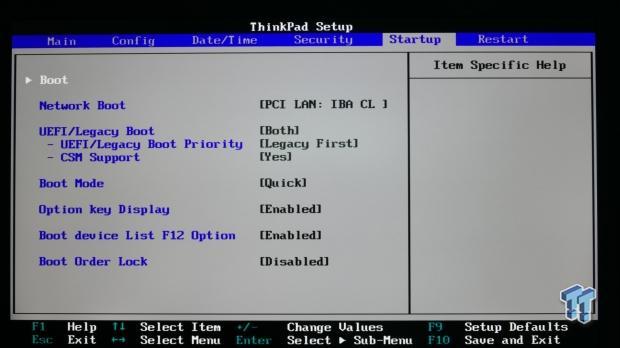 System Performance Benchmarks
CPU, Memory, and System Benchmarks
For the time being, I have combined the scores of notebooks and SFF (Small Form Factor) PCs since I do not have that many notebook data points and both types of systems tend to use the same mobile processors and configurations.
CINEBENCH 11.5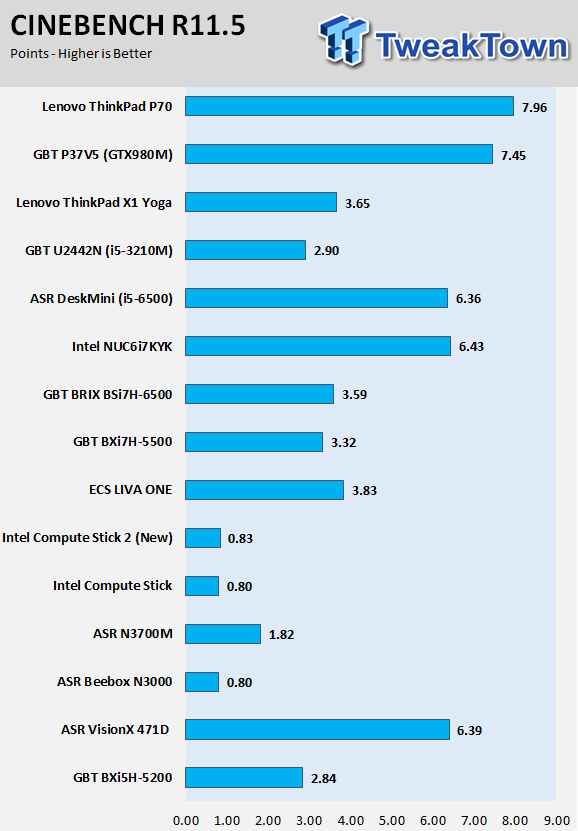 wPrime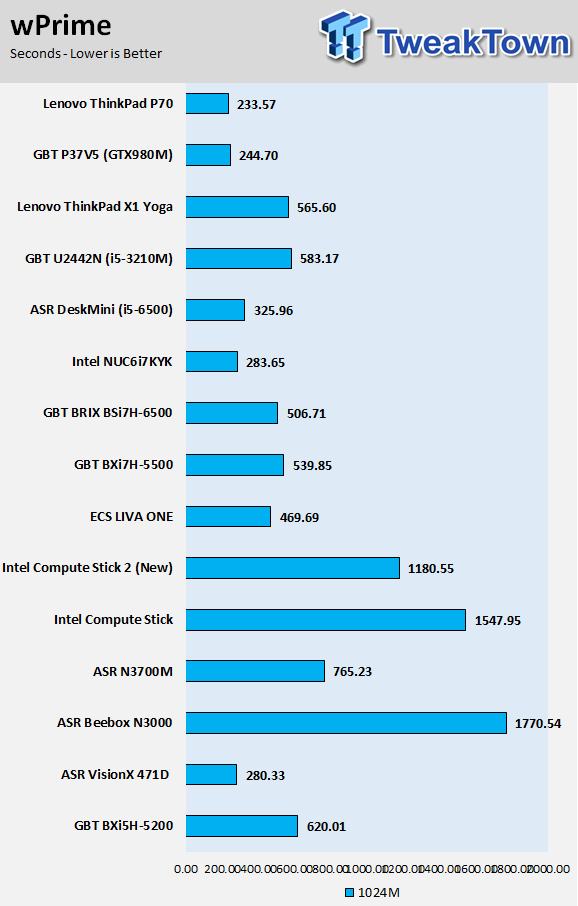 AIDA64 AES and HASH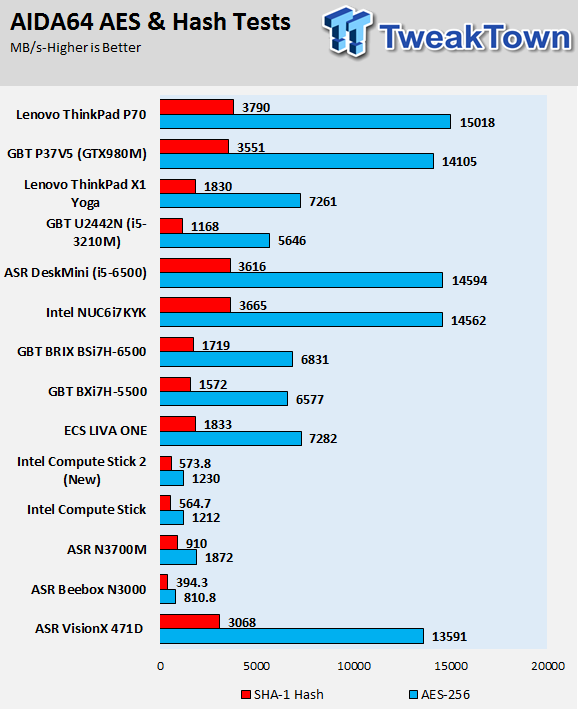 AIDA64 Memory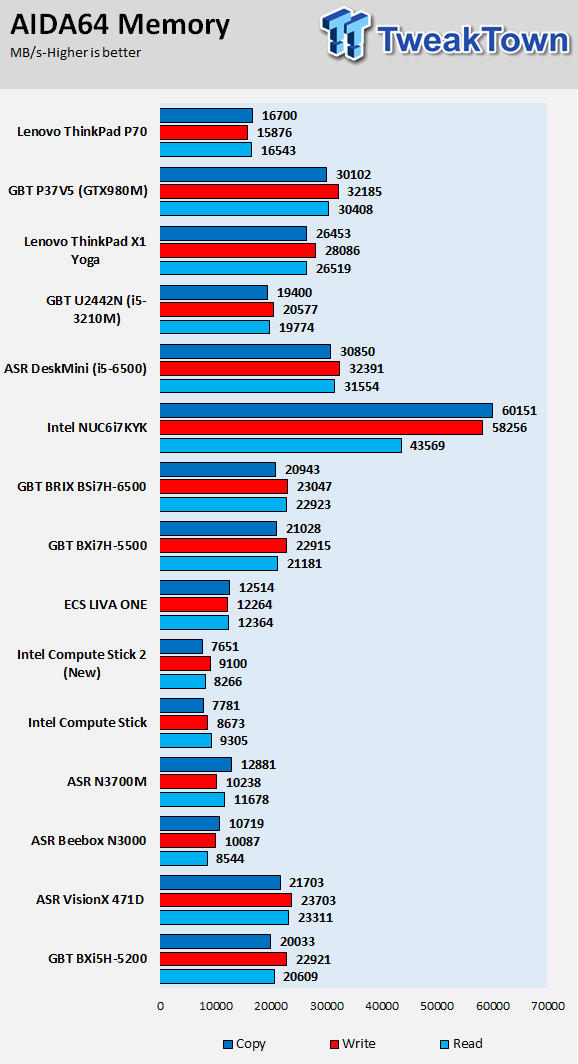 PCMark8 Home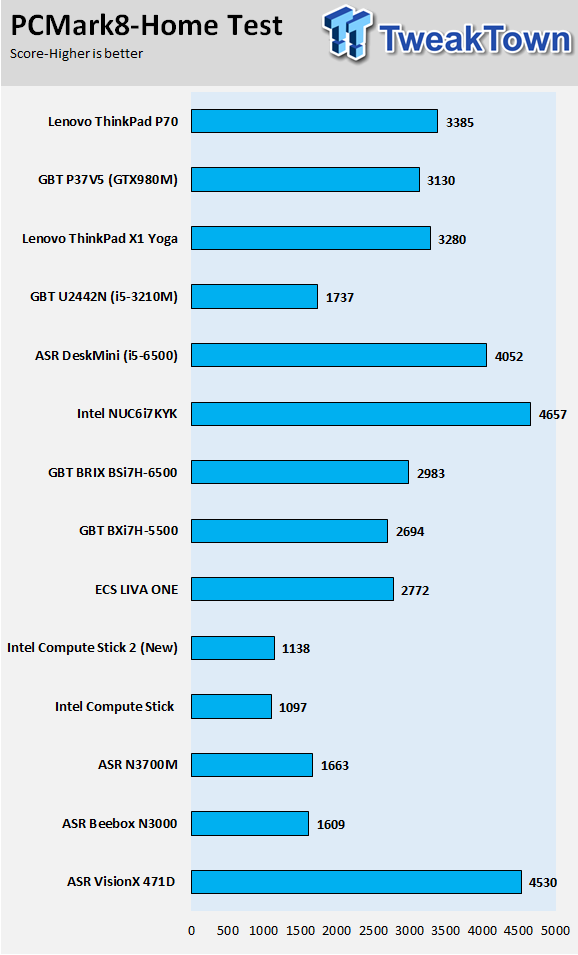 Handbrake 4K and 720P Transcoding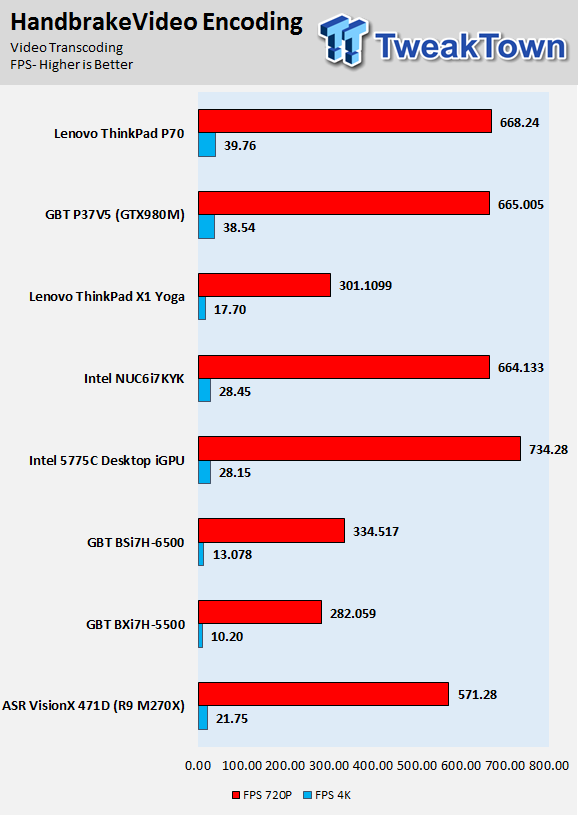 WebXPRT 2015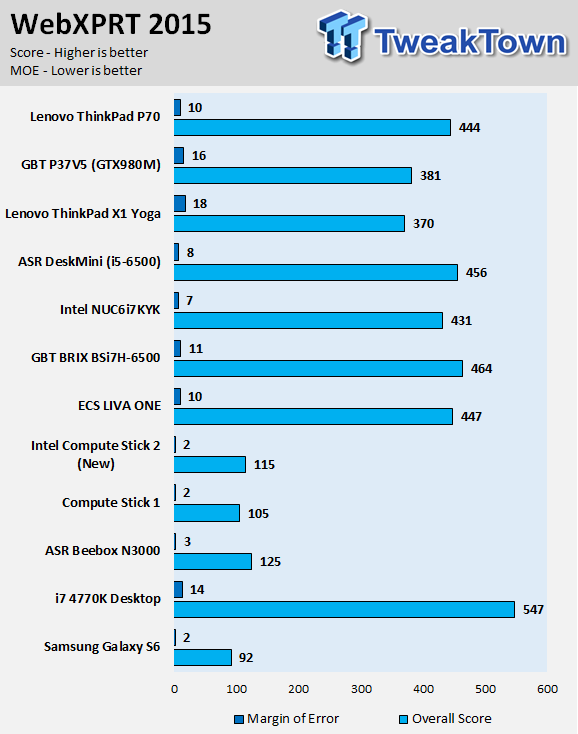 The Xeon E3-1505M v5 is a powerful mobile CPU, comparable to the 6700HQ if not a tab bit faster. The only place where the ThinkPad P70 takes a hit is in memory tests, since it only uses a single 16GB stick of RAM. Overall performance was excellent.
Gaming Performance Benchmarks
3DMark11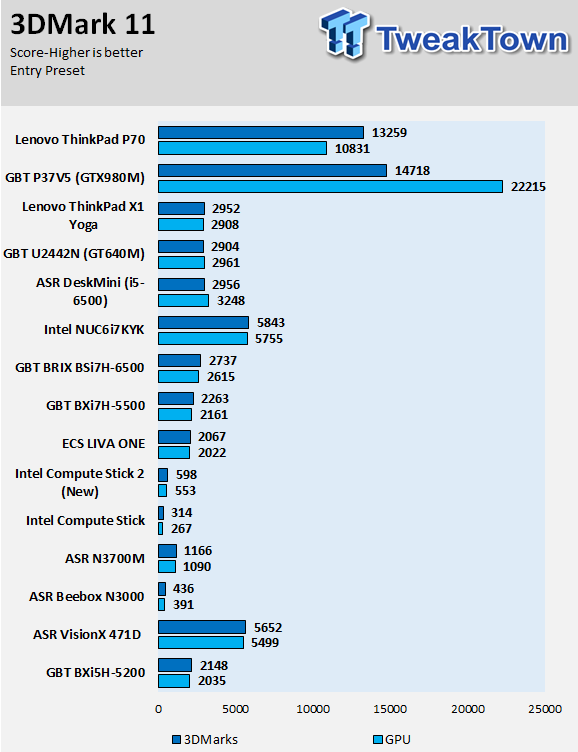 UNIGINE Heaven 4.0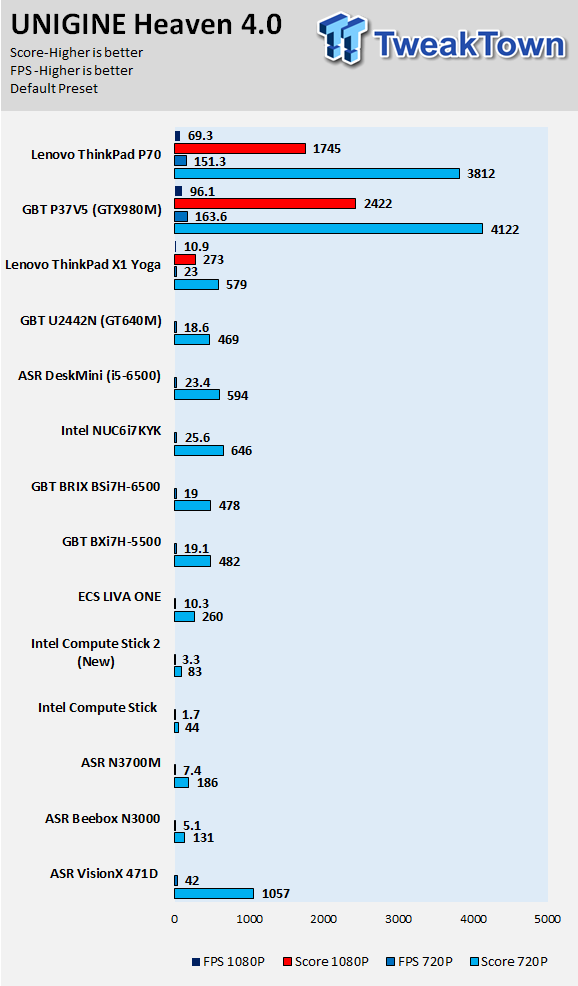 ResidentEvil 6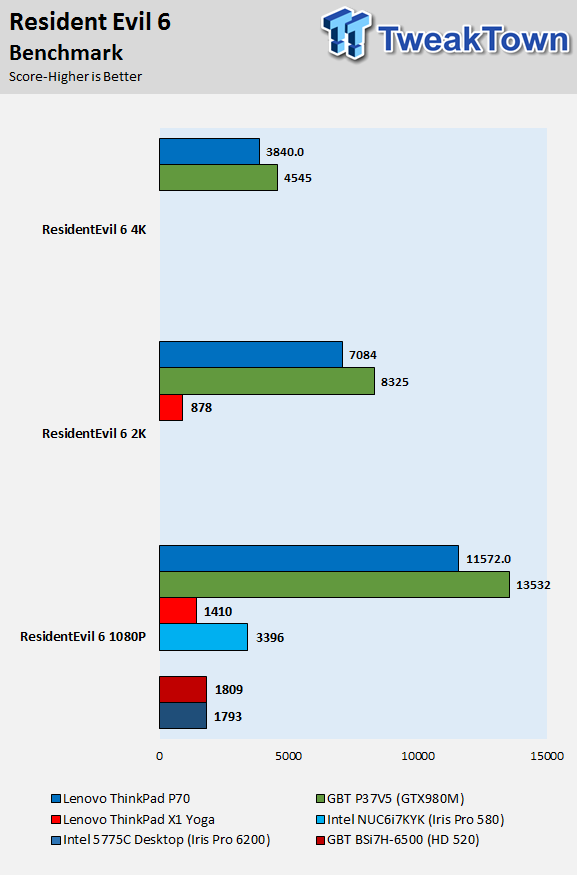 AIDA64 GPU Memory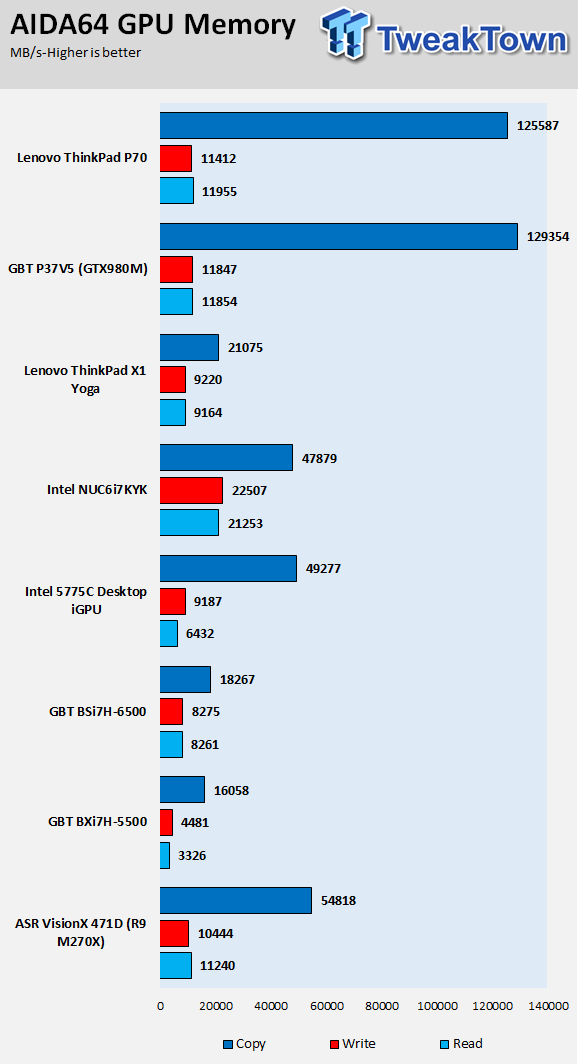 3DMark FireStrike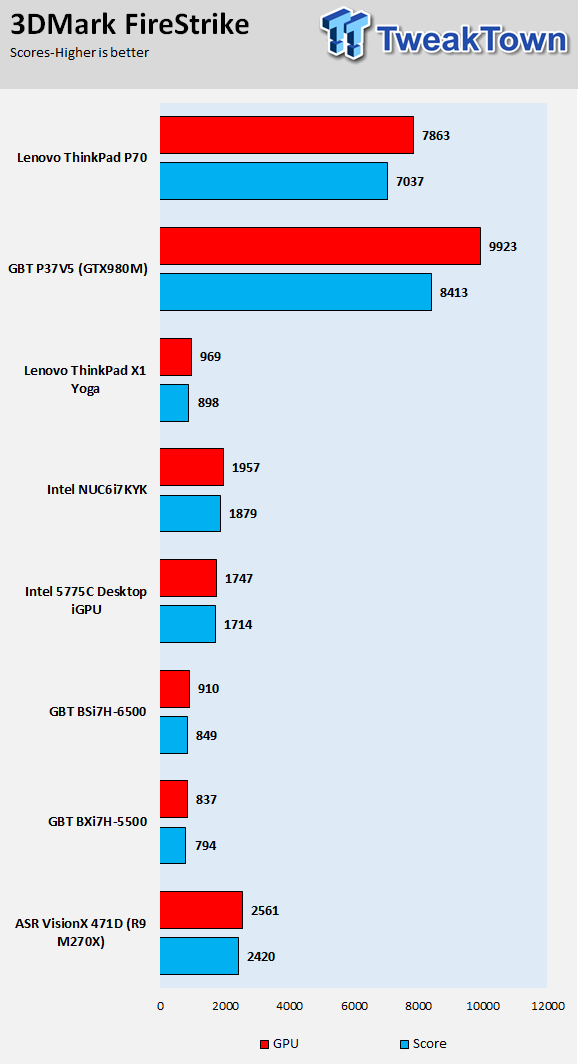 3DMark Cloudgate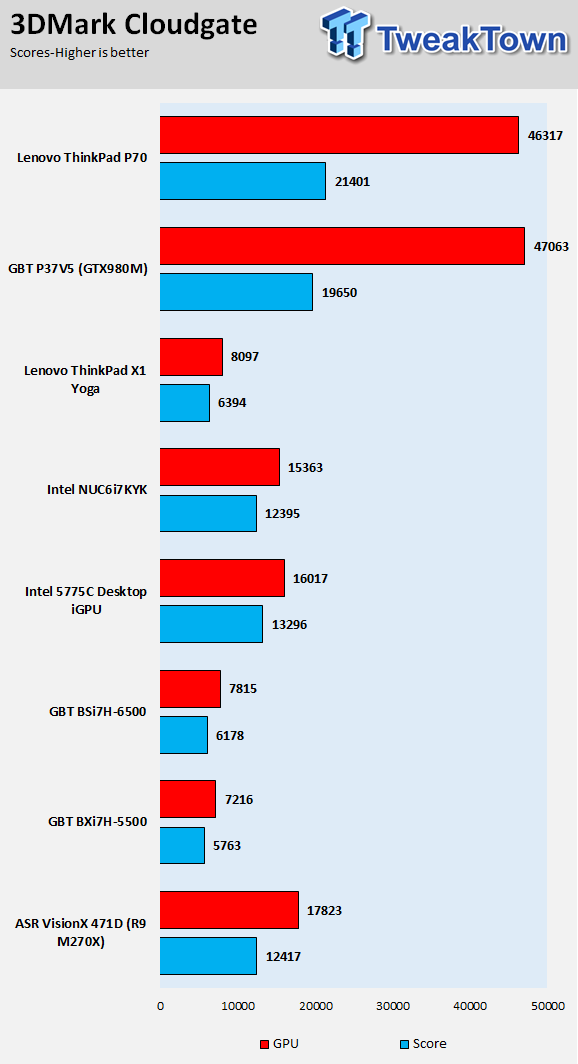 Ashes of Singularity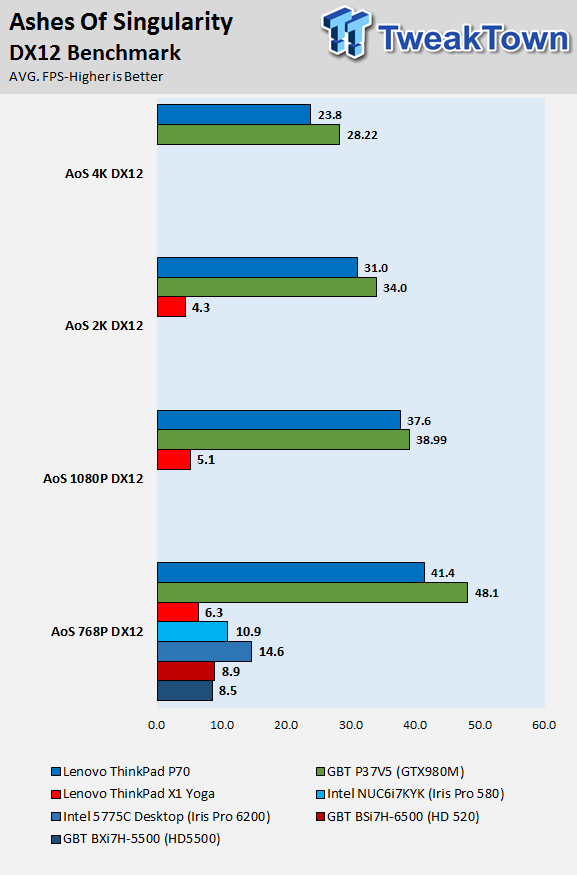 GTA:V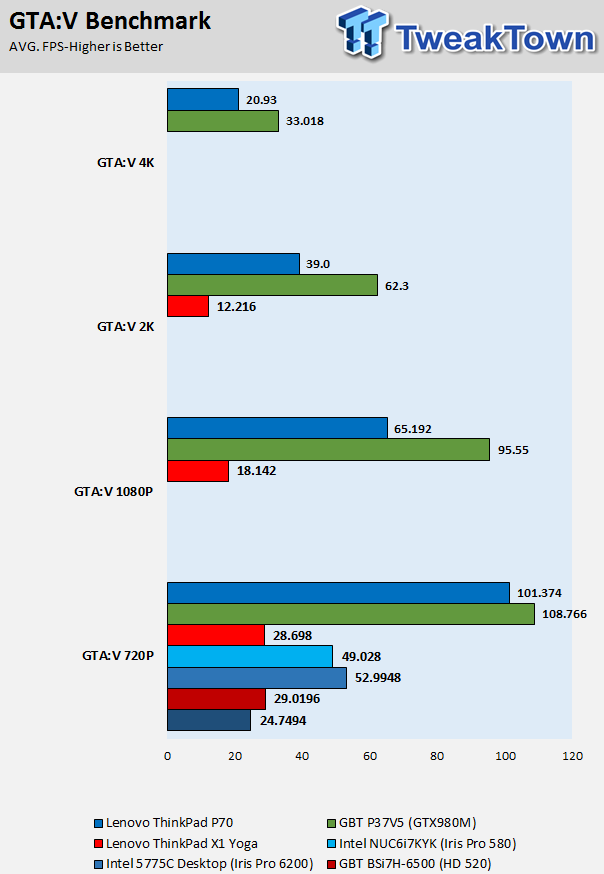 Final Fantasy XIV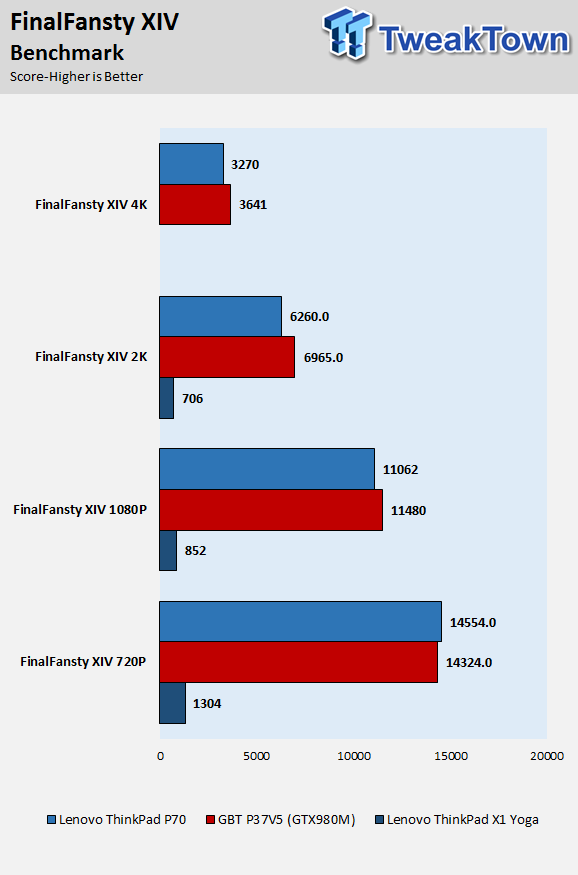 The Quadro M4000M is made for CAD and digital content creation; it is designed for professional workstations, but it's also not too shabby in gaming. Since our test suite is not designed to test the workstation capabilities of the Quadro GPU, the results do not give the whole picture of what this notebook can do. Overall, graphics performance in gaming was decent.
System IO and Battery Performance
System IO Benchmarks
Internal Storage Read Test: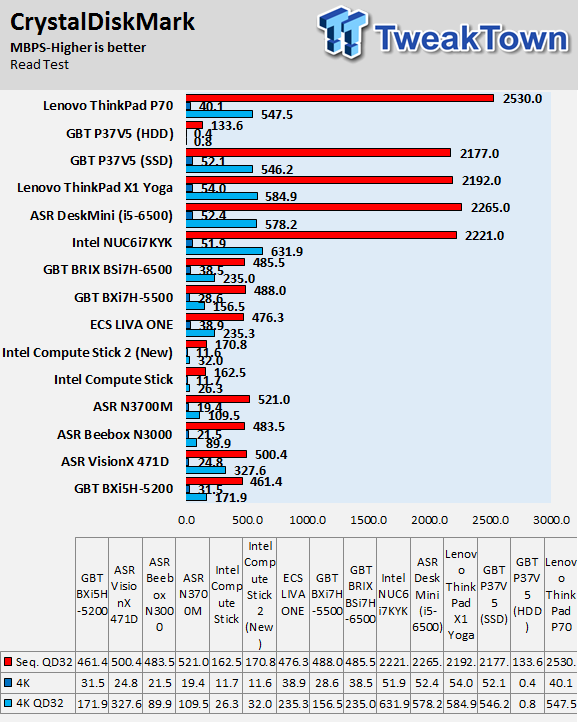 Internal Storage Write Test: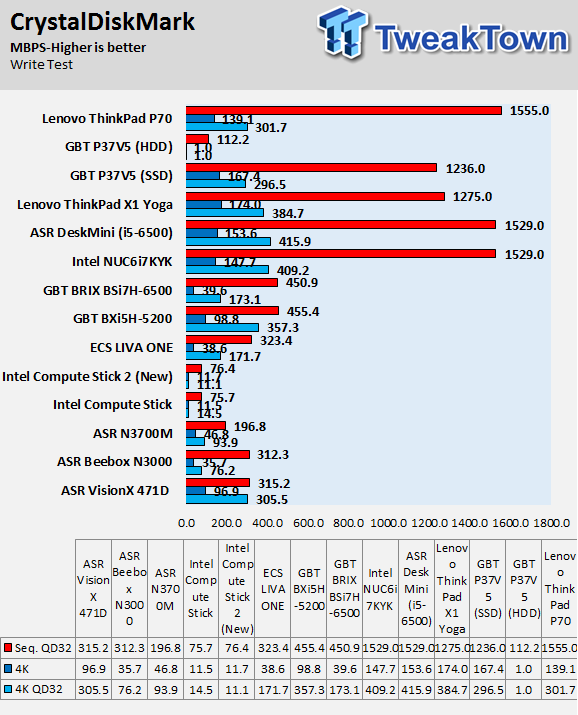 ixChariot Network Throughput: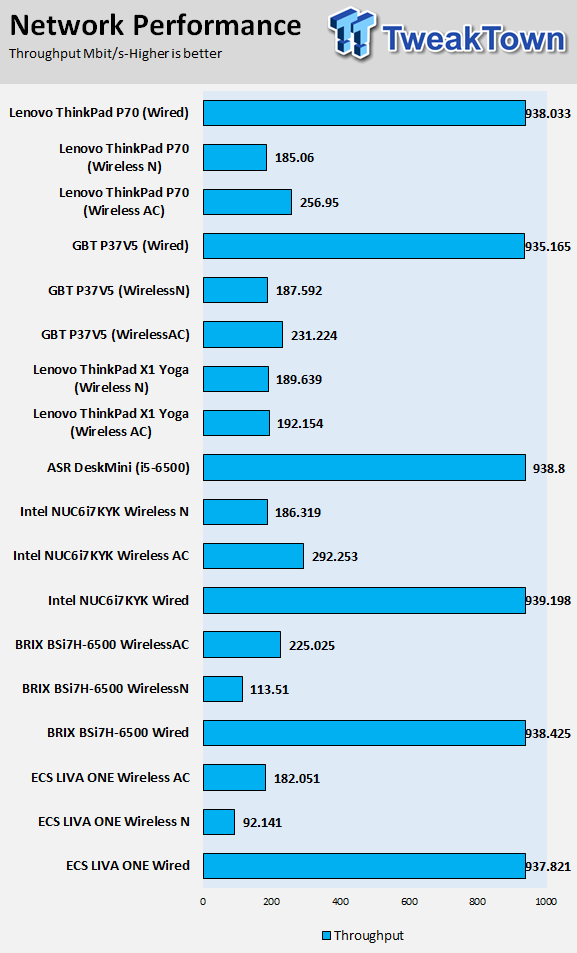 The ThinkPad P70 uses a 512GB Samsung NVMe PCI-E M.2 SSD which is blazing fast. Network tests show that the notebook is capable of handling high throughput wireless and wired connections.
Battery Tests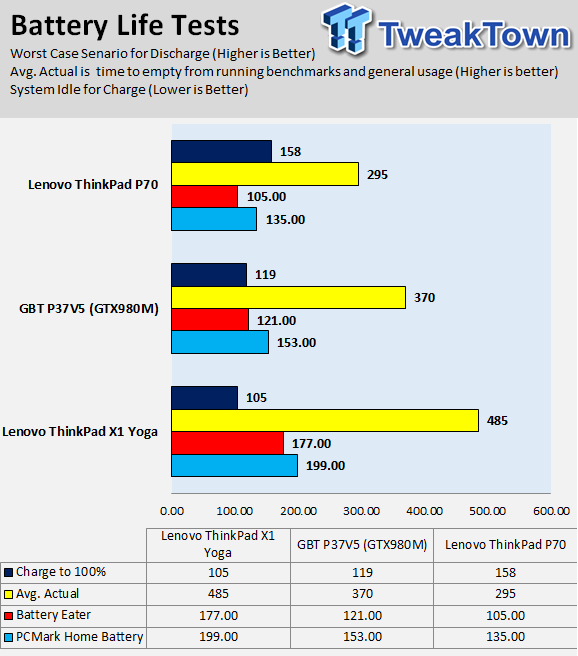 Although the ThinkPad P70 uses a 76Wh battery, it does not last as long as other high-performance notebooks. I expected this since the ThinkPad P70 has much more IO is use compared to the other products, and professional products are optimized to get the job done rather than save power.
Thermal Performance
Thermal Imaging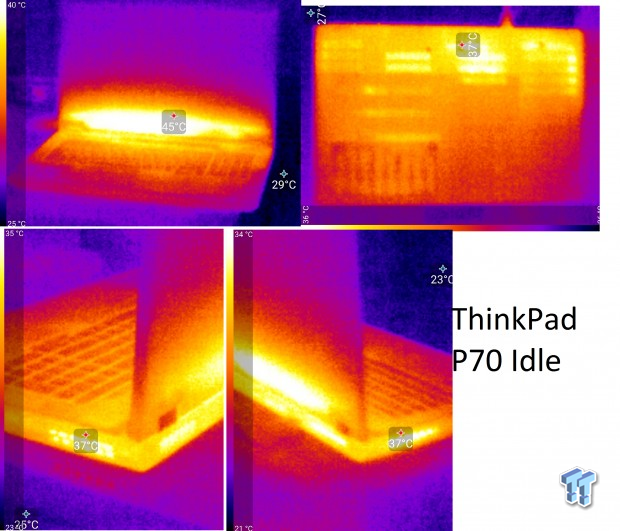 At idle the notebook does not get very hot, it gets a little warm but nothing intolerable. Cooling performance was good at idle, and the notebook is silent.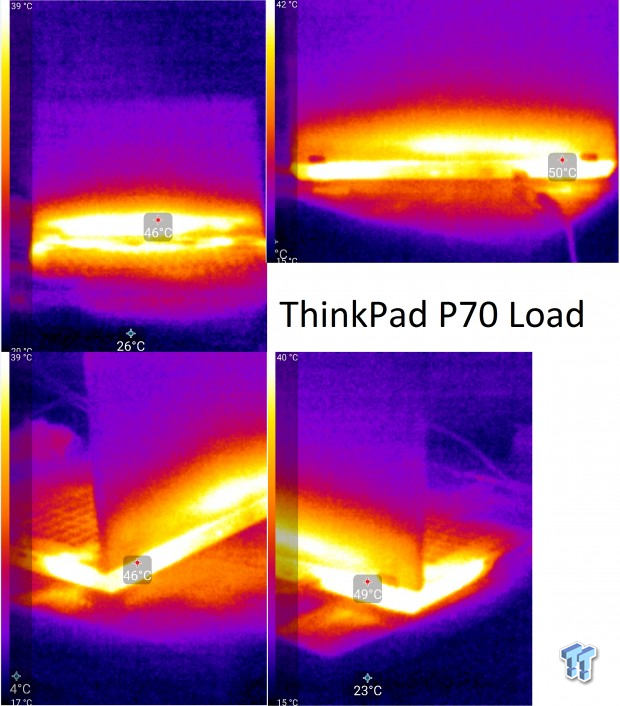 At load, the notebook does get warm, but still not intolerable. Temperatures grazed 50C which is totally acceptable, and quite good. The cooling solution inside the ThinkPad P70 is top notch, and it needs to be since ratability is one of the main selling points of a professional workstation.
What's Hot, What's Not & Final Thoughts
Here are key points about the ThinkPad P70.
What's Hot
A True Mobile Workstation: The new line of 6th generation mobile Xeon processors from Intel matched with NVIDIA mobile Quadro graphics produces a very powerful mobile workstation. The 4K UHD 17-inch panel provides a large enough viewing area for users to see enough detail and maintain a high level of productivity. The color calibration sensor is a nice touch, and while I didn't see much change, it might be useful to be able to calibrate your panel for different lighting conditions. Intel's mobile Xeon processors aren't all that different from their consumer counterparts, but support for vPro and ECC memory are two features workstation users will utilize.
Expansive Storage and Connectivity Options: The ThinkPad P70 has tons of room for expansion. When you remove the bottom cover, you can easily add in two extra memory DIMMs, a second M.2 SSD, a second M.2 WIFI card, and even a 2.5" drive. You will be able to configure the ThinkPad P70 the way you want, even after purchase.
4K UHD Display: The 17-inch 4K UHD 300nits display is quite stunning. Pictures are sharp, and you can see details clearly. The 4K resolution means you can use multiple windows at the same time, and the mobile Quadro graphics also helps in this regard.
Durable: Lenovo put the ThinkPad P70 through some MIL spec testing, so it should be able to withstand some abuse, but it's not invincible. One neat feature is the spill proof keyboard, where liquids will drain down to the bottom of the notebook, without interfering with the circuits.
Dual Thunderbolt 3: When Intel announced their mobile Xeon lineup, they also announced that mobile workstations with these new processors would also be required to support ThunderBolt 3. The Lenovo ThinkPad P70 has both type-C ThunderBolt 3 ports located at the rear of the notebook.
What's Not
Heavy: While the ThinkPad P70 is a workstation on wheels, it also weighs a lot for a portable product. You will also need to buy a bag specifically suited for larger 17-inch notebooks.
Final Thoughts
The Lenovo ThinkPad P70 is a processing powerhouse on wheels. When Intel launched its mobile Xeon processors, it was easy to see that they were investing a lot of resources into transforming the traditional view of a desktop into something more mobile and versatile, and products like the Lenovo ThinkPad P70 help define this growing product category.
Lenovo's attention to detail comes through in everything from the spill-proof keyboard to BIOS settings that customize the keyboard layout for accessibility. While the Lenovo ThinkPad P70 is an excellent product, it does have some downsides. The unit weighs more than enough, and the camera's resolution could be better.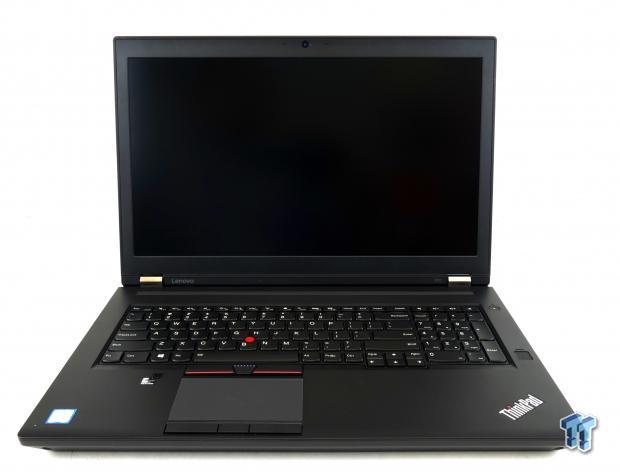 The Lenovo ThinkPad P70 is an excellent contender as a professional mobile workstation PC; it offers workstation features and security, excellent CAD/DCC capabilities, and all the comforts of your typical consumer notebooks in a single package. These days many users are finding that mobility is just as important as speed, and the ThinkPad P70 allows users to harness the power of a workstation on the go and in the field.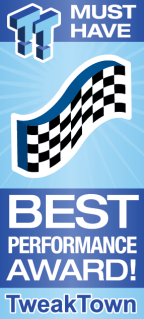 | | |
| --- | --- |
| Performance | 98% |
| Quality including Design and Build | 94% |
| General Features | 94% |
| Bundle and Packaging | 85% |
| Value for Money | 88% |
The Bottom Line: When it comes to professional mobile workstation notebooks, the Lenovo ThinkPad P70 can be loaded to the brim with top of the line features and high performance hardware.
PRICING: You can find products similar to this one for sale below.

United States: Find other tech and computer products like this over at Amazon.com

United Kingdom: Find other tech and computer products like this over at Amazon.co.uk

Australia: Find other tech and computer products like this over at Amazon.com.au

Canada: Find other tech and computer products like this over at Amazon.ca

Deutschland: Finde andere Technik- und Computerprodukte wie dieses auf Amazon.de
We openly invite the companies who provide us with review samples / who are mentioned or discussed to express their opinion. If any company representative wishes to respond, we will publish the response here. Please contact us if you wish to respond.
Related Tags