GIGABYTE Z170X-Ultra Gaming Motherboard Review
GIGABYTE's Z170X-Ultra Gaming is a refreshed Intel Z170 motherboard with plenty of solid features at a price that is pretty hard to beat.
Published Thu, Aug 11 2016 11:46 AM CDT
|
Updated Tue, Nov 3 2020 6:58 PM CST
Introduction, Specifications, and Pricing
It's been a while since I reviewed an Intel Z170-based motherboard, but over the past few months, we have seen vendors launching newer models. GIGABYTE launched two new high-end motherboards at Computex, the Z170X-Ultra Gaming, and the Z170X-Designare. Both motherboards are targeted towards the two largest subsets of Z170 buyers; gamers and power users. The Z170X-Ultra Gaming differs from most of GIGABYTE's previous Z170 gaming products. It has a neutral color look, it has metal shielding instead of plastic, it features U.2, and it carries some of GIGABYTE's newer features such as 100W USB Type-C support.
The Z170X-Ultra Gaming is basically a refreshed Z170 motherboard with the latest features. Its color theme is worth noting because many users had asked for more color-neutral motherboards. If users decide to disable the red LEDs, then the motherboard will be all black with some hints of silver. If they decide to leave the LEDs on, then a very red color theme with diffused LEDs will appear, and it doesn't look half bad.
Let's take a closer look at the Z170X-Ultra Gaming.
Specifications
The GIGABYTE Z170X-Ultra Gaming has a lot of high-end features, including Thunderbolt 3, USB 3.1, U.2, M.2 (32Gb/s), USB 3.0, and SATA 6Gb/s.
Pricing
The Z170X-Ultra Gaming is available from many large retailers for roughly $170.
Packaging and Z170X-Ultra Gaming Overview
Packaging and Overview
The Z170X-Ultra Gaming's box is red and black, like the motherboard when its powered on. Packaging is nothing fancy, but it's good enough to protect the motherboard.
Accessories include 2x SATA6Gb/s cables, IO shield, SLI connector, Velcro cable ties, G-Connector, storage device stickers, G1 case badge, door hanger, driver DVD, and manuals.
The GIGABYTE Z170X-Ultra Gaming has five 4-pin headers. The CPU fan header circled in red offers PWM only control; the two headers circled in blue operate in PWM or voltage mode, and the two headers circled in green operate in voltage mode.
The motherboard has a very neutral color theme, and while RGB LEDs would have been perfect, GIGABYTE instead chose to use red LEDs. There is a lot of cut out yellowish diffused PCB lining the edge of the motherboard, which will light up when the LEDs are on. Under the VRM, PCI-E slots, and between the memory DIMMs are red LEDs that illuminate the motherboard.
The IO panel on the Z170X-Ultra Gaming carries four USB 3.0 ports, two USB 2.0 ports, mini DisplayPort, mini DisplayPort in (for ThunderBolt), PS/2 Keyboard/Mouse, USB 3.1/Thunderbolt 3 Type-C connector, USB 3.1 Type-A connector, HDMI, RJ-45 LAN, and 7.1 audio outputs with S/PDIF.
The PCI-E layout is designed so that the first two full sized x16 slots get bandwidth from the CPU. They will work at x16/x0 or x8/x8 for SLI or CrossFireX. These full sized x16 slots are reinforced with metal braces that keep them steady even under the pressure of a heavy GPU. The last x16 slot operates at x4 and is routed to the PCH; it can also be used for RAID with the M.2 and U.2 slots.
There is a 32Gb/s M.2 slot located below the CPU socket and supports RAID with the U.2 and last PCI-E x16 slot.
The U.2 connector is located in the lower right-hand corner of the motherboard. Two of the six SATA6Gb/s ports from the PCH are straight while the remaining four are angled at 90 degrees and also support SATA Express.
There is a USB 3.0 internal header located below the 24-pin connector and two USB 2.0 headers located along the bottom of the motherboard.
The area between the DIMMs uses plastic columns to diffuse the red LED light.
The heat sinks and shield are all metal, and the heat sinks make great contact with the MOSFETs.
GIGABYTE Z170X-Ultra Gaming Circuit Analysis
Circuit Analysis
This board is much more interesting without its heat sinks.
We all know that Skylake doesn't use much power, even when overclocked, and it turns out that motherboard manufacturers have taken note. The VRM on the Z170X-Ultra Gaming is a 4+3 phase VRM and uses custom branded Power inductors and 10K black polymer solid capacitors.
The Intersil ISL95856 is a 4+3 phase hybrid PWM with two integrated drivers on the four phase rail and a single driver integrated for the three phase rail. Four Intersil ISL6625A drivers are used, two for the iGPU phases and two for the VCore phases. The motherboard uses Vishay SiRA12 and SiRA18 for the high-side and low-side PowerPAK MOSFETs. Overall, this VRM is probably the minimum you want for overclocking. The VCCIO, VCCSA, and other rails for overclocking come from a linear regulator circuit and a few LDOs.
The memory VRM uses a Richtek RT8120D single phase integrated PWM with drivers and uses three SiRA12 PowerPAK MOSFETs (two for the low-side and one high-side).
GIGABYTE Z170X-Ultra Gaming Circuit Analysis Continued
Z170X-Ultra Gaming Circuit Analysis Continued
GIGABYTE is using the ALC892 audio codec instead of the common ALC1150, and there is no amplifier, but audio quality isn't too bad.
Intel is using the Intel Alpine Ridge USB 3.1/ThunderBolt 3 controller for the Type-C and Type-A port on the rear IO. The Texas Instruments TPS65982 is used for Type-C port switching and USB Power Delivery 2.0 control. One big feature of this motherboard is the 100W USB power support for the two ports controlled by the Alpine Ridge controller. The circuit uses a boost converter to output a maximum of 20V at 5A for 100W. The 100W cover is hiding a transformer or some type of choke, there are two 4C06 MOSFETs for switching the power, and the motherboard is protected by diodes to ensure the power doesn't flow back into the rest of the circuitry.
The Z170X-Ultra Gaming has tons of red LEDs all over the back and even front of the motherboard.
GIGABYTE made sure to use an Intel NIC for networking. The i219v is used as the PHY for the integrated MAC in the PCH. The motherboard has two 128Mbit BIOS ROMs for dual BIOS.
An iTE IT8628E is used as the main SuperIO that provides fan control, voltage/temperature monitoring, and provides PS/2 on the rear IO. The motherboard uses a level shifter to produce HDMI from the digital video output of the CPU.
There are four ASMedia ASM1480 PCI-E 3.0 quick switches located below the first PCI-E x16 slot to move x8 of CPU bandwidth between it and the x16 slot below it. There are other ASM1480s around the motherboard to switch PCH bandwidth.
BIOS and Software
BIOS
The Z170X-Ultra Gaming carries GIGABYTE's latest BIOS, which features a new color theme and more settings for fan control. One of the biggest weaknesses of the previous GIGABYTE Z170 motherboards was the lack of GUI fan control in the UEFI. The new series of X99 and Z170 GIGABYTE motherboards have revamped fan control, and in some cases, you can choose if you want the header to work in voltage or PWM mode.
The new UEFI offers fan control through a GUI, so you don't need to setup fan control through Windows programs. The UEFI also has overclocking settings you might need to produce a decent overclock, there are limited PWM controls (you can control the LLC), but not as much as GIGABYTE's higher-end offerings.
Software
GIGABYTE includes many different software applications. They include Color Temperature, Ambient LED, BIOS Setup (change some BIOS settings from Windows), AutoGreen, APP Center (all the other applications can be accessed through APP Center), EasyRAID, Platform Power Management, Cloud Station, OSD, EasyTune, System Information Viewer, Smart TimeLock, Smart Backup, V-Tuner, @BIOS, and Smart Keyboard.
Test System Setup
Steven's Motherboard Test System Specifications
Upon first glance, the Z170X-Ultra Gaming might seem like a neutral color motherboard, but when you press the power button, the red LEDs kick into gear. The red LEDs can be disabled, but in a red themed build, they would look great.
The new test bench is designed to test every aspect of the motherboard and IO. I have designed it so that the motherboard sits in a case and is cooled by fans always on at a constant rate to keep the conditions similar during all tests. I have cut out part of the case behind the motherboard so I can get thermal images of the back of the PCB where the VRM heat spreads. System and CPU power measurements are now digitally logged.
I am also using a Netgear Nighthawk X4 AC2350 for our network (including wireless AC) tests. The latest M.2, SSD, and USB technologies are also being utilized to test the maximum potential of the motherboards that are tested.
Overclocking
Overclocking Results
CPU Overclocking
I have decided to reduce the CPU VCore to 1.4v applied (I will measure real VCore at the output capacitors), and see how high I can validate. On most boards, it's 5GHz.
I wasn't surprised when the Z170X-Ultra Gaming hit 5GHz; it's an overclocking motherboard, so 5GHz is to be expected.
Stability testing worked well; I was able to overclock stable to 4.7GHz.
Compatible Memory Overclocking Kits
Test 1: 2x4GB (8GB) Corsair Dominator Platinum 3200MHz C16
The Dominator Platinum worked without a hitch.
Test 2: 2x4GB (8GB) G.Skill TridentZ 3733MHz C17
The TridentZ worked well, even at their high speed of 3.733GHz.
CPU, Memory, and System Benchmarks
CINEBENCH 11.5
wPrime
AIDA64 AES and HASH
AIDA64 FPU
AIDA64 Memory
PCMark8 Home Test
3DMark: Cloud Gate
3DMark: Fire Strike
GIGABYTE's Z170X-Ultra Gaming does not have multi-core enhancement enabled by default. It uses Intel's default Turbo bins and doesn't push all CPU cores to the maximum frequency at stock.
Once I overclocked to the 4.5G profile, the performance of the system matched or even surpassed that of others. The increase in performance could be due to improved microcode since it's been a while since we did a Z170 motherboard review and the microcode is more recent.
Some motherboard reviews put a lot of weight into motherboard CPU, memory, and GPU benchmarks, but for me, CPU, memory, and GPU benchmarks on motherboards should be more about finding anomalies, and I do that at standard settings (4.5G in graphs).
System IO Benchmarks
CrystalDiskMark SATA6G:
CrystalDiskMark M.2:
CrystalDiskMark USB 3.0:
ixChariot Network Throughput:
The Z170X-Ultra Gaming has solid IO performance when it comes to storage. The reason the M.2 speeds are so much faster is because I have switched the M.2 drive from a Kingston Predator 240GB module to a Samsung 950 Pro.
Audio RMAA 5.5:
I disable all audio features, set the correct bitrates, and then test the audio with a loopback test.
Sound Judgment by Ear: Acceptable. With its ALC892 the motherboard does a decent job, but it could be better. There are five ratings for audio: 1. Problems, 2. Okay, 3. Acceptable, 4. Very good, 5. Excellent
Thermal Imaging and Power Consumption
System power usage is measured at the AC/DC PSU (the Corsair AX1200i) which I have connected to another system to measure the test system, and as a backup, I have a wall meter to verify. The CPU power is measured through the 8-pin connector, which is hooked up to a hall effect IC, which measures current and puts out a voltage in proportion to the current. That voltage is logged by a National Instruments ADC, which logs the DC voltage level that I then convert into current.
Note on Thermal Images: In the temperature section, we use our Seek thermal imaging camera to capture the surface temperatures of major components on the board. I look at the VRM and then all other things that light up the screen. If there is something to worry about, then I will state it. Otherwise, I will just show the hotter running parts of the board for fun. Unless some component is over 80-90C, then there isn't anything to worry about.
All systems will act differently, so I will look for commonalities, such as how far from the VRM the heat spreads through the PCB and the difference in temperature between the front side and backside of the PCB. Keep in mind, the majority of the heat from the VRM goes into the PCB as it is a giant soldered on copper heat sink. A larger difference in temperature between the back and front of the PCB points towards a more effective heat sink.
Thermal Testing at Stock Speeds:
The image on the left is always at idle, and the image on the right is at load. During ALL TESTS, fans above the VRM that cool the CPU cooler's (Corsair H110i GT) radiator are turned on to high (12v).
Full frontal.
Up-close of the front of the VRM.
Up-close of the back of the VRM.
Thermal Testing at 4.5GHz Overclocked Speeds:
The image on the left is always at idle, and the image on the right is at load. During ALL TESTS, fans above the VRM that cool the CPU cooler's (Corsair H110i GT) radiator are turned on to high (12v).
Full frontal.
Up-close of the front of the VRM.
Up-close of the back of the VRM.
The VRM on the Z170X-Ultra Gaming uses only four VRM phases for the VCore. Granted, most motherboards with eight phases on the Z170 platform are really just four phases doubled, but they usually have double the components.
Idle temperatures are quite good, but load temperatures are in line with what you might expect from a smaller VRM. Temperatures didn't exceed 60C, which still makes the results excellent, but they could have been better if GIGABYTE used more phases or a higher quality VRM.
Anything under 60C is great, 60-80C is acceptable, and anything above 80C is a bit worrisome (if at stock).
What's Hot, What's Not & Final Thoughts
Here are key points about the GIGABYTE Z170X-Ultra Gaming.
What's Hot
NVMe Storage Delight: The Z170X-Ultra Gaming carries U.2 and M.2 ports, each can operate at 32Gb/s and support the latest in NVMe storage. You can even RAID the U.2, M.2, and last PCI-E x16 slot because of the way GIGABYTE has set up the storage subsystem of the motherboard. The motherboard fully supports the latest in connectivity; it's even written on the PCB. What I like about the design is that there is little switching (other than disabled SATA ports), so you can use U.2 without affecting the M.2 port.
Thunderbolt 3 and 100W USB PD2: GIGABYTE originally launched the Z170X-Ultra Gaming with the correct hardware for Thunderbolt 3, but without the certification. They weren't able to advertise it, but since its initial release, GIGABYTE has received certification, and instructions on how to update your Z170X-Ultra Gaming to provide Thunderbolt 3 are on GIGABYTE's product page.
While Thunderbolt 3 on such an inexpensive motherboard is quite awesome, 100W USB Power Delivery 2.0 support is even more impressive. GIGABYTE has implemented a step up converter, allowing a maximum output of 20v at 5A, which is part of USB specifications. The Z170X-Ultra Gaming is ready for the future of USB.
Color Neutral: The matte black PCB matched with the black heat sinks and shield produces a very color neutral motherboard. With the red LEDs turned off, the Z170X-Ultra Gaming could match almost any color scheme your heart desires.
BIOS and Fan Control: GIGABYTE's new UEFI was easy to navigate and feature rich. They have added in GUI based fan control which makes installing fan control software in Windows redundant, so you don't need to bloat your OS. The new UEFI has good LED control too, making Windows software unnecessary. While I understand that some people are hesitant to enter the UEFI at all, it's better to have the option to change things in the UEFI instead of in Windows, since a lot of the software can cause issues. GIGABYTE's latest generation of UEFI BIOS provides users much more flexibility than before.
What's Not
Onboard Audio: Many people don't care that much about onboard audio, but some do. GIGABYTE used an ALC892 instead of the common ALC1150 with amplifiers, and because of this audio, performance is slightly poorer compared to other motherboards.
No RGB LEDs: If GIGABYTE had put on RGB LEDs on this motherboard rather than red LEDs, they would have had one killer product on their hands. The motherboard's color neutral black would have gone great with RGBs allowing users to change the color theme to whatever they choose, but alas we only get red.
VRM not Over-Built: The Z170X-Ultra Gaming's VRM is what I would consider the minimum for overclocking a 6700K. You will be able to pull off a 4.5-4.8GHz 24/7 OC, but anything over that might be pushing it.
Final Thoughts
GIGABYTE's Z170X-Ultra Gaming is a feature-loaded product at a very fair price. At $170, it offers Thunderbolt 3 with 100W USB Power Delivery 2 support, U.2, M.2, Intel NIC, and a sleek heat sinks/shield design. My biggest gripe with the product is that it uses red LEDs instead of RGBs. If you want a red color theme, and many of you do, then this product hits the nail on the head when it comes to aesthetics, but for some of us who would prefer to choose our color, it could be a bit on the duller side of things. Apart from aesthetics, motherboard performance was top notch.
The Z170X-Ultra Gaming is what I would consider a Z170 refresh model. It has much of what was missing from earlier GIGABYTE Z170 motherboards, including better UEFI fan control, U.2, and Thunderbolt 3. Since the product costs only $170 and offers so many premium features, you are going to take a hit in some feature aspects. I have to say that giving up higher quality onboard audio for other features is a good trade. The Z170X-Ultra Gaming is an excellent value for any gamer who wants to run the latest connectivity, have excellent support for future Type-C peripherals, and wants something that looks great in red.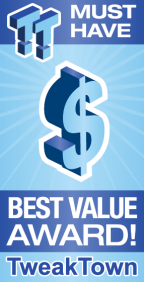 | | |
| --- | --- |
| Performance (including Overclocking) | 91% |
| Quality including Design and Build | 89% |
| General Features | 92% |
| Bundle and Packaging | 86% |
| Value for Money | 95% |
The Bottom Line: GIGABYTE's Z170X-Ultra Gaming is loaded with all the latest in premium features, including Thunderbolt 3, U.2, and 100W USB PD2 support at a price that is very hard to beat.
PRICING: You can find products similar to this one for sale below.

United States: Find other tech and computer products like this over at Amazon.com

United Kingdom: Find other tech and computer products like this over at Amazon.co.uk

Australia: Find other tech and computer products like this over at Amazon.com.au

Canada: Find other tech and computer products like this over at Amazon.ca

Deutschland: Finde andere Technik- und Computerprodukte wie dieses auf Amazon.de