Seagate Barracuda Pro 10TB HDD Review - Mainstream Helium has Arrived
Move over Desktop HDD, Barracuda is back! Today, Seagate launches its 10TB Barracuda Pro 10TB helium-filled hard drive. Here's our full review.

Published
5 minute read time
TweakTown's Rating: 94%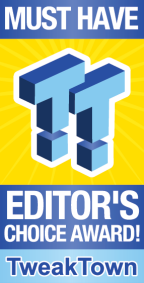 The Bottom Line
Seagate continues to deliver with its helium-filled 10TB solutions. With their entry into the mainstream, there is no way you can ignore the price or performance of the Barracuda Pro hard drive.
Introduction & Specifications, Pricing and Availability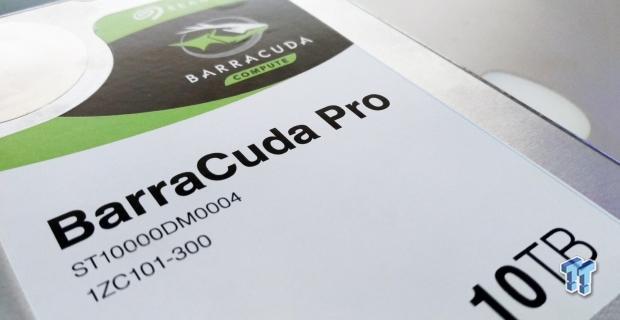 As you can see from the title, Barracuda is back. Nearly three years have passed since Seagate rebranded their mainstream solution the "Desktop HDD" but for many, including myself, we never stopped calling it the Barracuda. I too, like many of you, back before solid state drives, ran hard drives in RAID in my gaming rig and for a guy like myself that couldn't afford pricey Raptors back in the day, ran a set of Barracuda 7200.11 750GB drives; I think those drives were the first with PMR.
The Barracuda Pro is mainstream helium. It's a high-capacity solution without the high price tag and offers high performance for gamers, creative professionals, and tech enthusiasts. As you may know, over the last five years give or take, both Seagate and WD have doubled down and really pushed the idea of workload optimized solutions. The Barracuda Pro is a compute drive meaning it is suitable for desktops, home servers, and even DAS with a solid 300TB/YR rating.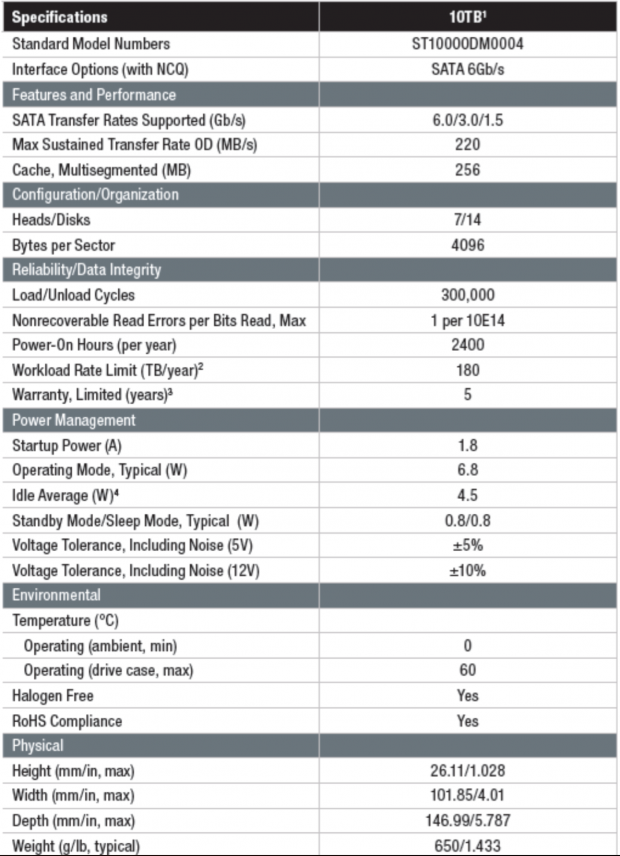 Diving right into the specifications of this drive, we have a model number of ST10000DM0004. This follows the same numbering scheme of our Enterprise Capacity 3.5 sample that used the NM identifier. The interface is available in SATA 6Gb/s only that offers a sustained transfer rate of 220 MB/s. The cache on this drive is largest I have seen personally, at 256MB. This solution features seven heads and 14 disks with a workload rate limit of 180TB per year and an MTBF of one million hours.
Power consumption is slated to hover around 4.5 watts at idle while average load sits at 6.8 watts. The MSRP of the Barracuda Pro in the 10TB capacity comes in at $534.99 with a five-year warranty.
Drive Details
Barracuda Pro 10TB HDD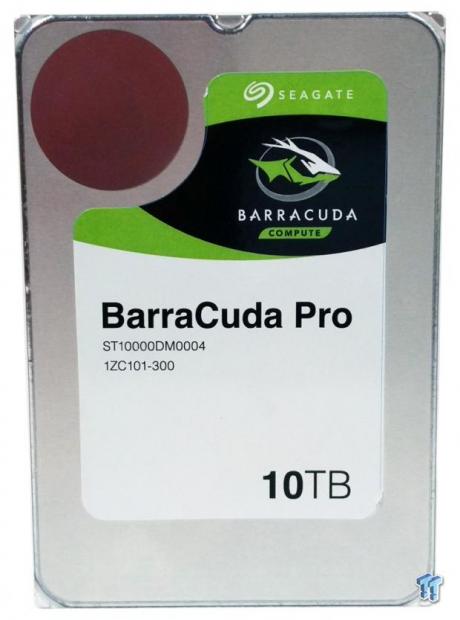 The Barracuda Pro is a rather sleek drive with very little information on the sticker. As you can see capacity is in large print at the bottom while the model number sits in the center.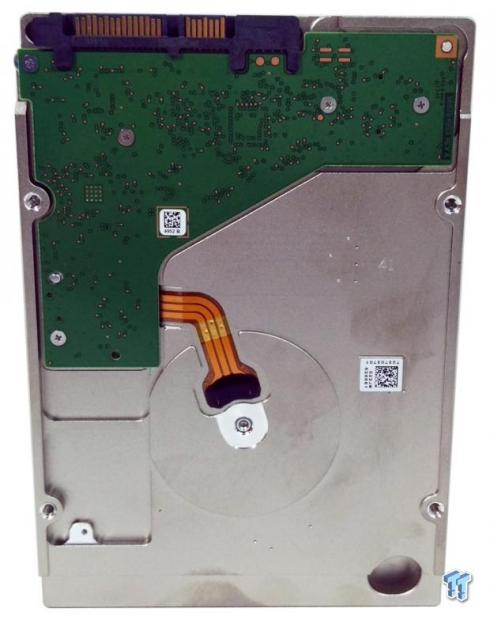 The backside is quite clean and uses the same helium chassis as the EntCap 10TB.
Drive connectivity sticks to the standard power on the left data on the right.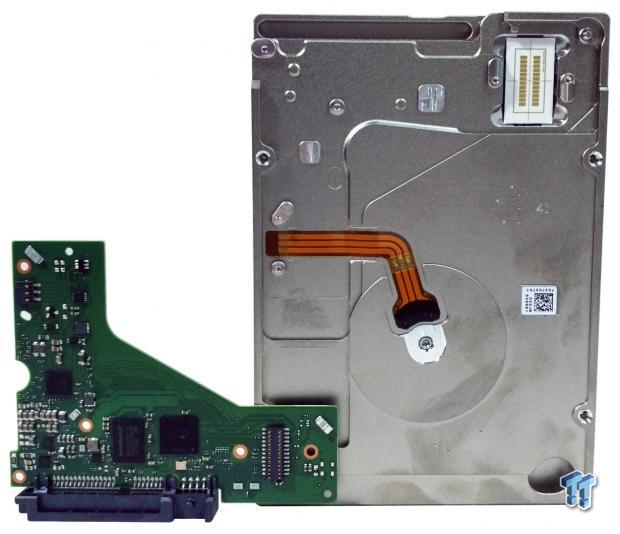 Pulling off the PCB, we have an Avago branded controller in the center with a Smooth motor driver at the top. The 256MB of cache comes from Winbond.
Benchmarks - Test System Setup and ATTO Benchmarks
Tyler's Test System Specifications
ATTO - Baseline Performance
Version and / or Patch Used: 2.34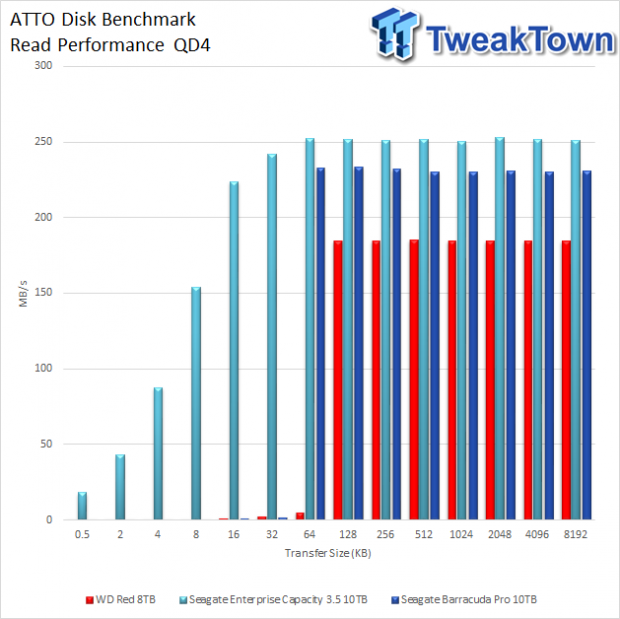 Kicking off testing, I ran the Barracuda Pro through ATTO a number of times and came up with the numbers you see above. Seen above, the Cuda takes a few rounds to really get moving at which 64K hits nearly 240 MB/s.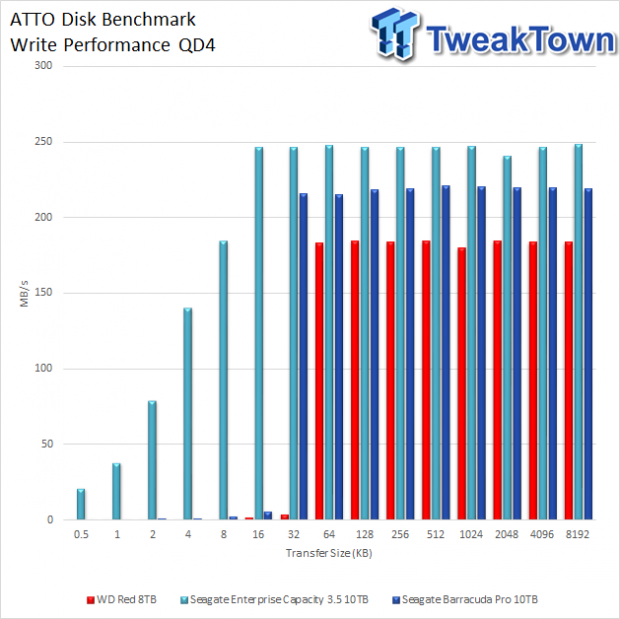 Write performance showed similar characteristics starting at 32K near 230 MB/s.
Benchmarks – 4K Random Performance & Latency
IOMeter – 4K Random Performance with QD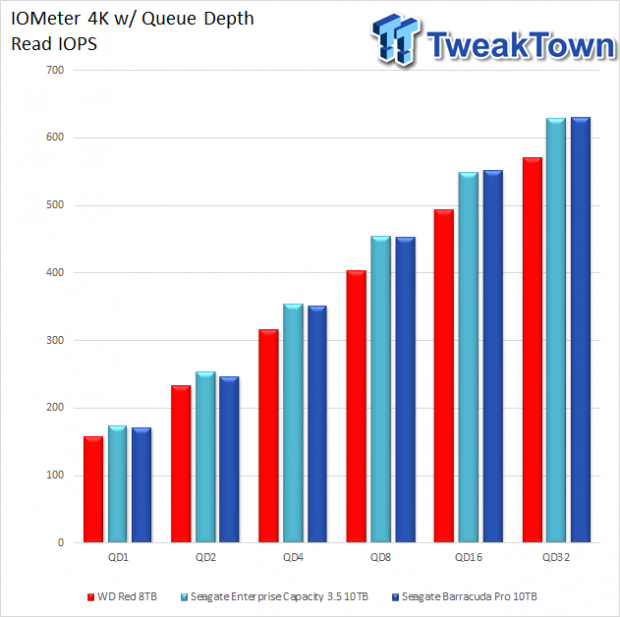 A common showing while testing the Baracuda Pro was how close it was to the Enterprise Capacity in each test. As you can see in 4K, the two Seagate solutions are right with each other at each QD step.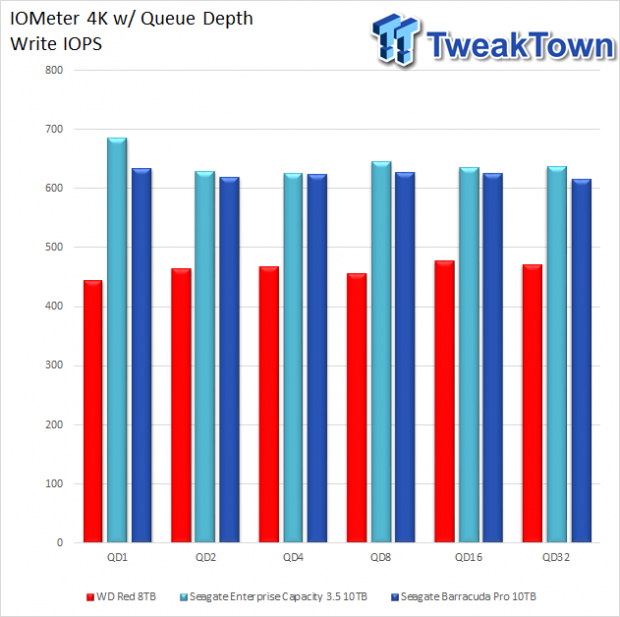 Write IOPS started off somewhere a touch north of 600 IOPS and stayed quite consistent through each step.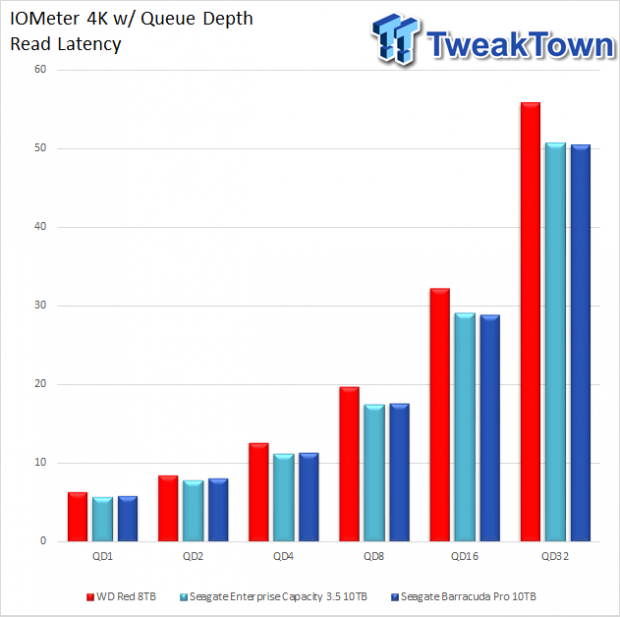 The latency results had the Barracuda Pro show a consistent step with the Enterprise Capacity.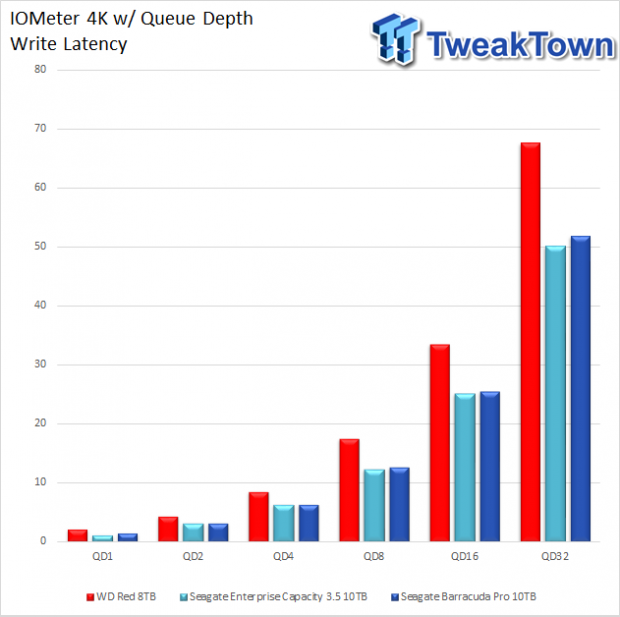 In write latency, we find more of the same starting at a few ms at QD1 to a max of 52ms at QD32.
Benchmarks – Sequential Performance & Latency
IOMeter – Sequential Performance with QD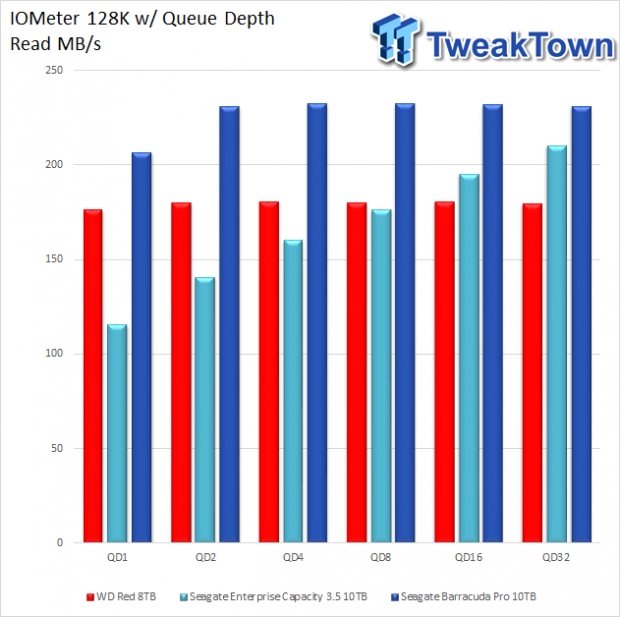 Sequential performance fired the Barracuda Pro to the top of this chart, reaching 240 MB/s consistently.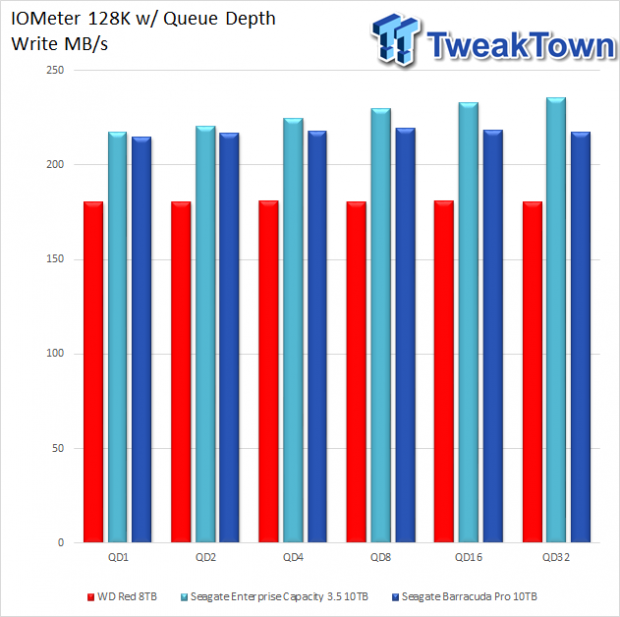 Sequential write was similar, with the theme being consistent. As you can see, we reached 220 MB/s all across the QD scale.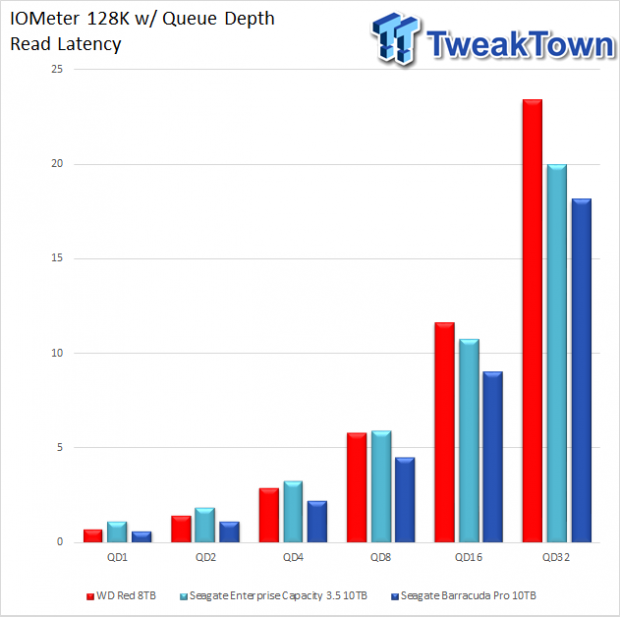 Read latency was great for the Barracuda Pro, the lowest of the three in the chart.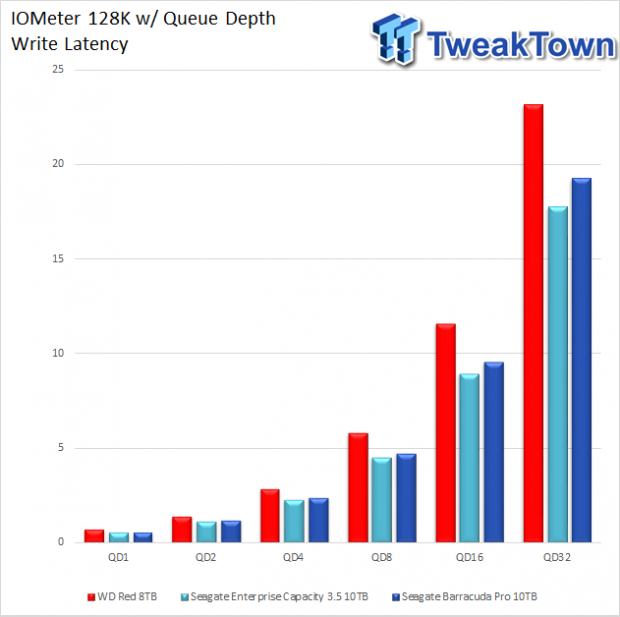 Write latency stuck with the EntCap until QD8 where we see a few Ms added to each QD jump.
Benchmarks – Workloads
IOMeter – Workload Performance with QD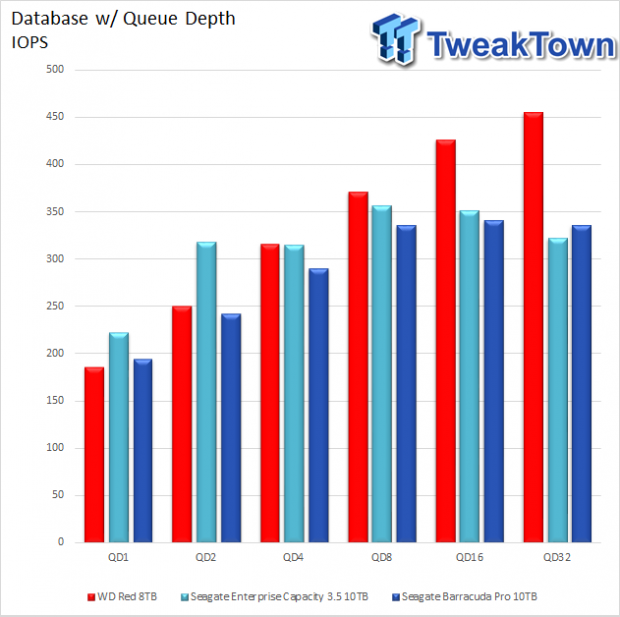 Database started off with nearly 200 IOPS at QD1 and finished at QD32 with 340 IOPS.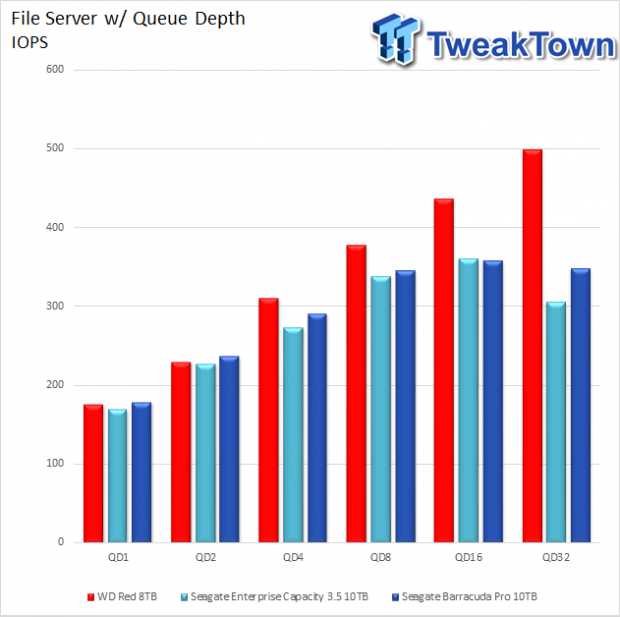 File Server showed similar performance at QD1 with all drives while at QD32 the Barracuda Pro reached 340 IOPS.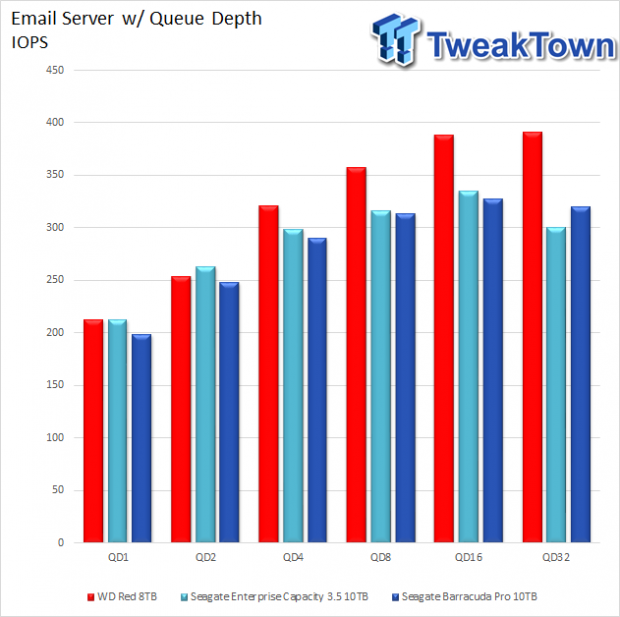 As you may have noted in the last few charts, there is certainly a difference between drives tuned for a set of workloads and one that is not. That holds true in Email Server as well with the Barracuda Pro starting off at 200 IOPS and ending at 320 IOPS at QD32.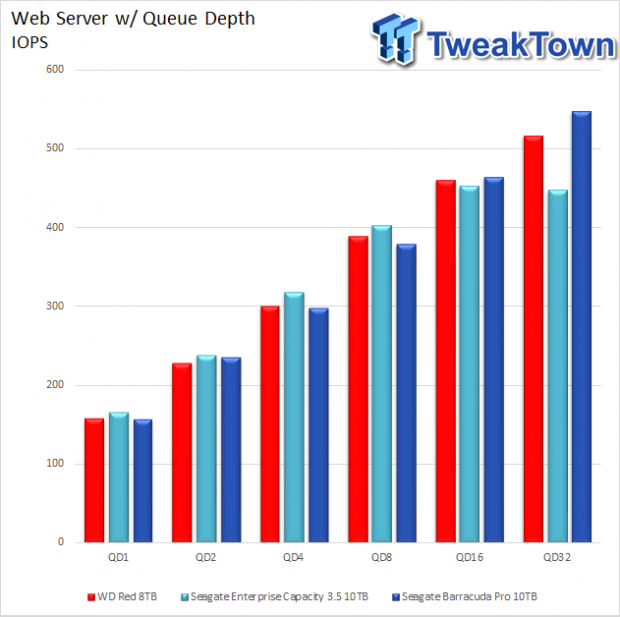 Web Server let the Barracuda Pro stretch its legs a little starting a touch under 200 IOPS at QD1 and topping out near 600 IOPS at QD32.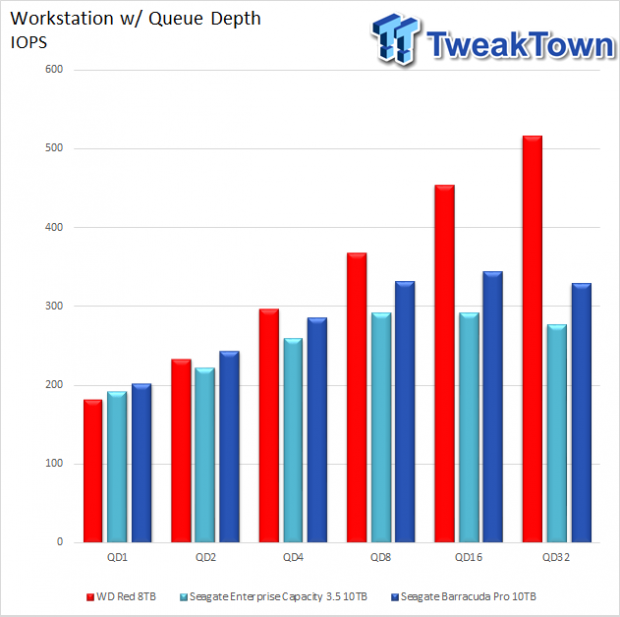 Workstation started at 200 and ended at 330 IOPS.
Latency with QD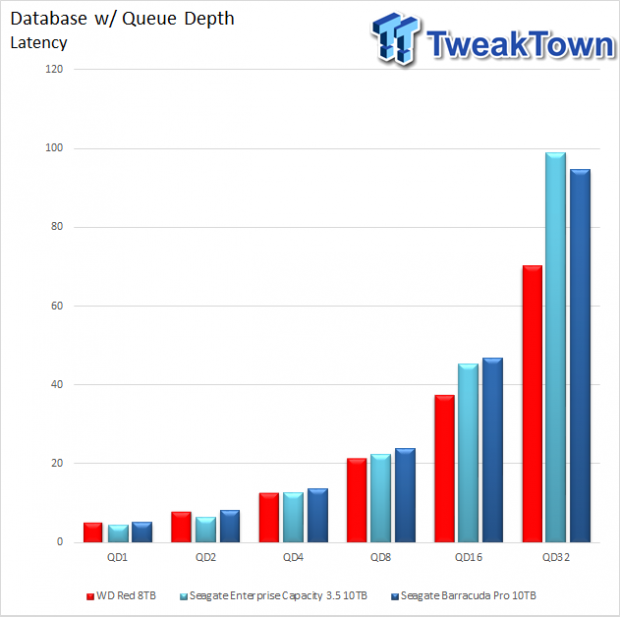 Diving into the response times of the Workloads testing, Database reached a peak of 90ms at QD32.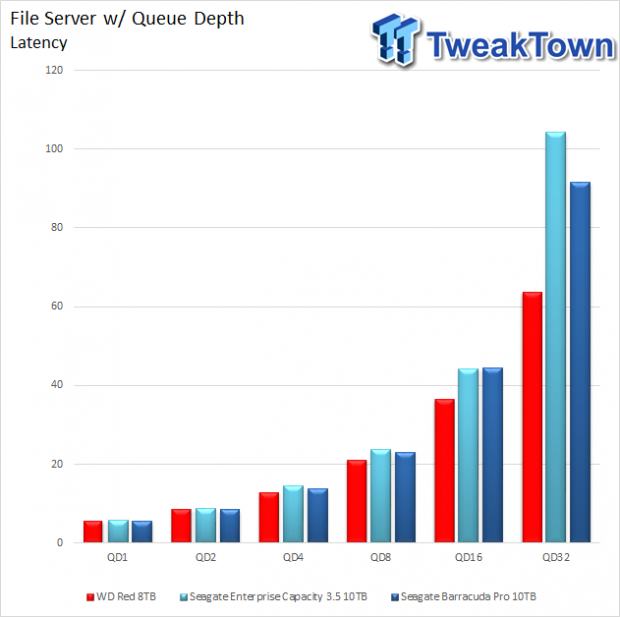 File Server touched a high of 90ms after starting out around 8ms at QD1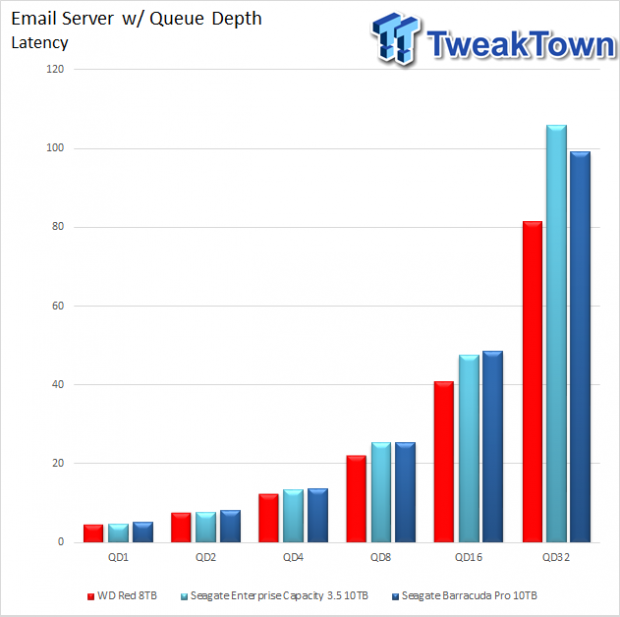 Email Server was just a shade under 100ms at QD32.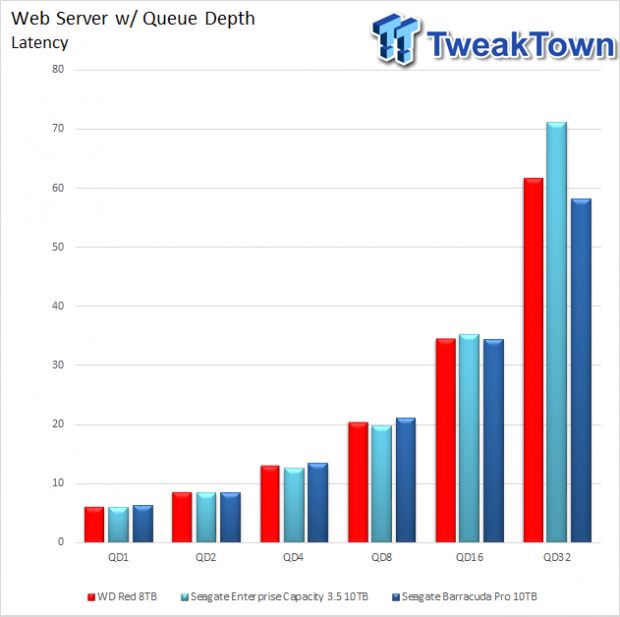 Web Server, being one of the best workloads for the Barracuda Pro, started out around 7ms and peaked at 60ms QD32.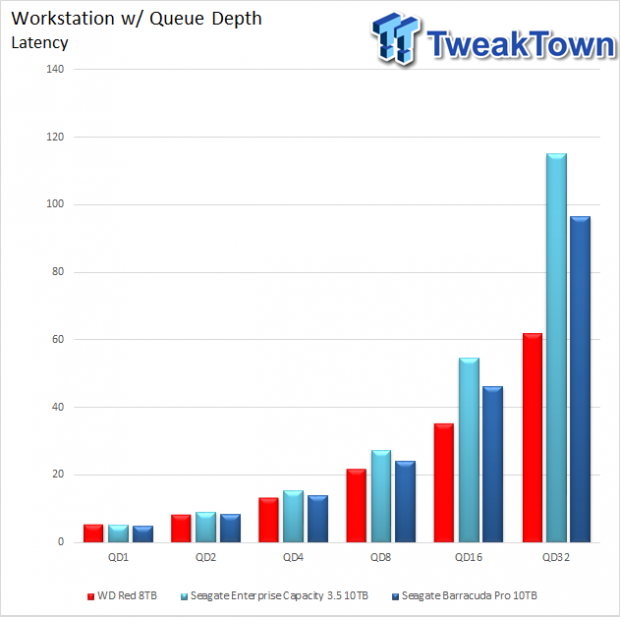 More of the same for Workstation, as the Barracuda Pro starts at 9ms and ends near 90ms at QD32.
Power Consumption and Final Thoughts
Power Consumption
Our custom power testing samples each drive for a period of three minutes, across each workload. In order to offer more granularity, we sample the power in one-second intervals.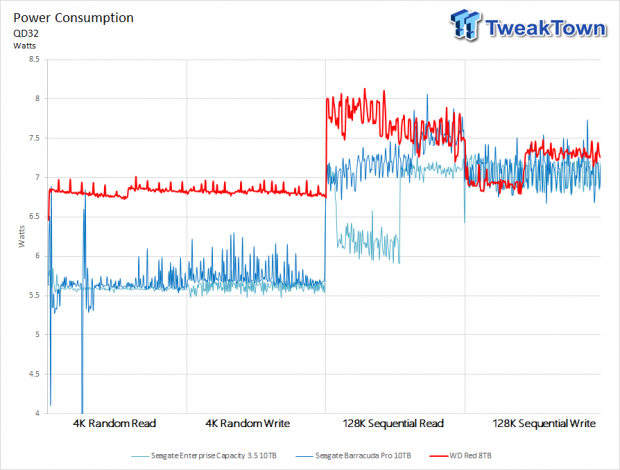 One of the biggest metrics for vendors has been power efficiency. With the 10TB solutions, both the EnCap and Barracuda Pro we see a similar pattern at QD32. Through random workloads, the drive sticks around 5.7 watts and transitioning into sequential jumps to 7.5 and settles down a hair over seven at 7.1 watts.
Final Thoughts
Sitting here on the Saturday before the big launch on Tuesday, I have been testing these drives for nearly two days now, and one thing I have found between the two samples I have is consistency. Each of these drives produce the same numbers over and over, and that leads to build quality and quality control, which are both quite solid in my book. Like the Enterprise Capacity I reviewed a month or two back, these drives are light, amazingly light, and that speaks to the new design of the drive and the introduction of helium inside the enclosure.
The performance of the Barracuda Pro is quite honestly wonderful. I thought the Enterprise Capacity was amazing when it came down to performance, but the fact that Seagate has taken that same level of performance and packed it into a mainstream solution is remarkable. In my testing, I reached a peak sequential read of 241 MB/s while sequential write touched 232 MB/s - and looking at random performance, I reached 625 RR IOPS and 610 RW IOPS.
Of course, with any new hard drive, market adoption is going to depend on a number of factors but from my perspective, Seagate has done their part offering class-leading capacity, top-notch performance, and a price that is going to be hard to beat all with one single drive, the impressive Barracuda Pro.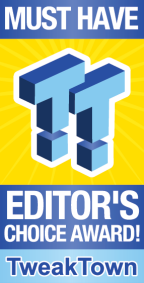 | | |
| --- | --- |
| Performance | 96% |
| Quality including Design and Build | 95% |
| General Features | 95% |
| Bundle and Packaging | 90% |
| Value for Money | 92% |
The Bottom Line: Seagate continues to deliver with its helium-filled 10TB solutions. With their entry into the mainstream, there is no way you can ignore the price or performance of the Barracuda Pro hard drive.
PRICING: You can find products similar to this one for sale below.

United States: Find other tech and computer products like this over at Amazon.com

United Kingdom: Find other tech and computer products like this over at Amazon.co.uk

Australia: Find other tech and computer products like this over at Amazon.com.au

Canada: Find other tech and computer products like this over at Amazon.ca

Deutschland: Finde andere Technik- und Computerprodukte wie dieses auf Amazon.de
We openly invite the companies who provide us with review samples / who are mentioned or discussed to express their opinion. If any company representative wishes to respond, we will publish the response here. Please contact us if you wish to respond.