Independence Day: Resurgence (2016)
For a film that proudly wears its 'B' movie status as a badge of honor, the original Independence Day remains a deeply personal movie for me. At ten years old, it was the first movie I truly loved - nay, obsessed over and which kick-started my love for film. It's a simple film (in the view of many critics, maddening so), with an uncomplicated, efficient plot and filled appealing, relatable characters from a strong ensemble cast. At twenty years old, it holds up extremely well, including its visual effects which while sometimes look a little aged (spot the exploding building which instantly exposes its metal frame and empty interior), but whose over the top bombast remain infinitely entertaining. Finally, there's no denying the film's contribution pop culture pantheon, with classic lines ("Welcome to Earth!") and imagery (the White House epically exploding into a fireball) which up there with cinema's greatest moments.
For many years it seemed like it just wasn't going to happen, but Hollywood refuses to let a good idea rest. Two decades on, a sequel to Independence Day has become a reality. But it can't possibly re-ignite the magic, can it?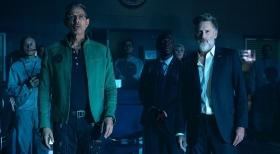 Set 20 years from the events of the first film (dubbed 'the War of 1996') the world has rebuilt with a fusion of alien technology, which has allowed humanity to colonize the moon and weaponize space to defend from a potential future return of the alien attackers. But when the aliens answer the previous invader's distress signal and return (on July 4, no less) we're once again no match for their technological prowess and will need to deploy an advanced strategy to counter advanced weaponry.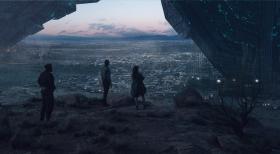 Independence Day has never been a film about subtlety, but even by the standard set by its forebear, Resurgence is often bigger and occasionally bolder, with admirable attempts to lay connective tissue to the original, but is ultimately a poor carbon copy retread which contributes precious little to the established story.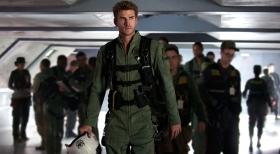 I've literally never said this before, but there's no getting around the fact that the film suffers hugely from the absence of Will Smith. Well, he does appear in the form of a still photo, and his on-screen son is supposed to take the mantle, but Jessie Usher comes up woefully short in the charm stakes. Worse, the emphasis on the huge ensemble cast of new and returning characters means there's no central anchor character, and that's to the film's detriment. The closest we get is Jeff Goldblum's character David Levinson, who reacts to the film's dubious script by playing it off in a jovial, self-aware manner. The remaining cast is seemingly unaware the script is a turkey and give it their earnest best, but subsequently, come off as somewhat sad.
The film's jarring lack of heart becomes ever clearer, culminating in the climactic, self-sacrificing battle which carries absolutely none of the same emotional weight as the original. Resurgence also suffers from a woeful lack of focus, with numerous subplots that go nowhere, have no pay-off and serve as a distraction from the main plots.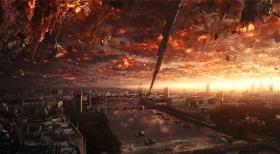 All that said, the real reason we go to see these types of films is for some amazing visual effects, right? There's no doubt that Roland Emmerich can indeed do spectacle, but even with $200 million at his disposal here, he seems to have lost his touch, with visual effects sequences that are both disappointingly brief and which fail to excite. Maybe we've just become so desensitized to the limitlessness of CG graphics in blockbusters like The Avengers and Transformers, but there's no real attempt undertaken to carve out a different style, or present something we haven't seen before.
I'd genuinely wanted to see a follow-up to Independence Day for 20 years, but there's no avoiding the fact that after so long they should have come up with something a hell of a lot better than this. Still, with the plot, seeds have been planted for a third film, I'm curious to see if they can right the course, if only because Resurgence is a bum follow-up to one of my favorite films of all time.