TweakTown's Rating: 93%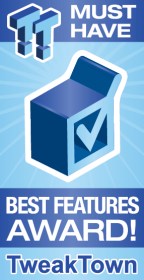 The Bottom Line
GIGABYTE has coupled high-end hardware with solid engineering and features to produce a motherboard worthy of its $400+ price tag.
Introduction, Specifications, and Pricing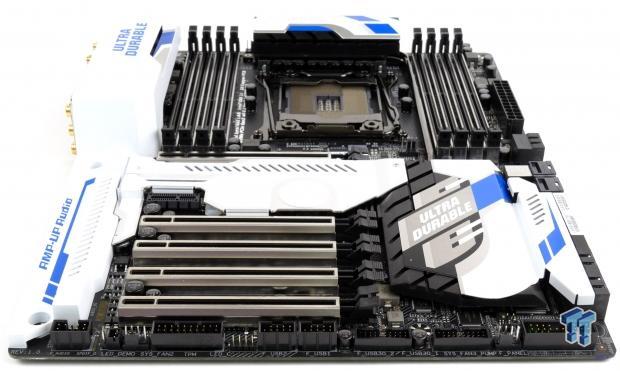 You just dropped $1700 on a 6950X CPU, and now you have to decide how to care for the expensive beast, and you feel an increasing feeling of anxiety when it comes to motherboard selection. Your mouse hand is getting warmer each second, and your fingers are slowly starting to shake as you scroll through the seemingly endless list of motherboards. You realize that picking a motherboard isn't going to be an easy task, you want one of the newer X99 motherboards and not one of the older models, but you realize that reviews on the newer models are few and far between. Questions pop into your mind about the quality of the different motherboards, after all, you don't want a cheaper motherboard to ruin your precious CPU.
So, you decide to set a minimum motherboard price instead of a maximum, perhaps at $400; after all, you just spent more than four times that amount on the CPU. Now your search has condensed into only 20 models, and you are still having a tough time. Today I will give one of these high-end motherboards a thorough review.
The model names GIGABYTE has picked this round are interesting; I have no other word for it. The word "Designare" sounds almost Italian, French, or perhaps even Spanish. A Google search and call to my Italian uncle reveals that it is the Italian word for "designate" not "designer" (in fact, according to an Italian friend, the Italian word for designer is designer). So here we have the X99-Designate EX, it is ready to tell you your fate! Either way, we have to give GIGABYTE credit for trying something new, and this motherboard is their top X99 refresh model, and it has a hidden PEX8747 under the shielding. The motherboard offers an unprecedented number of feature for the X99 platform, and so today I will examine it inside and out.
Specifications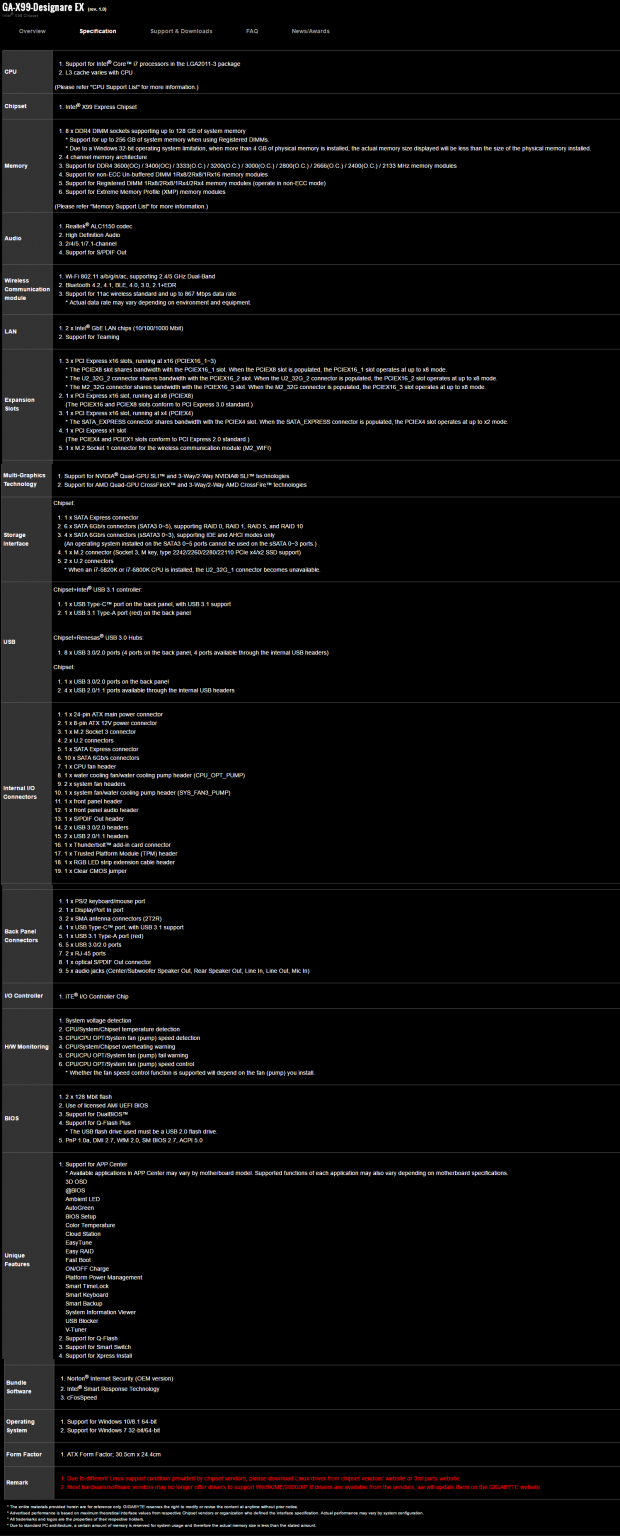 The GIGABYTE X99-Designare EX is loaded with features including USB 3.1 from Intel's Alpine Ridge, 32Gb/s M.2, two 32Gb/s U.2 ports, WirelessAC/BT 4.2, and a new UEFI. I will say this, the implementation of Alpine Ridge on this motherboard is setup for Thunderbolt 3, the proper hardware is in place. There is even a DisplayPort input only for the controller so it can be used for Thunderbolt 3. The reason GIGABYTE isn't advertising Thunderbolt 3 might be because certification takes months, so I wouldn't be surprised if they officially support it in the future.
Pricing
The X99-Designare EX is available from many large retailers for $418.99.
Packaging and X99-Designare EX Overview
Packaging and Overview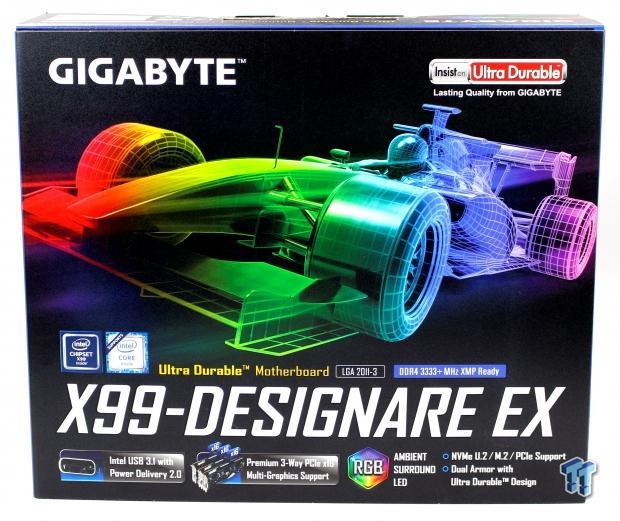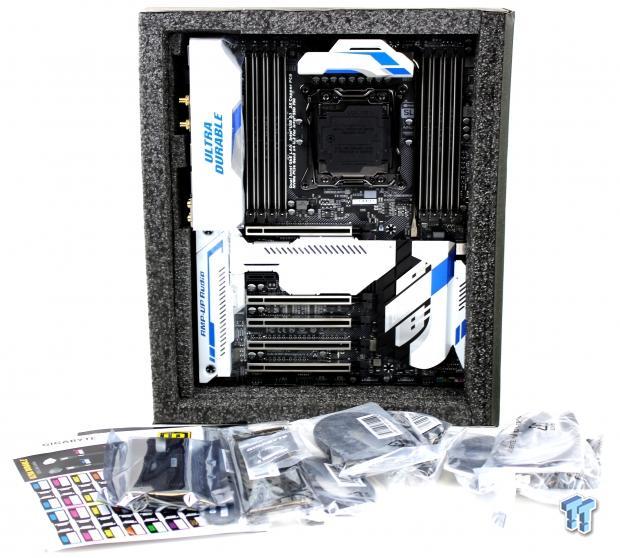 The X99-Designare EX's box is very colorful like the Phoenix's box, but its packaging is a little different. Accessories are protected in their little box, and the motherboard is secured in a foam container.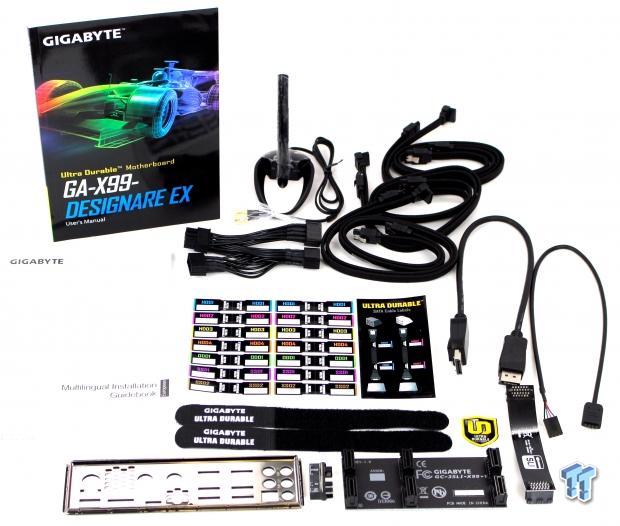 Accessories include WIFI Antenna, 2x Velcro cable ties, RGB LED extension cable, 1-to-3 8-pin power expander, G-connector, 3-way SLI bridge, 2-way SLI bridge, IO shield, DisplayPort cable, 6x SATA 6Gb/s cables, driver DVDs, and manuals.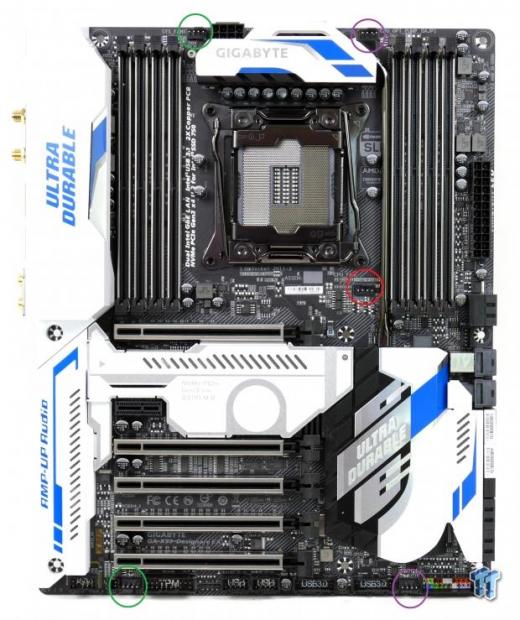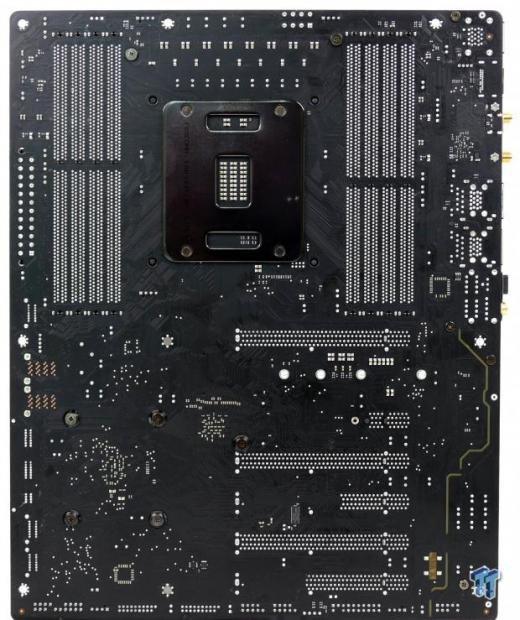 Like other GIGABYTE X99 refresh models, the GIGABYTE X99-Designare EX has three types of fan headers. The first is circled in red and is a PWM-only CPU fan header. The two headers circled in green are 4-pin voltage mode headers that will control both PWM and voltage mode fans. The two headers circled in purple are four pin dual-mode (voltage or PWM mode) headers, and their modes can be set manually in the UEFI or software.
GIGABYTE has improved UEFI fan control with a new GUI. GIGABYTE has finally brought back blue with the X99-Designare EX, their original color for their Ultra Durable series of motherboards. Many users missed the blue, since there aren't any other blue and black motherboards on the market, and the X99-Designare EX brings it back in style. The back of the motherboard is bare except for some RGBs for the "XMP" writing on the PCB near the audio area.

The IO panel on the X99-Designare EX is feature rich and carries 5x USB 3.0 ports (the white port is for QFlash Plus), PS/2 keyboard/mouse, two antenna ports, USB 3.1 type-C, USB 3.1 type-A (red), two 1Gbit Intel LAN ports, DisplayPort input (for Alpine Ridge Thunderbolt3 in the future), and 7.1 gold plated audio output with S/PDIF TOSLINK.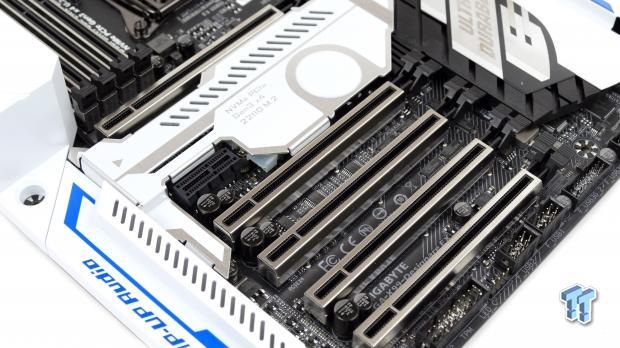 Five full-length PCI-E 16x slots all have metal shielding that will protect them from sudden GPU pull outs and prevent damage from heavy GPUs. The PCI-E layout of the X99-Designare EX is one of the most complex so I will go slowly. For starters, the two U.2 ports, the M.2, and the Alpine Ridge each require 4x of PCI-E 3.0, so GIGABYTE is using a PEX8747 to expand lanes. Next up, both 28 and 40 lane CPUs provide 4x PCI-E 3.0 directly to Intel's Alpine Ridge USB 3.1/Thunderbolt 3 controller. CPUs with 40 lanes will get both U.2 ports; one is directly wired to the CPU, and the other comes from the PEX8747, but 28 lane CPUs won't have the U.2 directly wired to the CPU. Instead, they will get only one through the PEX8747. The third PCI-E 16x slot is a 4x electrical PCI-E 2.0 slot connected to the PCH. Next, for both 28 and 40 lane CPUs, the first slot is routed 16x of bandwidth, and the last slot gets 8x from the first slot if it is occupied.
Now, a 40 lane CPU will provide the remaining 16x of bandwidth to the PEX8747, and a 28 lane CPU will provide 8x to the PEX8747. The PEX8747 will output 32 lanes, even if it only gets 8x, so the PCI-E layout is the same for both lane count CPUs. The second to last PCI-E 16x slot (slot number four if we skip the 1x slot), gets 16x of bandwidth and will downshift to 8x if an M.2 drive is installed (it will give 4x to the M.2 slot, and 4x will just not be used). The second PCI-E 16x slot is given the other 16x from the PEX8747, and it will downshift to 8x if the first U.2 slot is used (4x to U.2 and 4x not used). If you need further clarification, please read the manual to determine bandwidth allotment and determine how to proceed.
It's clear that both 28 and 40 lane CPUs get the same PCI-E slot layout/bandwidth, but the 28 lane CPU gets one less U.2 port, and the PEX8747 will provide fewer lanes. With this layout, 40-lane CPU users will be able to use both U.2, M.2, USB 3.1/TB3, and all PCI-E ports simultaneously.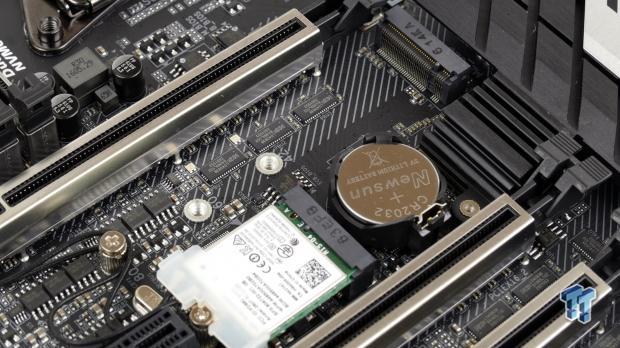 The M.2 slot is hidden under a metal shield that covers up the WIFI card as well. There are ten SATA6Gb/s ports from the PCH, the six towards the top of the motherboard can RAID. The two U.2 ports is a neat sight for a consumer motherboard.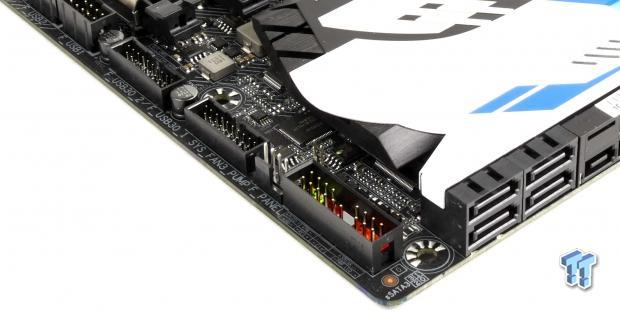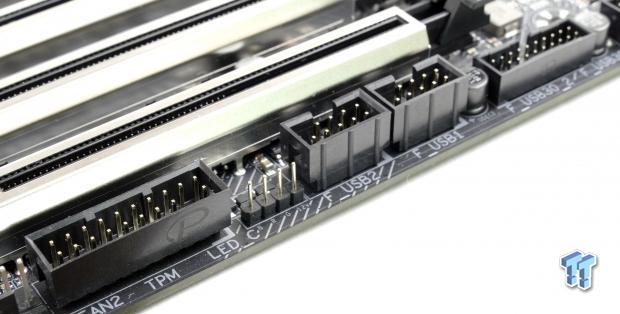 Two USB 3.0 headers are located at the bottom of the motherboard adjacent the front panel headers. The motherboard also carries an RGB LED header for RGB LED cables. There are also two USB 2.0 internal headers for those who need them.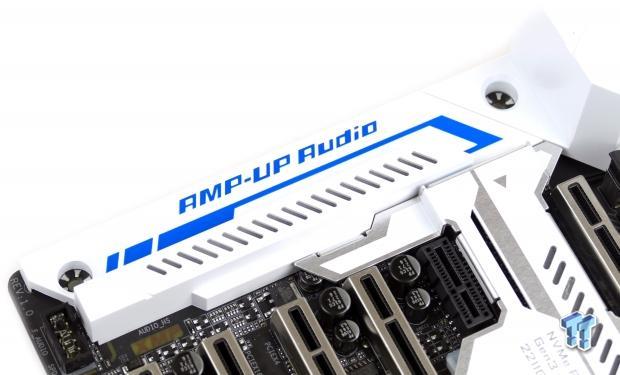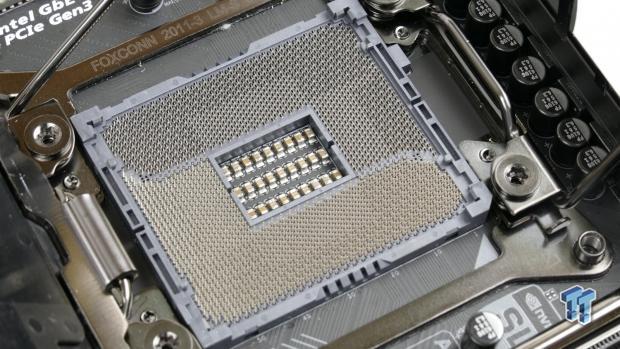 The audio section is covered by its own white and blue plastic shield and has translucent slits that RGB LEDs illuminate. The socket does have extra pins, but from what I have seen, they don't do much for Broadwell-E.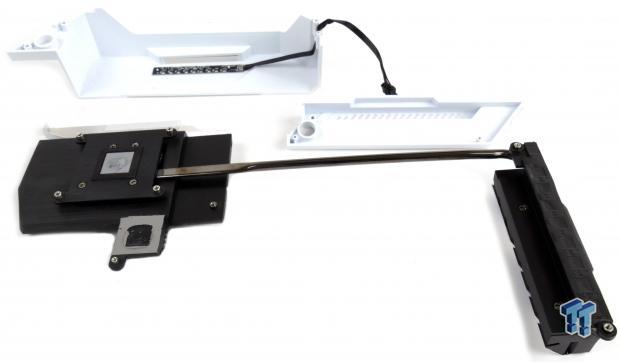 The PCH heat sink is attached to the PCH heat sink and uses a different thermal paste (a more effective one) than the PCH uses. The VRM heat sink is attached to the PCH/PLX heat sink through a nice heat pipe.
GIGABYTE X99-Designare EX Circuit Analysis
Circuit Analysis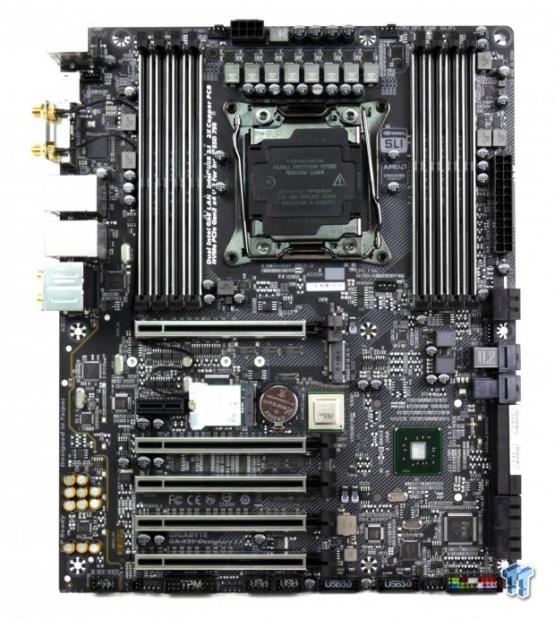 So much beauty, so little time.
GIGABYTE's 8-phase true-digitally controlled VRMs work very well. They are using their 76A saturation current FLAT-PAC power inductors from Cooper Bussmann. GIGABYTE is also using 10K FP-CAPs for the output filter.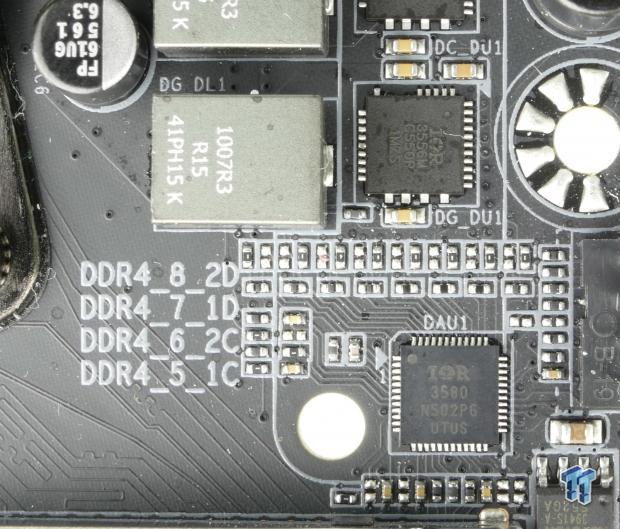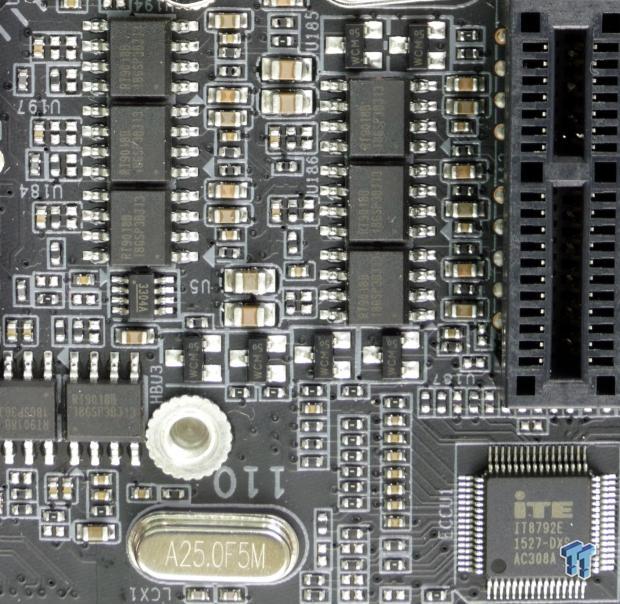 GIGABYTE is using the tried and true International Rectifier IR3580 8-phase digital PWM for control. The IR3556 are 50A power stages with integrated driver, high-side MOSFET, and low-side MOSFET all in a single package. This VRM is more than enough to power any X99 CPU. The extra pins in the socket also require their own power, and there are more than just a few of them, so multiple Richtek linear regulators are used, and they are controlled by a custom IT8792E embedded controller.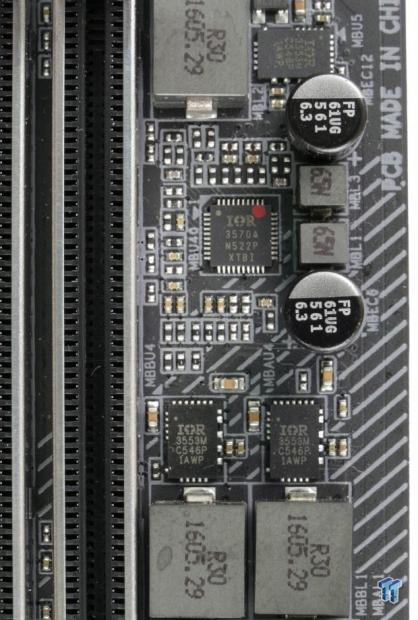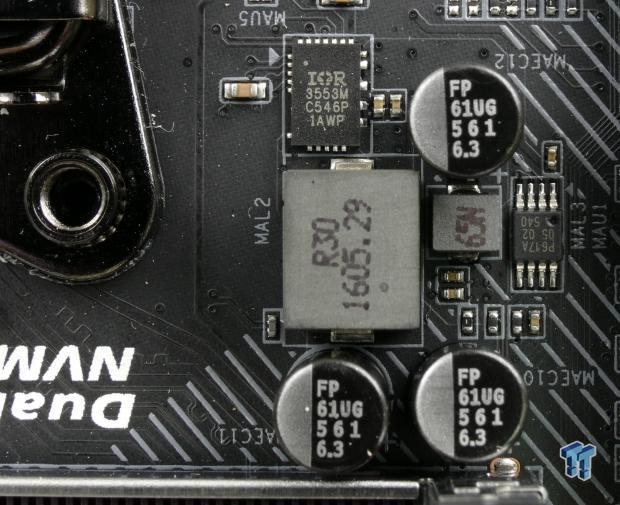 Each set of four DIMMs gets a two-phase VRM for the main DDR4 voltage rail. Each two-phase VRM has a single IR3570 3+2 phase PWM being used in 2+1 phase mode. The extra single phase powers a single phase VPP rail. The power stages are fully integrated IR3553 40A parts.
GIGABYTE X99-Designare EX Circuit Analysis Continued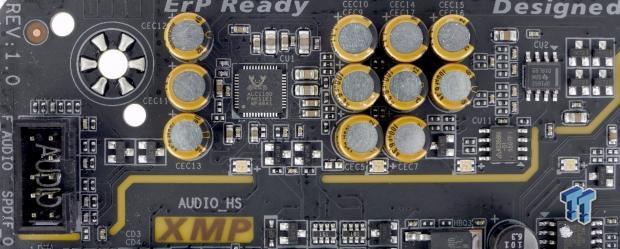 An ALC1150 is an audio codec used on the X99-Designare EX. It uses a Texas Instruments OP1652 amplifier for the rear port and 11 Nichicon Gold series audio capacitors. You might also notice the RGB LEDs on the topside of the PCB; these illuminate the slits on the white and blue shield that covers the audio section.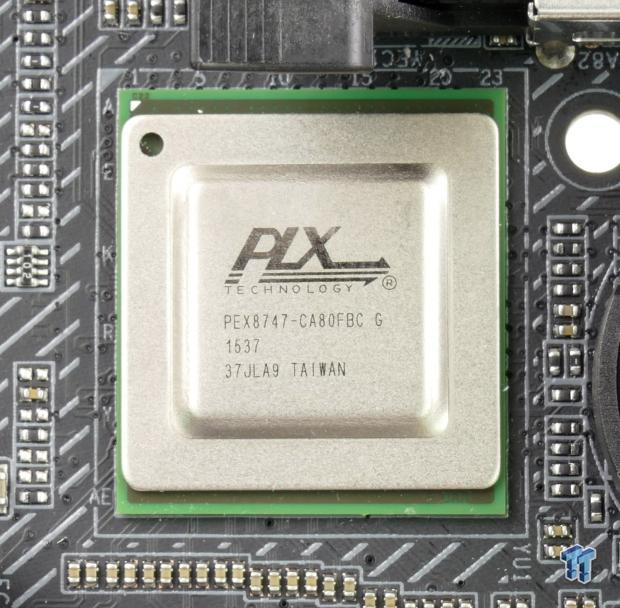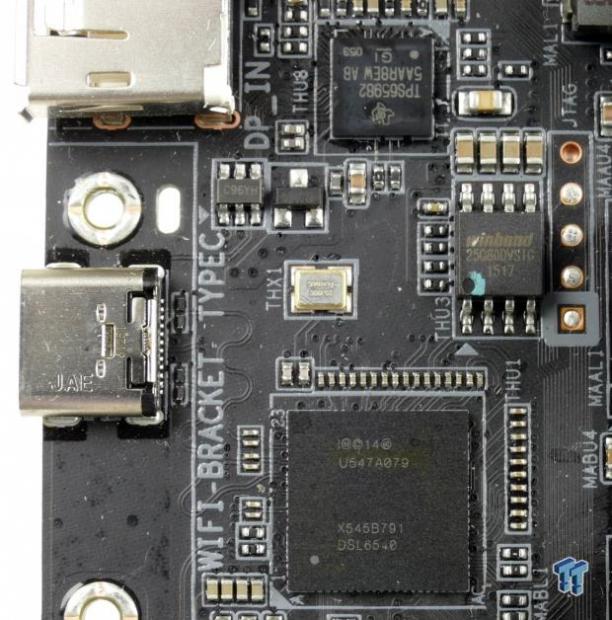 The PLX Technology PEx8747 expand 16x from a 40 lane CPU or 8x from a 28 lane CPU into 32x of lanes for two PCI-E 16x slots and the M.2 and one of the U.2 ports on the motherboard. The PEX8747 is famous for its ability to expand lanes, is quite expensive, and has found a home on this X99 motherboard. Intel's Alpine Ridge USB 3.1/Thunderbolt 3 controller is being used. Instead of getting 4x PCI-E 2.0 from the PCH as on the X99-Phoenix SLI, it is getting 4x PCI-E 3.0 from the CPU. The Alpine Ridge controller gets has 32Gb/s of bandwidth. The DisplayPort input is hooked up to the controller as well for the remaining 8Gb/s of bandwidth required for Thunderbolt 3.
Bandwidth isn't the only thing required for Thunderbolt 3, you must also use the proper power delivery and type-C controller, and GIGABYTE is using the Texas Instruments TPS65982. GIGABYTE would not use this expensive Texas Instrument part, route CPU PCI-E lanes, or have a DisplayPort input is they were not going after Thunderbolt 3 functionality. The issue is certification takes time, and the motherboard just released, so GIGABYTE is not advertising its future capabilities.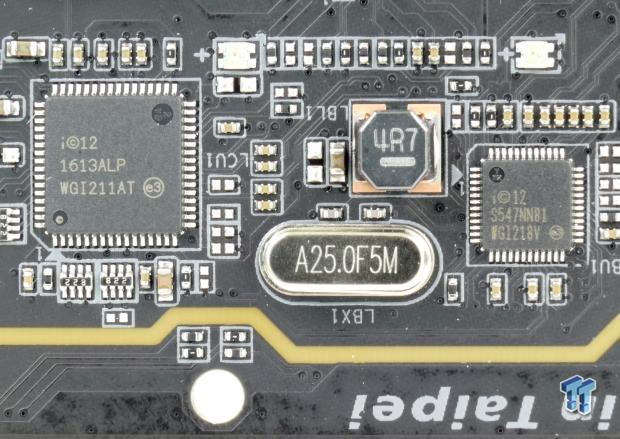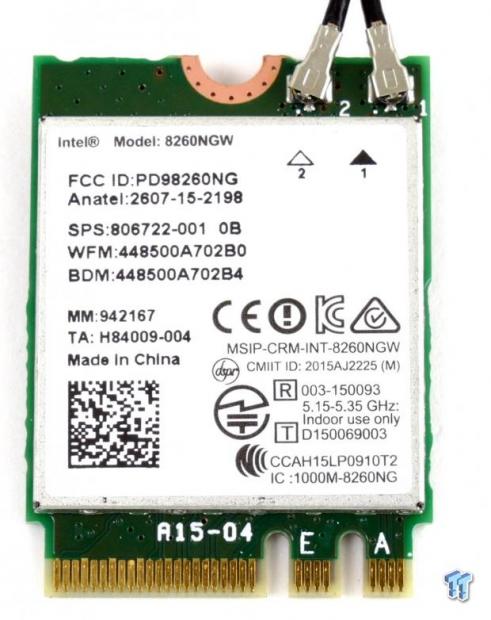 Intel NIC fans will rejoice at the fact that both NICs are from Intel. The integrated Gbit MAC in the PCH works with the i218v PHY to produce one port. The second comes from a WGI211AT. Not only does this motherboard have dual Intel Gbit NICs, but it also has an Intel based Wireless AC/ Bluetooth 4.2 wireless card. The Wireless AC 8260NGW is a 2x2 card and can provide 867Mb/s of bandwidth.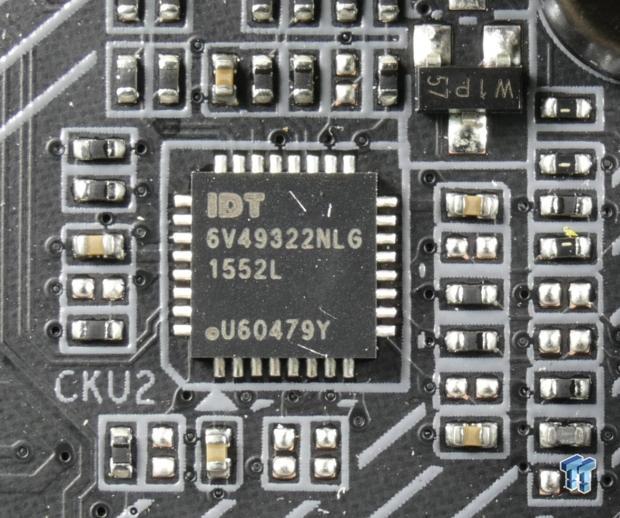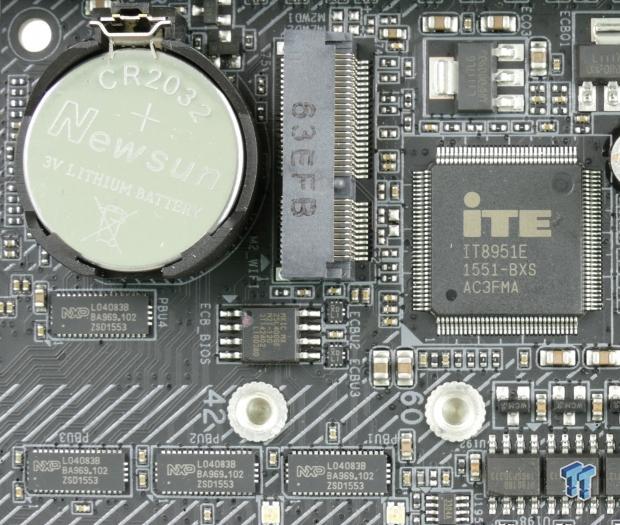 I found an IDT6V49322NLG clock generator for higher BCLK overclocking margins. The IT8951E is an embedded controller used to provide QFlash Plus, which allows flashing of the BIOS without a CPU installed. I also found numerous PCI-E 3.0 quick switches from NXP.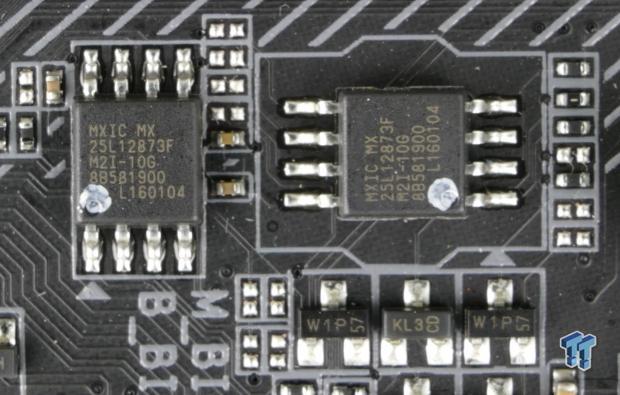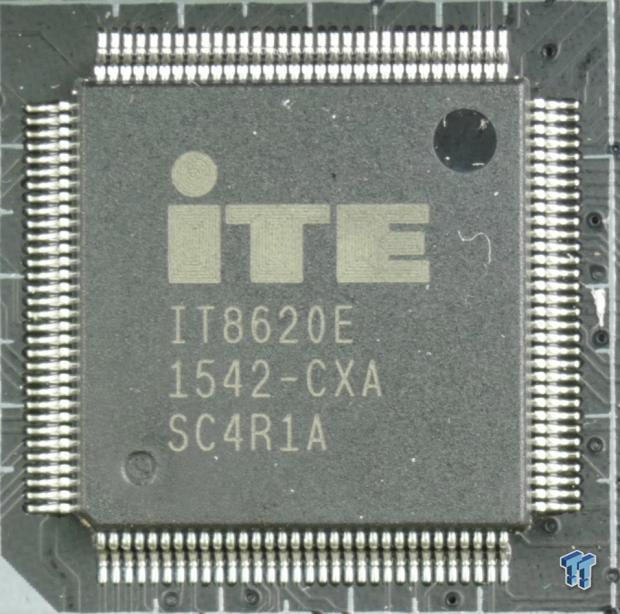 The motherboard utilizes two 128Mbit BIOS ROMs for Dual BIOS. The main SuperIo used for temperature/voltage monitoring, some fan control, and PS/2 keyboard/mouse is the IT8620E.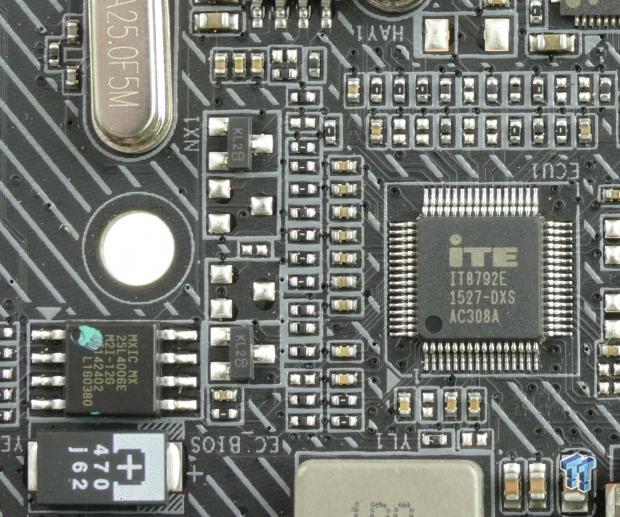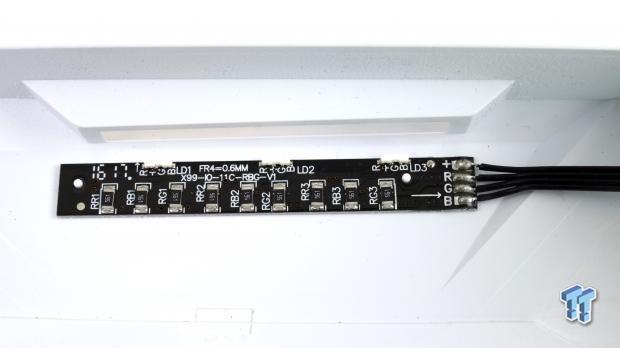 A second IT8792E is used for expanded fan control and perhaps RGB lighting control. It is the third EC (embedded controller) I found on the motherboard that is custom programmed by GIGABYTE engineers. People keep asking for pictures of the RGBs, and these are used for the IO panel plastic shield.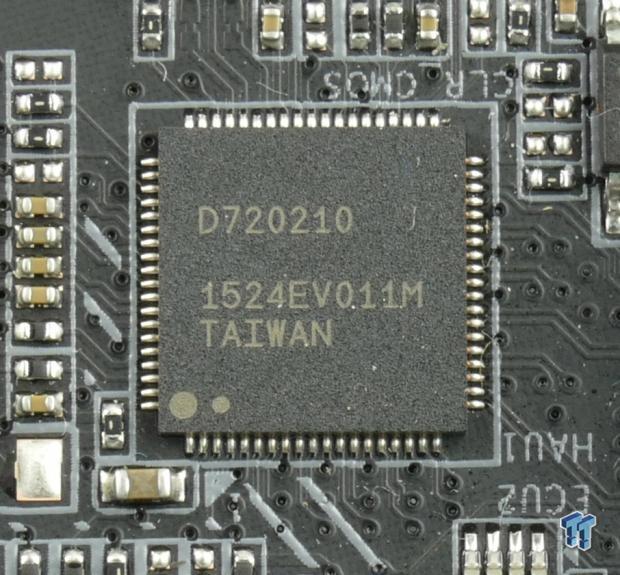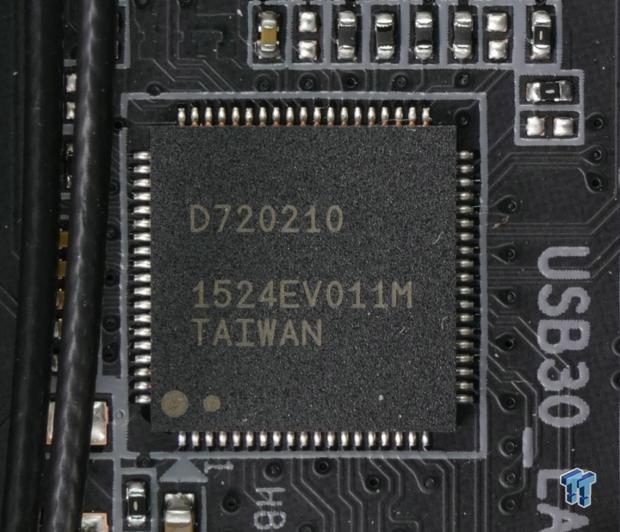 Two NEC D720210 expand two USB 3.0 ports into eight for both internal headers and the rear IO panel ports.
BIOS and Software
BIOS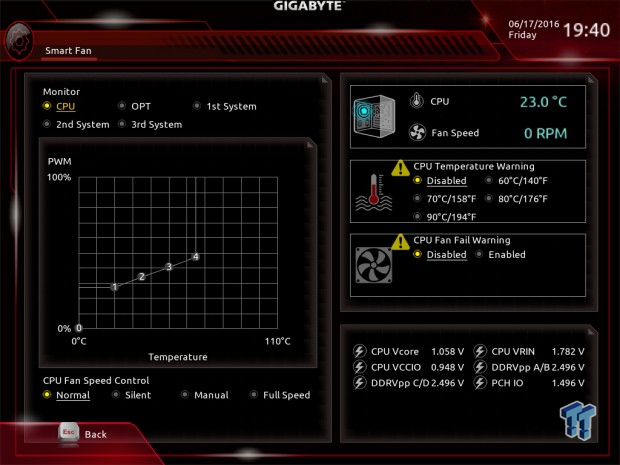 GIGABYTE has given its BIOS a complete overhaul, at least when it comes to style. The BIOS features a black and red color theme, not unlike some of its competitors' BIOS. Apart from the color theme GIGABYTE included their greatly anticipated addition of proper fan control in the UEFI. GIGABYTE had much more basic control in their previous BIOS versions and more intricate control through software, but now users get that intricate control in the UEFI.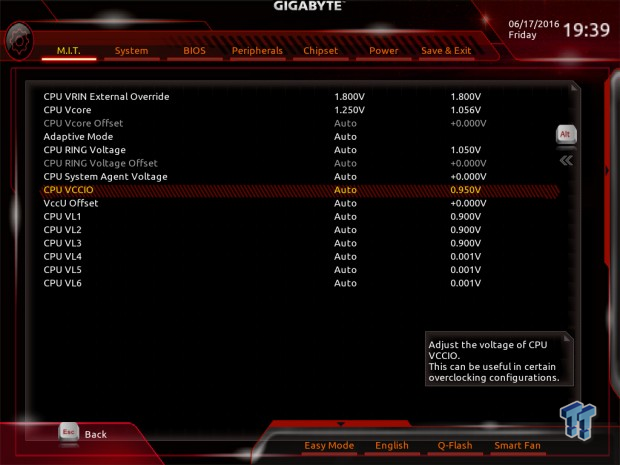 GIGABYTE also added in adaptive voltage mode operation, but I have not tried using it. I should mention that their RGB LEDs are fully configurable through the BIOS, and there is no need to install any of GIGABYTE's software to get full control over the hardware because the BIOS lacks it.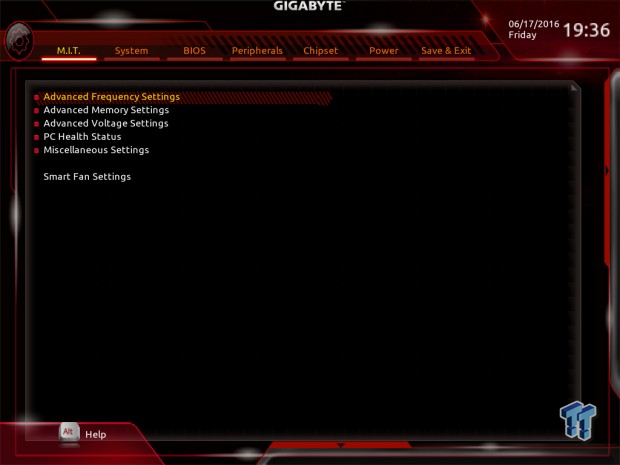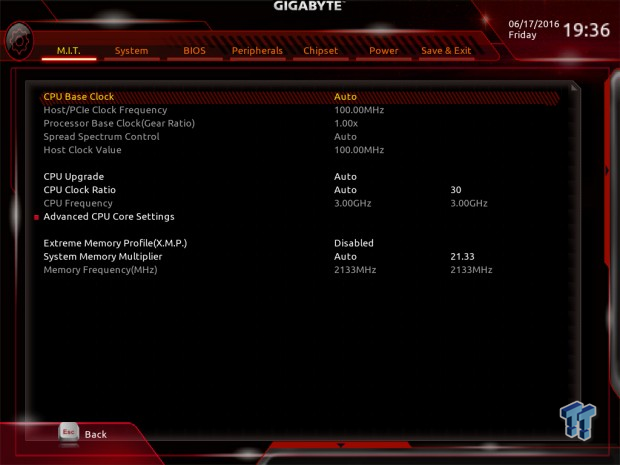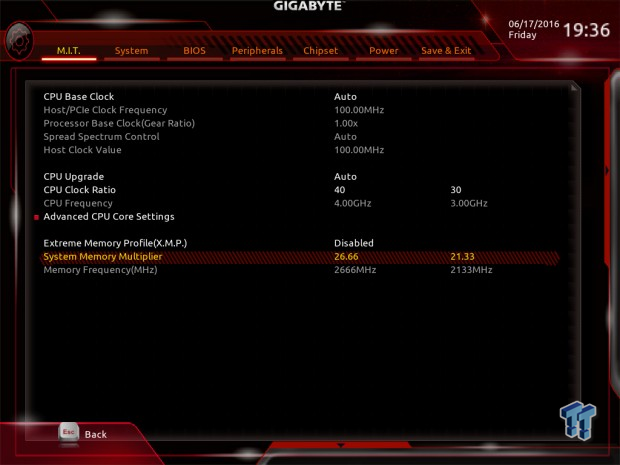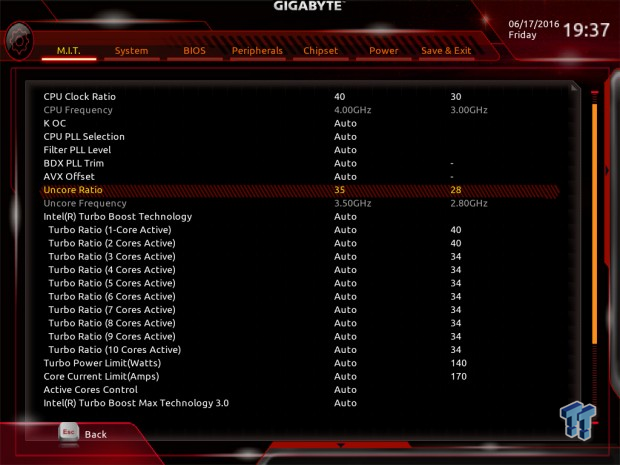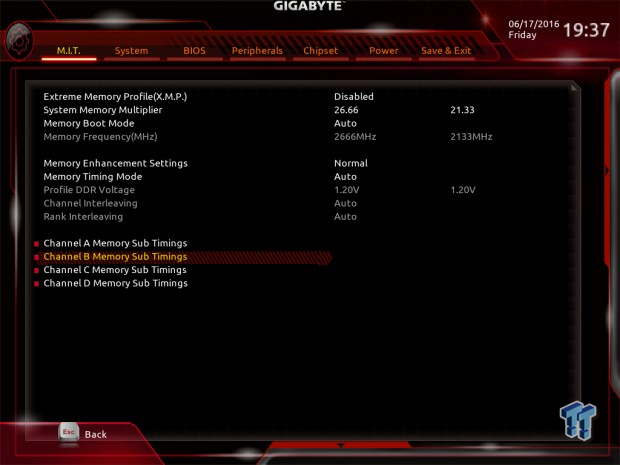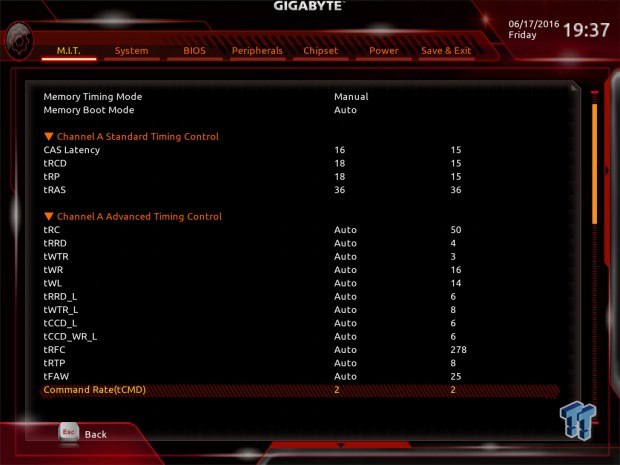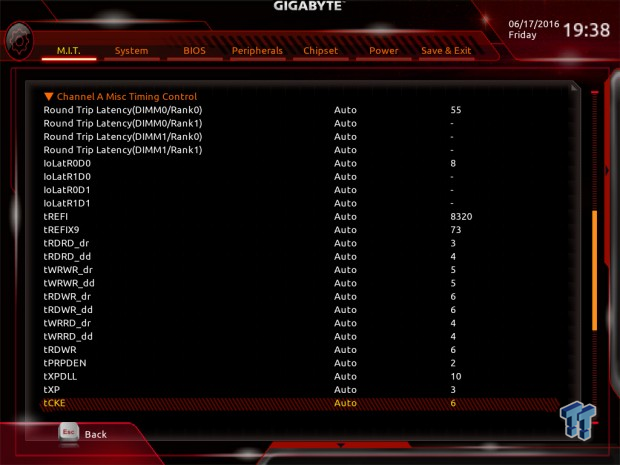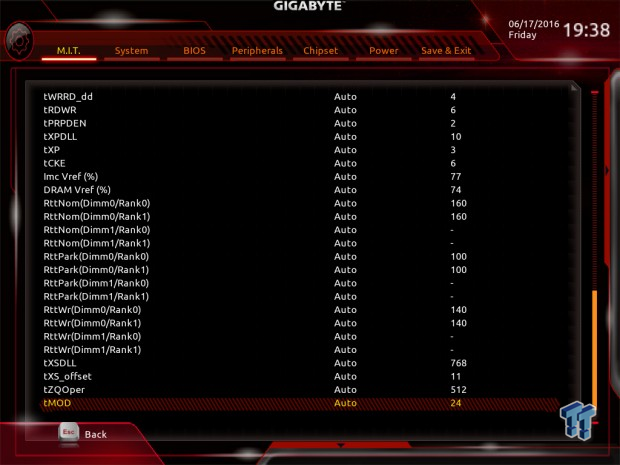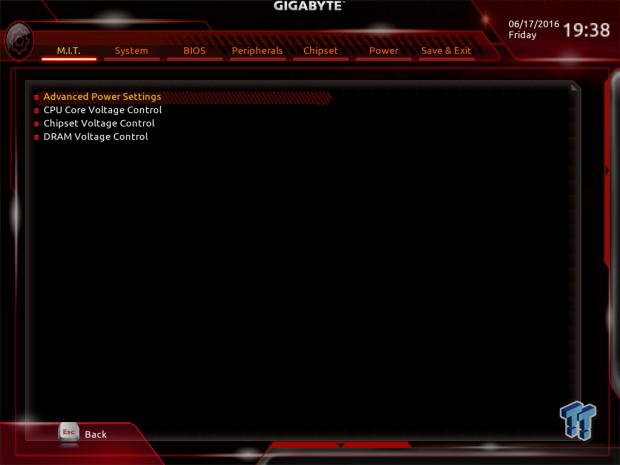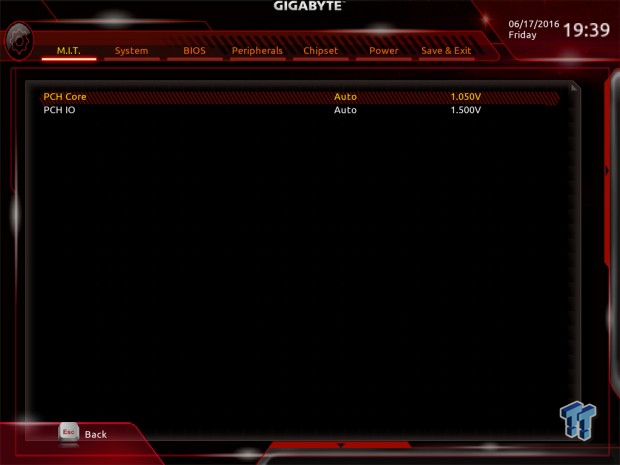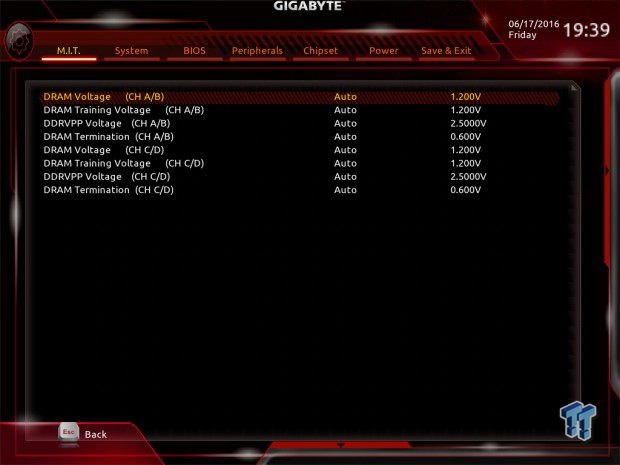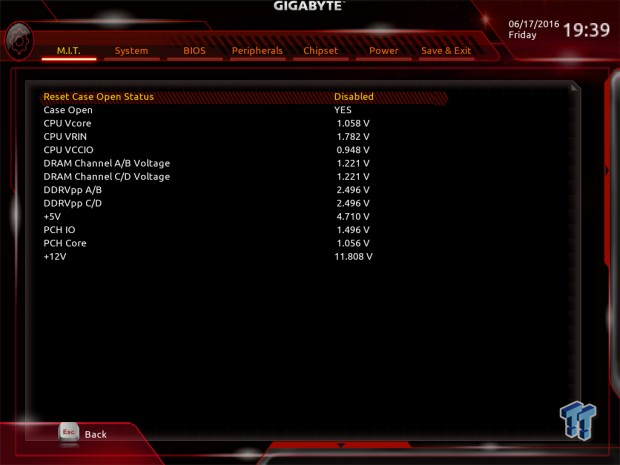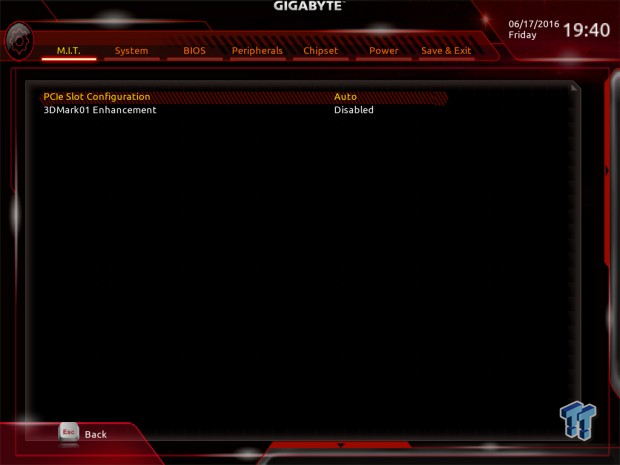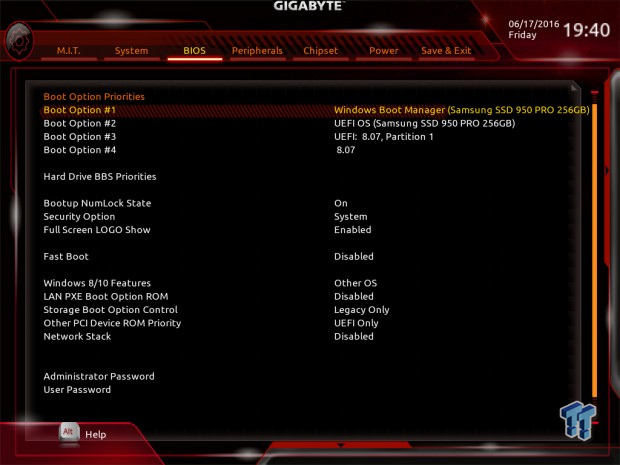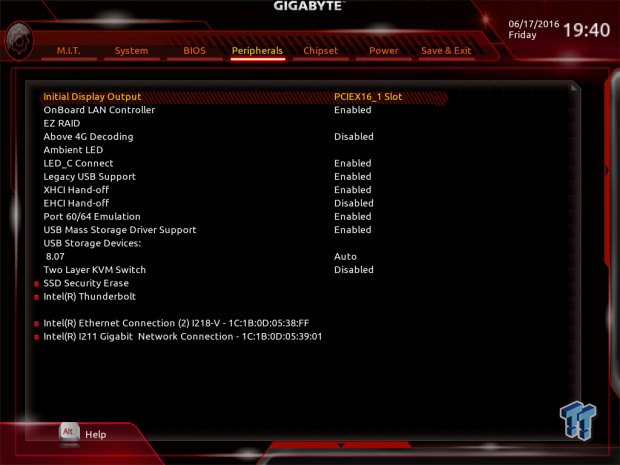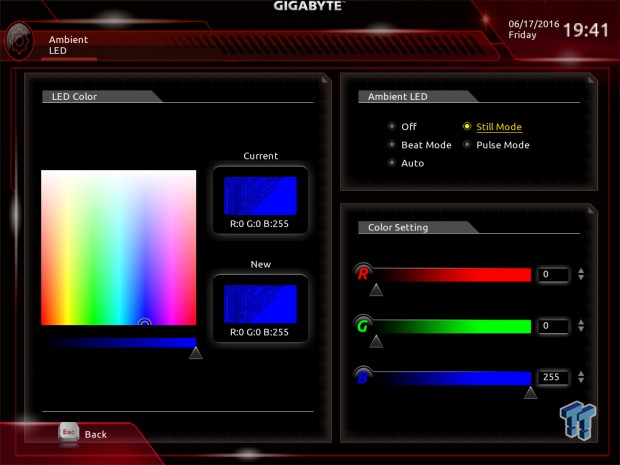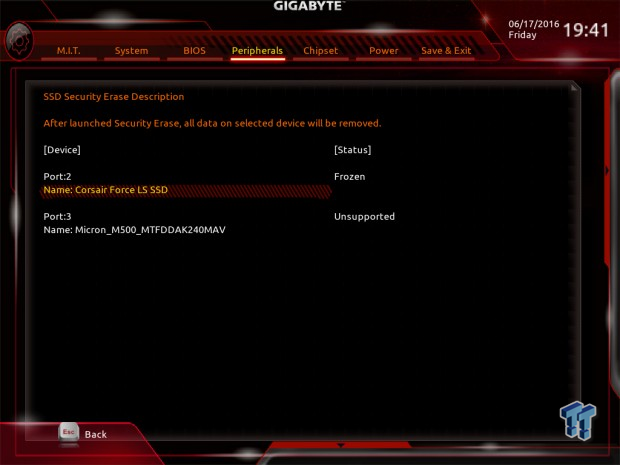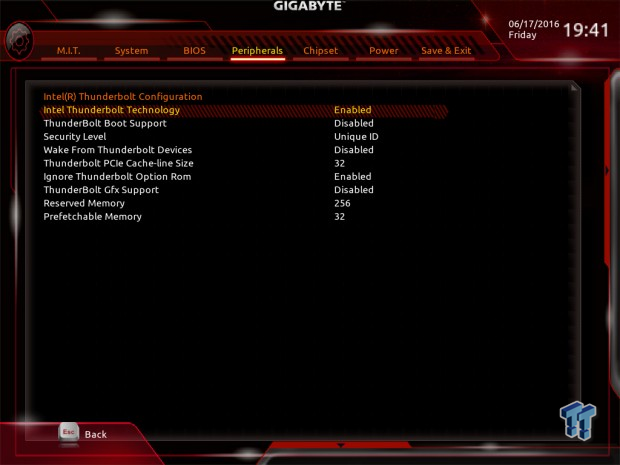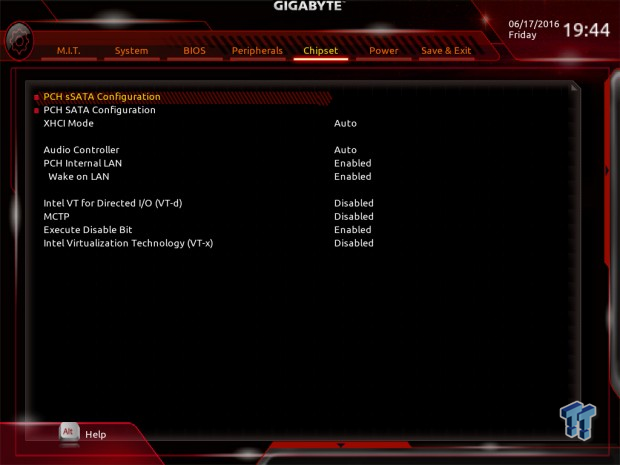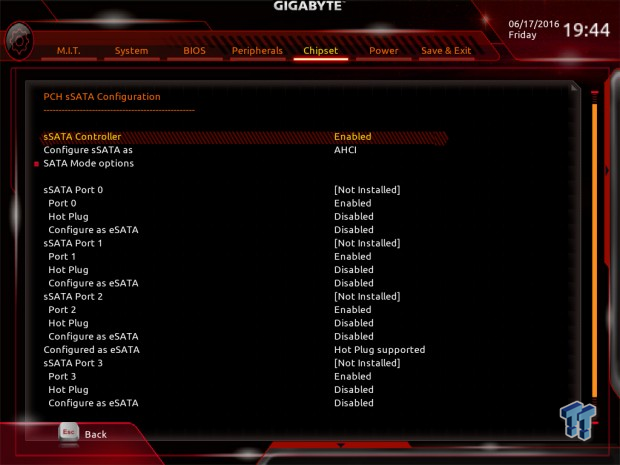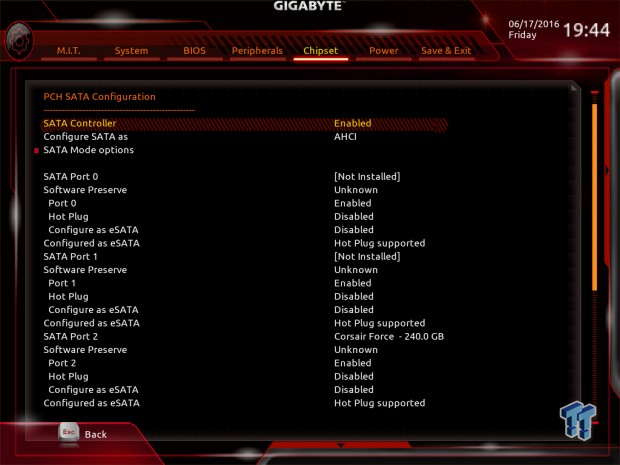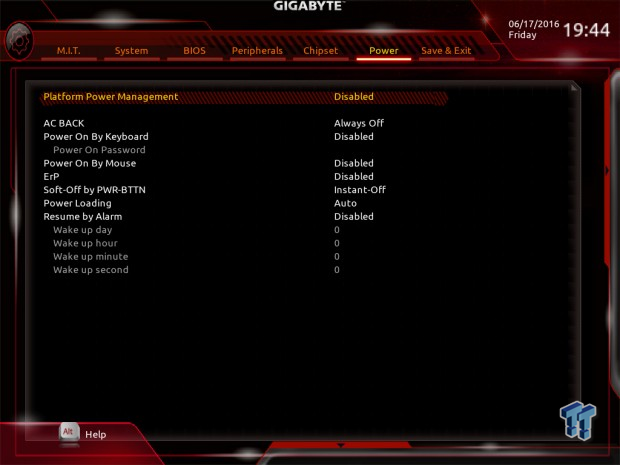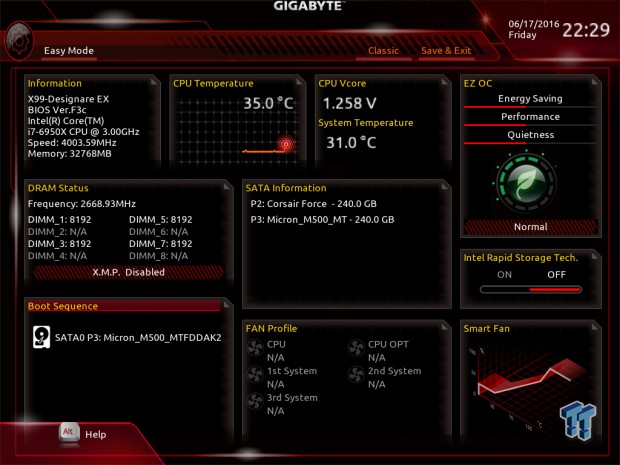 Software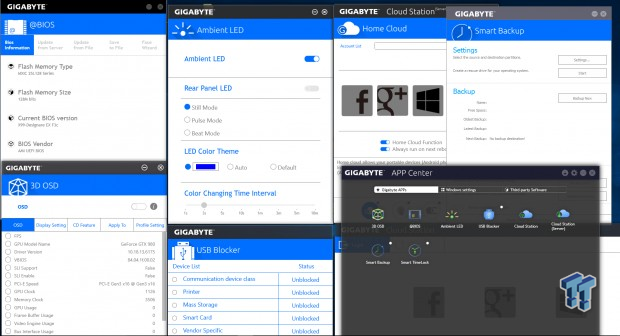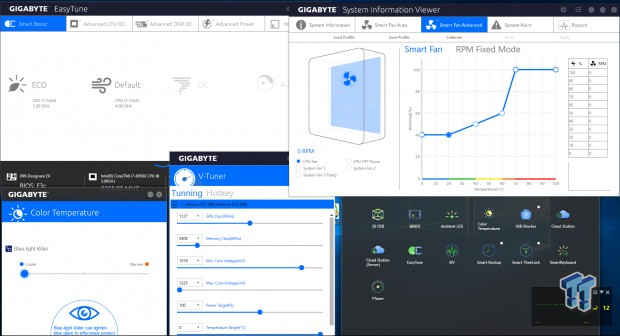 The motherboard carries a lot of optional software. Programs include @BIOS, 3D OSD, Ambient LED, Color Temperature (for removing/reducing the blue light from your monitor), Cloud Station, USB Blocker, System Information Viewer (fan control), EasyTune, V-Tuner, Home Cloud, Smart Backup, Smart TimeLock, and Smart Keyboard.
Test System Setup
Steven's Motherboard Test System Specifications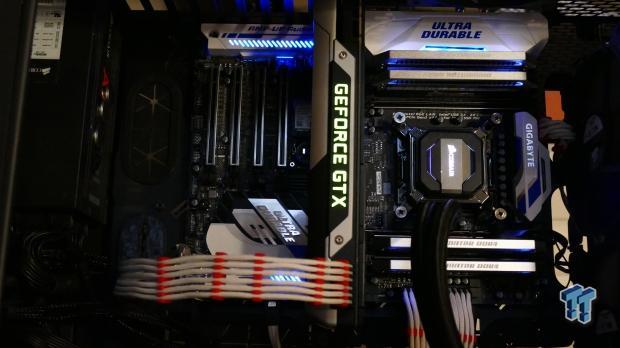 The default RGB LED color is blue, and it looks quite sleek inside a case, especially matched with the blue hue from the white LEDs in the Dominator Platinum fins.
The new test bench is designed to test every aspect of the motherboard and IO. I have designed it so that the motherboard sits in a case and is cooled by fans always-on at a constant rate to keep the conditions similar during all tests. I have cut out part of the case behind the motherboard so I can get thermal images of the back of the PCB where the VRM heat spreads. System and CPU power measurements are now digitally logged.
I am also using a Netgear Nighthawk X4 AC2350 for our network (including wireless AC) tests. The latest M.2, SSD, and USB technologies are also being utilized to test the maximum potential of the motherboards that are tested.
Overclocking
Overclocking Results
CPU Overclocking
If you hadn't already heard, the 6950X 10-core $1700 beast isn't the best overclocker. I cannot validate CPU frequency anywhere near 5GHz, and I cannot even boot at 4.5GHz, but I can run 4.4GHz on all cores. I have decided to change how I do the overclocking section and determine exactly what it takes to push to the CPU to this maximum stable frequency on the different motherboards I test.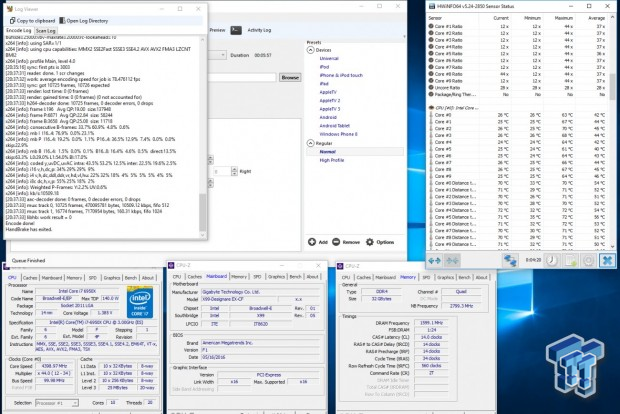 GIGABYTE's X99-Designare EX requires you to manually set most voltages. If you don't want the CPU multiplier to drop in Windows, all you need to do is set your power plan to "High-Performance". The motherboard's overclocking capabilities are top notch, and memory overclocking is quite good too. I was able to pull off a 4.4GHz OC on all cores and set XMP on my G.Skill TridentZ kit at 3200MHz CAS 14 without issue, then I ran HandBrake to convert a 6GB 4K video to 1920x1080, it was stable.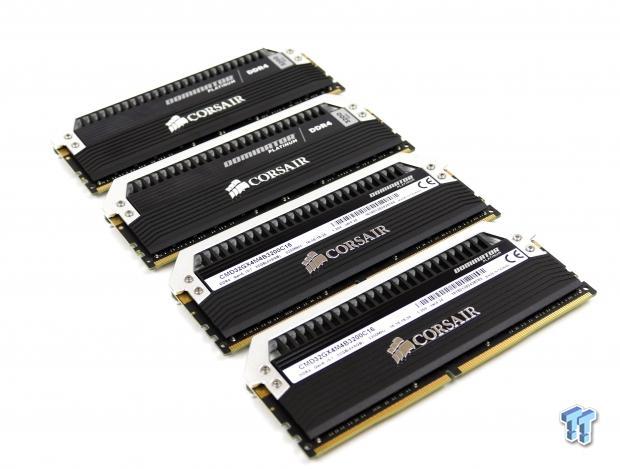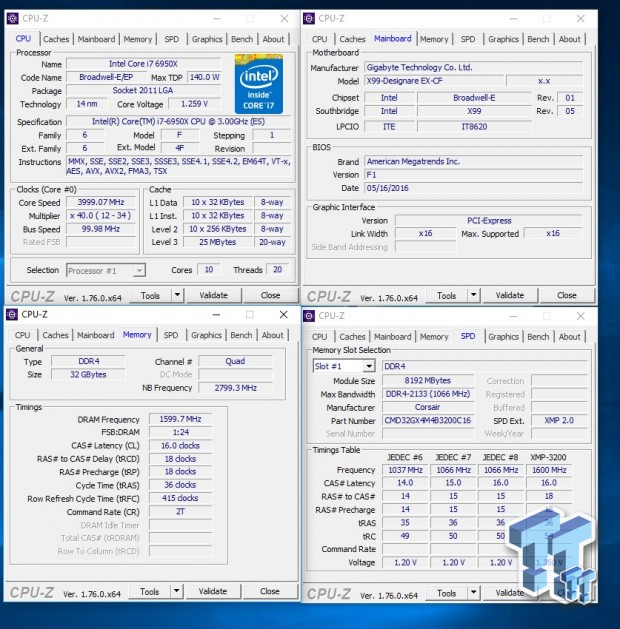 My 32GB (4x8GB) Dominator Platinum 3200MHzC16 kit from Corsair ran great with XMP on this motherboard.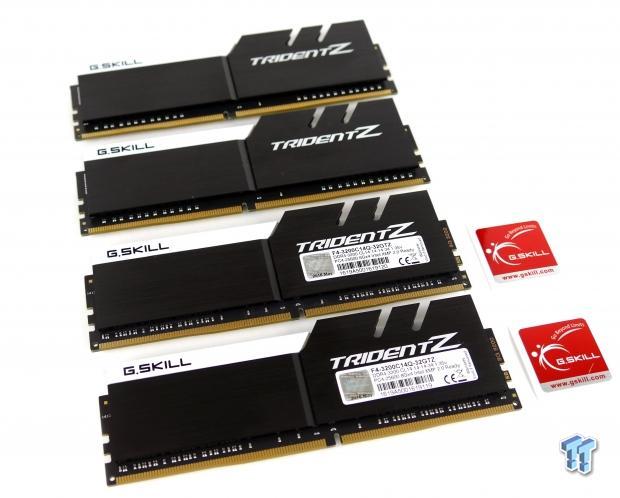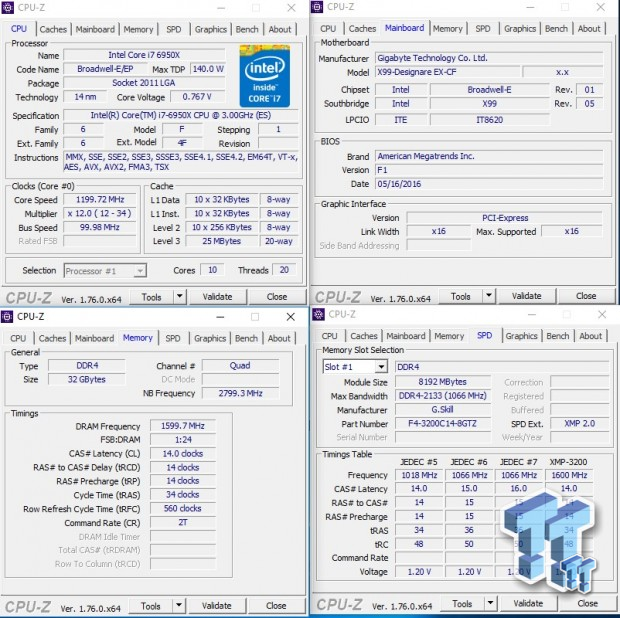 My 32GB (4x8GB) G.Skill TridentZ 3200MHz CAS 14 32GB quad channel kit also ran great on the X99-Designare EX.
CPU, Memory, and System Benchmarks
CINEBENCH 11.5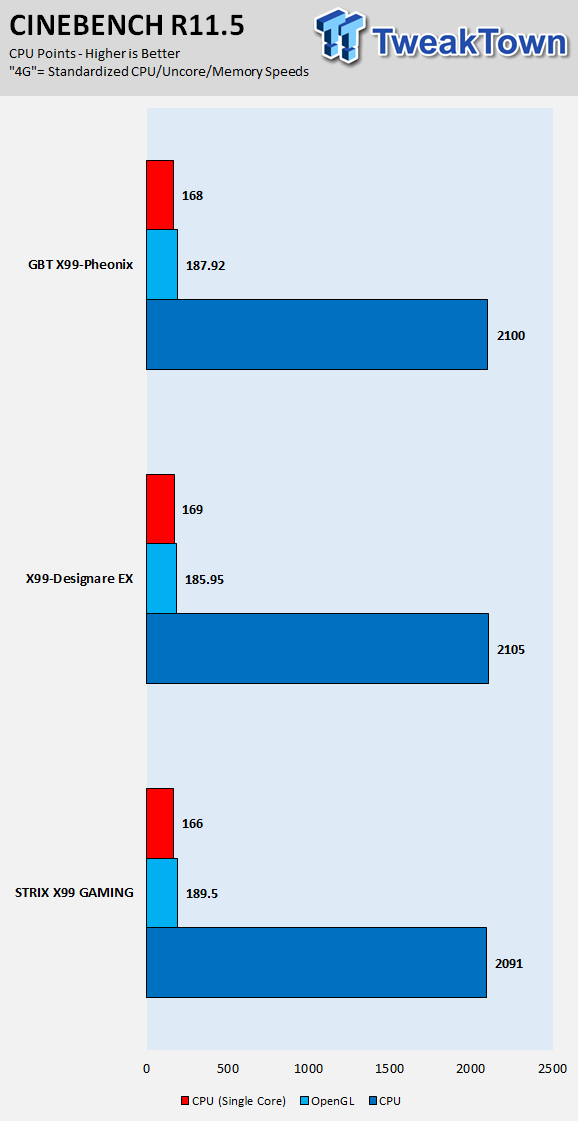 wPrime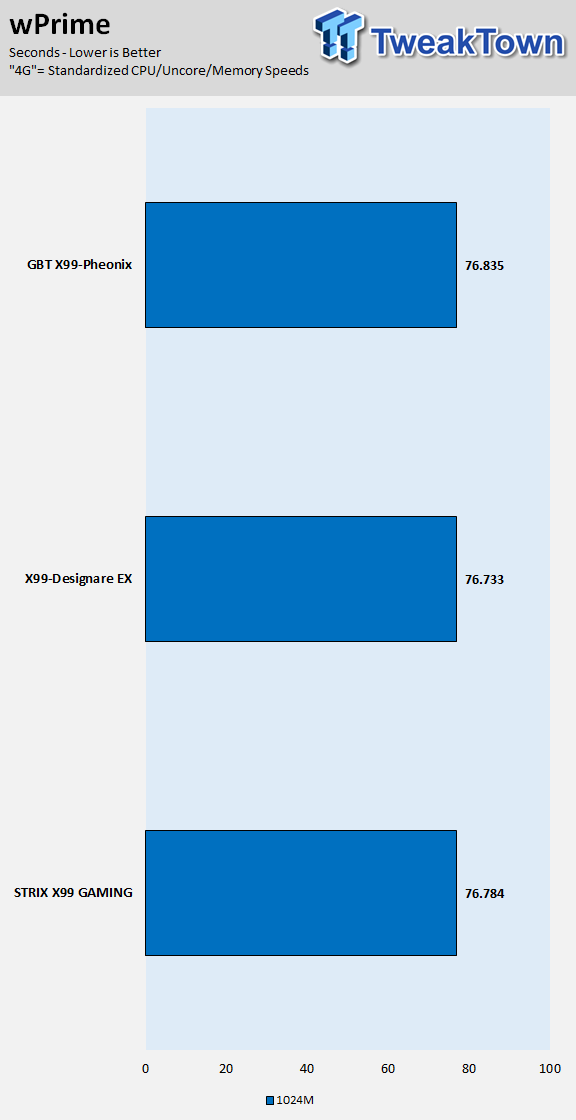 AIDA64 AES and HASH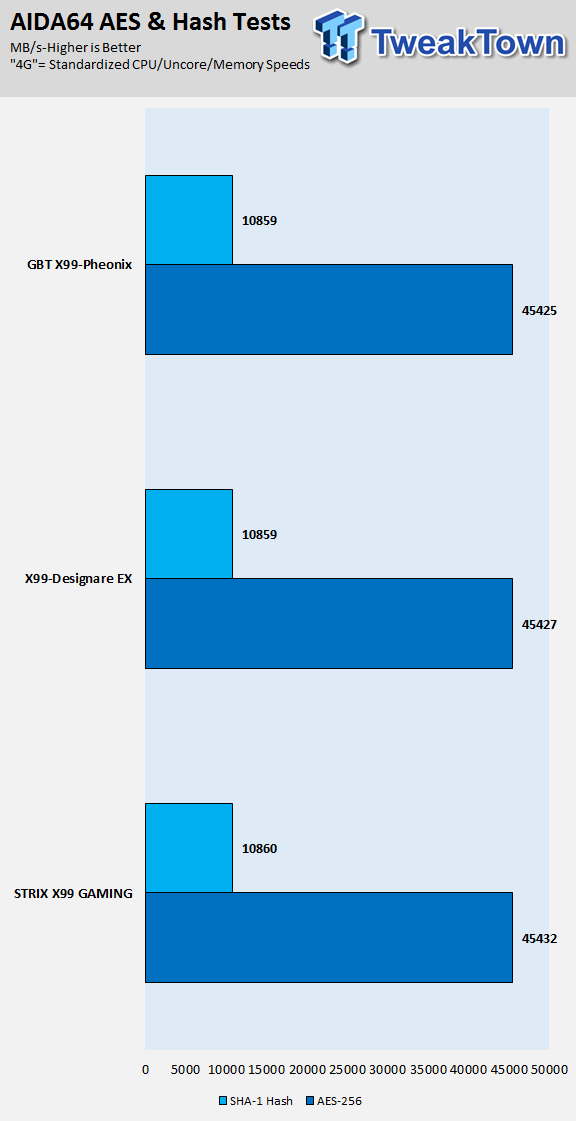 AIDA64 FPU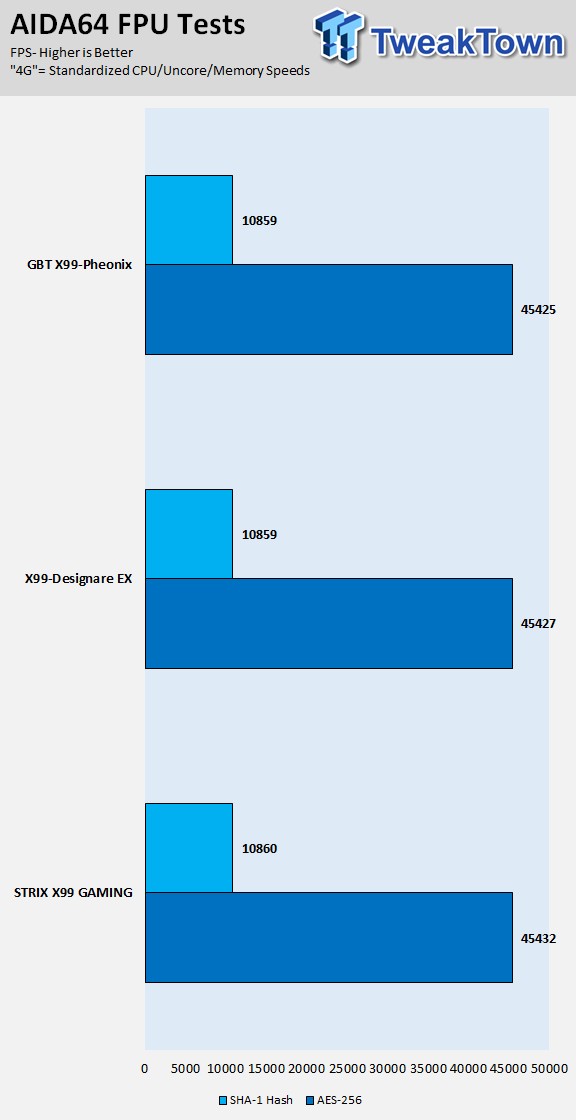 AIDA64 Memory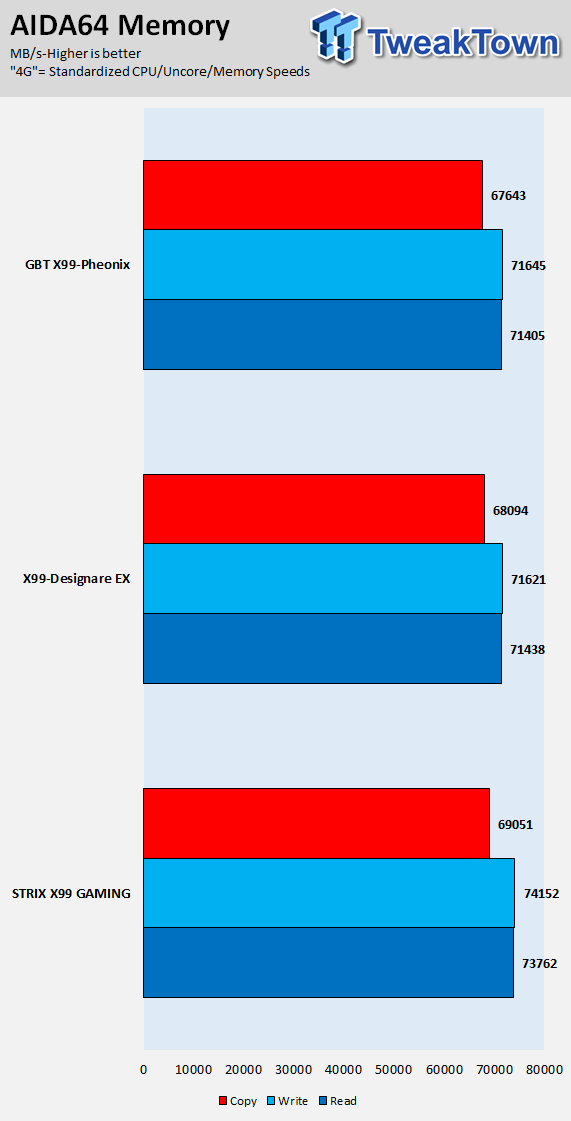 ScienceMark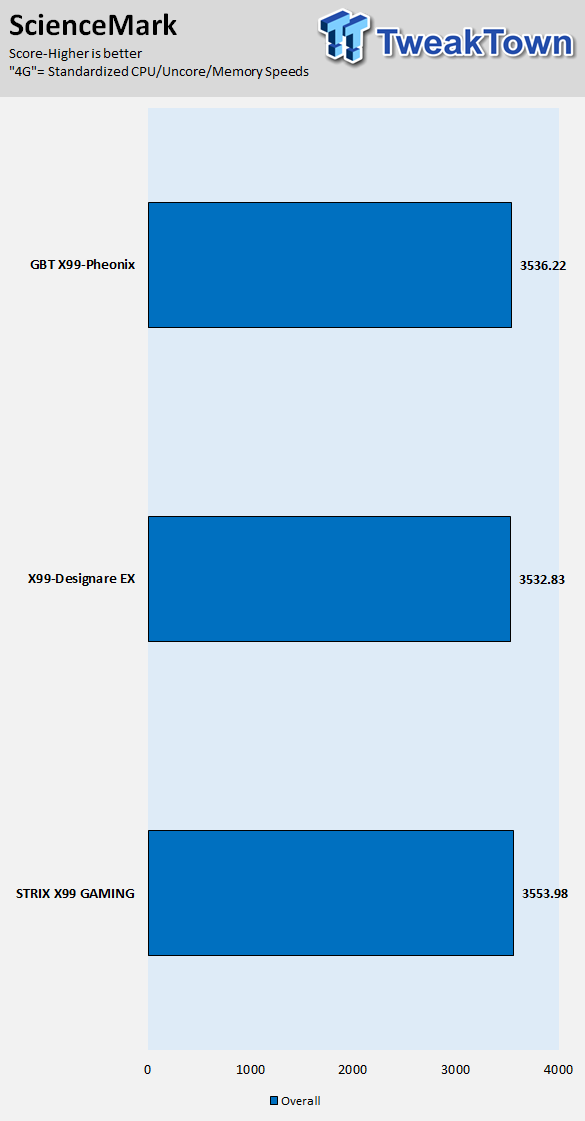 ScienceMark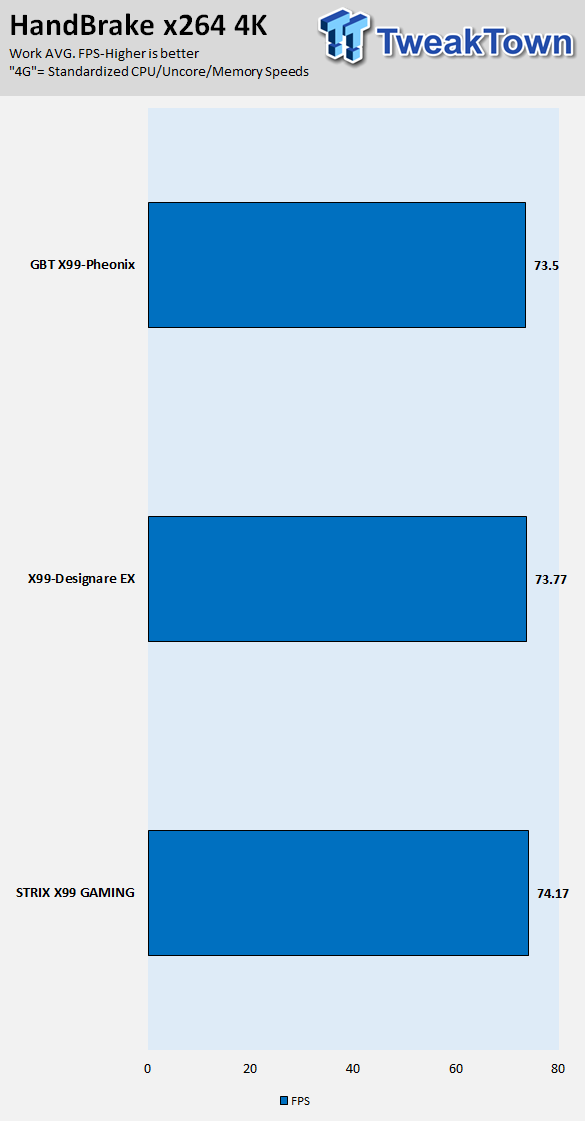 3DMark: Cloud Gate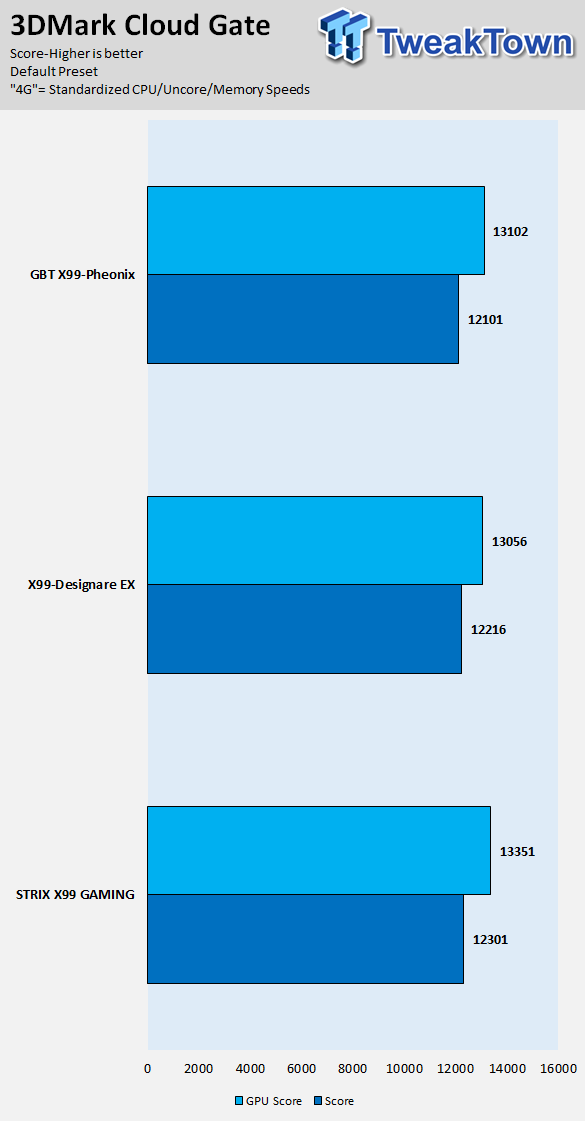 3DMark: Fire Strike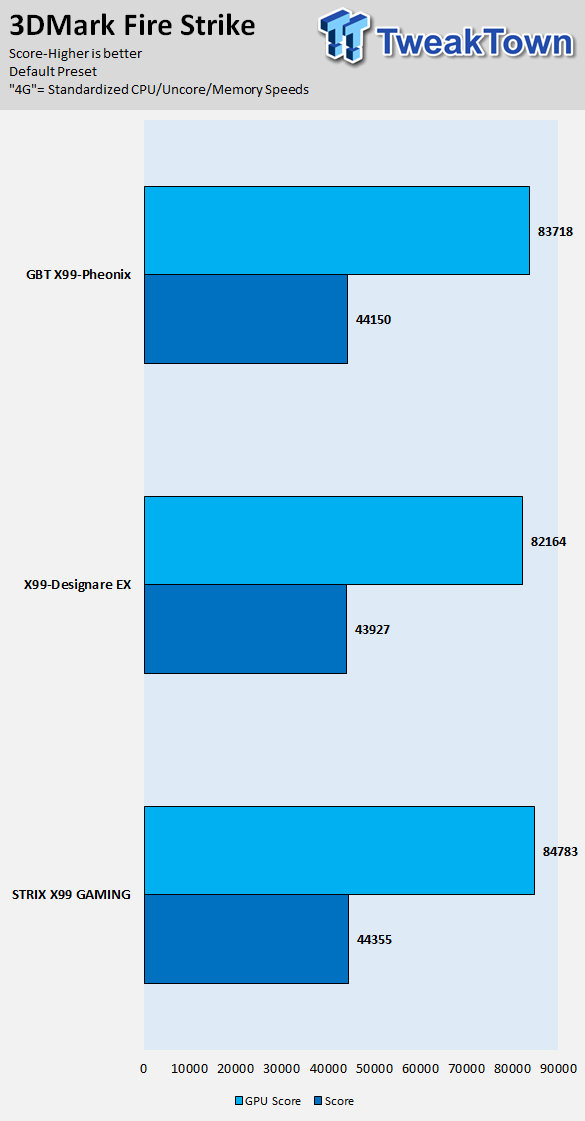 ResidentEvil 6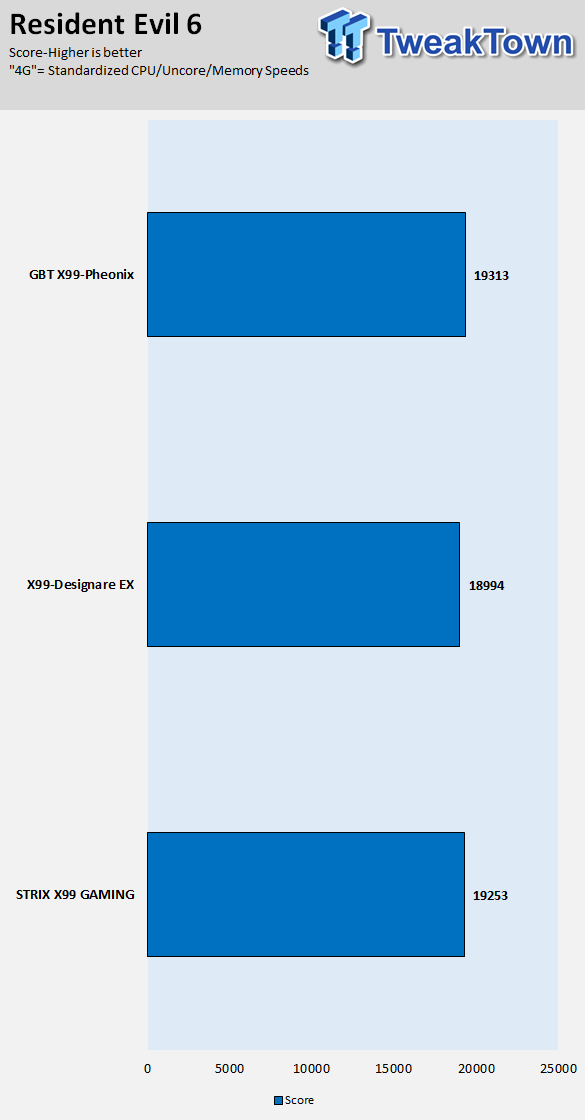 I have decided to test motherboard performance based upon a standardized 4GHz profile for the new X99 refresh motherboards. The base frequency of the 6950X is 3GHz, but the X99-Designare EX pushes all cores to 4GHz, a common practice by vendors since the CPU should run all cores at 4GHz stable. The motherboard is very strong in CPU tasks, but it does have a slight dip in GPU tasks only because I had used one of the PCI-E slots connected to the PEX8747 to test out the impact of the extra chip.
System IO Benchmarks
SATA6G: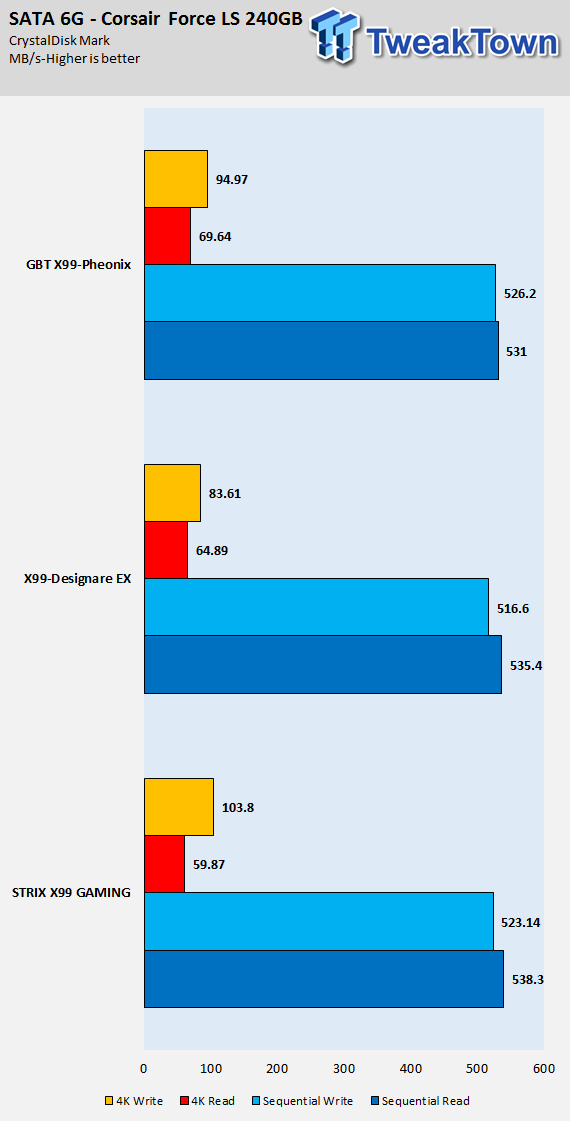 M.2: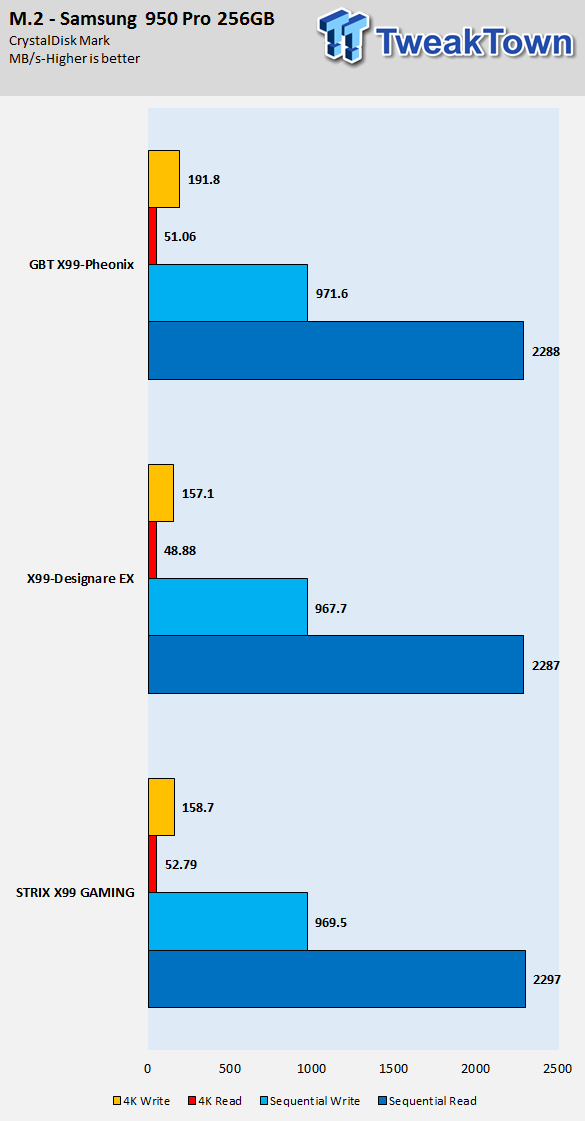 U.2: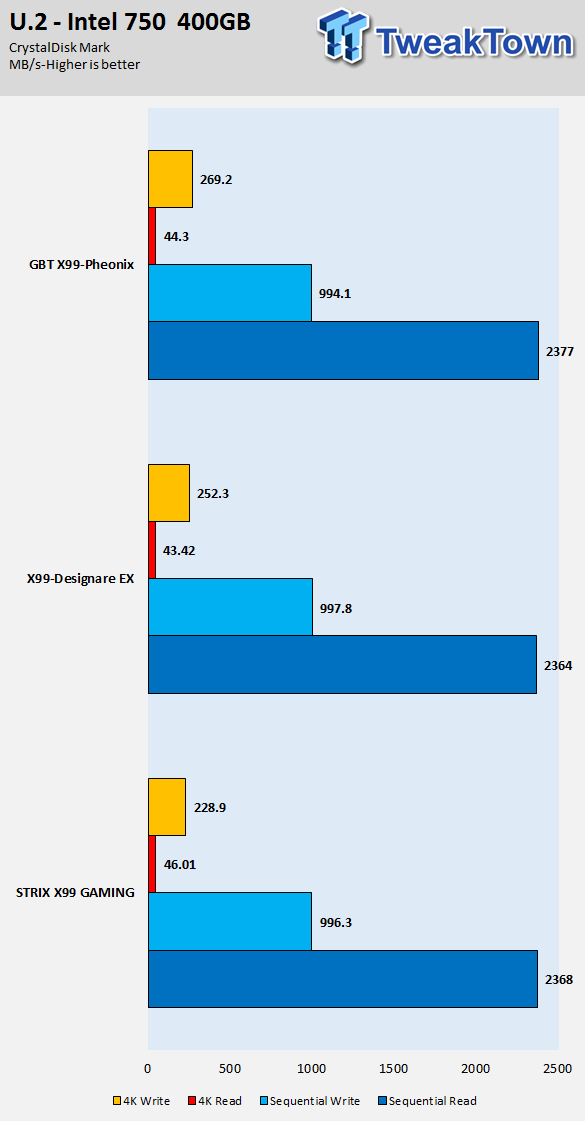 ixChariot Network Throughput: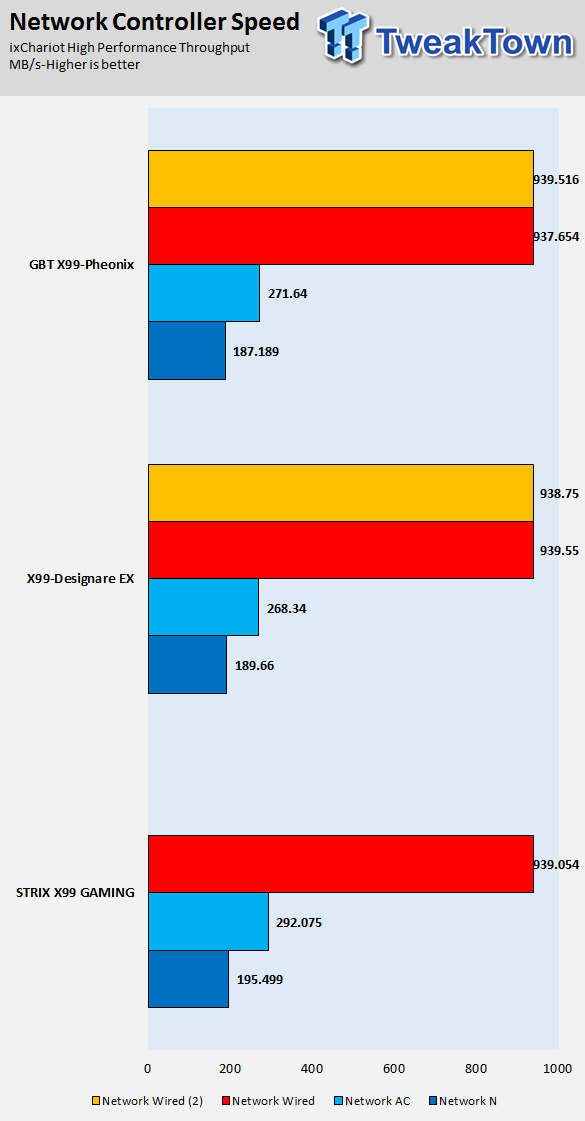 Although the X99-Designare EX's M.2 and one U.2 port go through the PEX8747, their performance is still top notch. The motherboard does have two U.2 ports, and with a 40-lane CPU, you can use both at the same time.
Audio RMAA 5.5:
I disable all audio features, set the correct bitrates, and then test the audio with a loopback test.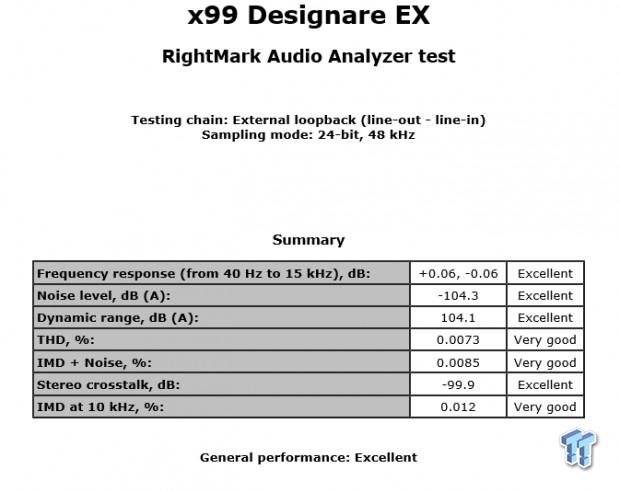 Sound Judgment by Ear: Excellent, high-quality audio. There are five ratings for audio: 1. Problems, 2. Okay, 3. Acceptable, 4. Very good, 5. Excellent
Thermal Imaging and Power Consumption
CPU power is measured through the 8-pin connector, which is hooked up to a hall effect IC, which measures current and puts out a voltage in proportion to the current. That voltage is logged by a National Instruments ADC, which logs the DC voltage level that I then convert into current.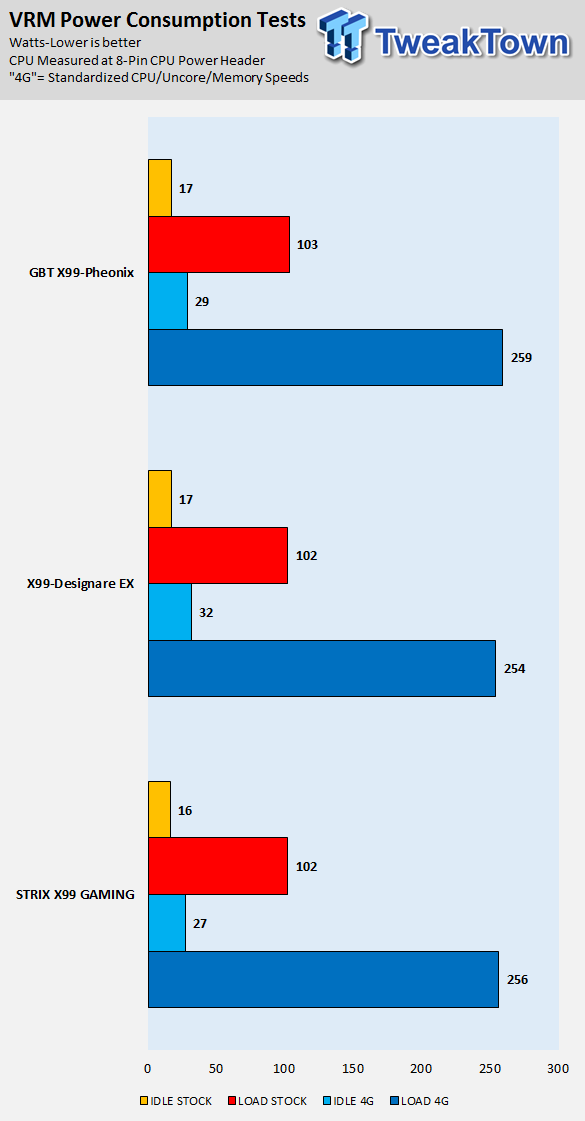 Note on Thermal Images: In the temperature section, we use our Seek thermal imaging camera to capture the surface temperatures of major components on the board. I look at the VRM and then all other things that light up the screen. If there is something to worry about, then I will state it. Otherwise, I will just show the hotter running parts of the board for fun. Unless some component is over 80-90C, then there isn't anything to worry about.
All systems will act differently, so I will look for commonalities, such as how far from the VRM the heat spreads through the PCB and the difference in temperature between the front side and backside of the PCB. Keep in mind, the majority of the heat from the VRM goes into the PCB as it is a giant soldered on copper heat sink. A larger difference in temperature between the back and front of the PCB points towards a more effective heat sink.
Thermal Testing at Stock Speeds:
The image on the left is always at idle, and the image on the right is at load. During ALL TESTS, fans above the VRM that cool the CPU cooler's (Corsair H110i GT) radiator are turned on to high (12v).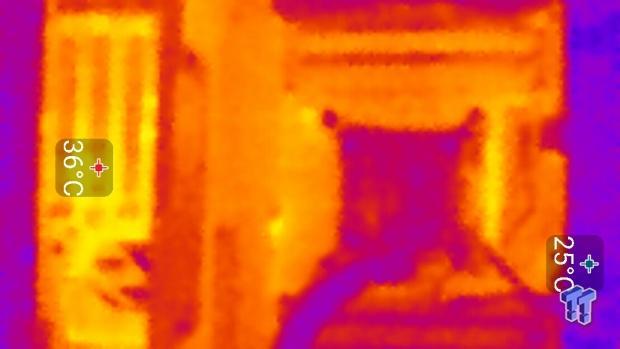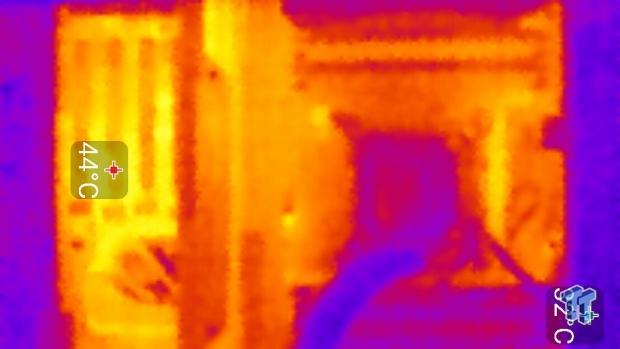 Full frontal.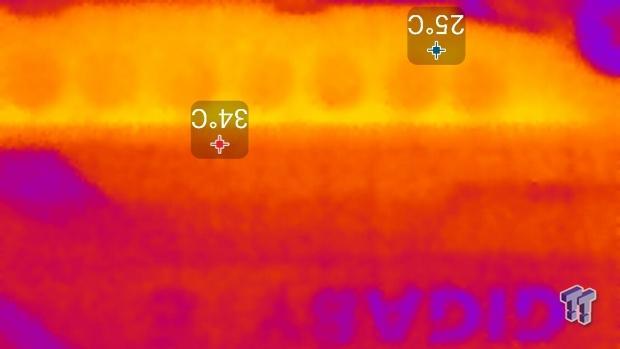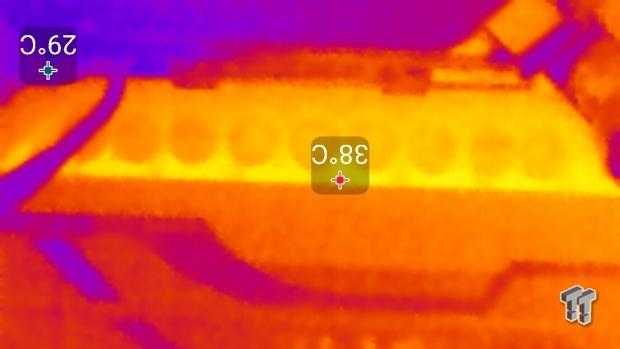 Up-close of the front of the VRM.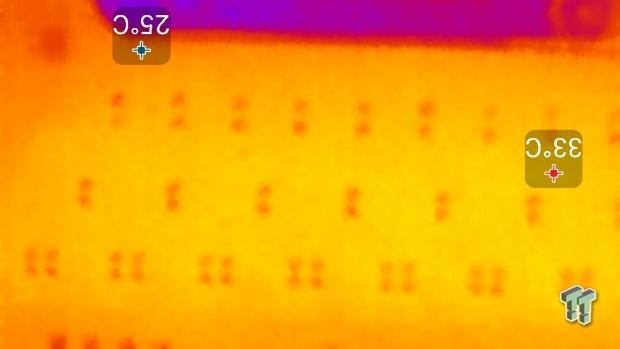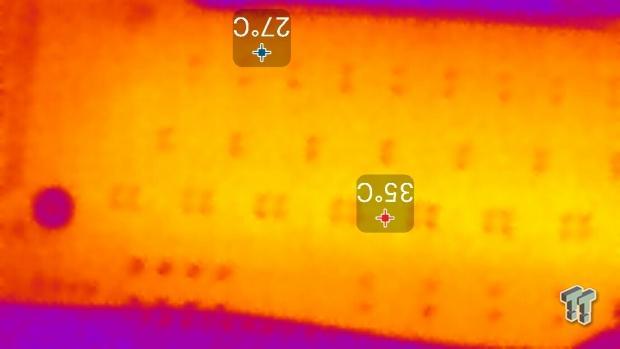 Up-close of the back of the VRM.
Thermal Testing at 4.5GHz Overclocked Speeds:
The image on the left is always at idle, and the image on the right is at load. During ALL TESTS, fans above the VRM that cool the CPU cooler's (Corsair H110i GT) radiator are turned on to high (12v).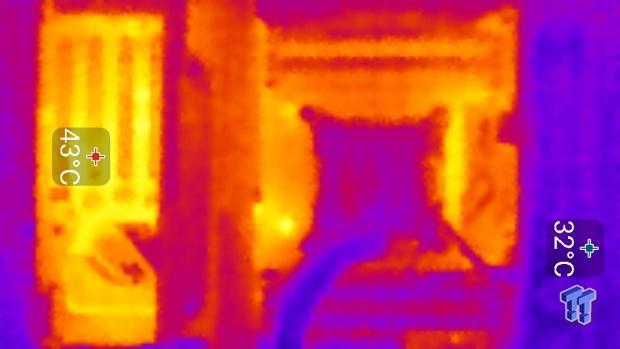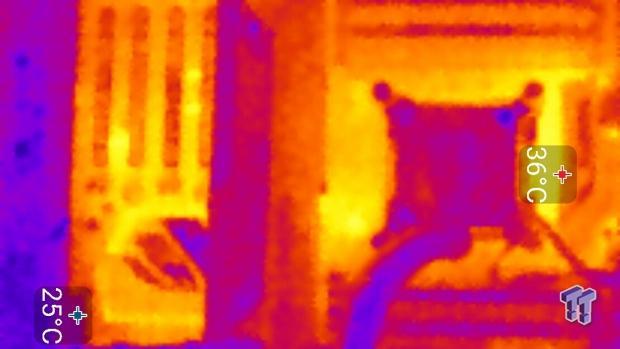 Full frontal.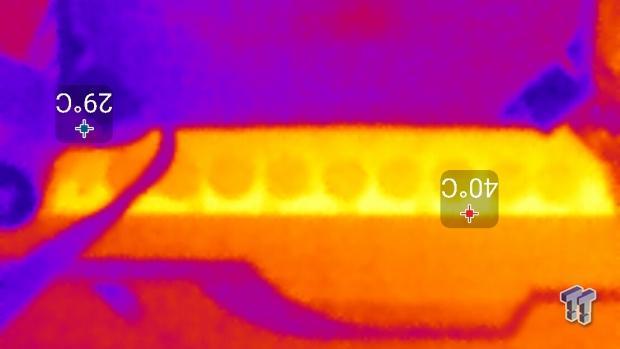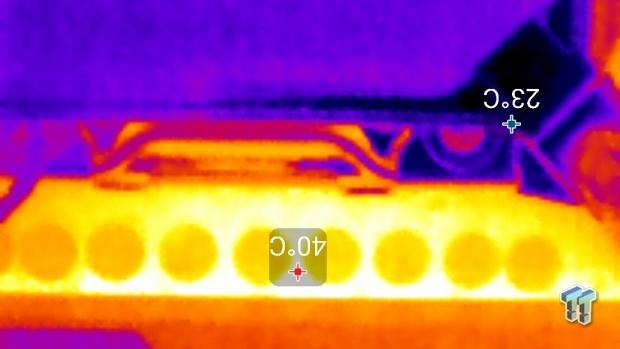 Up-close of the front of the VRM.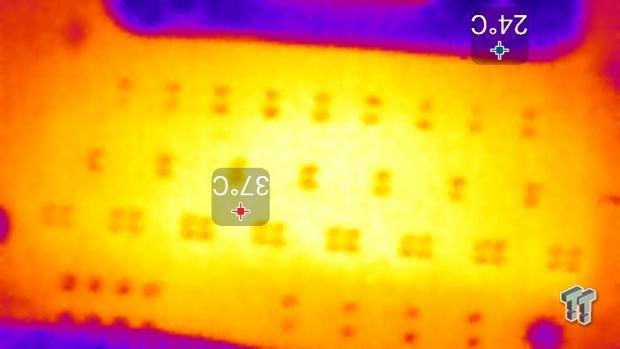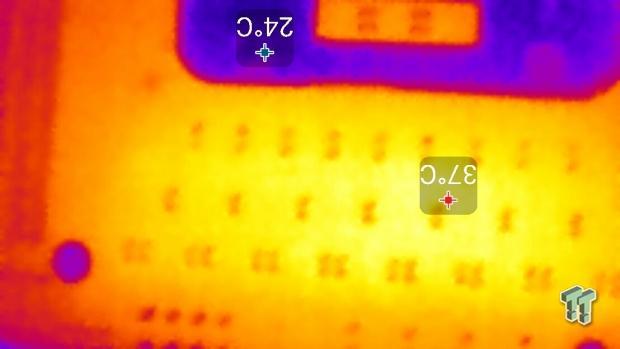 Up-close of the back of the VRM.
The VRM on the X99-Designare EX is very high quality, and maximum OCed temperatures even overclocked were 10C lower than on the X99-Phoenix SLI. It could be because of the difference in PCB layers or even copper content, but the X99-Designare EX carries the same components for power delivery as the X99-Phoenix SLI. I was impressed by how the temperature on the rear of the VRM was always lower than that on the front; it shows that the heat is being pulled away from the PCB.
Anything under 60C is great, 60-80C is acceptable, and anything above 80C is a bit worrisome (if at stock).
What's Hot, What's Not & Final Thoughts
Here are key points about the GIGABYTE X99-Designare EX.
What's Hot
Hidden PEX8747: Most motherboards with a PEX8747 chip show it off with a nice heat sink located in the middle of the motherboard, but the X99-Designare EX hides it near the PCH. The PEX8747 provides the same PCI-E layout for both 28 and 40 lane CPUs and allows for an M.2 slot and U.2 port to work with both CPUs. The advantage of having a 40 lane CPU on this board is an extra U.2 port directly linked to the CPU and 8x more bandwidth to the PEX8747. Overall, GIGABYTE's mixture of PEX8747 PCI-E slots and slots directly linked to the CPU provides flexibility for users when configuring their layouts.
Intel Alpine Ridge with Future Thunderbolt 3 Support: GIGABYTE equipped this motherboard with Intel's Alpine Ridge controller, and configured it with 4x of PCI-E 3.0 from the CPU, the proper Texas Instruments chip for TB3, a DisplayPort input for TB3, and BIOS settings for Thunderbolt 3. The only thing missing is official Intel certification, which will take a few months to get. Until then GIGABYTE will not officially advertise Thunderbolt 3, but all those enhancements are nowhere to be found on the X99-Phoenix, which also uses the same controller, so I would expect it in the future.
No Switching of Features: The X99-Designare EX can support both U.2 ports, a 32Gb/s M.2 port, all its PCI-E slots, USB 3.1/Thunderbolt 3, and it's NICs all at the same time. You will not have to compromise certain features for others on this motherboard, and that is rare for X99 motherboards because all the PCI-E 3.0 is in the CPU and the PCH does not have many PCI-E lanes for features.
Intel NICs All Around: Many enthusiasts dislike seeing non-Intel brand NICs on their high-end motherboards. GIGABYTE listened to them and has equipped the X99-Designare EX with dual Intel Gbit NICs and an Intel WirelessAC/Bluetooth 4.2 card.
GIGABYTE's UEFI Overhaul: GIGABYTE's new UEFI provides solid fan control, RGB control, and even added in the ability to enable or disable adaptive voltage mode for overclocking. All together you never have to install a piece of software to take full advantage of the motherboard's features or hardware.
VRM Performance: The VRM components GIGABYTE has used on the X99-Designare EX are top-notch regarding quality and performance. The true eight phase digital PWM controller provides great control profiles for the VRM, and coupled with the same brand integrated power stages, you will get top-notch performance. Thermal shots show that the VRM did not even get very warm under full load conditions with all cores at 4GHz.
What's Not
No POST Code or OC Features: While this is more of a power-user/workstation motherboard than an overclocking motherboard, everyone can make use of a POST Code display for troubleshooting. GIGABYTE has been good about including POST Codes on their other motherboards; I am perplexed as to why they did not include one here. I would have also liked to see some BIOS switches.
Final Thoughts
The X99-Designare EX is the reboot motherboard for the Ultra Durable series. It brings back the iconic blue color theme against an elegant white background and smooth black matte PCB. Its RGB LEDs add a nice touch, but I don't see myself changing the blue to another color since it matches so well with the color theme of the motherboard.
The PEX8747 adds in an unexpected but pleasant twist. Most users would not expect to see one on an X99 motherboard since there are so many PCI-E lanes from the CPU for PCI-E slots, but GIGABYTE is using it to not only expand PCI-E slot bandwidth but also U.2 and M.2. Some users might look towards U.2 for off-board NVMe drive connectivity, and having two U.2 ports is definitely a plus for those users.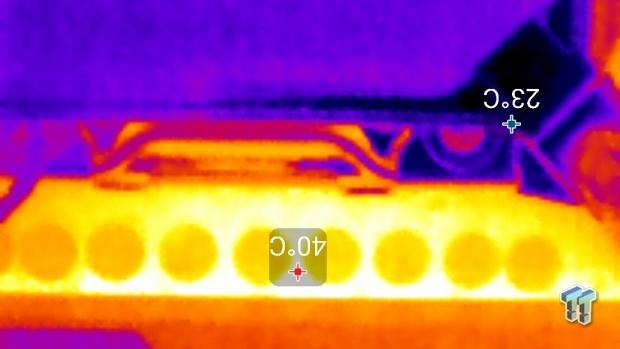 GIGABYTE's new UEFI introduces some features many users found missing from GIGABYTE's previous iterations, and we can finally add fan control to the pros column instead of the cons when it comes to GIGABYTE motherboards. Overall, the motherboard not only looks and feels high quality but also performs like a $400+ motherboard should. It is high-end enough to give the 6950X a home it deserves. The $400 mark is where we are going to separate mainstream X99 motherboards from high-end X99 motherboards, and for this price, it is feature heavy.
If you are looking for a premium product to trust with your $1700 CPU, the X99-Designare EX is a finalist.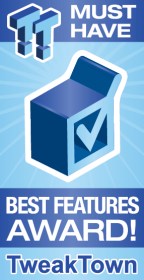 | | |
| --- | --- |
| Performance (including Overclocking) | 92% |
| Quality including Design and Build | 95% |
| General Features | 95% |
| Bundle and Packaging | 93% |
| Value for Money | 92% |
The Bottom Line: GIGABYTE has coupled high-end hardware with solid engineering and features to produce a motherboard worthy of its $400+ price tag.
PRICING: You can find products similar to this one for sale below.

United States: Find other tech and computer products like this over at Amazon.com

United Kingdom: Find other tech and computer products like this over at Amazon.co.uk

Australia: Find other tech and computer products like this over at Amazon.com.au

Canada: Find other tech and computer products like this over at Amazon.ca

Deutschland: Finde andere Technik- und Computerprodukte wie dieses auf Amazon.de
We openly invite the companies who provide us with review samples / who are mentioned or discussed to express their opinion. If any company representative wishes to respond, we will publish the response here. Please contact us if you wish to respond.