TweakTown's Rating: 84%
The Bottom Line
For its price point, the TRENDnet TEW-827DRU needs a little bit of work in places as far as performance is concerned, but it is a solid platform otherwise.
Introduction & Pricing, Availability and Specifications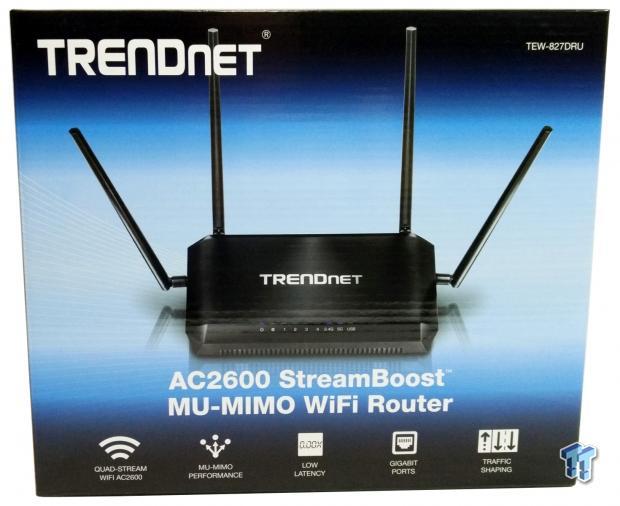 I believe, up to this point, I have seen every AC2600 wireless router on the market. I have the Athena from Amped Wireless in the lab now, and after I get done retesting a few other products, we will hit up that review. At this moment, I have the TEW 827DRU from TRENDnet on the desk and here in a few were going to dive into the performance of this router, but first let's go over some of the platform characteristics of this solution.
The 827DRU is the latest wireless router from TRENDnet, and while they haven't been as active as some vendors, they have quietly been launching competing solutions. This product, as mentioned above, is an AC2600 solution based on the quite popular Qualcomm platform and at its heart has the IPQ8064, which is followed up by a pair of 9980 wireless radios and an 8337 switch also from Qualcomm. Going from previous data, the 8064 should be running at 1.4GHz and being dual-core, should offer decent performance. The wireless radios offer 1733 Mbps over the 5GHz band and 800 Mbps on the 2.4GHz band allowing the total throughput to land somewhere around 2533 Mbps.

The specification list for this router is one of the longest I have seen, so to keep it simple we will touch on the more important features. Starting off, we know this a Qualcomm platform supporting both 802.11n and 802.11ac throughput can reach 800 Mbps on the 2.4GHz and 1733 Mbps on the 5GHz band as mentioned previously. Additional hardware includes four LAN and a single WAN all of which are Gigabit while this solution offers dual USB 3.0 for printer and storage sharing. Special features include StreamBoost, which appears to be Qualcomm's QoS functionality and of course MU-MIMO for increased throughput in multi-user environments.
MSRP of the TRENDnet TEW 827DRU is listed at $299.99 with a three-year warranty.
Router Details
TRENDnet AC2600 Wireless Router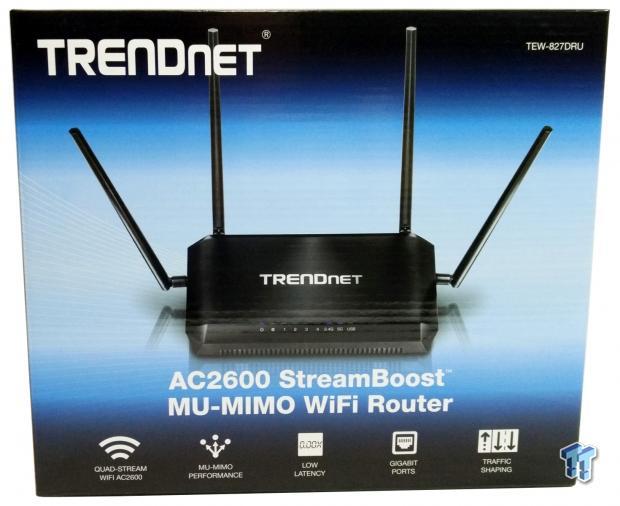 Product packaging includes an image of the router centered while the bottom line gives information including it quad stream functionality and MU-MIMO technology.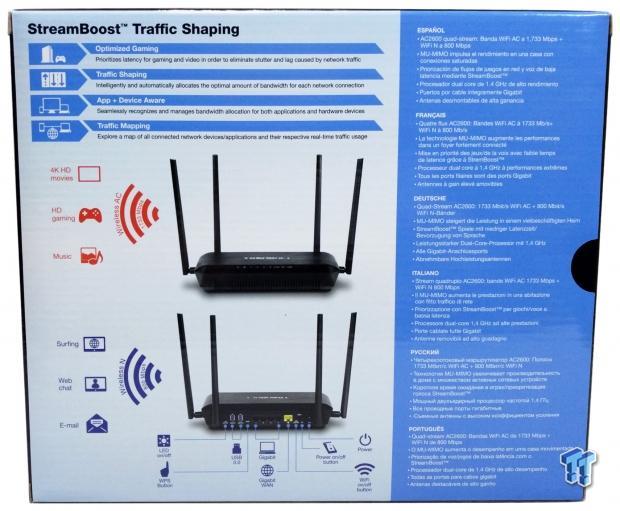 On the backside, TRENDnet offers more detail on the AC2600 solution with features in several languages to the right.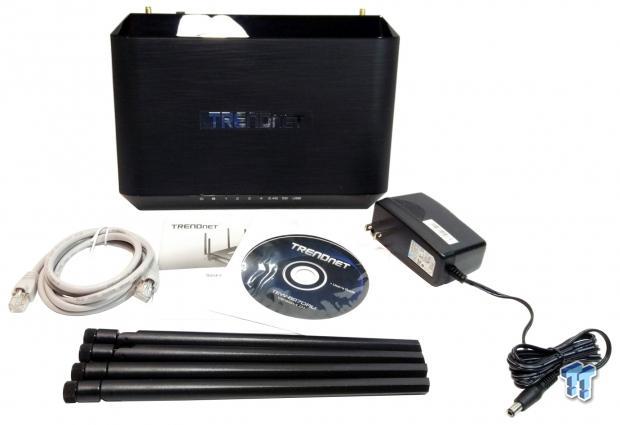 Pulling the router from the box, we get a glimpse at the scope of delivery. As you can see above, we have the power adapter, antennas, and Ethernet cable.

All of the connectivity is on the backside with this solution. This includes all four LAN ports and the WAN port adding to the dual USB 3.0 and two of the four antennas.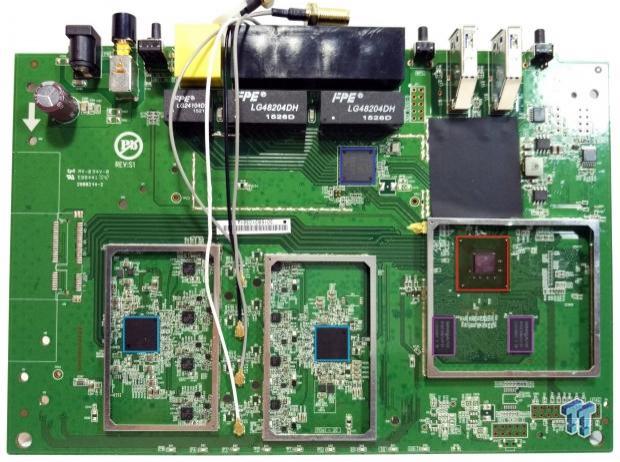 Opening up the router was a bit trickier than normal due to each antenna mounted via a wire. Popping off the shielding, we can see all of the components with the IPQ8064 to the right in red followed by the 512MB of RAM and QCA8337 switch above. The flash is located on the back of PCB and is made by Spansion and is 128MB in capacity.
Test System Setup and Management GUI
Tyler's Router Test System Specifications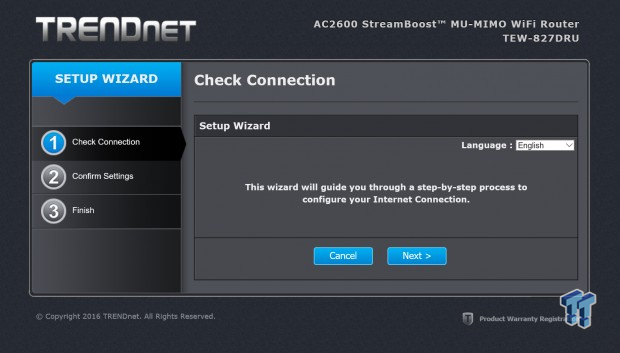 It has been awhile since I dove into a TRENDnet user interface, so it was a welcomed sight to get the chance again. As you see here, the login page is rather simple.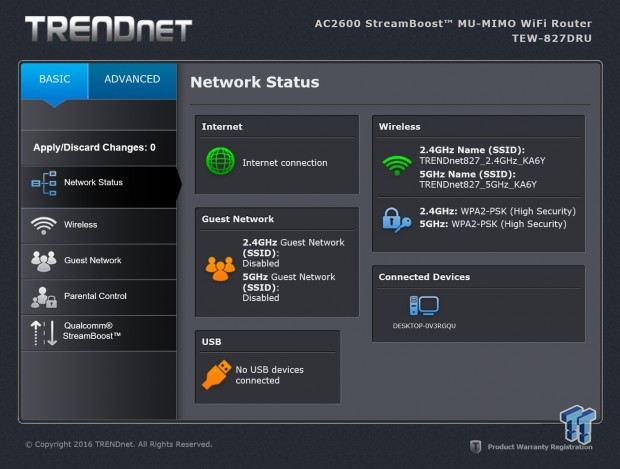 Once you are in, we have a dashboard interface that gives quick access to the ISP connection and your wireless setup.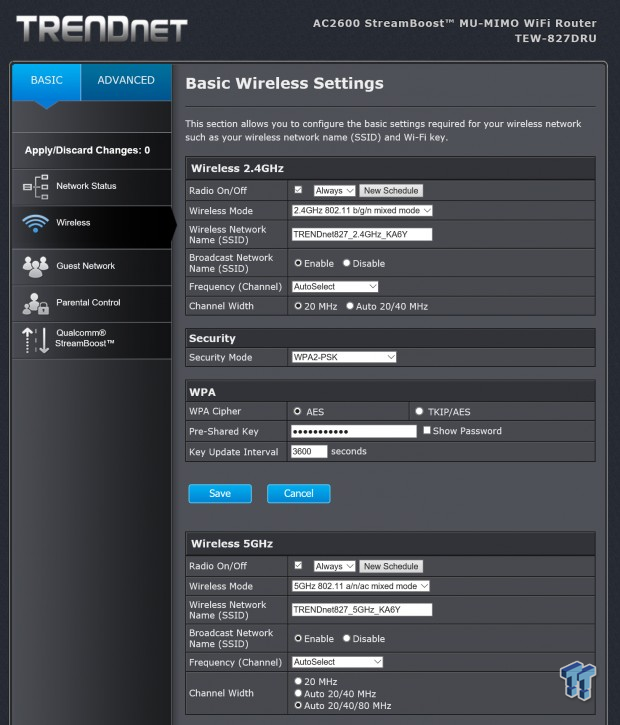 The wireless menu is quite simple, with an advanced version available if needed. Within the menu, you can configure all the necessary info including SSID, password, and frequency.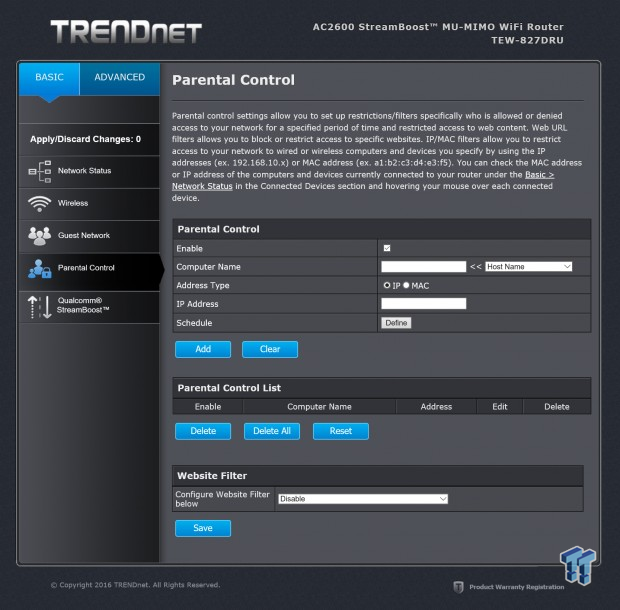 The parental controls are quite simple with this solution and include a website filter along with options to add PCs individually as needed.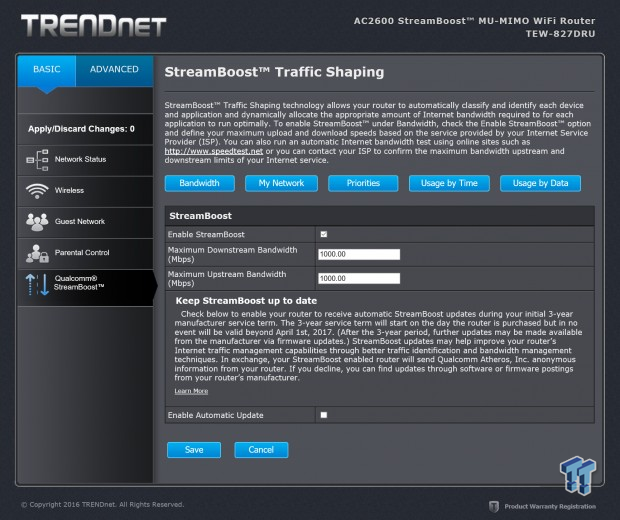 Above, we have the StreamBoost menu that allows you to control the throughput to PCs individually along with monitoring traffic.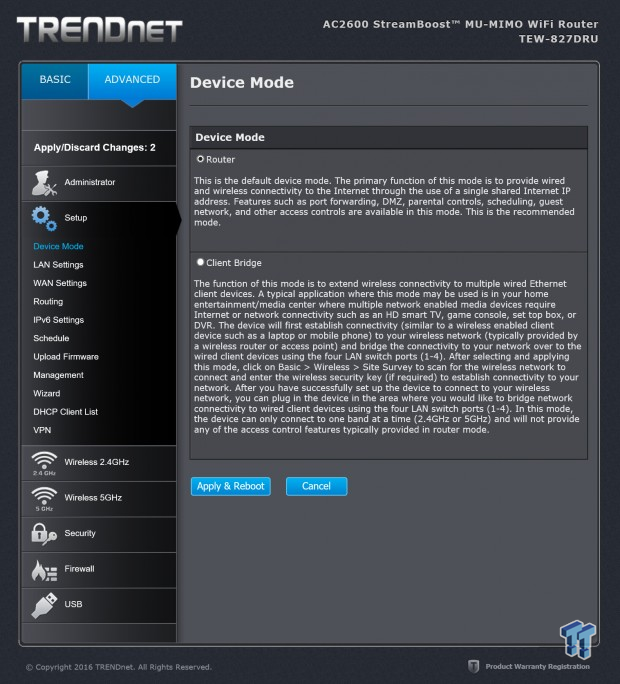 The ability to switch modes has recently become a hot item for vendors. As you can see, it has the ability to be a router or bridge device.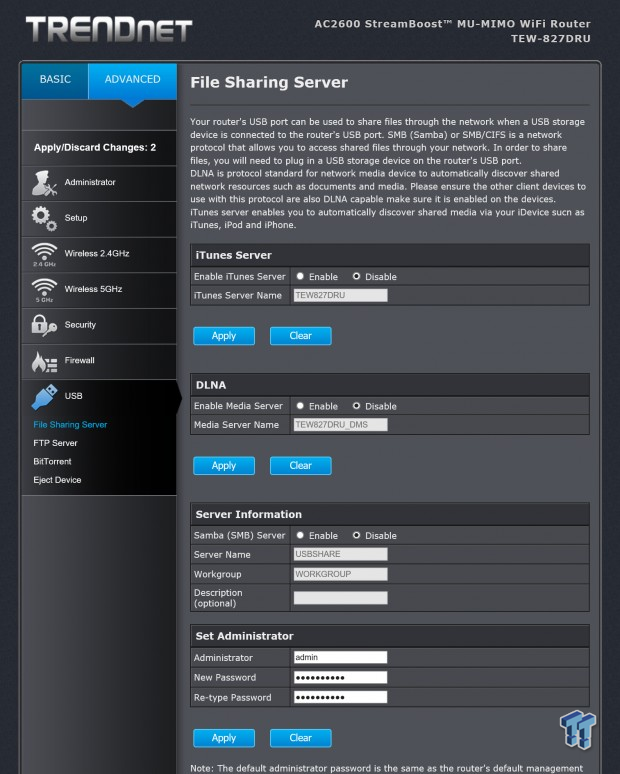 The file sharing server is quite nice while offering the standard SMB options it also includes DLNA, iTunes, and torrent features along with it Printer sharing.
Benchmarks – Throughput
Wired Throughput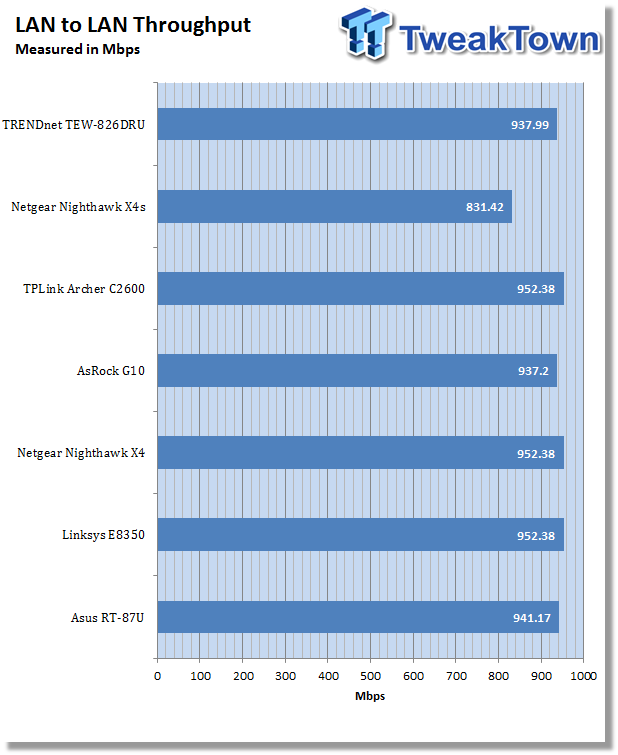 Now that we know all about the router and its many features, we can take a gander at its performance. In my testing, I started with the router's LAN to LAN throughput, and it came out quite good at 937 Mbps.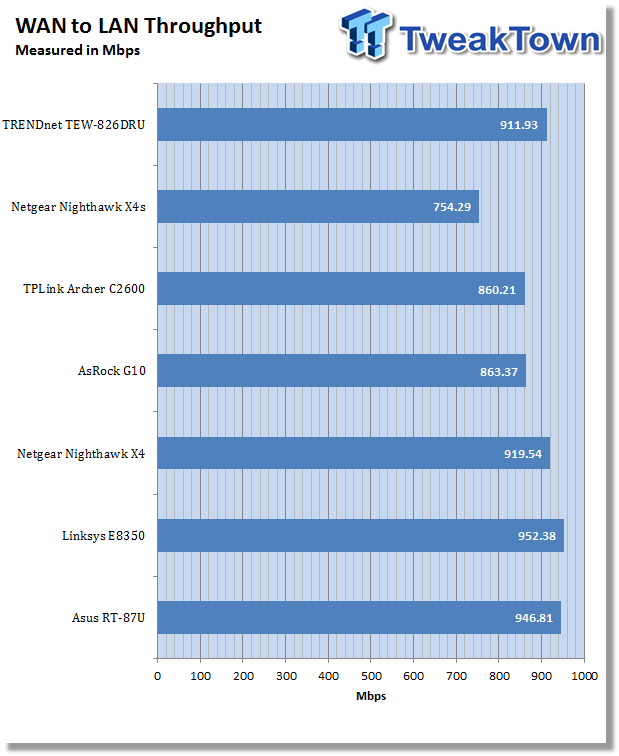 WAN to LAN came in at 911 Mbps, slightly quicker than the C2600 and G10, which share the underlying platform.
Wireless Throughput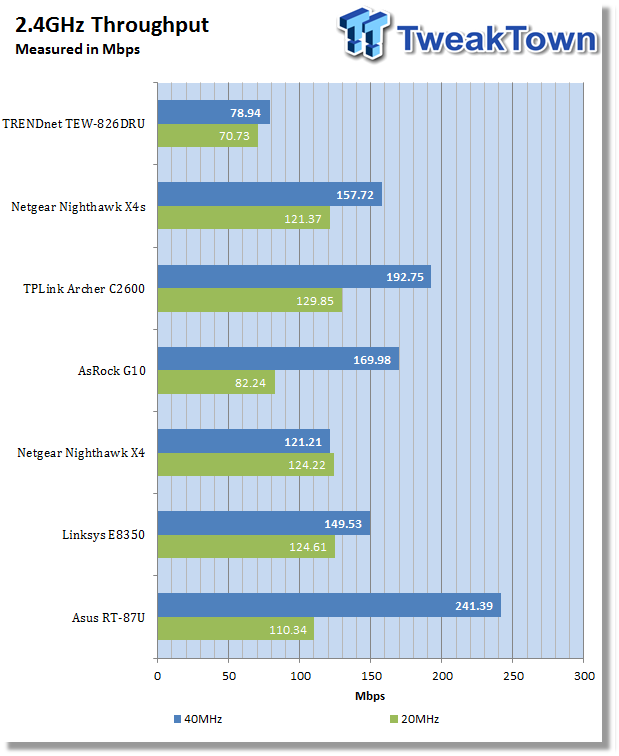 Moving to wireless throughput, the TRENDnet firmware doesn't allow you to manage the 20 and 40MHz band separately, so performance is testing in 20/40 mode. As you can see above, the 2.4GHz band wasn't kind to my testing as I was only able to reach a peak of 78 Mbps. This is most likely due to me using a Broadcom chipset.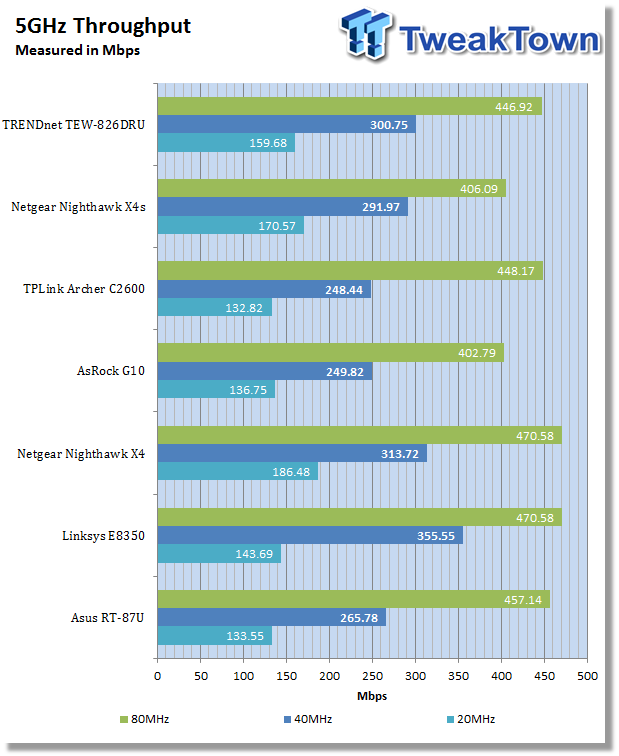 Swapping over to 5GHz, performance picked up quite a bit with the 827DRU reaching 159 Mbps and 300 Mbps on the 20 and 40MHz bands, and 446 Mbps on the 80MHz band.
Multi-User Throughput
In our Multi-User test, we use three identical smartphones with the latest MU-MIMO chipset. This test requires the router to handle three simultaneous throughput streams with the results below for each band.

The 2.4GHz band was able to produce a rather tight throughput pattern in testing, with just one device falling off for a second. Throughput across all devices were around 42 to 56 Mbps.

5GHz performance was all over the place, but we do see two devices staying quite close together. Throughput on the 5GHz band stayed around 92 to 108 Mbps.
Benchmarks –Storage Performance & Final Thoughts
Storage Performance
In our Storage Performance test, I use a SanDisk Extreme Pro 128GB USB 3.0 Flash drive formatted with the EXT4 filesystem. I mount the volume as a network drive and test with NAS Performance Test 1.7.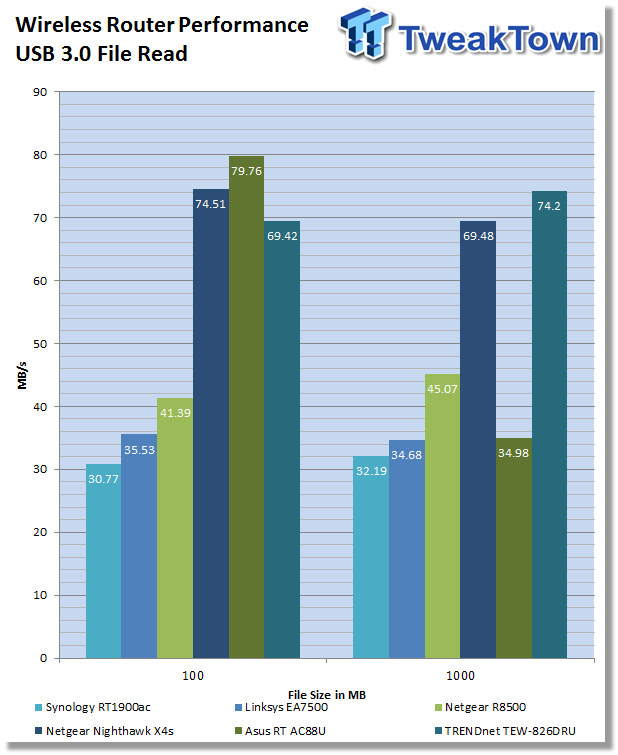 On the storage front, the TRENDnet device did quite good with read performance. Write performance, however, was rather terrible - in fact, it was the worst I have seen. I was able to reach 74 MB/s read with write performance topping out at 9 MB/s.
Final Thoughts
In my eyes, TRENDnet seems to be a relatively quiet company. While you have some of the bigger names in the industry proudly displaying their advances in wireless technology with fancy alien looking routers, TRENDnet stays at home and quietly masters its next solution. The AC2600 platform launched not long ago is a rather solid device. The build quality is good; the soldering internally all looked clean, and the heat sink was plenty to keep the device cool in my testing. The antennas, before I got in and messed about, were all tied down, so they weren't in the way.
Performance in most cases was quite good and looking at our charts the TRENDnet solution was at the top in nearly everyone including LAN, WAN, and 5GHz wireless. With this solution basically being the same as the G10 from ASRock, I am curious what TRENDnet did to make it perform so much better than the G10. In LAN and WAN testing, the 827DRU reach near full gigabit performance at 937 and 911 Mbps, while 5GHz wireless was 46 Mbps quicker than the G10 at 448 Mbps.

Taking a look at how things line up for the 827DRU, as you can see, it shares a similar platform to the C2600 from TP-Link and the G10 from ASRock. All three routers have their hitches with the TRENDnet having weak 2.4Ghz performance in my testing and lackluster file write performance with storage. With that said, the TRENDnet TEW-827DRU does have a solid price point along with an industry leading warranty.
| | |
| --- | --- |
| Performance | 80% |
| Quality including Design and Build | 85% |
| General Features | 85% |
| Bundle and Packaging | 85% |
| Value for Money | 85% |
The Bottom Line: For its price point, the TRENDnet TEW-827DRU needs a little bit of work in places as far as performance is concerned, but it is a solid platform otherwise.
PRICING: You can find products similar to this one for sale below.

United States: Find other tech and computer products like this over at Amazon.com

United Kingdom: Find other tech and computer products like this over at Amazon.co.uk

Australia: Find other tech and computer products like this over at Amazon.com.au

Canada: Find other tech and computer products like this over at Amazon.ca

Deutschland: Finde andere Technik- und Computerprodukte wie dieses auf Amazon.de
We openly invite the companies who provide us with review samples / who are mentioned or discussed to express their opinion. If any company representative wishes to respond, we will publish the response here. Please contact us if you wish to respond.