Fitbit Blaze Smart Fitness Watch Review
Can Fitbit's latest fitness watch keep them ahead of the game? Ben spent a few weeks running and living with the Fitbit Blaze and returns with verdict.

Published
5 minute read time
TweakTown's Rating: 89%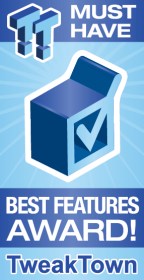 The Bottom Line
Notwithstanding some design quibbles, Blaze successfully builds on the best features from Fitbit's predecessors, while also making much needed advancements in the cosmetic stakes too.
Fitbit Blaze Smart Fitness Watch Review
Last year's Charge HR fitness tracker was a breakout success for Fitbit, driving impressive sale figures that successfully introduced many consumers to the wearables sector for the first time. And for good reason; it was an excellent product with an equally solid software platform to back it up. Aimed at more hardcore fitness fanatics, the company's top-end Surge fitness tracker added a few extra features on top of that (including onboard GPS), but both products rapidly began looking cosmetically stale - especially compared to competitors such as the Apple Watch. With the recently released Blaze, Fitbit is aiming to bridge the divide between these products, offering a fitness watch which takes the best of its predecessors, adds a few more, and wraps it all up in a stylish new design. But is it enough to stay on top?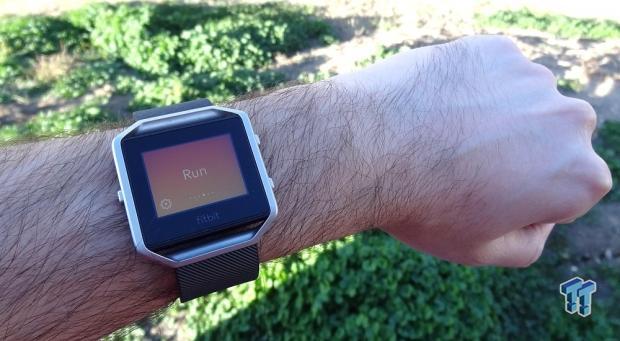 Anyone who's checked out my previous Fitbit reviews will know I'm a pretty dedicated member of the team. Strapping on the watch before I walk out the door has become a morning ritual, as has stepping on the Wi-Fi-enabled Aria scales to see just how much damage that chocolate binge has done. Thanks to my sedentary desk day job, it's shamefully easy to become out of shape, but over the last year, I'm pretty happy I've been able to shed over 12 kilograms, and in the process shift my BMI from the 'overweight' to 'normal'.
Naturally, Fitbit can't do the hard work for you, but I found it able to provide enough motivation to stay active, remain vigilant with eating properly and weighing up whether a 20-minute treadmill run is worth the momentary pleasure of 202 calories of Hershey's finest (Cookies n crème, if you're wondering).
The core functionality of the entire Fitbit line is based on pedometer functionality, but with higher models comes more features, including heart rate monitors, call alerts, touch screens, sleep tracking, altimeters, and swappable bands. Blaze includes all of the above, gleefully borrowing the best features from its forebears, but also builds on improvements on the software side, including the company's investment in the FitStar brand, which is integrated directly on the tracker for the first time.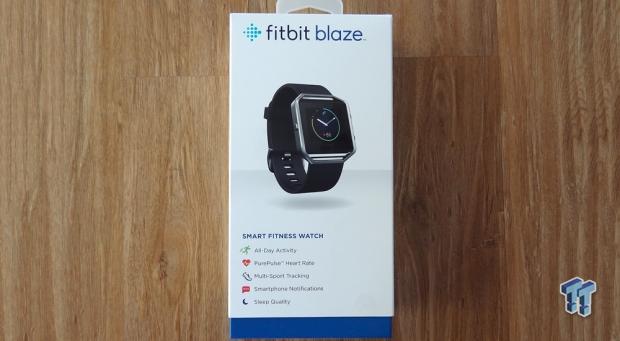 This time around, the initially striking aspect of Blaze is that it's far more refined, even stylish looks. The company has clearly taken on board criticism regarding some of the more industrial designs of the past and produced something you aren't going to want to take off after a gym session, and instead be happy to wear throughout the day. The addition of a color LCD (a first for the Fitbit line) instantly sets Blaze apart from its predecessors. But while it might look like a smart watch and does indeed feature some 'smart' applications such as call and message notifications as well as Bluetooth music control, it most definitely isn't a smartwatch.
Unlike an Apple Watch, you can't currently run any custom apps and while Fitbit has been rather generous in adding more features via firmware upgrades in the past, this isn't something that we understand is on the cards. To be fair, it has hit the market at almost half the going rate of an Apple Watch, but just be aware this is first and foremost a fitness watch - not a Swiss army knife.
Much like the larger touchscreen provided in the Surge, Blaze allows for a generous range of display options and on-screen data. The display remains active during activities to provide live feedback such as heart rate and calories burned, rather than forcing users to cycle through a series of button presses or taps, which makes concentrating on the workout far simpler. As mentioned earlier, the screen also renders text and call notifications via Bluetooth 4.0, as well as alarm functionality and a limited choice of watch face styles.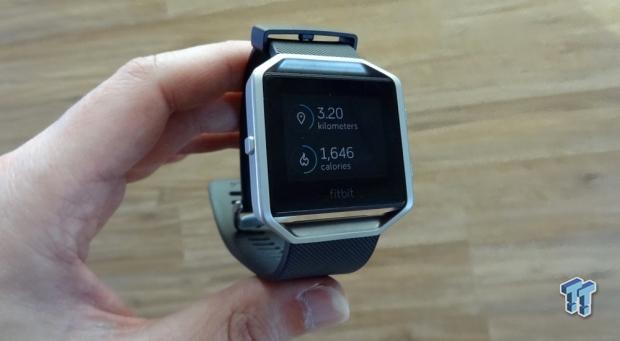 A range of predefined workouts modes have been pre-set, which can be activated via the touchscreen and physical buttons to track your activities, including running, cycling, and weightlifting. Screen improvements have also made possible the integration of workout how-to guides, via the FitStar menu option. It's like a personal trainer on your wrist. It's all very neat (albeit reasonably limited at the moment), but will no doubt be further improved in software updates and new models into the future.
While some might be disappointed by the lack of onboard GPS for outdoor runs and bike rides, Blaze can tap into your mobile phone's GPS unit (so long as you take it with you) via the app, and serves as a clever way to improve the unit's battery life. It works flawlessly too, adding another layer of usable data to your workout stats, including speed and elevation.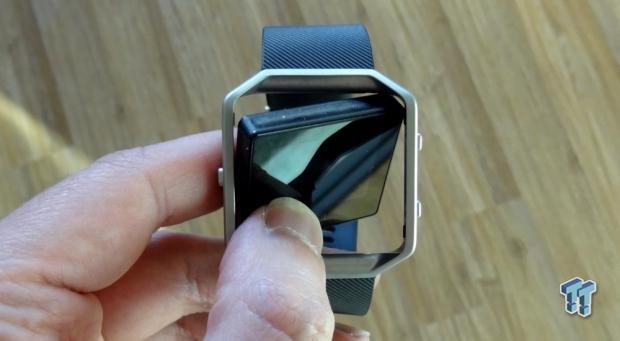 The sync functionality to the mobile app simply cannot be faulted, which itself has gone from strength to strength. For everyday information, the app does a great job of displaying the most pressing vital stats, while the web app gives access to a broader suite of statistics and interactive graphs to illustrate your health progression and to alter a range of band settings. I didn't particularly care for the water and food logging options, but those prepared to invest the time to dial down to full on calorie counting and portion control might have some success.
While the Blaze is pretty slim and surprisingly comfortable on the arm, its larger size might be a bit off-putting for people upgrading from smaller form factor fitness bands. Of course, if you're used to wearing a watch, you'll have no problems at all. The newly designed tracker allows users to flip the main LCD panel out and fit into a variety of alternative armbands (all available separately) - a nice touch which lets users tailor the bands to their liking, with numerous options including leather and even metal bands.
Unfortunately, this has made the USB charging function more cumbersome than before. Rather than a simple plug in cable to the back of the unit as before, users are now required to dismantle the watch each and every time it requires charging, in order to house the LCD tracker panel inside a small charging dock. It's not the end of the world, but it's an inelegant solution to a problem which shouldn't exist.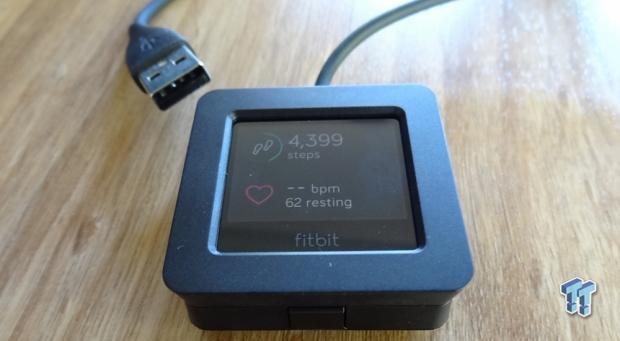 I also struck ongoing quibbles with the included elastomer armband, which constantly tugged at my arm hairs (and often ripping them off) while removing the band, due to the deeply patterned groove. If you're anything like me and endowed with Wookie-like arms, it can get old very quickly. Maybe over time I'll find an improved method to assist with this, but for now, I'll just continue to live in fear. Be sure to take note of hygiene suggestions to allay potential skin irritations and rashes - after a workout, wash the tracker in light water and thoroughly dry it with a towel. I didn't suffer any skin problems myself, but people with pre-existing skin allergies should be mindful.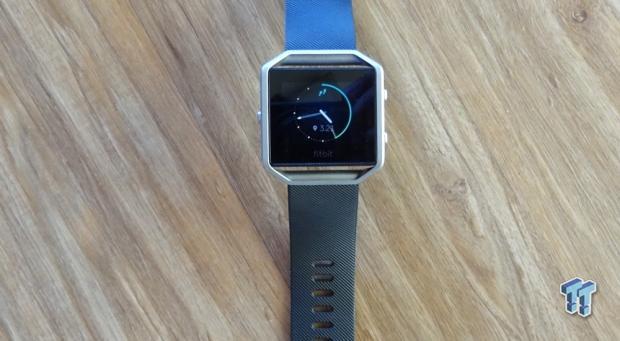 Blaze proudly builds upon the best features that Fitbit has developed in its young history, finally creating a watch that is as pleasant on the outside as it is on the inside. Some might be disappointed that it's not a fully-fledged smartwatch, but that's not what it's designed to be. If you want to order a pizza from your wrist, this just isn't the watch for you. Blaze focuses on one task - personal fitness - and does a brilliant job at it, with superb accuracy, usability, and powerful mobile apps. Fitbit continues to justify their market leading position, but as technology continues to converge in the future, it'll be fascinating to see how the company responds to even more disruptive competitors in its field.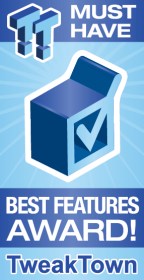 | | |
| --- | --- |
| Performance | 89% |
| Quality including Design and Build | 85% |
| General Features | 95% |
| Bundle and Packaging | 85% |
| Value for Money | 89% |
The Bottom Line: Notwithstanding some design quibbles, Blaze successfully builds on the best features from Fitbit's predecessors, while also making much needed advancements in the cosmetic stakes too.
PRICING: You can find products similar to this one for sale below.

United States: Find other tech and computer products like this over at Amazon.com

United Kingdom: Find other tech and computer products like this over at Amazon.co.uk

Australia: Find other tech and computer products like this over at Amazon.com.au

Canada: Find other tech and computer products like this over at Amazon.ca

Deutschland: Finde andere Technik- und Computerprodukte wie dieses auf Amazon.de
We openly invite the companies who provide us with review samples / who are mentioned or discussed to express their opinion. If any company representative wishes to respond, we will publish the response here. Please contact us if you wish to respond.
Related Tags