TweakTown's Rating: 84%
The Bottom Line
GIGABYTE's X150M-PLUS WS is a C232 chipset motherboard perfect for those who want a simple headache-free experience.
Introduction, Specifications, and Pricing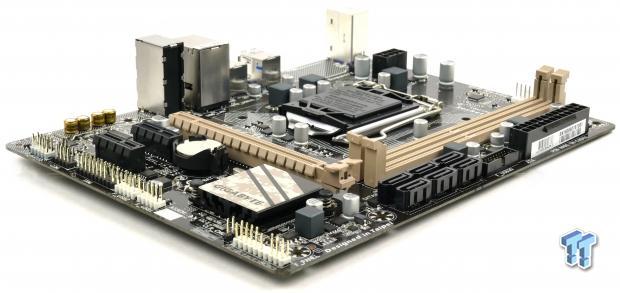 Intel's decision to remove Xeon support from the main 100 series chipset models (Z, H, B, Q) has led to two new chipsets, C232 and C236. When I examine the available C232 and C236 chipset motherboards that support Skylake E3-1200v5 Xeons, I see two general sets of products. Intel's steadfast dedication to focusing on gamers has led to motherboards with workstation chipsets mixed with gaming features. On the other side of the aisle are motherboards designed for workstations meant for business, these products carry a higher price tag and less flashy features.
Today I will examine one of GIGABYTE's new workstation motherboards. GIGABYTE is using a unique naming convention for C232 and C236 chipset motherboards. The C232 chipset boards are X150 series, and C236 are X170. The X150M-Plus WS is a basic micro-ATX C232 chipset motherboard. First impressions lead me to believe this model is for gamers who want a basic micro-ATX motherboard. It has LEDs on the underside of the audio section and its PCB, slots, and heat sink follow a desert camouflage color theme.
However, first impressions are not everything, and this review will look at the board from many angles. While enthusiasts are all about getting more for their money, simplicity is also highly desirable for novice buyers and business users, so I will be looking at this motherboard from multiple angles.
Specifications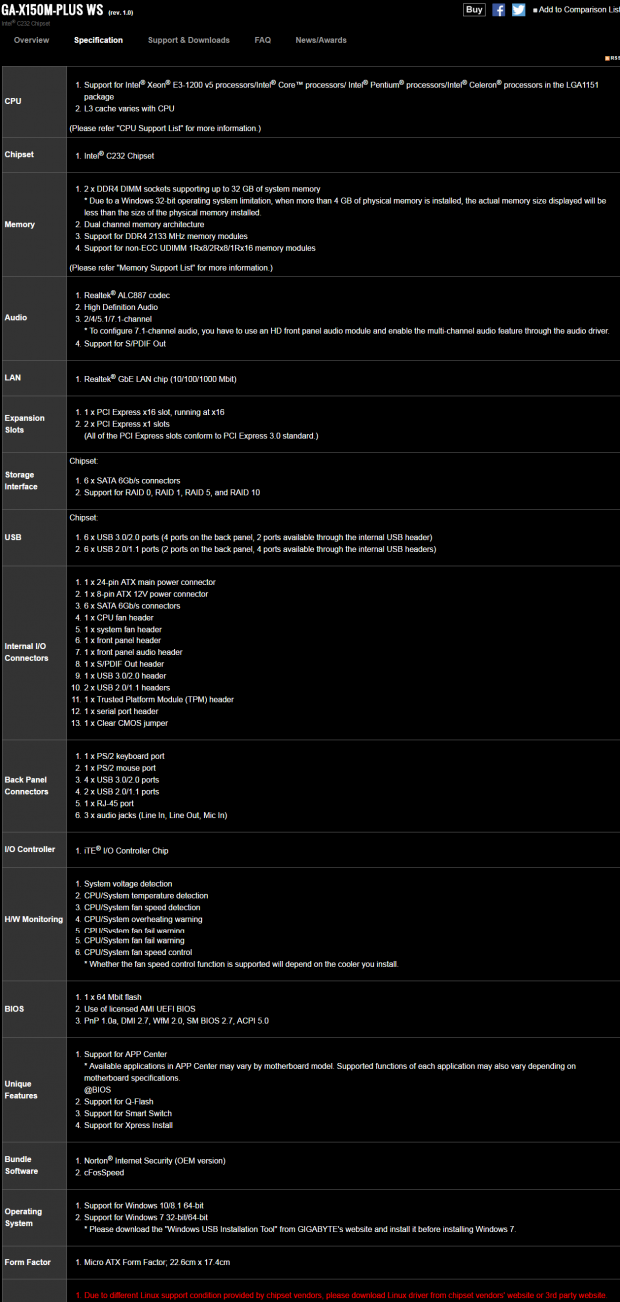 The X150M-Plus WS has a basic feature set, which leads me to believe it is designed for business systems where features are more limited for the sake of simplicity. The board does offer all the chipset features such as 6x USB 3.0 and 6x SATA6Gb/s, but also provides features that business users might utilize for backward compatibility.
Apart from the two USB 2.0 ports on the IO panel, there are two USB 2.0 headers on the board. Audio is limited to one output and two input jacks, there are two PS/2 ports for a keyboard and a mouse, and there are only two fan headers. There is also a full-sized TPM header and a serial port on the board.
Pricing
The X150M-Plus WS is available from many large retailers for $159.99.
Packaging and X150M-Plus WS Overview
Packaging and Overview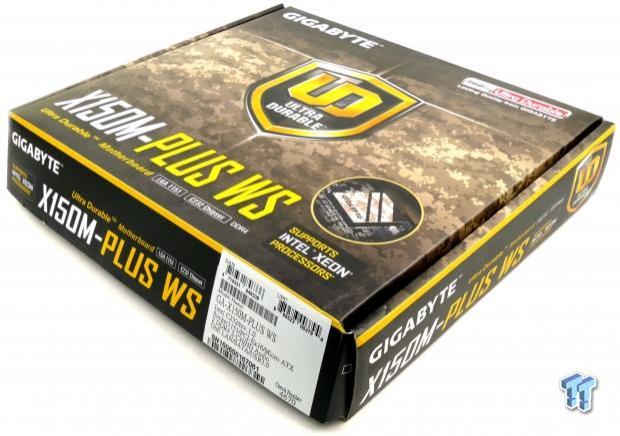 The box of the motherboard is quite fancy; it has the same camouflage theme as the motherboard. Packaging is very simple, and the board is well protected.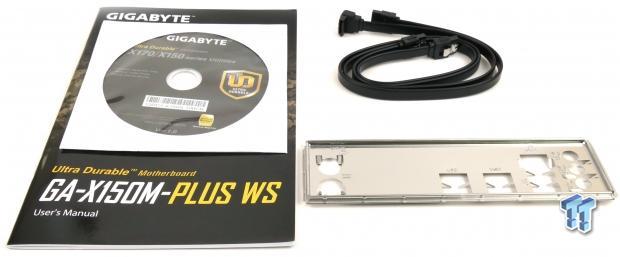 The accessory package is simple; 2x SATA6Gb/s cables, IO shield, driver DVD, and manual.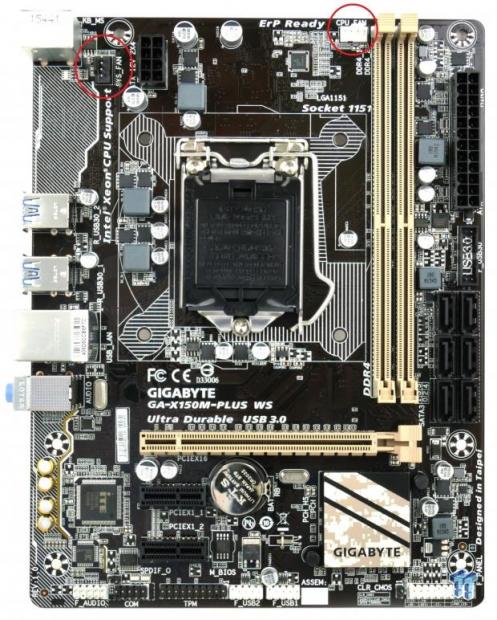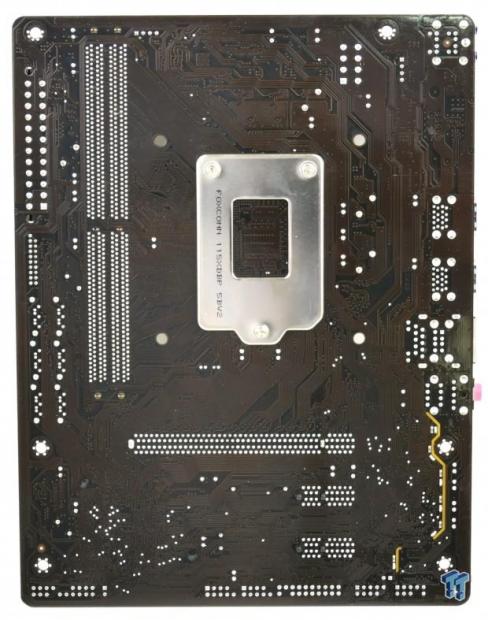 The GIGABYTE X150M-Plus WS has only two fan headers circled in red. The white header is labeled CPU_FAN and it is a 4-pin PWM capable header, the black header is labeled SYS_FAN and it is a 4-pin voltage mode header which can also control a PWM fan. The headers can be controlled through the BIOS through basic profiles and some customization. GIGABYTE always defended their fan control as being "easy to configure", and in this product, "easy to configure" is the main selling point.
The motherboard layout is typical of many mATX motherboards, but the 16x slot has been moved down so that there is plenty of clearance to install and remove both a CPU cooler and DRAM modules without removing the video card. The aesthetics are a nice touch, but not necessary. The tan color of the slots matches that of the PCH heat sink. The audio section has been upgraded a bit, and LEDs illuminate the PCB divide.

The IO panel on the X150M-Plus WS carries four USB 3.0 ports, two USB 2.0 ports, PS/2 keyboard, PS/2 mouse, 1Gbit NIC port, and three audio jacks (green = headphone, pink = mic, blue = line in).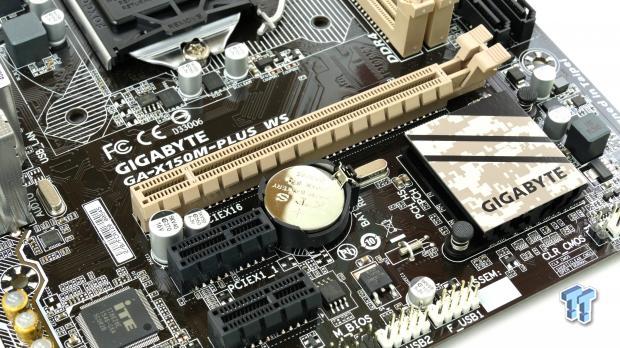 The X150M-Plus WS has a very simple PCI-E layout. The first PCI-E 16x slot is directly routed to the CPU. The two PCI-E 1x slots are wired to the PCH. All PCI-E bandwidth runs at 8Gb/s (PCI-E 3.0). The CMOS battery is situated below the 16x slot, which is an odd location considering you are required to use a dedicated video card because the chipset doesn't support iGPUs.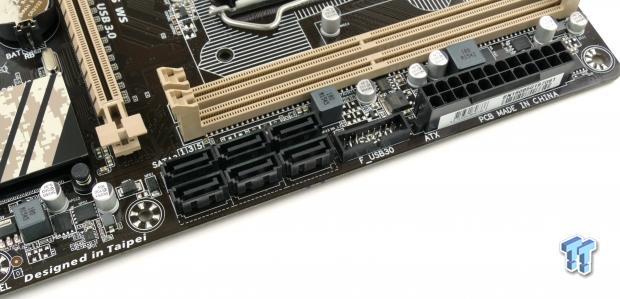 Along the right edge of the motherboard are the 24-pin power connector, a USB 3.0 internal header, and six SATA 6Gb/s ports. All these ports are located above the 16x slot and are easily reached even with a full-sized PCI-E video card installed.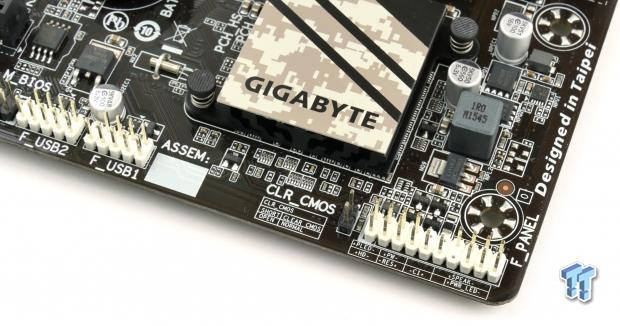 The motherboard case headers are located in the lower right corner of the motherboard, and two USB 2.0 headers are located along the bottom edge.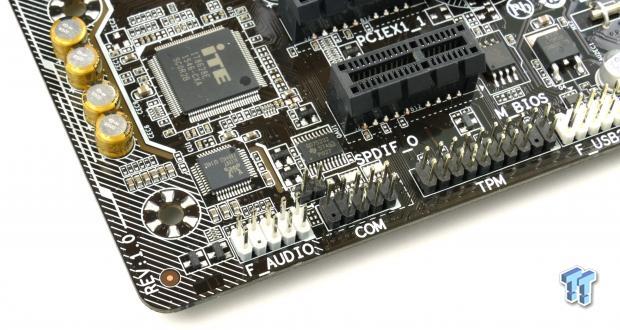 The audio header is located on the far left of the motherboard. Adjacent to the audio header is the COM header, and TPM header is nearby.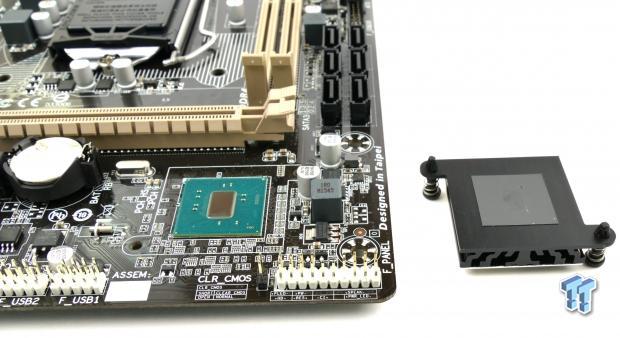 The only heat sink on the motherboard cools the PCH and is held down by pushpins.
GIGABYTE X150M-Plus WS Circuit Analysis
Circuit Analysis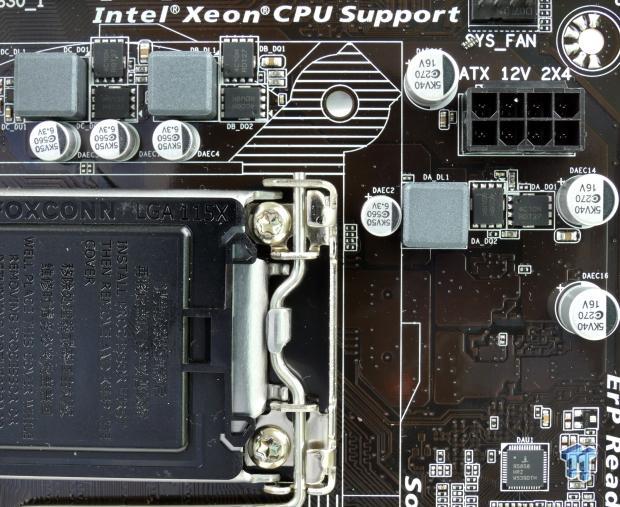 The VRM on this motherboard provides power to the VCC (VCore), VCCIO, and VCCSA. The three phases are dedicated to the CPU VCore. The capacitors are 5K, which is the standard in the industry. This VRM isn't as robust as most others I have encountered, but it should be enough to get the job done since there is no overclocking support and the Xeons have lower TDPs than their Core i5 and i7 counterparts.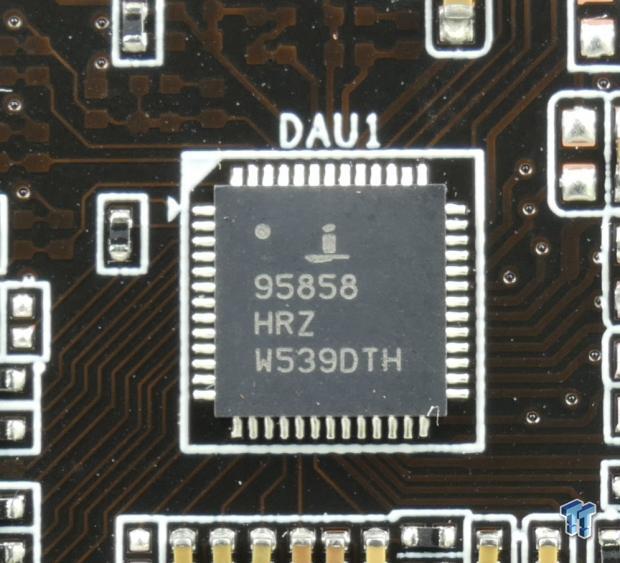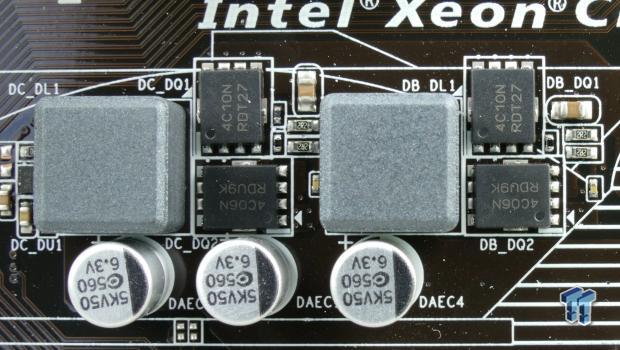 The X150M-Plus WS uses an Intersil ISL95858 Hybrid-Green PWM, which supports a 3+2 phase output with two integrated drivers on the first 3 phases. The latter 2 phases are not being used in this implementation. Instead, the IVMP8 PWM is used as a 3-phase PWM. To provide the third phase, an Intersil ISL6625 is used on the furthest phase.
The high and low-side MOSFETs are from ON Semiconductor and in the PowerPAK package. The low-side MOSFET for each phase is the NTTFS4C06N and the high-side MOSFET for each phase is an NTTFS4C10N. The VCCSA and VCCIO are powered by a linear regulator located below the CPU socket.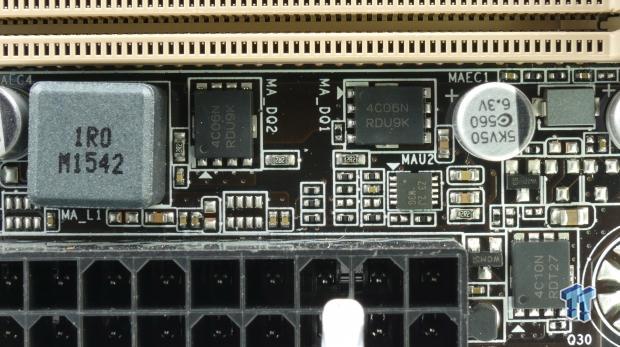 The memory VR is a single phase which uses ON Semiconductor NTTFS4C06N for both the high-side and low-side MOSFETs.
GIGABYTE X150M-Plus WS Circuit Analysis Continued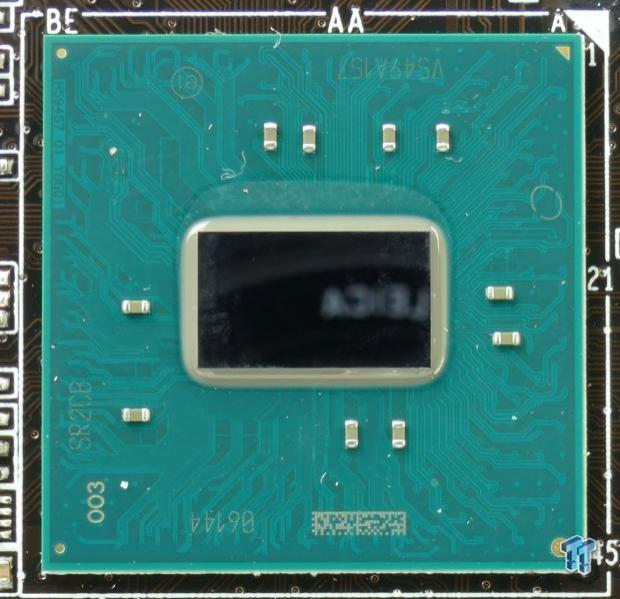 The Intel C232 chipset is the primary controller for almost all of the features the X150M-Plus WS has to offer. It is very similar to the B100 series chipset, it has a 6W TDP, and supports a maximum of six USB 3.0 and SATA6Gb/s ports.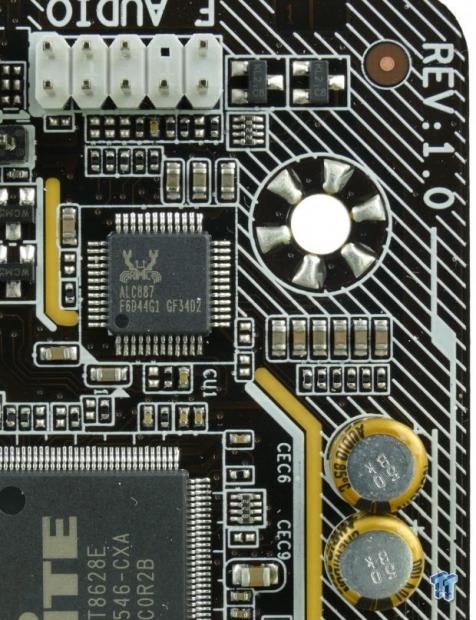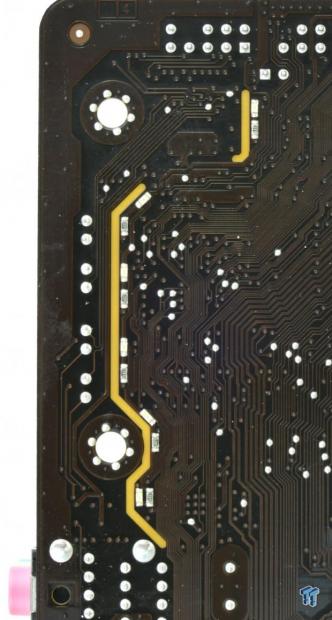 The audio on the motherboard isn't very advanced compared to Z170 motherboards, and that might be an appealing factor. The three ports on the IO panel are very easy to identify and should not confuse any user. The audio codec is the Realtek ALC887, and there are a few Nichicon Gold Series electrolytic audio capacitors to spice things up. There is a physical PCB divide, and there are six LEDs on the backside that illuminate the PCB divide.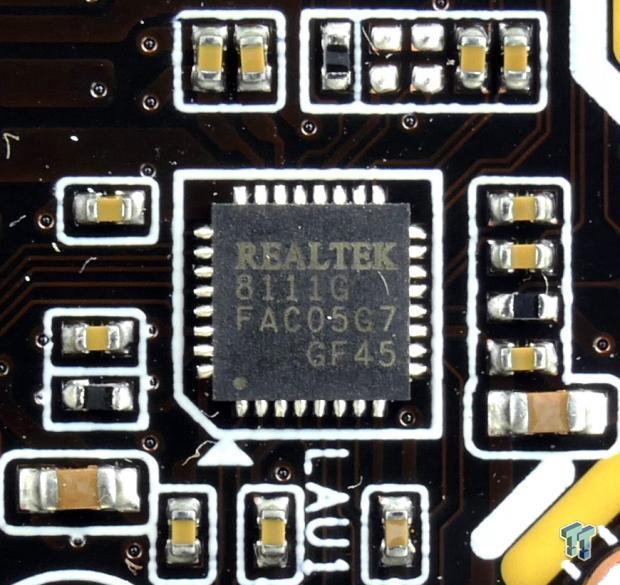 The 1GBit NIC is based on the Realtek RTL8111G.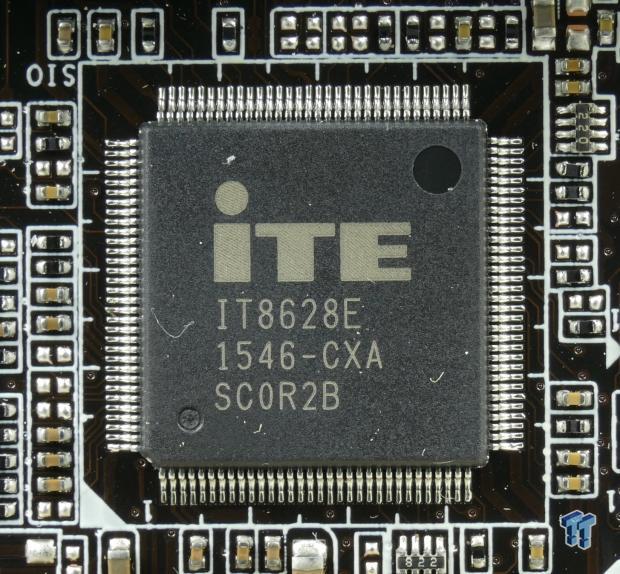 An iTE IT8628E provides Super IO functionality such as temperature and voltage monitoring, and it provides fan control. It also is responsible for the two PS/2 ports on the IO panel.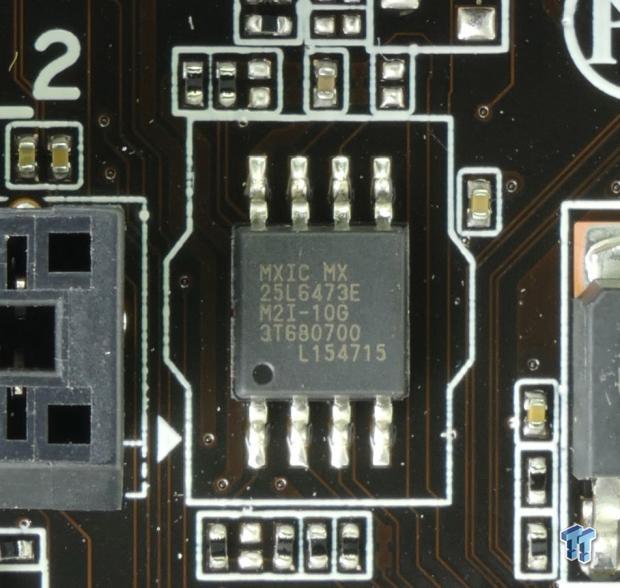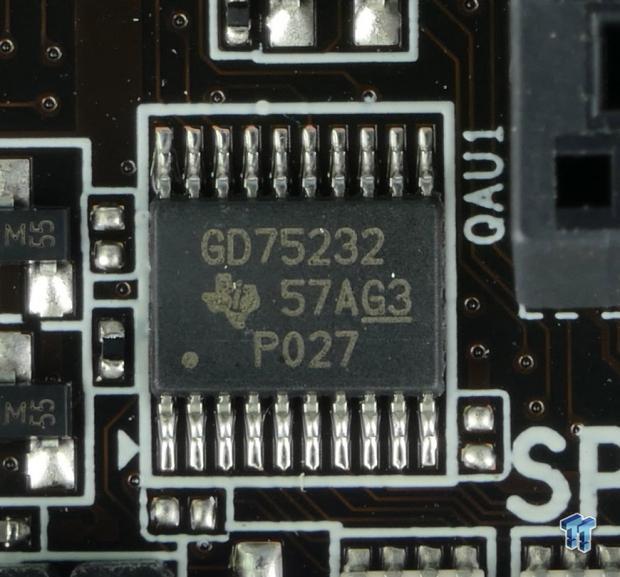 The BIOS ROM is a single 64Mbit model without redundancy. The motherboard also has a Texas Instruments driver and receiver chip which is responsible for COM/Serial port functionality.
BIOS and Software
BIOS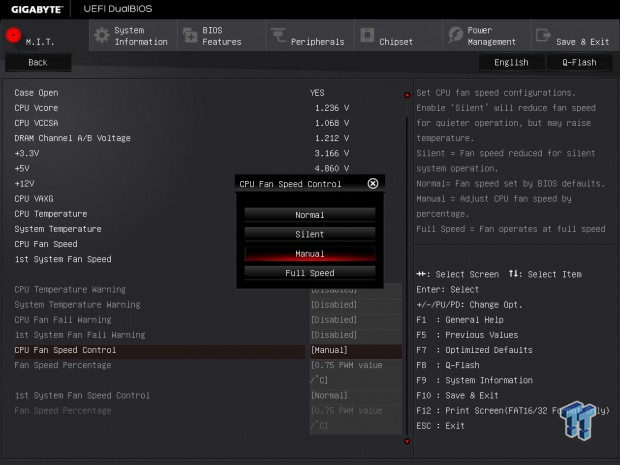 The X150M-Plus WS has the same UEFI theme and layout as other GIGABYTE 100 series motherboards. If you are familiar with GIGABYTE's UEFI, then you will have no trouble getting around, but some settings are limited or not present for obvious reasons (no overclocking support).
This motherboard is very simplified regarding setup. You won't even need to enter the UEFI in most cases except to change boot settings or possibly fan controls as shown above. I would not update the UEFI unless I was facing problems because the board only has a single BIOS ROM.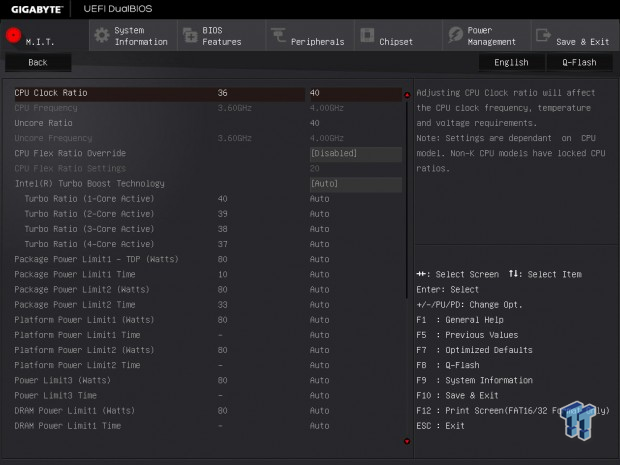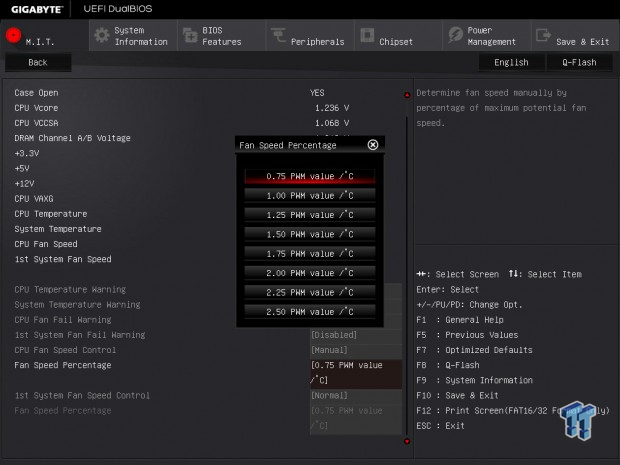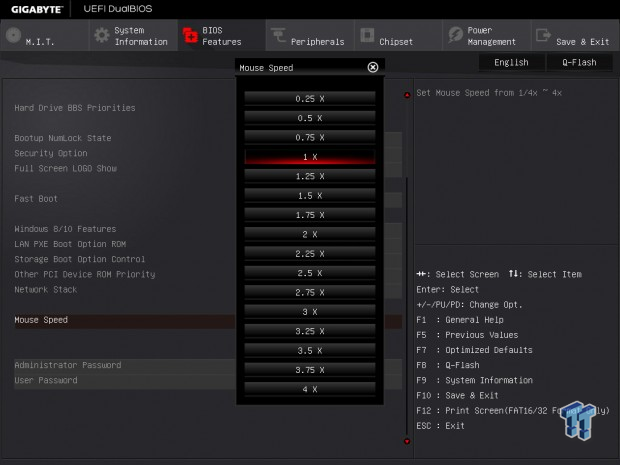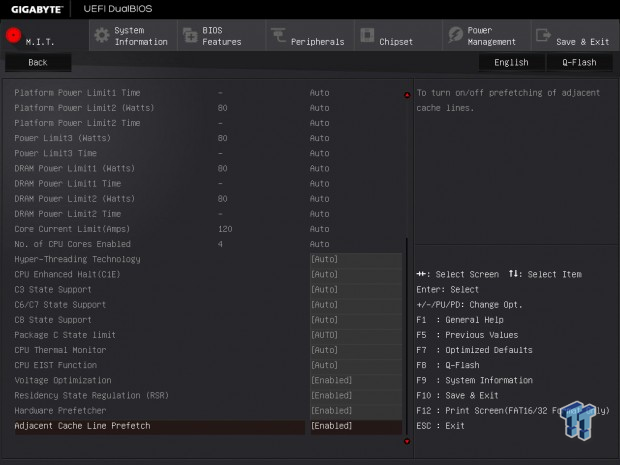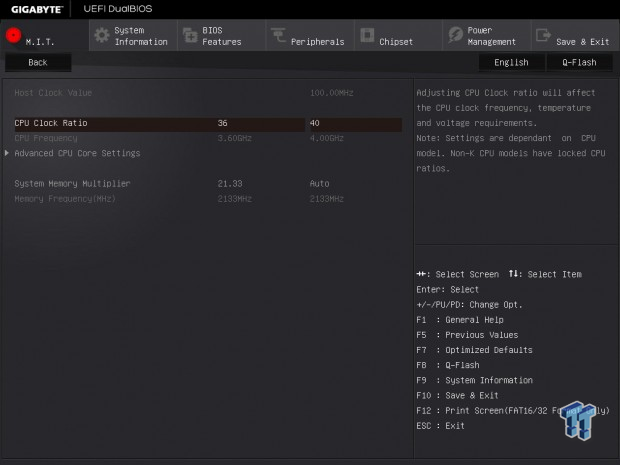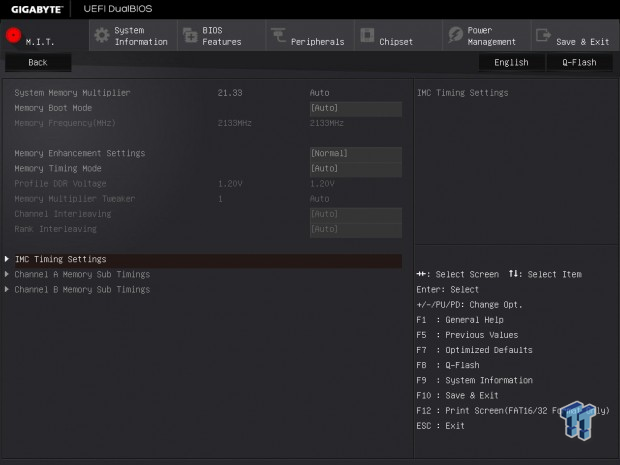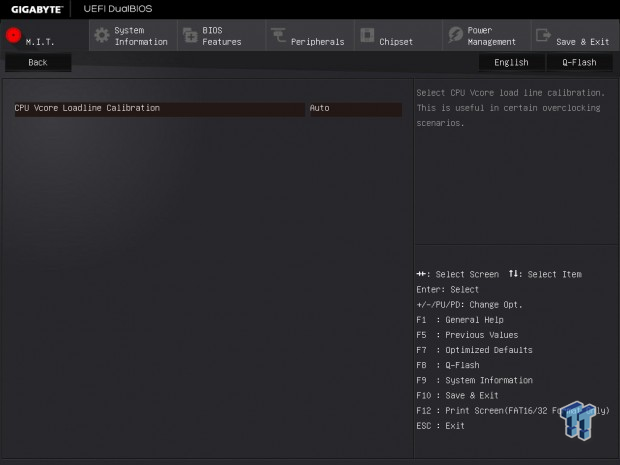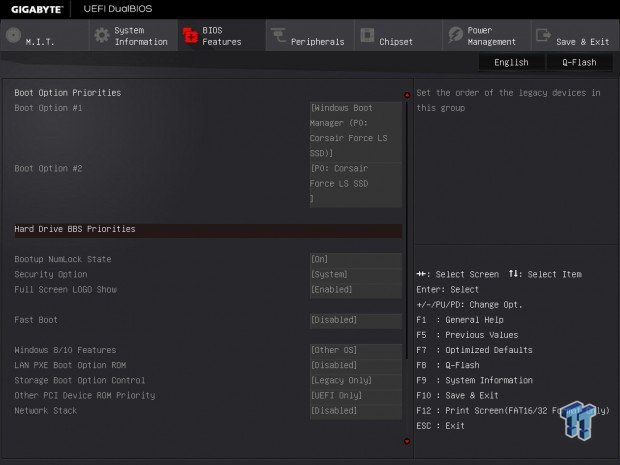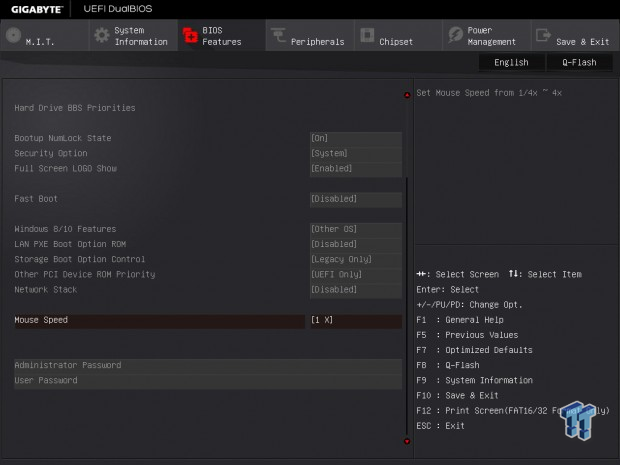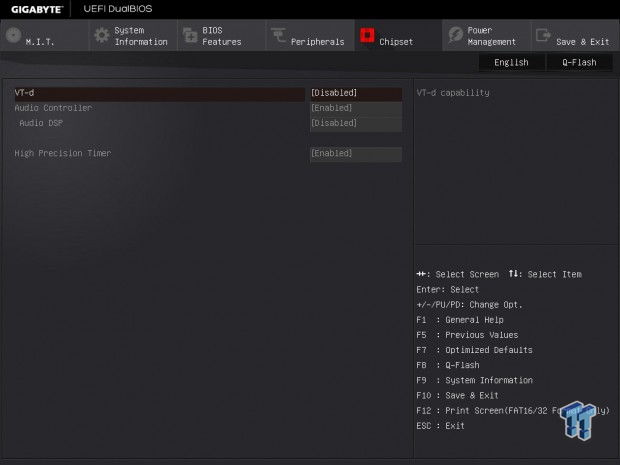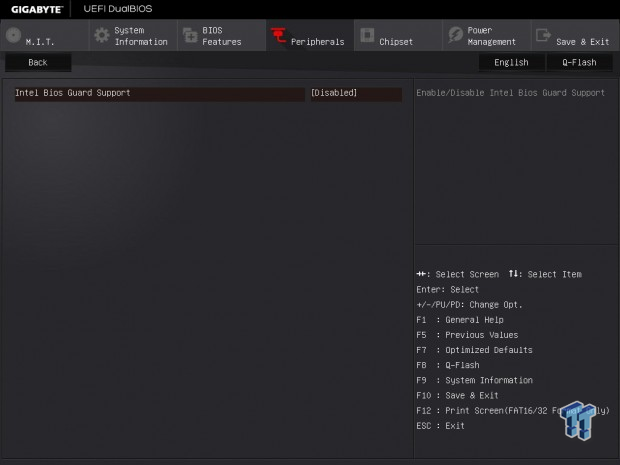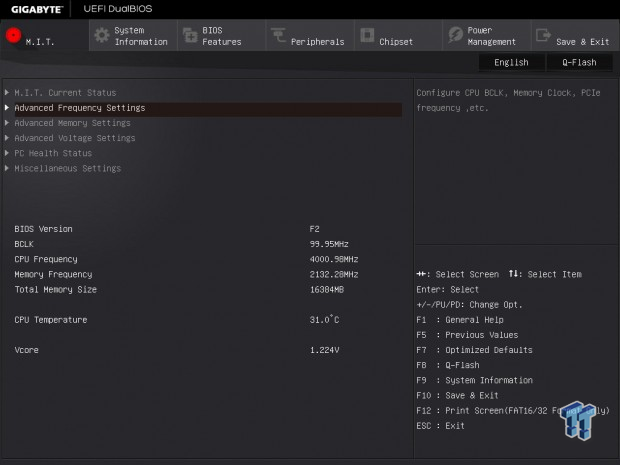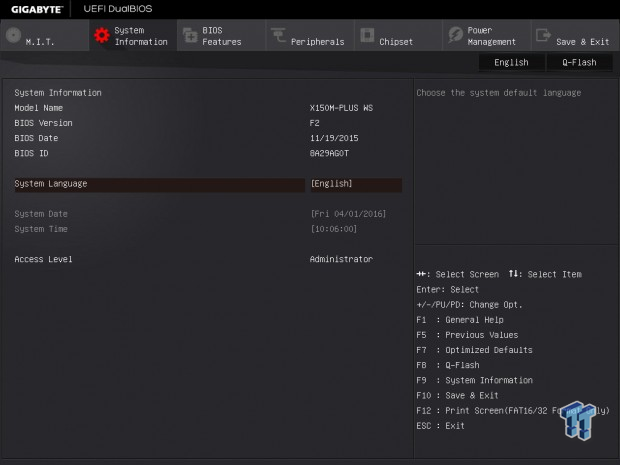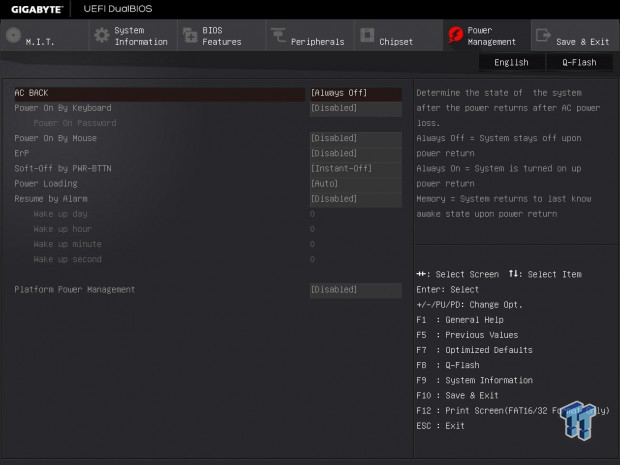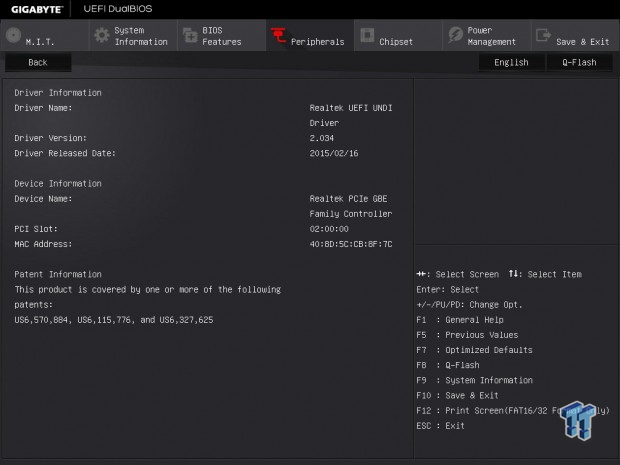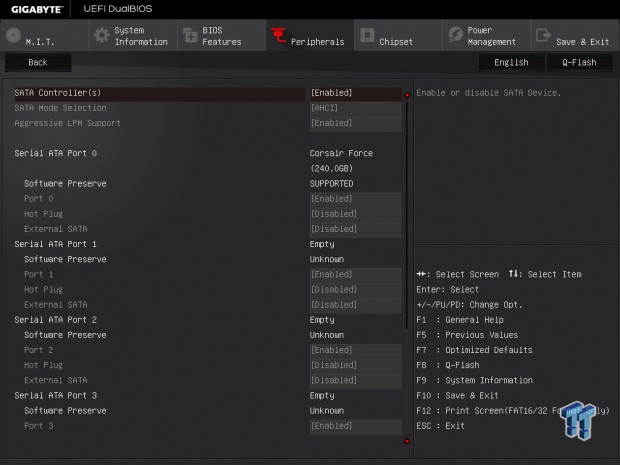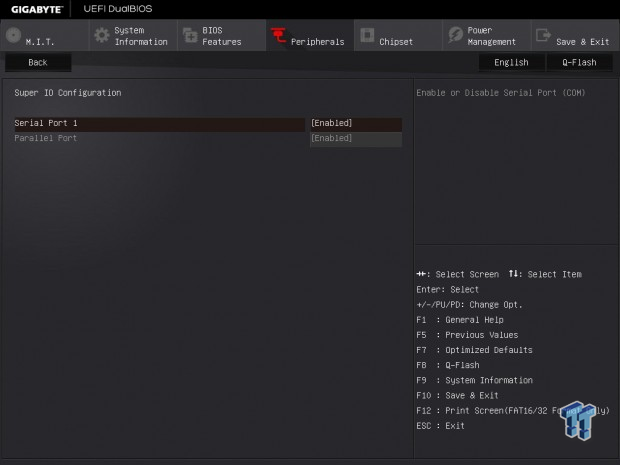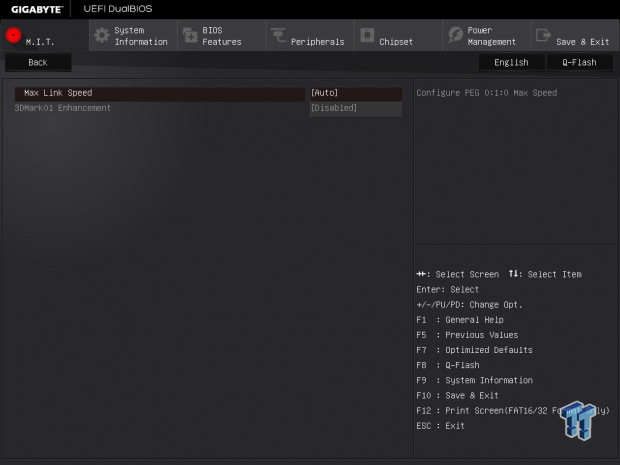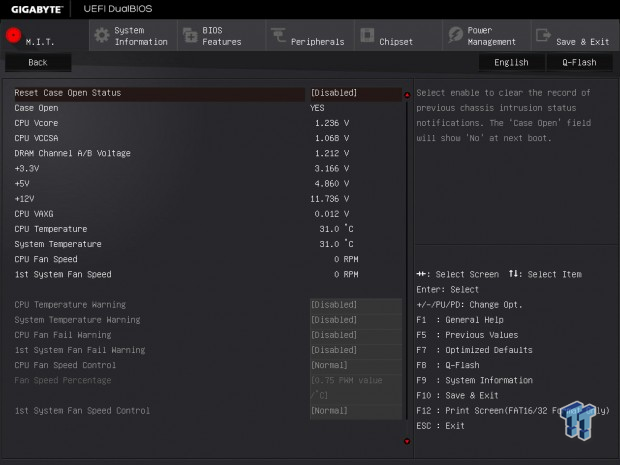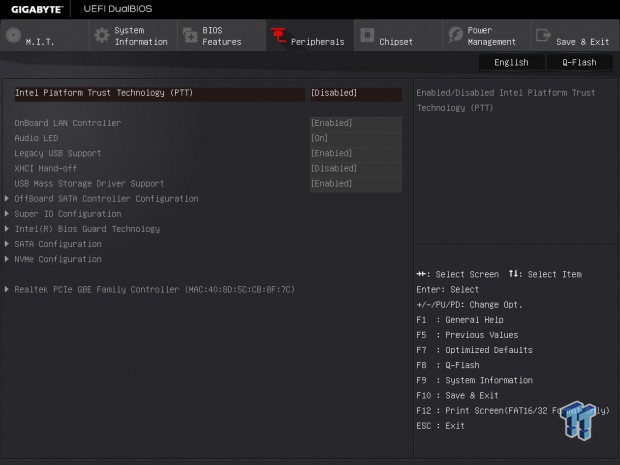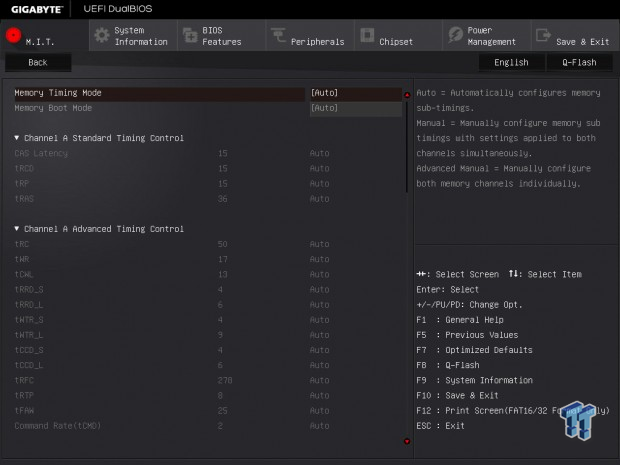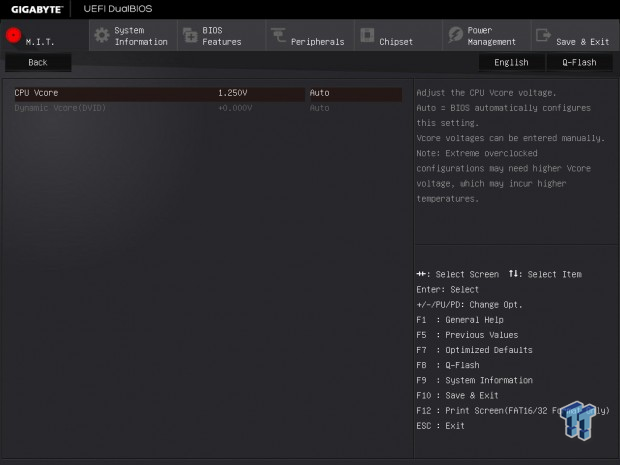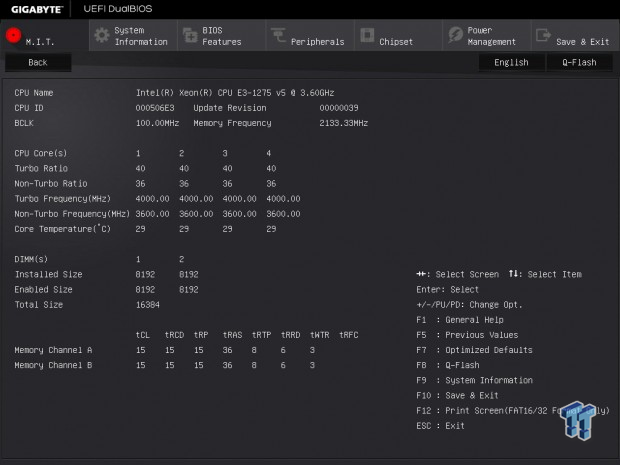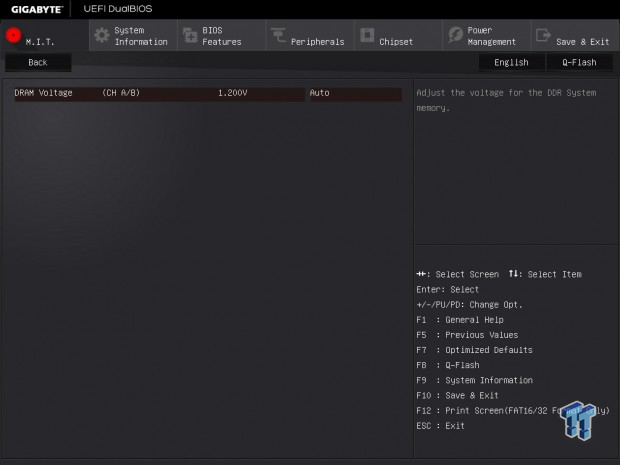 Software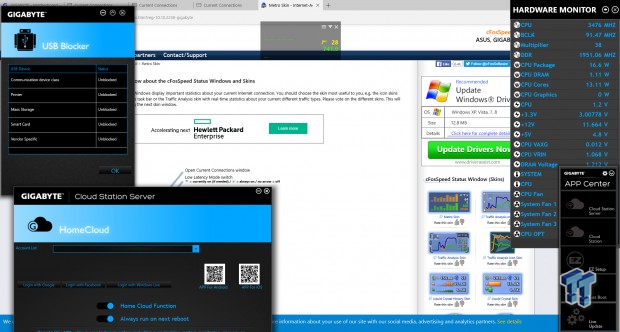 GIGABYTE includes a very basic software suite for the X150M-Plus WS, which was expected. They do include some software that might be useful such as USB Blocker, Cloud Server/Client, and hardware monitoring programs.
I wasn't aware that cFOS worked on non-Intel NICs, but it turns out that it does work with the onboard Realtek NIC. Realtek's audio manager is also included.
Test System Setup
Steven's Motherboard Test System Specifications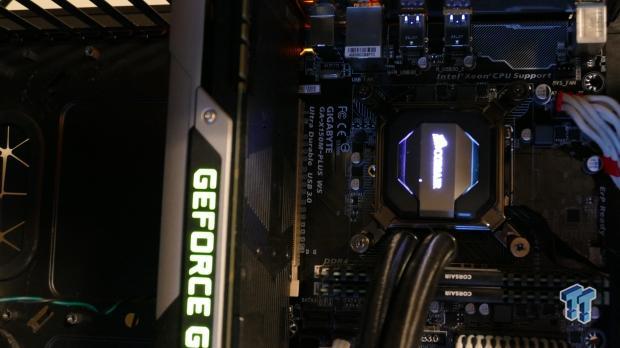 The X150M-Plus WS is a tiny mATX board. When you install all the hardware, you effectively bury the motherboard. An orange glow from the backside LEDs that illuminate the audio PCB divide can be seen in a dark case.
The new test bench is designed to test every aspect of the motherboard and IO. I have designed it so that the motherboard sits in a case and is cooled by fans always-on at a constant rate to keep the conditions similar during all tests. I have cut out part of the case behind the motherboard so I can get thermal images of the back of the PCB where the VRM heat spreads. System and CPU power measurements are now digitally logged.
I am also using a Netgear Nighthawk X4 AC2350 for our network (including wireless AC) tests. The latest M.2, SSD, and USB technologies are also being utilized to test the maximum potential of the motherboards that are tested.
CPU, Memory, and System Benchmarks
CINEBENCH 11.5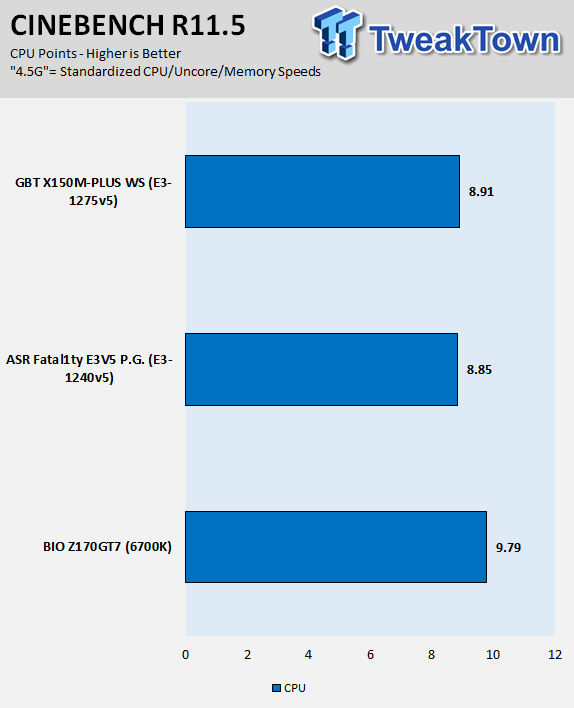 wPrime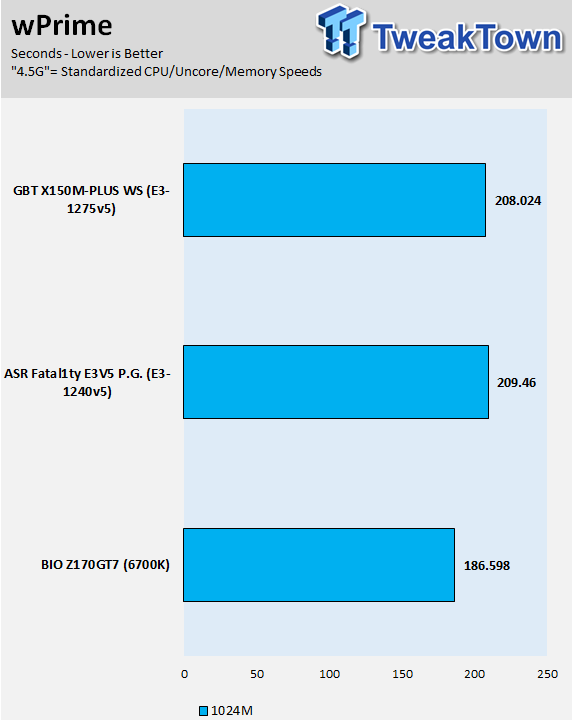 AIDA64 AES and HASH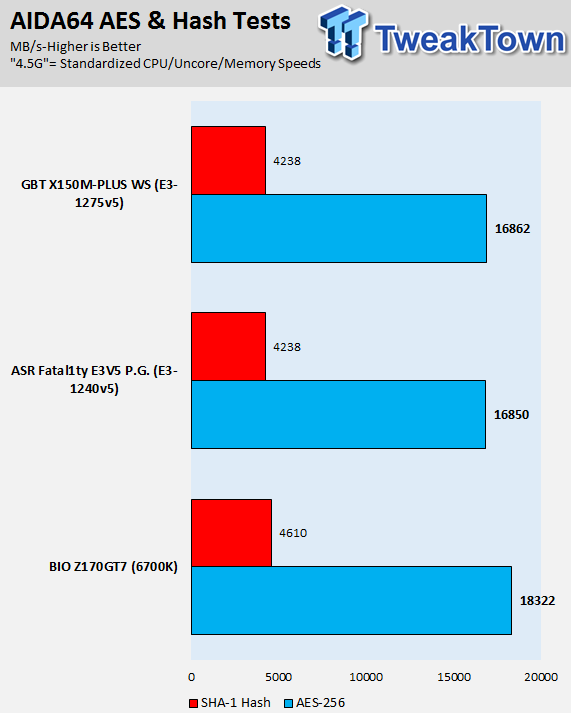 AIDA64 FPU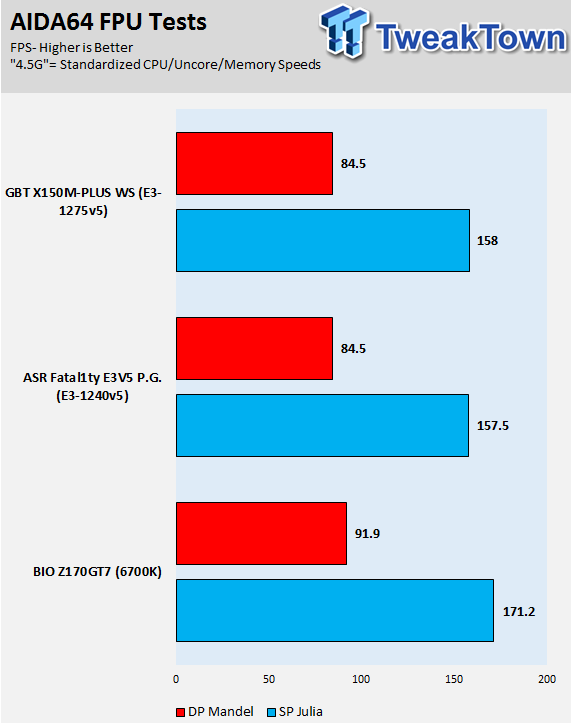 AIDA64 Memory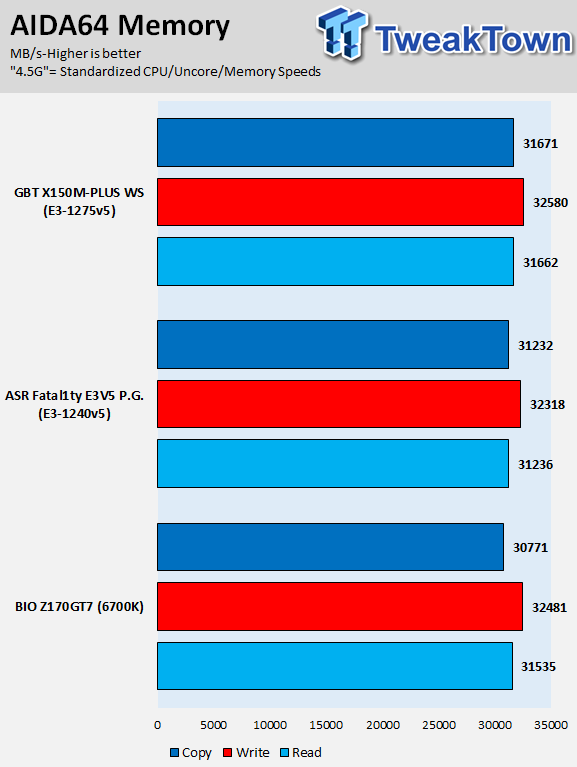 PCMark8 Home Test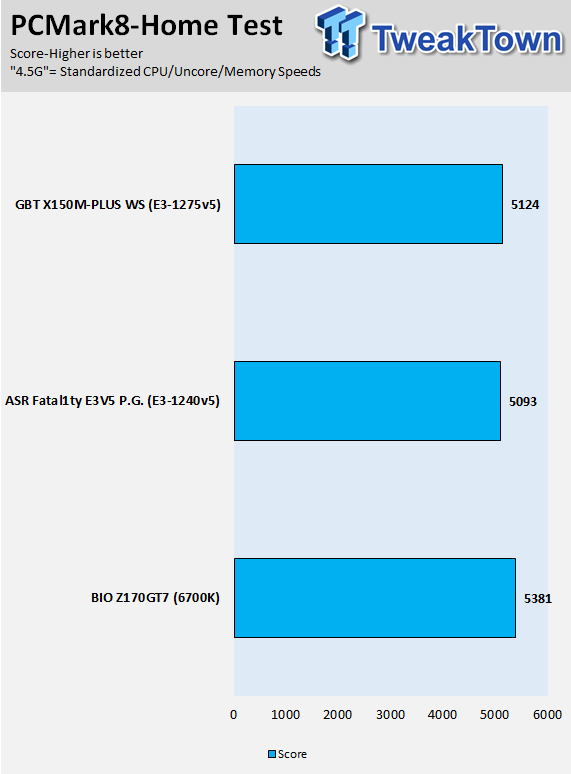 3DMark: Cloud Gate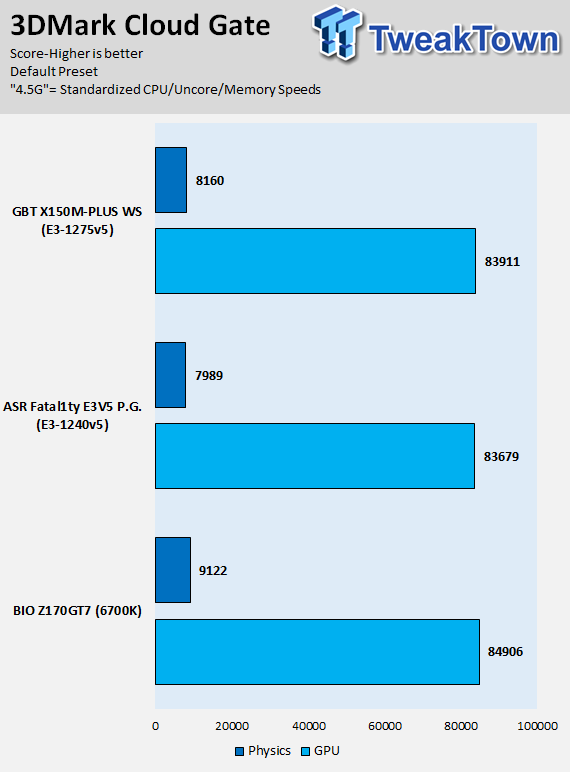 3DMark: Fire Strike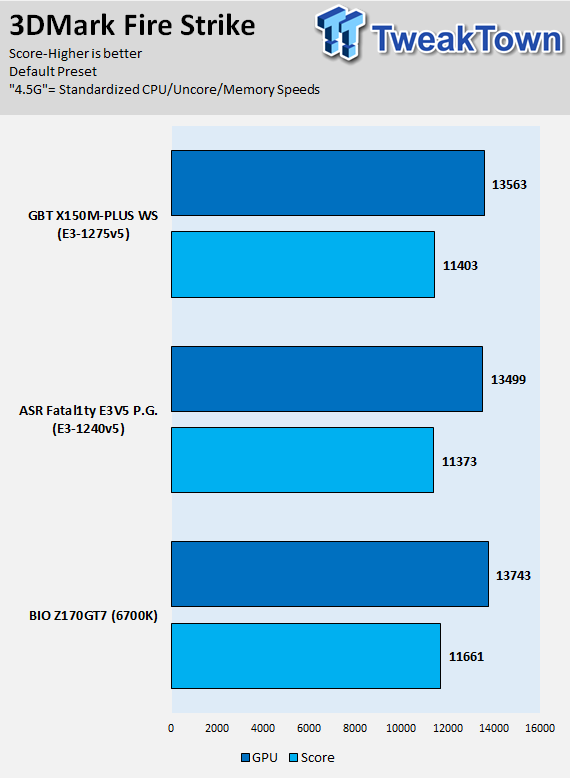 GIGABYTE's X150M-Plus WS performs better than the other C232 motherboard because it uses a slightly faster Xeon CPU (1275v5 versus 1240v5). The difference is literally 100MHz on both the base and turbo clocks between the two runs.
Overall performance is where it should be; the motherboard doesn't show any performance defects.
System IO Benchmarks
CrystalDiskMark SATA6G: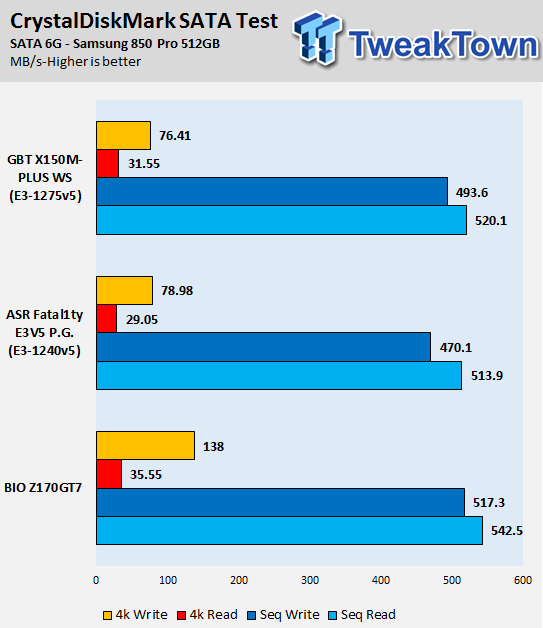 CrystalDiskMark USB 3.0: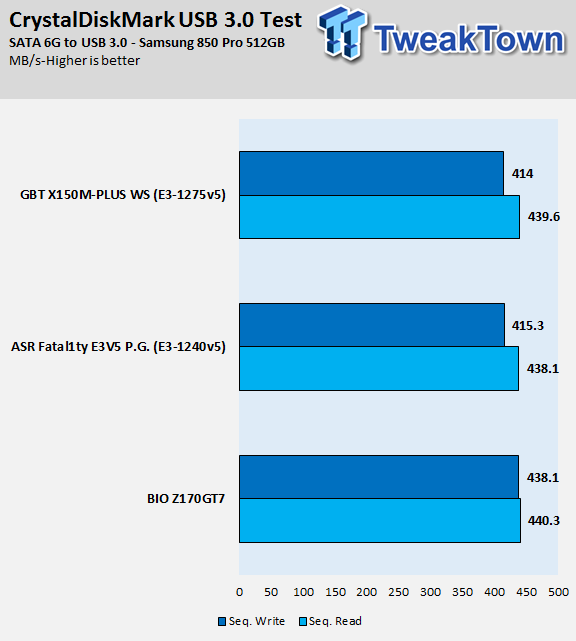 ixChariot Network Throughput: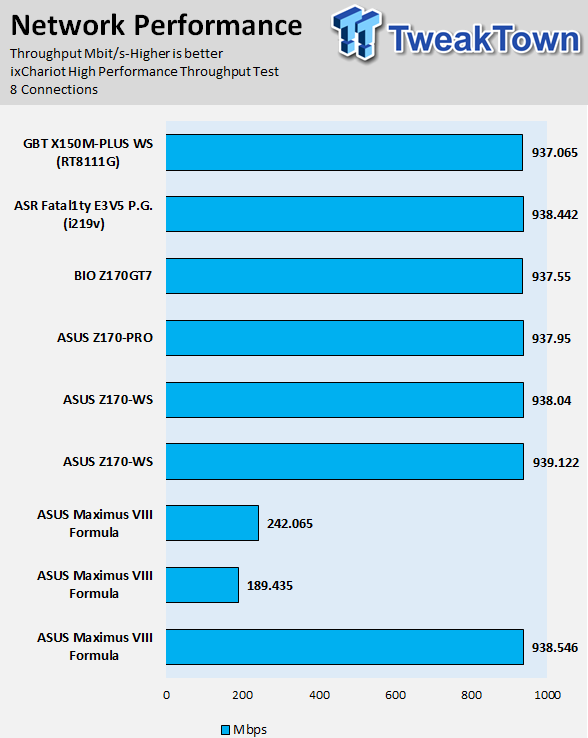 TheX150M-Plus WS has decent IO performance, nothing spectacular, but also nothing extraordinary which is in line with price and expectations.
Audio RMAA 5.5:
I disable all audio features, set the correct bitrates, and then test the audio with a loopback test.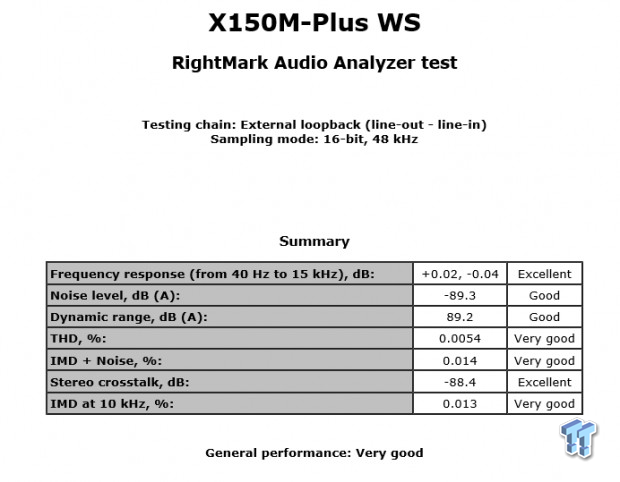 Sound Judgment by Ear: Good, I was not able to run at 24-bit and 48KHz, I could only run 16-bit at 48KHz. There are five ratings for audio: 1. Problems, 2. Okay, 3. Acceptable, 4. Very good, 5. Excellent
Thermal Imaging and Power Consumption
System power usage is measured at the AC/DC PSU (the Corsair AX1200i) which I have connected to another system to measure the test system, and as a backup, I have a wall meter to verify. The CPU power is measured through the 8-pin connector, which is hooked up to a hall effect IC, which measures current and puts out a voltage in proportion to the current. That voltage is logged by a National Instruments ADC, which logs the DC voltage level that I then convert into current.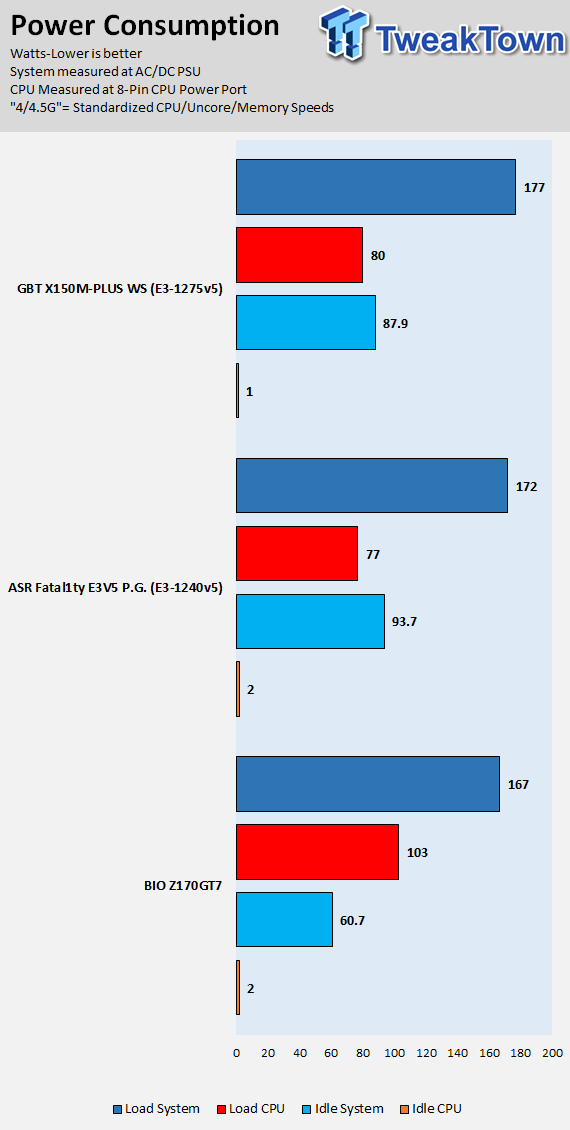 Note on Thermal Images: In the temperature section, we use our Seek thermal imaging camera to capture the surface temperatures of major components on the board. I look at the VRM and then all other things that light up the screen. If there is something to worry about, then I will state it. Otherwise, I will just show the hotter running parts of the board for fun. Unless some component is over 80-90C, then there isn't anything to worry about.
All systems will act differently, so I will look for commonalities, such as how far from the VRM the heat spreads through the PCB and the difference in temperature between the front side and backside of the PCB. Keep in mind, the majority of the heat from the VRM goes into the PCB as it is a giant soldered on copper heat sink. A larger difference in temperature between the back and front of the PCB points towards a more effective heat sink.
Thermal Testing at Stock Speeds:
The image on the left is always at idle, and the image on the right is at load. During ALL TESTS, fans above the VRM that cool the CPU cooler's (Corsair H110i GT) radiator are turned on to high (12v).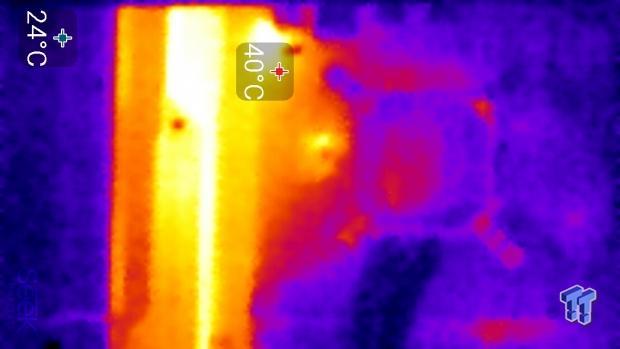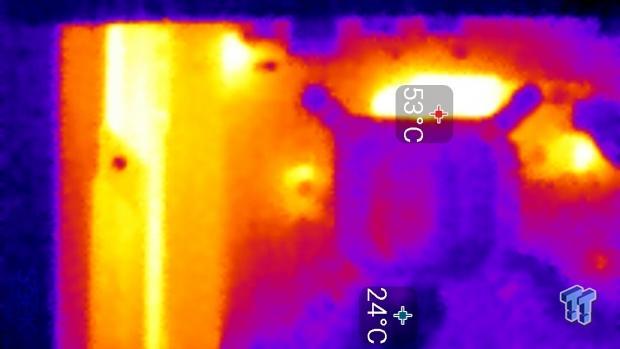 Full frontal.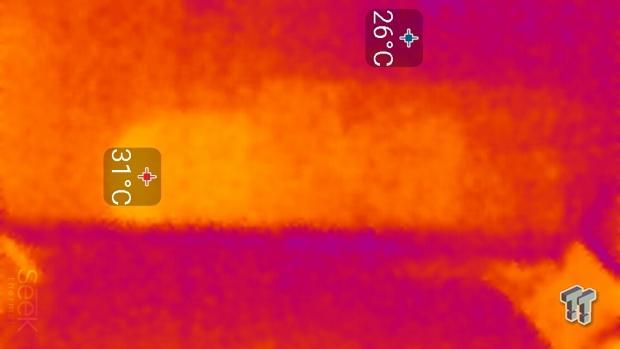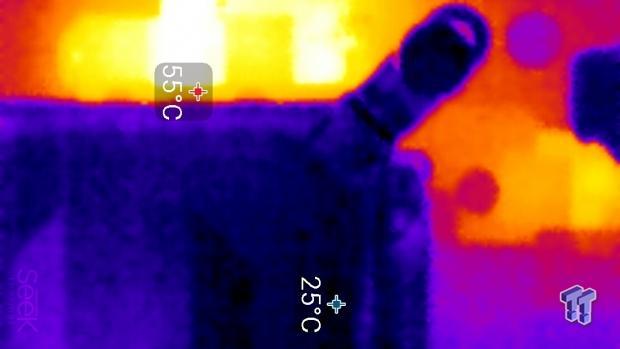 Up-close of the front of the VRM.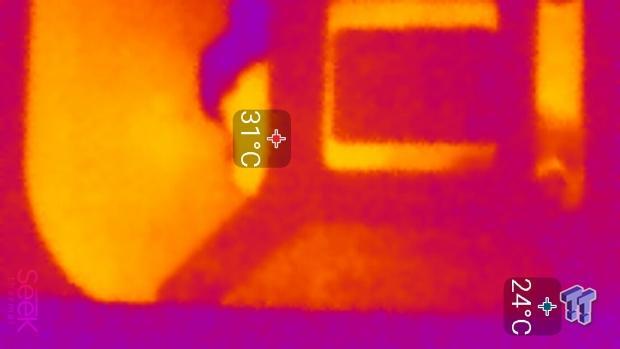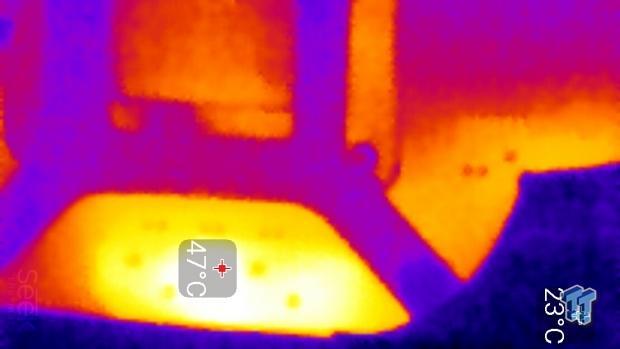 Up-close of the back of the VRM.
The VRM on the X150M-Plus WS is the bare basics when it comes to voltage regulators. The C232 chipset does not allow for iGPU outputs, so even if a CPU has an iGPU (such as the E3-1275v5 I used), it's not powered. Many of the E3-1200v5 Xeons do not have iGPUs, and their TDPs are low compared to i5 and i7 models, which is possibly why the motherboard is only rated to support i3s, Celerons, and Pentiums and not higher-end CPUs.
The three-phase VRM does its job fine, and the temperature came very close but didn't exceed 60C. I had no problem with throttling, and the PCB seems to do a nice enough job of cooling the MOSFETs, but I would use constant airflow over the VRM if you use water cooling.
Anything under 60C is great, 60-80C is acceptable, and anything above 80C is a bit worrisome (if at stock).
What's Hot, What's Not & Final Thoughts
Here are key points about the GIGABYTE X150M-Plus WS.
What's Hot
Super Simple: Are you confused when you see more than one full-sized PCI-E slot on your motherboard? Worry no more; the X150M-Plus WS makes everything easy by only providing the basics for compatibility. No need to worry about which DIMM slots, PCI-E slots, or audio jacks to use, you have limited options regarding configuration, which leads to less error when configuring the machine and maintaining it over time.
Easy to Configure Fans: The X150M-Plus WS only has two fan headers, the CPU header is PWM controlled which makes sense since most CPU coolers come with PWM fans, and the system header is voltage mode which will work with both 4-pin and 3-pin fans. While enthusiasts demand more headers and complex fan control, GIGABYTE's choices regarding fan control and automatic profiles in the UEFI make it attractive for straightforward and easy configuration.
Intel Connectivity: All the USB 3.0 and SATA6Gb/s on the motherboard is directly from the Intel controller, except the NIC, which is from Realtek.
Optimized Port Layout: All SATA ports and the front USB 3.0 header are located above the first PCI-E slot, which helps improve access to the ports when a video card is installed (you have to use one since the chipset doesn't support iGPUs). The USB 2.0 and front panel headers are easy to differentiate by color and silkscreen.
What's Not
No ECC: One of the main features that Xeons provide is ECC memory support, but this model doesn't support ECC memory.
High Price: Compared to other C232 chipset motherboards, the price of the X150M-Plus WS is a bit steep for the number of features that the motherboard provides. While the price falls in line with GIGABYTE's C232 and C236 pricing model, it has a lot of competition in the $160 price range from other manufacturers.
Final Thoughts
As an enthusiast, I am always looking for more. More value, more features, and more power. The GIGABYTE X150M-Plus WS provides simplicity, and that can be very attractive depending on who is buying. I typically go into my local Microcenter once a week to pick something up and chat with prospective PC buyers. These first-time builders are not confident in their ability to build a computer; they are downright scared. For them, simplicity is a godsend.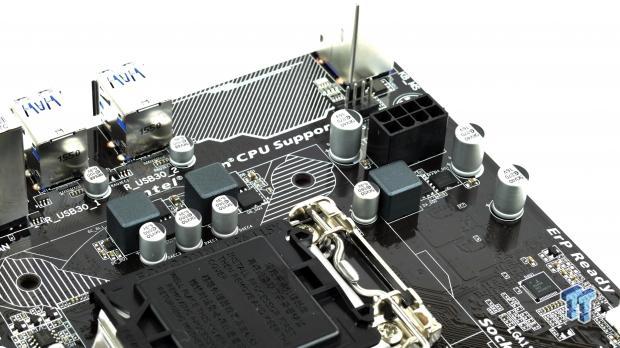 Simplicity is also very useful in business situations where you need identical systems which are easy to configure and serviceable. With a product like the X150M-Plus WS, the next generation of IT staff will have no problem servicing the product since there is only really one configuration that will work. Even someone with no hardware background would be able to figure out how to plug in accessories into the IO since the options are limited and color coded.
The one thing I am not so crazy about is the price. Business buyers will be fine with it, but unless simplicity is something you desire, the price is not going to impress you. The X150M-Plus WS is not your typical consumer motherboard; its purpose is to offer simplicity for workstation users who want to run Xeon CPUs on a budget.
| | |
| --- | --- |
| Performance (including Overclocking w/a) | 89% |
| Quality including Design and Build | 90% |
| General Features | 80% |
| Bundle and Packaging | 85% |
| Value for Money | 75% |
The Bottom Line: GIGABYTE's X150M-PLUS WS is a C232 chipset motherboard perfect for those who want a simple headache-free experience.
PRICING: You can find products similar to this one for sale below.

United States: Find other tech and computer products like this over at Amazon.com

United Kingdom: Find other tech and computer products like this over at Amazon.co.uk

Australia: Find other tech and computer products like this over at Amazon.com.au

Canada: Find other tech and computer products like this over at Amazon.ca

Deutschland: Finde andere Technik- und Computerprodukte wie dieses auf Amazon.de
We openly invite the companies who provide us with review samples / who are mentioned or discussed to express their opinion. If any company representative wishes to respond, we will publish the response here. Please contact us if you wish to respond.